Maar weer eens tijd voor een ouder model van een Nederlandse coureur. Zijn zoon Max is dit jaar voor het eerst wereldkampioen geworden. Daarom een Footwork Hart FA17 uit 1996, zoals bestuurd door Jos Verstappen aan het begin van het seizoen. Het is een kit van Wolf Kits. Meestal niet de meest gemakkelijke, maar ik ga mijn best weer doen natuurlijk.
Time for an older model from a Dutch driver. His son Max managed to be the world champion for the first. Therefor a Footwork Hart FA17 early version, as driven by Jos Verstappen. It's a kit from Wolf Kits. Most of the time not the most easy ones, but of course i'll do my best.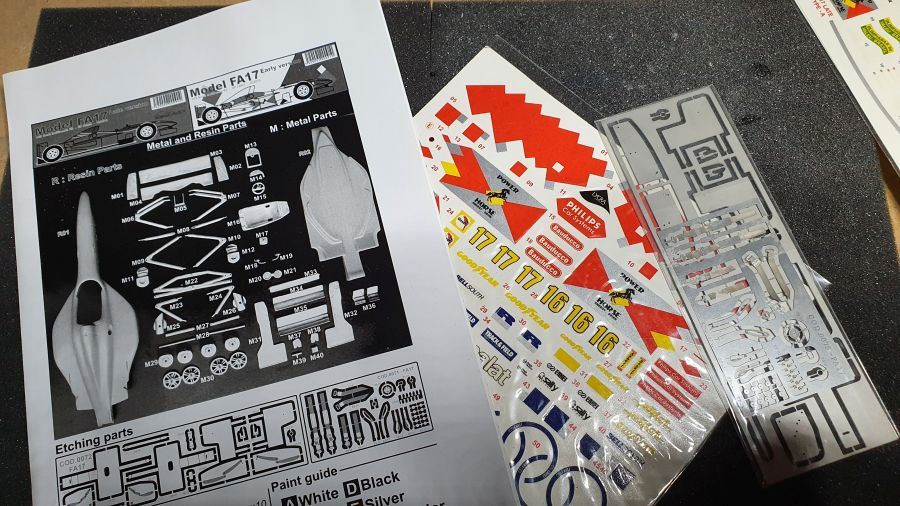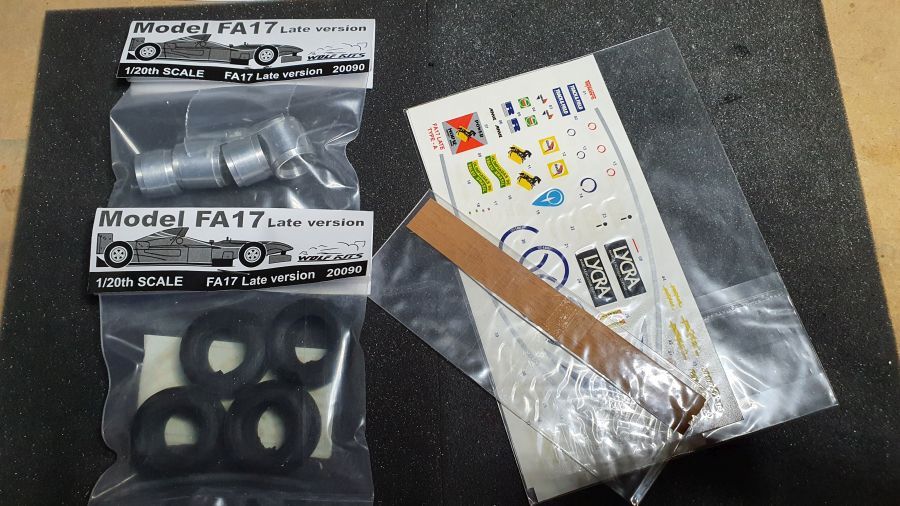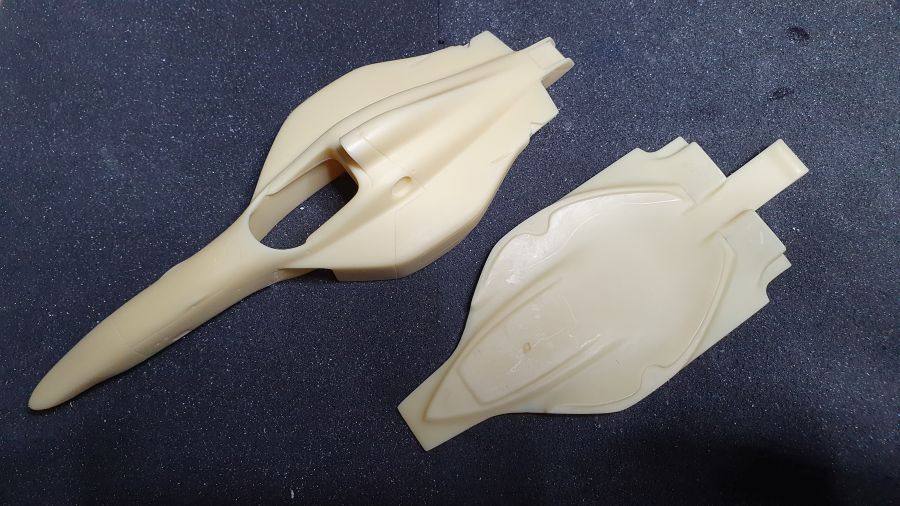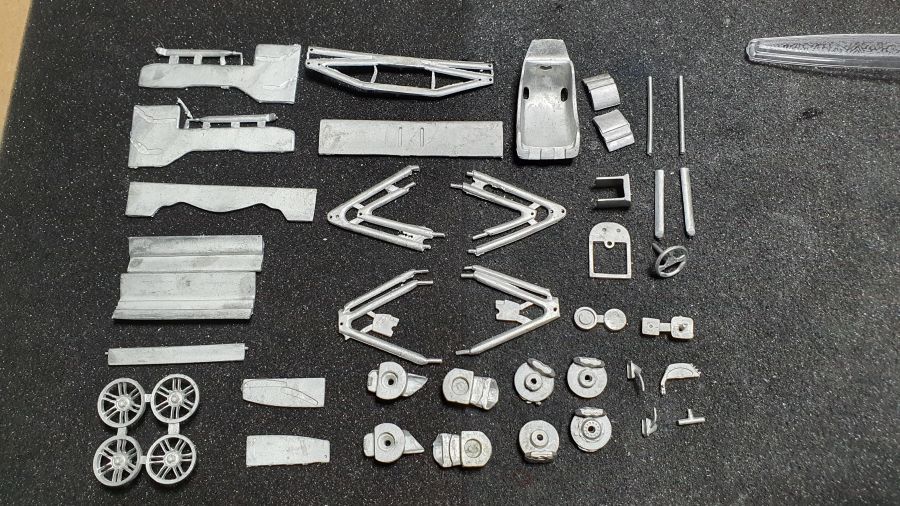 Eerst de paneellijnen wat dieper maken.
First of all making the panel lines deeper.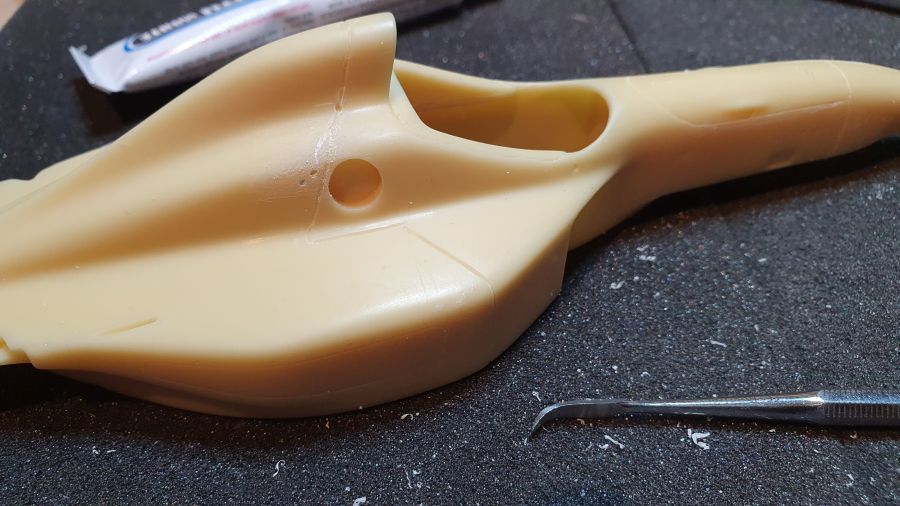 Dan het overtollige metaal verwijderen. 
Then remove excess metal.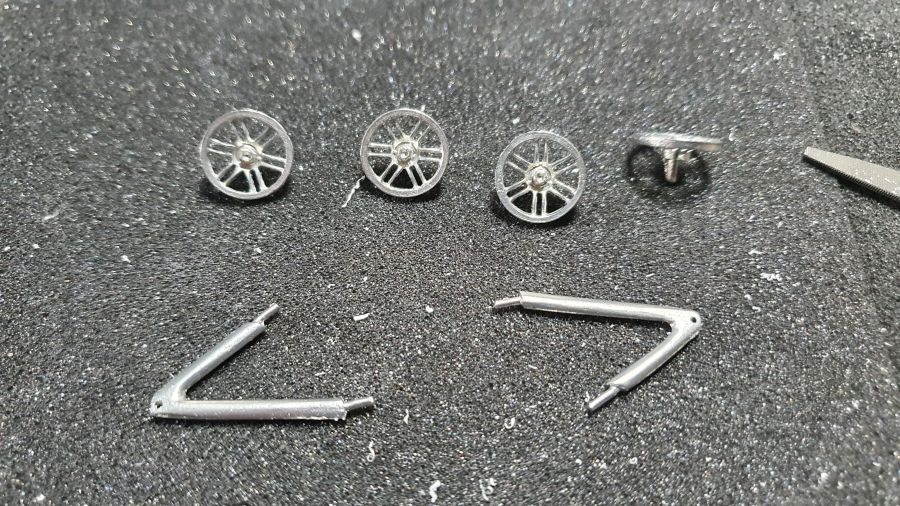 Wat gaten zijn geboord voor de wielophanging.
Some holes were drilled for the suspension.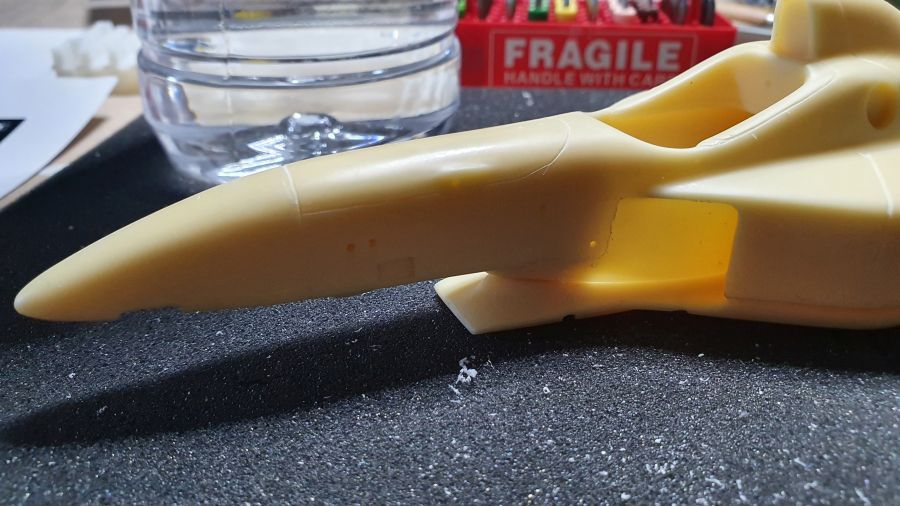 Daarna wordt de kunsthars gereinigd met propanol-2.
Then the resin was cleaned with propanol-2.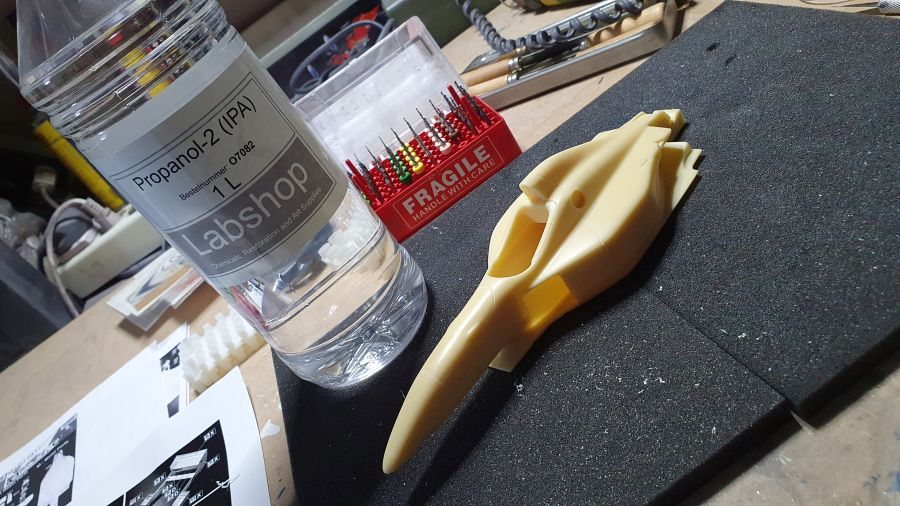 Dan even wat passen met betrekking tot de ophanging.
Then some test fit on the suspension.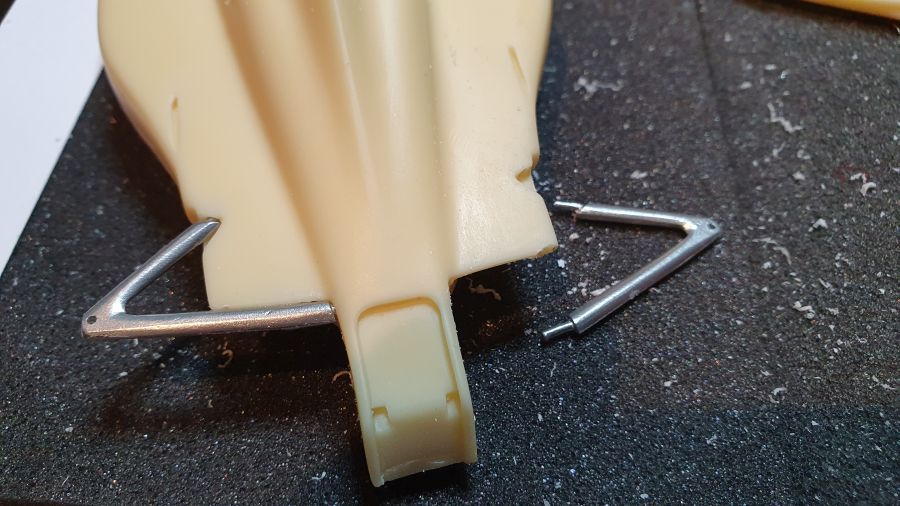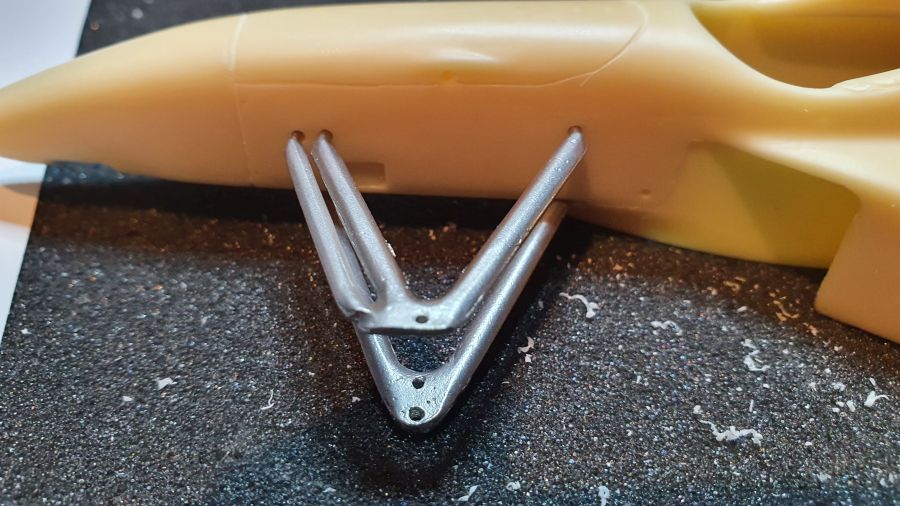 Omdat de auto in meerdere kleuren moet worden gespoten, doe ik vast een voorassemblage aan de achtervleugel.
Because the car needs to be painted in several colors, i am doing a pre assembly on the rear wing.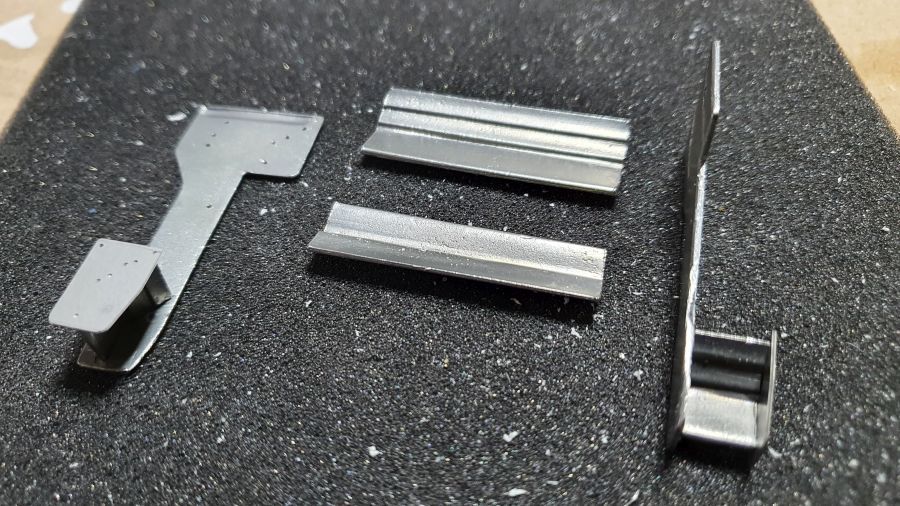 Dan de primer aangebracht opdat ik beter kan zien waar ik aan moet werken. Ook een paar lepels voor verfproeven. Ik moet acrylverf en lacquer naast elkaar gebruiken. Gevaarlijk dus.
Then added some primer to be able to see what needs more work. Also a couple of spoons for test painting. I will need to use acrylic paints next to lacquer paints. So dangerous.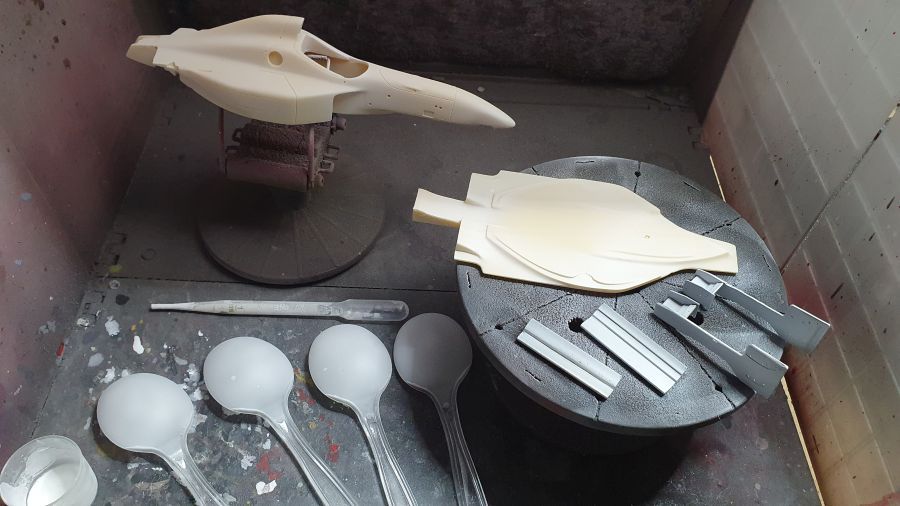 Deze kleur zou goed bij de decals passen, maar het spuiten vind ik niet mooi. Na 1x spuiten trekt het blauw helemaal weg met de Tamiya primer als ondergrond. Na 4x spuiten blijft het beter hangen, maar mooi?
This color would fit the decals perfectly, but the spraying is terrible. After 1x spray the blue disappears from the Tamiya primer. After 4x spray it sticks better, but nice?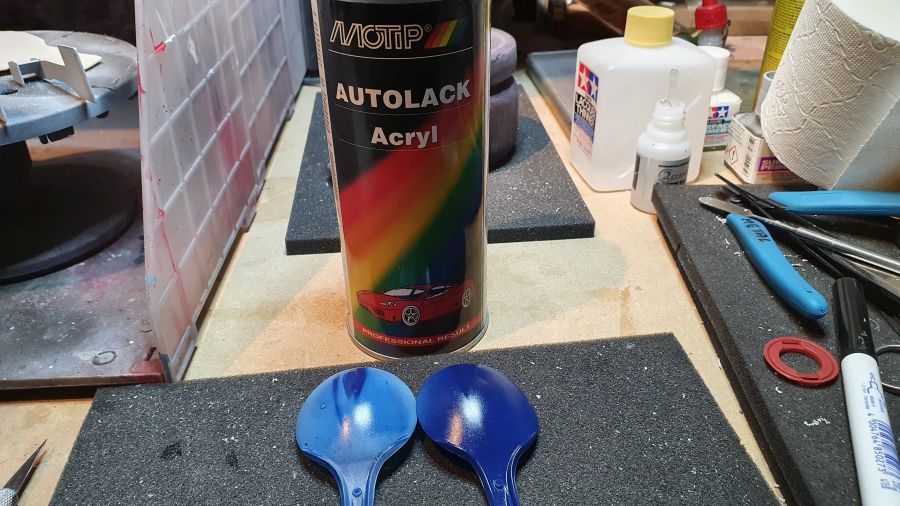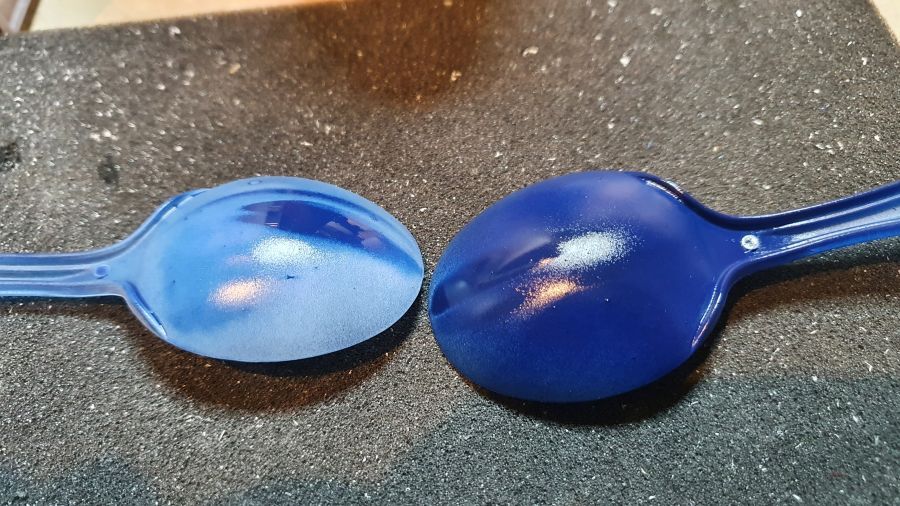 Meer tests... Ik denk dat ik voor RAL5003 ga. Onder Led-licht ziet het er anders uit dan bij daglicht.
More tests... I think i'll go for RAL5003. Under Led-light it looks different from under daylight.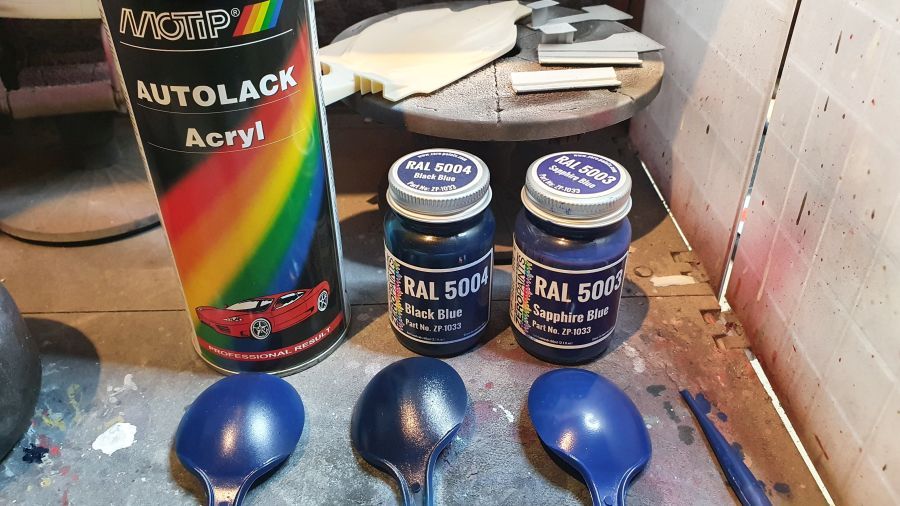 Er lijkt een soort 'dwarrel' in het plastic van de lepel te zitten, lastig bij het bepalen van verf.
There seems to be some kind of 'swirl' in the plastic spoon, makes it more difficult to judge the paint.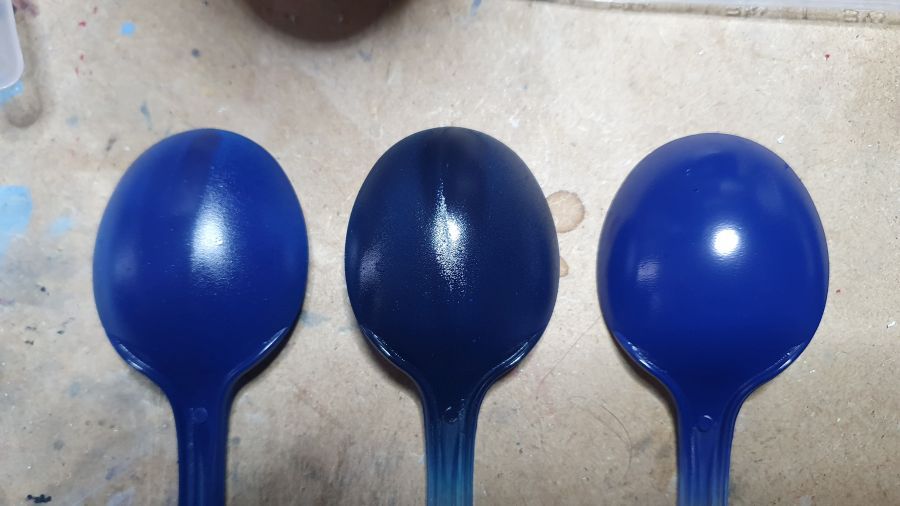 Het wit zit erop, nu laten drogen.
The white is on, now let it set.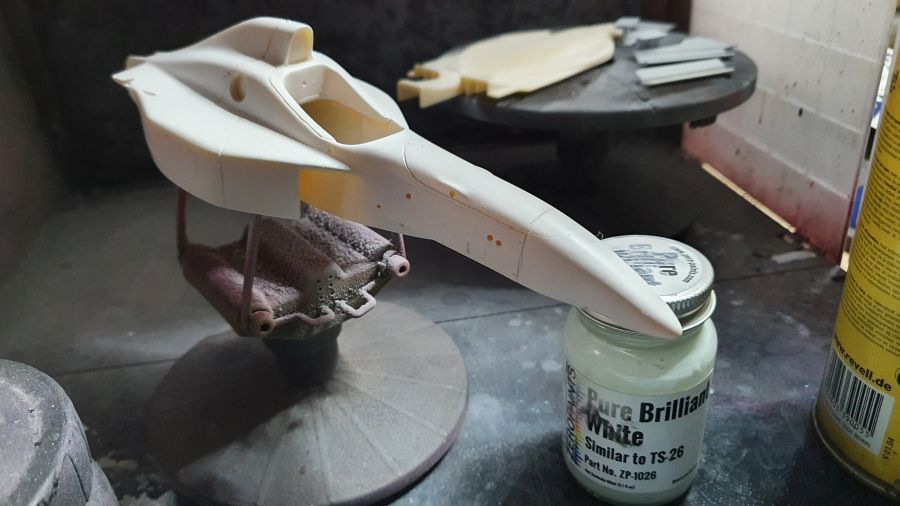 En de primer op de vloer.
And the primer to the floor.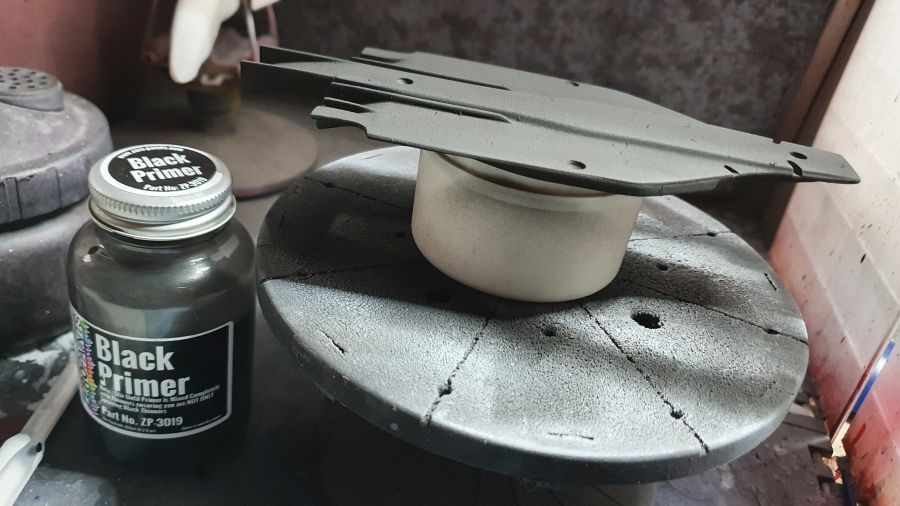 De voorvleugel in elkaar gezet.
The front wing assembled.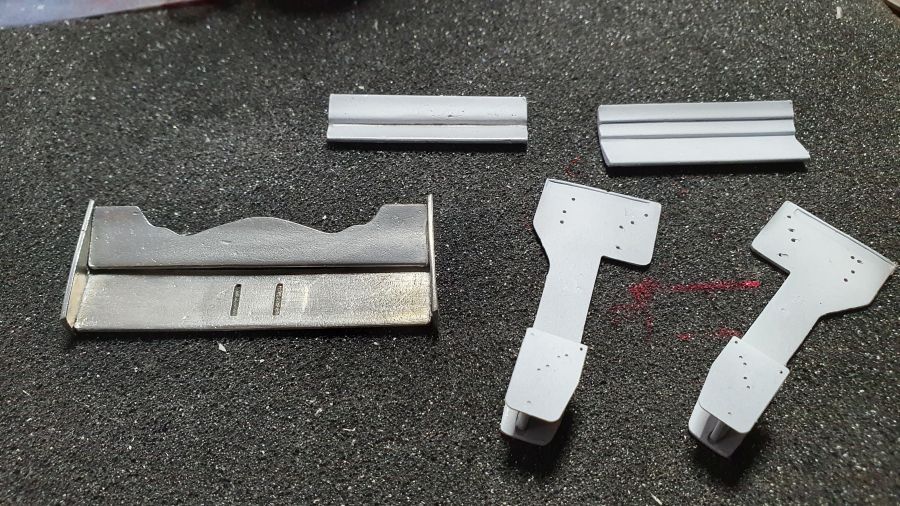 Meer grondverf gespoten. De voorvleugel 2-kleurig.
More primer painted. The front wing in 2-tone.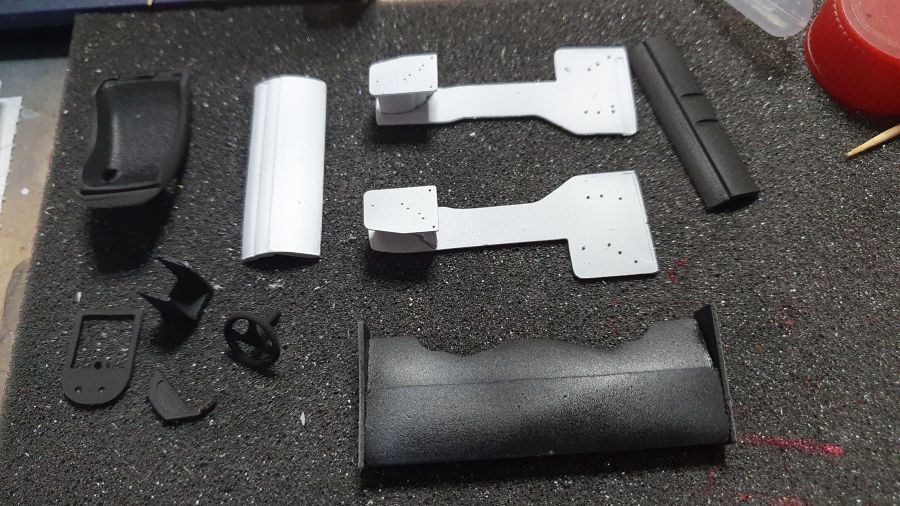 Het wit even gesealed met heldere lak ter voorbereiding voor de decals.
I sealed the white with lacquer for adding the decals.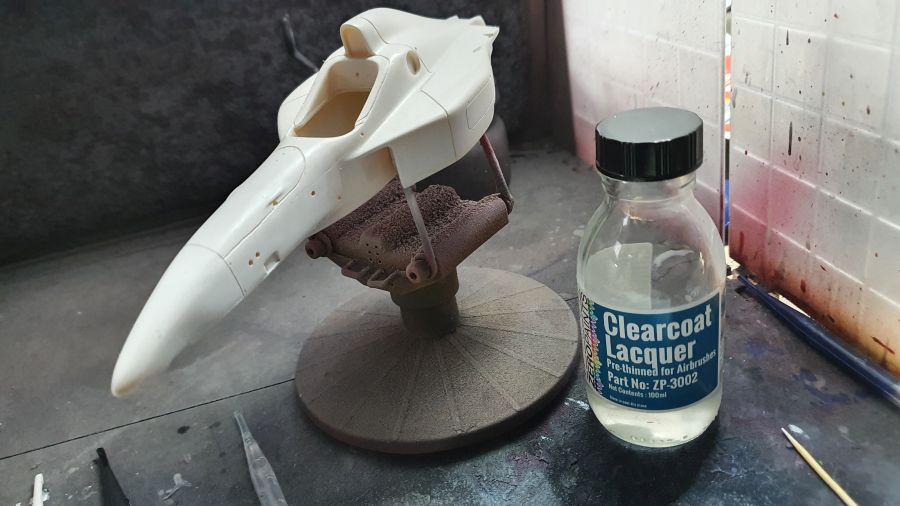 De vloer zijde mat zwart.
The floor gets semi gloss black.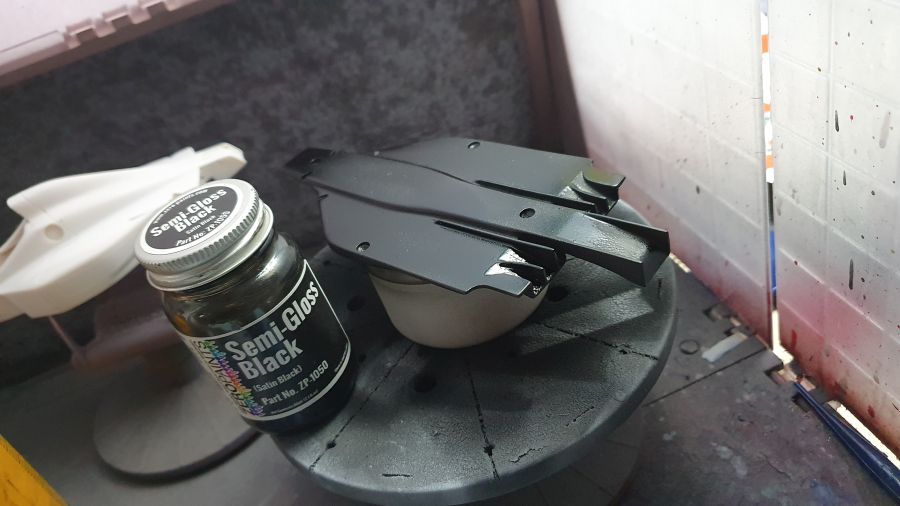 En het blauw...
And the blue...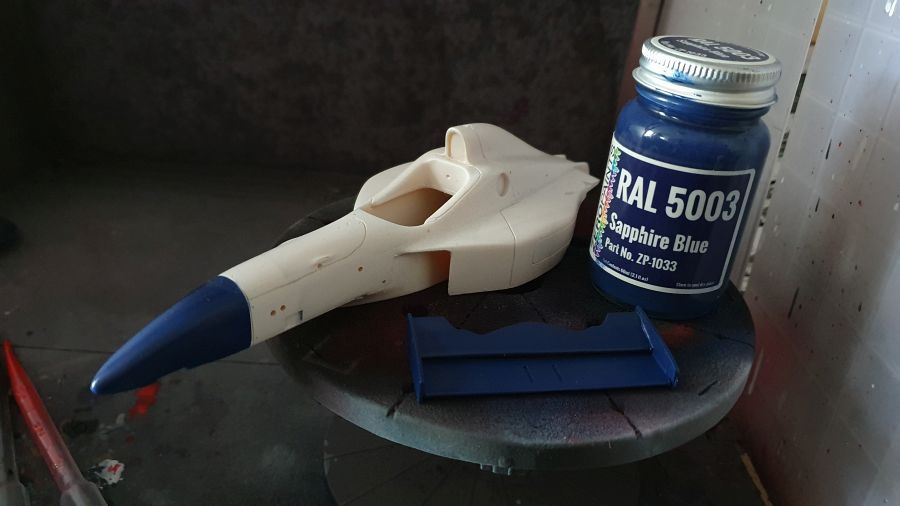 ... en rood.
... and red.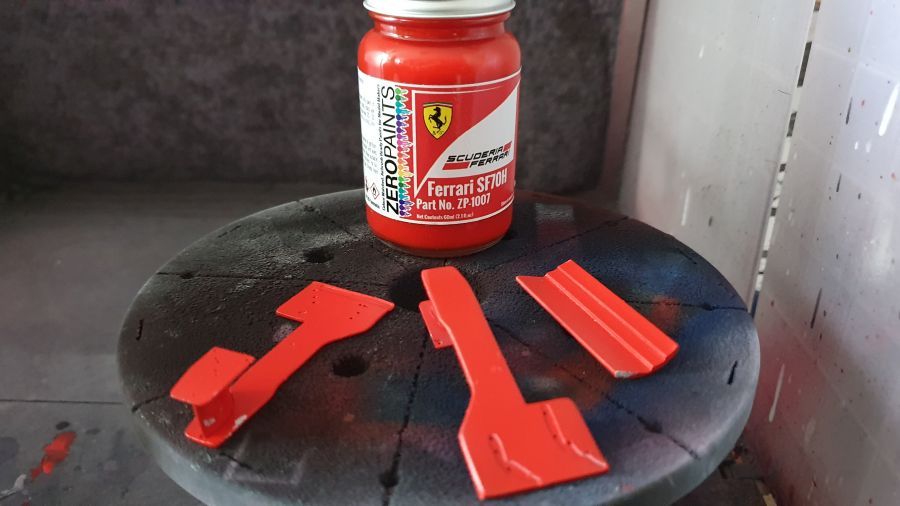 Het begin van de decals. Ze zijn wat lastig, ze reageren niet echt goed op Micro Set, Micro Sol of AK Decal Adapter.
The beginning of the decals. They are a bit of a pita, they don't react well on Micro Set, Micro Sol or AK Decal Adapter.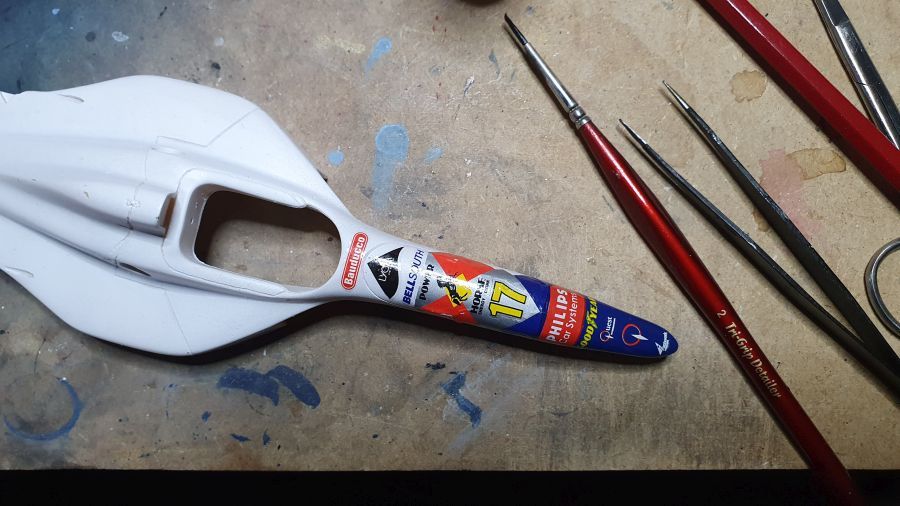 Wolf Kits heeft deze 2 decals onjuist op de instructies. Verwissel links en rechts. En ze vergeten de printer decal op de neus. Je kunt die van de Late Version decal set gebruiken. Ik zag het iets te laat, anders had ik alles iets opgeschoven.
Wolf Kits has these 2 decals incorrect on the instructions. Change left and right. And they forgot about the printer decal to the nose. You can use the one of the Late Version decal set. I noticed it a little too late, otherwise i would have applied everything a little bit different.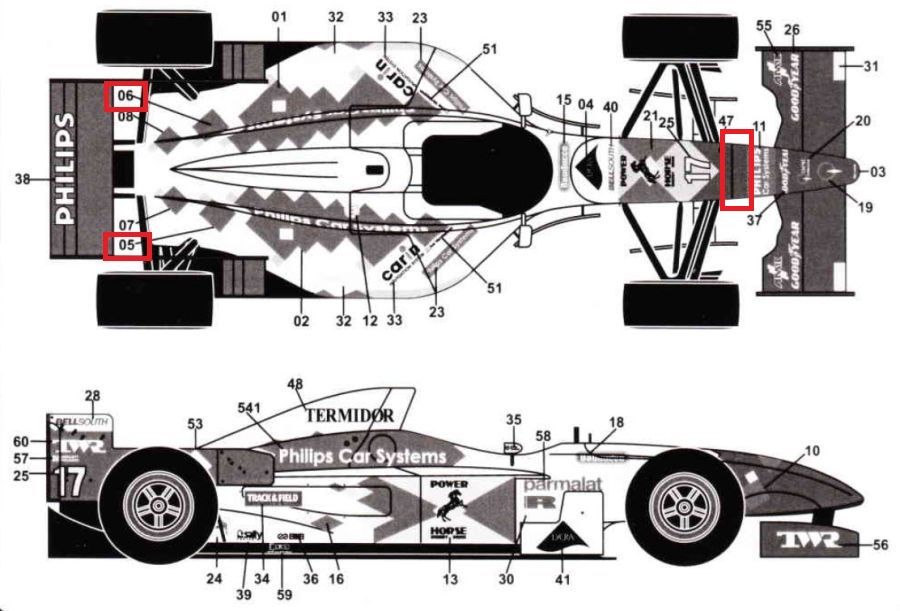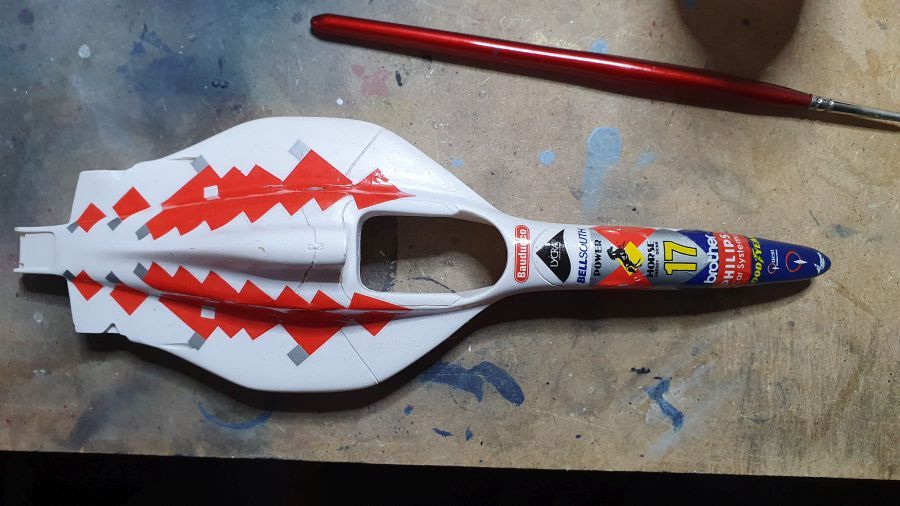 Decals 43 t/m 46 staan helemaal niet op de instructies.
Decals 43 to 46 are missing totally on the instructions.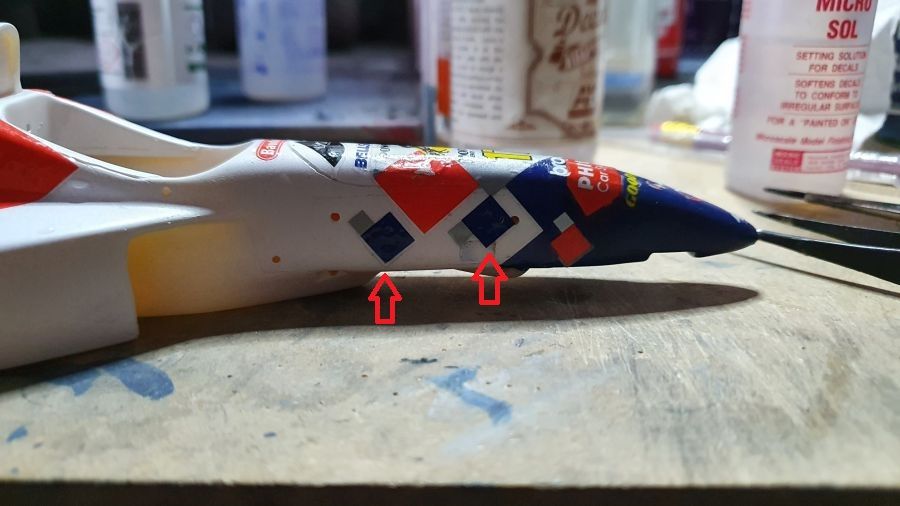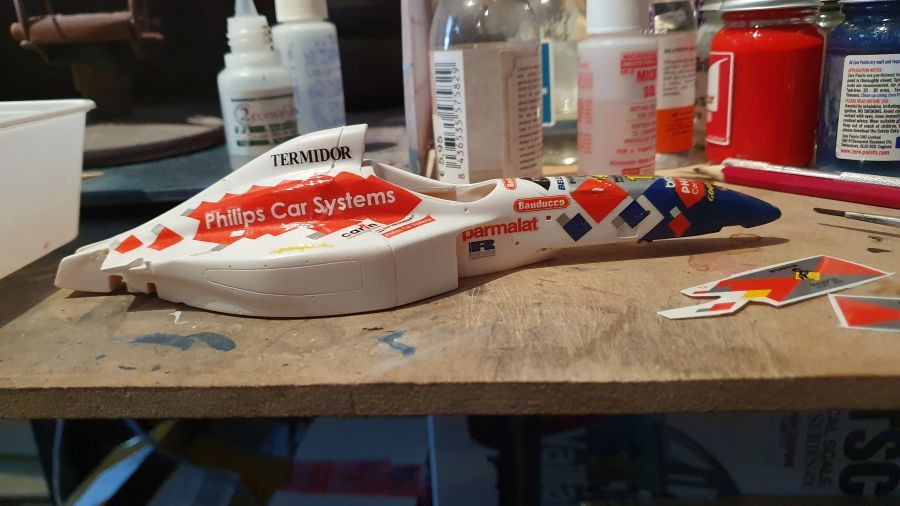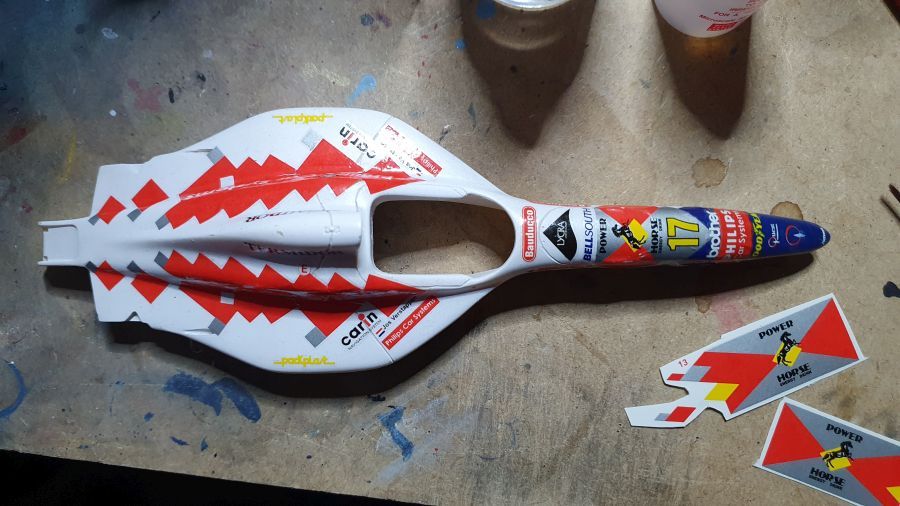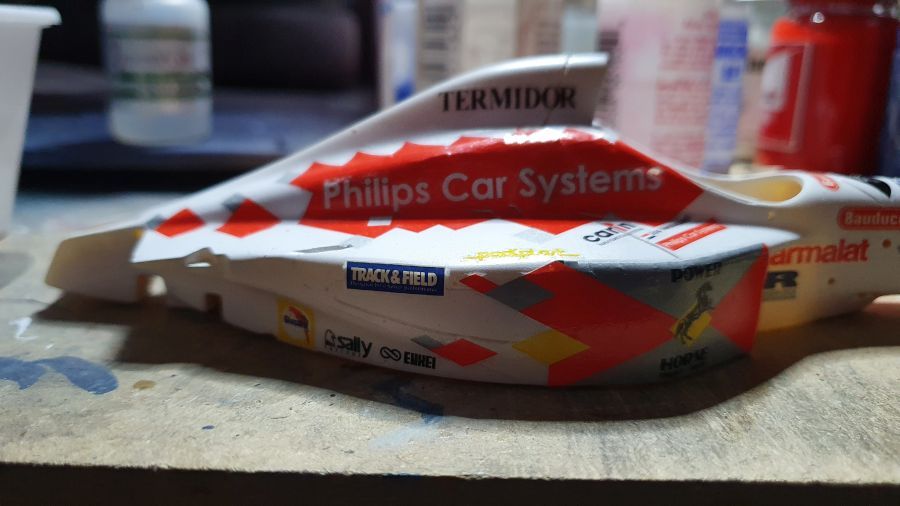 Even goed nadenken hoe dit moet worden gevouwen.
Thinking about how to fold these.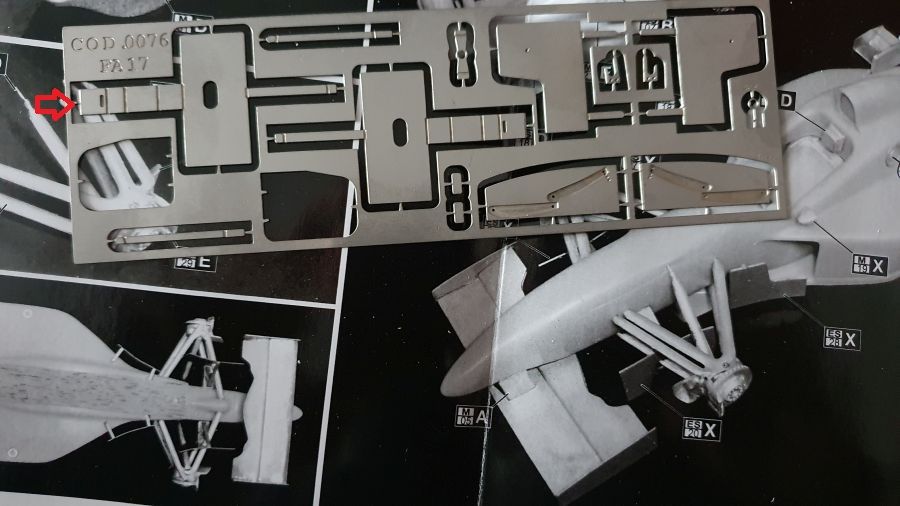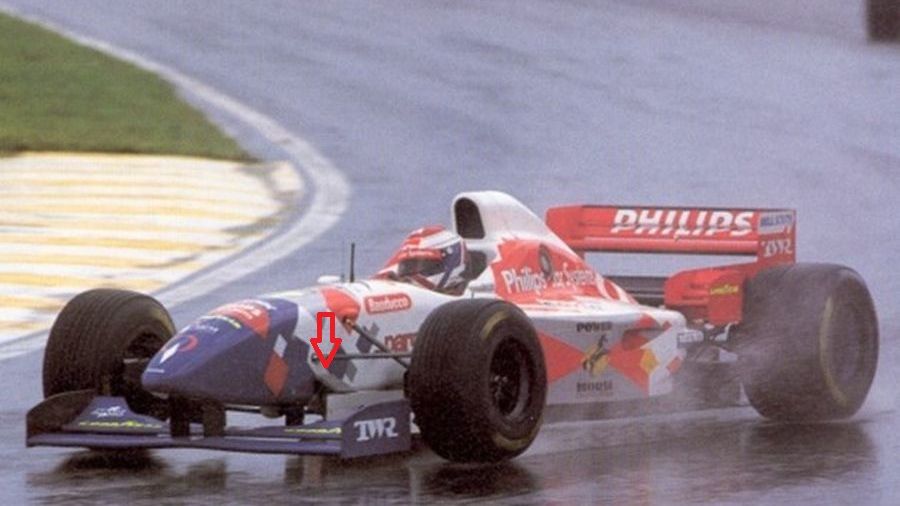 Decals op de vleugels.
Decals to the wings.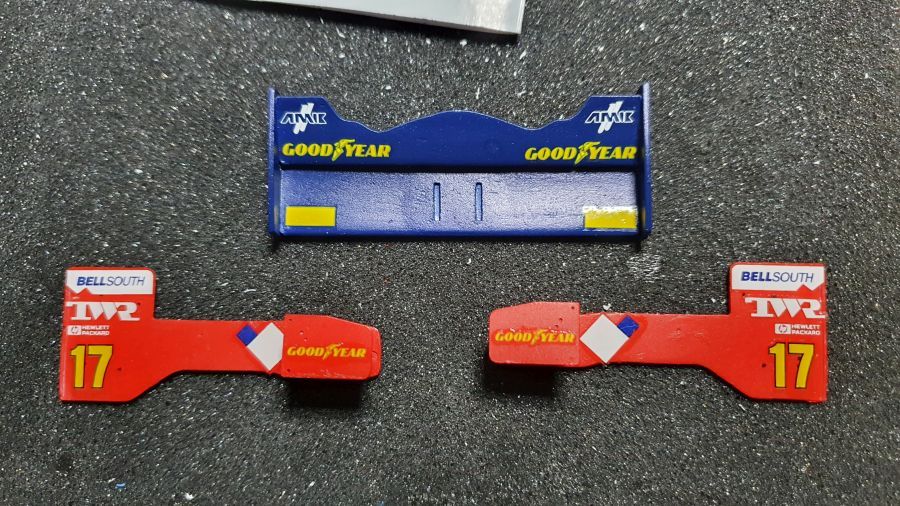 Ook hierop het wit en dan de rolling tool gebruiken om te buigen.
Applied white to this too and then using the rolling tool to bend.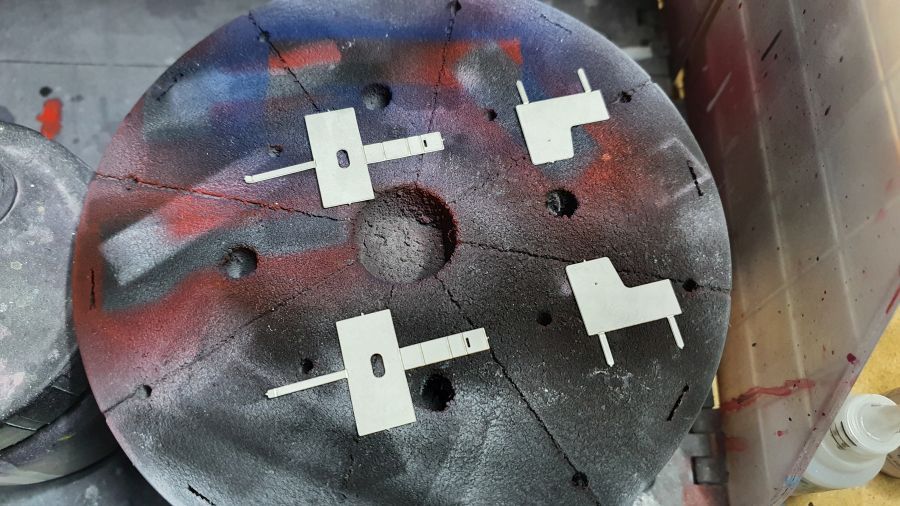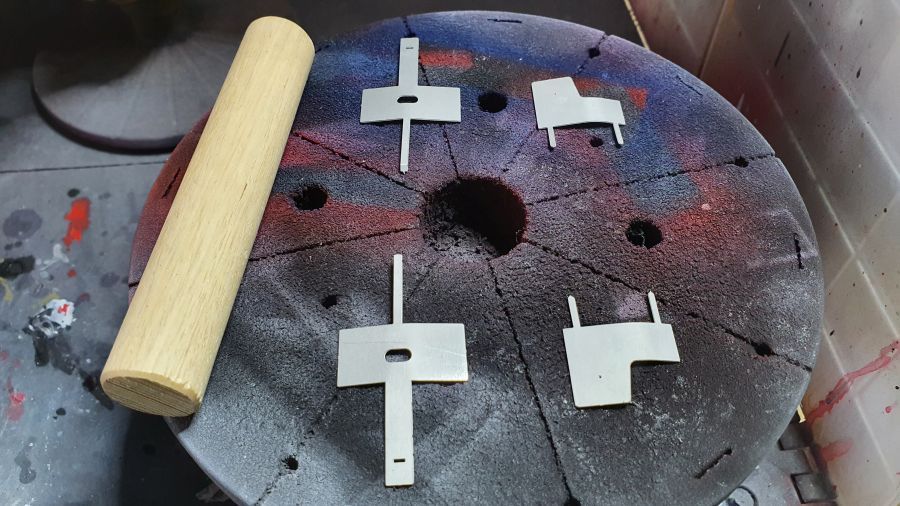 De delen van de ophanging krijgen zwarte primer en daarna metallic zwart.
The parts of the suspension receive black primer and then metallic black.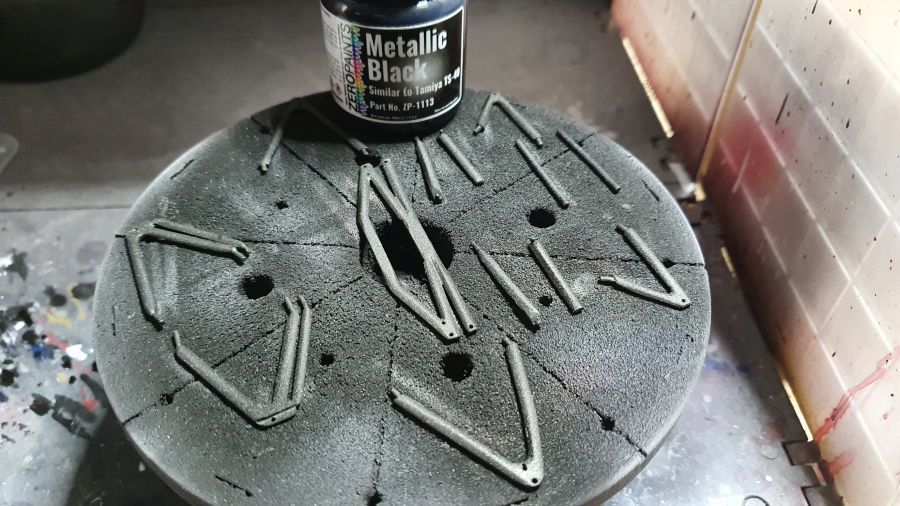 Dan the stoel...
The seat is next...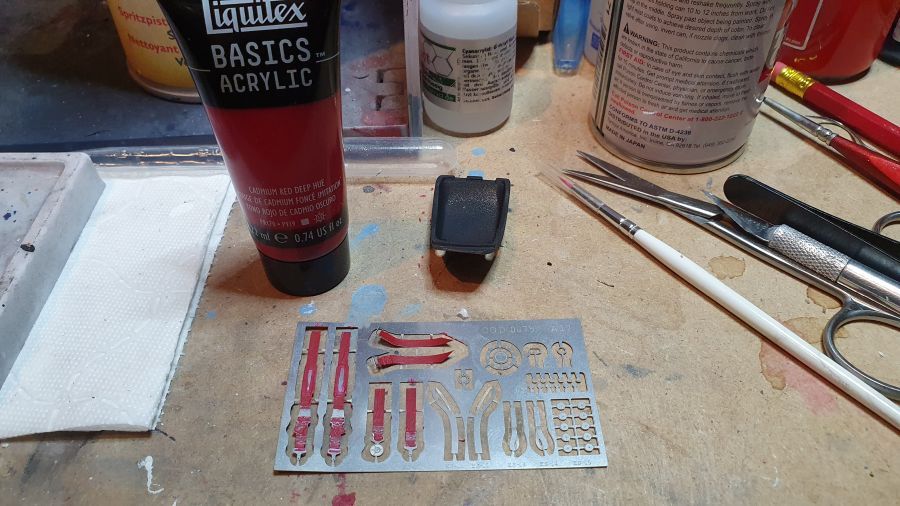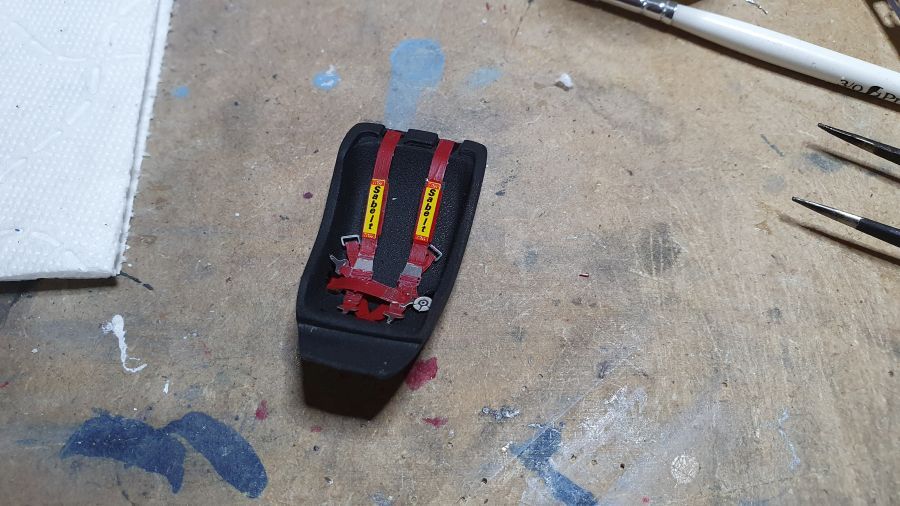 Stoel en dash plaatsen en de vloer eronder.
Adding seat and dash and mounting the floor.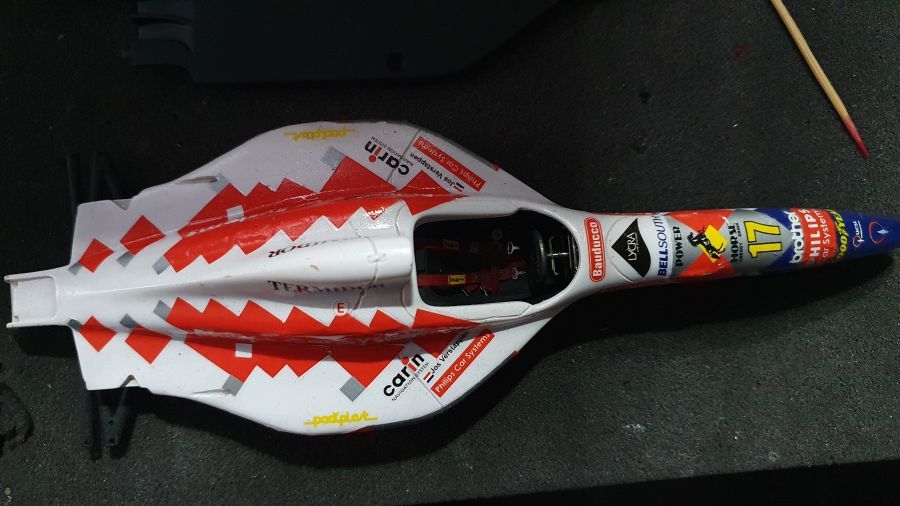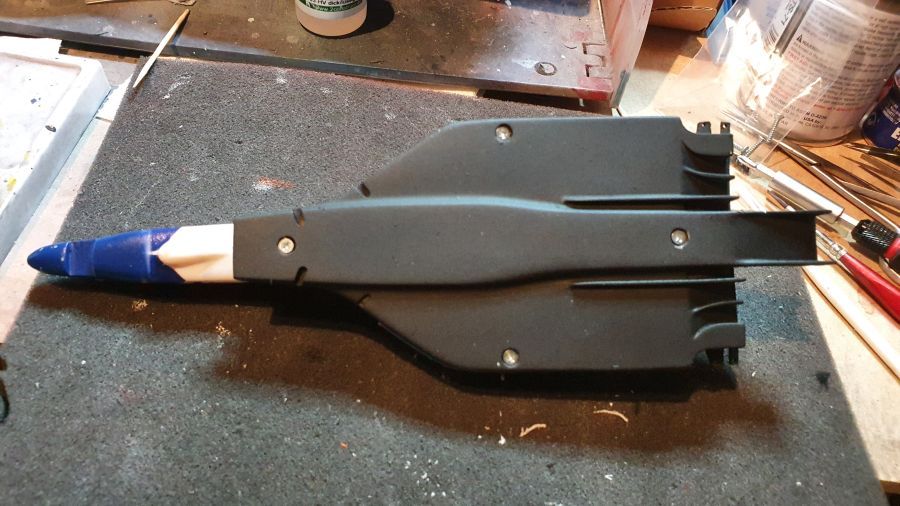 Werken aan de boards tussen de ophanging.
Working on the boards between the suspension.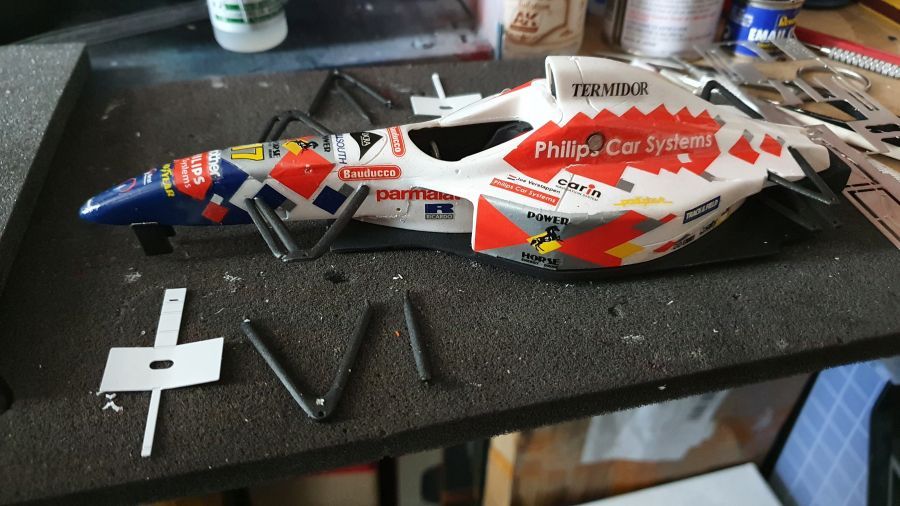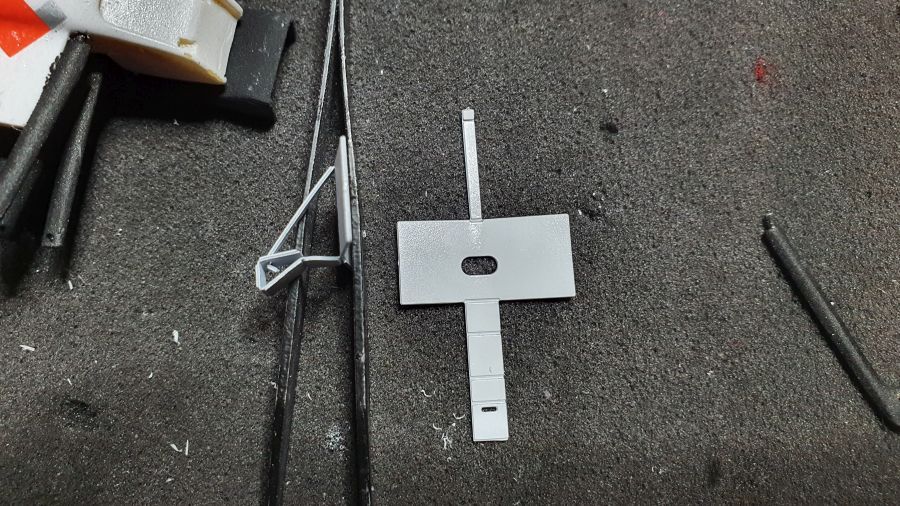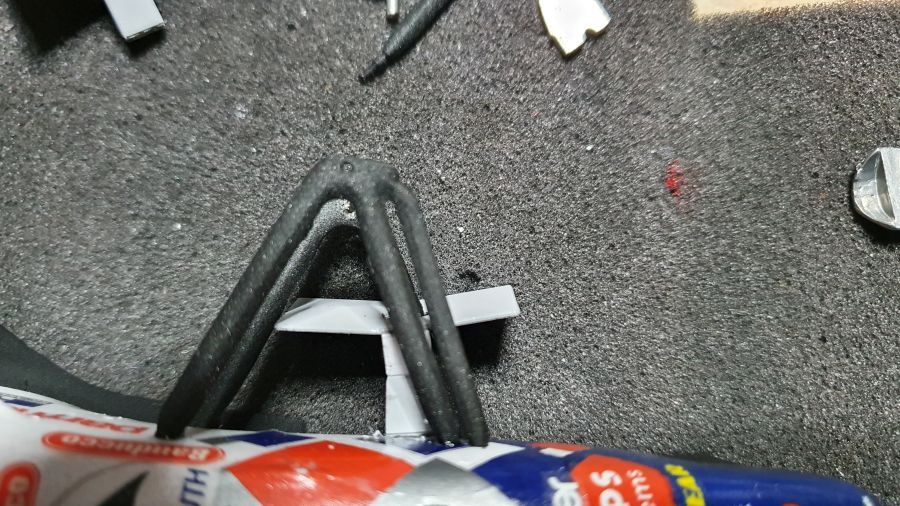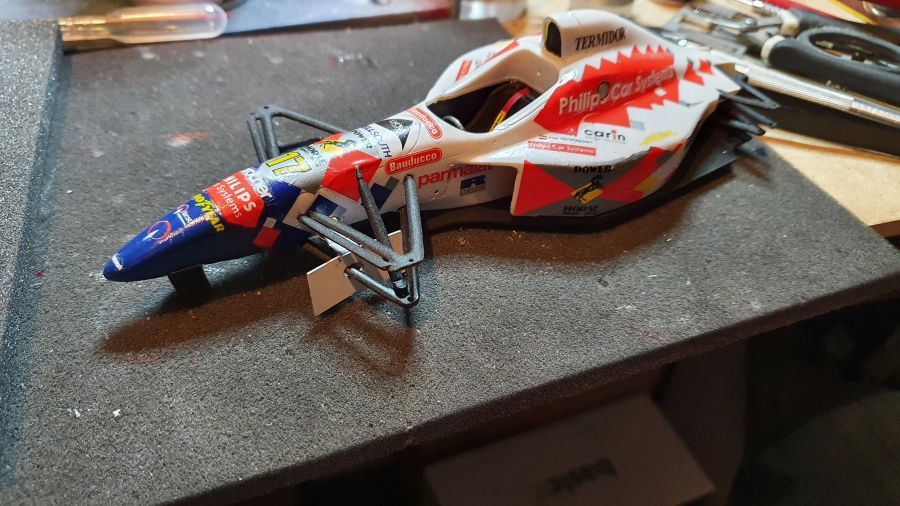 De remkoeling verven.
Painting the brake ducts.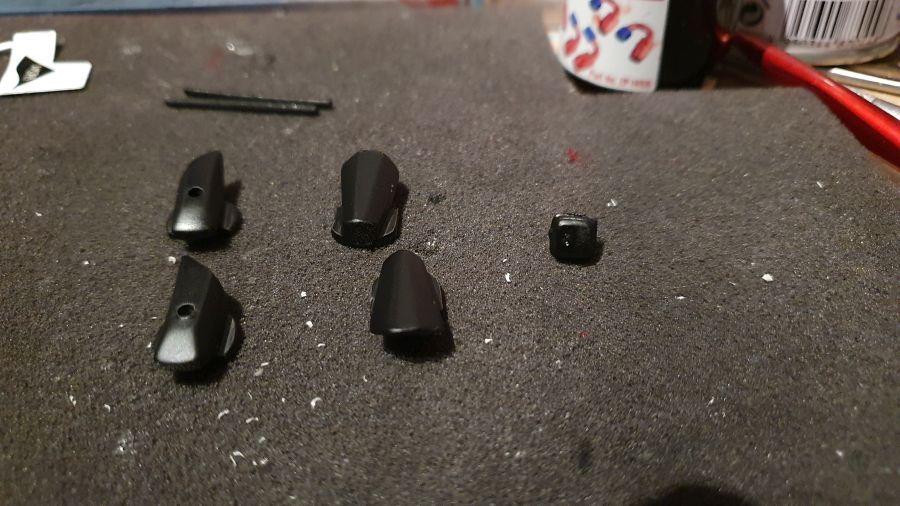 De steunen voor de achtervleugel plaatsen.
Adding the supports for the rear wing.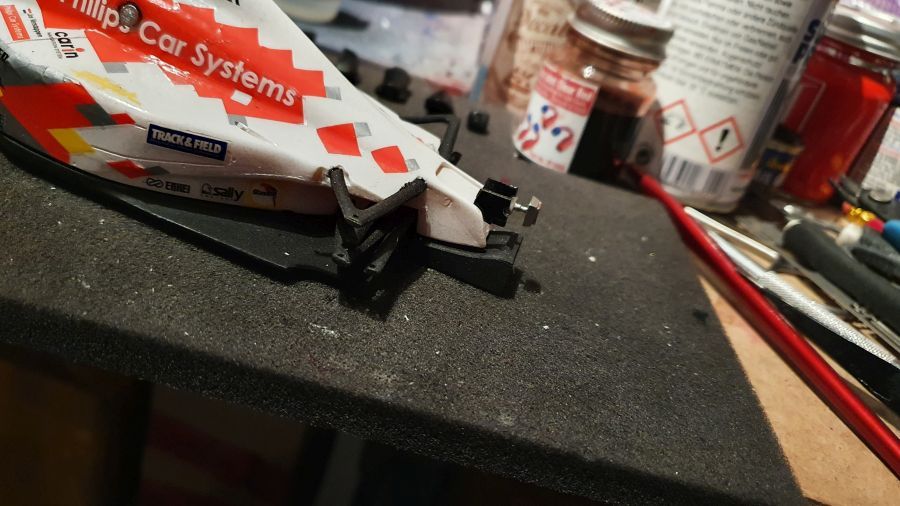 De barge boards testen.
Testing the barge boards.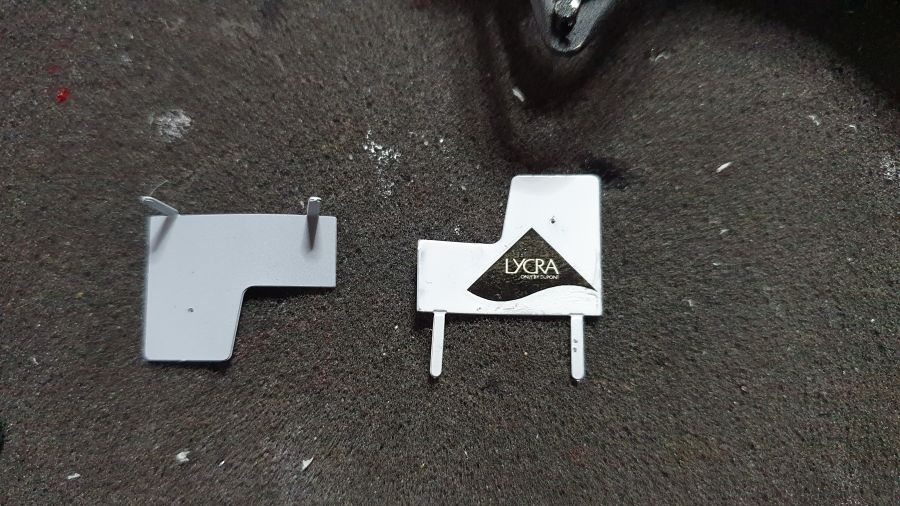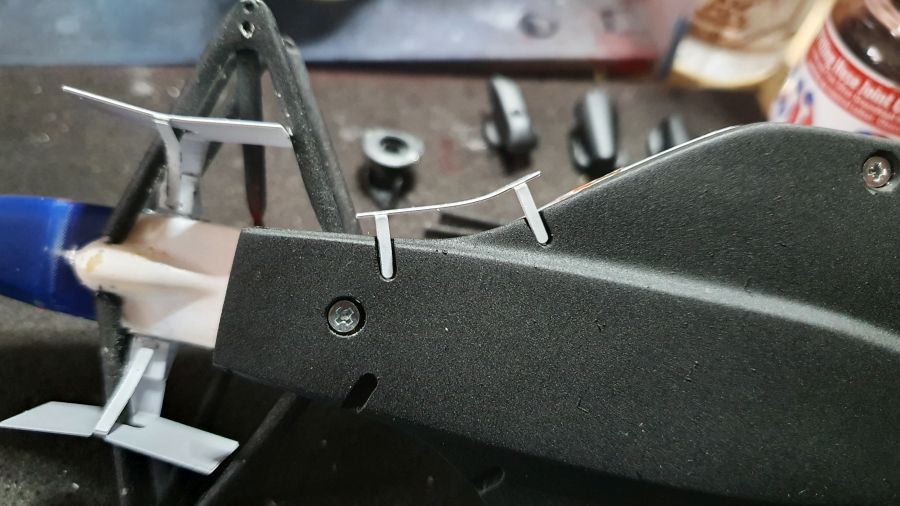 Nu zijn de velgen aan de beurt.
Now it's the turn of the rims.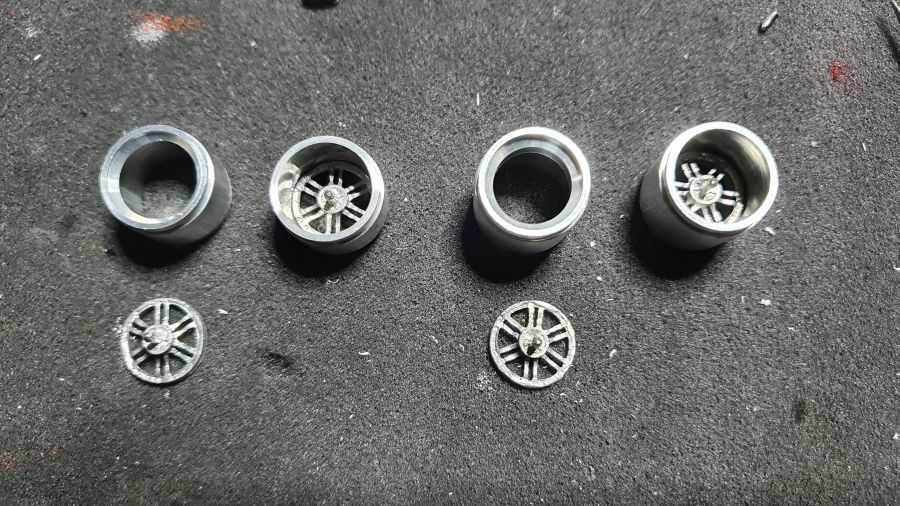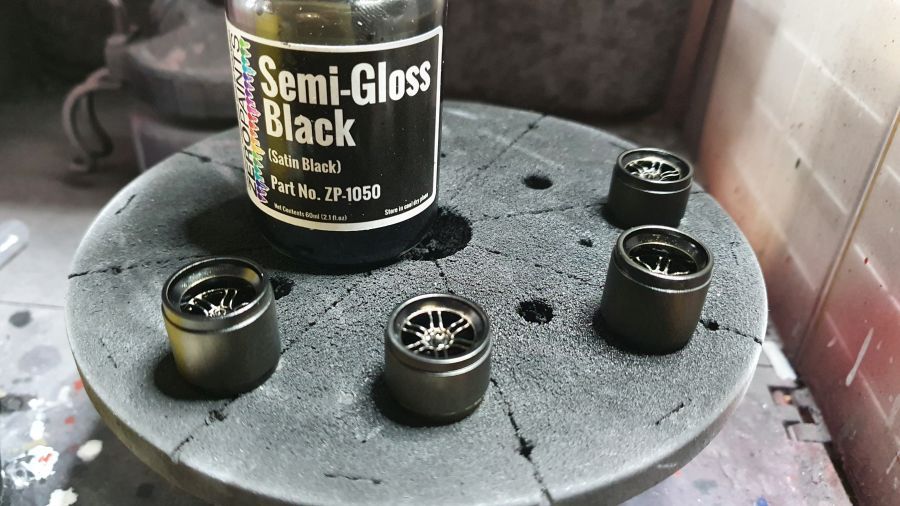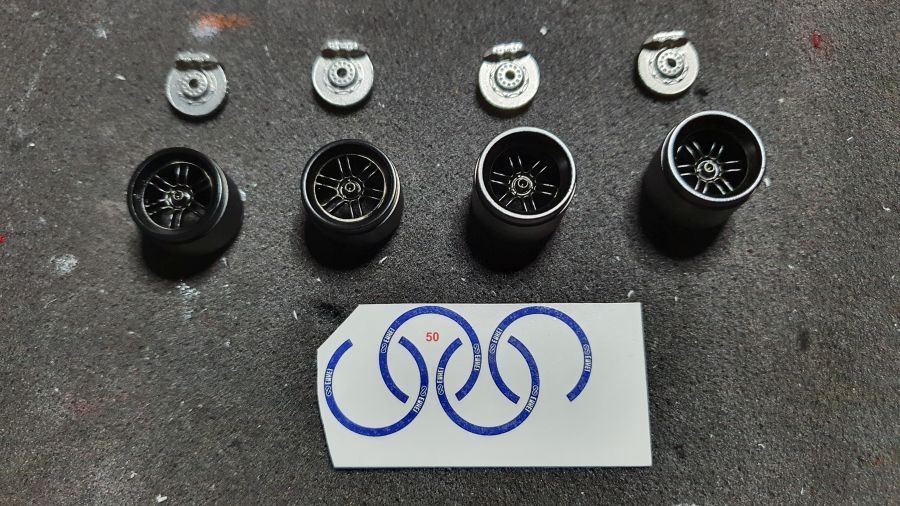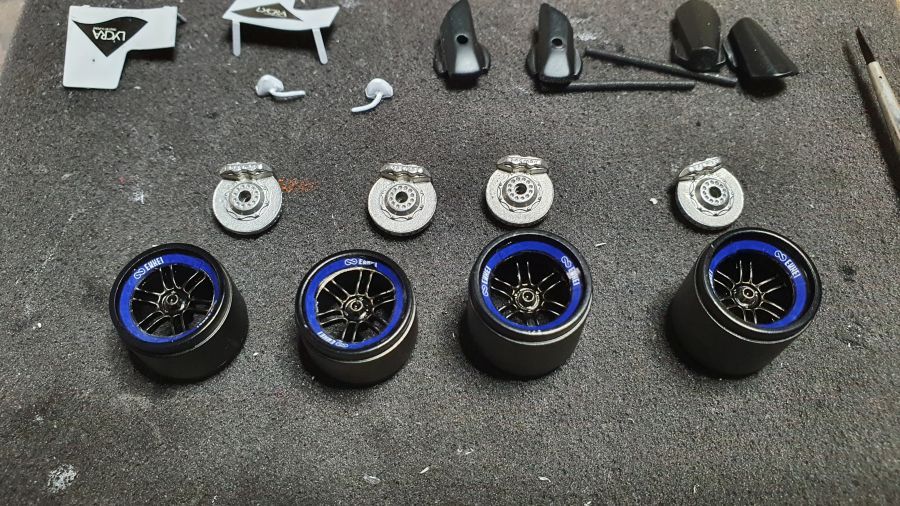 ... en banden.
... and tires.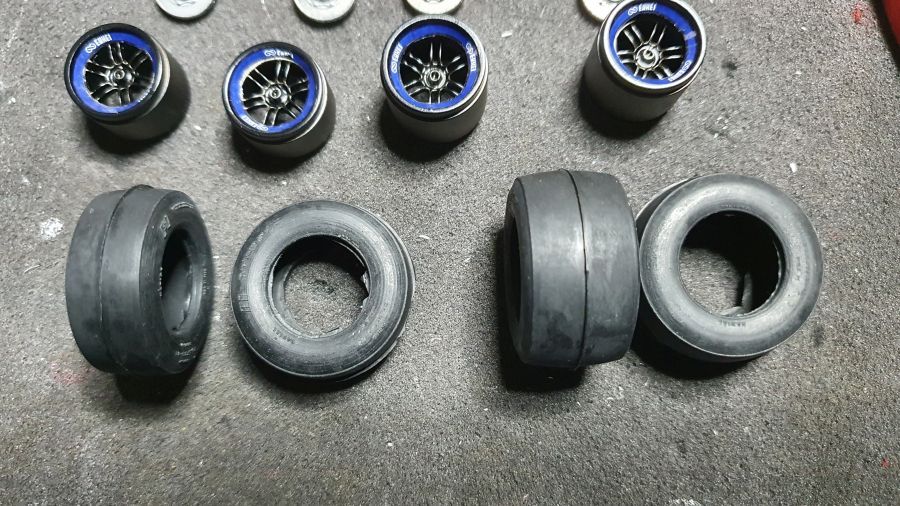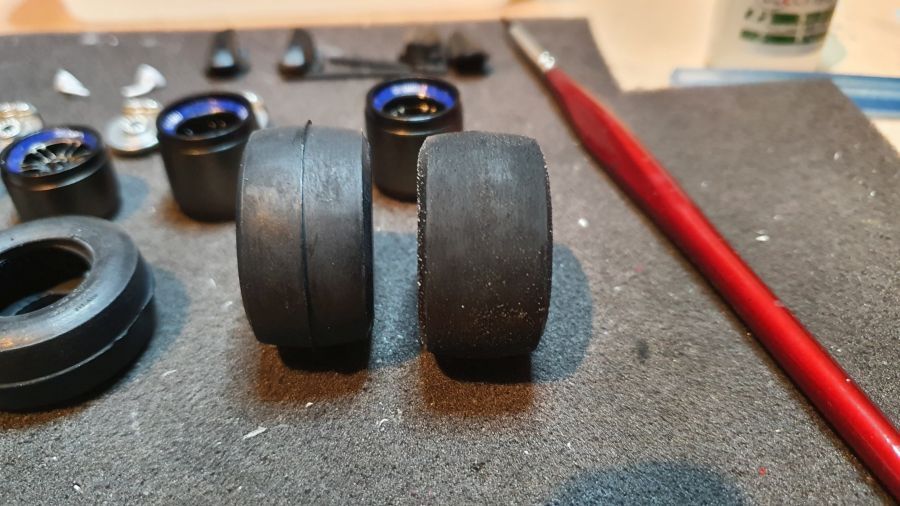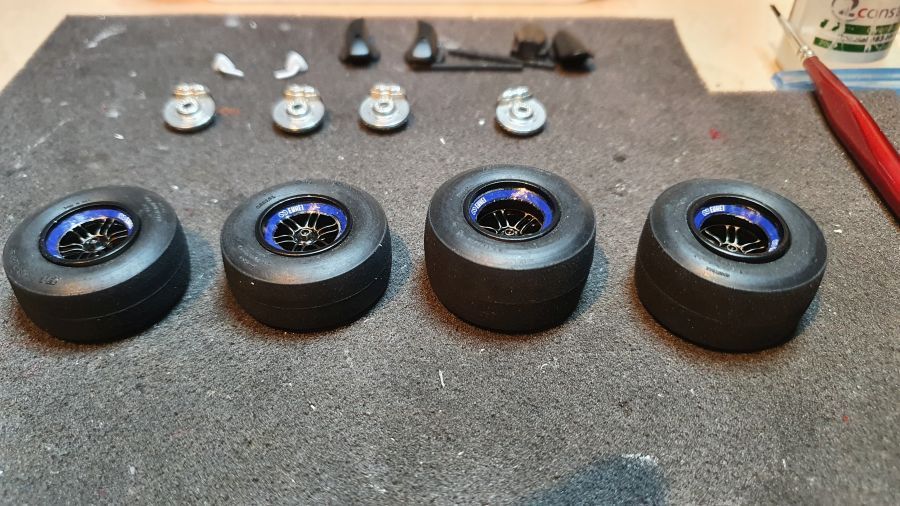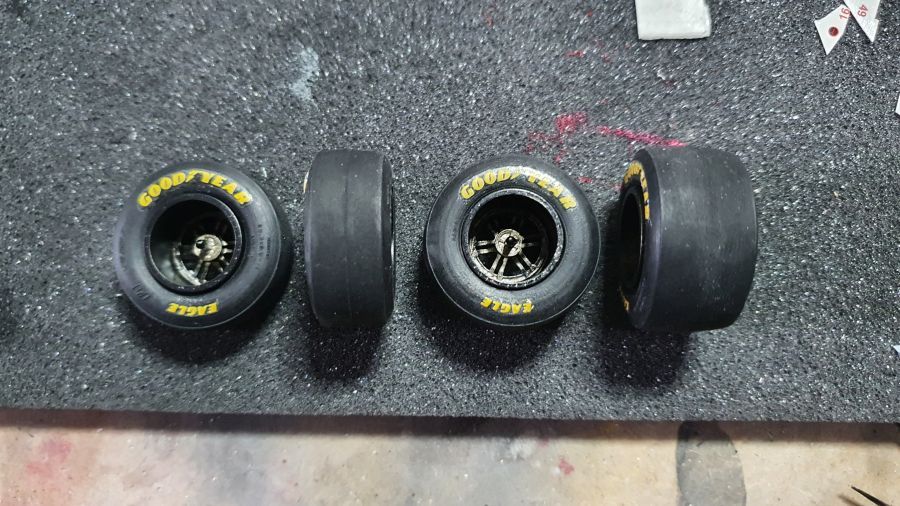 En dan de plank.
Next is the plank.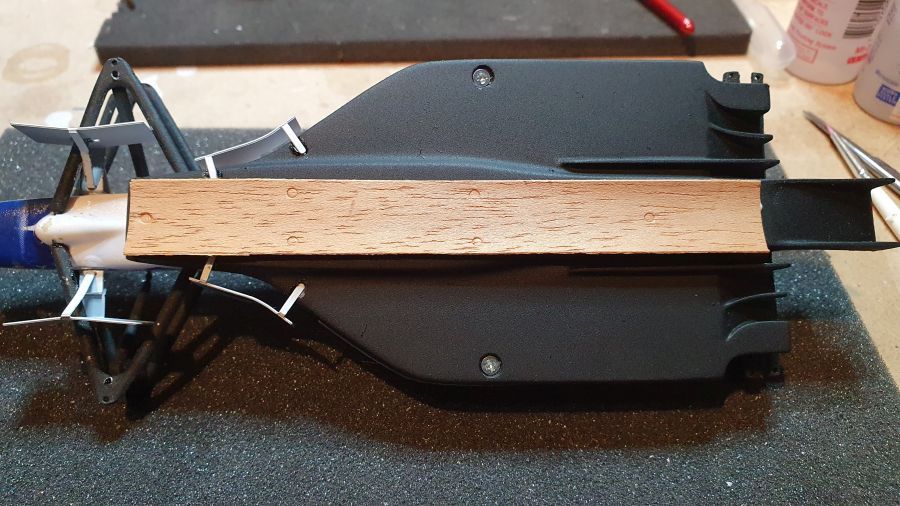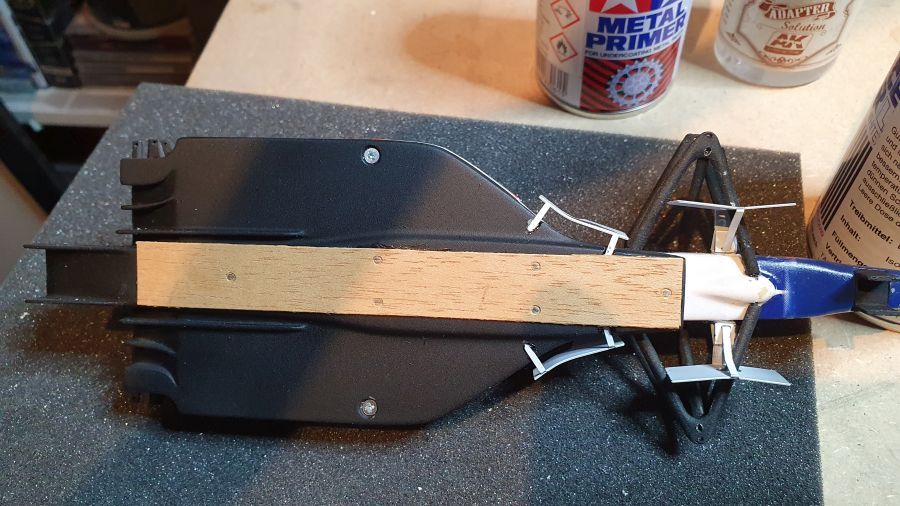 De achervleugel combineren en passen.
Combining and test fit of the rear wing.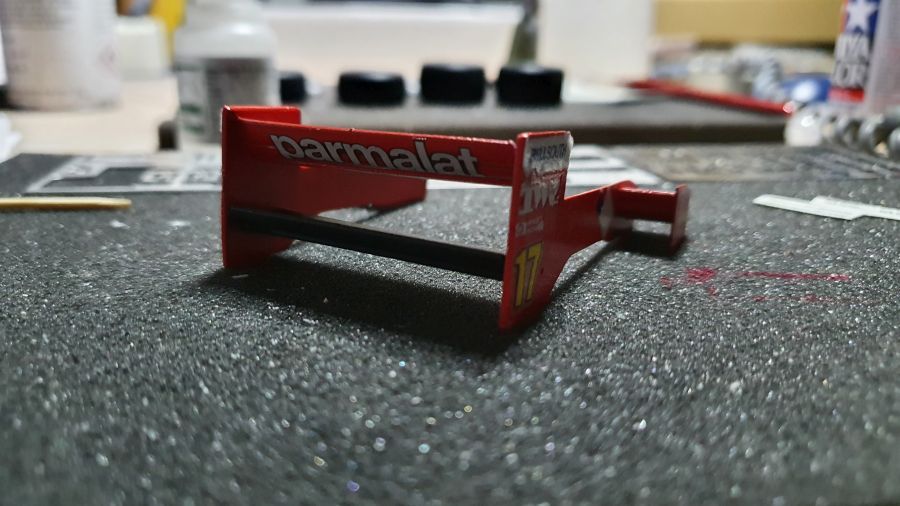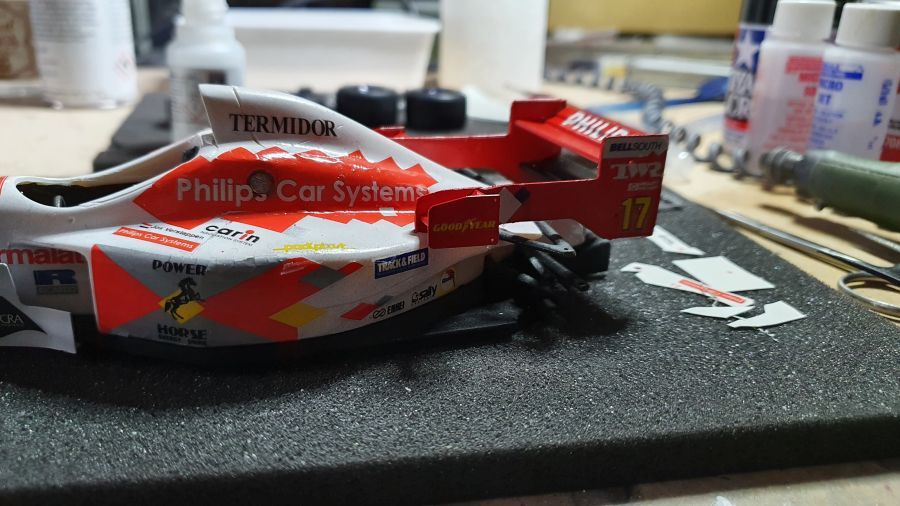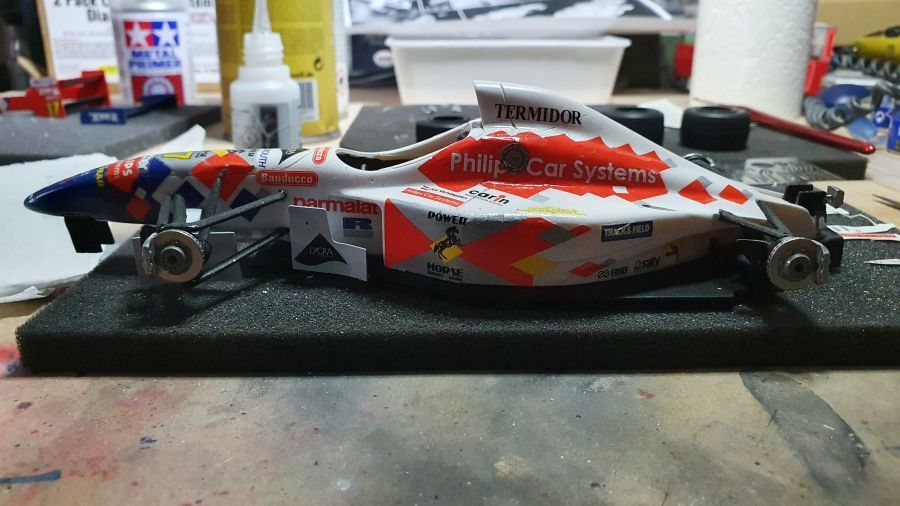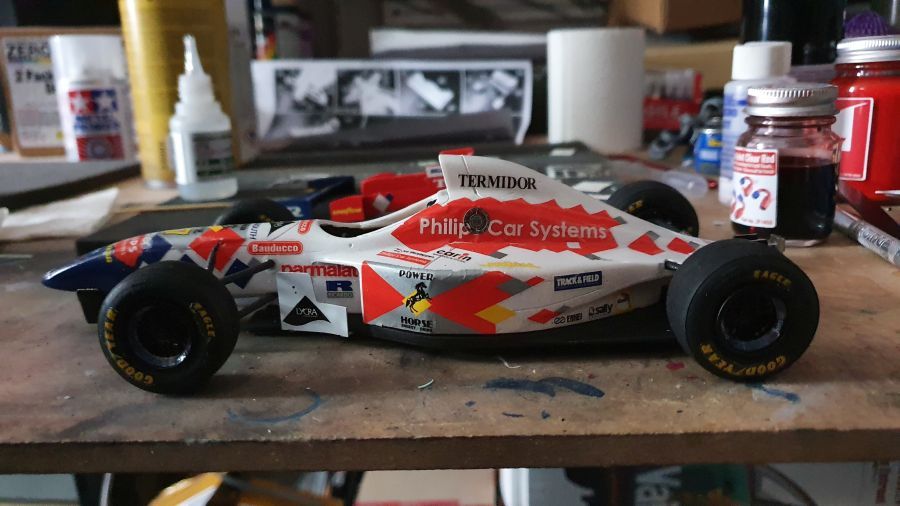 Ik denk, weer klaar.
I think, done.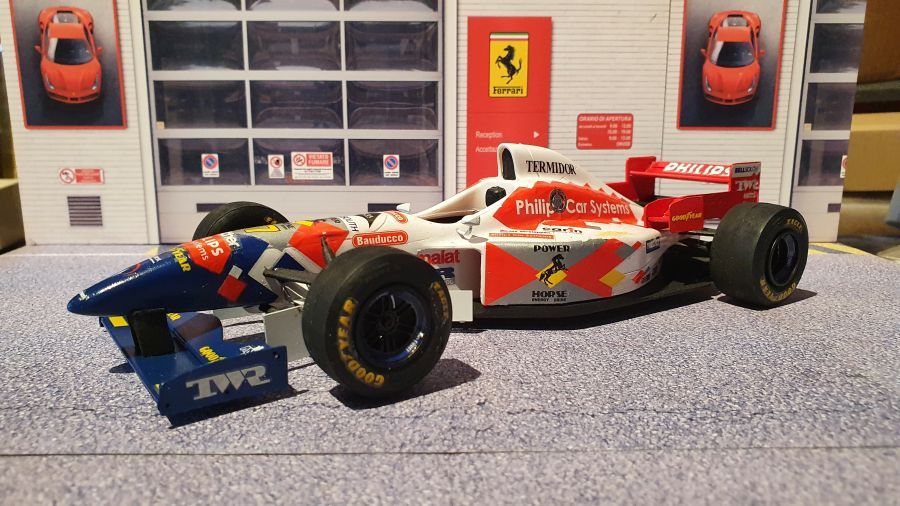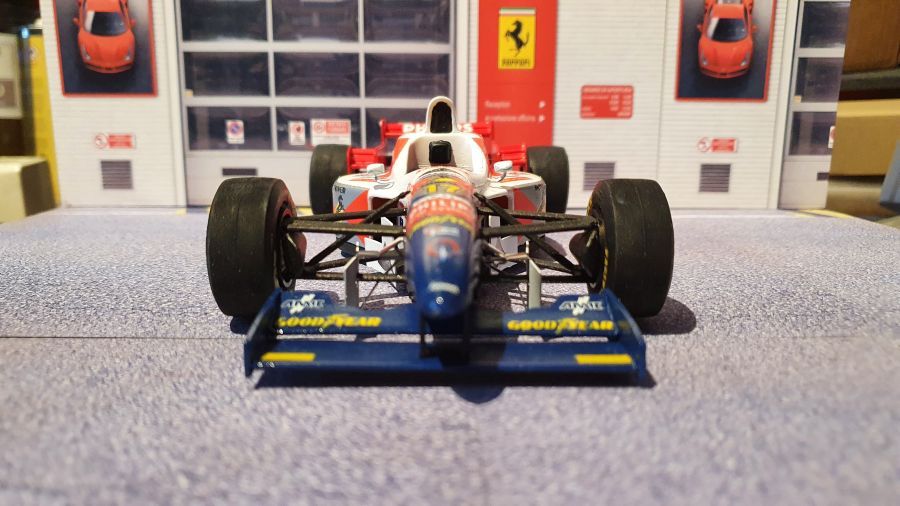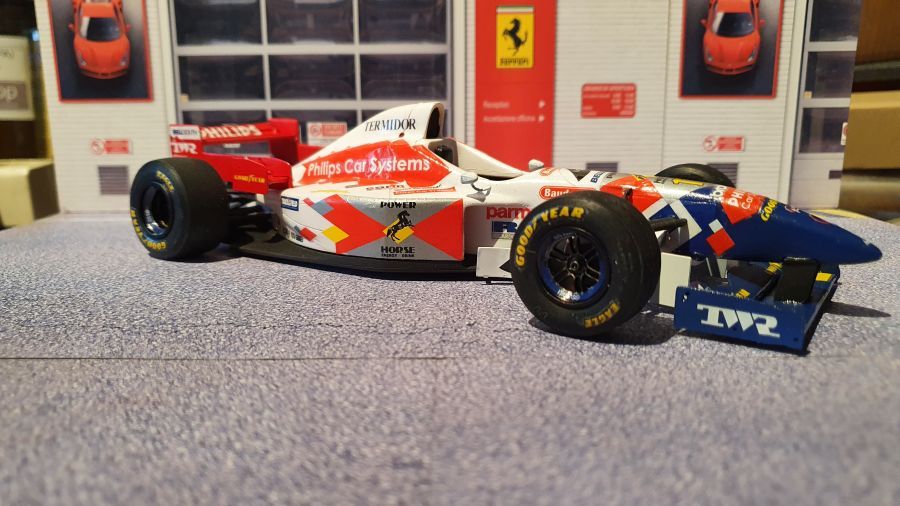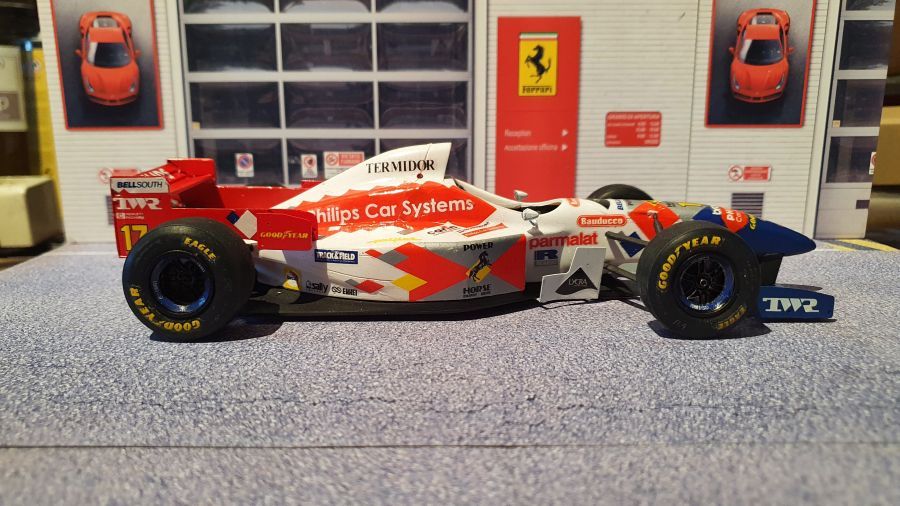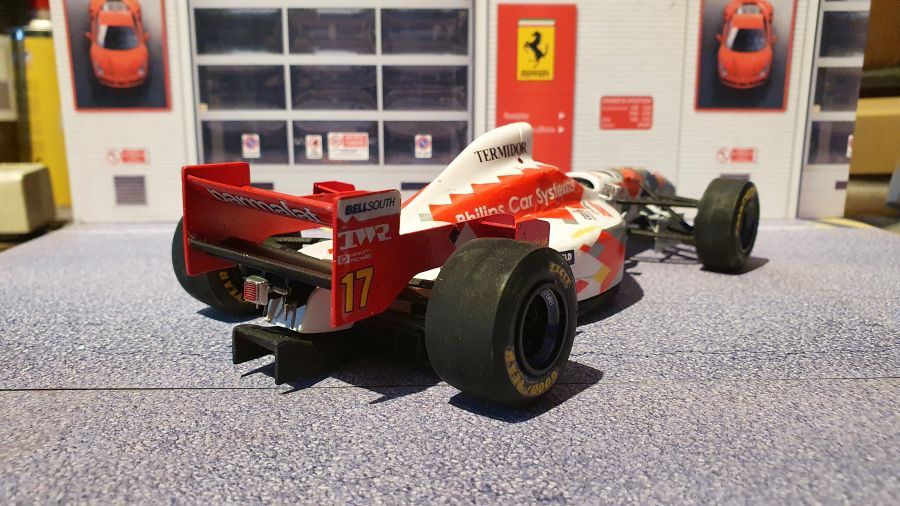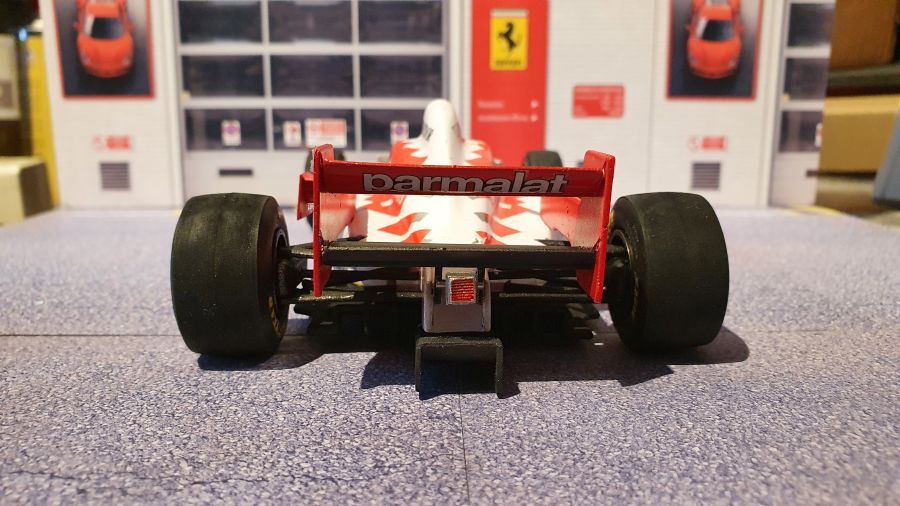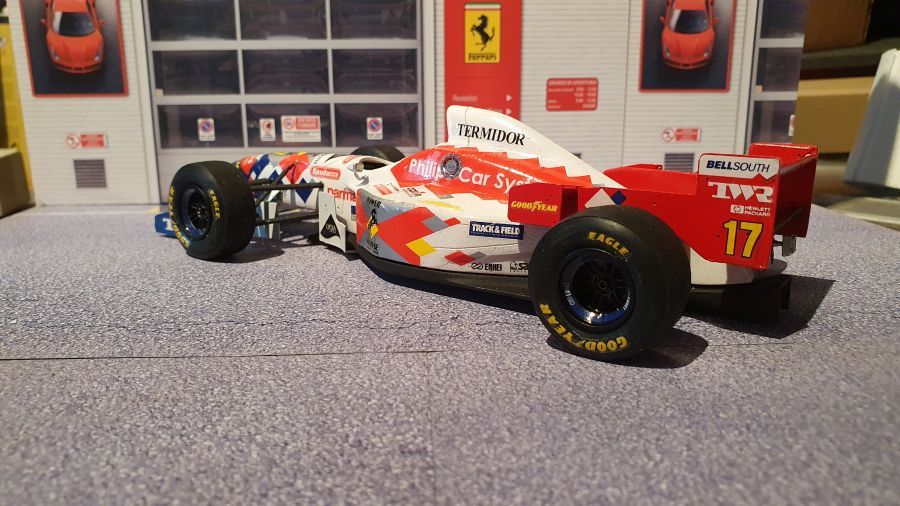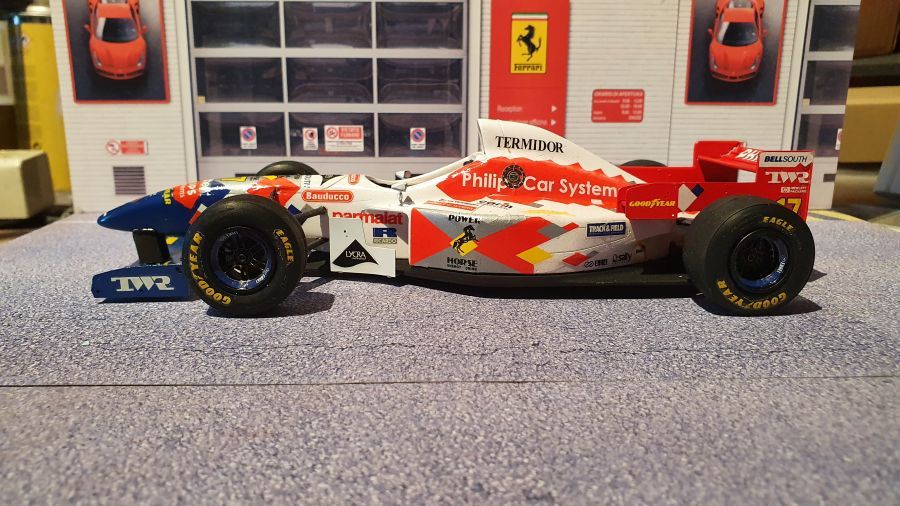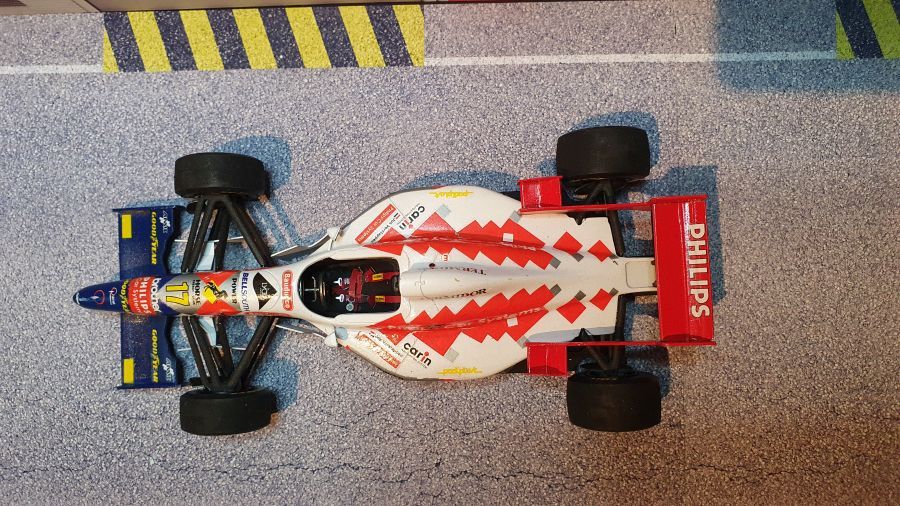 Op zich geen verkeerde kit. Alleen die decals, dat is een ramp. Ze reageren niet/nauwelijks op decal softener. En pas op, de instructies geven niet altijd de juiste plaatsing van de decals weer.
At itself not a bad kit. But those decals, they are a disaster. They don't/hardly react to decal softener. And take care, the instructions are not always correct on the decals.