Het is tijd om maar weer een paar F1 wagens te bouwen. De voorrraad wordt te groot. Luxe probleem. Nu dus de wagen van de wereldkampioen van 2021, Max Verstappen. Mooie aanvulling voor mijn Nederlands gereden F1 wagens verzameling. Deze 2021 Red Bull RB16B is de Abu Dhabi versie van Wing Model in schaal 1/20. Weer een 3D geprinte wagen. Helaas heeft de vloer de reis niet goed doorstaan. Ik hoop dat ik het stevig genoeg kan repareren.
It's time to build a couple of F1 cars. The stash is getting too big. A luxury problem. So now the car of the world champion of 2021, Max Verstappen. A nice add to my collection of Dutch driven F1 cars. This is 2021 Red Bull RB16B Abu Dhabi version in scale 1/20 from Wing Model. Again a 3D printed car. Unfortunately the floor didn't survive the travel. I hope i can repair it sufficiently.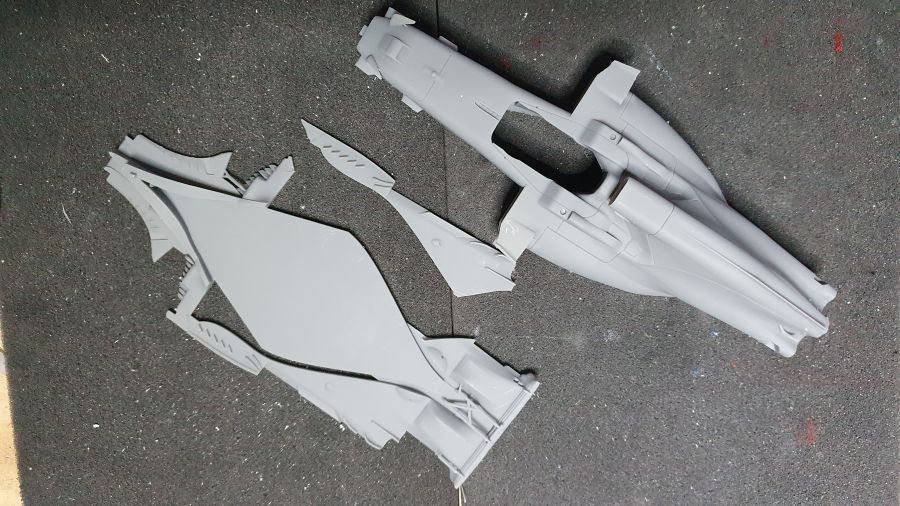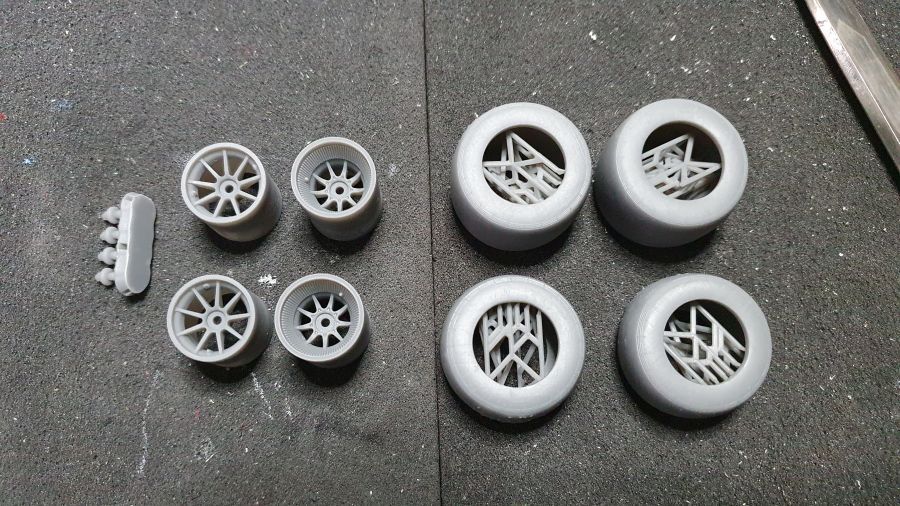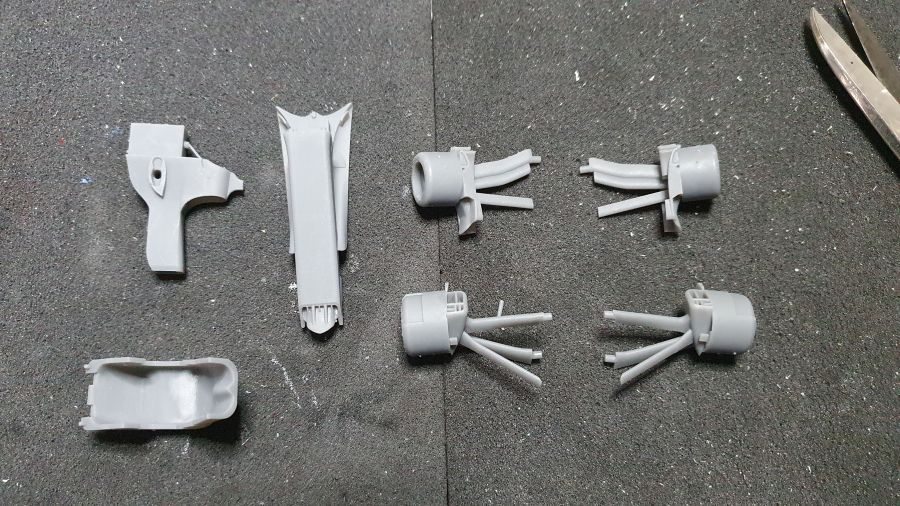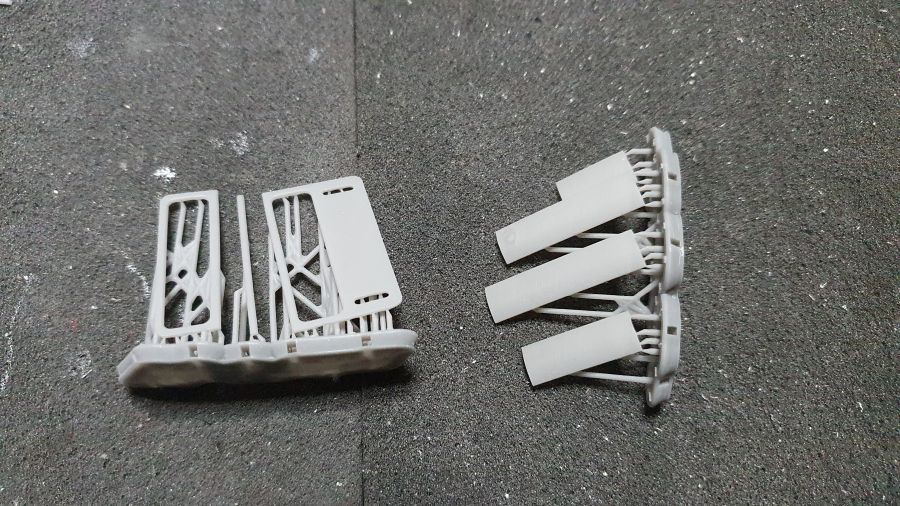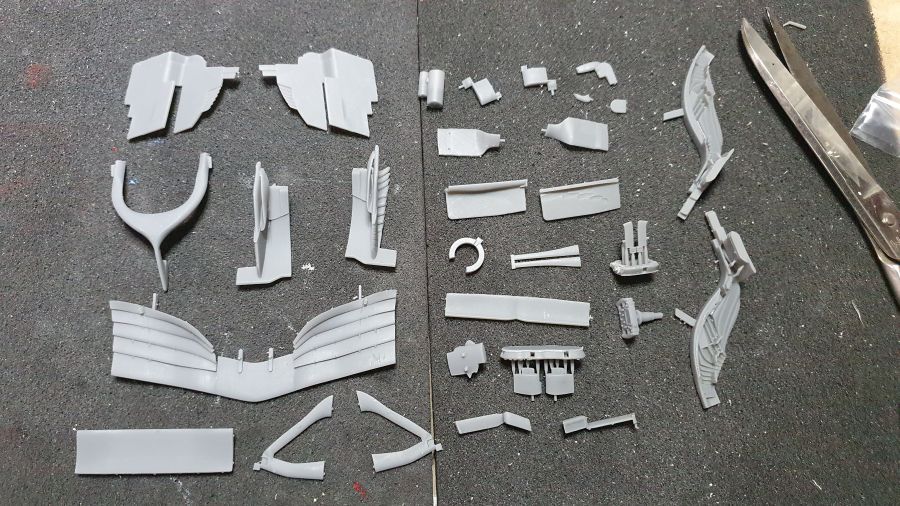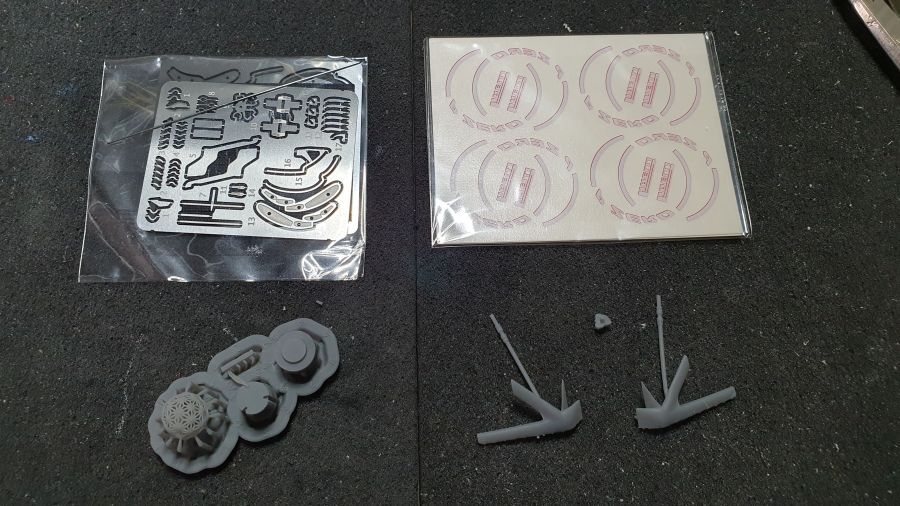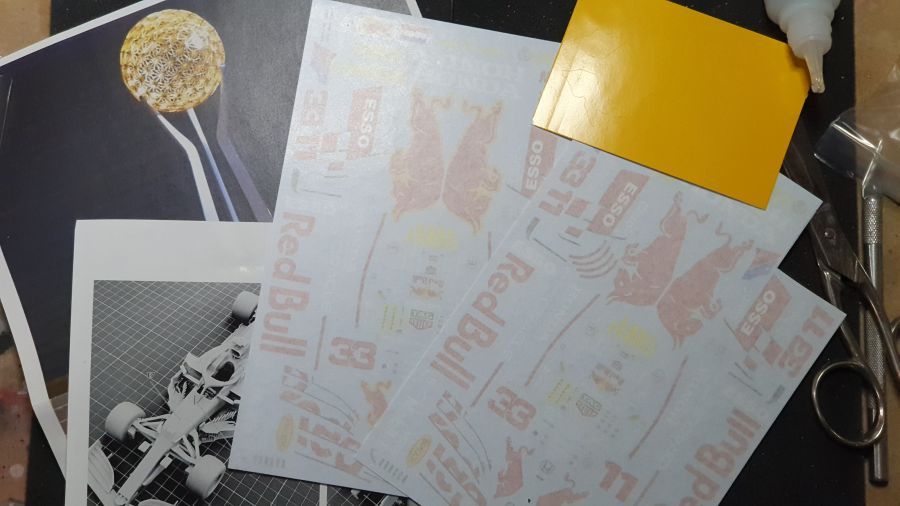 De vloer is gerepareerd. Nu alle puntjes van de ondersteuning weghalen.
The floor has been repaired. Now remove all dots of the supports.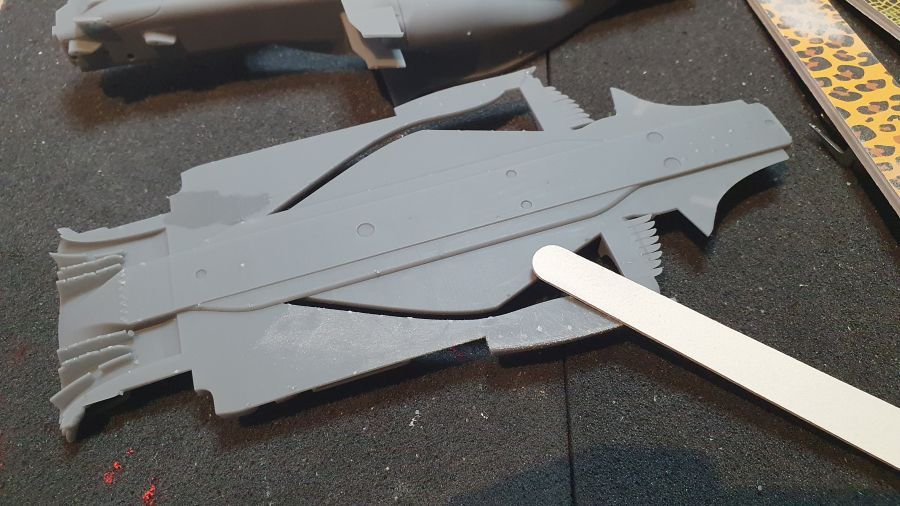 Even de vloer en body passen. Wat werk.
Test fit of floor and body. Needs some work.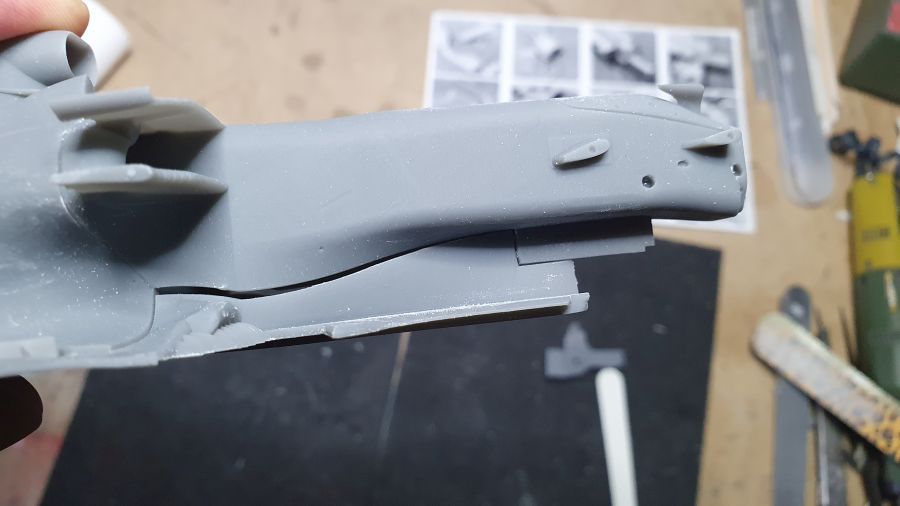 Gaten boren.
Drilling holes.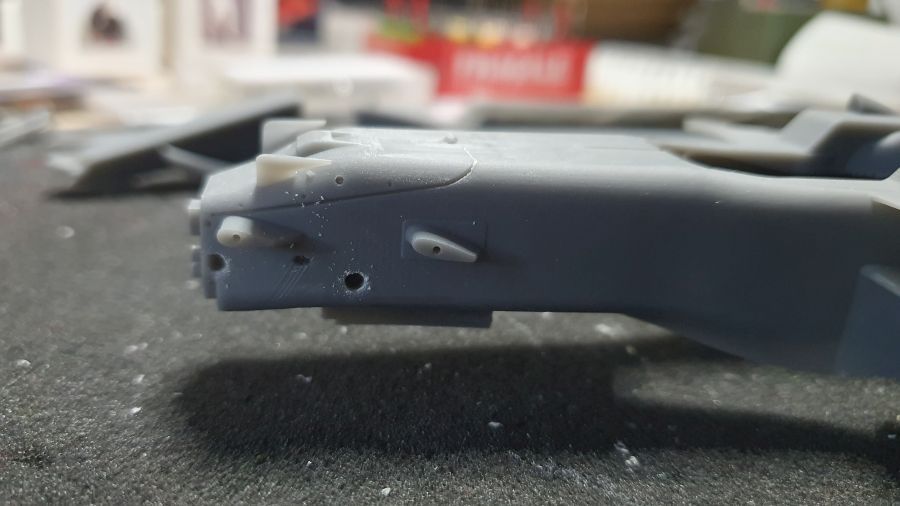 De body aan de achterkant is vrij dik. Wat slijpwerk en het is opgelost.
The body is pretty thick at the rear. Some grinding will manage that.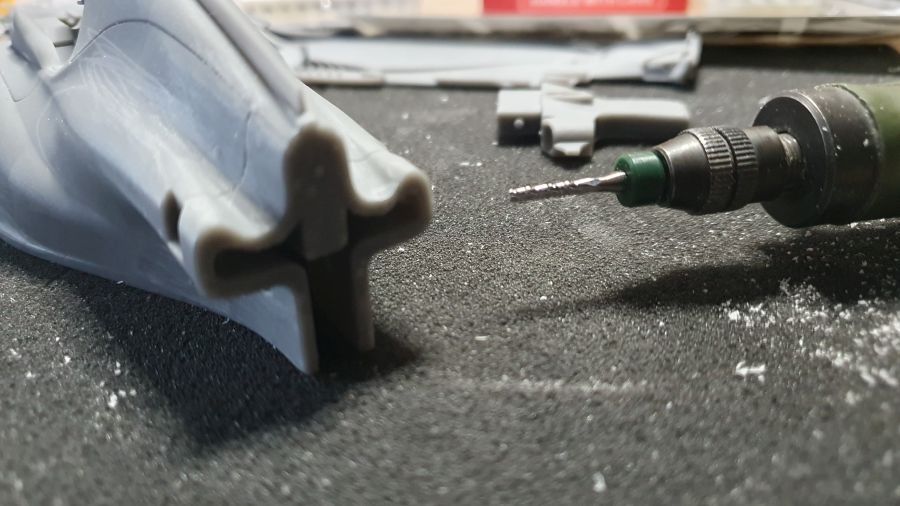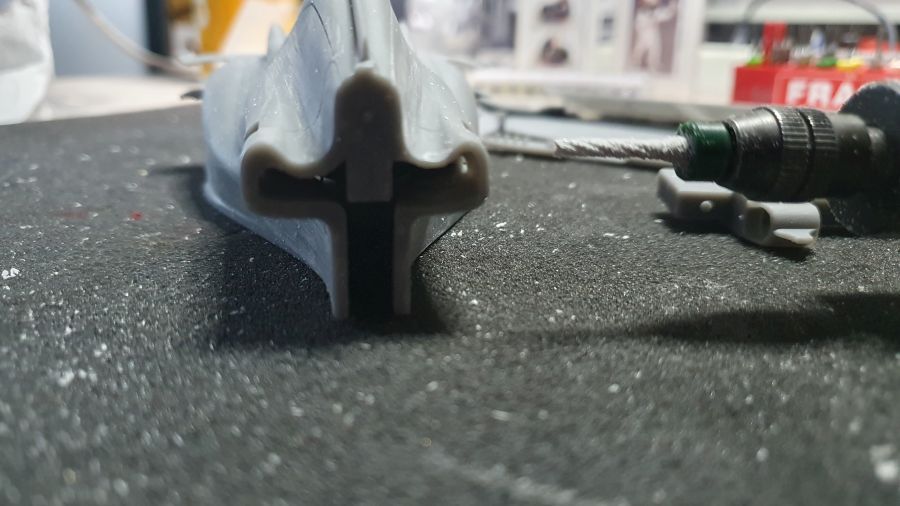 De eerste primer op een paar onderdelen.
The first primer to some parts.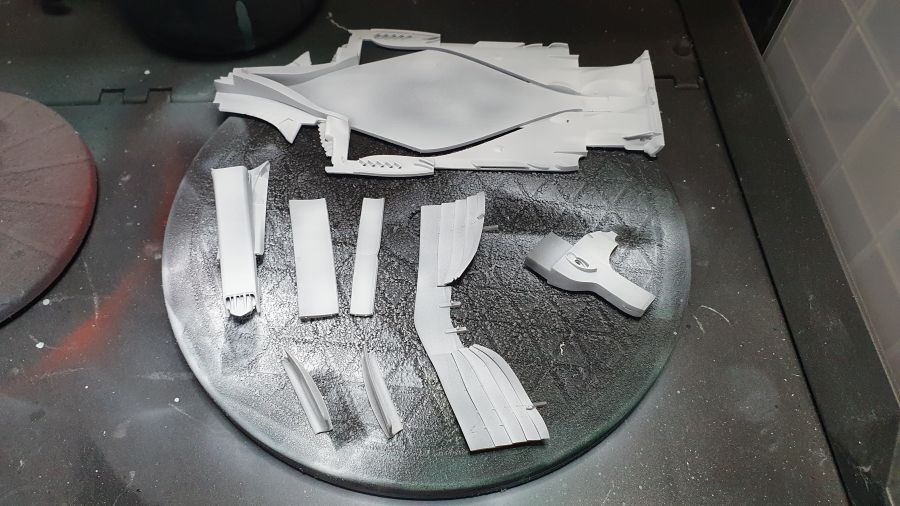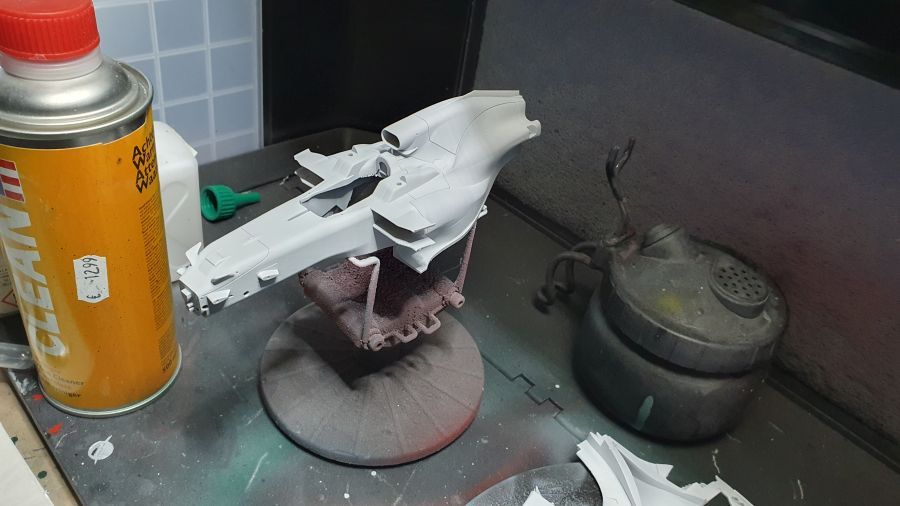 Het geel gaat erop en ik seal het met lak. Dit om te voorkomen dat het verwijderen van masking tape schade aanricht.
The yellow was added and i will seal it with clear coat. This to prevent damage when removing masking tape.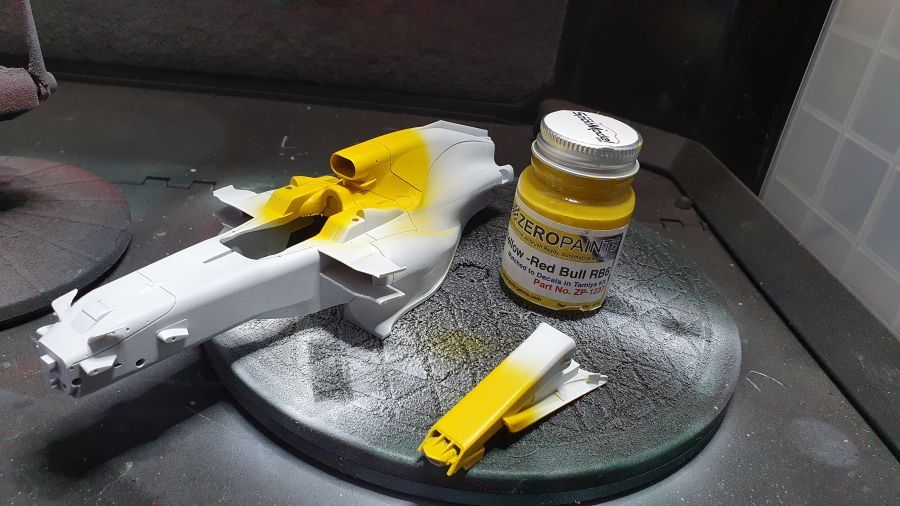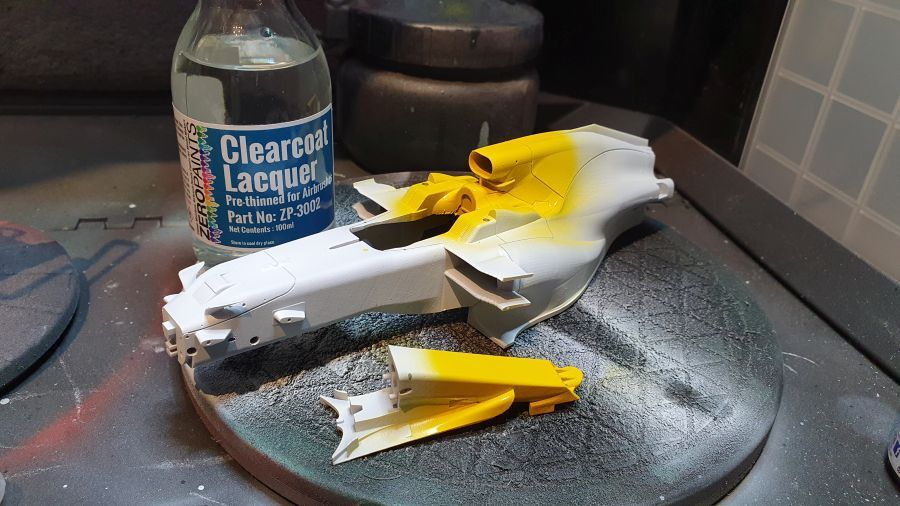 De eerste delen worden semi mat zwart gespoten.
The first parts receive a semi gloss black finish.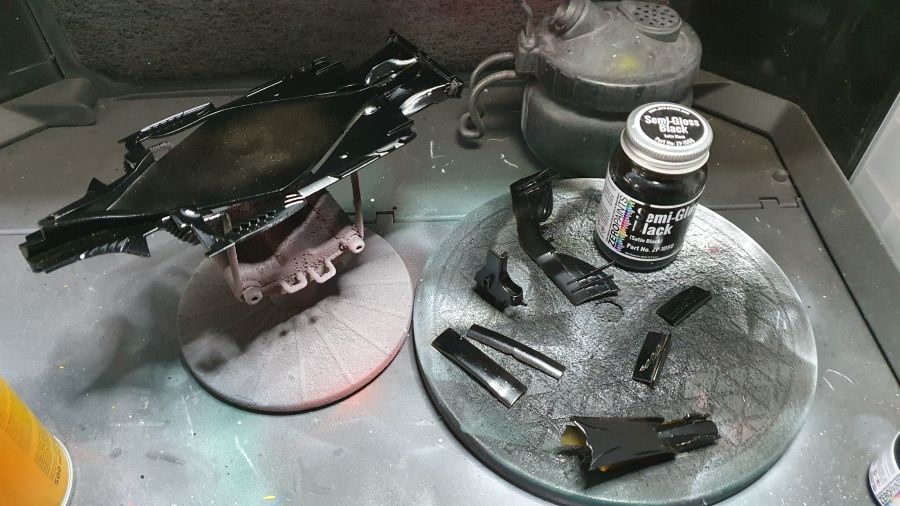 Daarna even bepalen waar de grens tussen geel en blauw moet liggen. Ik heb de decals even op papier geprint en gebruik dit als template.
Then to determine where the border between yellow and blue needs to come. I have printed the decals to paper and use this as a template.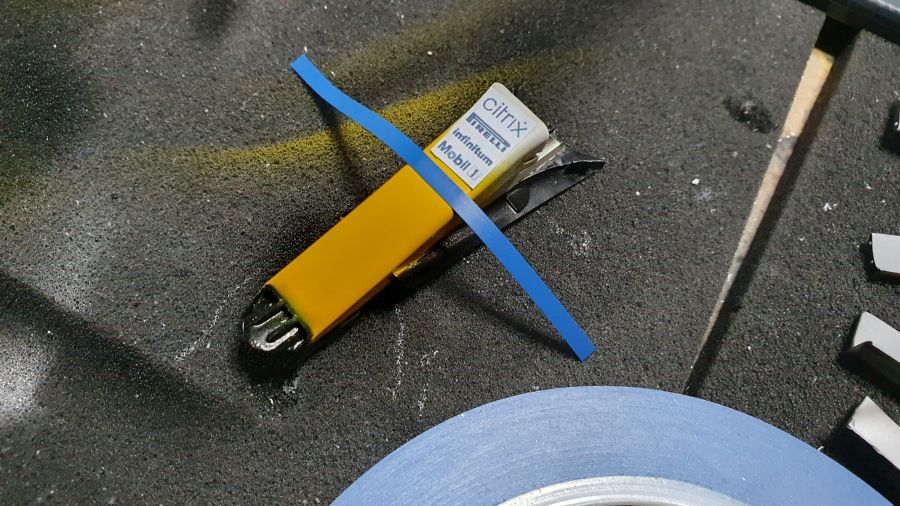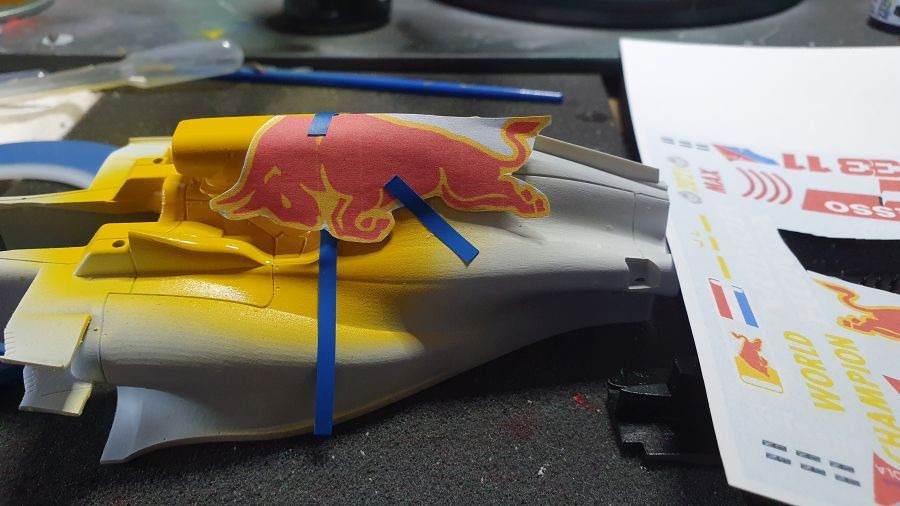 Dan maskeren.
Then the masking.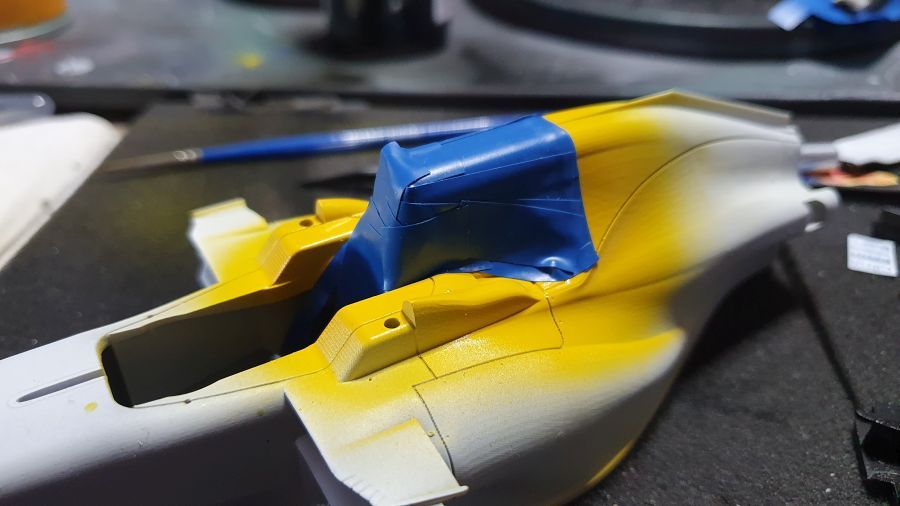 Dan gaat Zero Paints Red Bull Racing RB16 blue (ZP-1718) verf erop.
Then Zero Paints Red Bull Racing RB16 blue (ZP-1718) paints is being sprayed.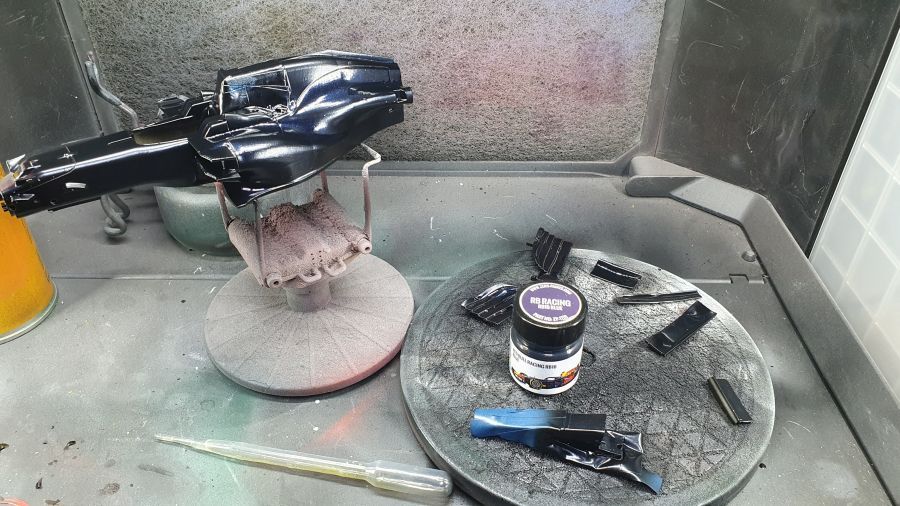 Ik vind hem veel te donker. Het lijkt gewoon zwart. Je ziet in het begin nog wat ietwat blauw, maar wanneer het droogt is het echt gewoon te donker.
In my opinion it's much too dark. It appears to be black. At some moments it has somewhat of a blue shine, but when dry it looks too dark.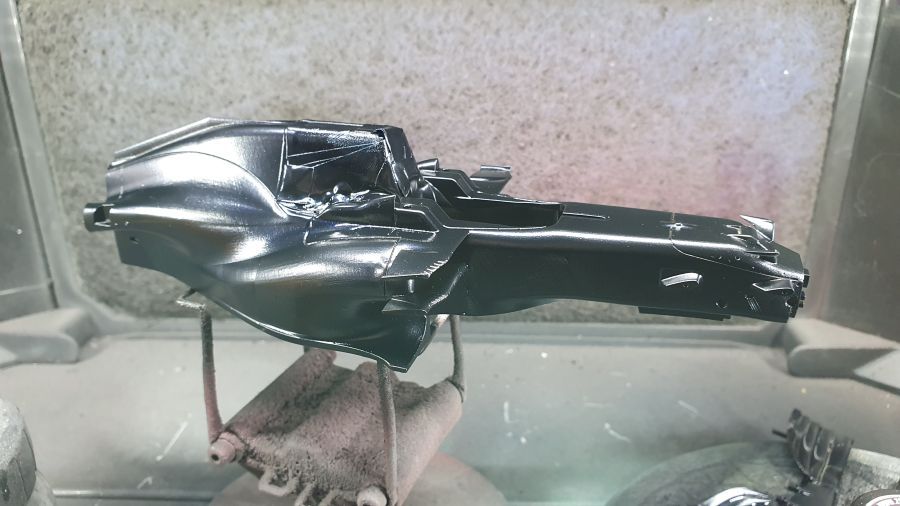 Ik wilde niet alle verf er weer afhalen, dus heb ik wat geprobeerd. Ik heb 2 mist lagen Zero Paints Red Bull RB15 Blue (ZP-1655) gespoten. Naar mijn mening veel beter nu.
I didn't want to remove all paint, so i decided to try. I added 2 mist coats of Zero Paints RB15 Blue (ZP-1655). Now much better in my opinion.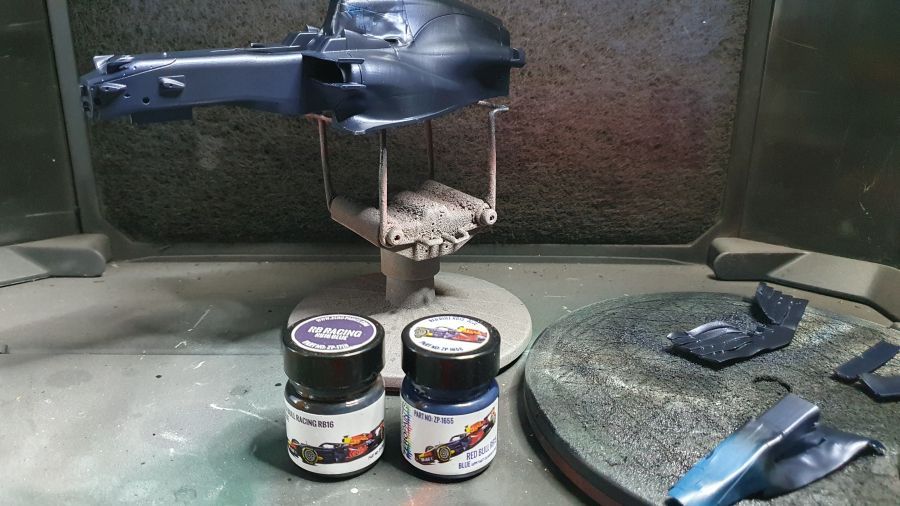 Een paar 2-kleurige onderdelen.
Some 2-tone parts.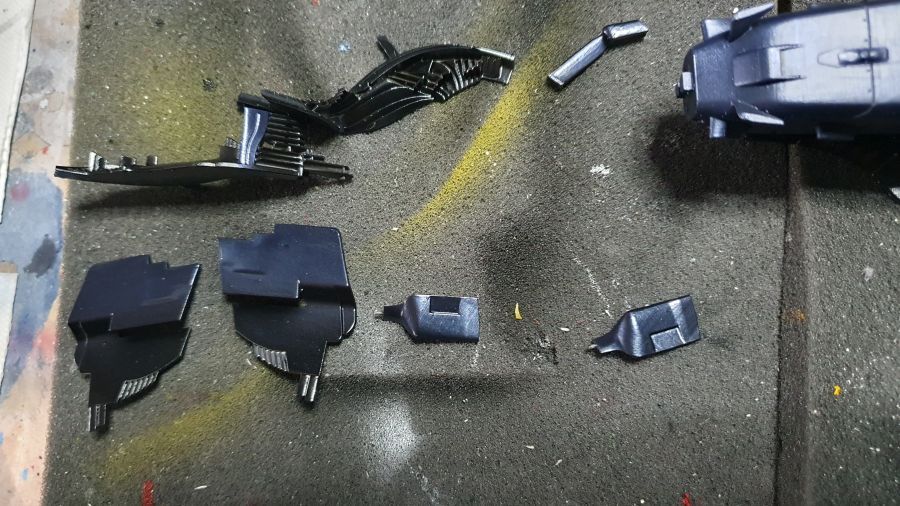 Dan beginnen met de decals.
Then i am starting the decals.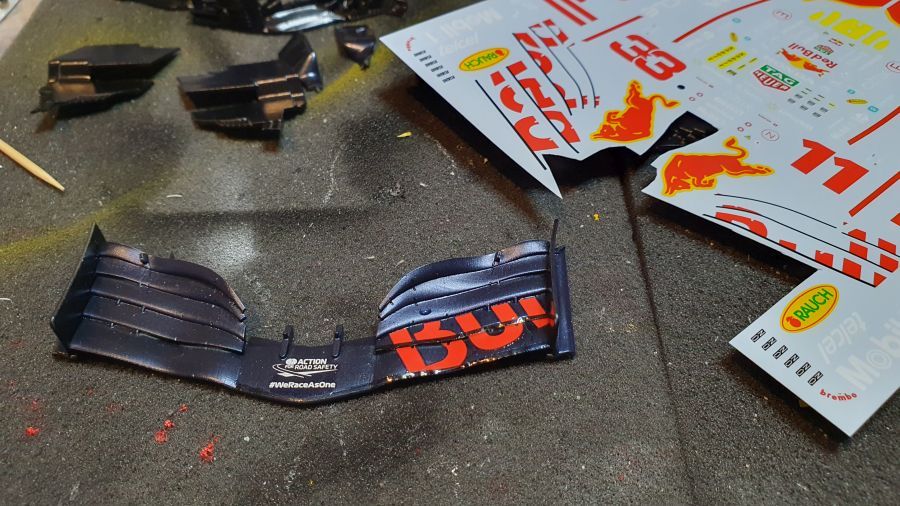 Wat uitzoekwerk waar alles moet worden geplaatst. Niet alle foto's op Google zijn daadwerkelijk van de Abu Dhabi versie.
Some work to find out where everything should go. Not all pictures at Google are really from the Abu Dhabi version.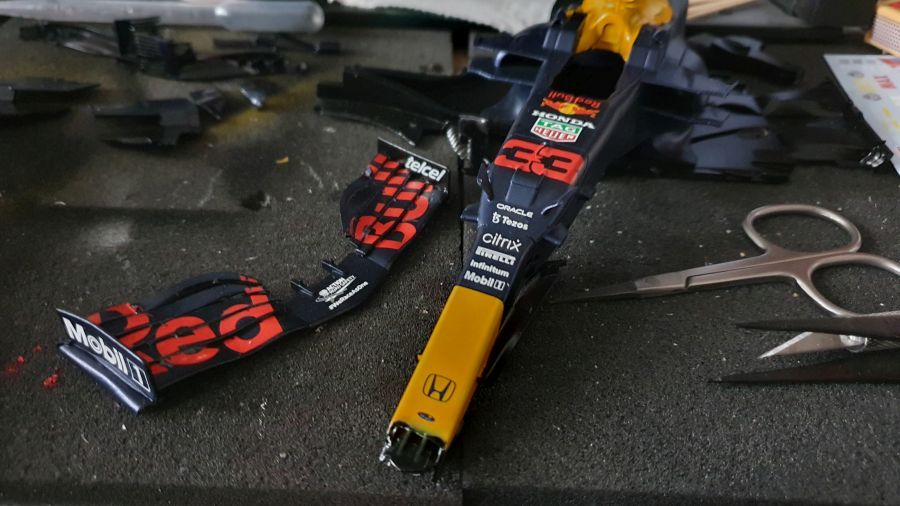 Langzaam aan, opdat niets verschuift.
Slowly, so no decal moves.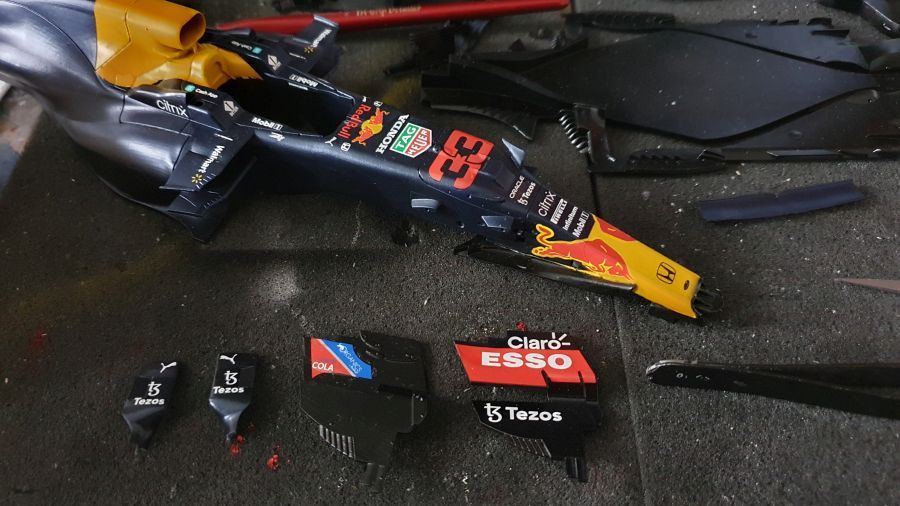 Langzamerhand wordt het wat.
Slowly getting there.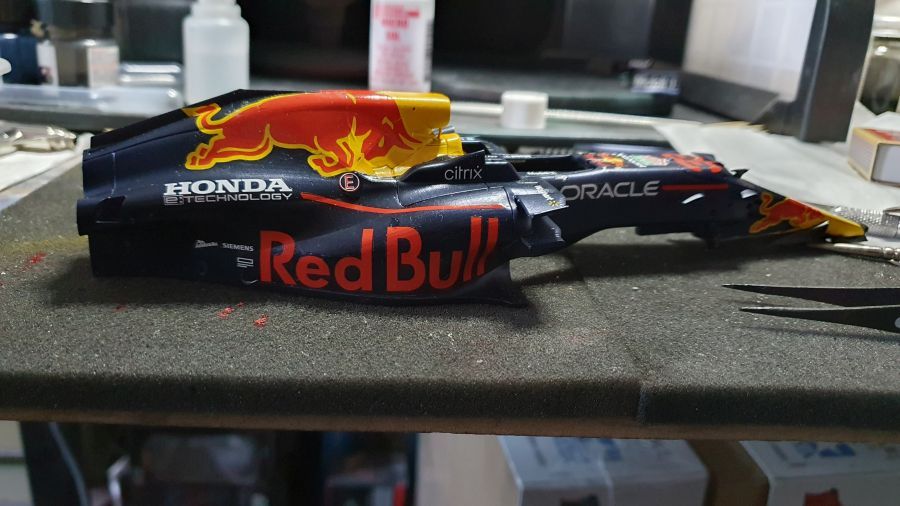 Meer primer.
More primer.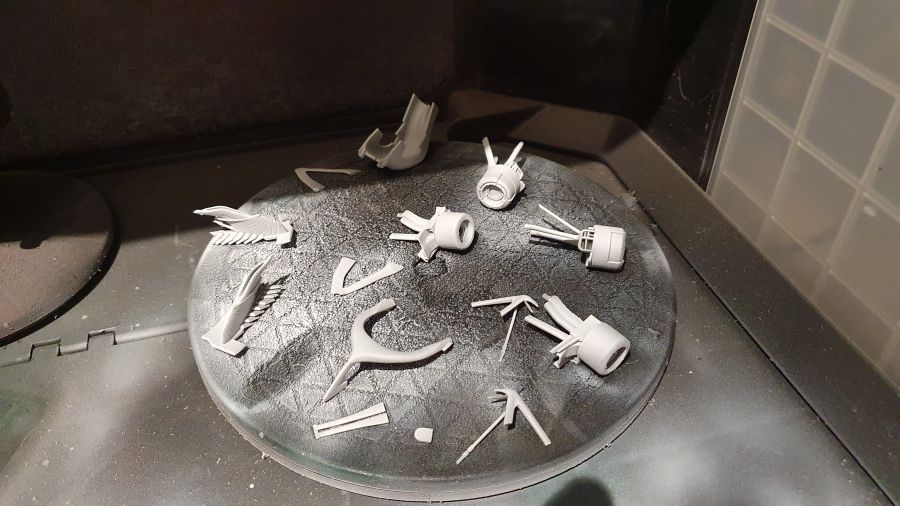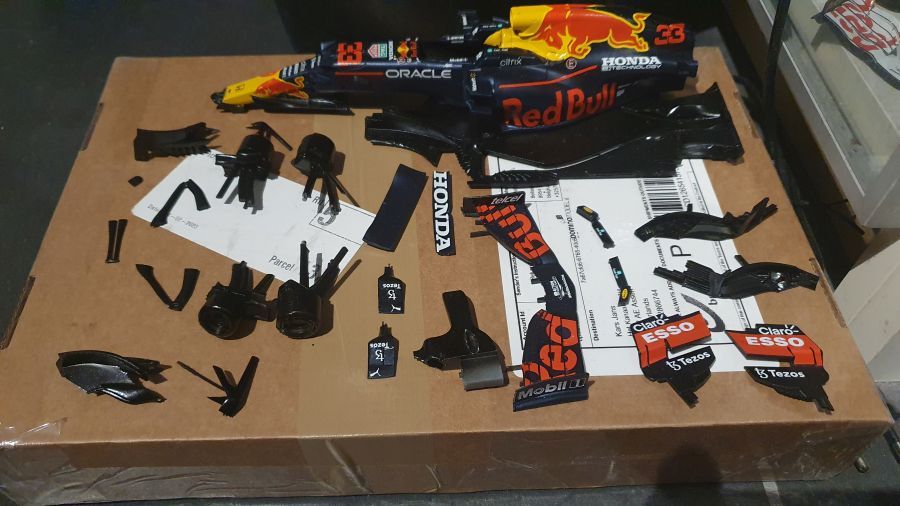 Matt lak vandaag.
Matt vernish today.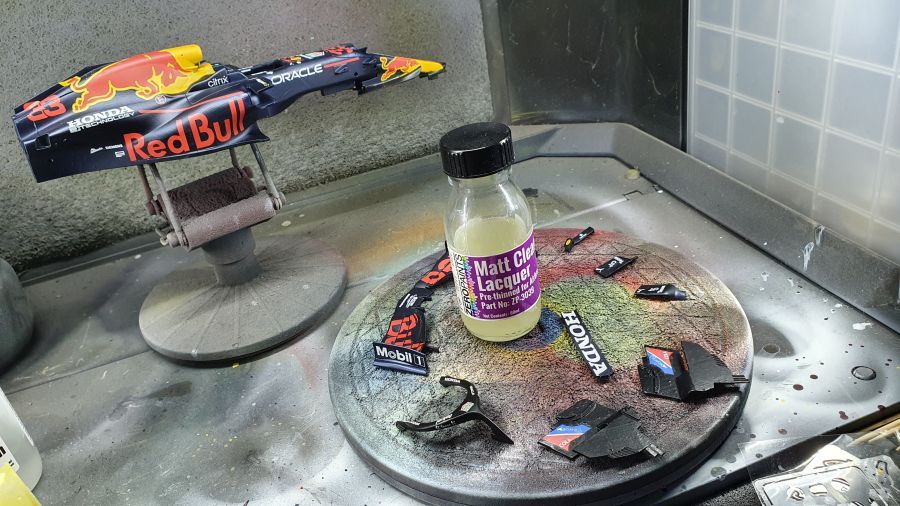 De stoel is voorbereid.
The seat has been taken care of.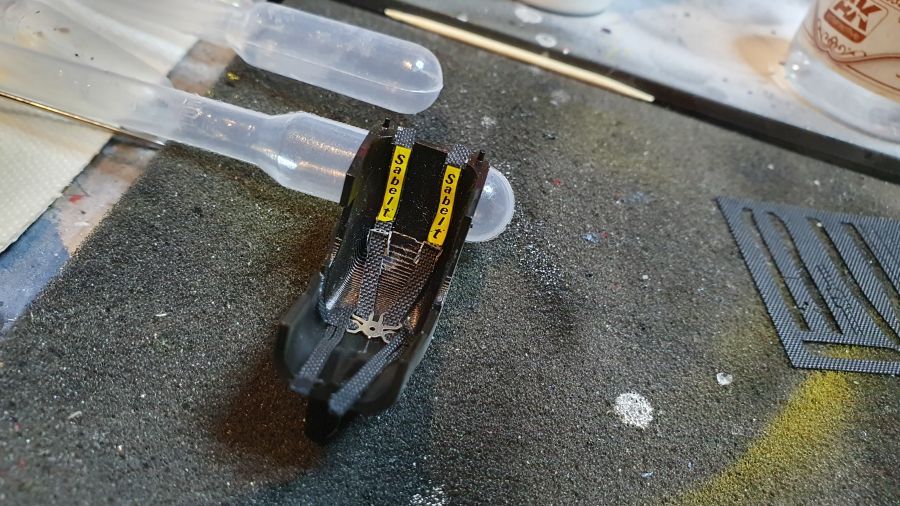 Wat kleine etched onderdelen worden gespoten met metaal primer en kleur.
Some small etched parts are being sprayed with etched primer and color.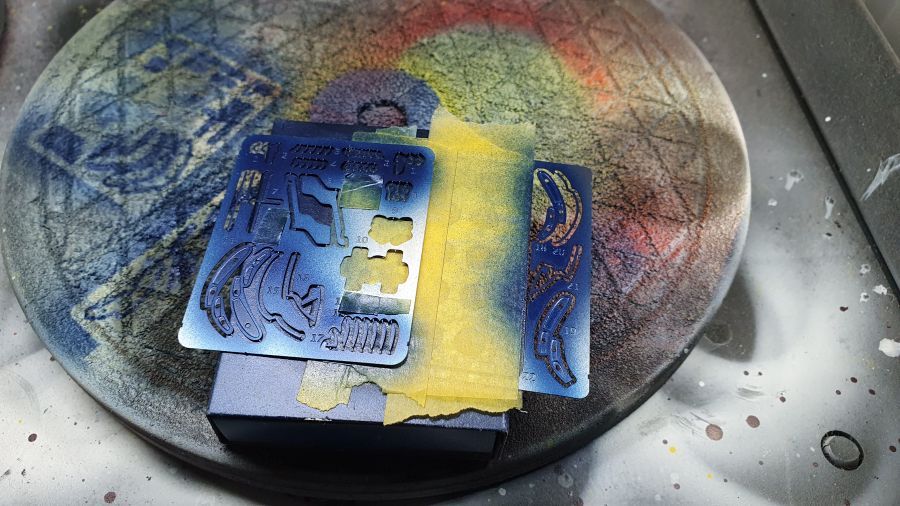 Nog wat etched delen krijgen een kleurtje.
Some etched parts receive their color.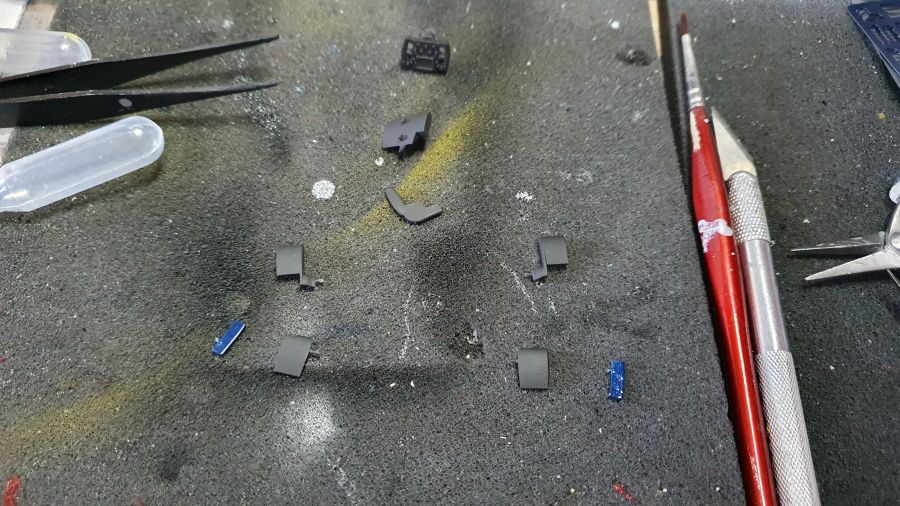 Alle delen klaar voor assemblage.
All parts ready for assembling.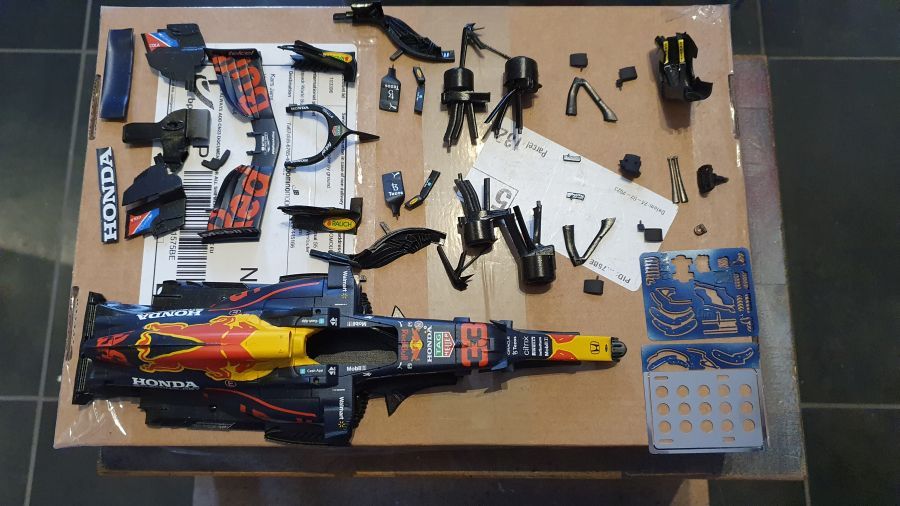 Het stuur en de stoel gaan erin en dan wordt de vloer geplaatst.
The steering wheel and the seat are placed inside and then the floor was added.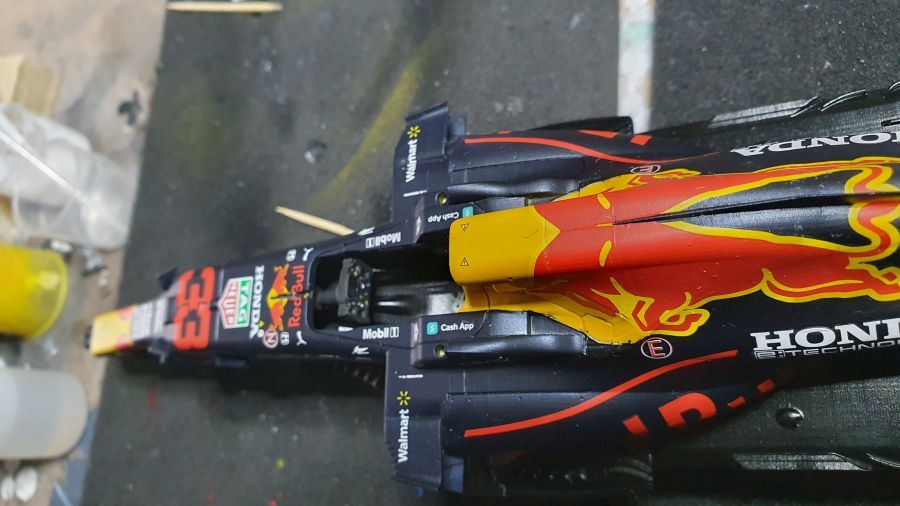 Door met de ophanging.
On to the supension.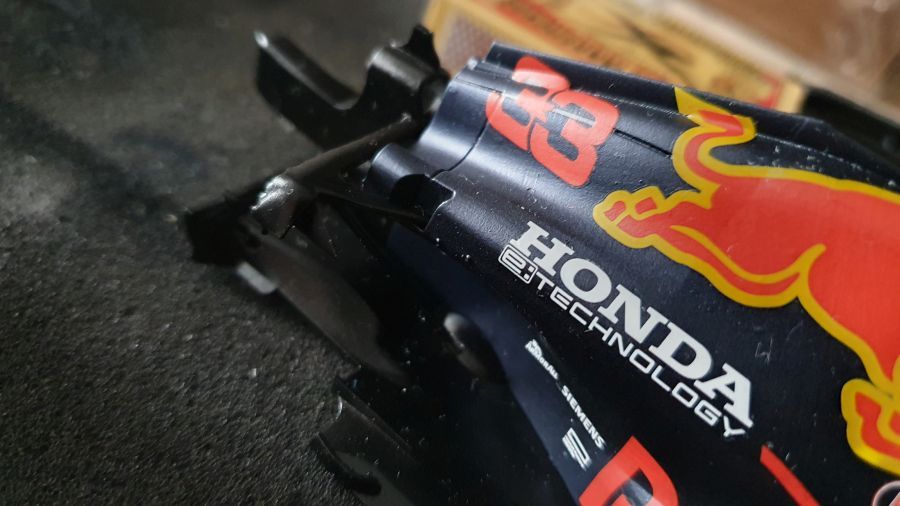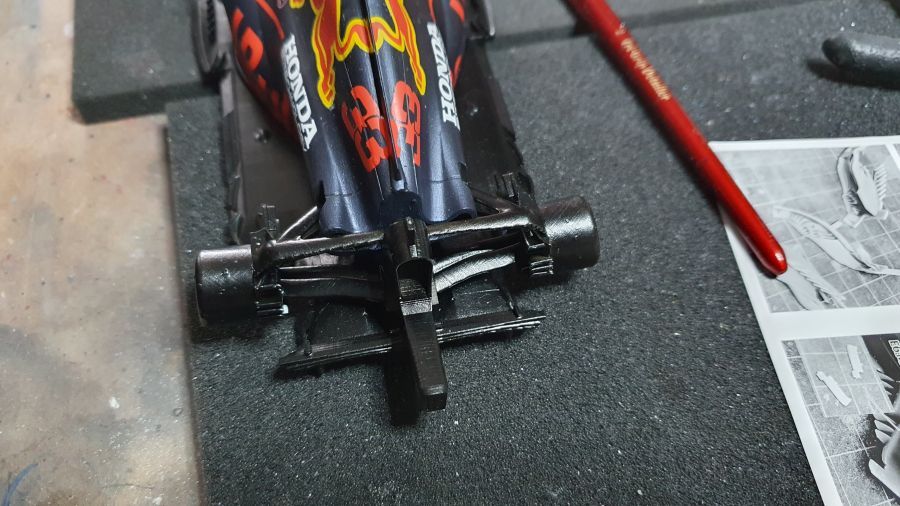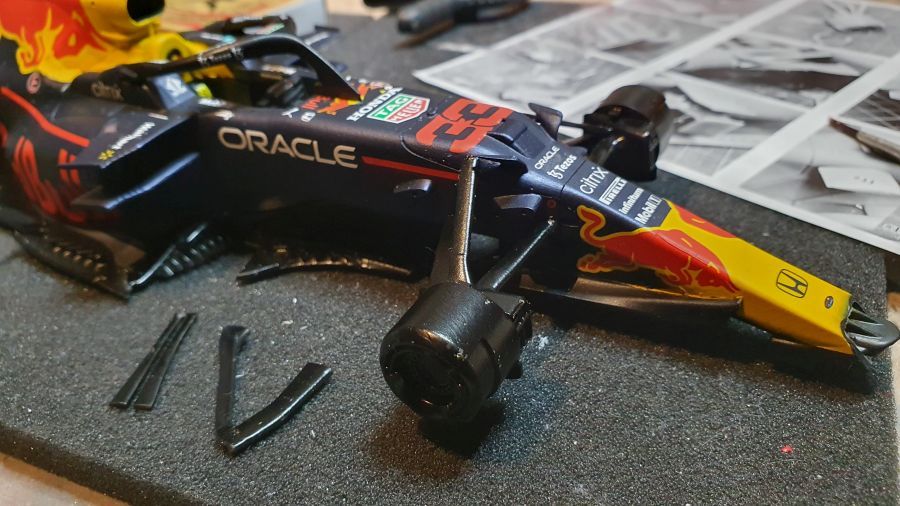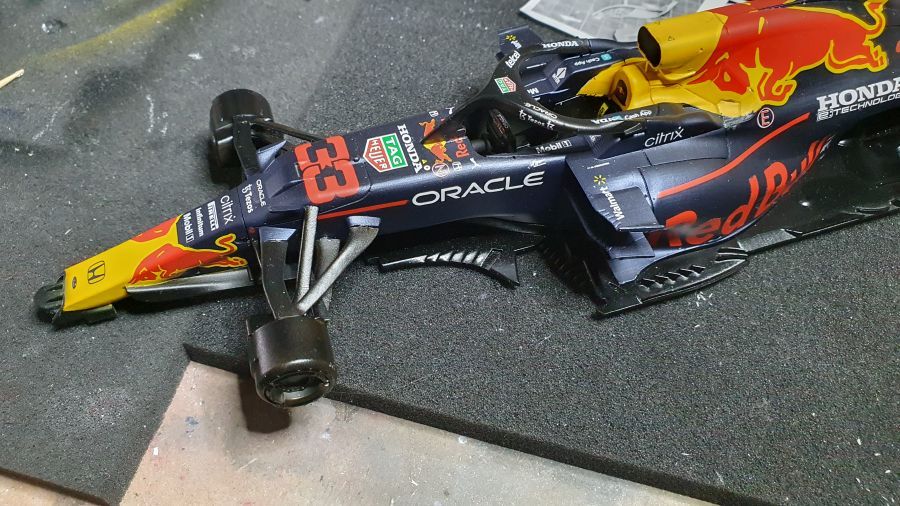 De barge boards gaan erop.
The barge boards are being mounted.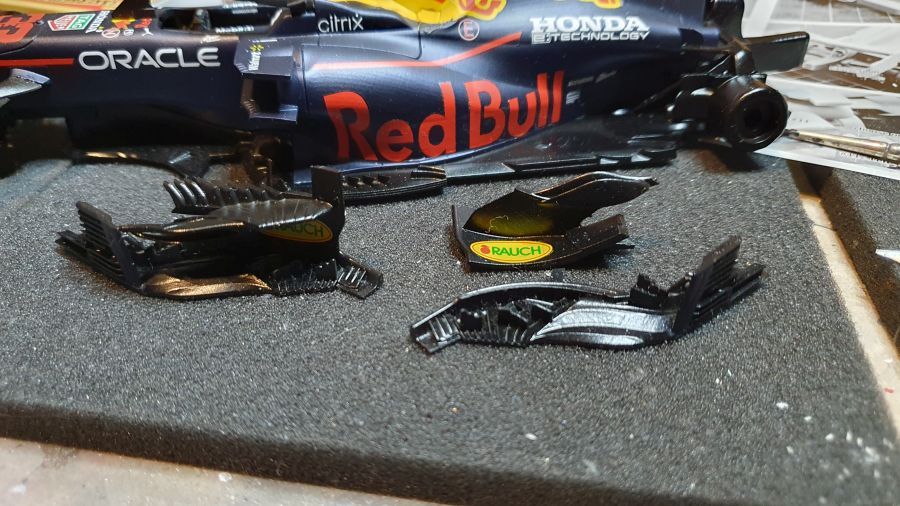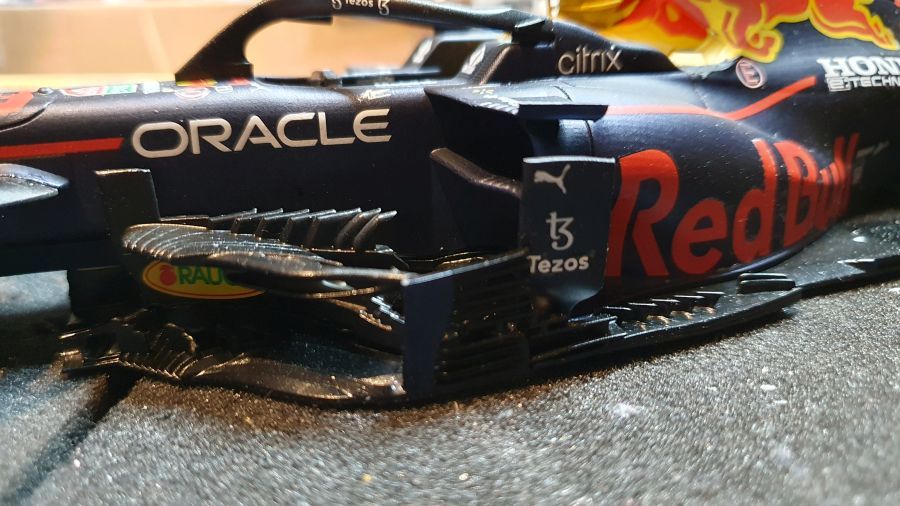 De voorste velgen passen niet op de rem trommels. Wat slijpwerk aan de binnenkant nodig.
The front rims don't fit the brake drums. Some grinding on the inside needed.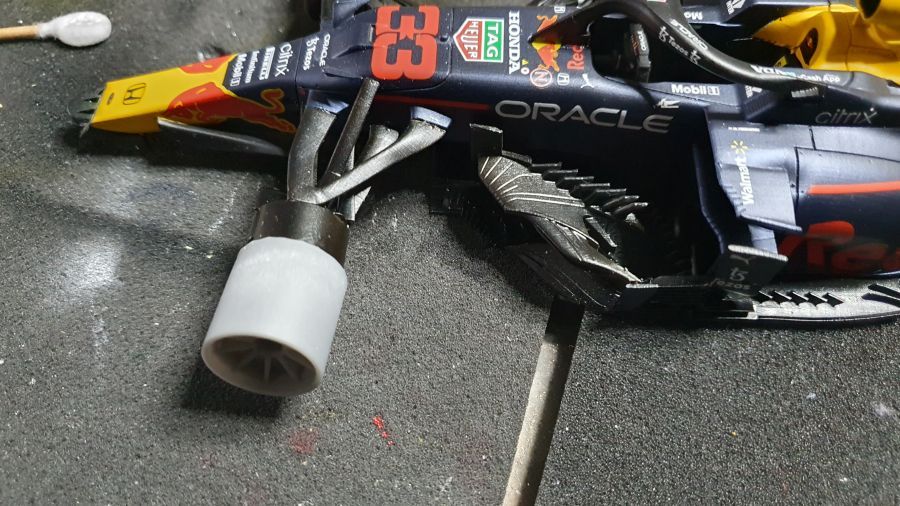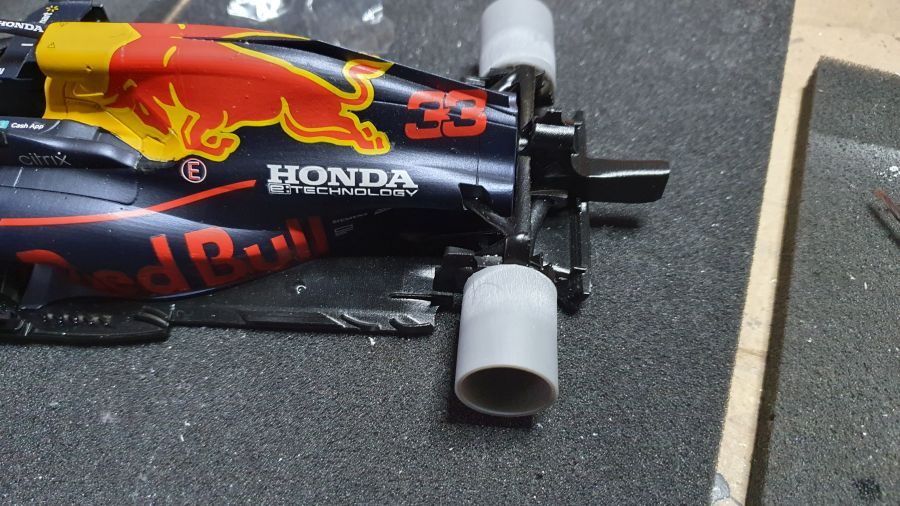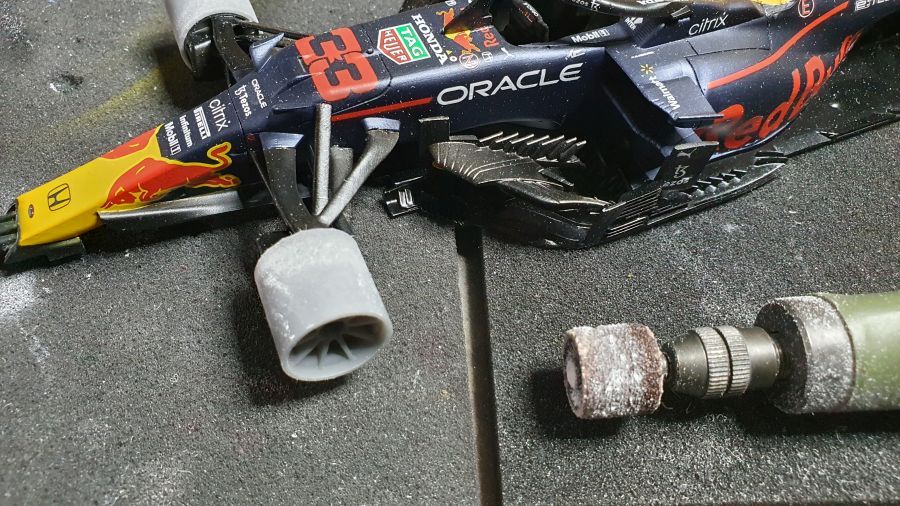 Dan wat werk aan de banden.
Then some work to the tires.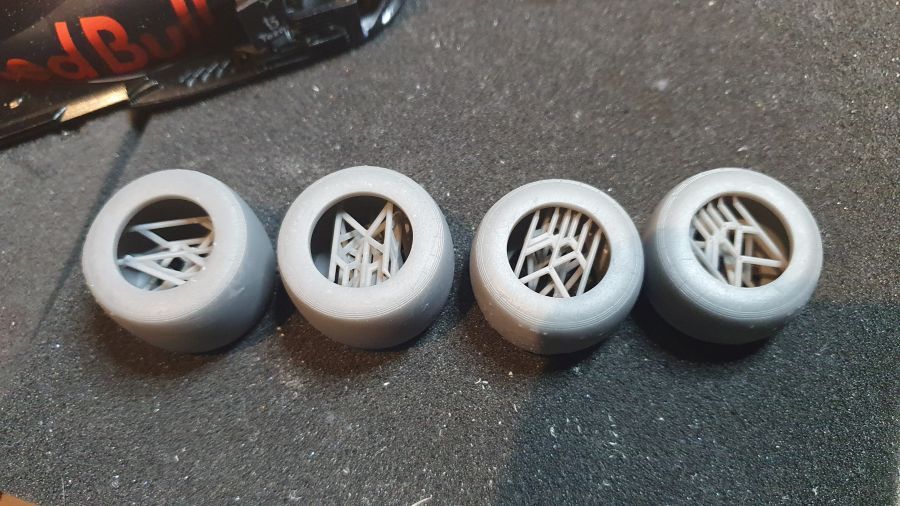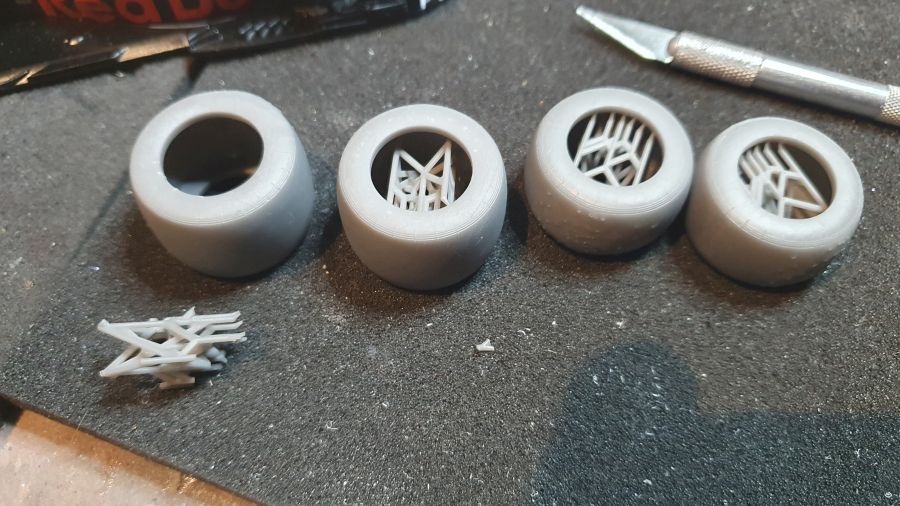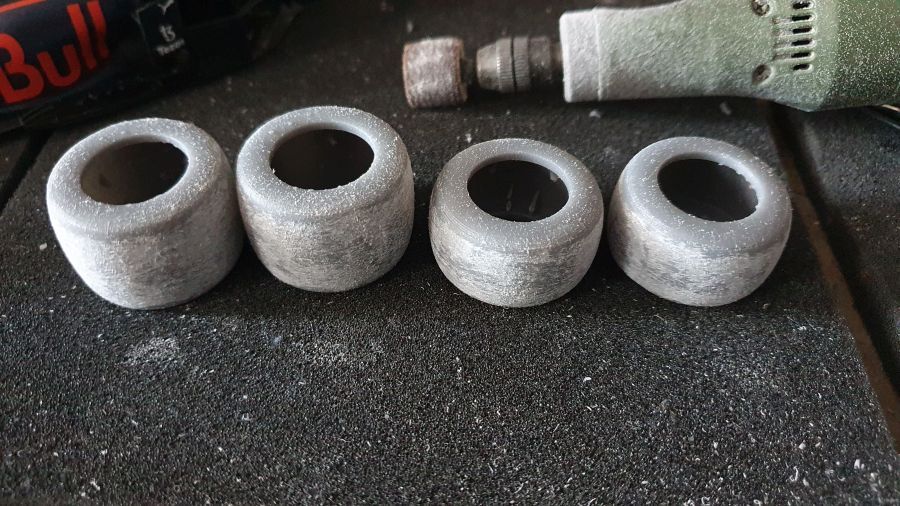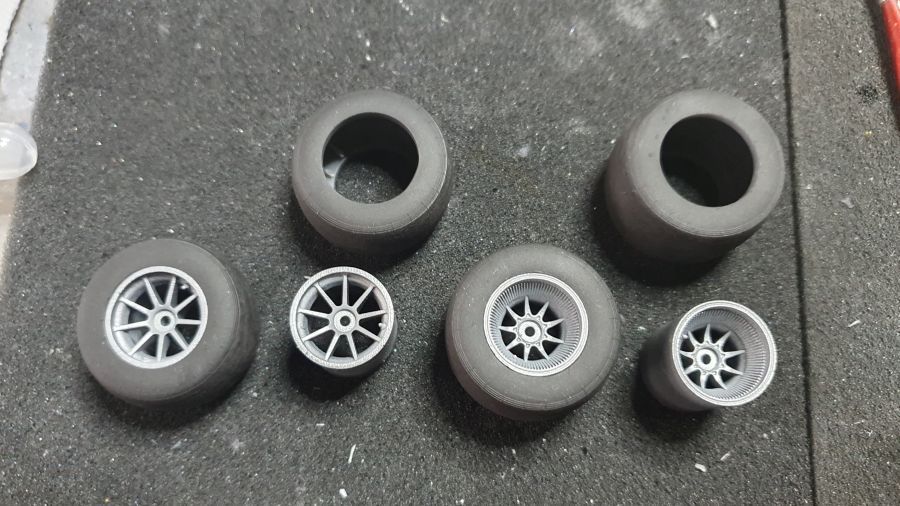 Even wat nieuwe verf proberen op de uitlaten.
Trying some new paint to the exhausts.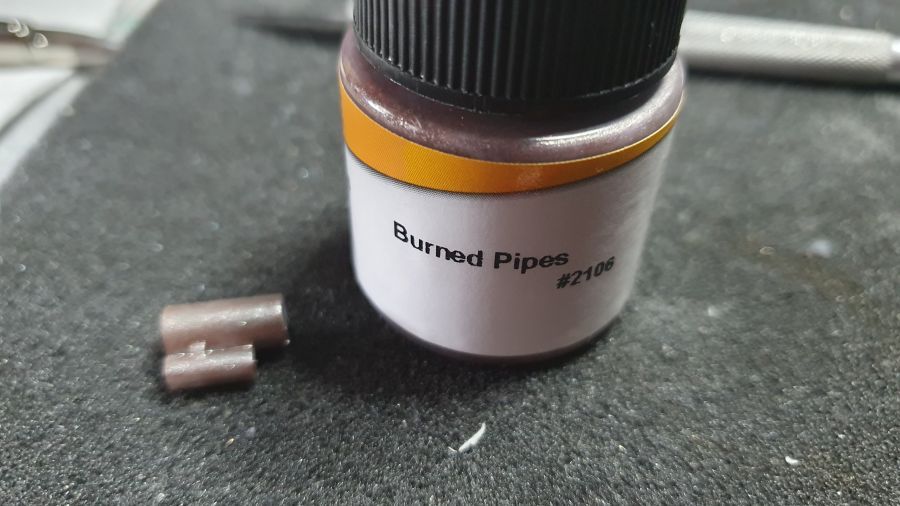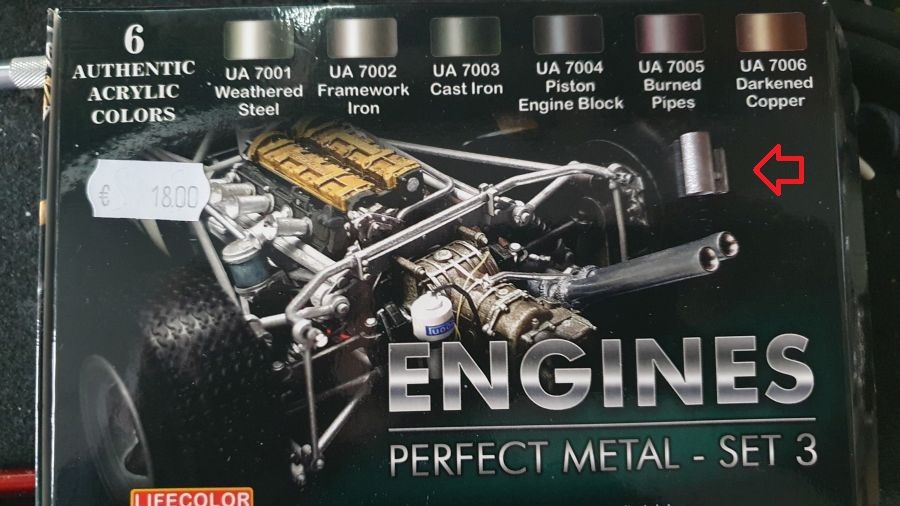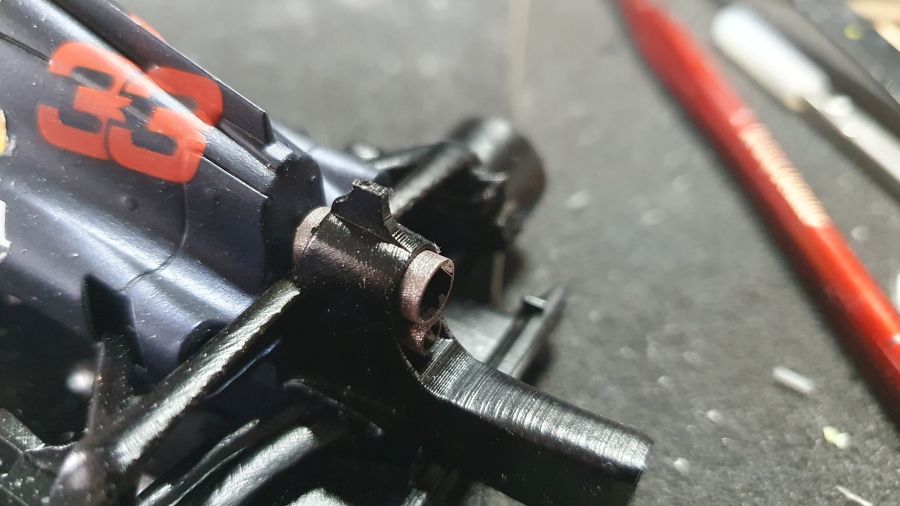 En weer verder met de banden.
And back to the tires.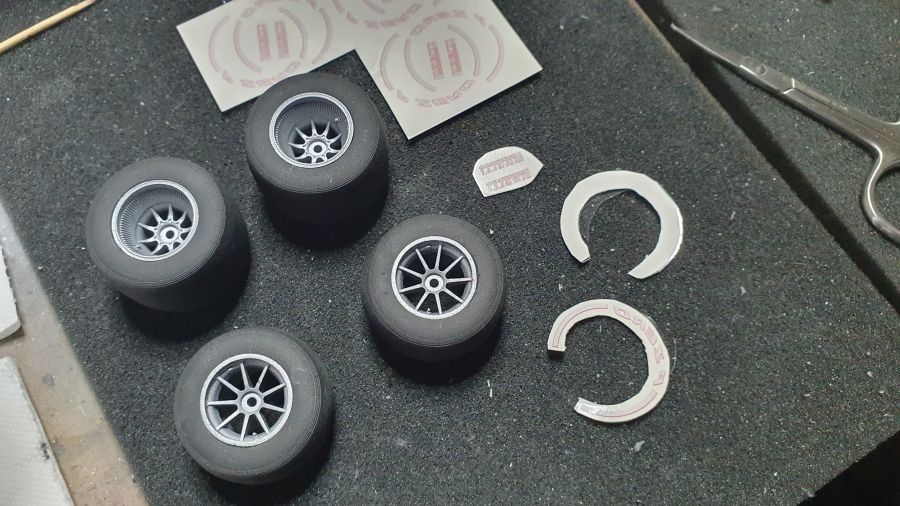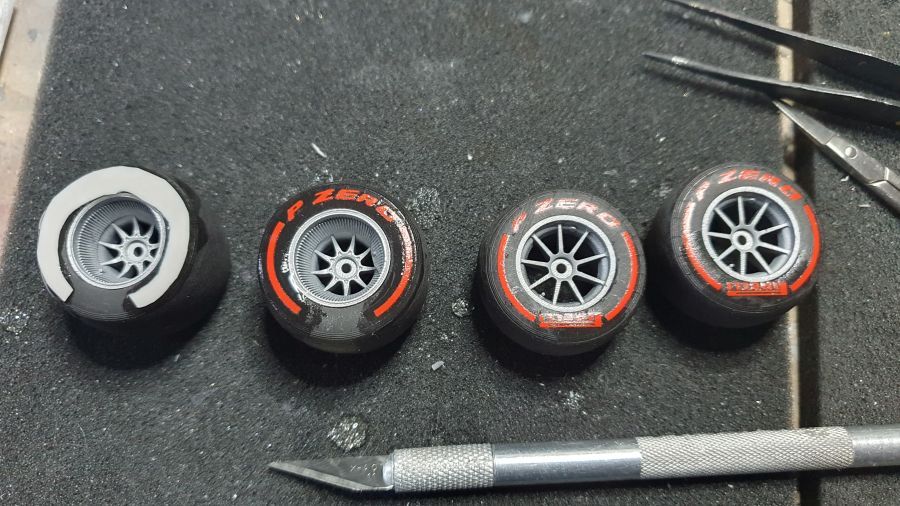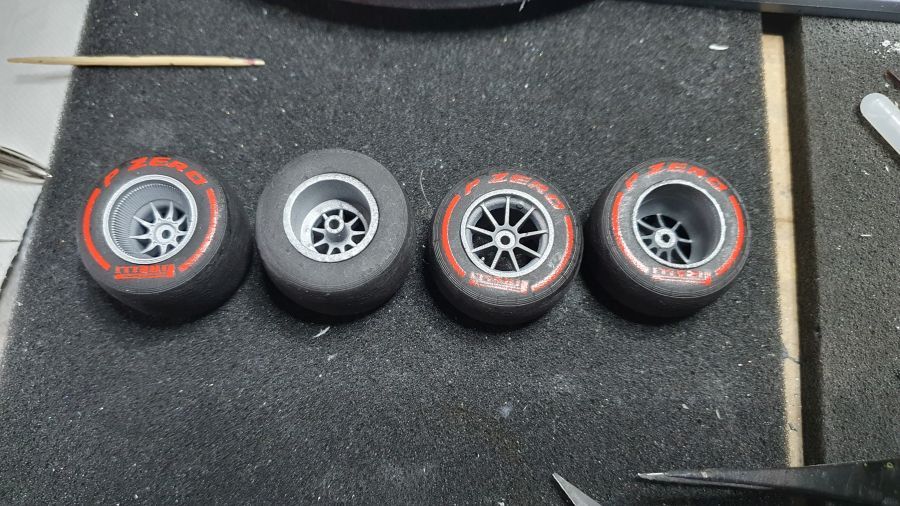 Op zijn voeten.
On it's feet.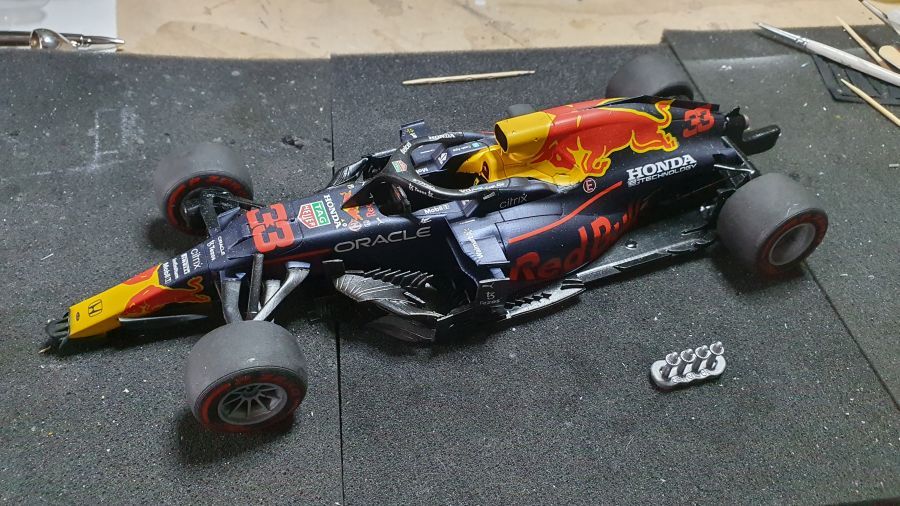 Dan naar de achtervleugel. Voor mij altijd het meest lastig. Vooral wanneer er 3 of 4 horizontale wings geplaatst moeten worden.
On to the rear wing. To me always the most tricky. Especially when there are 3 or 4 horizontal wings involved.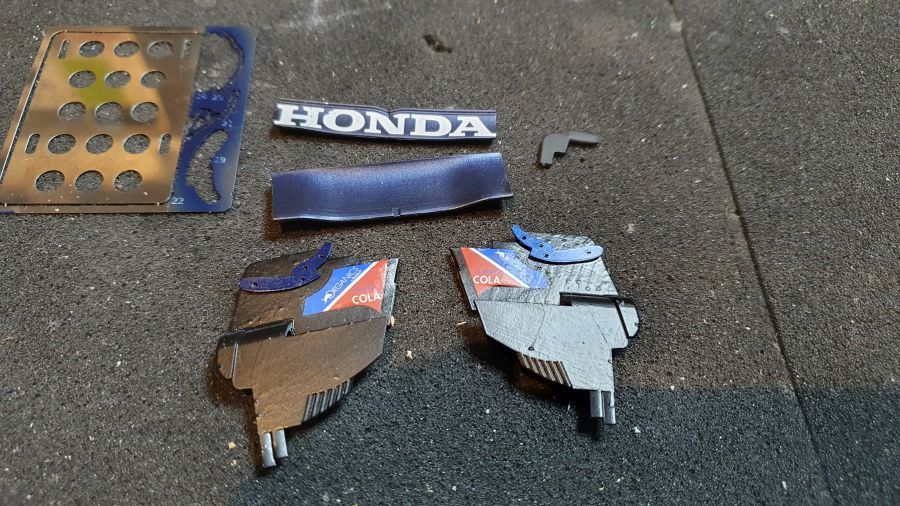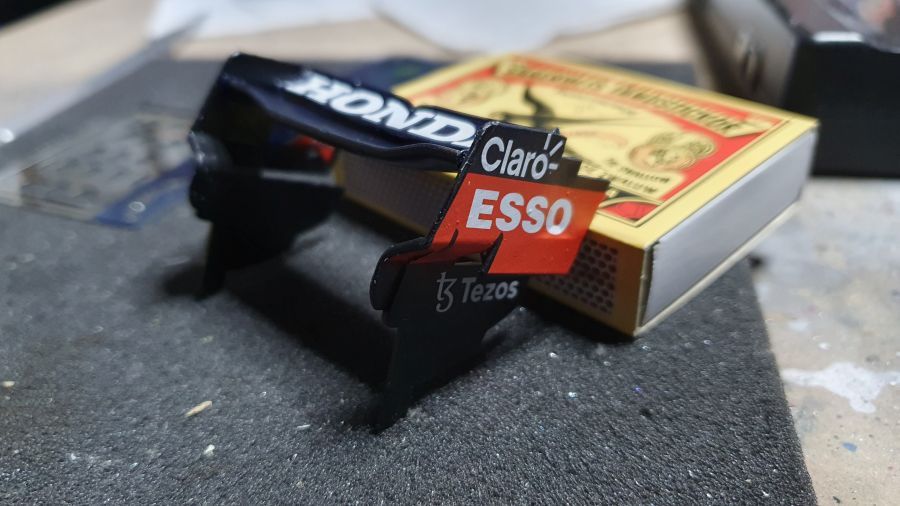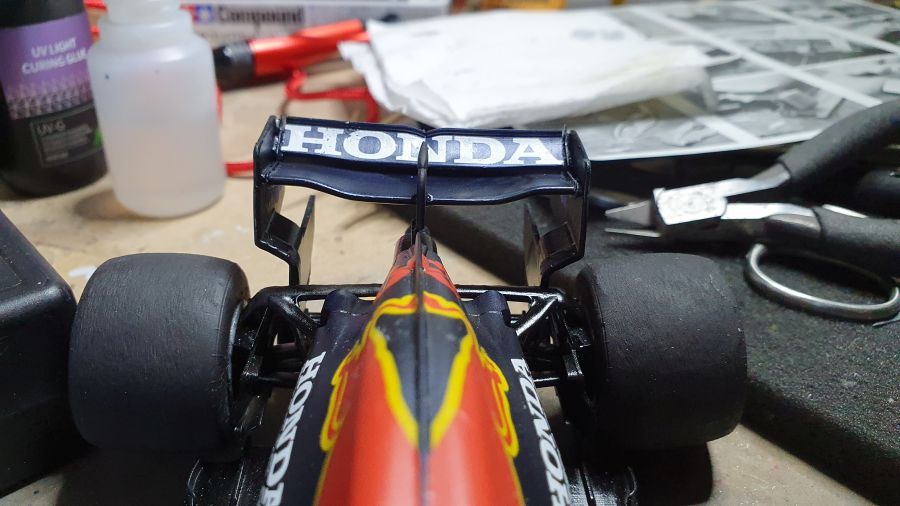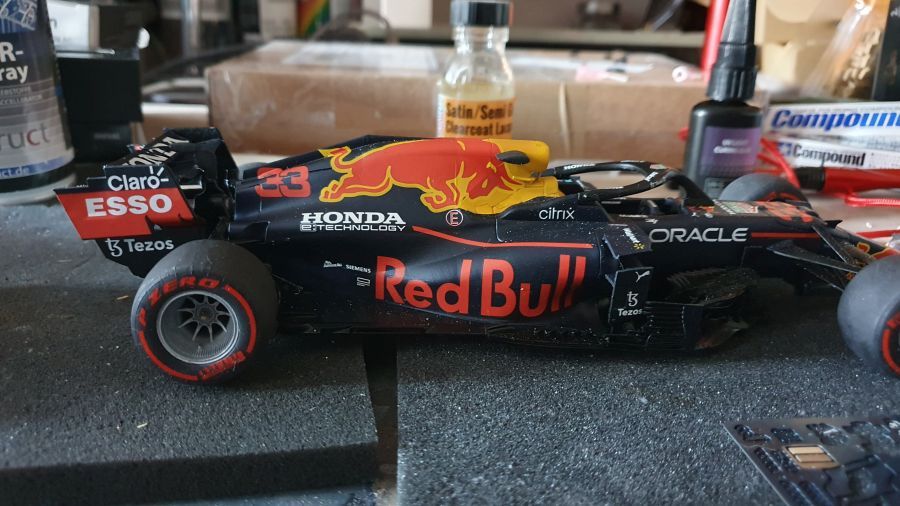 Door naar de voorvleugel.
On to the front wing.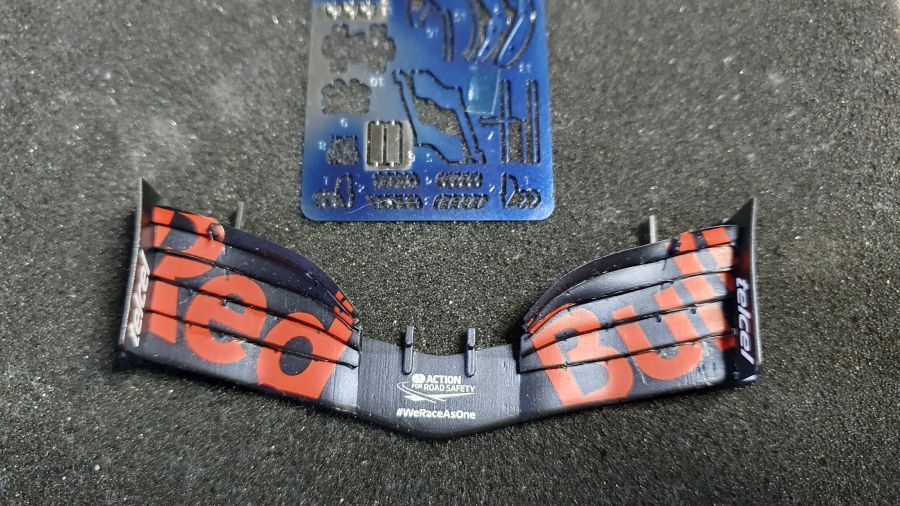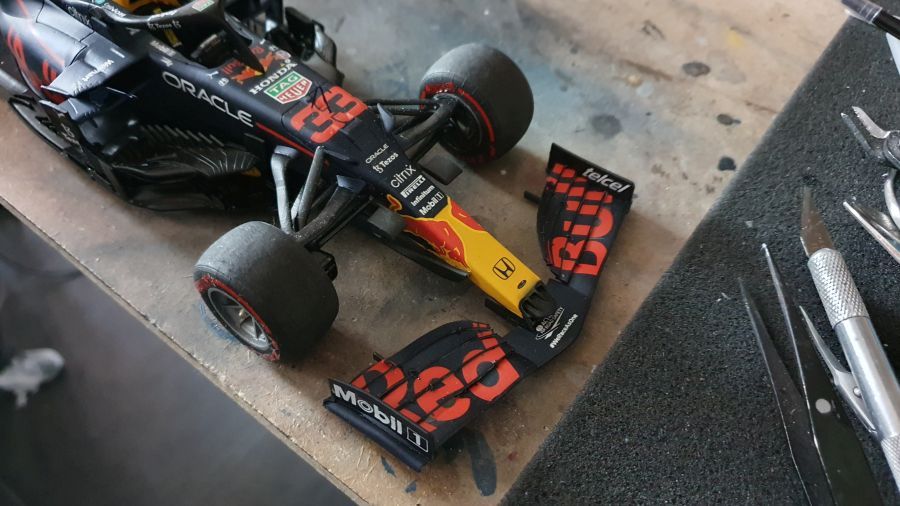 Na het plaatsen van de laatste onderdelen beschouw ik deze als klaar.
After adding the last parts i am considering this one as done.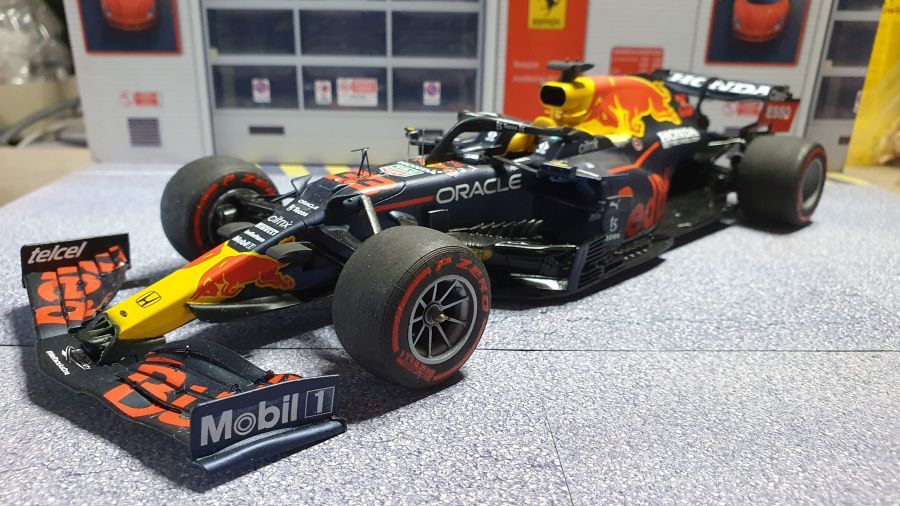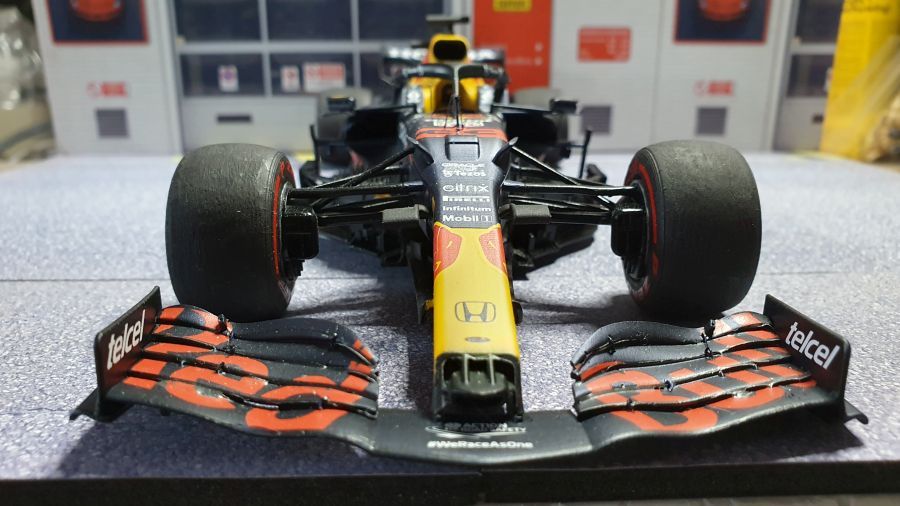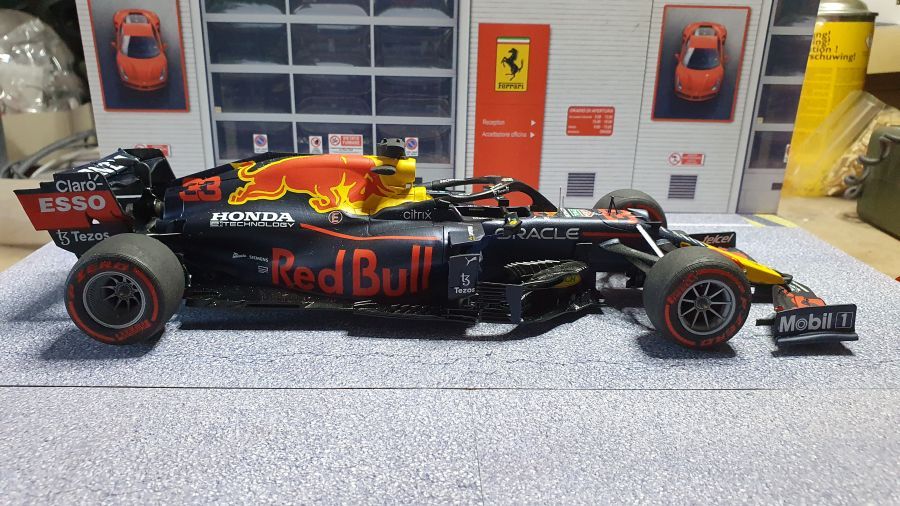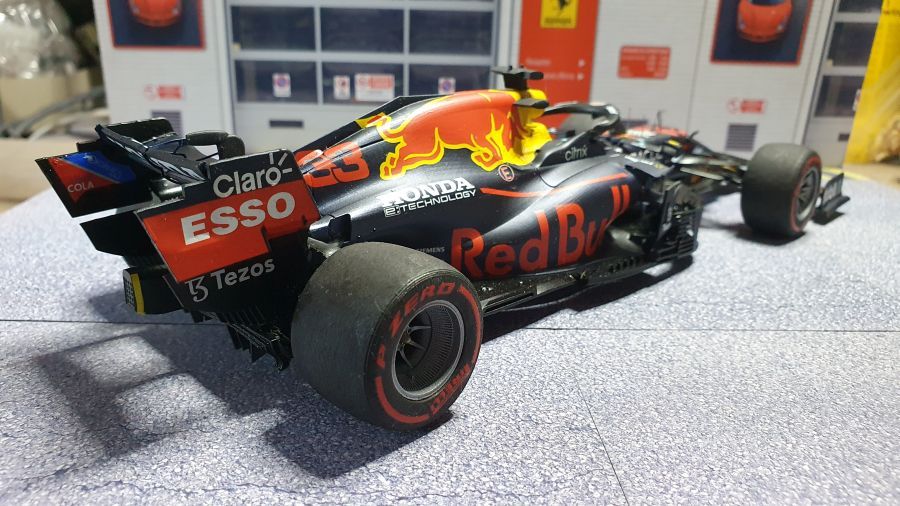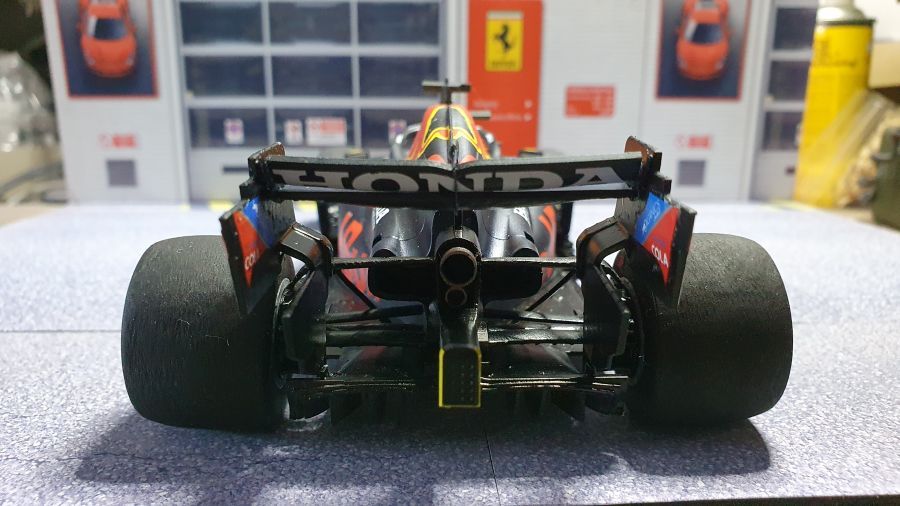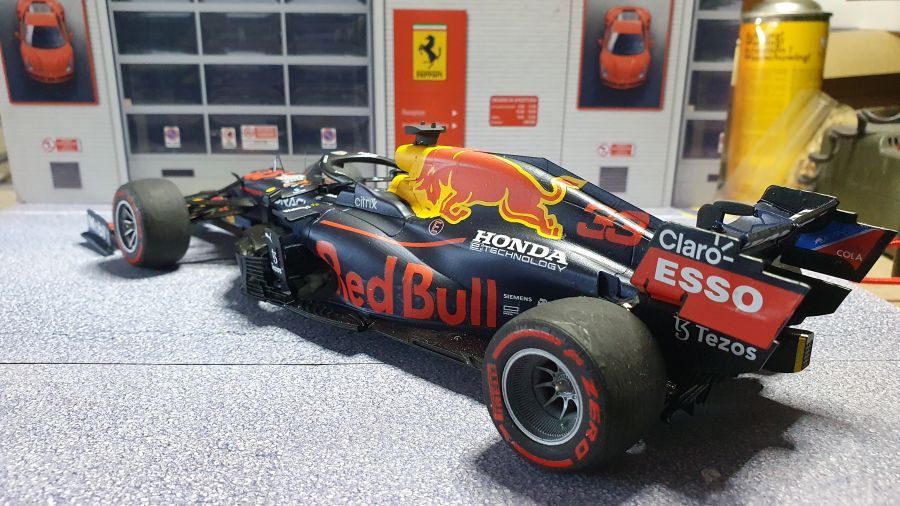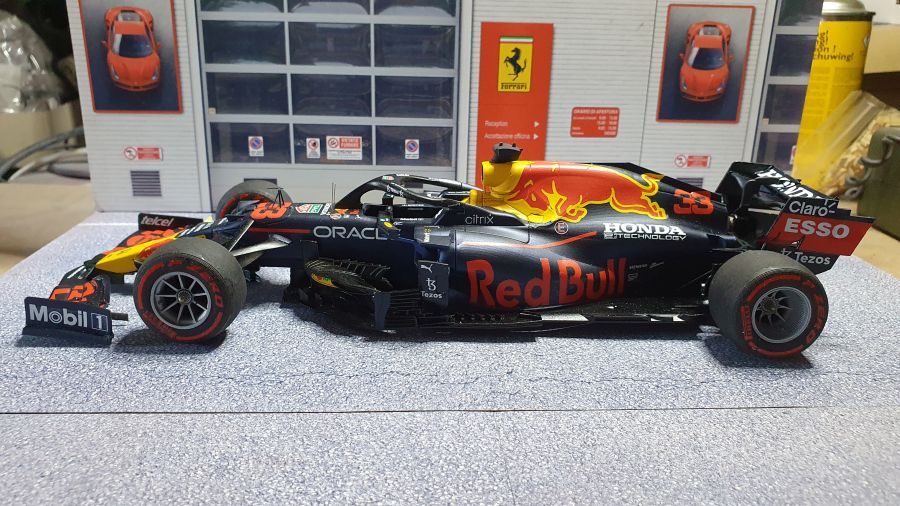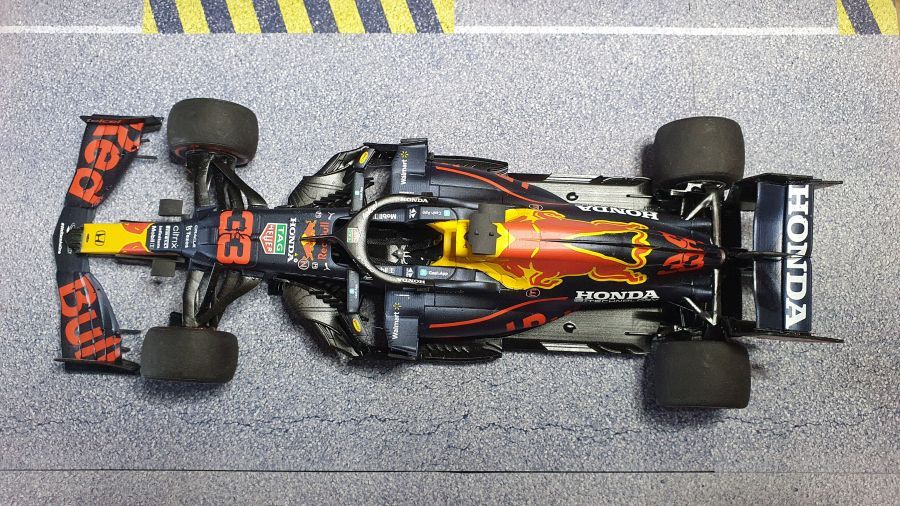 Niet veel bijzonders tegengekomen bij het bouwen van dit model. Alles past perfect.
Not much to report on this build. Everything fits perfect.