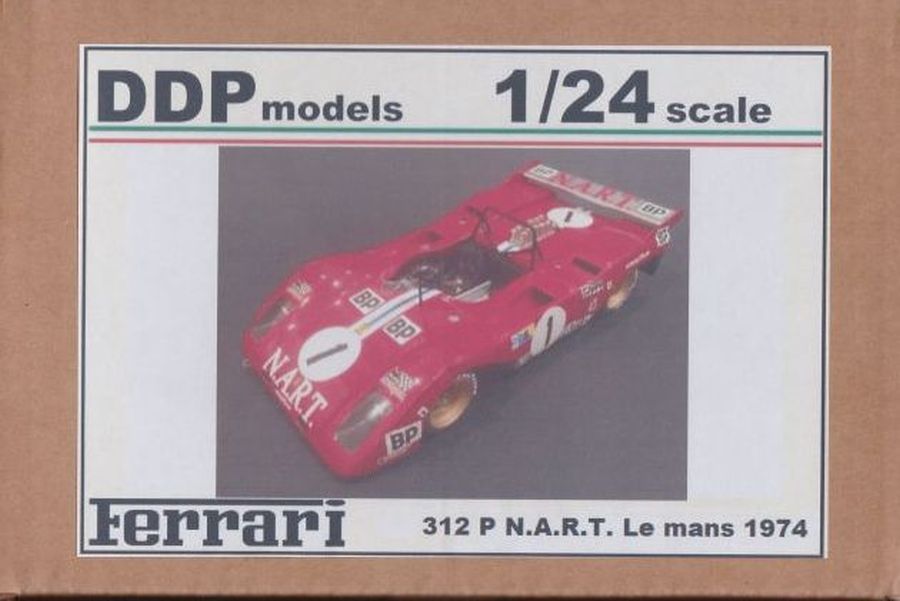 Nog een schaal 1/24 kit. Deze keer 1 van mijn favorieten. De 1974 Ferrari 312P NART Le Mans versie zoals gereden door Teodoro Zeccoli en Jean-Claude Andruet. De kit gemaakt door een privé producent, DDP Models. Ik verkoop ook een aantal van deze kits. Kijk gerust in mijn winkel wanneer je nieuwsgierig bent.
Another scale 1/24 kit. This time 1 of my favorites. The 1974 Ferrari 312P NART Le Mans version as driven by Teodoro Zeccoli and Jean-Claude Andruet. The kit has been made by a private produver, DDP Models. I sell some of these kits. Feel free to have a look in my shop when interested.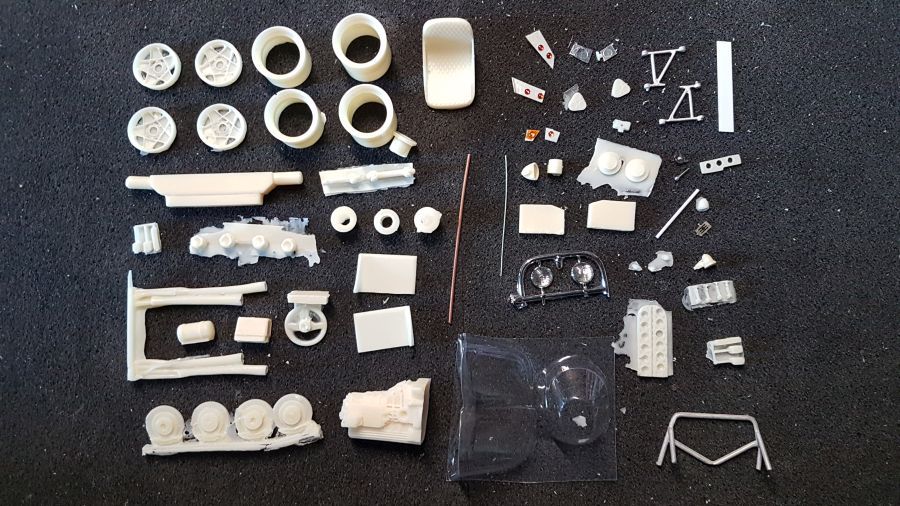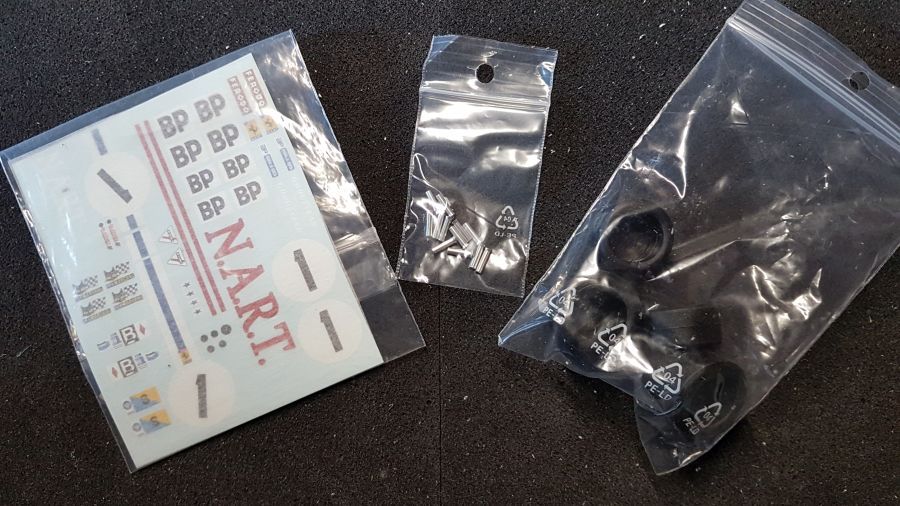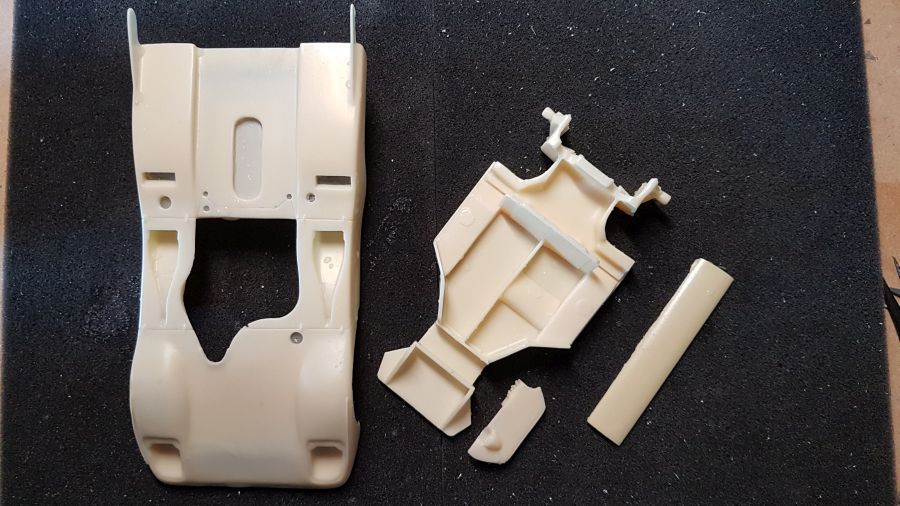 De gaten worden geopend. En een aantal kleine puntjes aan de body moeten bijgewerkt worden. 
The holes are being opened. And a few minor points at the body need some work.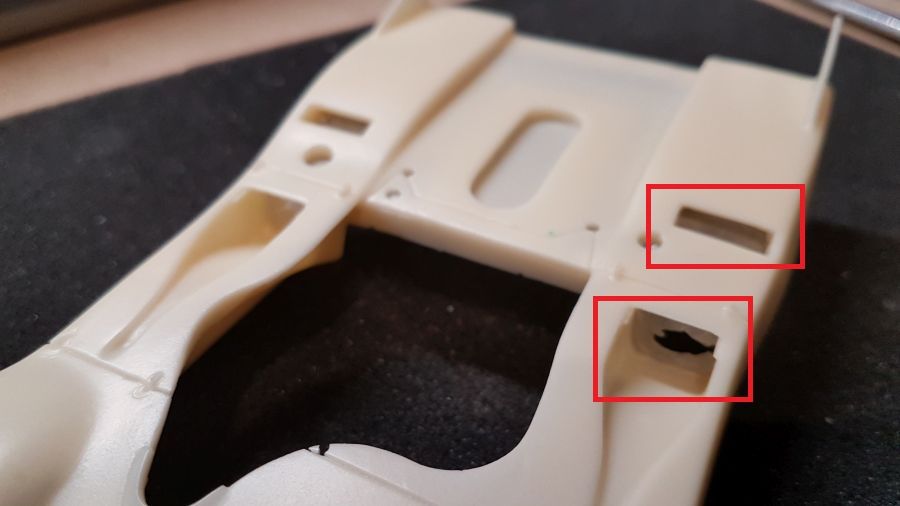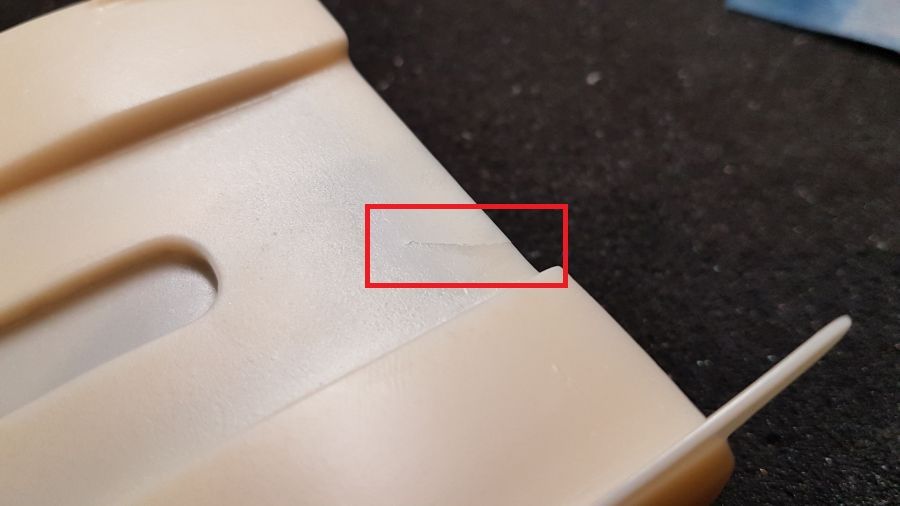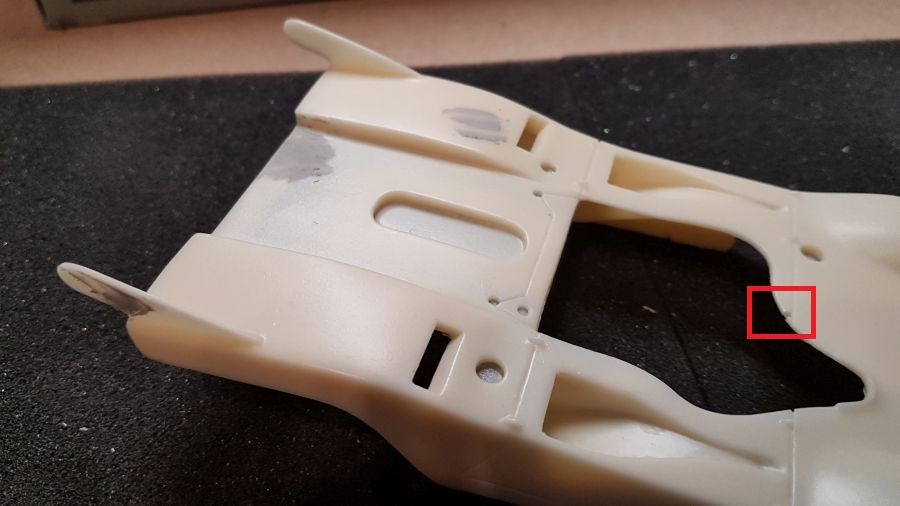 De paneellijnen ga ik wat dieper maken.
I will make the panel lines a bit deeper.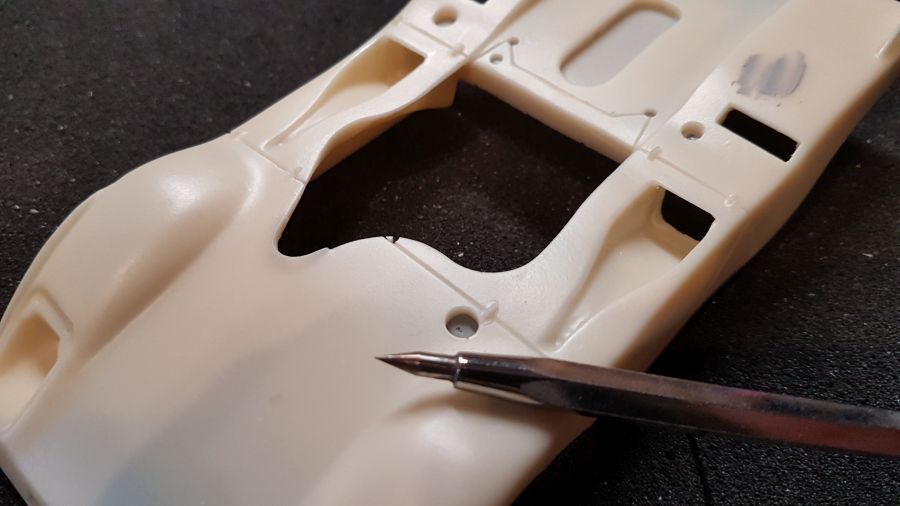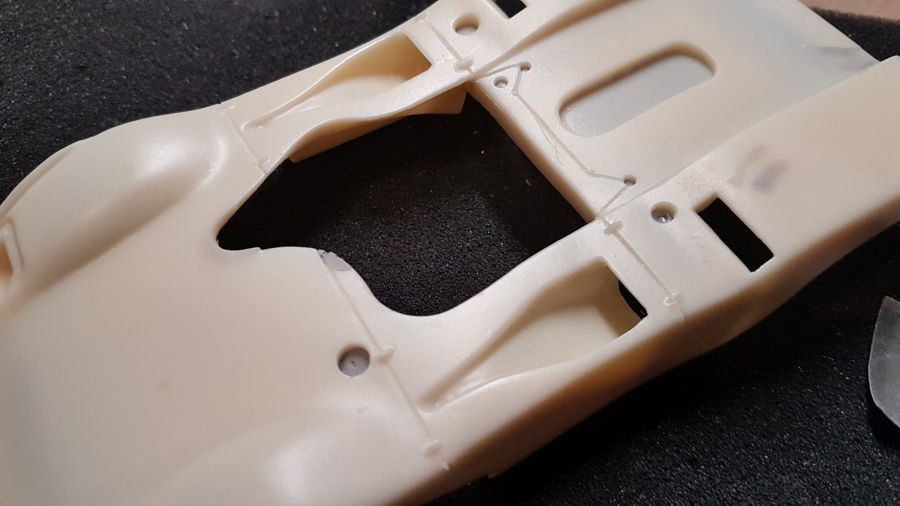 Ook wat werk aan de wielkasten.
Some work to the arches too.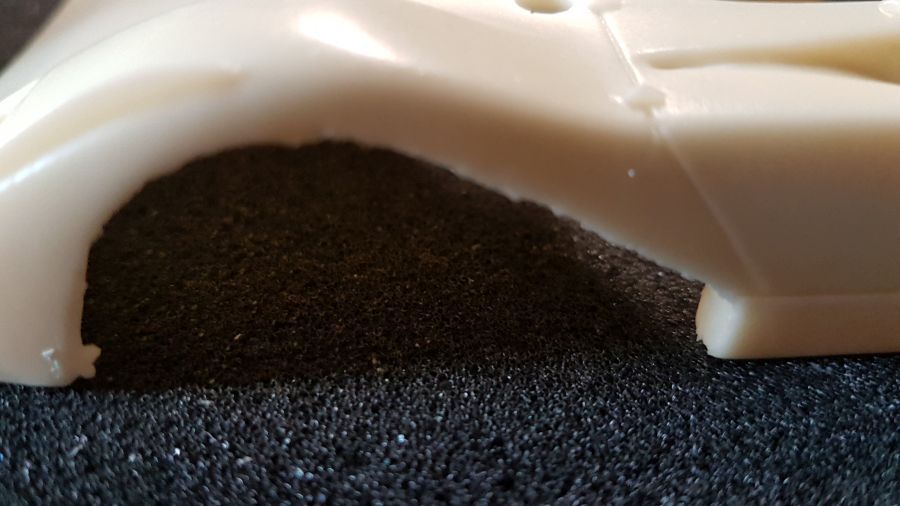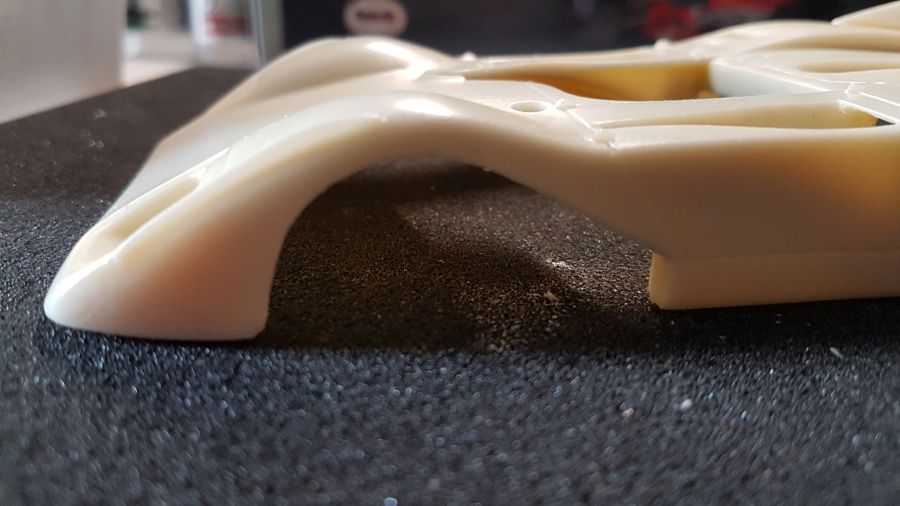 De vloer krijgt zijn aluminium/zilver kleur. Ondanks grondig ontvetten toch weer niet helemaal ok. Gelukkig zul je daar niet veel van zien.
The floor gets it's aluminium/silver color. Despite real degreasing all not 100%. Luckily you will not see this.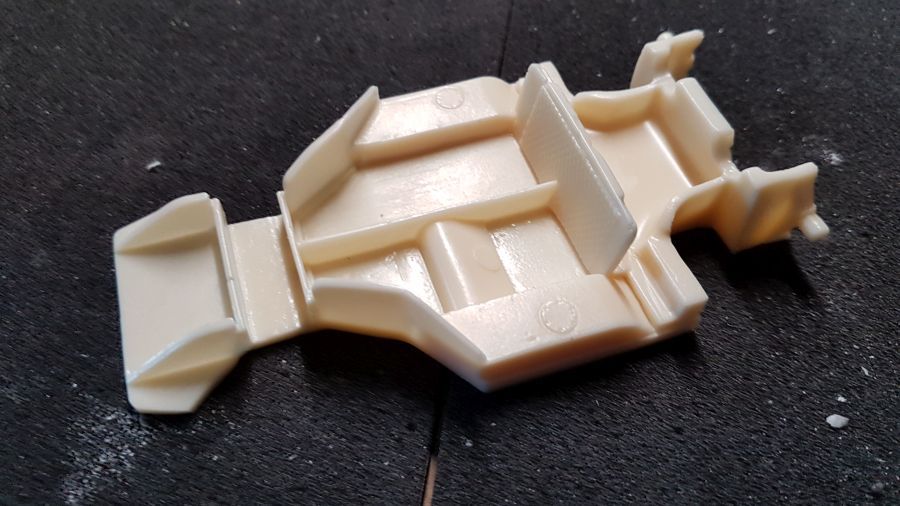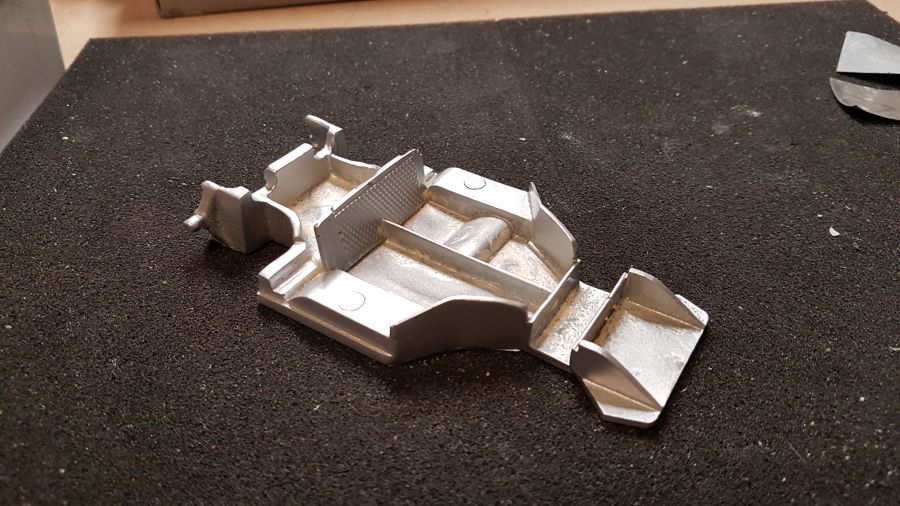 Nu kijken hoe de vooras gemonteerd moet worden. Het wiel moet vrij ver naar voren.
Now to determine how to mount the front axle. The rim needs to be quite a lot to the front.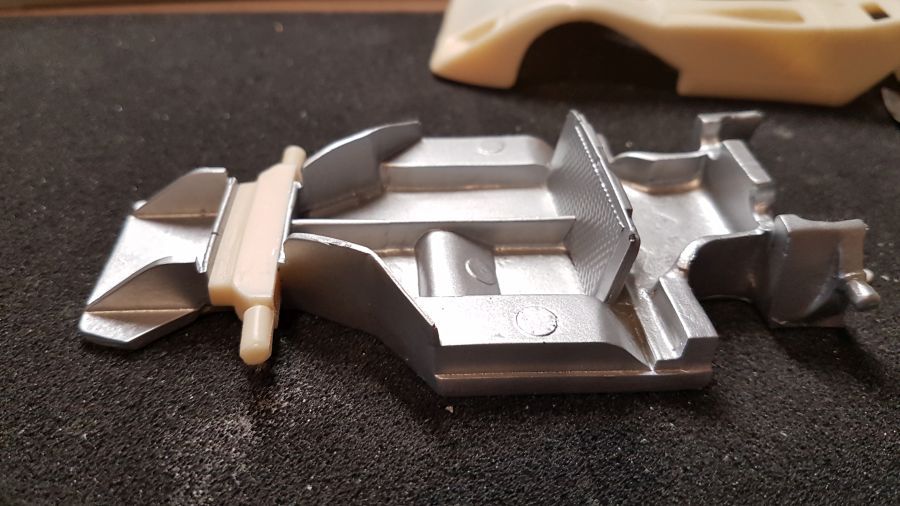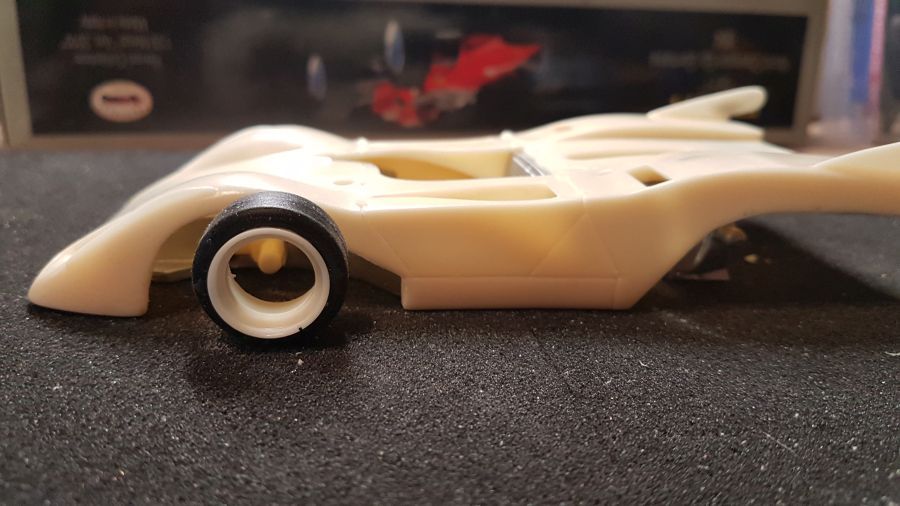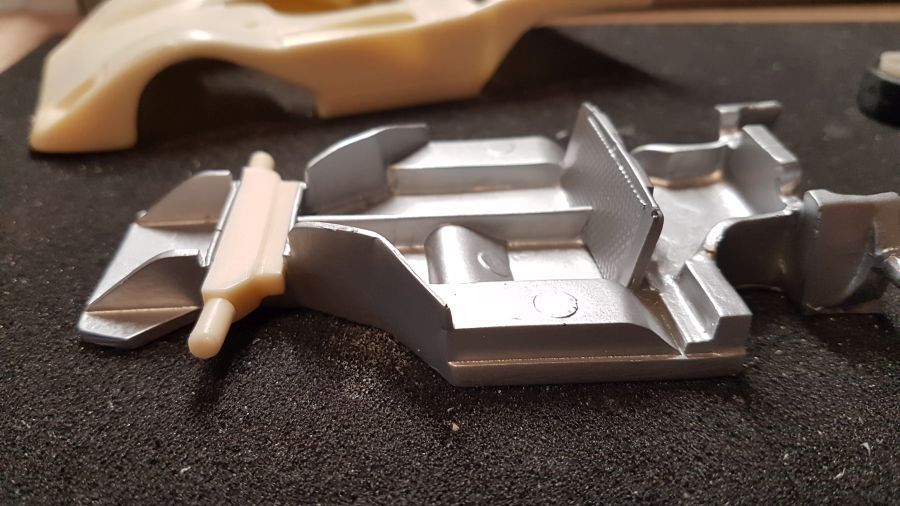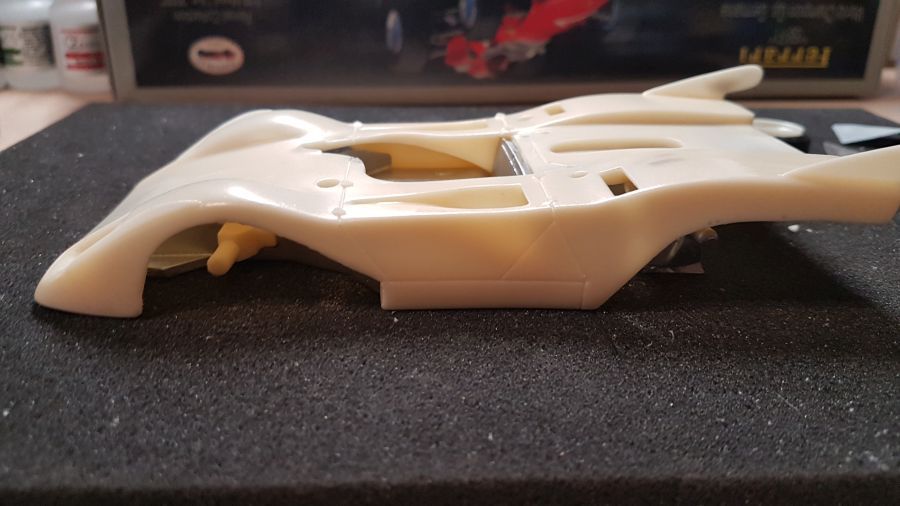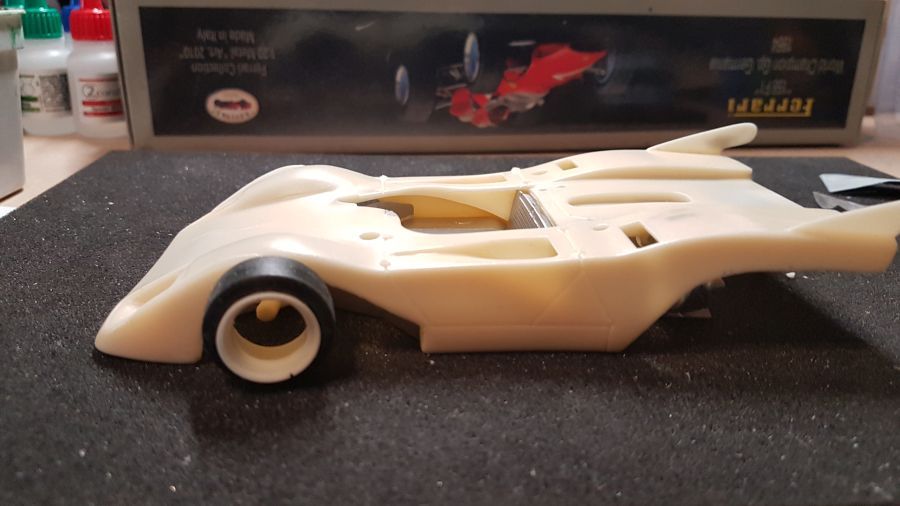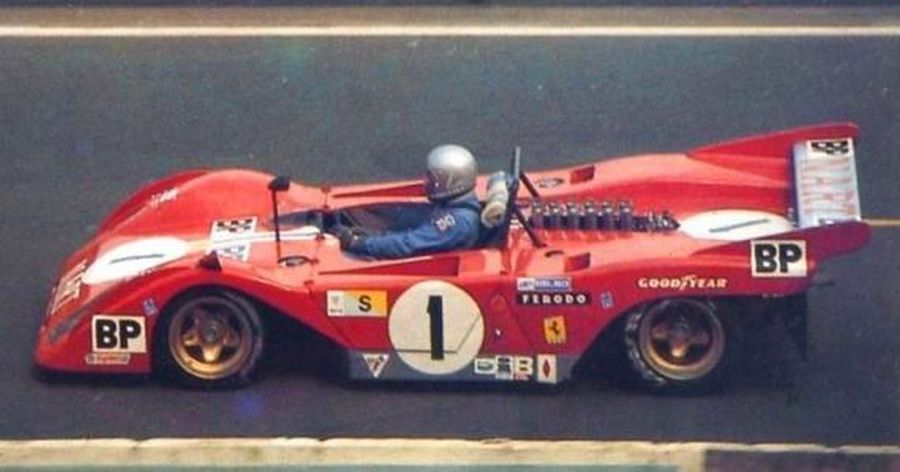 Onderdelen worden aan de vloer toegevoegd.
Parts are being added to the floor.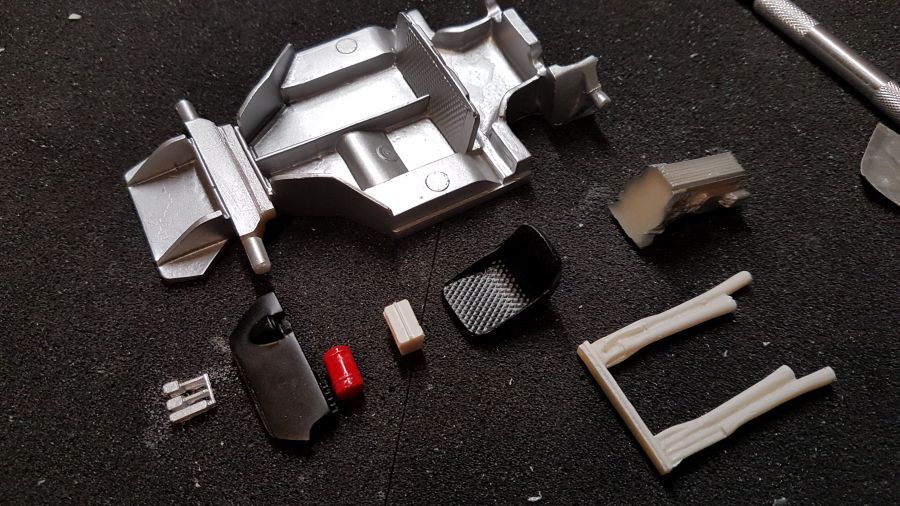 De hoogte van het dashboard moet aangepast.
The height of the dash board needs to be adjusted.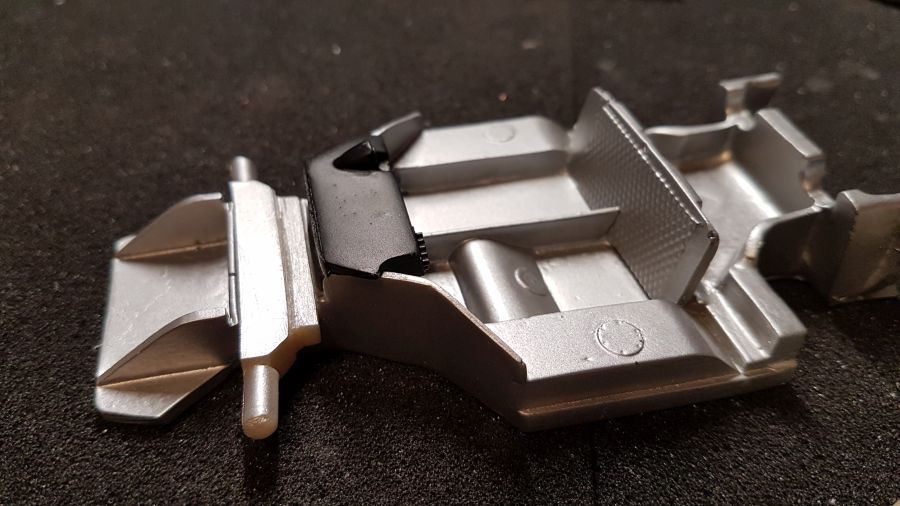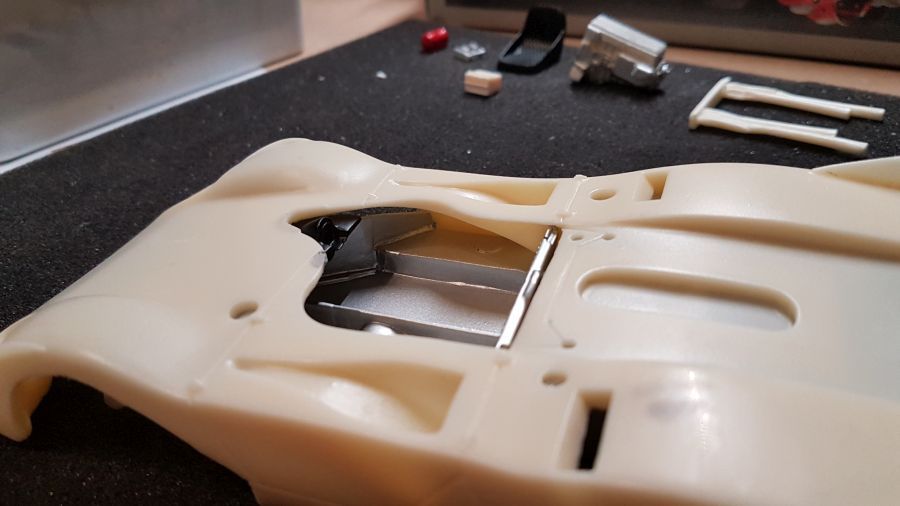 De brandblusser wordt klaargemaakt. 
The fire extinguisher is being prepared.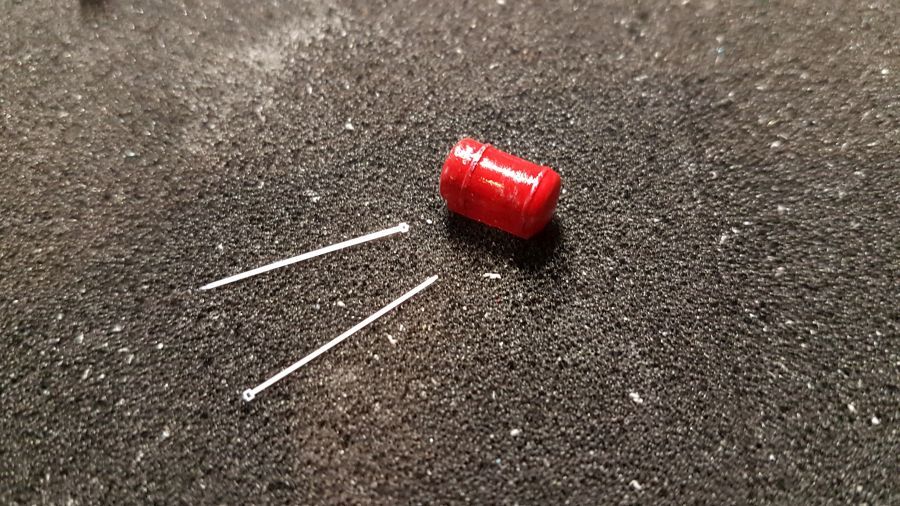 Dit werk niet...
This doesn't work...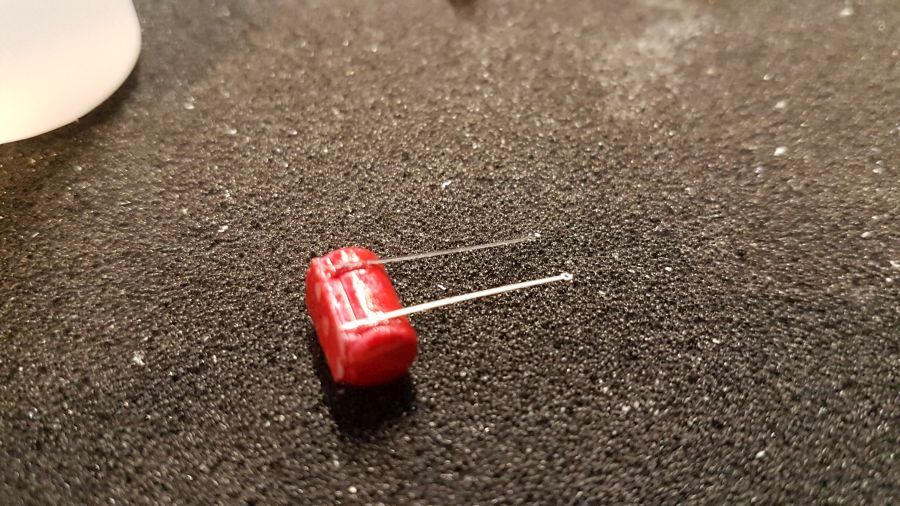 Dus nieuwe benadering... Vooraf vormen.
So new approach... Shape it up front.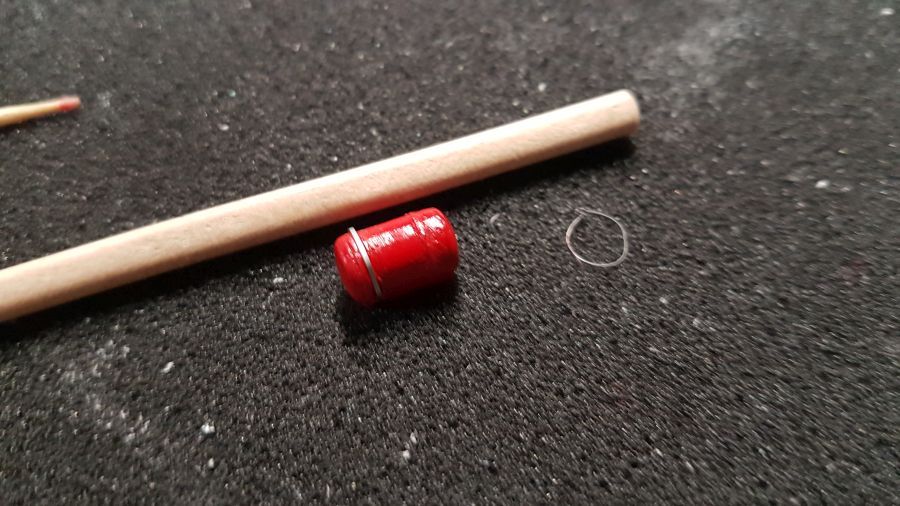 En alles plaatsen.
And adding everything.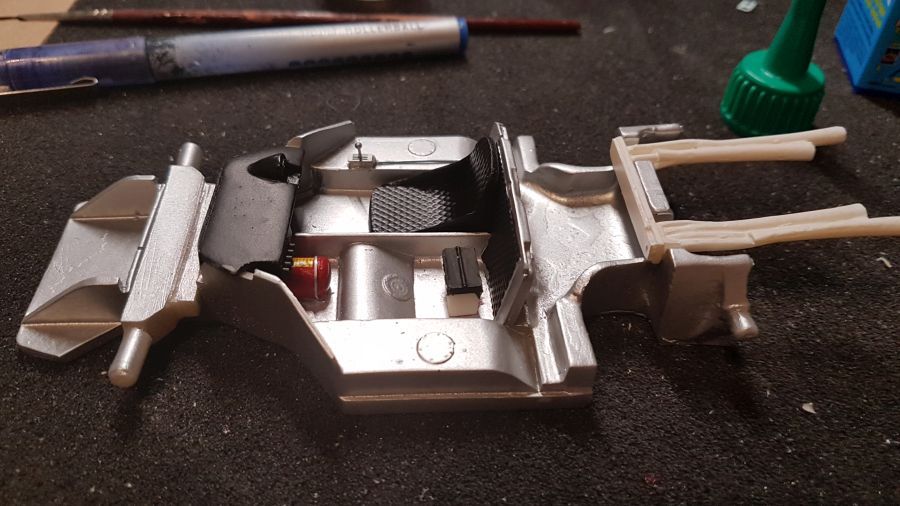 Eén van de assen is kapot. Door een luchtbel in de resin is het te breekbaar. Dus nieuwe maken.
One of the axles is broken. Because of a bubble in the resin the axle is too brittle. So making new ones.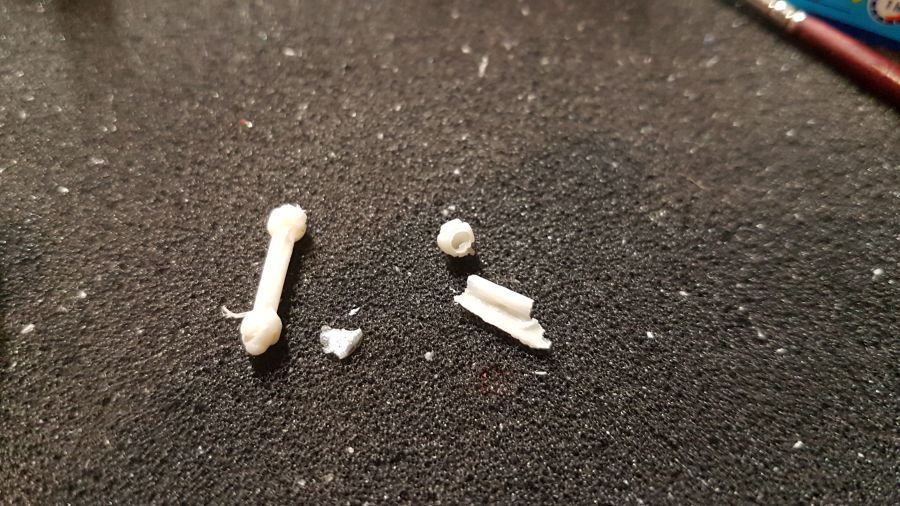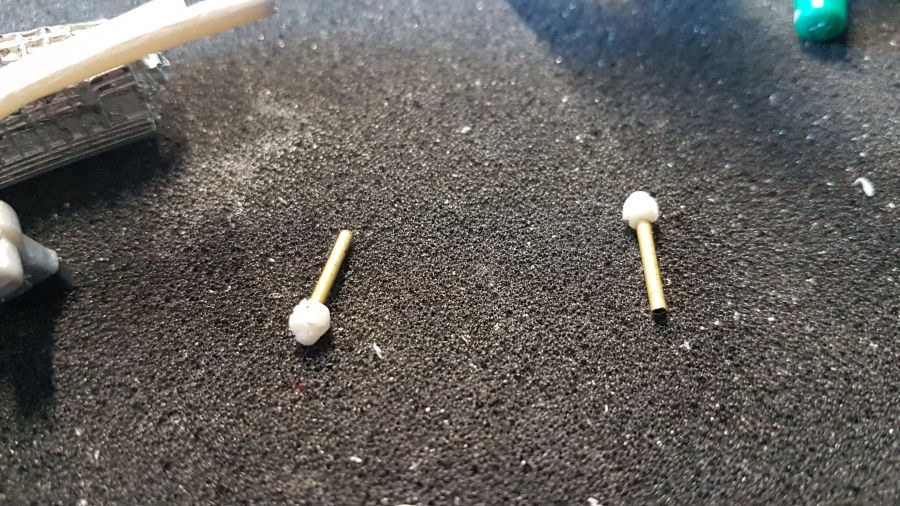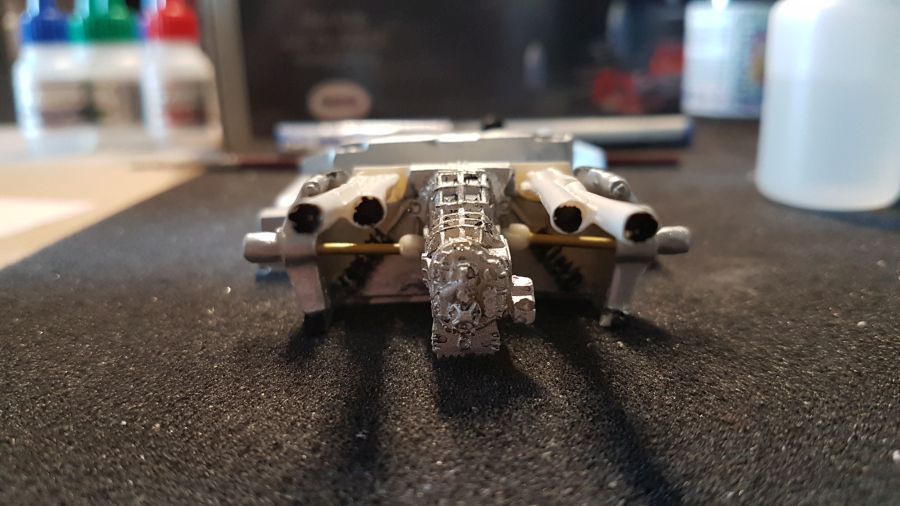 Door naar het klaarmaken van de velgen. Eerst de inleg ontdoen van de overbodige kunsthars.
Next is the preparation of the rims. First clean the resin inlays of the residue.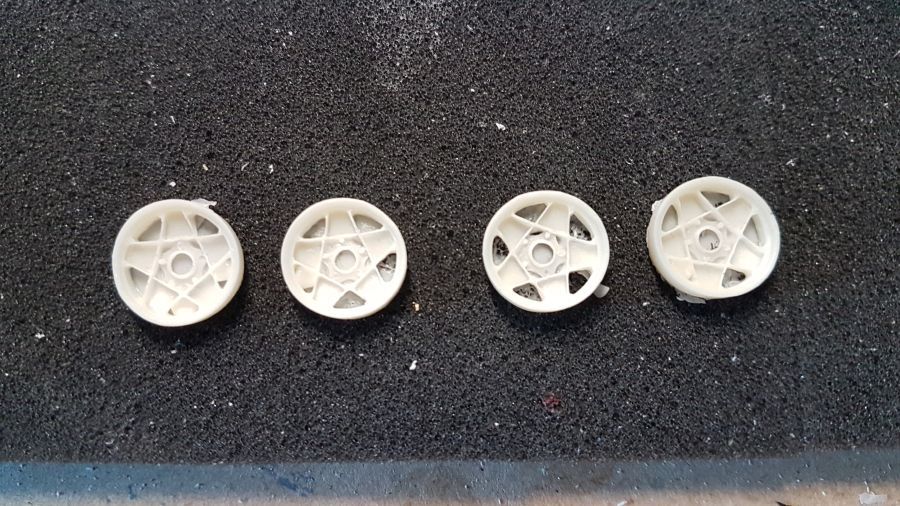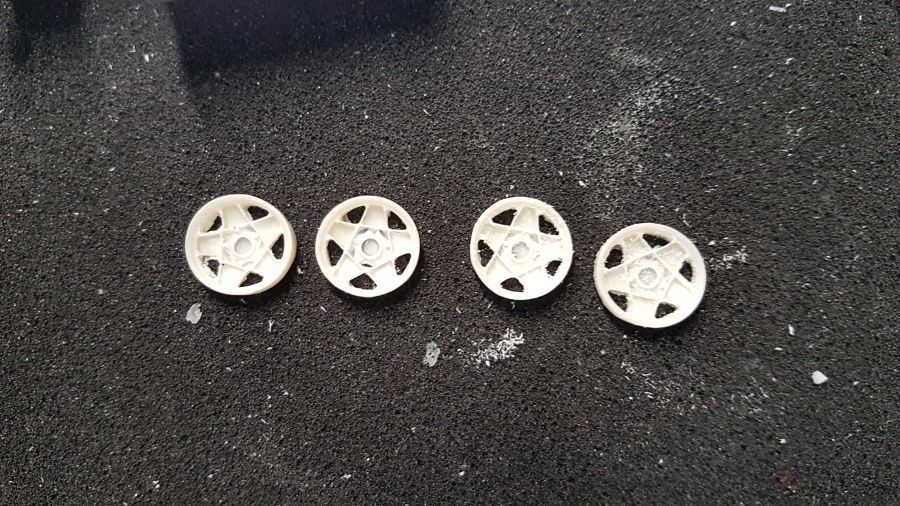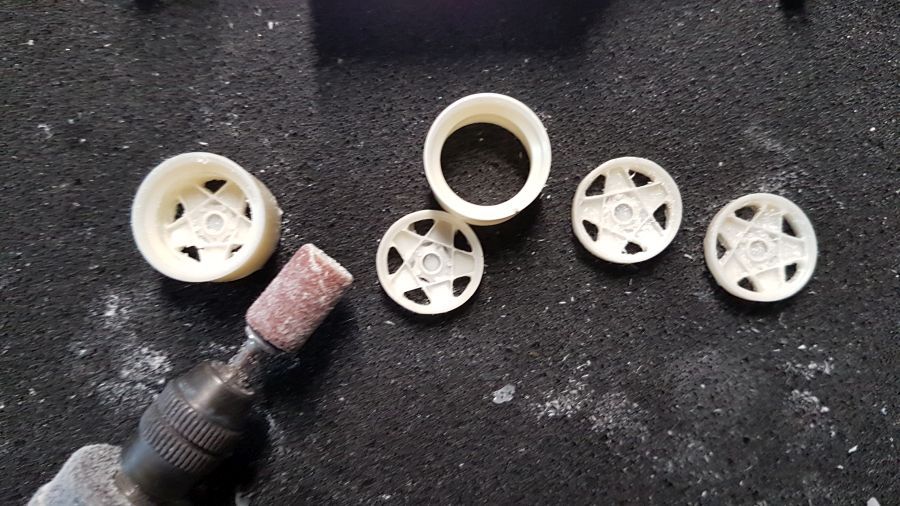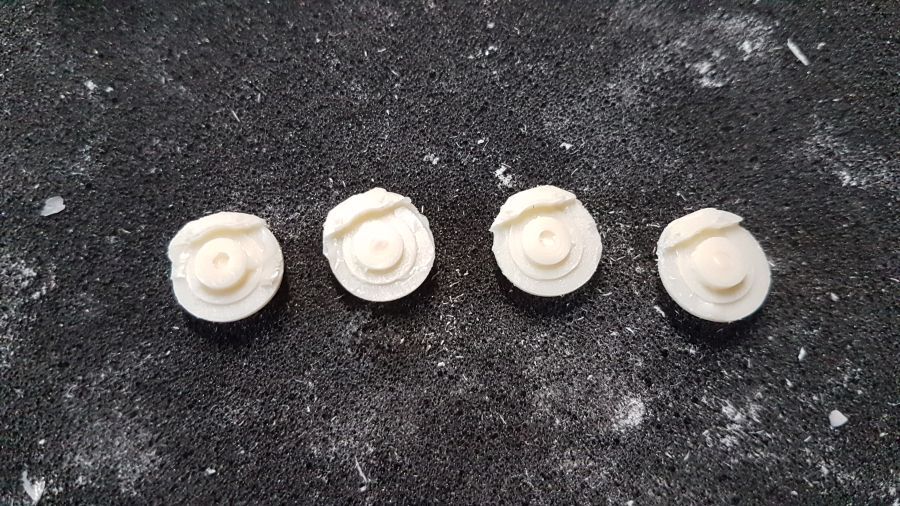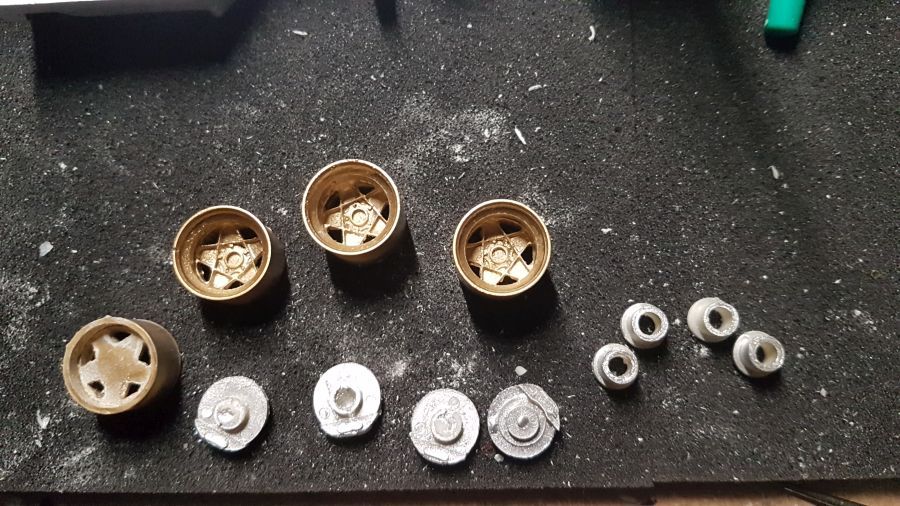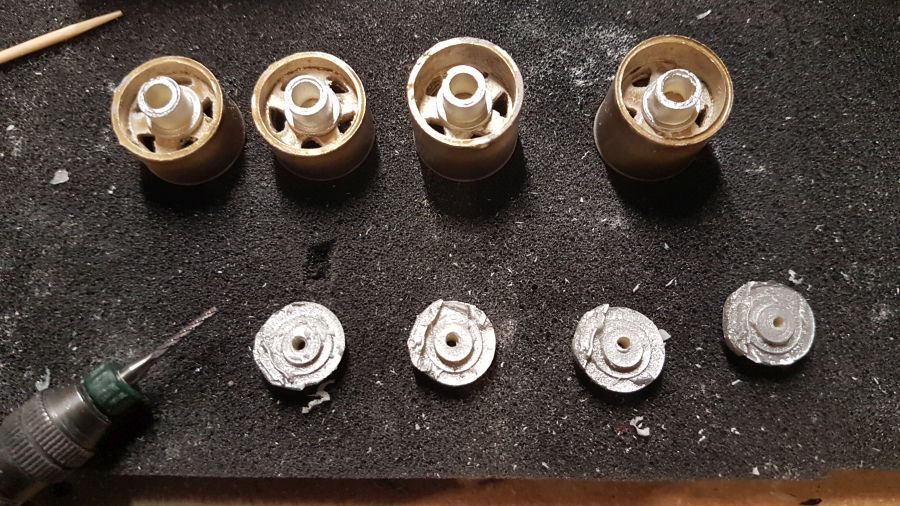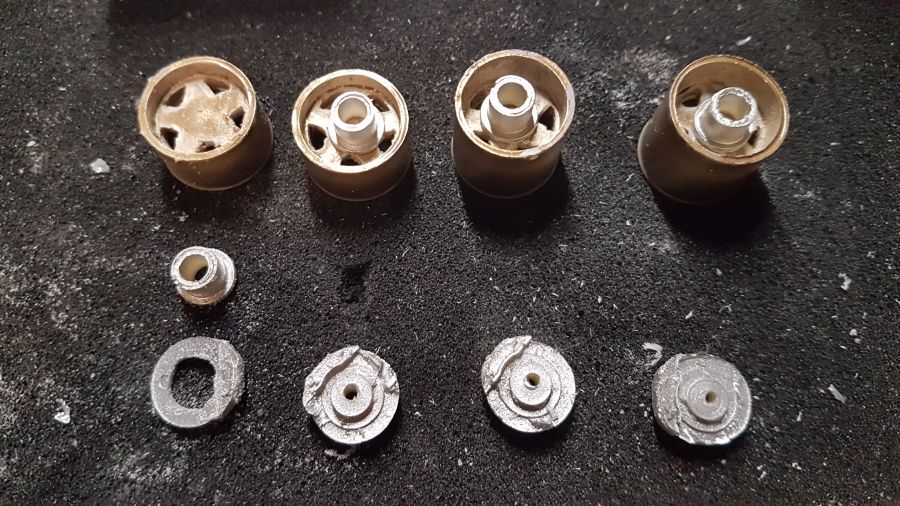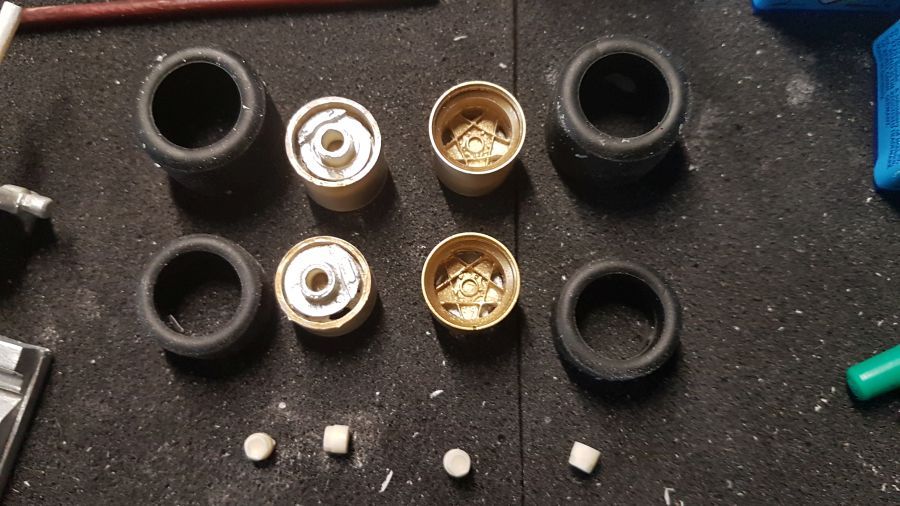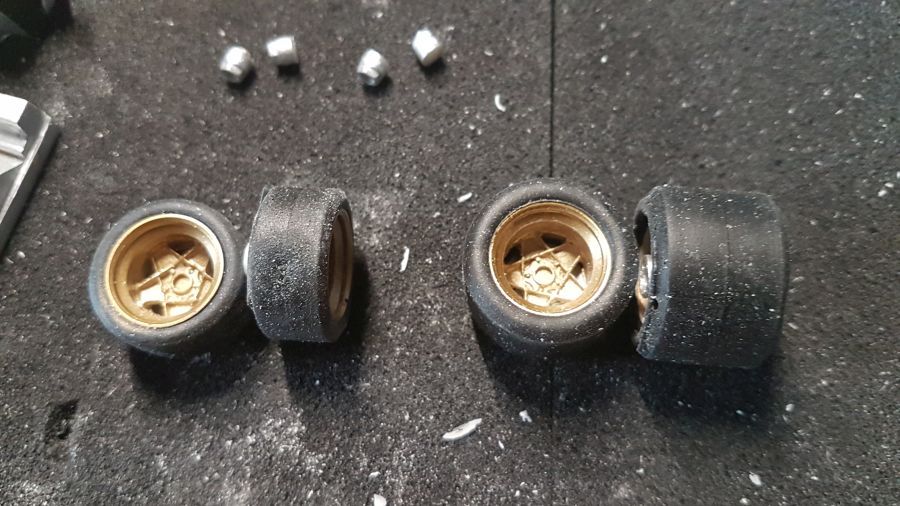 Ik ga de naad wegwerken.
I will work on that seam.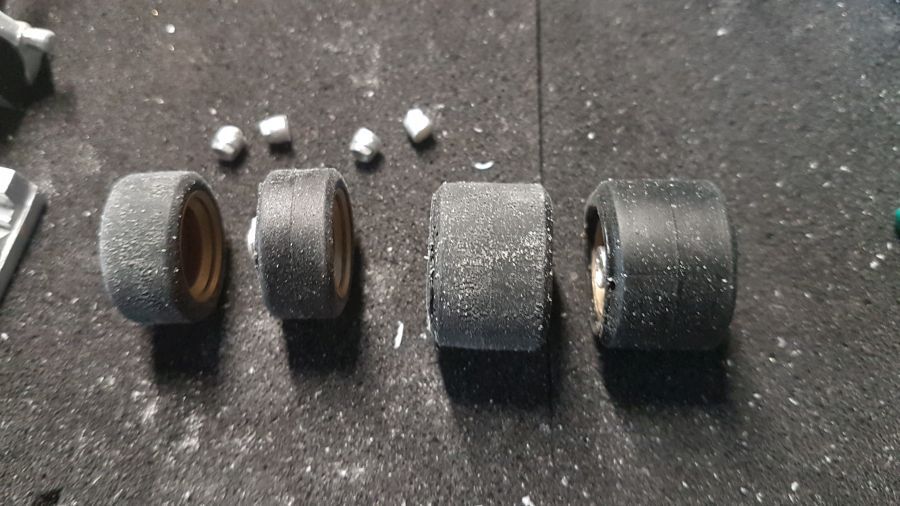 Deel van de ophanging is geplaatst. De rest volgt nog.
Part of the suspension has been added. The rest will come later.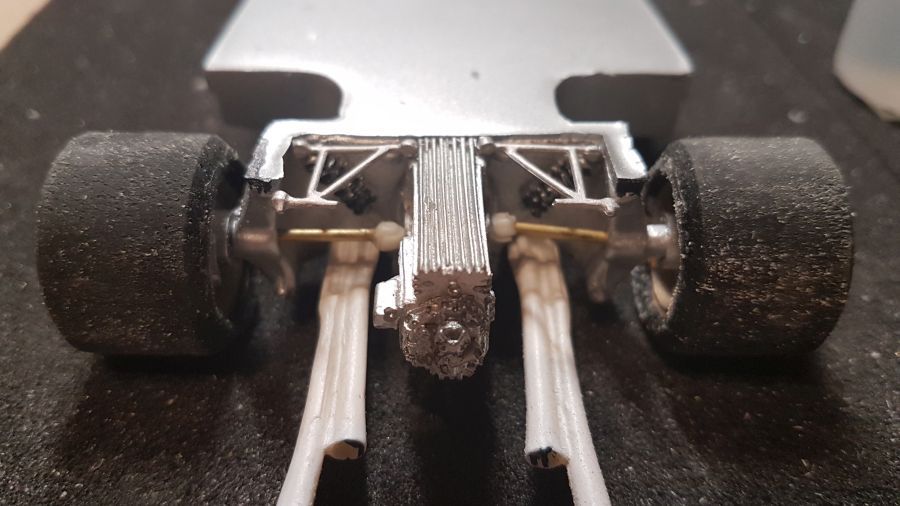 Wat werk aan de luchttoevoer.
Some work on the intakes.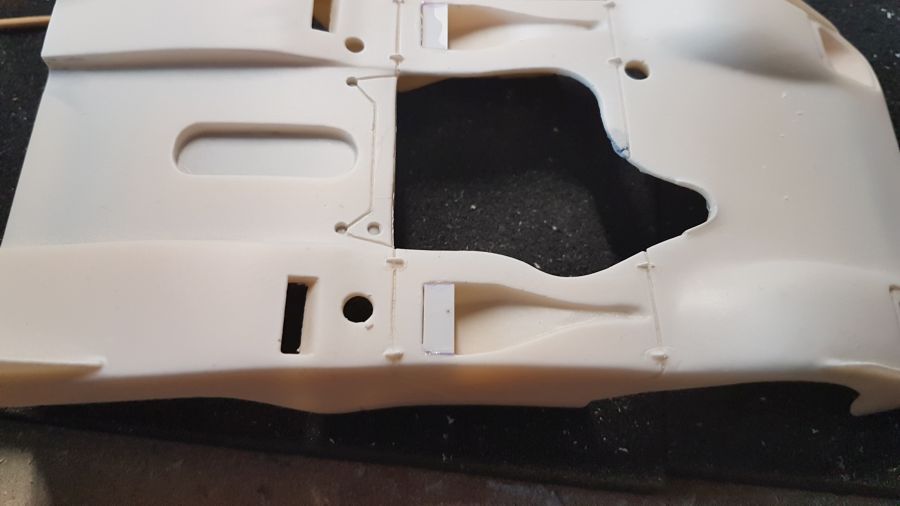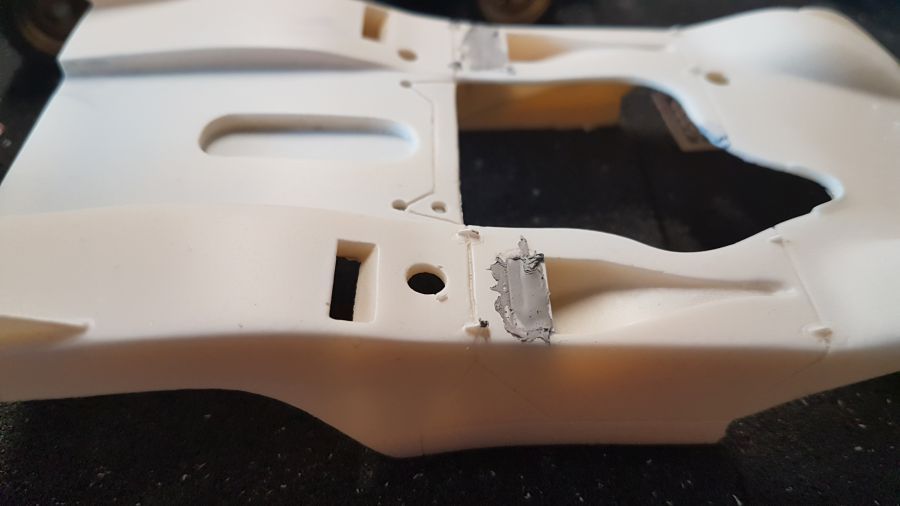 Terwijl het vulmiddel droogt, ga ik verder met de gordels.
While the putty dries, i will continue with the belts.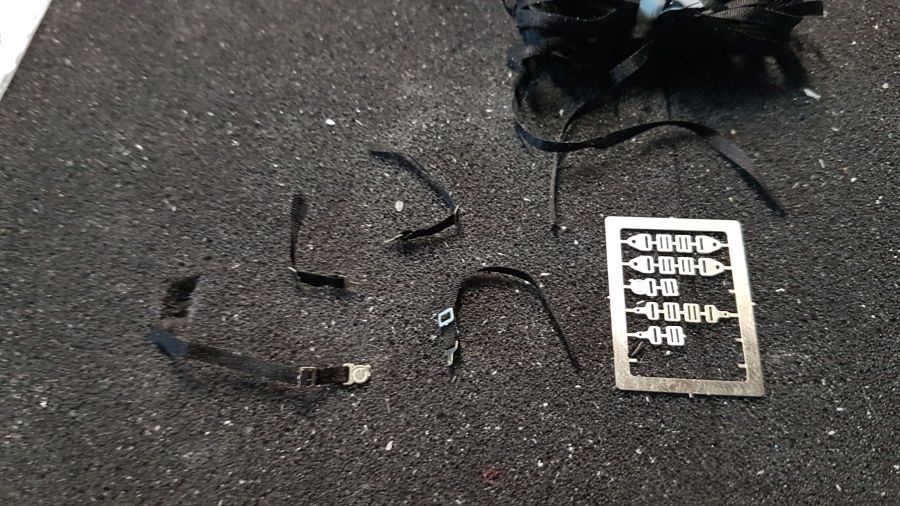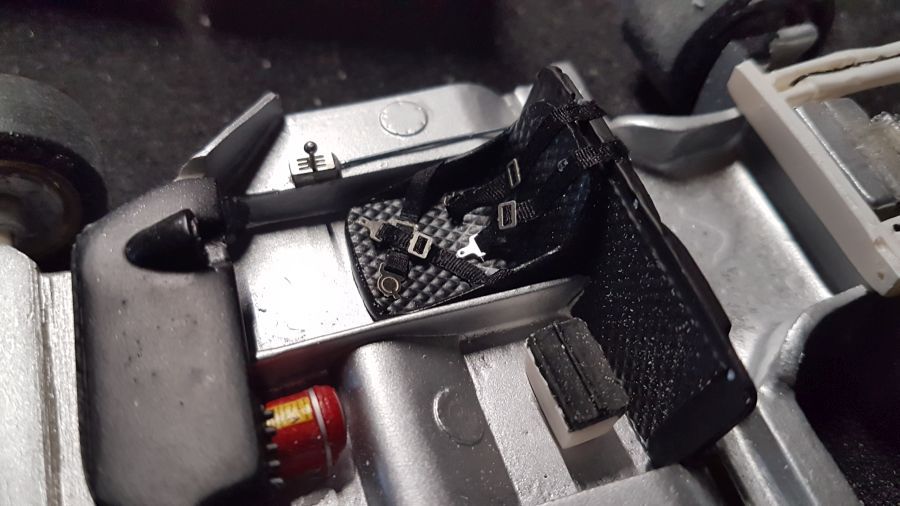 Ik heb de body even gepast en vond de voorwielen iets te ver naar voren staan, dus gecorrigeerd.
I did a test fit of the body and decided the front wheels were a bit too far to the front, so corrected.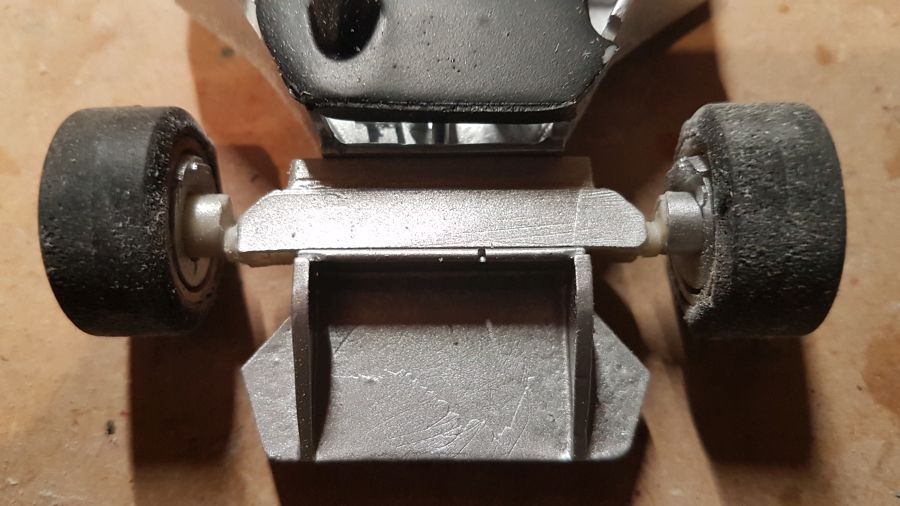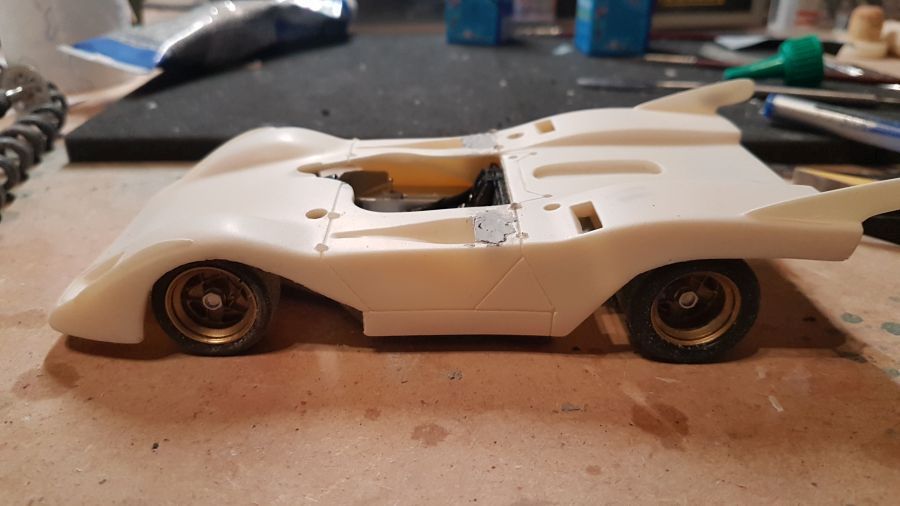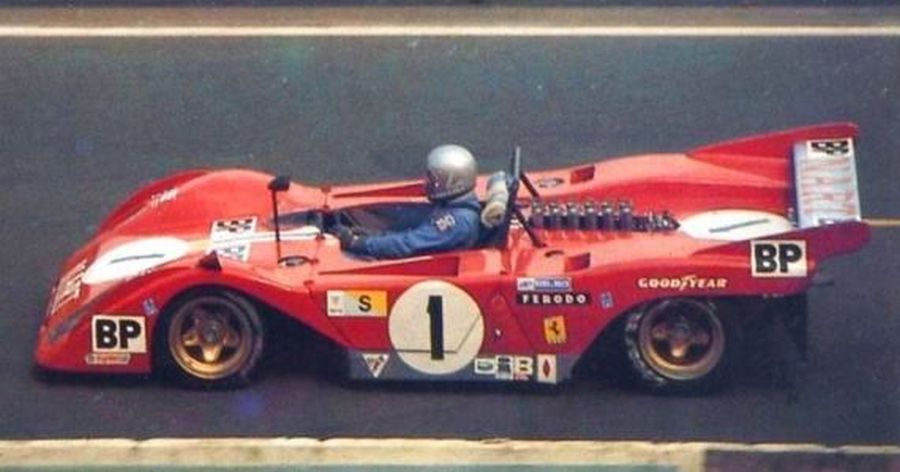 De achterwielen worden ook aangepast. Ik plaats ze iets meer naar binnen, zodat ze binnen de spatborden vallen.
The rears are changed too. I place them a little more inwards, so they keep under the fenders.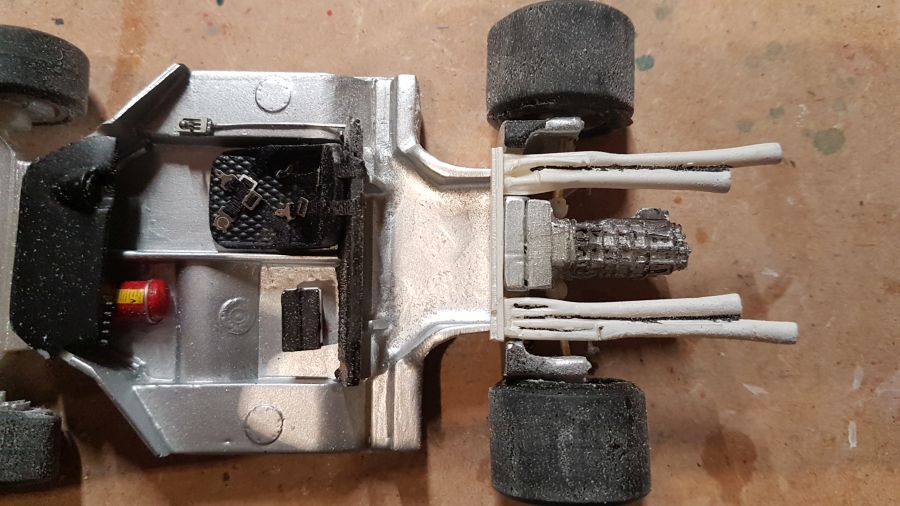 De inlaten hebben nog wat putty nodig met het oog op het krimpen.
The intakes need some more putty because of some shrinking.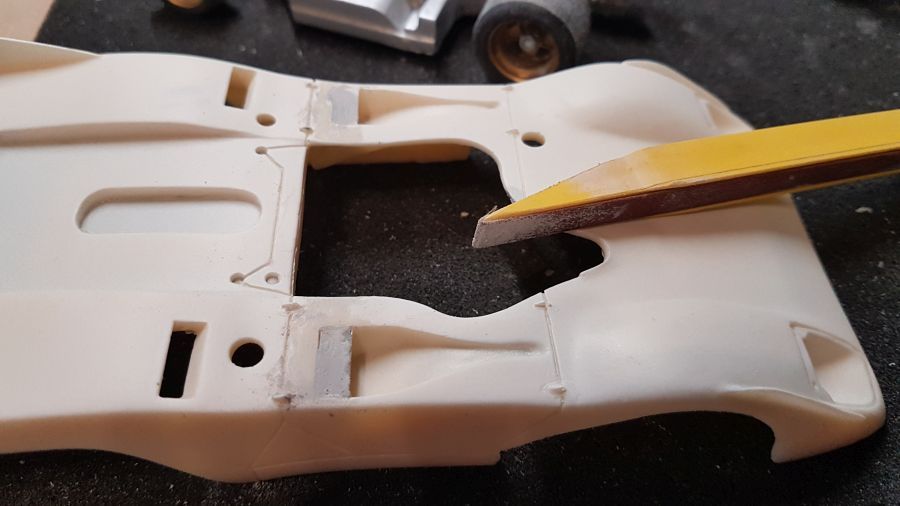 Intussen ga ik de inlaten voor de motor voorbereiden. En ik zal de achtervleugel spuiten.
In the meantime i will prepare the trumpets for the engine. And i will paint the rear wing.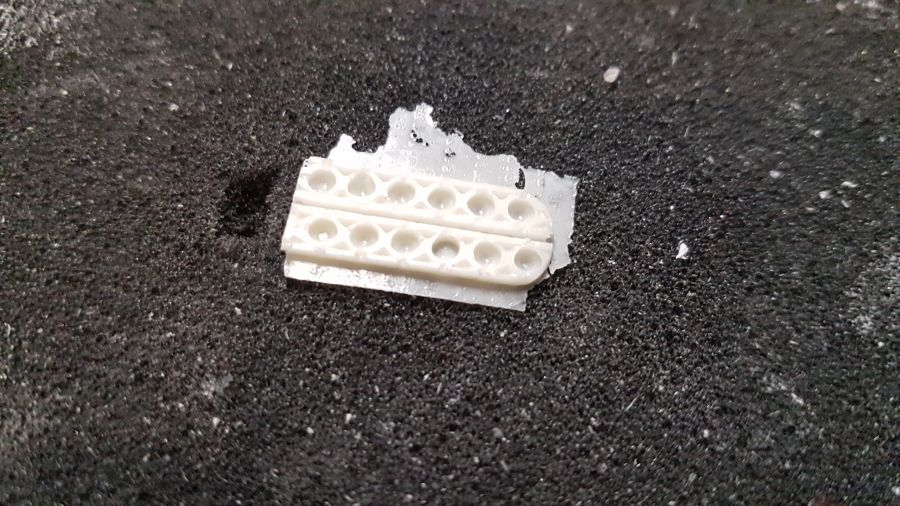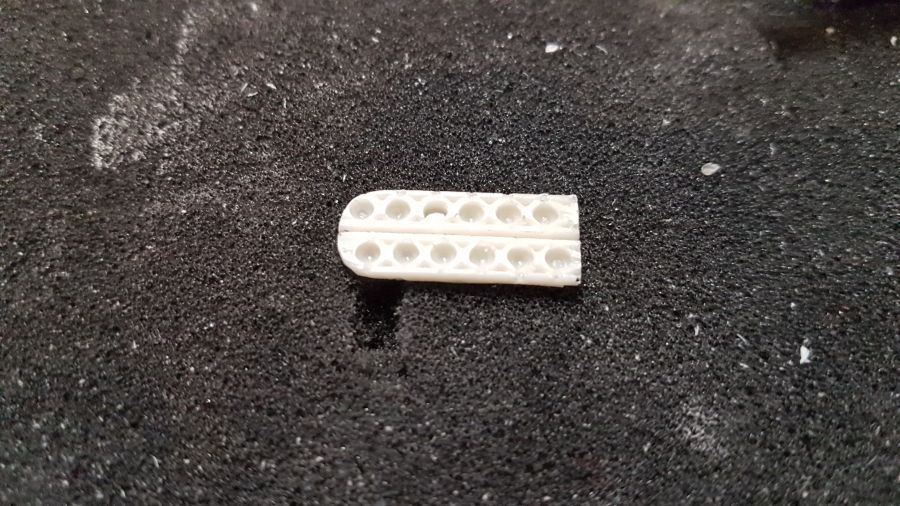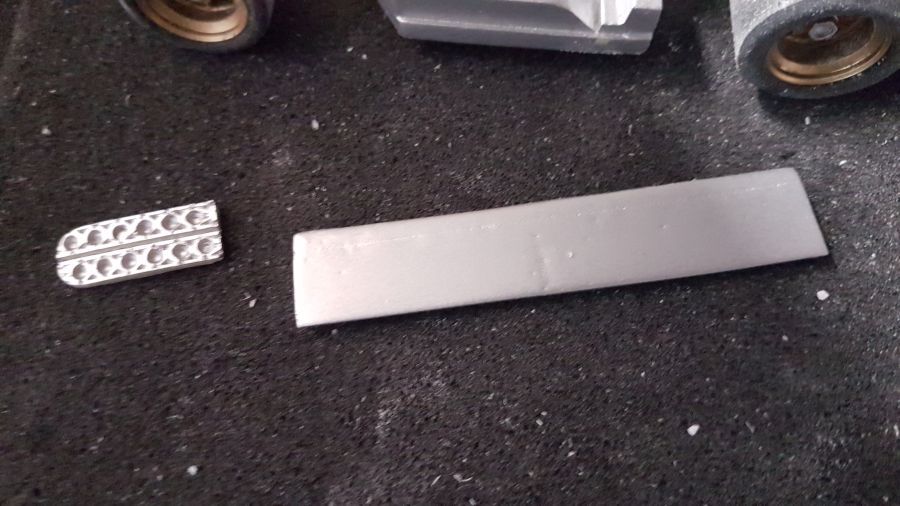 Ook de binnenkant van de body krijgt zilver. En de onderkant van de buitenkant van de body.
The inside of the body receives silver too. And the downside of the outside of the body.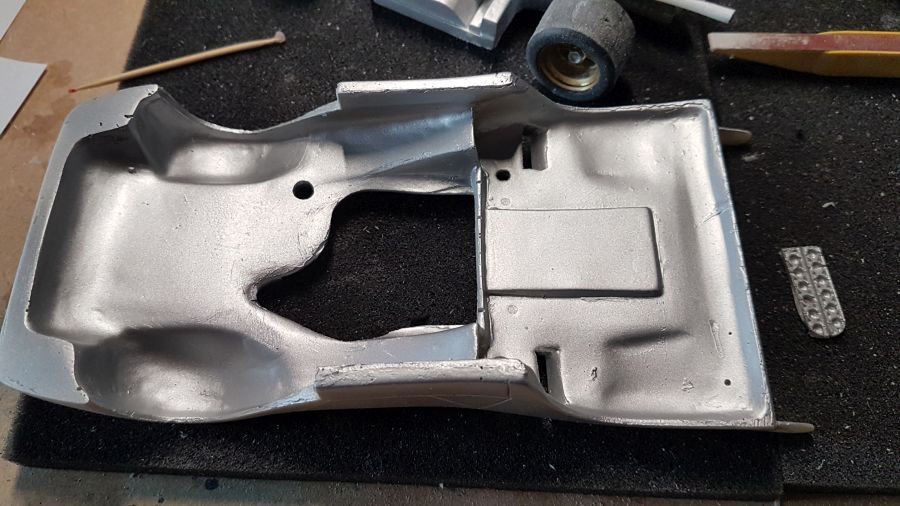 De buitenkant krijgt primer en het rood.
The outside receives primer and the red.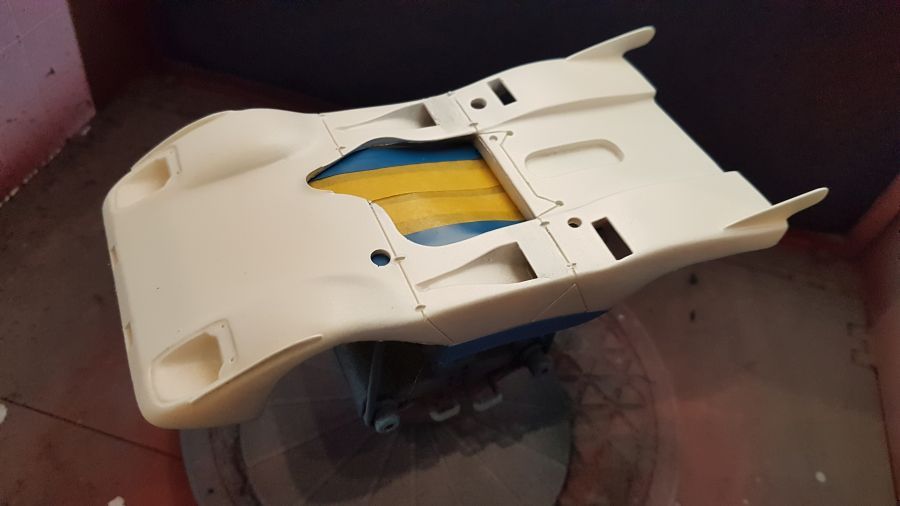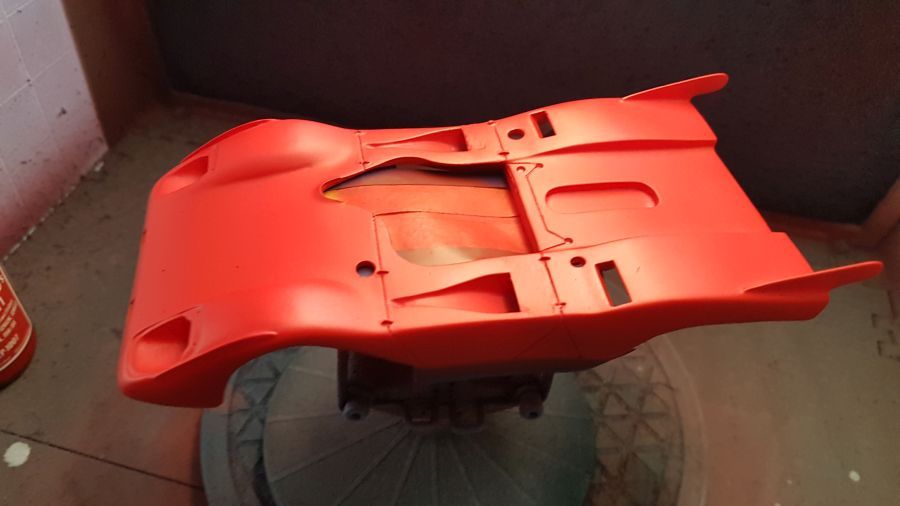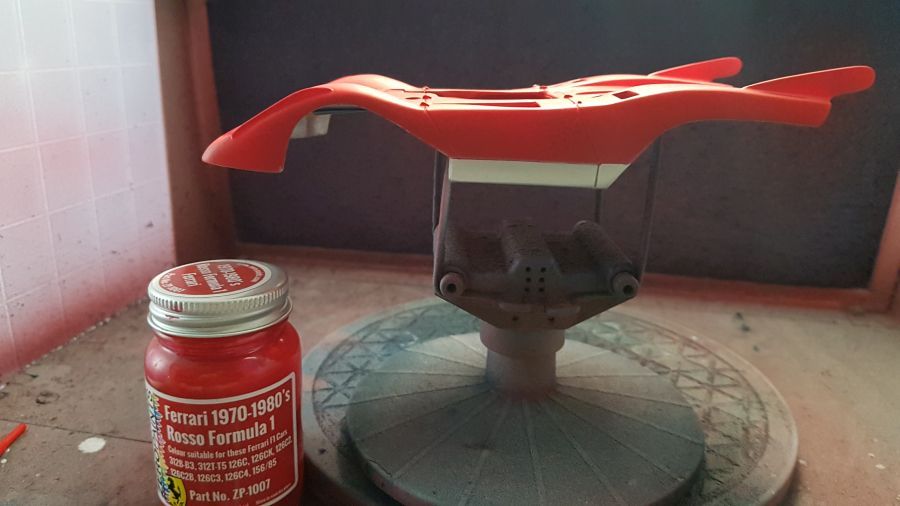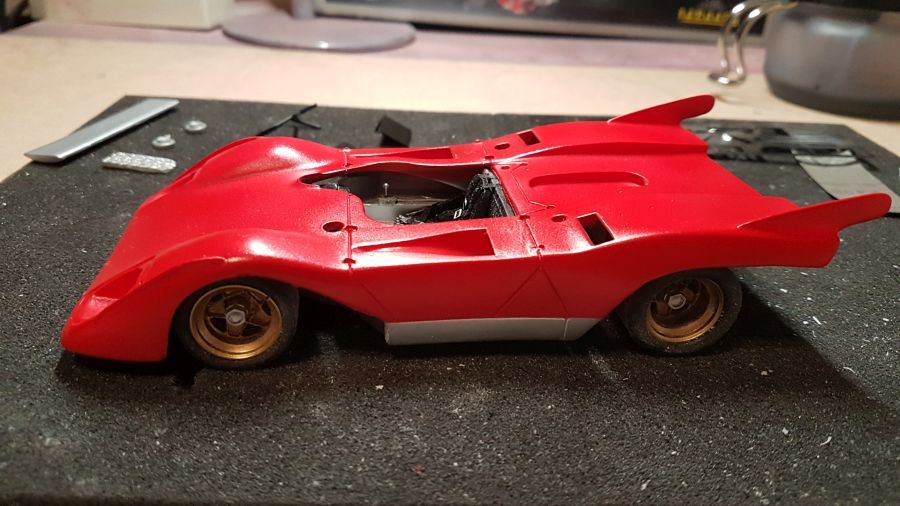 Kleine onderdelen worden bewerkt... 
Small parts are being worked on...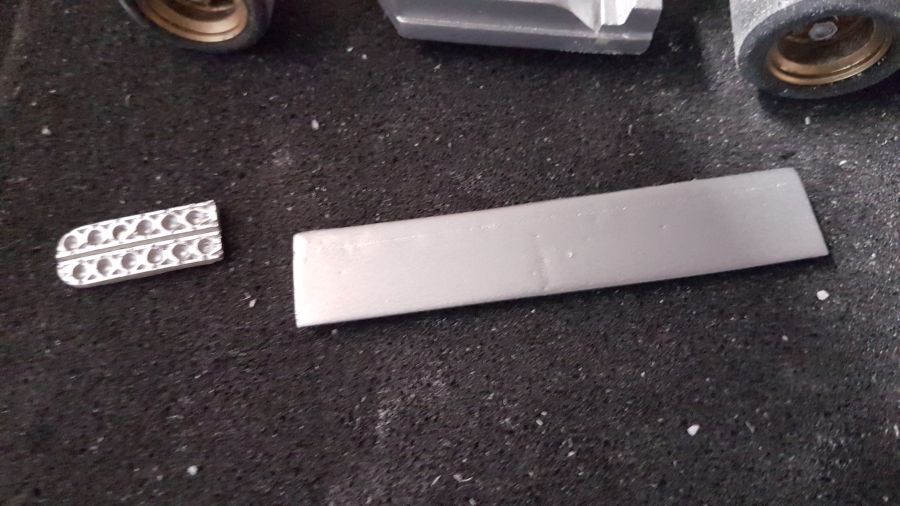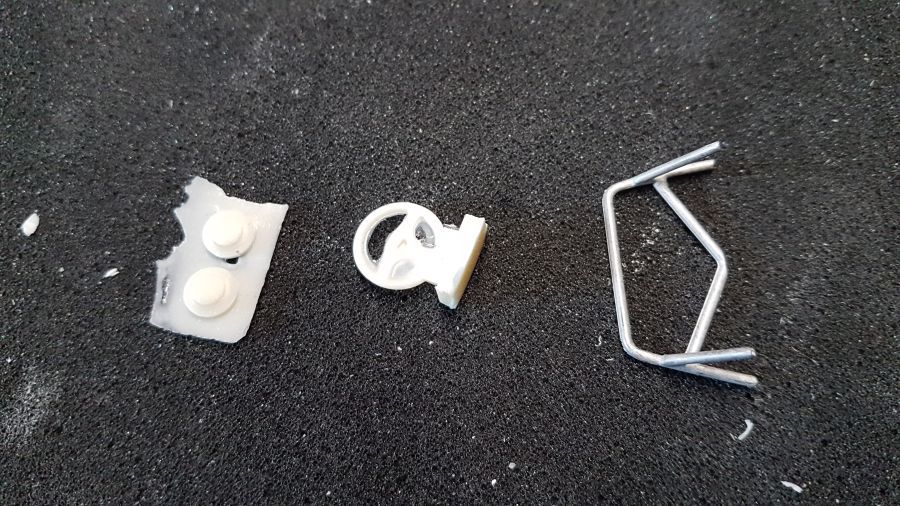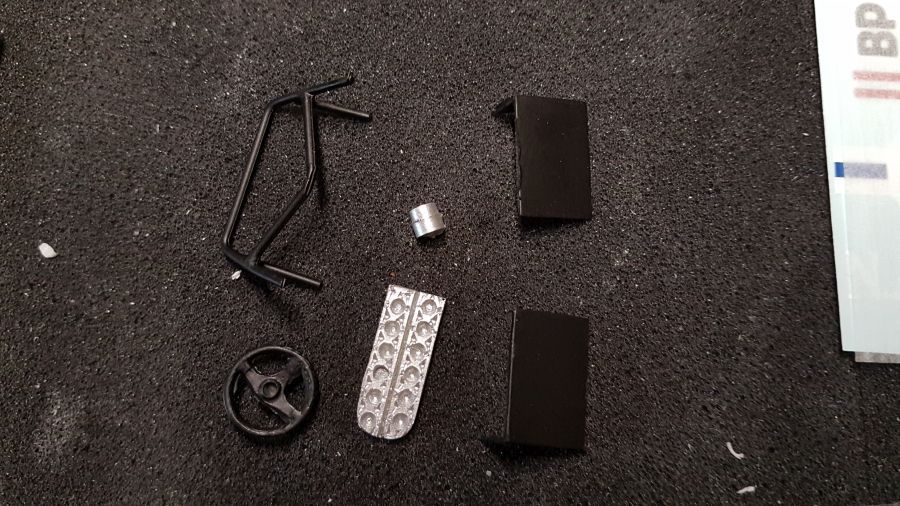 De lak is droog genoeg. Nu beginnen met de decals. Ik gebruik een malletje om de ronding uit de decals te knippen bij het motordeel.
The lacquer is dry enough. Now starting with the decals. I am using a small template to cut the bend near the engine part.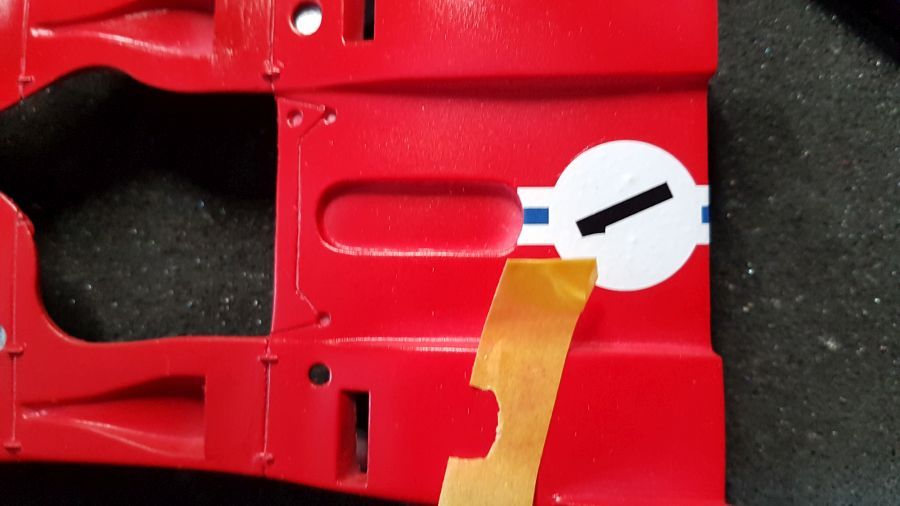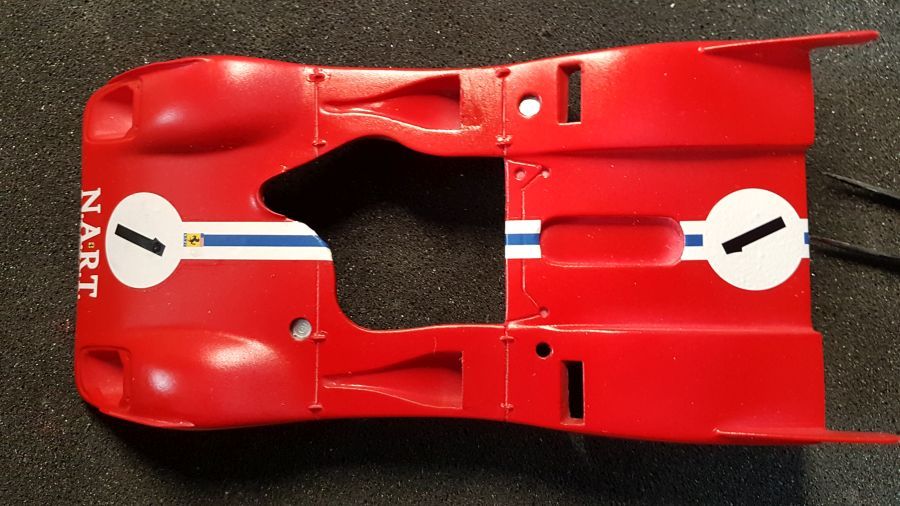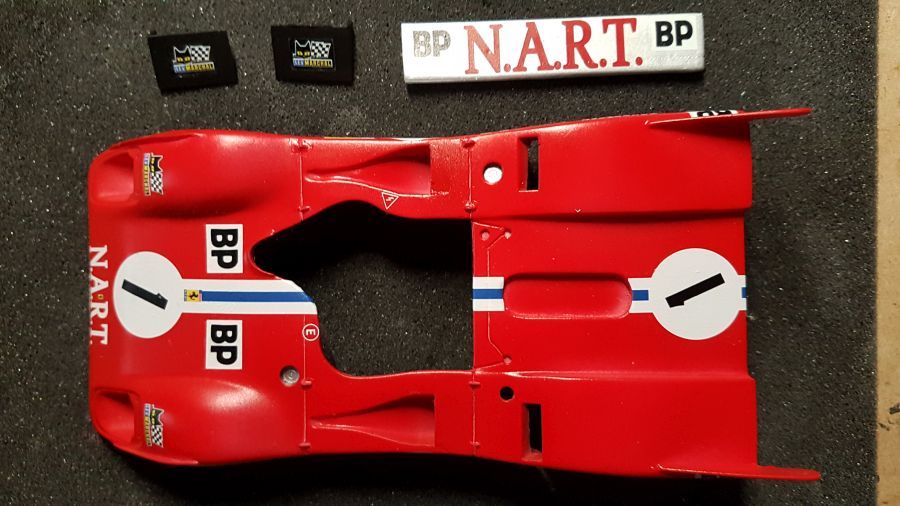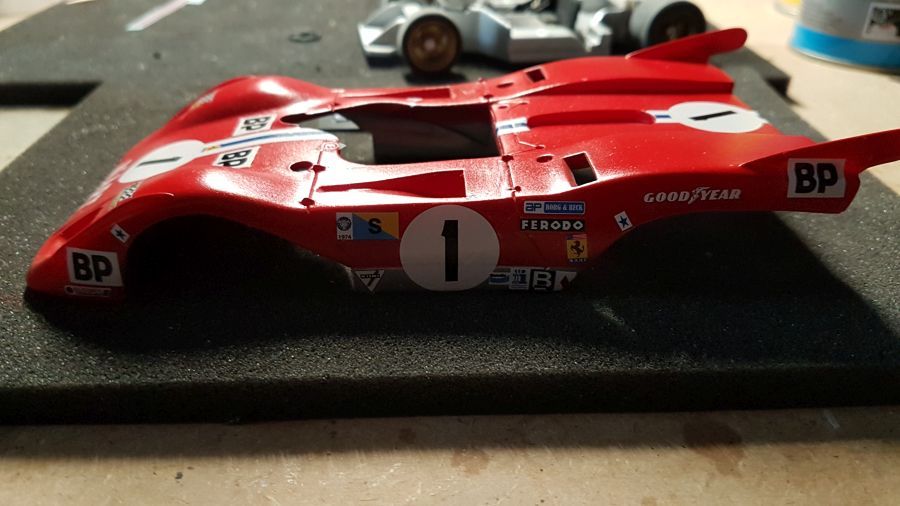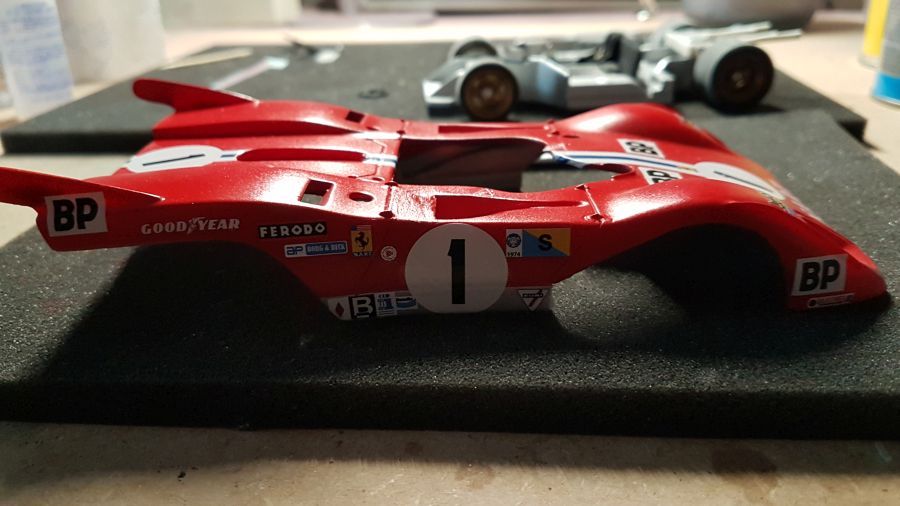 Meer werk voor de achterkant.
More work to the rear.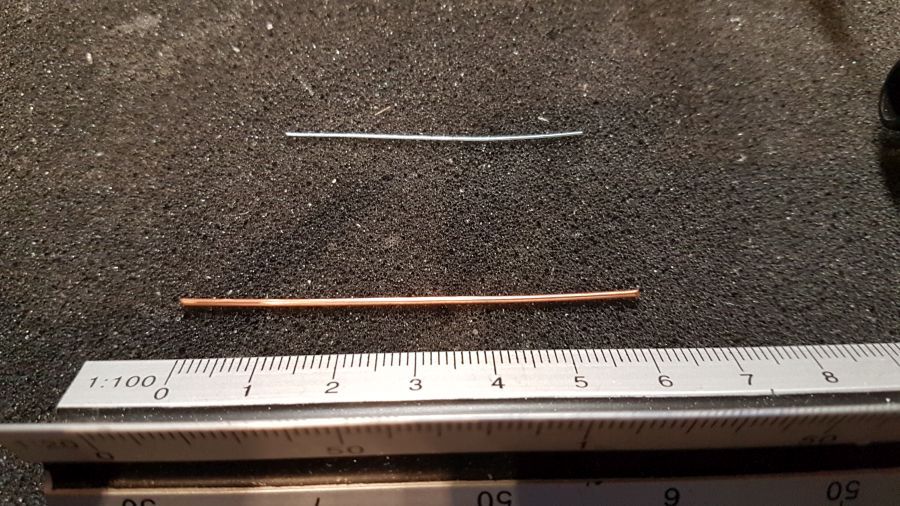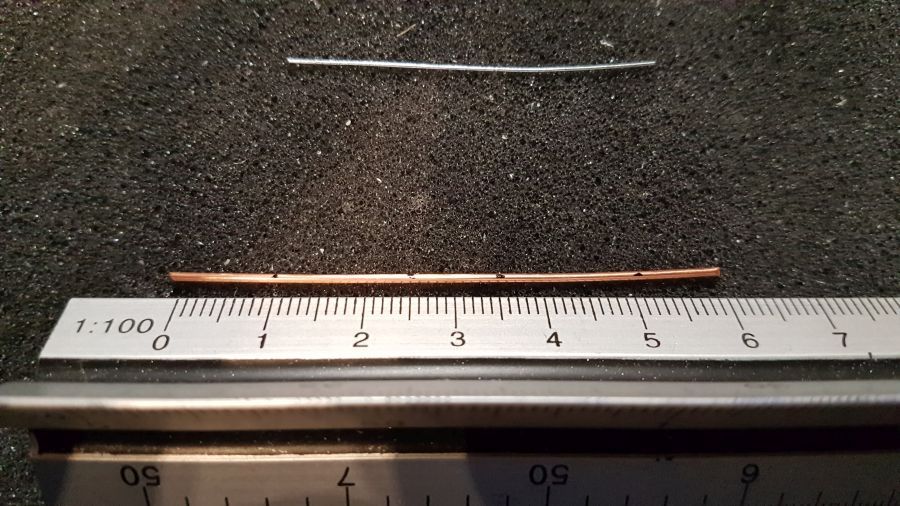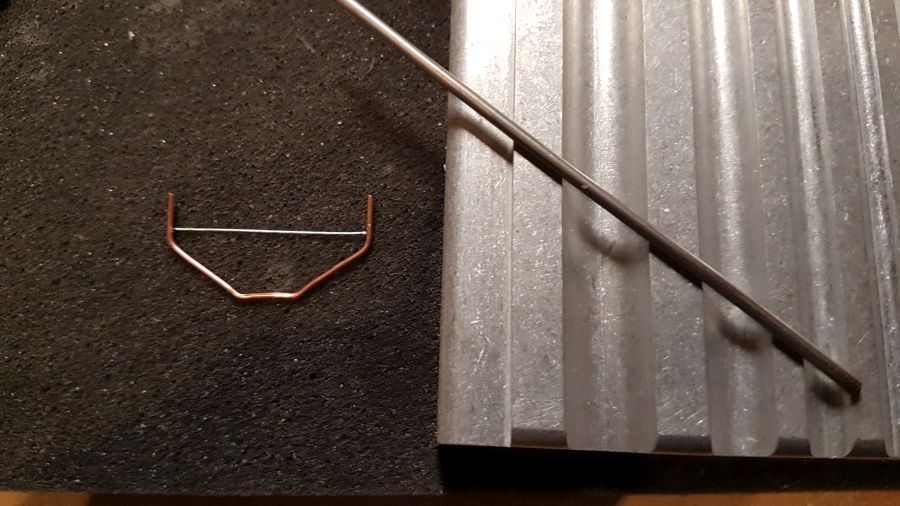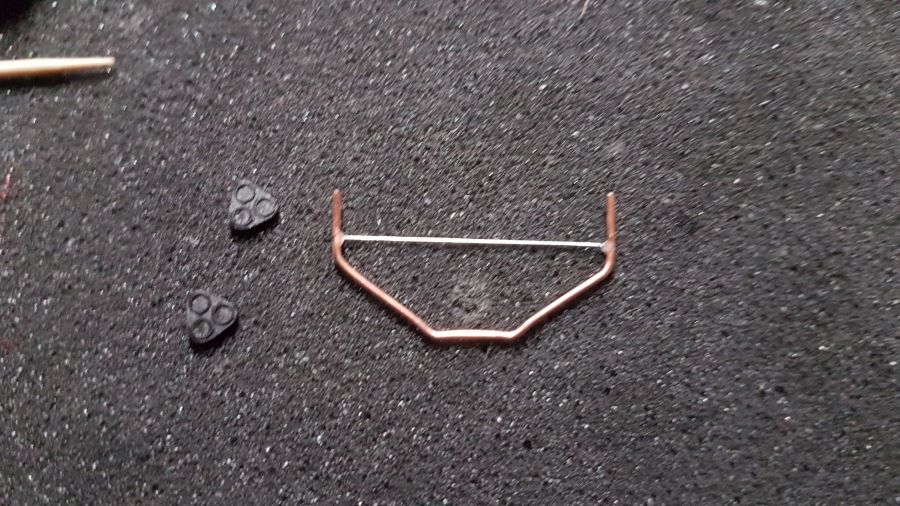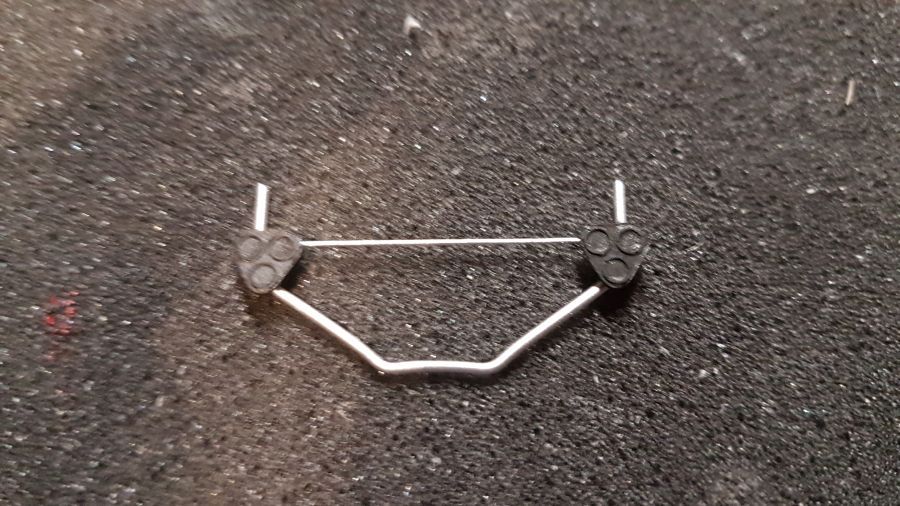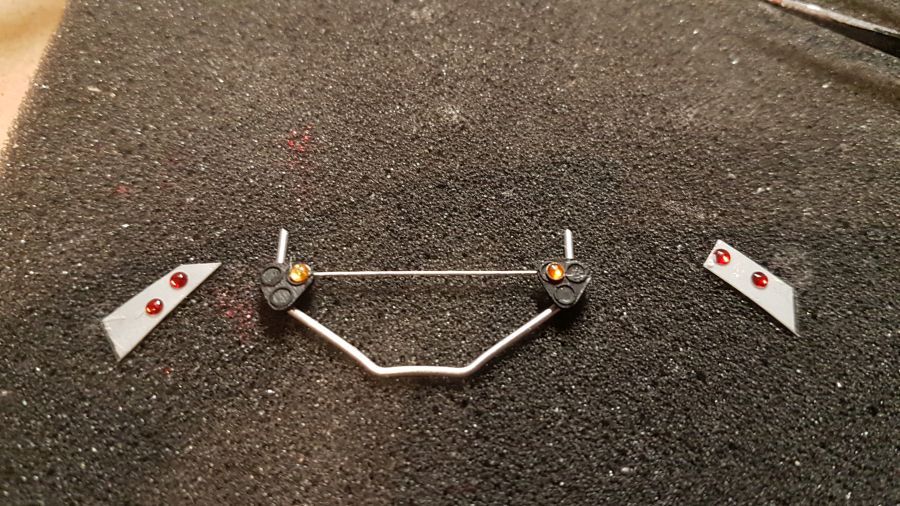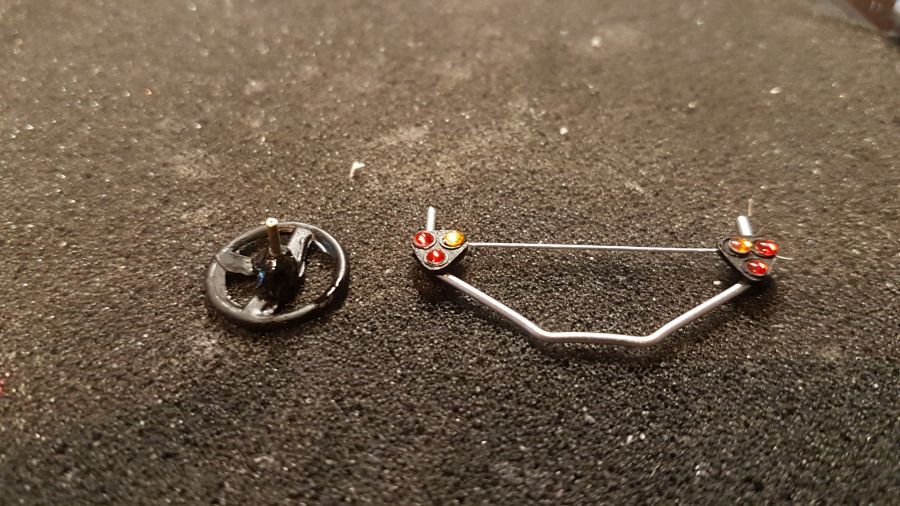 De spiegels worden gespoten en afgesteld.
The mirrors were painted and adjusted.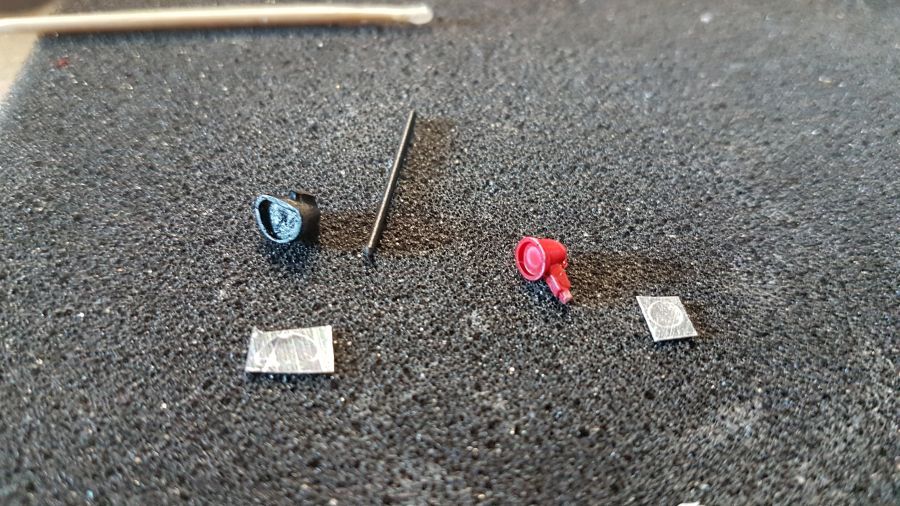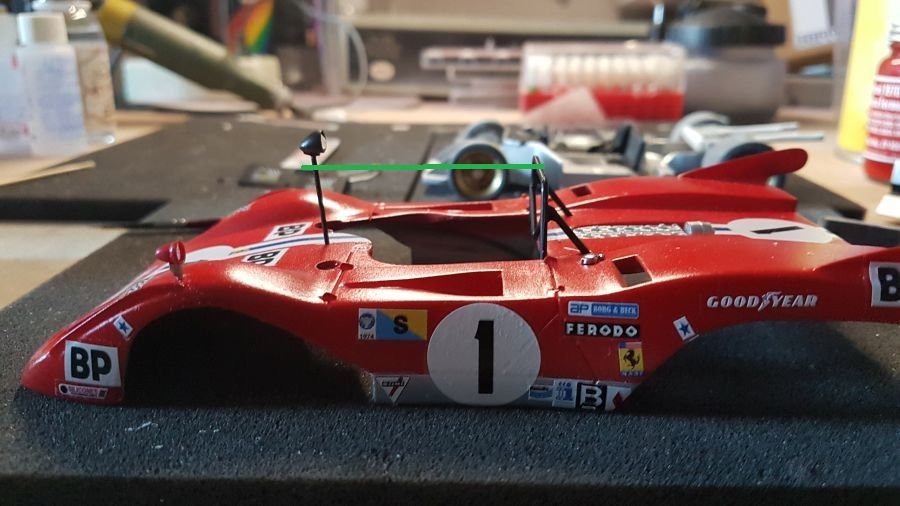 Nog even wat onderdelen uit de rommelkist.
Some parts from the scrap box.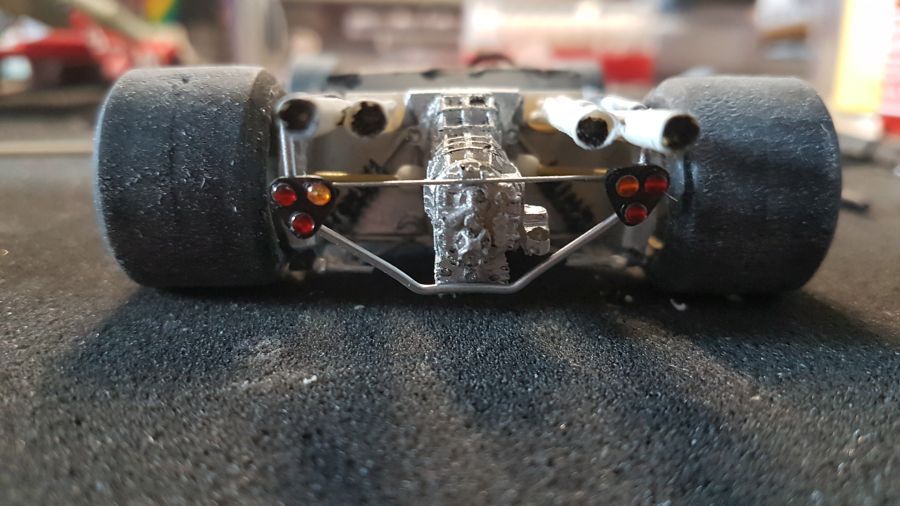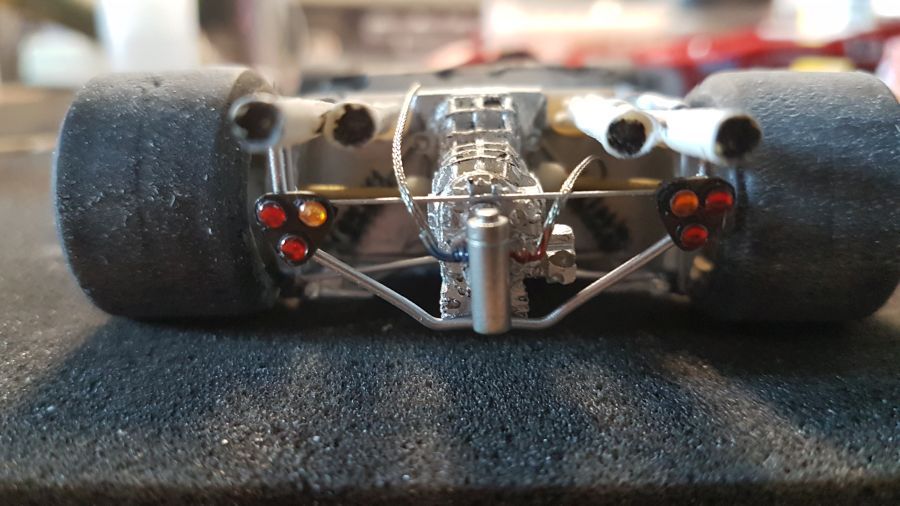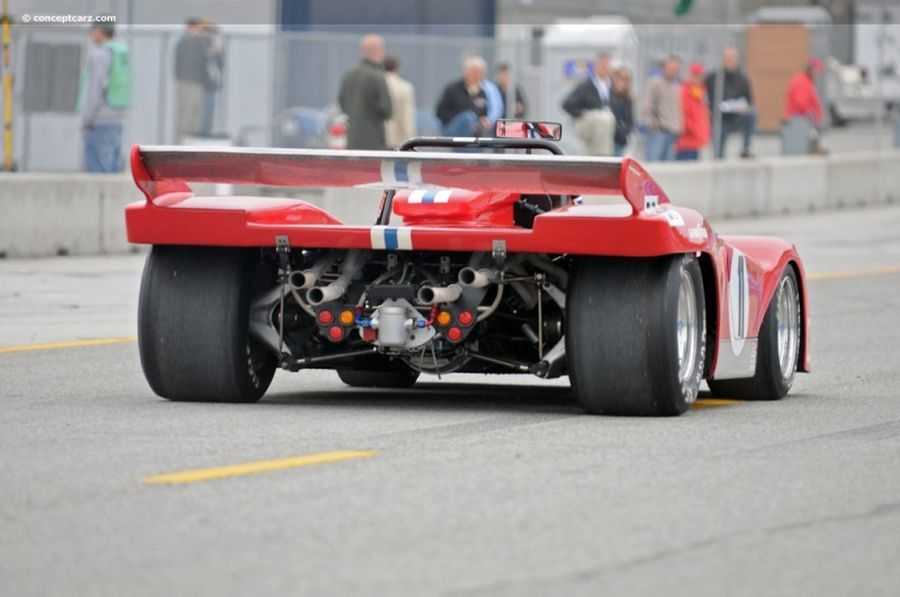 De vleugel en delen van de spatborden worden geplaatst.
The wing and the parts of the fenders are being added.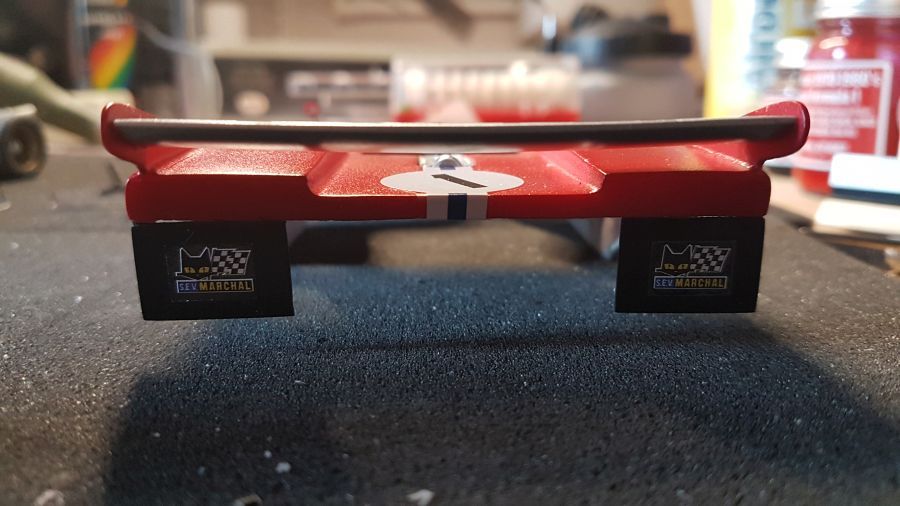 Body op de vloer geplaatst.
Body mounted to the floor.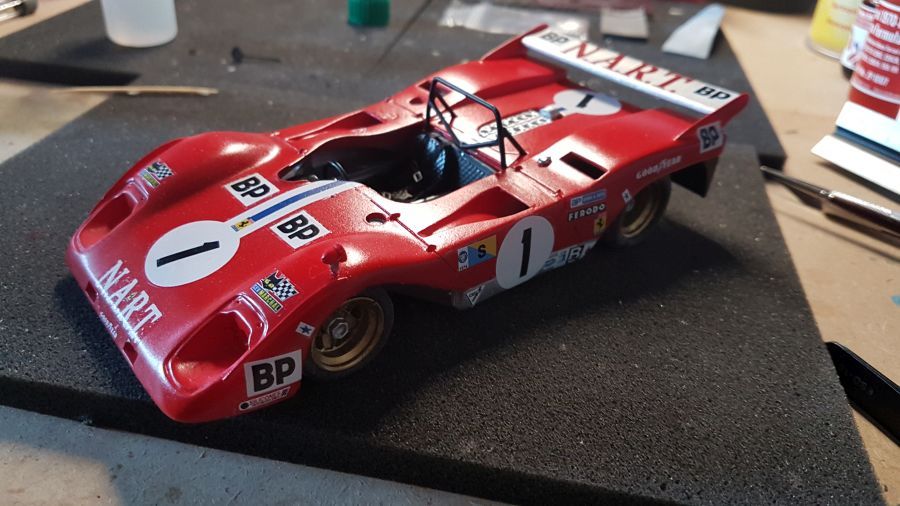 Dan het glaswerk...
Next is the glasses...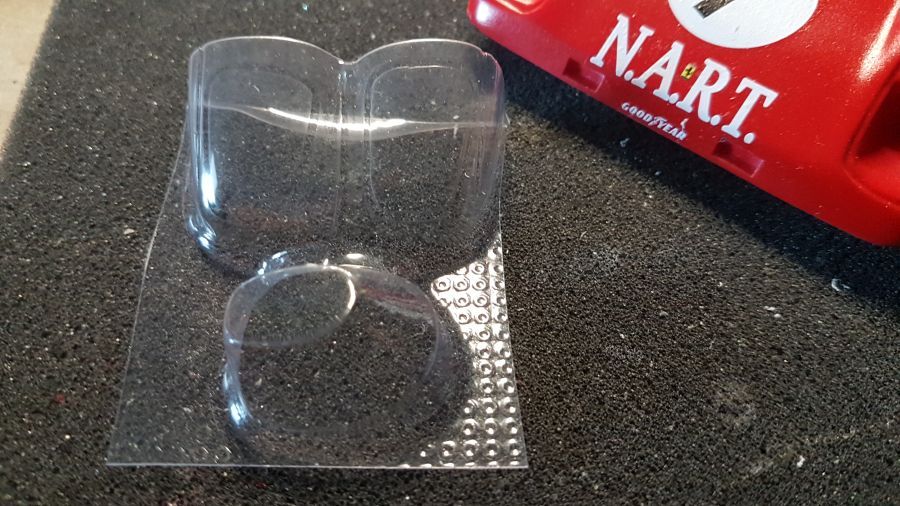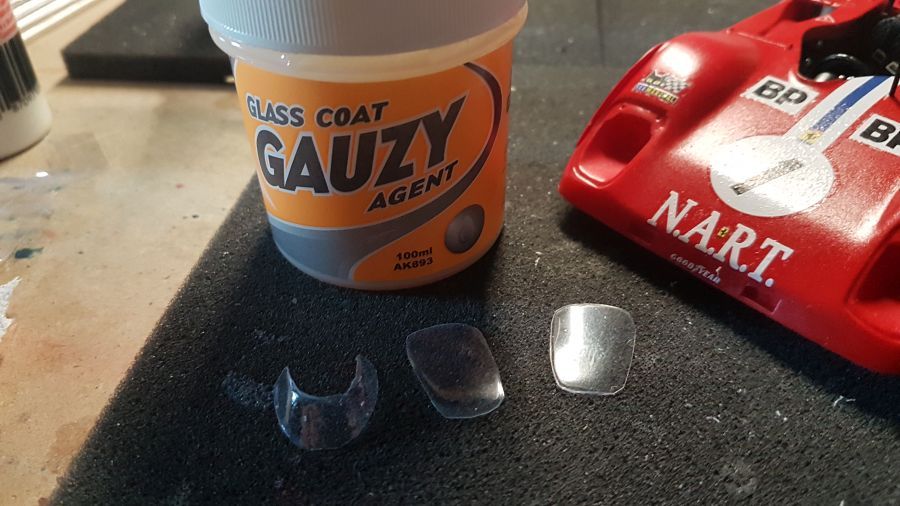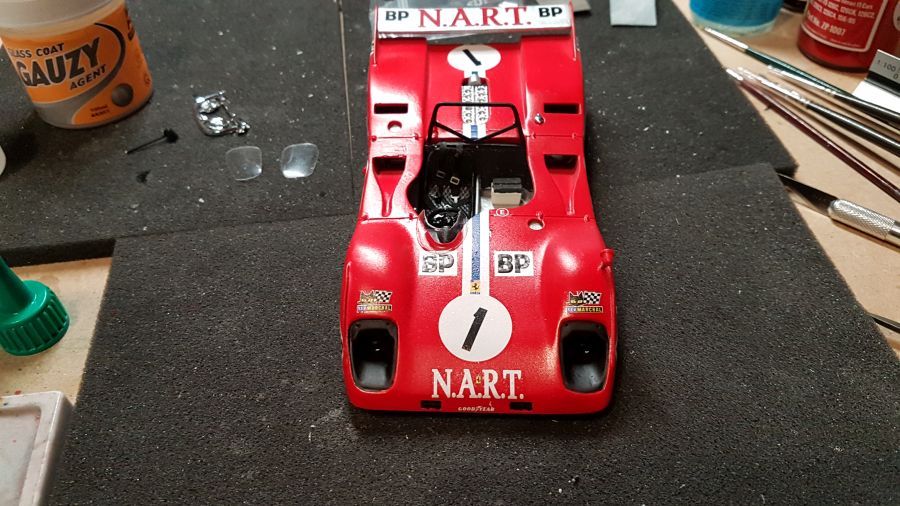 Voor de koplampen gebruik ik de soldeerballetjes. Even de juiste maat kiezen. Ik ga voor 0,76 mm.
For the head lights i am using solder balls. Just pick the correct size. I will use 0,76 mm.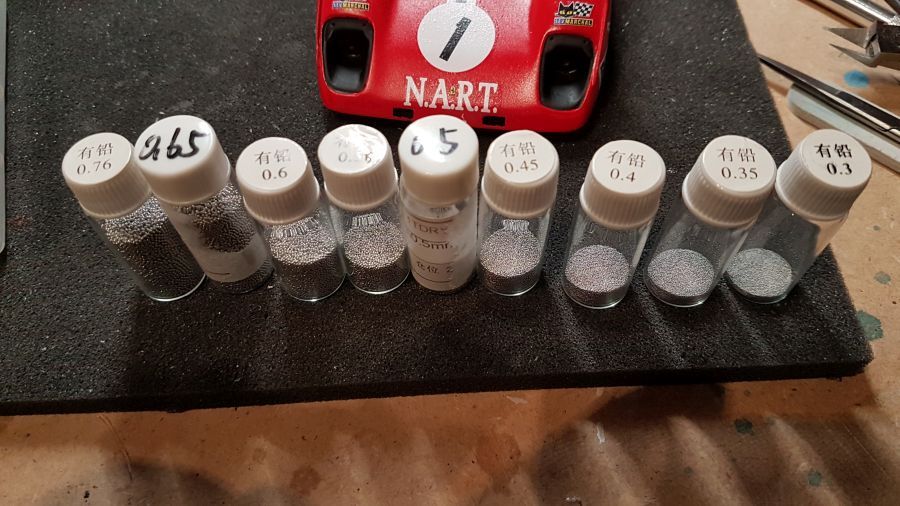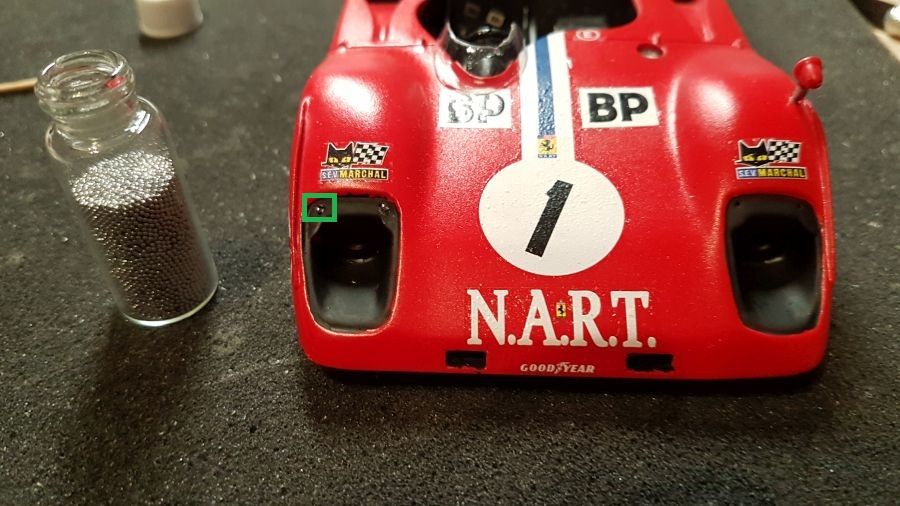 De glazen zijn in Gauzy gedoopt, daarna even goed laten uitlekken en plaatsen. Gauzy lijmt dan de glazen en droogt helder op.
The windows have been drowned in Gauzy, then let them drip and apply them. Gauzy then glues the glass and dries clear.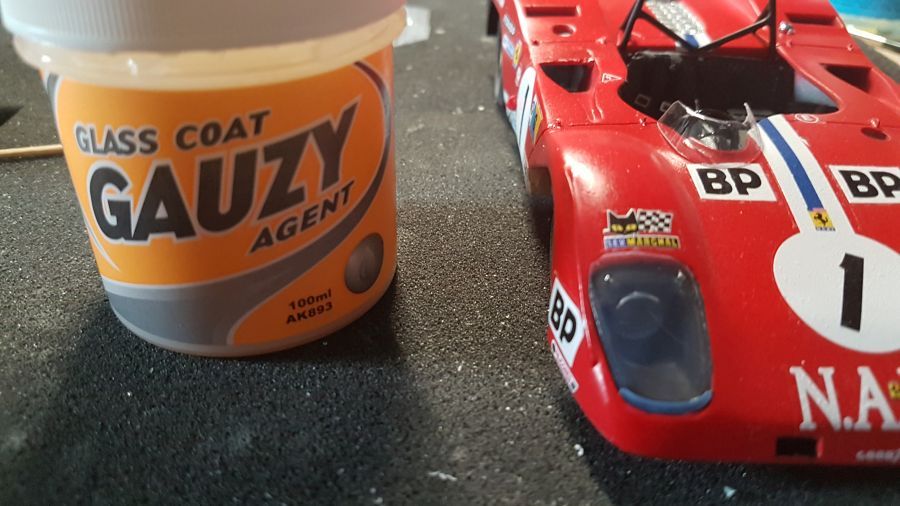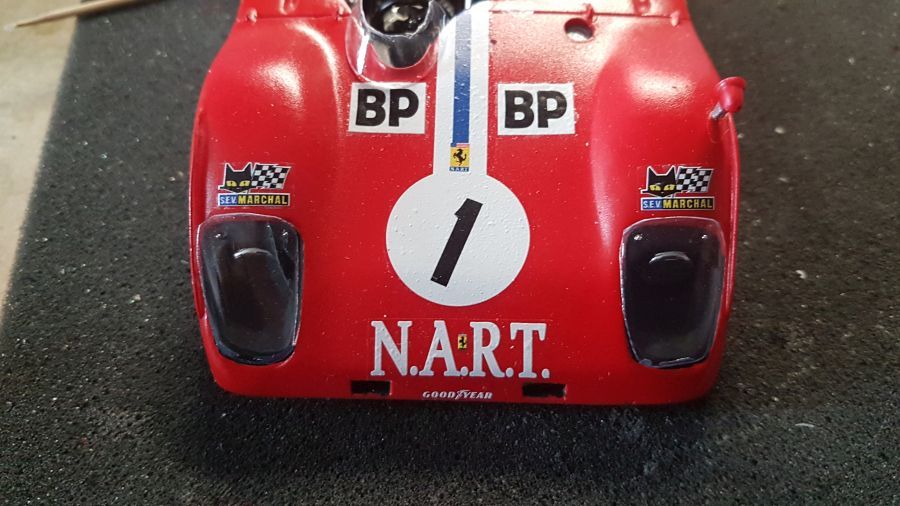 Dan de pijpen en noh klein werk aan de achterkant. Ik ben wederverkoper van de kits van DDP Models. Kijk gerust in mijn webshop voor meer info.
Then the pipes and some small work to the back. I am a seller of these kits from DDP Models. Feel free to have a look at my webshop.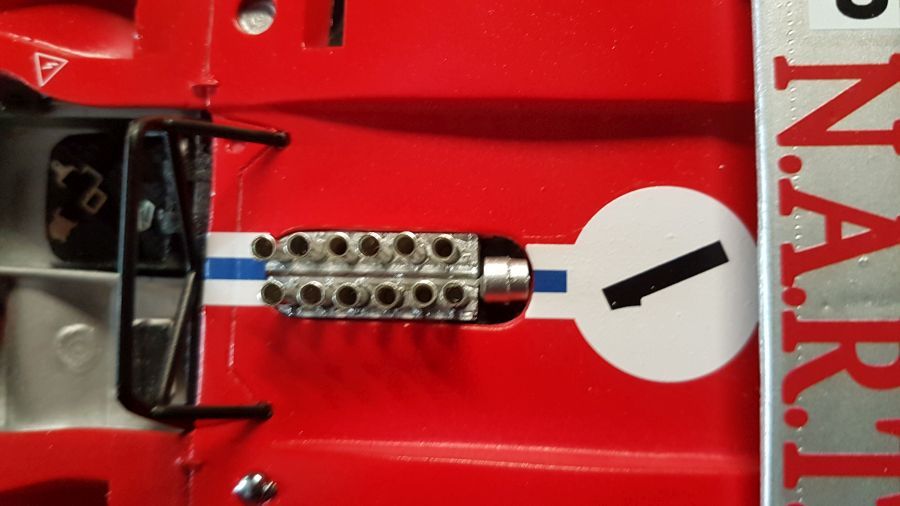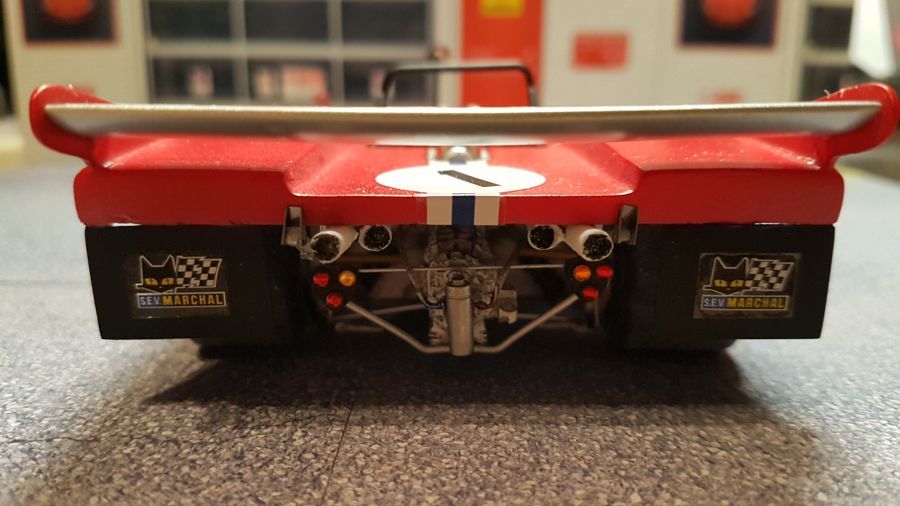 Voor mij is hij klaar.
To me this one is done.