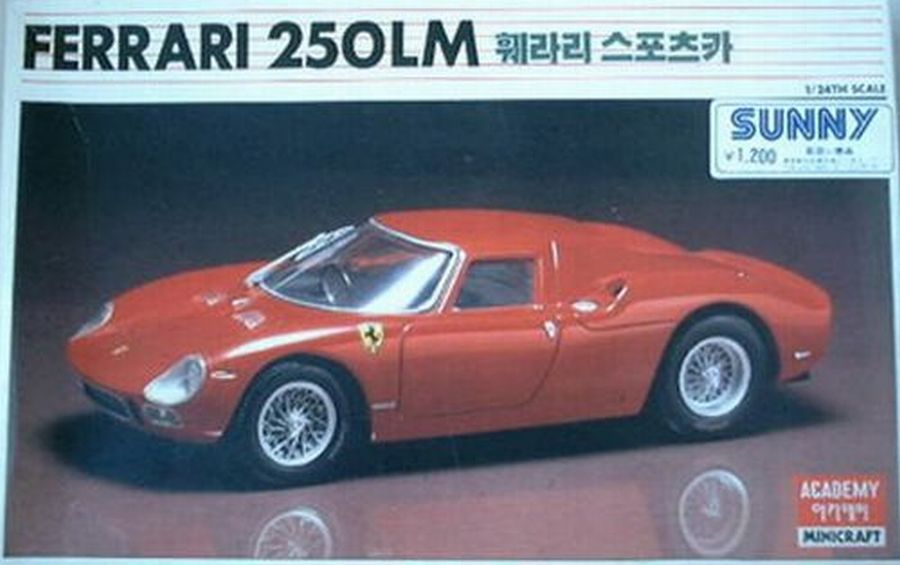 Vandaag verder met een kit uit mijn Ferrari Sports Car collectie, de Ferrari 250 LM. Ik ga de Le Mans versie maken, zoals deze in 1968 werd bestuurd door het duo David Piper en Richard Attwood. De kit is van Academy (kit nr. 1531) in schaal 1/24. Zoals je op de foto's kan zien is het een relatief eenvoudige kit. Ik heb de decals gekocht bij Pattos in Australië. Eerst maar weer de gebuikelijke foto's.
Today i will continue with a kit from my Ferrari Sports Car collection, the Ferrari 250 LM. I will build the Le Mans version, as driven in 1968 by the duo David Piper and Richard Attwood. The kit is from Academy (kir no. 1531) in scale 1/24. As you can see on the pictures it's a bit of a simple kit. The decals were bought from Pattos in Australia. First again the usual pictures.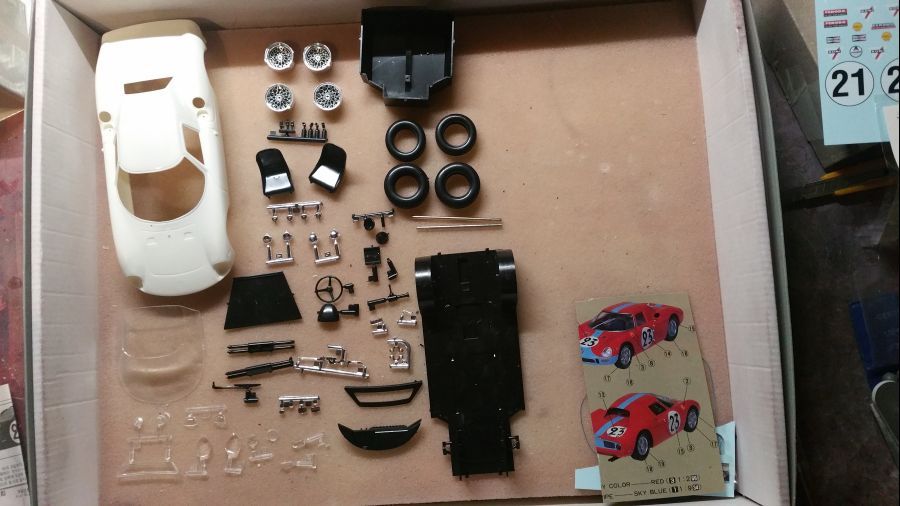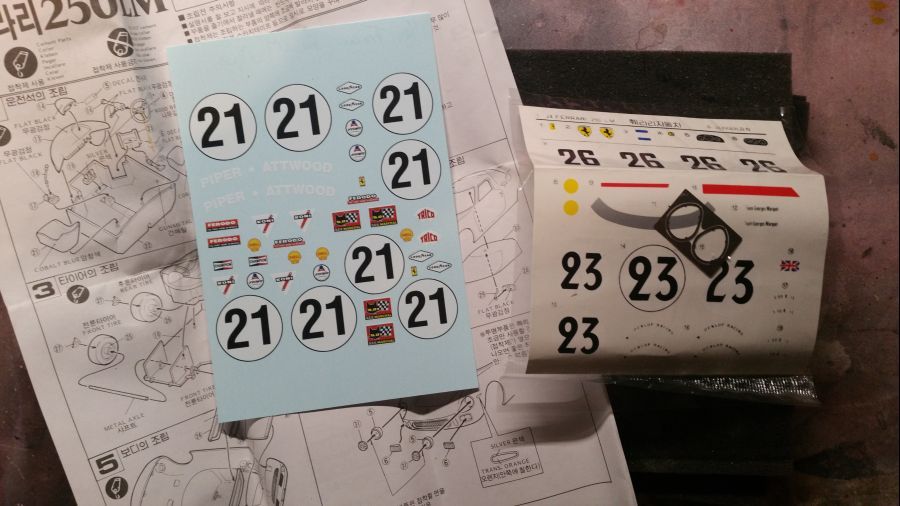 De body krijgt alvast een laag primer, dan kan dit goed drogen.
The body gets a layer of primer so it can dry thoroughly.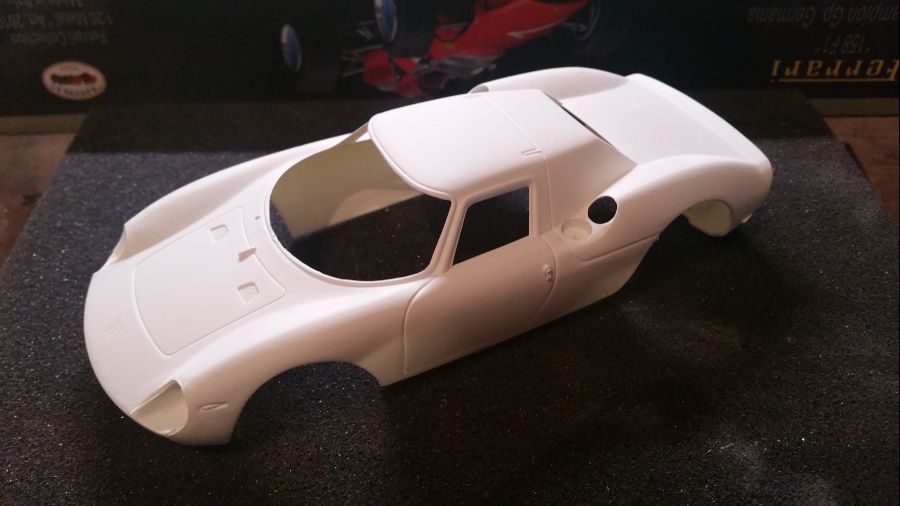 Het 'gegoten' rooster bevalt me niet. Ik ga deze uitsnijden en vervangen door een etched rooster uit de rommeldoos.
The 'casted' grille is what i don't like. I will cut it and replace it by an etched one out of the scrap box.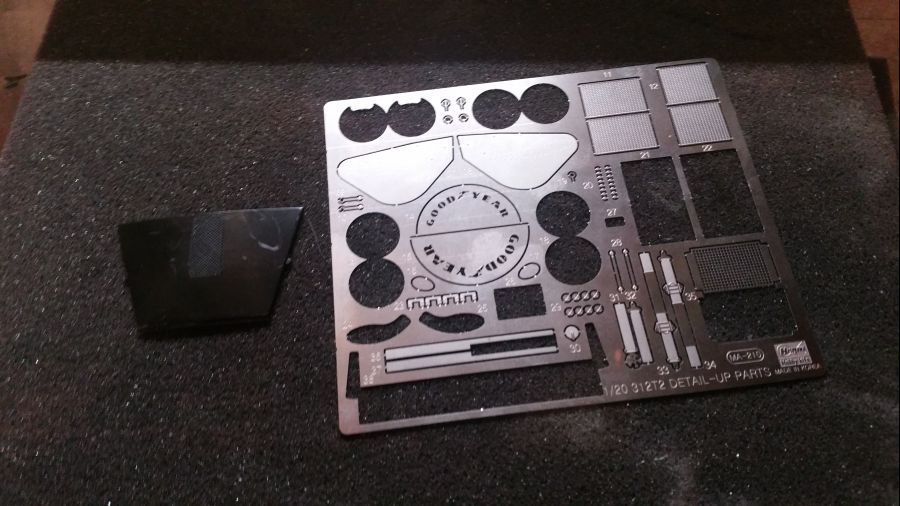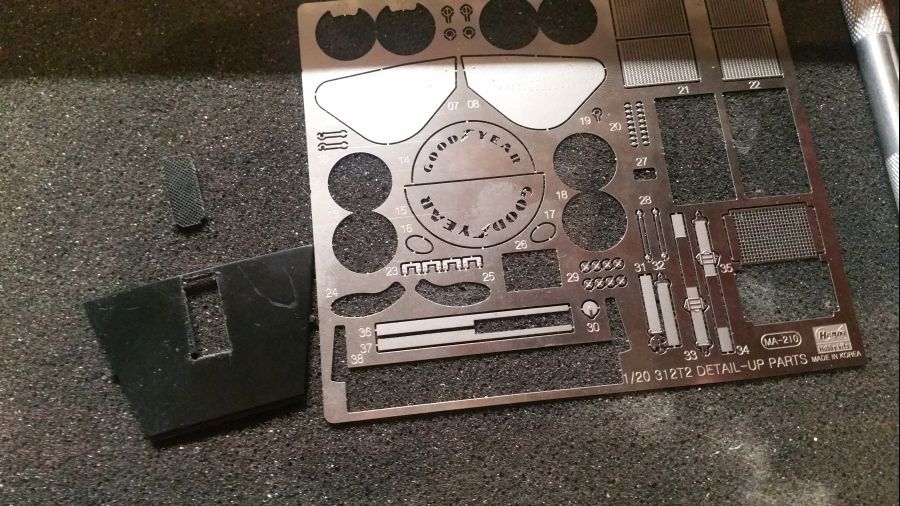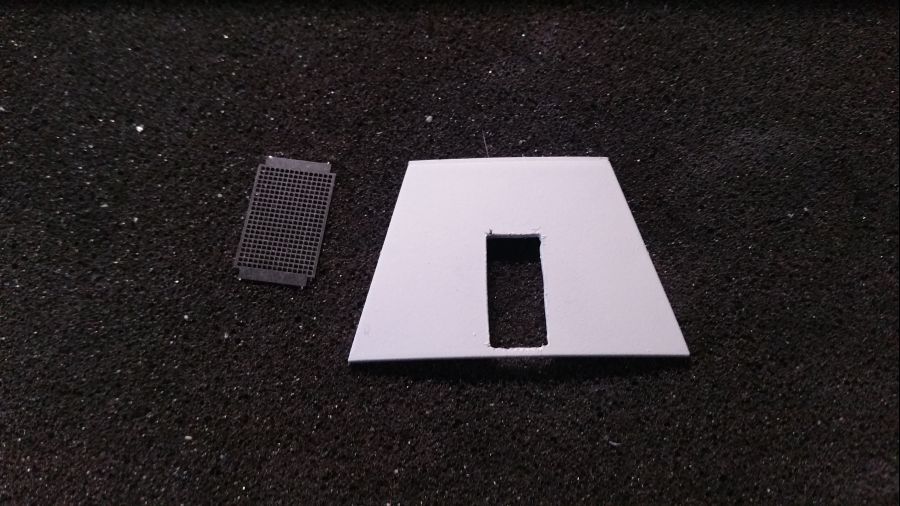 Nu eerst verder met het interieur.
Now to continue with the interior.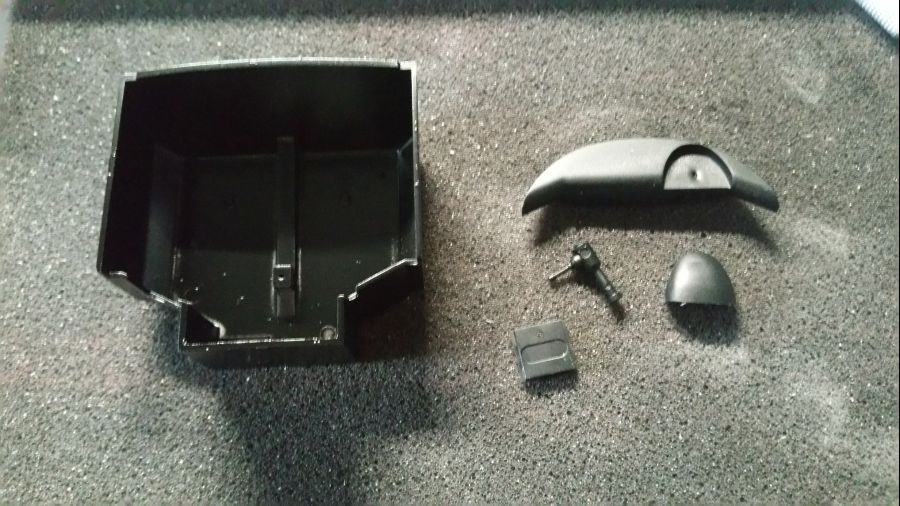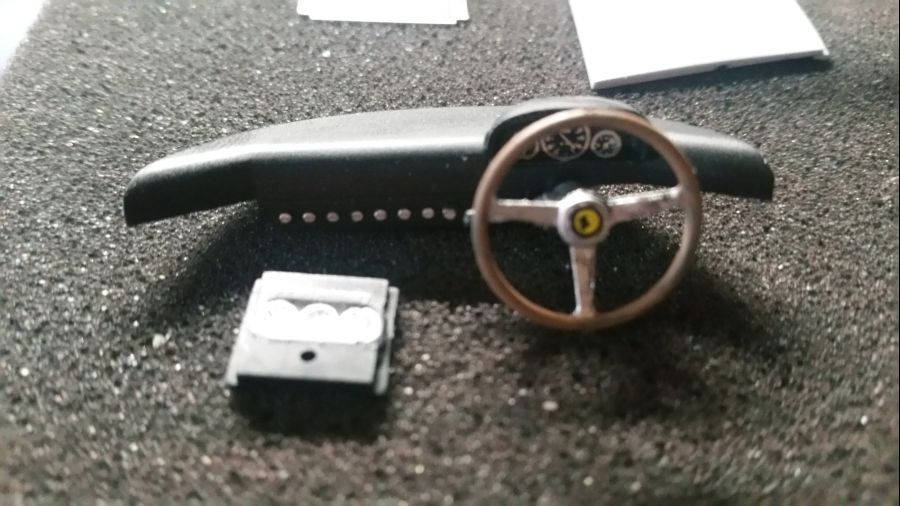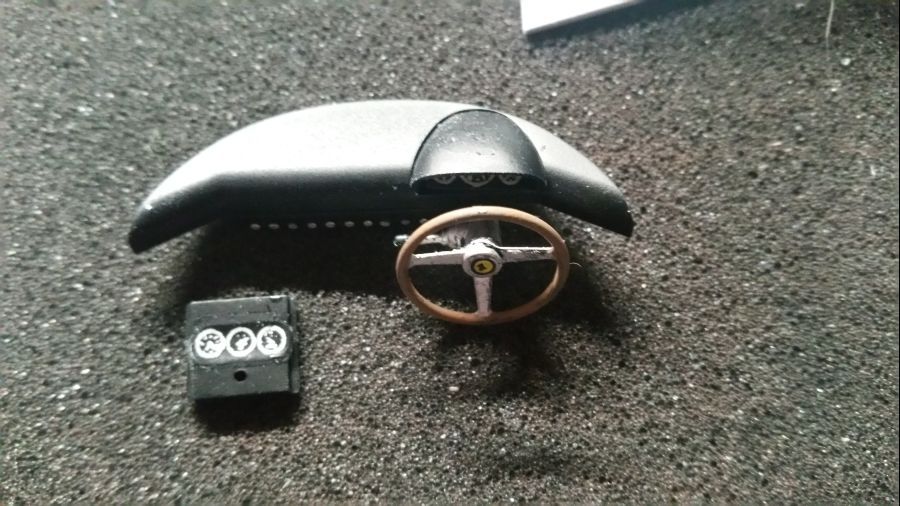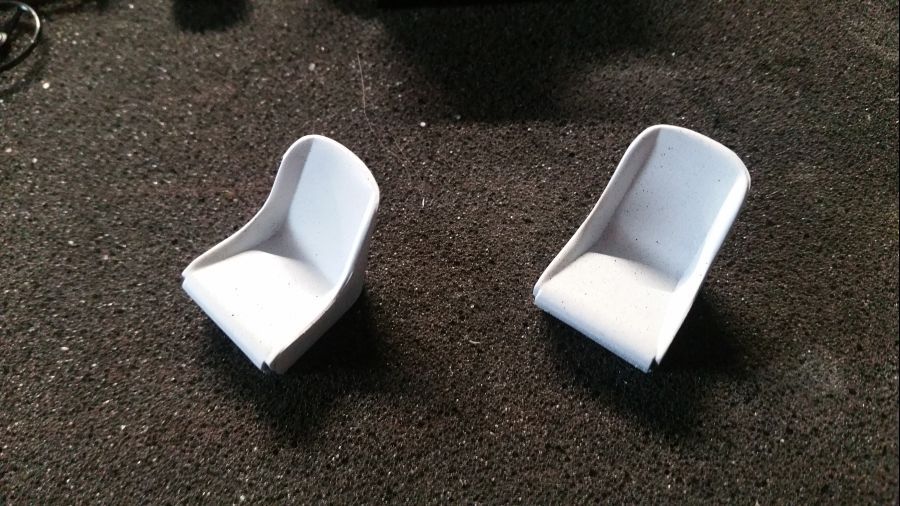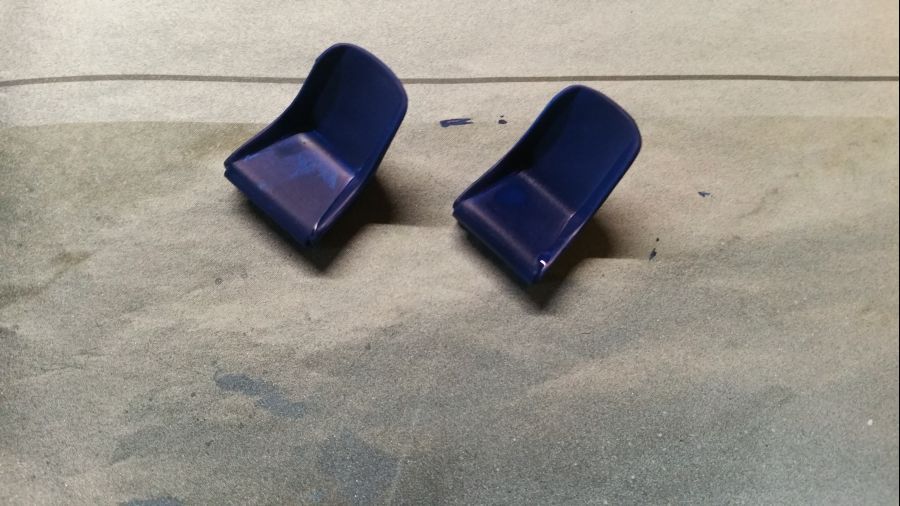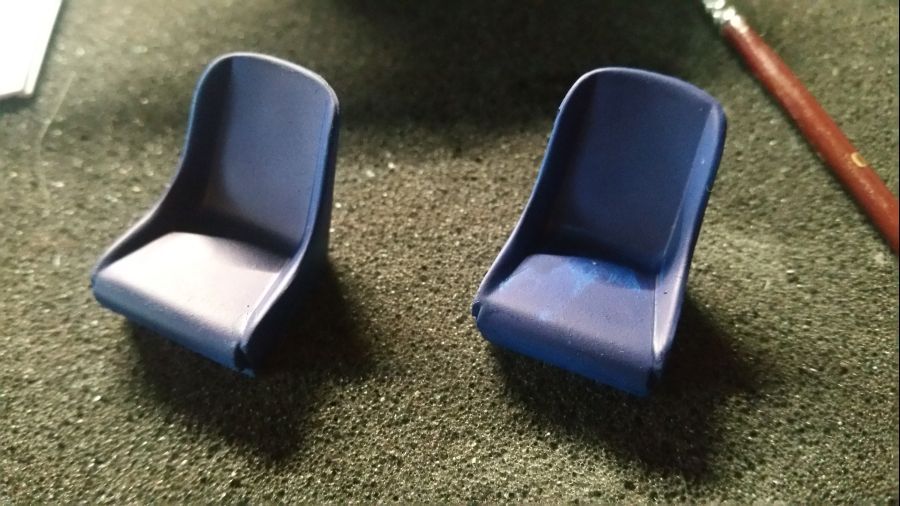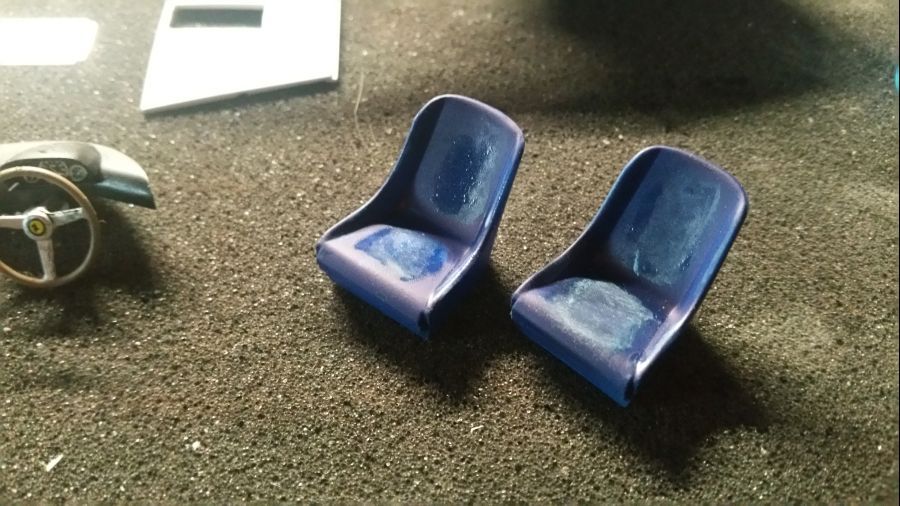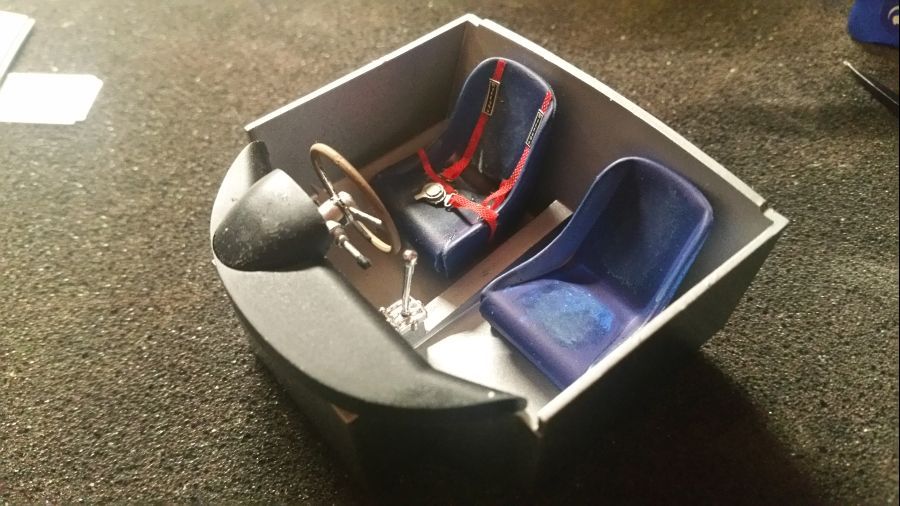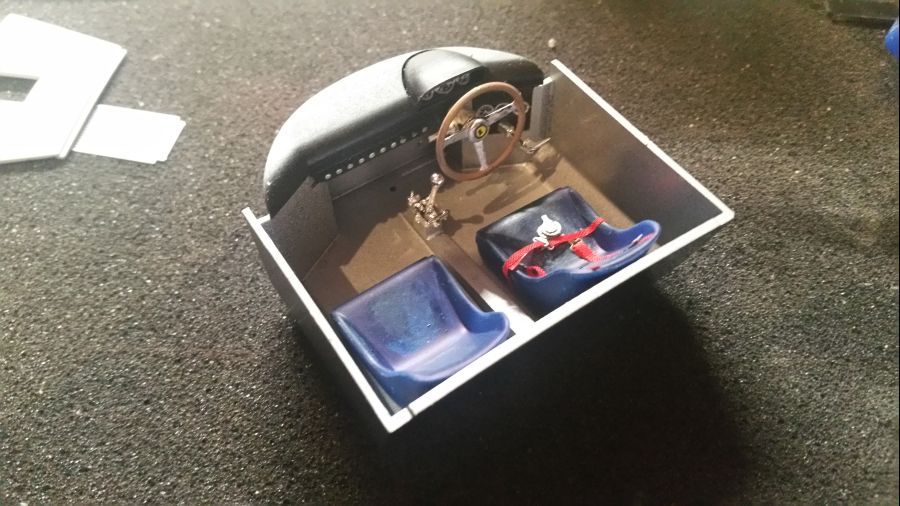 De vloer is mat zwart gespoten en de motor heeft een aluminium kleur gekregen.
The floor was painted mat black and the engine received an aluminium colour.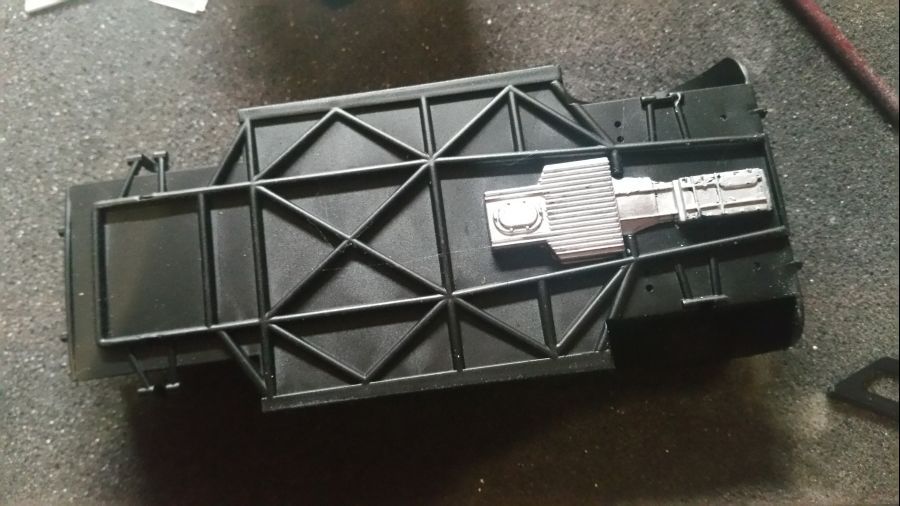 De uitlaten zijn zwart gespoten en zijn geplaatst.
The exhausts have been painted black and were attached.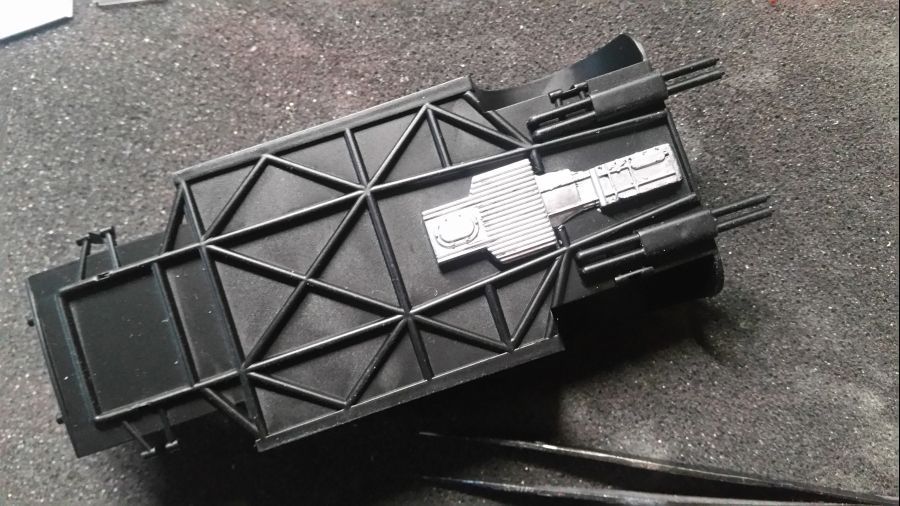 Van vrienden op Facebook heb ik bericht gekregen dat de stoelen niet helemaal correct waren. Een wist te melden dat het blauw moest zwart worden en een vriend meldde dat de gordels er niet op horen. In die tijd werd nog niet met gordels gereden. Dank Mike en Pierpaolo. Dus nu gewijzigd.
From friends on Facebook i received a message that the seats were not correct. One informed me the blue should be changed to balck and one told me the belts should not be applied. In those days no one drove with belts. Thank you Mike and Pierpaolo. So now changed.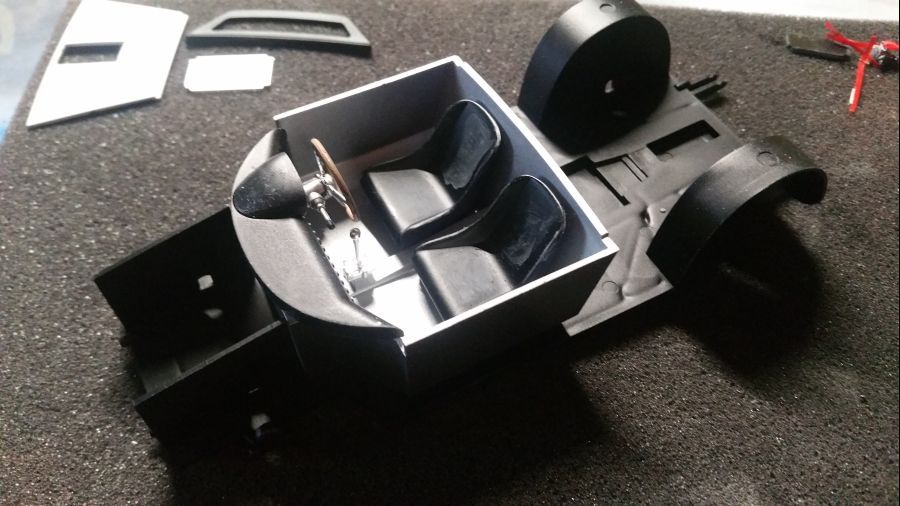 Dan de eerste wijzigingen aan de body. Het rood gemarkeerde punt moet worden verwijderd, het oranje deel opgevuld net als het blauwe. Het groene deel moet aangepast worden voor het plaatsen van vulopeningen. De bruine sectie moet gevuld en de paarse sectie moet gewijzigd worden. Dat laatste zal lastig zijn.
Then the first changes to the body. The red marked area needs to be cut, the oranje part needs putty as well as the blue part. The green part needs to be adjusted for placing tank caps. The brown area needs filling and the puple area needs to be reshaped. That will be tough.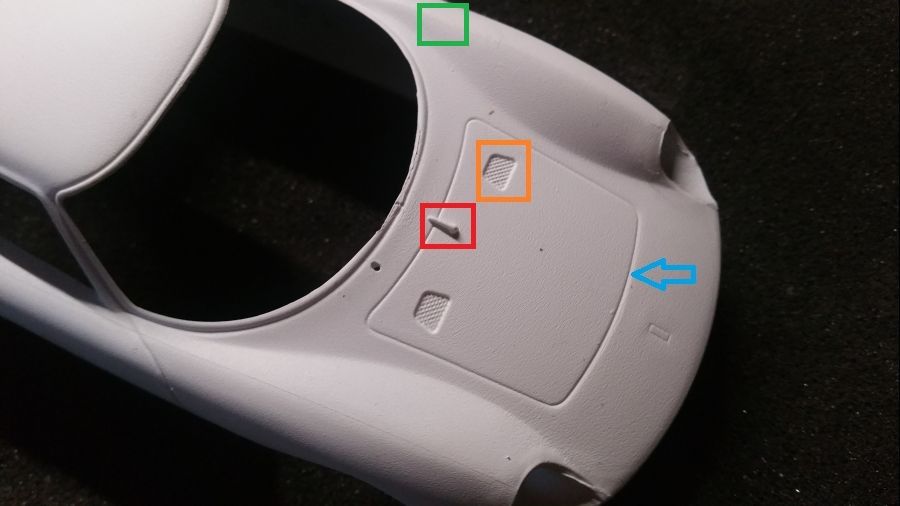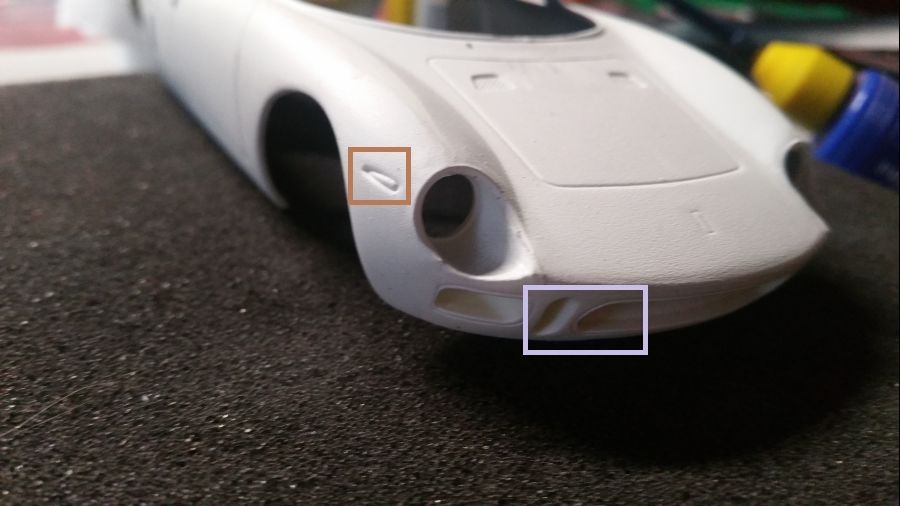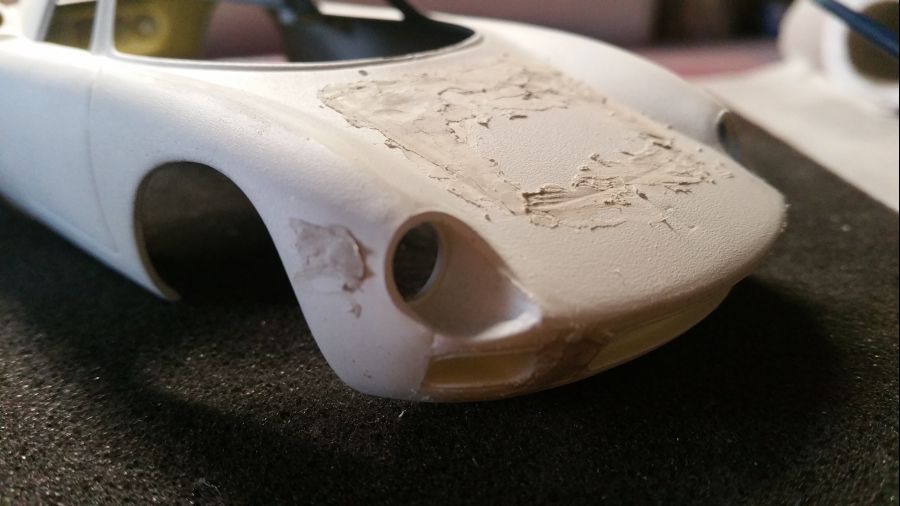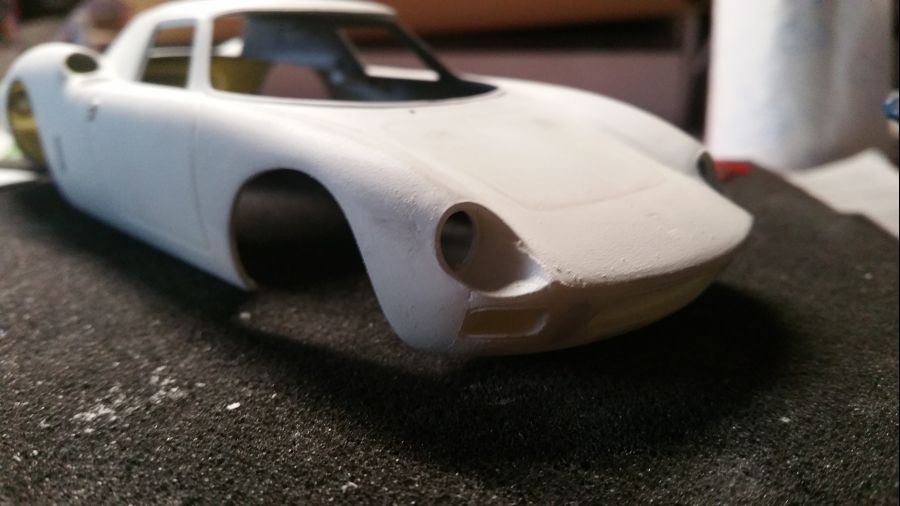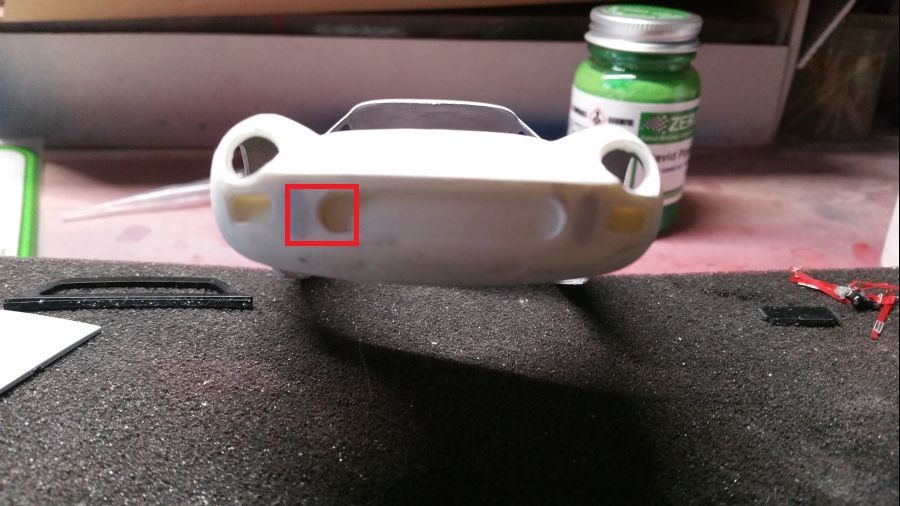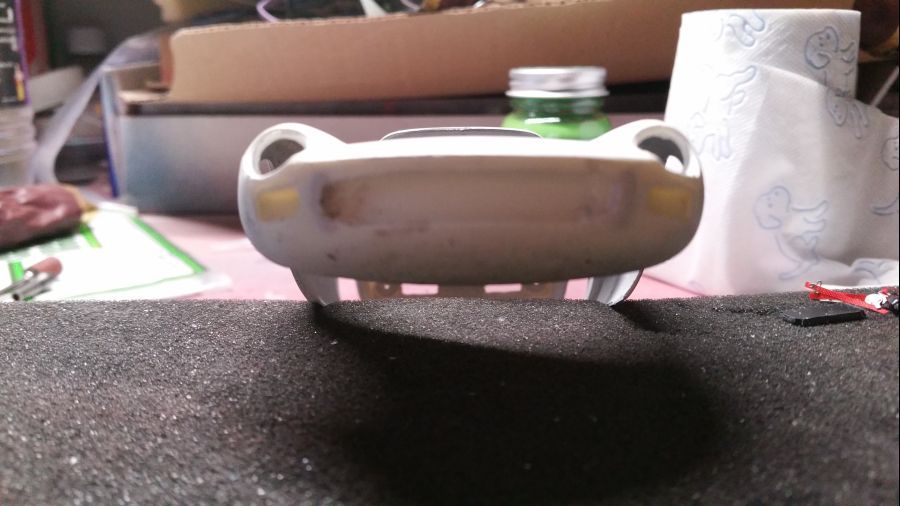 Ook de achterkant heeft wat veranderingen nodig. De nummerplaatverlichting (rood) kan weg. De groene delen moeten geopend worden en het blauwe deel heeft putty nodig.
The back side also needs some changes. The lights for the license plate (red) need to be removed. The green parts need to be opened and the blue parts need putty.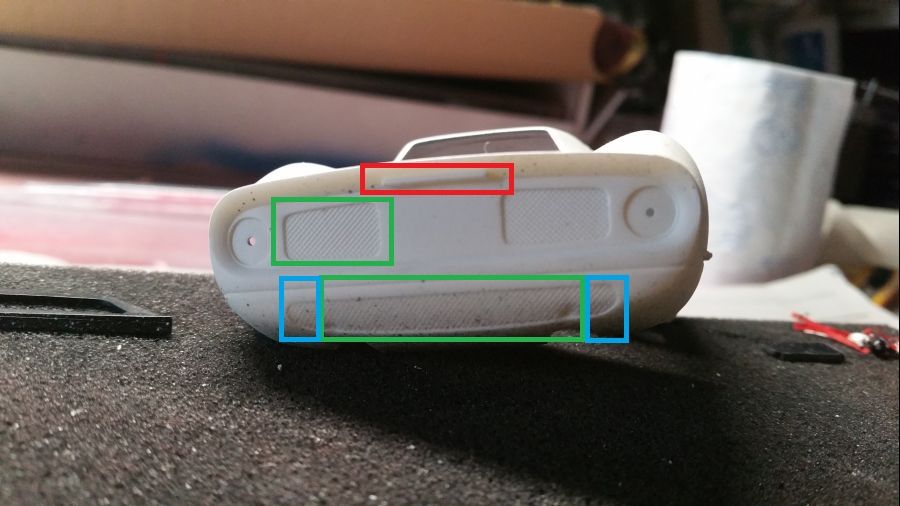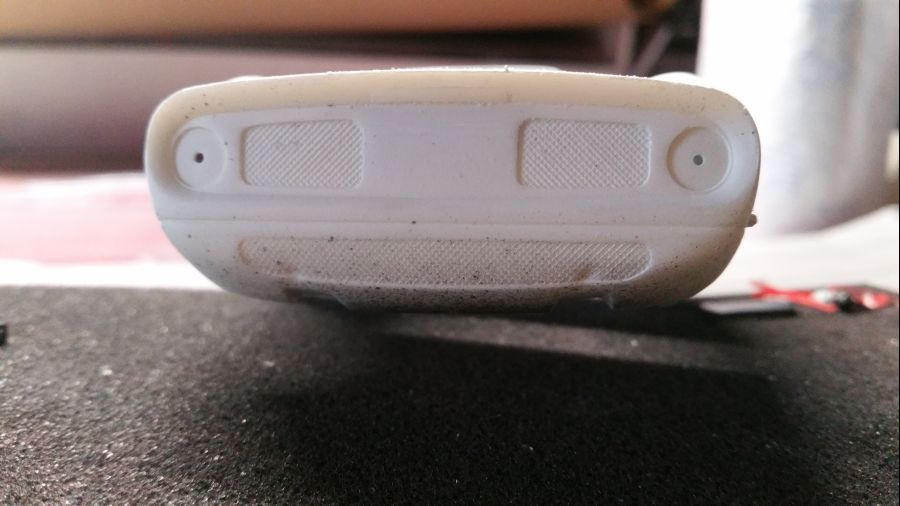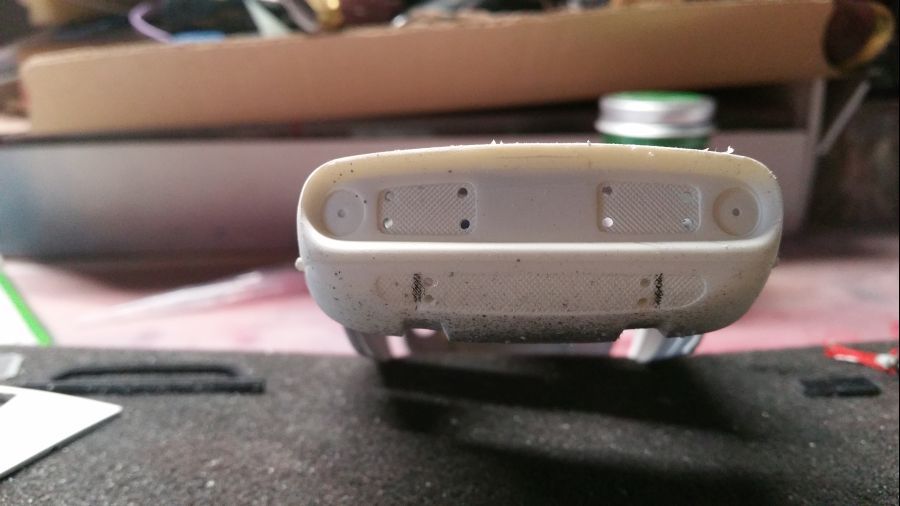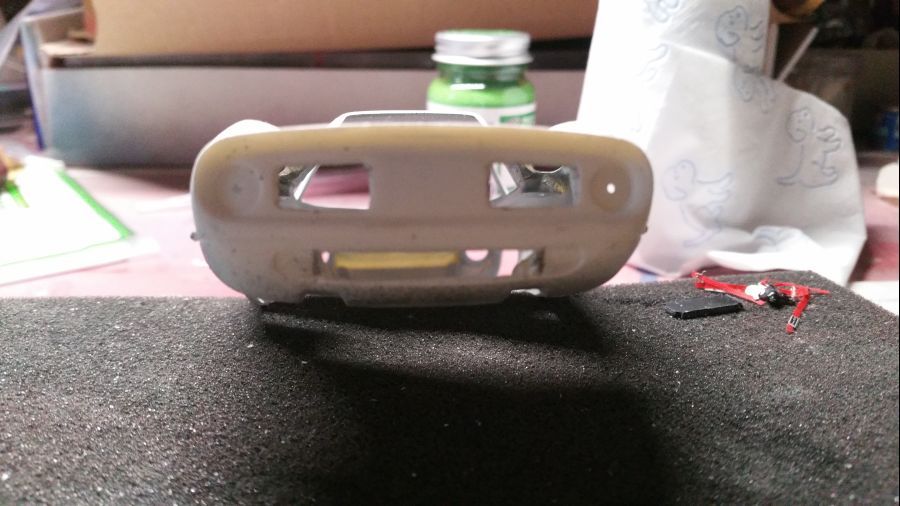 Het groen gaat erop vandaag, maar....   Het lijkt erop dat de Vallejo primer deze keer niet blij is met de Zero Paints...   of andersom. Dit is me nog niet eerder overkomen.
The green was to be sprayed today, but....   It looks like the Vallejo primer didn't like the Zero Paints...  or the other way around. This never happened to me before.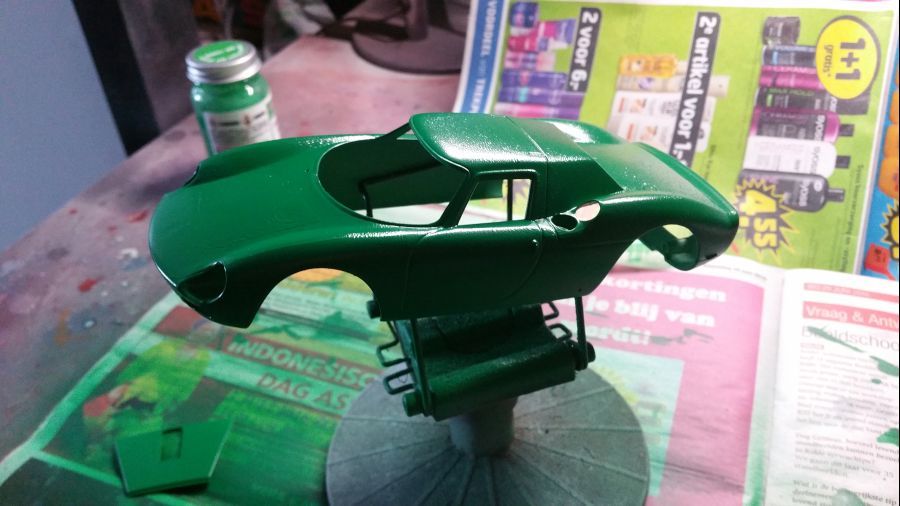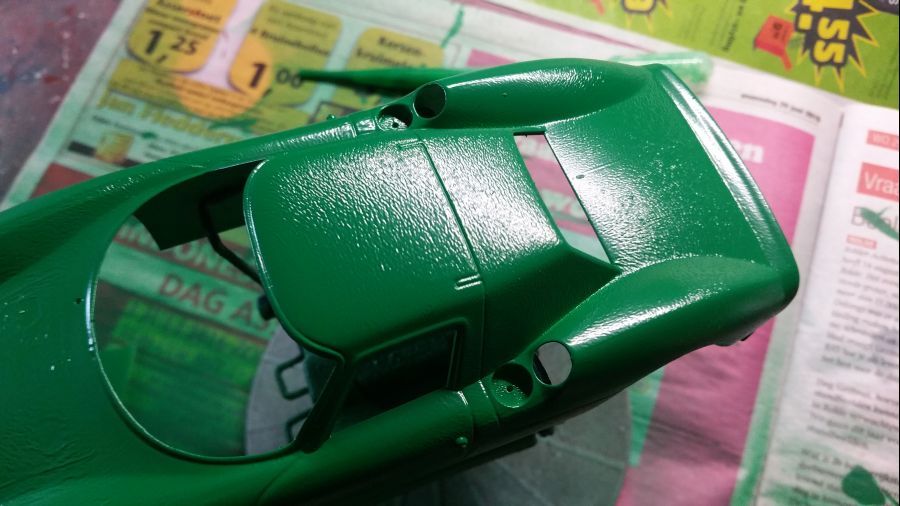 Ik heb alles schoongemaakt. Zelfs het kunststof is aangetast. Dat is niet best. Ik denk dat ik dit project op hold zet en een nieuwe kit bestel.
I cleaned it all. Even the plastic has been attacked. Not good. I think i'll put this project on hold and order a new kit.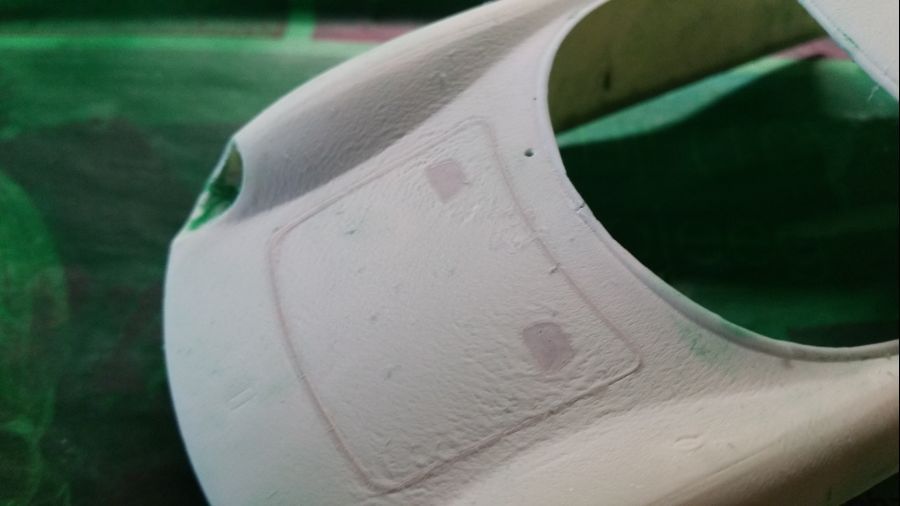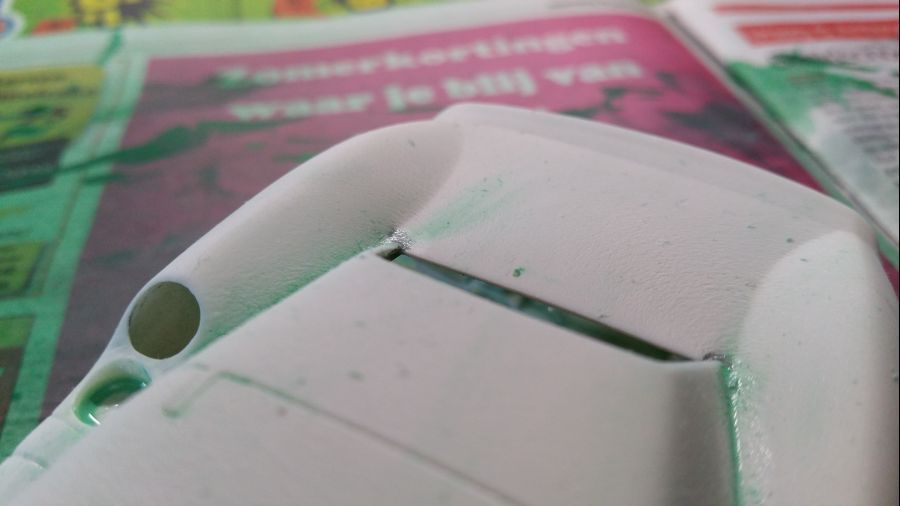 De nieuwe kit is vandaag binnengekomen, dus het openen van de luchtopeningen kan weer beginnen. De openingen voorin worden eerst gevuld met putty. Dan veel vijlen om alles recht te krijgen.
The new kit arrived today, so opening the air vents can start again. The openings on the front get stuffed with putty. Then a lot of using files to get it all straight.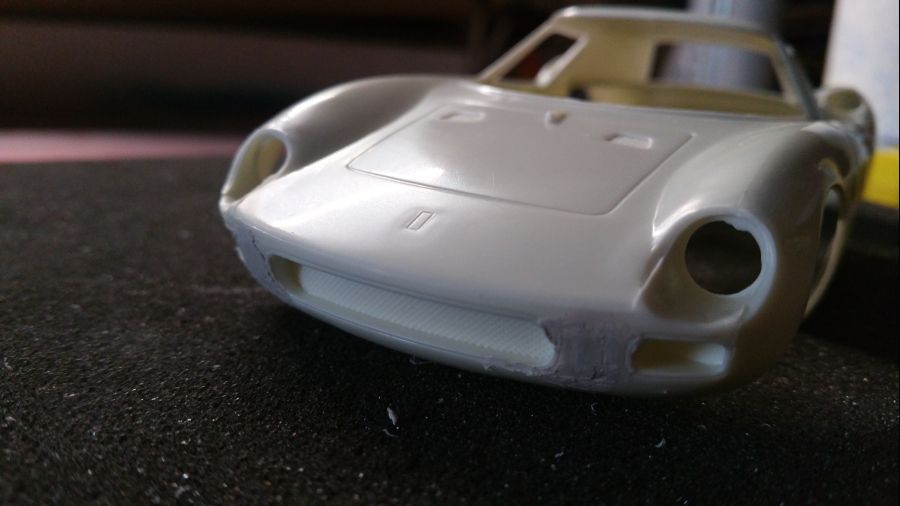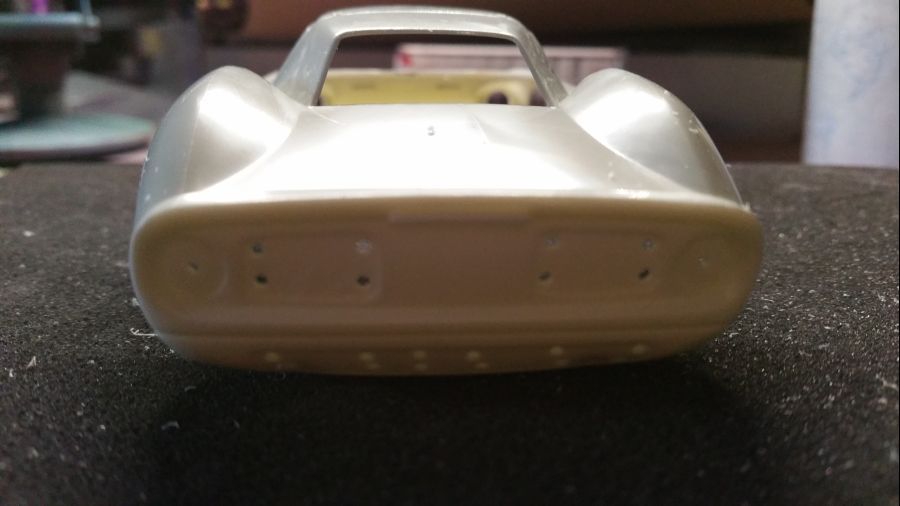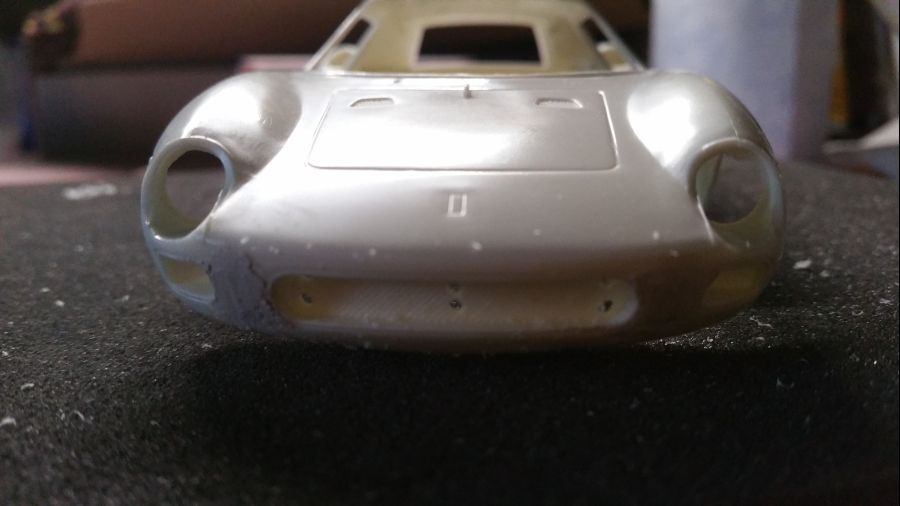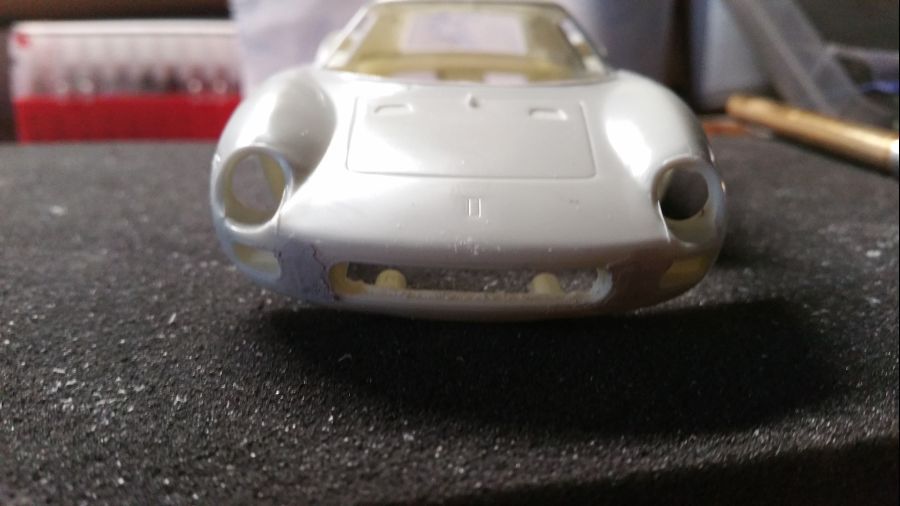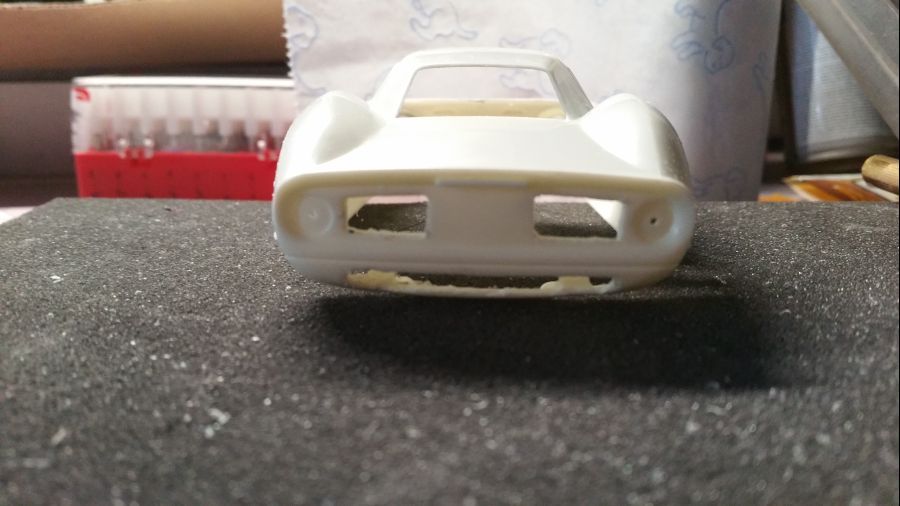 De opening moet wijder worden gemaakt...
The opening needs to be more wide...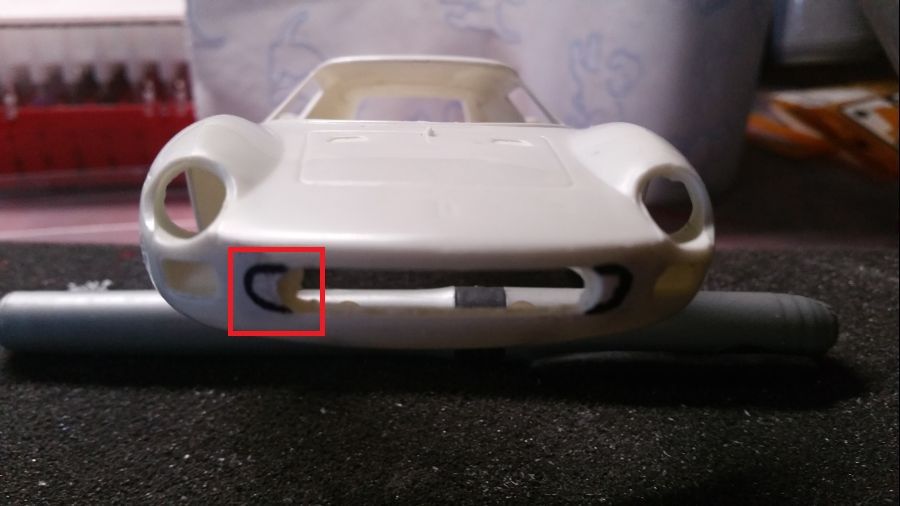 En de neus moet worden verlengd... (Dank Pierpaolo).
And the nose needs to be longer... (Thank you Pierpaolo).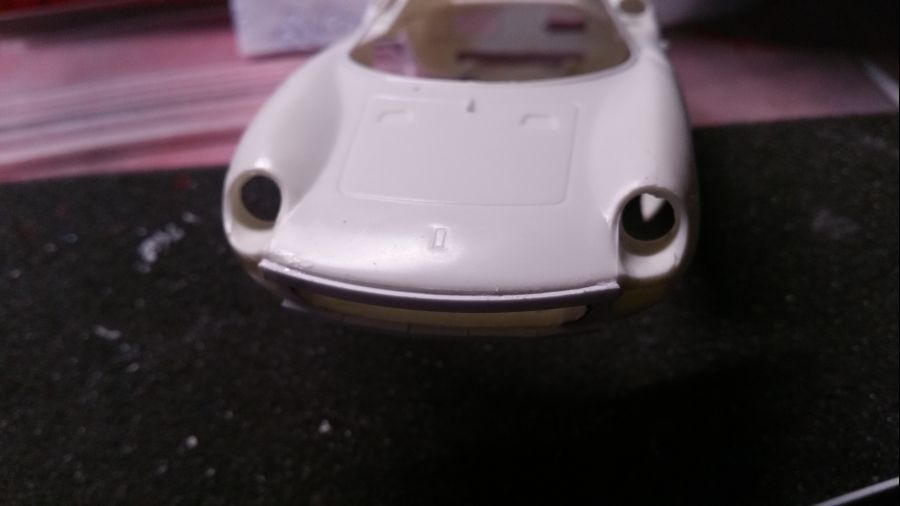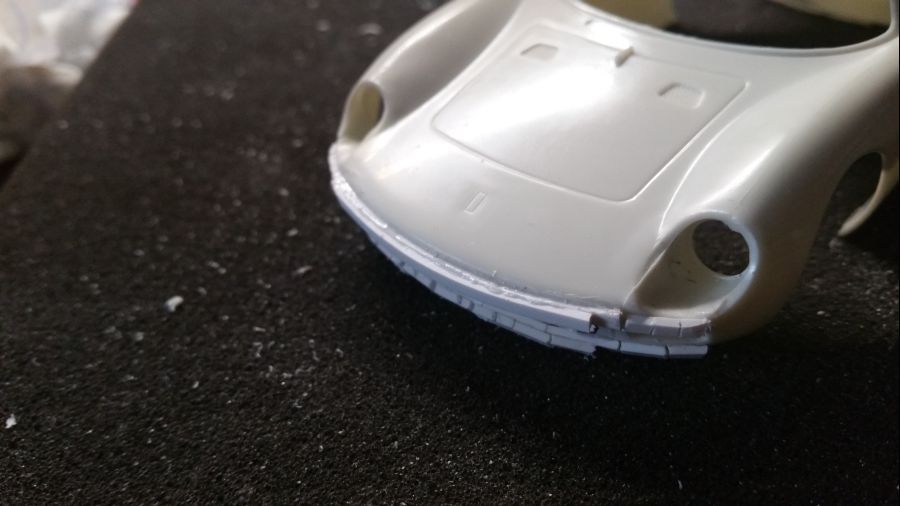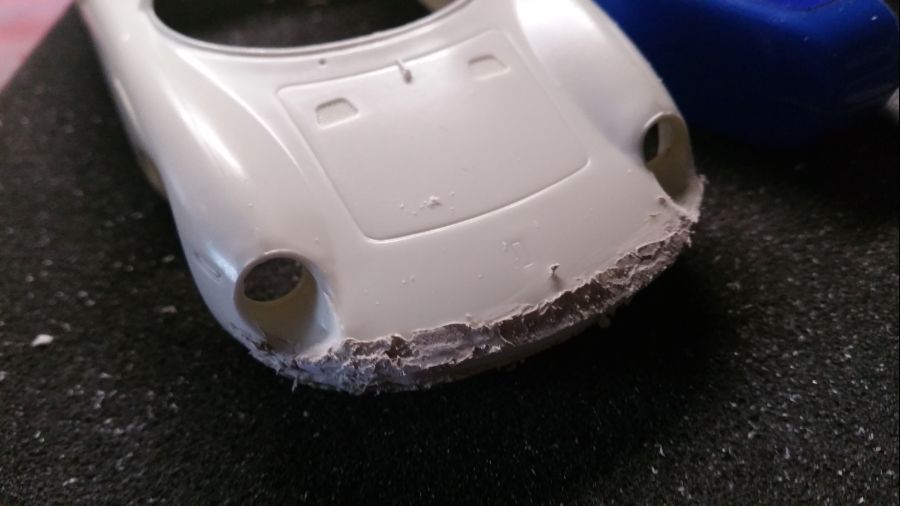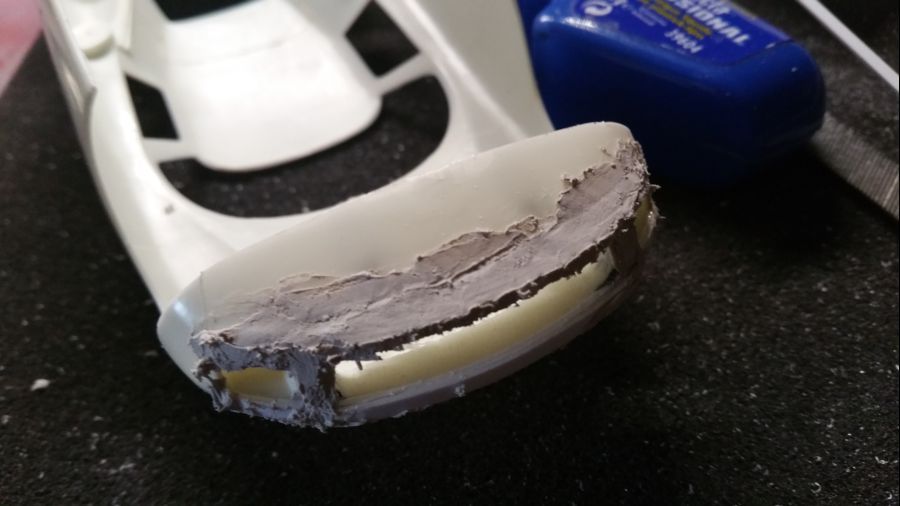 De motorkap aan de voorkant wordt weer dichtgesmeerd.
The front hood gets it's putty again.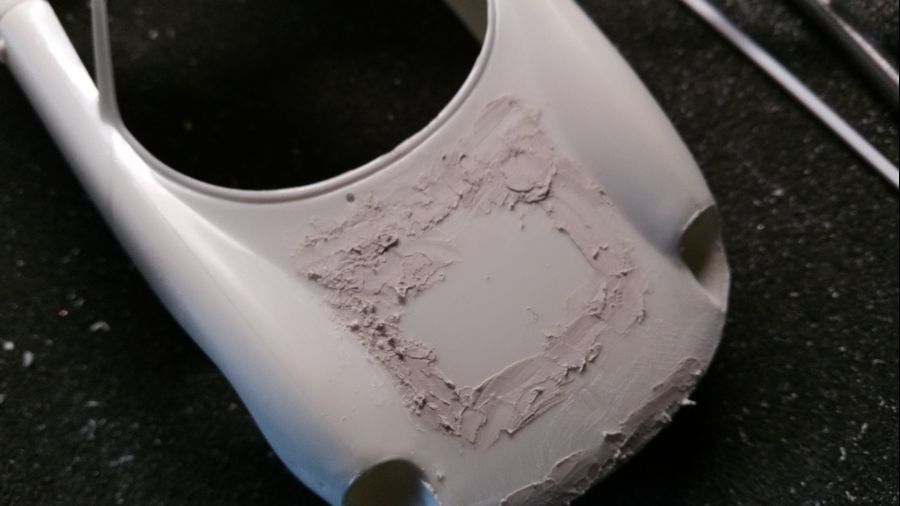 De knipperlichten worden weggewerkt.
The blinkers are being filled.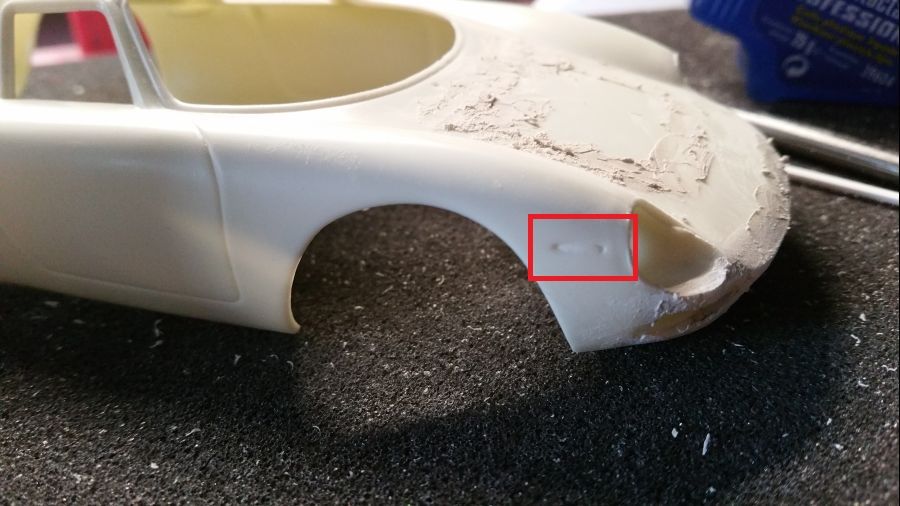 Deze punten worden weggehaald.
These spots are removed.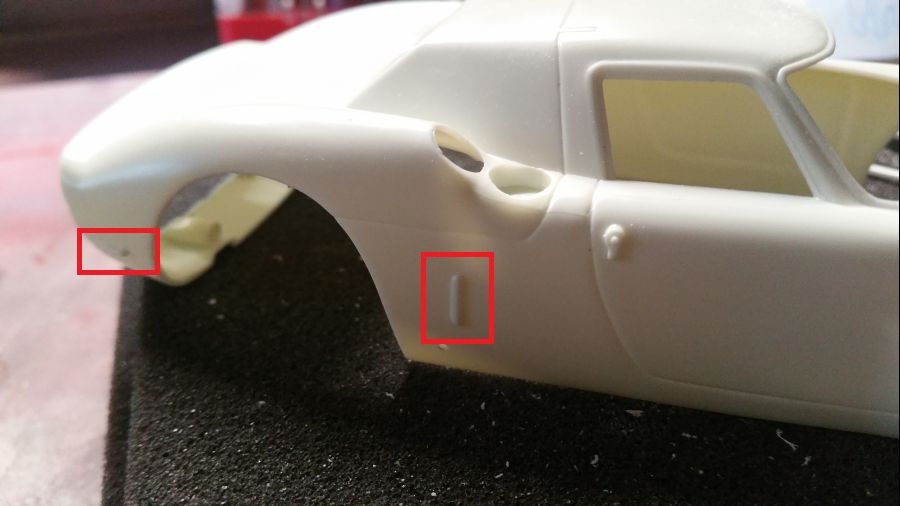 De verandering van de neus is goed uitgepakt. Deze is ongeveer 2 mm verlengd.
Changing the nose worked pretty well. It has been made about 2 mm longer.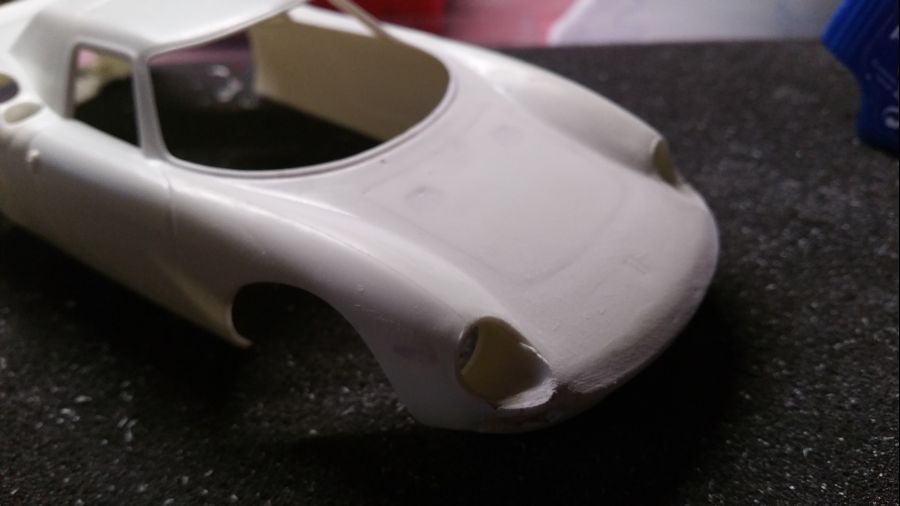 Nu moeten de spatborden aan de achterkant breder worden gemaakt,
Now the fenders at the rear need to be made more wide.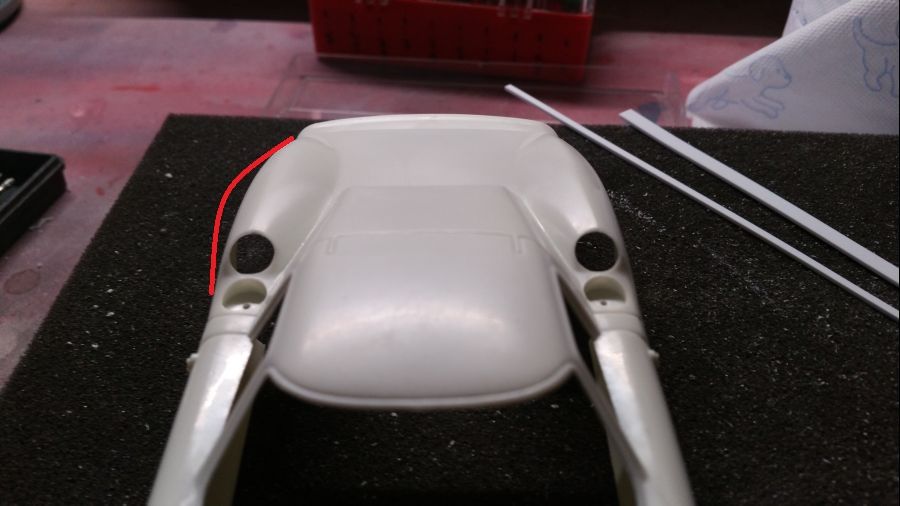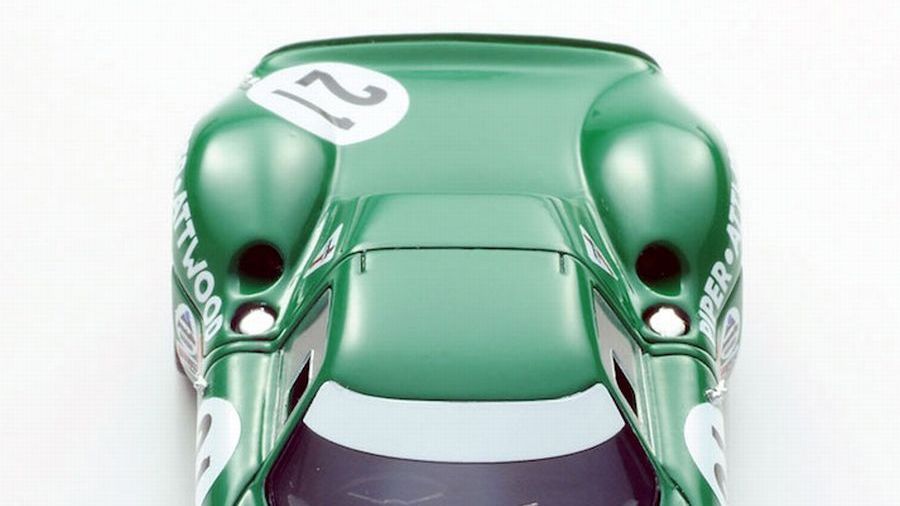 Eerst weer Evergreen strip op een aantal plekken. Het scheelt putty en de putty heeft meer houvast. Ook is het op deze manier gemakkelijker om links en rechts min of meer gelijk te krijgen.
First some Evergreen strip on some spots. It saves putty and the putty sticks better. Also, this way it's much easier to make the left and right side more equal.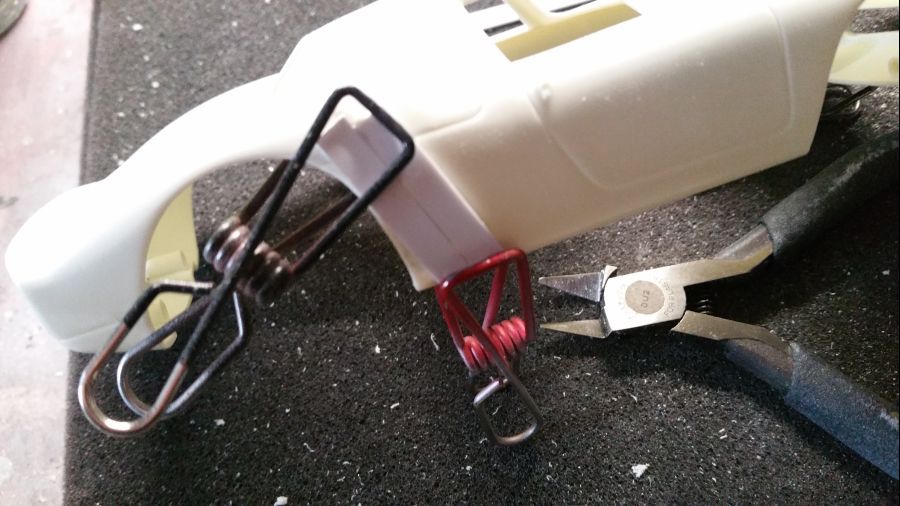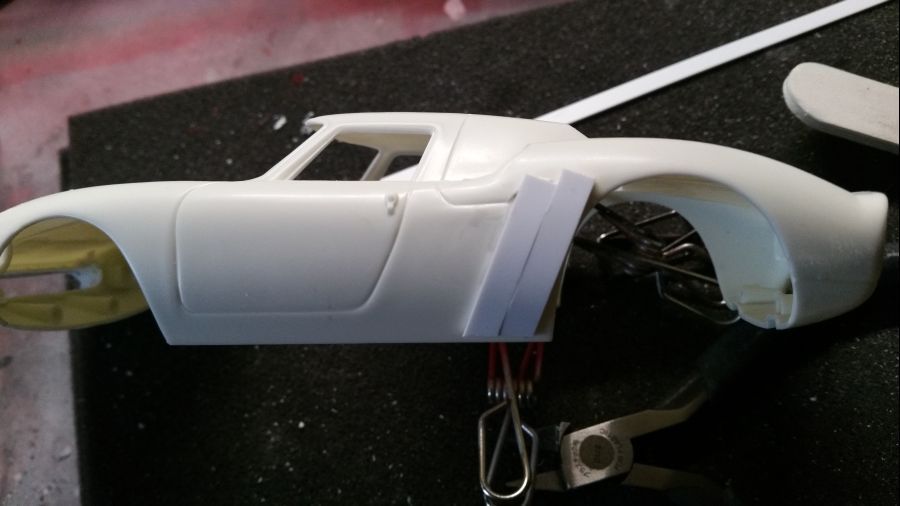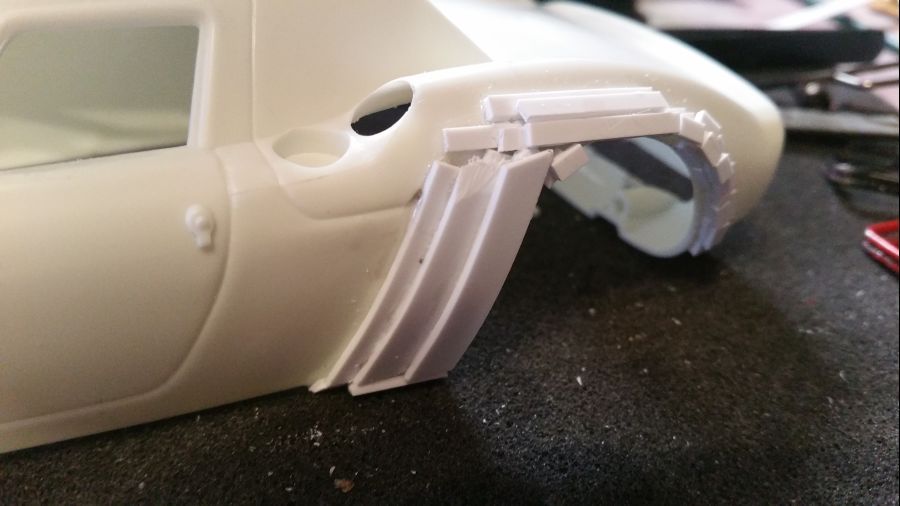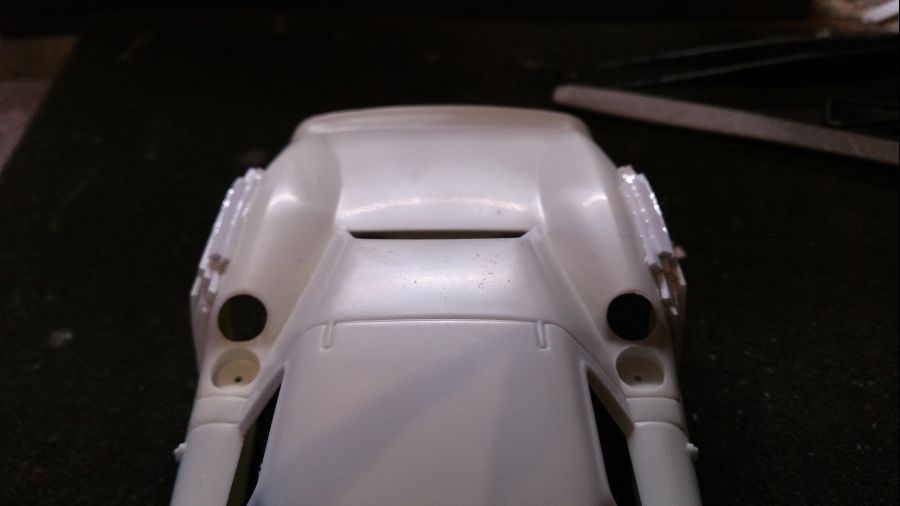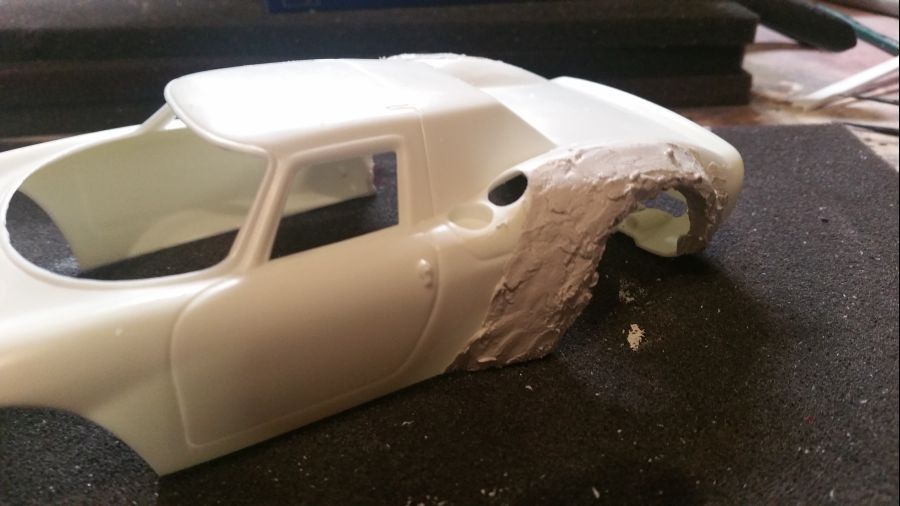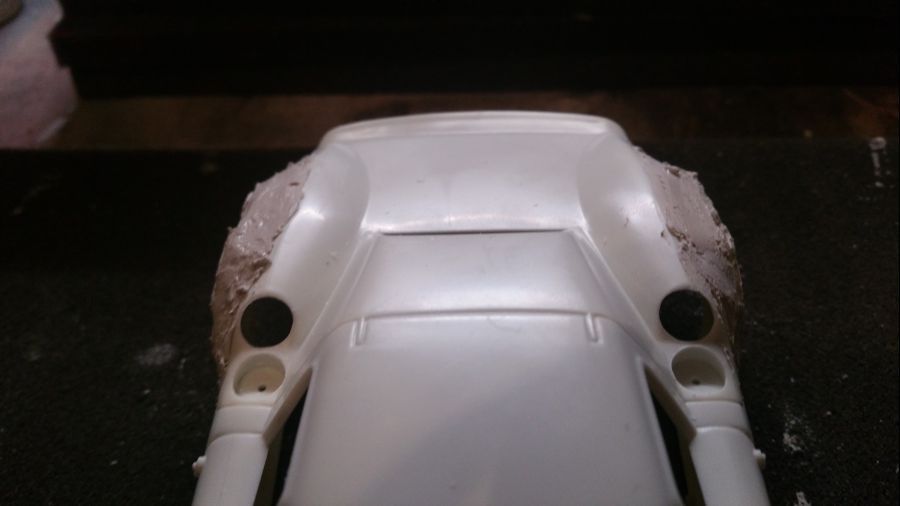 Nu met behulp van de vijl en schuren met de nagelvijlen meer in vorm...
Now more to shape by using a file and emery boards...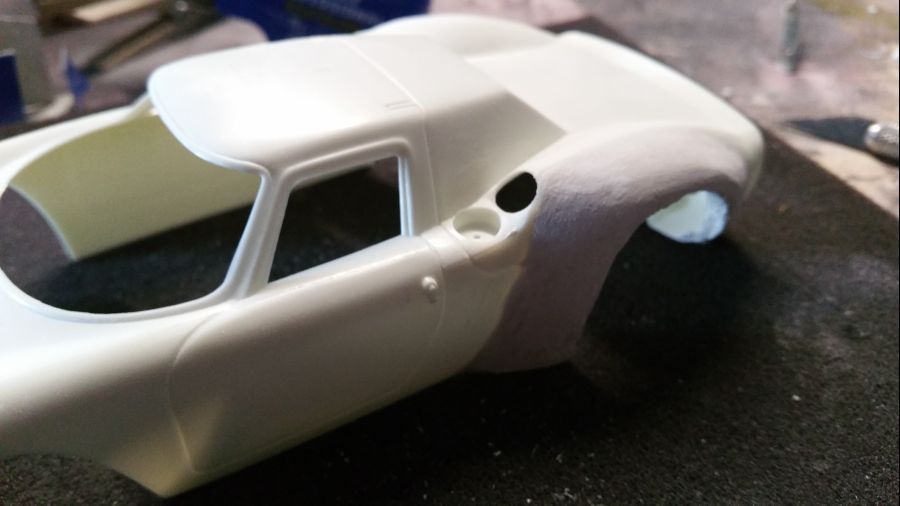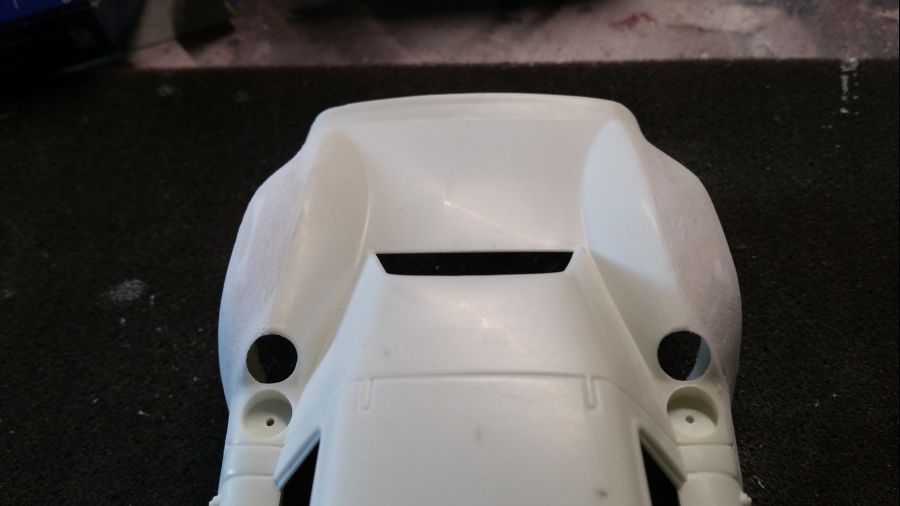 Nu de spatborden gevormd zijn is het zaak om van de wigvorm af te komen. Niet het moeilijkste karwei. Gewoon wat vijlen met de nagelvijlen.
Now the fenders are shaped it's time to lose the wedge shape. The the most tough job. Just use the emery boards.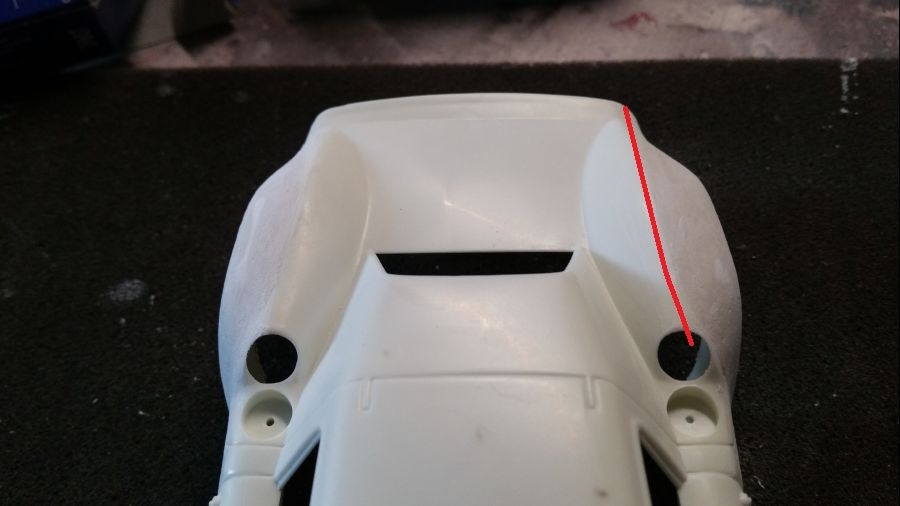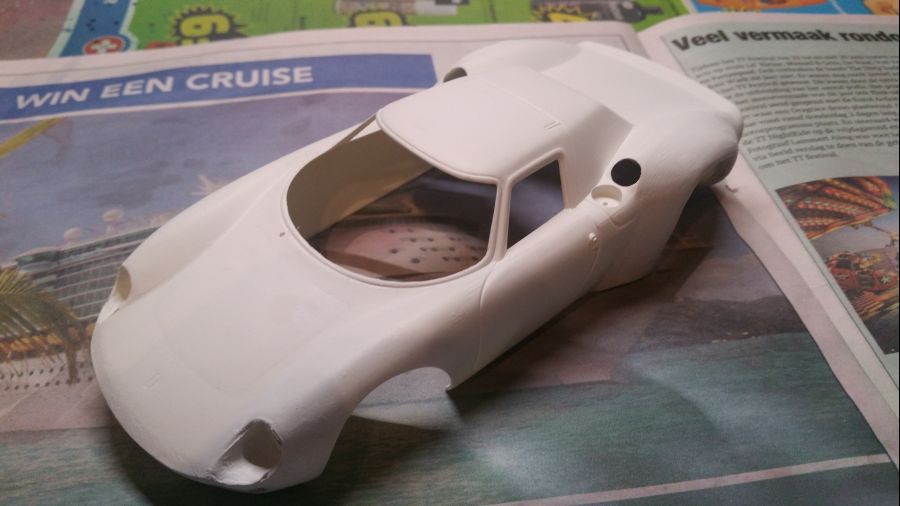 Tijd voor een nieuwe laag groen...
Time for a new layer of green...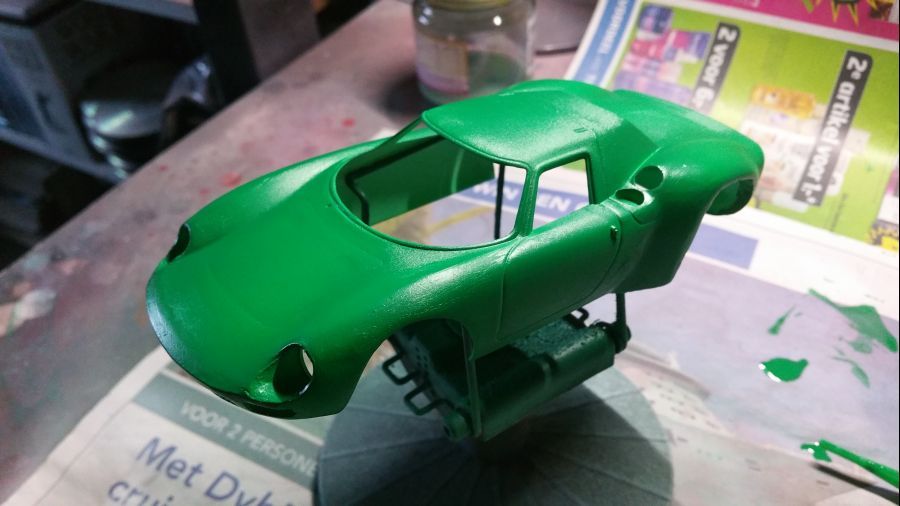 En de heldere glanzende lak..
And the clear gloss lacquer..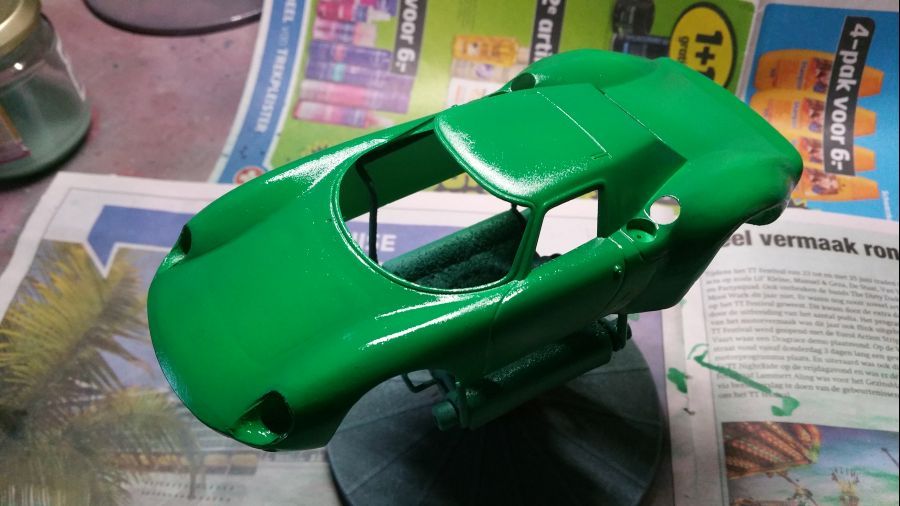 De ramen gaan erin en de raamrubbers zijn geverfd.
The windows are mounted and the window rubbers are painted.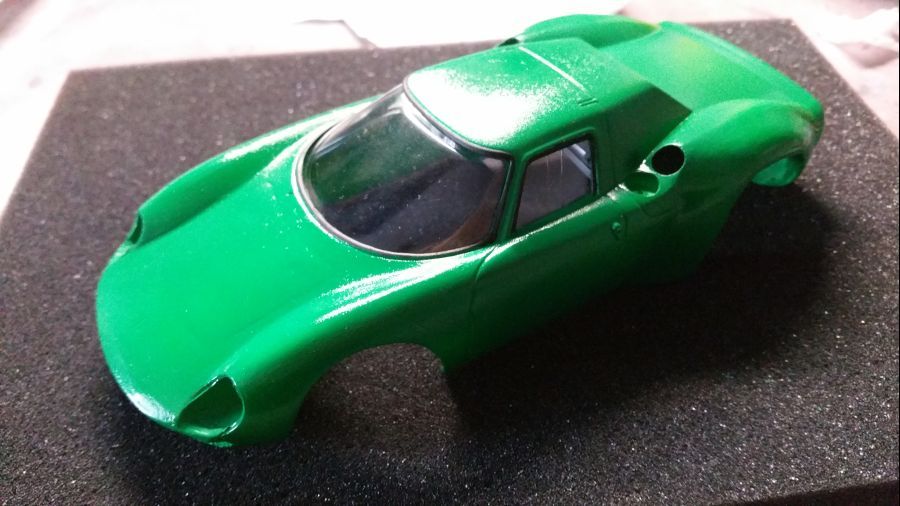 Decaltijd..
Decal time..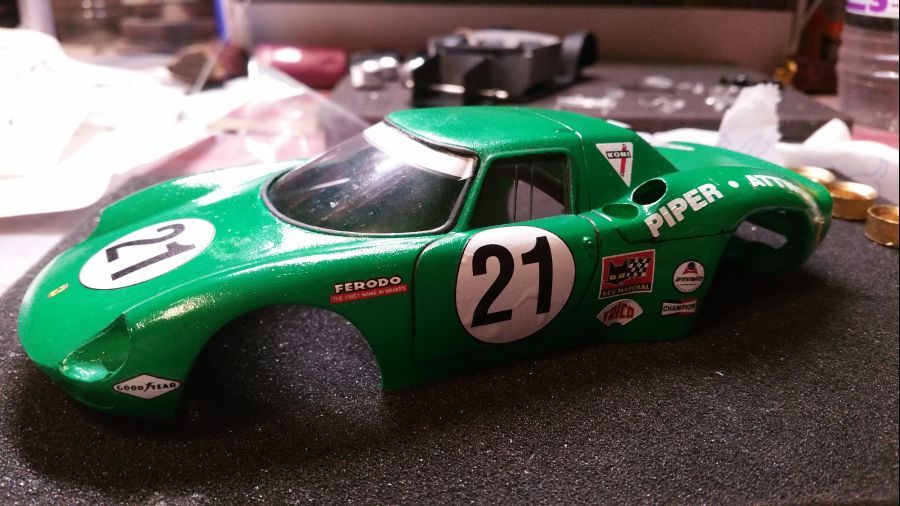 De standaardvelgen zijn niet geschikt voor deze wagen. Ik heb in een rommelkist nog een paar inlays liggen. Deze heb ik goud gespoten en ik ga een paar vlakken zwart verven. Ze zijn te zwak om te boren en uit te snijden.
The standard rims are not correct for this car. In the scrap box i found some inlays. I painted them gold and will do some black on some spots. They are simply too weak to drill and cut them.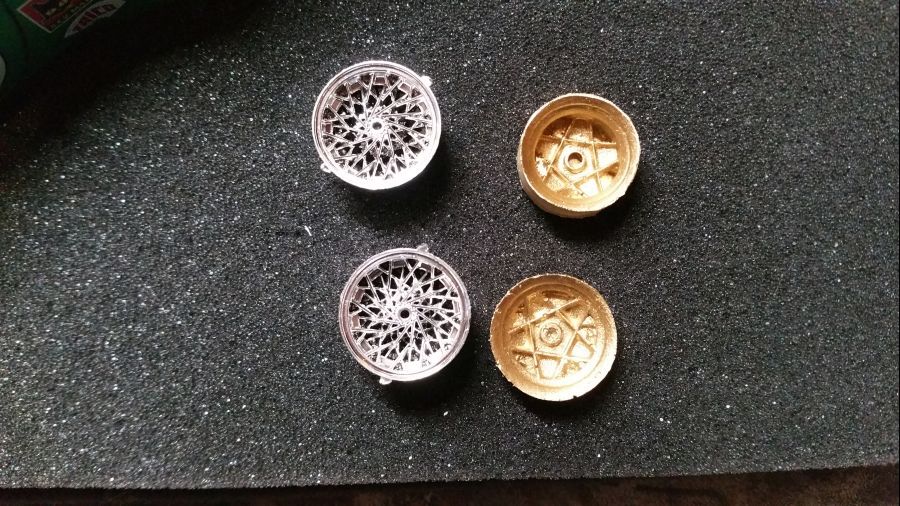 De ringen bij de lampen heb ik een beetje kunnen buigen met mijn rolling tool. Ik lijm de boel in 2 sessies vast. Eerst de binnenkant, later de buitenkant. Anders komt er teveel spanning op.
The rings near the lights were bent using the rolling tool. I will glue them in 2 sessions. First the inside, next the outside. Otherwise there will be too much tension on them.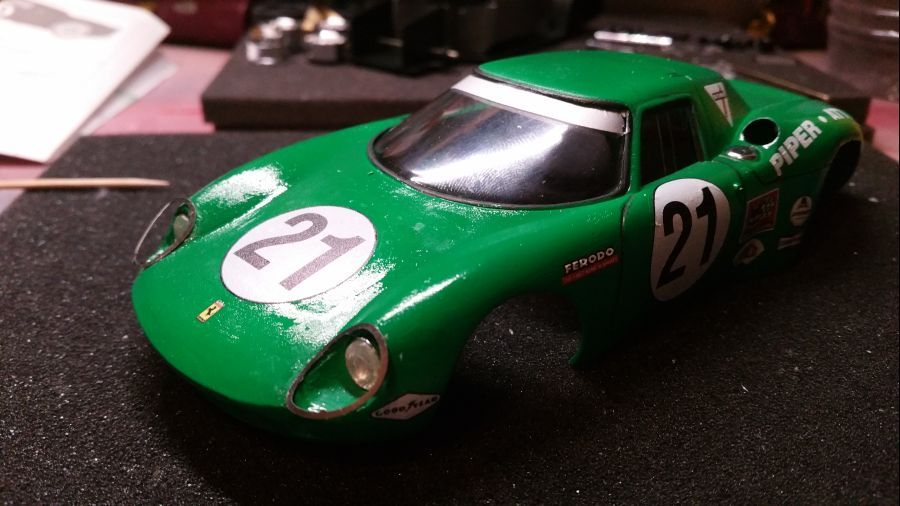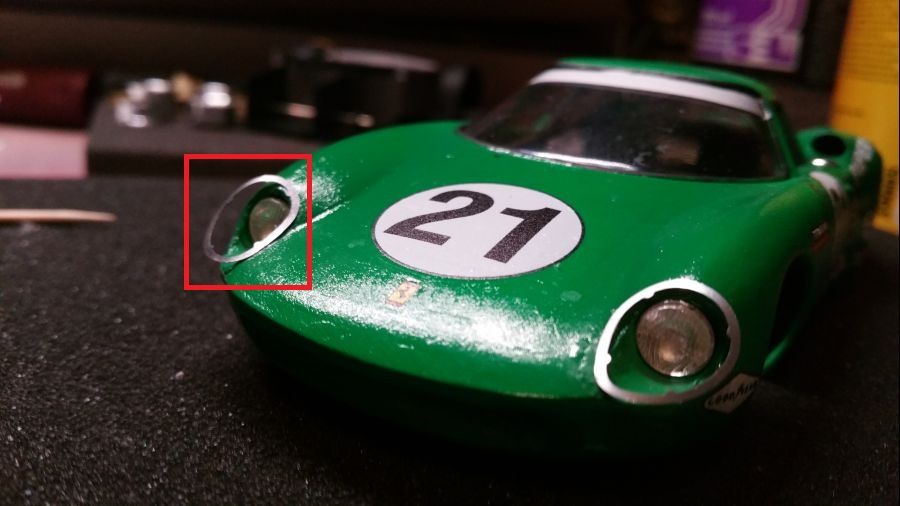 Ik heb inmiddels een paar nieuwe velgen ontvangen van een F1M lid. Dank Jaykay! Ze zien er super uit.
In the meantime i received some rims from a F1M member. Thanks Jaykay! They look great.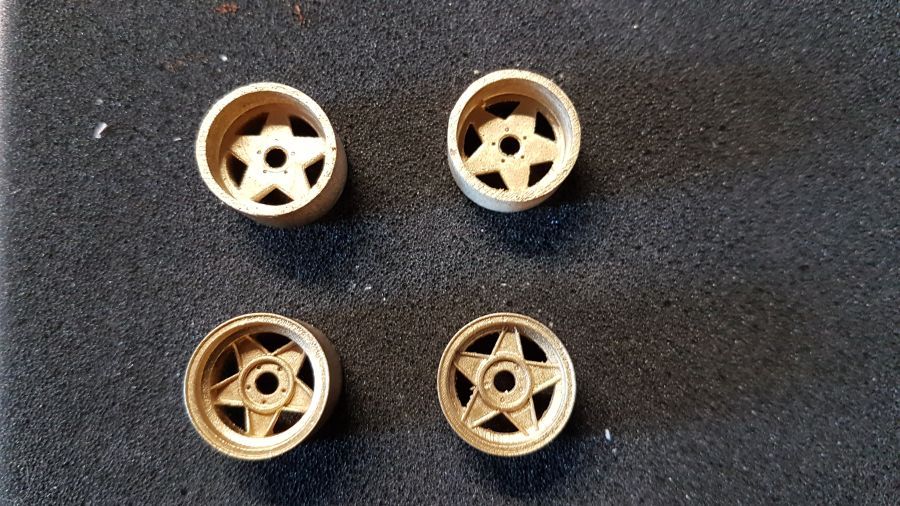 Aan de achterkant plak ik buisjes voor de assen.
On the back i add tubes for the axles.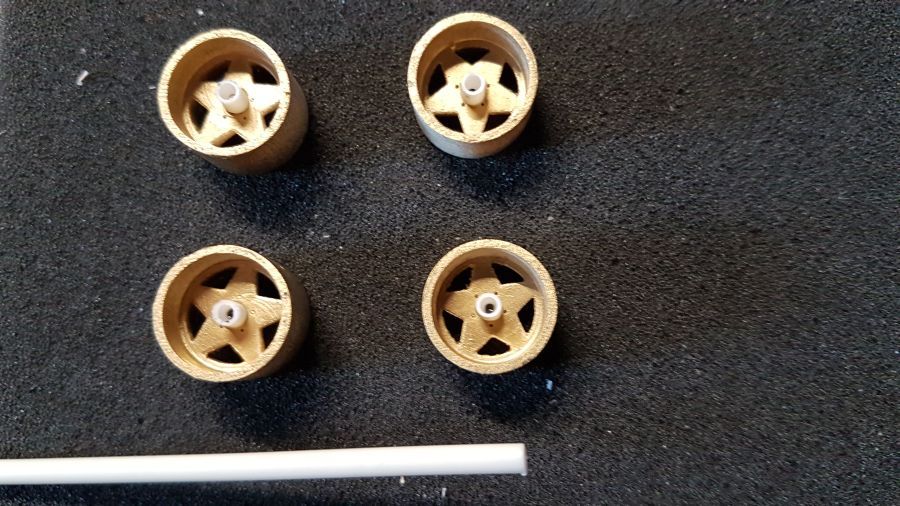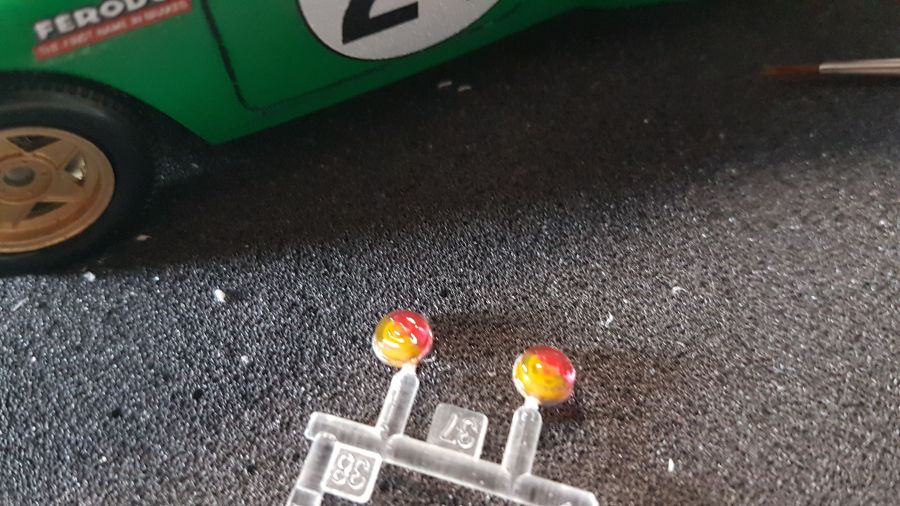 Dan krijgen de achterlichten hun kleuren. 
Then the rear lights get their colour.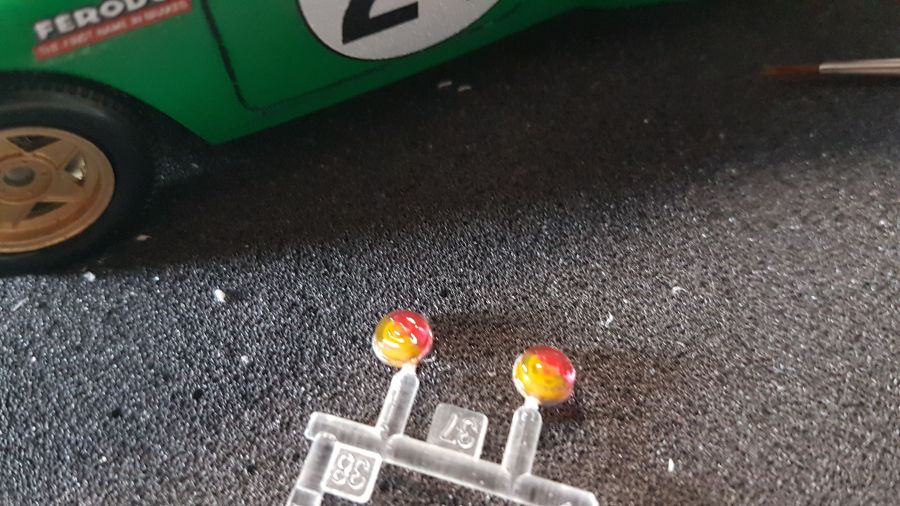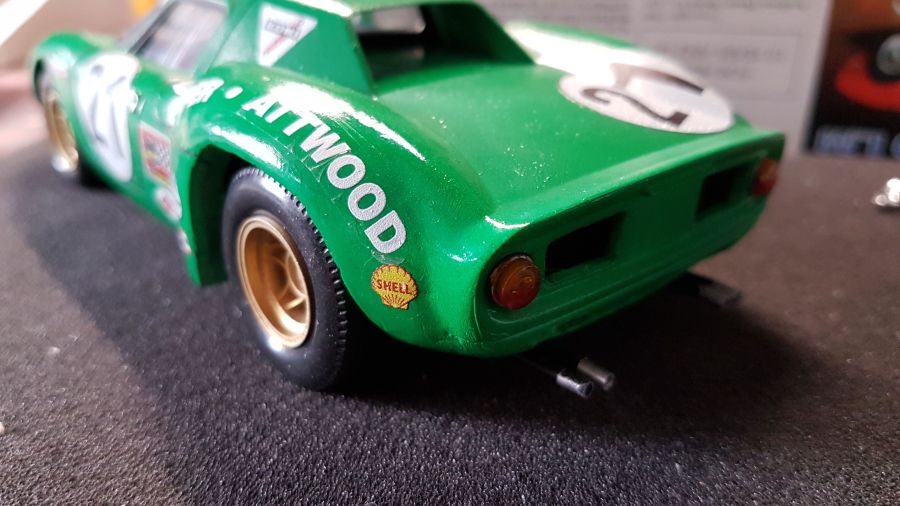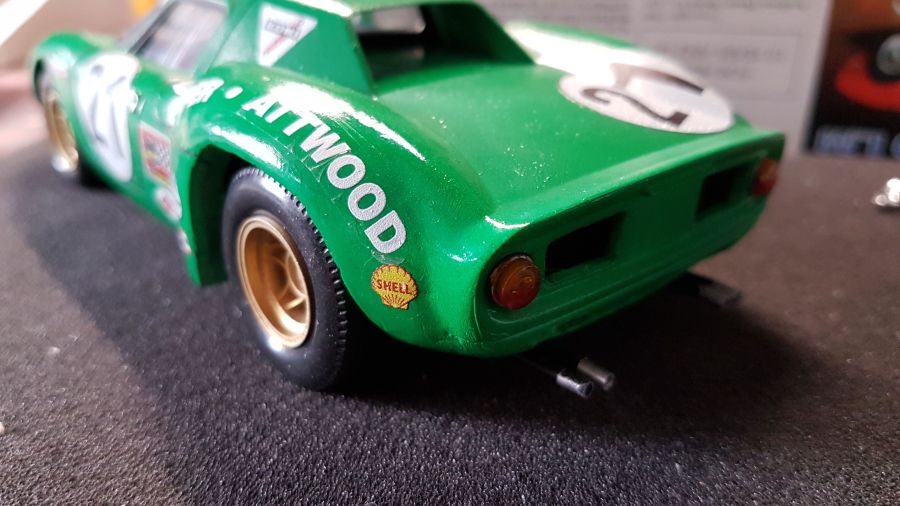 Ook de bekende wielmoeren...
And the famous wheel nutters...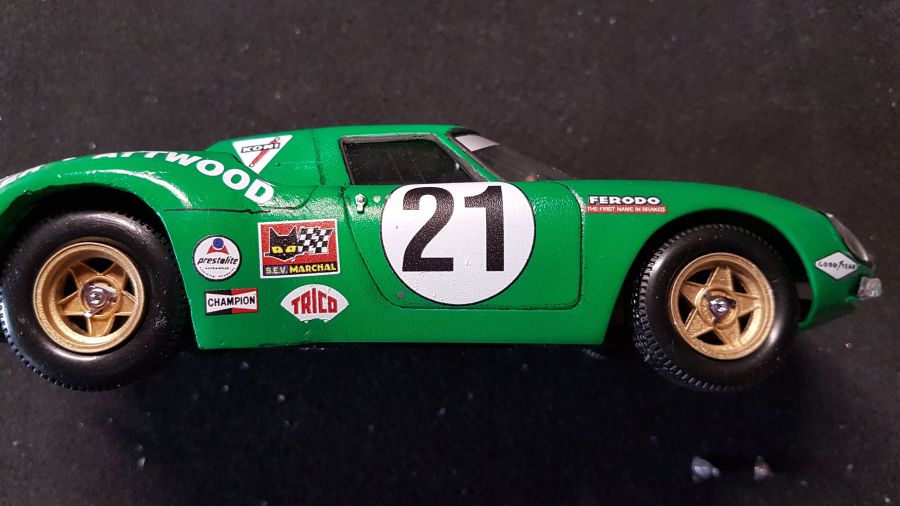 En klaar is deze, maar blij...... nee.
And this one is done, but happy.....  no.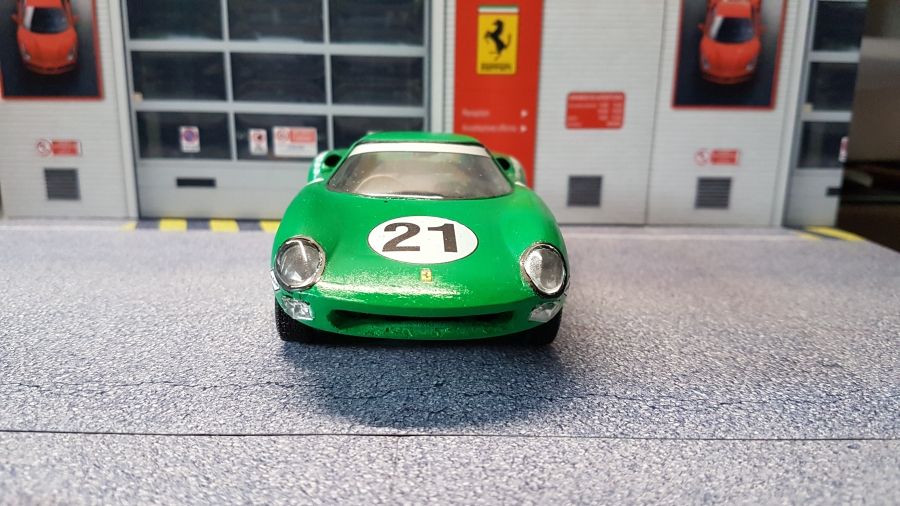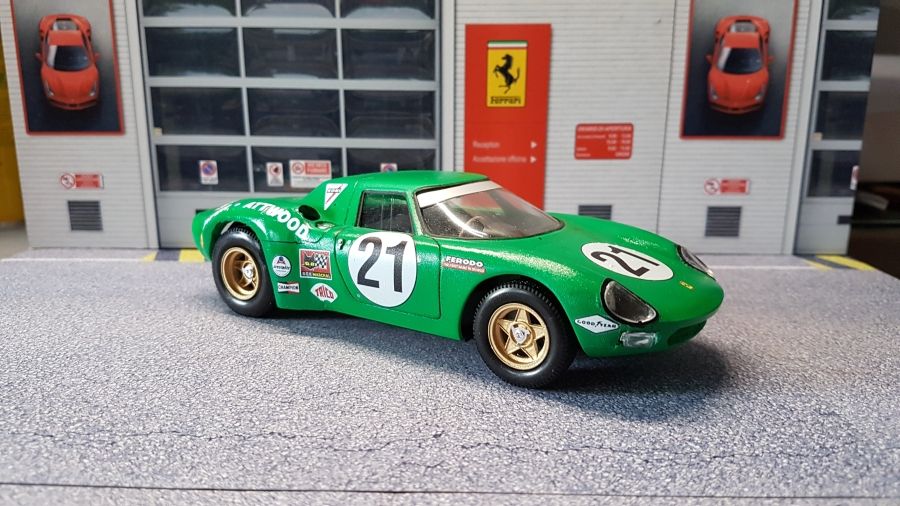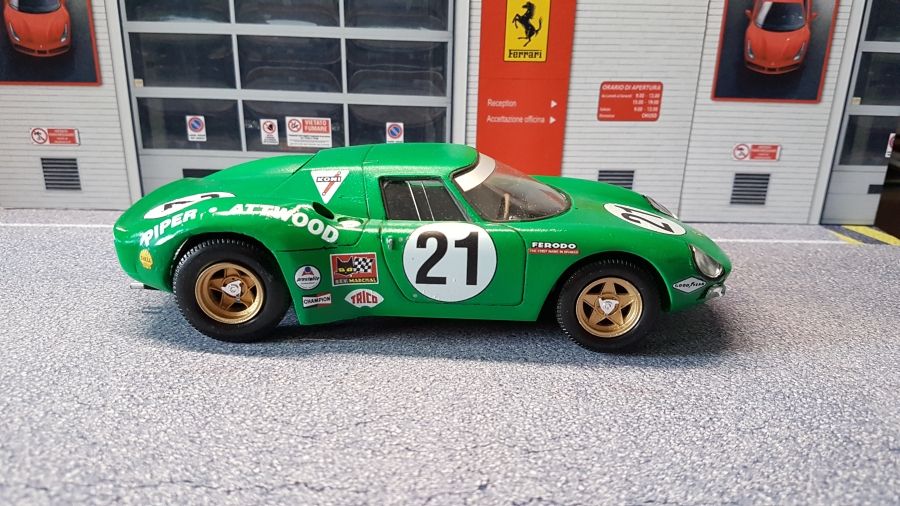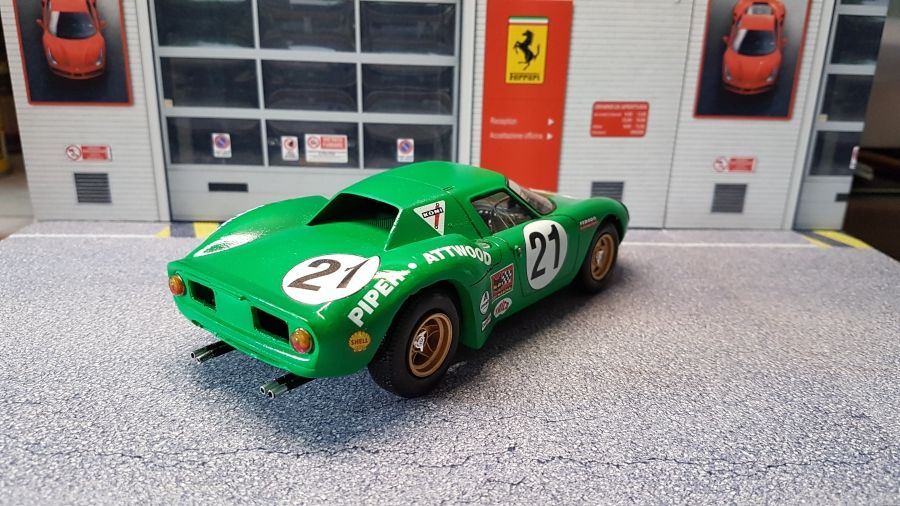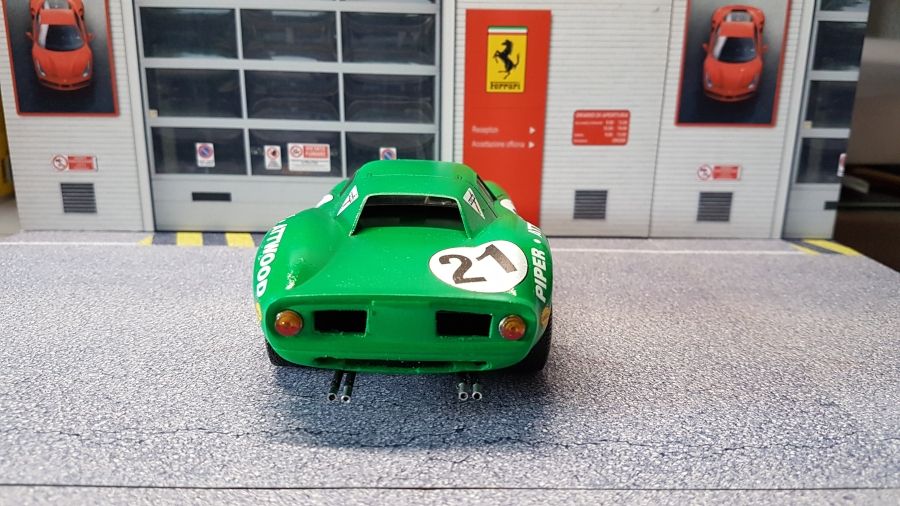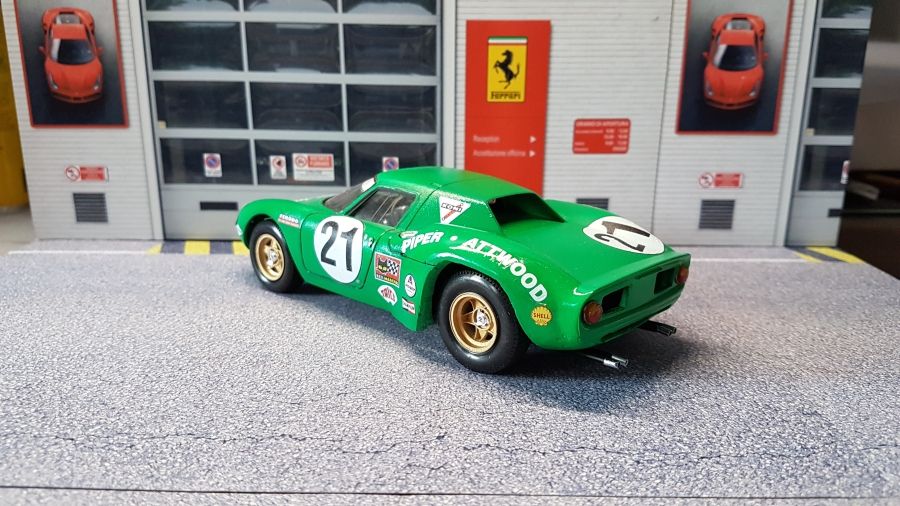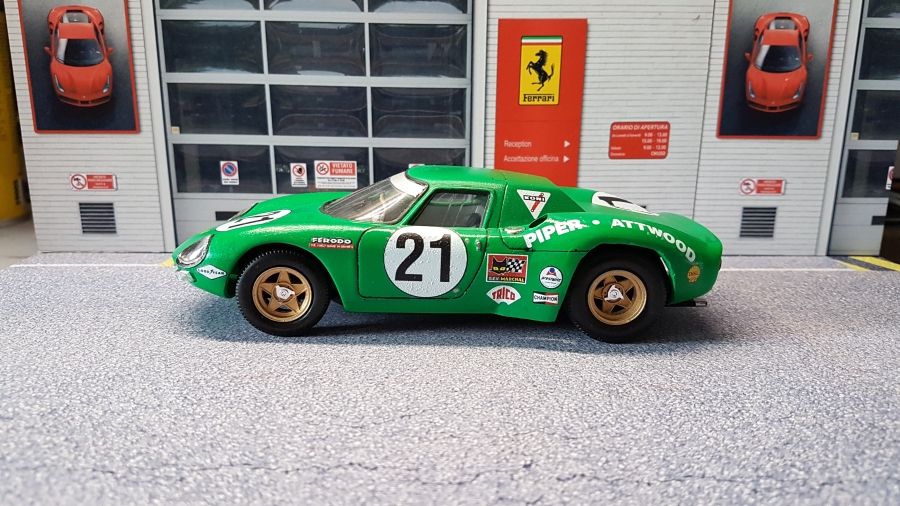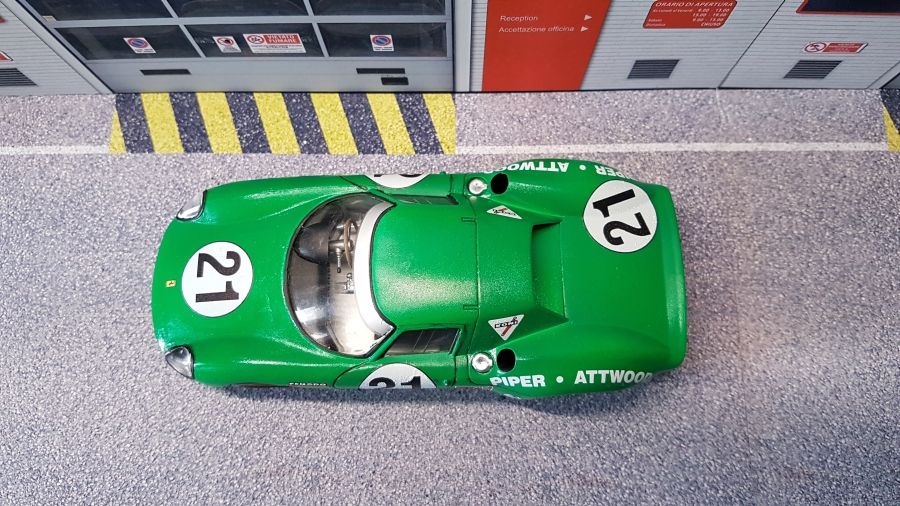 Wat een ramp is deze ombouw. Niet zozeer het werk eraan, maar de verf is een ramp. De eerste body werd enorm aangetast door óf de primer, óf de verf, óf een combinatie ervan. Ook de 2e nieuw gekochte body heeft hetzelfde probleem. Ondanks dat er nu hele dunne laagjes verf zijn gespoten.
What a disaster is this rebuild. Not that much the large job, but the paint is a disaster. The first body got attacked by either the primer, the paint or the combination of it. Also the body of a new bought kit has the same problem. Despite spraying multiple small layers of paint.