De volgende is aan de beurt. De Ferrari F14-T Australische versie. Deze wagen werd in 2014 bestuurd door Kimi Raïkkönen. Het is een schaal 1/20 kit van Model8. Zeer lastig te vinden. Deze kwam ik op Ebay tegen en ik heb er een vermogen voor moeten betalen. Achteraf niet nodig, want ik kon de kit veel goedkoper krijgen. Maar ja, op dat moment zag ik het als een uitgelezen kans en wilde iemand anders voor zijn...  Allereerst maar weer de foto's van de inhoud van de kit.
The next one to build. The Ferrari F14-T Australian version. This car was driven in 2014 by Kimi Raïkkönen. It's a scale 1/20 kit from Model8. Very hard to find. I came across this one on Ebay and paid a small fortune for it. This was not necessary as i could buy the kit at a much lower price. But at that time i thought it was a chance of a lifetime and didn't want another buyer to snap it... First of all the pictures of the content of the kit.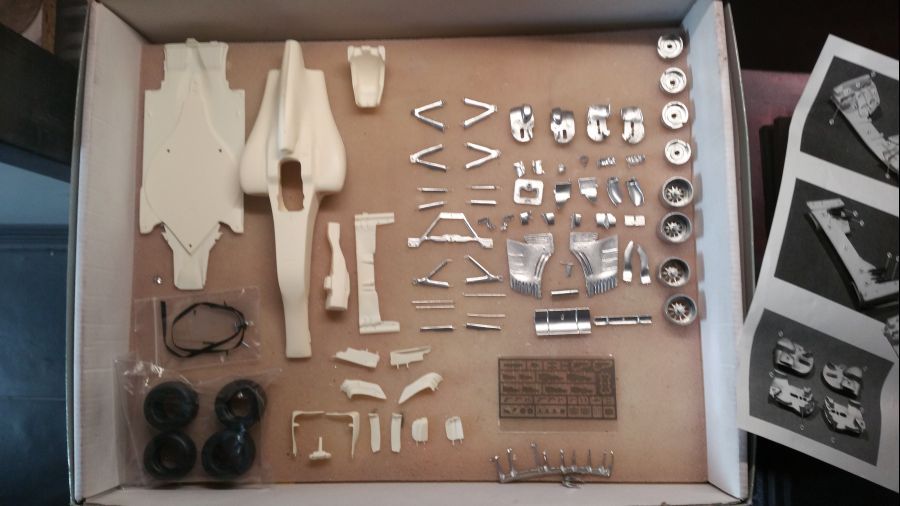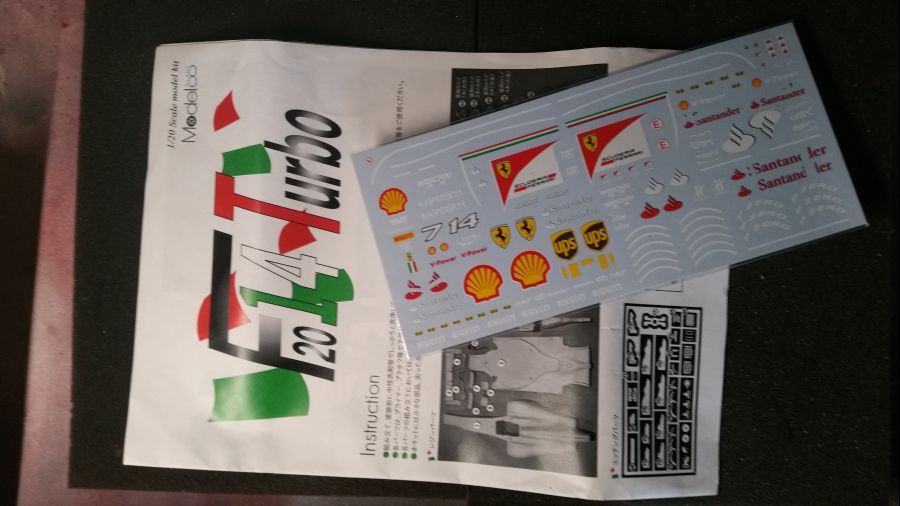 De eerste onderdelen krijgen de zwarte grondverf, zwarte verf en zijdeglans lak..
The first parts get the black primer, black paint en semi gloss lacquer..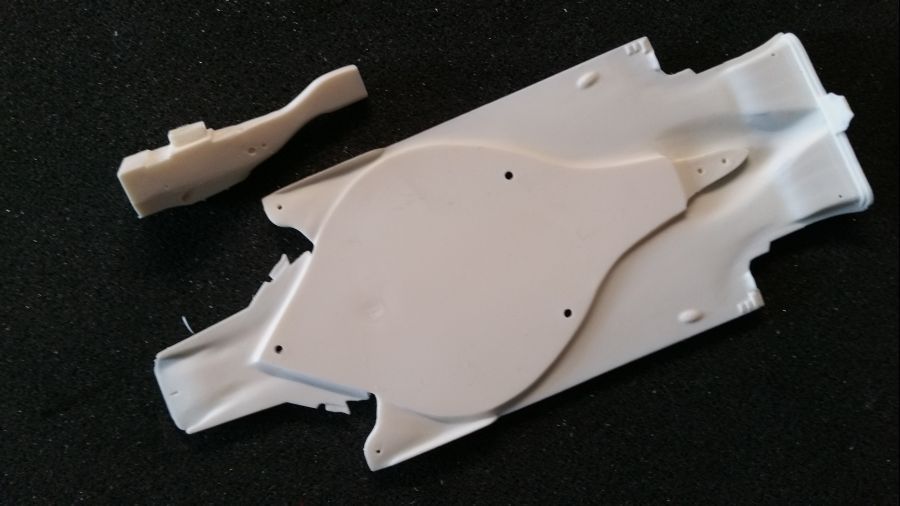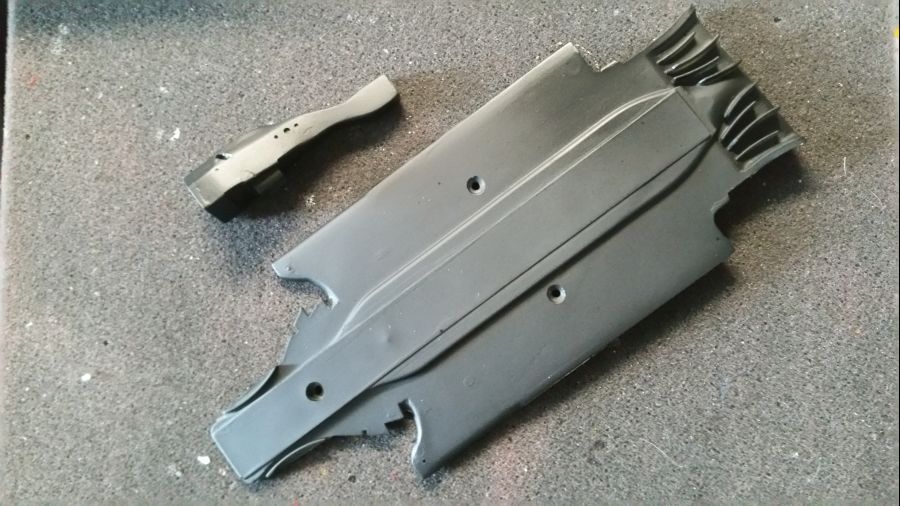 Dan eerst verder met de voorvleugel. De onderkant van alle onderdelen wordt zwart gespoten... De bovenkant krijgt witte grondverf...
Next is the front wing. The down side gets black paint... The upper side white primer...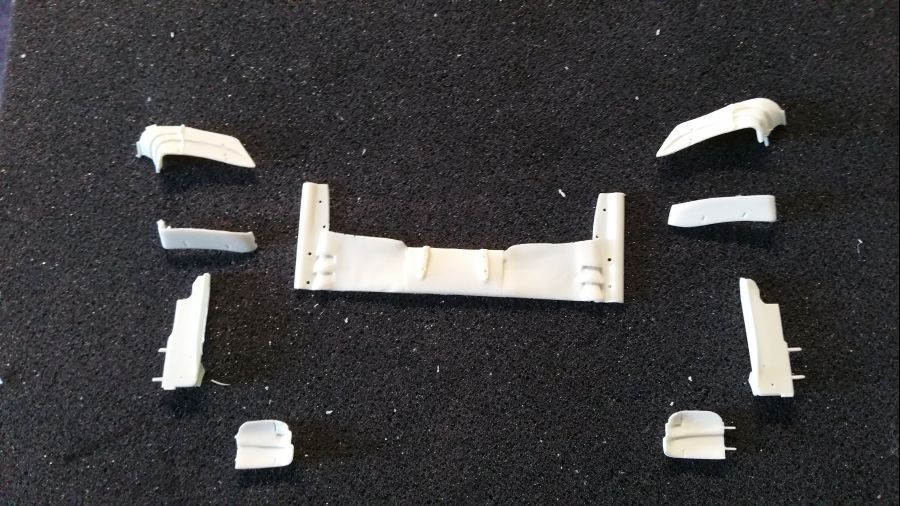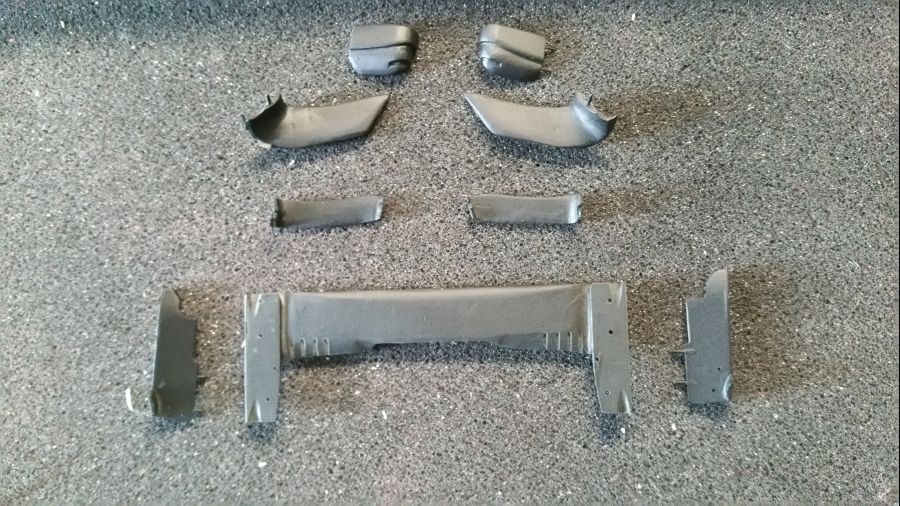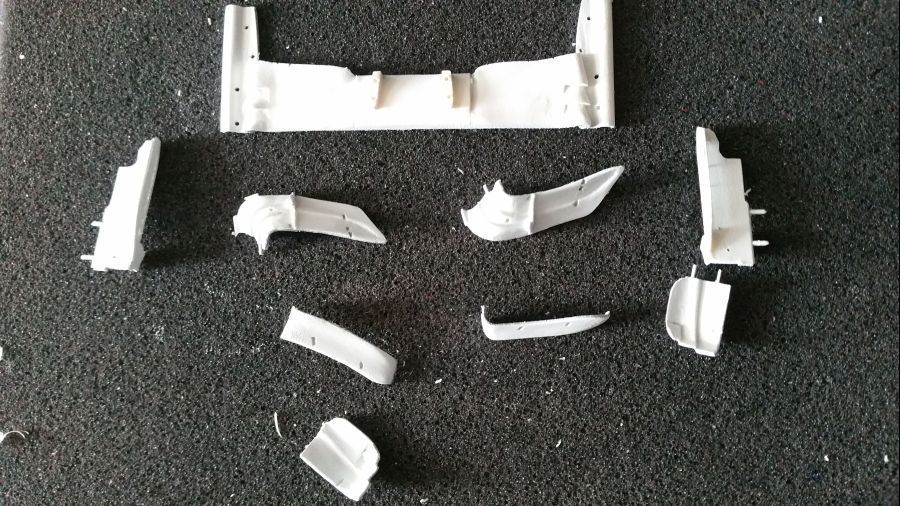 Dan de witte verf. Ik gebruik deze keer Tamiya TS-26 Pure White. De vloer krijgt nog een laag Tamiya TS-79 Semi Gloss Clear.
Then the white paints. This time i use Tamiya TS-26 Pure White. The floor gets a layer of Tamiya TS-79 Semi Gloss Clear.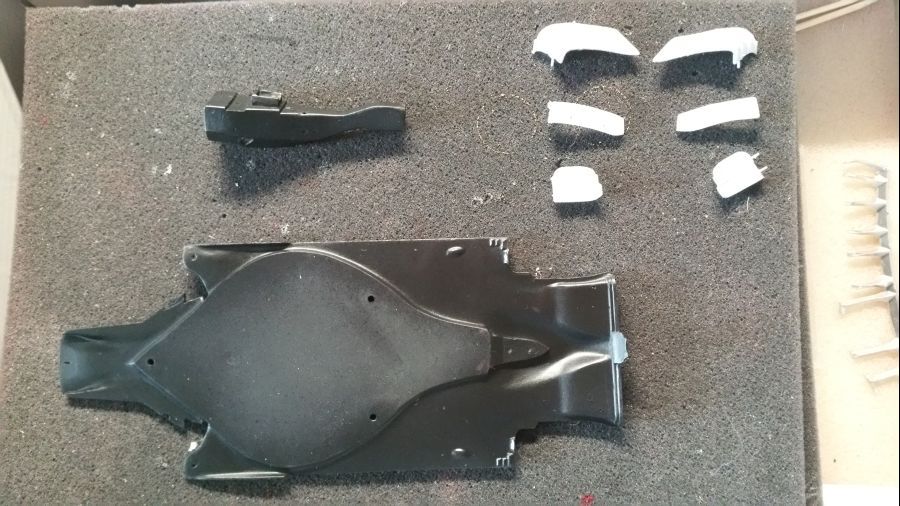 De body heeft een laag grondverf gekregen en krijgt daarna de rode verf. Net als een aantal andere onderdelen. Ik spuit alles met Zero Paints ZP-1007 Rosso F10.
The body received a layer of primer and gets the red paint. Just like some other parts. I spray everything with Zero Paints ZP-1007 Rosso F10.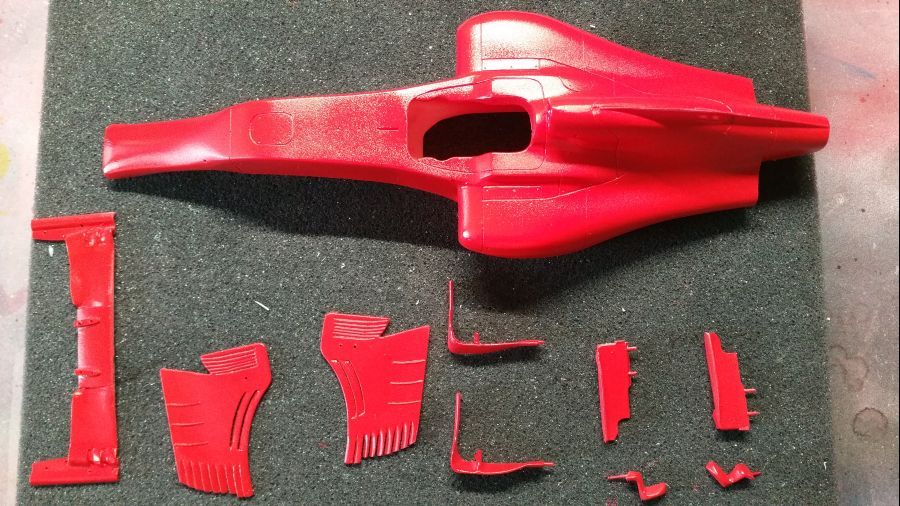 Nu moet ik bepalen welk deel van de body zwart moet worden. Ik heb een kopie gemaakt van de decals. De witte lijnen die op de scheiding van het rood met het zwart komen knip ik uit en gebruik ik als mal om de grens te kunnen bepalen tussen het rood en zwart. Met een stift zet ik wat streepjes waarlangs de afplaktape wordt geplakt.
Now i have to determine which part of the body needs to be painted black. I made a copy of the decals. I have cut the white lines that will be the border between the red and the black. I use these as a template. With a marker i draw some lines to be able to attach the masking tape.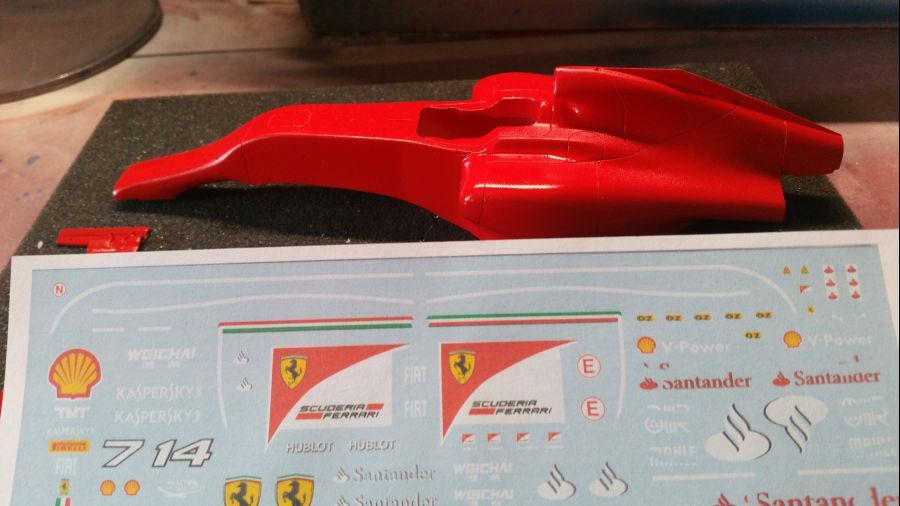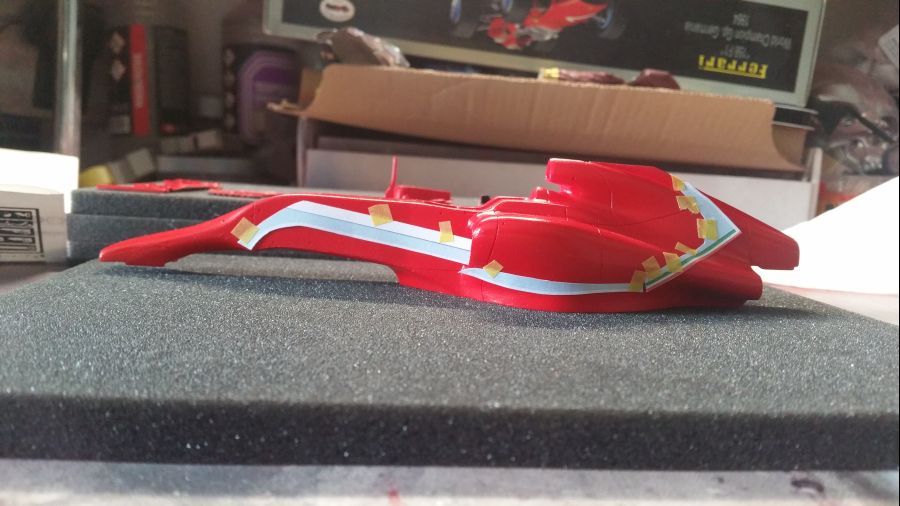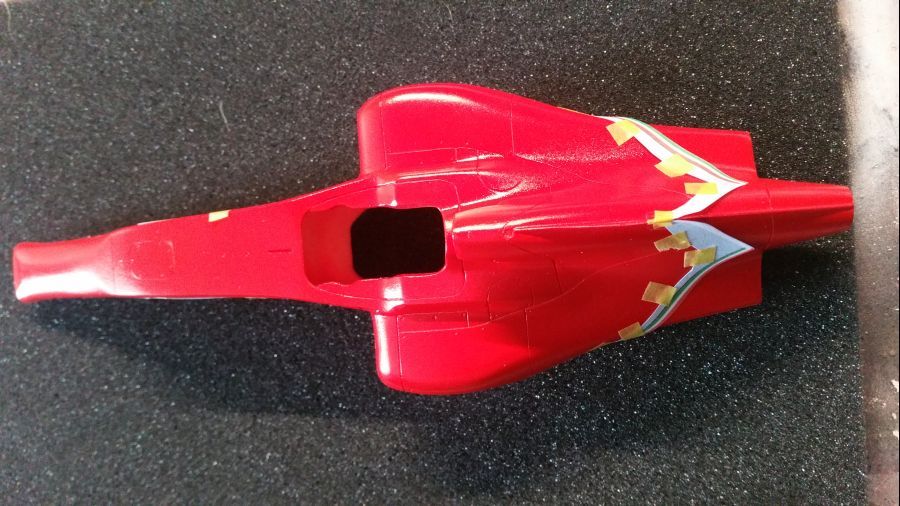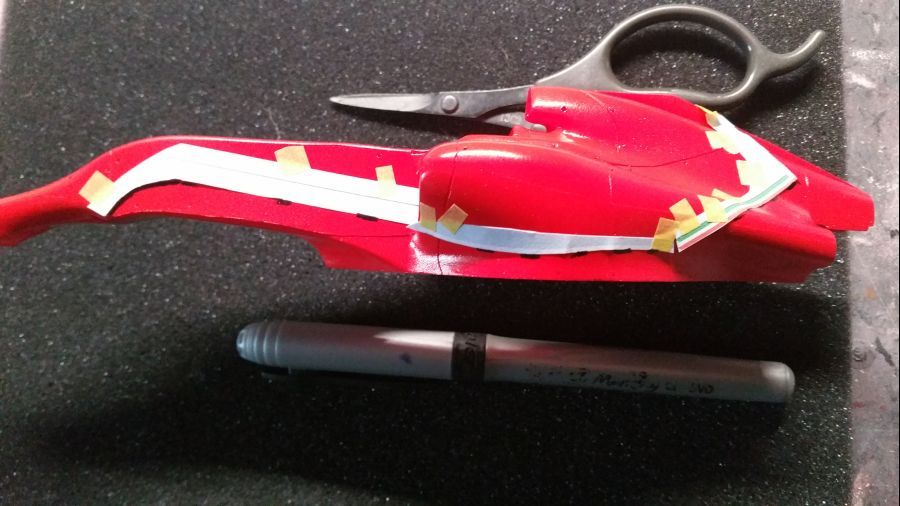 Alles maskeren en het resultaat na het spuiten....ik denk niet slecht...
Masking everything and the result after painting....not bad i guess...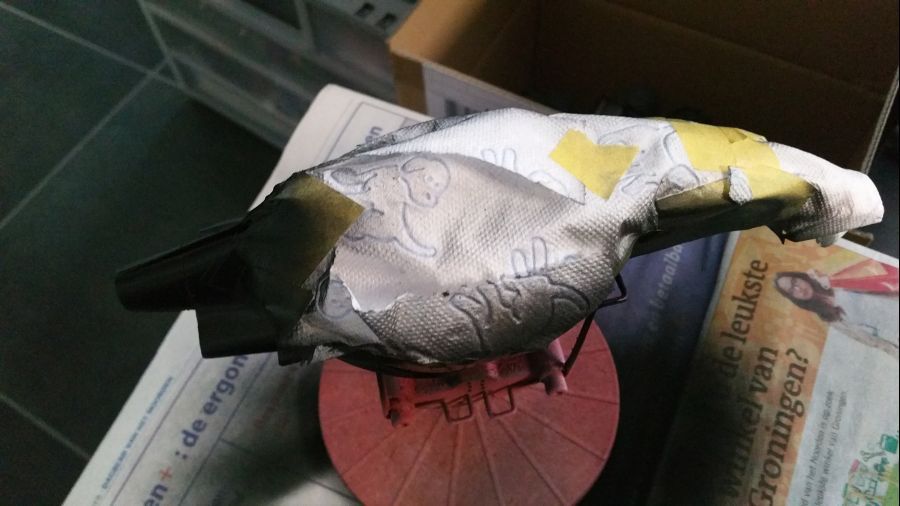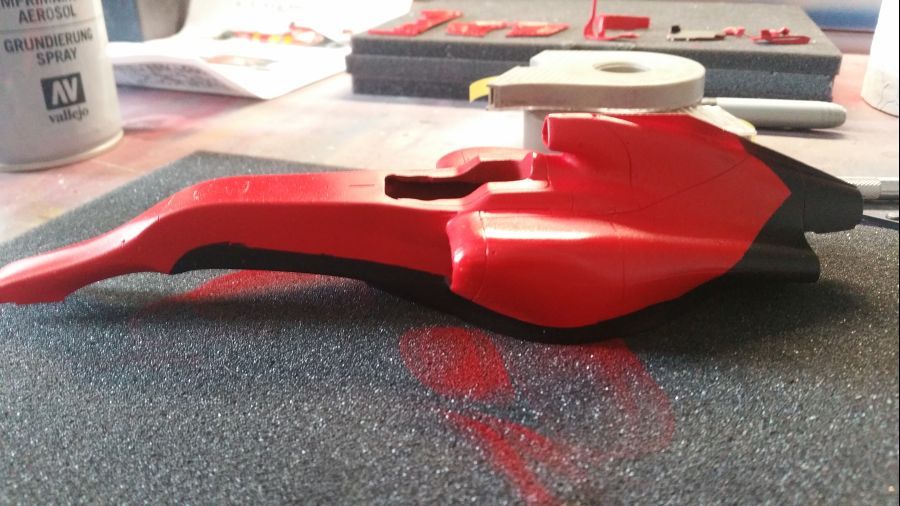 Dan het wit en het zwart op de zijplaten van de achtervleugel. Op 1 plaat heeft het wit een beetje gelekt. Dat ga ik bijwerken.
Next is the white and black on the rear wing end plates. On 1 plate the white got a bit under the tape. I will work on that.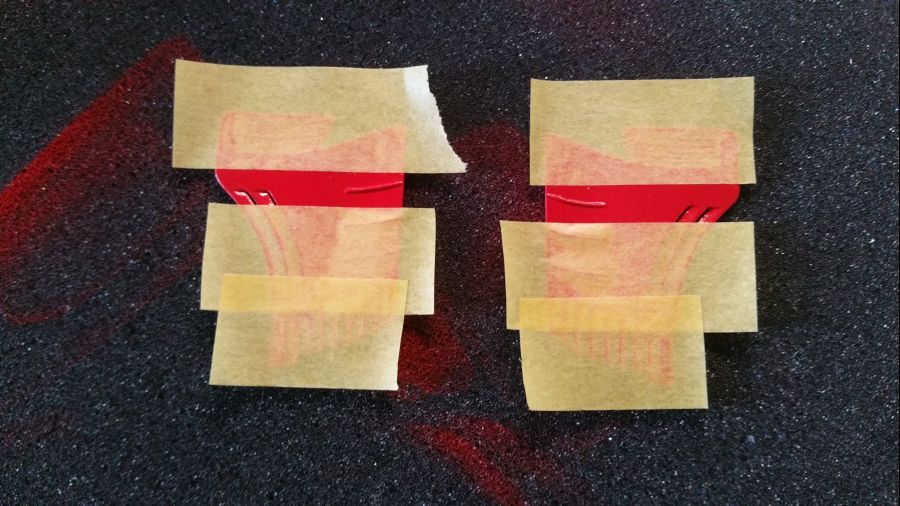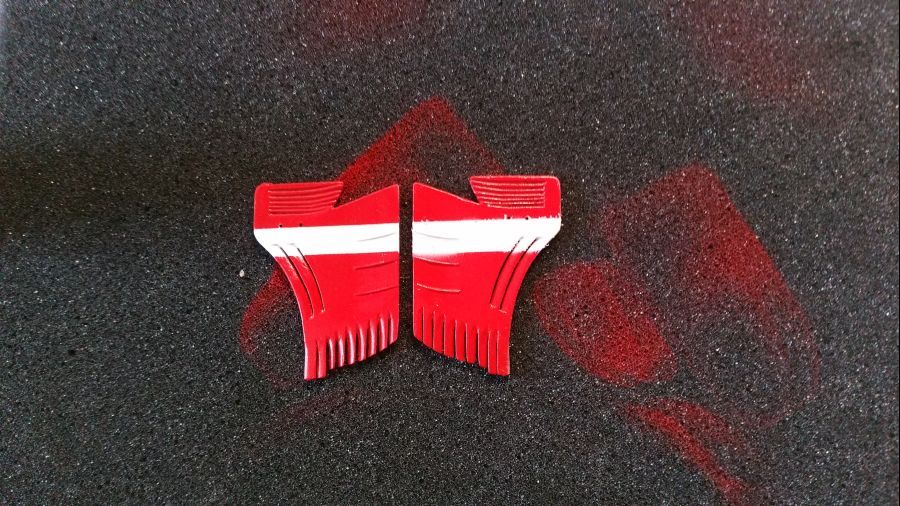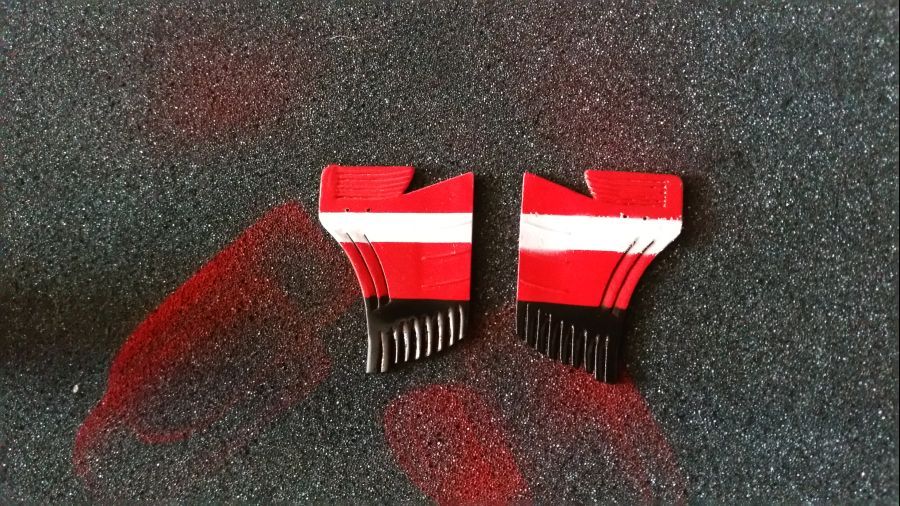 Verder met de voorvleugel...
Continuing with the front wing...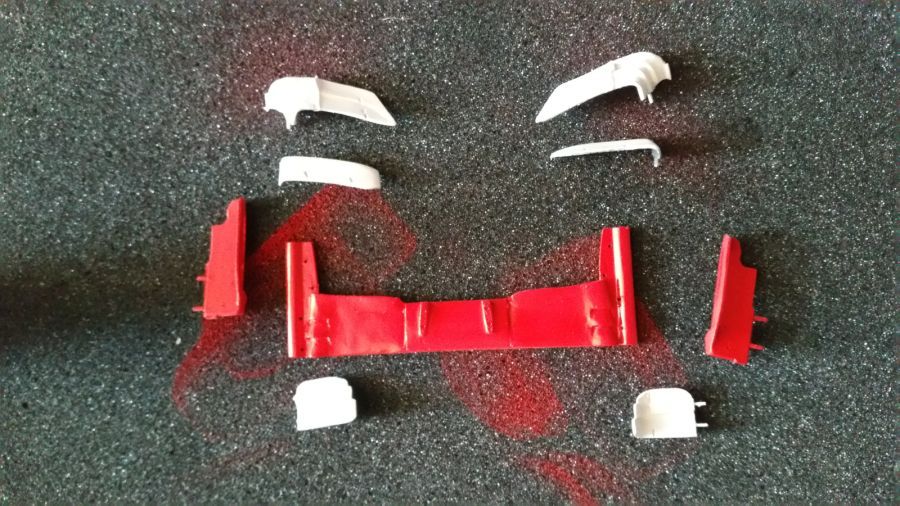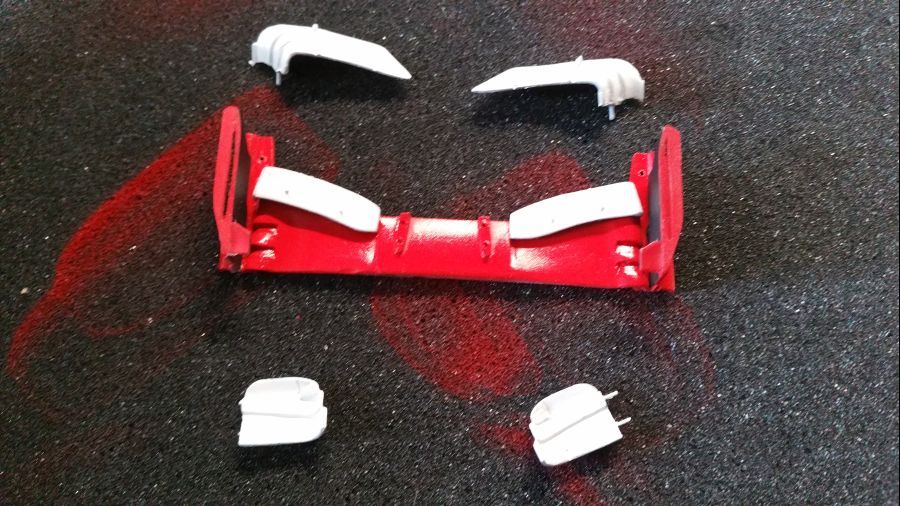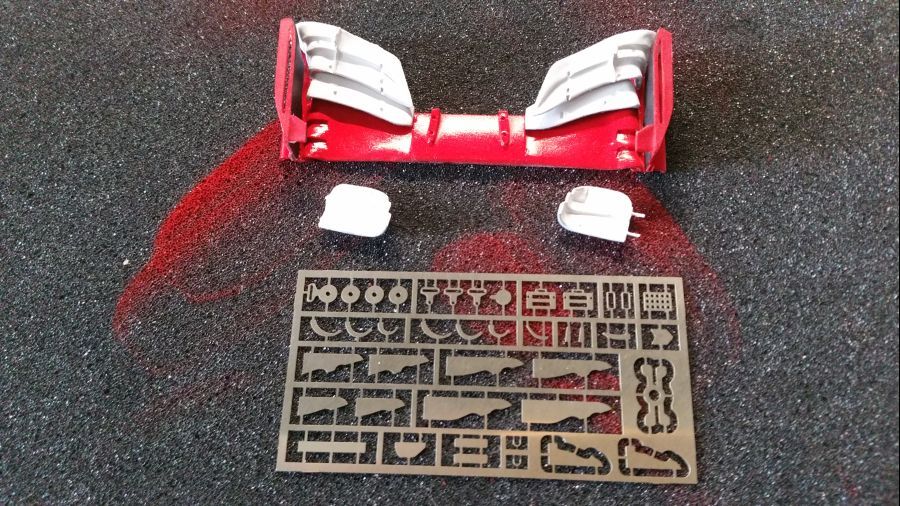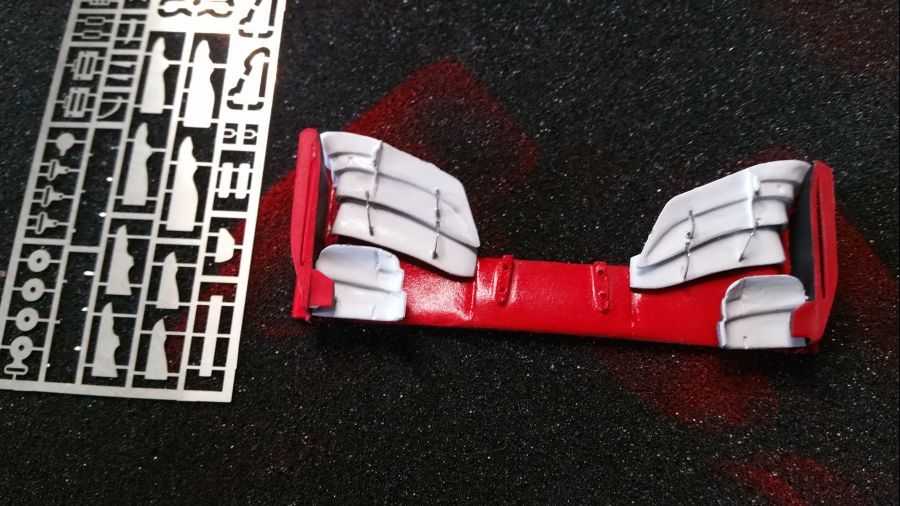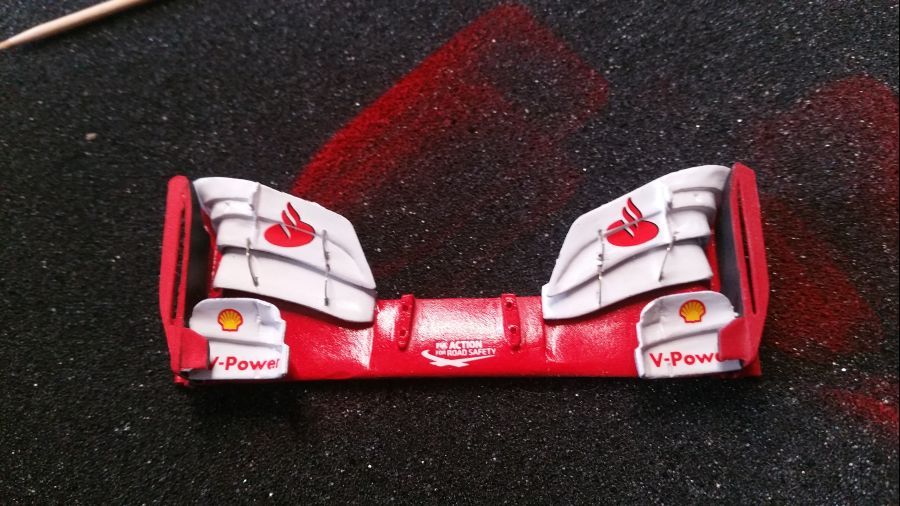 Verder met de zijplaten van de achtervleugel...
Continuing with the rear wing end plates...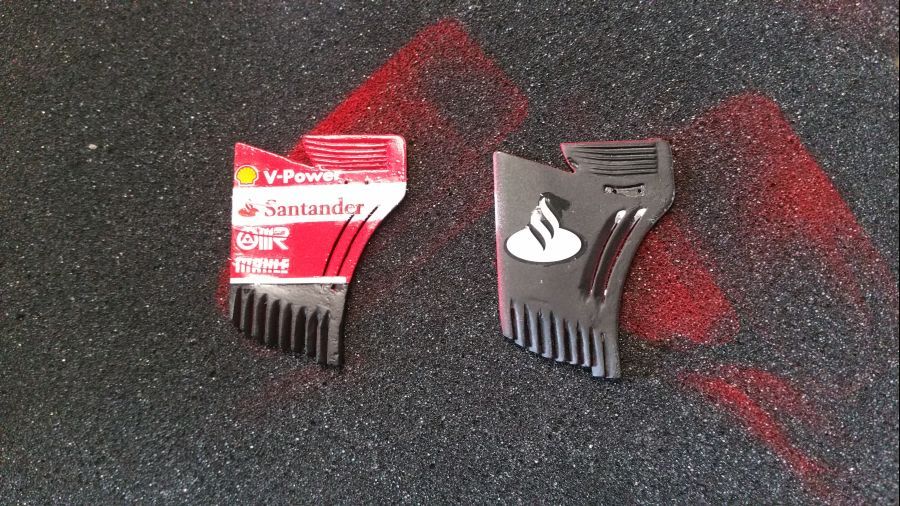 Tijd om de decals op de body te plakken. Eerst de randen, secuur werkje. Daarna de rest.
Time to apply the decals to the body. First the lines, needs attention. Then the rest.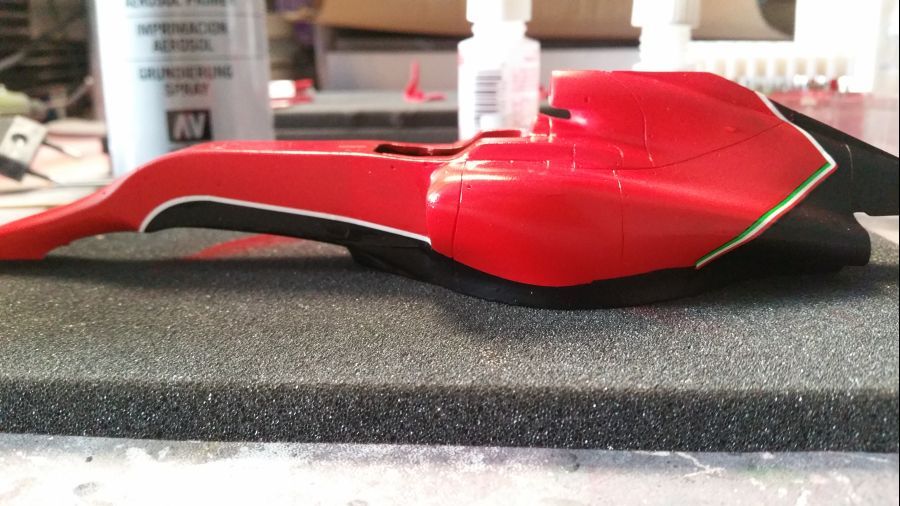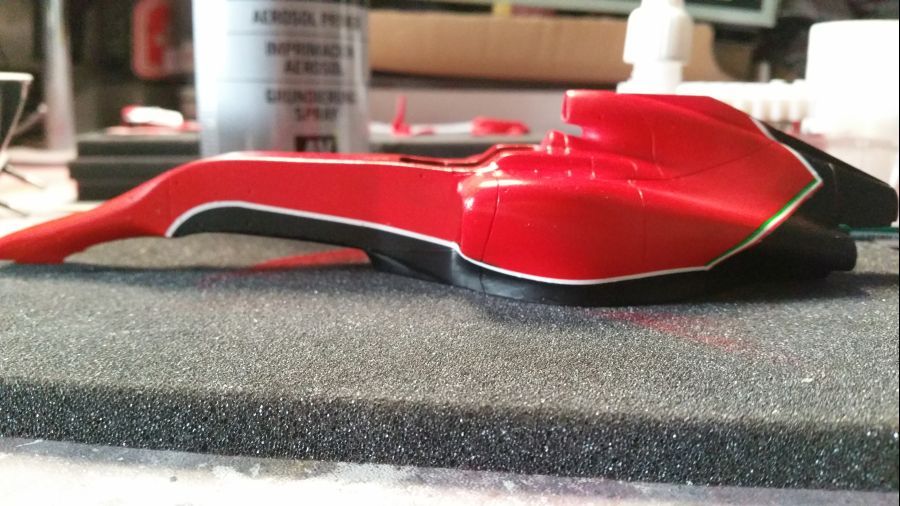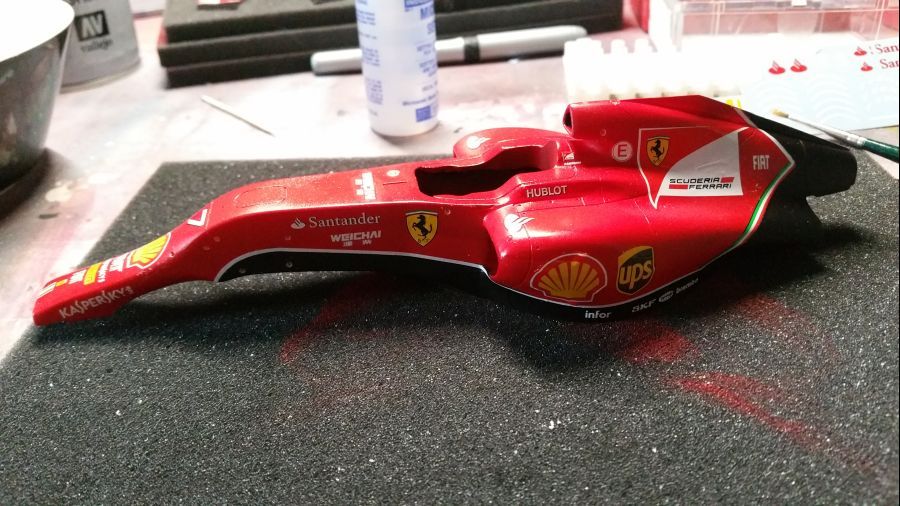 Even passen of de versnellingsbak op de vloer past..
A test fit for the gear box to the floor..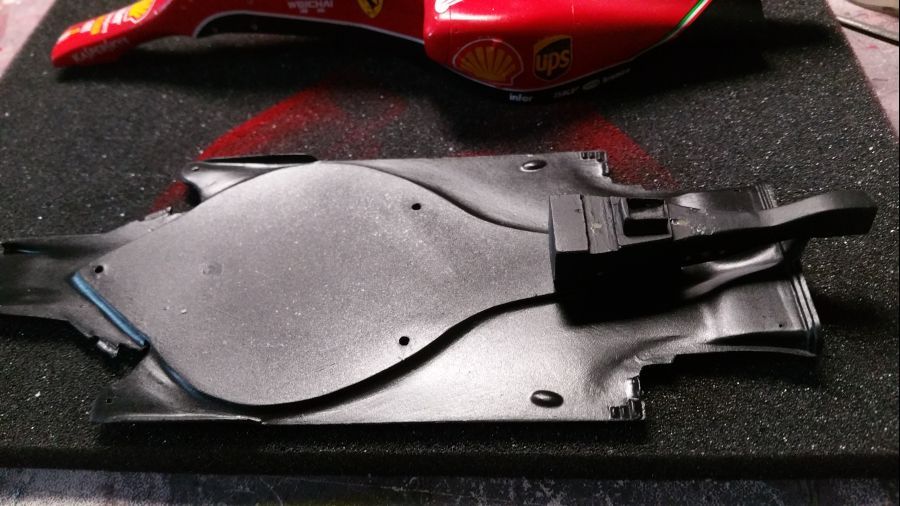 Daarna verder met de achterwielophanging en dan kan het definitief aan de vloer worden gemonteerd..
First continue with the rear wheel suspension and then it can be attached to the floor permanently..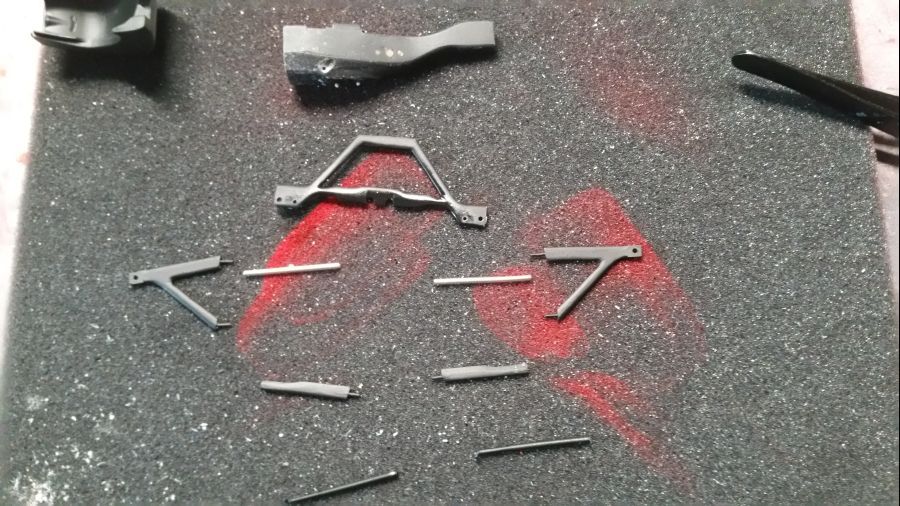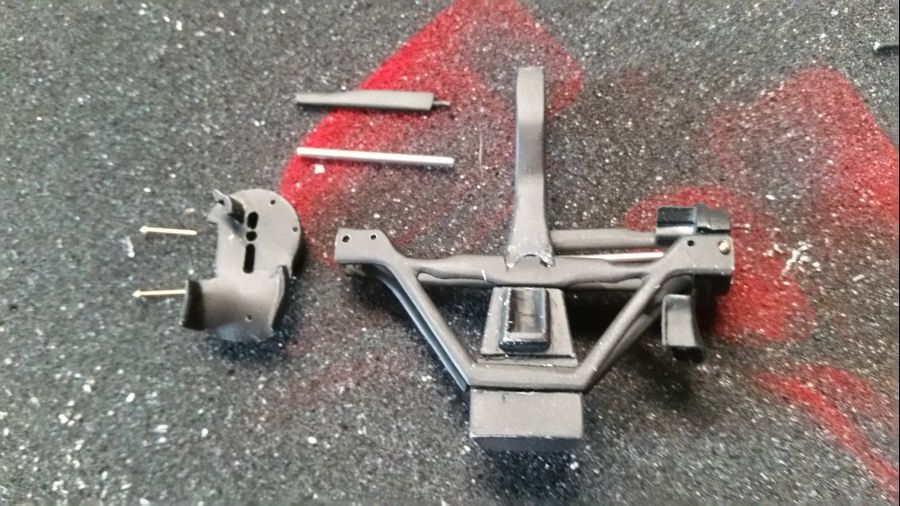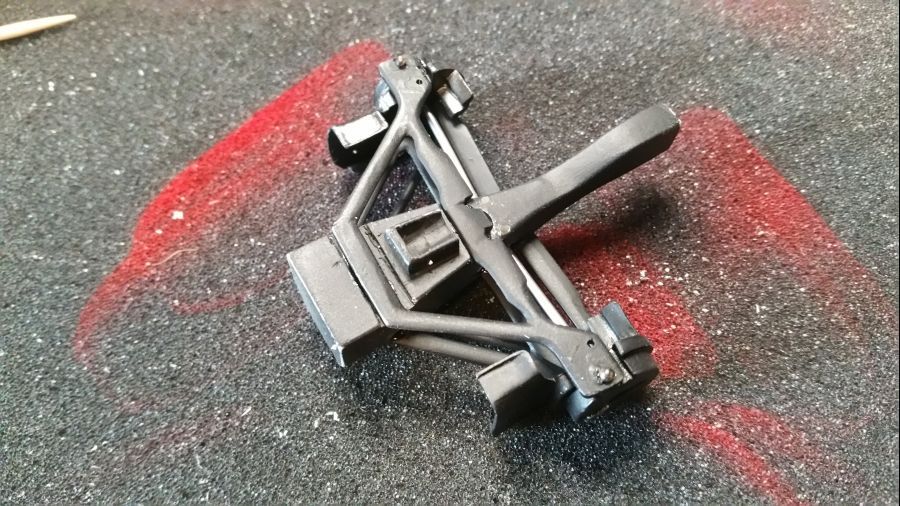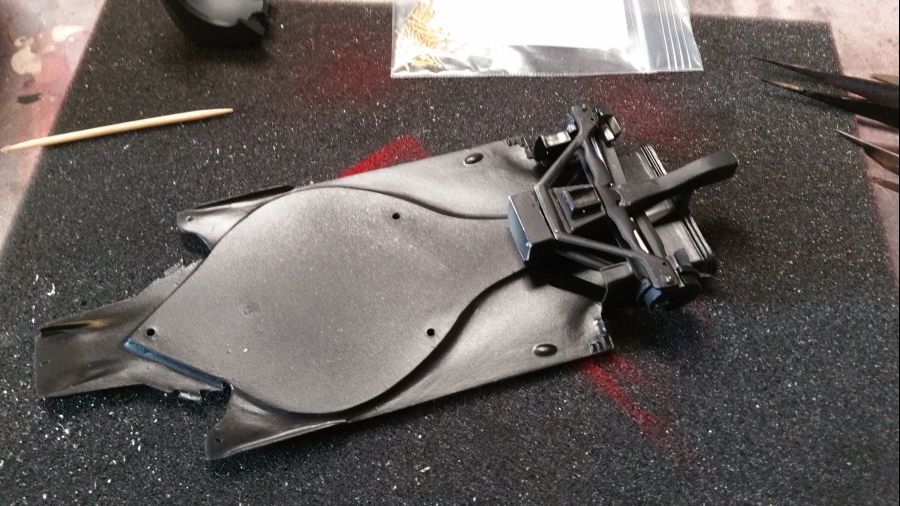 De gordels worden gemaakt met de etched gespen en 3 mm en 2 mm breed zijdeband...
The belts are made by using the etched buckles and 3 mm and 2 mm silk ribbon...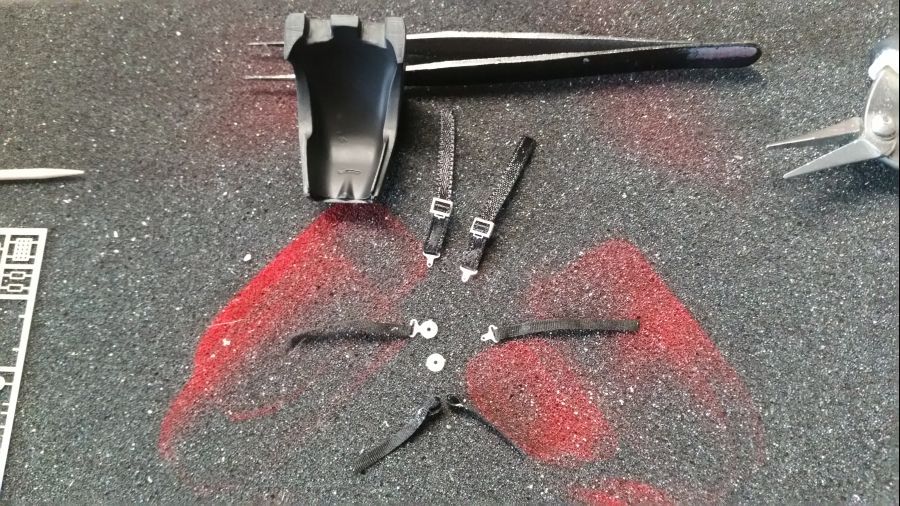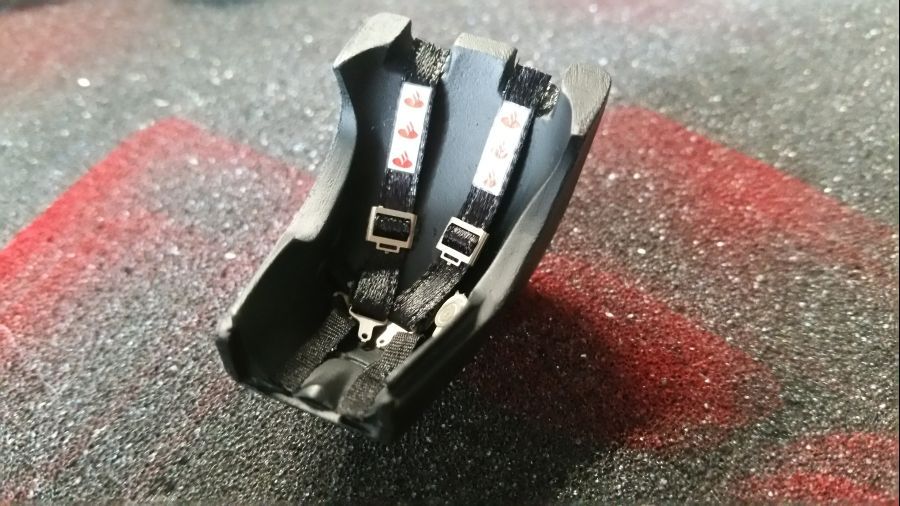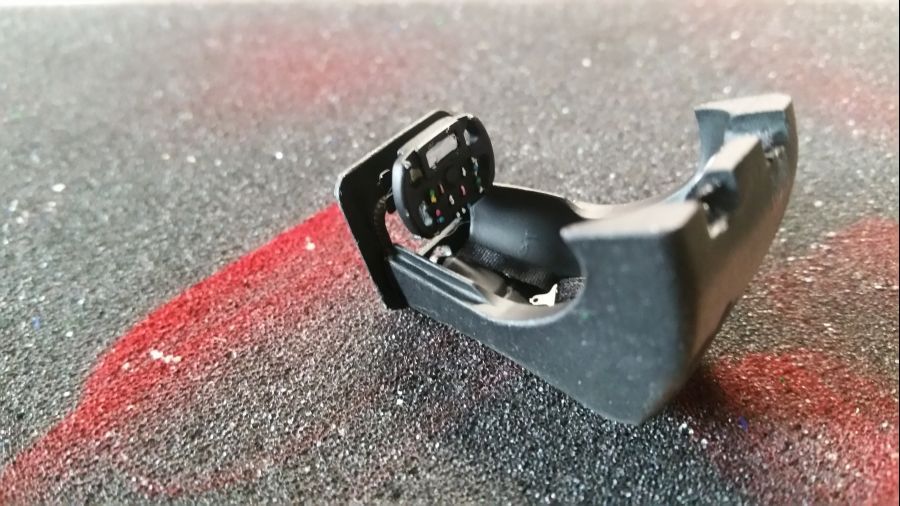 Dan wordt alles aan de vloer gemonteerd....
The everything gets mounted to the floor....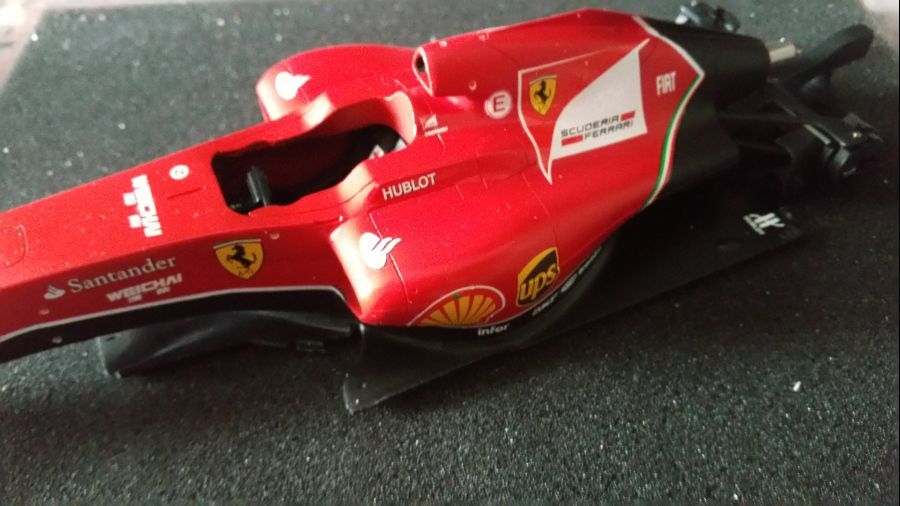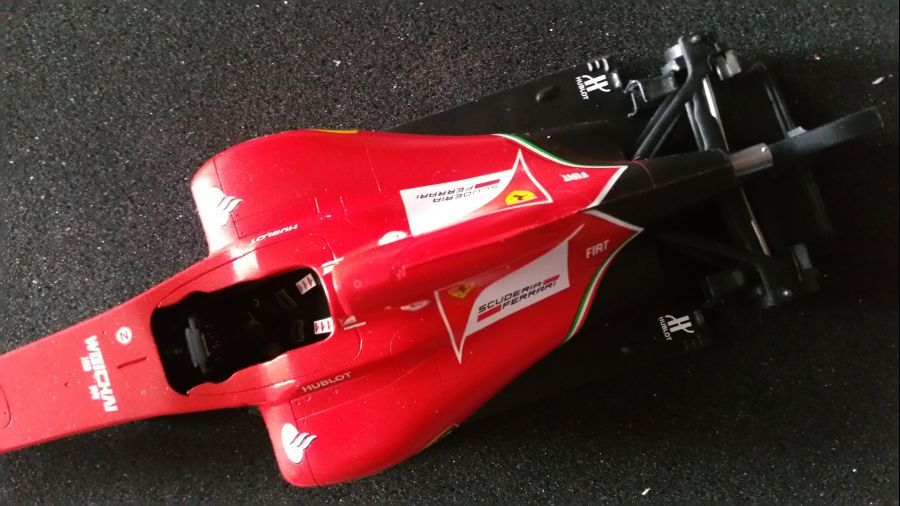 Onderdelen van de achtervleugel worden vast wit gespoten...
Parts of the rear wing are painted white...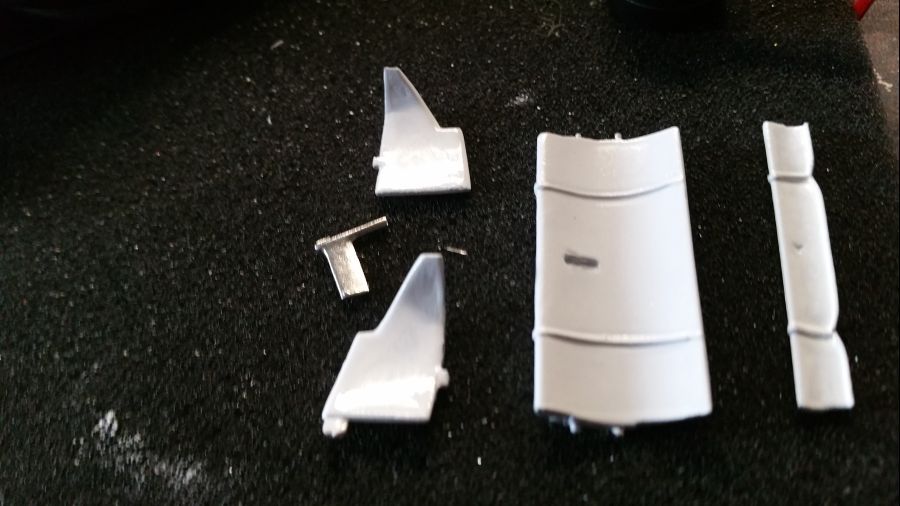 Terwijl dat droogt ga ik vast de zwarte vlakken op de zogenaamde turning vanes maken....
While this dries i will create the black parts on the so called turning vanes....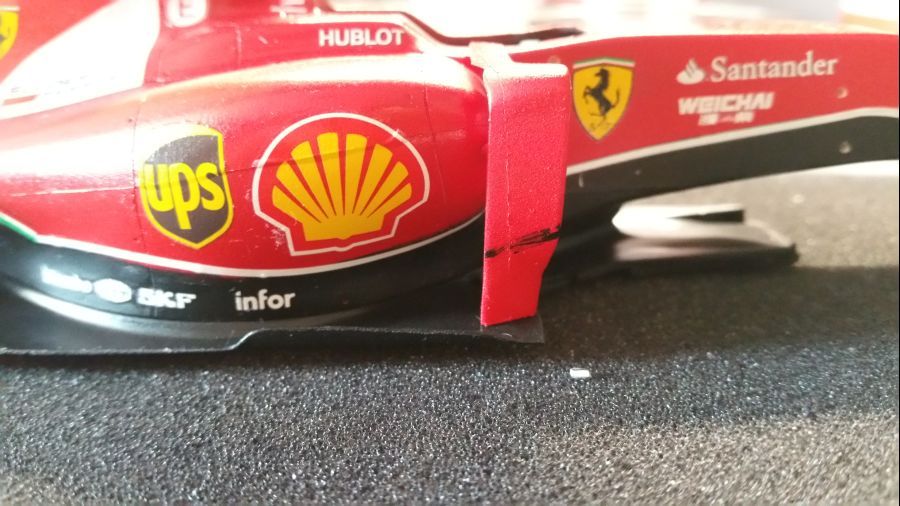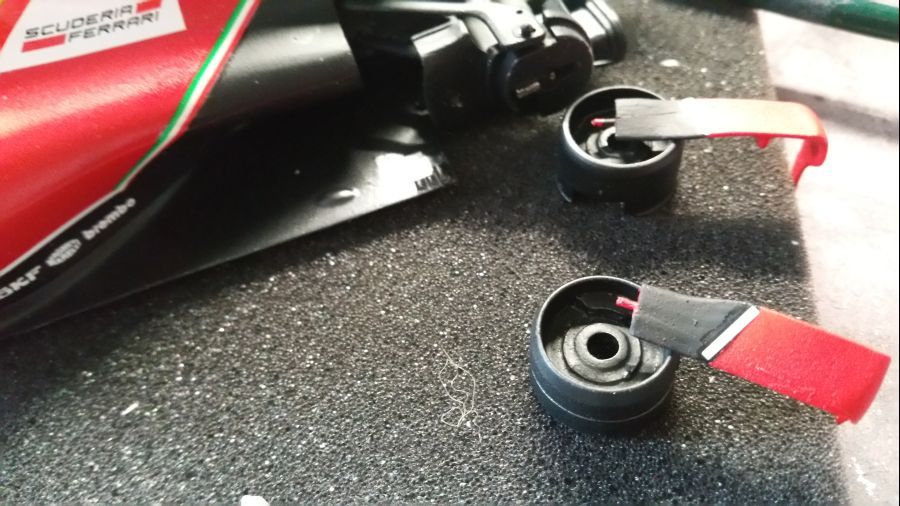 Dan is de voorwielophanging aan de beurt, eerst maar eens een test fit hoe alles in elkaar steekt. De bouwbeschrijving is zeer summier hierover.
Then it's time for the front wheel suspension. First do a test fit and see how everything sticks together. The instructions are not too clear about it.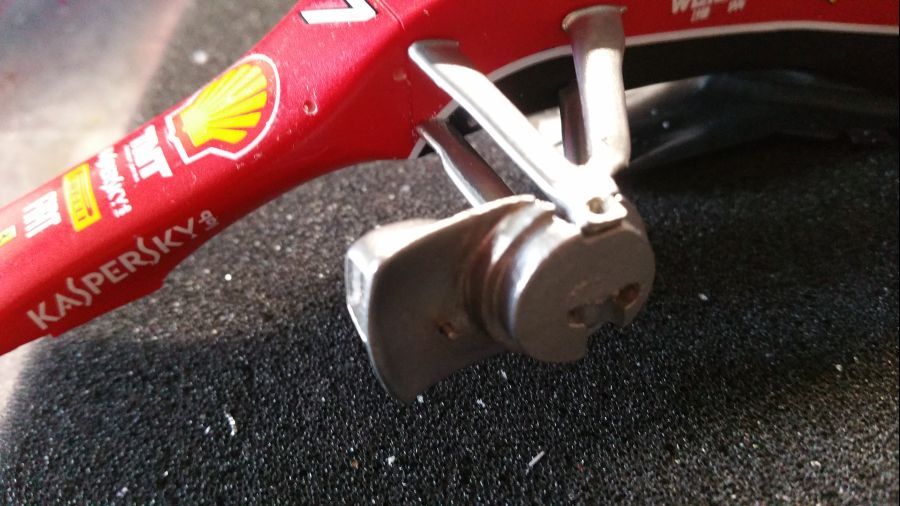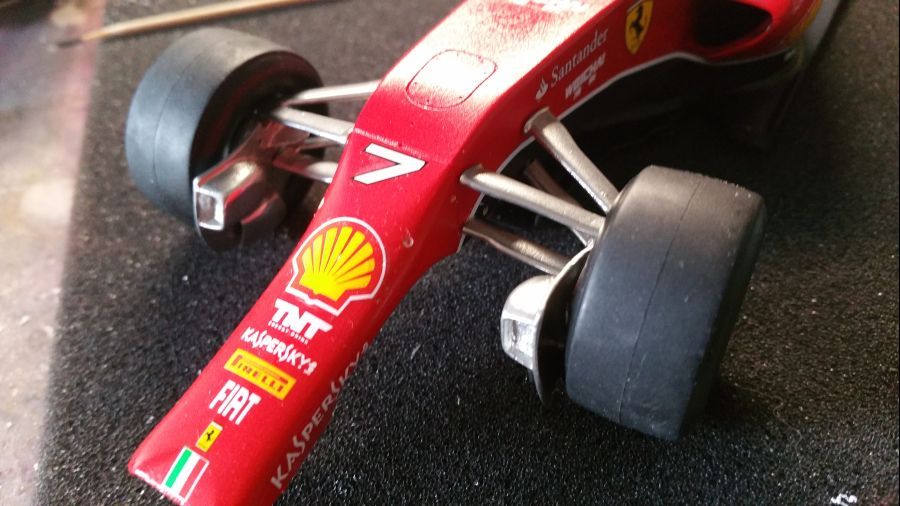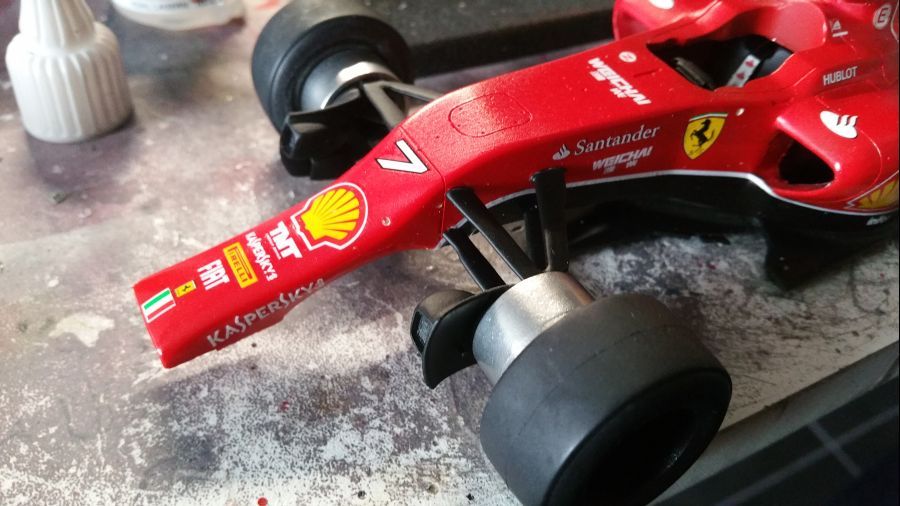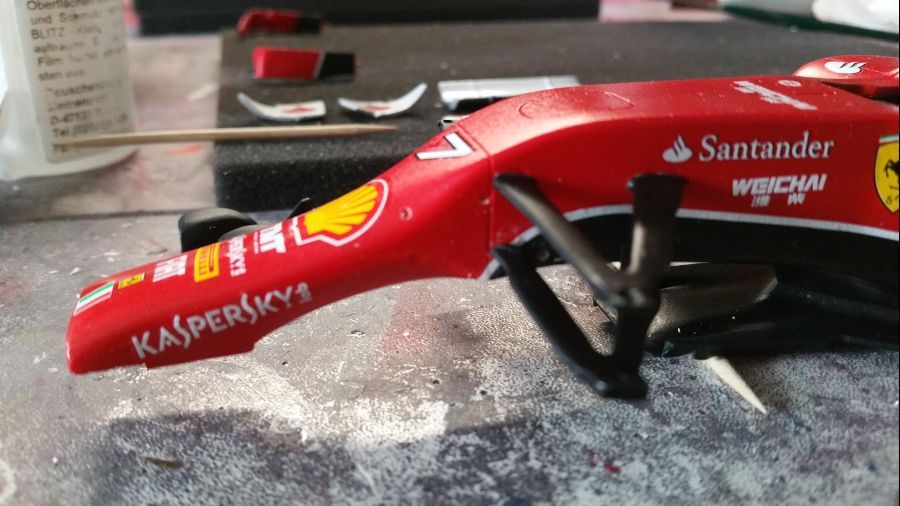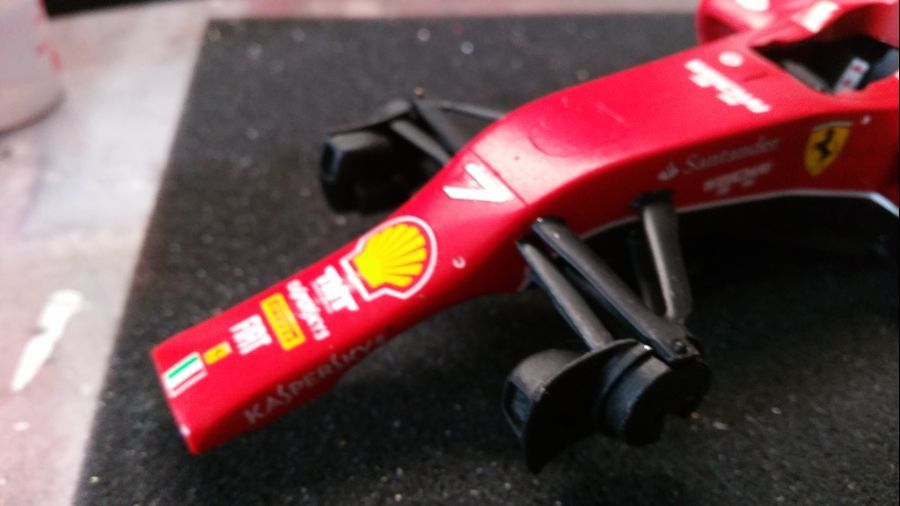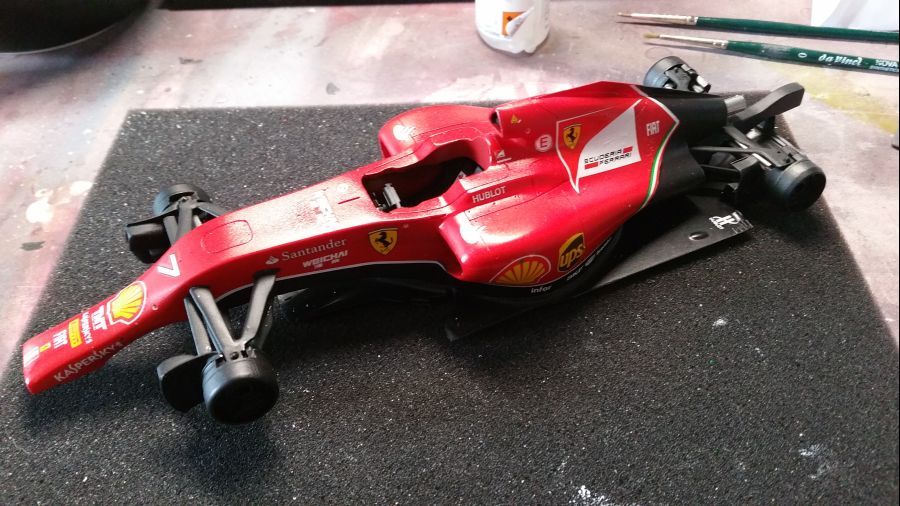 Dan de decals op de achtervleugel...
Next is the decals on the rear wing...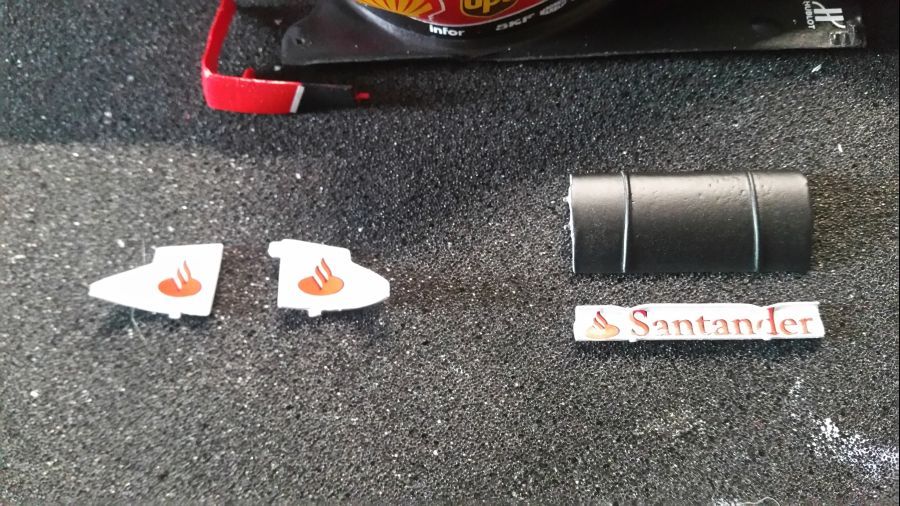 Meer kleine onderdelen zijn toegevoegd, zoals de camera, vleugelsteunen etc...
More small parts were added, like camera, supports for rear wing etc...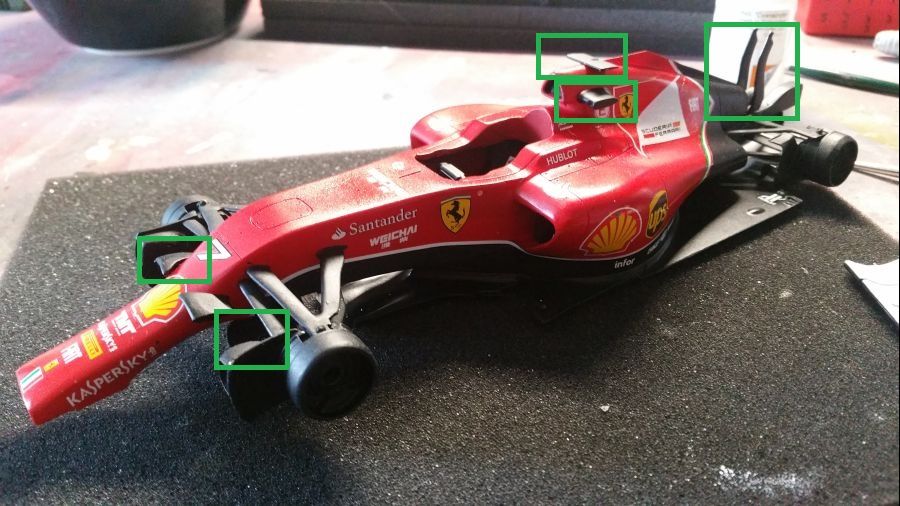 De achtervleugel wordt in elkaar gezet.
The rear wing is getting assembled.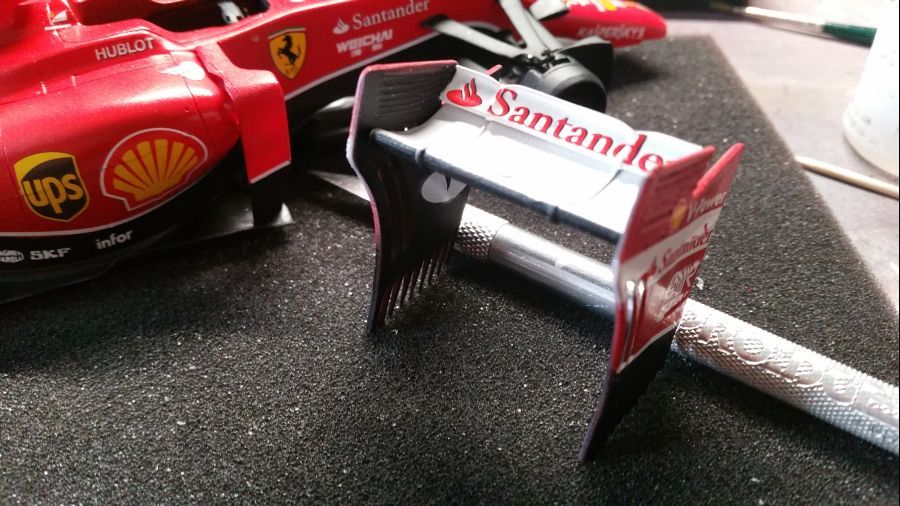 De montage was moeilijk want de vloerplaat is een beetje vervormd bij de venturi. Niet 100% dus, maar ik moet het er mee doen.
Mounting was difficult because the floor was a bit warped near the venturi. So not 100%, but i will have to do.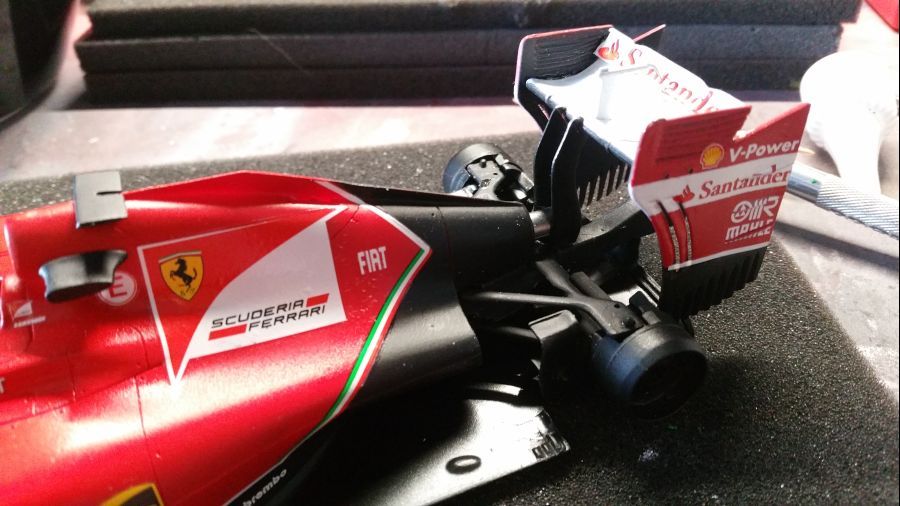 Dan de wielen...
Then the wheels...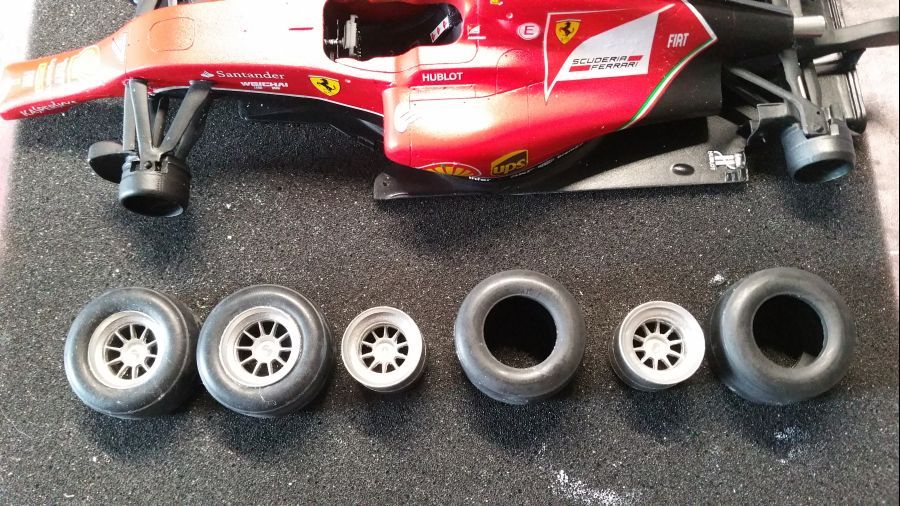 Eerst worden de loopvlakken ruw gemaakt.
First the tires will be made rough.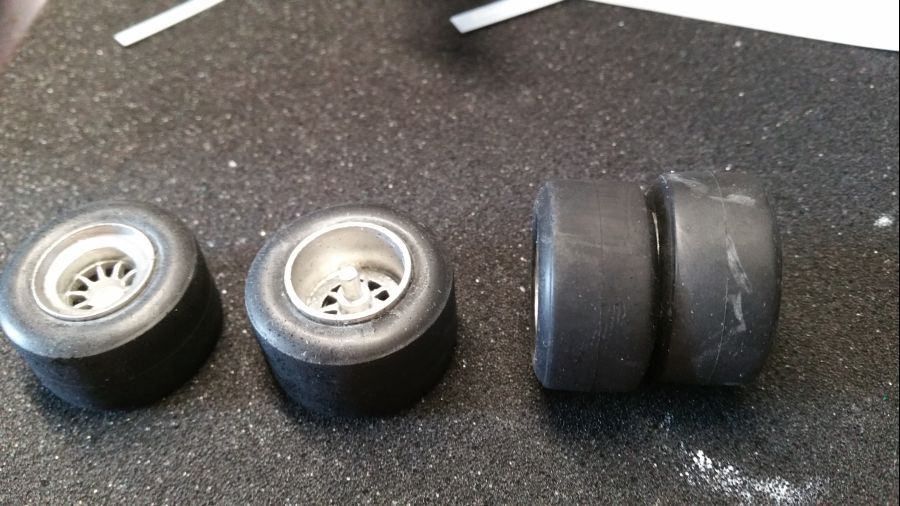 Alle decals zitten er aan de buitenkant op. Er zijn niet genoeg voor de binnenkant. Ik weet niet precies wat de bedoeling is. Aleen aanbrengen wat je nog ziet aan de bovenkant over de neus heen? Dat ga ik maar doen.
All decals have been applied to the outside. There are not enough to do the inside as well. I don't know what they were thinking. Just apply them at the top of the rim so you will see them over the nose section? That's what i will do.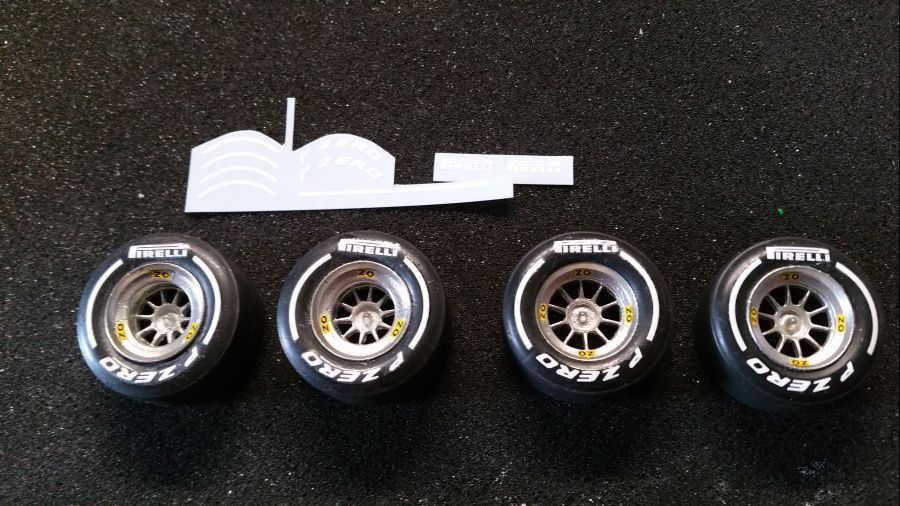 Dus 4x een andere binnenkant...
So 4x another inside...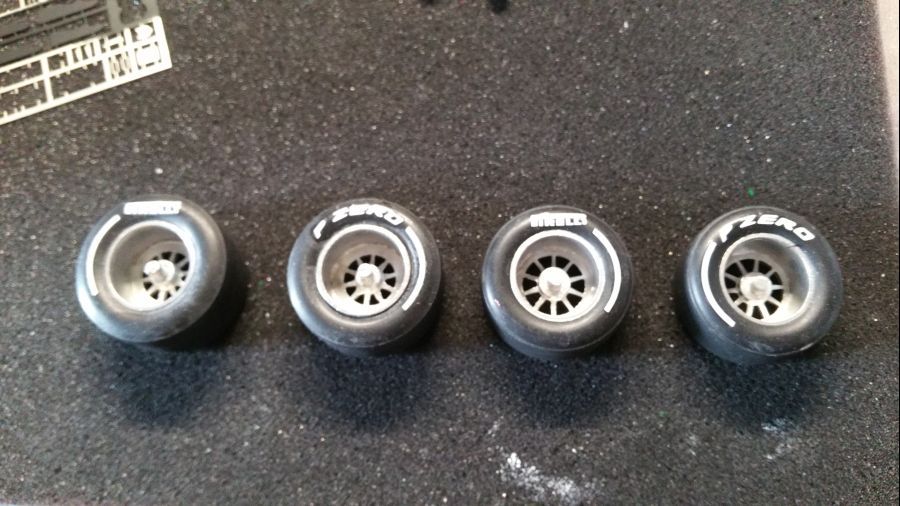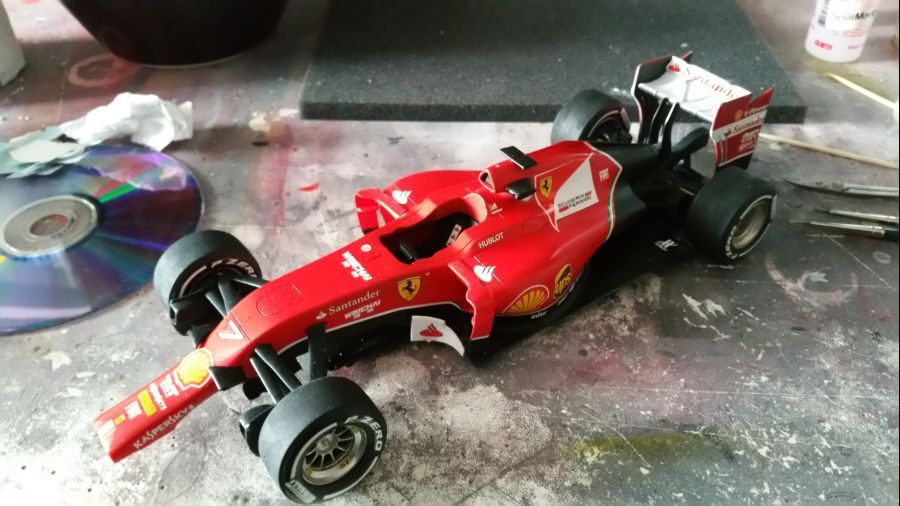 Meer kleine onderdelen zijn toegevoegd...
More small parts were added...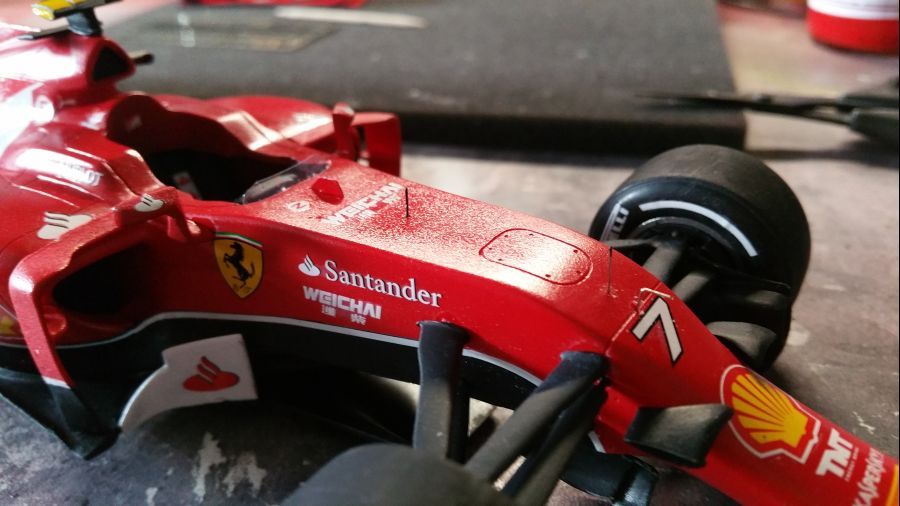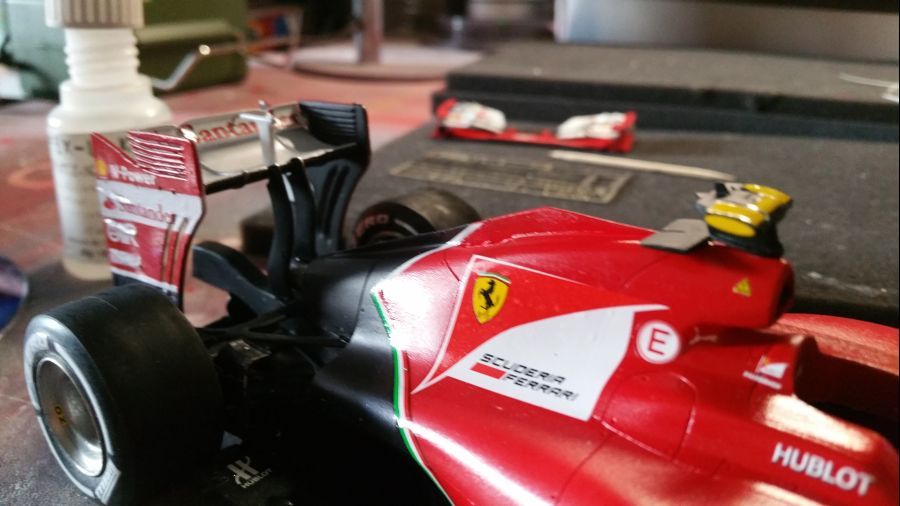 Meer windgeleiders onder de voorvleugel...
More fairings under the front wing...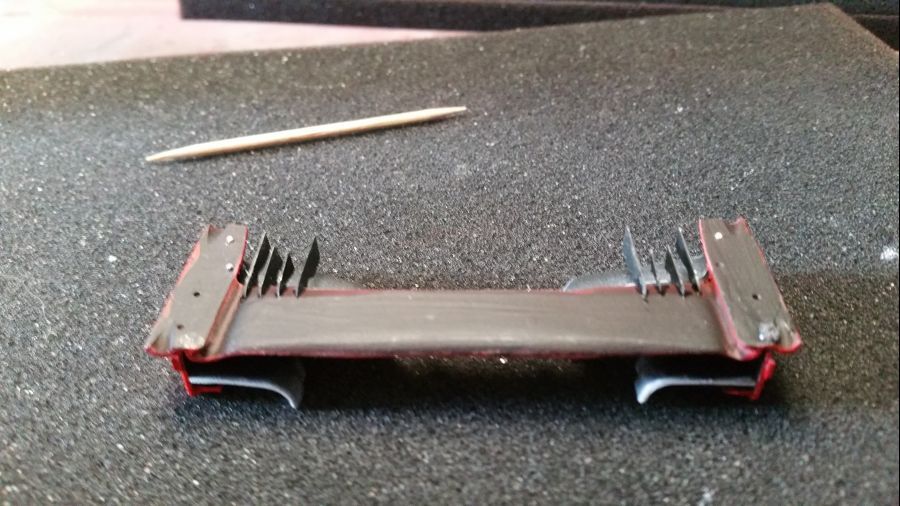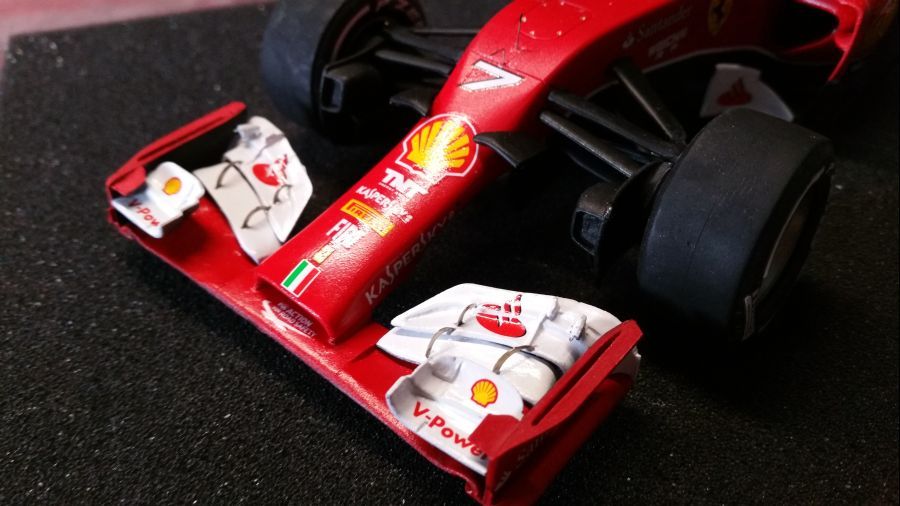 En...... op de plank...
And..... to the shelf...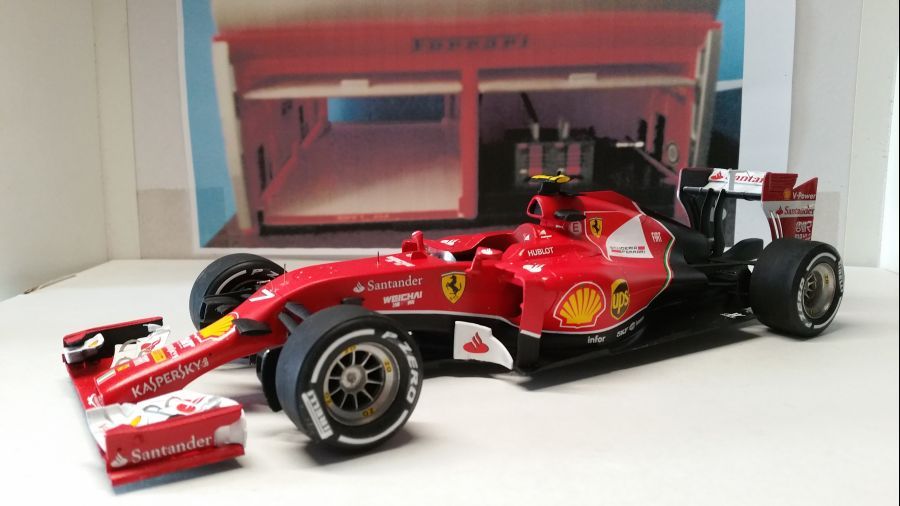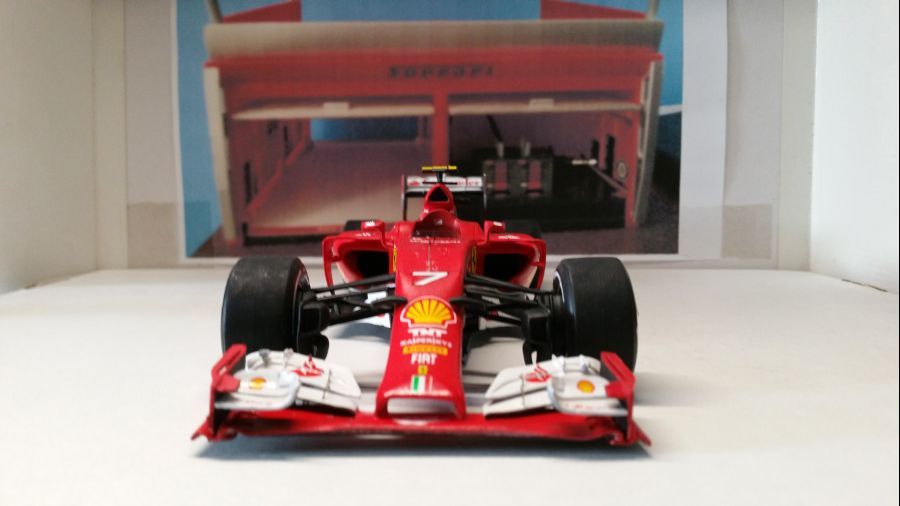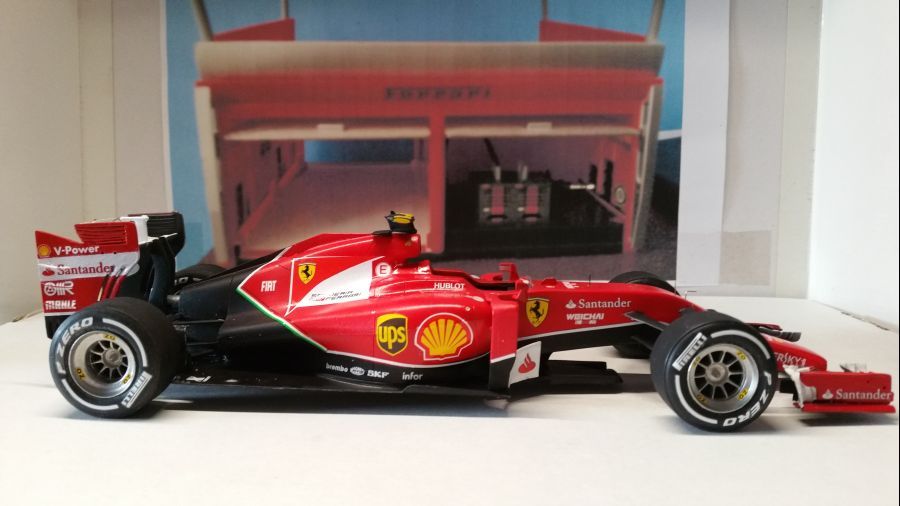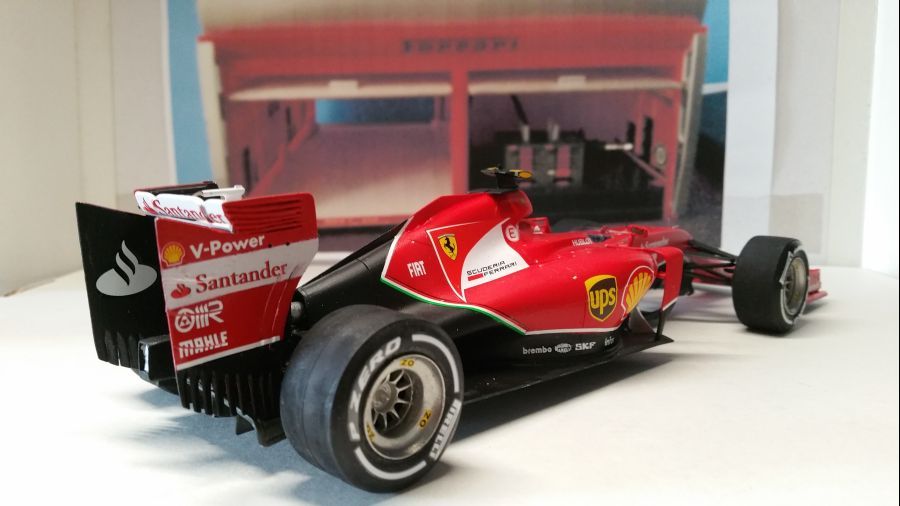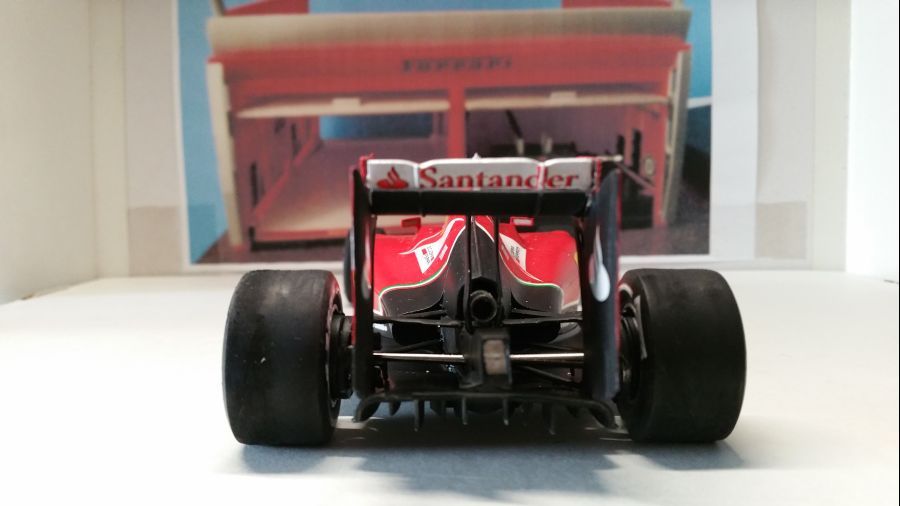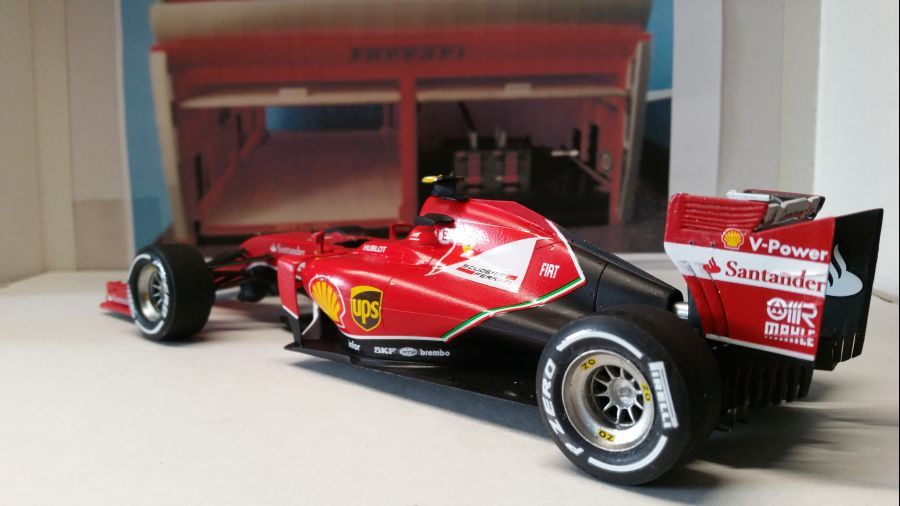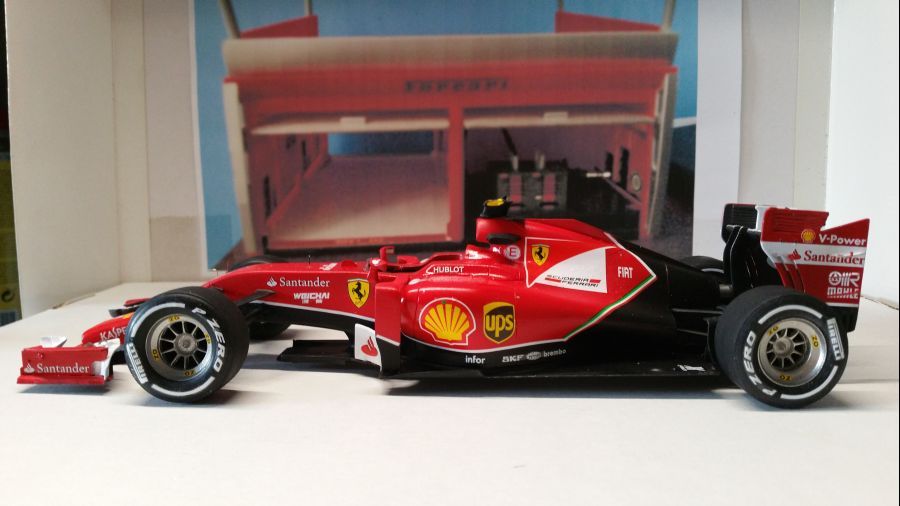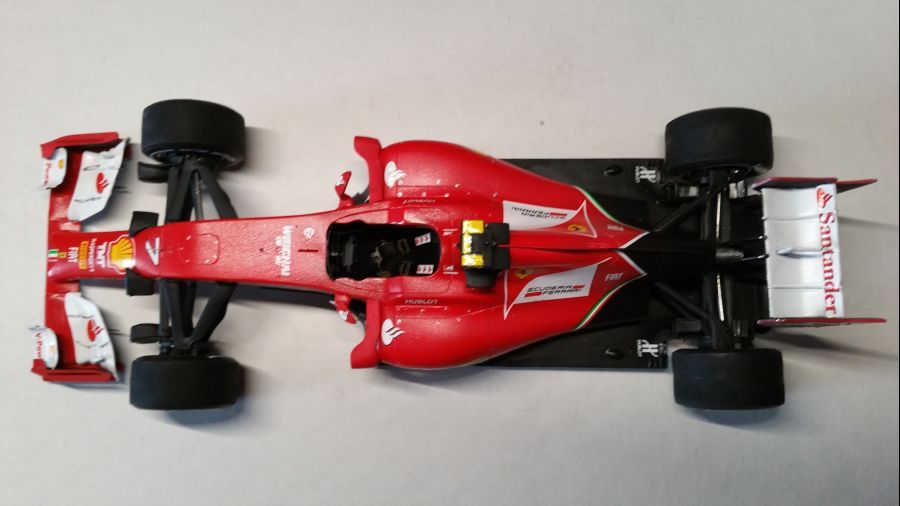 Dus de punten van aandacht. De bodem kan ter hoogte van de venturi wat vervormd zijn, sommige pennetjes om de onderdelen aan de body te bevestigen zijn zwak, de decals voor de banden zijn niet volledig.
So the points of attention. The floor can be warped near the venturi, some pins to connect the parts to the body are fragile, the decals for the tires are not complete.