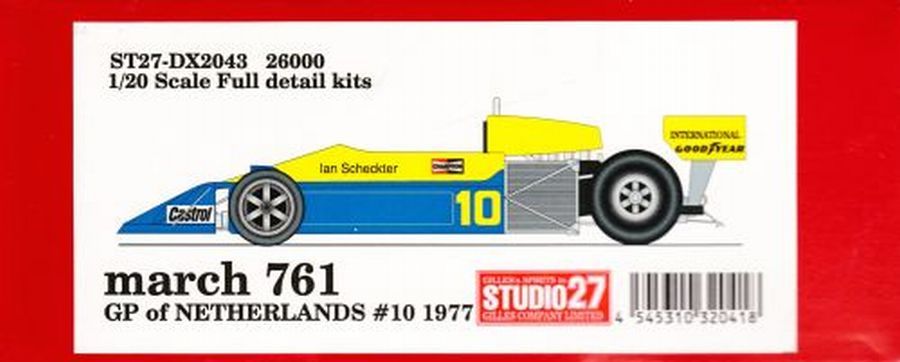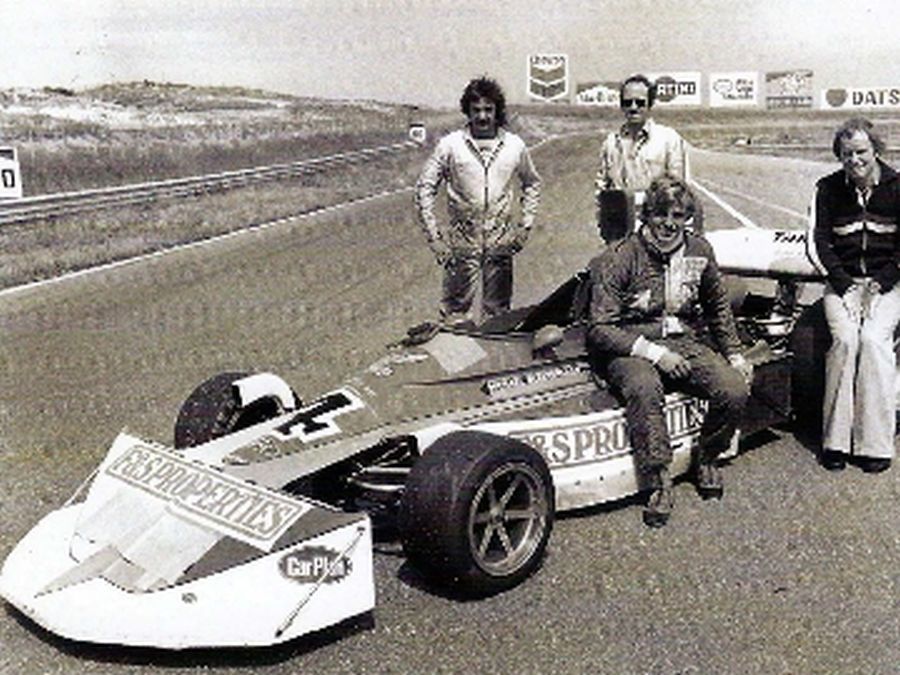 Dit is een project wat ik voor lange tijd heb uitgesteld. Simpelweg omdat het op Google een chaos is om goede foto's te vinden over deze wagen. De Penske PC3 lijkt sprekend op de March 761. Daarnaast wordt bij het 'Googlen' met regelmaat een wagen van Boy Hayje getoont in plaats van de March 761 van Michael Bleekemolen. Gelukkig heb ik vrienden op Facebook (Hans Hulsebos) die mij wat foto's hebben gestuurd, maar zelfs nu ben ik nog niet zeker of Bleekemolen in deze wagen heeft gereden. Bleekemolen reed op Zandvoort met een andere neus. Een vriend van het F1M-forum (JamesB) heeft de decals voor mij gemaakt. Daar ben ik uiteraard zeer blij mee. Wat moet je zonder zulke mensen, die net als jij zo begaan zijn met deze sport. Eerst weer zoals gewoonlijk de foto's van de inhoud van de kit en de door JamesB geleverde decals.
This is a project i postponed for a long time. Simply because there are no good pictures to find when you Google this car. The Penske PC3 looks very much like the March 761. When you 'Google' the March 761, often you see the Boy Hayje car instead of the Michael Bleekemolen car.  Luckily i have friends on Facebook (Hans Hulsebos) who was able to send me some pictures, and even now i am not sure Bleekemolen drove this car. He drove at Zandvoort in a car with a different nose. A friend of mine on the F1M-forum (JamesB) made these decals for me. Of course i am very happy. What should one do without these people who share the same passion for this sport. First, as always the pictures of the content of the kit, and the decals supplied by JamesB.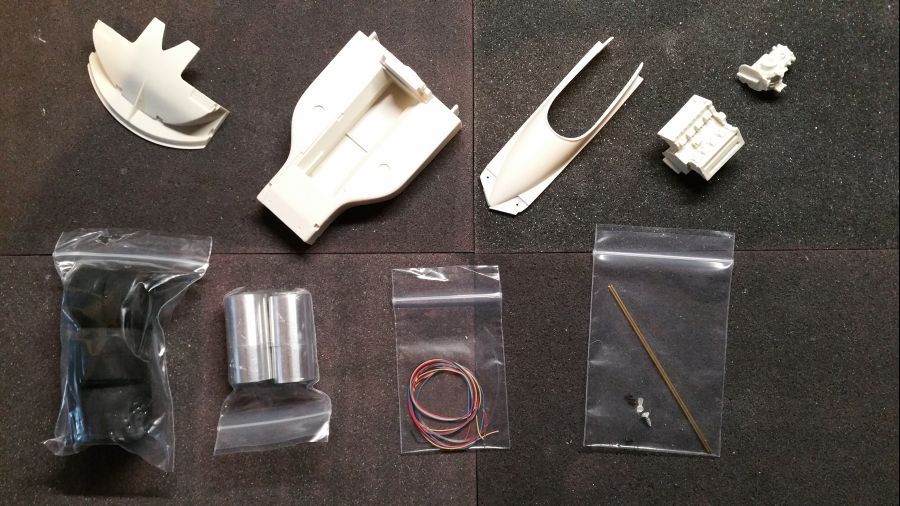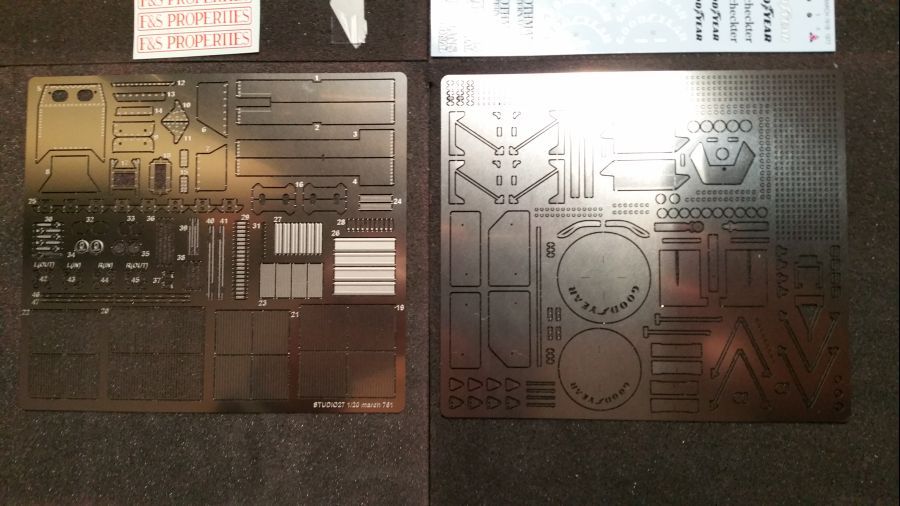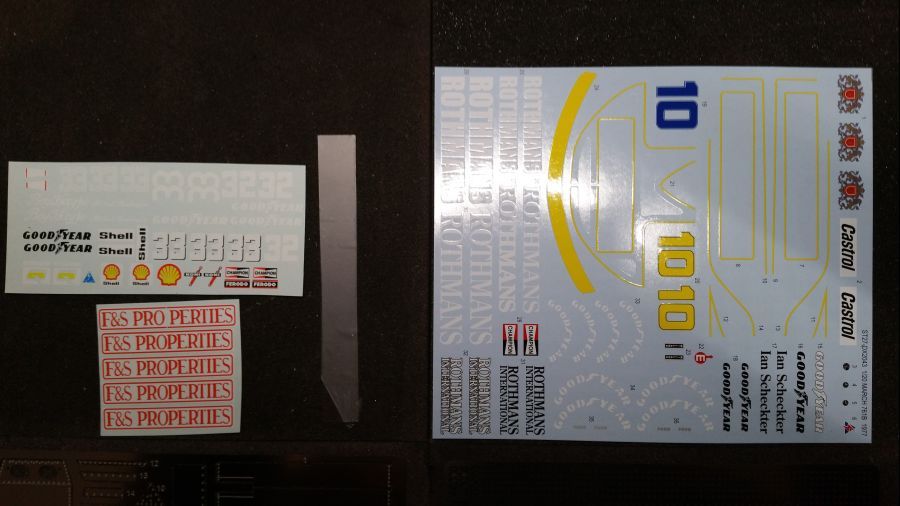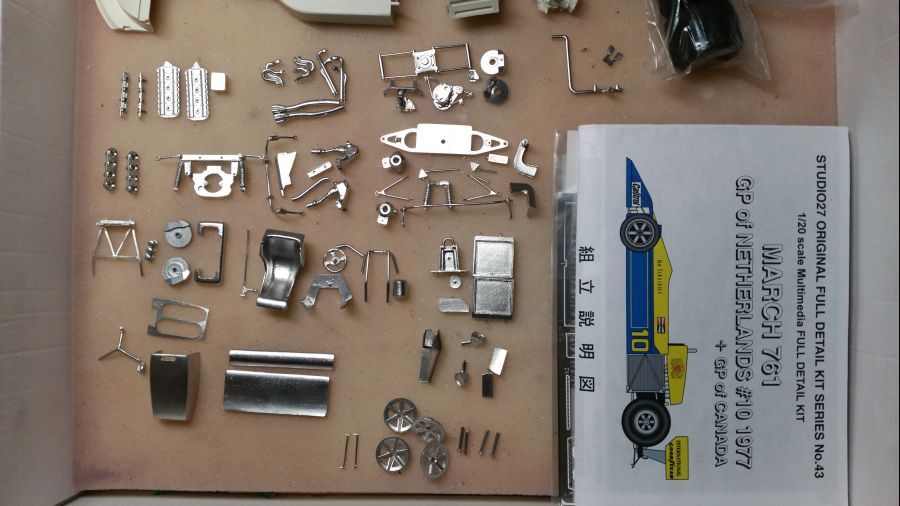 De eerste stappen aan de motor. Een stukje afval verwijderen, daarna de motor spuiten en de kleppendeksels aanbrengen en wat kleine details.
The first steps to the engine. Cut off a piece of trash, then paint the engine and attach the covers and some minor detail.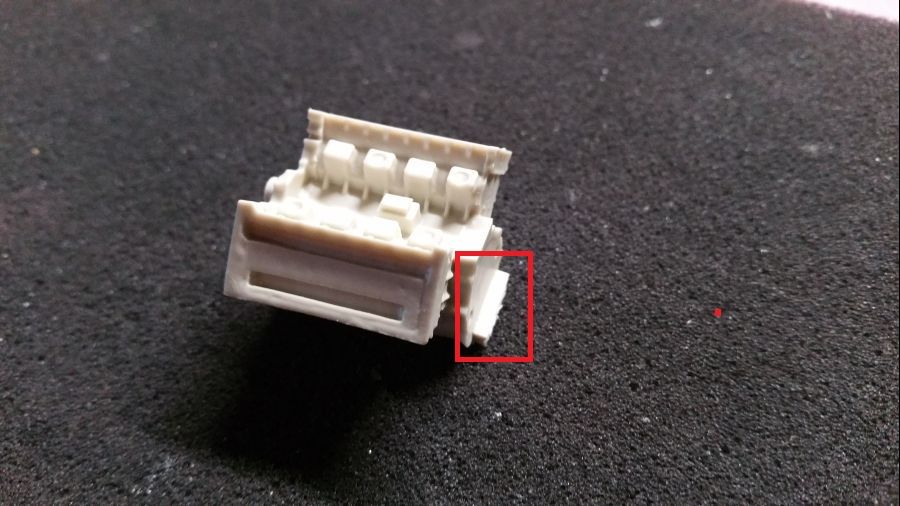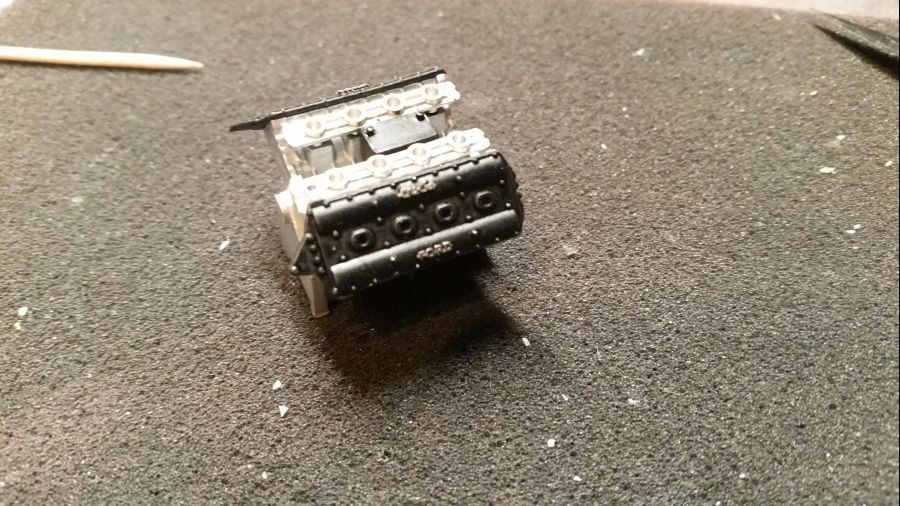 Dan de eerste fout in de tekening. Alle onderdelen heb ik op nummer gelegd. Dan zie ik dat onderdeel M45 een R heeft voor rechts en onderdeel M49 een L voor links. Volgens de tekening worden ze echter precies aan de verkeerde kant geplaatst. Opletten dus. Verander dus blauw en groen.
Then the first mistake on the instructions. I have put all parts numberwise. Then i noticed part M45 has a R on it to be ttached on the right and parts M49 a L to be attached on the left. According to the drawing they are attached to the wrong side. So take care. Change blue and green.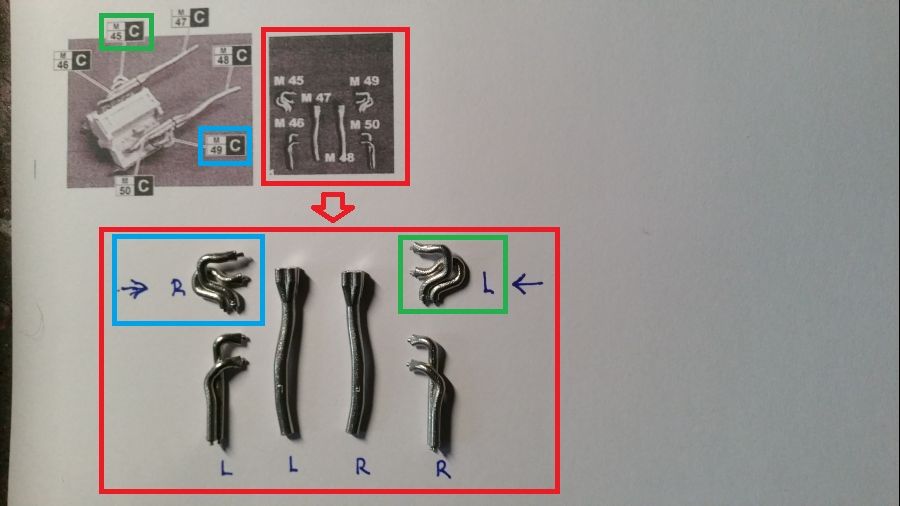 De uitlaten worden in elkaar gezet en bewerkt met helder geel, helder oranje, helder rood en helder blauw om de hittevlekken te simuleren. Ook krijgt de motor een wash met bruine olieverf om het wat te verouderen.
The exhausts are combined and painted with clear yellow, clear orange, clear red and clear blue to simulate the heat stains. Also the engine gets a wash with brown oil paint to make it look a bit older.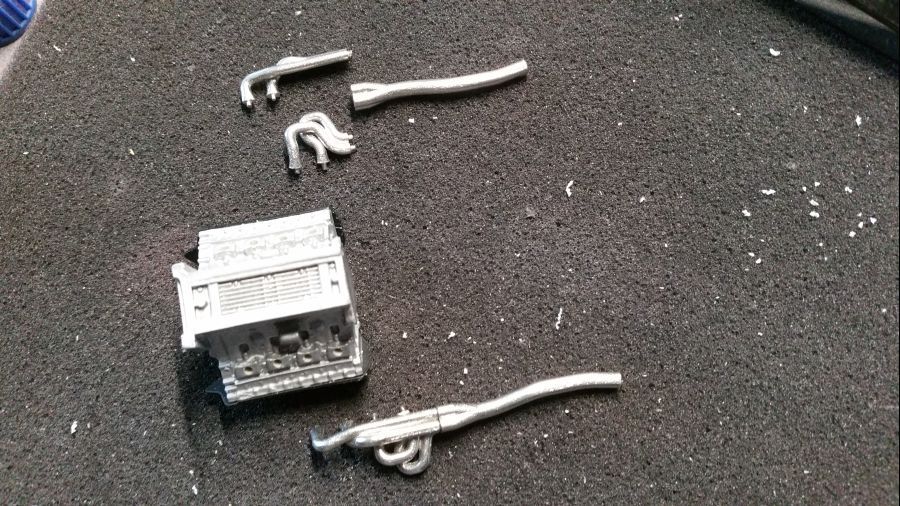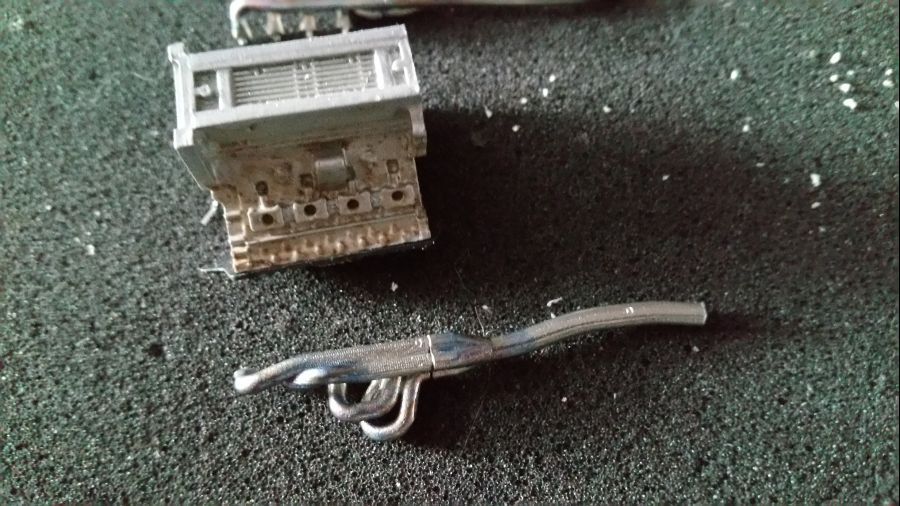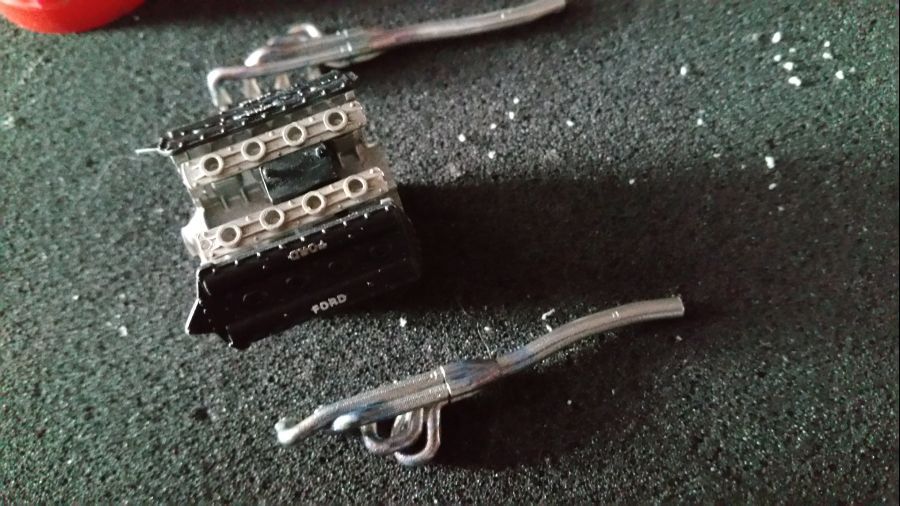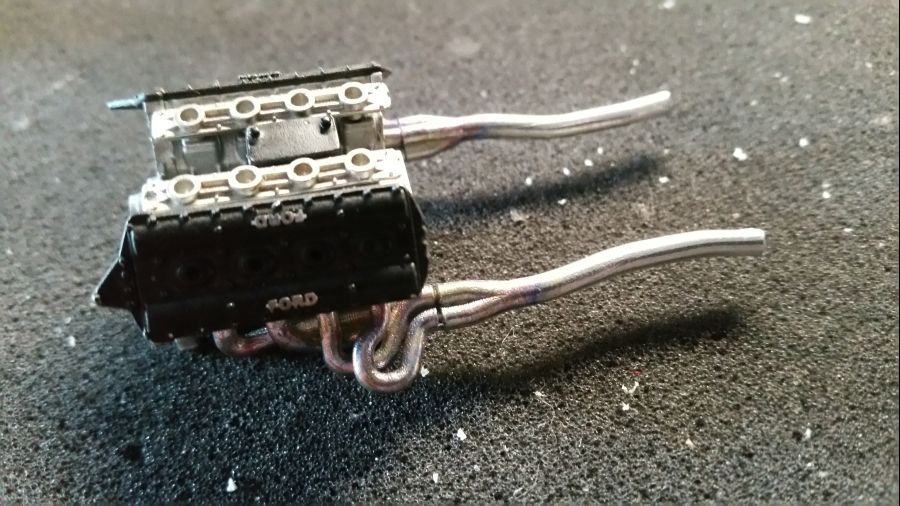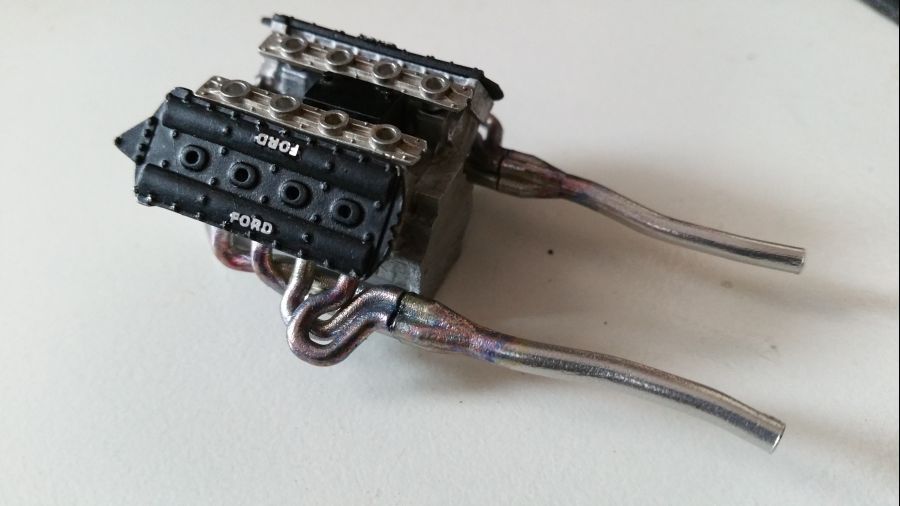 Dan is de versnellingsbak en de aandrijving aan de beurt. De remschijven worden uitgeboord en met Tamiya roestpoeder bewerkt.
Next is the gear box and suspension. The brake discs are drilled and covered with Tamiya rust powder.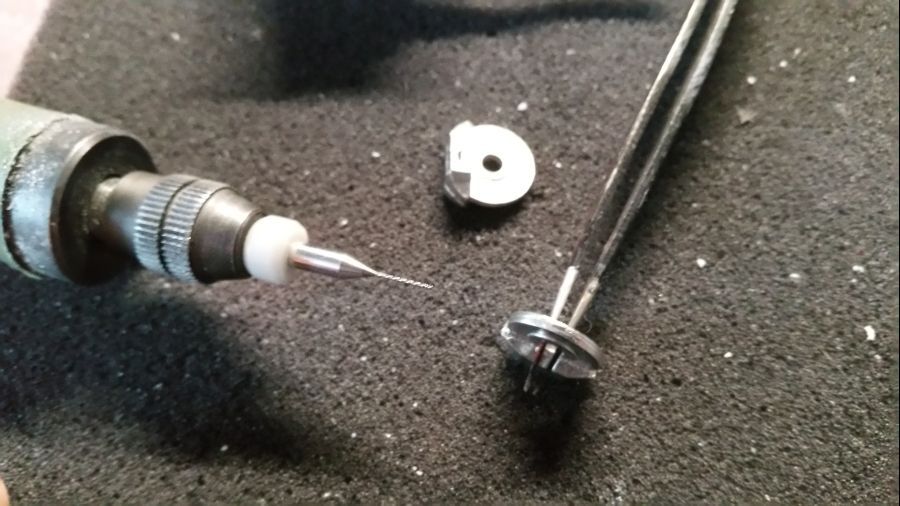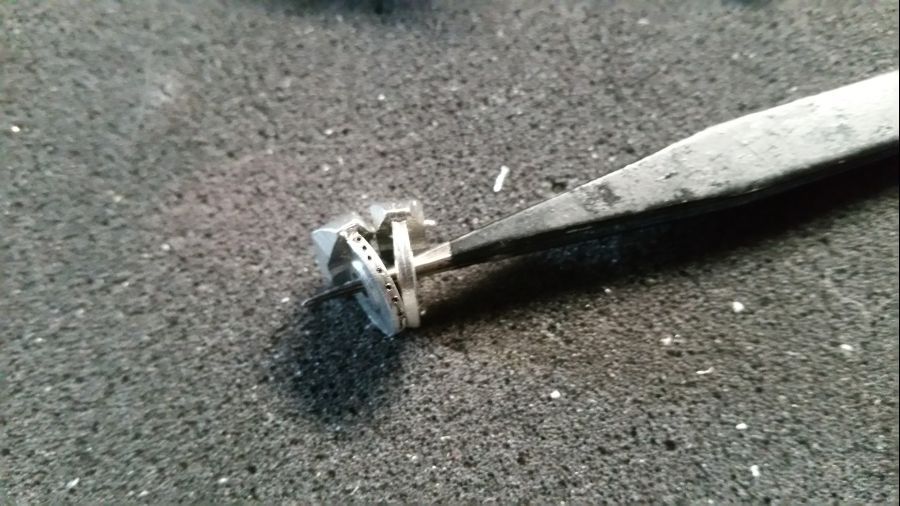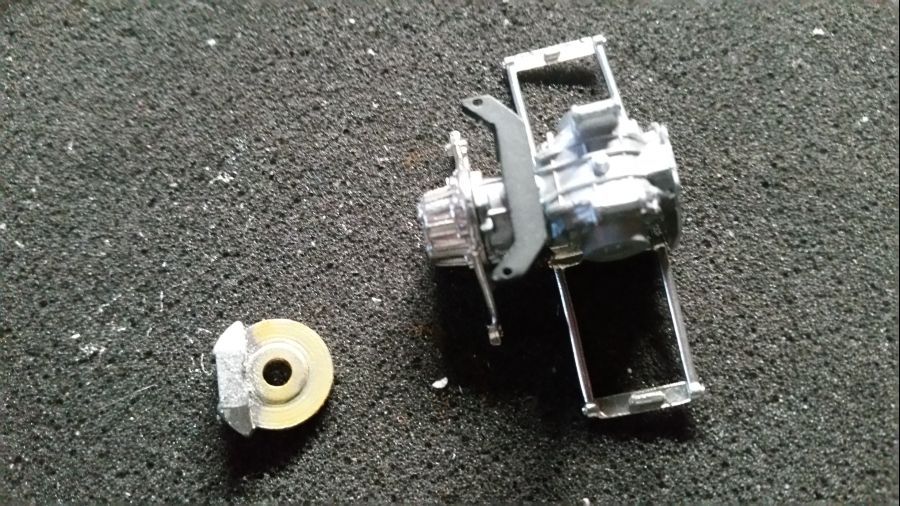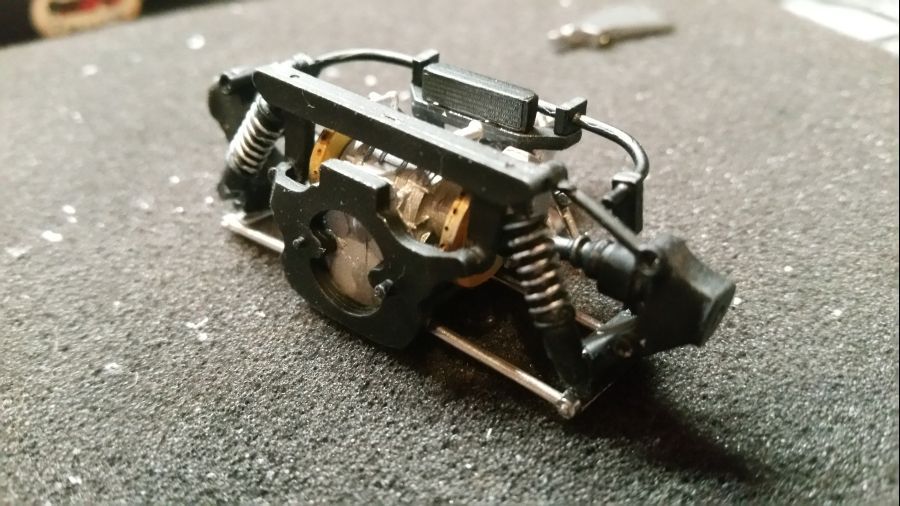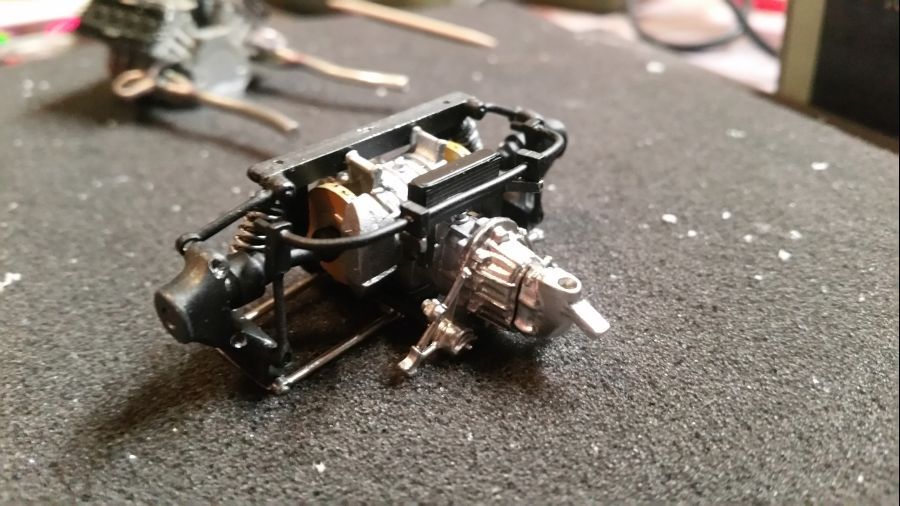 Nadat ook de versnellingsbak een wash heeft gekregen met bruine olieverf, wordt dit deel verbonden met de motor. De vleugelsteun wordt gemonteerd en er wordt wat bekabeling en slangen aangebracht.
After giving the gear box a wash with brown oil paints as well, this part gets to be connected with the engine. The wing support is being attached and some wiring and plumbing will be done.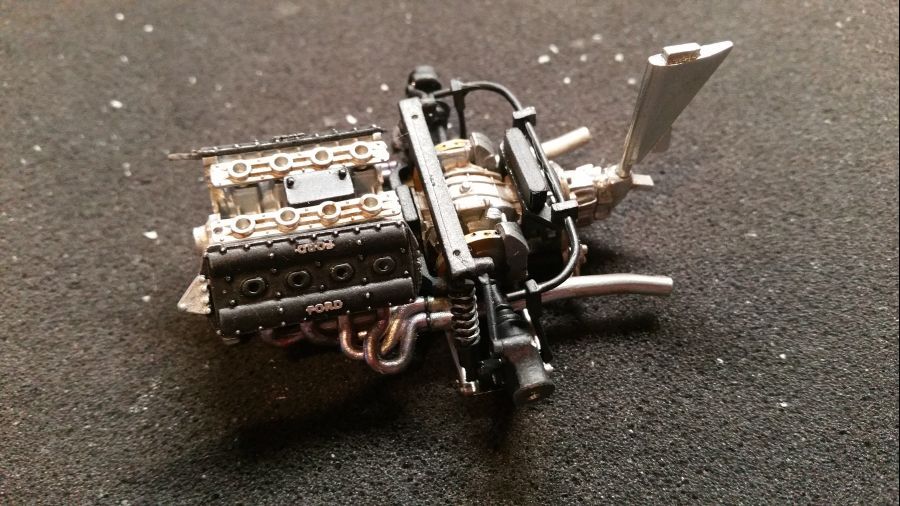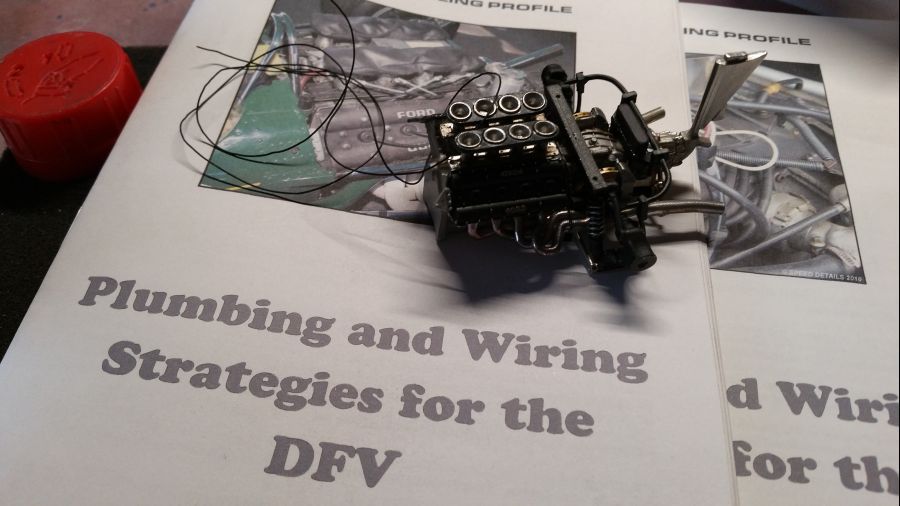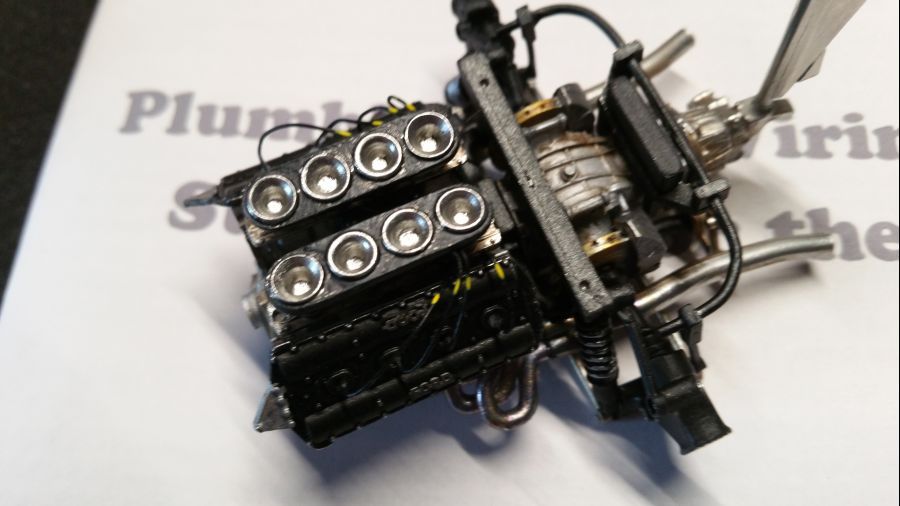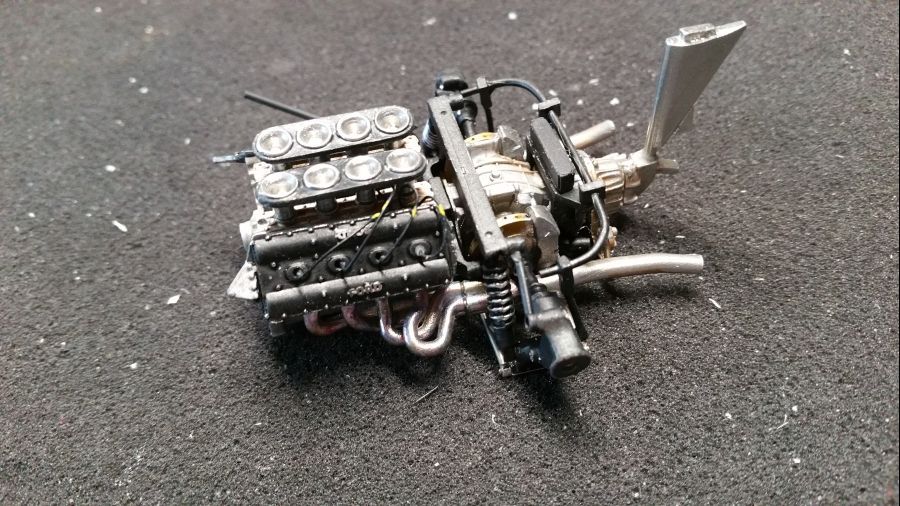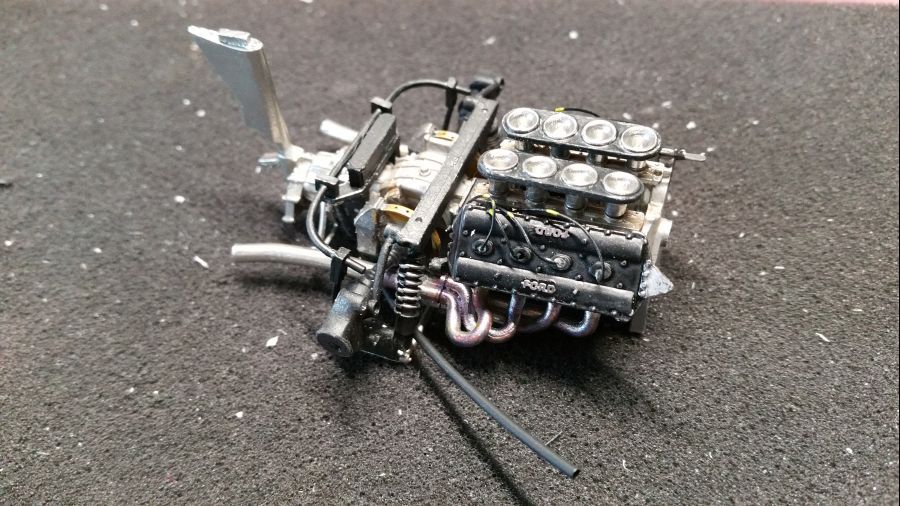 Het bodywerk wordt gespoten met grondverf.
The body work has been painted with primer.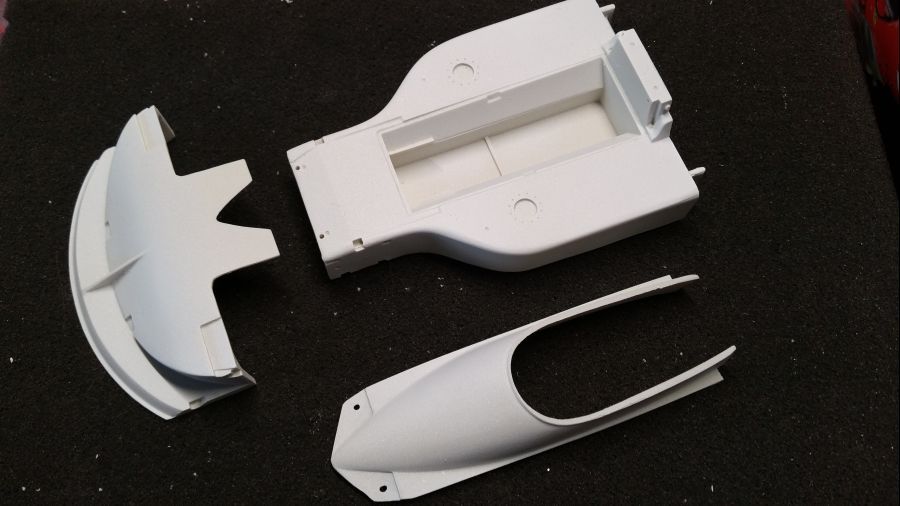 Zilver aan de binnenkant.
Silver to the inside.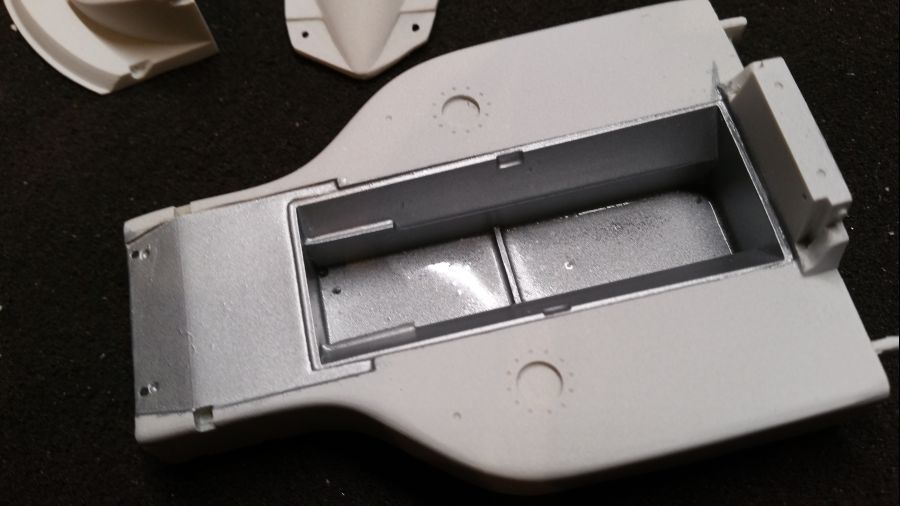 Vervolgens het rood. Het is RAL3002 Artikelnummer 918506 Hoogglans Karmijn Rood van Colorworks.
Next is the red. It is RAL3002 Artikel number 918506 High Gloss Carmine Red from Colorworks.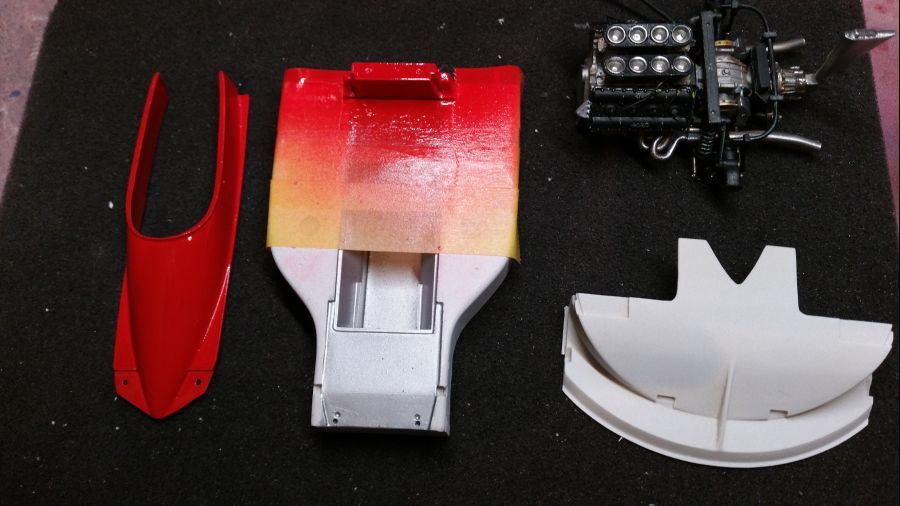 Een dag later ruikt de rode verf nog. Deze is dus nog niet droog genoeg om af te plakken voor het blauw. Daarom spuit ik nu alleen de neus en een deel van de vleugel blauw. Hiervoor gerbuik ik Fiat 497 Blu Cannes 1969-1975 van Motip. Ook is het grote deel van de vleugel wit gespoten. Voor het wit gebruik ik RAL9010 Artikelnummer 01600 Hoogglans Helderwit van Motip.
One day later and the red paint still smells. So it is not dry enough to mask it. That is why i just paint the nose and the small part of the rear wing blue. For this i use Fiat 497 Blu Cannes 1969-1975 from Motip. Also the large part of the wing has been painted white. For the white i use RAL9010 Artikel number 01600 High Gloss White from Motip.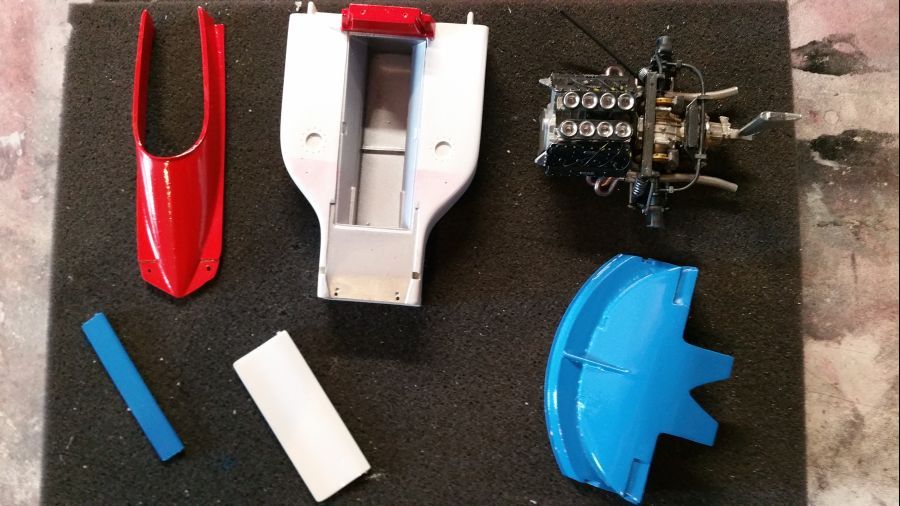 En het blauw op de body. Ik moet nog wel het kleine stukje rood van de body bijwerken. Dit heeft een klein beetje een blauwe overspray gekregen. 
And the blue to the body. I need to do some extra work on the small piece of red from the body. It got a little bit of blue overspray.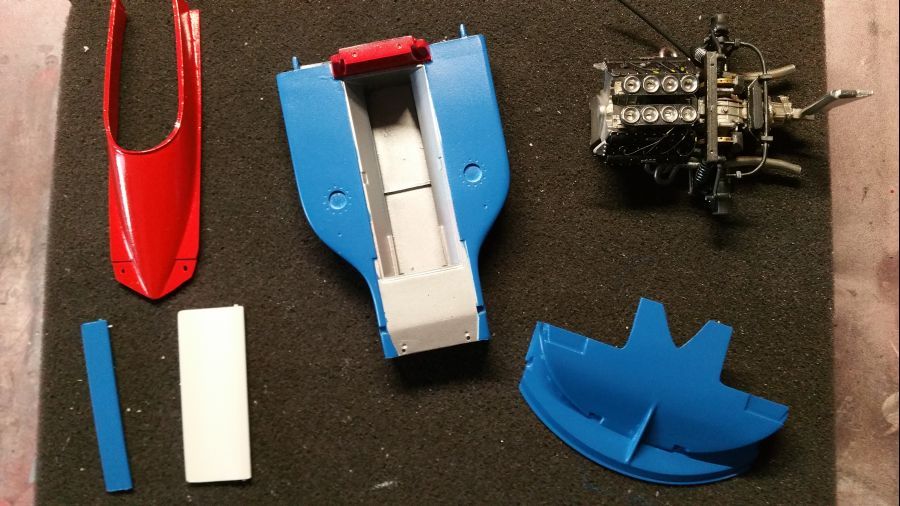 Terwijl de verf droogt, ga ik met de stoel aan het werk. Uiteraard wil ik weer gordels aanbrengen. Foto's laten me zien dat de stoel wat aanpassingen nodig heeft, dus....
While the paint has to dry, i will continue with the seat. Of course i want to have seat belts again. Photos show me the seat needs some adjustments, so....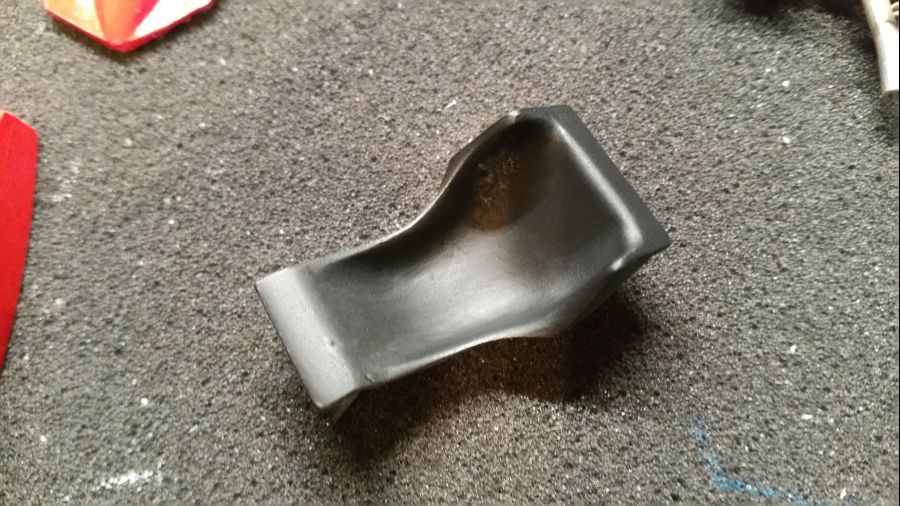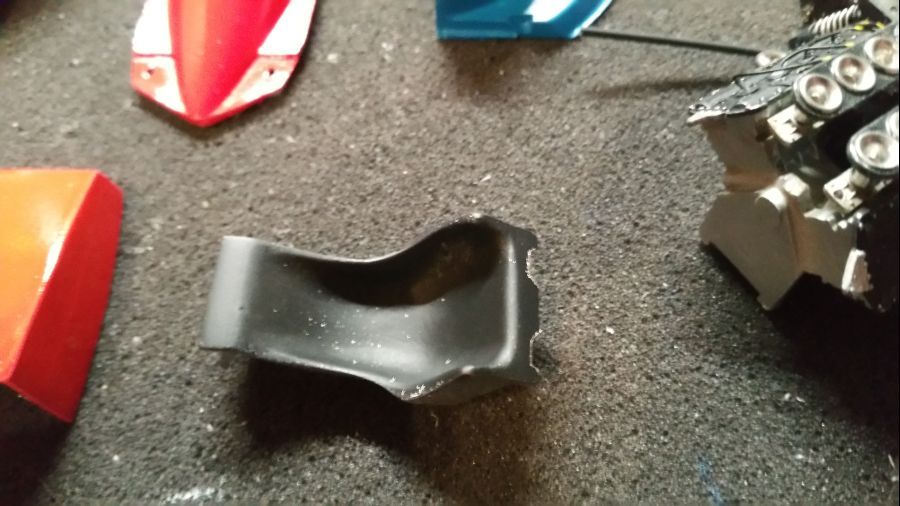 Ik heb een stuk witte/zilver stof gevonden dat op zich geschikt zou kunnen zijn. De stof rafelt enorm. Daarom plak ik het op een dunne streep tape dat ik nog over heb van een MFH gordel set.
I have found a piece of white/silver fabric that looks suitable. The fabric fray (is this good English?). That is why i put it on a small piece of tape that was included in a MFH seat belt set.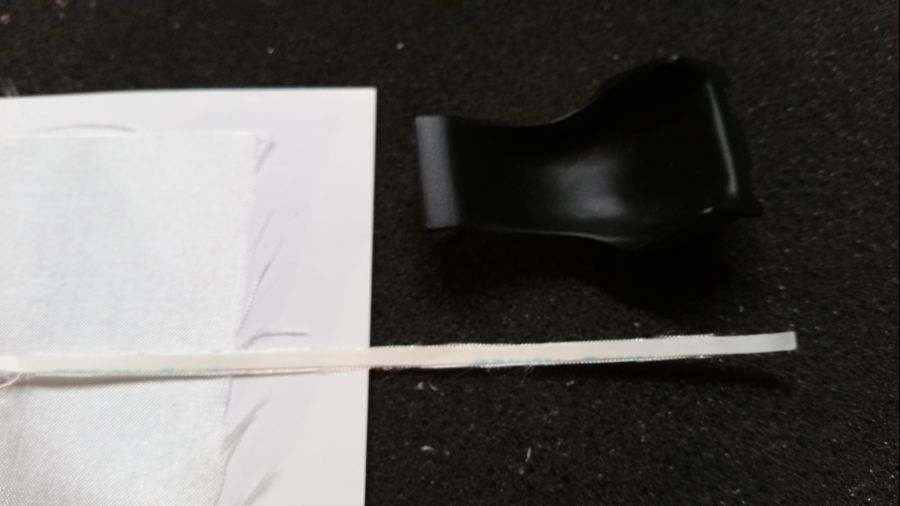 De eerste resultaten zijn veelbelovend, niet perfect, maar ik doe het ervoor.
The first results look promising, not perfect, but it will do.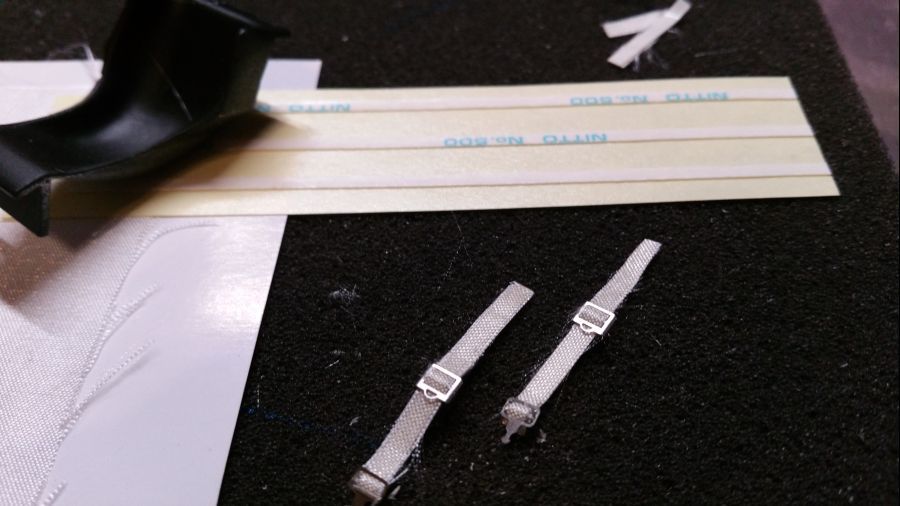 Gisteren ben ik toch nog even naar een fourniturenwinkel geweest. Daar hadden ze zijdelint van 3mm breed in de kleur wit/zilver. Slechts 0,40 Euro per meter dus daar hoef je het niet voor te laten. Vandaag nieuwe gordels gemaakt. Ik vind de nieuwe (bovenste) toch beter dan de oude (onderste). 
Yesterday i went to a shop with all kinds of materials for sowing. They had silk ribbon of 3mm wide in the colour white/silver. Only 0,40 Euro per meter, so that's not an issue. Today i made new belts. I think the new (upper) one is better than the old (lower) one.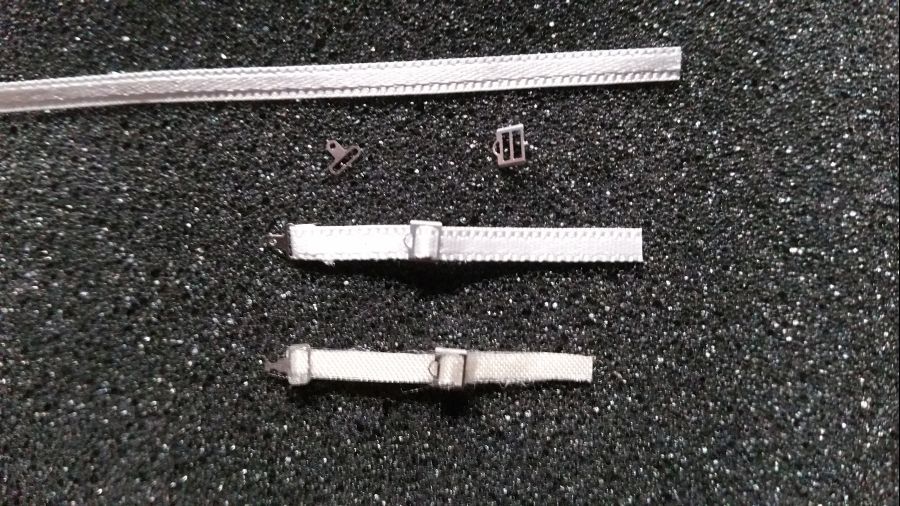 Het merk op de gordels klopt niet, maar ik moet het ermee doen. 
The brand on the belts is not correct, but i will have to do with it.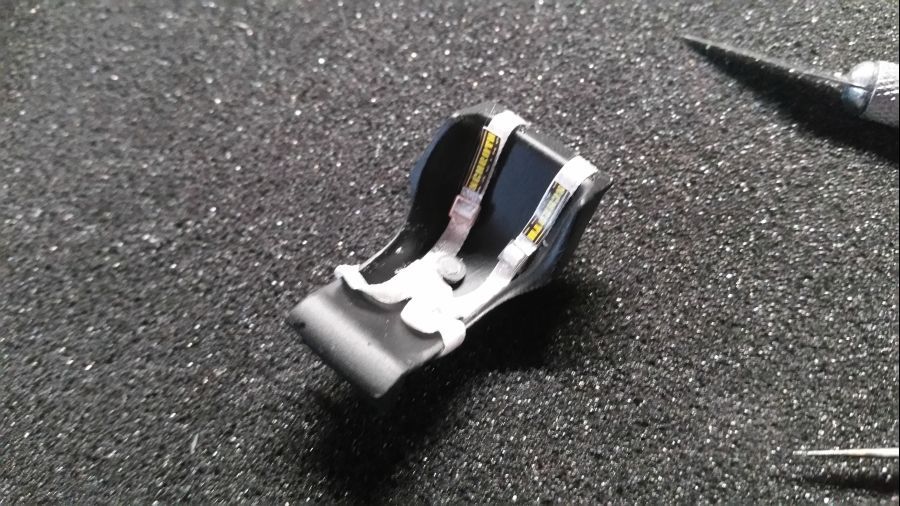 De binnenkant van de neus en de cockpit worden geverfd.
The inside of the nose and the cockpit get painted.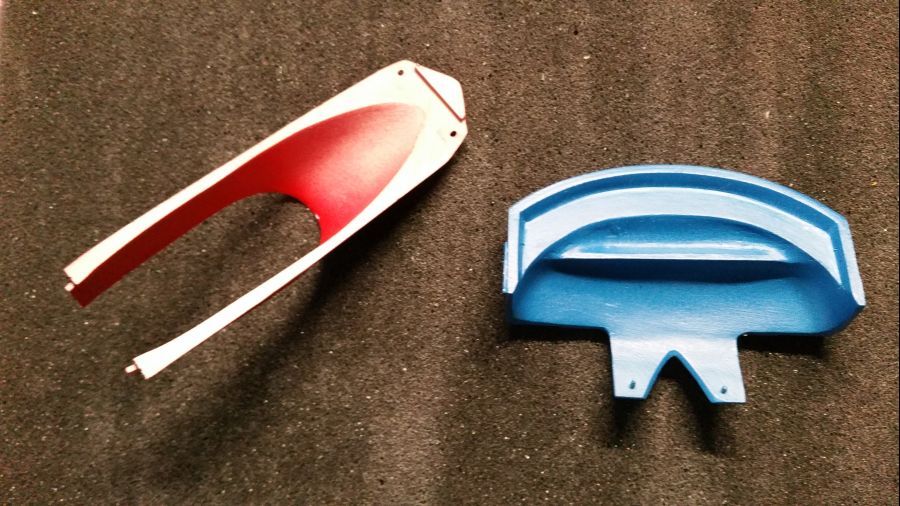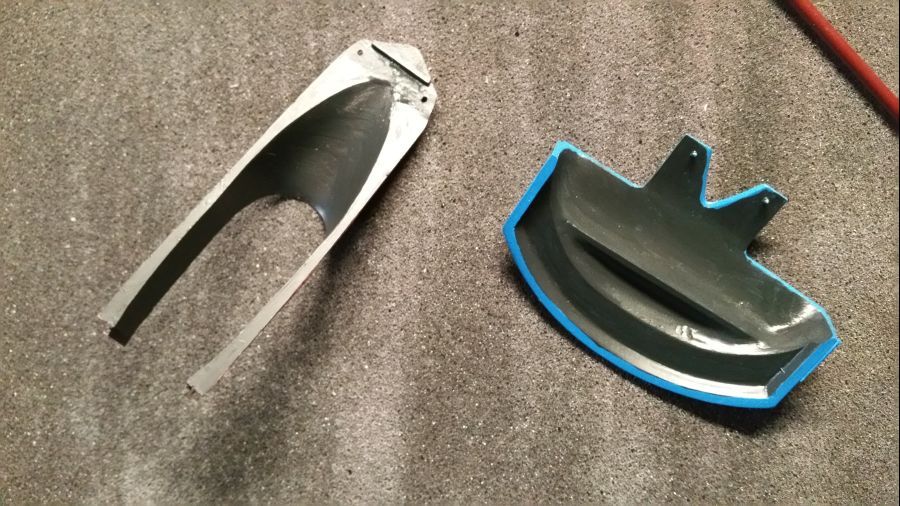 Nu ga ik eerst de vulopeningen bewerken. Eerst met wat verf, later met het boren van de gaatjes en het aanbrengen van de rivets. Edit: Ik zie nu dat er etched onderdelen voor de tanks zijn bijgevoegd. Deze breng ik verderop in de beschrijving aan.
Now i will adjust the openings of the tanks. At first by applying some paint, later by drilling the holes and applying rivets. Edit: I now noticed there are etched parts for the tanks. I will attach these later in the description.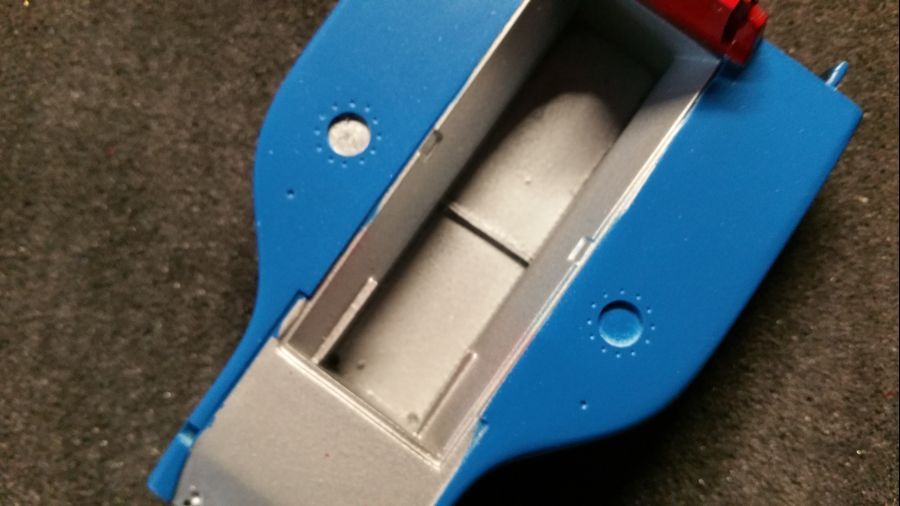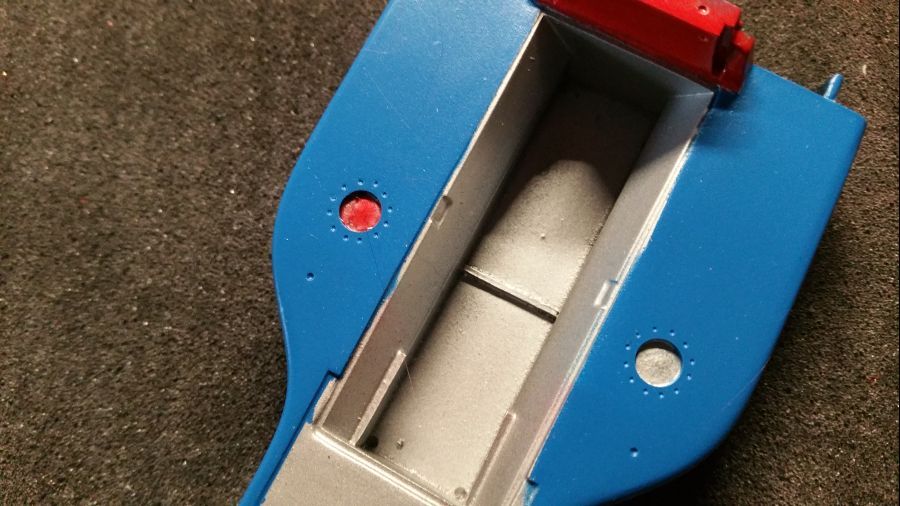 De binnenkant van de body wordt voorzien van etched wandbeplating. Uiteraard veel testen of het past. (Oeps, ik vergat de decals voor dit werkje aan te doen. En dan de glanslak natuurlijk. Dit gebeurt jou dus niet.)
The inside of the body gets etched parts on the walls. Of course a lot of test fitting is required. (Oops, i forgot to apply the decals before doing this. And then the gloss laquer. This will not happen to you.)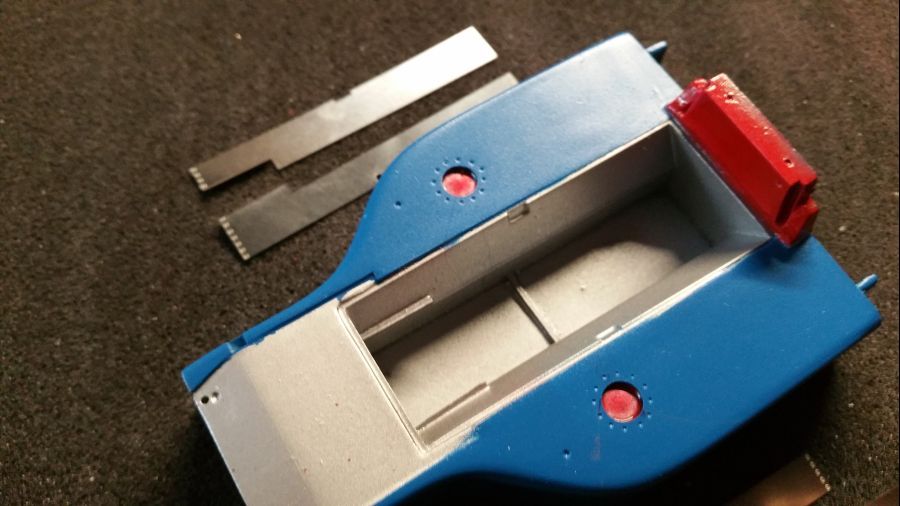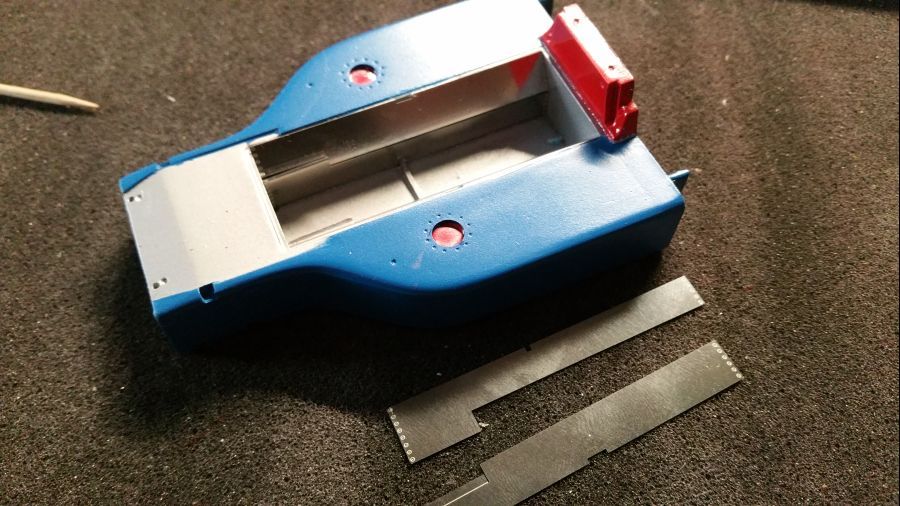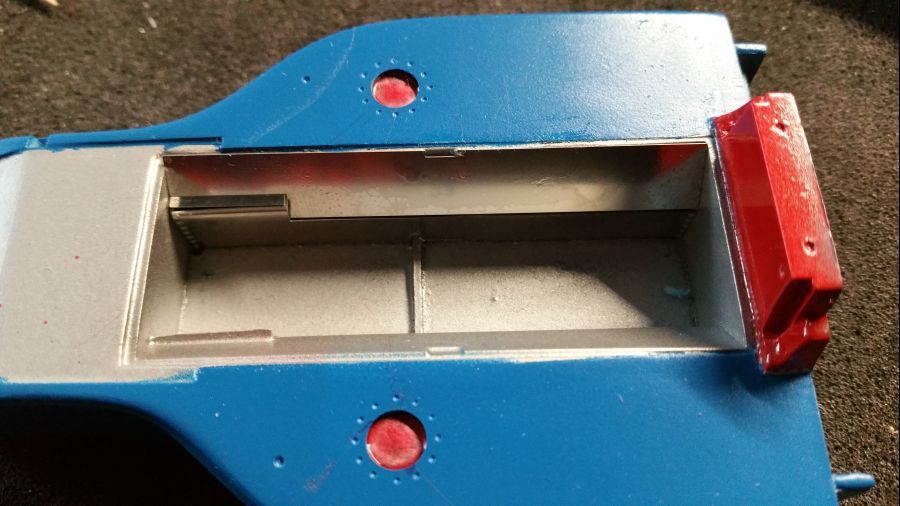 De stoel gaat erin.
The chair gets fitted.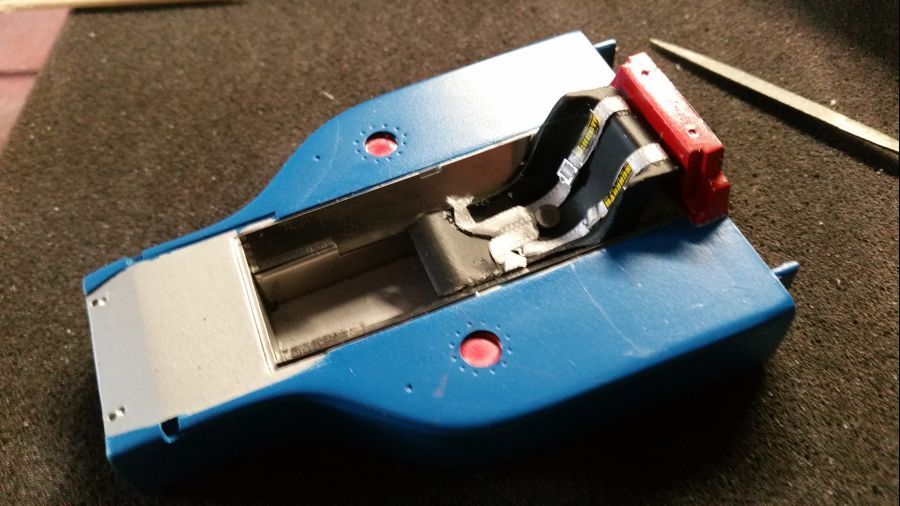 Voordat de etched beplating op de voorkant wordt gemonteerd, ga ik eerst met de voorwielophanging aan de gang.
Before mounting the etched parts on the front, i will first work on the front wheel suspension.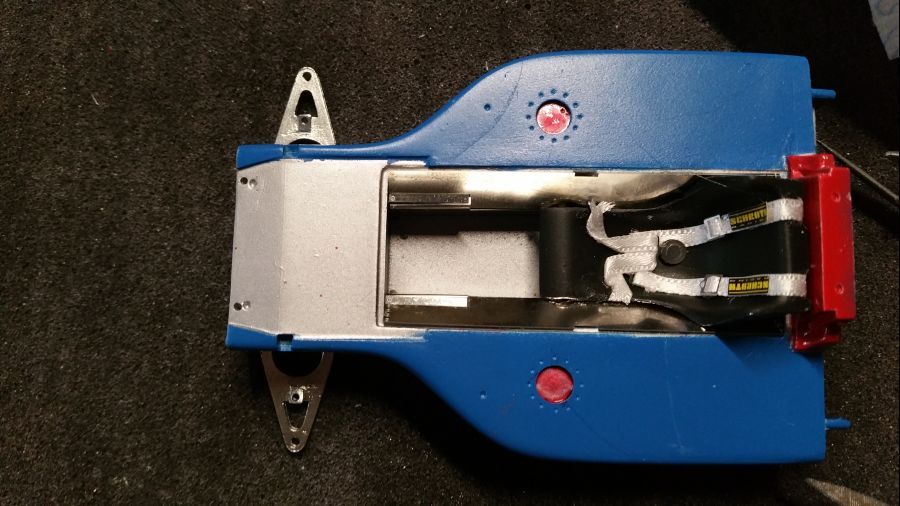 Tijd voor de decals. Ik vergat het bijna. Ze zijn super! Dank je JamesB!
Time for the decals. I nearly forgot. They are great! Thank you JamesB!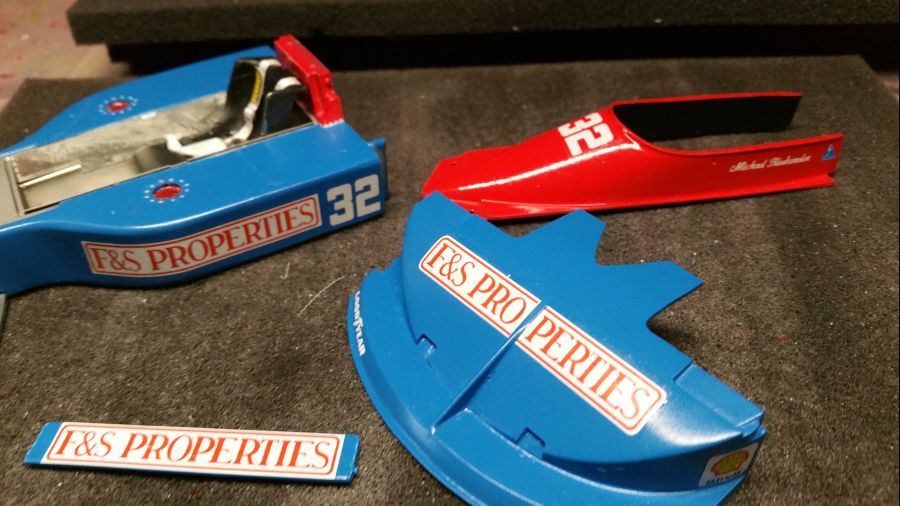 De achterkant van de cockpitrand (blauw) moest ik ongeveer 1 à 1,5 mm inkorten om te zorgen dat alle groene punten samenvallen. Daarna alles met een paar lagen heldere glanslak gespoten.
I had to shorten the cockpit at the back (blue) for about 1 or 1,5 mm to be sure the green points would all fit together. After this everything received a couple of layers of clear gloss lacquer.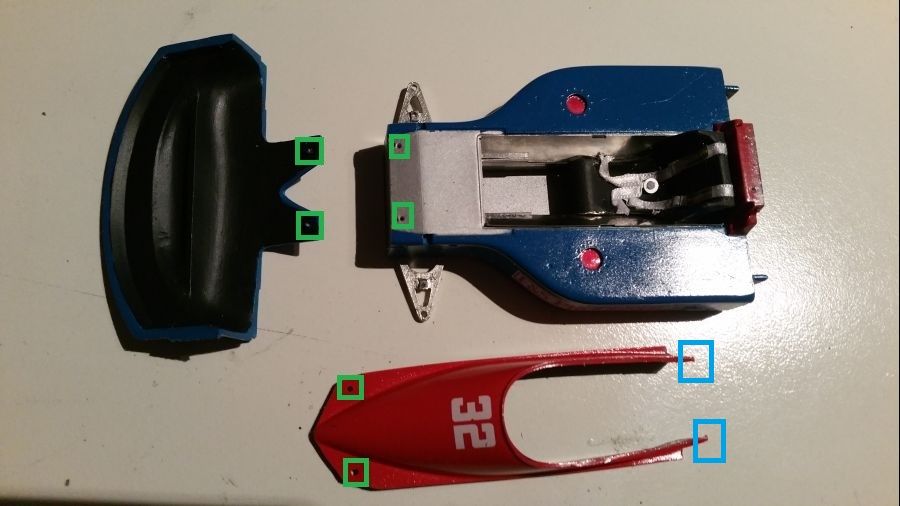 Eerst nu weer verder met de voorwielophanging. Eén van de steunen voor het sturen is kapot. Niet erg. Ik knip van beide steunen de stangen af en maak straks nieuwe stangen met een stukje metaaldraad.
Now to the front wheel suspension again. One of the supports for steering is broken. Not a problem. I will cut off the rod from both and create new rods by the use of metal wire.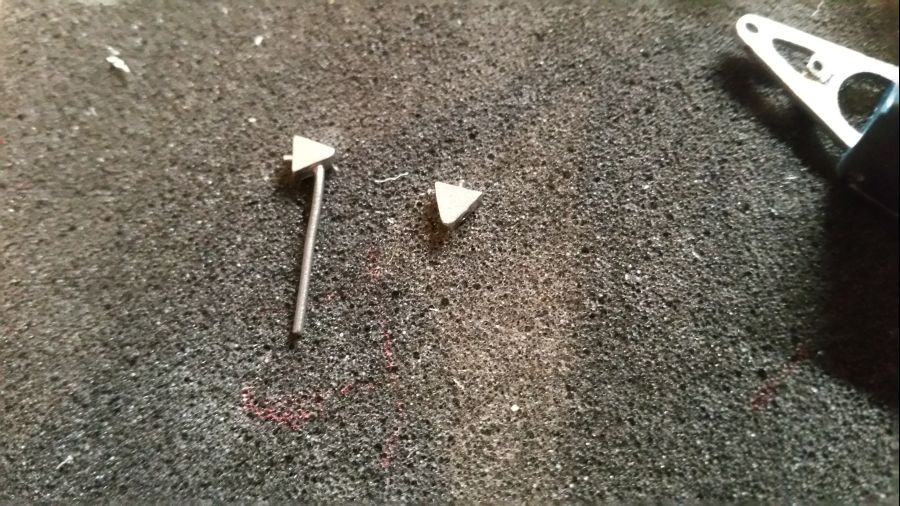 De luchtinlaten worden aan de remmen bevestigd.
The air intakes are being mounted to the brakes.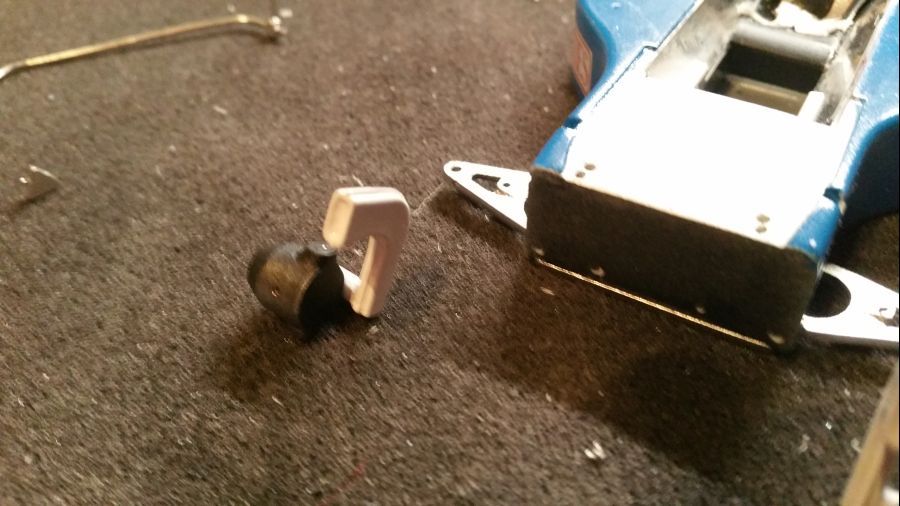 Wat meer onderdelen van de stuurinrichting.
Some more parts for the steering.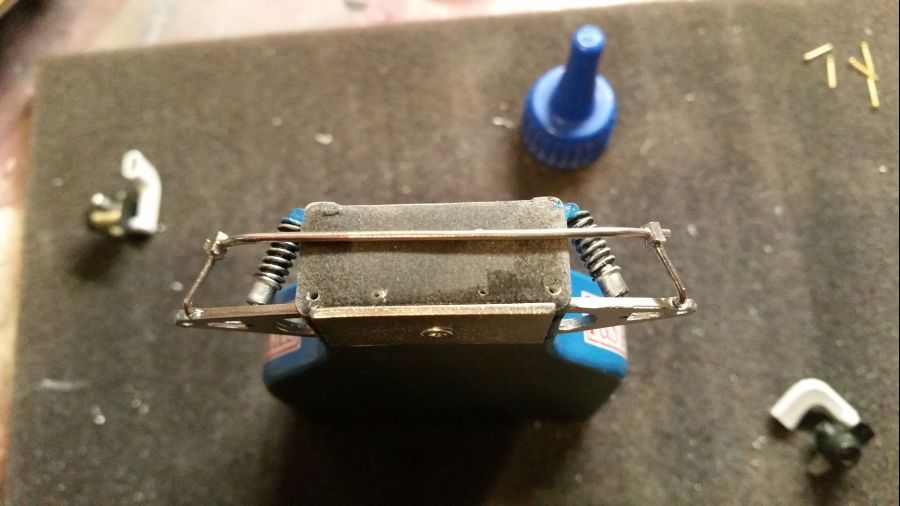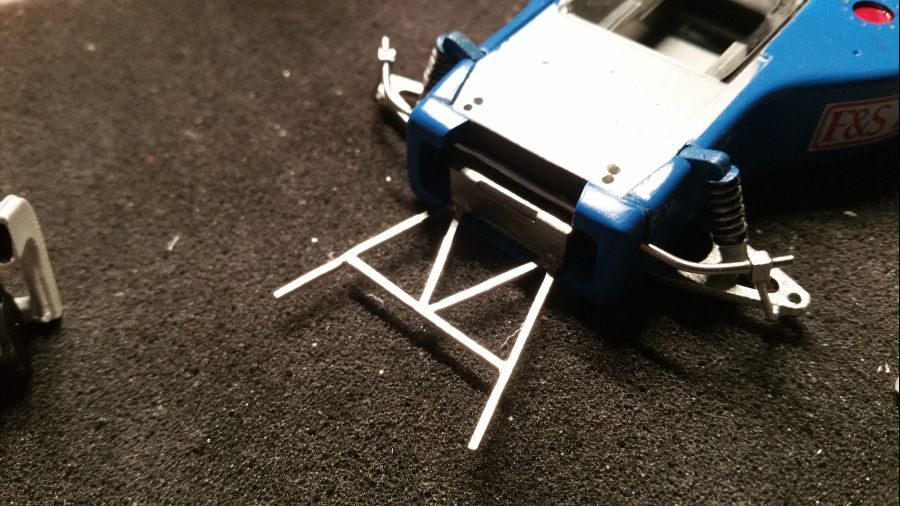 Voor het plaatsen van de remmen gebruik ik weer de popnagels. Ik haat de bekende zwarte schroeven. Voordat je erom verdacht bent buigt de boel en het is nog eens lastiger bij te stellen, wanneer dat achteraf nodig is.
For attaching the brakes i will use rivets again. I hate the well known black screws. Before you know it the supports will bend and it's much harder to adjust things, if it needs adjustments at a later time.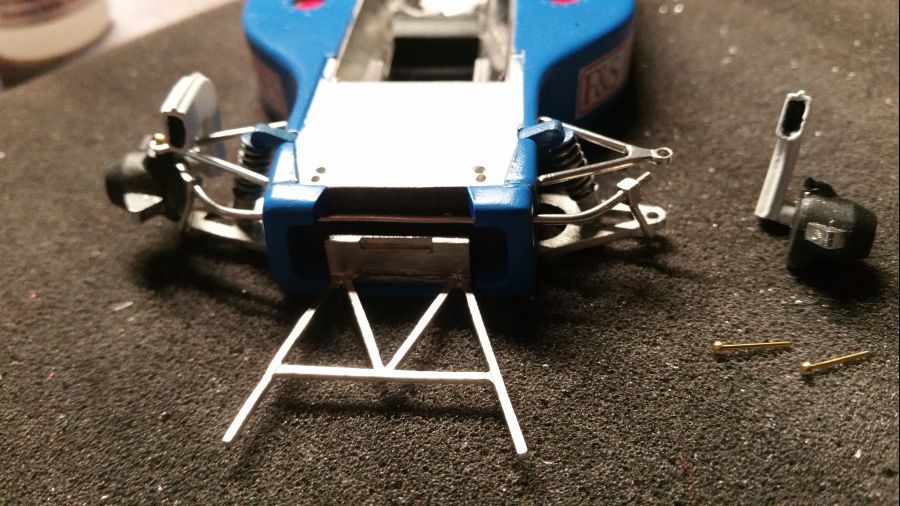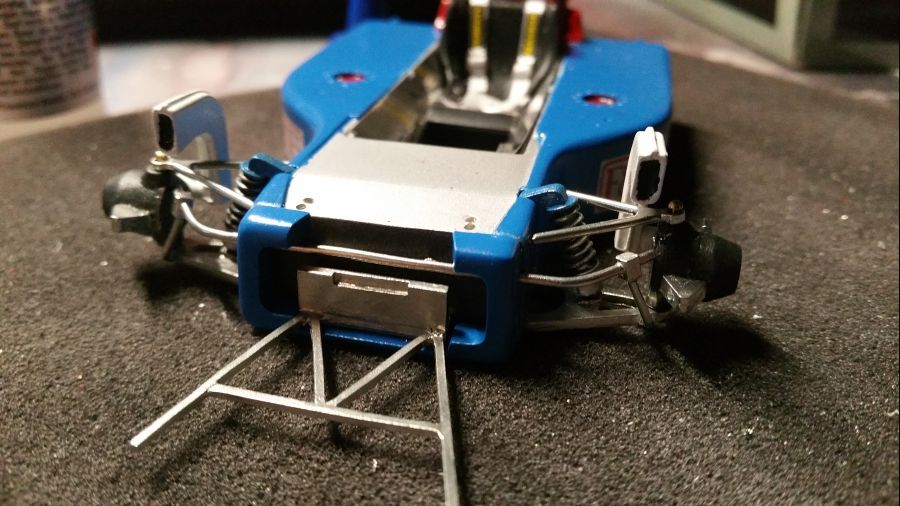 En de nieuwe stuurstangen.
And the new steering rods.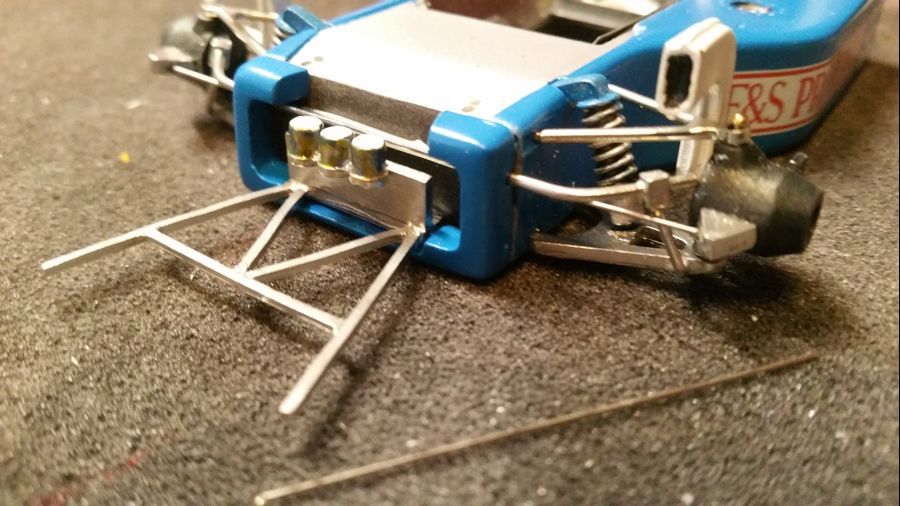 Ik heb de vulopeningen al geverfd, maar zie nu dat er etched onderdelen voor zijn. Deze plaats ik nu. En de neus kan verder worden bekleed met de etched onderdelen.
I have already painted the tank openings, but now i see there are etched parts for the. I will attach them now. And the nose will get more etched parts.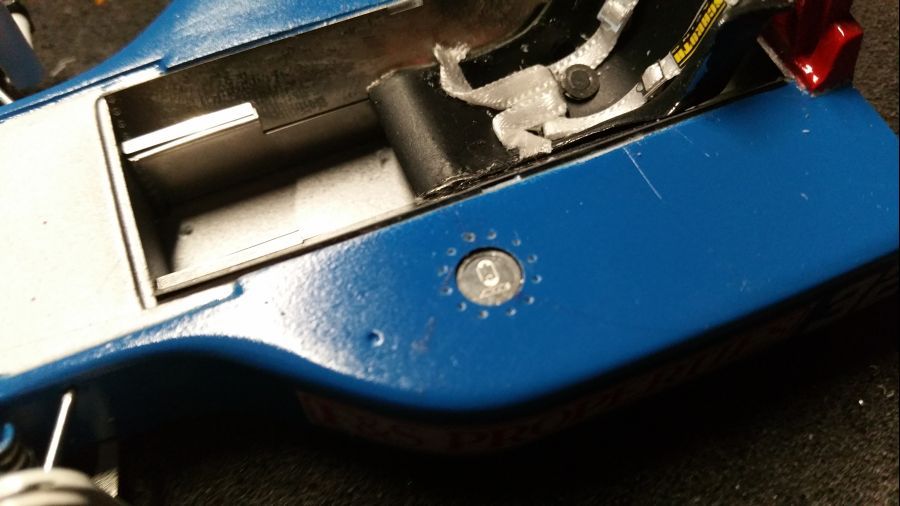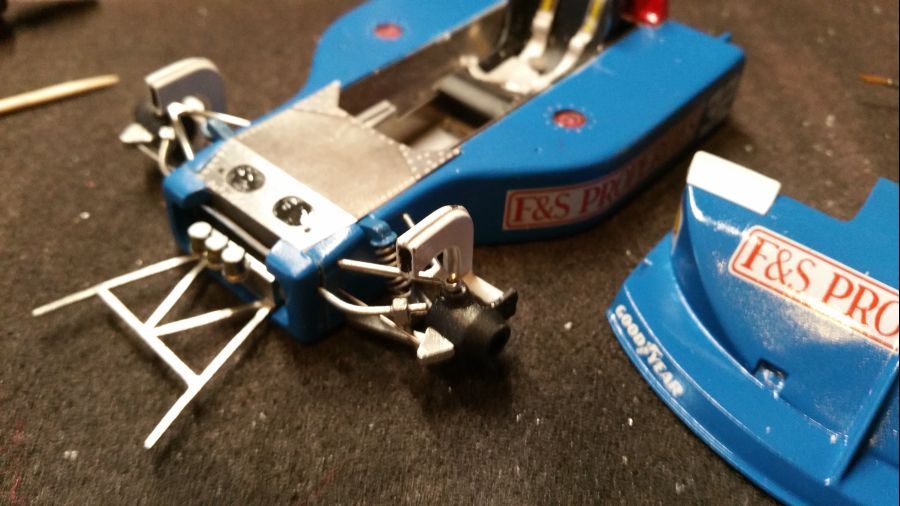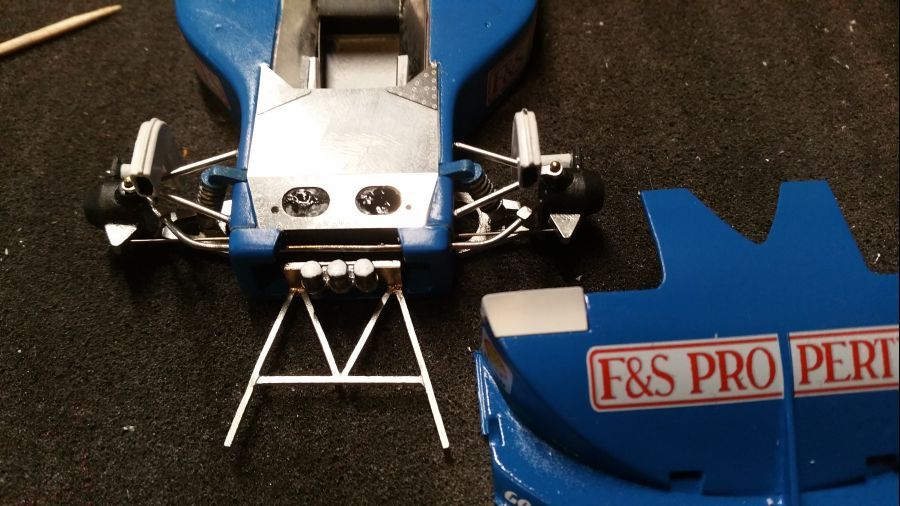 Het dashboard moet behoorlijk worden bijgewerkt met een vijl om passend te worden gemaakt.
The dash needs  a lot of work with a file to make it fit.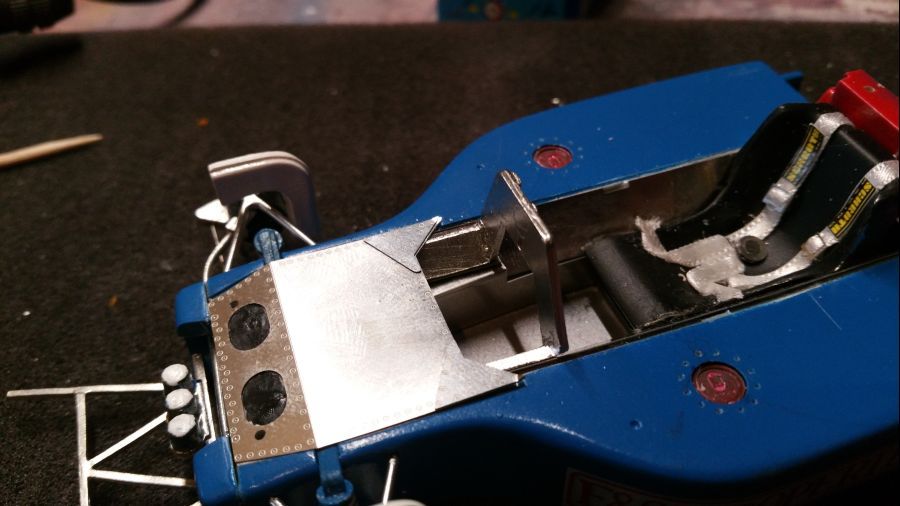 Met behulp van een stukje buis maak ik hulzen voor het aanbrengen van bekabeling aan het dashboard.
With the use of some tube i create small housings for the wires on the dashboard.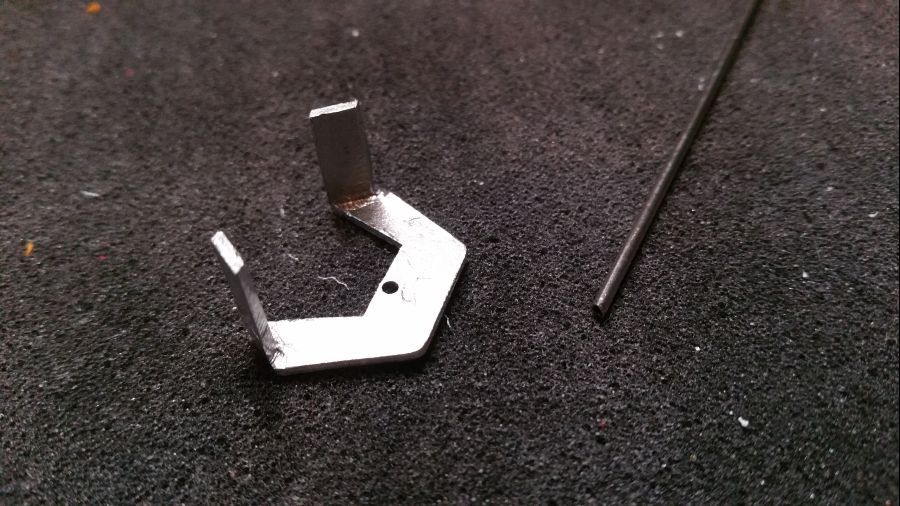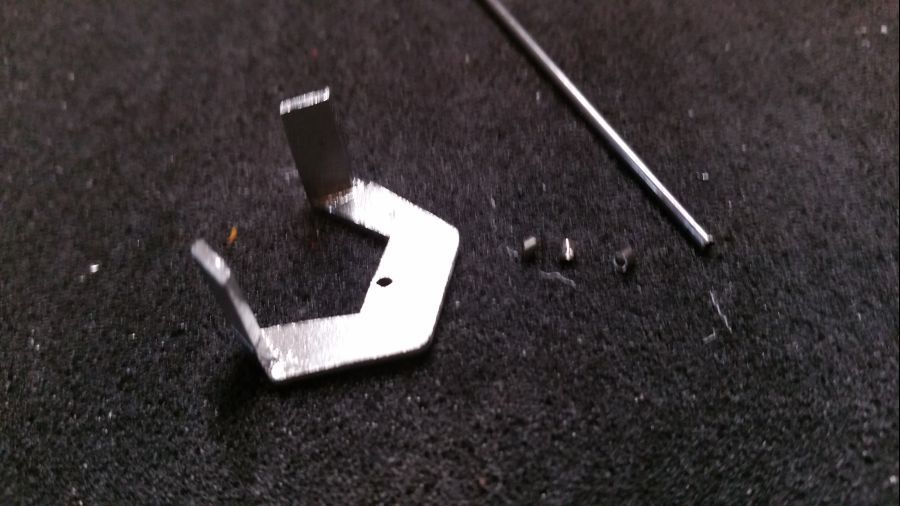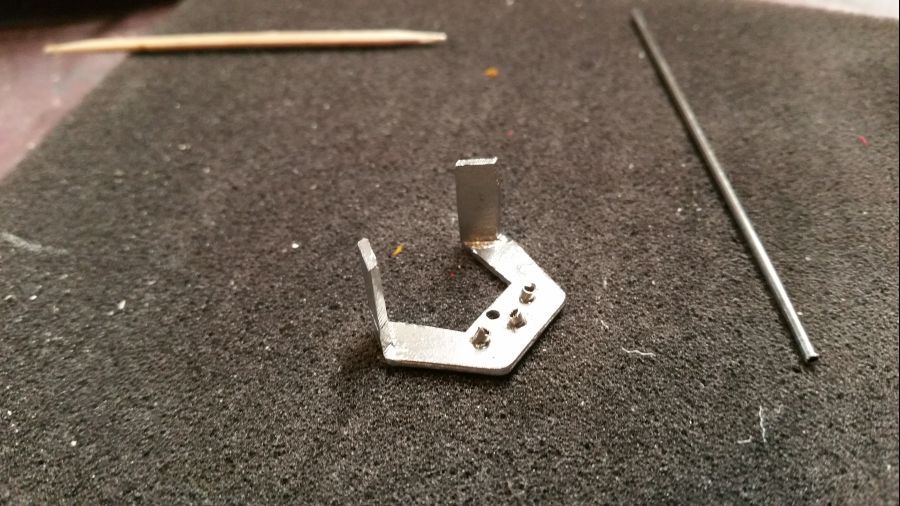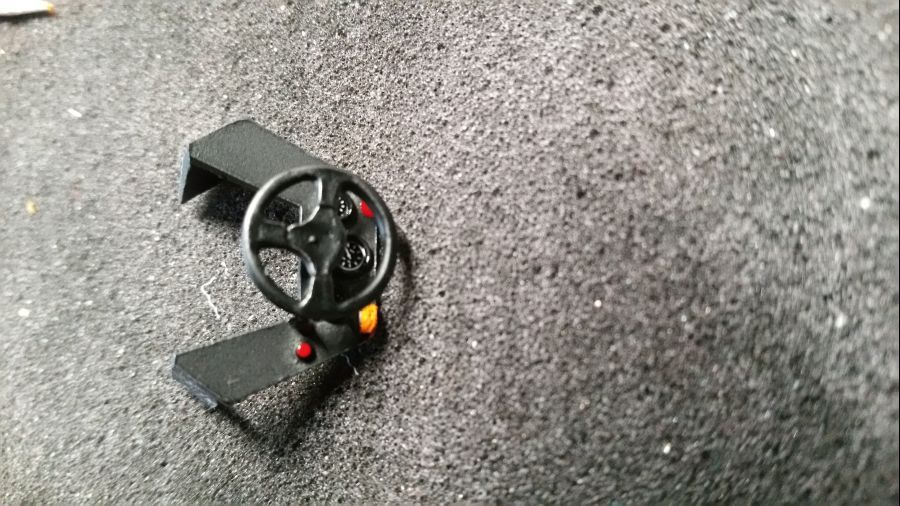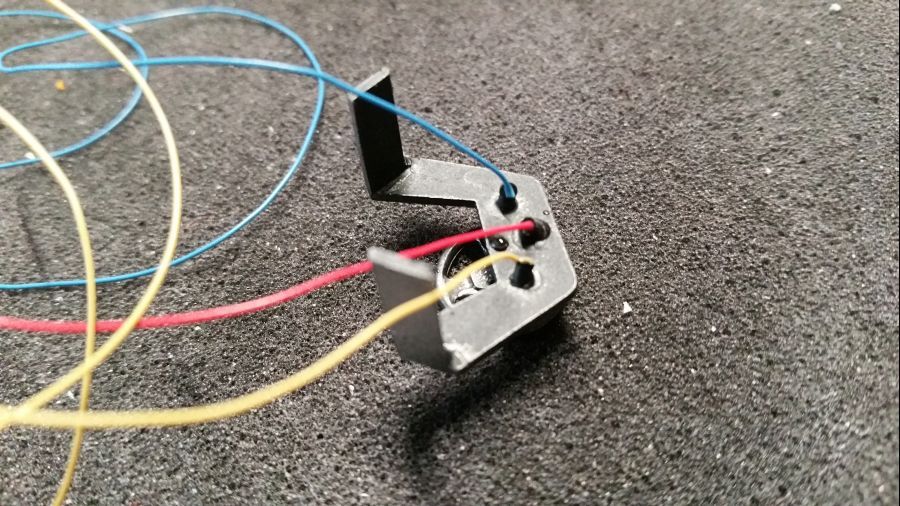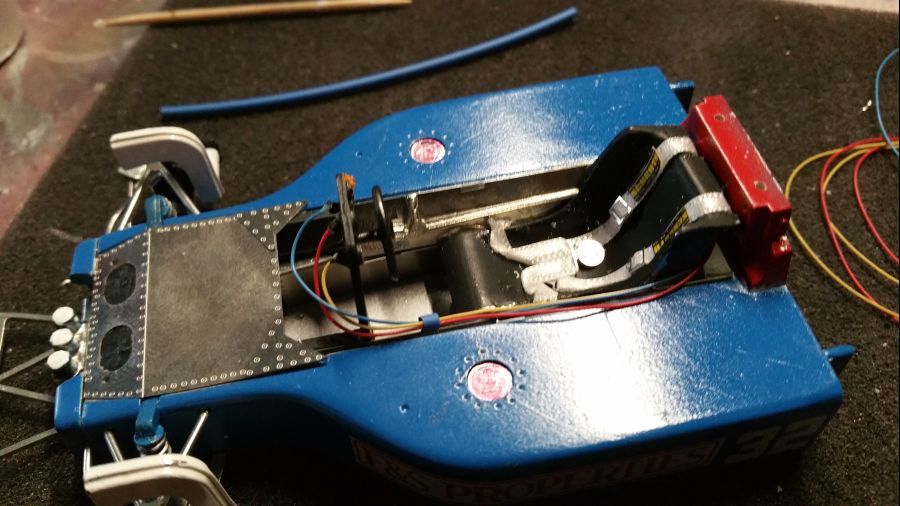 Wat etched delen aan de achterkant...
Some etched parts at the back...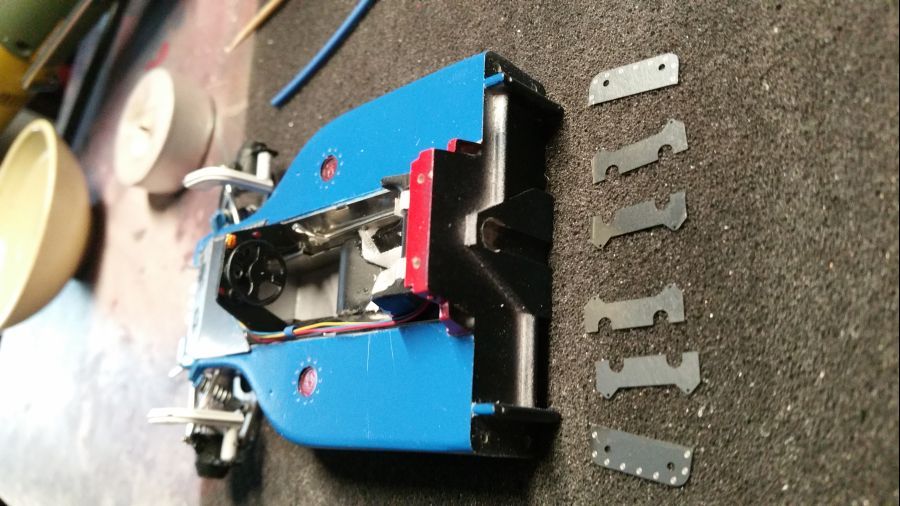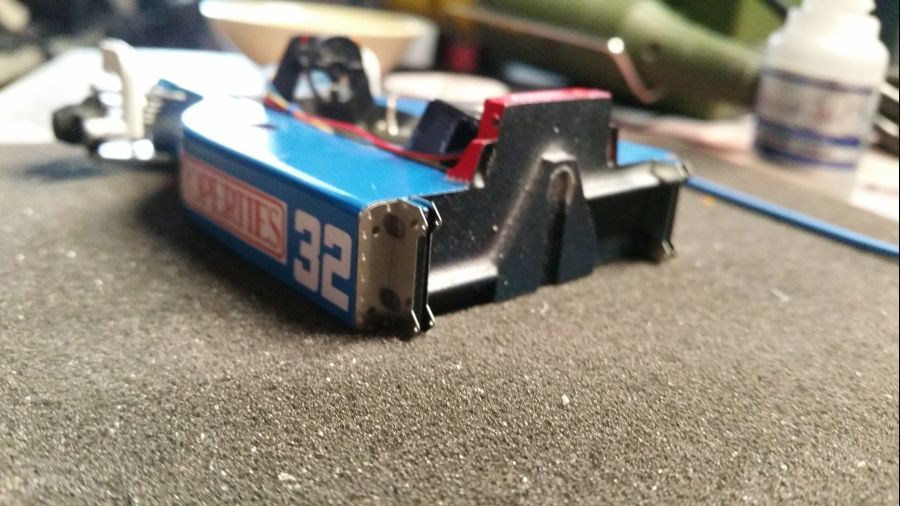 Wat meer details aan de cockpit...
Some more detail to the cockpit...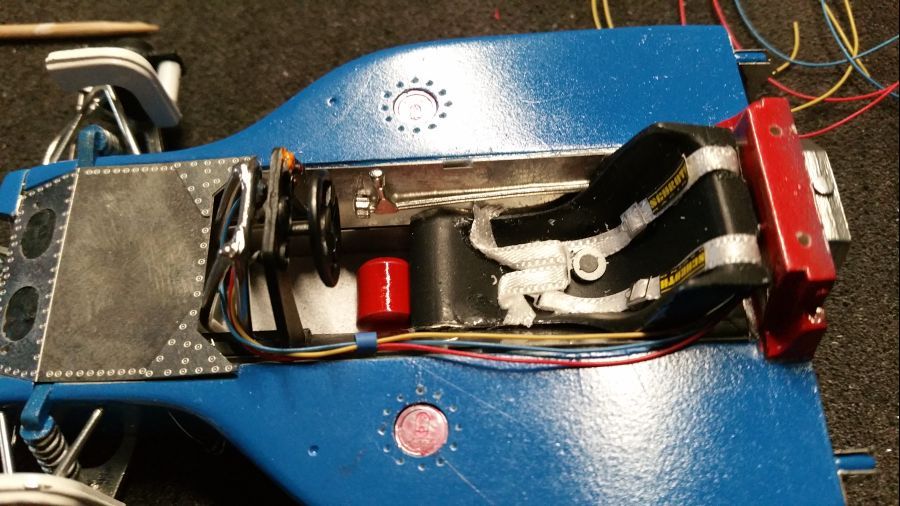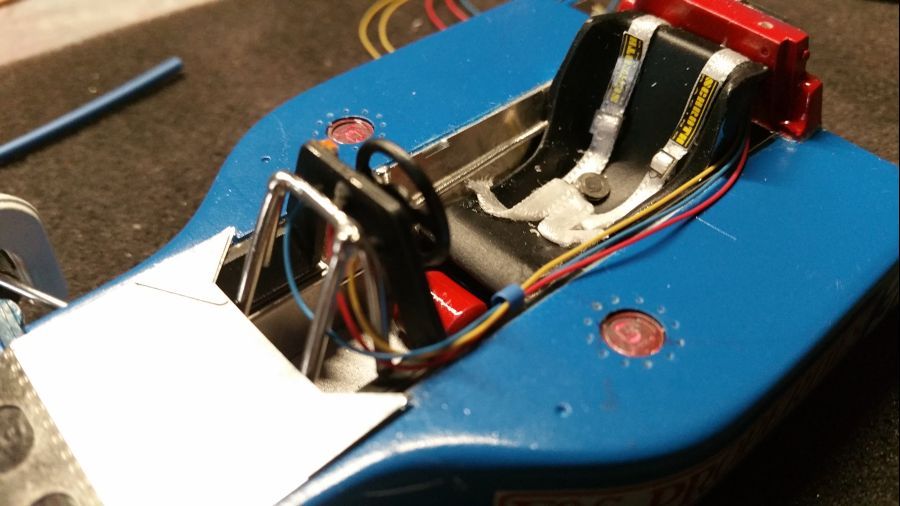 Even passen...
Some test fit...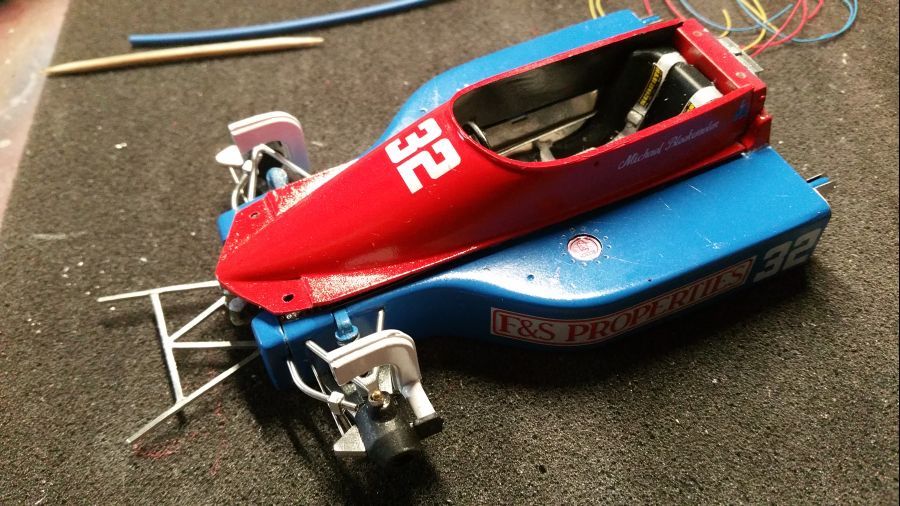 Nu verder met de koeling.
Now to continue with the coolers.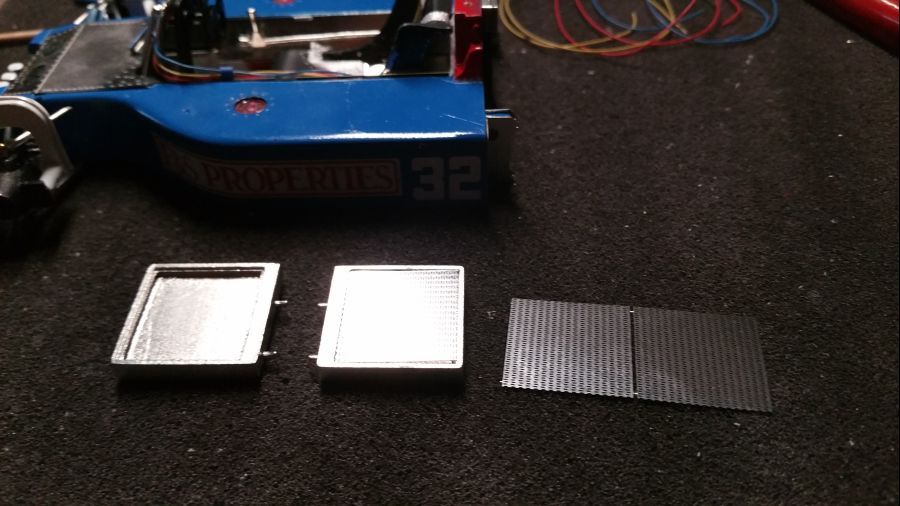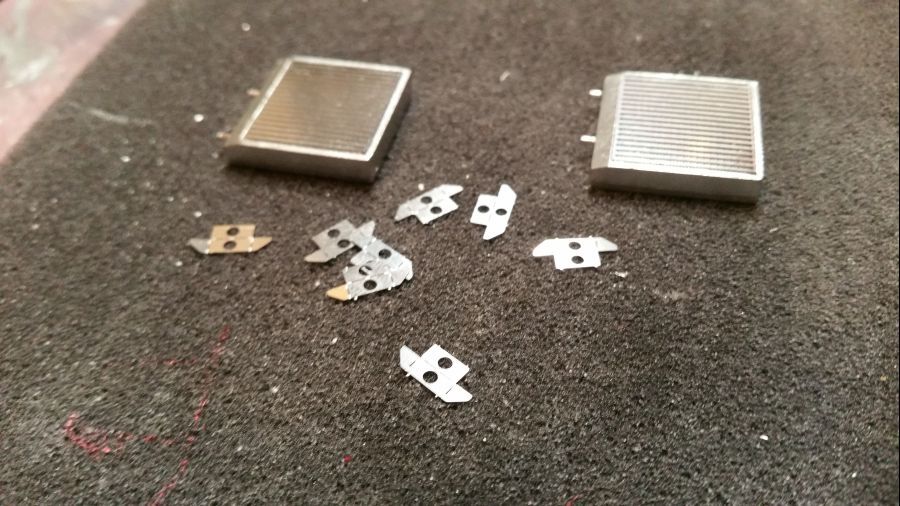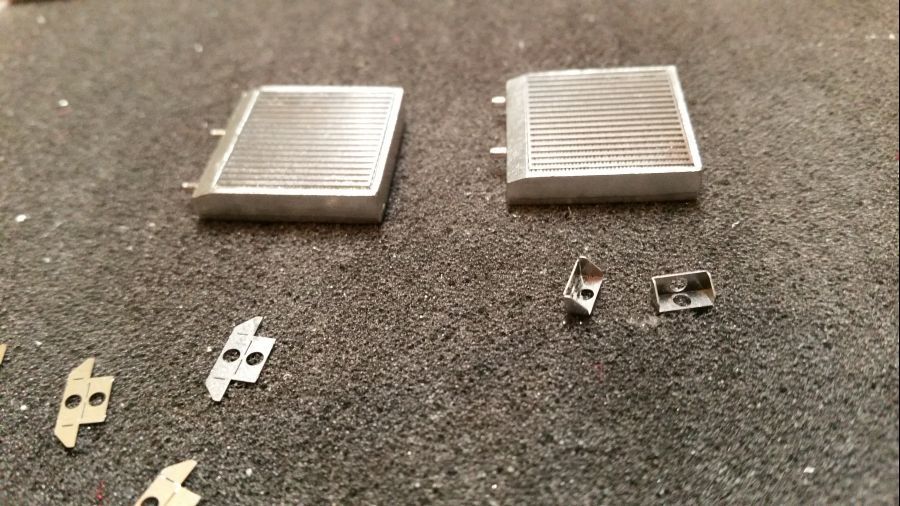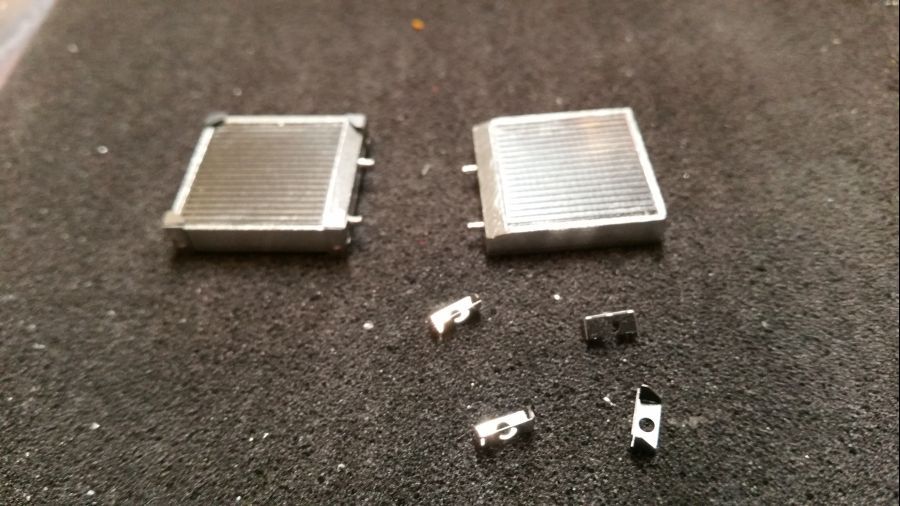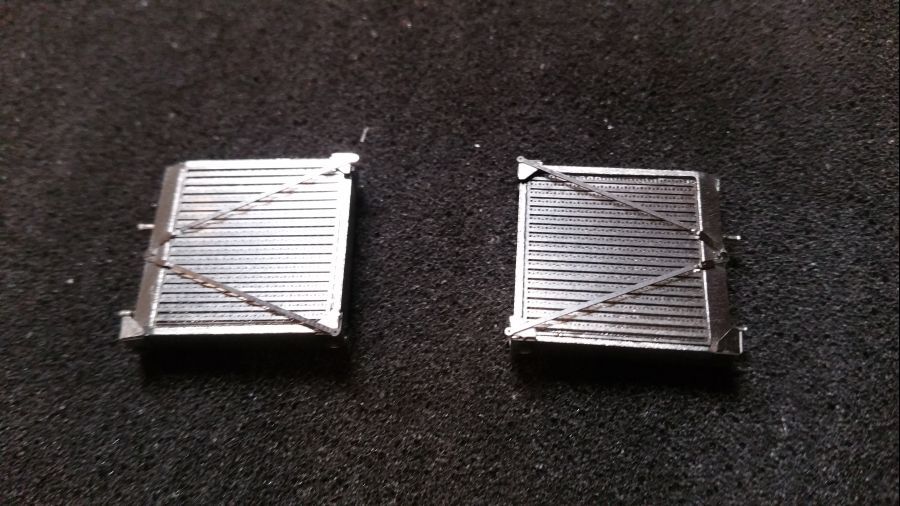 Nu wat meer detaillering gemaakt voor de motor, zien tot hoever ik kom....
Now some more detail to the engine, see where it gets....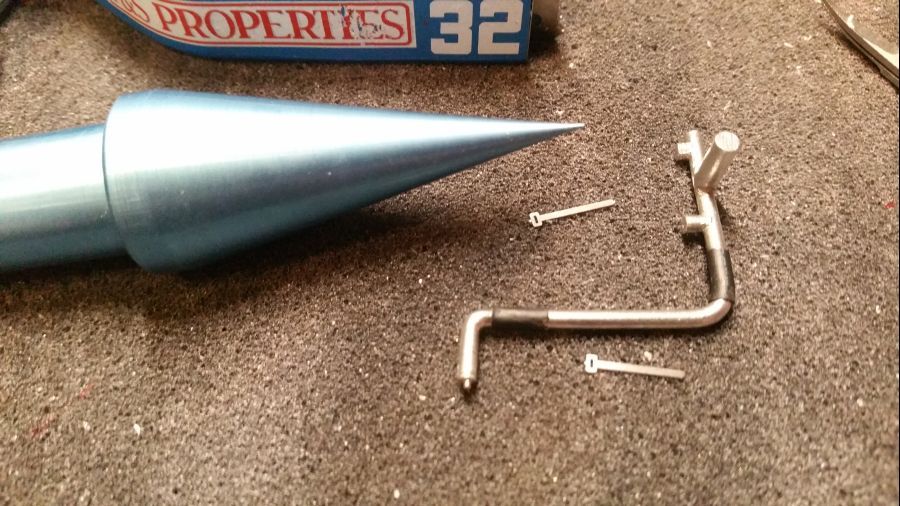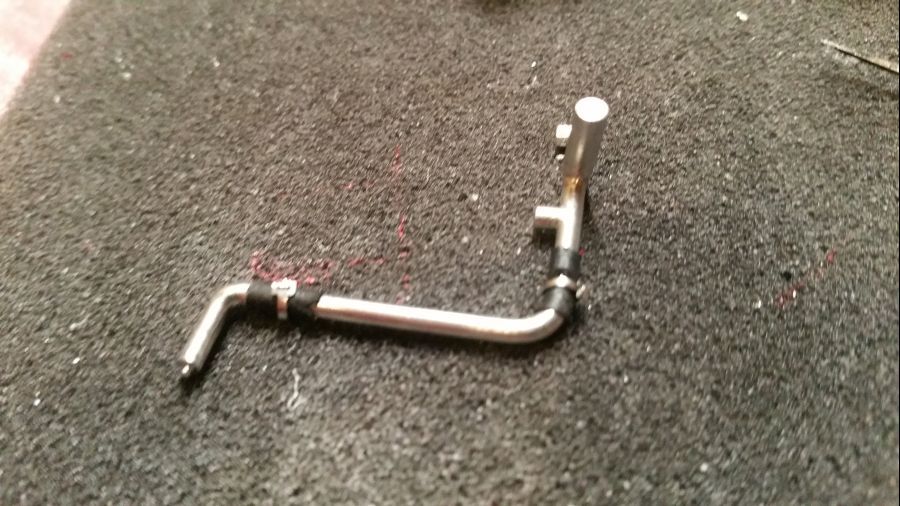 Sommige wagens hadden een afdichting over de trompetten. Daarnaast hebben we de bekende metalen roosters. Deze wagen had de schuimafdichting over de inlaten. Deze maak ik zelf van een stuk schuim dat bij de dozen van MFH zit. Daarna een kwestie van knippen en passen. Ik maak 2 sets om te zien welke het beste past.
Some cars had a cover over the funnels. Then we have the well known mesh covers. This car had those foam covers over the trumpets. I will create these myself by using foam that's included in the MFH kits. Just cut and fit. I make 2 sets to see which one fit best.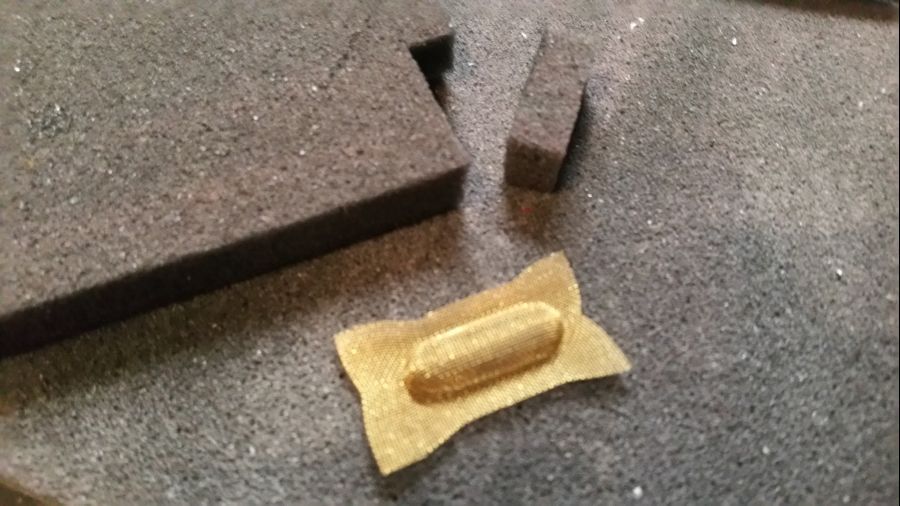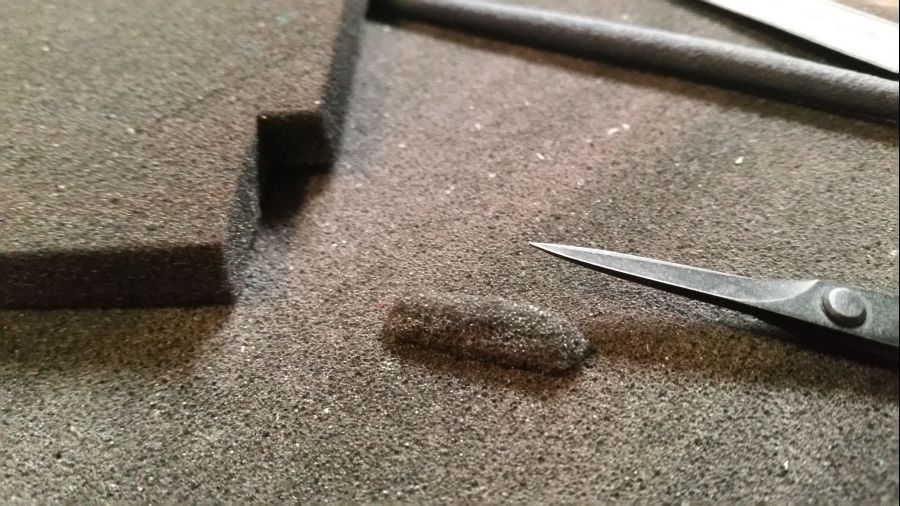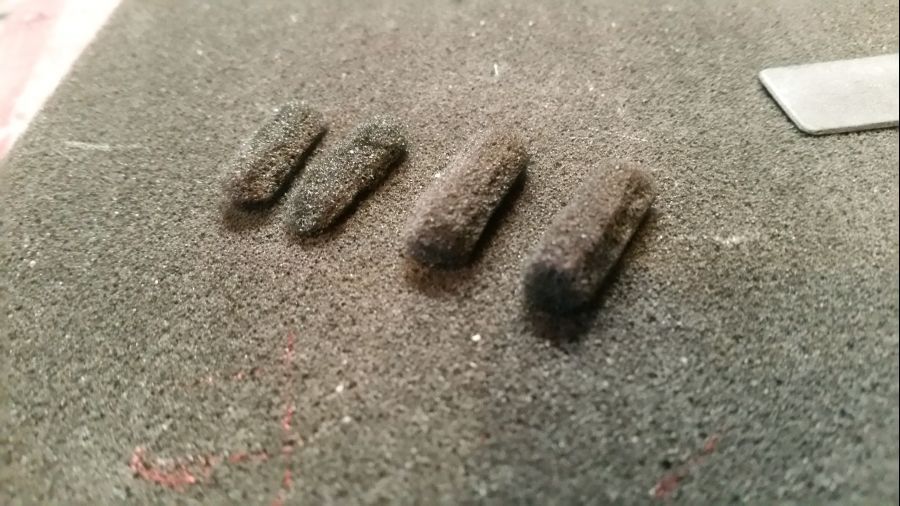 De popnagels worden aangebracht....
The rivets are being applied...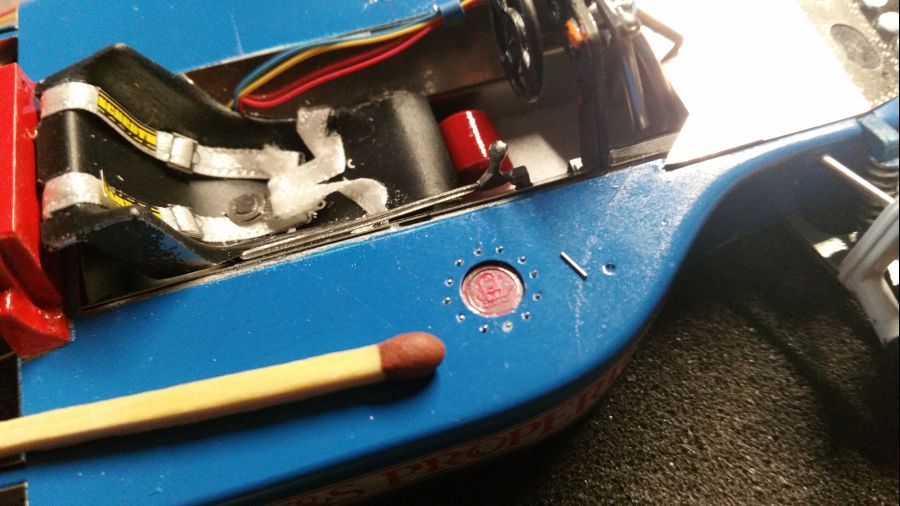 De achterkant wordt klaargemaakt om wat leidingen en kabels met de motor te verbinden.
The back side is being prepared to connect some hoses and cables to the engine.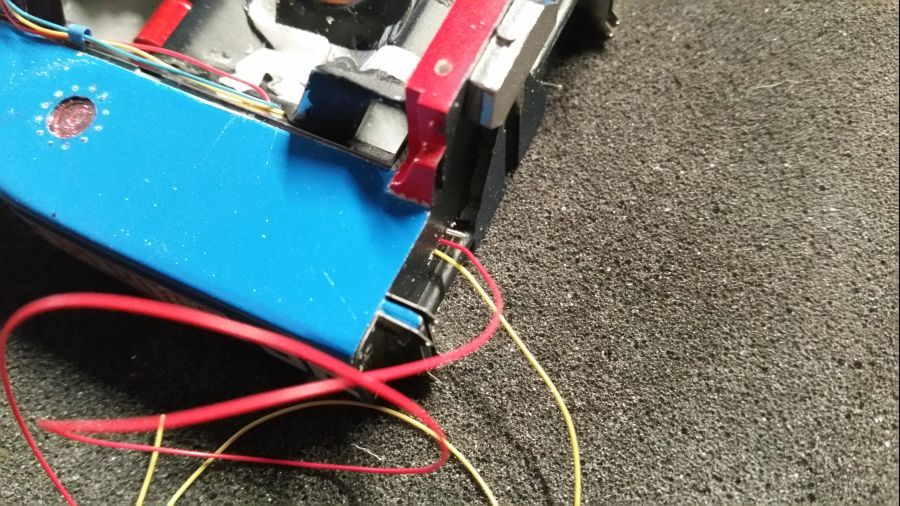 De motor wordt aan de romp bevestigd.
The engine gets attached to the body.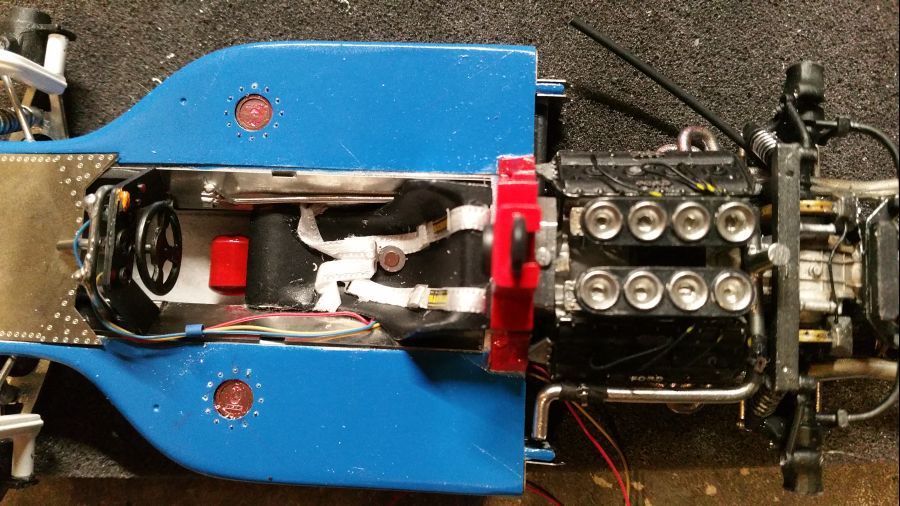 Maar.....helaas. om de een of andere reden laten de decals los. Oorzaak? Geen idee. Mogelijk te weinig glanslak? Gelukkig heb ik eerst een kopie van alle decals gemaakt. Ik zal deze printen en over de huidige decal plakken. Dit doe ik op het laatsts, want dit wil ik natuurlijk niet weer.
But....unfortunately. For some reason the decals came off. Why? No idea. Possibly not enough clear gloss? Luckily i have made a copy of the decals. I will print these and apply them over the current ones. I will do this at a later time, because i don't want it to happen again.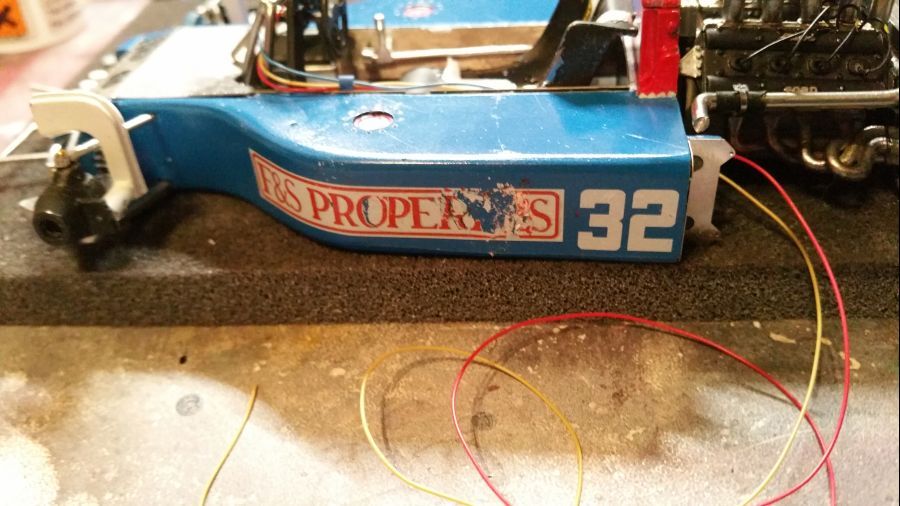 Nu eerst verder met de bekabeling....
Next to continue with the cables....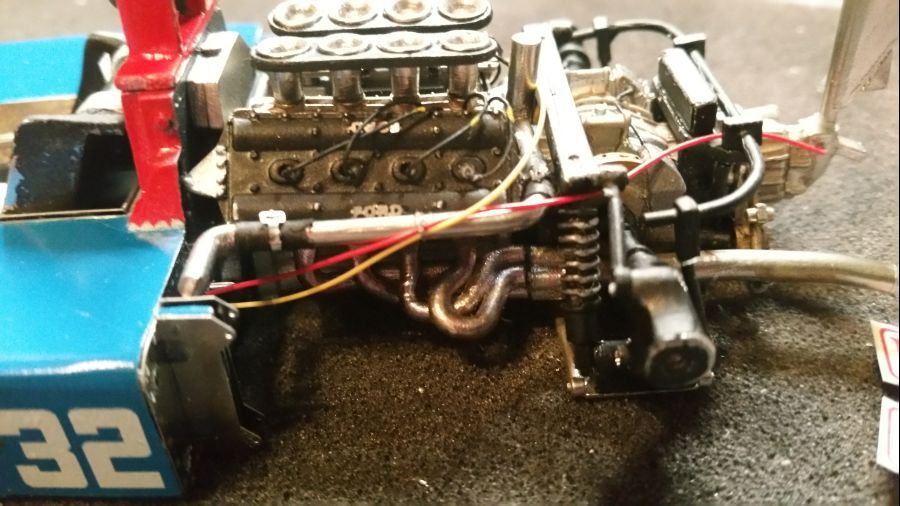 Dan het plaatsen van de koeling... 
Then the coolers are mounted...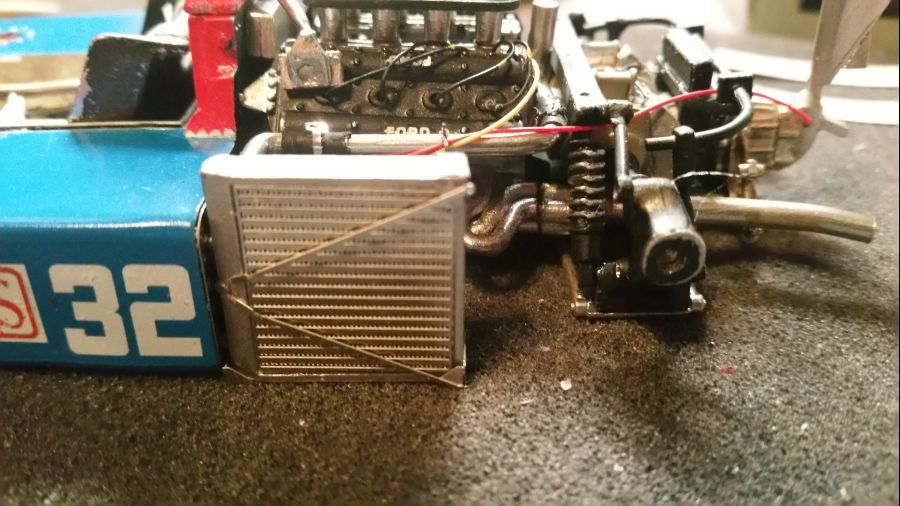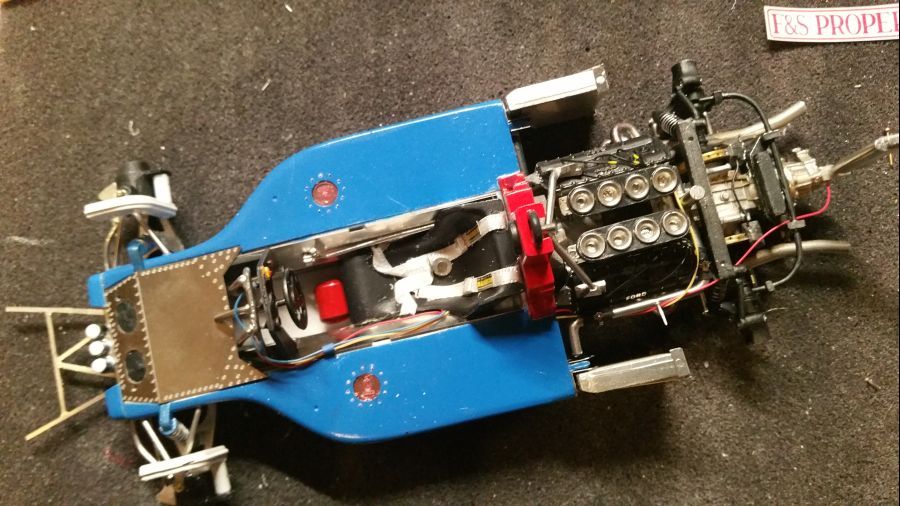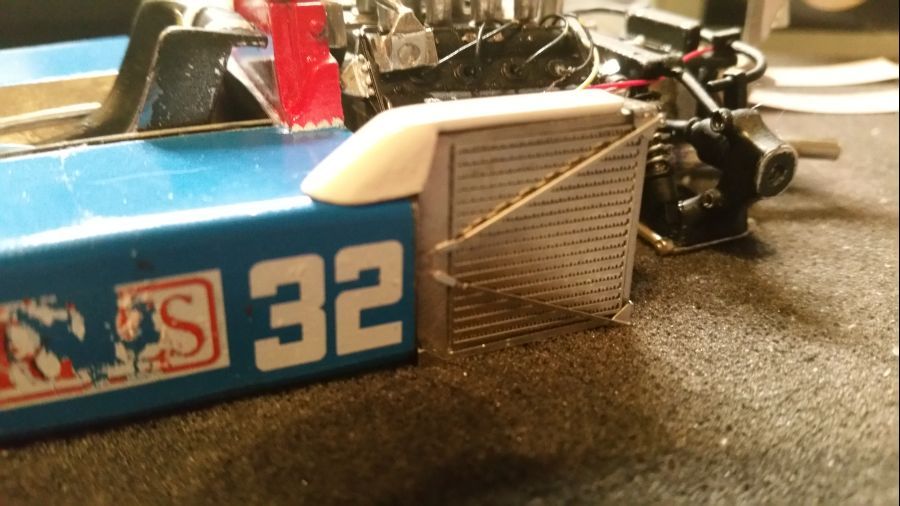 En de steunen voor de ophanging..
And the supports for the uprights..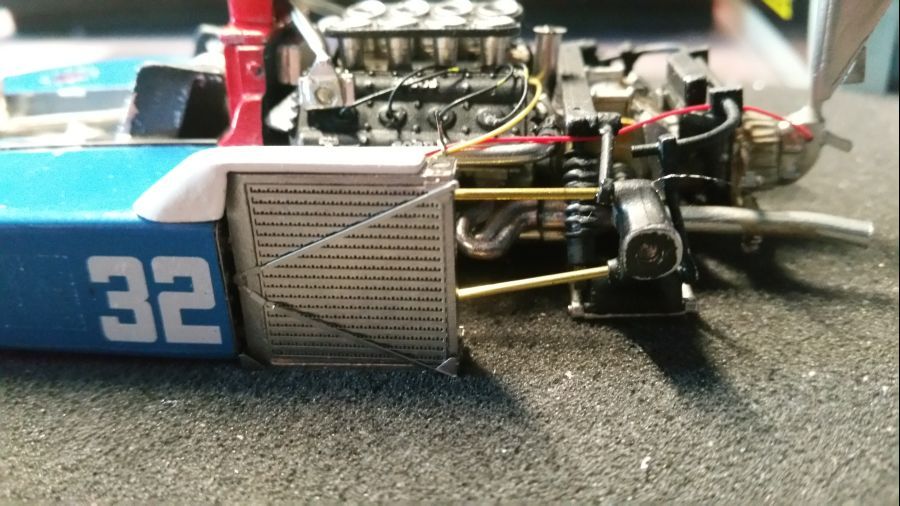 De achtervleugel is in elkaar gezet. Op dit moment nog niets bijzonders. In een later stadium breng ik nog rivets aan.
The rear wing has been assembled. Nothing fancy right now. I will apply some rivets later.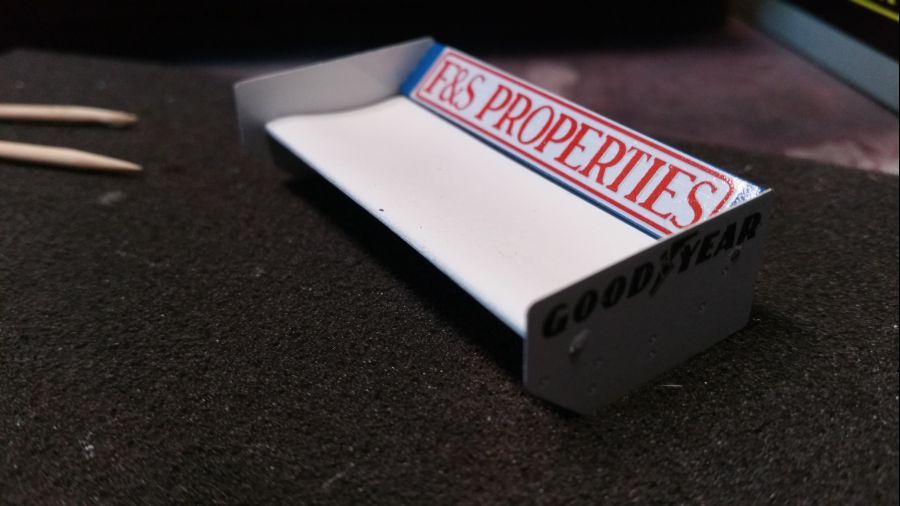 Verder met de velgen.
Next are the rims.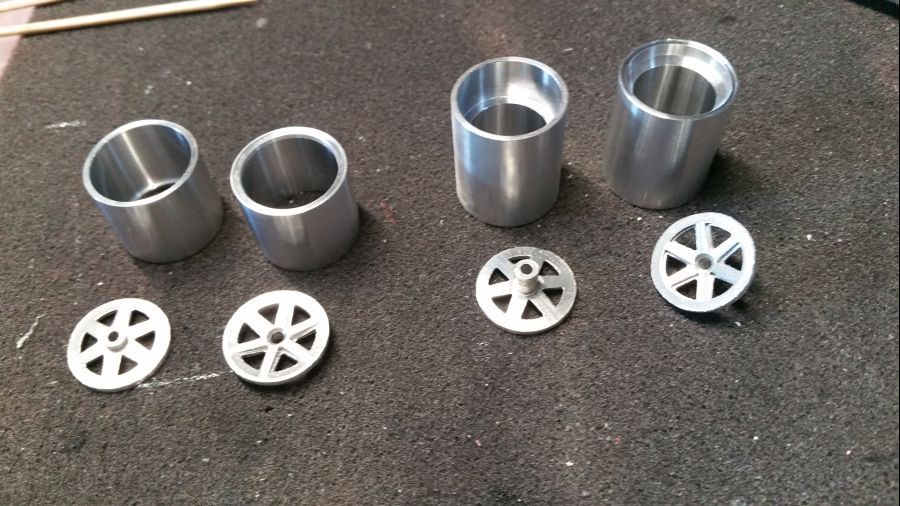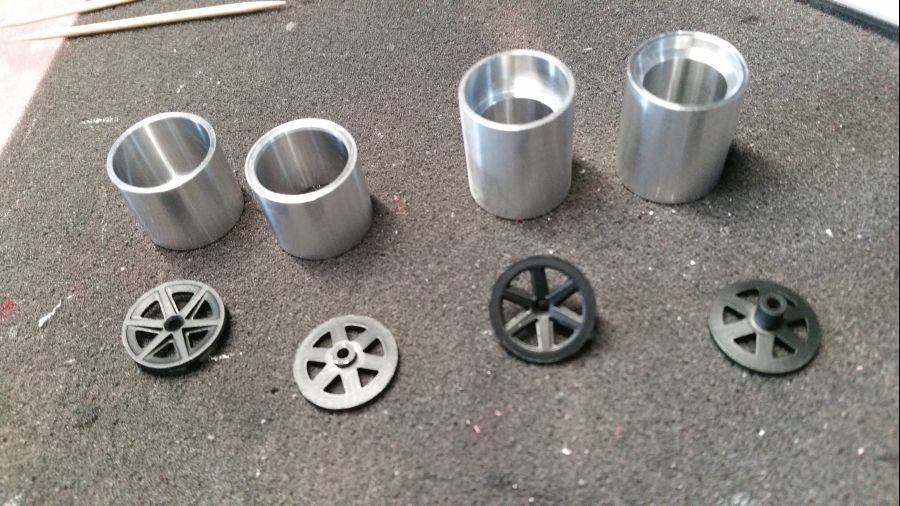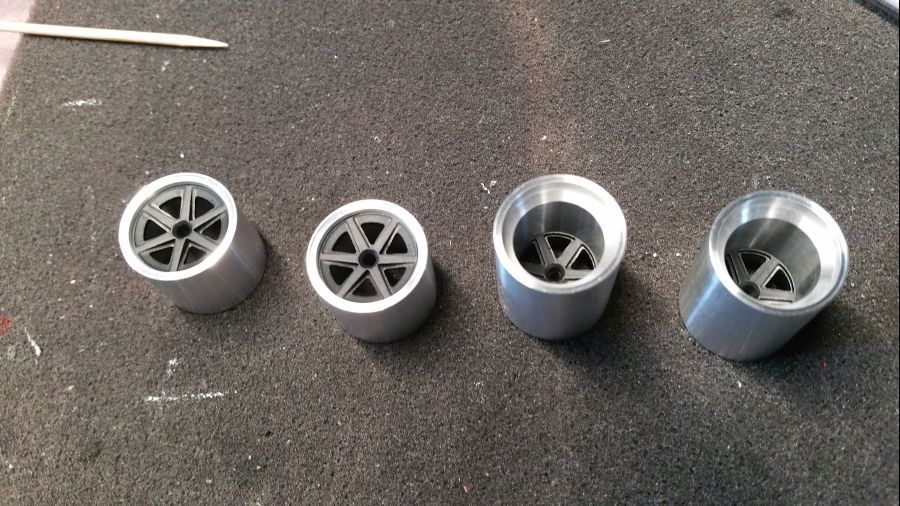 Ik probeer nog het ITG label op de foam te maken. Hiervoor heb ik een gelpen gebruikt. Uiteraard is het maar bij benadering.
I try to apply the ITG label to the foam. I use a gel pen for this. Of course it's only to replicate.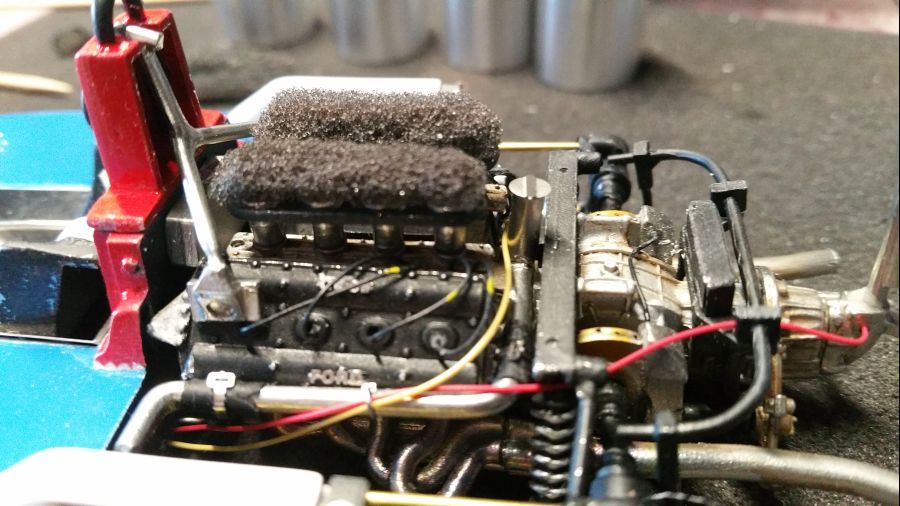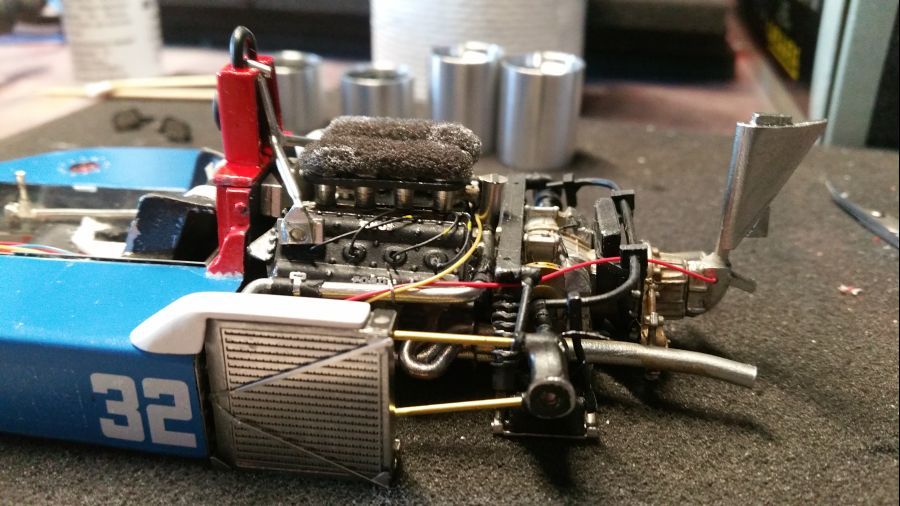 Dan de remschijven aan de voorkant erop...
Then attaching the break discs at the front...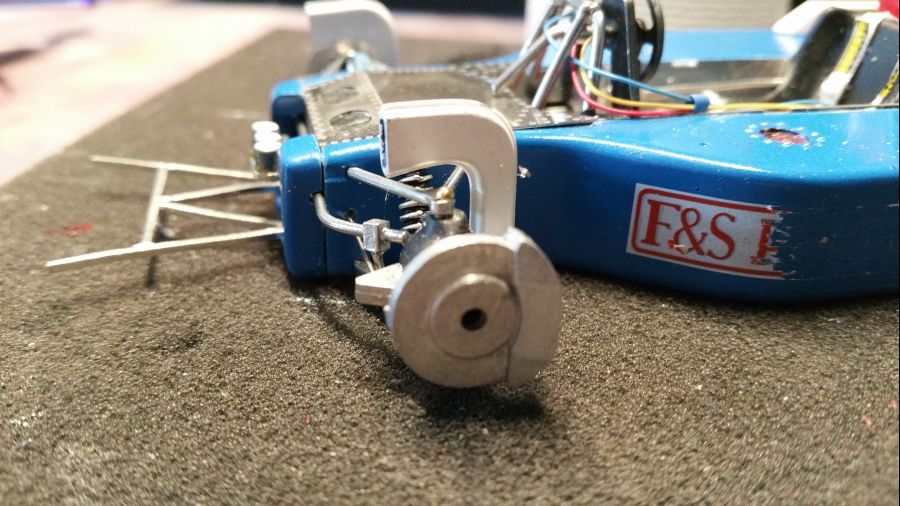 Vervolgens wordt het logo op de banden gespoten met behulp van een template.
The logo is painted on the tire by use of a template.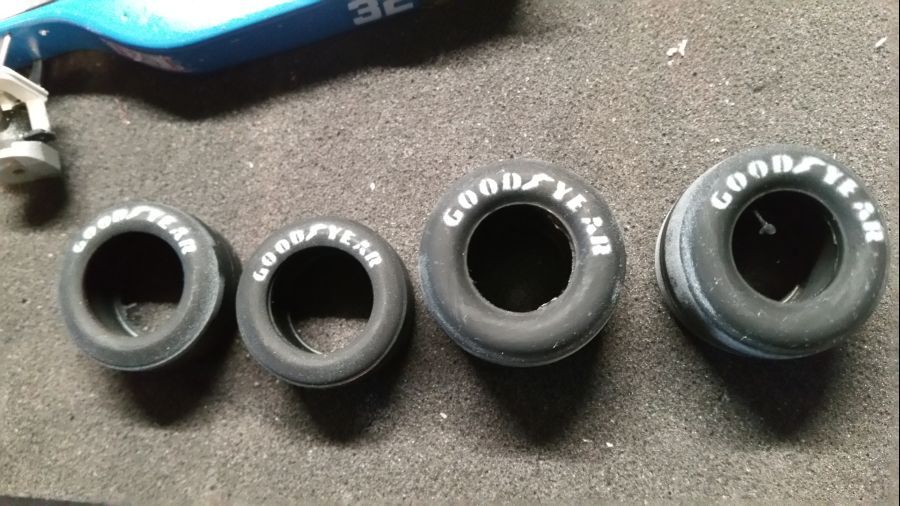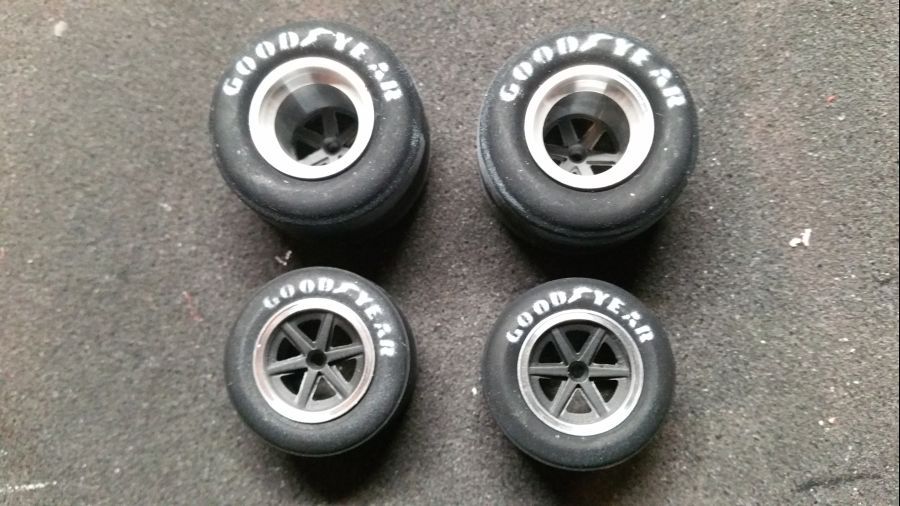 En de banden krijgen een 'gebruikt' uiterlijk..
And the tires are getting a 'used' look.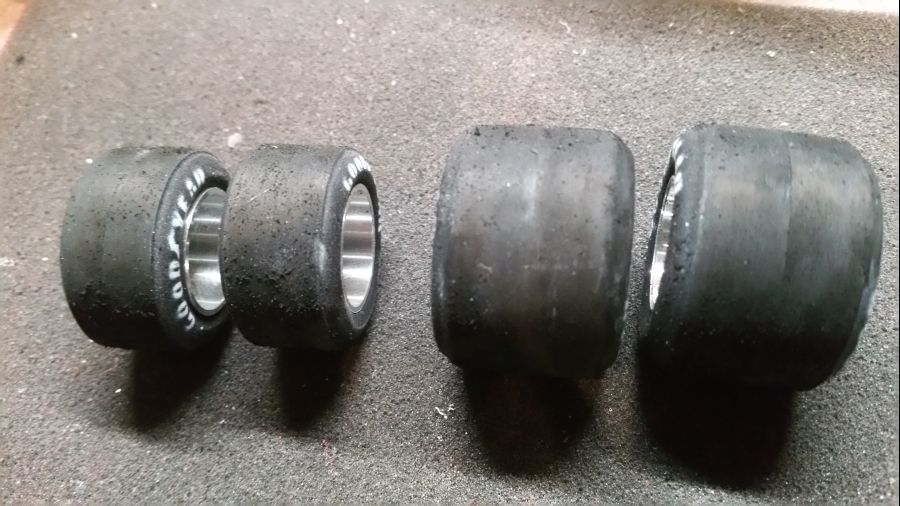 Langzamerhand wordt de wagen opgetuigd...
Piece by piece the car gets mounted...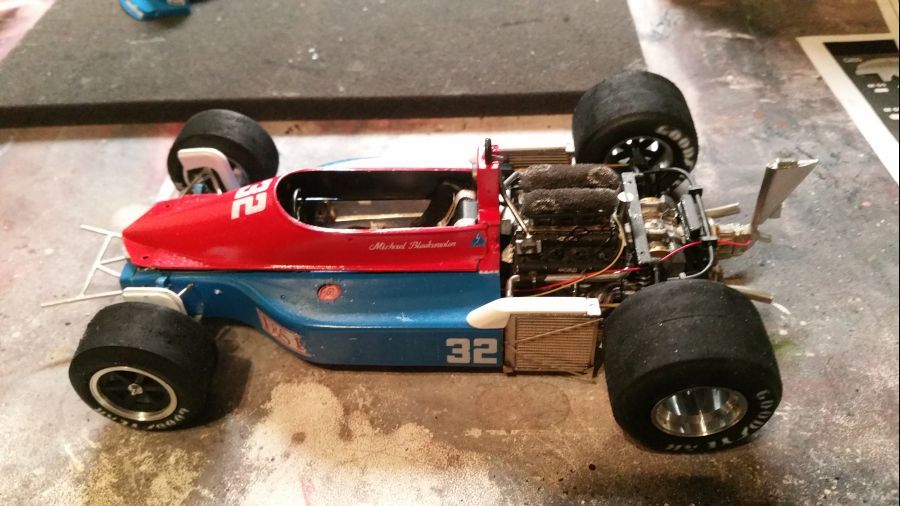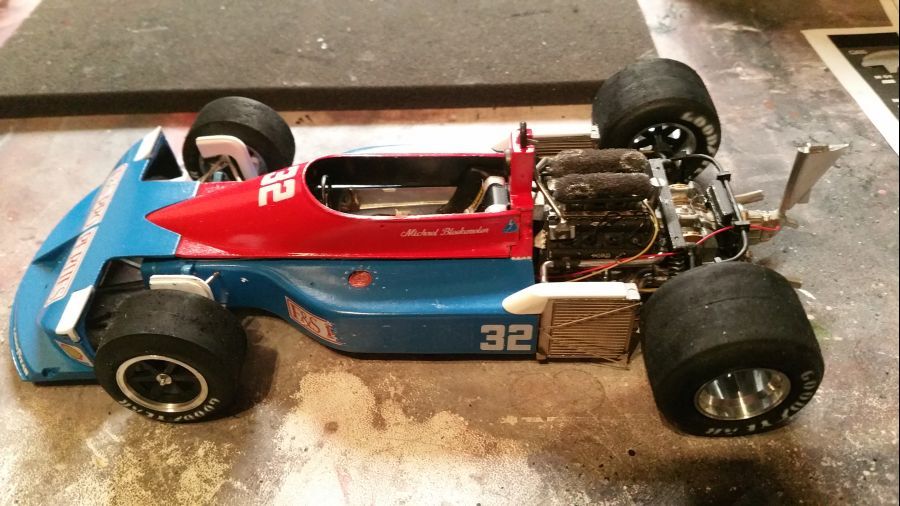 Alles lijkt redelijk okay the passen. Nu eerst even de decals weer vernieuwen die beschadigd waren.
Everything seems to fit okay. Now first replace the damaged decals.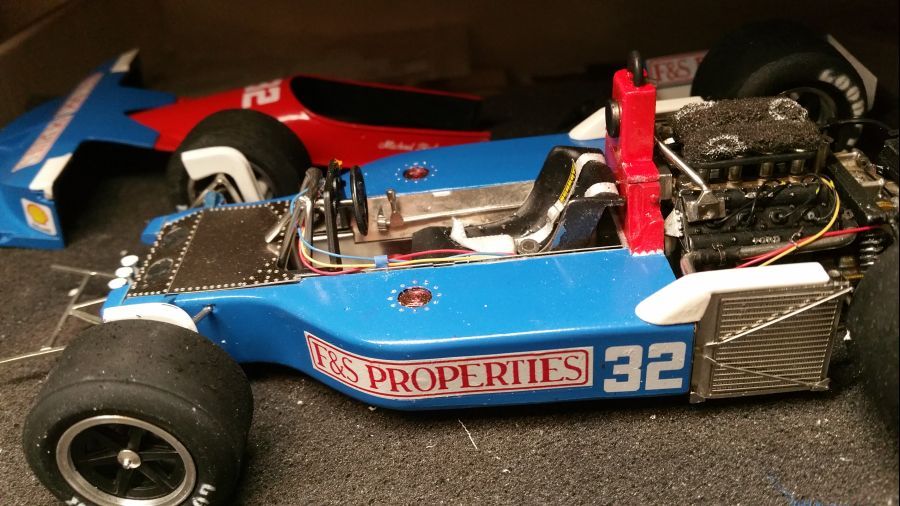 De achtervleugel gaat er op.....
The rear wing gets attached....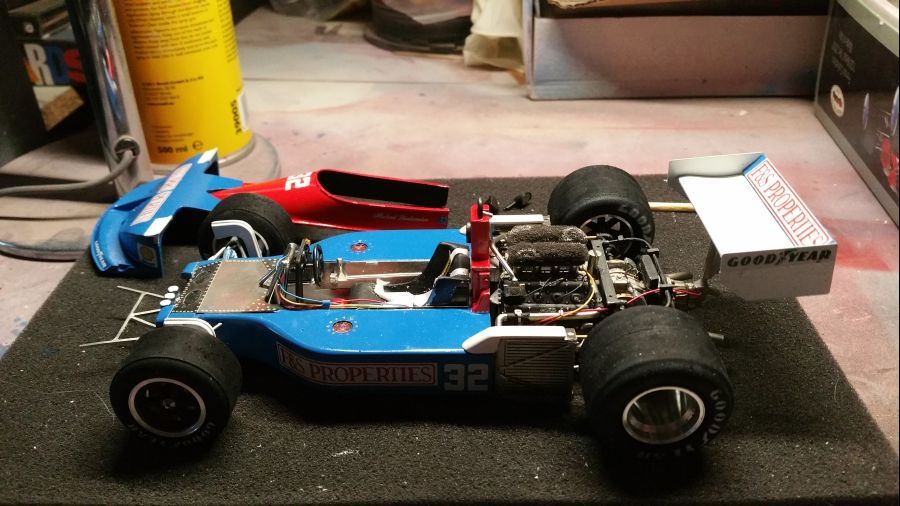 Nog een paar kleine details zoals de spiegels en de steunen aan de voorkant....
Some more detail like mirrors and the supports to the front....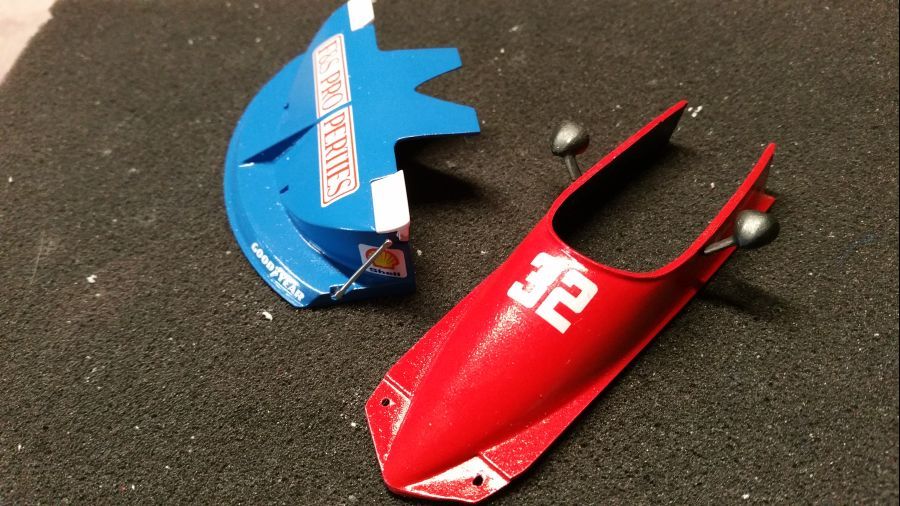 En de eerste van 2016 is weer klaar...
And the first one of 2016 is finished....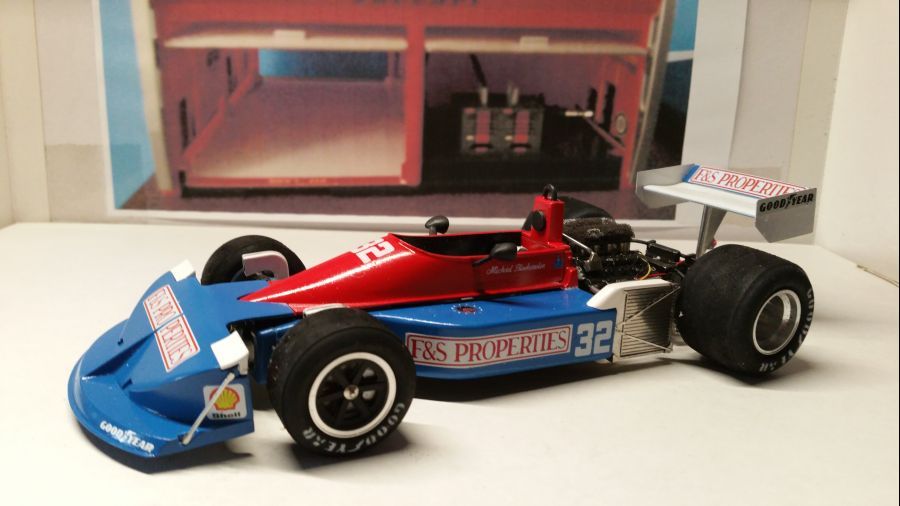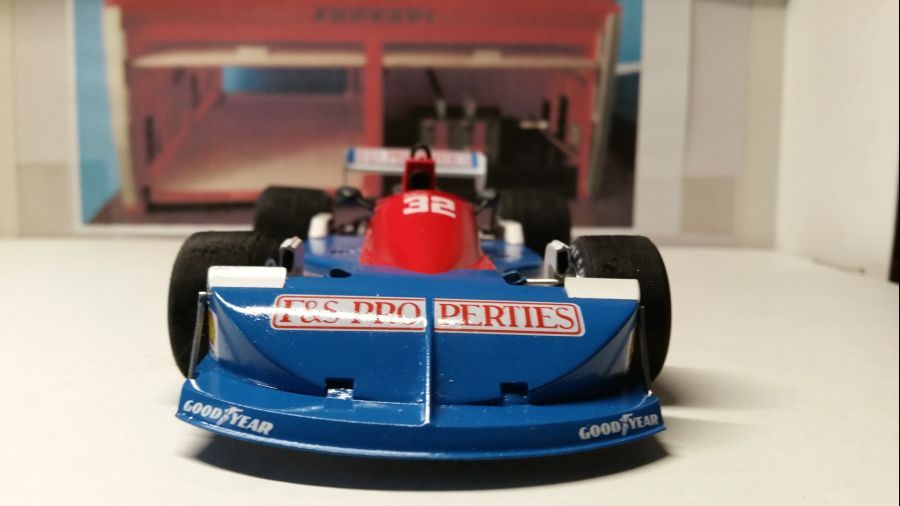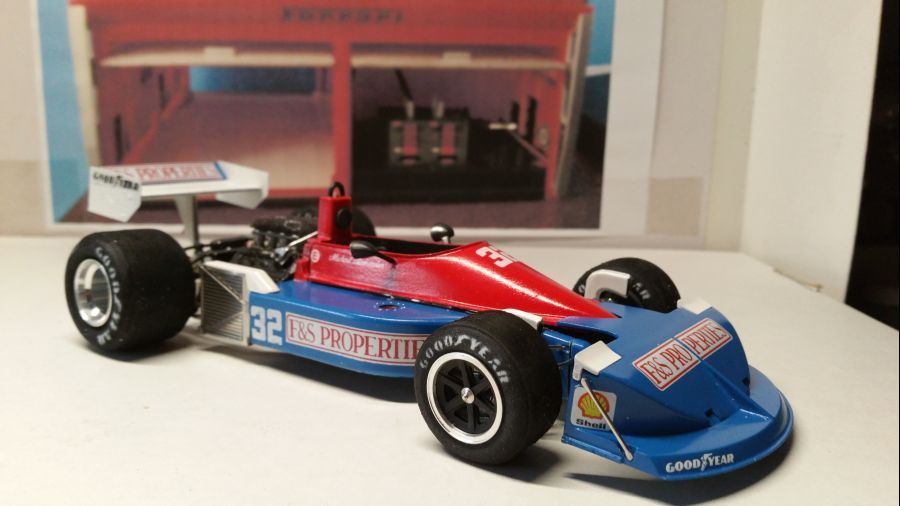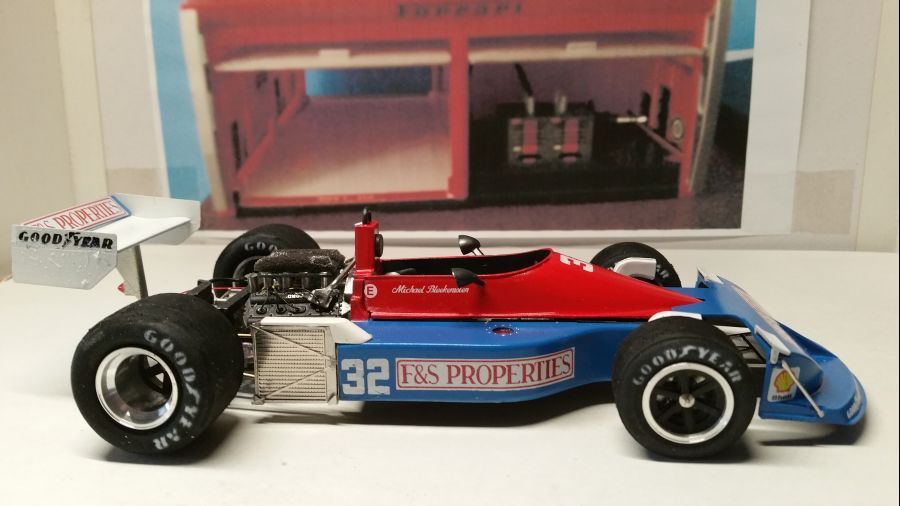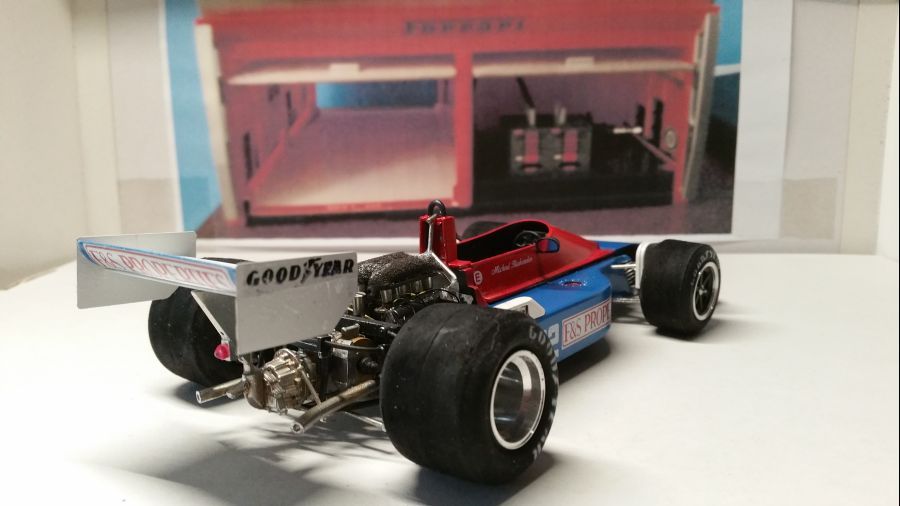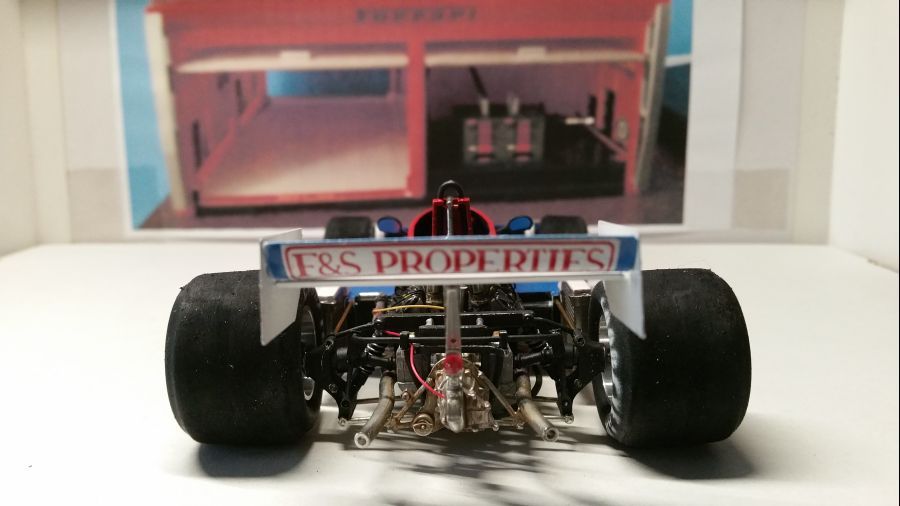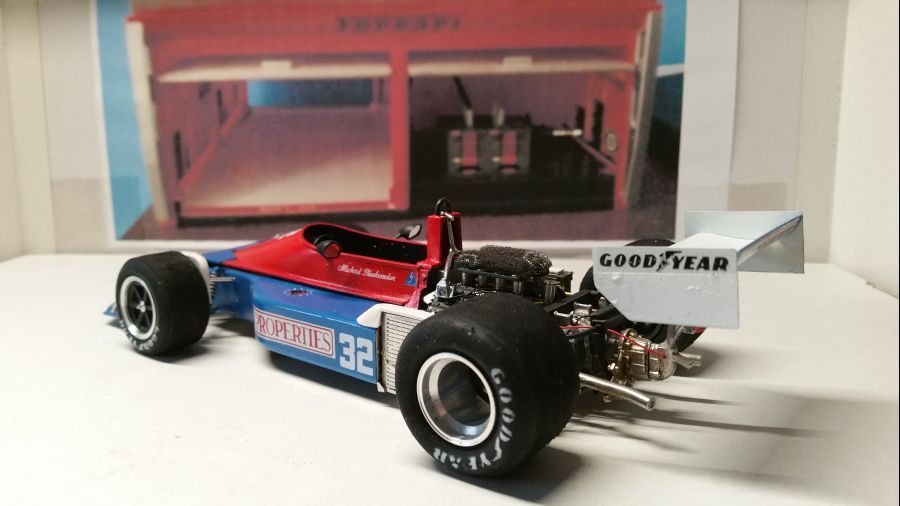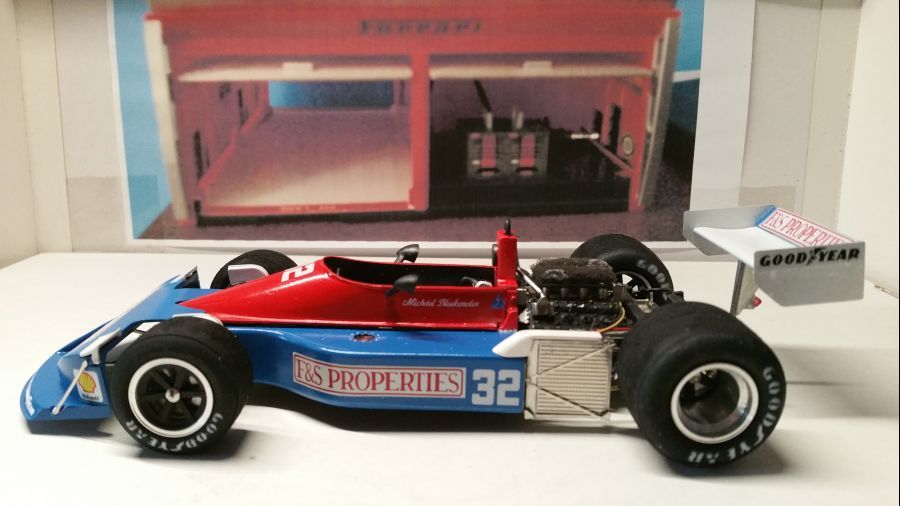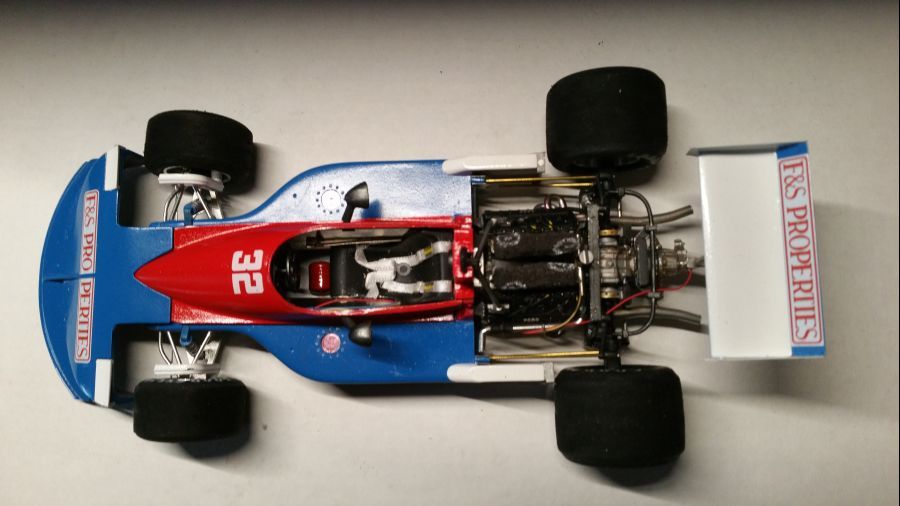 Op Facebook heb ik met een vriend overleg gehad of Michael wel echt in deze auto heeft gereden. Hij reed in 1977 op Zandvoort, maar die March 761 had een nieuwe neus. Via Facebook hebben we contact proberen te leggen met Michael Bleekemolen om duidelijkheid te krijgen. Tot op heden helaas nog niet gelukt. 
On Facebook i had a chat with a friend weather Michael did really drive this car. In 1977 he drove at Zandvoort, but this March 761 had a new nose. By Facebook we tried to contact Michael Bleekemolen to try to get more info. Until now we didn't receive an answer.