Nu start ik de bouw van een Ferrari F310B van Tamiya (kit nr 20045). Ik wil deze ombouwen tot een Japanse versie zoals deze werd bestuurd door Eddie Irvine. Daarom heb ik voor de bouw een conversieset gekocht van Studio27 (ST27-TK2004). Deze bevat wat etched onderdelen en de cigaret decals. Daarnaast heb ik nog een set goudkleurige velgen van Perfect Parts. Eerst maar even weer de foto's van alle onderdelen van de kits en sets.
Now i will start building the Ferrari F310B from Tamiya (kit no 20045). I will convert this to a Japanese version as driven by Eddie Irvine. Therefor i have bought a conversion set from Studio27 (ST27-TK2004). This set contains some etched parts and the famous cigarette decals. Also i have bought some gold rims from Perfect Parts. First the pictures of the content of the kit and sets.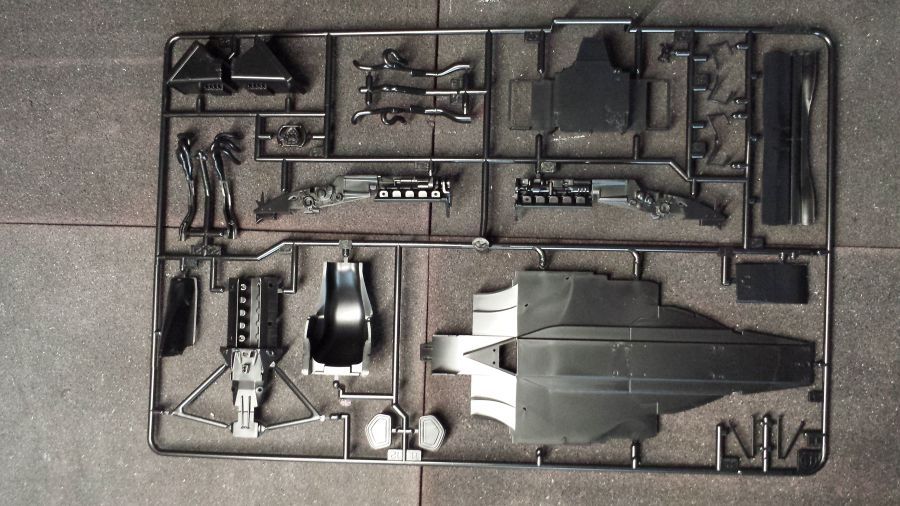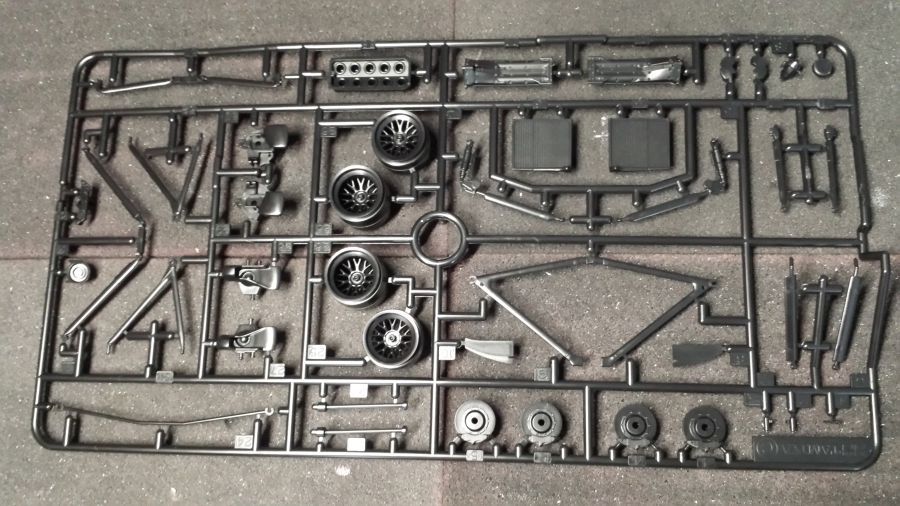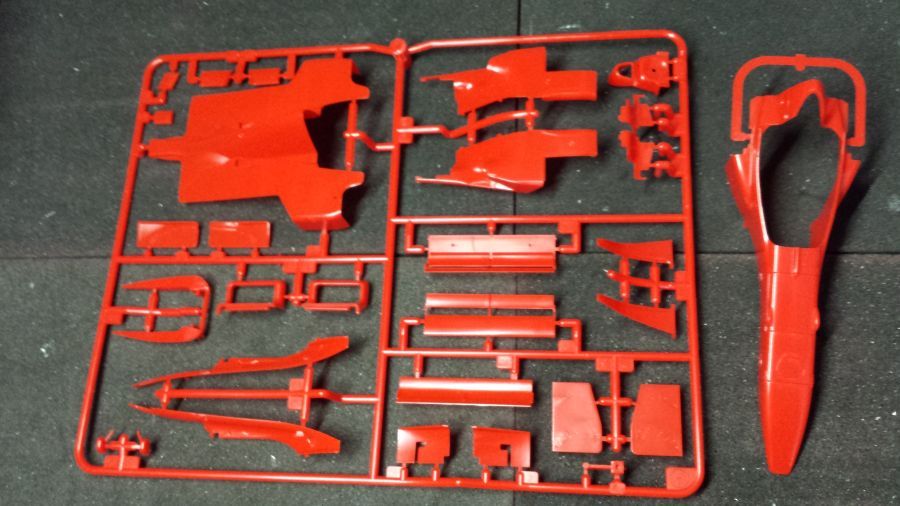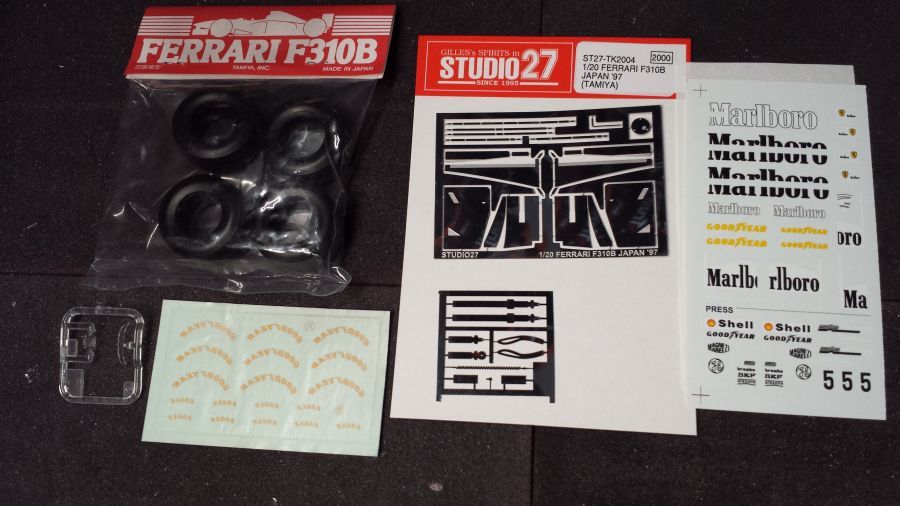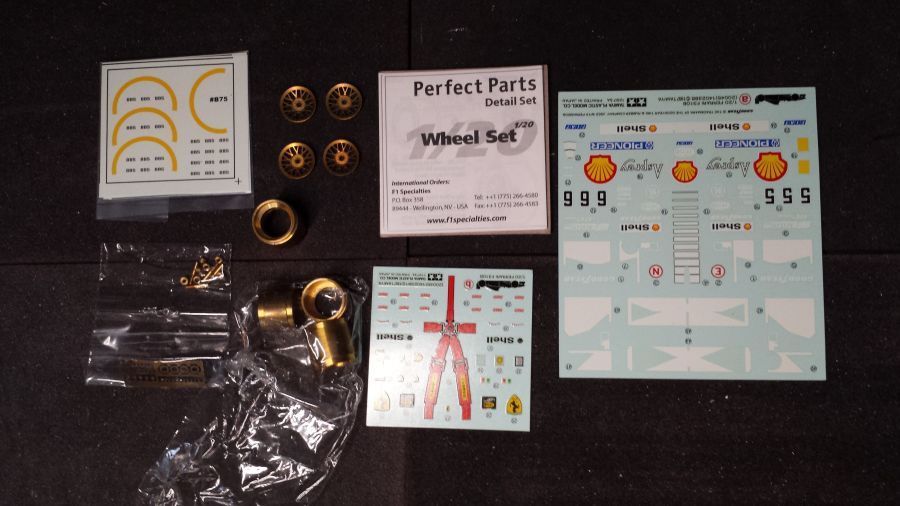 Eerst heb ik een paar onderdelen bij elkaar gezocht en ga deze verlijmen.
I grabbed a few parts together and will glue these.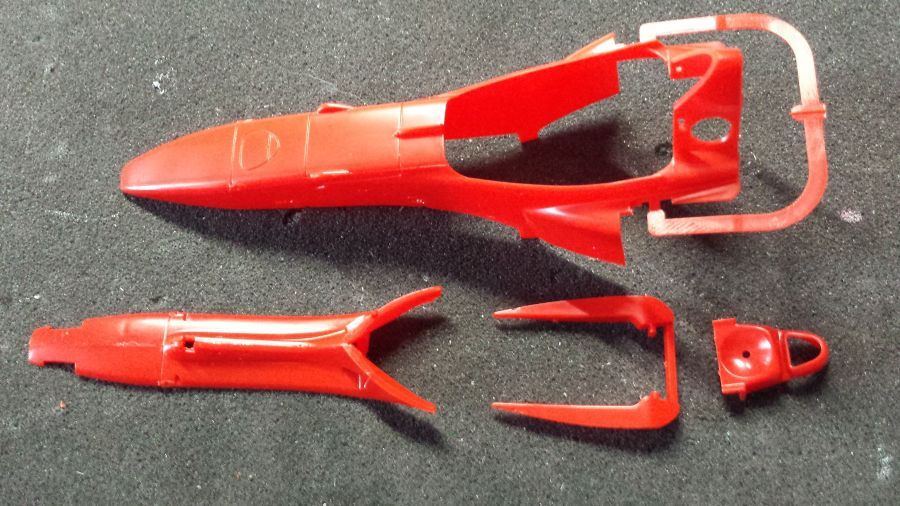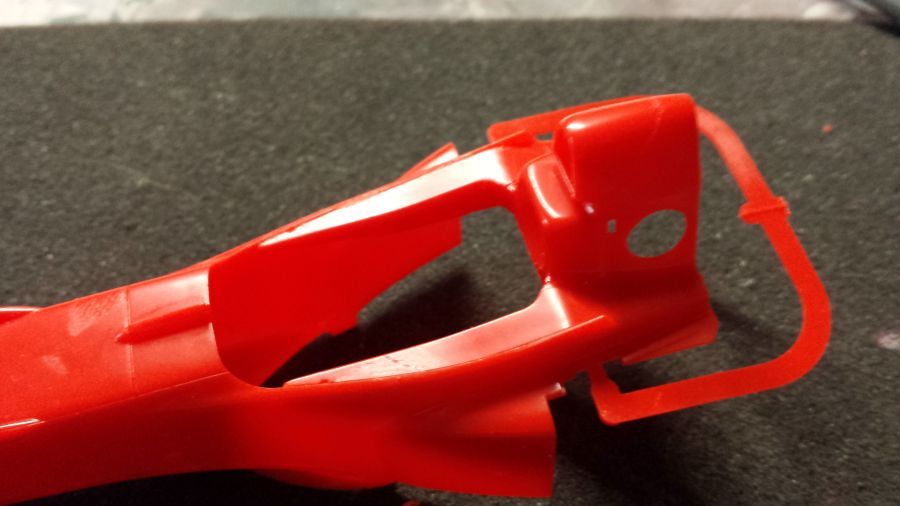 Het past allemaal niet perfect, dus moet er wat vuller worden gebruikt.
The fit is not perfect so i have to use some putty.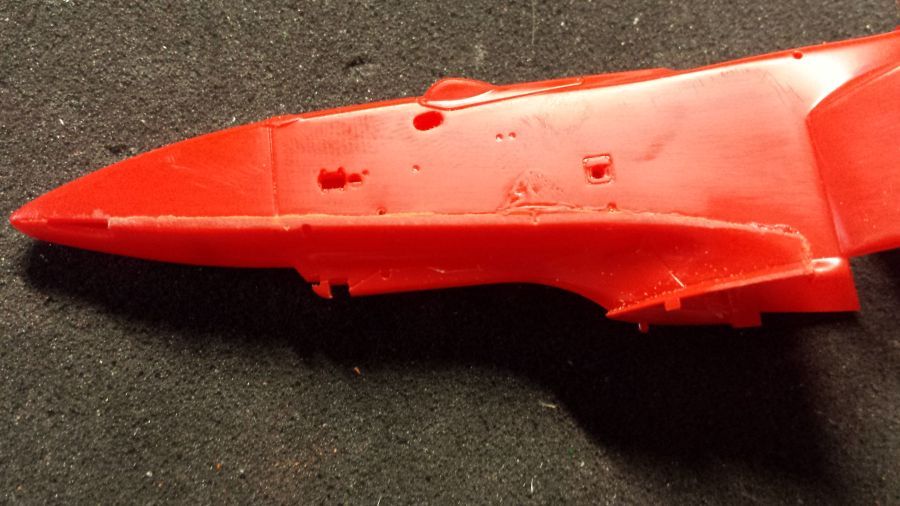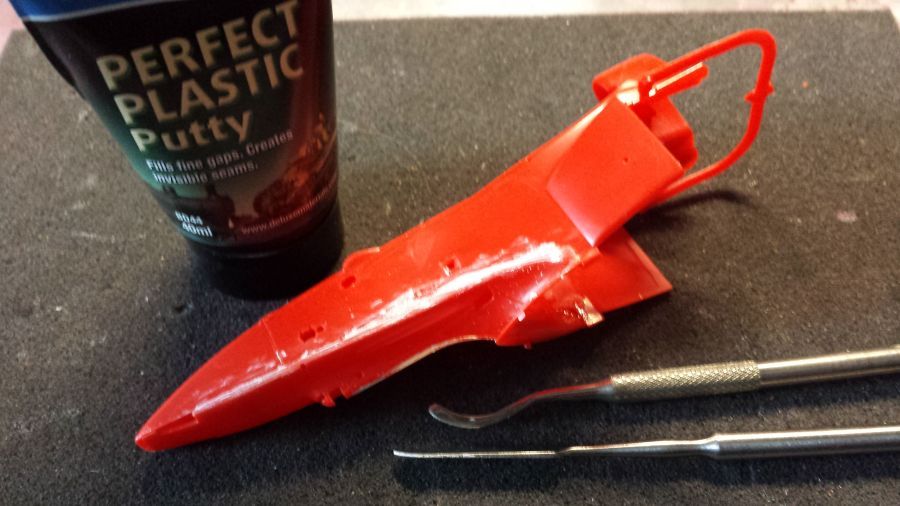 Daarna het meeste eraf schuren en in de grondverf zetten. Op die manier komen de meeste oneffenheden duidelijk tevoorschijn. Er is duidelijk meer werk te doen.
Then i will sand the most putty off and spray primer on it. This way the most imperfections will show clearly. It's obvious i have to do more work.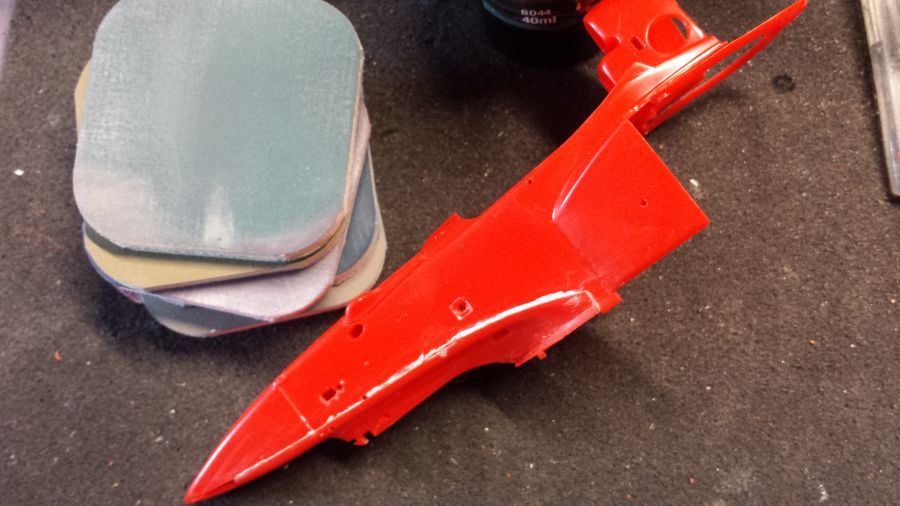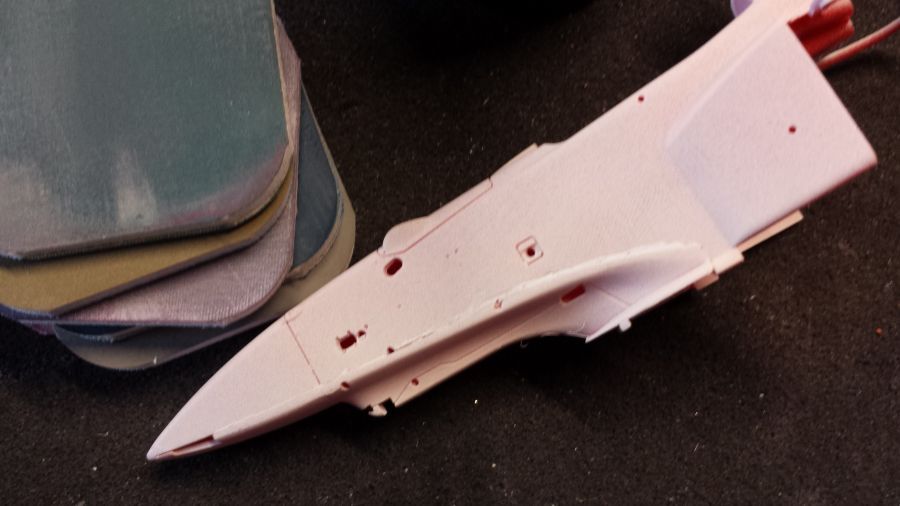 Terwijl de vuller verder droogt, ga ik vast met de stoel aan de gang. Ik hou niet van de volledig metalen gordels, dus ik ga weer de zijdelint gebruiken. Eerst alle onderdelen voor de gordels op volgorde gelegd. Daarna de boel in elkaar zetten.
While the putty dries, i will continue with the seat. I don't like the fully etched belts, so i will use the silk ribbon again. First all parts for the belts are collected. Then everything will be combined.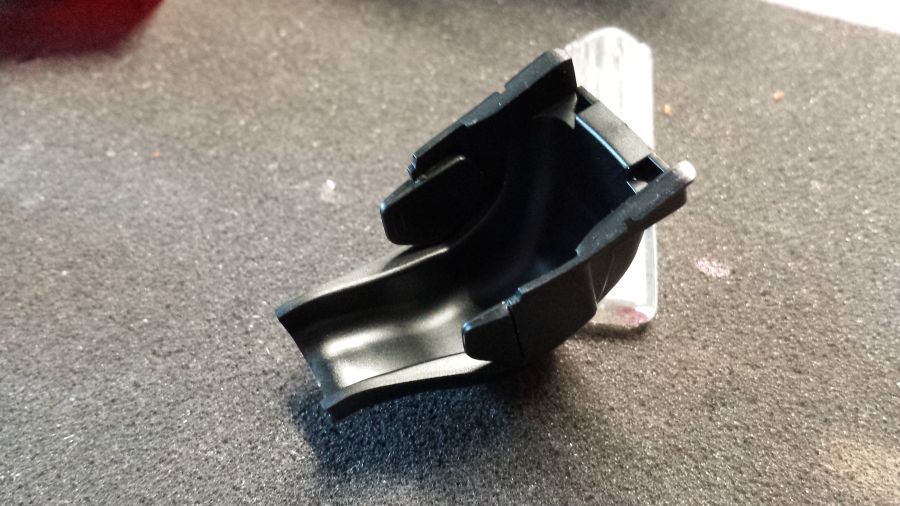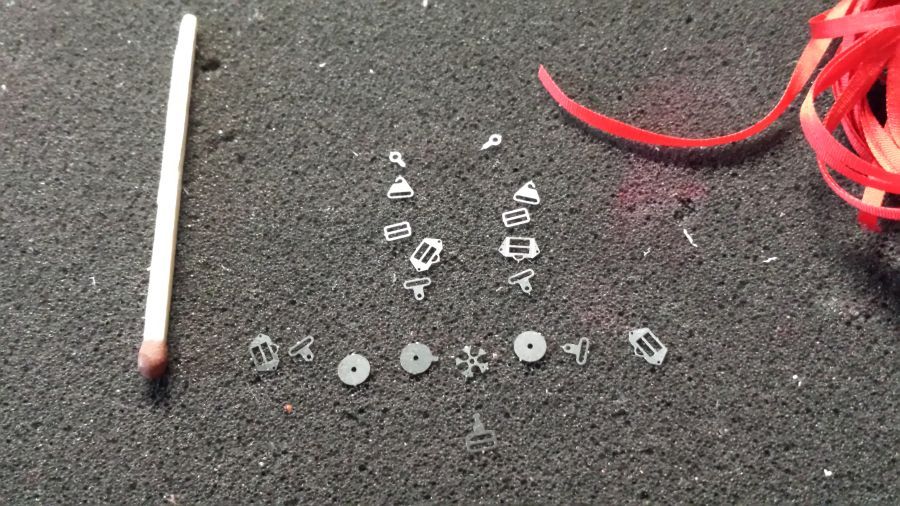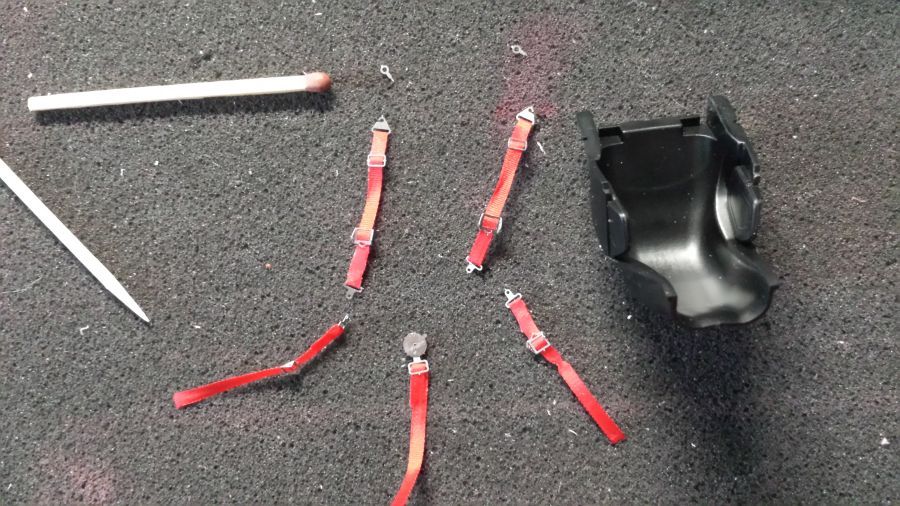 De bevestigingspunten zijn geplaatst en de stoel kan klaargemaakt worden.
The attachment points have been put into place and the seat can be completed.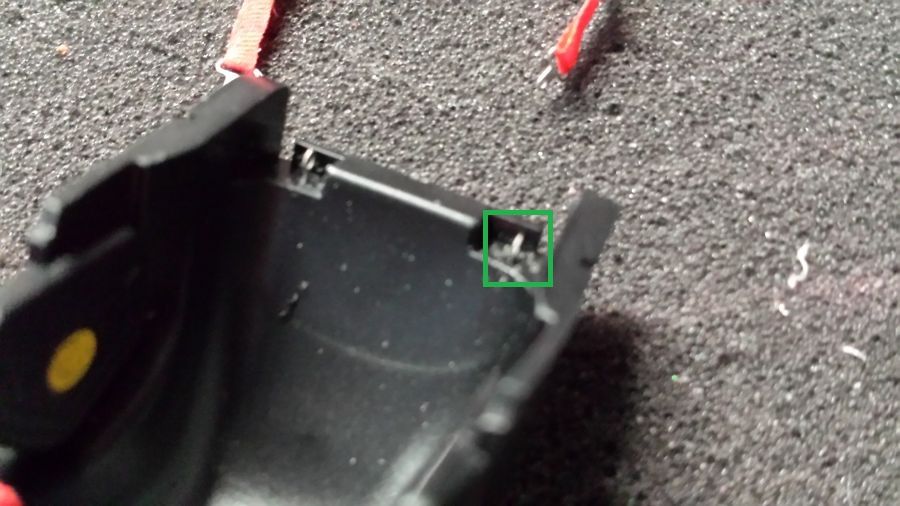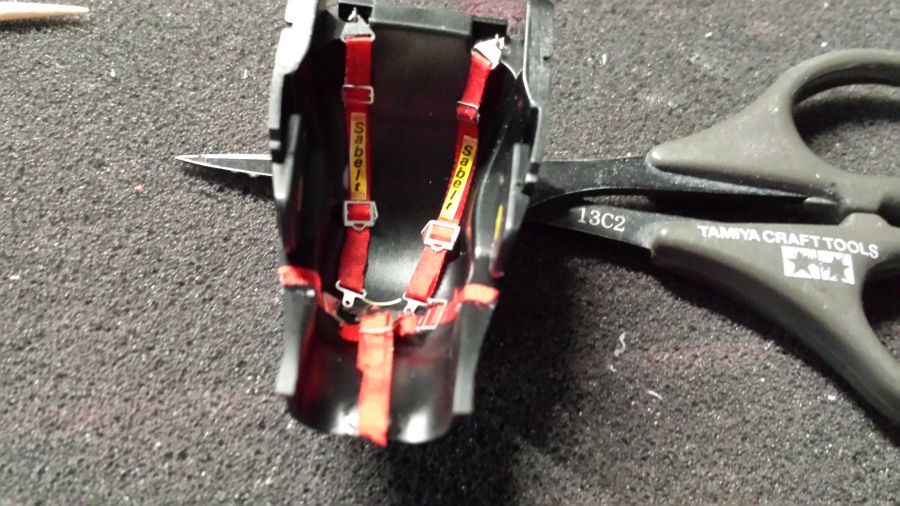 Een aantal onderdelen zijn gespoten met primer en na het drogen klaar voor de rode verf.
Some parts have been painted with primer and after drying ready for the red paint.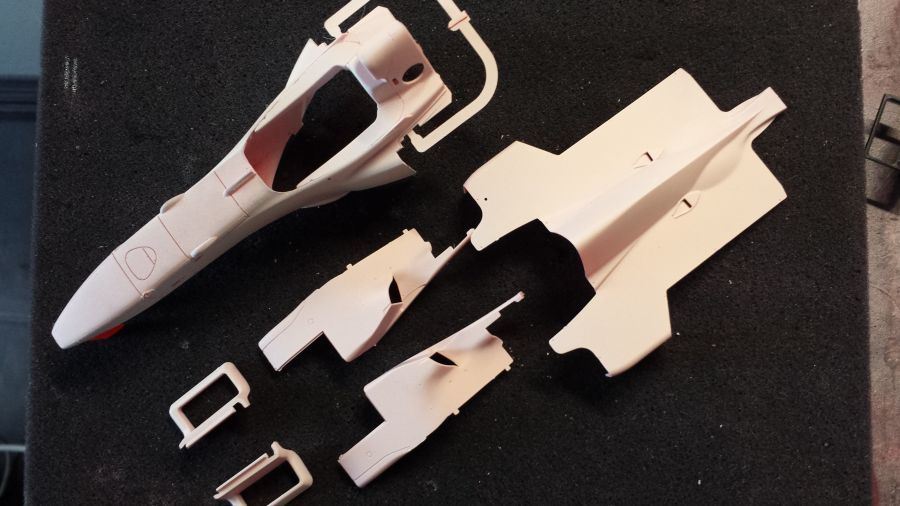 Een paar delen worden voorzien van de etched onderdelen.
A few parts get the etched parts attached.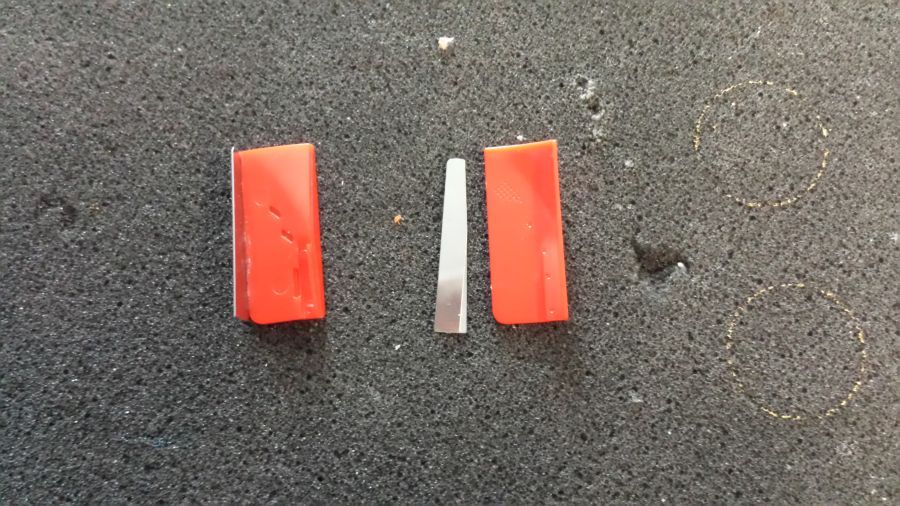 En de rolling tool moet weer uit de kast voor het buigen van een paar onderdelen. De originele onderdelen van de kit kun ik gebruiken om te zien waar en hoe ver gebogen moet worden.
And the rolling tool comes out of the closet again to bend a few parts. The original parts from the kit can be used to determine where and how much they need to be bent.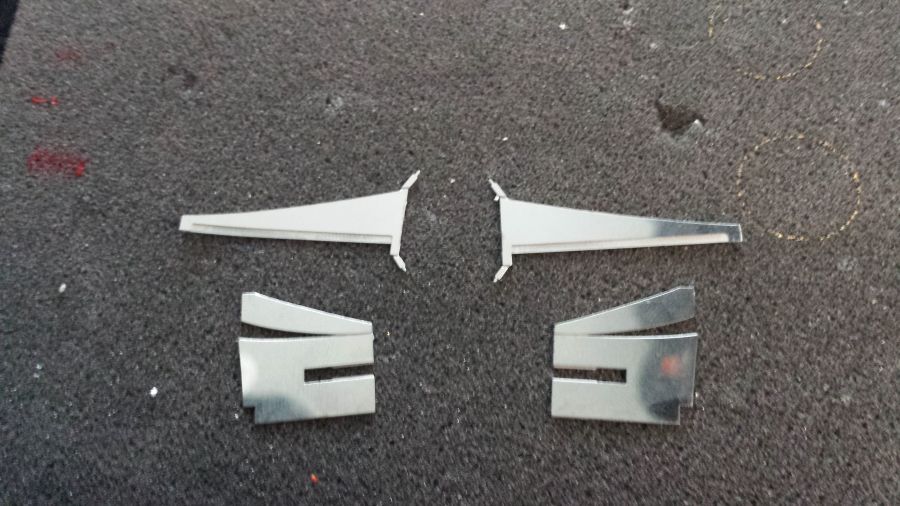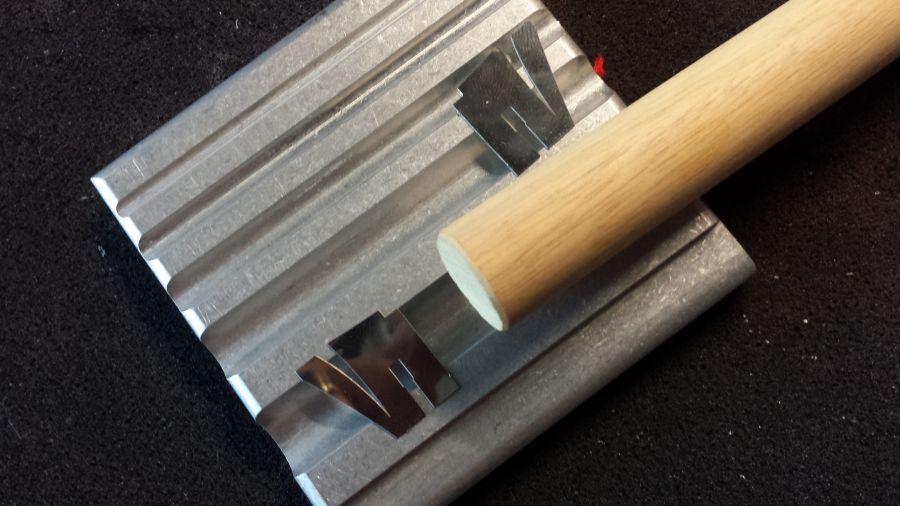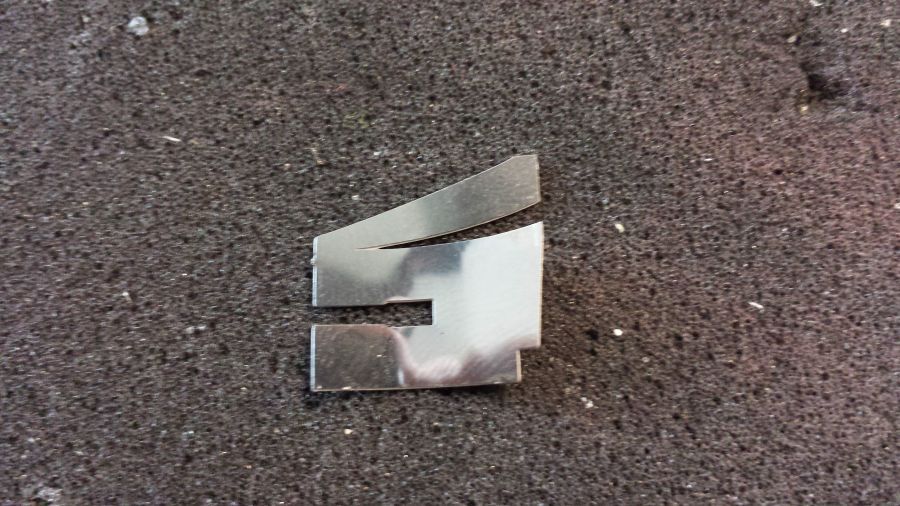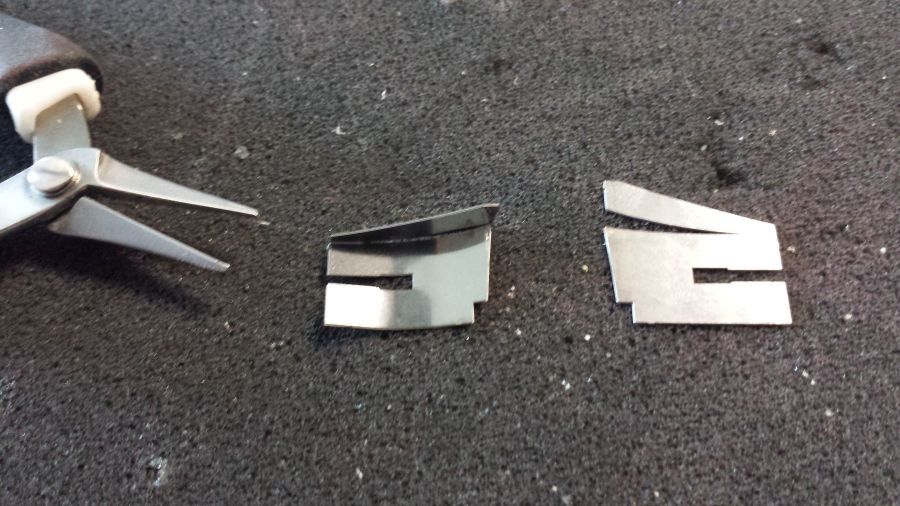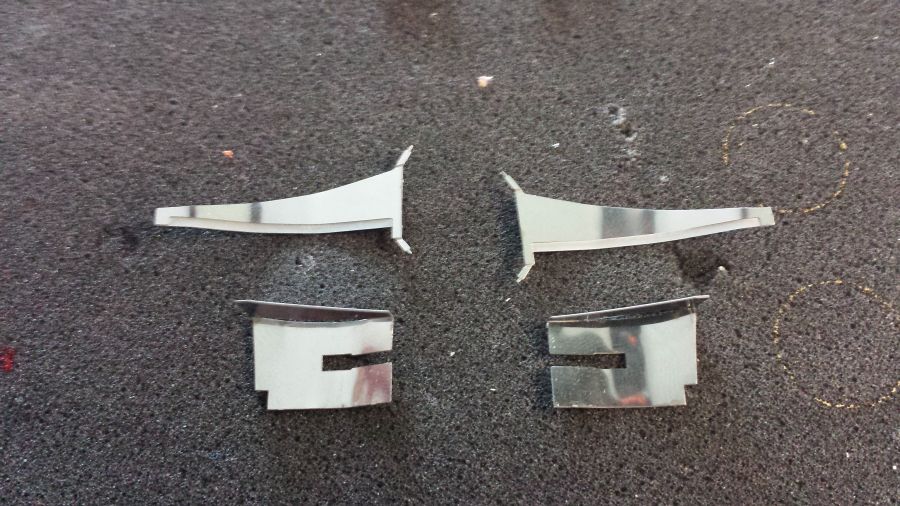 Meer onderdelen zijn nu klaar voor de grondverf.
Multiple parts are now ready for the primer.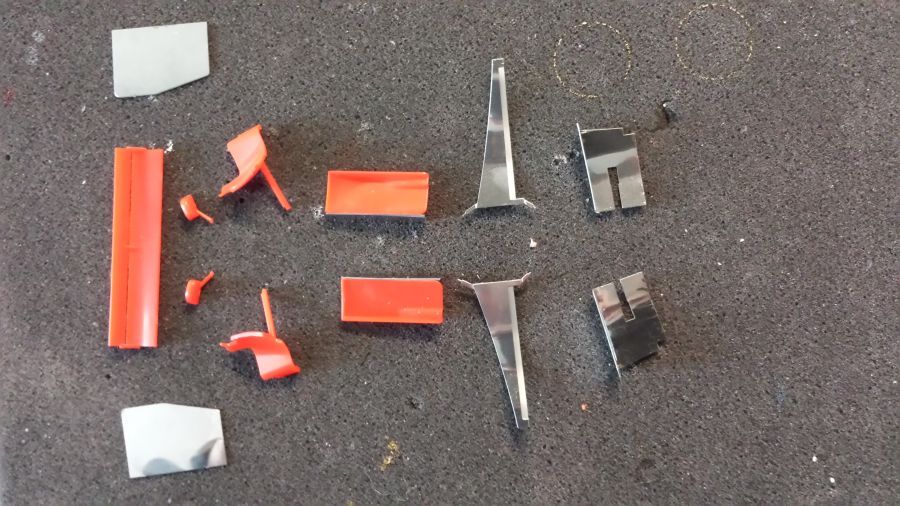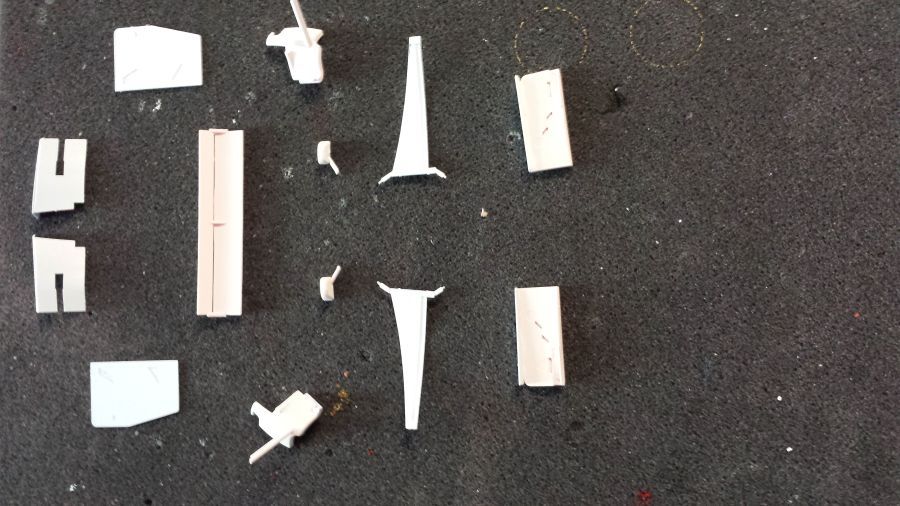 De kleur en de glanslak zit erop. Misschien moet ik morgen nog een laag lak spuiten. Het rood is van Zero Paints ZP-1007 Pre-2004 Rosso Formula 1.
The paint and the clear coat is on. Maybe i will spray some more clear coat tomorrow. The red is from Zero Paints ZP-1007 Pre-2004 Rosso Formula 1.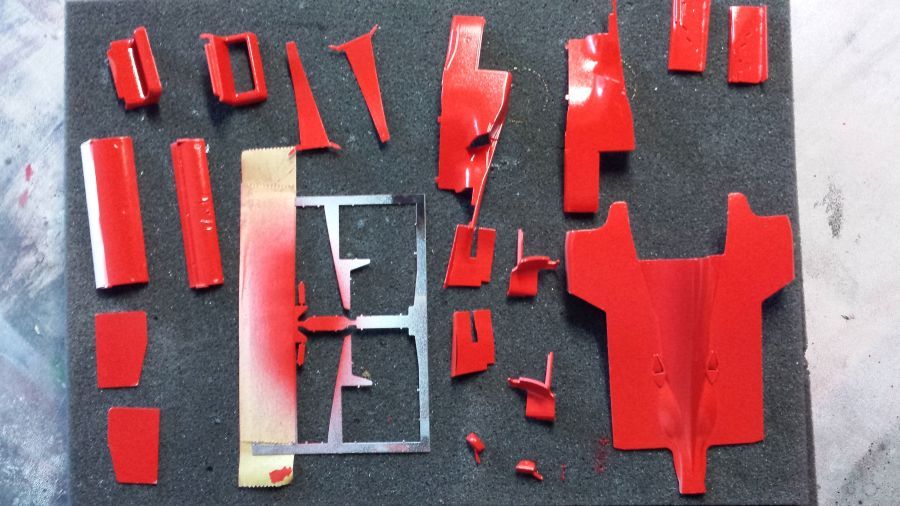 Een deel van de achtervleugel is wit gespoten en het brandschot zwart.
A part of the rear wing has been painted white and black on the bulkhead.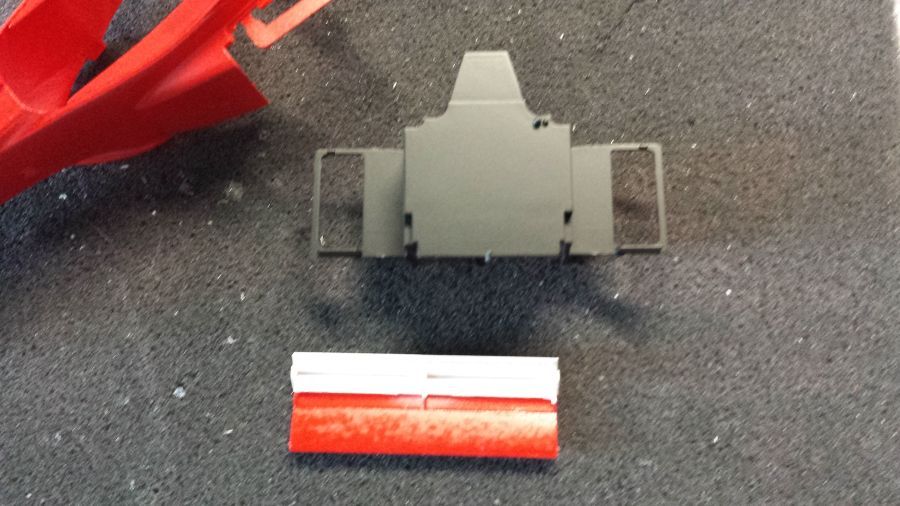 Voordat de decals worden geplakt wordt eerst de vulopening dicht gemaakt.
Before the decals are applied, first the fill cap needs to be closed.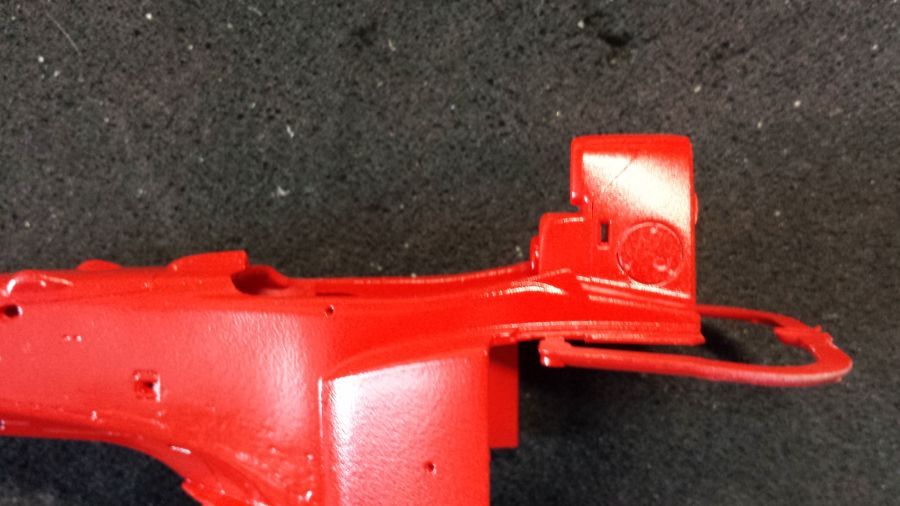 Voor de zijplaten van de achtervleugel snij ik 2 stukken carbon fiber decal op maat.
For the end plates of the rear wing i cut two pieces of carbon fiber decal to size.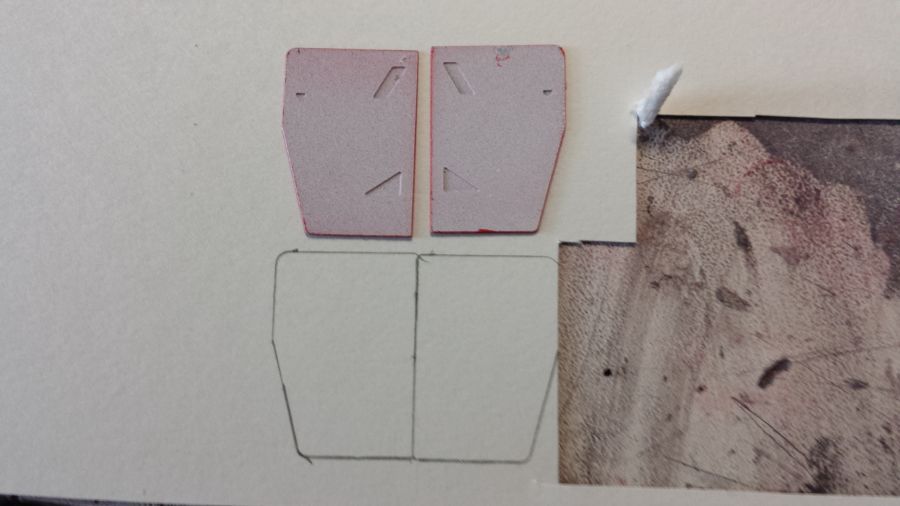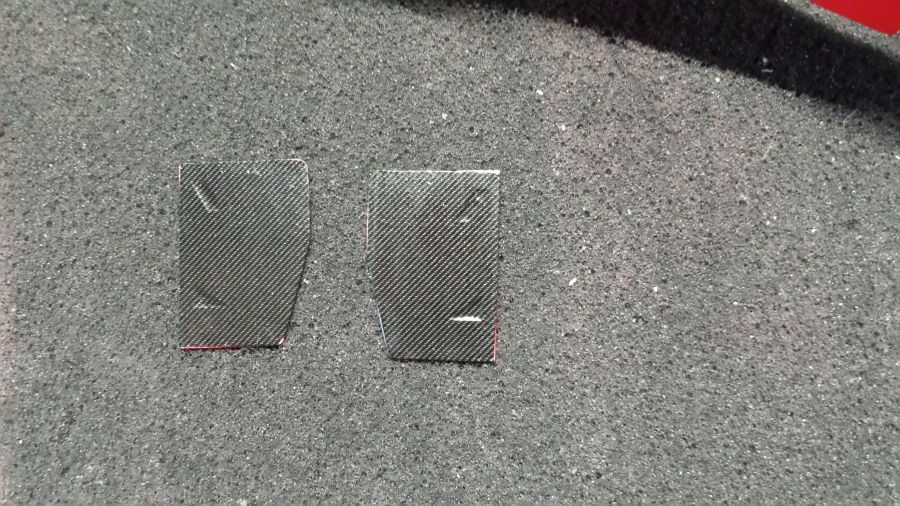 Het is tijd voor de decals. Soms moet een decal in meerdere stukken worden geknipt om deze over diverse bodypanelen te kunnen verdelen. Daarna alles goed laten drogen.
It's time for the decals. Sometimes you need to cut the decals to be able to divide it over several body panels. After this everything has got to dry thoroughly.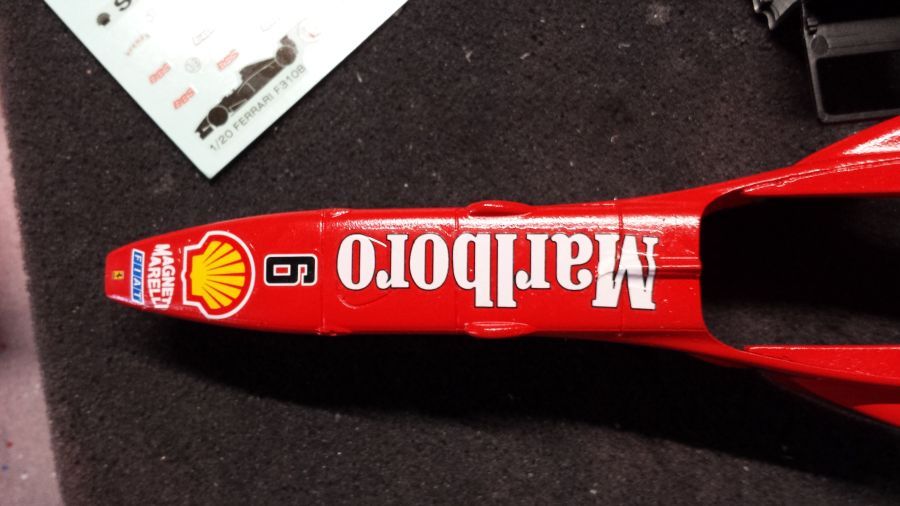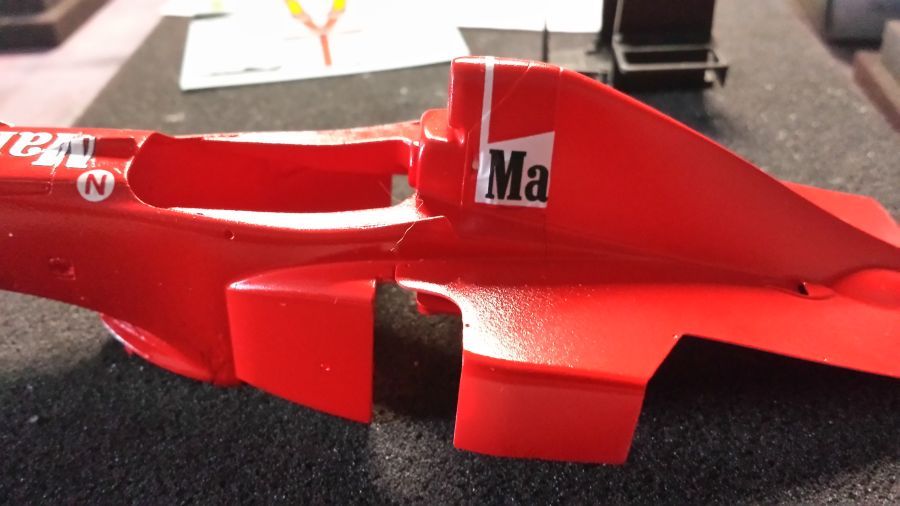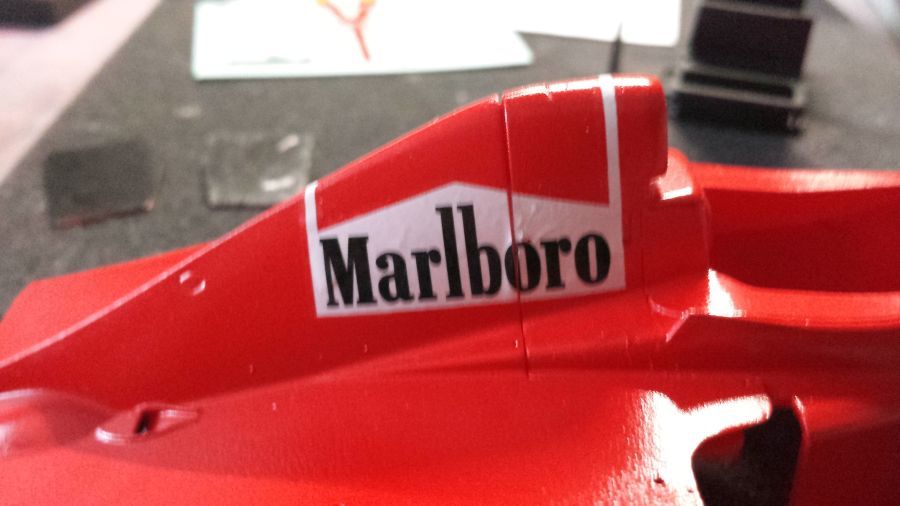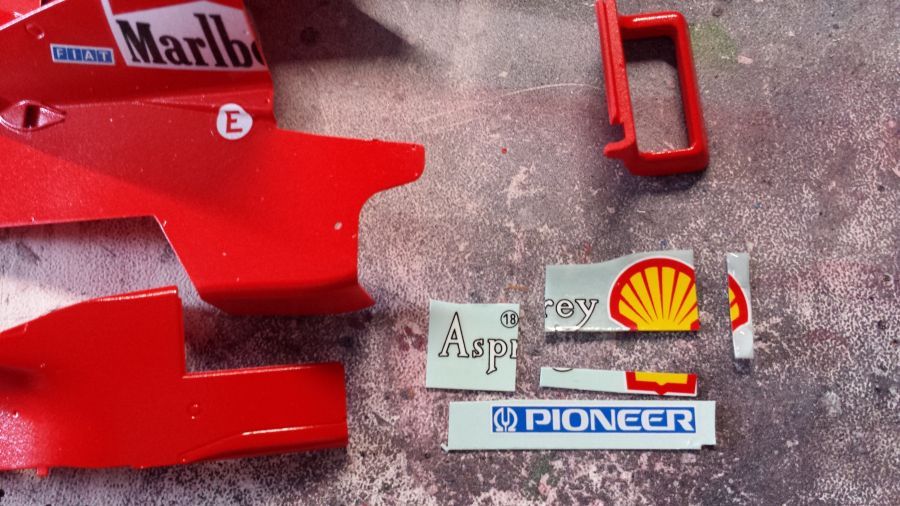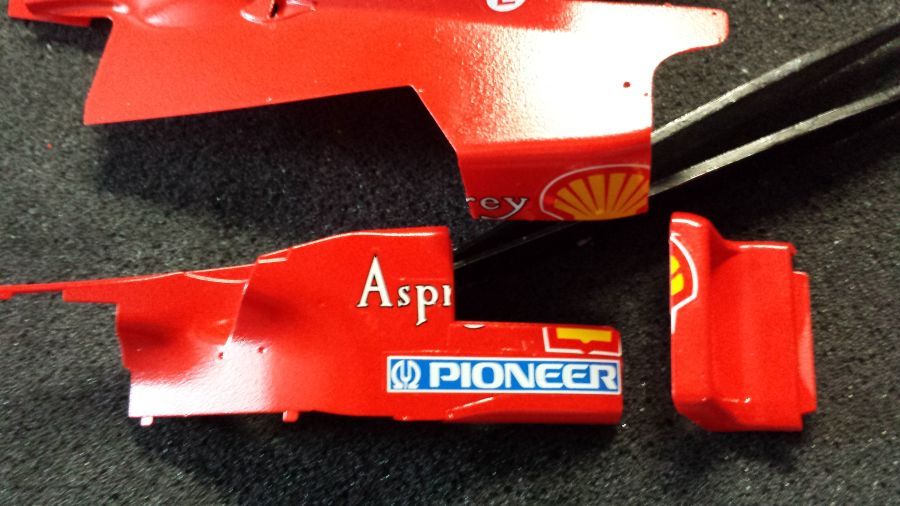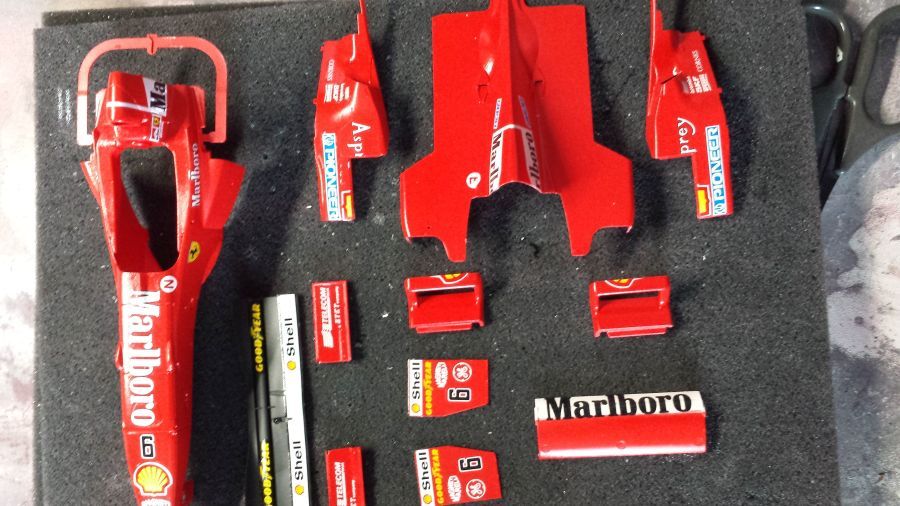 Intussen werk ik wat aan de bodemplaat. Een paar onderdelen worden geplaatst, daarna afplakken, spuiten en de plank aanbrengen. Ik gebruik decals. Ik wil binnenkort een keer naar echt hout kijken.
Meanwhile i will work on the under tray. A few parts are applied, then some masking, painting and attaching the wood. I use a wood decal. I will look for some real wood shortly.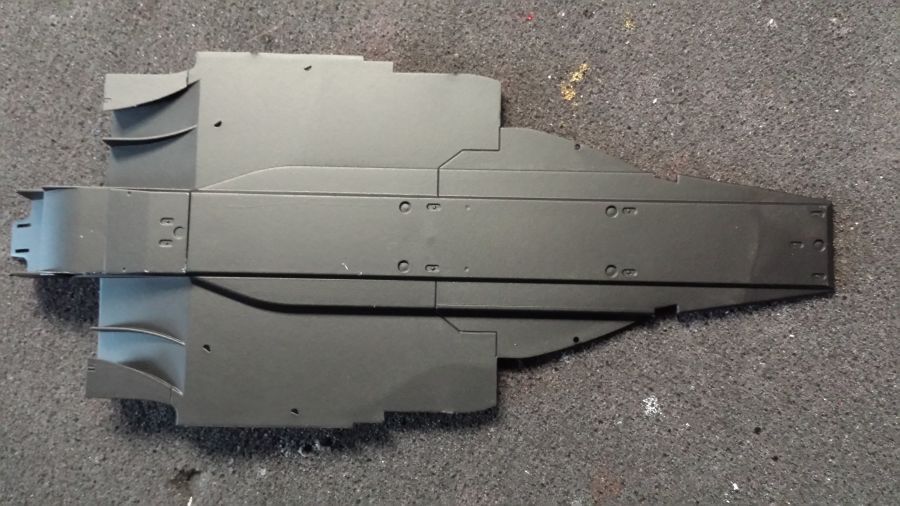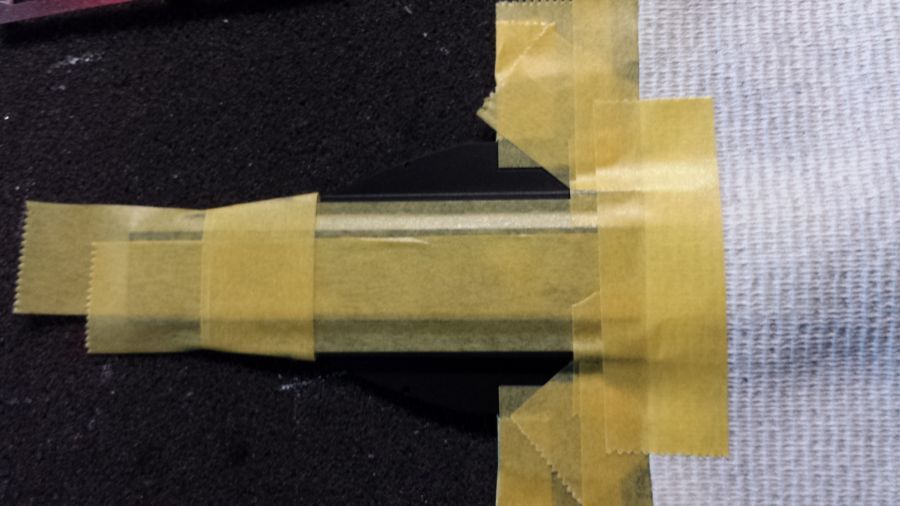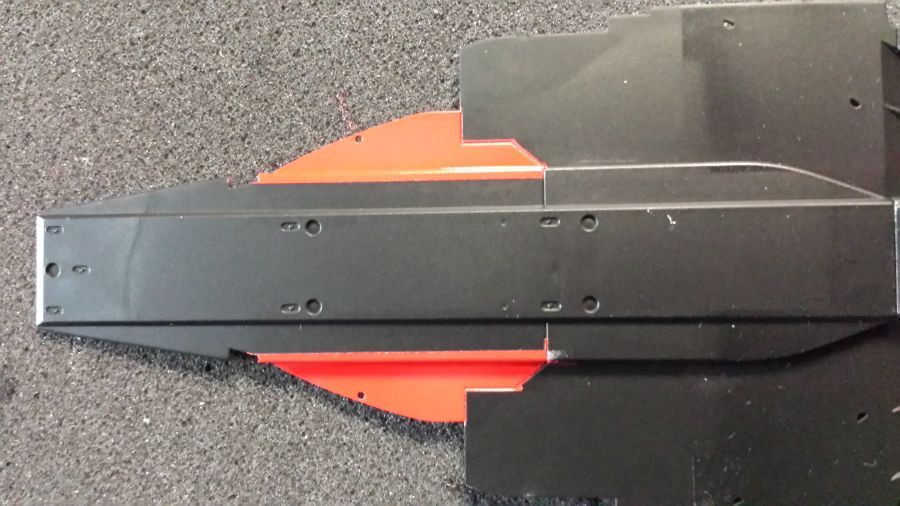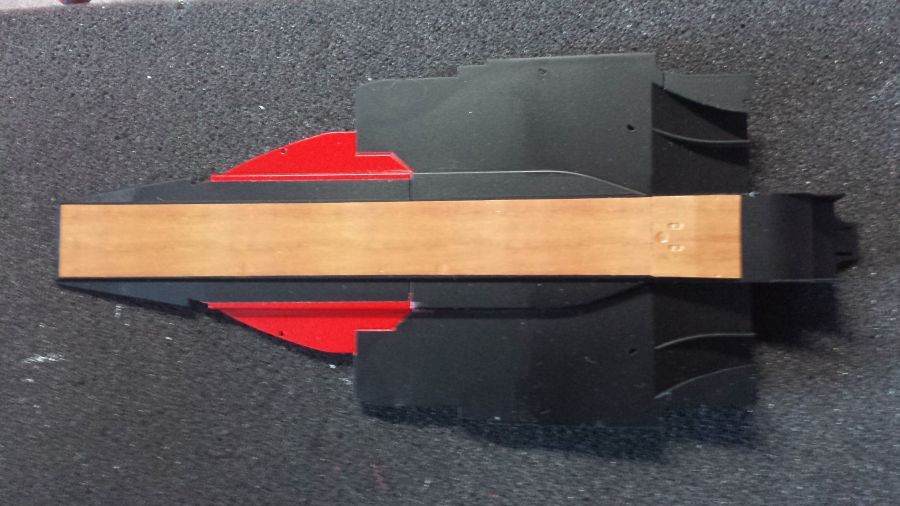 Vervolgens begin ik met de motor. De onderdelen zijn met een beetje houtlijm aan elkaar gezet. Ik spuit de motor, maar de ophanging moet nog aangebracht. Zo kan de boel makkelijk weer uit elkaar.
Next is starting the engine. The parts are put together with a small amount of white glue. I will spray the engine, but the suspension needs to be attached. Now everything can be separated easily.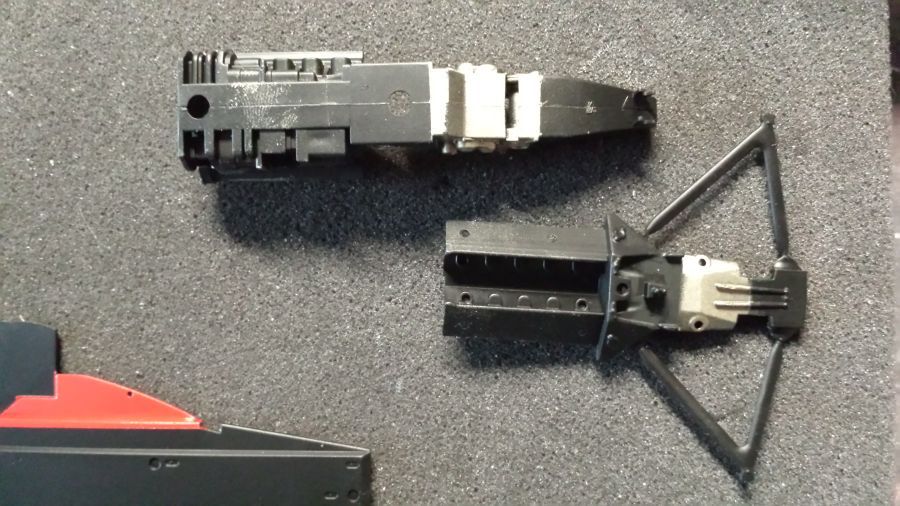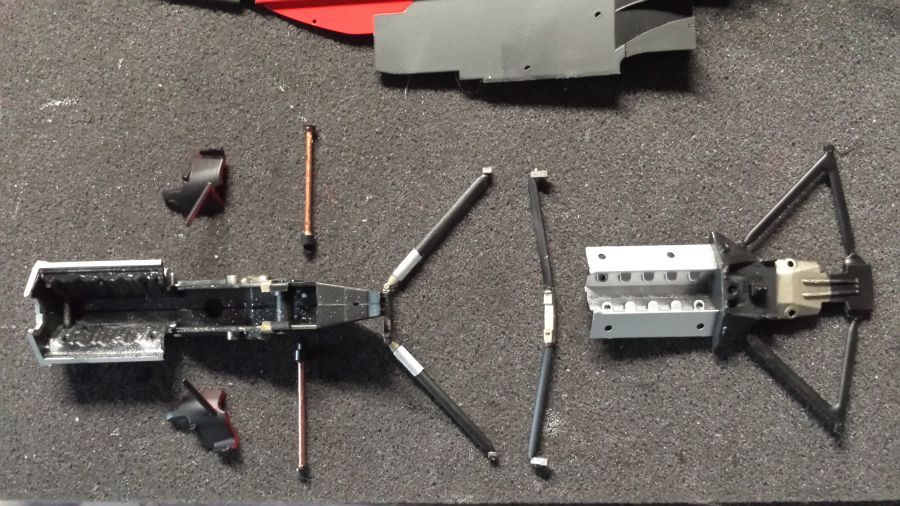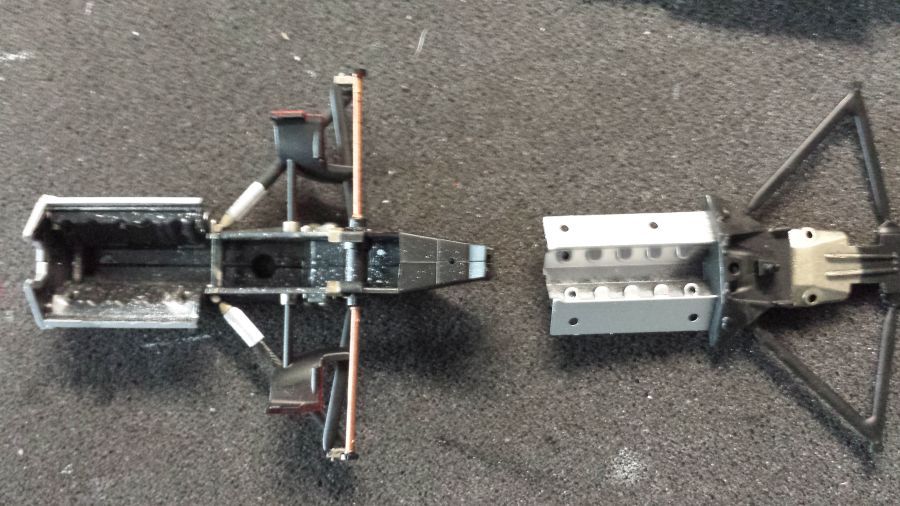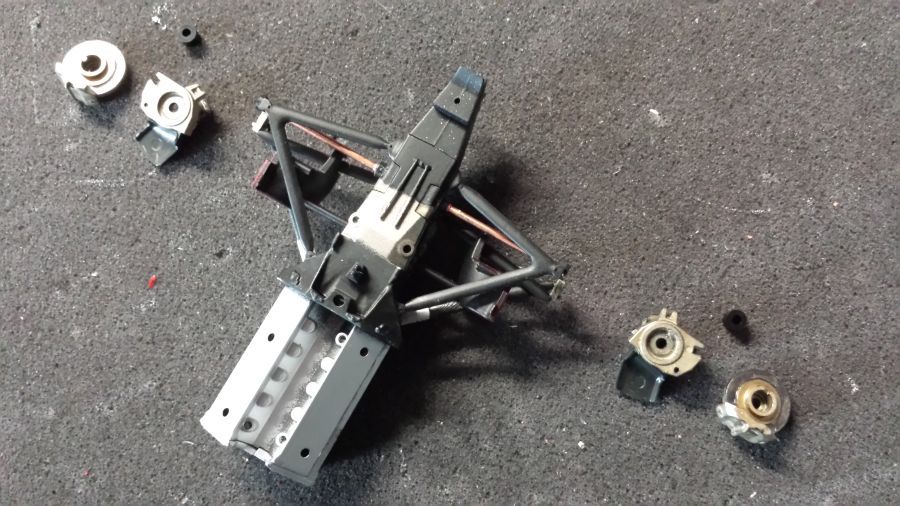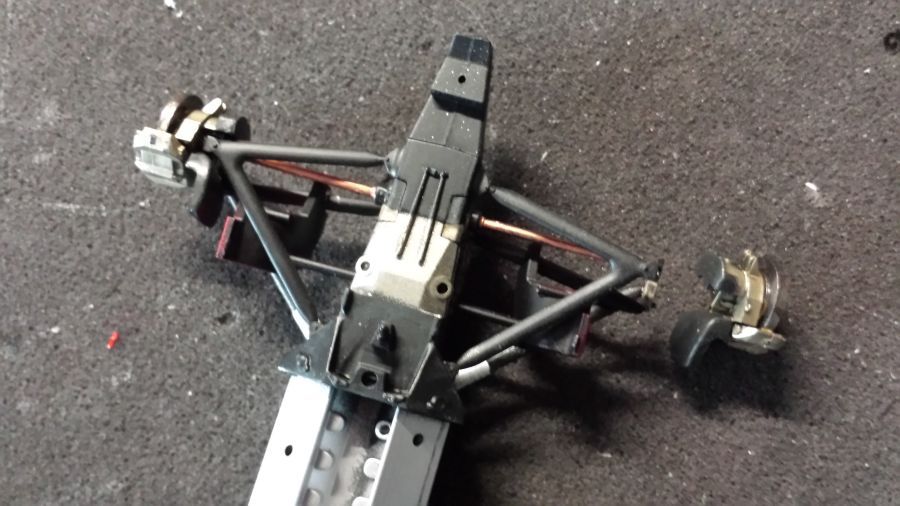 Een deel van de sidepods, de achterwand, het dashbord en de stoel zijn gemonteerd, daarna kan de boel aan de bodemplaat worden gelijmd.
A part of the side pods, the bulkhead, the dash and the seat have been mounted. Next everything is mounted to the floor.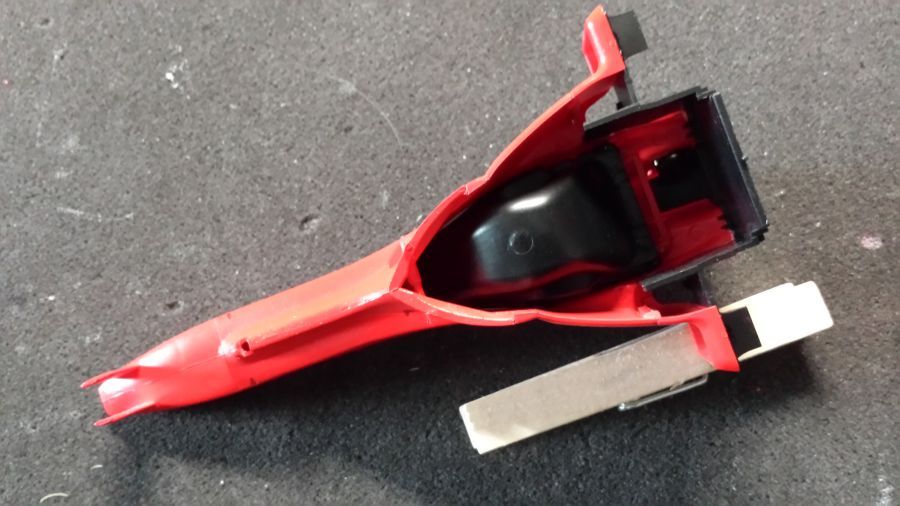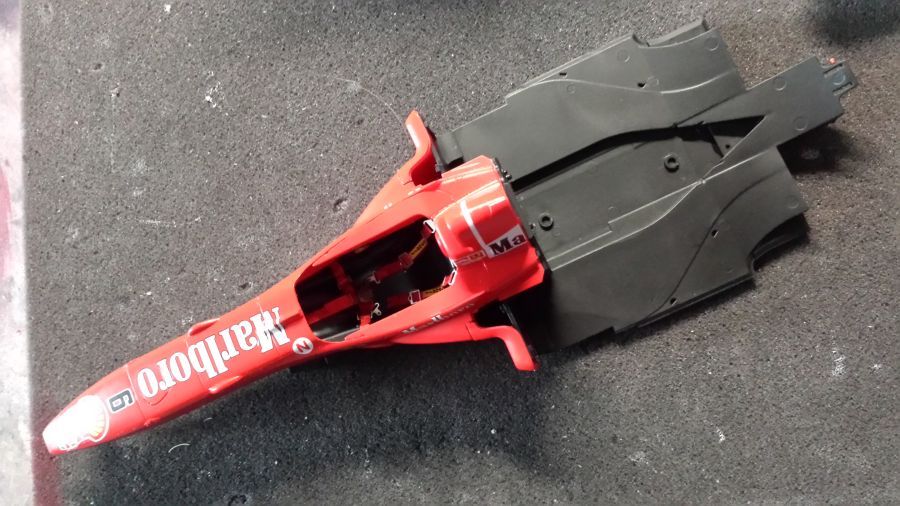 De koeling en delen van de achterwielophanging worden voorbereid.
The cooling and parts of the rear wheel suspension are being prepared.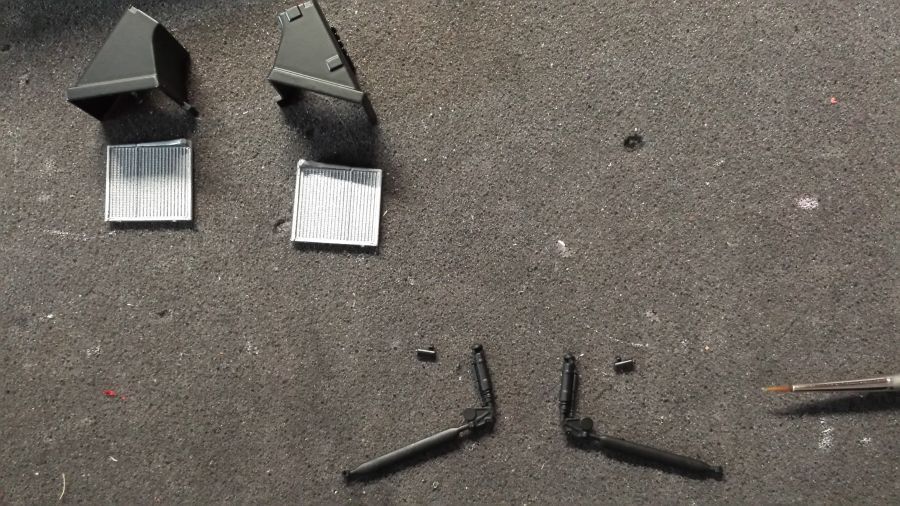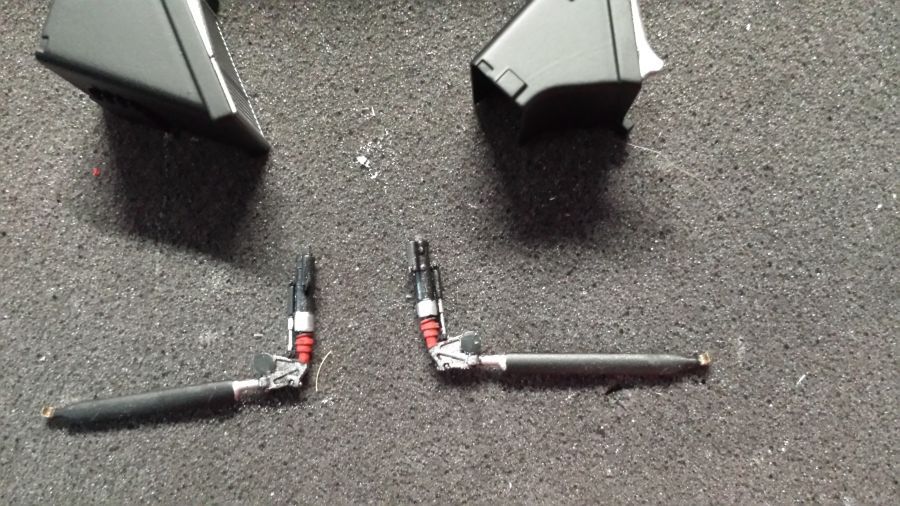 In het echt is de bodemplaat voorzien van hittebestendige folie. Dit zit er nooit mooi glad op. Om dit te simuleren breng ik zilververf aan met de kwast.
In real life the floor contains heat resistant foil. This is never a smooth surface. To simulate this i paint the silver with a brush.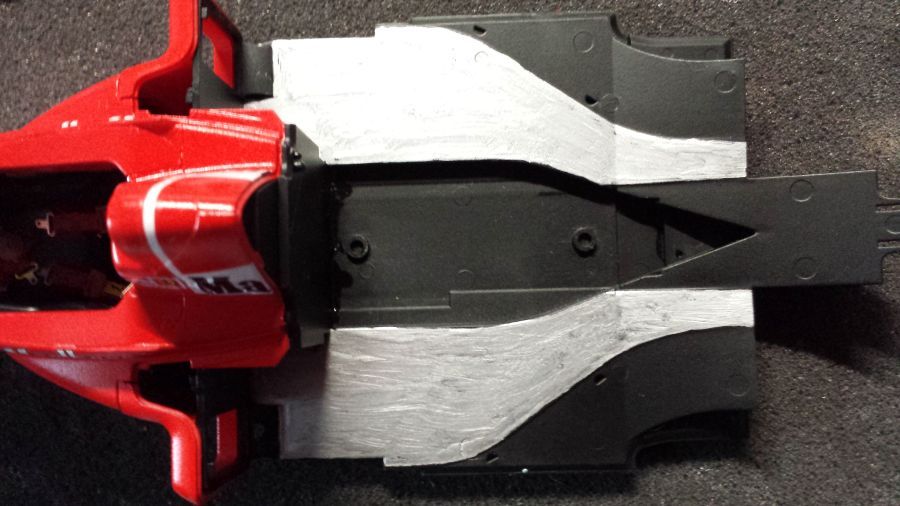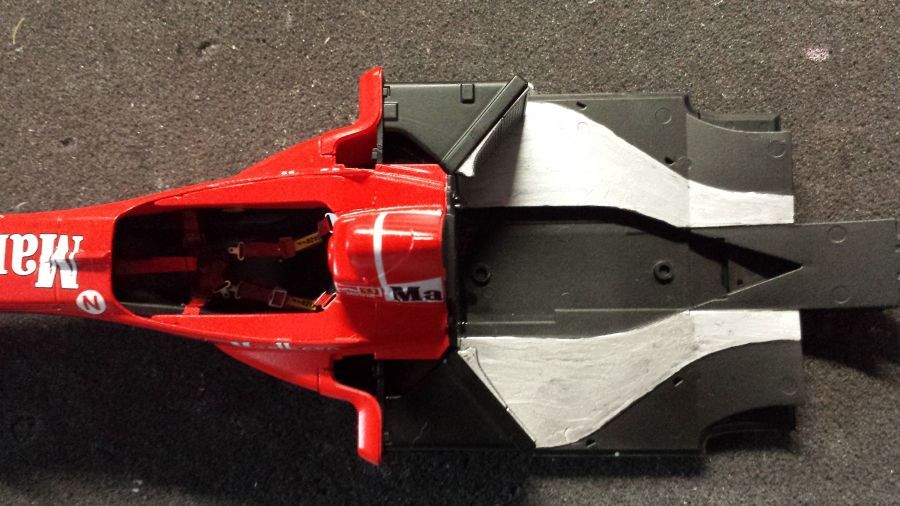 Nu weer verder met de motor en de ophanging.
Now i will continue with the engine and the suspension.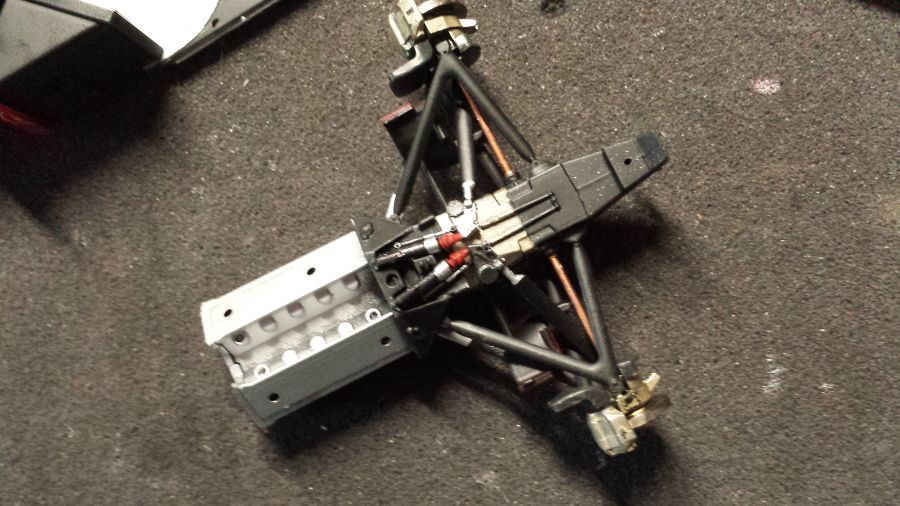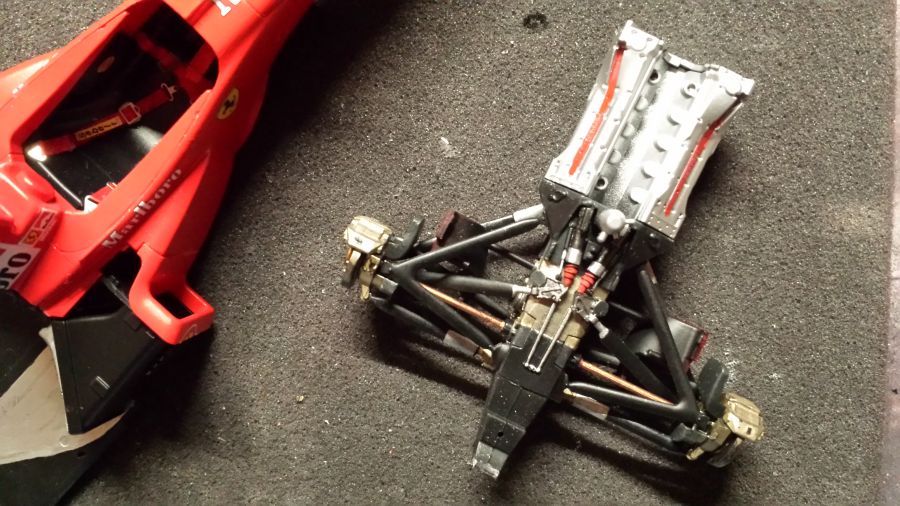 Een paar delen van de voorwielophanging worden voorbereid.
Some parts of the front wheel suspension are being prepaired.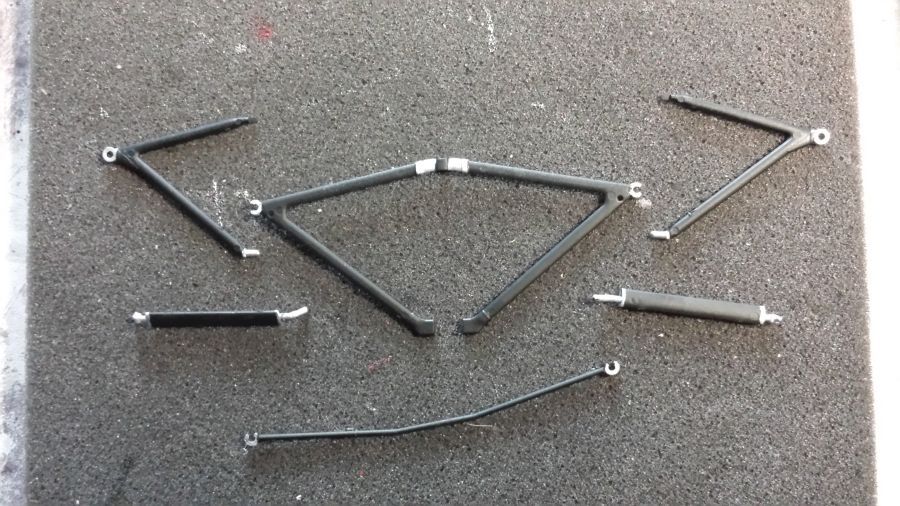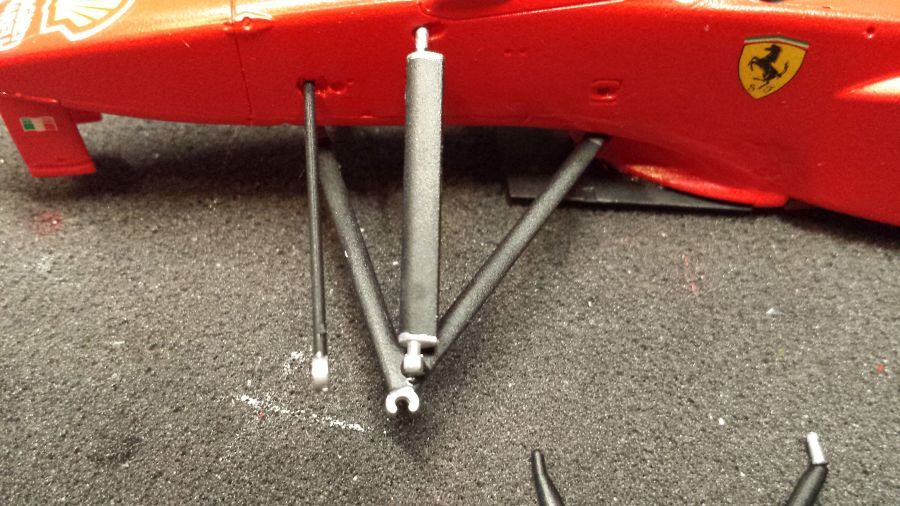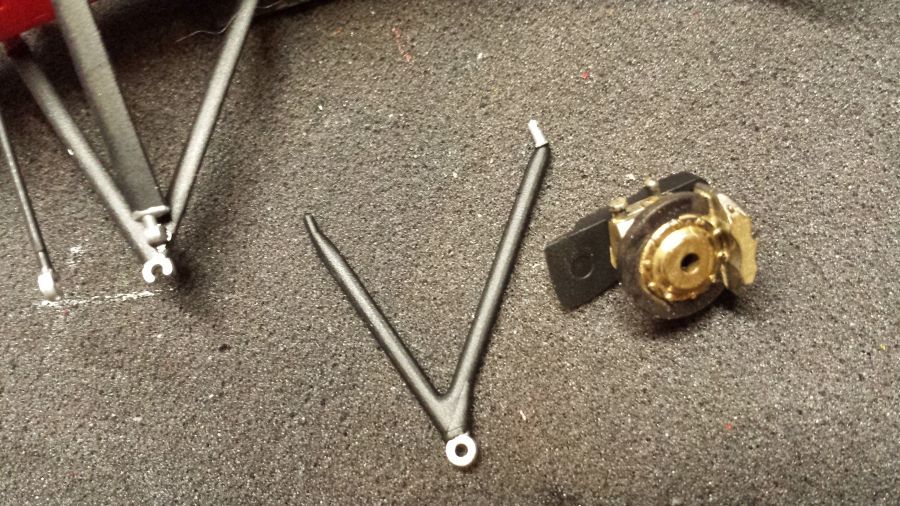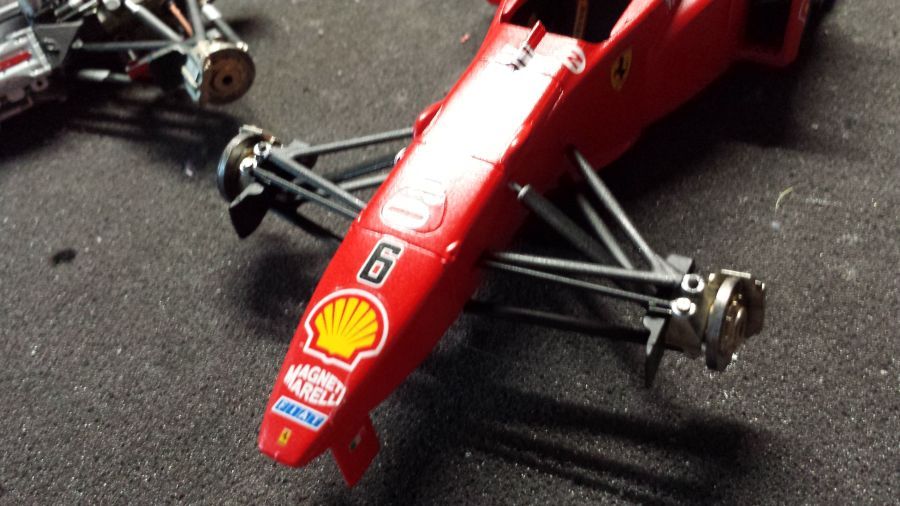 De steunen voor de barge boards zijn op hun plaats gezet.
The supports for the barge boards are put in place.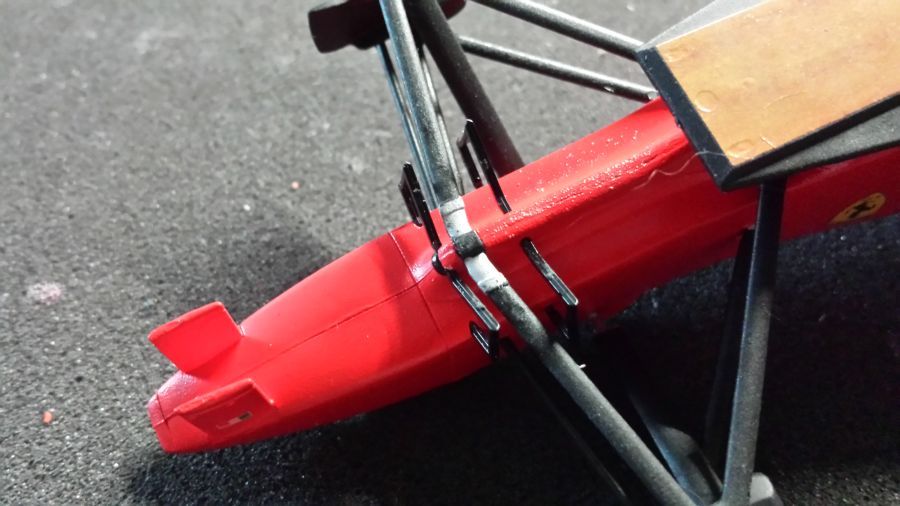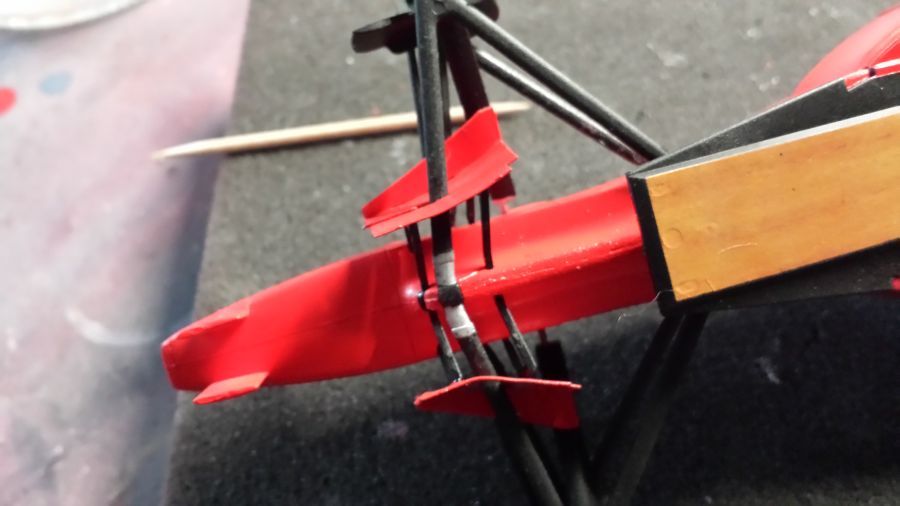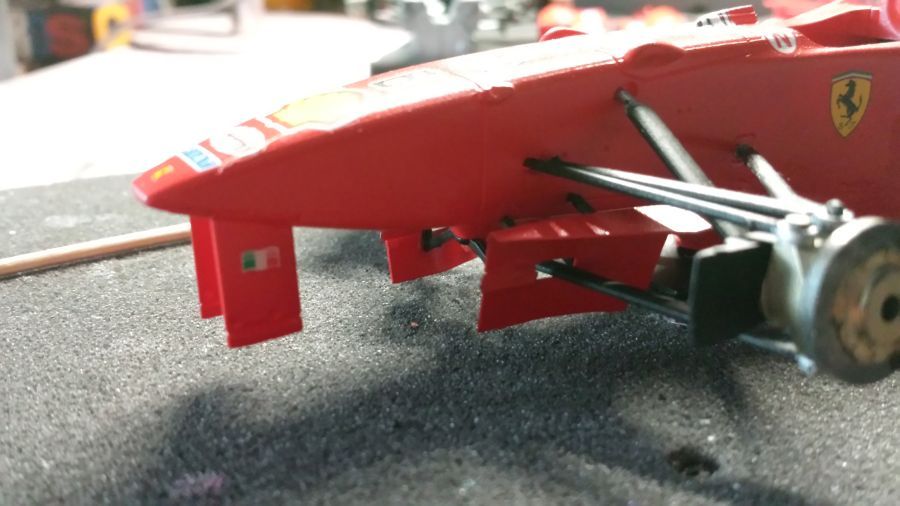 Daarna wil ik een template maken voor de Composite Fiber Decal. Daarmee moet de airduct bekleed worden.
After this i need to make a template for the Composite Fiber Decal. This has to be applied to the airduct.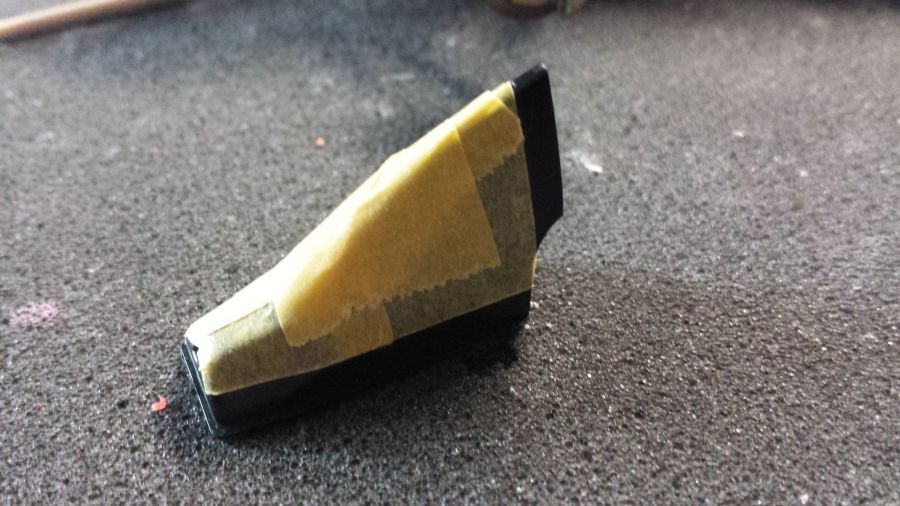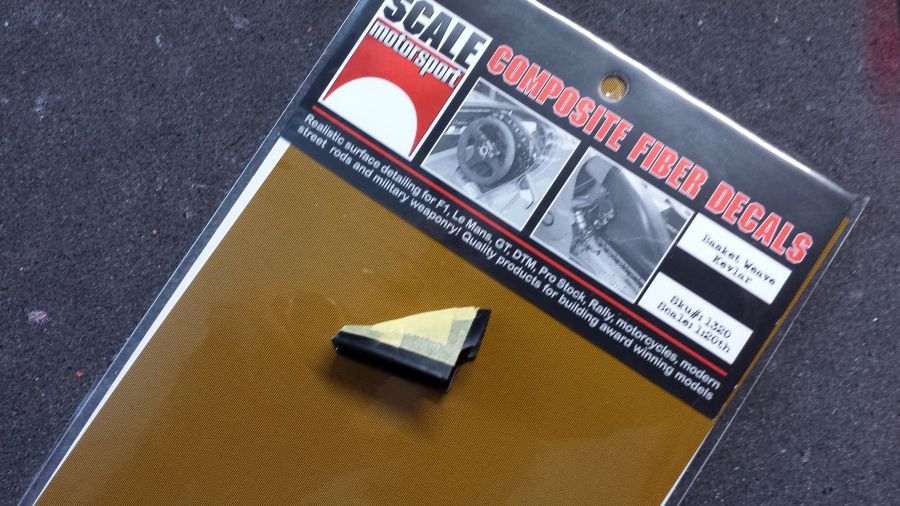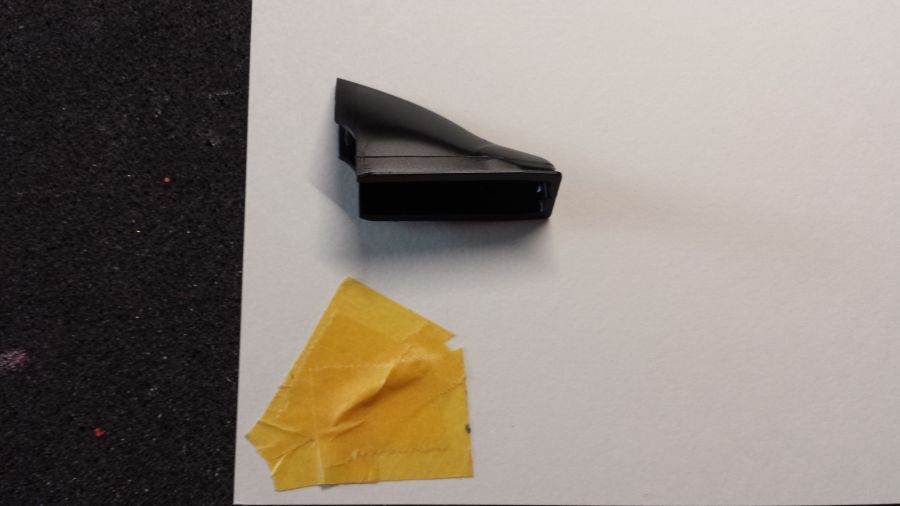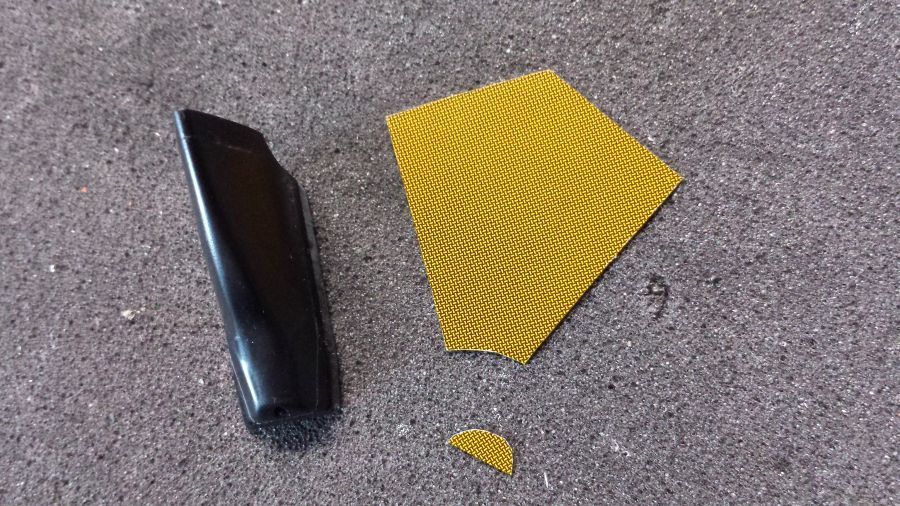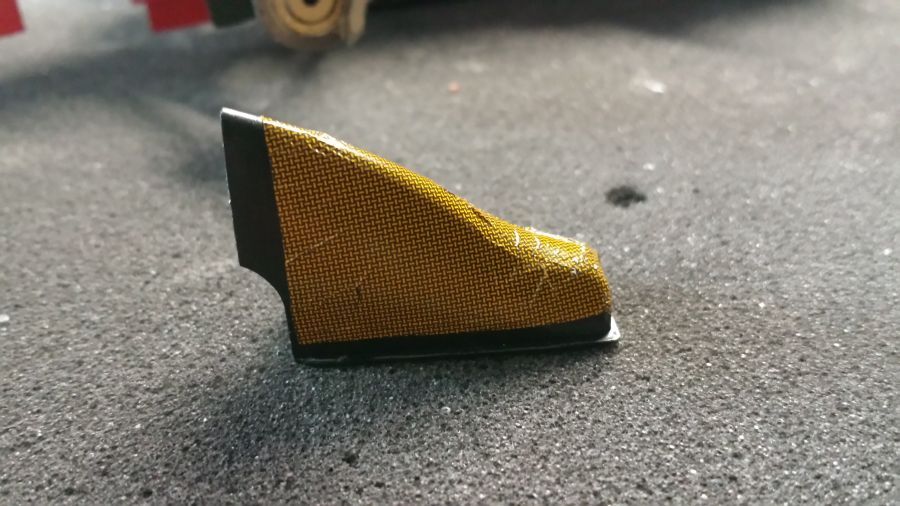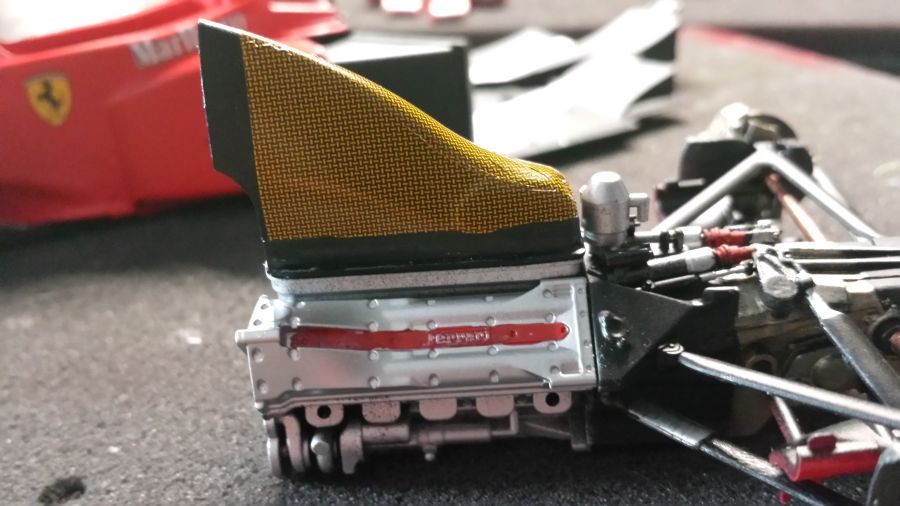 Het klaarmaken van de uitlaten. Verven met zilver, geel, oranje, rood, blauw, paars, bruin. Een probeersel. Volgende keer iets minder paars denk ik.
Getting the exhausts ready. Painting with silver, yellow, orange, red, blue, purple, brown. It's a test. Next time a little less purple i think.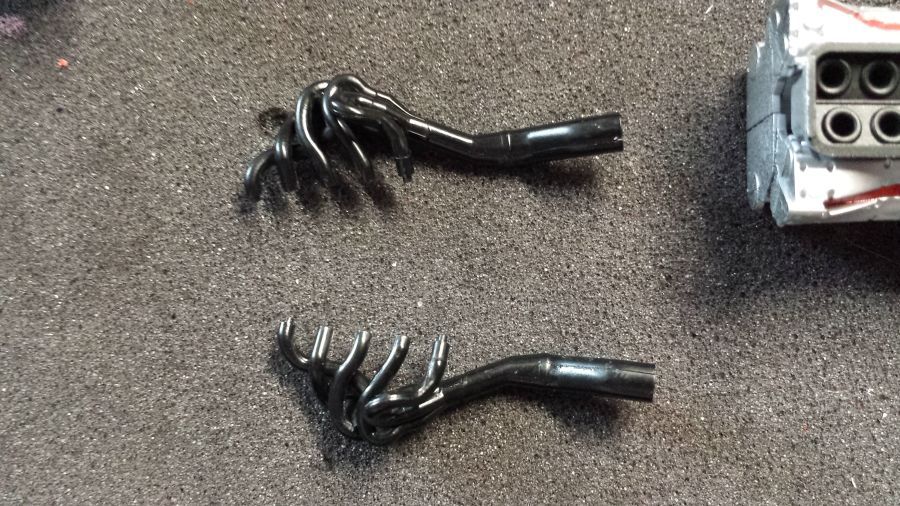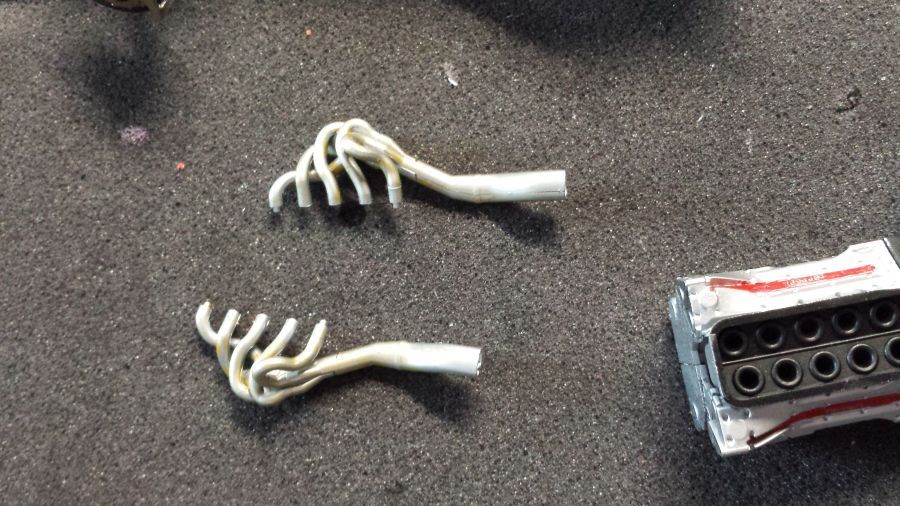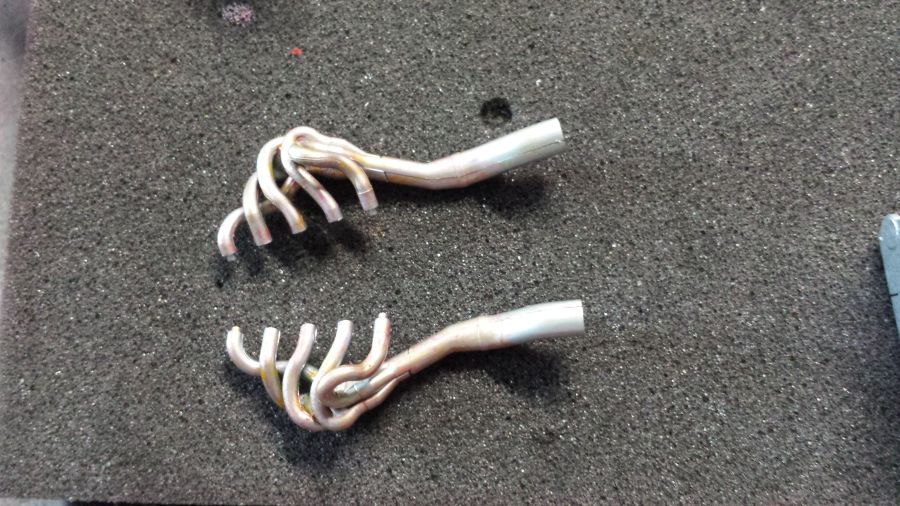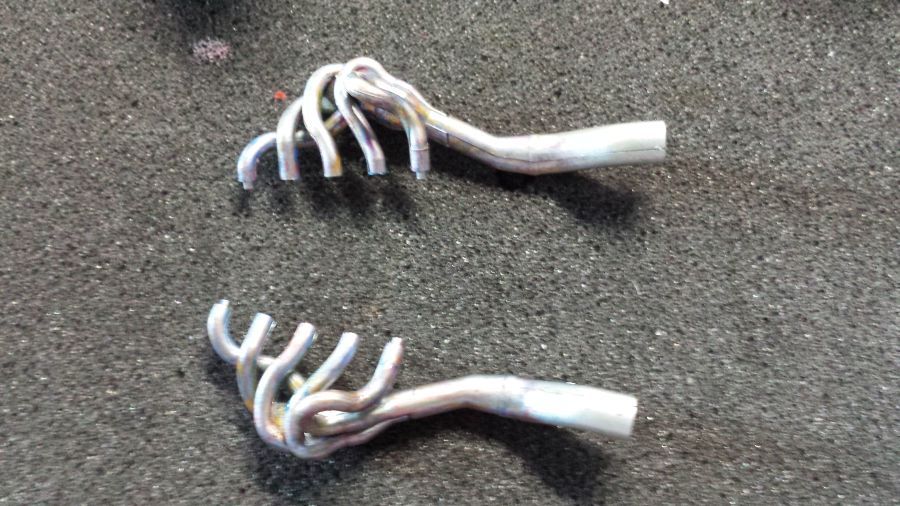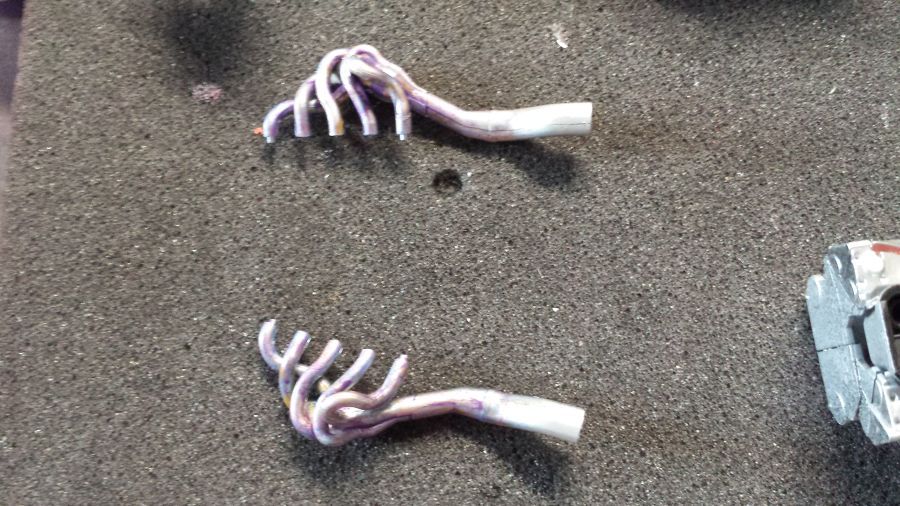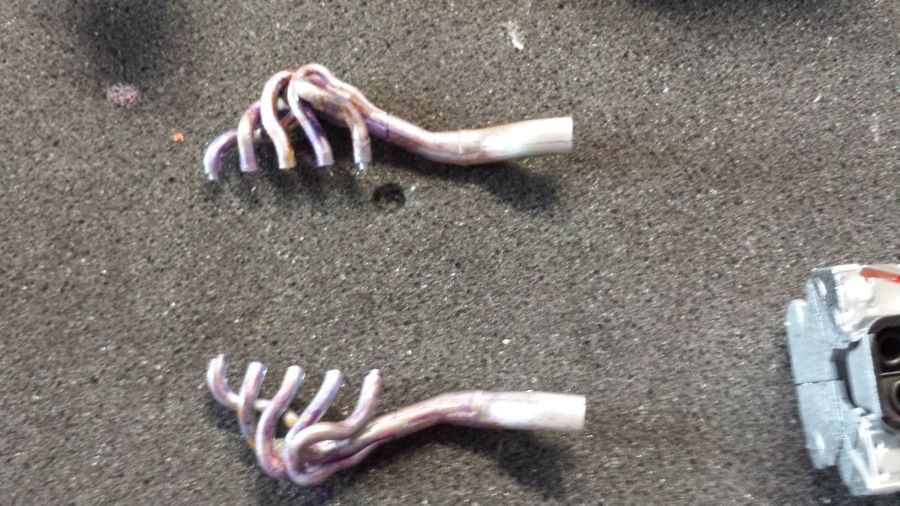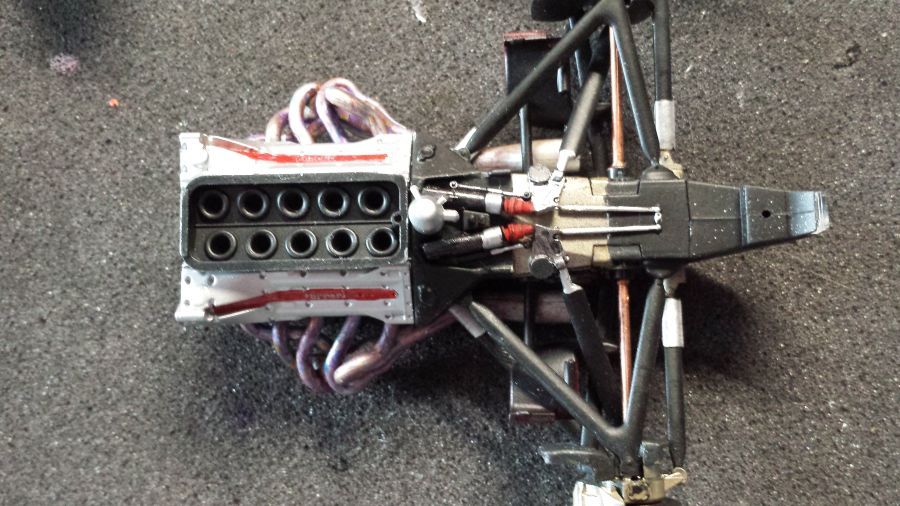 De motor zit op zijn plaats en de body onderdelen kunnen gemonteerd.
The engine is at it's place and the body parts can be mounted.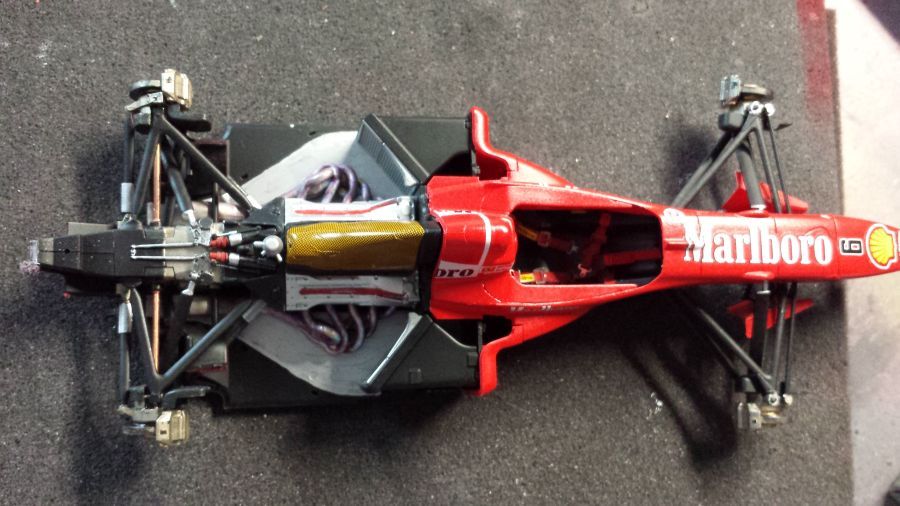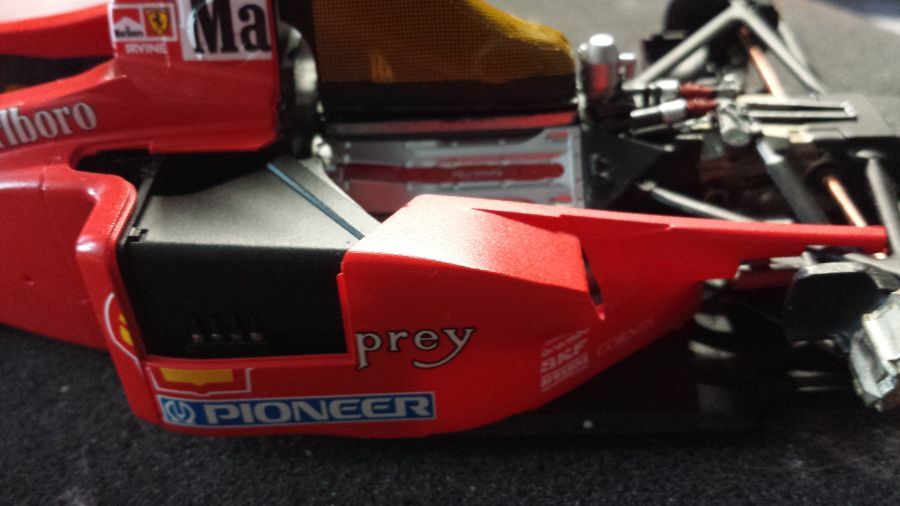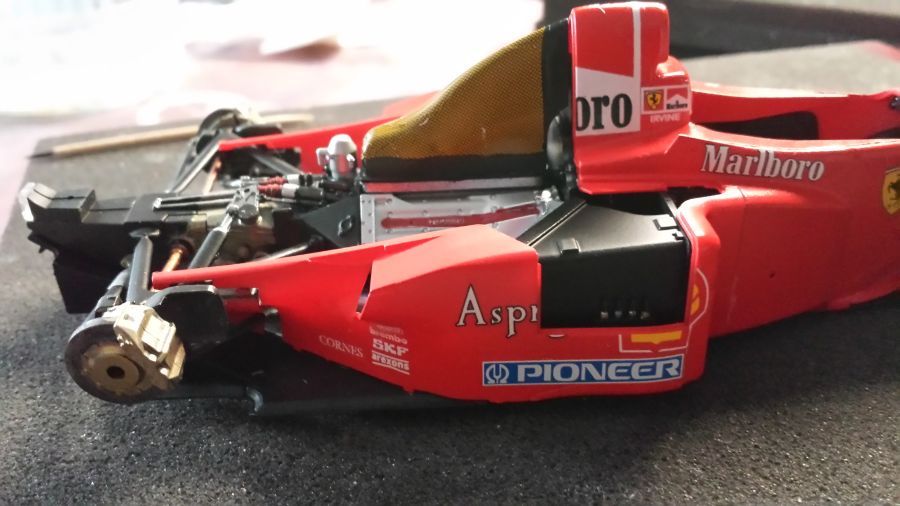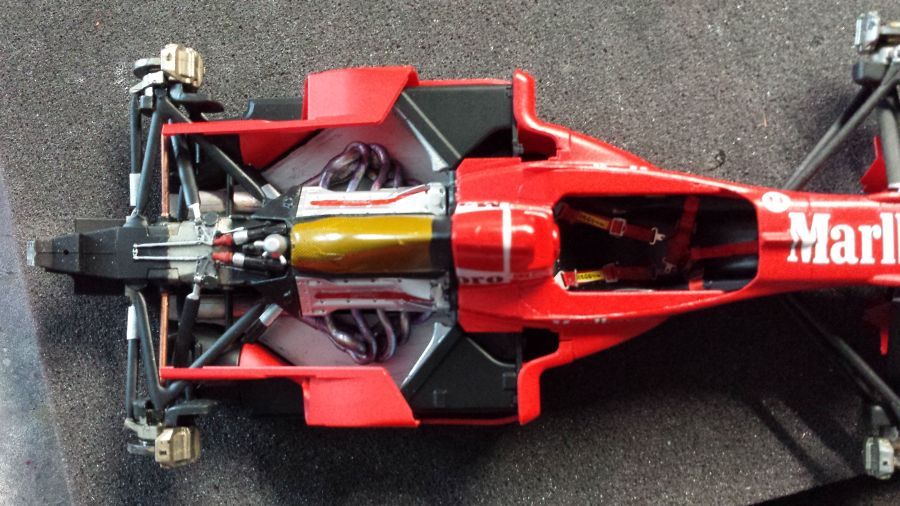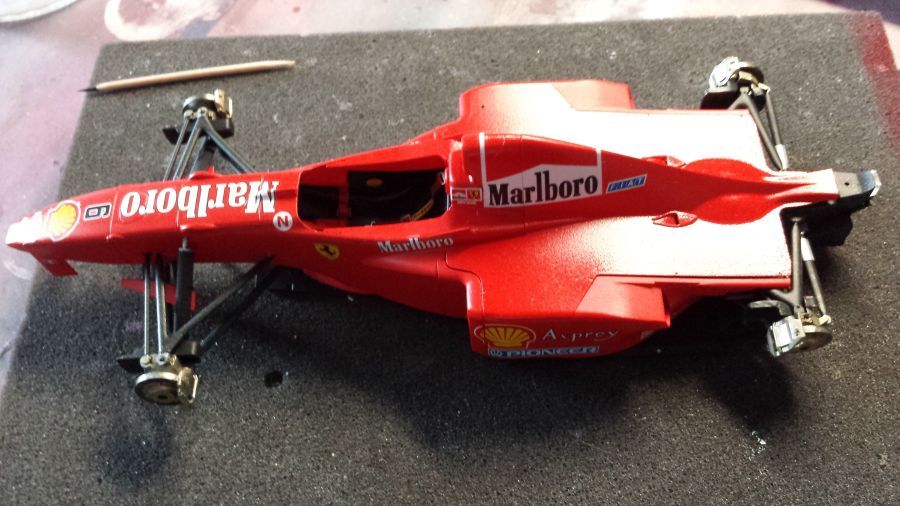 Door met de barge boards en de steunen daarvoor.
Continuing with the barge boards and the supports for it.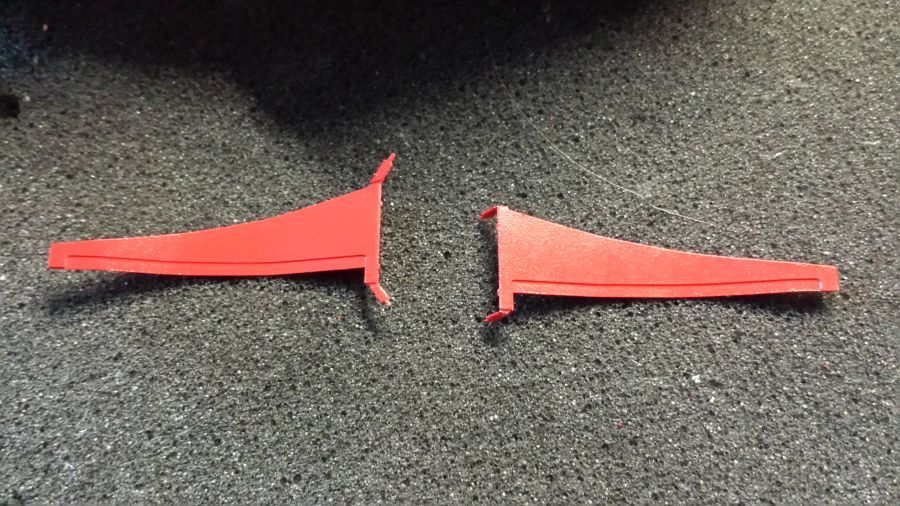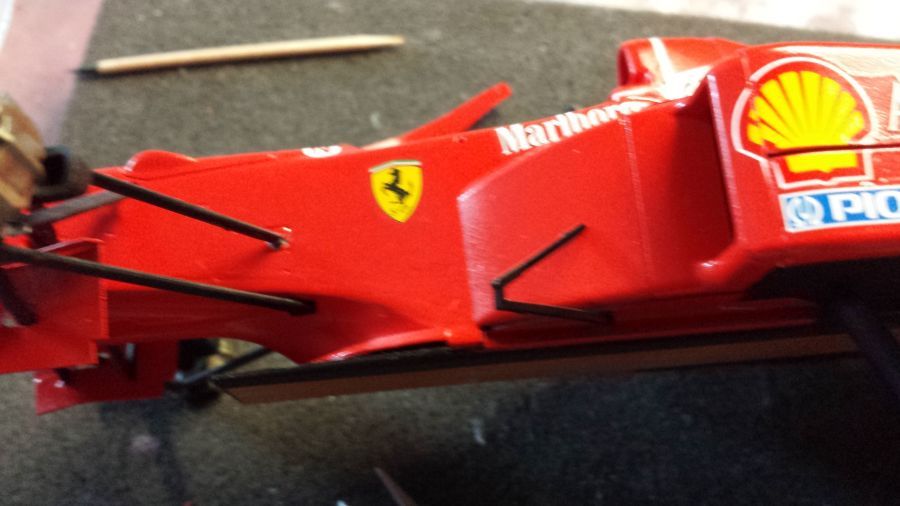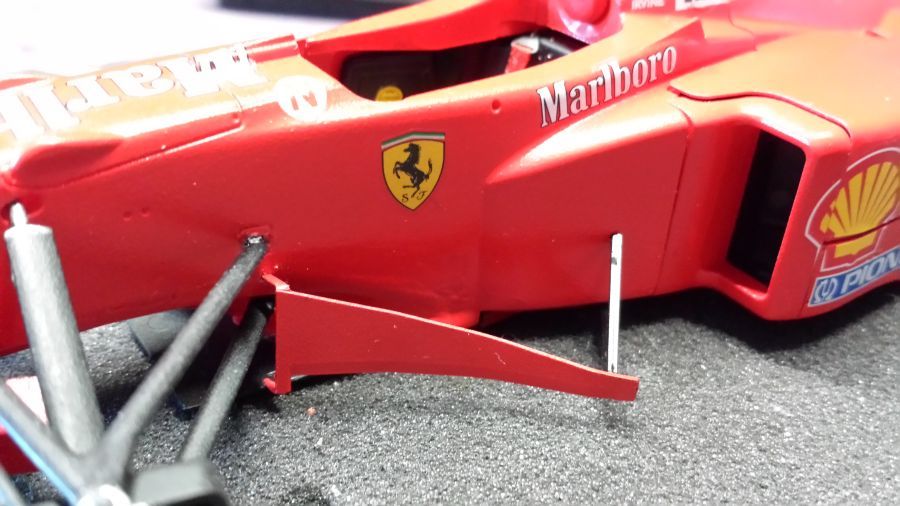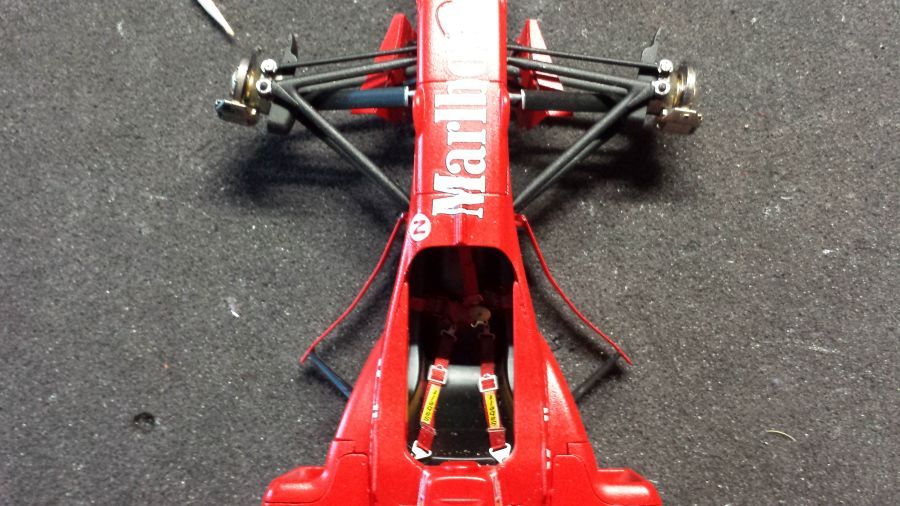 De voorvleugel is simpel, de achtervleugel wordt natuurlijk weer wat moeilijker.
The front wing is a piece of cake, the rear wing is a bit more difficult of course.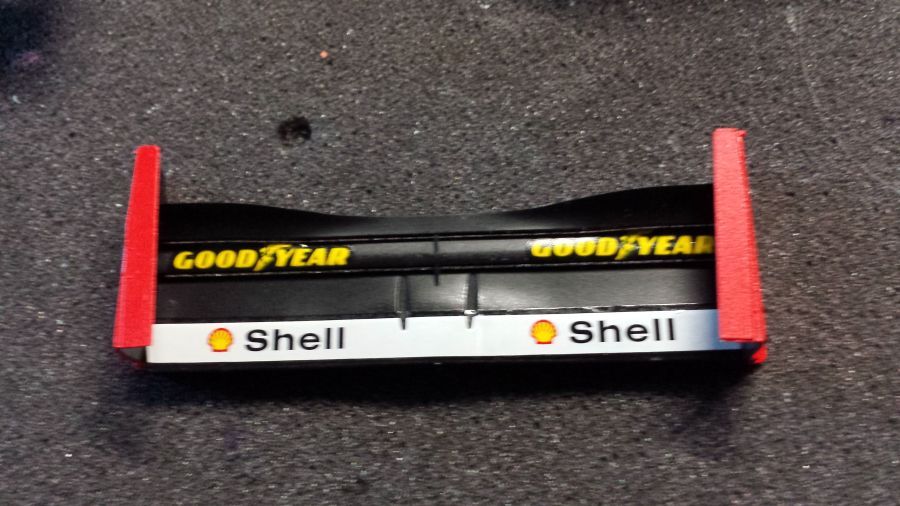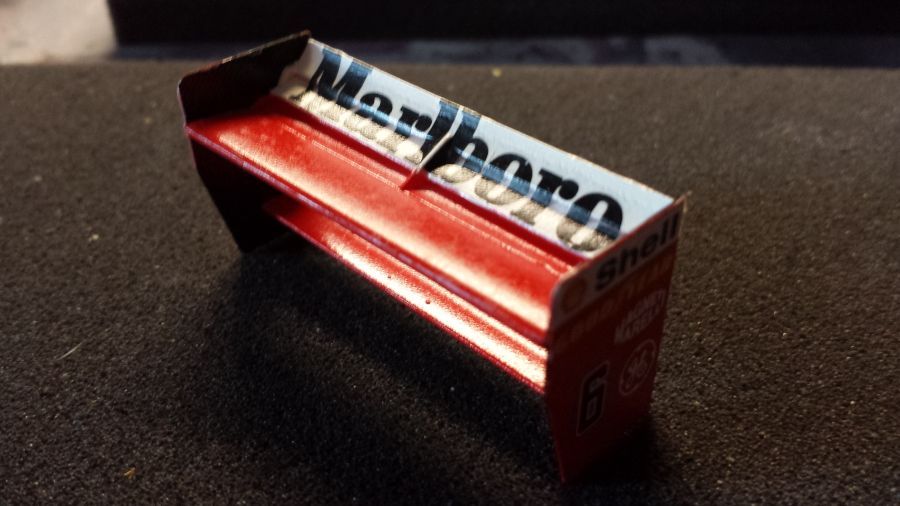 Daarna alvast de velgen en banden voorbereiden.
Next is getting the rims and tires prepared.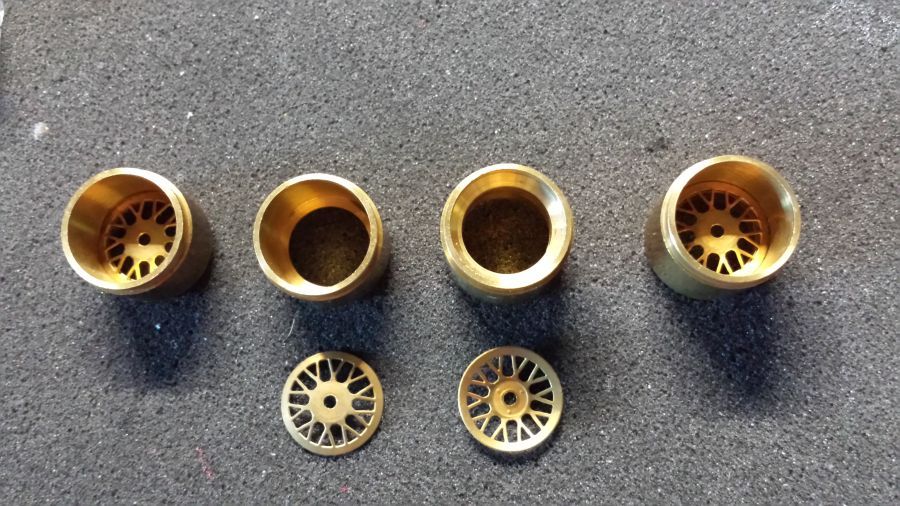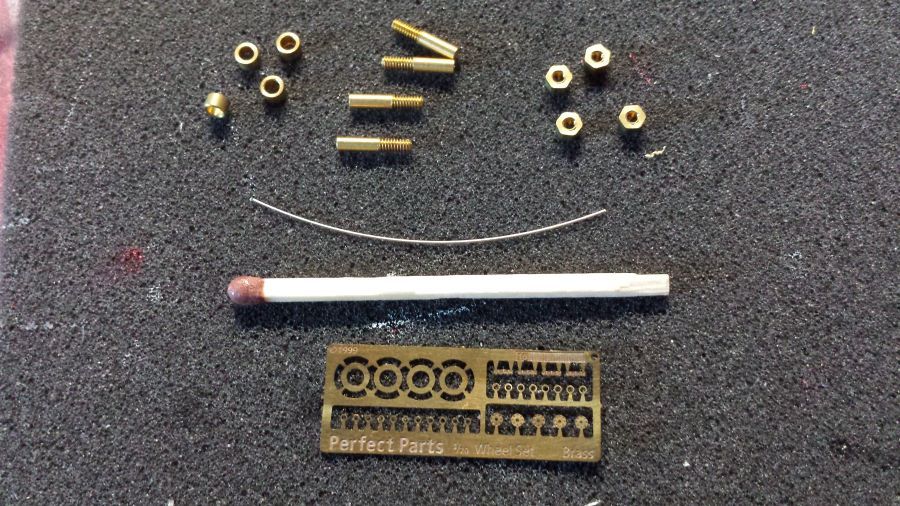 Een paar onderdelen moeten zilver worden gespoten. Eerst de metal primer er op, dan het zilver en vervolgens laten drogen.
A few parts need to be painted silver. First some metal primer on it, then the silver and then let it dry.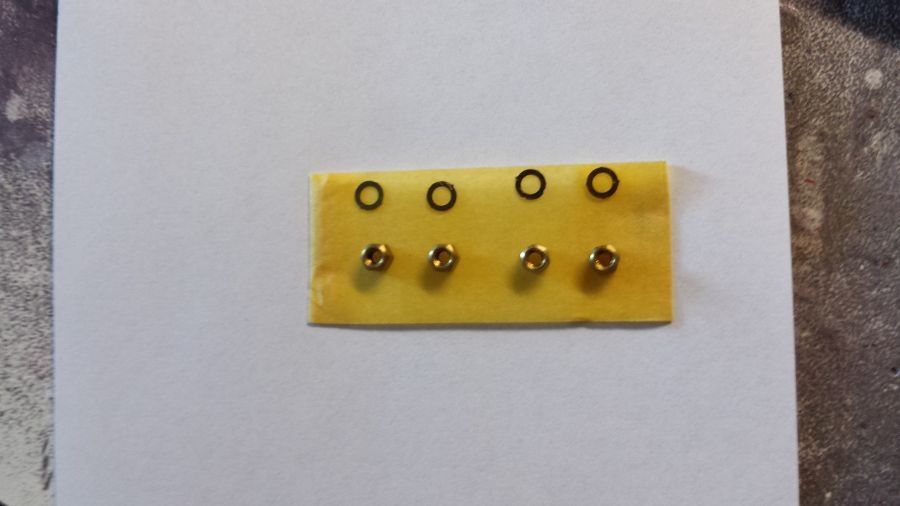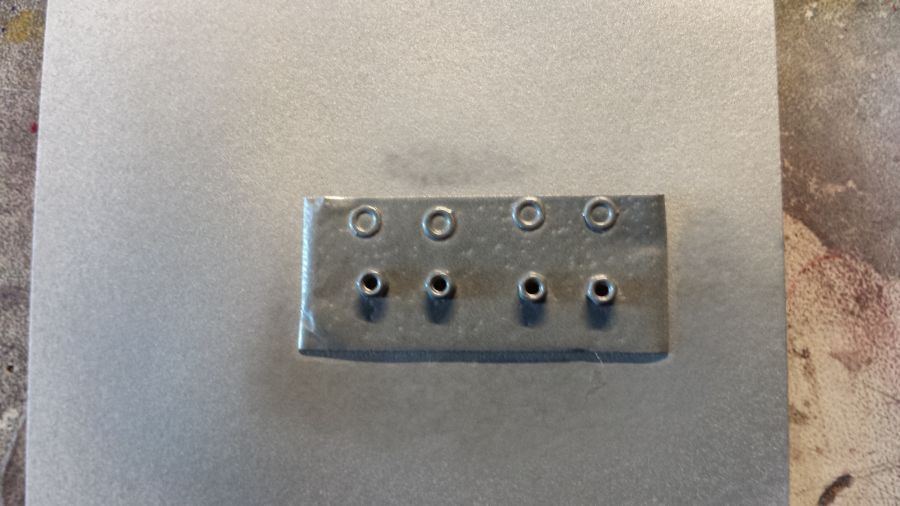 Voor het maken van de ventielen worden eerst gaatjes  van 0,6 mm in de velgen geboord. Een stukje draad wordt in het gat gelijmd. En de draad wordt afgeknipt. Daarna 2 kleine ringetjes om het draad lijmen. Ik gebruik het witte potlood (Ultimate Photo-Etch Placer).
To create the valves, first some 0,6 mm holes are drilled in the rims. A piece of wire is glued into the hole. And the wire will be cut. Then glue 2 small rings around the wire. I use the white pencil (Ultimate Photo-Etch Placer).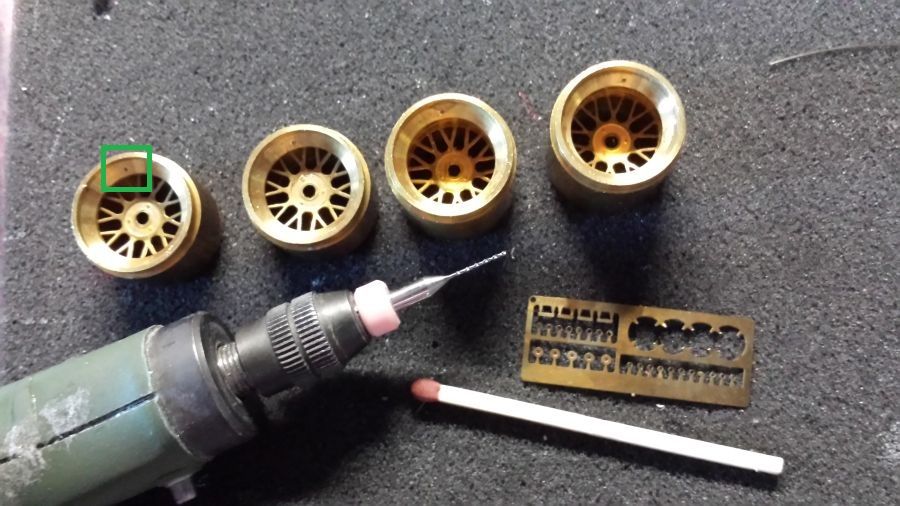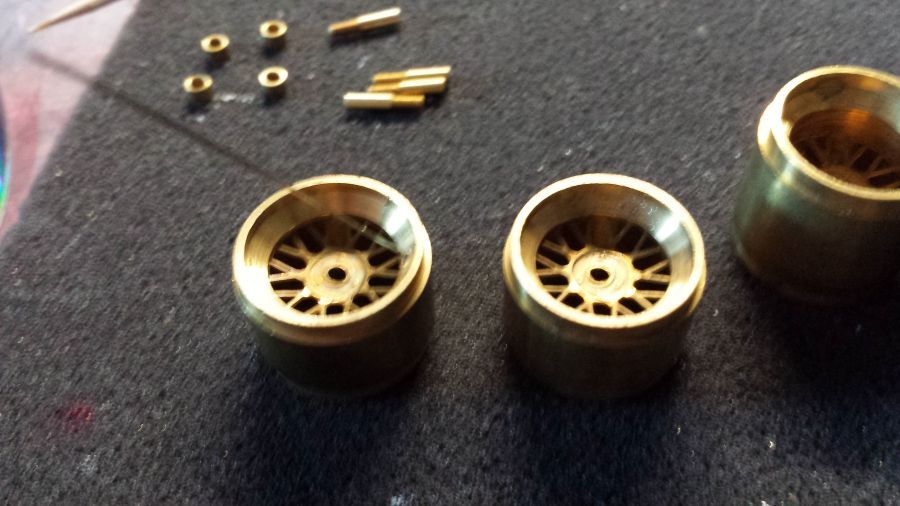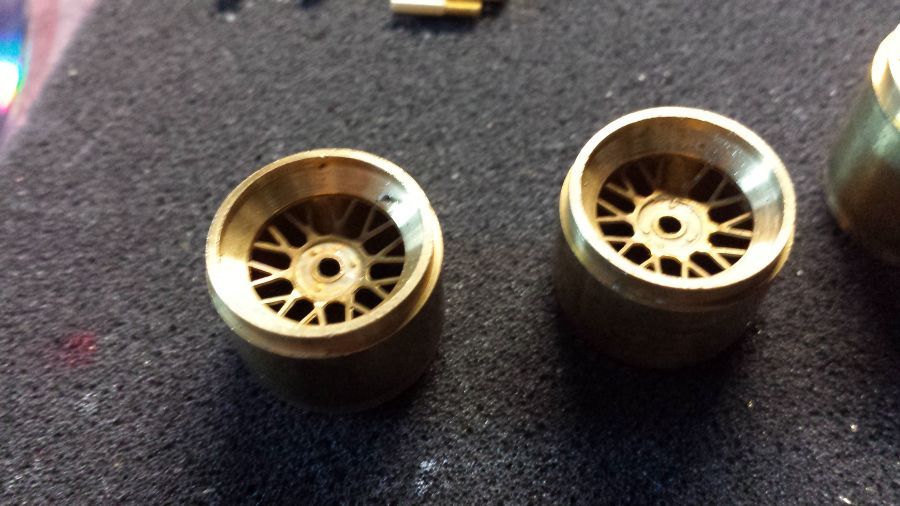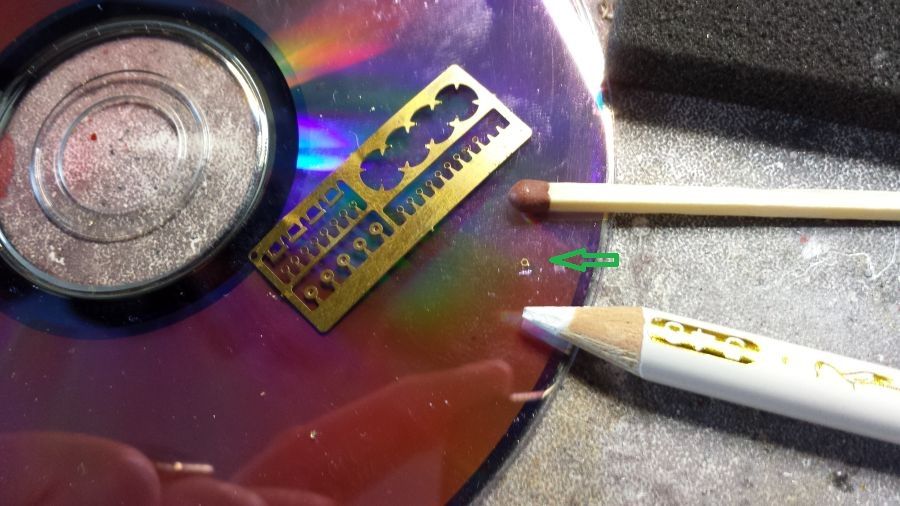 De bouten en moeren klaarmaken. 
Getting the bolts and nuts ready.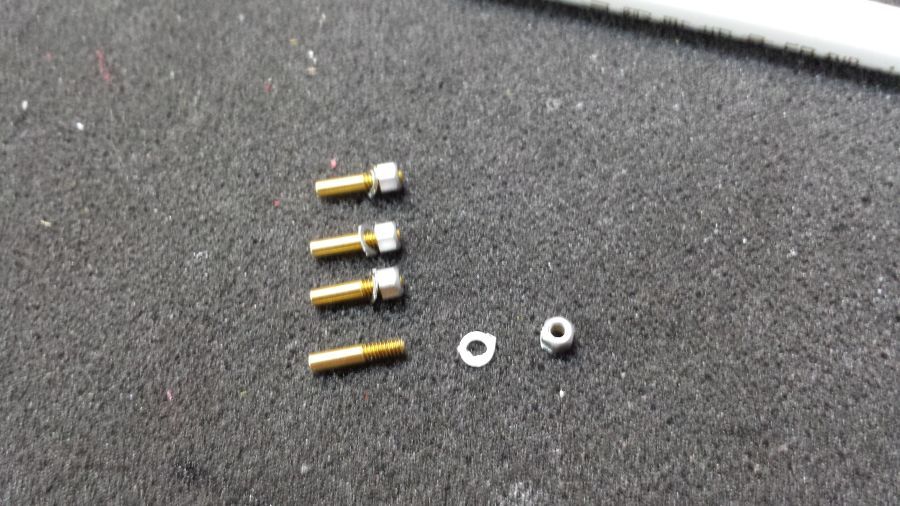 De banden gaan om de velgen en ik ga ze dan weer opruwen. De glans van het loopvlak afhalen.
The tires will be added to the rims. Then i will make them rough. Get that shiny look away.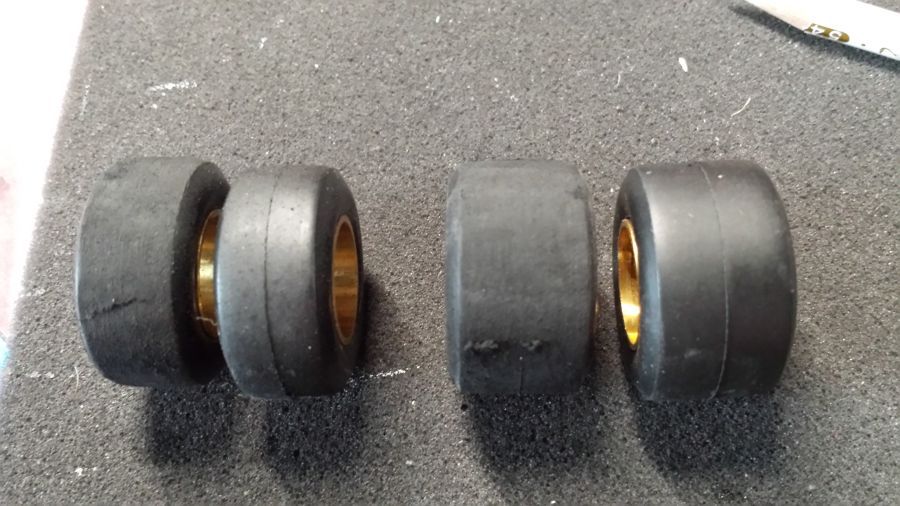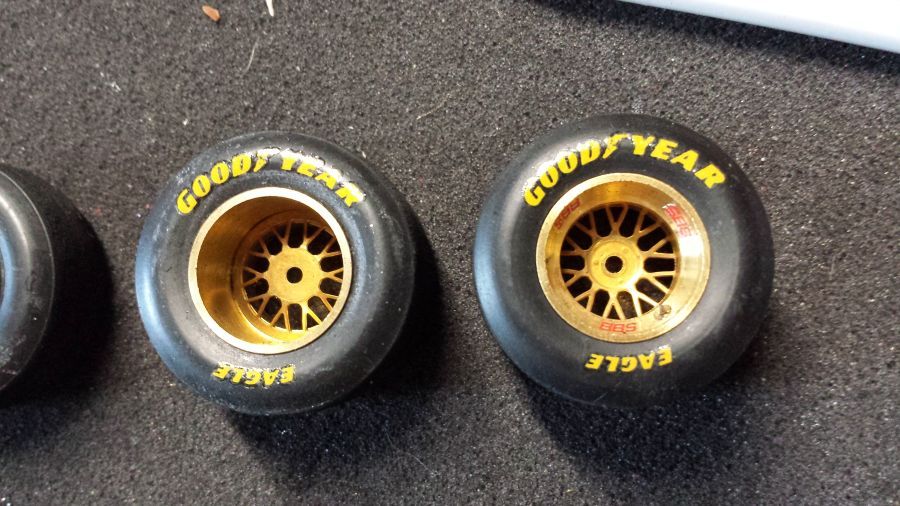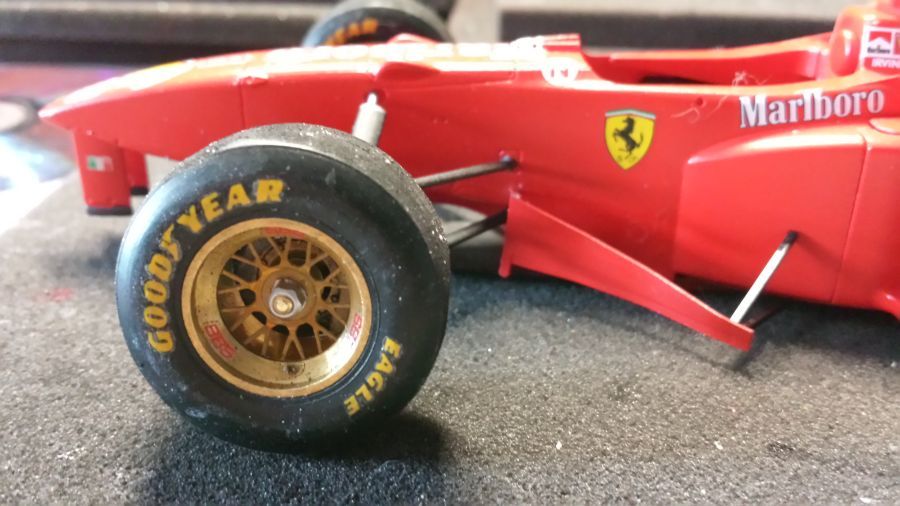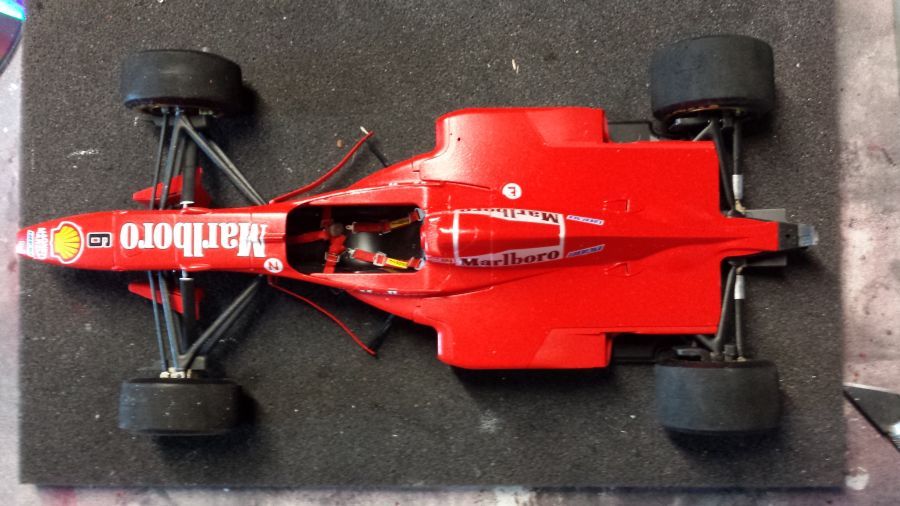 De beide vleugels erop en nog wat klein werk zoals spiegels en snelsluiters.
Attaching both wings and some small work like mirrors and fasteners.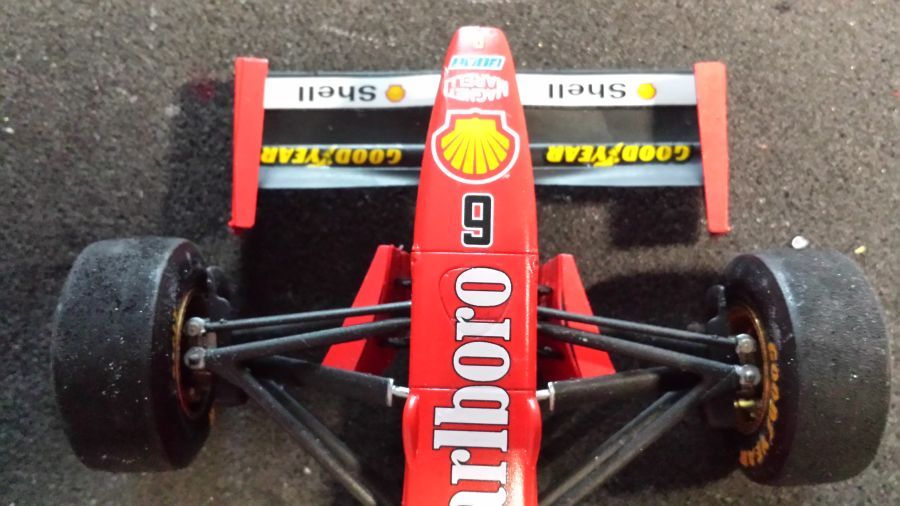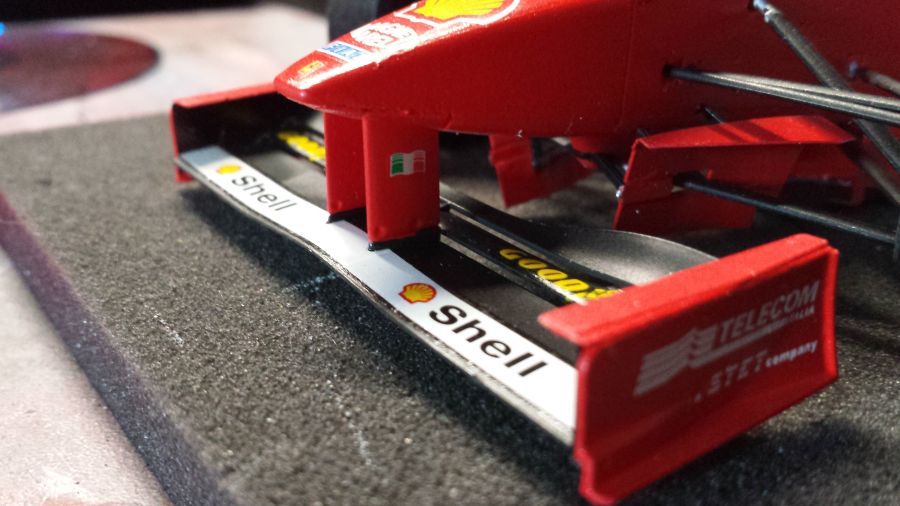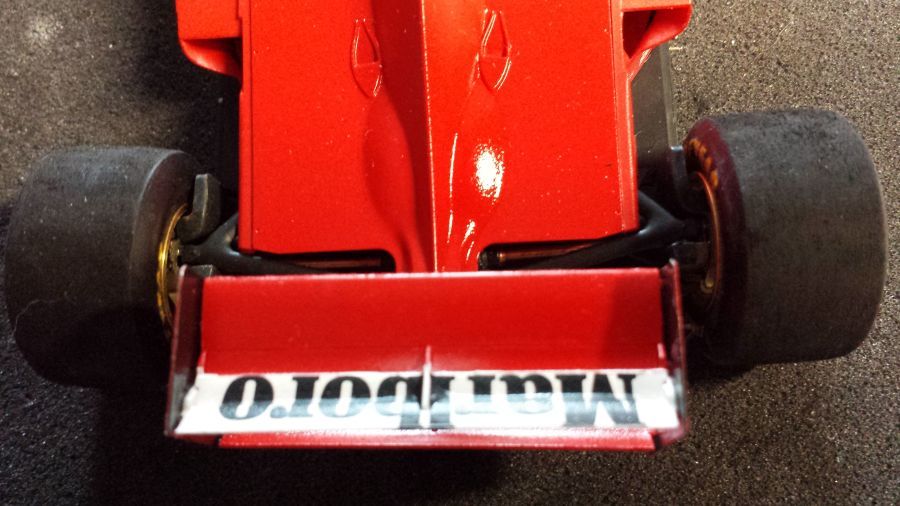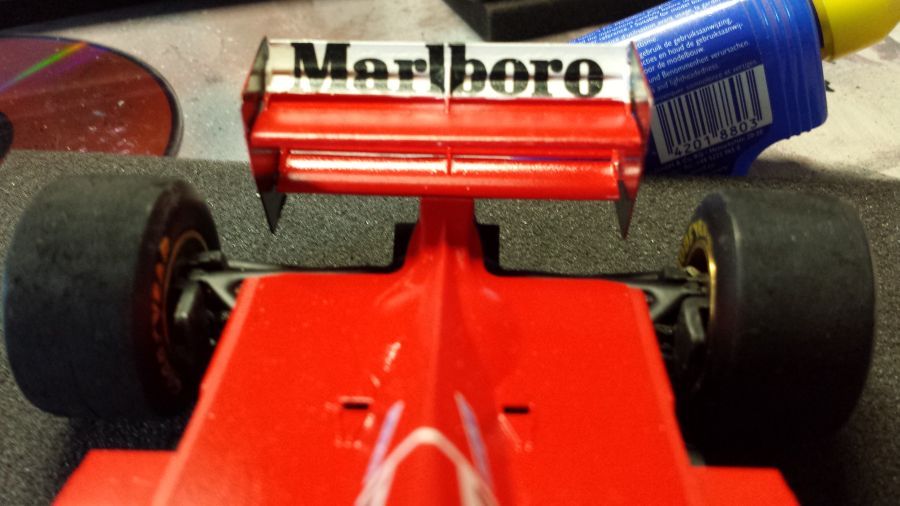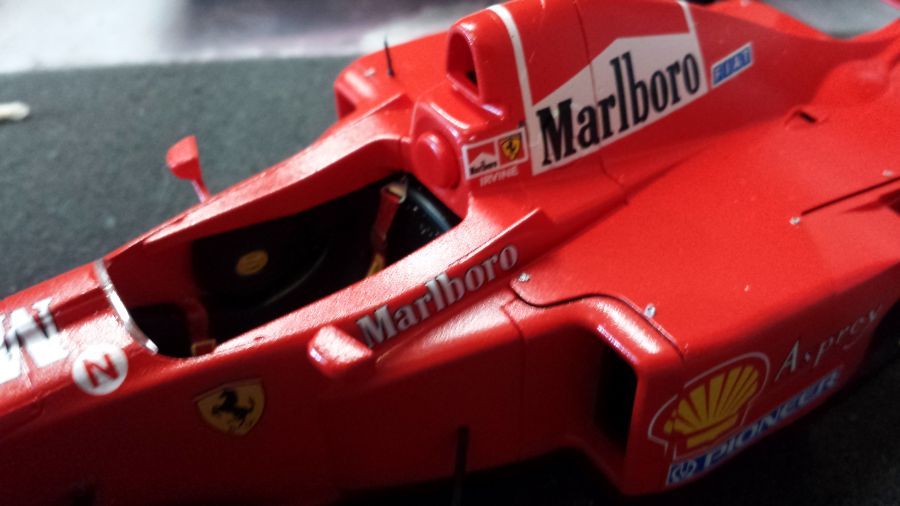 En weer 1 klaar voor een mooi plaatsje in de vitrine.
And another one done for a nice spot on the shelf.