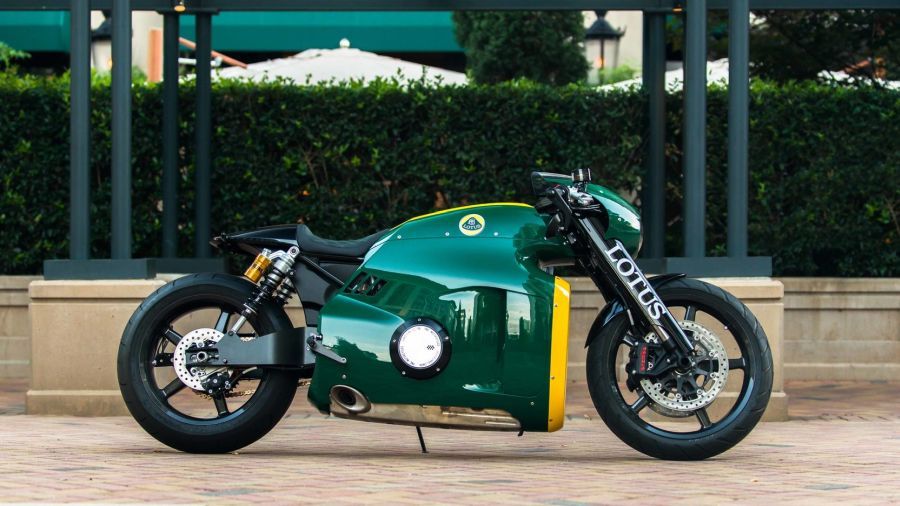 Sebastiaan heeft me gevraagd dit beest voor hem te bouwen. Wow, wat een ding. Ook deze kit is weer 3D geprint. Onder het overgrote deel van de onderdelen.
Sebastiaan asked me to build this beast for him. Wow, what a beast. This kit was 3D printed too. Below most of the parts .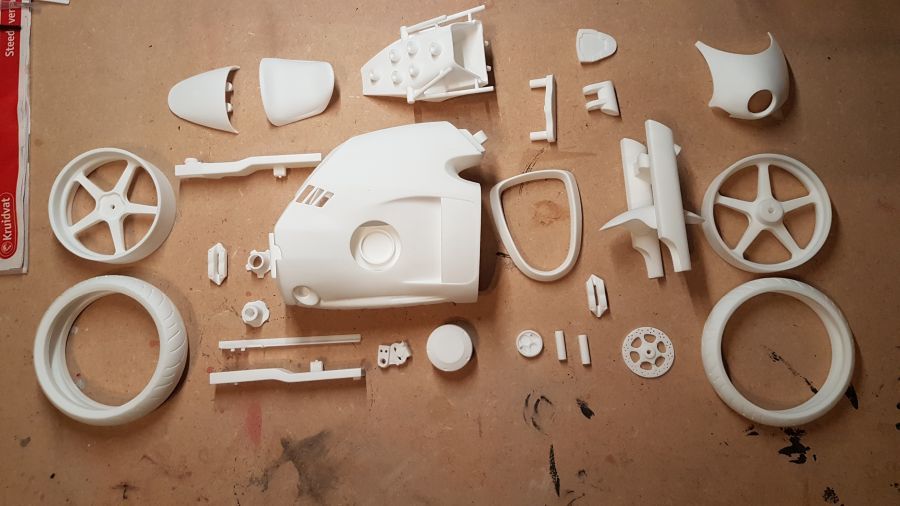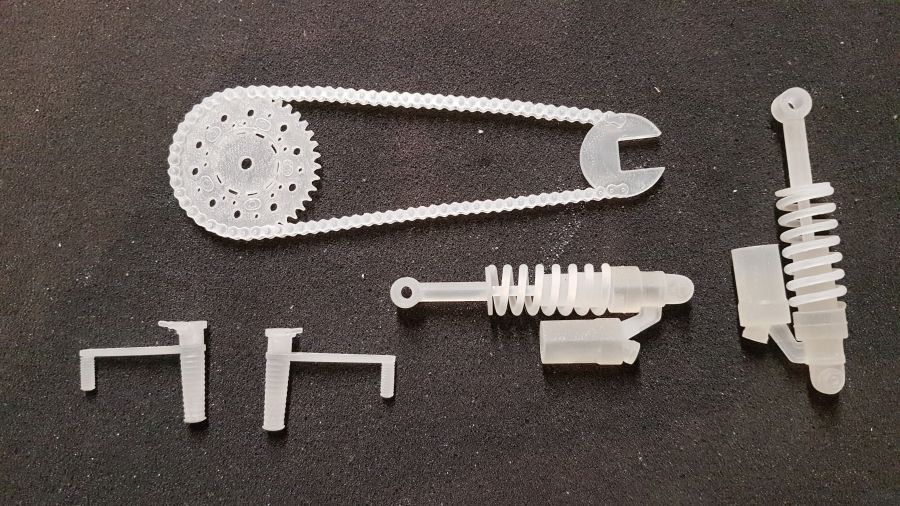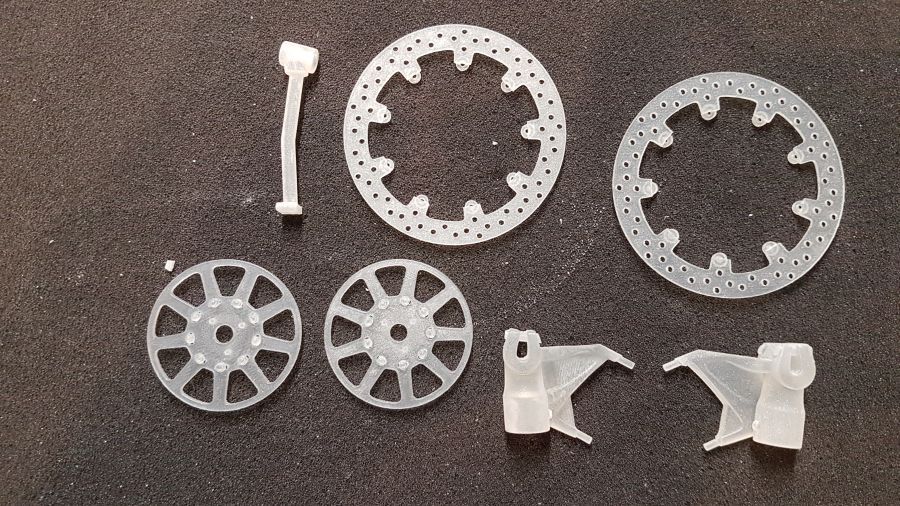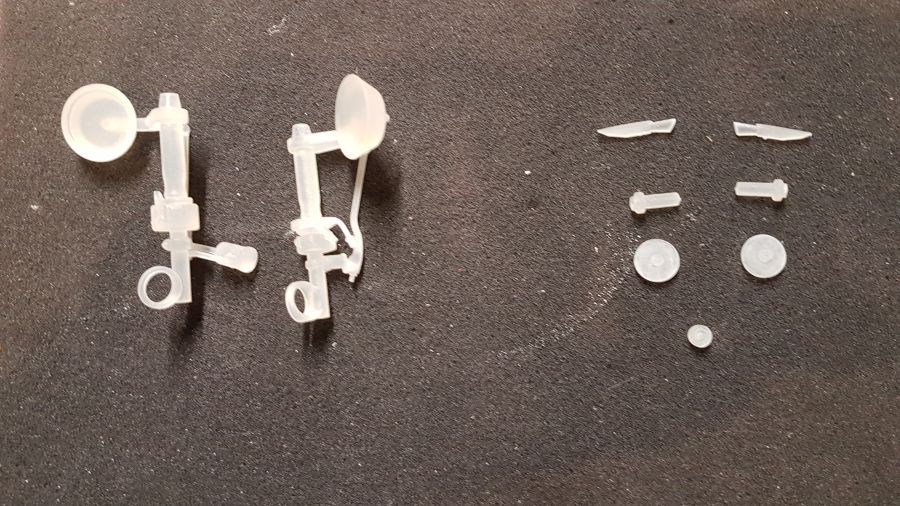 Eerst even testen wat het beste voor me werkt. Een deel is gespoten met primer....
First a test what works best for me. A part has been painted with primer....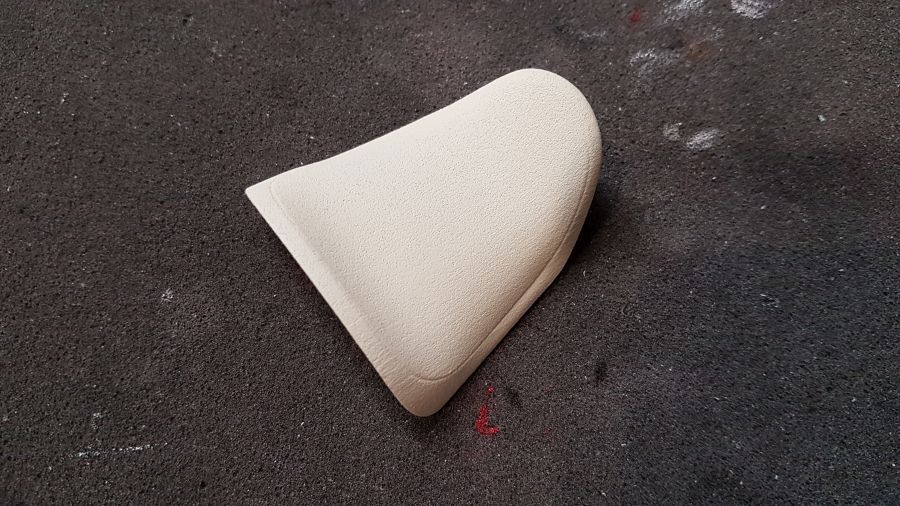 En een deel met filler...
And a part with filler...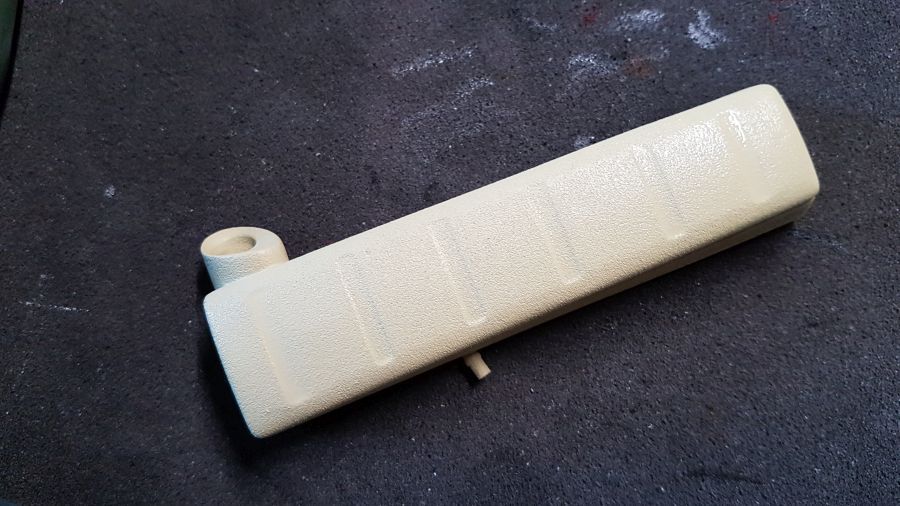 Primer vind ik beter werken, dus eerst wat onderdelen spuiten met primer.
I like the primer, so the first parts get primer.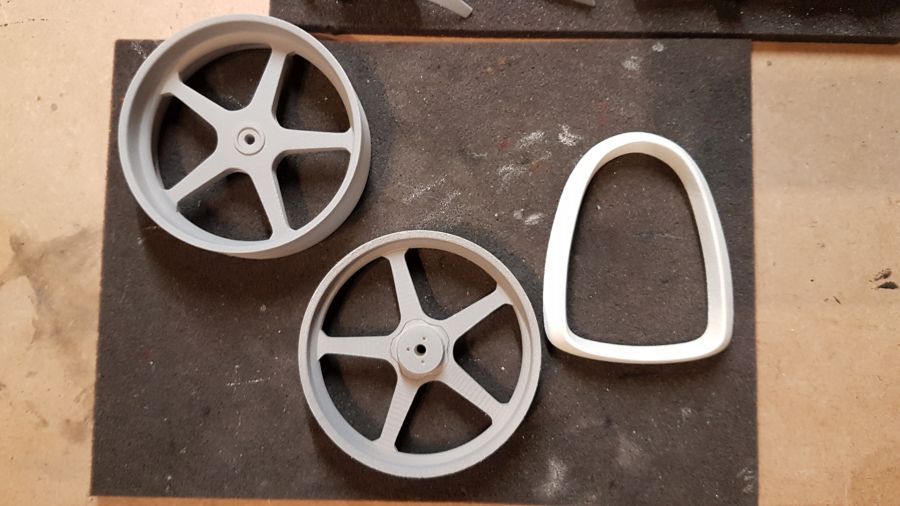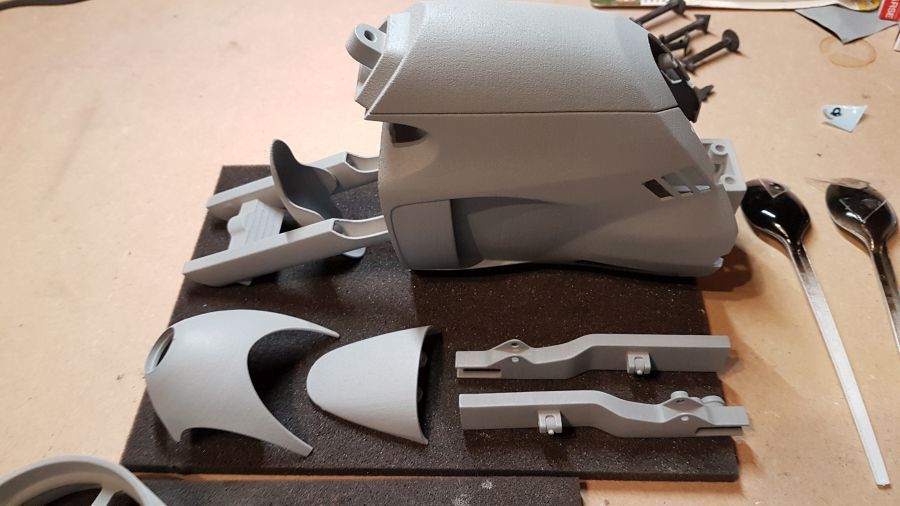 Na ongeveer 4 uur schuren... Nog veel te doen...
After about 4 hours of sanding... Still a lot to do...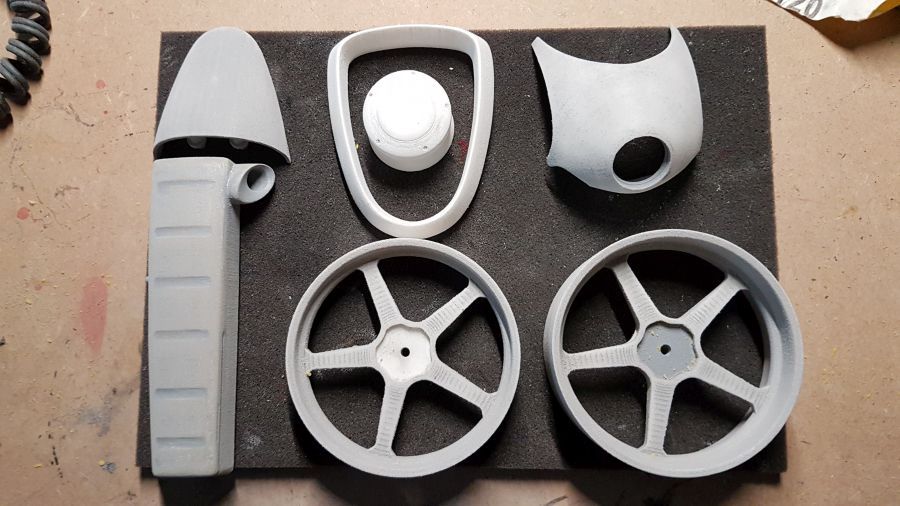 Even wat testen..
Some test fitting..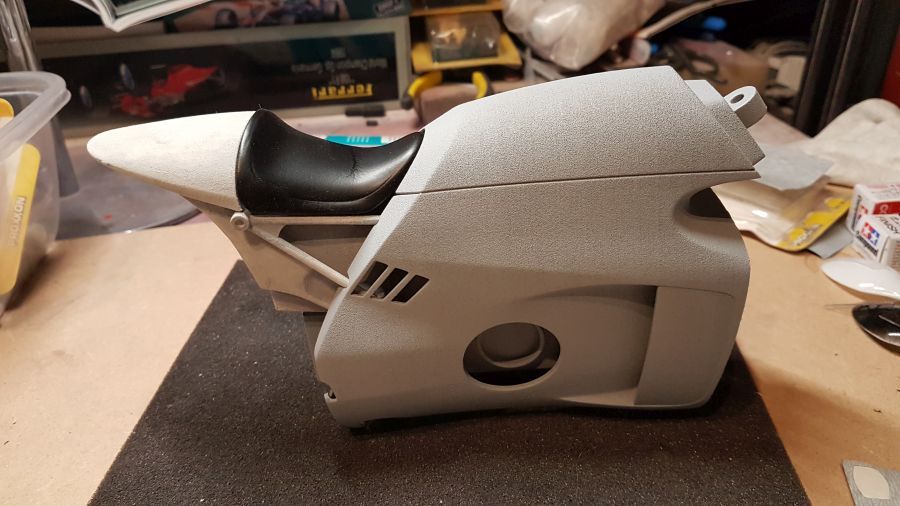 Klein probleempje met het stuur. Er is geen stuurpin en een en ander past niet helemaal... Even wat op bedenken.
Small problem with the steering. There is no steering pin and the fit is not o.k... Need to think of something.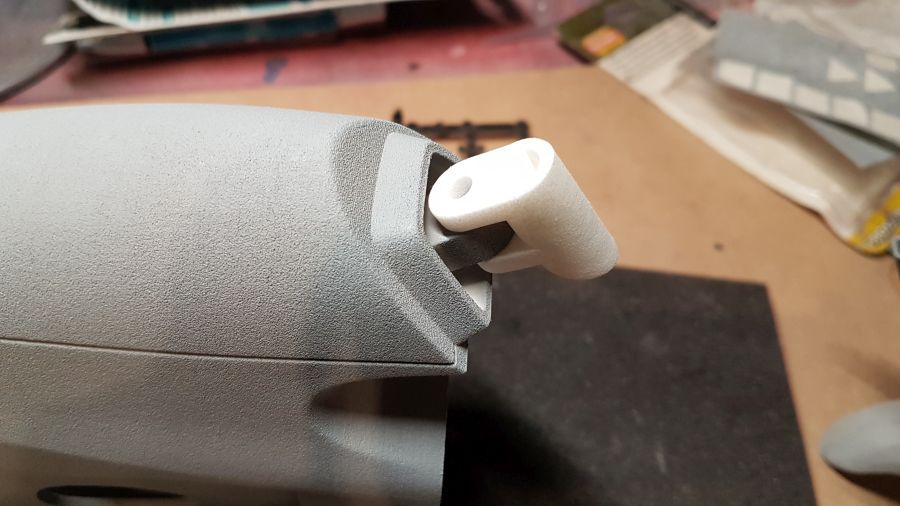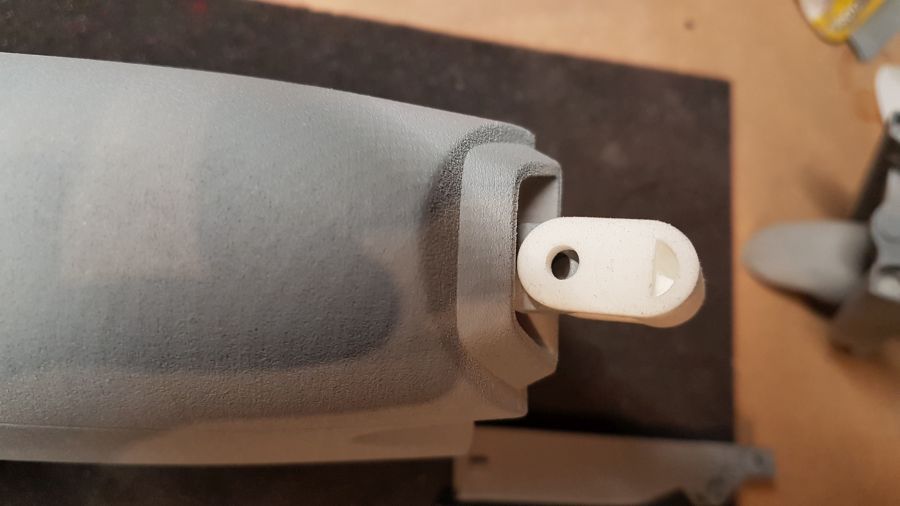 Het oppervlak van dit spul is behoorlijk ruw. Er is dus veel werk om het glad te maken. Daar zijn behoorlijk wat spuitbussen filler, primer en schuurpapier voor nodig.
The surface of this stuff is pretty rough. It's a tough job to make it smooth. It will need a lot of cans of filler, primer and sanding paper.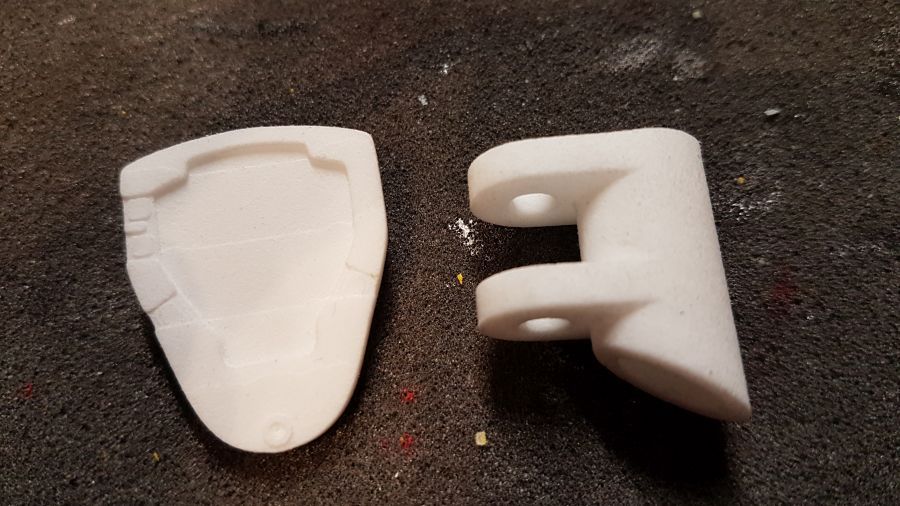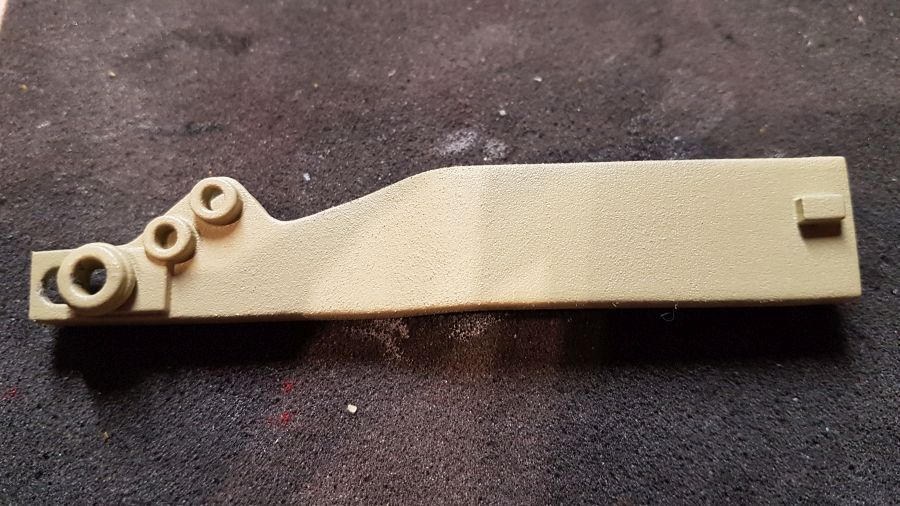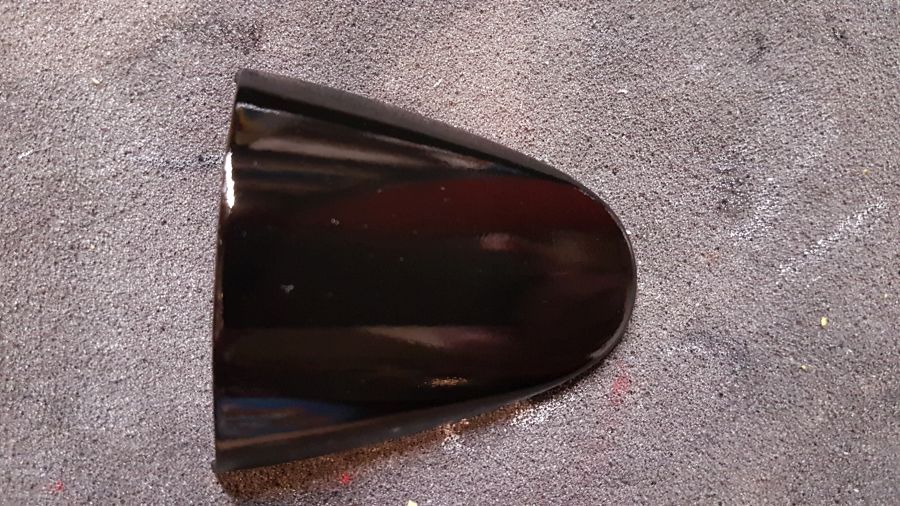 Alle onderelen zijn geschuurd na de laag primer filler en nu klaar voor een 2e laag.
All parts have been sanded after a layer of primer filler and now ready for a 2nd coat.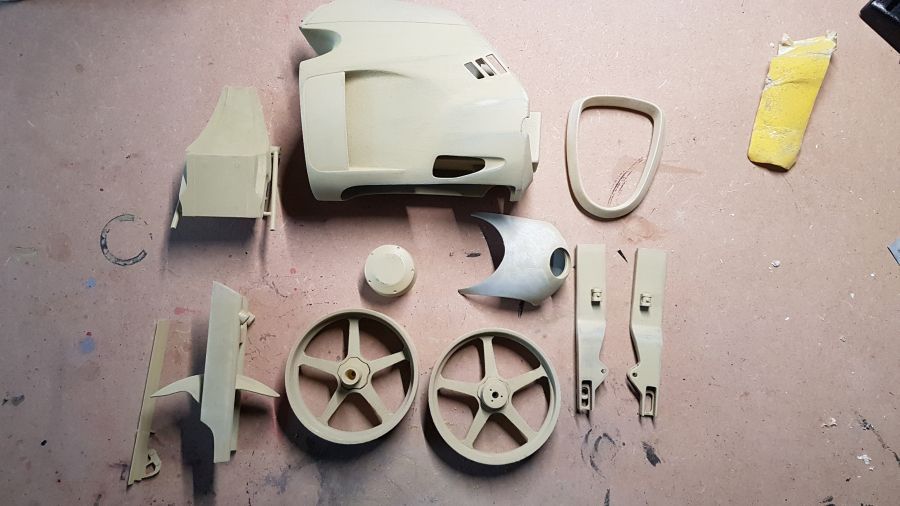 De 2e laag... nu eerst gewoon primer om het verschil goed te kunnen zien bij het schuren.
The 2nd coat... nu first of all ordinary primer to be able to see the difference when sanding.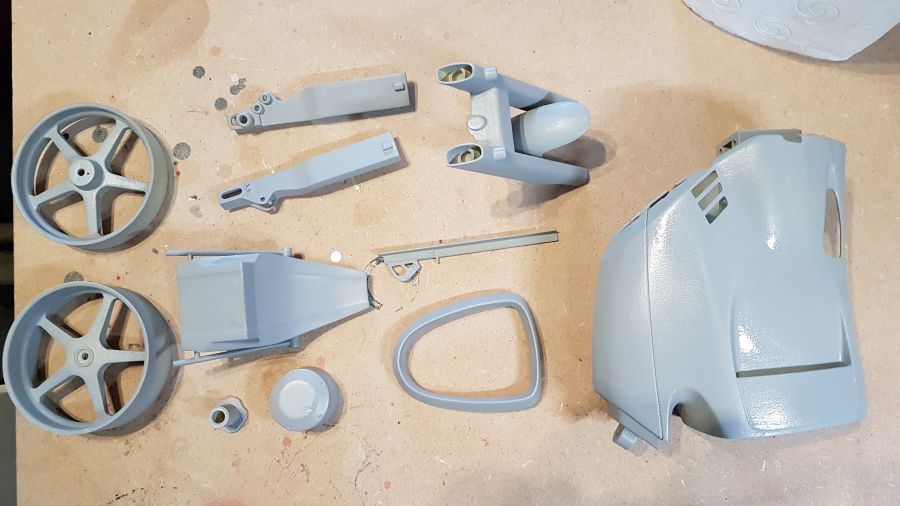 Geschuurd met korrel P1000. Nog even een korrel P6000 eroverheen en dan is deze klaar voor de eerste verflaag.
Sanded with P1000. I will use P6000 and then this one is ready for the first layer of paint.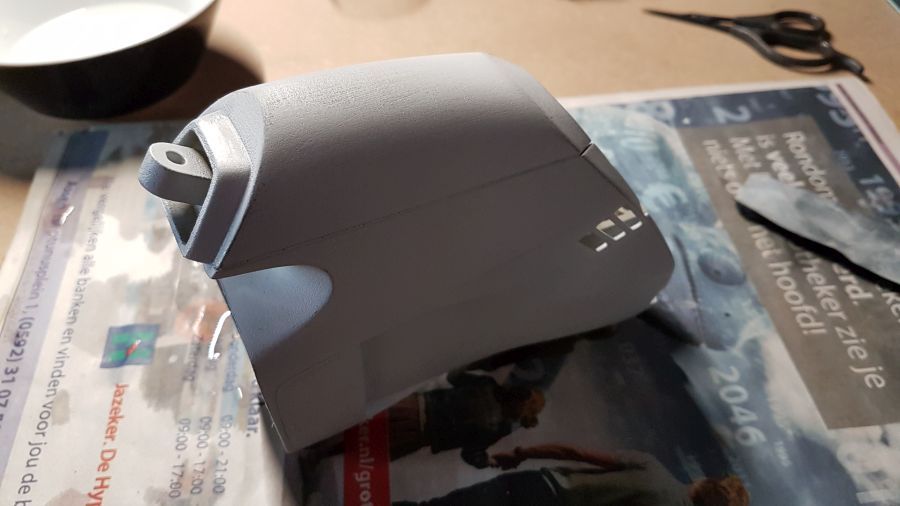 Een paar andere onderdelen zijn zwart gespoten en weer opgeschuurd.
A few other parts received black paint and got sanded again.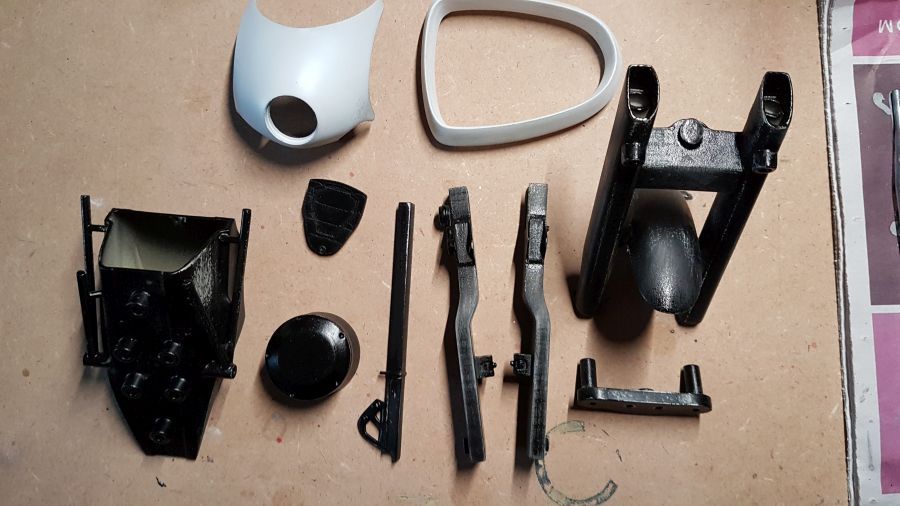 Daarna weer een laag zwarte verf. Langzaam worden de 3D-print laagjes onzichtbaar. Het is jammer dat ik nog niet de juiste primer filler heb kunnen vinden die dit proces onnodig maakt. Vooral omdat je sommige plekken nauwelijks kunt bereiken met schuurpapier
Then another black coat. Very slowly the 3D-print layers get more invisible. It's a shame i was unable to find a primer filler that makes this more easy. Especially as some parts are very hard to reach with sanding paper.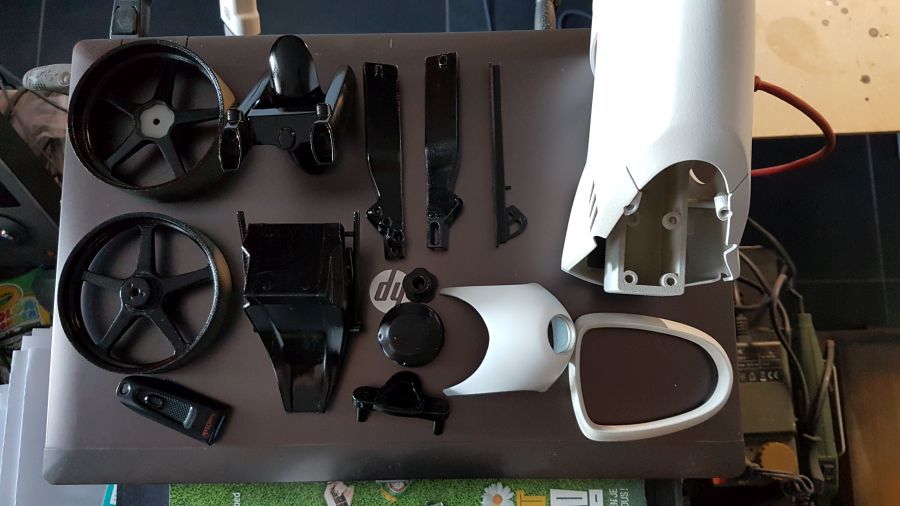 Na weer schuren meer zwart en wit...
After sanding again it's more black and white...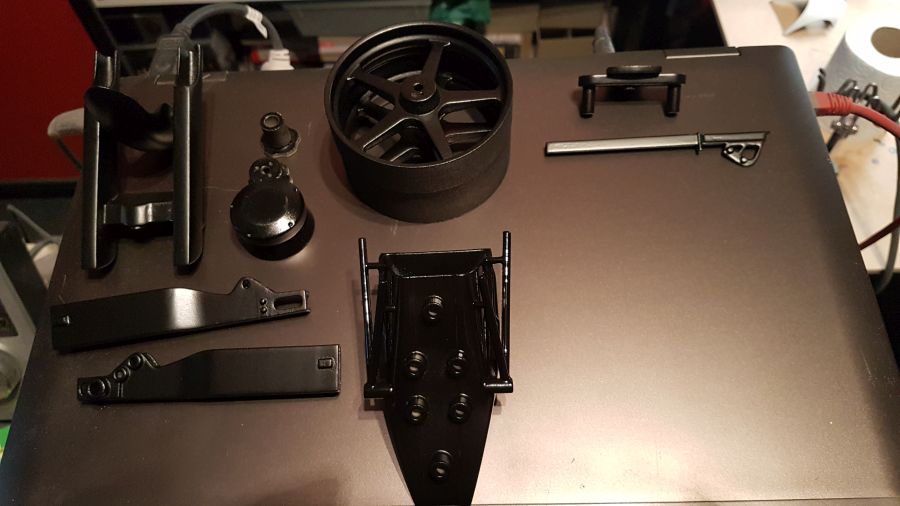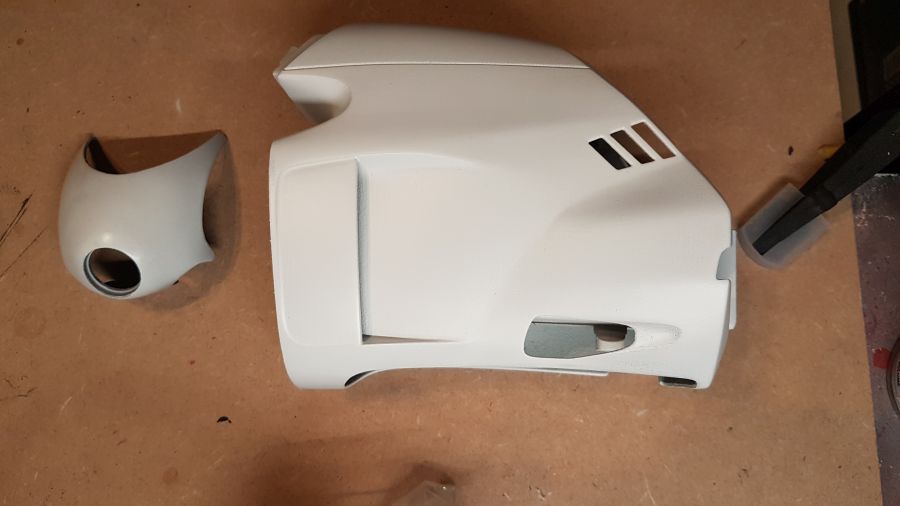 Dan het eerste Lotus Geel en Groen... Weer Zero Paints, deze keer ZP-1249.
Then the first Lotus Yellow and Green... Again Zero Paints, this time ZP-1249.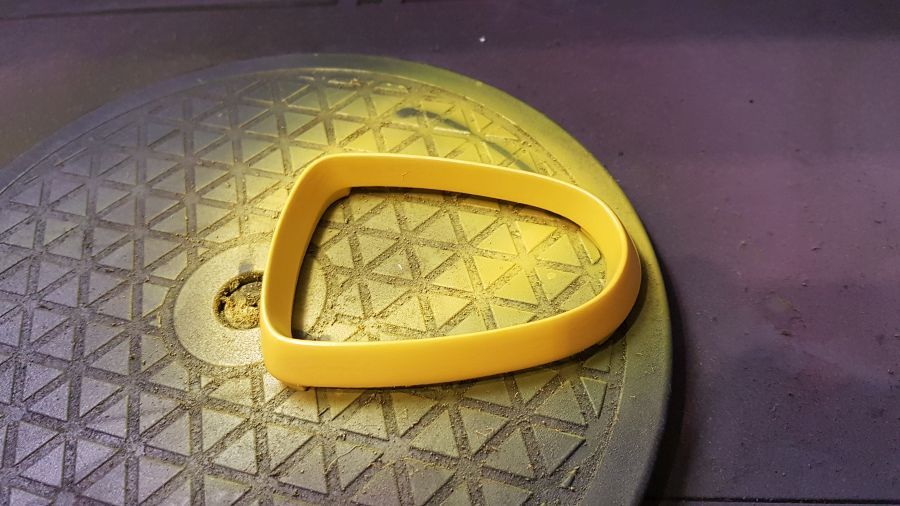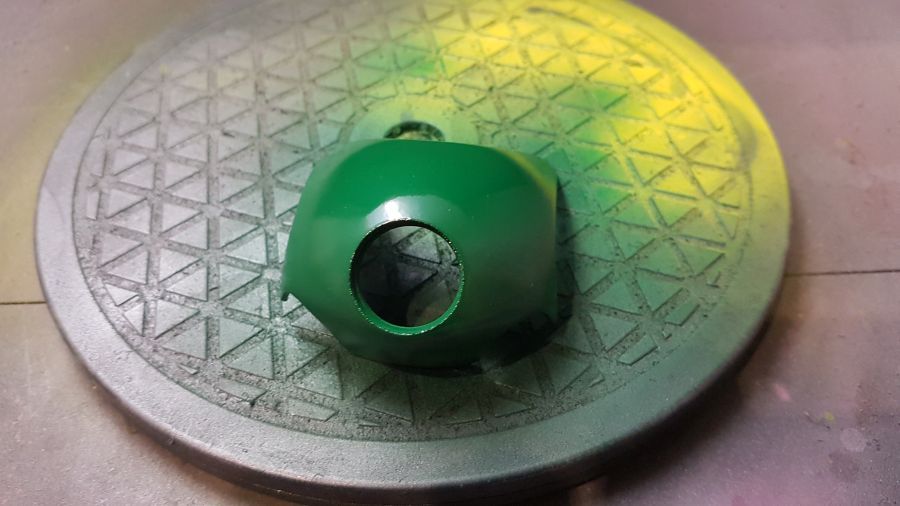 Voordat ik verder ga met schuren van de body, moet ik eerst het probleem met het stuur zien op te lossen.
Before to continue with the body i first need to solve the problem with the steering.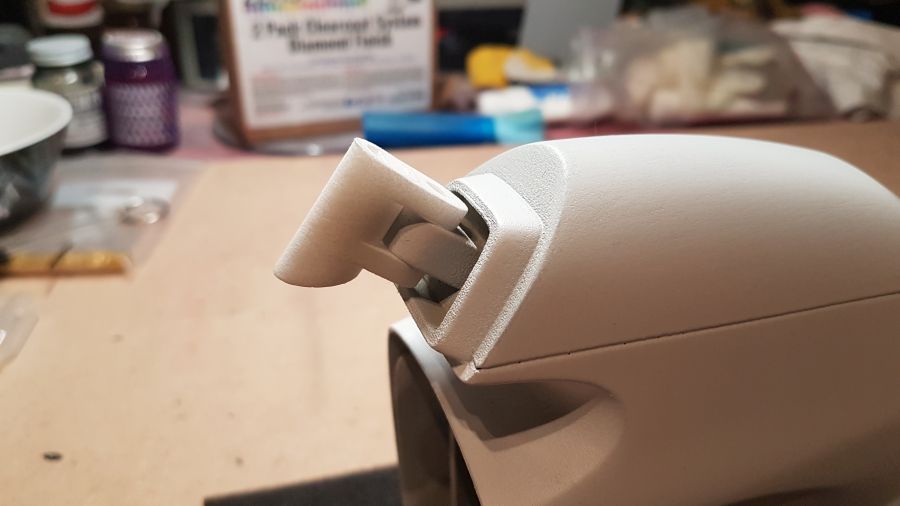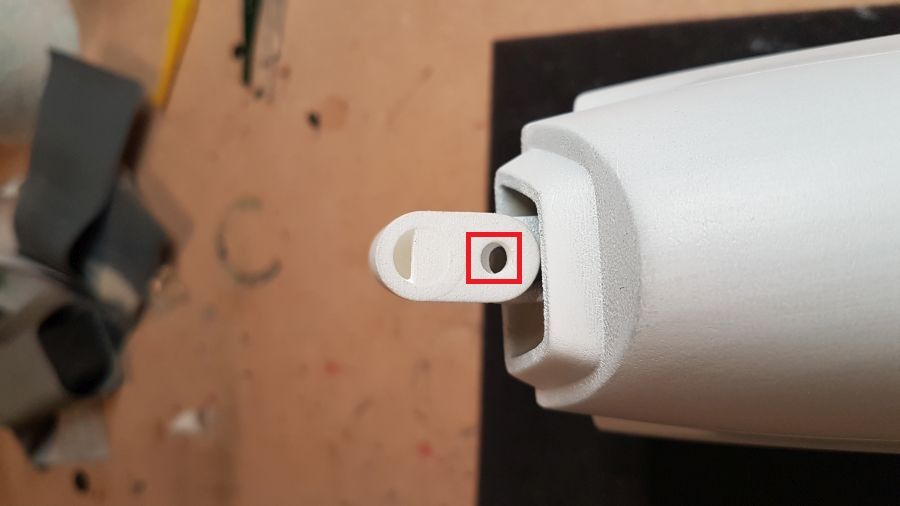 Ik denk dat ik het stuk aan de body maar ga bewerken. Daar kan ik beter bij met een frees.
I think i will work on the part of the body. I can reach it more easy with a cutter.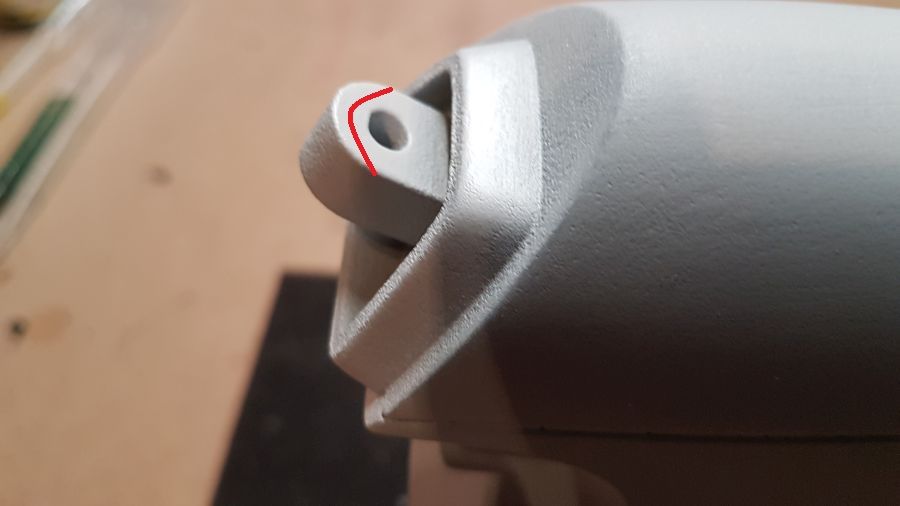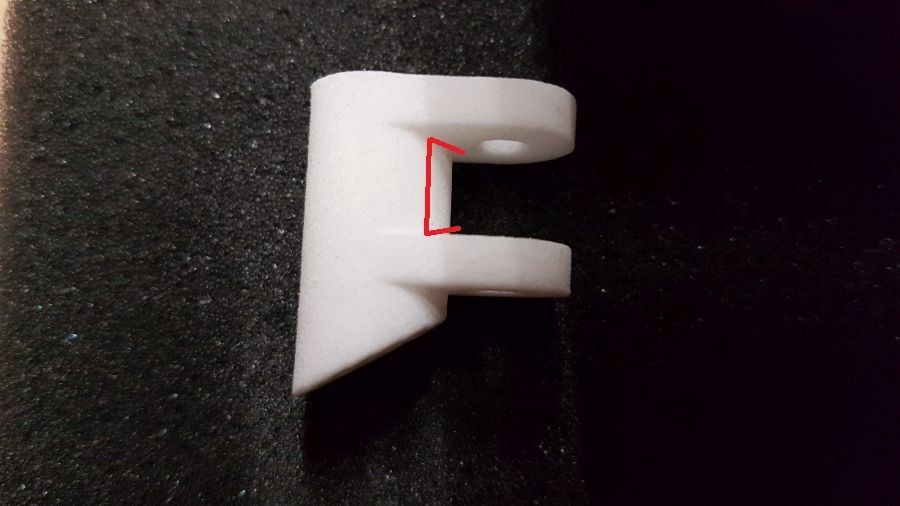 Deze 4 mm frees doet het uitstekend.
This 4 mm cutter works like a charm.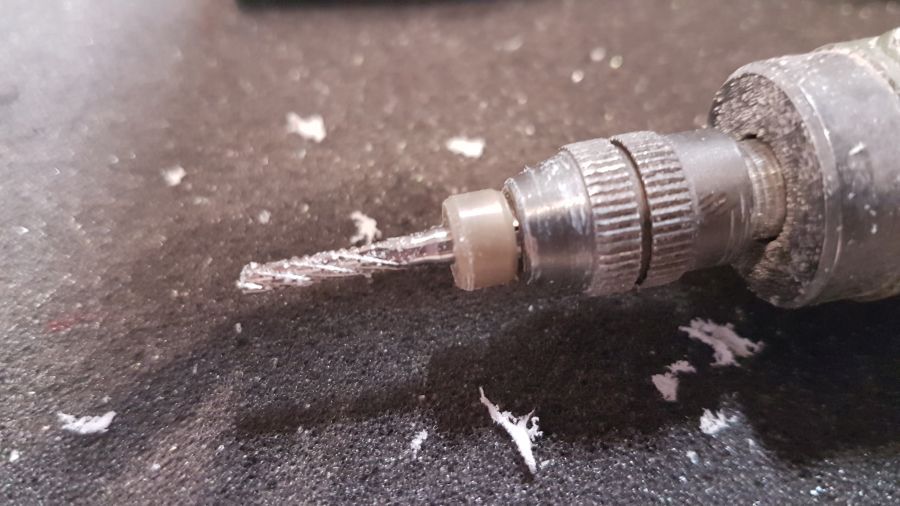 Perfect.
Perfect.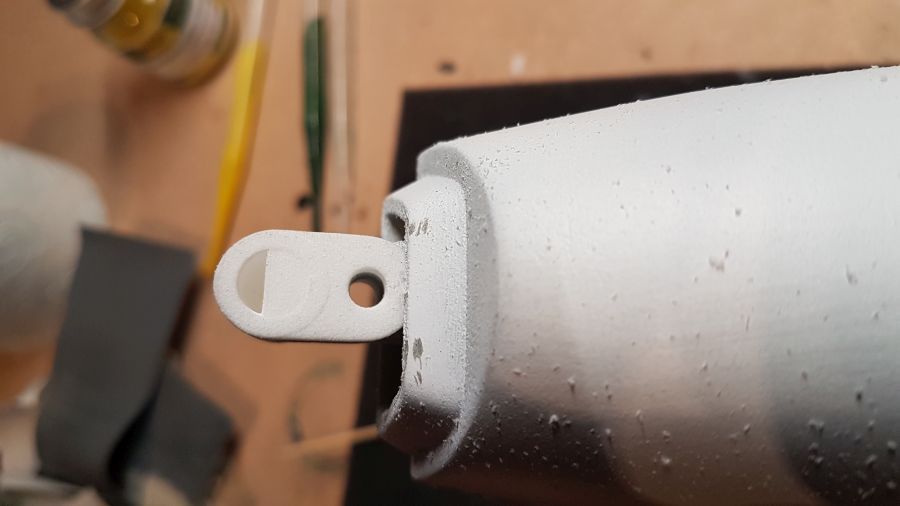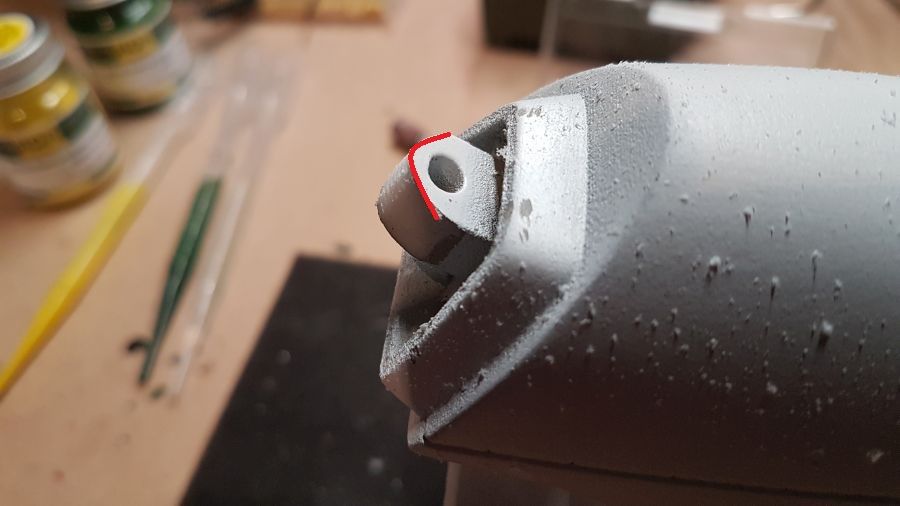 Altijd lastig te bepalen of het goed genoeg is voor de verf... Het voelt zijdezacht...
Always tough to tell if it is good enough for the paint... Feels smooth as silk...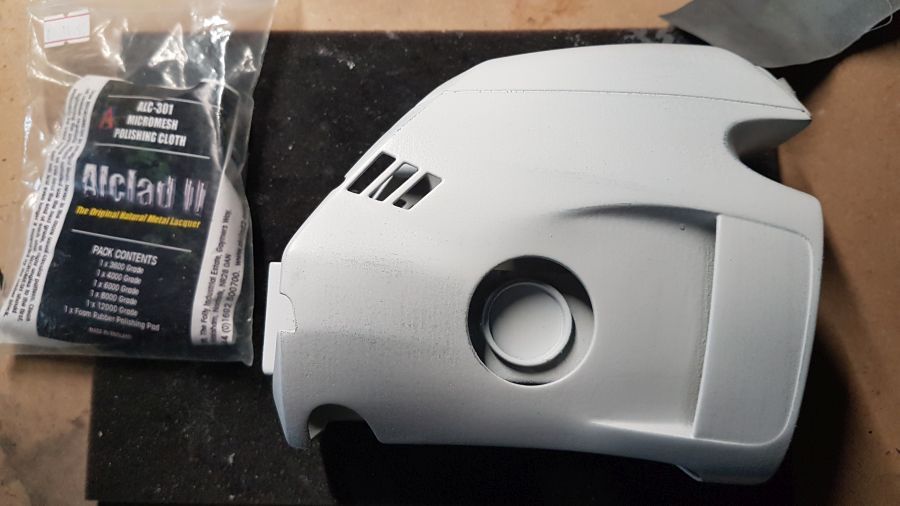 Wat groen en wat geel gespoten. Let niet op de dikkere tape rand, dat komt allemaal goed.
Painted some yellow and some green. Do not worry about the thicker tape line, it will be worked on.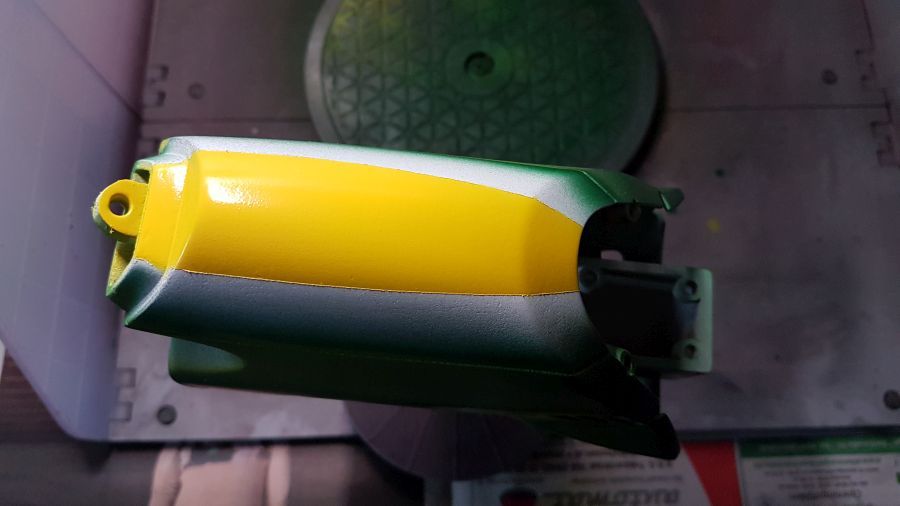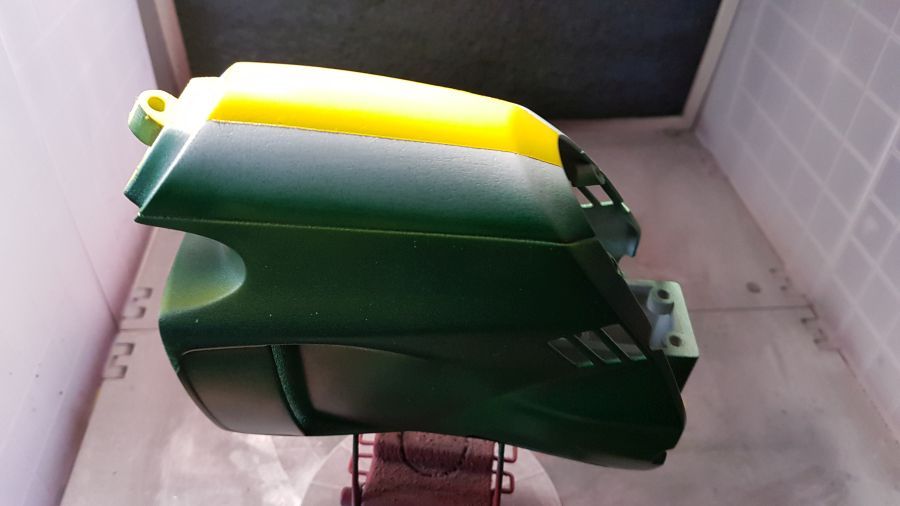 Stap 2...
Step 2...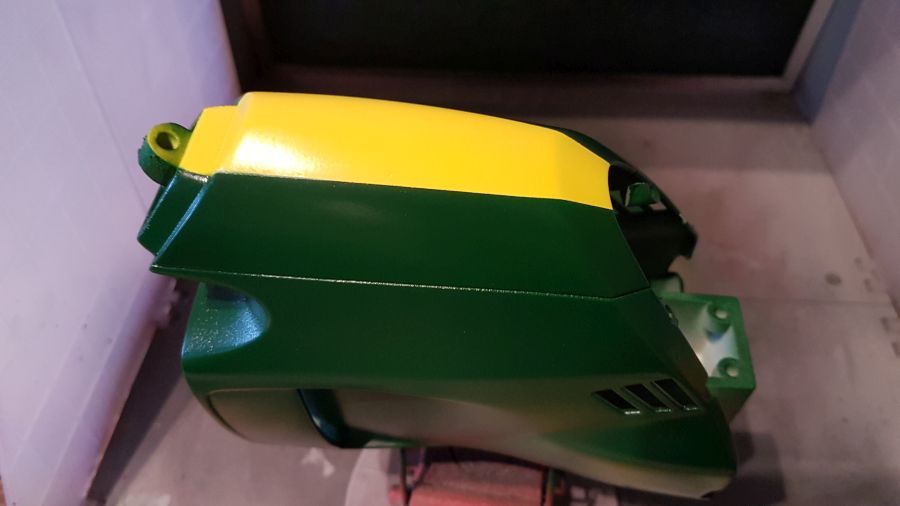 Even een verkeerde keuze gemaakt. Zie de 2 foto's. Achteraf vind ik het zwart minder mooi, dus even herstellen...
I made a wrong choice. See the 2 pictures. Looking back i less like the black, so a recovery...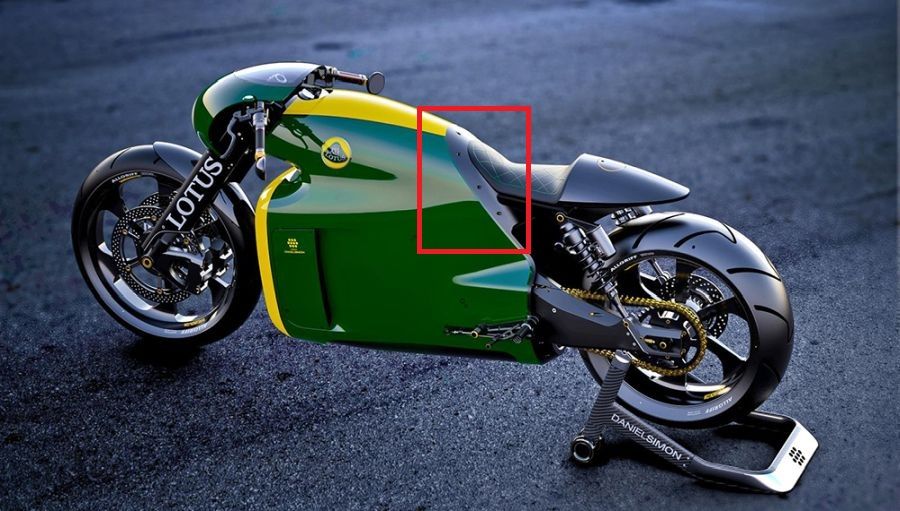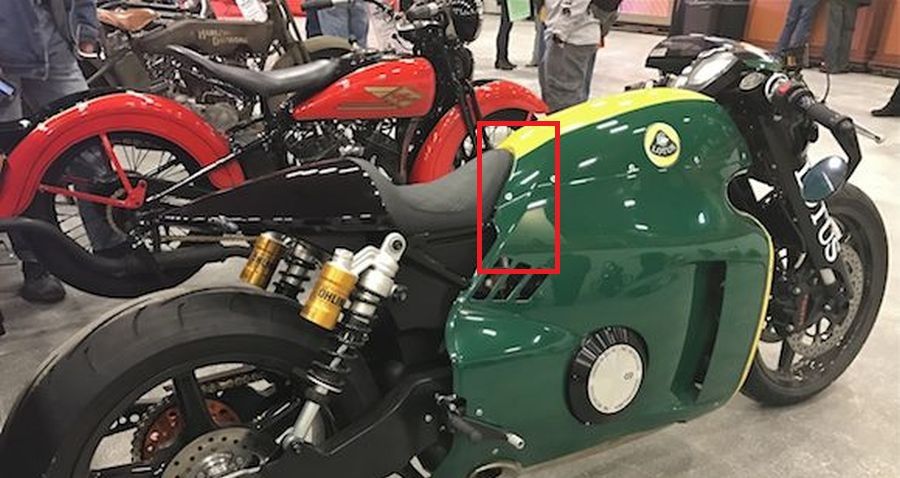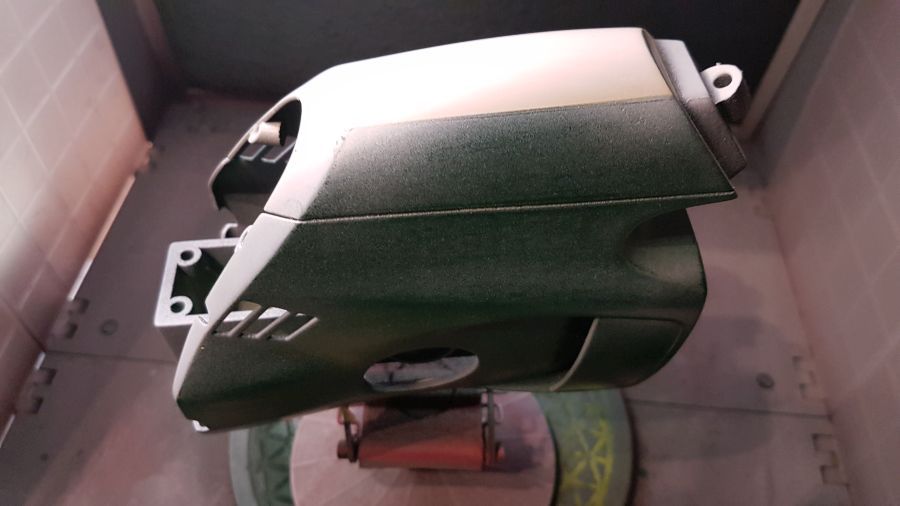 Na wat schuren de herstart...
After some sanding the re-start...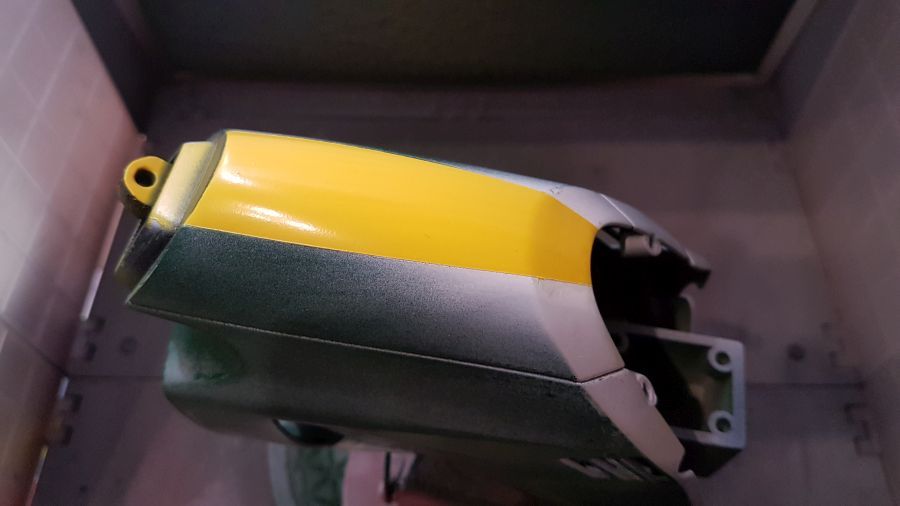 Een beetje gepolijst. Ik hoop dat het glad genoeg is voor de lak.
Polished it a bit. I sure hope it's smooth enough for the lacquer.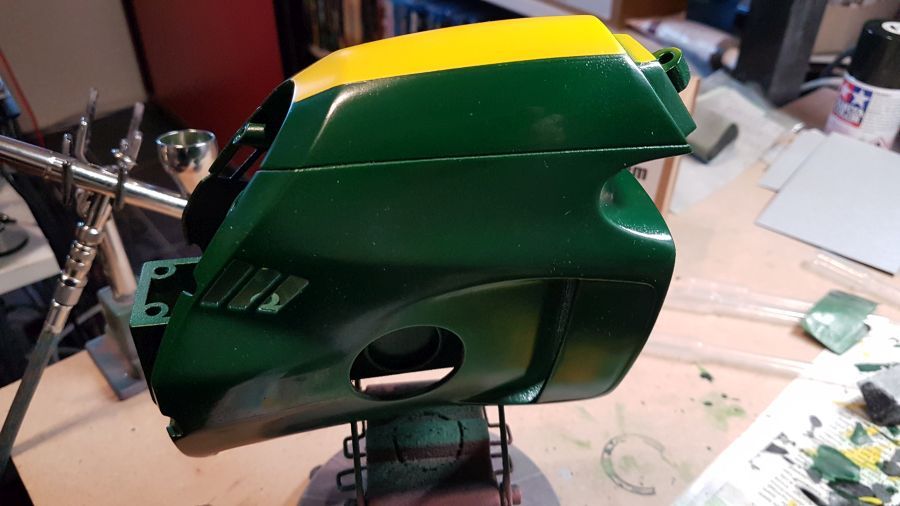 De eerste lagen Zero Paints Clearcoat Diamond Finish (ZP-3035) worden gespoten. Ik doe eerst de kuip en het gele deel van de grille. Zo kan ik bepalen of de romp al goed genoeg is... Niet dus, terug naar het schuren...
The first layers of Zero Paints Clearcoat Diamond Finish (ZP-3035) are being applied. I will do the steering top first and the yellow part of the grille. This way i am able to decide if the body is good enough. No, so back to the sanding...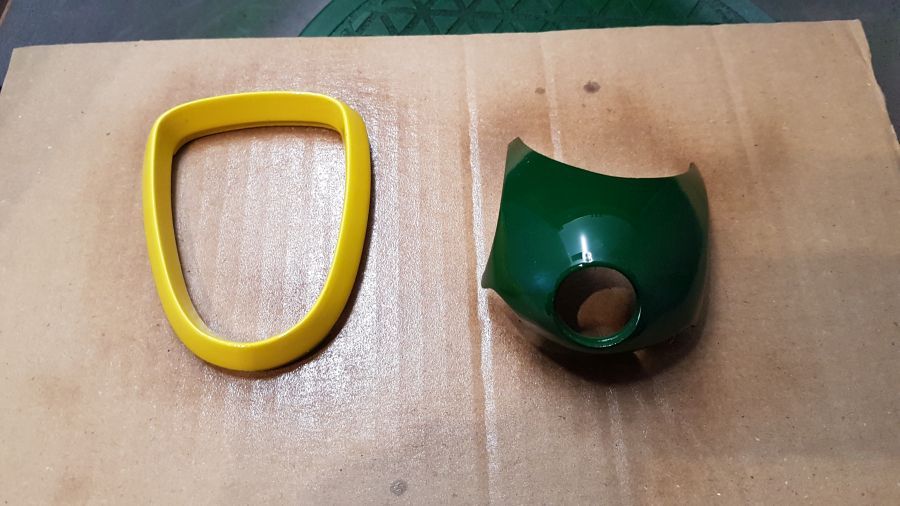 Meer nat schuren...
More wet sanding...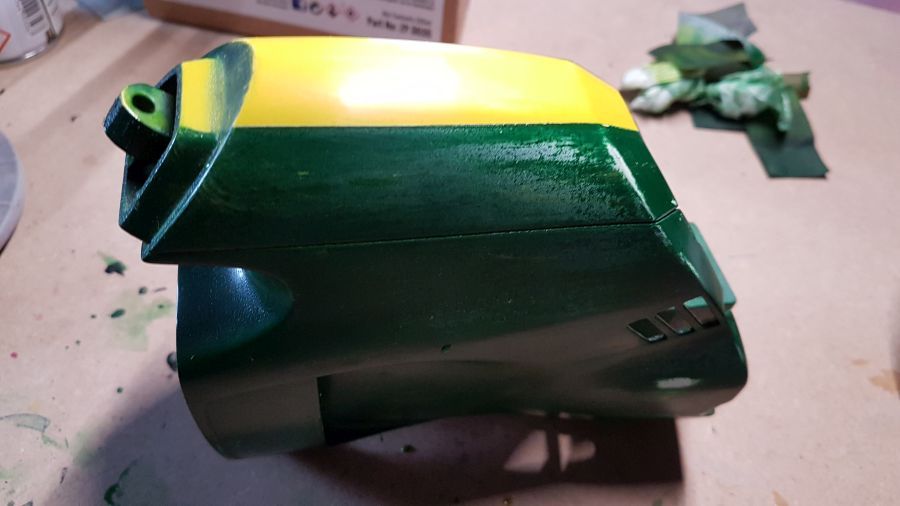 Dan weer beginnen met geel...
Starting with the yellow again...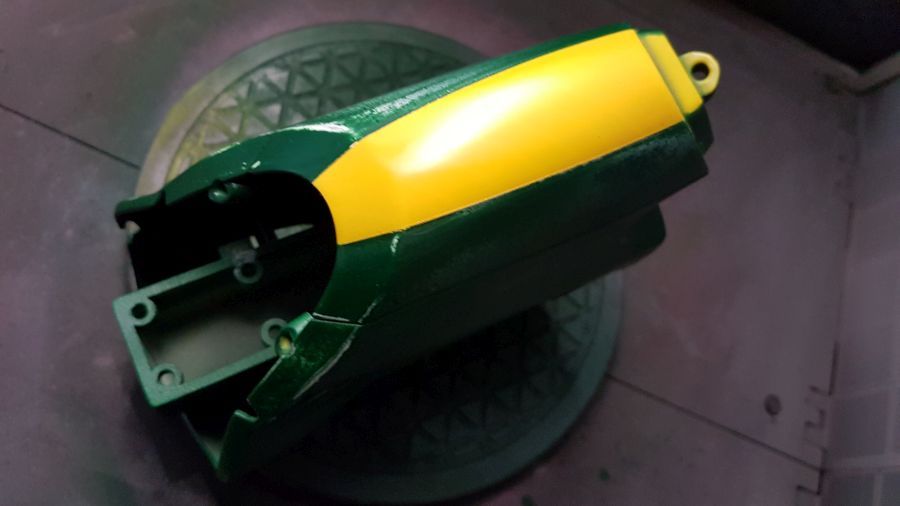 De velgen komen dichtbij het beoogde resultaat.
The rims are getting close to what i want.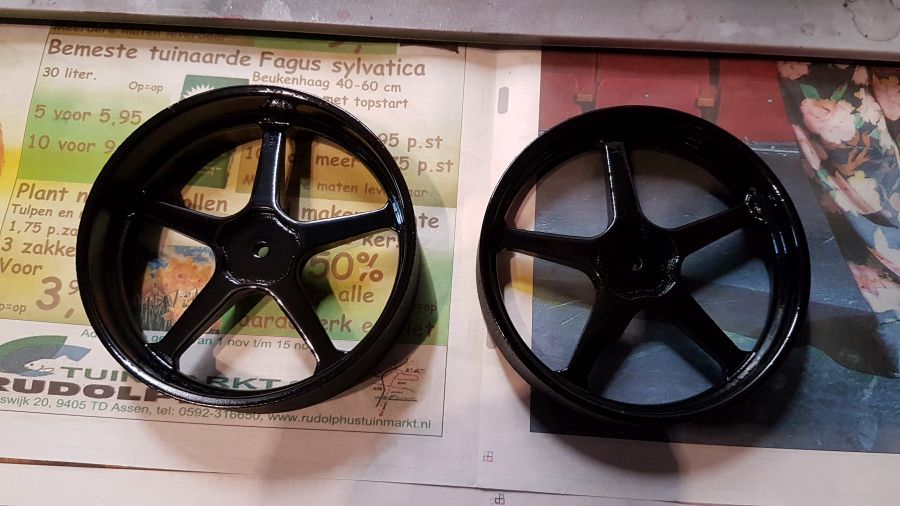 Verder met de banden...
To continue with the tires...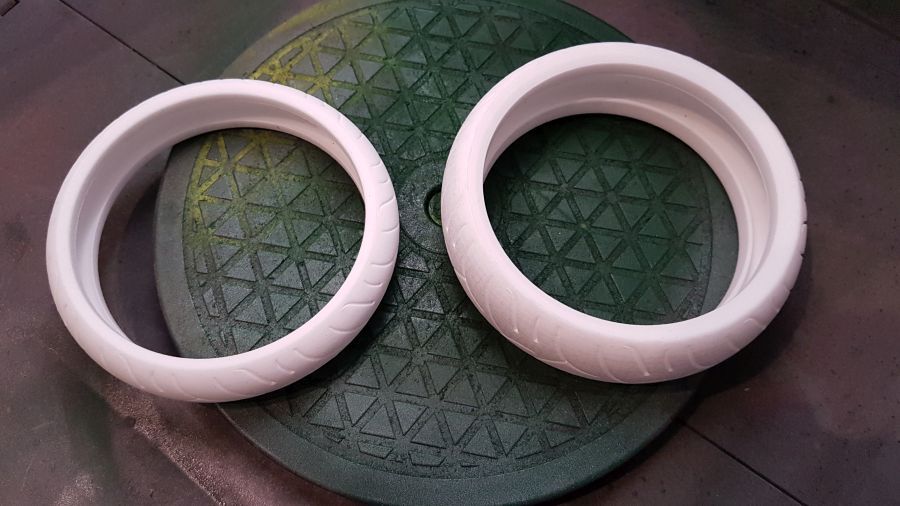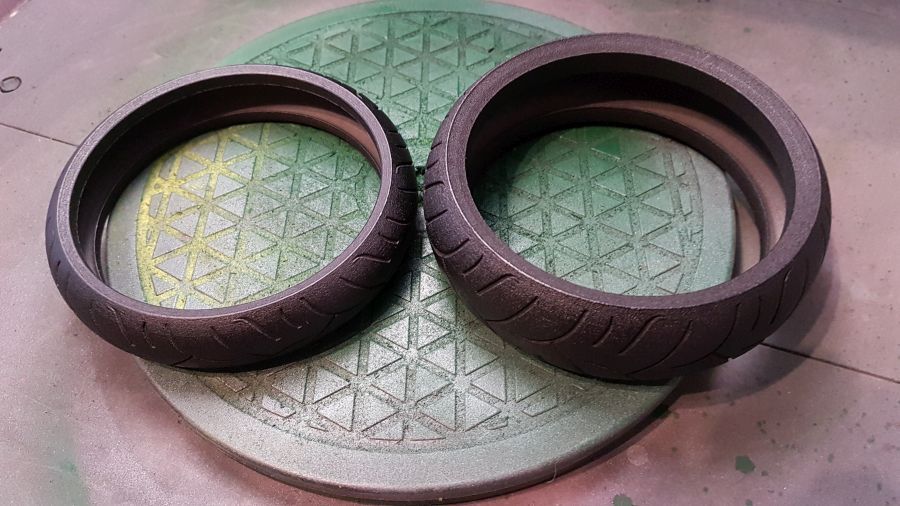 Testen...
Test fit...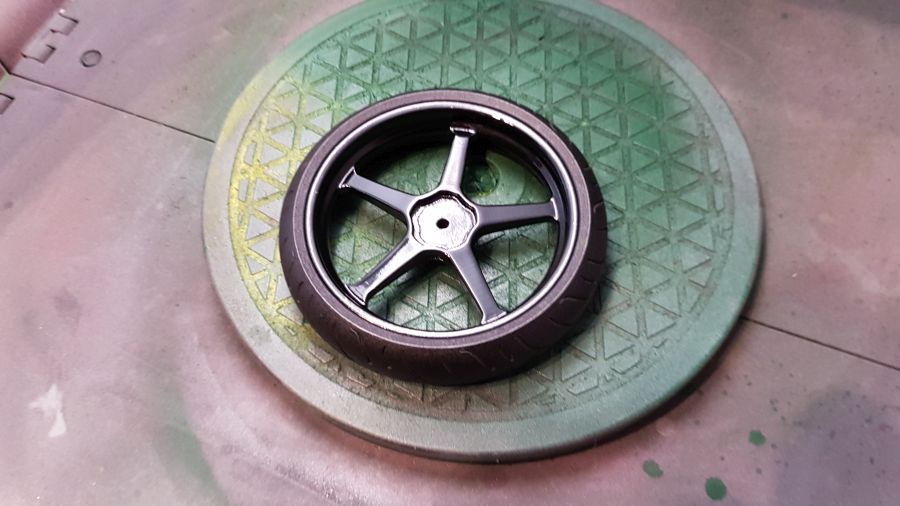 Het nieuwe groen en geel zit er op..
The new green and yellow has been applied..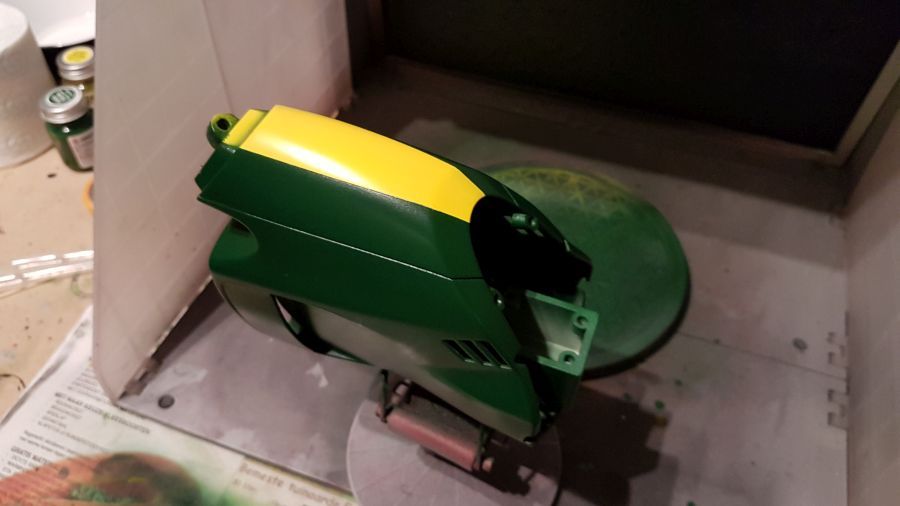 Tijd voor Zero Paints 2K Diamond Clear...
Time for Zero Paints 2K Diamond Clear...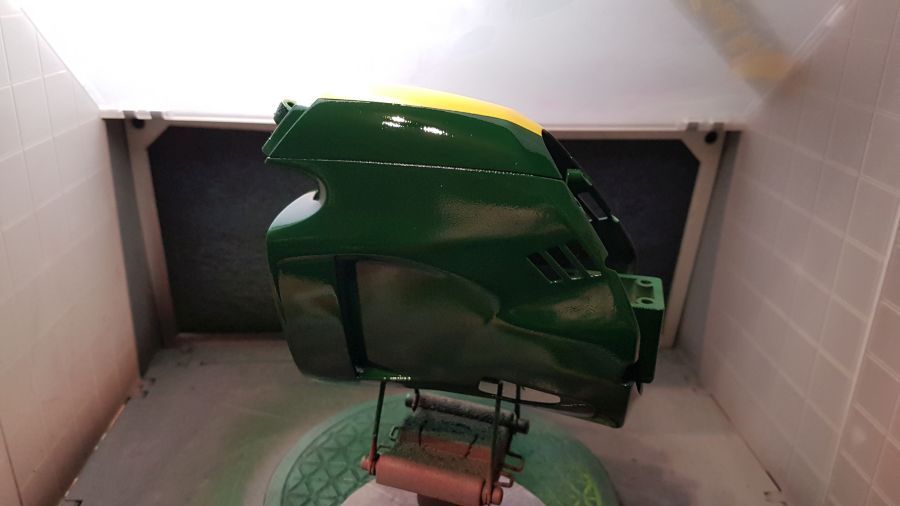 De kuip viel uit mijn handen...  :-(
The cover fell out of my hands...  :-(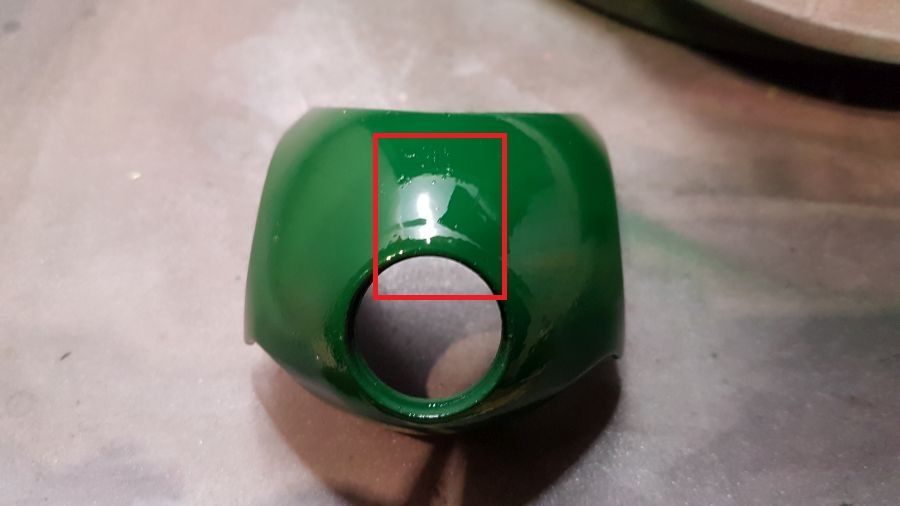 Natschuren met Micro Mesh... Dan polijsten met Tamiya Compound.
Wet sanding with Micro Mesh... Then polish it with Tamiya Compound.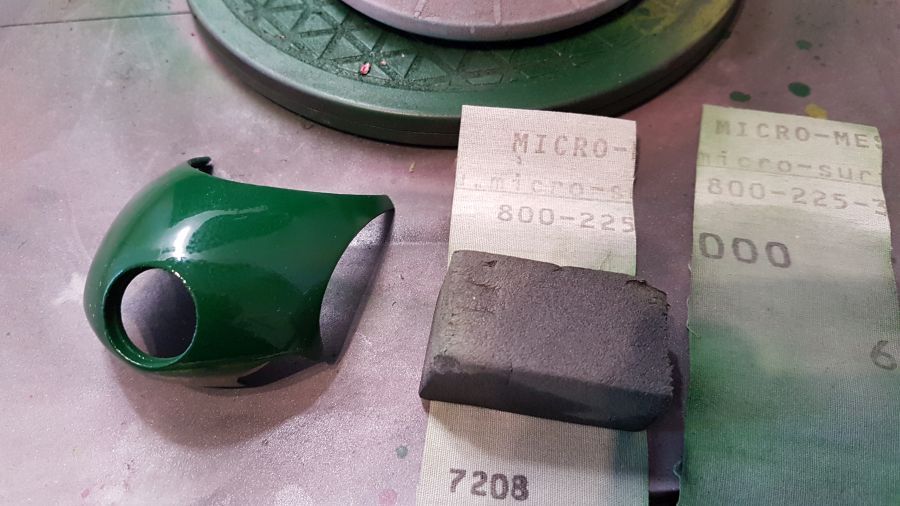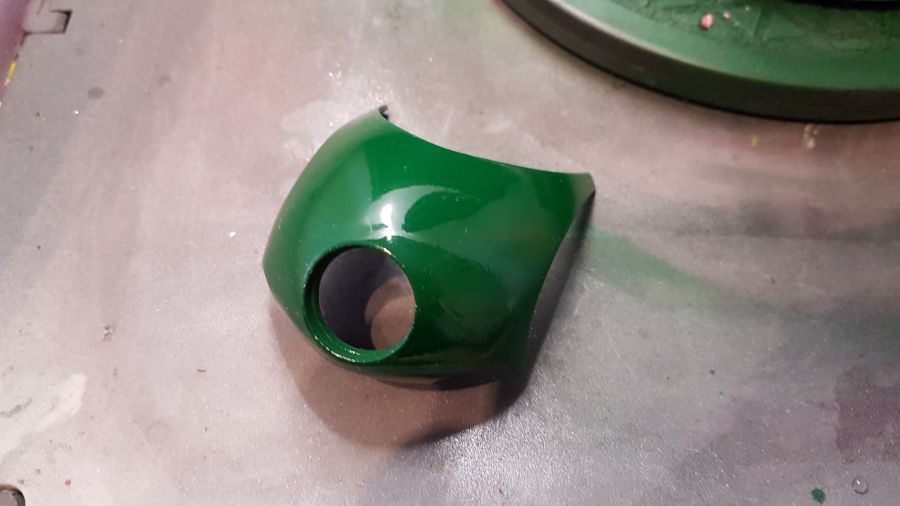 Intussen verder met de voorbereiding van wat andere onderdelen... Sommige mat zwart en sommige glanzend zwart.
In the meantime some preparation of some more parts...  Some matt black and some gloss black.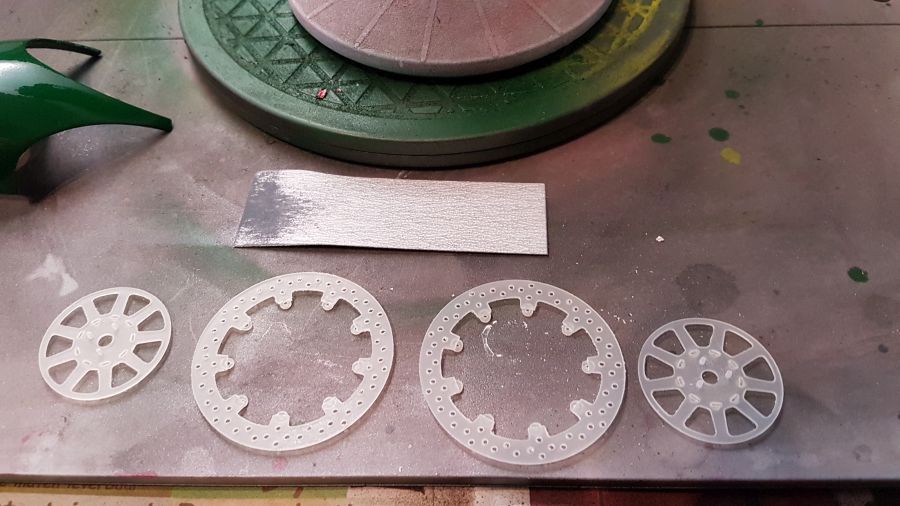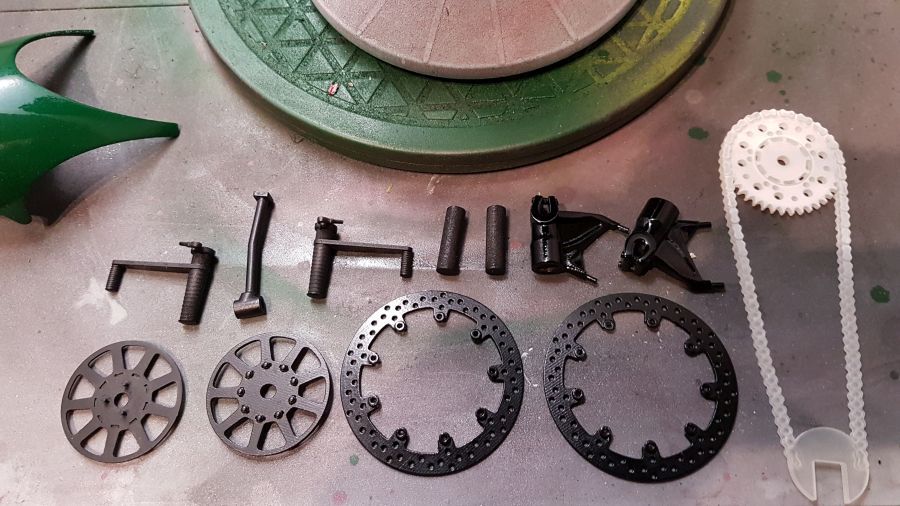 Na het polijsten weer een nieuwe sterk verdunde laag van Zero Paints 2K Diamond Finish lak. De boel glans als een....
After polishing another thinned down coat of Zero Paints 2K Diamond Finish lacquer. It shines like a....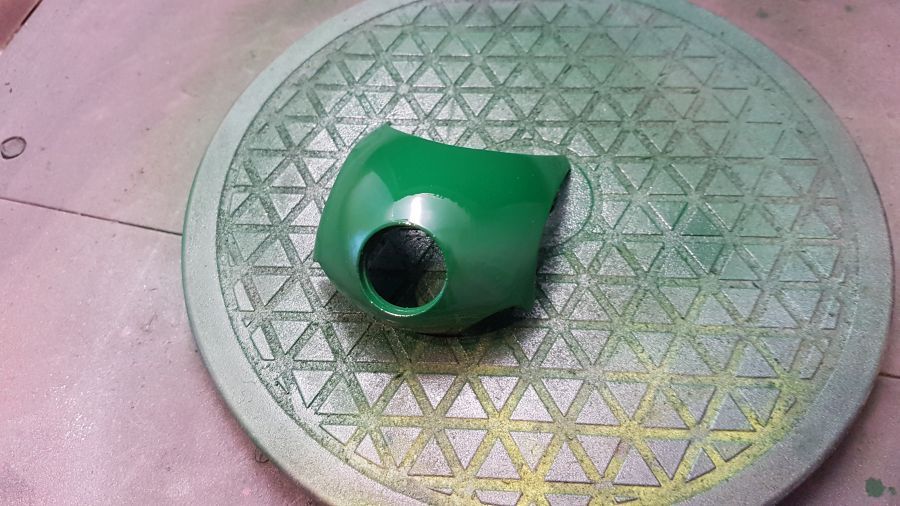 De eerste stappen aan de ketting...
The first steps to the chain...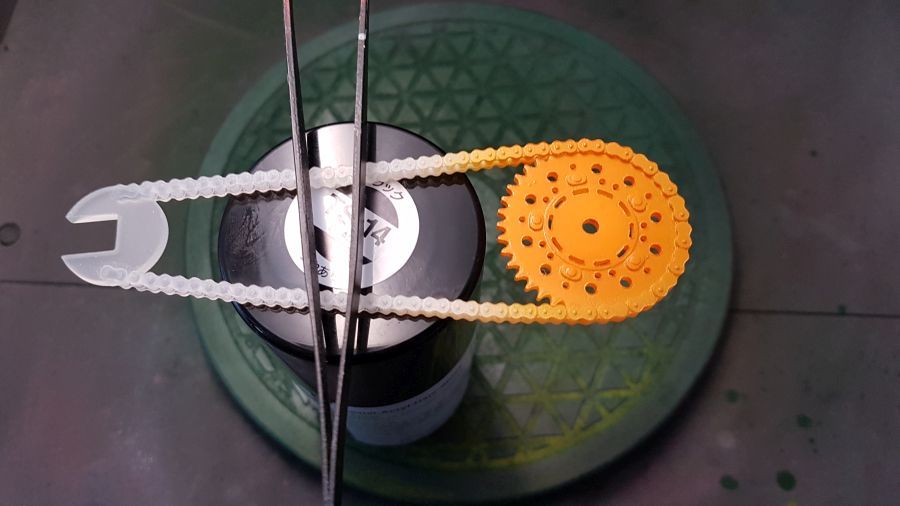 Dit deel (oliefilter?) moet een chroom bovenkant krijgen. Ik probeer het met het maken van een template...
This part (oil filter?) needs te get a chrome top. I will try it with creating a template...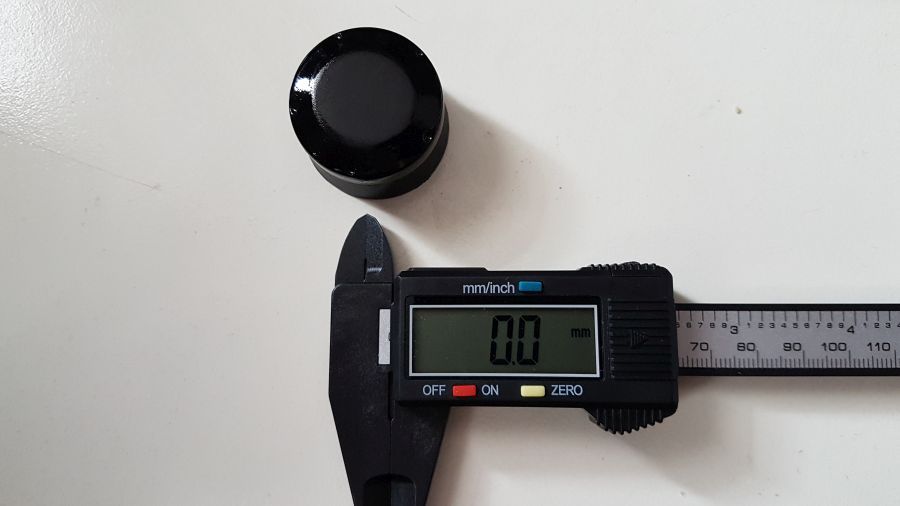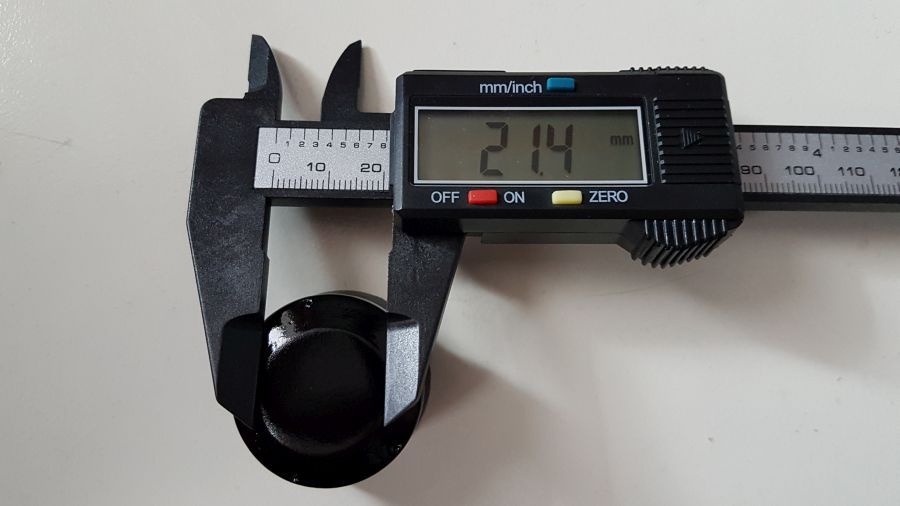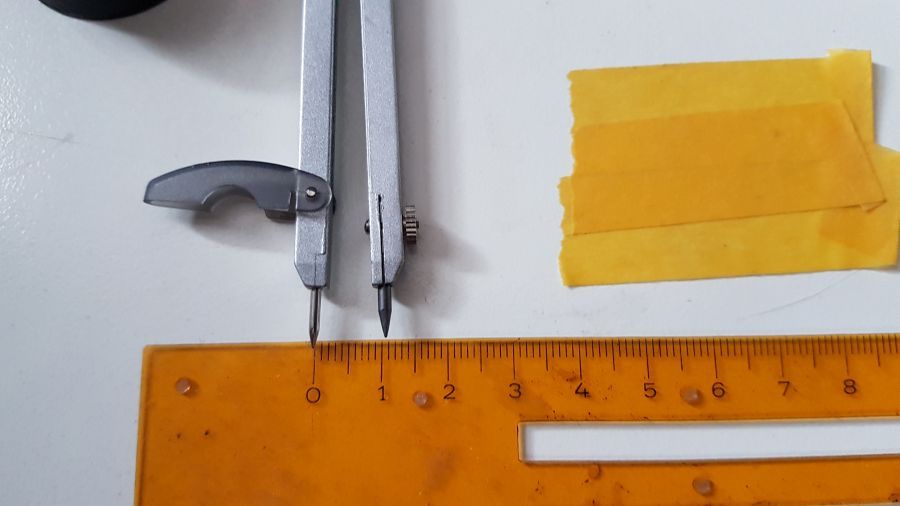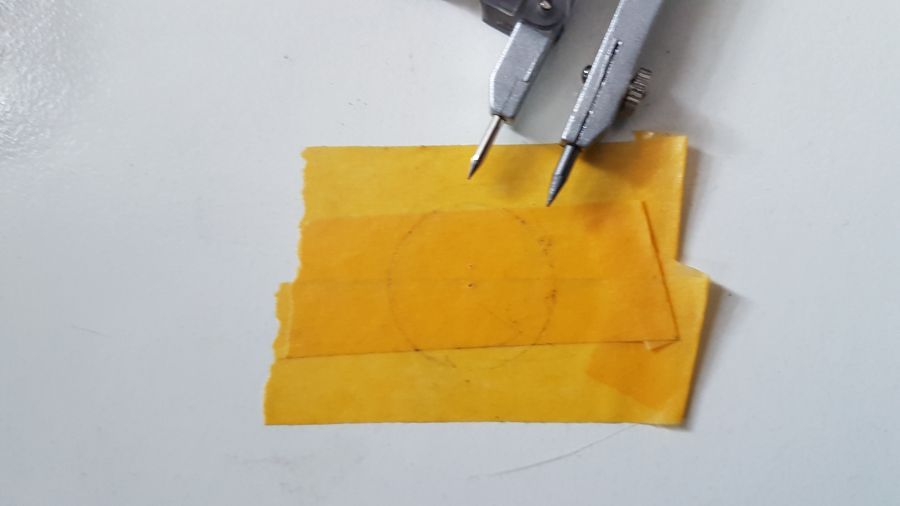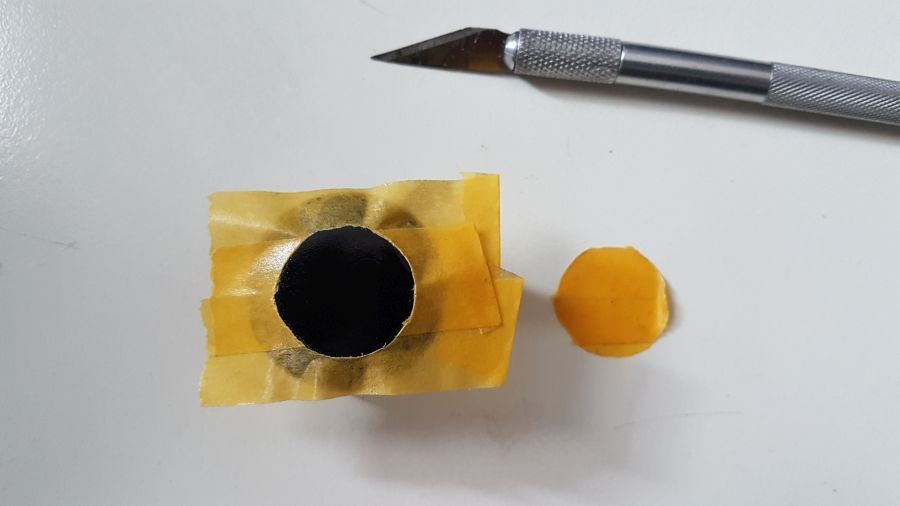 Dat ging niet helemaal goed.
That didn't work well.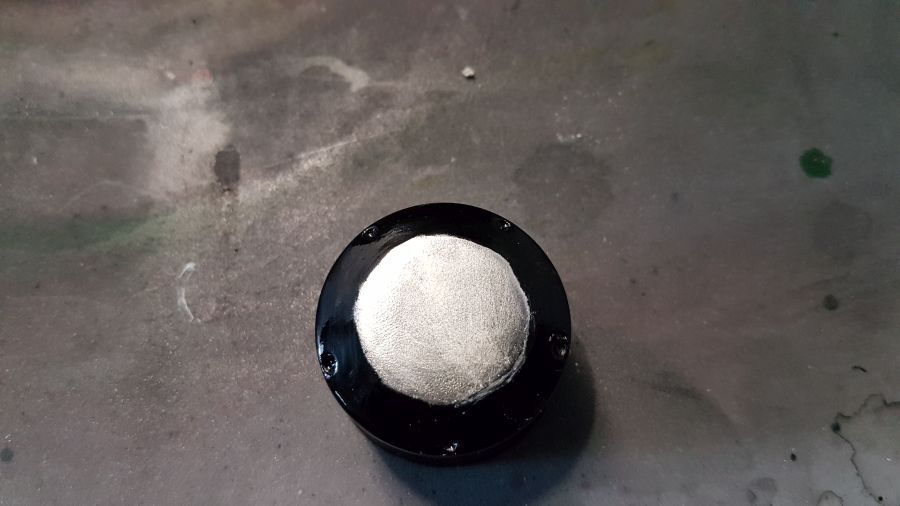 Misschien deze decal chroom spuiten? Dat is me eerder gelukt.
Maybe paint this decal chrome colour? I have done it before.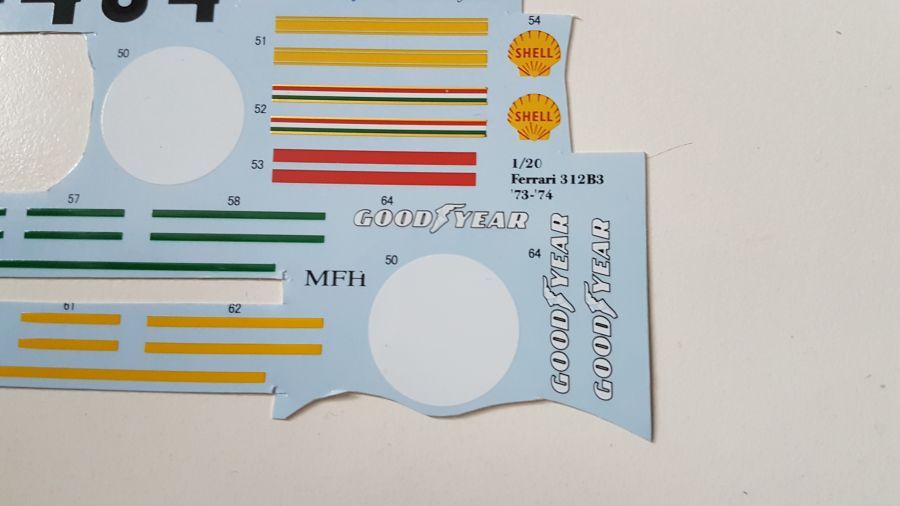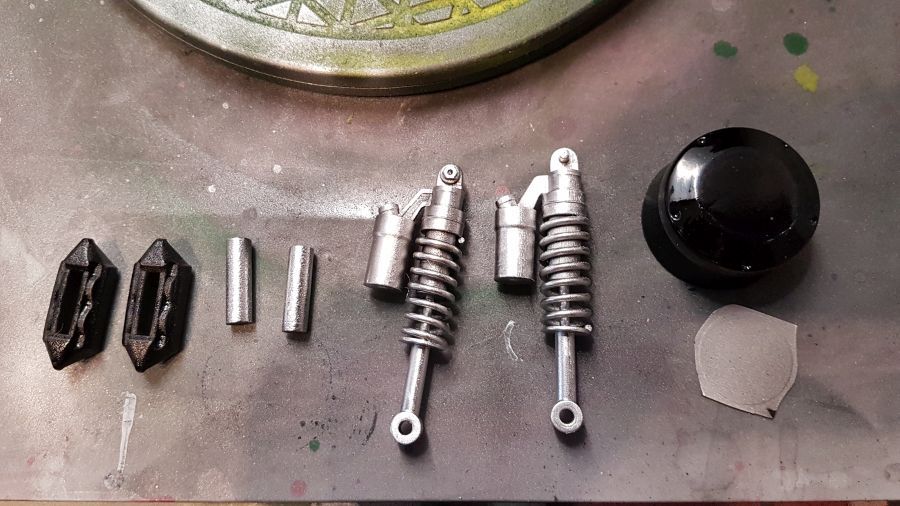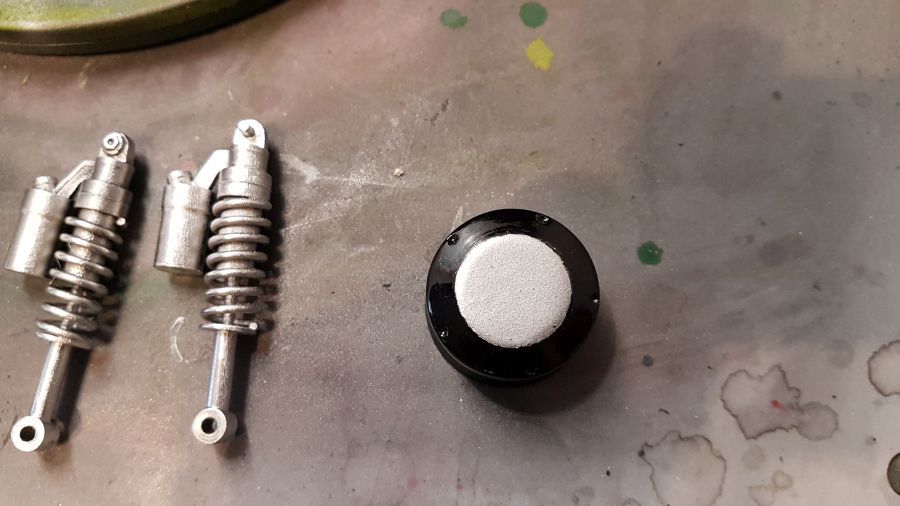 De remschijven worden aangepakt. Eerst glanzend zwart. Daarna Alclad II Dark Aluminium.
Working on the brake discs. First gloss black. Then Alclad II Dark Aluminium.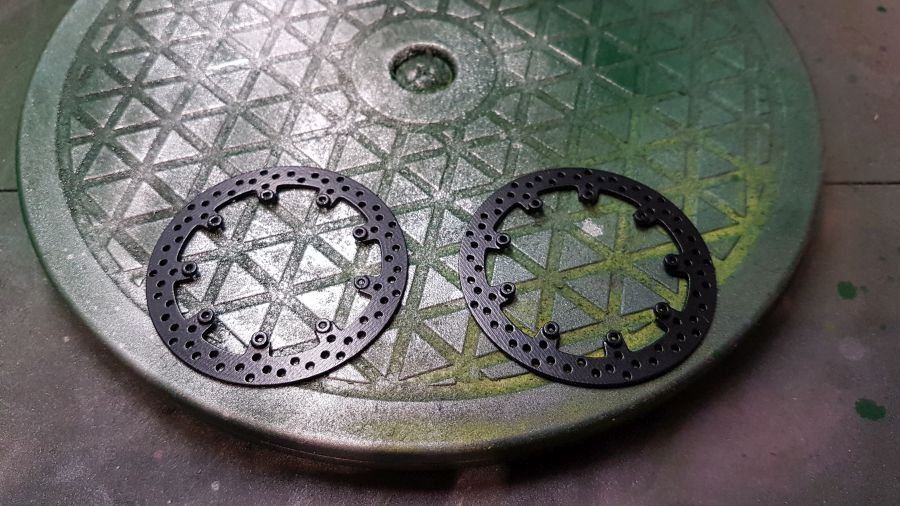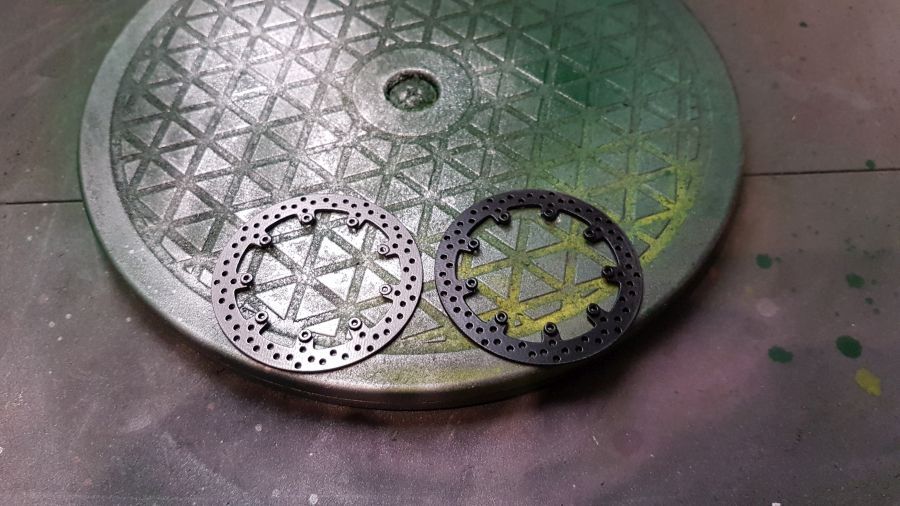 Nu eerst verder met de achterveren...
To continue with the rear coils...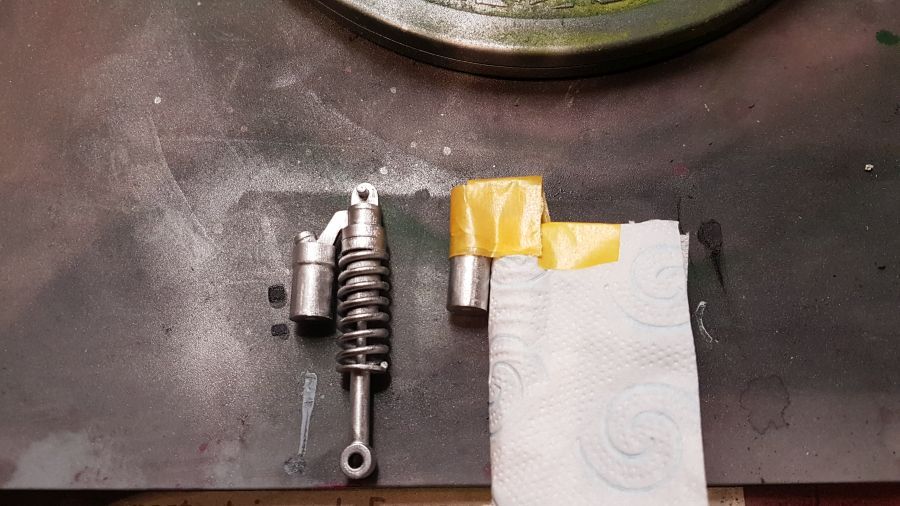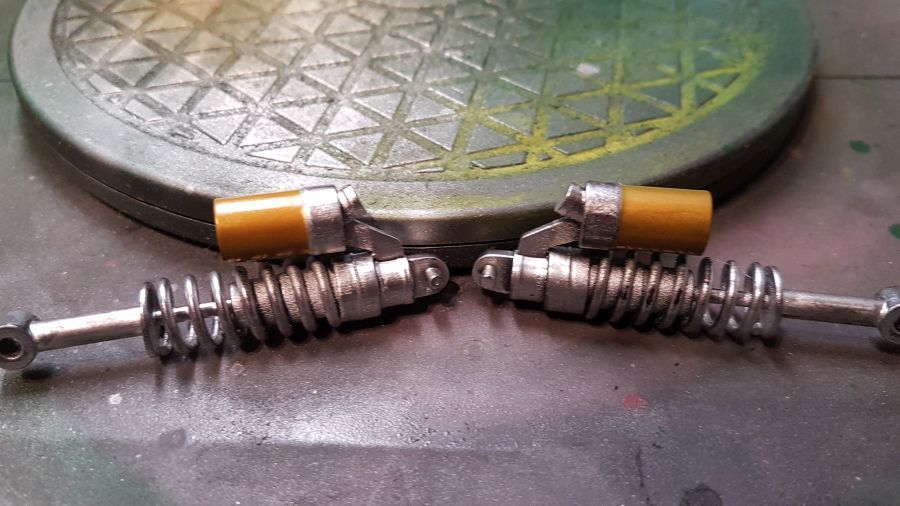 Bij beter kijken naar de foto's heb ik het goud (Zero Paints Fork Gold ZP-1432) wat opgeschoven. Ik moet het chroom nog even bijwerken.
After having a better look at the photos i moved up the gold (Zero Paints Fork Gold ZP-1432) a bit. The chrome needs some retouch.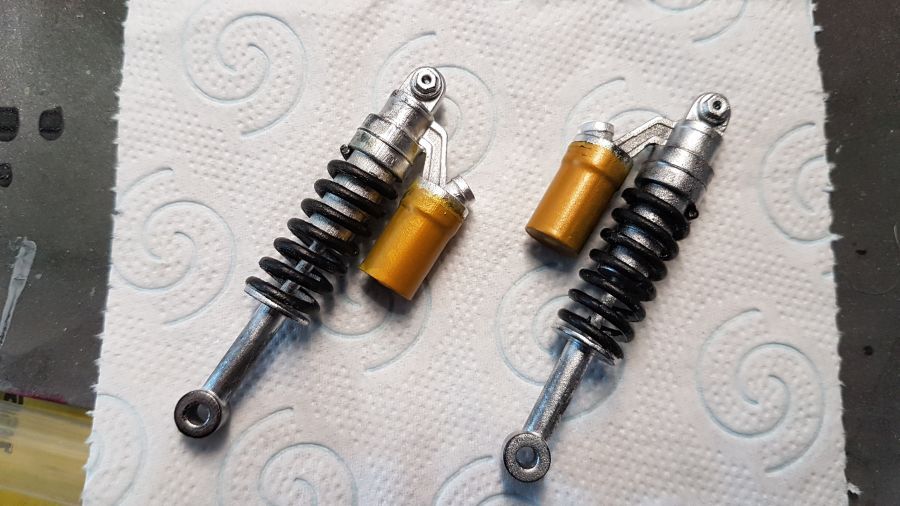 Verder met de ketting... Het oranje wordt afgeplakt, daarna glanzend zwart en dan Alclad Pale Gold.
To continue with the chain... The orange gets masked, then gloss black and then Alclad Pale Gold.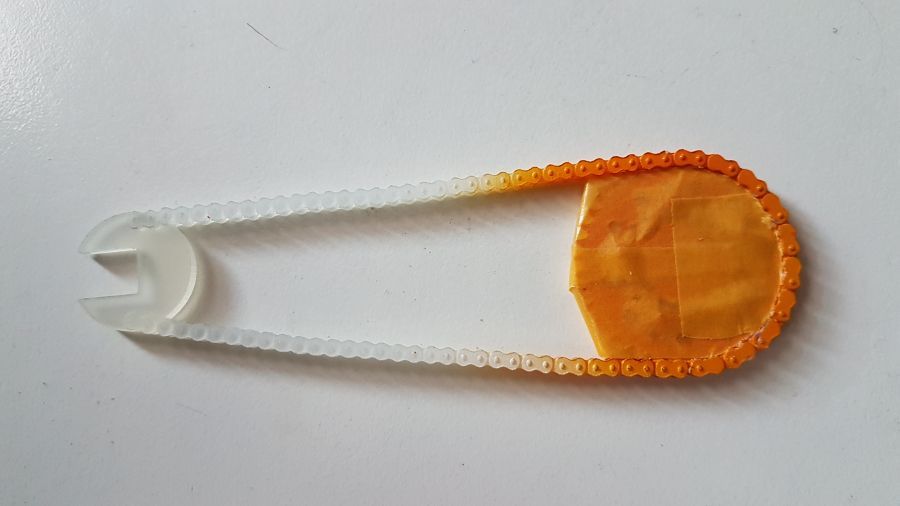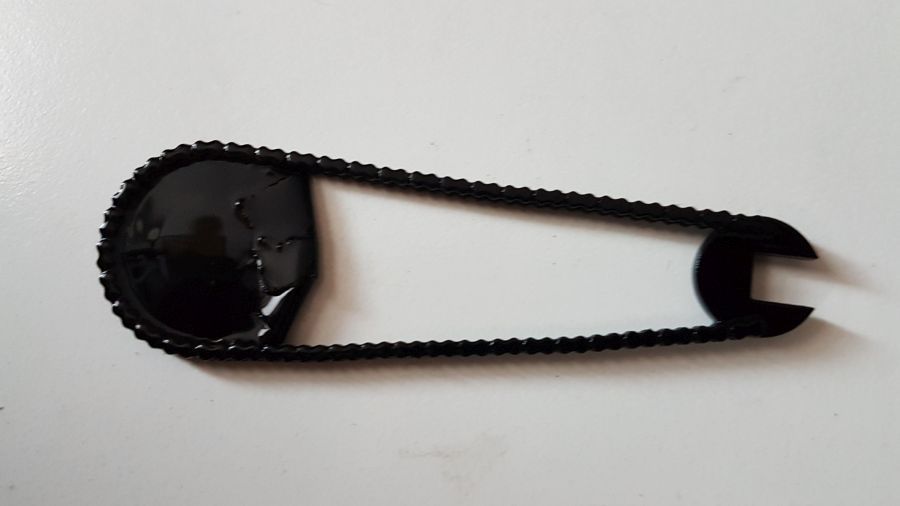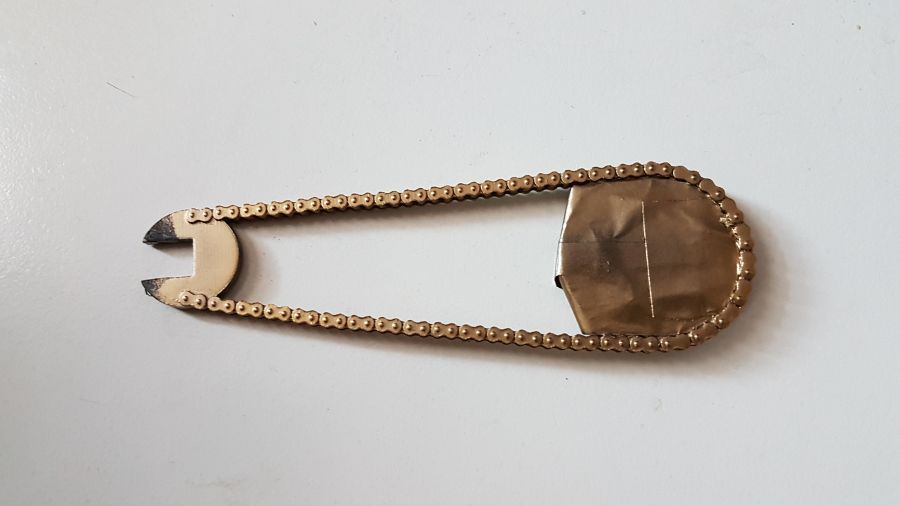 De spiegel lag eraf, waarschijnlijk beschadigd tijdens transport, dus dat moet gelijmd.
The mirror came off, probably during transport, so that needs to be glued.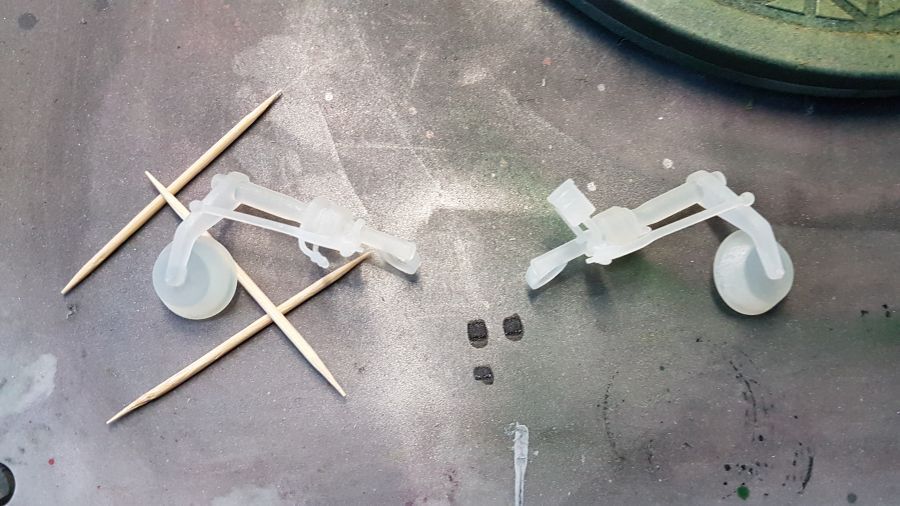 Meer onderdelen krijgen verf.
More parts get some paint.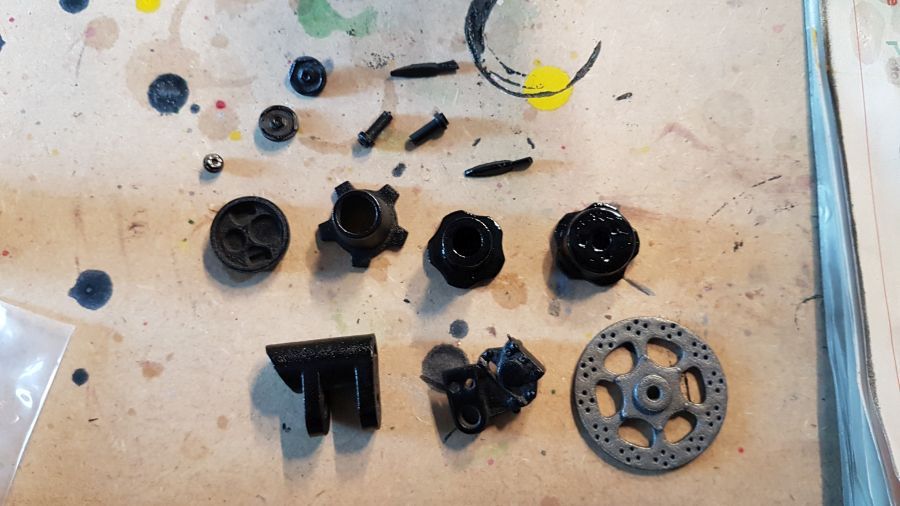 Intussen aan het polijsten geslagen...  wat een glans....
In the meantime i started polishing...  what a shine...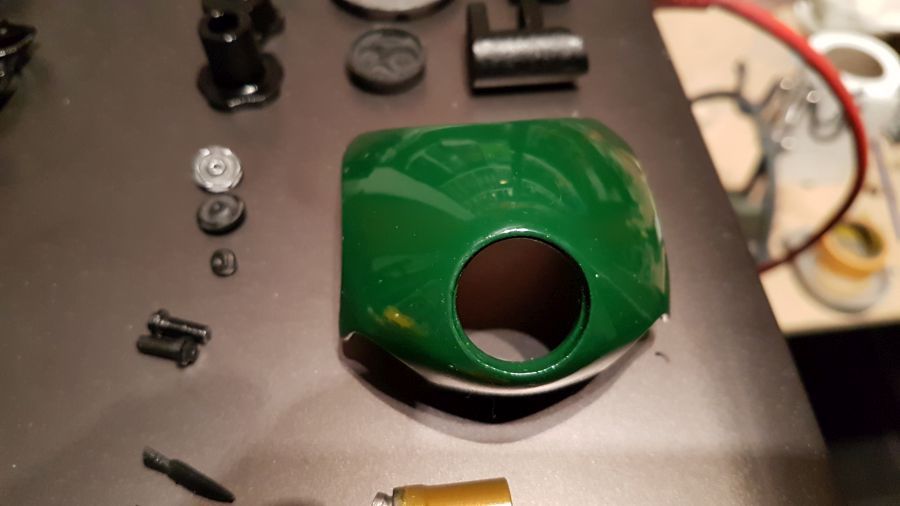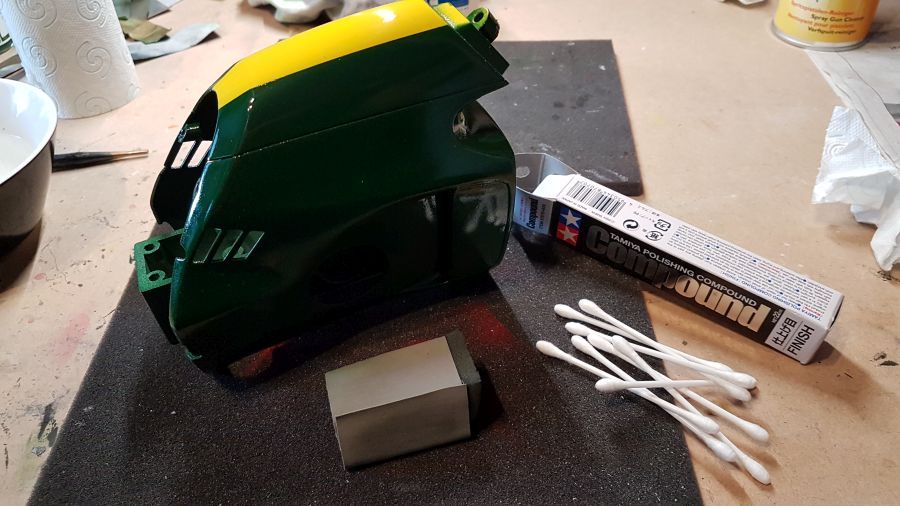 In de winkel heb ik wat bouten en moeren en een dikke spijker gekocht om e.e.a. in elkaar te zetten. Eerst de stuurpin. Alleen een dikke spijker paste. Dus deze kort ik in en ik zorg dat de kop verzonken wordt in het materiaal.
In the store i bought some nuts and bolt and a big nail to assemble the parts. First the steering pin. Just this big nail fitted. So i will shorten it and be sure the head sinks in the material.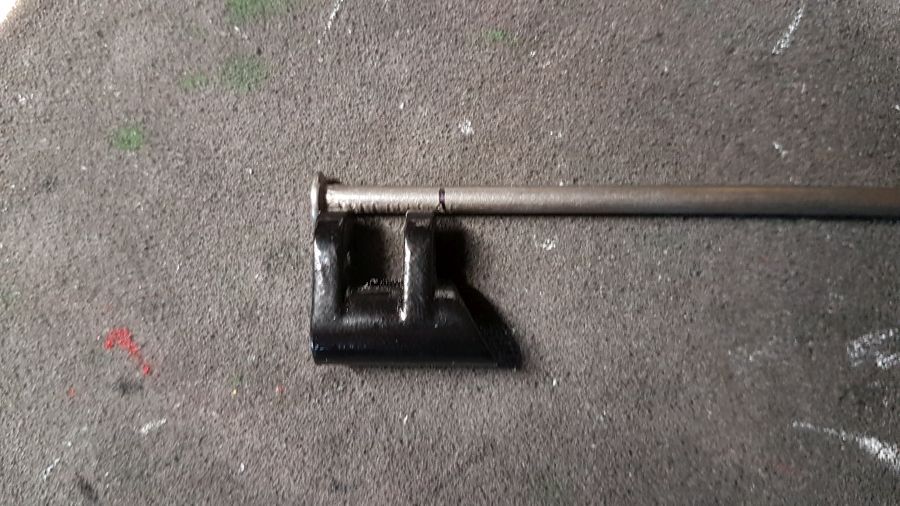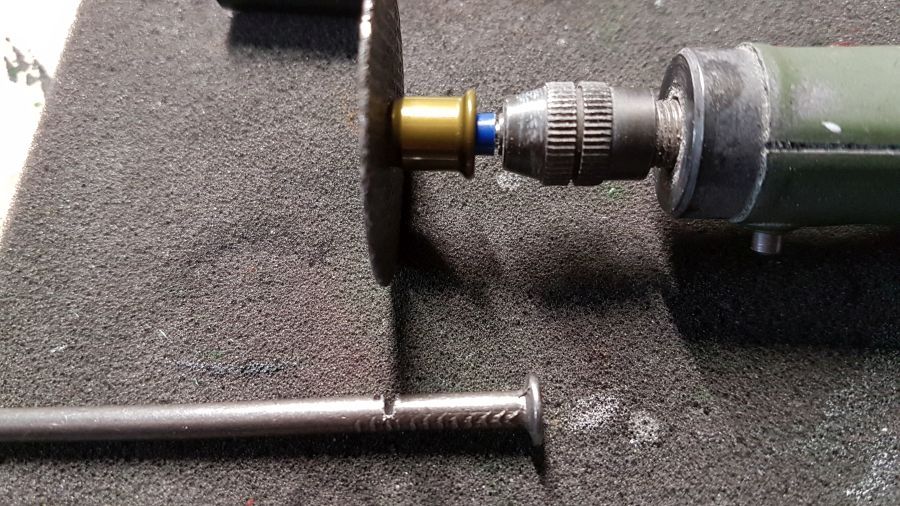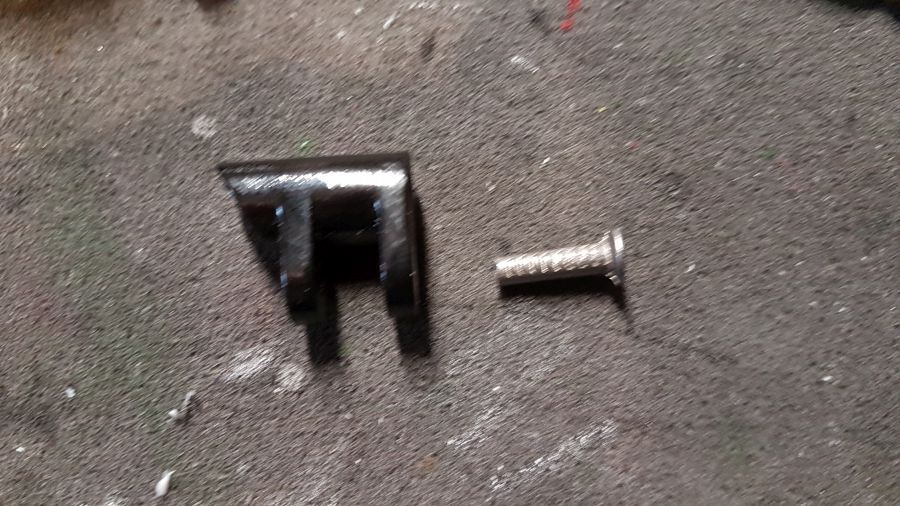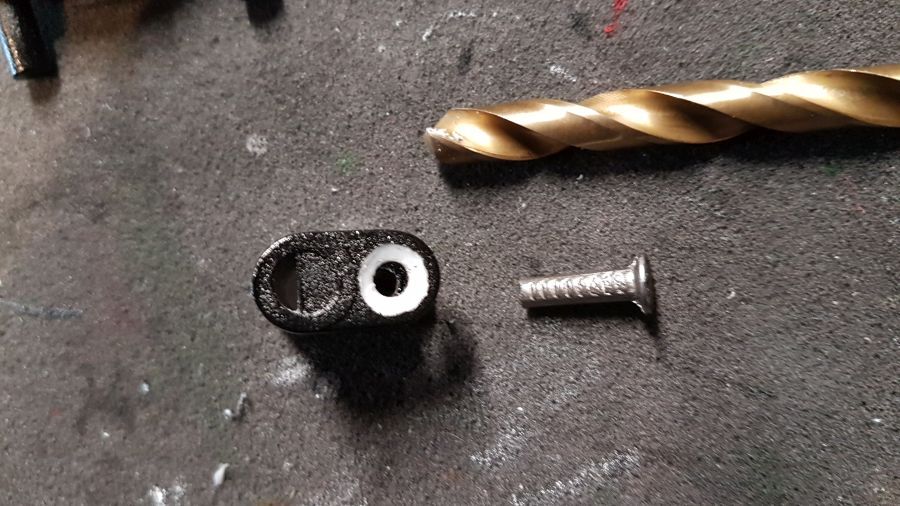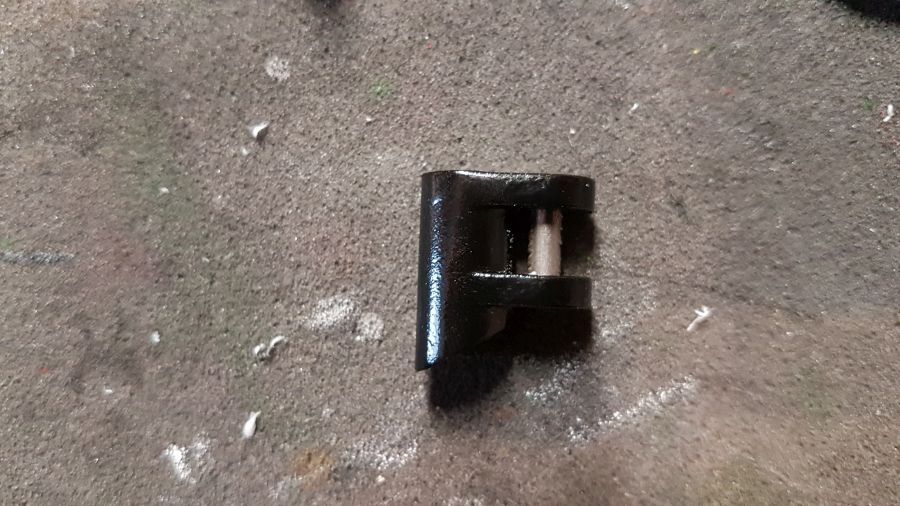 De eerste stappen van het in elkaar zetten. Even de draagarmen testen.
The first steps on assembly. Test fit of the rear arms.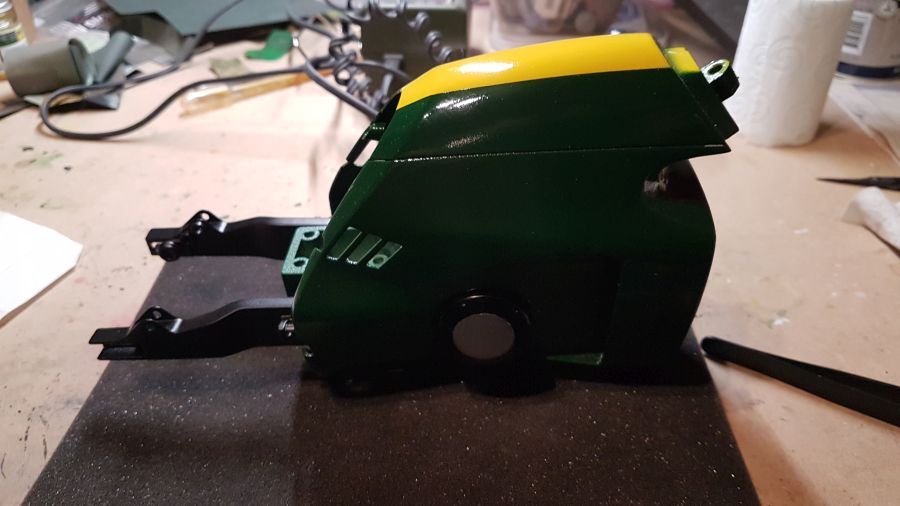 Dan worden de armen compleet gemaakt.
Then the arms are being completed.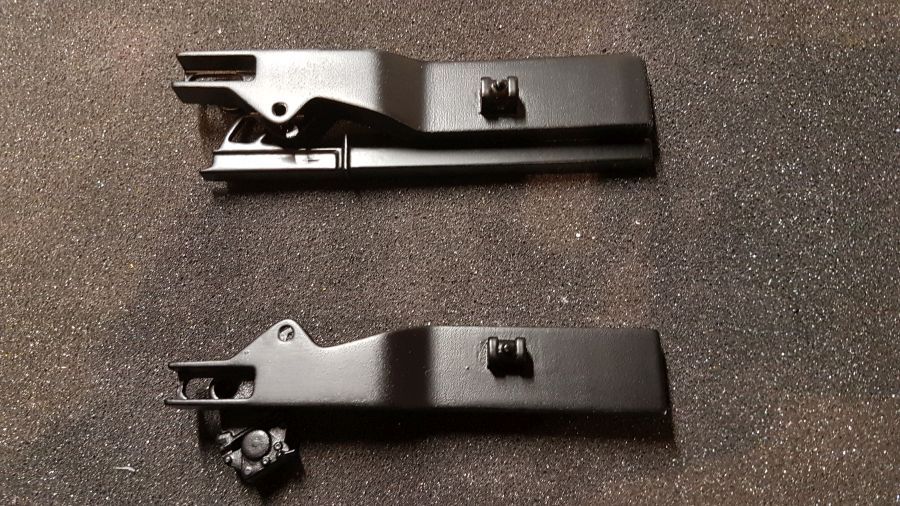 Voorassemblage van de zitting.
Pre-assembling the seat.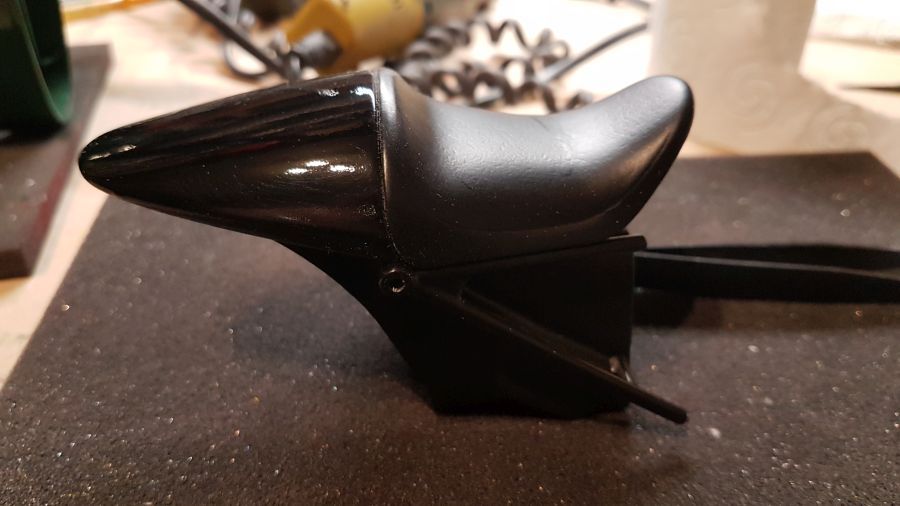 Het voorwiel krijgt de remschijven.
The front wheel hets the break discs.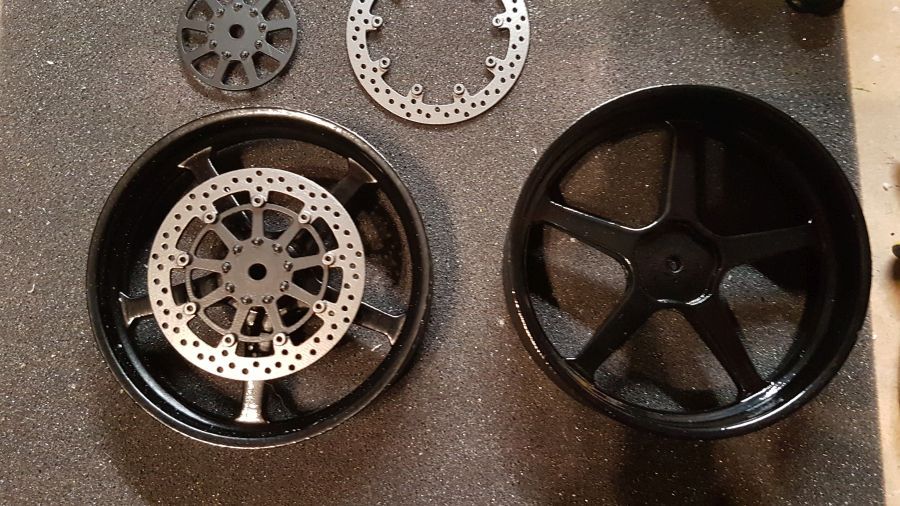 Het achterwiel krijgt wat werk. Jammer dat de gaten allemaal ongelijke groot zijn.
The rear wheel gets worked on. It's a pitty the holes are all different sizes.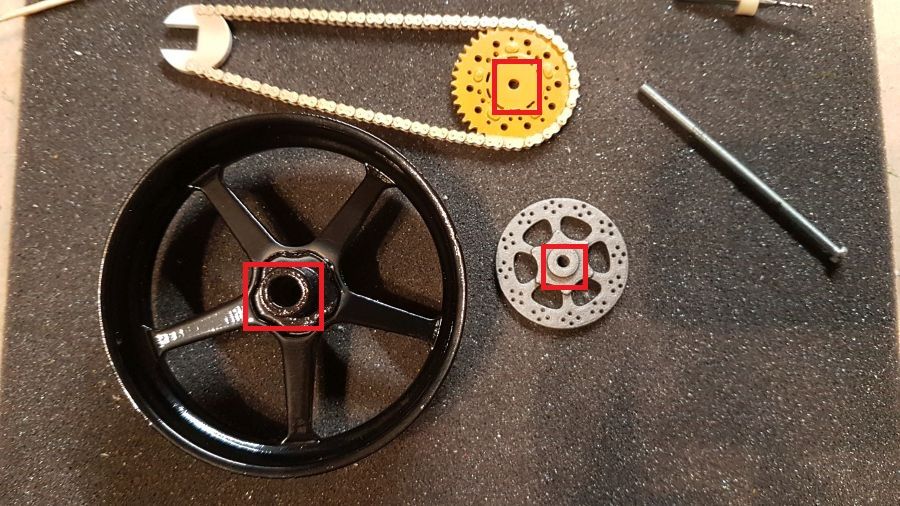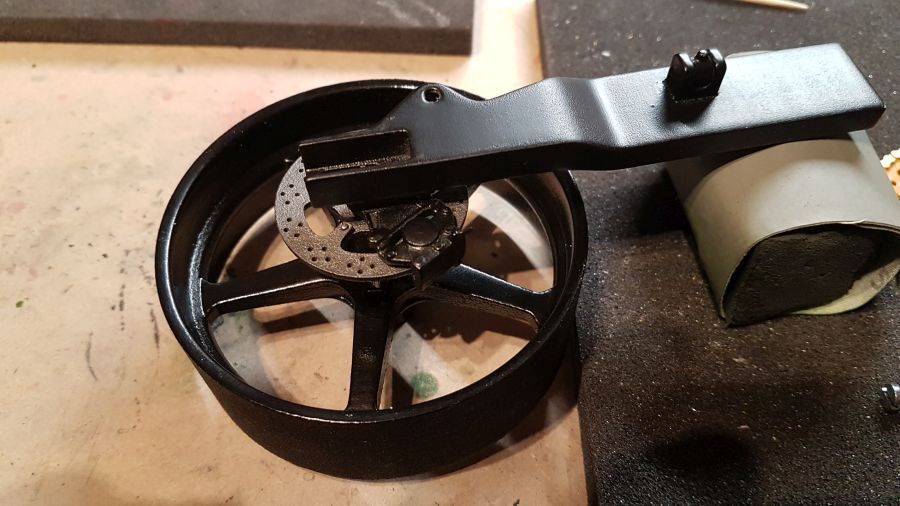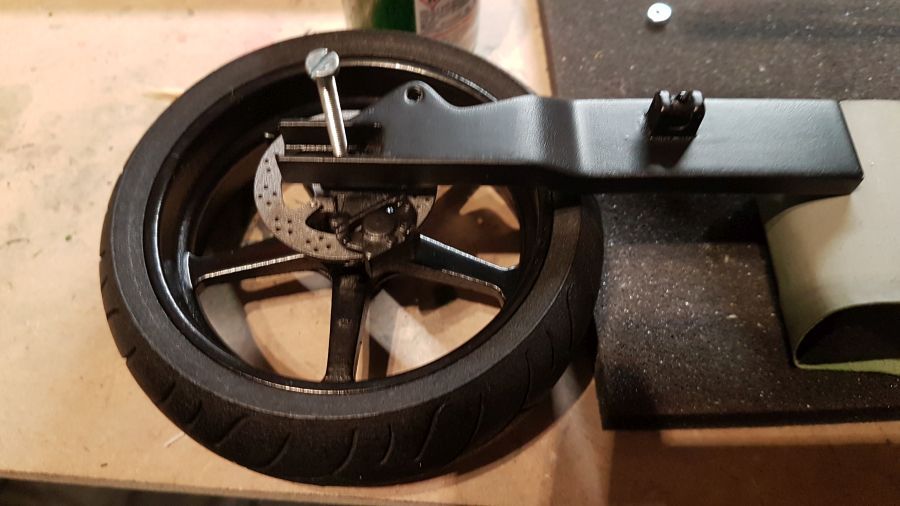 De voorkant van de body is zwart gespoten.... Goed gelukt.
The front of the body received black paint.... Looks good.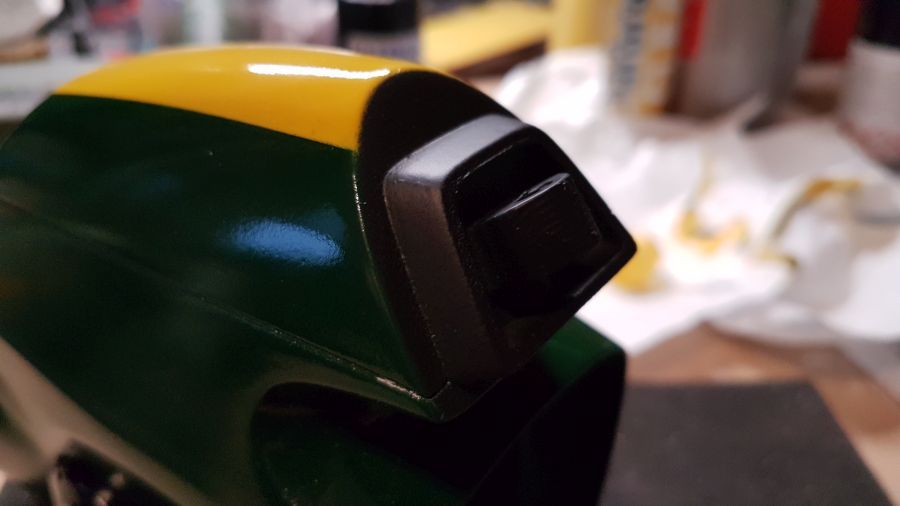 Nog even zien of de zitting beter kan aansluiten.
I have to see if the seat can get a better fit.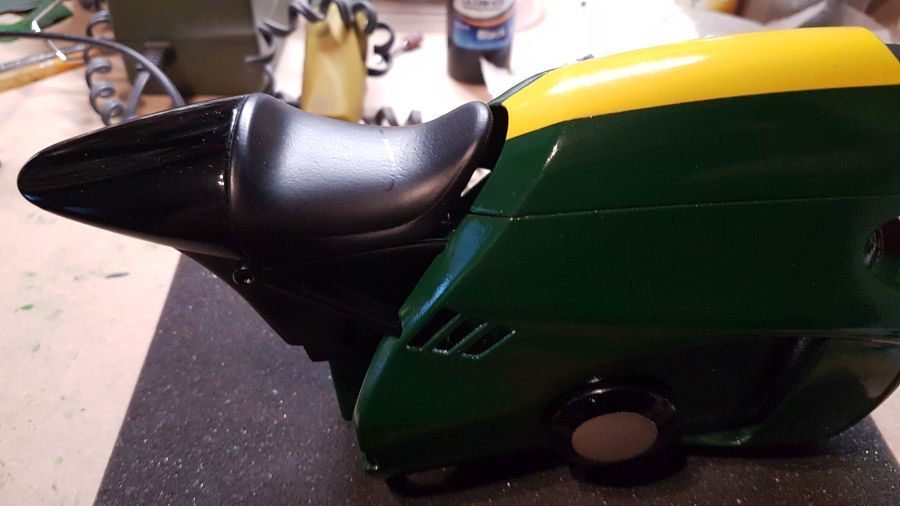 Beter? Beter!
Better? Better!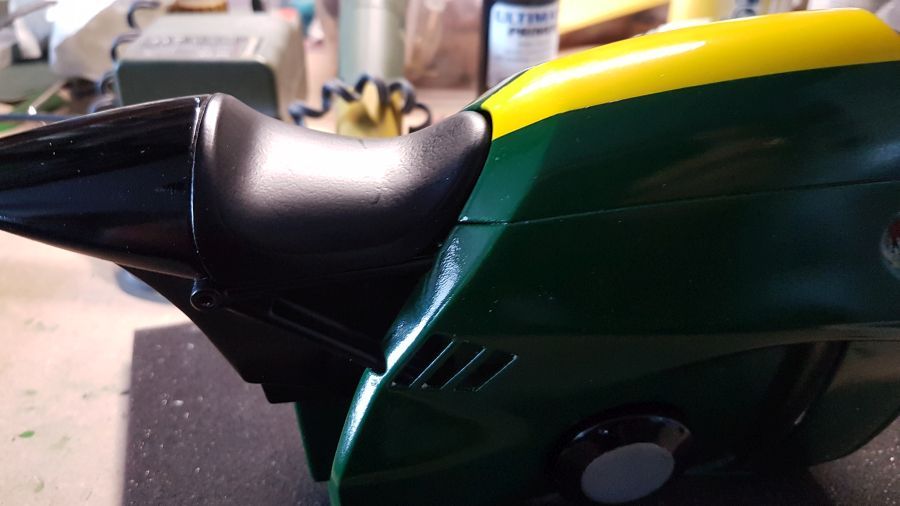 De achterkant zit erop...  een stevige klus.
The rear end has been attached...  a tough job.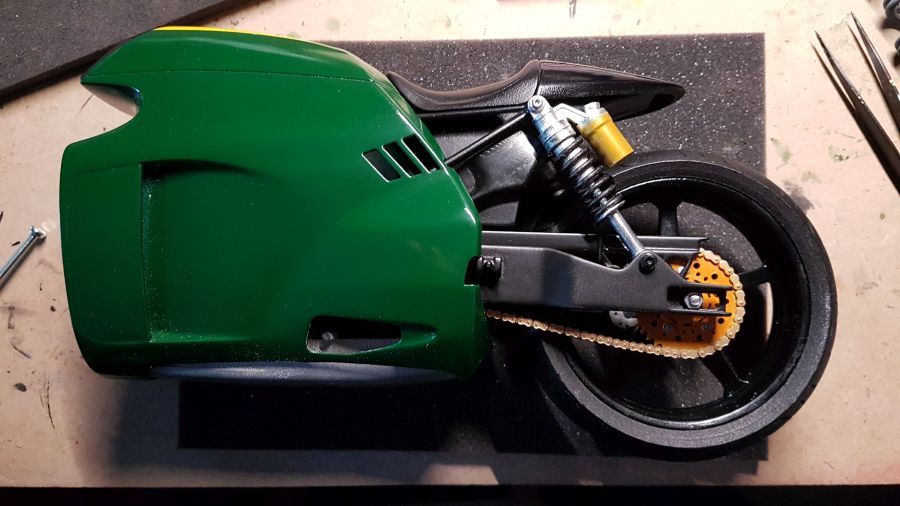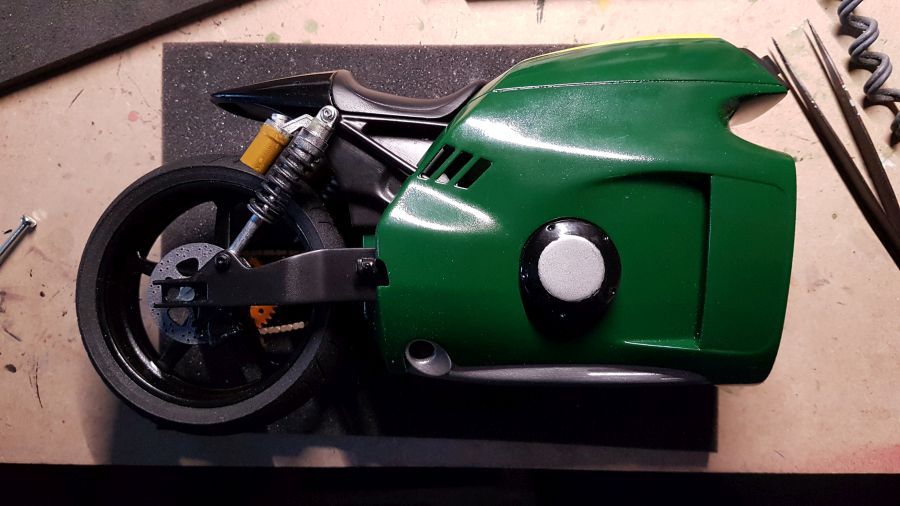 Er is wat fout gegaan met de voorvork. Ik zag dat de verf op 1 plek wat ruw was, heb het geschuurd en opnieuw gespoten. Toen begon het te bobbelen. Dus nu maar helemaal schoongemaakt en opnieuw.
Something went wrong with the steering. I noticed the paint was a bit rough at one spot, sanded it and painted it. Then it started to bubble. So now it's all clean to start over again.