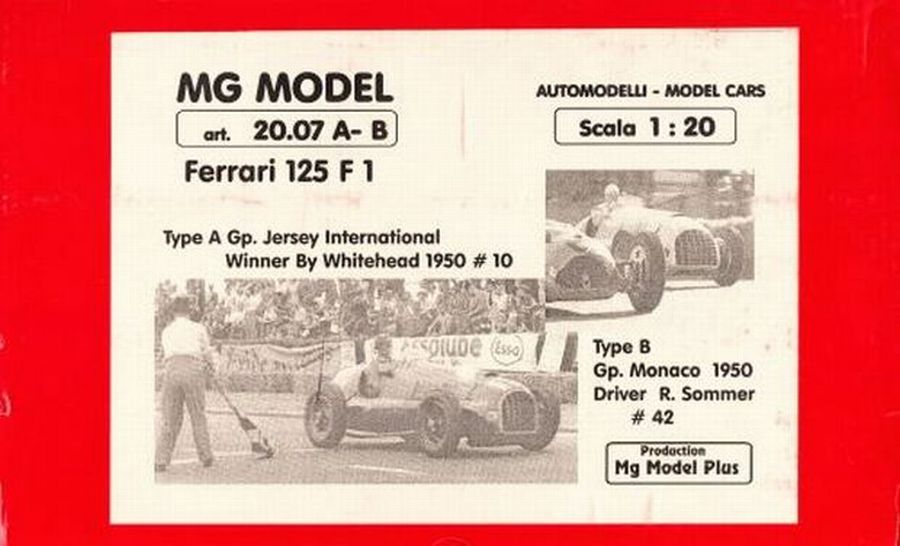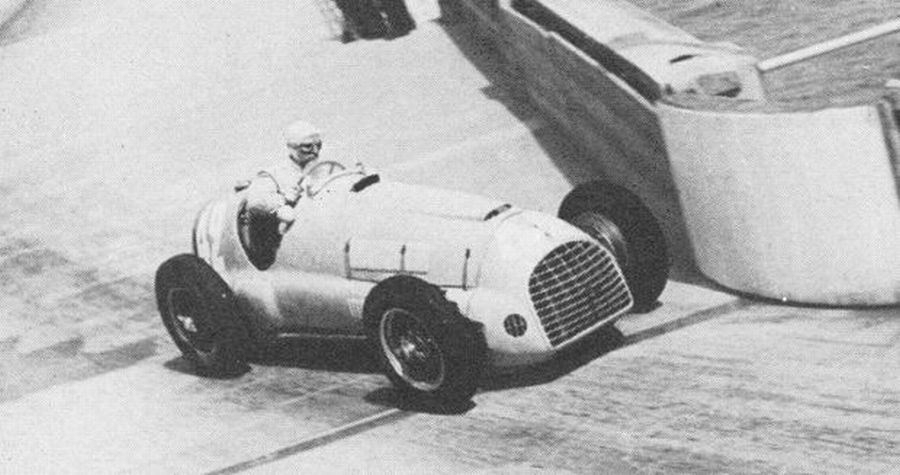 Beneden de beschrijving van de bouw van een 1950 Ferrari 125 Monaco versie vn MG Model Plus (20.07 A-B). Volgens mij is het redelijk zeldzaam. Ik heb het 1x voorbij zien komen op Ebay en vervolgens gekocht voor iets van 140 Euro. Eerst weer de foto van de inhoud van de kit. Het is geen kit met veel onderdelen, maar ik denk dat er werk genoeg aan zit om het tot een mooi model te maken. Niet eenvoudig denk ik. De kit is geschikt om 2 verschillende versies te maken. Je kunt kiezen tussen de kleur Bristish Racing Green tijdens de GP van Jersey model gereden door Peter Whitehead of de kleur Blue Cannes tijdens de GP van Monaco gereden door Raymond Sommer. Ik maak de laatste versie. Volgens mij kun je zelfs nog de 1948 versie maken wanneer je het juiste front voor de radiateur gebruikt.
Below the description of the build of a 1950 Ferrari 125 Monaco version from MG Model Plus (20.07 A-B). I think it is pretty rare. I have seen it on Ebay 1x and i bought it for about 140 Euro. First a picture of the content of the kit. It does not have many parts, but i think there will be a lot of work to make it to a nice model. It won't be simple i guess. The kit contains 2 versions of the car. You can choose between the Bristish Racing Green version as driven by Peter Whitehead during the GP of Jersey or the Blue Cannes version as driven by Raymond Sommer during the GP of Monaco. I chose to do the last one. I think you could even make the 1948 version when you use the correct cover on the radiator.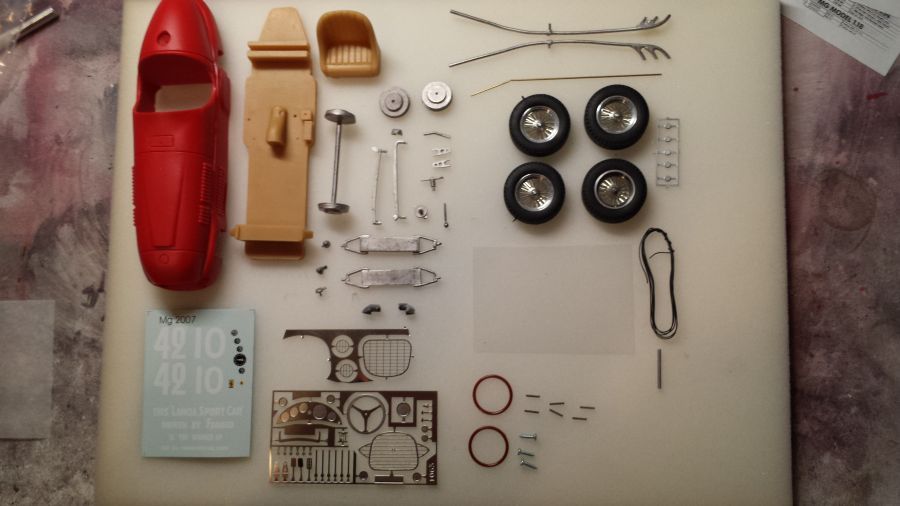 Na een lange zoektocht (Zero Paints enz.) kwam ik op het web de kleur Blu Cannes tegen van Motip. Het is acryl autolak voor een Fiat van 1969-1975. Ik gok het erop dat dit de juiste kleur is. Eerst moet de body wat bijgewerkt worden.
After a long search on the web (Zero Paints etc.) i discovered the color Blu Cannes from Motip. It is an acrylic car paint for a Fiat from 1969-1975. I think this would be a good color. First the body needs some cleaning up.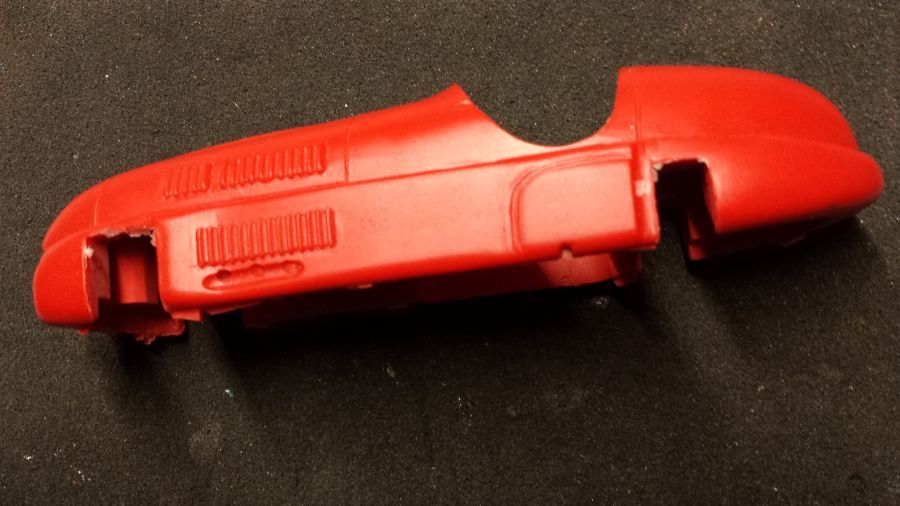 Datzelfde geldt voor de bodemplaat en de stoel.
The same goes for the floor and the seat.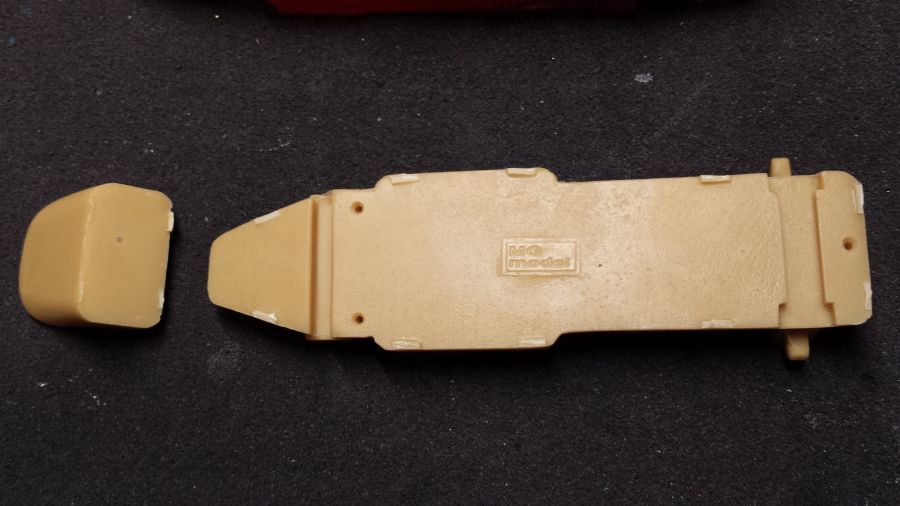 Voor de 1950 versie moeten deze gaten worden gedicht.
For the 1950 version these gaps have to be closed.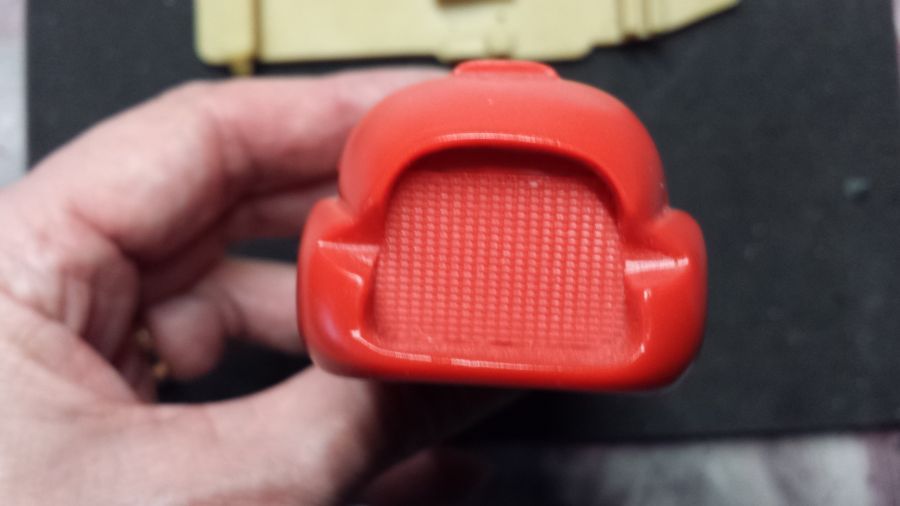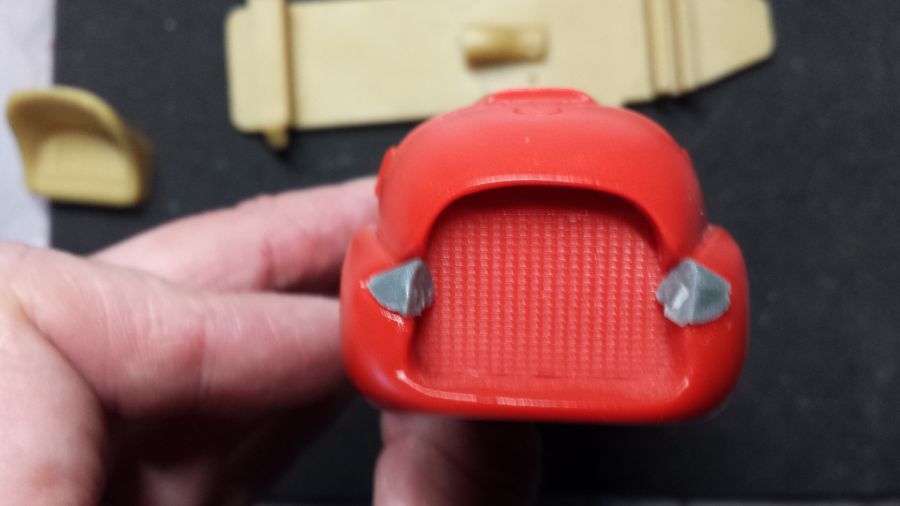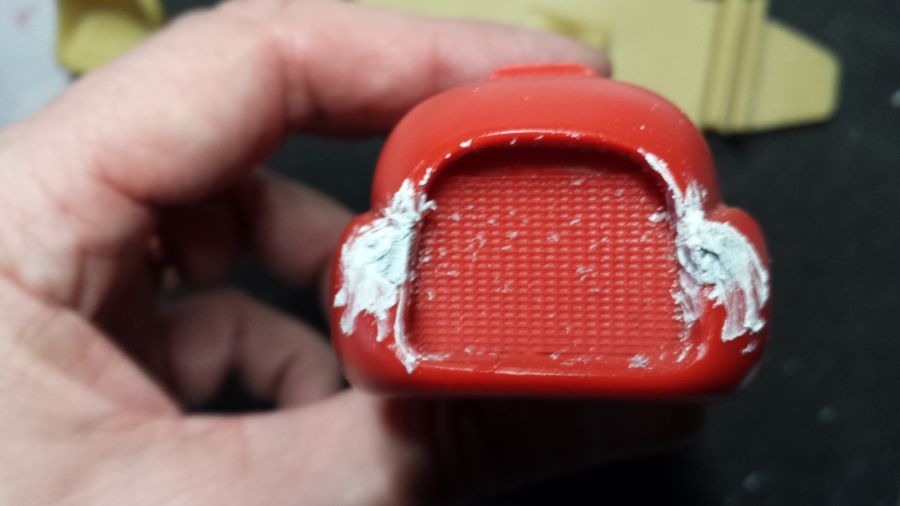 Om de punten (groen) te kunnen opvullen met putty, moet er van binnen (blauw) verstevigd worden. Ik lijm een dun plaatje aan de binnenkant. Dit verdwijnt later achter de grille.
To be able to fill points (green) with putty, reinforcement from the inside (blue) is necessary. I will glue a small plate on the inside. This will disappear behind the cover of the radiator.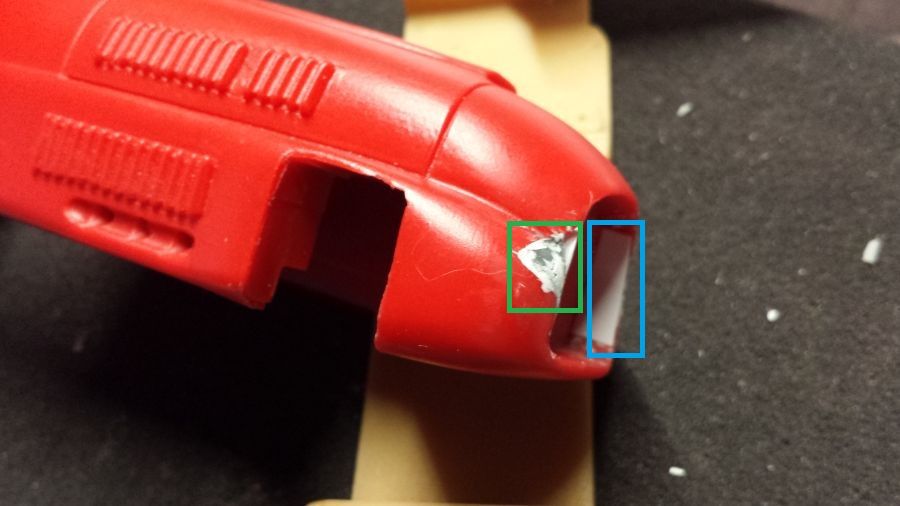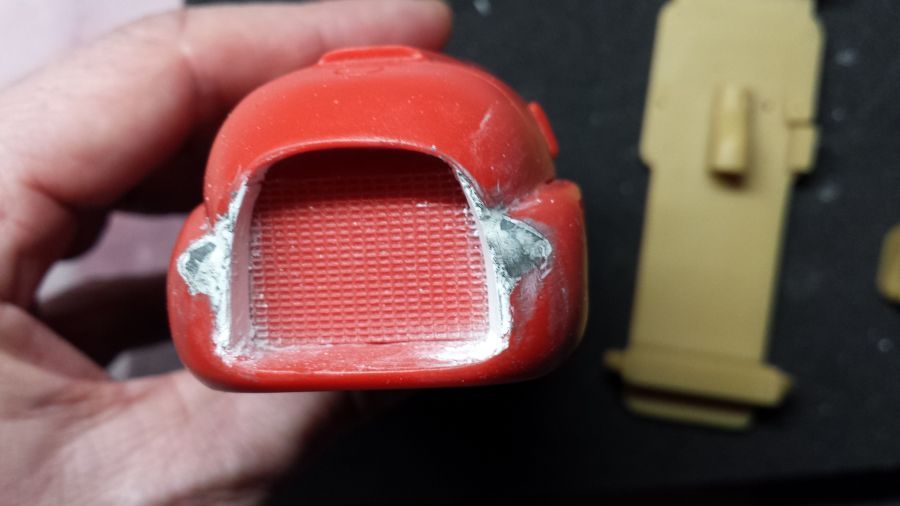 Witte grondverf is gespoten om onregelmatigheden te kunnen zien. Nu licht schuren.
White primer has been sprayed to show up irregularities. Now slightly sanding.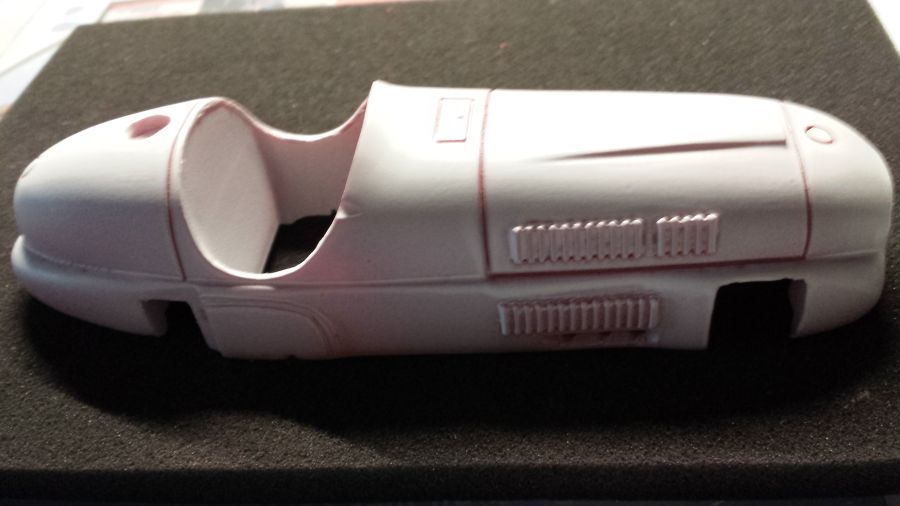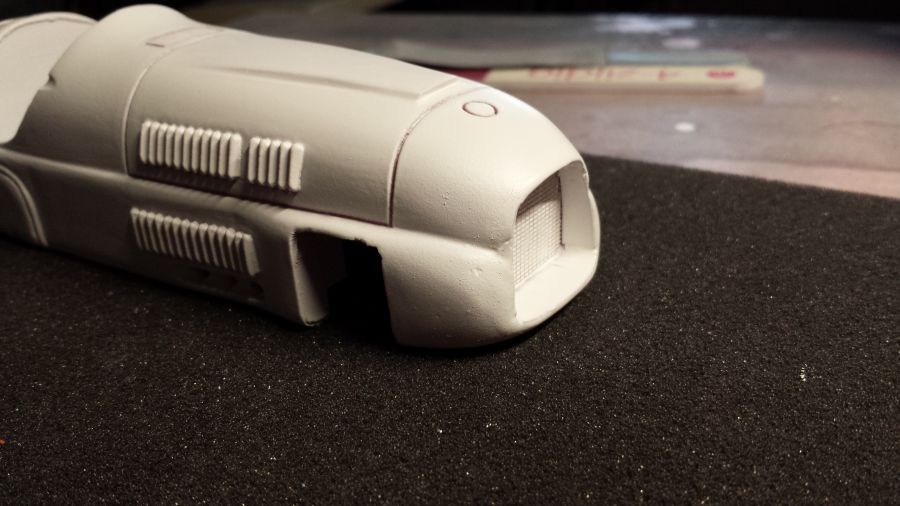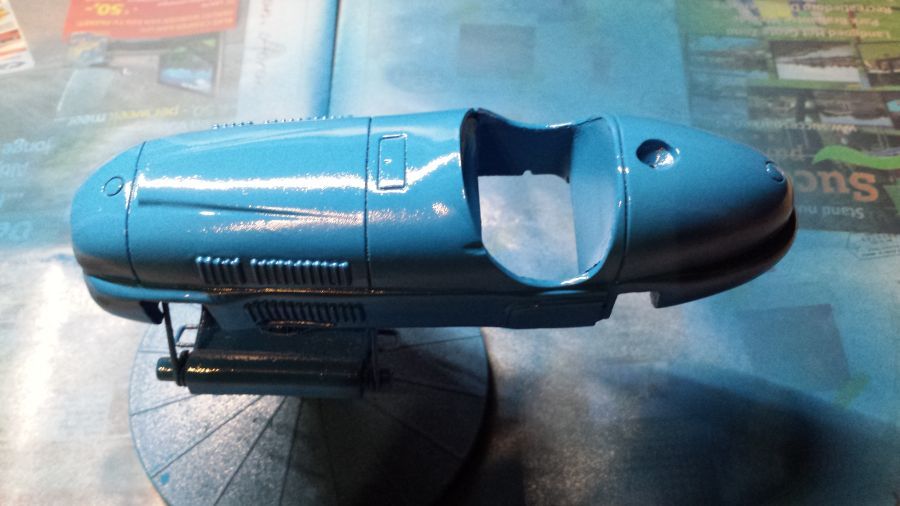 Na 4 lagen verf ziet hij er prachtig uit.
After 4 layers of paint it looks great.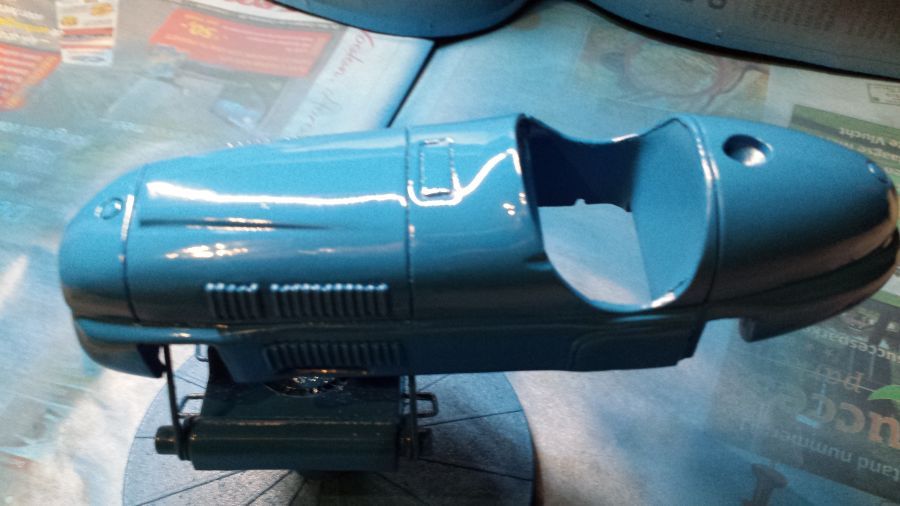 De decals zijn geplaatsts. Een simpel setje dus niet veel problemen. Wel viel me op dat ze zeer dun zijn. Ik durfde echt geen Micro Set en Micro Sol te gebruiken. Was gelukkig ook niet nodig. Nu eerst goed laten drogen en daarna een paar lagen glanslak.
The decals are in place. A simple set so not much trouble. I noticed they were very thin. I didn't dare to use any Micro Set and Micro Sol. Luckily it wasn't necessary. Now let ot dry and then i will apply a couple of clear coats.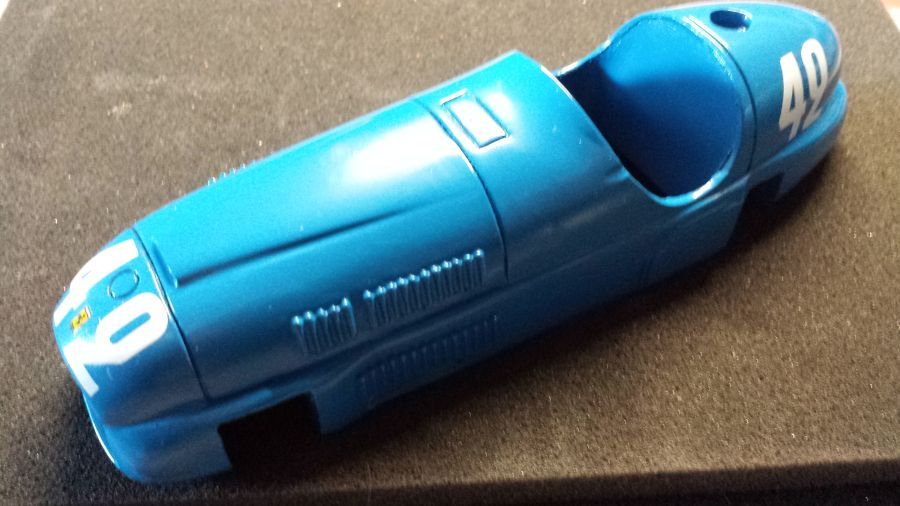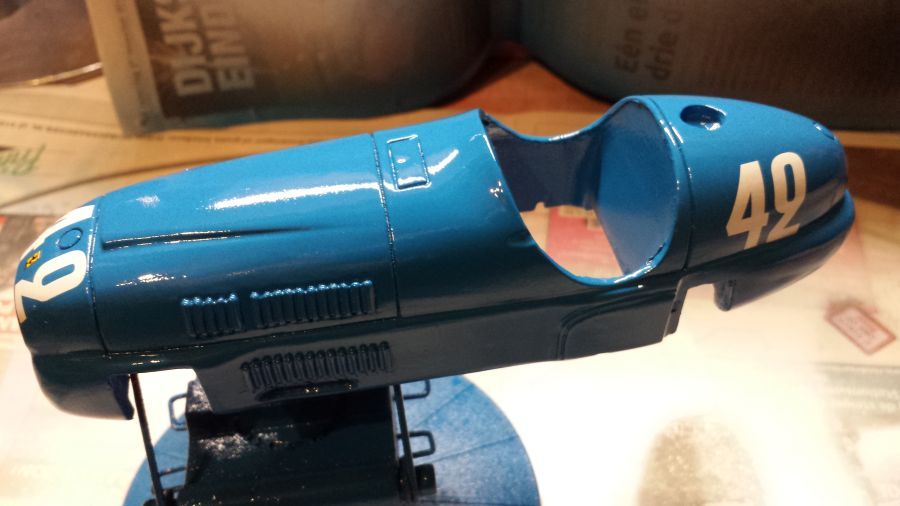 Nu alvast een paar onderdelen samenstellen. Eerst het stuur.
Now making some sub assemblies. First the wheel.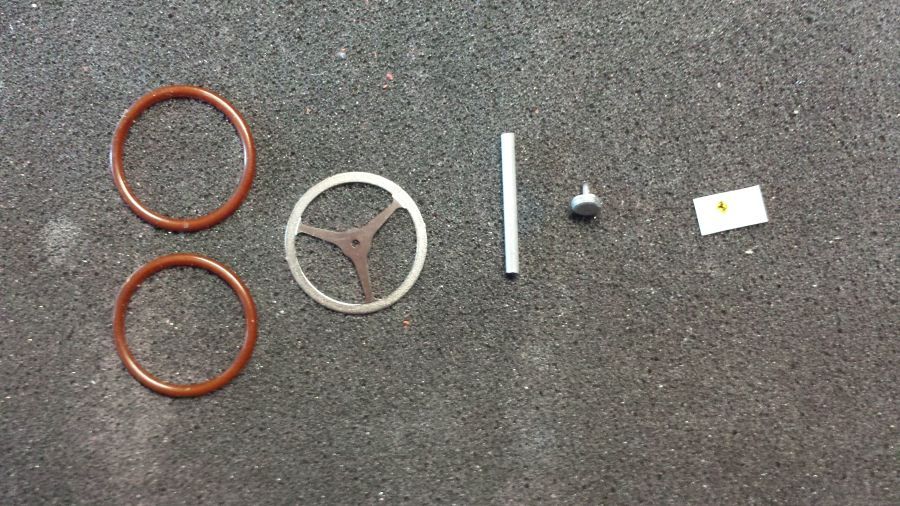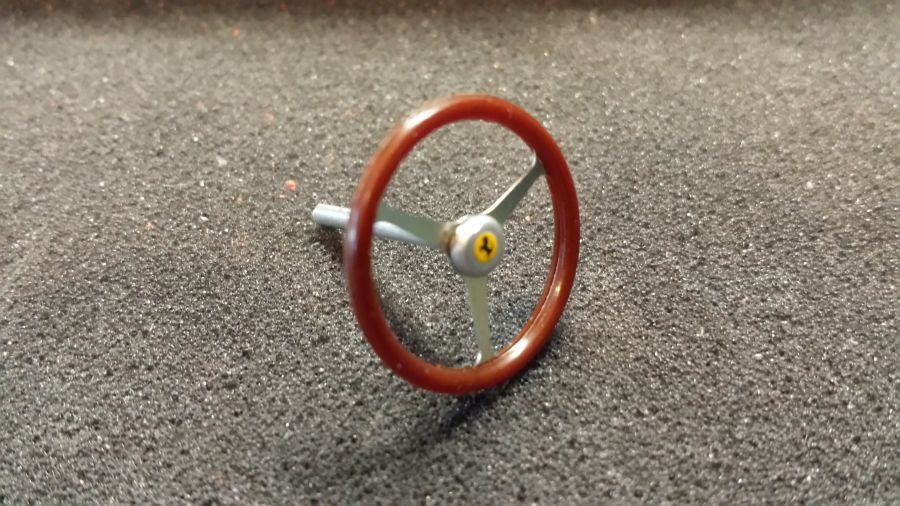 Het dashboard. De meters worden bedekt met Micro Kristal Clear. Wanneer dit opdroogt lijkt het alsof er glas over de meters zit.
The dash. The gauges are covered with Micro Kristal Clear. When it dries it will look like there is glass over the gauges.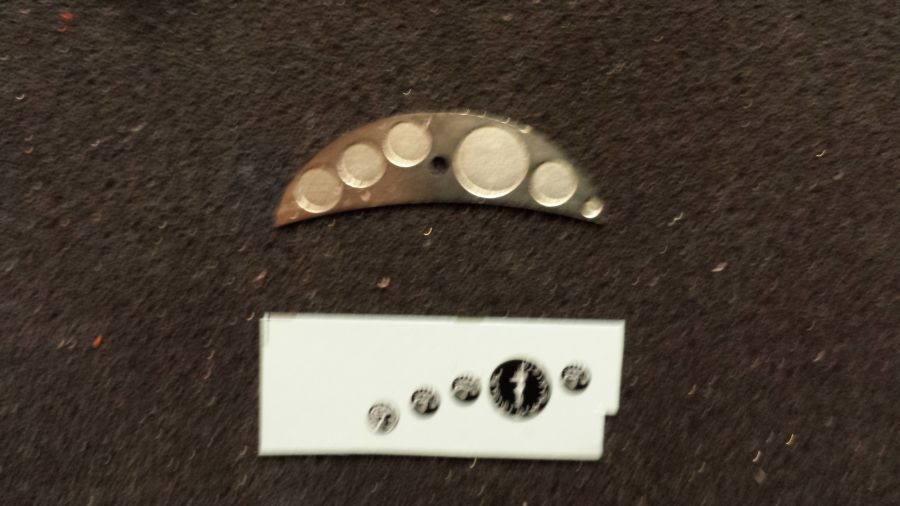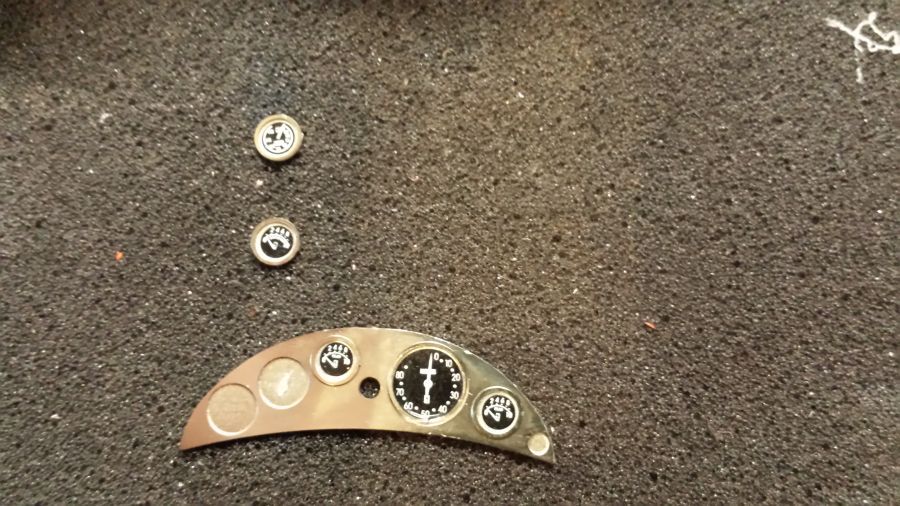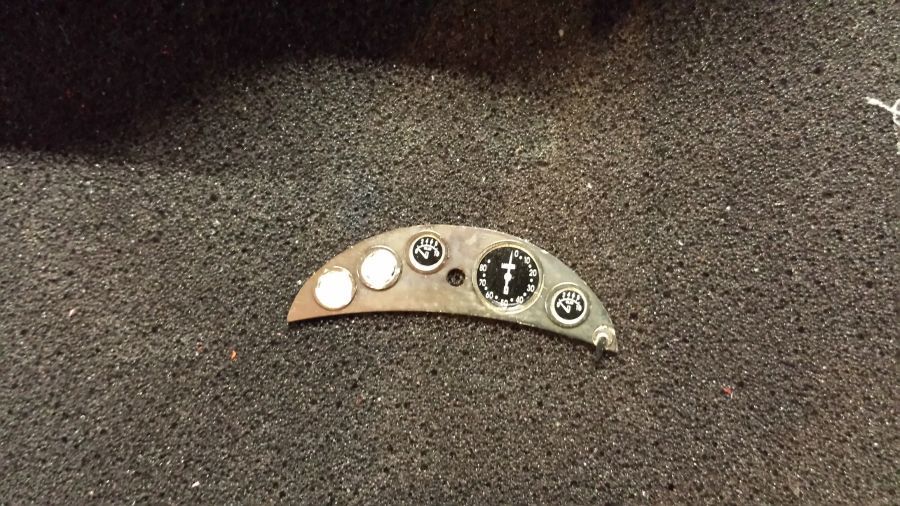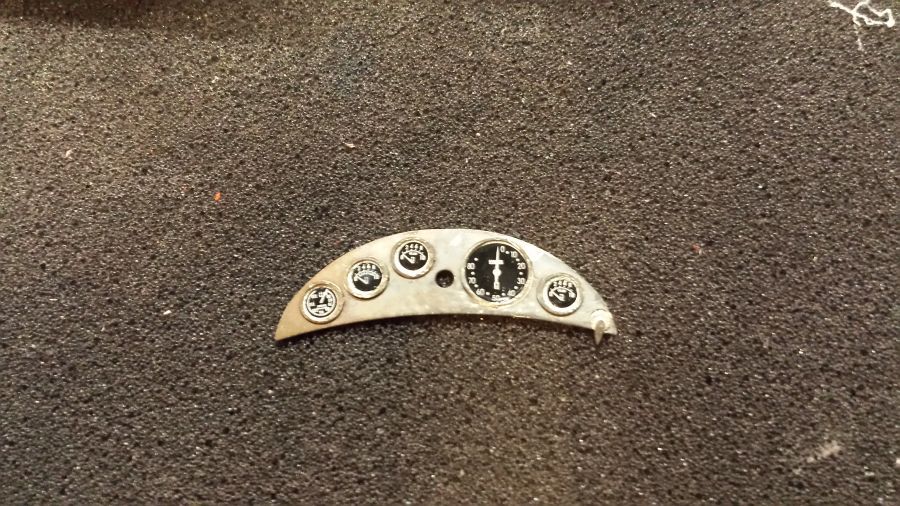 Meerdere onderdelen zijn gespoten met Tamiya TS-6 (Matt Black), TS-38 (Gun Metal), TS-17 (Gloss Aluminum).
Multiple parts have been sprayed with Tamiya TS-6 (Matt Black), TS-38 (Gun Metal) and TS-17 (Gloss Aluminium).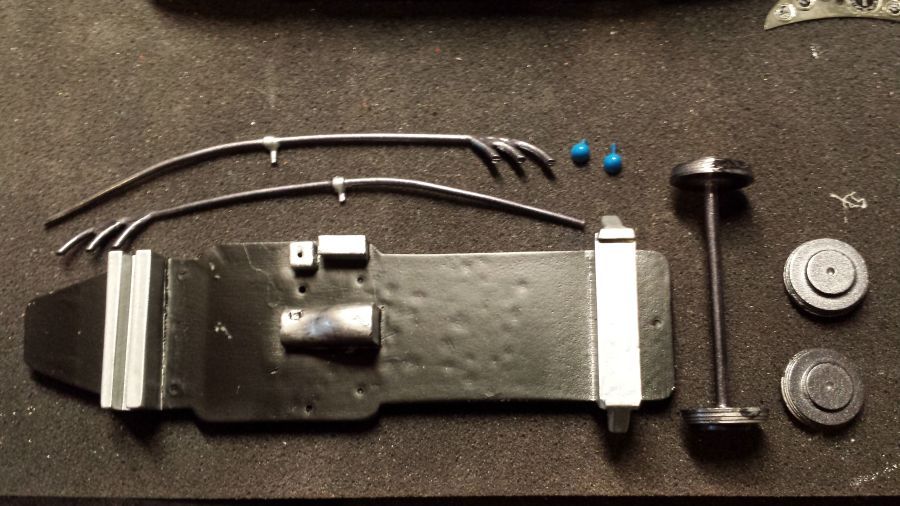 Ik ga proberen de stoel te beplakken met leer. Hiervoor gbruik ik Adhesive Cloth P-920 van Modelfactory Hiro.
I will try to upholster the seat with leather. For this i will use Adhesive Cloth P-920 from Modelfactory Hiro.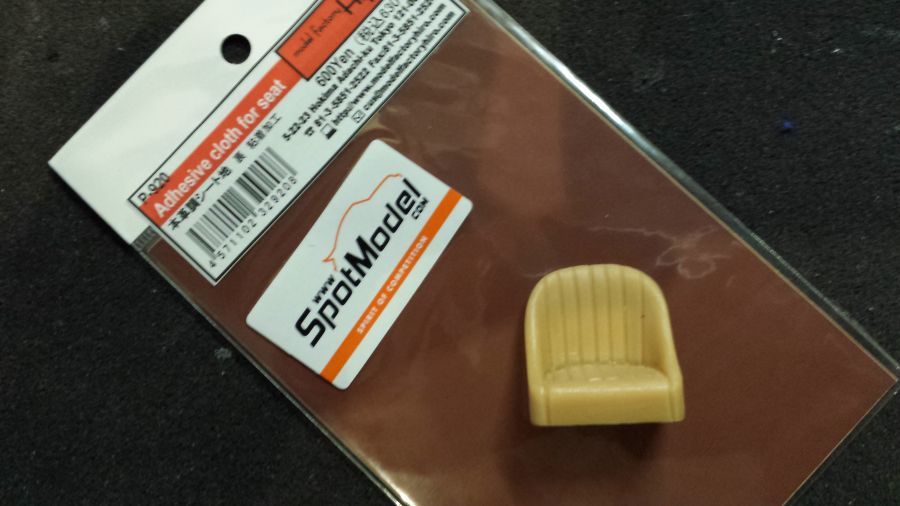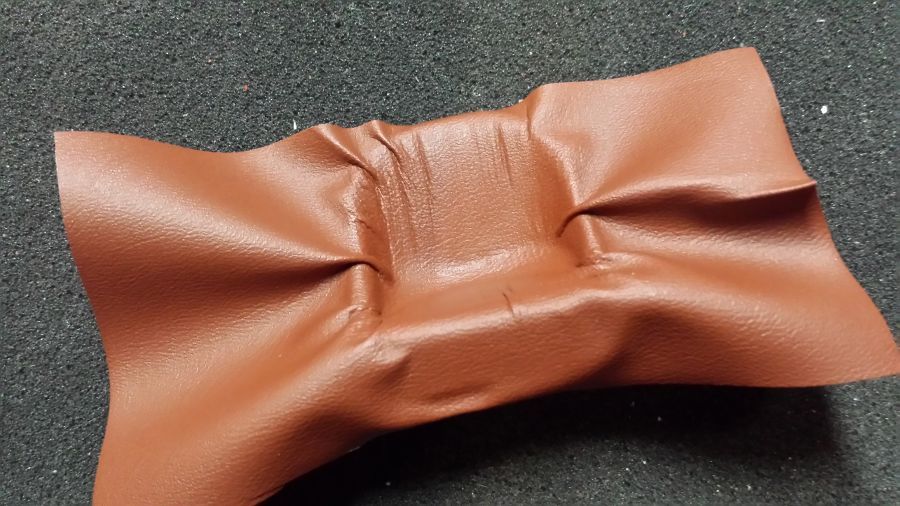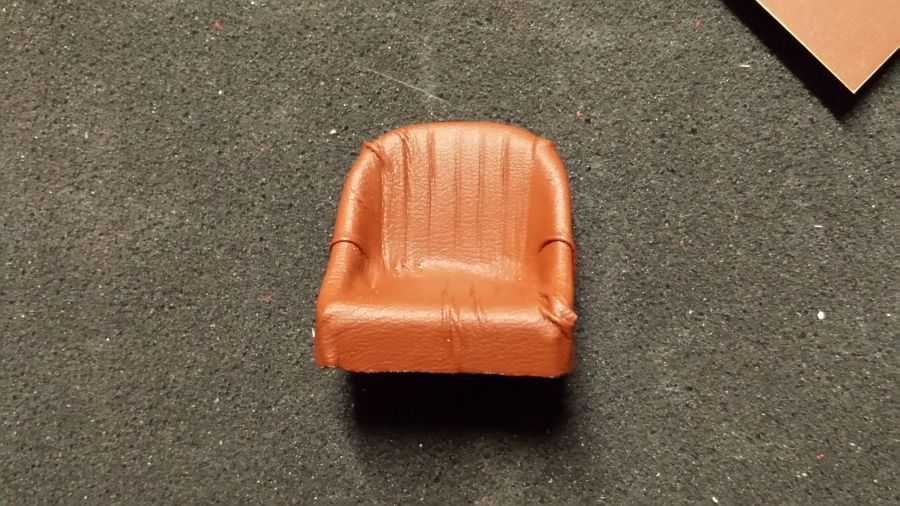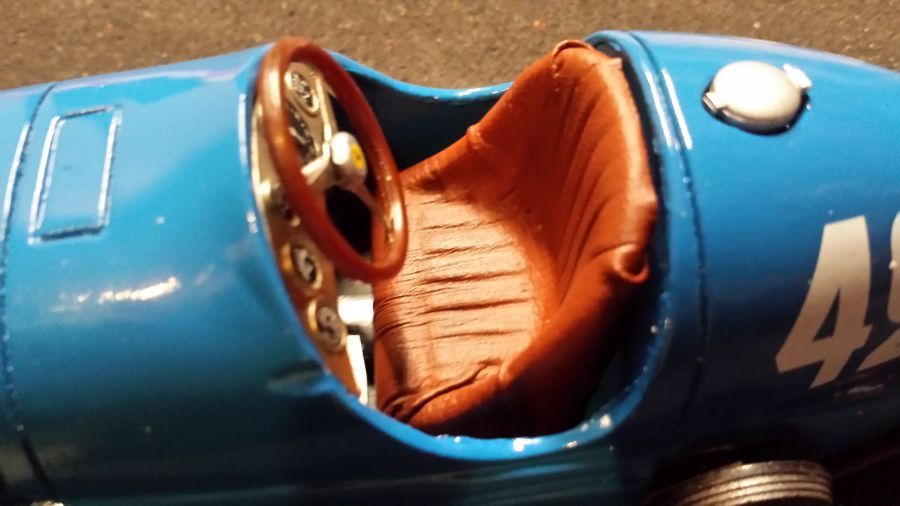 Een paar onderdelen zijn aan de bodemplaat bevestigd.
A few parts have been attached to the floor.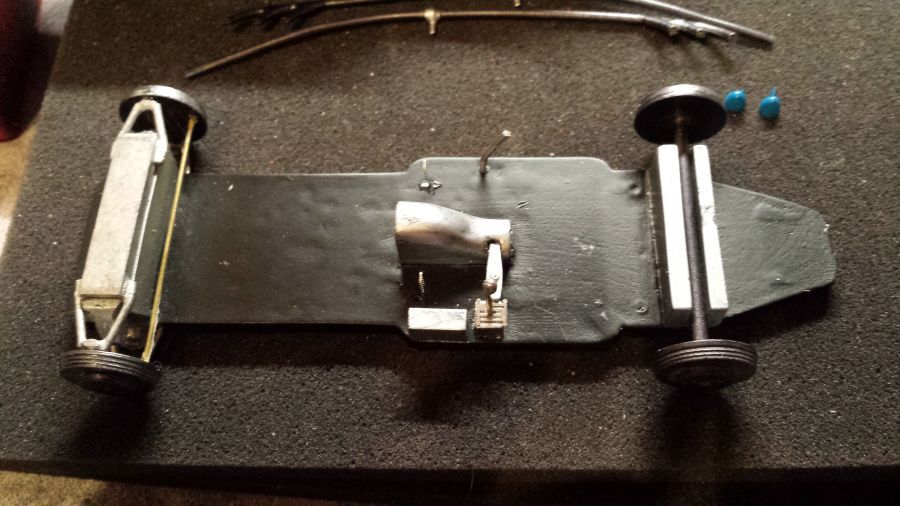 Het dashboard zit op zijn plek. Het stuur kan er nog weer uit om de stoel te plaatsen.
The dashboard is in it's place. The wheel can be removed to attach the seat.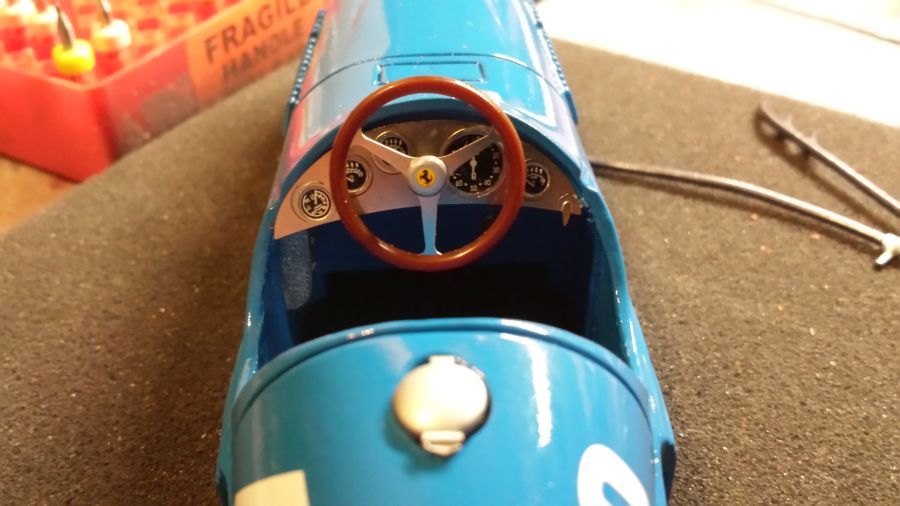 De bodemplaat is aan de carosserie bevestigd.
The floor has been attached to the body.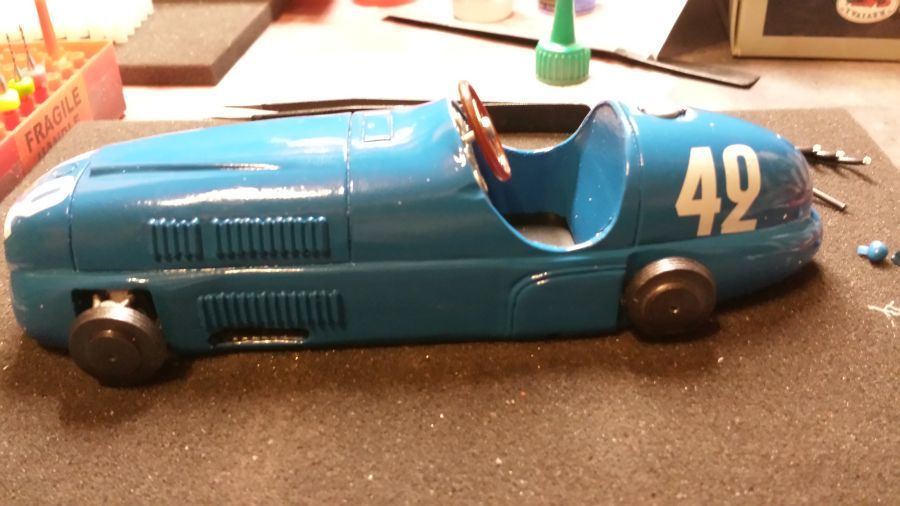 De binnenkant van de radiateur is geverfd. Nu de grill vormen.
The inside of the radiator has been painted. Now modelling the cover.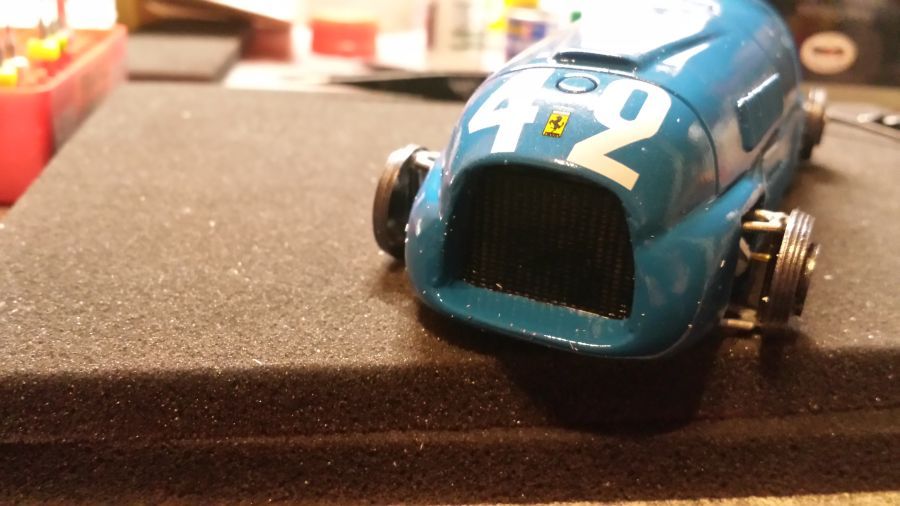 De uitlaten zijn aangebracht.
The exhausts have been attached.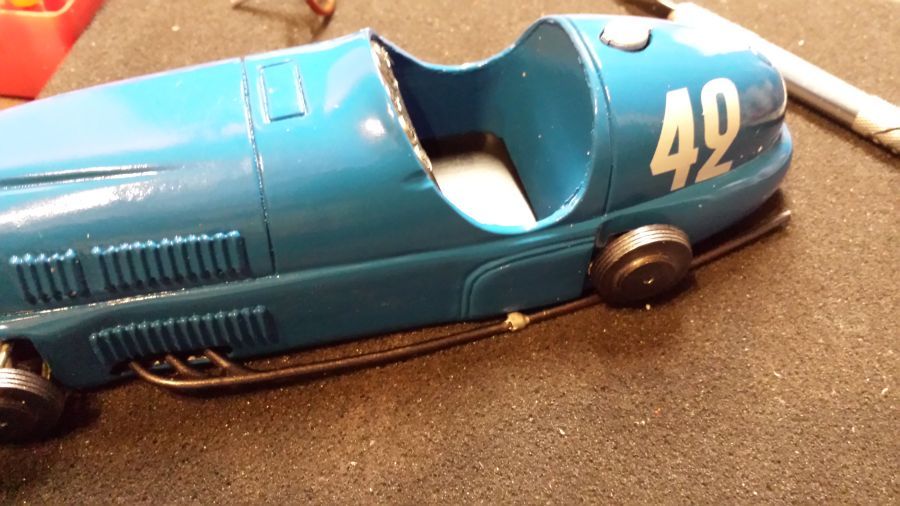 Het werk aan de grill. Weer komt de 'rolling tool' van pas. Een secuur werkje. Langzamerhand een steeds kleinere rol pakken tot het goed past.
The work on the car grill. Again the 'rolling tool' comes in handy. A precise job. Taking a smaller roll step by step, until it fits.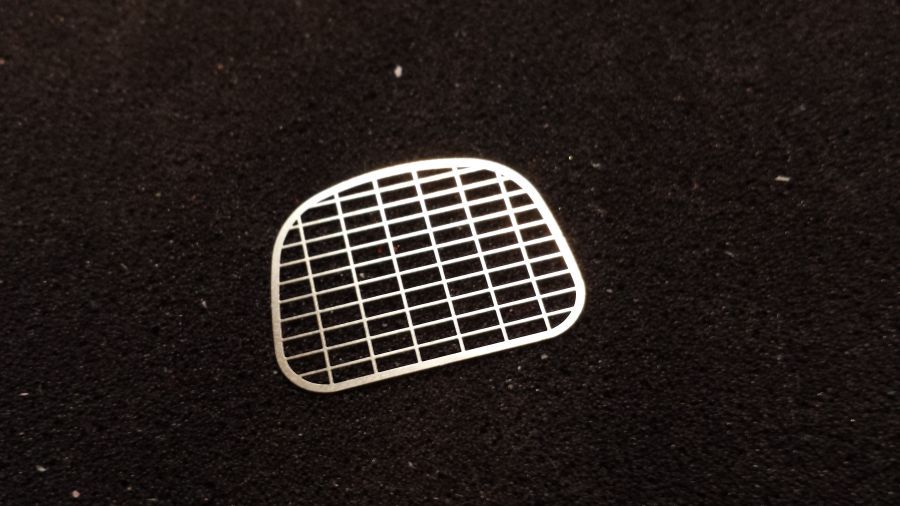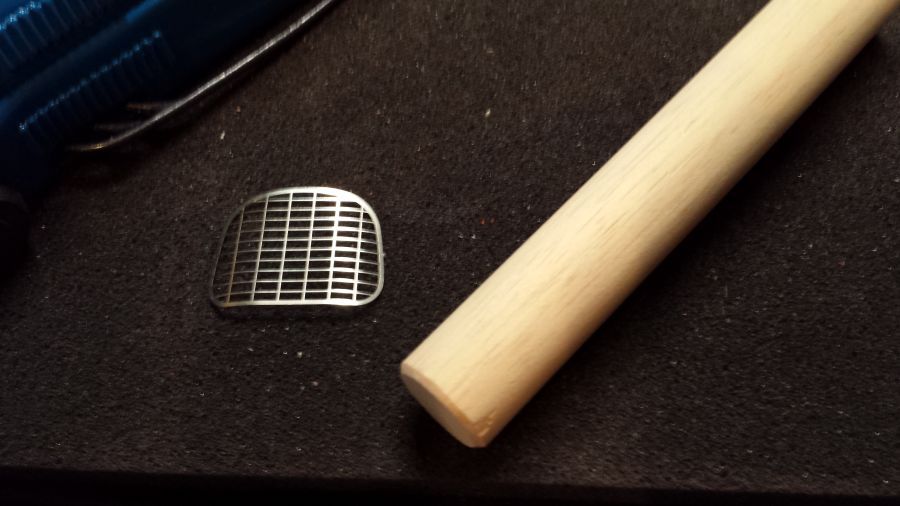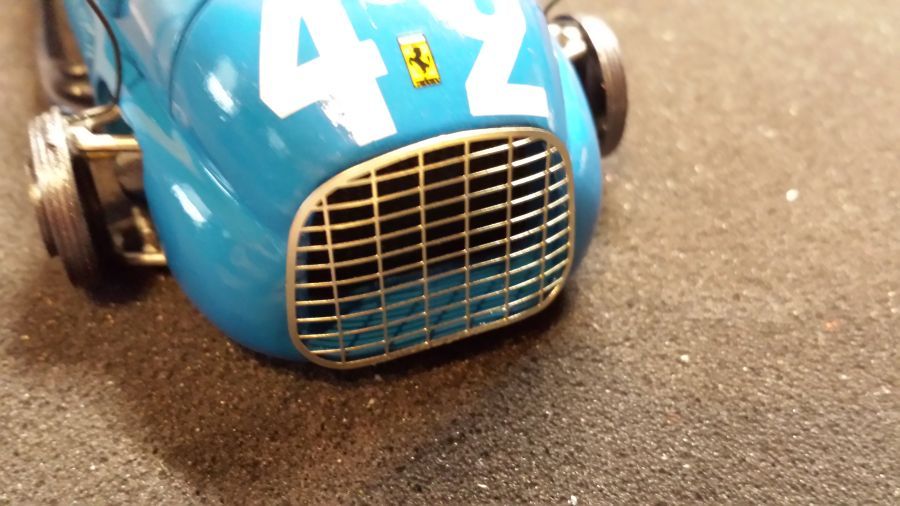 Ook de kleinere en de remleidingen. De binnenkant wordt nog zwart geverfd.
The smaller ones and the brake lines too. The inside will be painted black.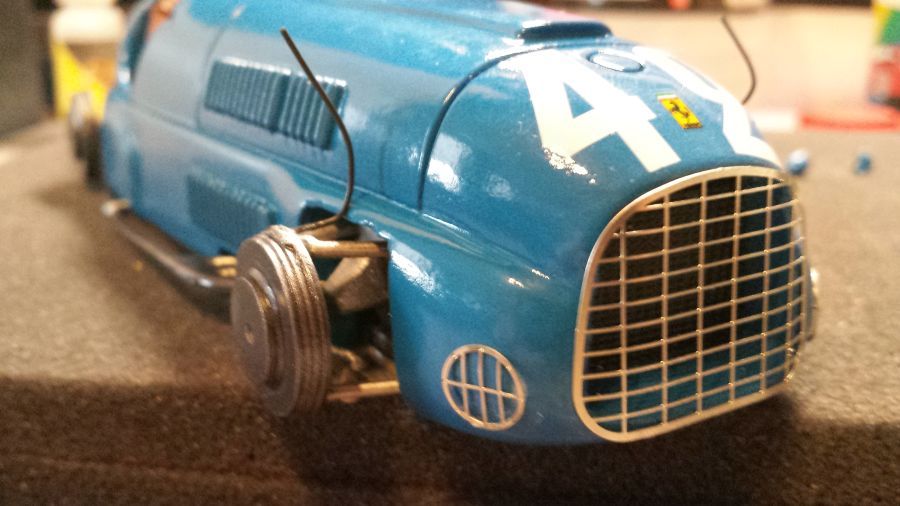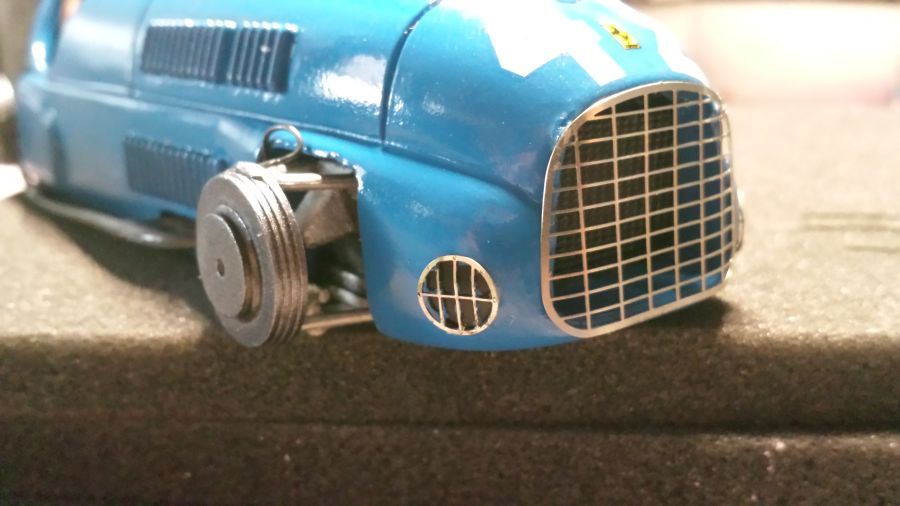 Daarna de sluitingen voor de motorkap.
Next the closures for the engine hood.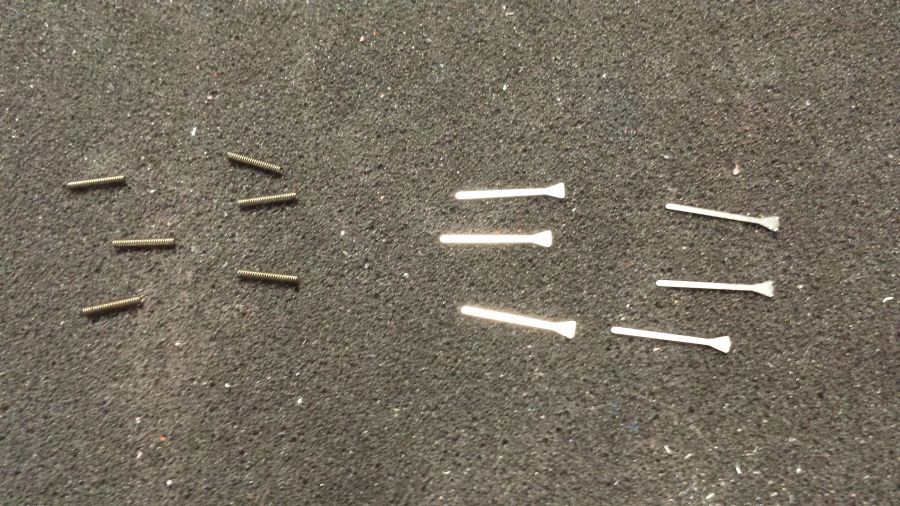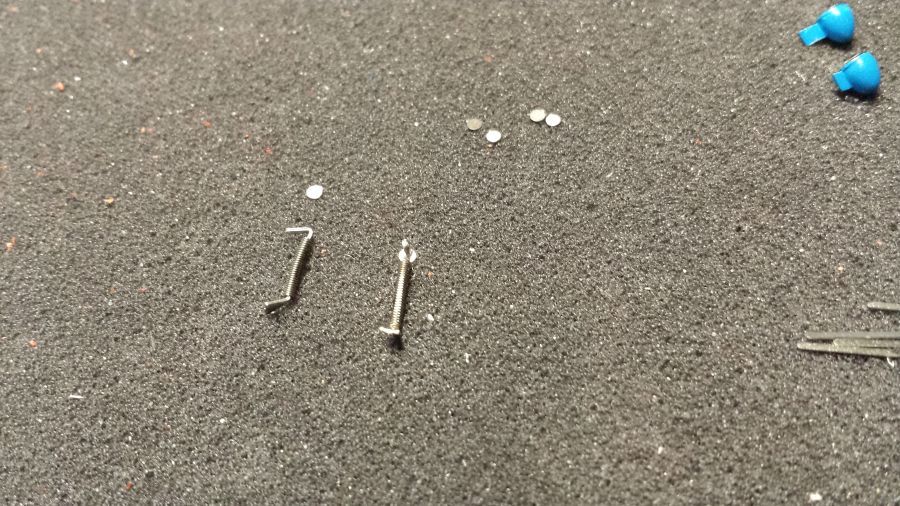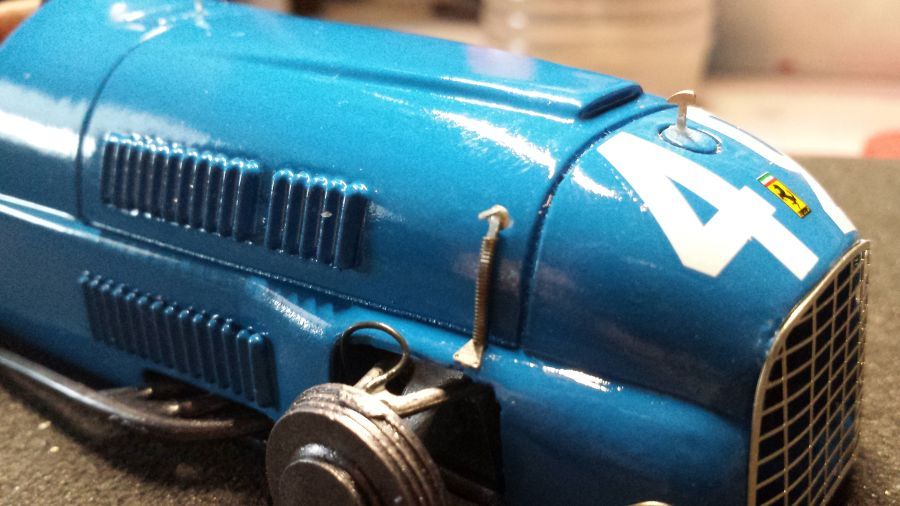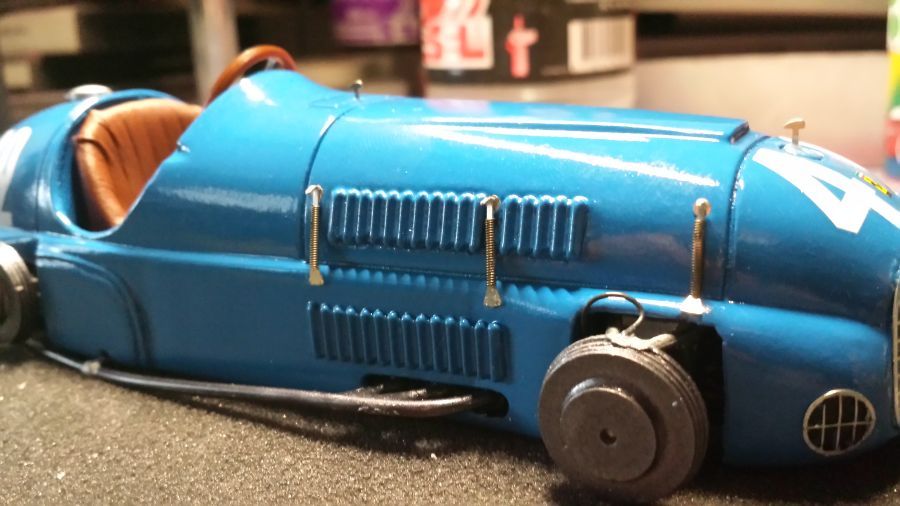 Het raampje.
The wind shield.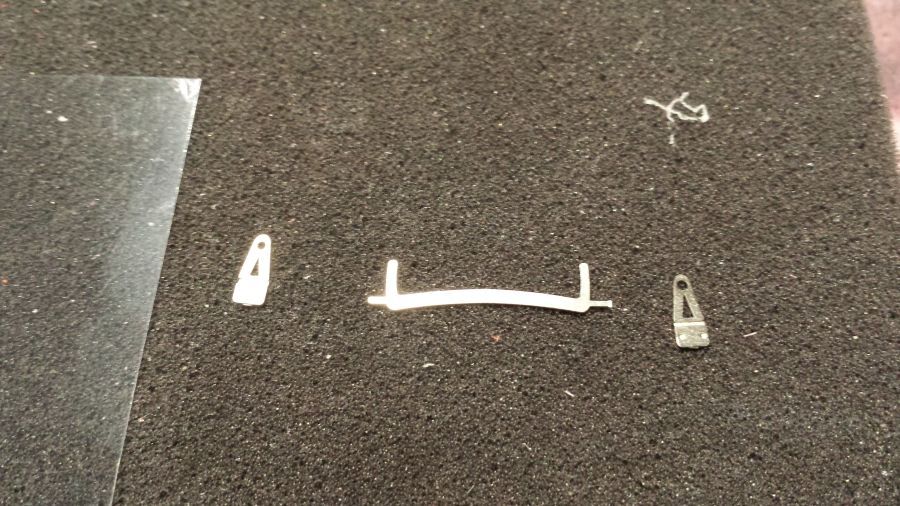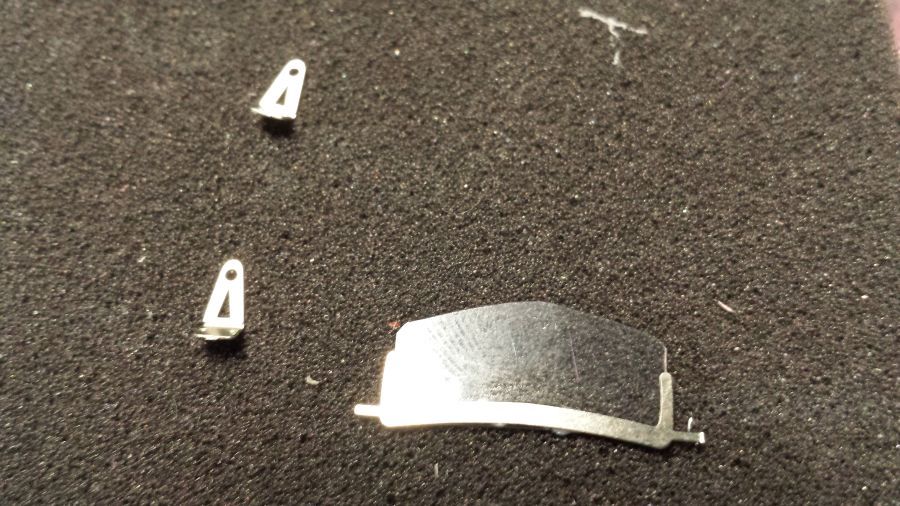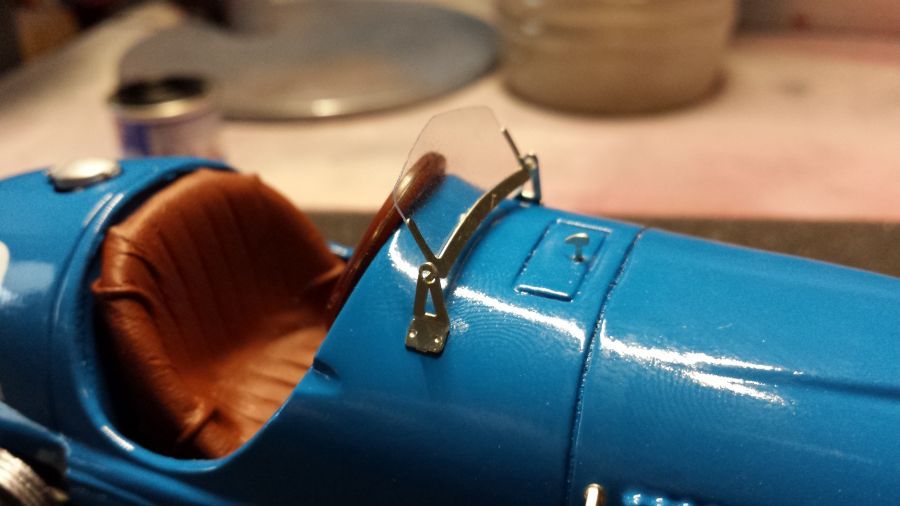 Blijven alleen de spiegels over..... en wielen.
Whats left are the mirrors.....  and wheels.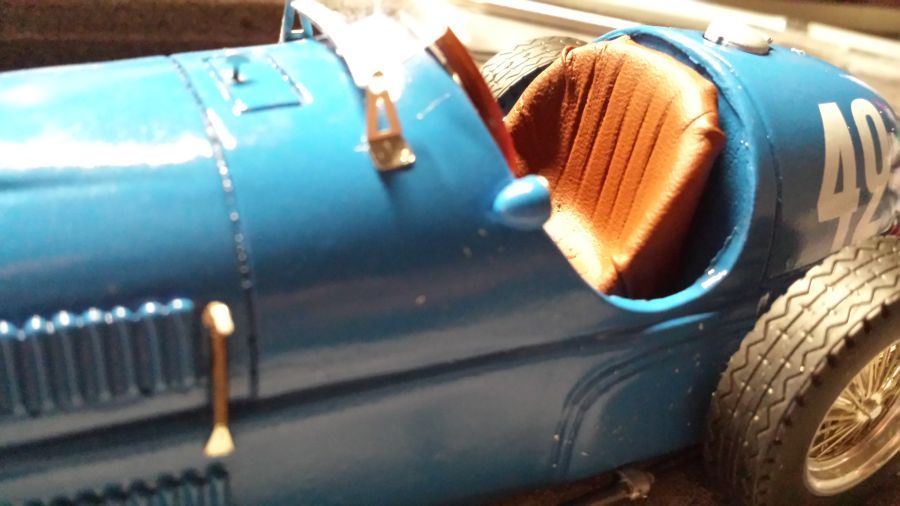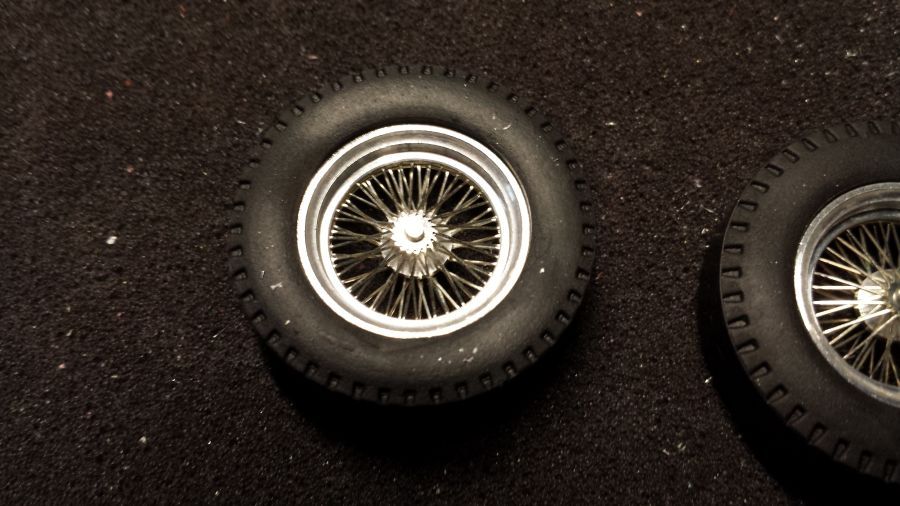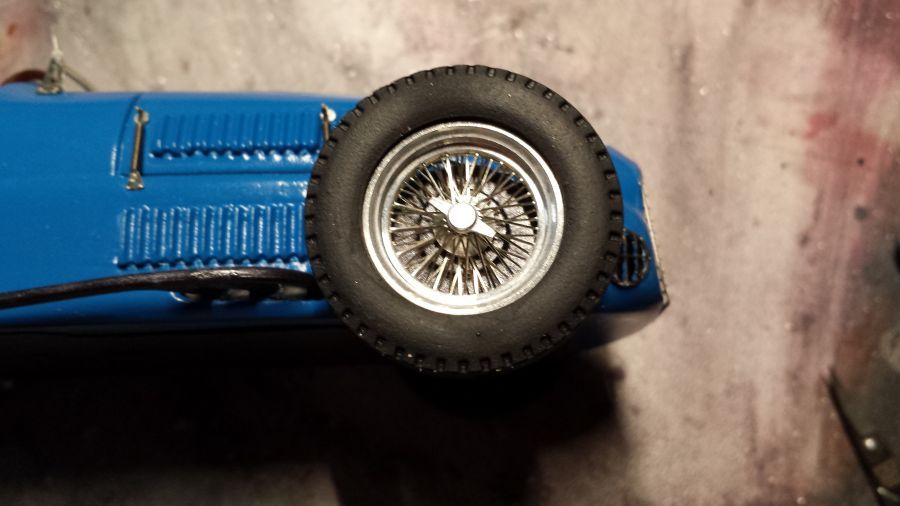 En weer 1 voor op de plank.
And another one for the shelf.