Ik begin hier met mijn eerste bouwdoos van Studio27 (kit nr ST27-FK20103). Nog nooit heb ik dit eerder gebouwd. Veel te leren dus. Het betreft hier de 2001 Ferrari F2001 Japanse versie gereden door Michael Schumacher. Hieronder de onderdelen van de kit. Omdat een M@rlb0r0 decal beschadigd is, heb ik een vervangende set gekocht. De kit is tweedehands. Mijn voorganger heeft echter zulk slecht spuitwerk geleverd, dat ik besloten heb de body schoon te maken en opnieuw te beginnen. Voorzover dat gaat tenminste. Als referentie gebruik ik het boek Formula 1 Technical Analysis van Giorgio Piola.
Here i will start with my first kit of Studio27 (kit no ST27-FK20103). I have never built this before. So there will be a lot to learn. It is the 2001 Ferrari F2001 Japanese version driven by Michael Schumacher. Here the content of the kit. Because a M@rlb0r0 decal is damaged, i have bought an extra set. This is a second hand kit. The previous owner has done a bad painting job. So i decided to clean the body and start all over again. For reference i will use Formula 1 Technical Analysis from Giorgio Piola.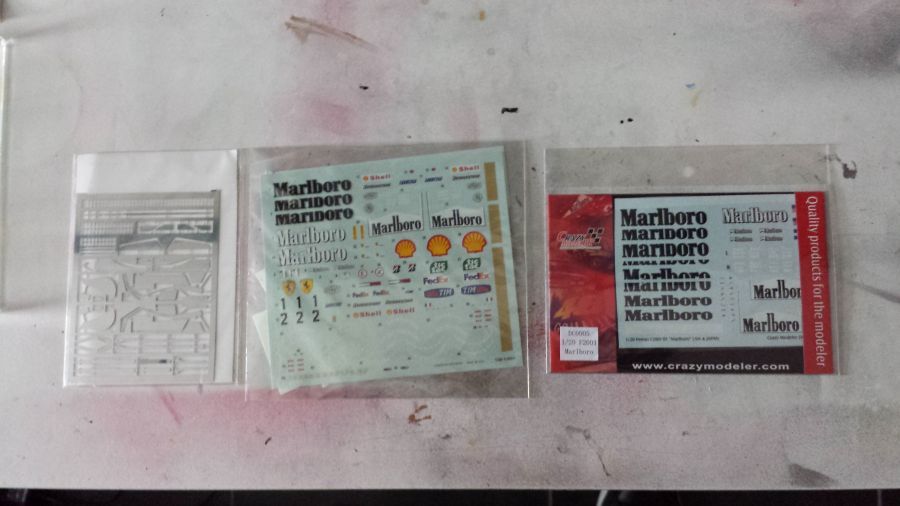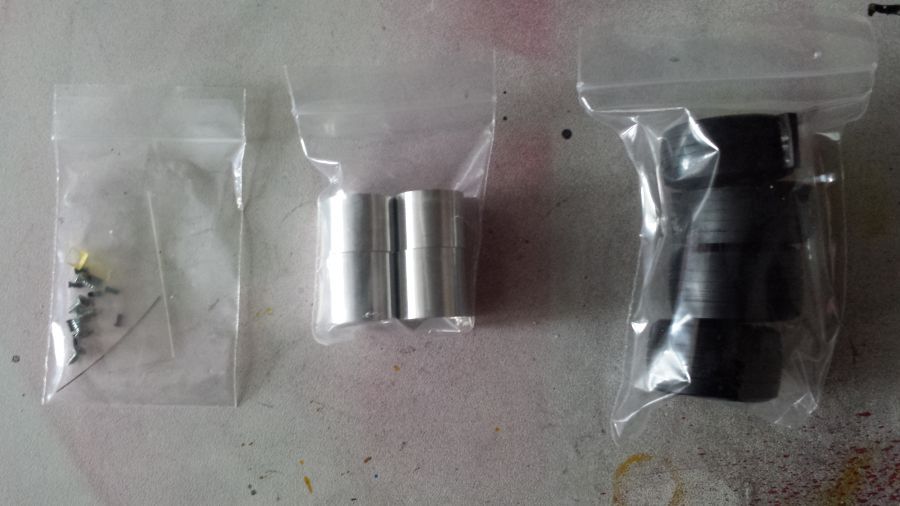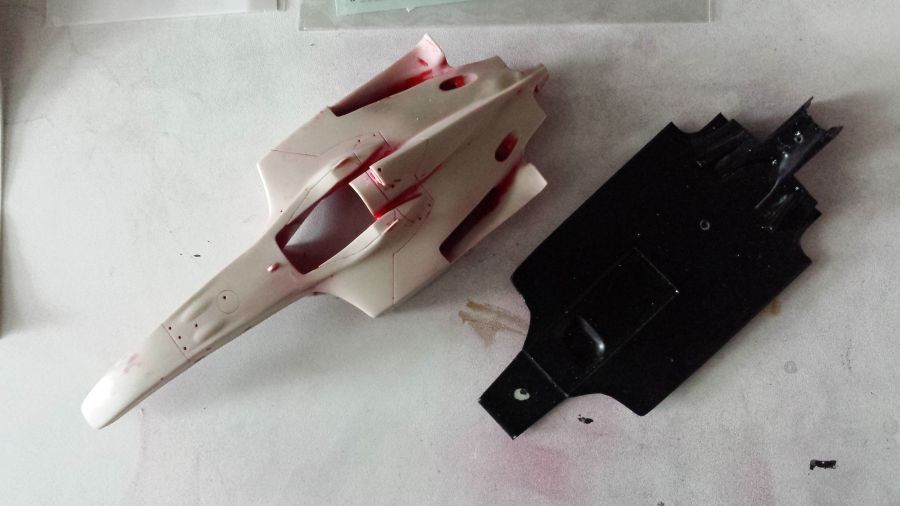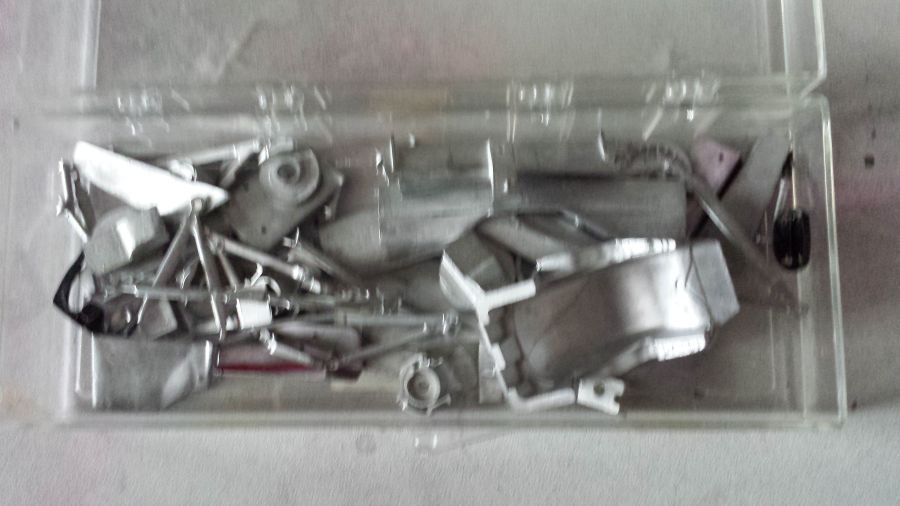 Zo gaan de onderdelen in de polijstmachine. En zo komen ze er uit. Veel meer glanzend.
This is how they go in the magnetic polisher.  And how they come out. Much more shining.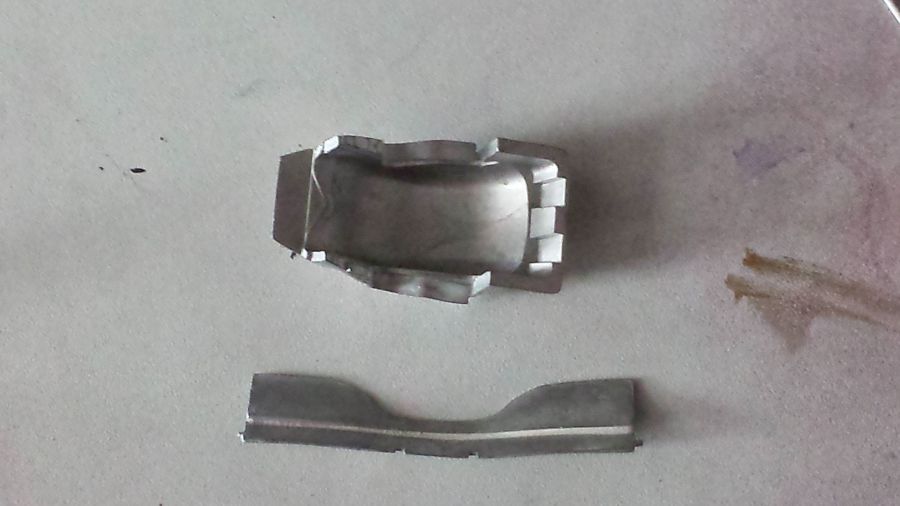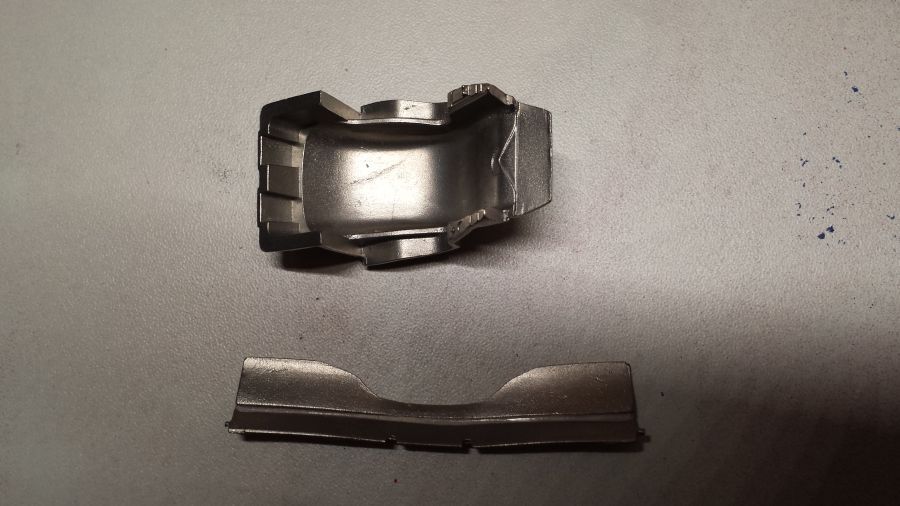 Voordat ik de body in de grondeverf zet, ga ik eerst een paar onderdelen aanbrengen. Dit omdat bij deze onderdelen de naden moeten worden weggewerkt met plamuur. Daarnaast moet de intake een beetje uitgeboord worden.
Before i spray painting the body with primer, i will apply some parts. This because the seams have to be filled with putty. Also i will drill out the air intake a bit.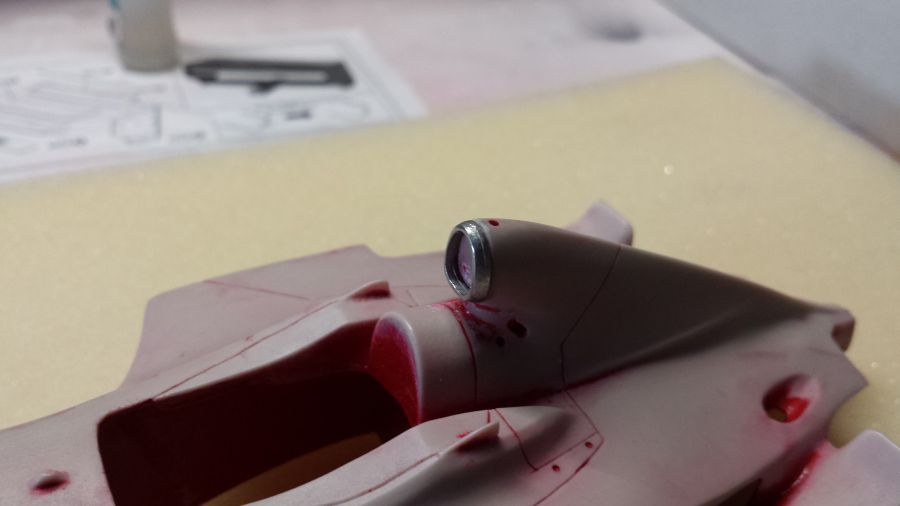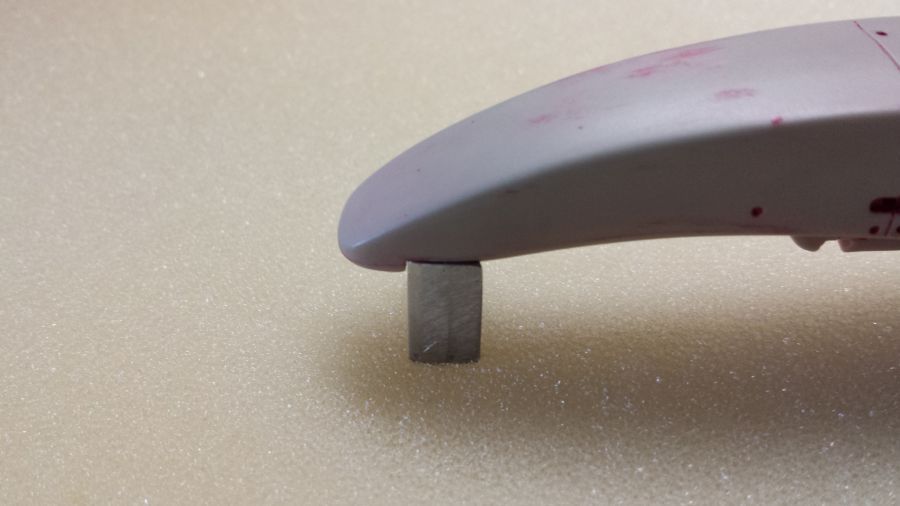 De body staat in de grondverf. Klaar voor de Pre-2004 Rosso Formula 1 van Zero-Paints. De motor is gespoten met Tamiya TS17.
The body has been primed. Ready for the Pre-2004 Rosso Formula 1 from Zero-Paints. The engine has been painted with Tamiya TS17.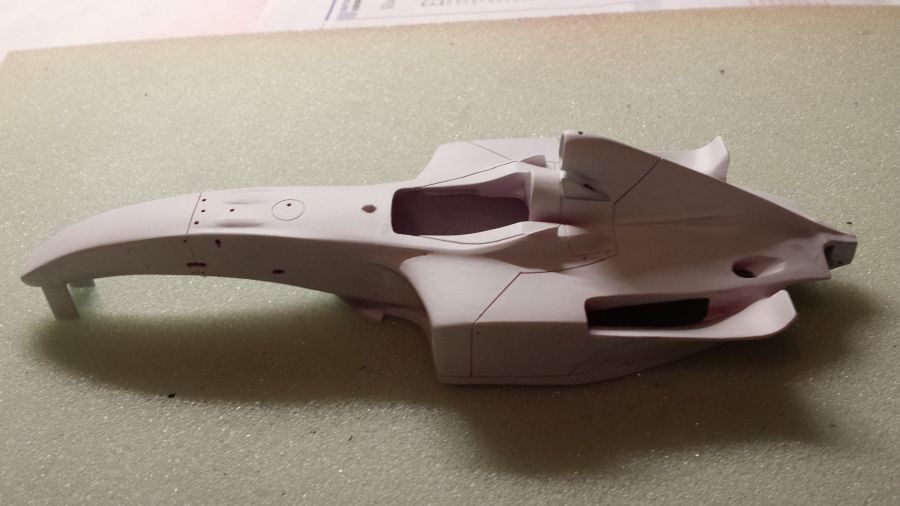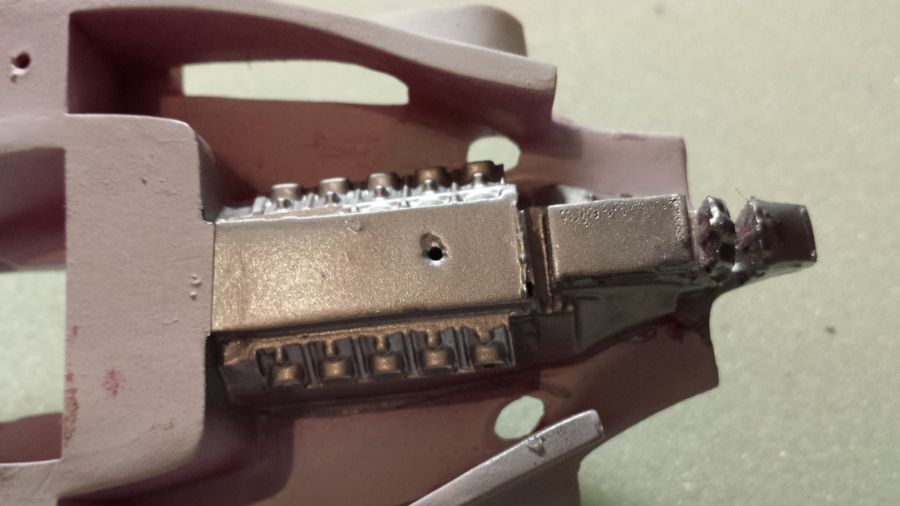 Een paar deukjes in de voorvleugel moeten geplamuurd en geschuurd worden.
A few sinkholes in the front wing have to be filled and sanded.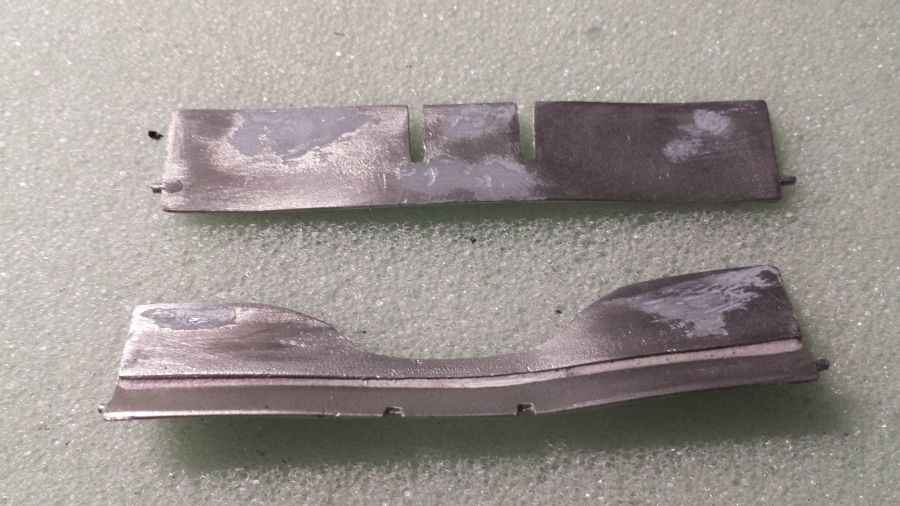 De eerste 'planes' worden bevestigd aan het bovenste deel van de voorvleugel en aan de 'wing end plates'. Ik heb zelf van Evergreen plastic profielen steuntjes gemaakt, zodat alles op de juiste hoogte kan worden gemonteerd. Deze onderdelen zet ik later in de grondverf met Tamiya Metal Primer.
The first planes are attached to the upper part of the front wing and the wing end plates. From Evergreen profiles i made some supports to mount everything at the correct hight. For these parts i will use Tamiya Metal Primer.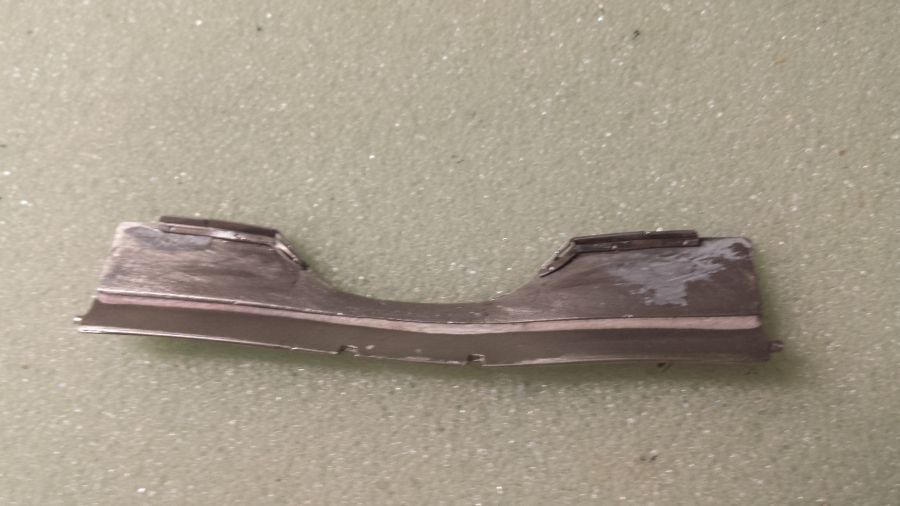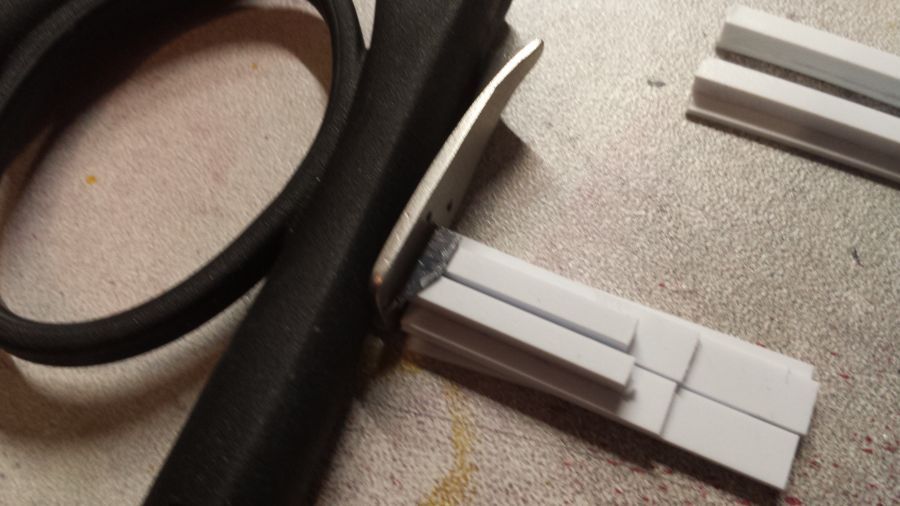 Een paar etched onderdelen moet een beetje een ronding krijgen. Hiervoor gebruik ik de PE Rolling Tool van The Small Shop.
A few etched parts have to be rounded. For this i will use the PE Rolling Tool from The Small Shop.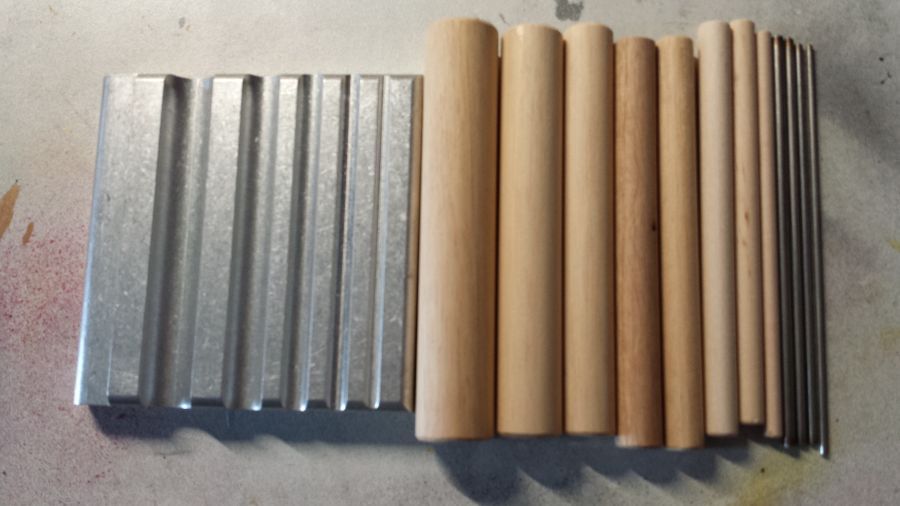 Hier de 2 onderdeeltjes na gebruik van de Rolling Tool.
Here the 2 parts after using the Rolling Tool.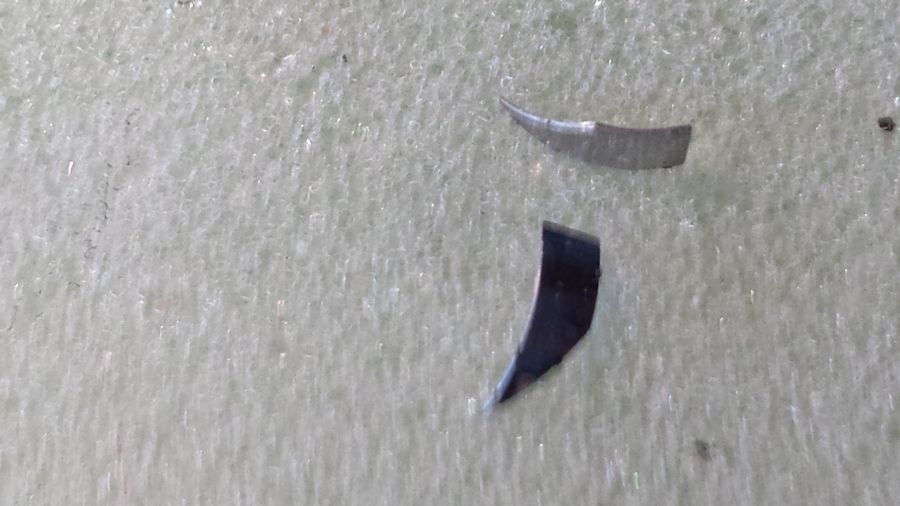 De 'wing end plates' zijn voorzien van de 'flaps' en gespoten met Tamiya metal primer. Hierna ga ik ze spuiten met gewone primer, zodat de verf beter dekt.
The wing end plates now have their flaps and have been sprayed with Tamiya Metal Primer. After this i will spray them with ordinary primer, so the paint will attach better.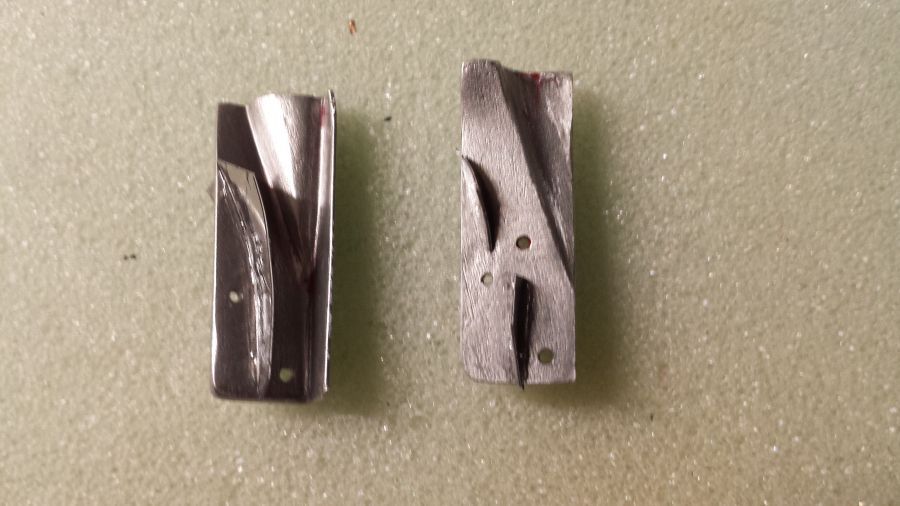 De achtervleugel krijgt dezelfde procedure. Eerst Tamiya Metal Primer, daarna primer.
The rear wings gets the same procedure. First Tamiya Metal Primer, ordinary primer afterwards.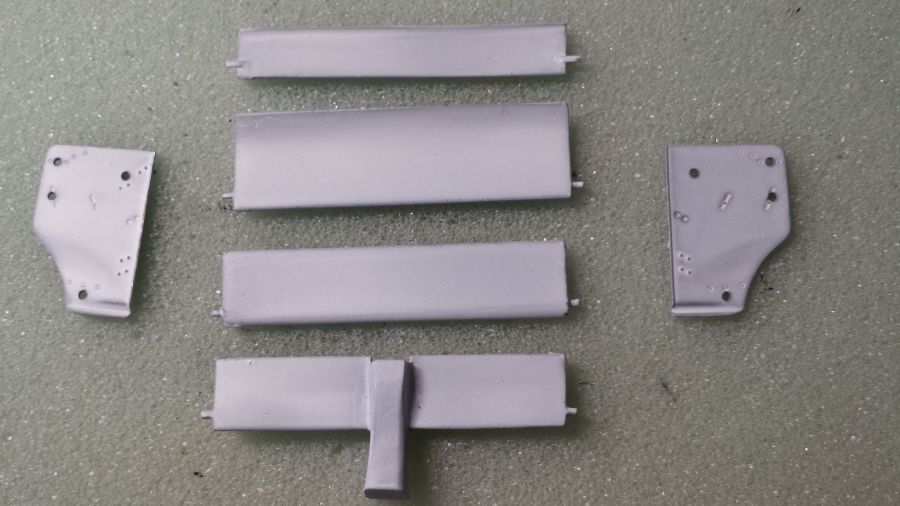 De eerste onderdelen zijn zijdemat zwart, mat zwart en glanzend wit gespoten met Tamiya verf.
The first parts have been sprayed with Tamiya semi gloss black, matt black and gloss white.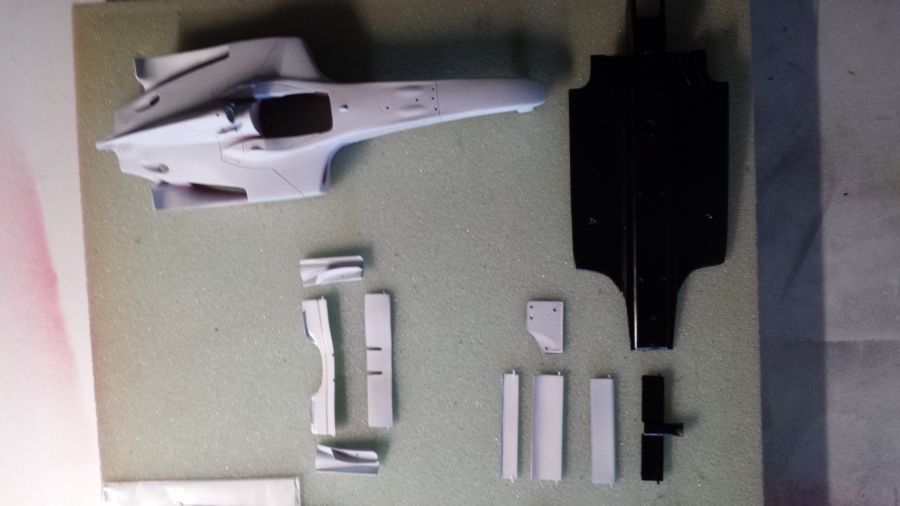 Nu doorwerken aan de extra vleugels.
Now working on the extra wings.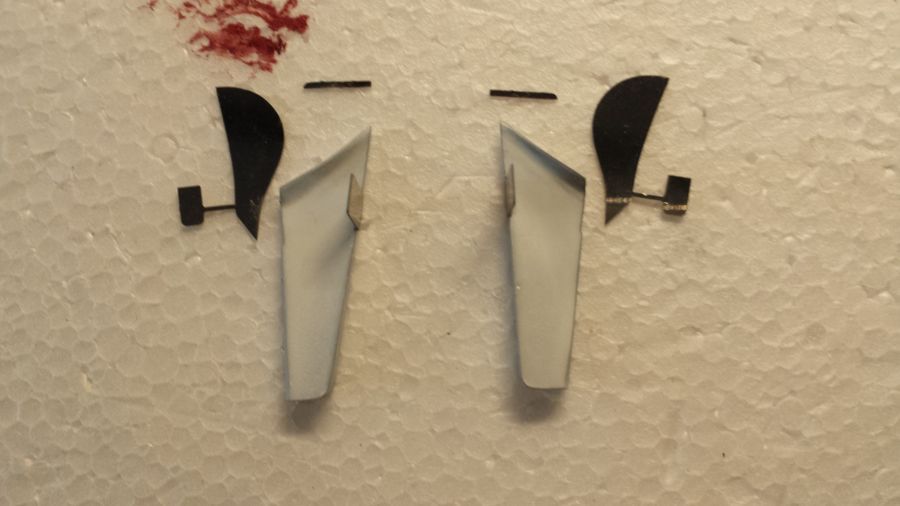 Deze moeten uiteindelijk hier geplaatst worden.
They have to fit here, eventually.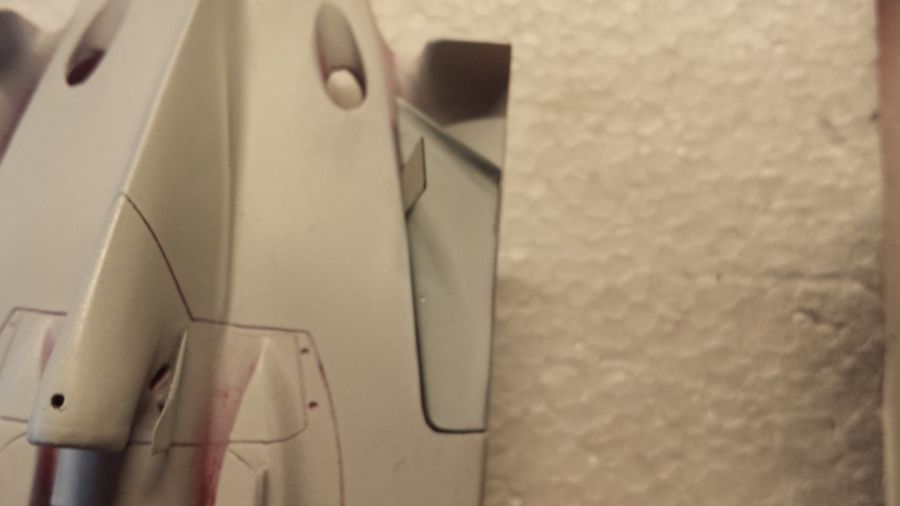 Klaar voor de beroemde rode kleur. Dit keer voor de 1e keer van Zero Paints (Pre-2004 Rosso Formula 1). Ik heb begrepen dat deze verf mat opdroogt en daarna met glanzende lak moet worden gespoten.
Ready for the famous red color. For the first time i will use Zero Paints (Pre-2004 Rosso Formule 1). From what i know this paint will dry with a mat finish and then has to be sprayed with gloss lacquer.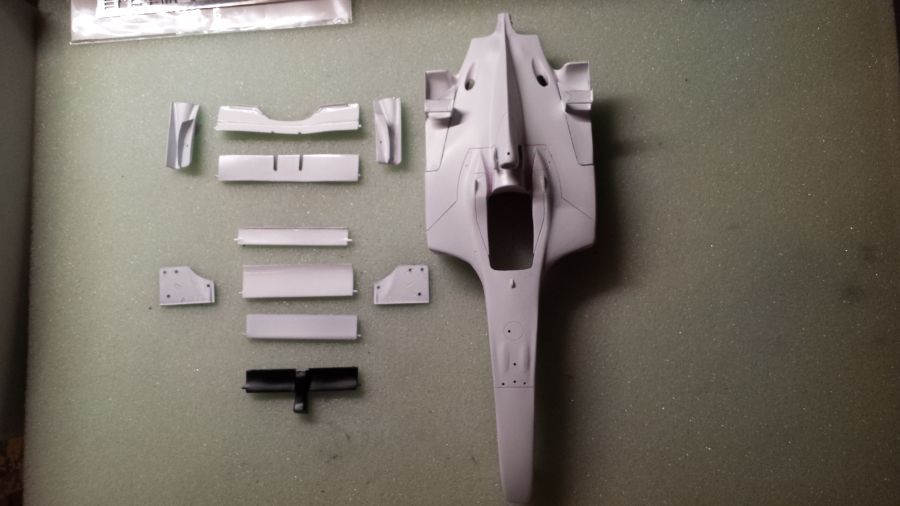 Hier het resultaat van het spuiten met Zero Paints. Ik ben er tevreden over. Ik heb gespoten met een airbrush met een 0.2 mm naald. Deze is eigenlijk te dun. In de airbrush hoopt zich dan pigment klonten op. Een 0.4 mm naald is beter. Deze zal ik volgende keer gebruiken.
Here the result after spraying with Zero Paints. I am very happy with it. I sprayed it with a 0.2 mm needle. This is too small. The airbrush will have pigment clogging. A 0.4 mm needle would be better. I will use that next time.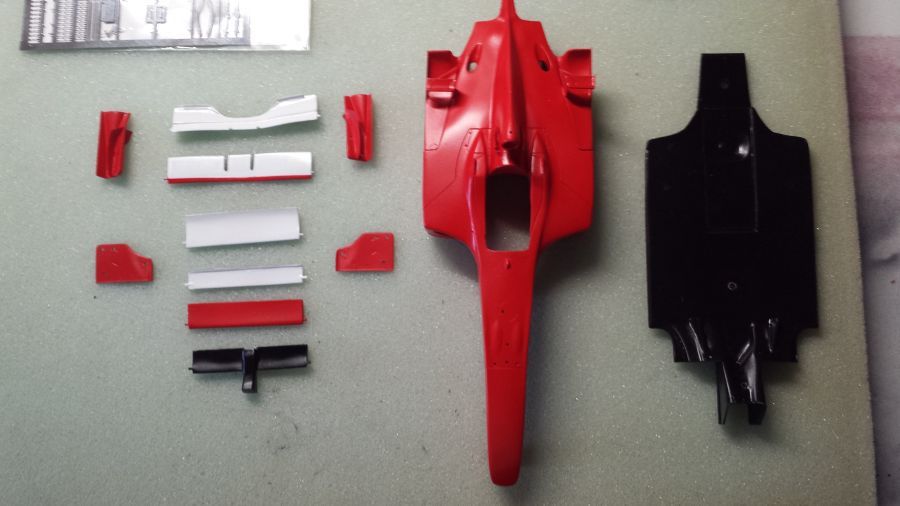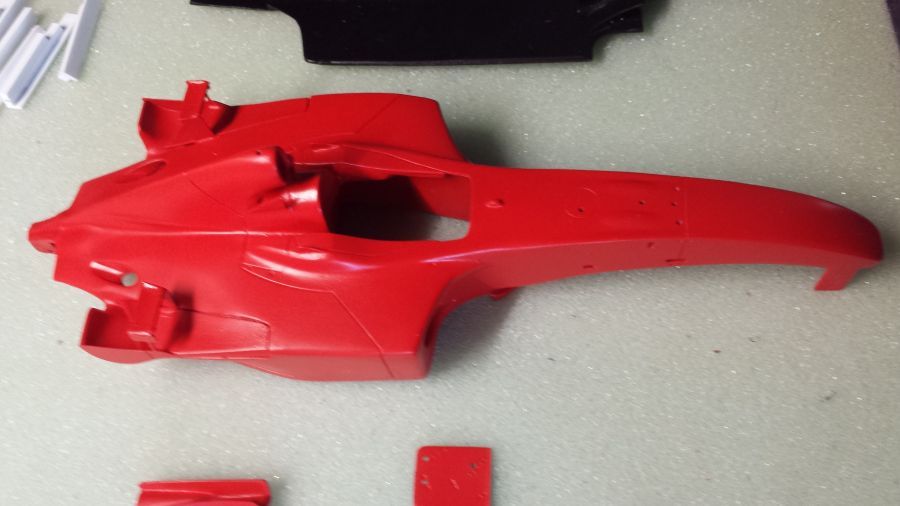 De decals zijn aangebracht. Gedurende het proces vielen een aantal decals van Studio27 zo uit elkaar. Omdat ik ook nog de 2001 versie wil maken ter nagedachtenis van 9-11 (Black nose versie) kon ik gelukkig gebruik maken van een aantal decals van Tamiya. Nu goed laten drogen voordat de laklagen worden gespoten. Eerst 2x een kleine mist, daarna een zwaardere laag.  
The decals have been applied.  During the proces some decals from Studio27 did fall apart. As  i also want to make the 2001 version in memory of 9-11 (Black nose version), i was lucky to be able to use some decals from the Tamiya kit. First let it dry thoroughly, before spraying the laquer. First 2x a mist of laquer, then a heavy coat.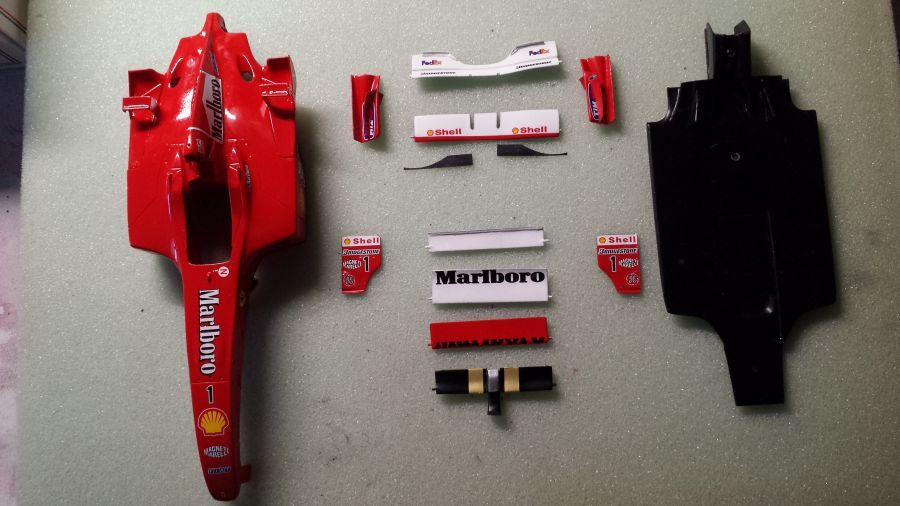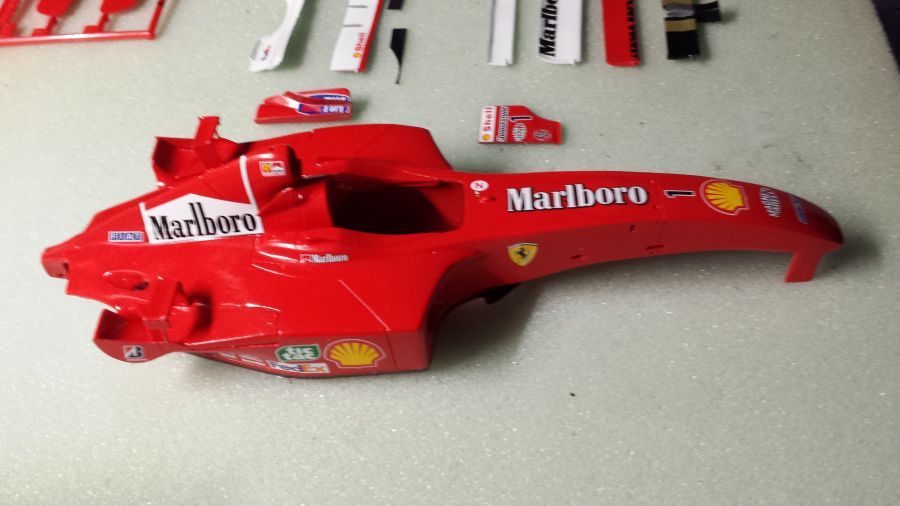 Voordat ik de heldere lak aanbreng, ga ik eerst de 'schroeven' aanbrengen aan de body.
Before applying the clear cote, i will first glue the rivets.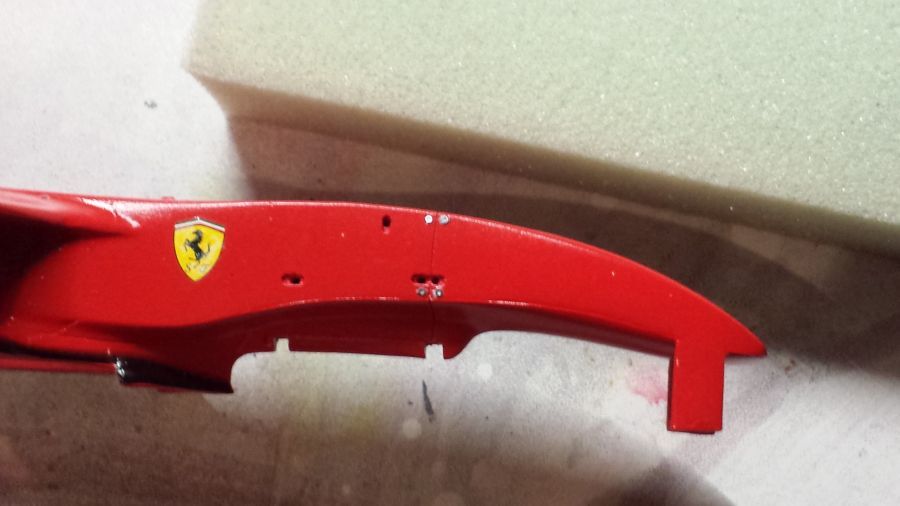 Alle onderdelen zijn met glanzende lak gespoten, daar waar nodig. Nu beginnen met het in elkaar zetten van de voorvleugel en achtervleugel.
All parts have been clear coated where necessary. Now i will start to assemble the front and rear wings.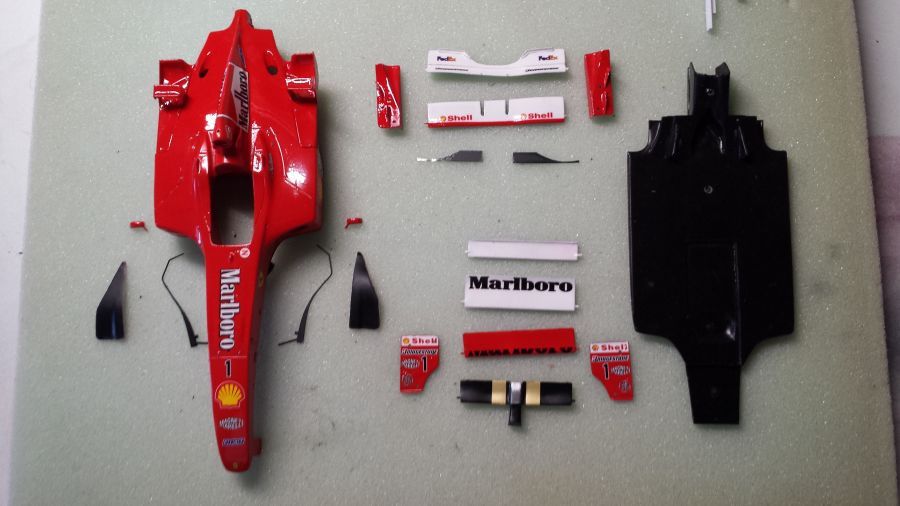 Eerst even de achtervleugel op een simpele wijze in elkaar zetten an daarna in de bank voor het definitief uitlijnen en lijmen. Het onderste (zwarte) deel lijm ik pas later, zodat de vleugel keurig verticaal uitgelijnd kan worden.
First a simple assemblage and then  i have put it in the vise to line the parts and glue it together. The lower (black) part will be glued later, so i will be able to line the rear wing vertically.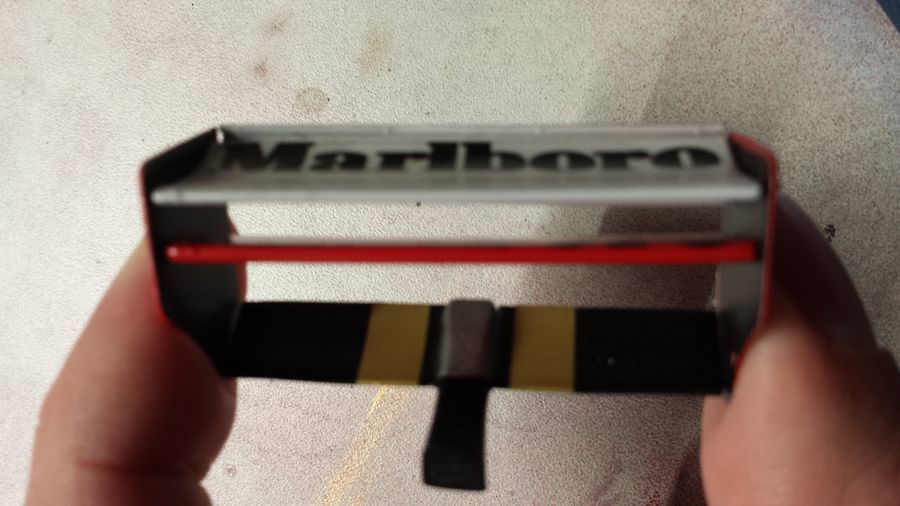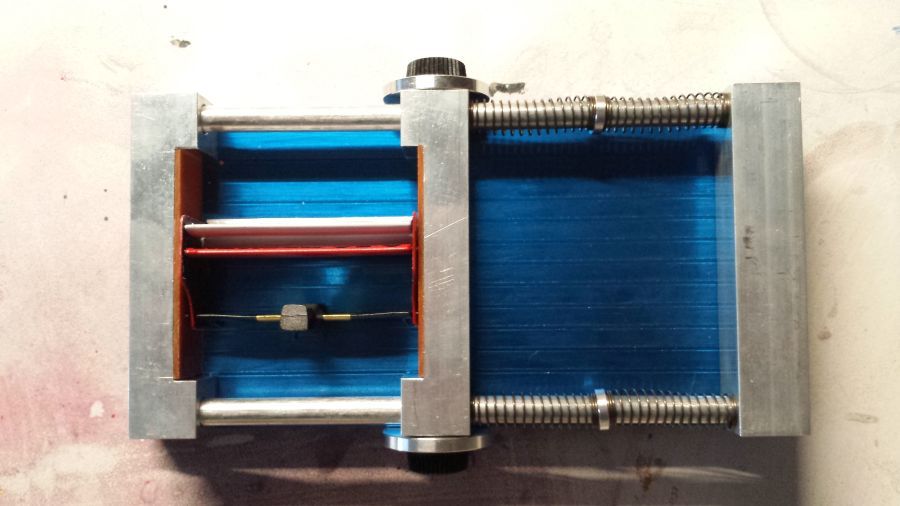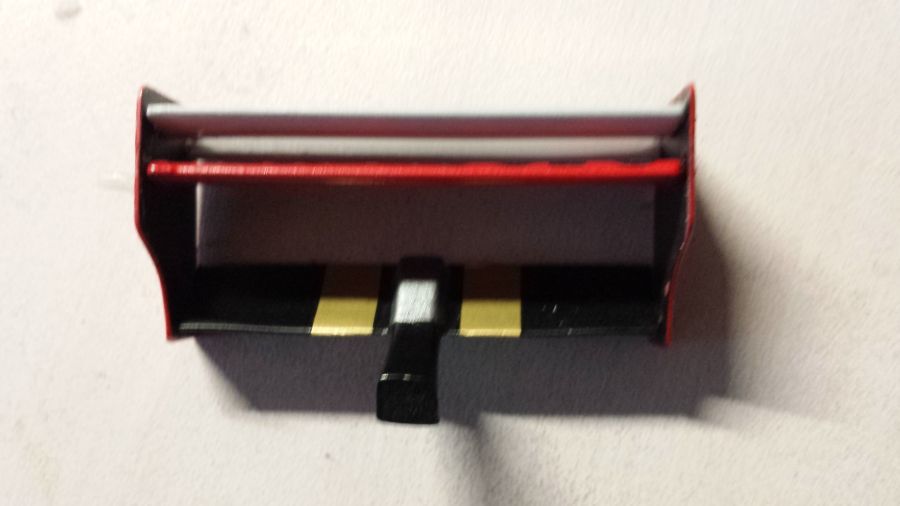 De voorvleugel zit ook in elkaar. Deze heb ik niet in de bank gezet, omdat de wing end plates wat naar binnen toe lopen.
The front wing is ready. I did not put it in the vise, because the wing end plates go a little inward.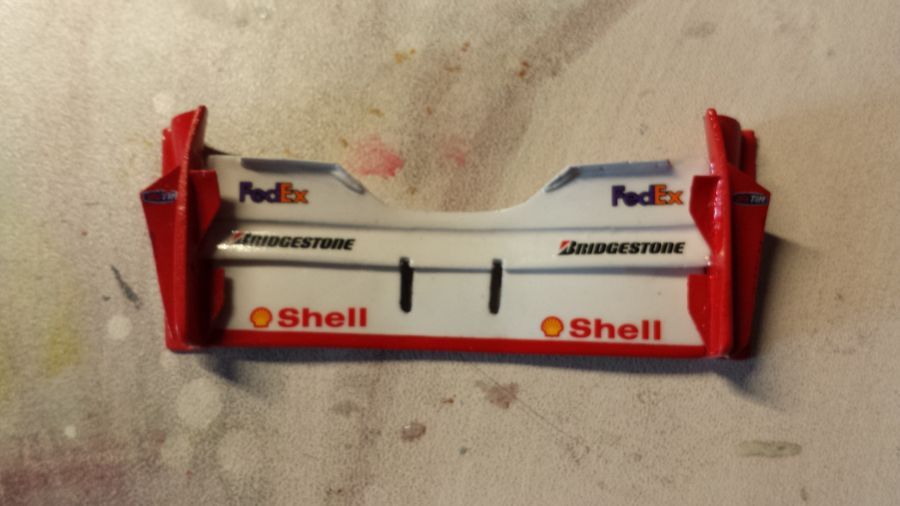 De achterwielophanging is gemonteerd. Een aardige klus, want nergens staat wat precies de bevestigingspunten zijn voor de remtrommels. Het was dus een beetje raden en foto's bekijken.
The rear wheel suspension has been mounted. Quite a job, because it is nowhere explained how to mount the brakes. So it was some guessing and looking at pictures.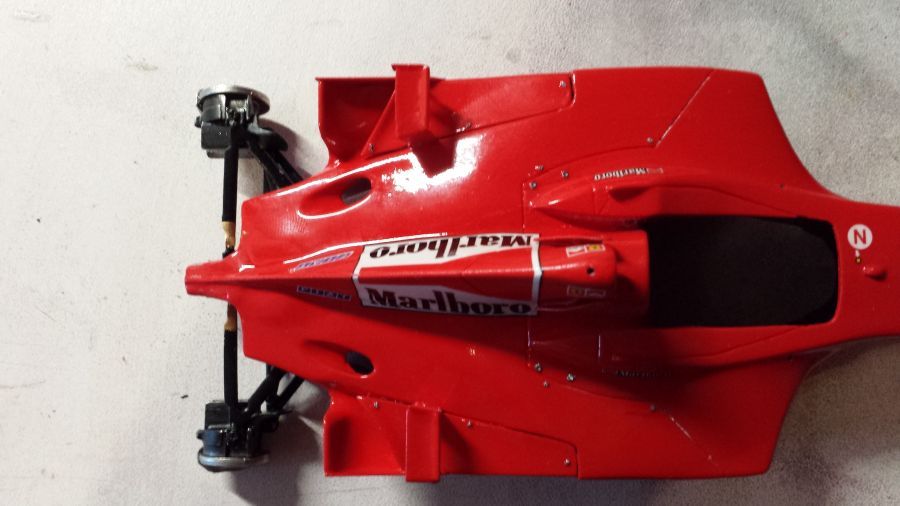 Nu de stoel en het stuur klaarmaken en monteren. Daarna kan de bodemplaat bevestigd worden. De stoel is altijd moeilijk voor me. Nergens kan ik goede foto's vinden m.b.t. de gordels.
Now preparing the chair and the wheel and mount these. After this the underbody can be mounted. The chair is always difficult to me, as i am unable to find good pictures of how to mount the belts.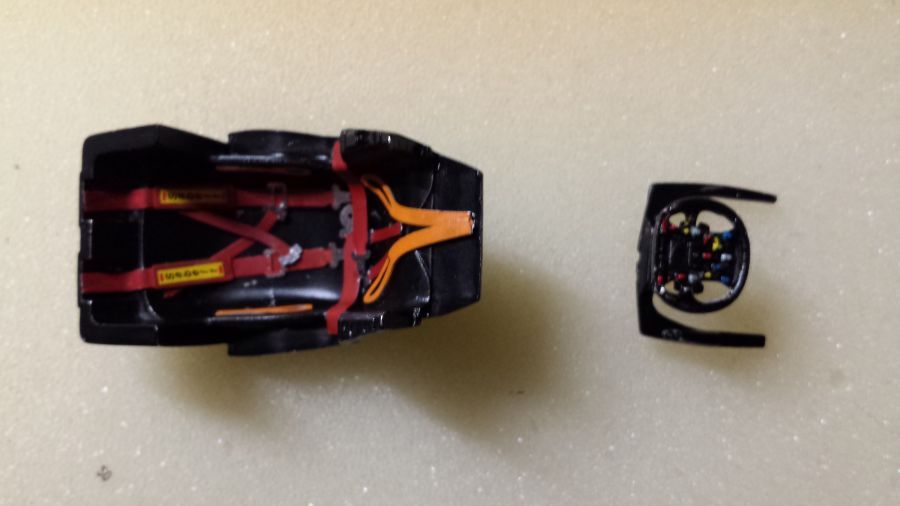 De body, stoel, stuurinrichting en bodemplaat zijn met elkaar verbonden.
The body, chair, steering wheel and under tray are mounted together.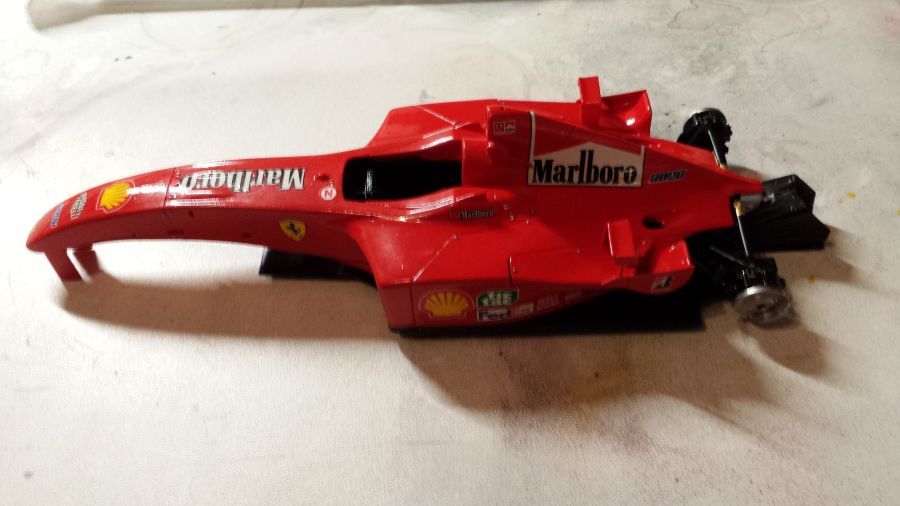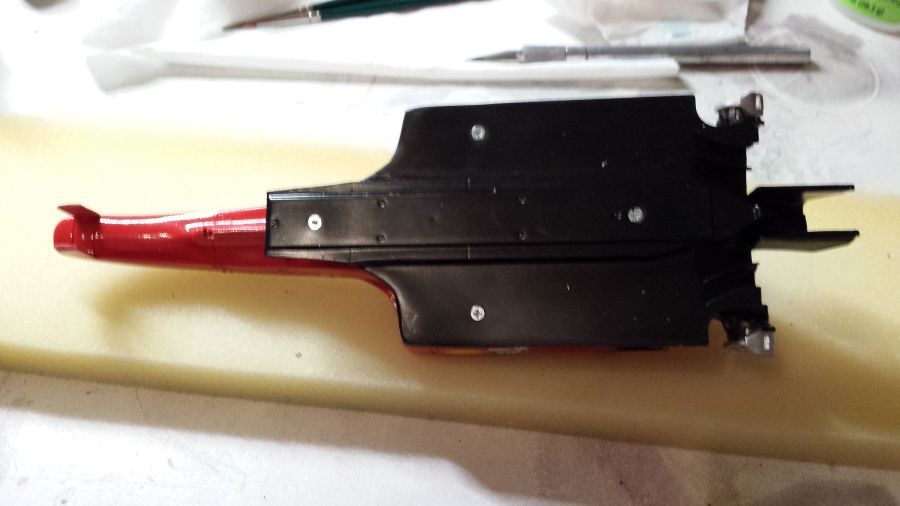 Nu door naar de voorwielophanging. Niet het meest eenvoudige deel.
Now up to the front wheel suspension. Not the most easy part.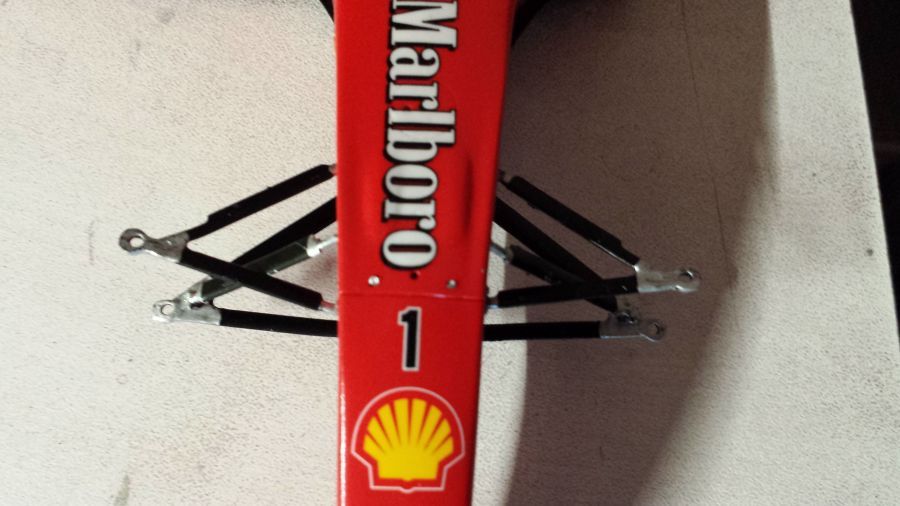 Ik heb op de gemarkeerde plekken wat moeten afknippen/vijlen om alles passend te maken. Zeker een punt van aandacht bij mijn volgende model.
At the marked spots i had to do some cutting and filing to make everything fit. This will certainly be a point of attention on my next model.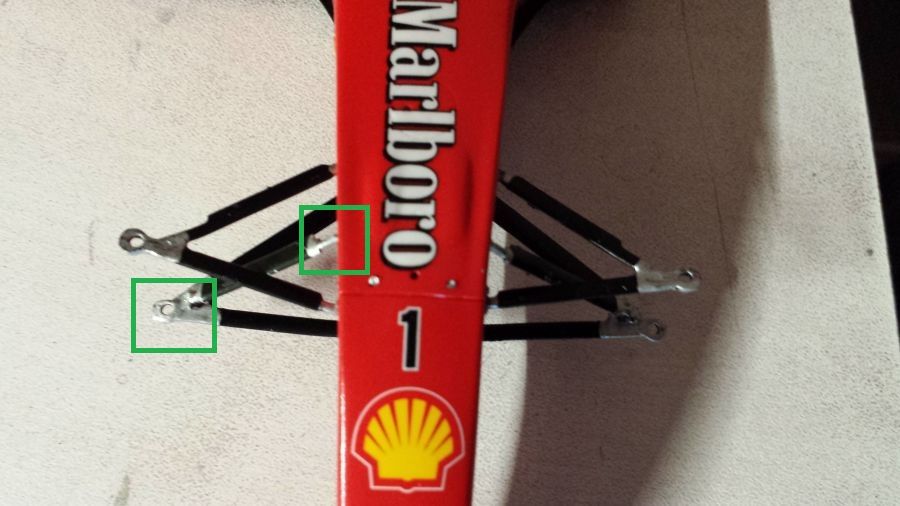 Hier de montage van de velgen.
Here the rims are put together.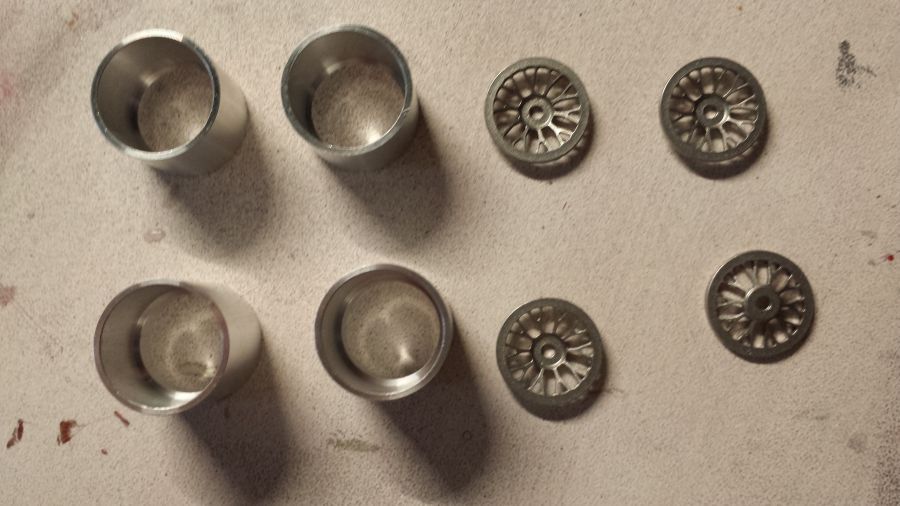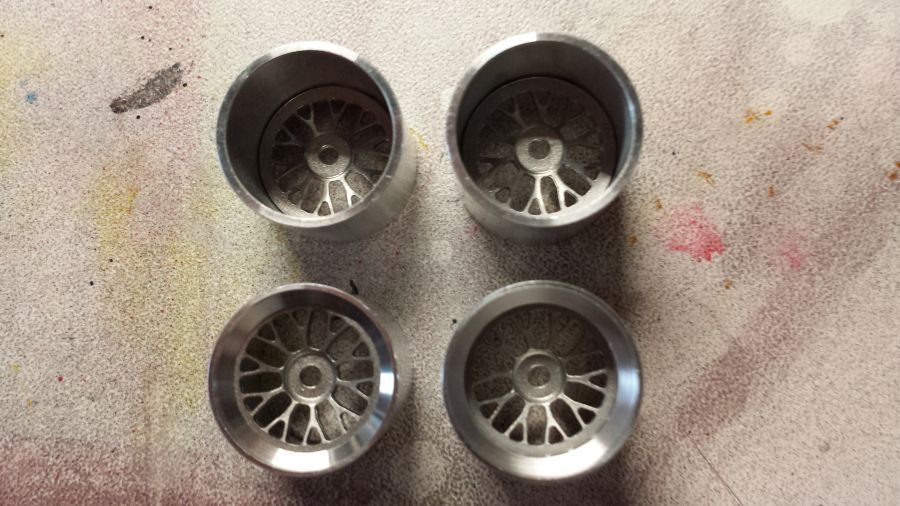 De wielen worden op de auto gemonteerd.
The wheels are mounted to the car.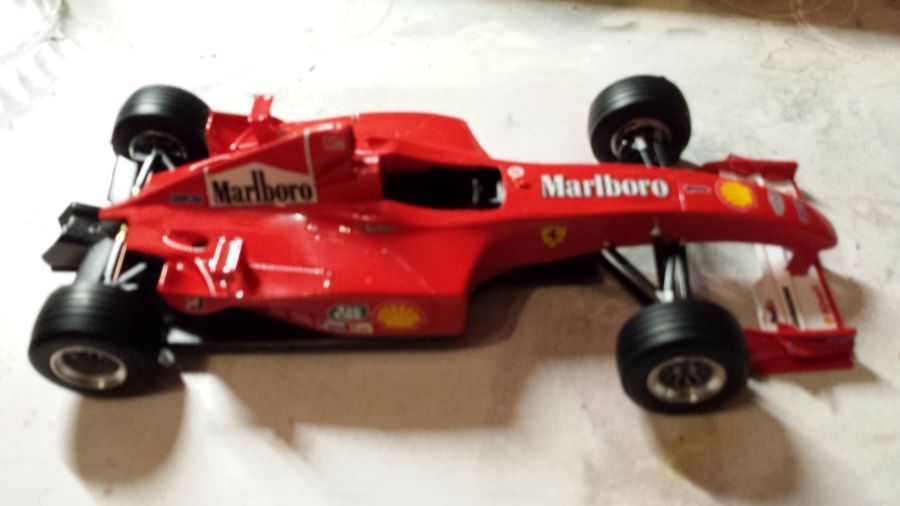 Bij het aanbrengen van de Bridgestone decals op de banden blijkt dat de decals beschadigd zijn. Ze vallen allemaal uit elkaar. Eerst nieuwe bestellen dus. Let bij het aanbrengen van de decals op de draairichting van de banden. De pijlen op de Bridgestone decals moeten met de draairichting mee. Hetzelfde gebeurt met de BBS decals voor de velgen. Ik heb nog een F2001 Austalië versie liggen. Ik leen daarvan maar de benodigde decals, totdat de vervangende er zijn.
When i wanted to apply the Bridgestone decals to the tires the decals appear to be damaged. They all fall apart. So i have to buy new ones first. When applying the decals watch out for the rotation of the tires. The arrows on the decals should point the correct way. The same happens to my BBS decals for the rims. I still have a F2001 Australian version. I will borrow the decals from this kit, until the new ones arrive.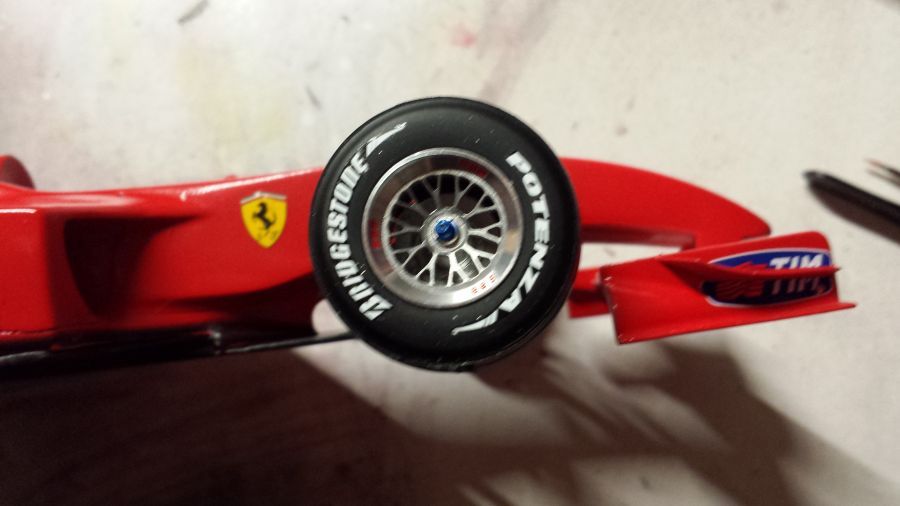 Let op de pijlen voor de draairichting. De buitenkant van de voorste heeft de pijl dezelfde richting als de binnenkant van de velg aan de andere kant.
Watch the arrows pointing the correct direction. The arrow on the outside of the nearest rim points the same way as the arrow on the inside of the opposite rim.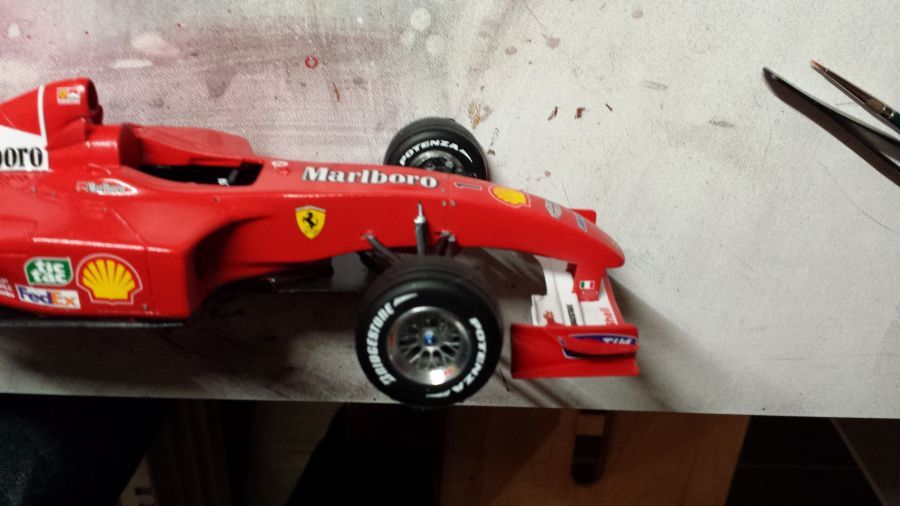 De decals bij de uitlaat zijn aangebracht. De uitgangen kunnen geverfd en de uitlaatpijpen kunnen gelijmd worden.
The decals at the exhaust have been applied. The exits can be painted and the exhaust pipes can be glued.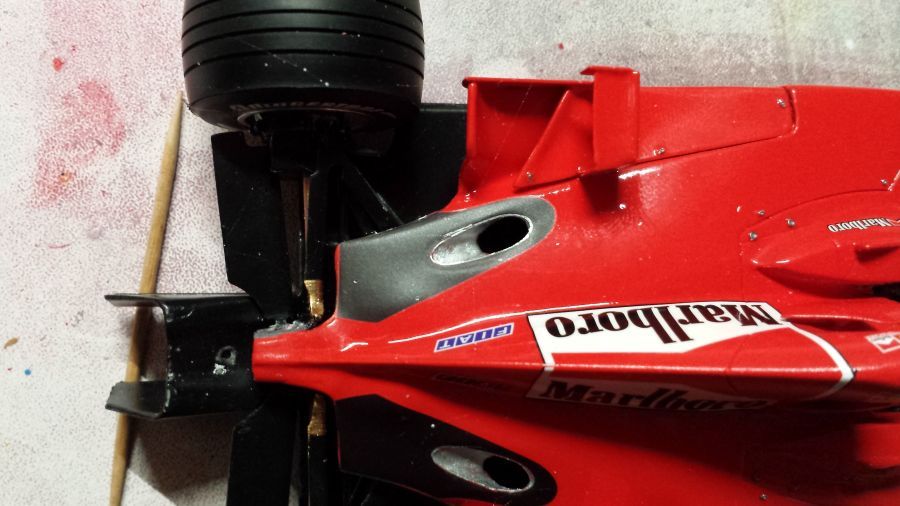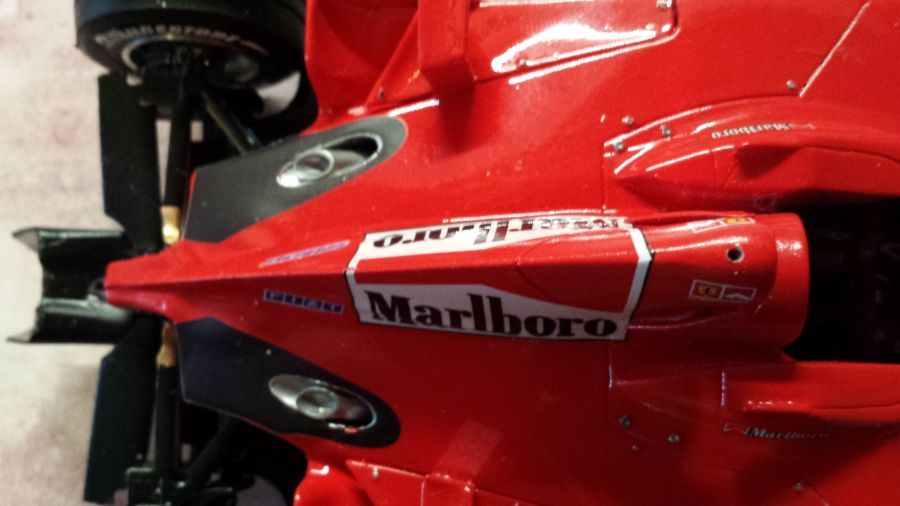 De deflectors kunnen worden gemonteerd.
The deflectors are ready to be mounted.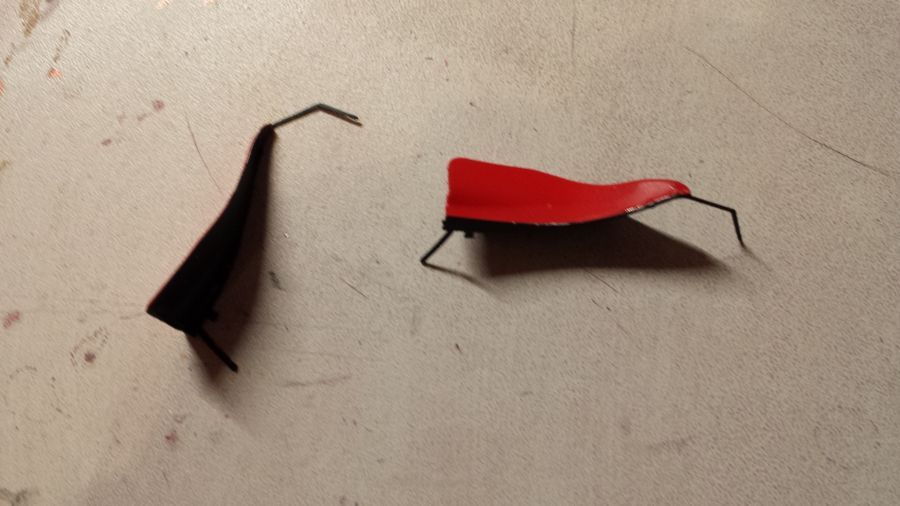 Ik ben niet helemaal zeker hoe de bevestigingen gebogen moeten worden, maar ik denk dat dit het is.
I am not sure how to bend the mounts, but i guess this is it.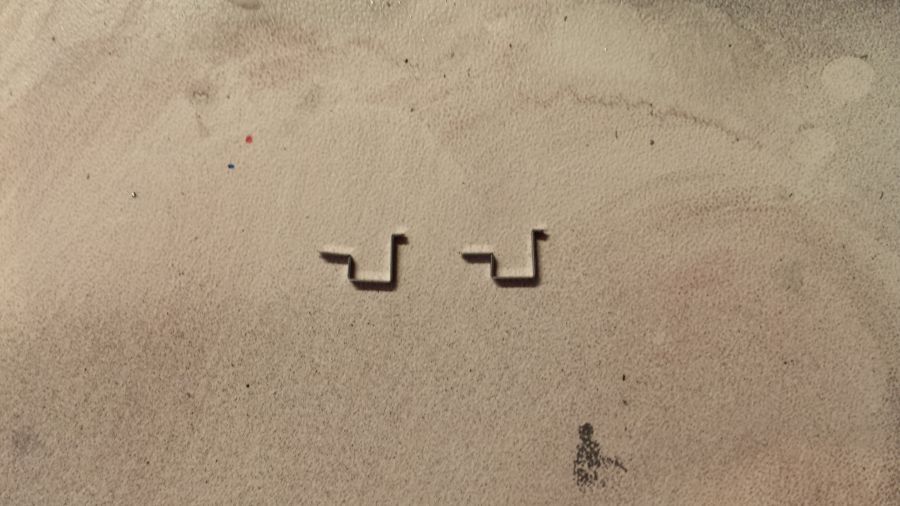 En dan een klein beetje terug buigen. De linker beugel is het eindresultaat.
And then bend it back a little. The left one is the final result.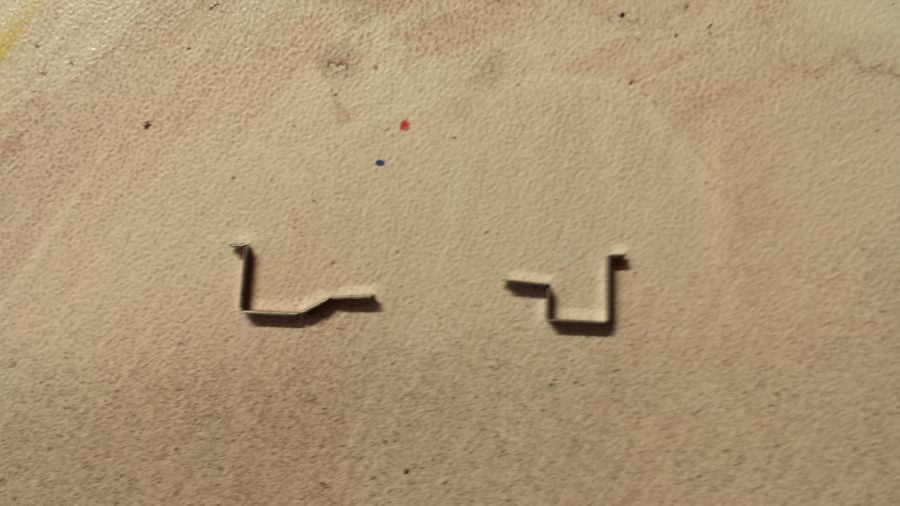 En aan de deflectors gelijmd.
And glued to the deflectors.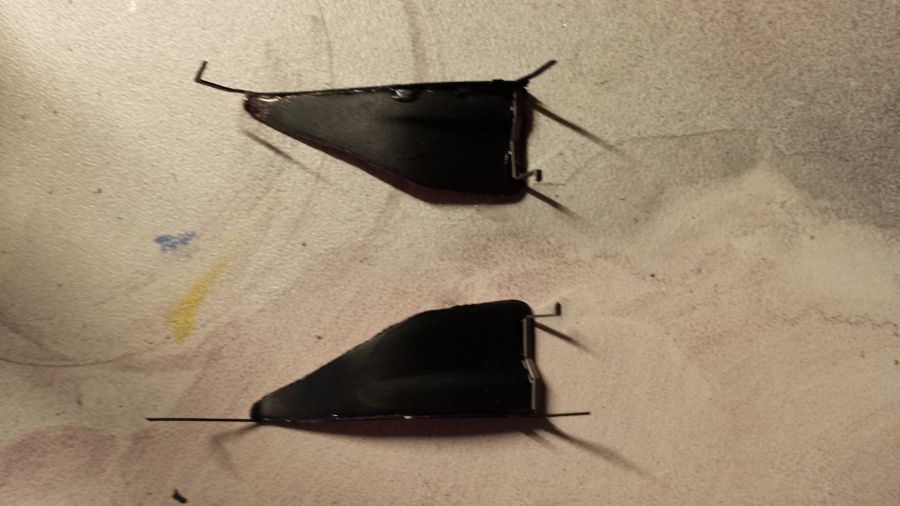 Het op maat maken en aanbrengen van de voorruit.
Cutting to the correct size and applying of the windshield.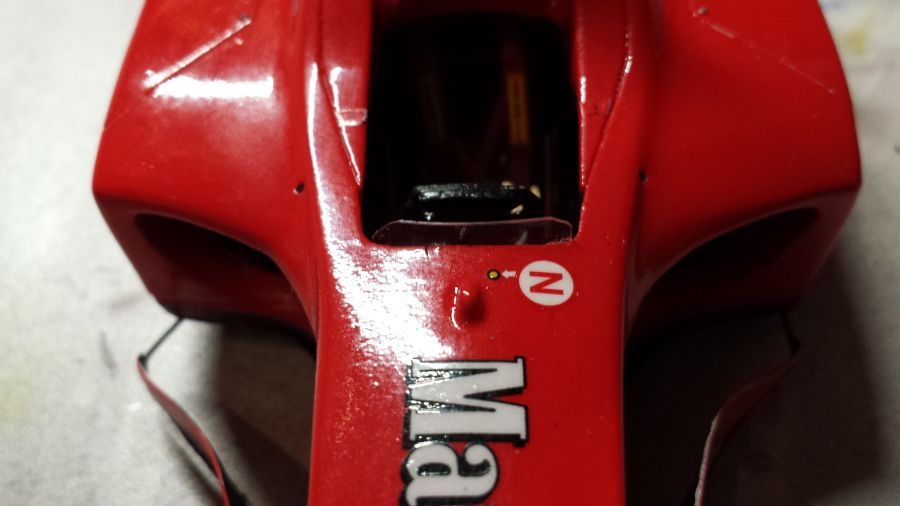 En klaar!
And finished!