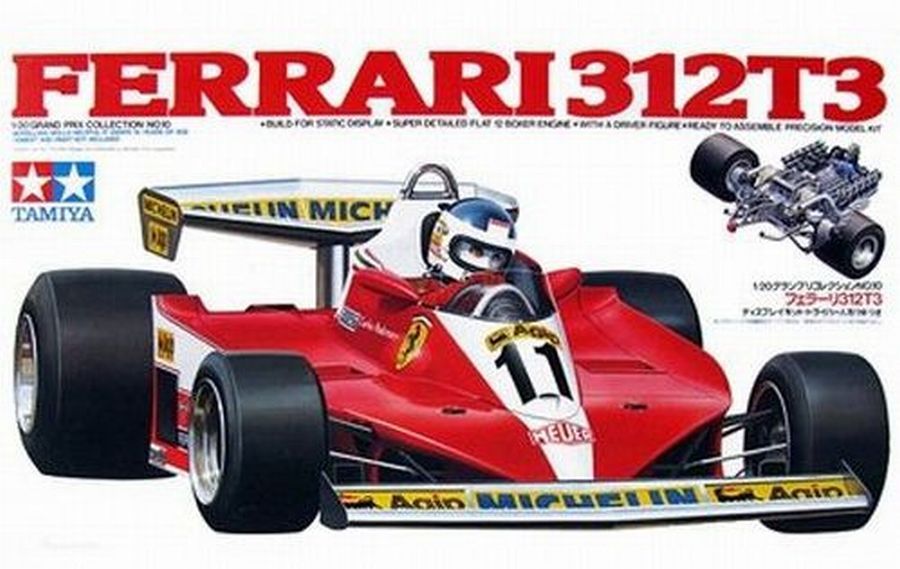 Hieronder de beschrijving van de bouw van de Tamiya Ferrari 312T3 uit 1978. Eerst weer de onderdelen van de kit en de extra's.
Here i will build the Tamiya Ferrari 312T3 from 1978. First the pictures of the parts of the kit and the extras.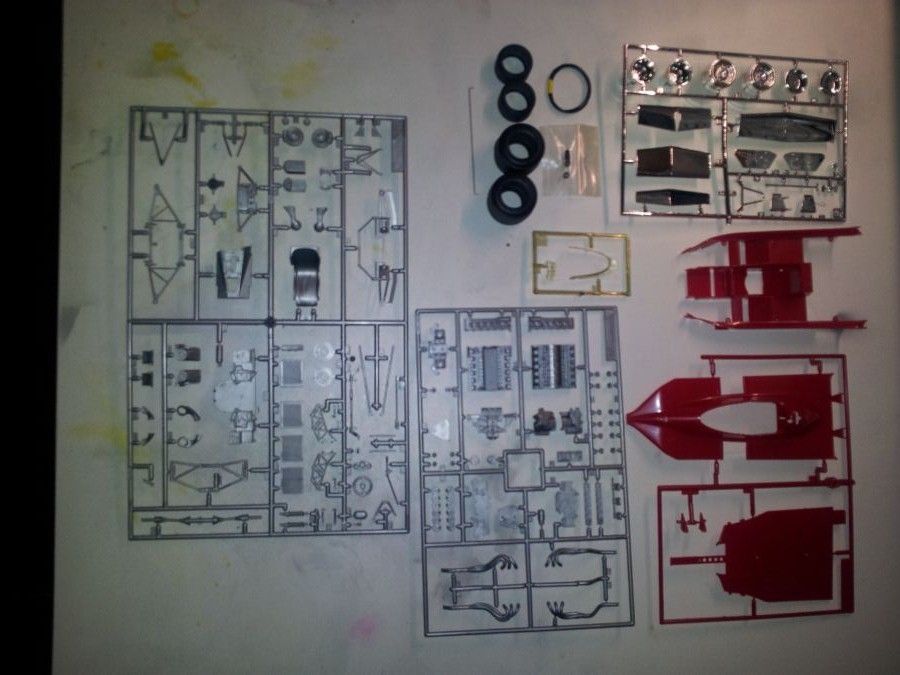 Ik heb van Indycals nieuwe decals gekocht. De originele van Tamiya waren verkleurd. Daarnaast zijn die van Tamiya wat doorschijnend. Het wit zal daardoor wat verkleuren.
I bought myself new decals from Indycals. The originals from Tamiya were yellowed. I know the originals from Tamiya are somewhat translucent. The white will be discolored if you use them.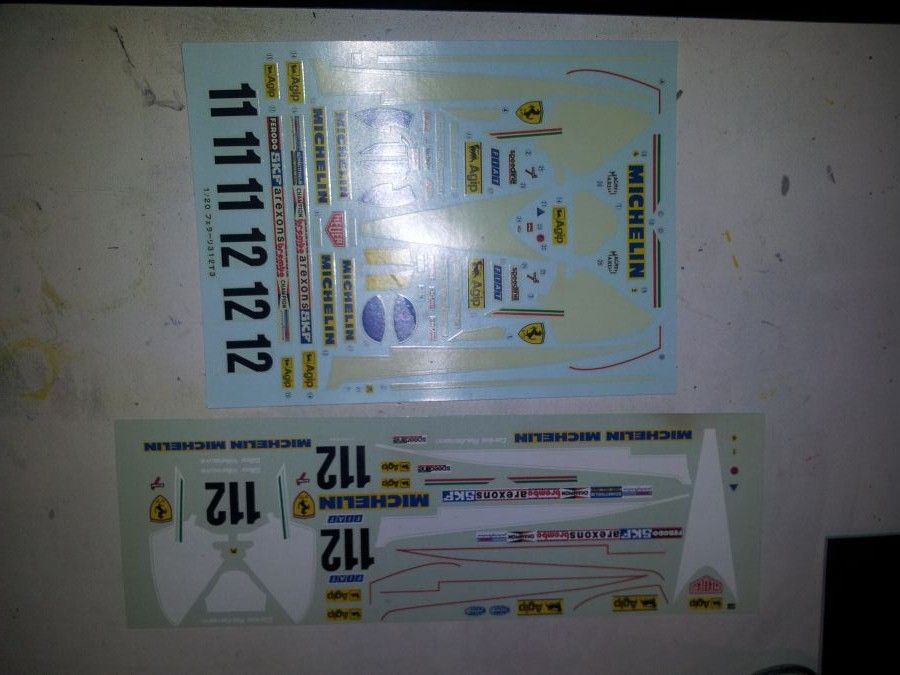 Van Hobby Design en van Acu-Stion wat grade-up onderdelen.
From Hobby Design and from Acu-Stion some etched parts.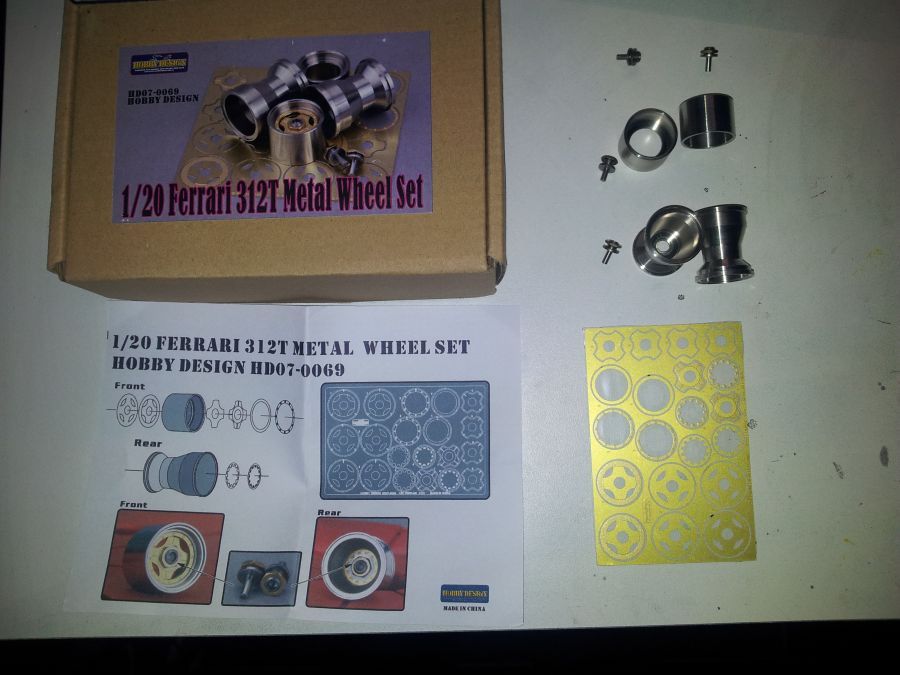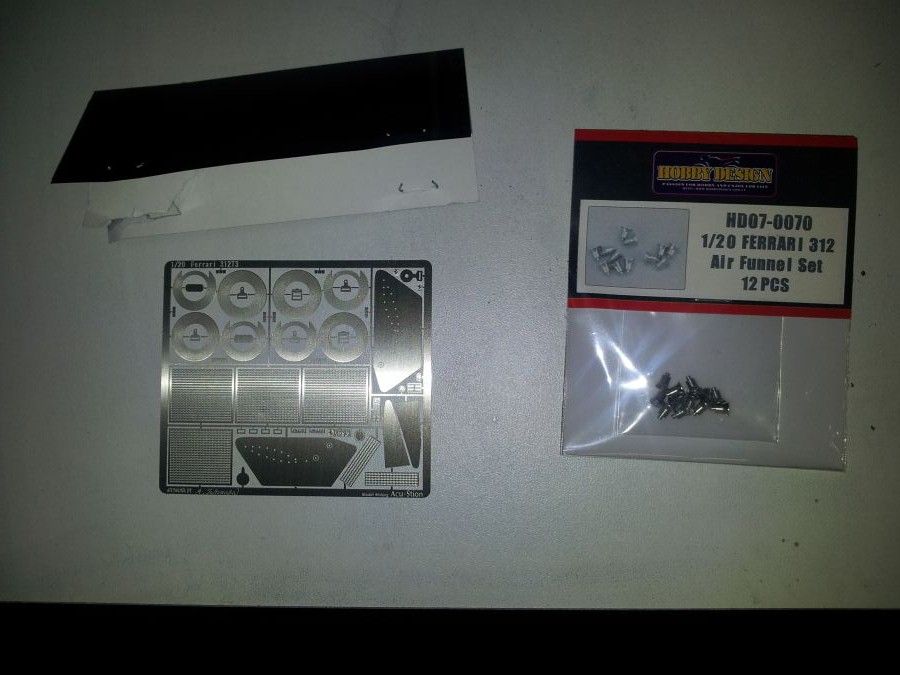 Hieronder het verschil tussen de luchtinlaten van Tamiya en die van Hobby Design.
Here the difference between the funnels from Tamiya and Hobby Design.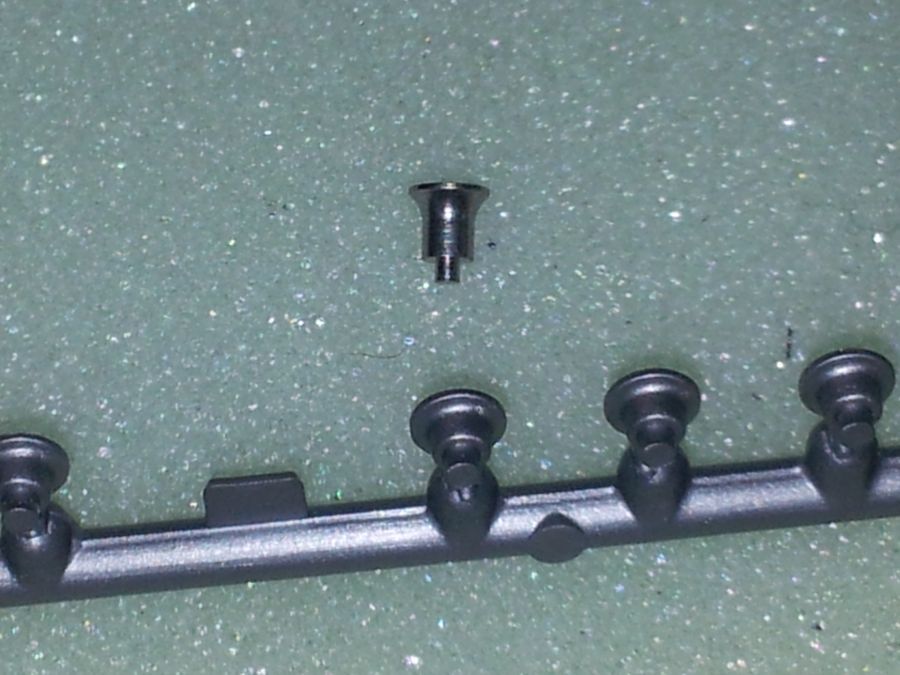 De eerste stappen van het in elkaar zetten van de motor.
The first steps of combining the engine.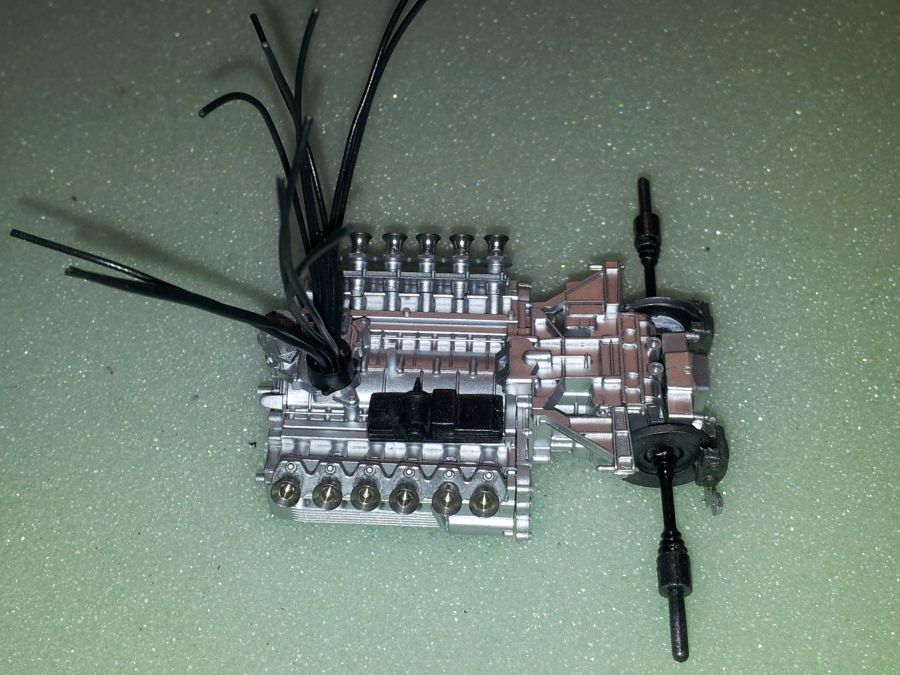 De vleugels van Tamiya glimmen teveel.
The wing parts from Tamiya are too shiny.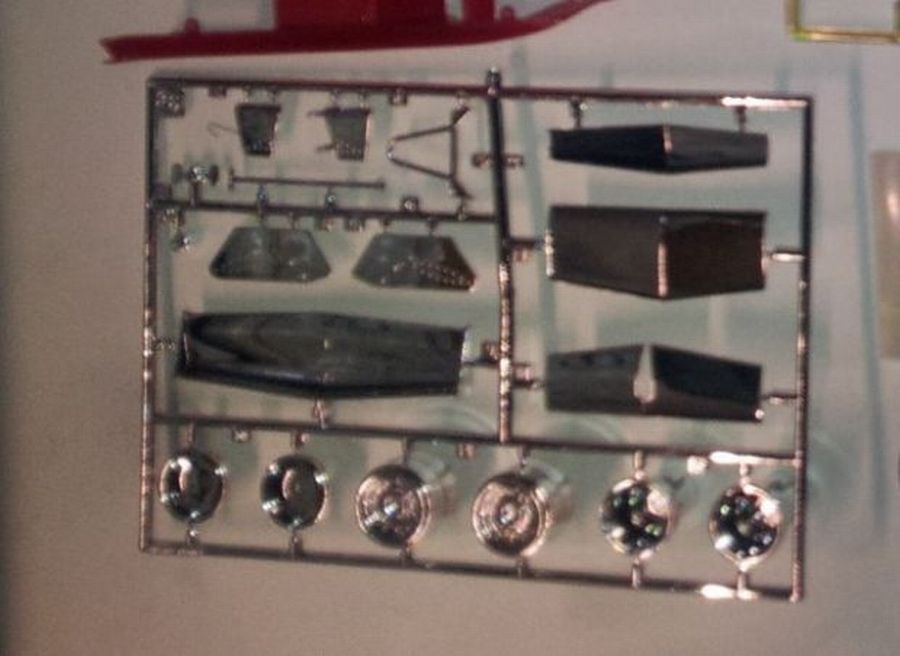 Hier na de schoonmaak met Revell Airbrushcleaner. Sommige mensen gebruiken ovenreiniger hiervoor
Here after cleaning them with Revell Airbrush cleaner. Some people use oven cleaner for this.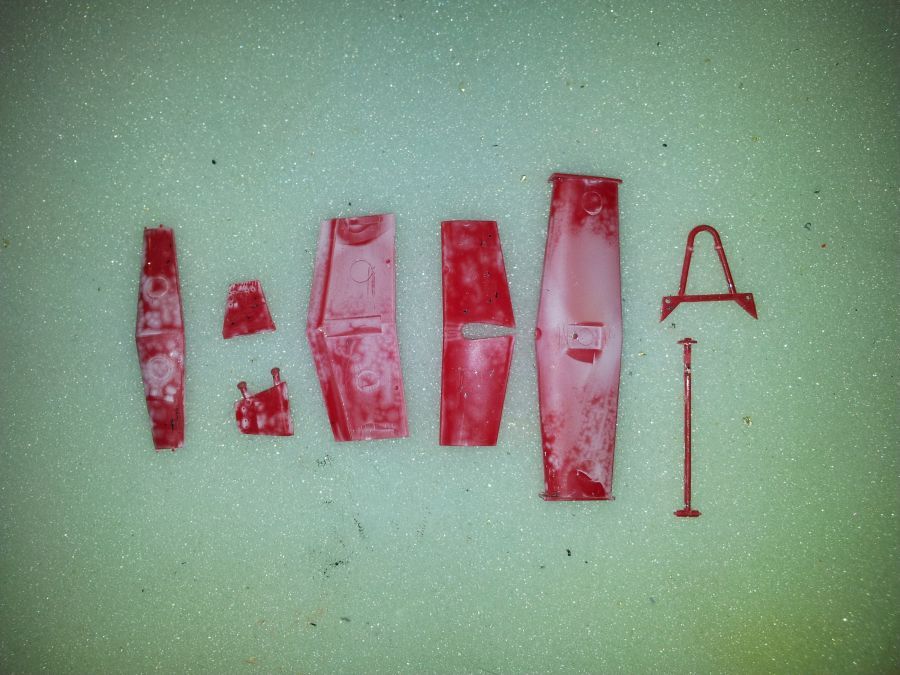 De zijvleugels worden verwijdered en vervangen door metalen versies. Op de metalen versies heb ik steunen gelijmd om alles weer goed in elkaar te kunnen zetten.
The side wings are cut off and changed by etched parts. I glued some pieces of plastic on the etched parts, so gluing them together is more easy.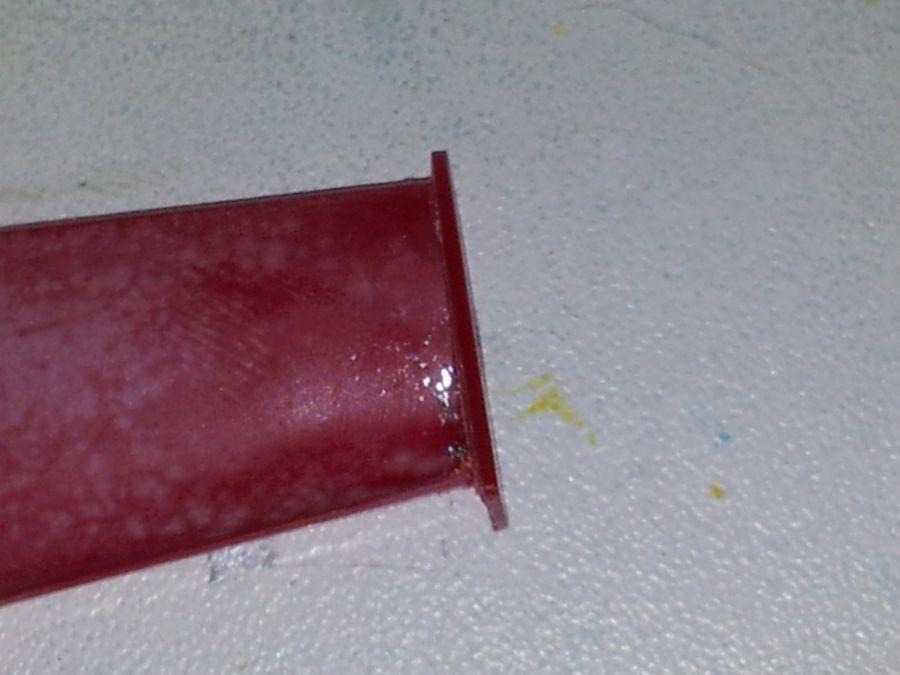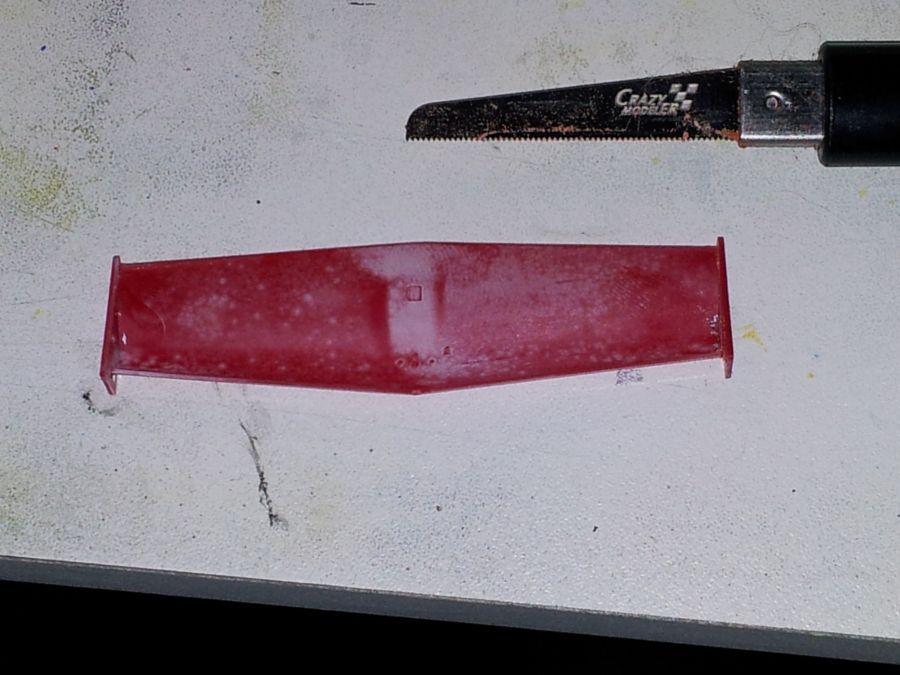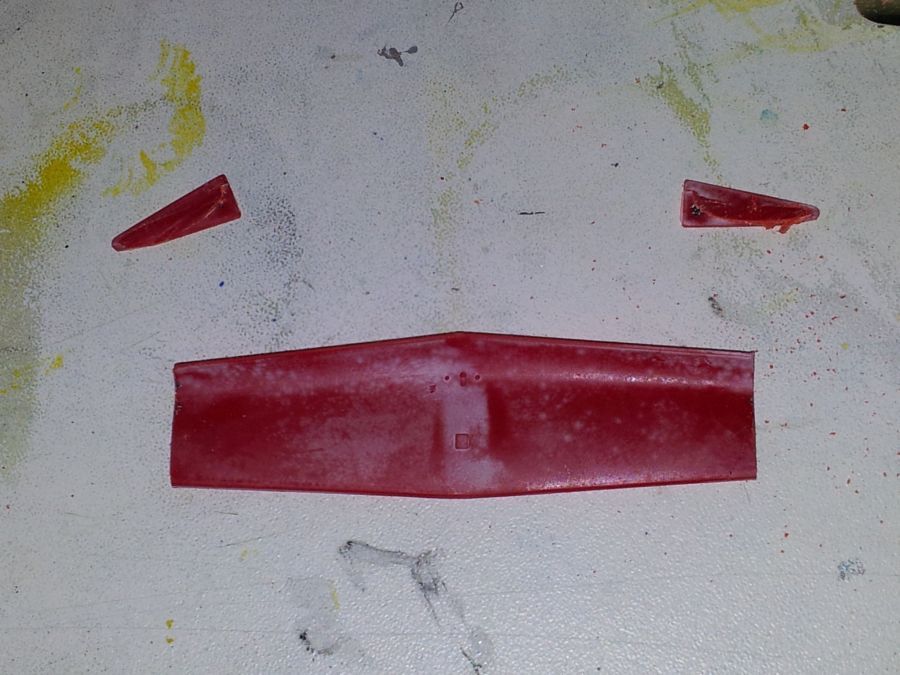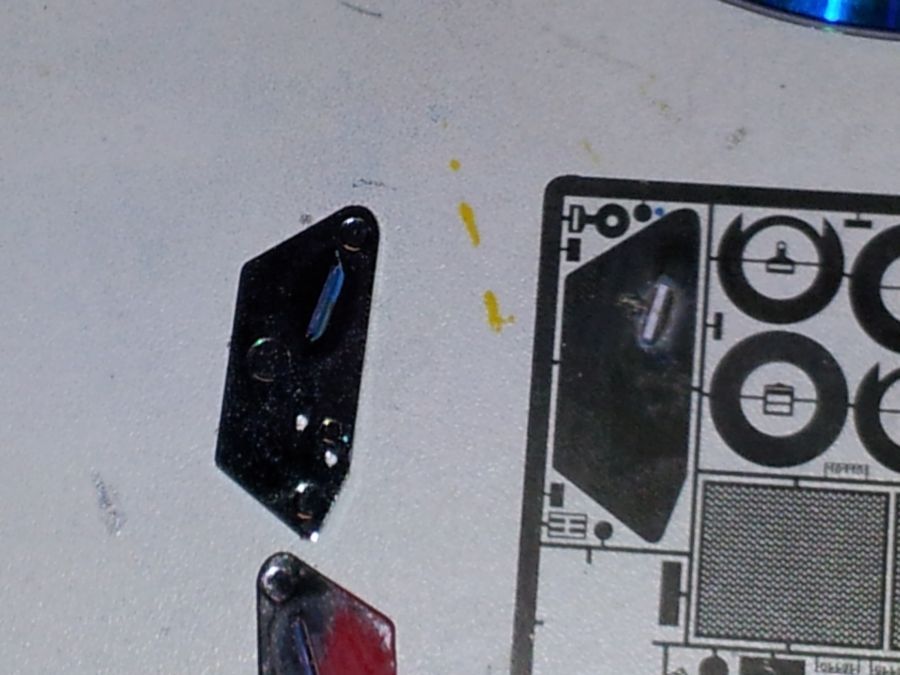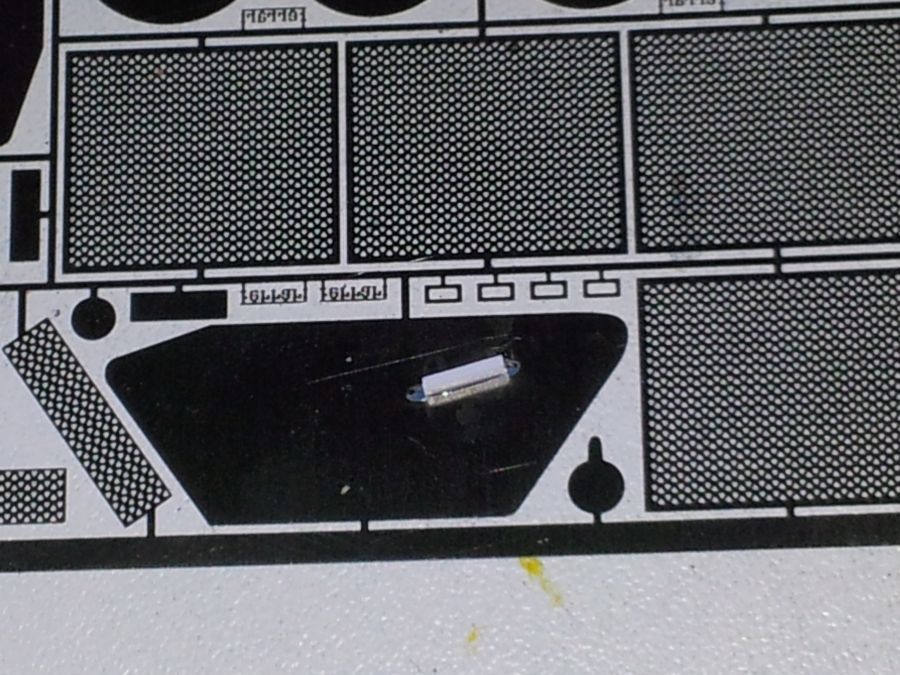 Wat meer details van de motor.
Added some detail to the engine.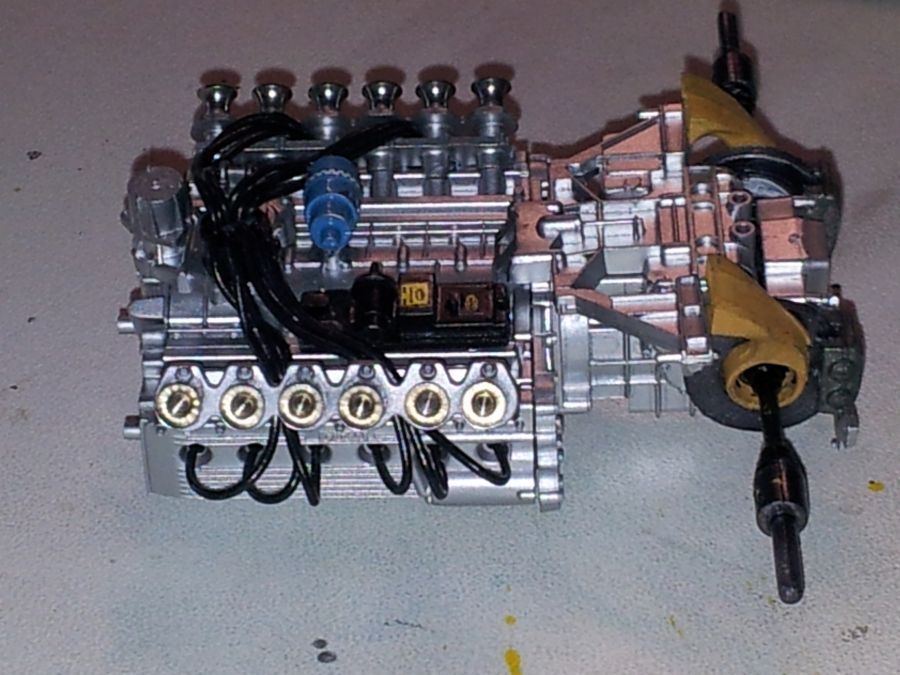 Hieronder weer een stukje verder met het monteren van het motorblok. Het brandschot past net bij het gebruik van de luchtinlaten van Hobby Design. Inmiddels ook een paar kabels/slangen aangebracht. Ik moet nog wat foto's bestuderen voor meerdere kabels. Helaas heb ik geen goed kabelplan van deze motor. 
Here some progress on the build of the engine. The bulkhead still fits after using the funnels from Hobby Design. I attached some cables/hoses. I need to study some more pics to add more cables. Unfortunately I have no good plan for plumbing and cabling the engine.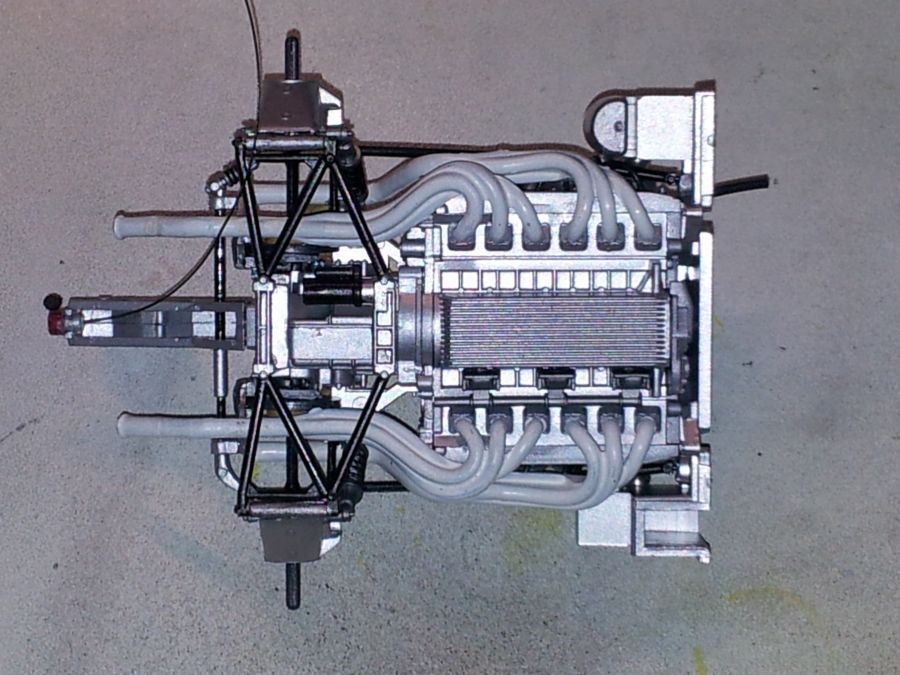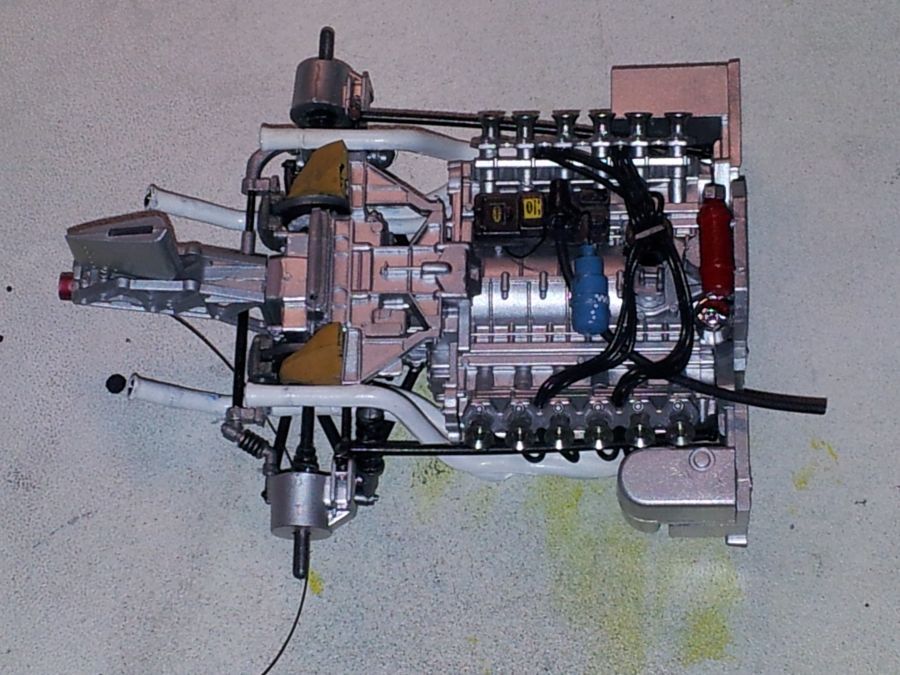 De body-delen zijn gespoten. Goed afplakken is essentiëel.
The body parts have been spray painted. A good use of masking tape is essential.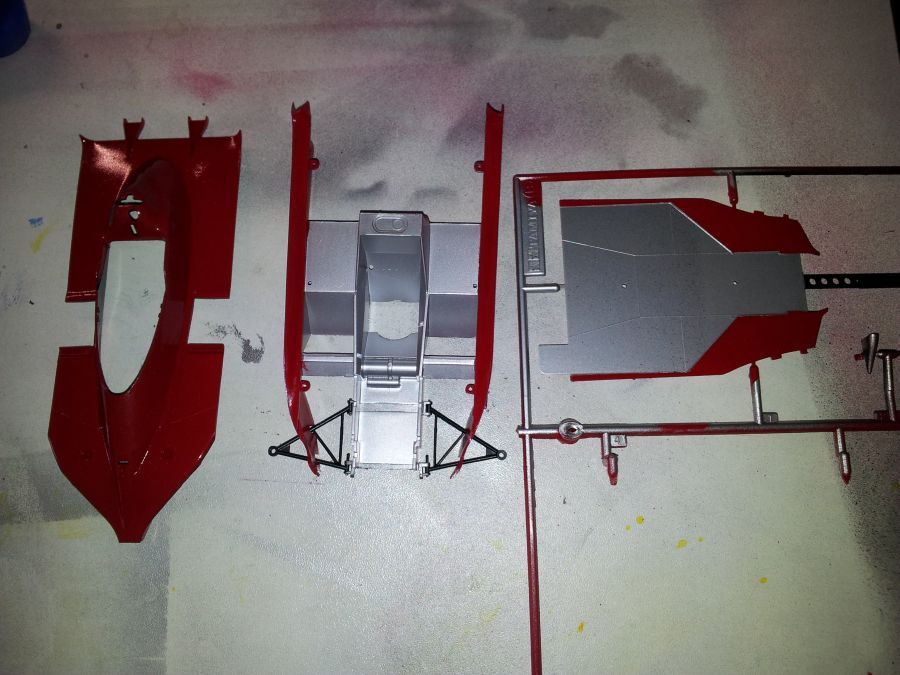 De body is met een 1e laklaag gespoten. Klaar om de decals aan te brengen.
The body has been sprayed with the 1st layer of laquer. Ready to put on the decals.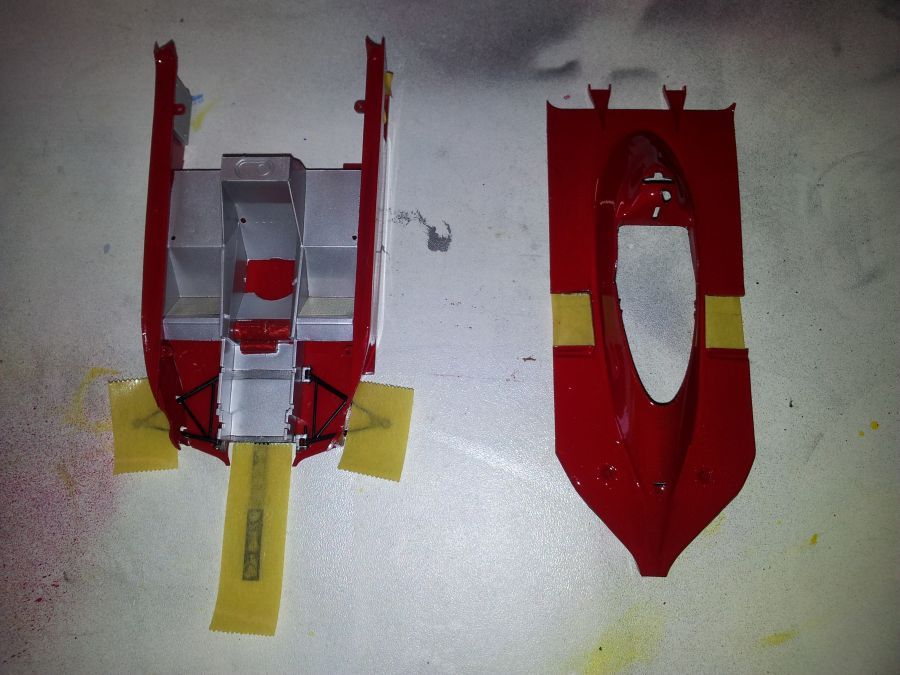 De decals van Indycals zijn zeer goed. Het rood schijnt niet door het wit. Bij de decals van Tamiya gebeurt dat wel. Wel laten de decals wat lastiger los van de onderlaag. Omdat de decals wat stug zijn, gebruik ik hierbij de sterke
versie van de setting-vloeistof van Daco.
The decals of Indycals are very nice. The red doesn't bleed. This will happen when using the originals from Tamiya. The decals stick a little on the carrier. Be careful when separating them. As the decals are a little bit stiff, i use the strong version of setting fluid from Daco.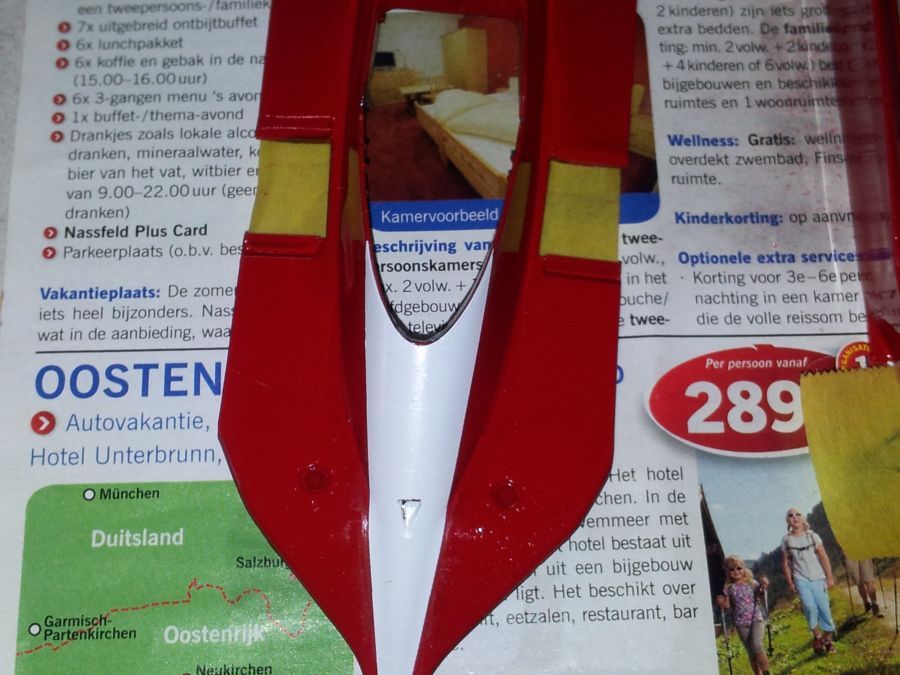 Hier kun je het verschil zien tussen de Tamiya decals en die van Indycals. Het doorschijnen stoorde me zo erg, dat ik besloten heb hetzelfde model nog maar eens over te doen. Het ferrari rood is inmiddels ook al aardig verkleurd in de loop der jaren.
Here you can see the difference between the original decals from Tamiya and those of Indycals. The red bleeding bothered me this much, that i decided to the the kit over again. As you can see there is also some coloration on the ferrari red after a few years.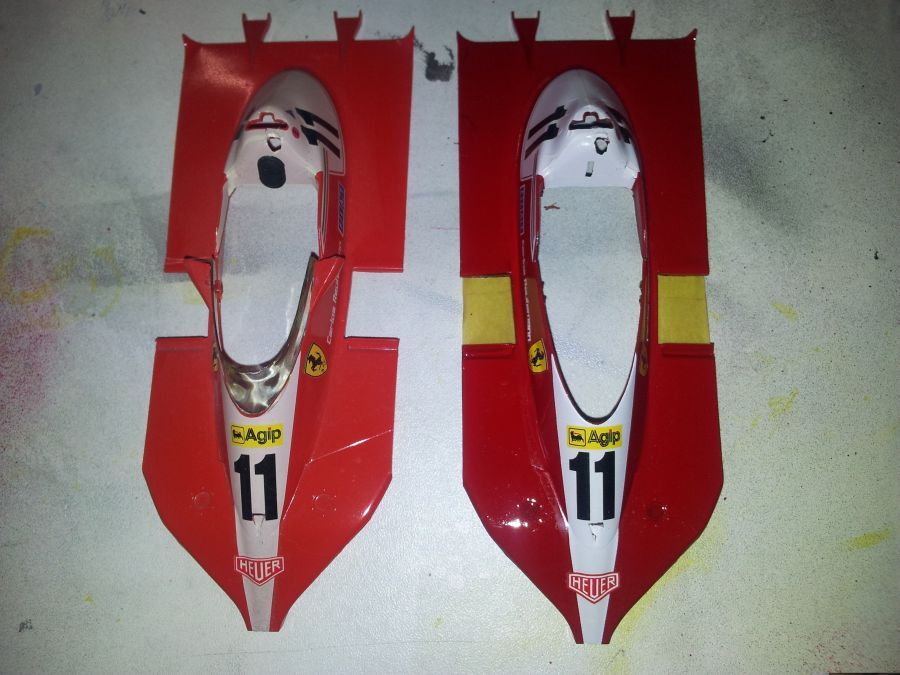 Voor het in elkaar zetten van de achtervleugel heb ik gaatjes geboord in de etched delen. Ik ga de achterste flap met 4 pinnetjes/rivets aan de wing end plates bevestigen. De pinnetjes zijn ongeveer 0,3 mm. Ze zijn bijna niet te zien op de foto.
To combine the rear wing i have drilled some holes in the etched end plates. I will attach the top flap with 4 pins/rivets of 0,3 mm. They are hardly visible on the photo.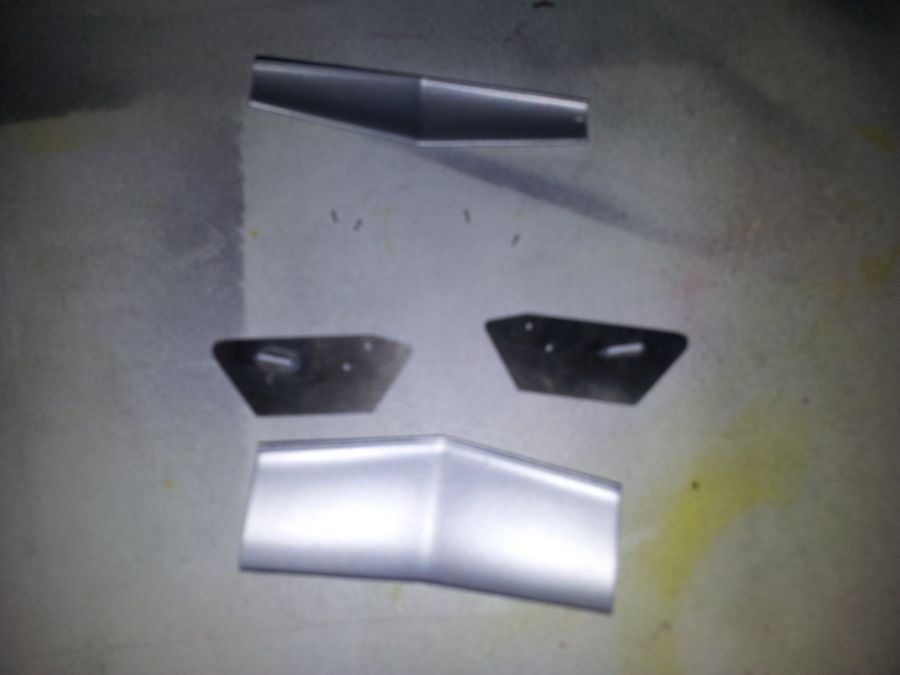 Plannen zijn toch maar iets gewijzigd. De rivets schoten door de kamer alsof het niets was. Zeker 6 stuks schoten tussen mijn pincet weg. Natuurlijk niet meer terug te vinden. Daarom maar een gaatje geboord in de zijkant van de achtervleugel en daarin een staafje gelijmd. Wekt veel beter.
A change of plans. The rivets were shooting through the hobby room. I cannot find them, Finally i decided to drill a hole in the sides of the wing. Then i glued a pin in it. This works much better.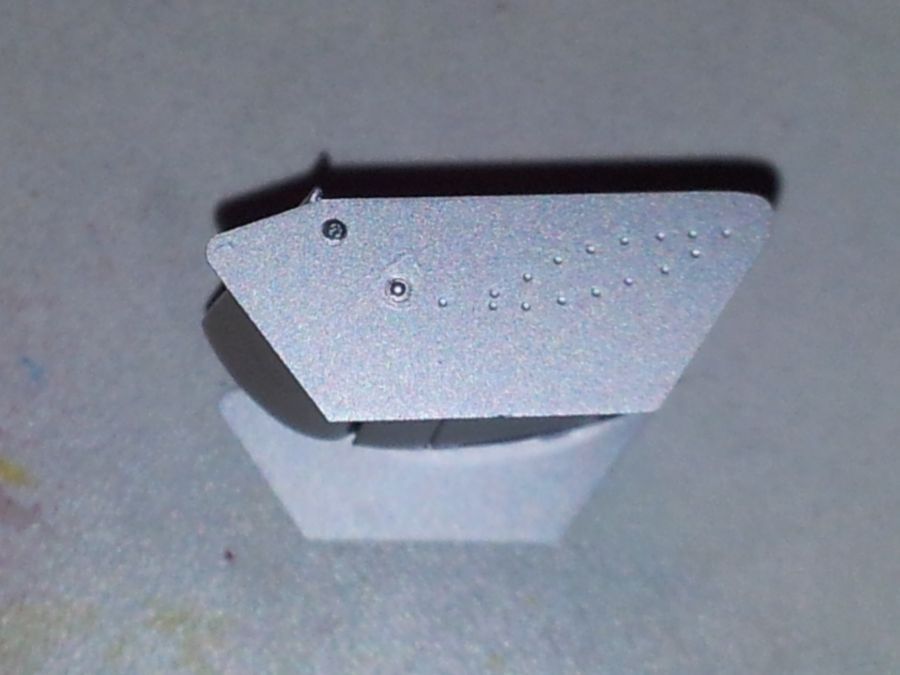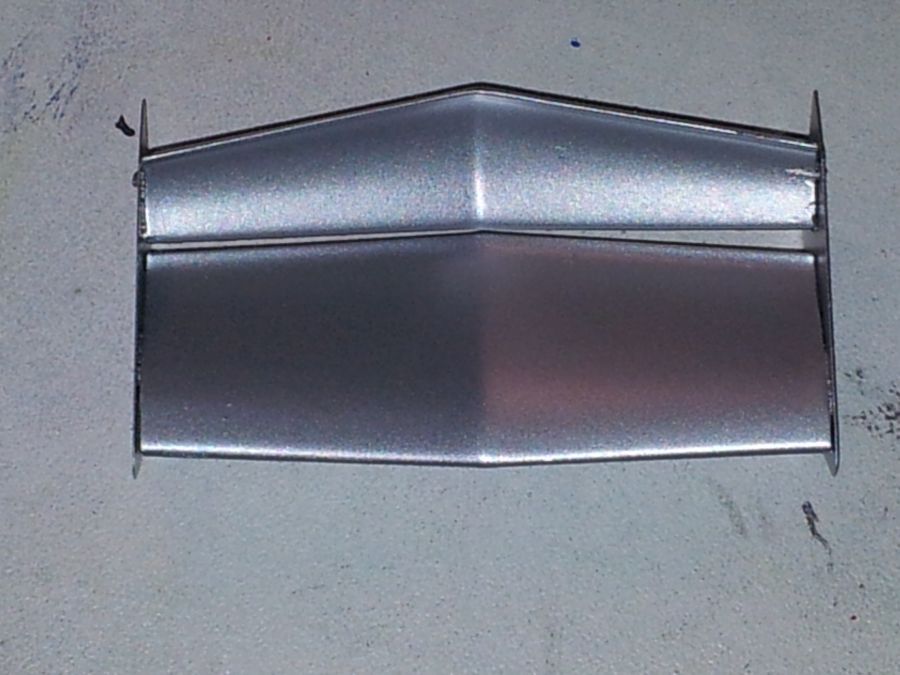 Alles klaar voor 'het huwelijk'.
Everything is ready for 'the marriage'.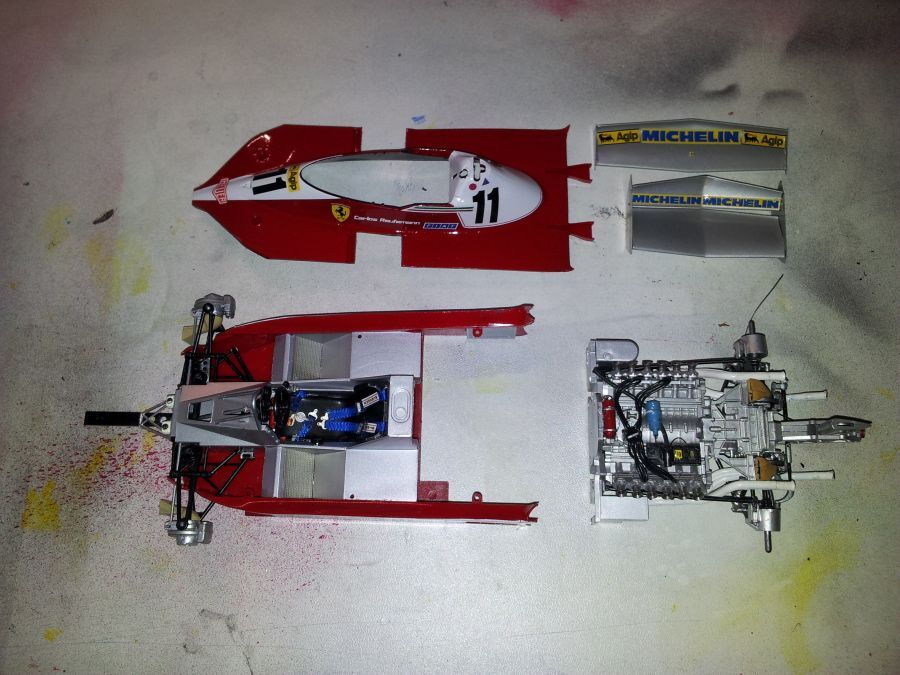 Ja... ik wil. ;-)  
Yes... I do.  ;-)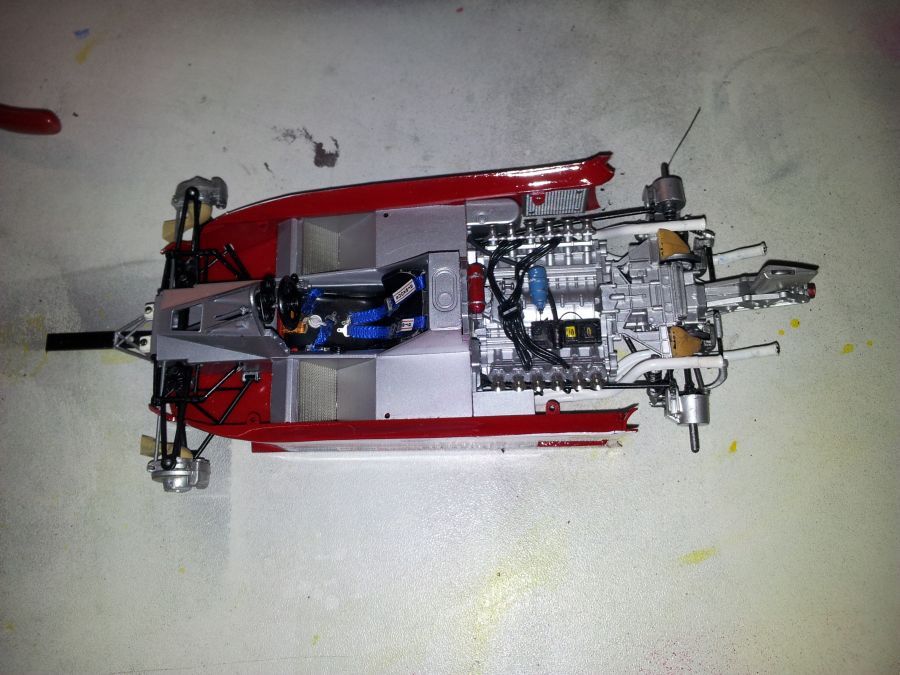 En klaar.
And finished.