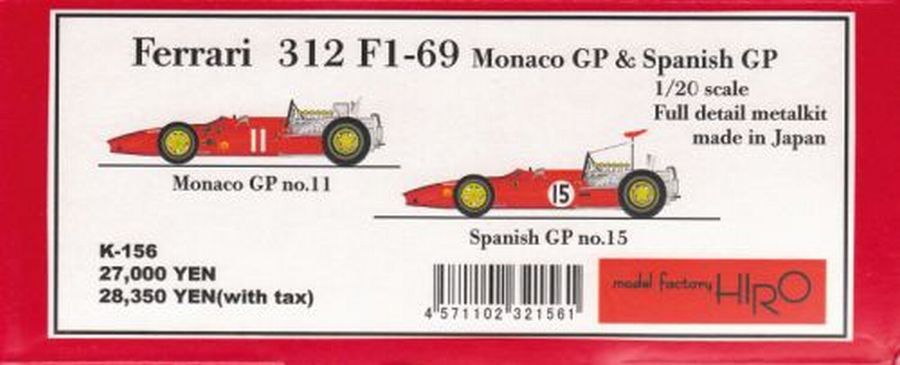 Dit is mijn eerste bouw van een multimediakit van Model Factory Hiro (kit nr. K-156). Dit is de Ferrari 312 F1 zoals deze in 1969 werd bestuurd door Chr5is Amon tijdens de GP van Monaco. De onderdelen zien er veelbelovend uit. Ik hoop dat alles aanwezig is. Dat is niet zo gemakkelijk te overzien als bij een Studio27 kit. Van sommige onderdelen heb ik 3 of 5 stuks. Volgens mij moet dit 2 en 4 zijn. De witmetalen onderdelen heb ik schoongemaakt in de polijstmachine. Deze Ferrari 1969 Ferrari 312 F1 Monaco vind ik een van de mooiste versies, met zijn gebogen achtervleugel.
This is my first build of a multi media kit from Model Factory Hiro (kit no. K-156). This is the Ferrari 312 F1 as driven by Chris Amon during the GP of Monaco. T he parts look promising. I hope everything is complete. A Studio27 kit has a better overview to see everything. Of some parts i have 3 or 5 pieces. I think 2 or 4 is o.k. I have the polished the white metal parts with my magnetic tumbler. Personally i think the 1969 Ferrari 312 F1 Monaco is one of the most beautiful ones, with it's bent rear wing.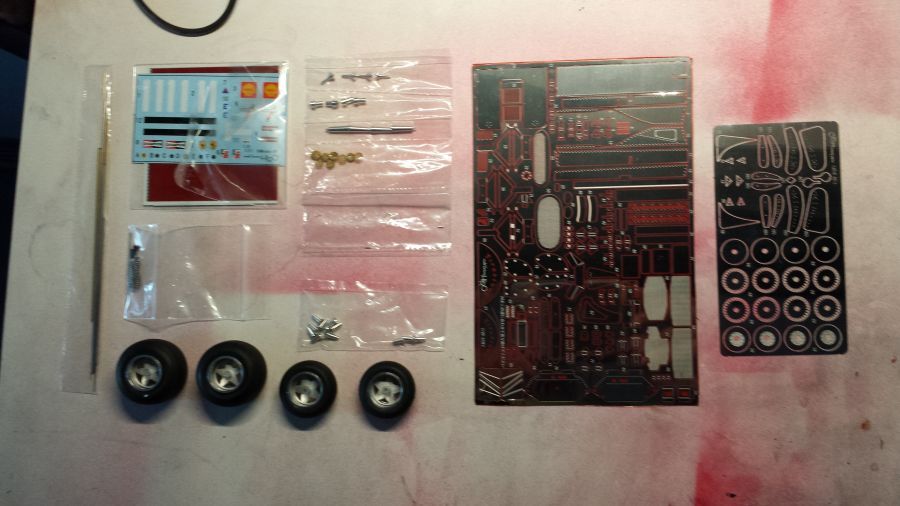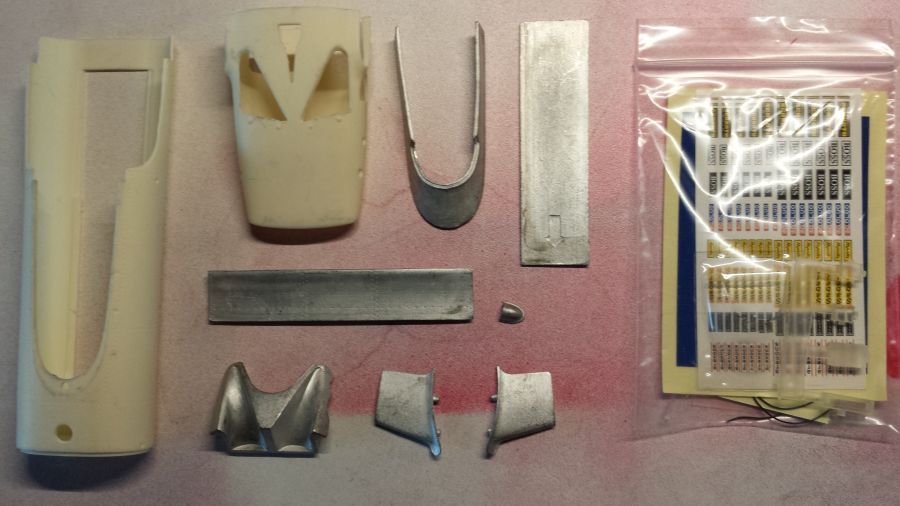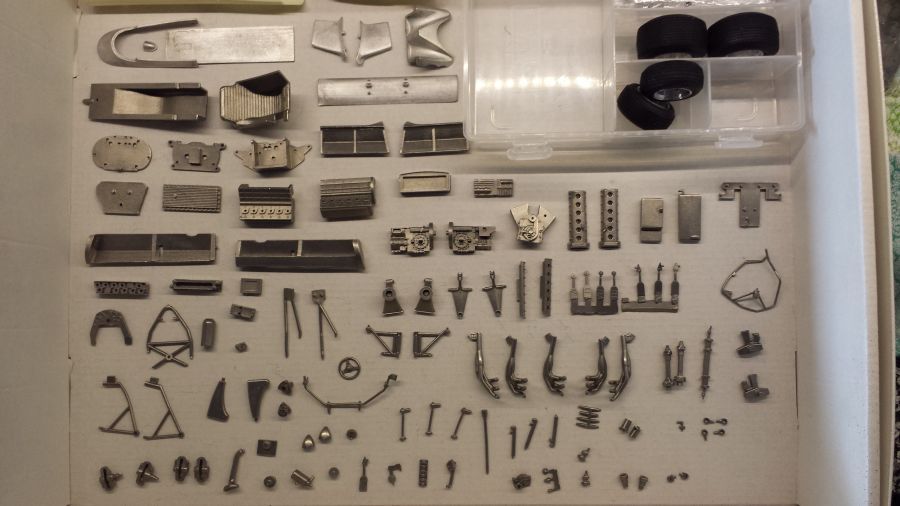 De versnellingsbak ik klaar. Alleen nog even de slang aansluiten. Alles past vrij goed in elkaar. Alleen de 3 etched delen waren een beetje tricky. Ze moeten eerst per stuk gebogen worden, voordat ze met elkaar worden verlijmd.
The gearbox is ready. I only need to connect the hose. Everything fits pretty well. Just the 3 etched parts were a bit tricky. They have to be bent individually before joining them together.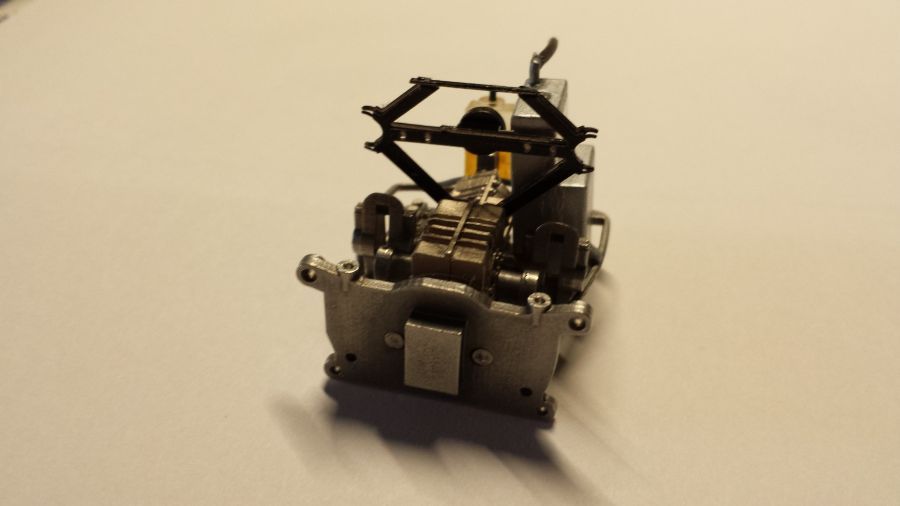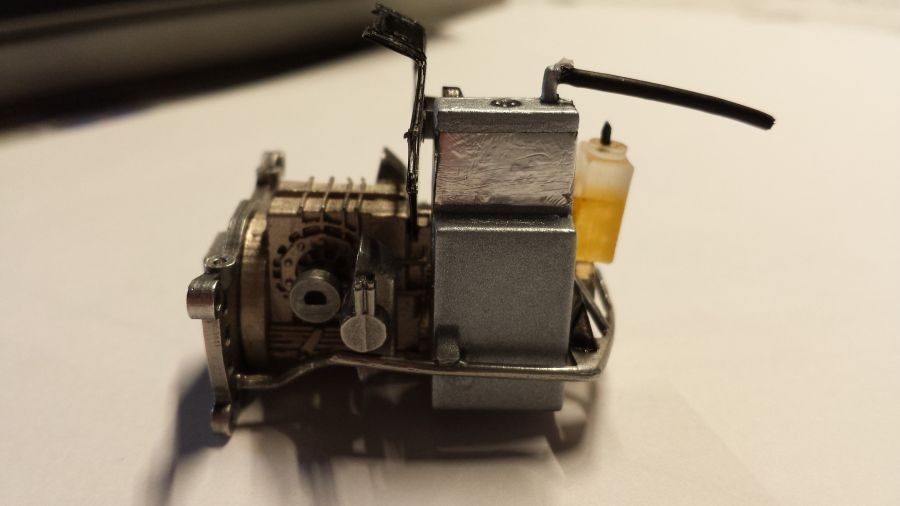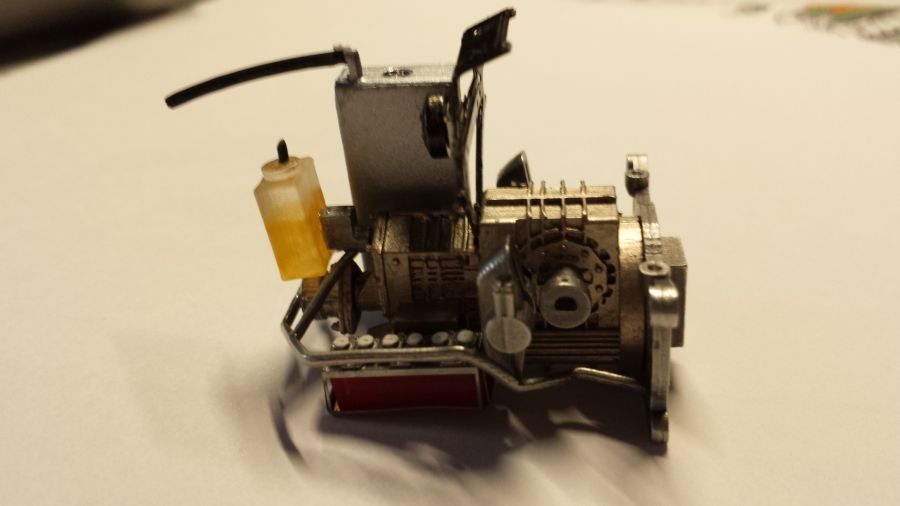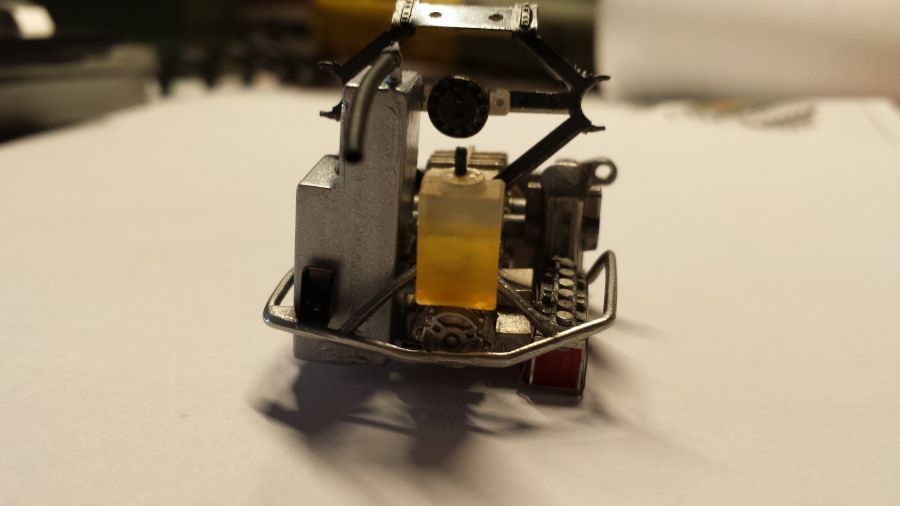 Voor de Monaco versie moet er een gat geboord worden.
For the Monaco version you will need to drill a hole.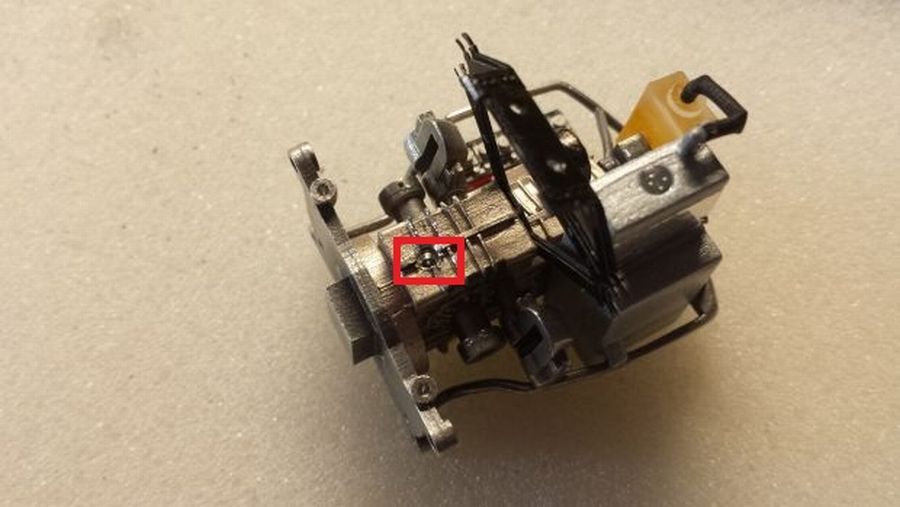 Nu door met de motor.
Now the engine.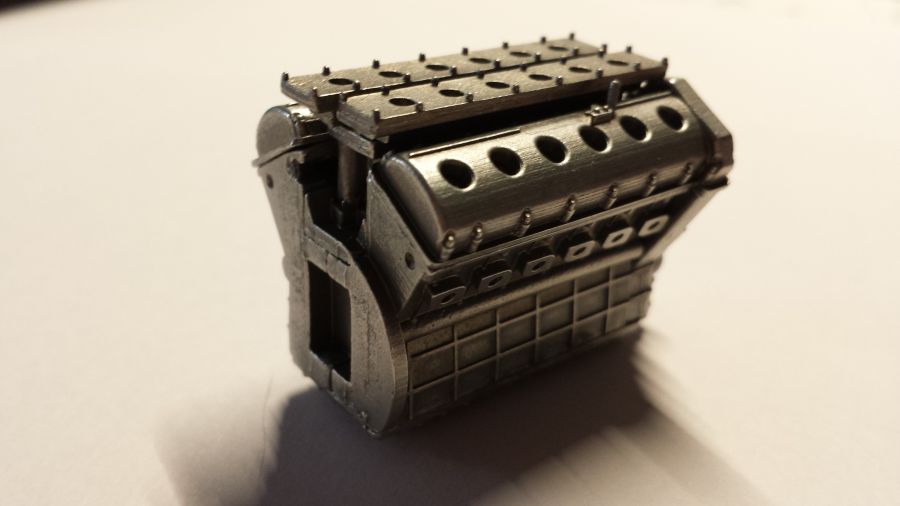 Tot zover is de motor klaar. De roosters op de luchtinlaten breng ik later aan. Ik heb het een bruine washing gegeven. Nu verder met het chassis.
The engine is ready for now. The mesh covers on the funnels will be mounted later. I gave it a brown washing. Now further with the chassis.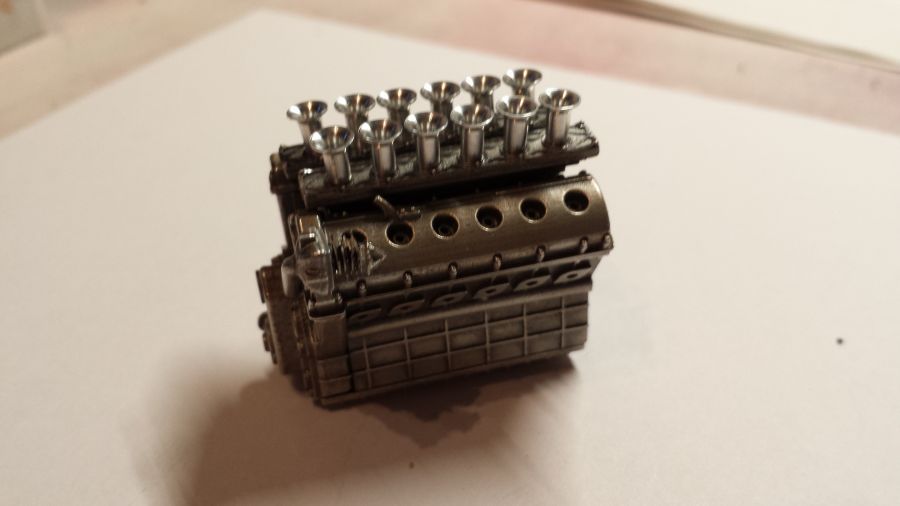 De nokjes op de zijpanelen zijn te dik. Deze worden door mij afgevijld zodat de zijpanelen mooi aansluiten op het bodemdeel.
The small pins on the side panels are too thick. I will file them a bit, so the side panels will fit nicely with the bottom part.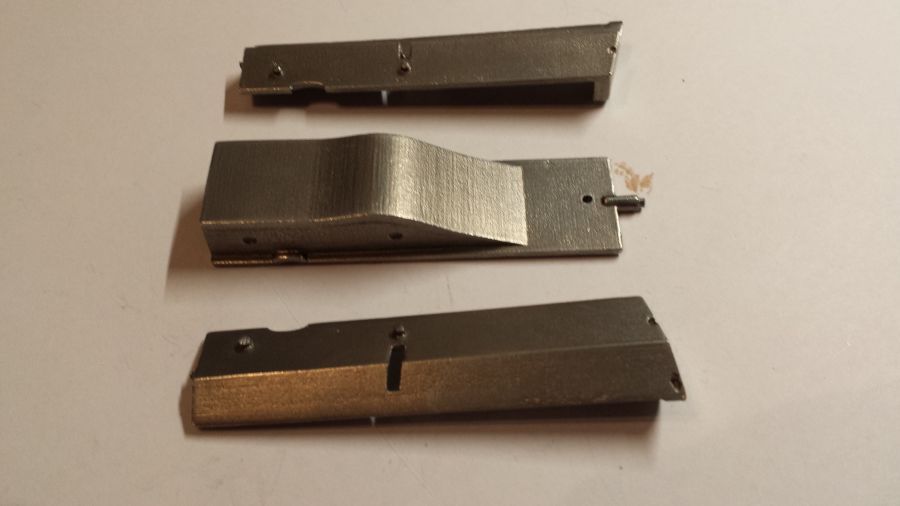 Het eerste deel van het chassis is klaar.
The first part of the chassis is ready.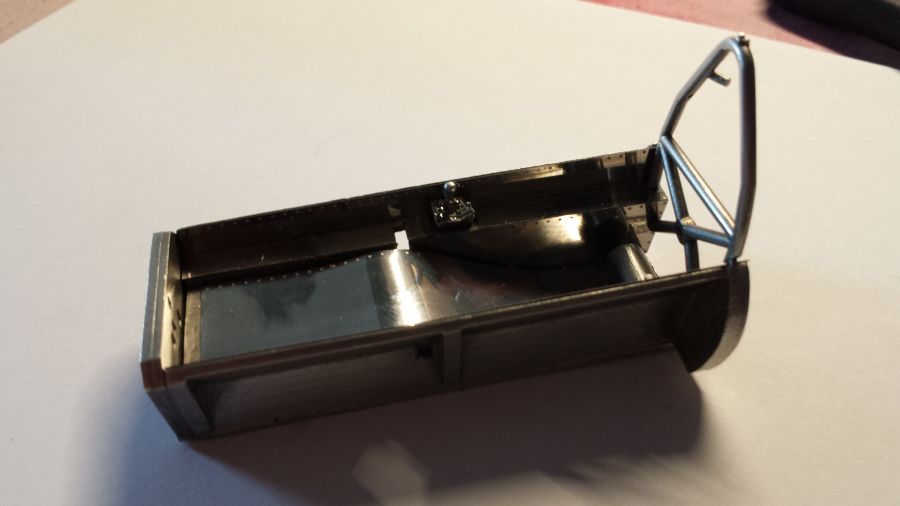 Het chassis en de motor zijn aan elkaar gezet. 
The chassis and the engine have been combined.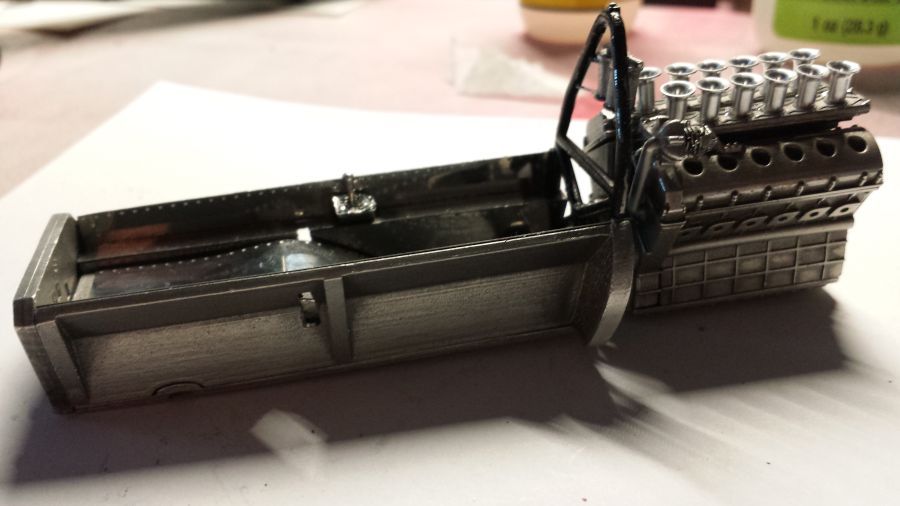 De decal is aangebracht op de stoel. Een hels karwei. De decal is zeer stug. De stoel wordt met mat lak gespoten om het effect van stoffen bekleding te krijgen.
The decal has been applied to the chair. A tough job. The decal is very stiff. The chair will be sprayed with matt lacquer to get the cloth effect.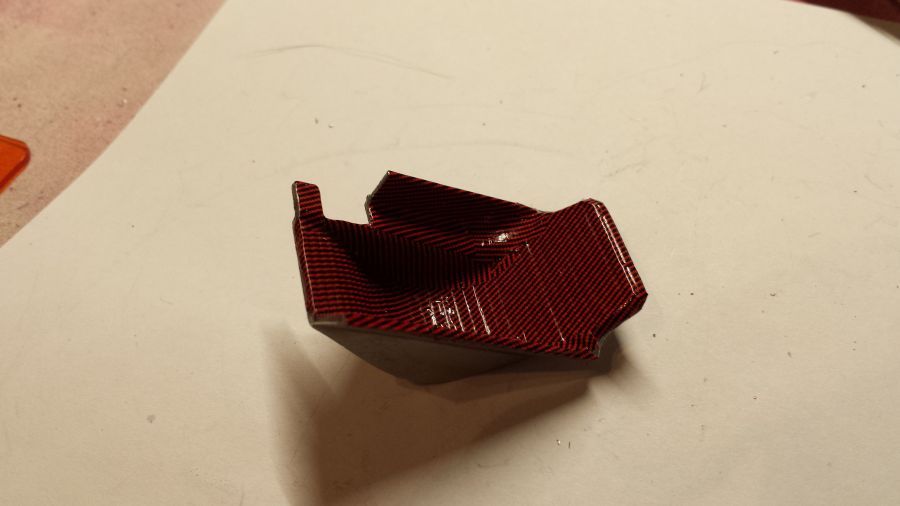 De wijzerplaten op het instrumentenpaneel zijn gesealed met Micro Kristal Clear. Het lijkt daarna net of er echt glas overheen zit.
The gauges on the panel are sealed with Micro Crystal Clear. Afterwards it looks like real glass is over them.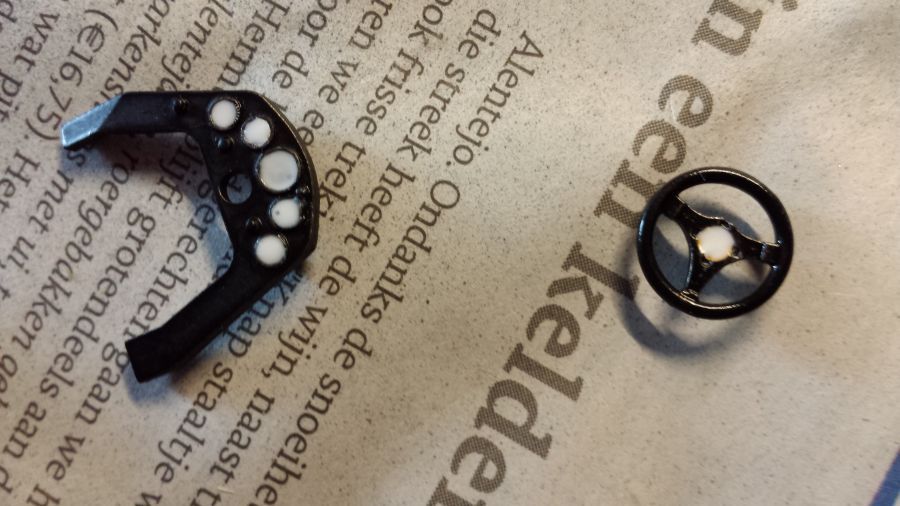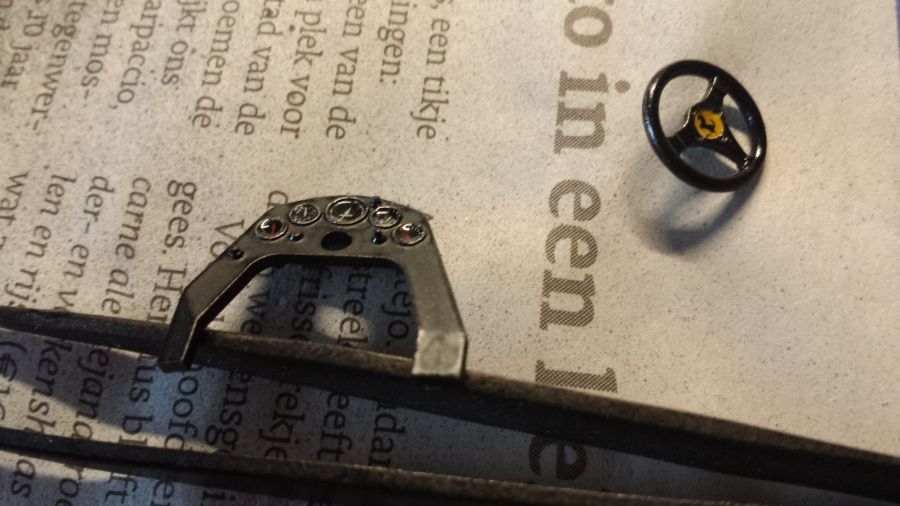 De stoel, het instrumentenpaneel en het stuur zijn aangebracht.
The chair, the instrument panel and the wheel have been attached.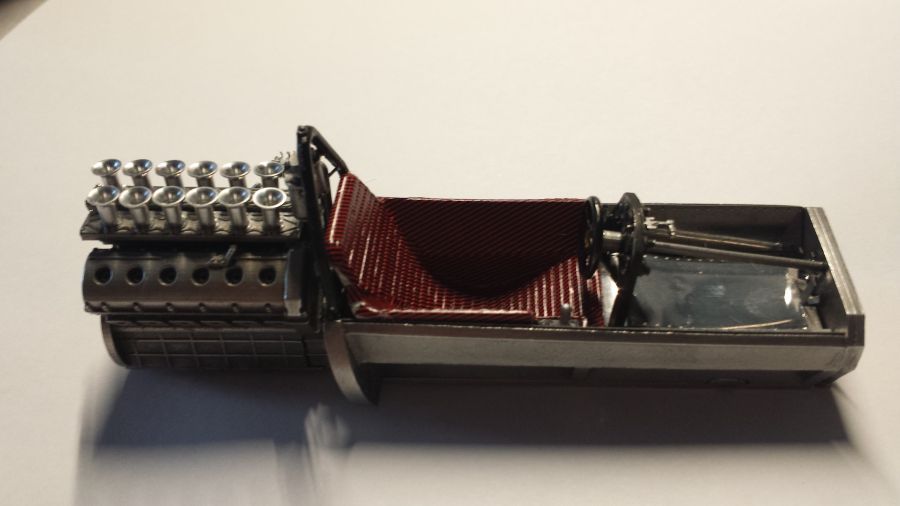 In de jaren 60 was de carrosserie voorzien van popnagels. Helaas heeft de body op de plekken van de popnagels deukjes in plaats van bobbeltjes. Daarom ga ik de deukjes plamuren, schuren en daarna popnagels aanbrengen. In dit geval gebruik ik de Archer transfers, omdat ik met het aanbrengen van staafjes mogelijk problemen zou krijgen bij het kombineren van de carrosserie met de monocoque.
In the 60's the body had rivets. Unfortunately the body has dents instead of bulbs on the places where the rivets are. Therefor is will fill the dents, sand the body and apply rivets. In this case i will use Archer transfers, as the use of 'real' rivets might cause trouble when combining the body with the monocoque.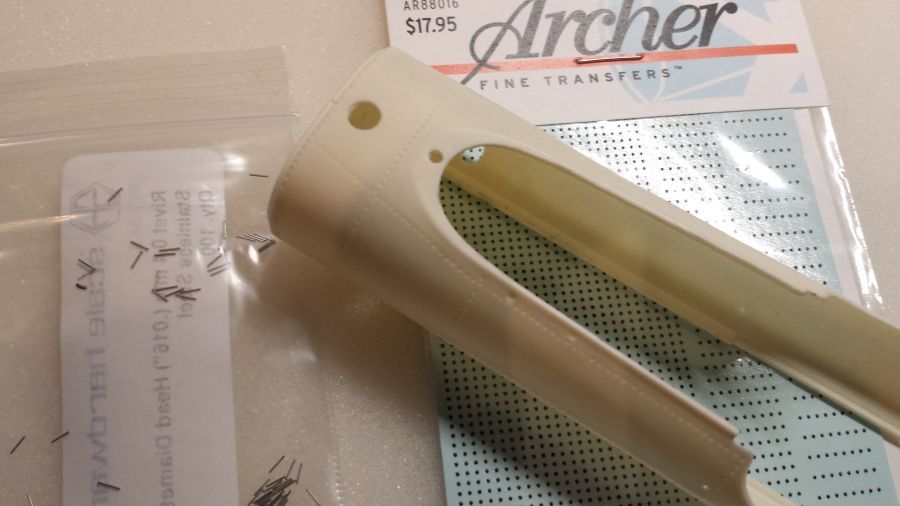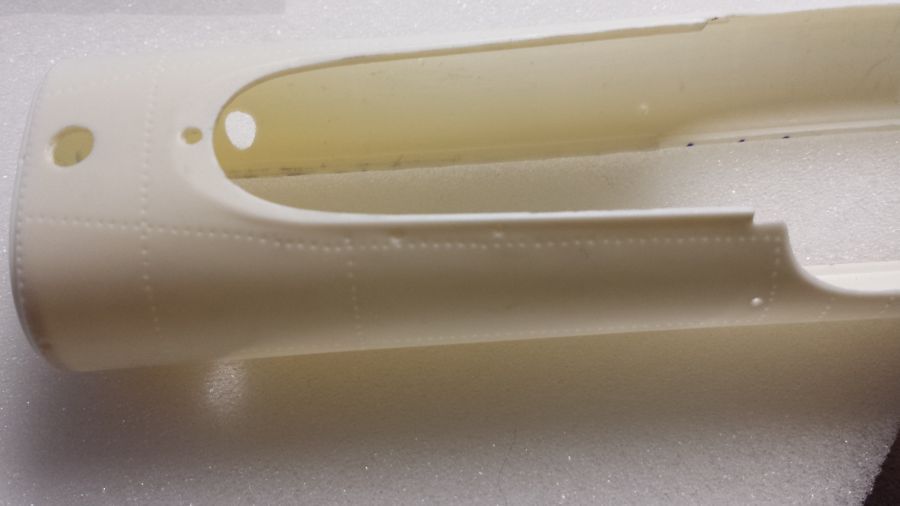 Eerst heb ik een paar gaatjes geboord voor later, om straks de verf niet te beschadigen.
First i drilled some holes for later, so i will not damage the paint later.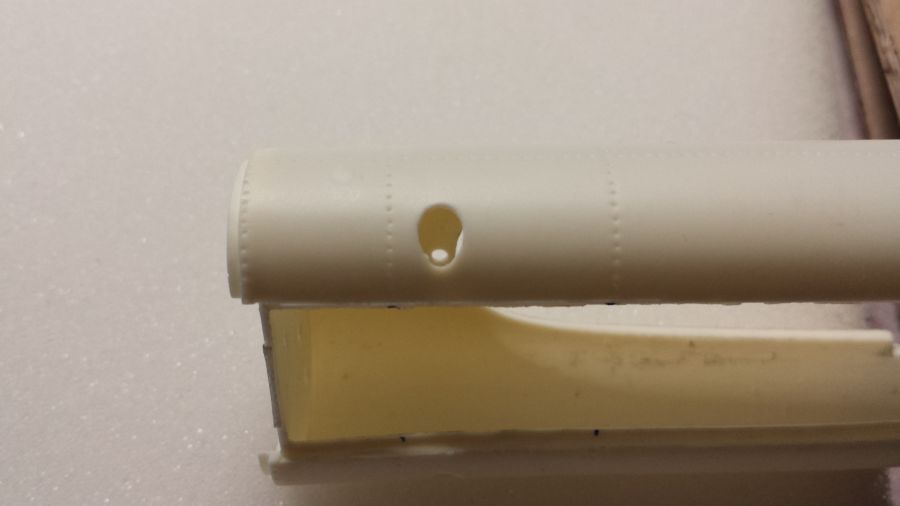 Dan zijn de kuiltjes gevuld met putty en is alles glad geschuurd.
All bumps are filled with putty and sanded smooth.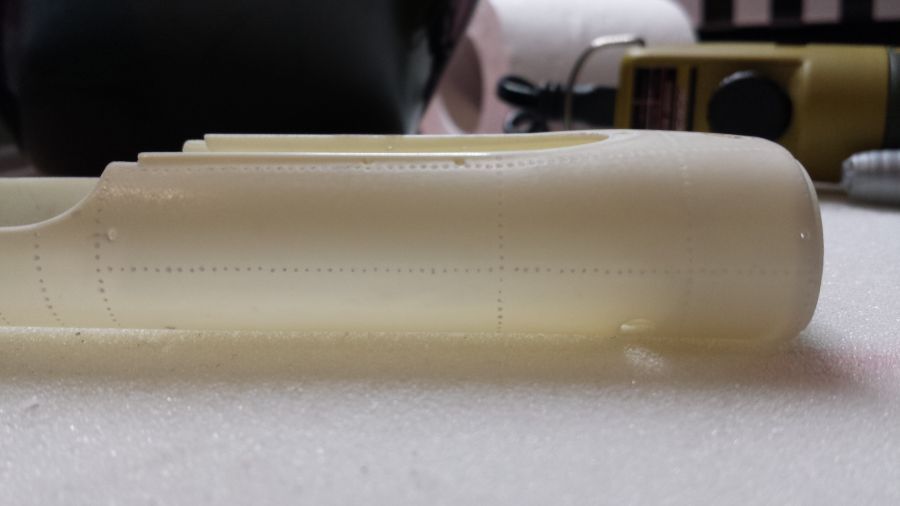 Daarna zijn de popnagels aangebracht, bijna 400 stuks. Dank Archer voor het mooie systeem.
Then the rivets are applied, nearly 400 pieces. Thank you Archer for this beautiful system.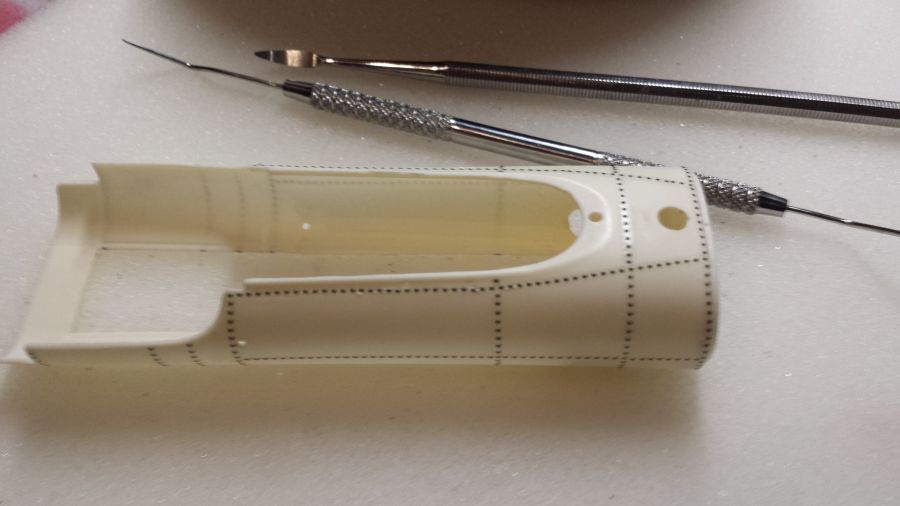 Nu grondverf aanbrengen en spuiten met Zero Paints ZP-1007 1970's-1980's Rosso Formula 1.
Now spray primer and paint with Zero Paints ZP-1007 1970's-1980's Rosso Formula 1.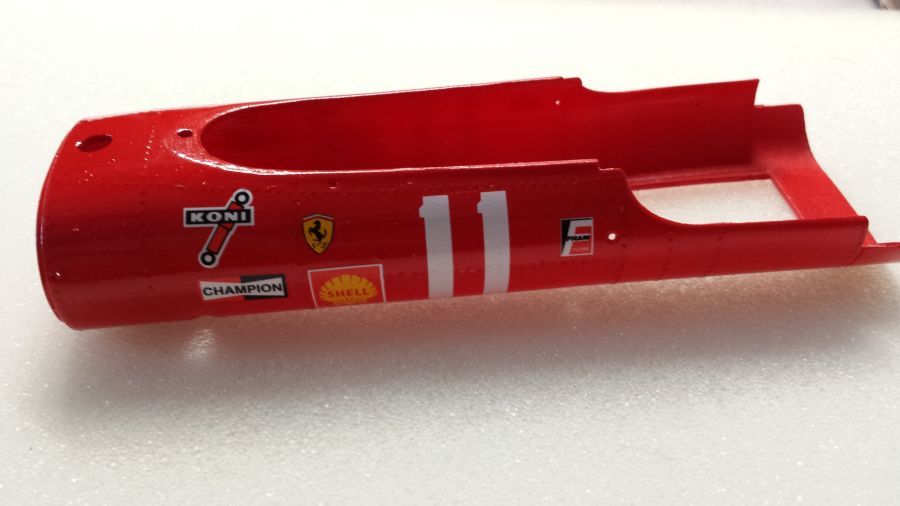 En het verbinden van de body met de monocoque.
And connect the body with the monocoque.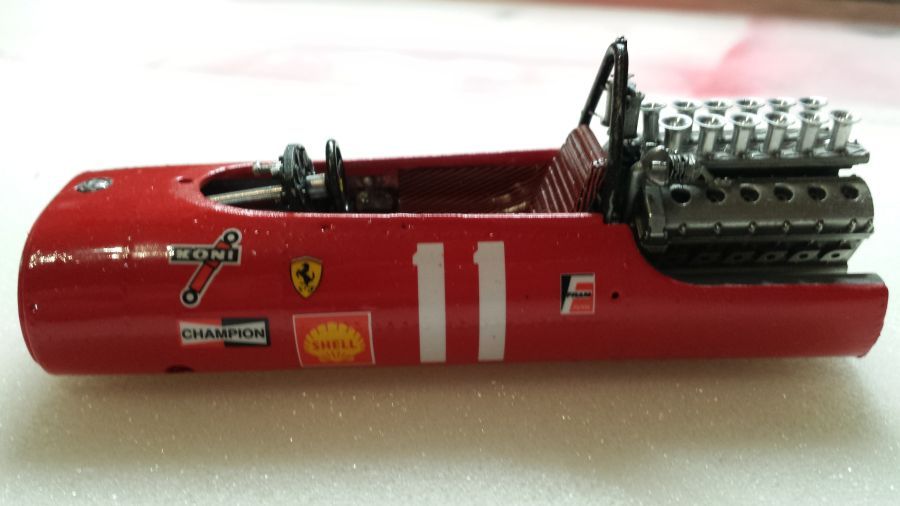 En de versnellingsbak gemonteerd. Monteer ook direct de schijfremmen achter. Daar is later geen mogelijkheid meer voor. Dit is een fout in de montagetekening van MFH.
And the gearbox attached. Be sure to mount the brake discs as well. This is afterwards not possible. This is a mistake in the MFH instructions.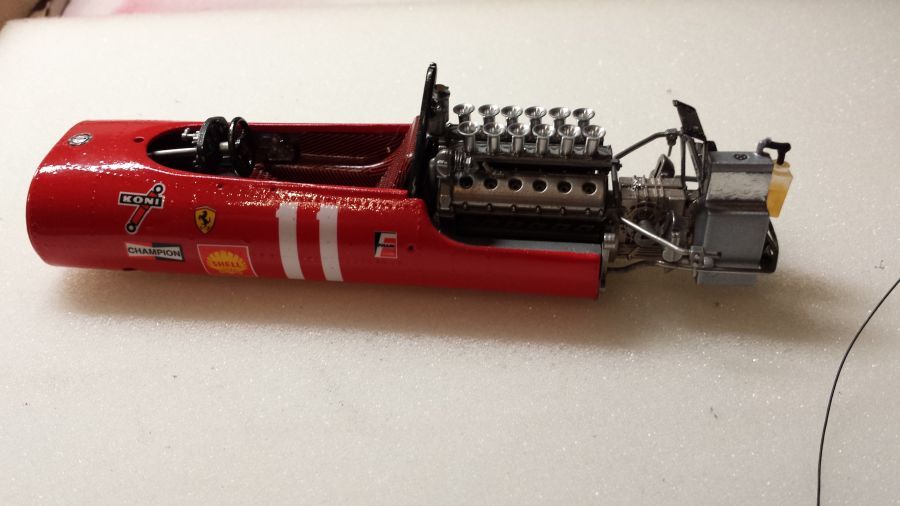 En weer het uitboren voor het aansluiten van de bougiekabels.
And again the drilling to be able to attach the cables of the spark plugs.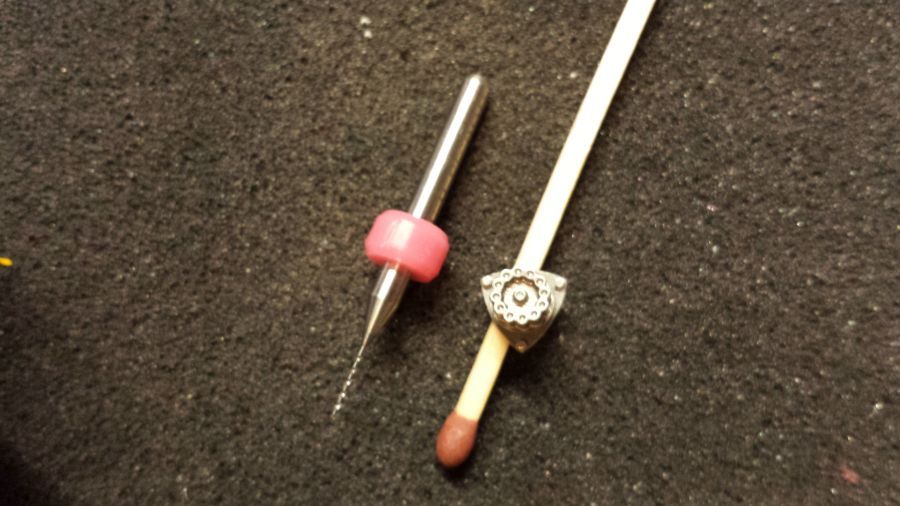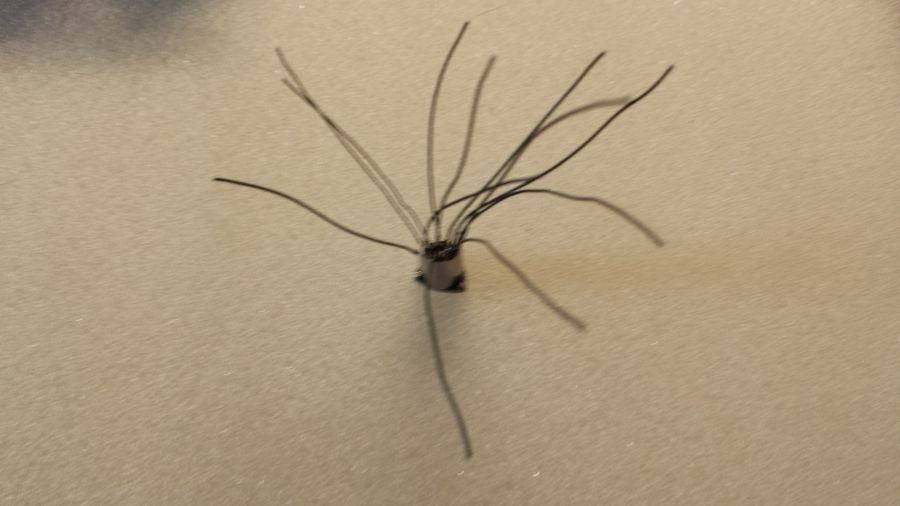 De versnellingsbak aangebracht en de kabels van de bougies.
The gear box has been attached and the cables of the sparkplugs.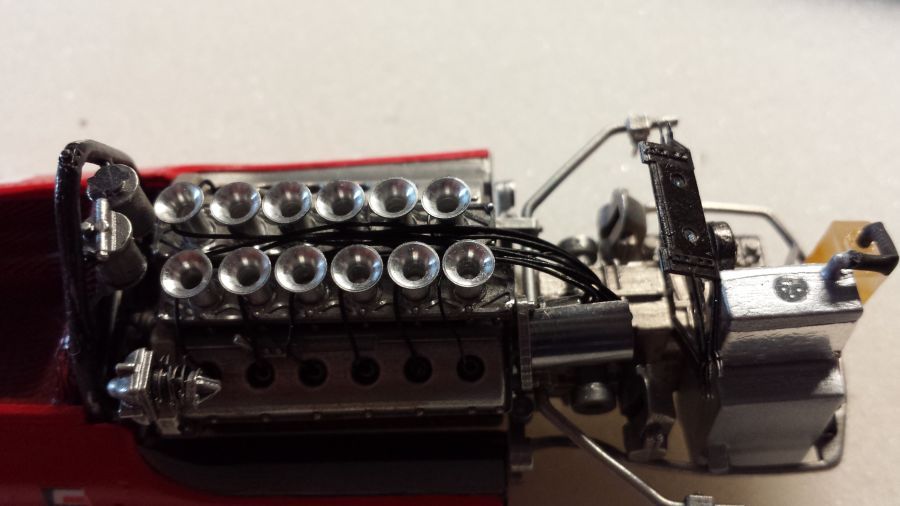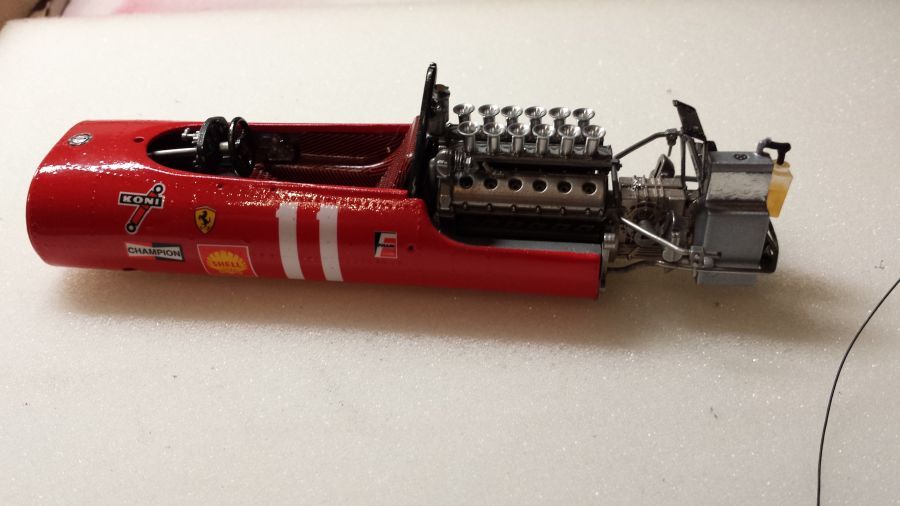 De achterwielophanging is gemonteerd. Een moeilijk karwei. Let erop dat de dempers iets moeten worden  ingekort om alles passend te maken. Bij mij moest de demper 1,5 mm worden ingekort.
The rear suspension has been mounted. A difficult job. Mind that the shock absorbers might need to be cut a bit. In my case i had to shorten the absorbers about 1,5 mm.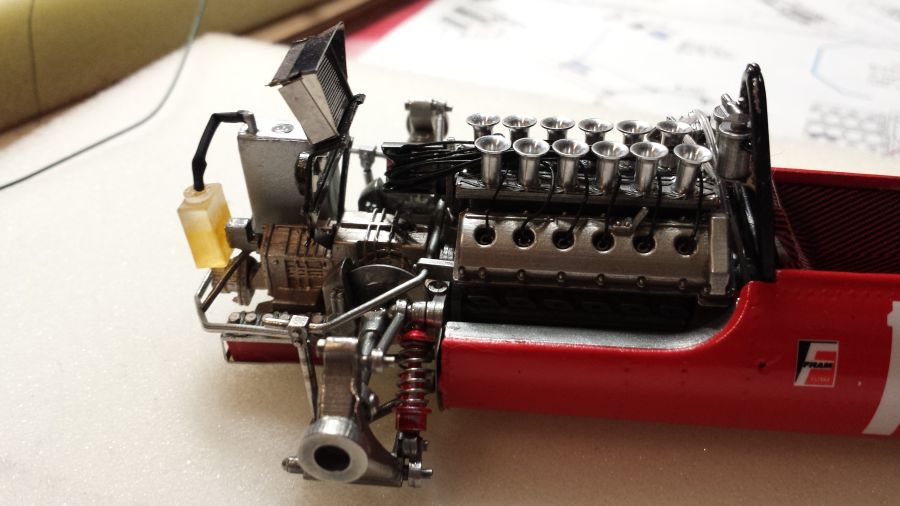 De uitlaten zijn bevestigd. De nokjes op de uitlaten pasten niet in de gaatjes van de motor. Ik heb ze daarom maar afgeknipt en afgevijld. Daarna gewoon op de plek gelijmd. Nu de test fit van de achtervleugel. Deze past niet helemaal zoals zou moeten. De gaatjes op de vleugel zitten wat uit koers met de gaatjes in de uitlaten. De kromming lijkt echter goed.
The exhausts have been attached. The pins on the exhausts do not fit in the holes on the engine. So i have cut them and glued the exhausts to the engine. Now the test fit of the rear wing. This is not fitting as it should. The holes on the wing do not match the holes in the exhausts. The bend appears to be o.k.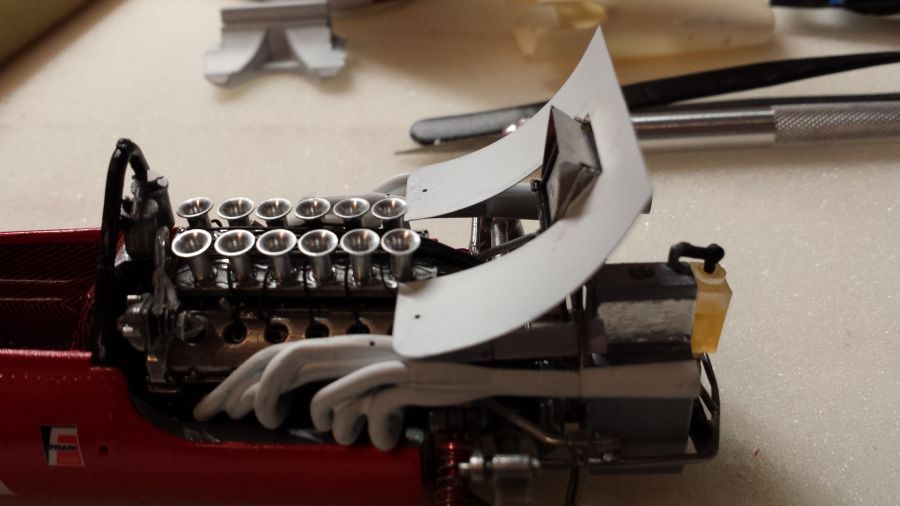 De voorbereiding van een paar rood te spuiten onderdelen. 
The preparation of a few parts to be painted red.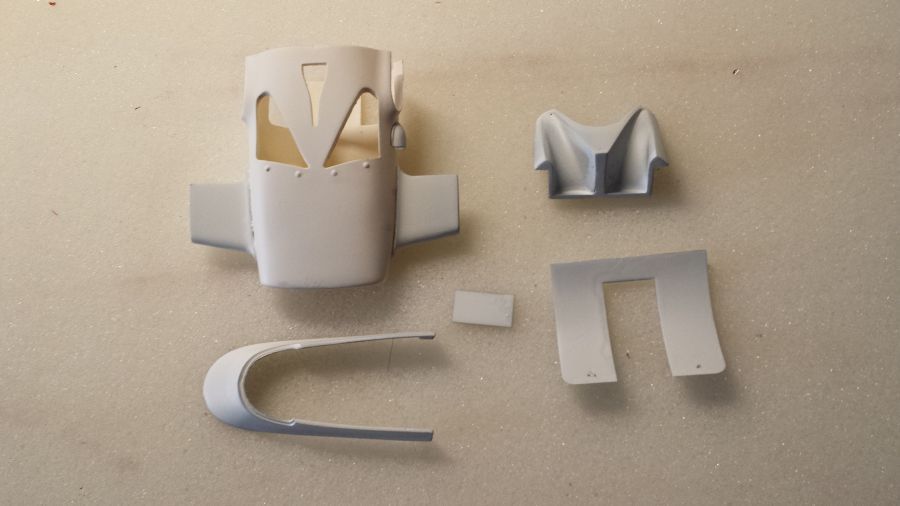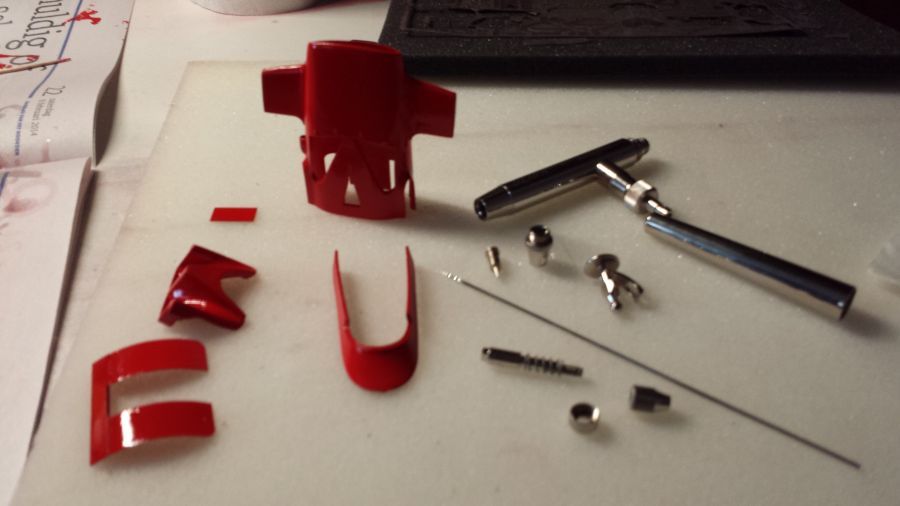 De armen voor de achterwielophanging moeten worden gemaakt uit 2 metalen onderdelen met een stukje pijp. MFH levert een pijp met 1,5 mm doorsnee, maar dat past allemaal niet lekker. Ik gebruik een stuk aluminium piip van Albion van 2 mm doorsnee. Deze is wat gemakkelijk uit te boren aan beide kanten. Na het afvijlen van de nokjes op de onderdelen, past alles wat beter.
The legs for the rear suspension have to be made out of 2 metal parts and a piece of pipe. MFH includes a pipe with a cross-cut of 1,5 mm, but the fit is poor. Therefor i will use a piece of  aluminum piping from Albion with a cross-cut of 2 mm. This can be easily drilled wider on both sides. After some filing of the metal pieces everything fits better.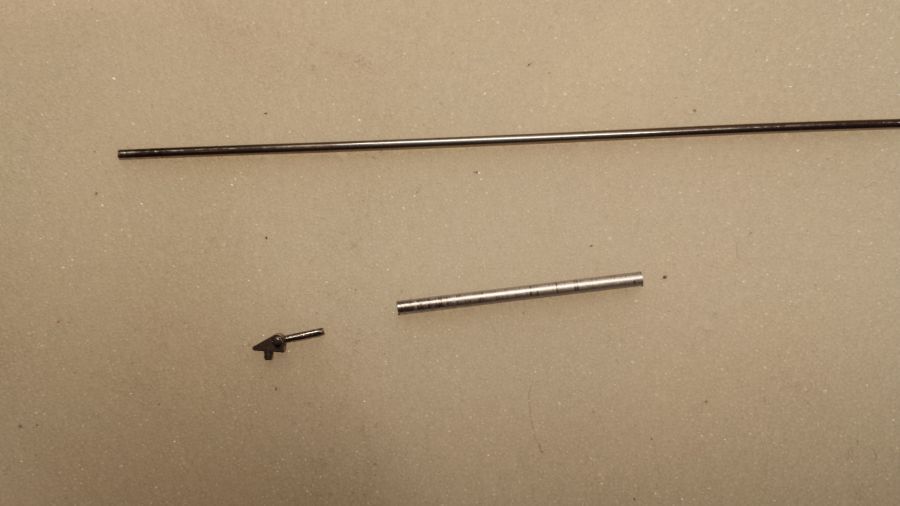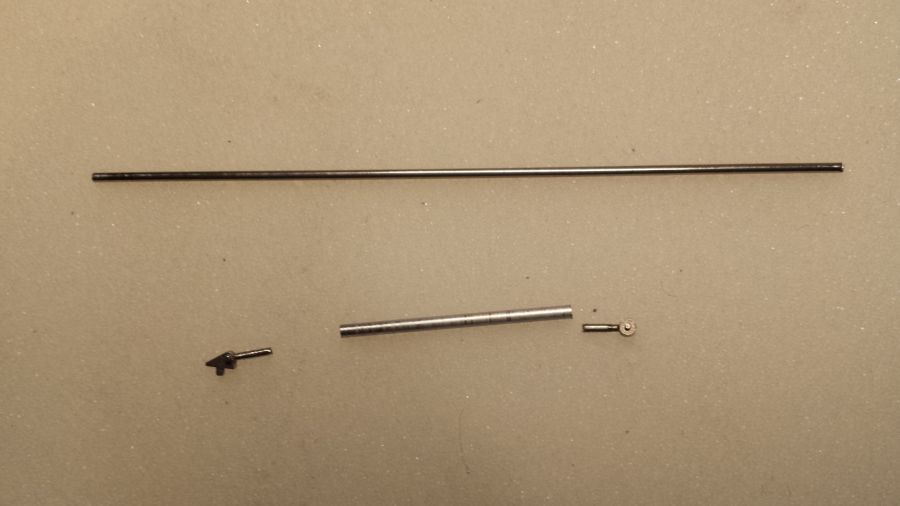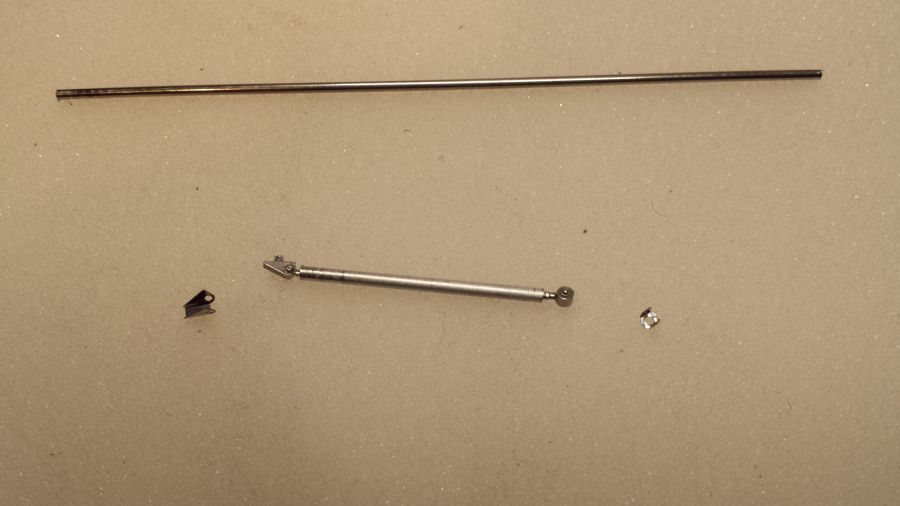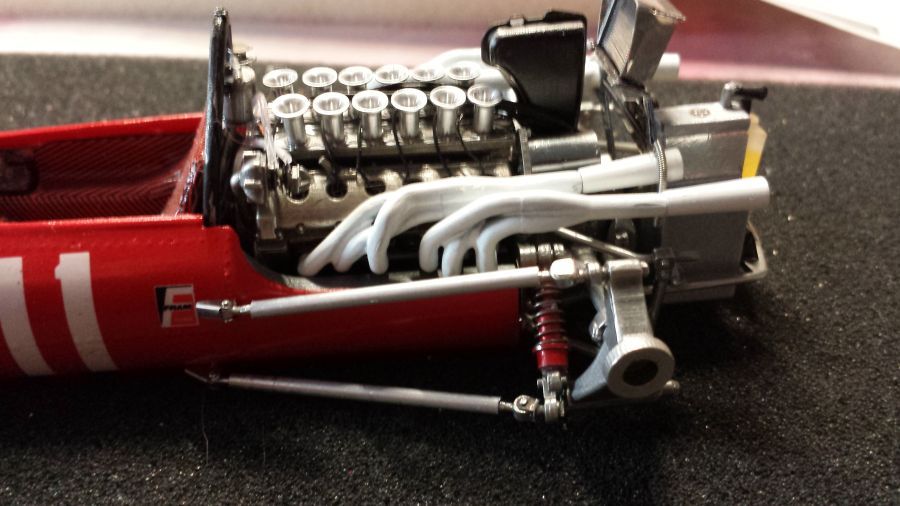 Na het bevestigen van de achtervleugel door naar de voorkant van de auto.
After attaching the rear wing we go on to the front of the car.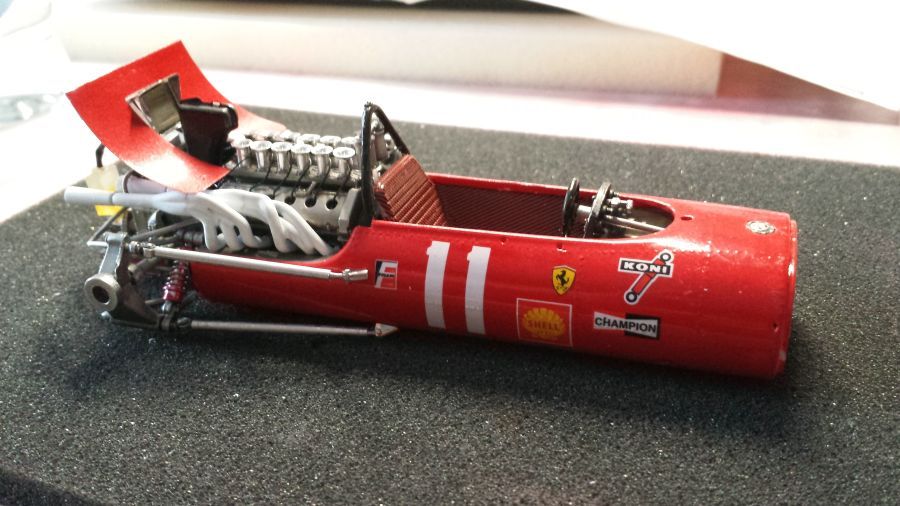 Hier is alvast een deel van de voorkant in elkaar gezet. Denk erom vooraf even een test fit te doen. De gaatjes zijn soms niet groot genoeg om alle onderdelen erop te zetten. In dat geval even uitboren.
Here is a part of the front been put together. Mind to do some test fitting. Sometimes the holes are not wide enough to be able to mount the parts. Some drilling might be necessary.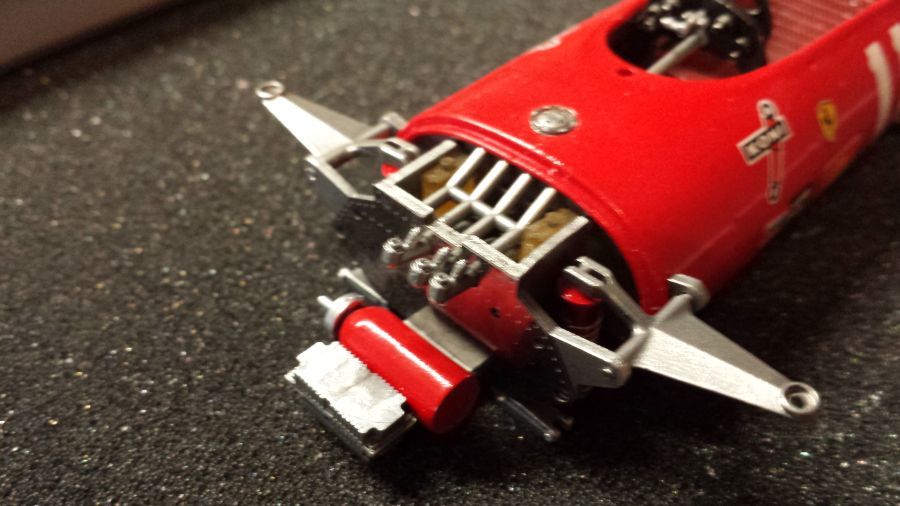 De voorwielophanging is klaar. Nu door om de remmen en remschijven te monteren en de neus af te werken.
The front wheel suspension is ready. Now on to the brakes and the brake discs and then the nose cone.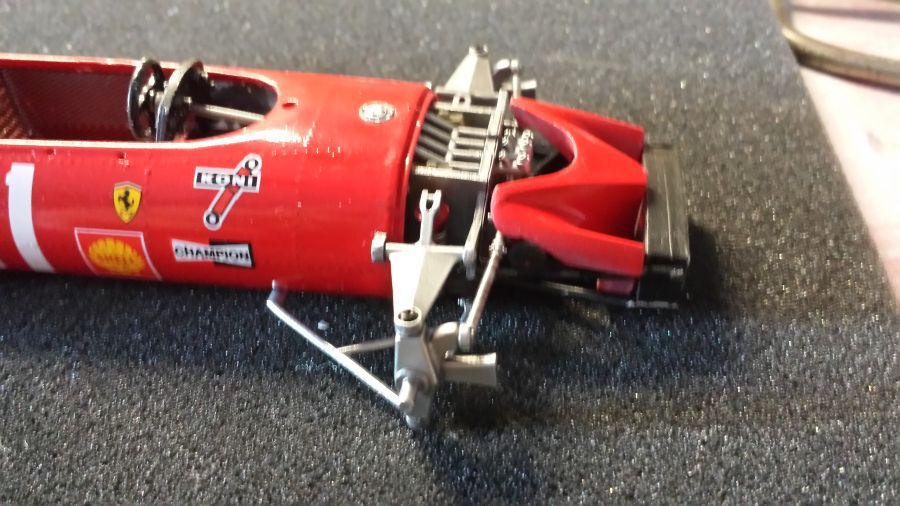 De neus zit erop, nadat de end plates zijn aangebracht.
The nose has been attached, after mounting the end plates.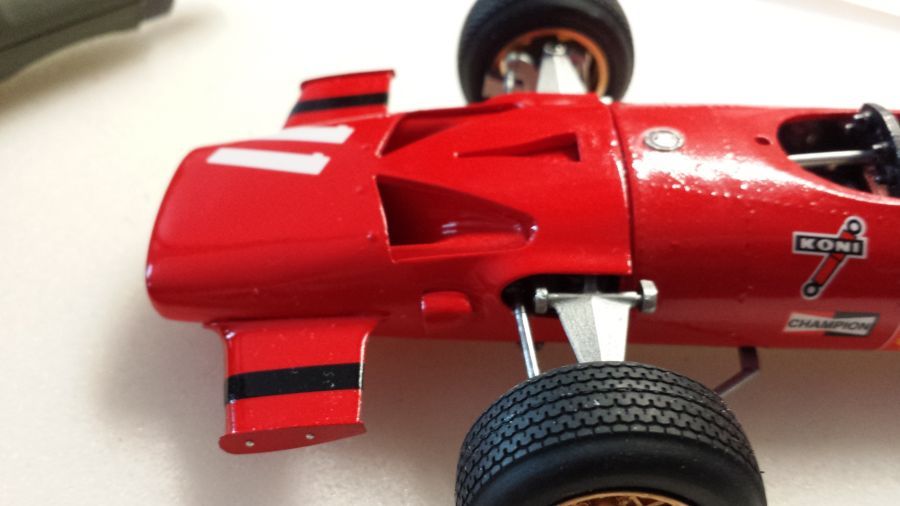 Daarna moet het raam uitgeknipt worden. Deze wordt geleverd als vacu-form. Ik heb eerst met een stift een lijn gezet vlak onder de te knippen lijn. Knip nooit precies op de lijn. Als er iets teveel is weggehaald, kun je het nooit weer repareren. Nadat ik op de getekende lijn heb geknipt, vijl ik het raam met nagelvijlen af. Daarvoor heb ik bij de Etos een aantal plastic vijlen gekocht. Doe een aantal pas testen.
After this the window has to be cut. This is delivered as vacuform. First i have drawn a line with a marker below the line to cut. Never cut the exact line. If you cut too much, you will not be able to repair it. After cutting the drawn line, i have used an emery board to adjust it to size. Do several test fits.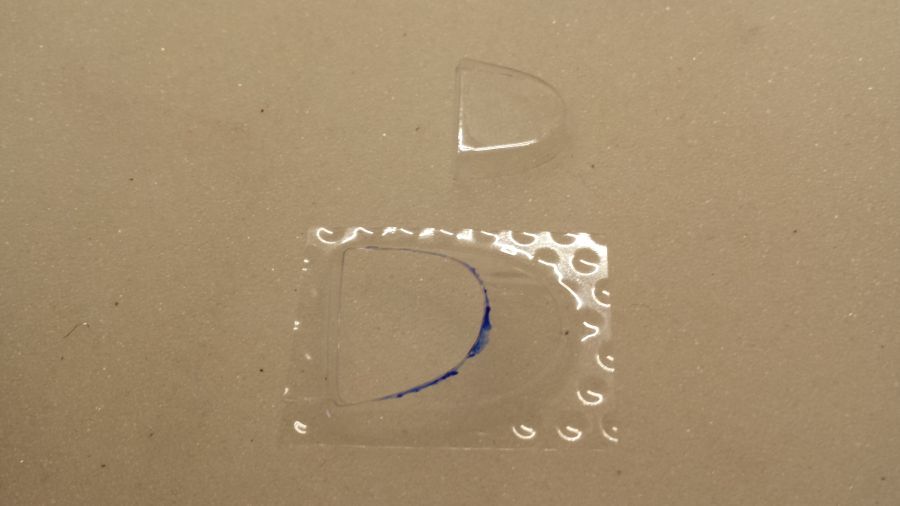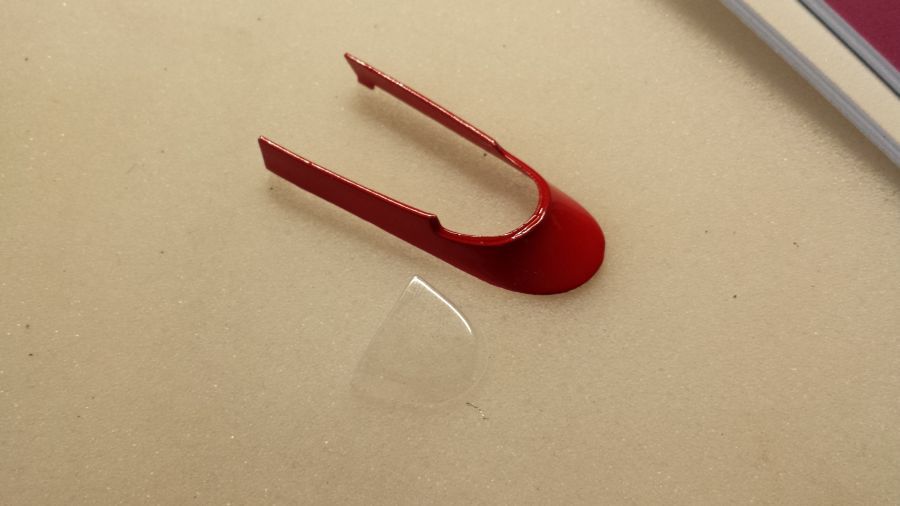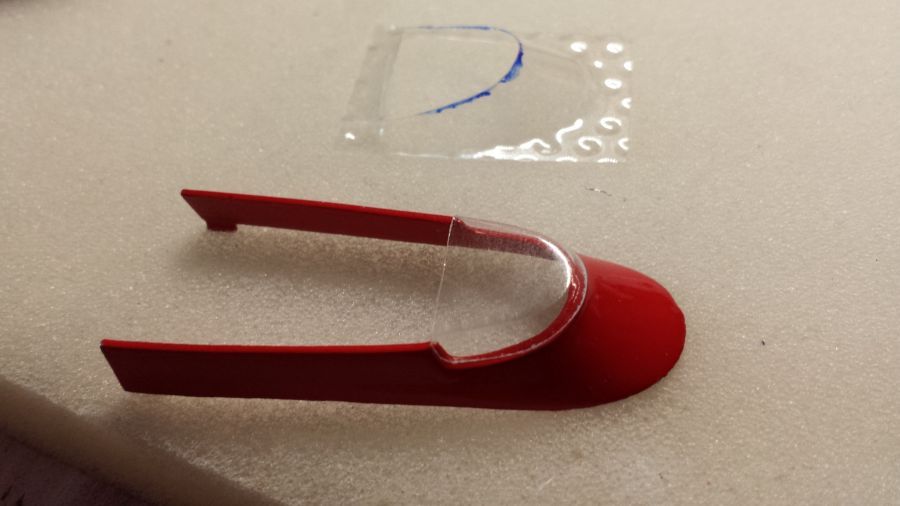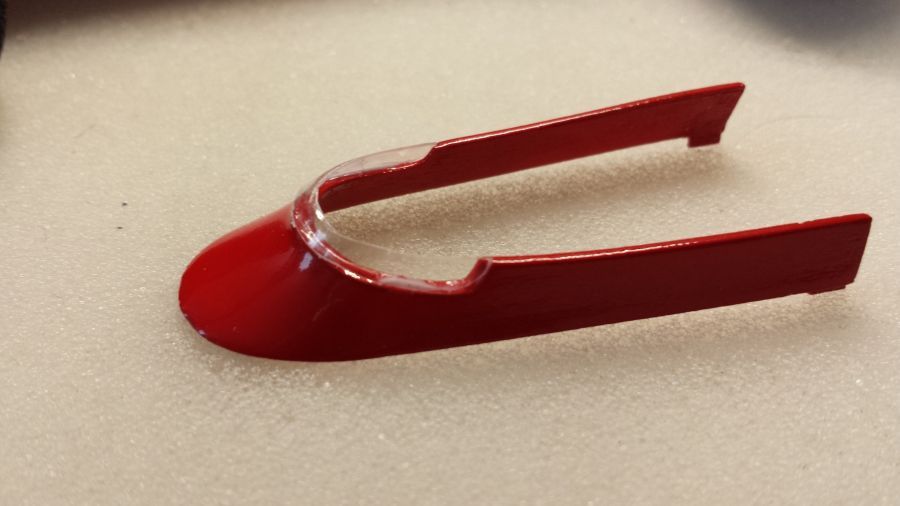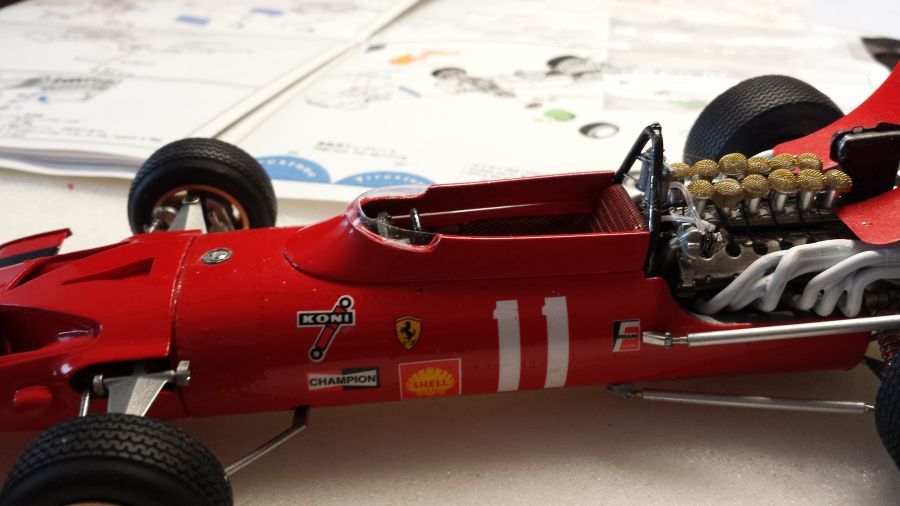 Nu nog de spiegels. Eerst de steunen. Dan de spiegels.
Now the mirrors. The supports first. Then the mirrors.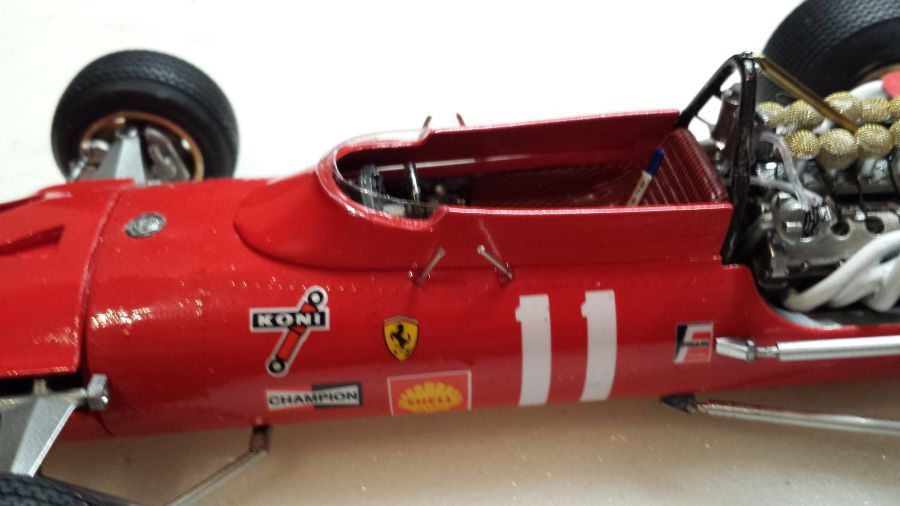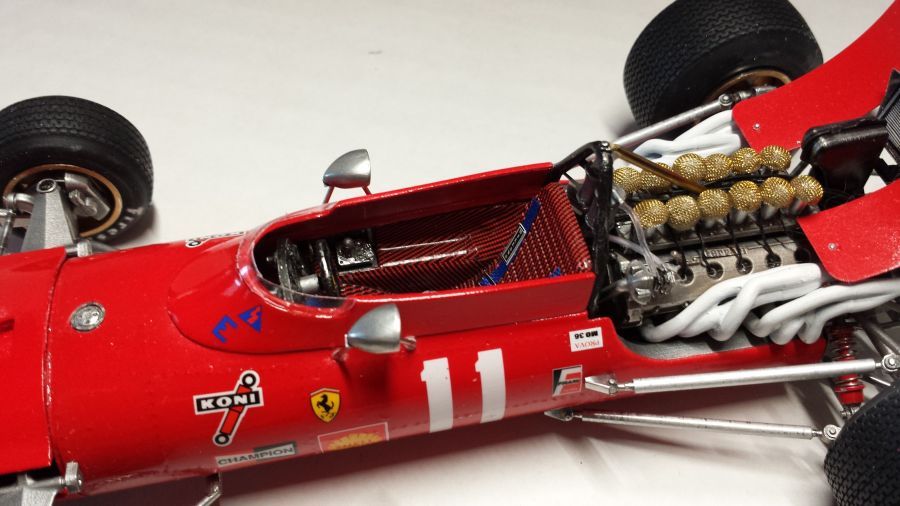 En klaar is ie. Ik heb veel plezier gehad aan het bouwen van dit model. Dit produkt van MFH vind ik grote klasse. Wat mij betreft stukken beter dan een Studio27 kit.
And ready. I have had a lot of fun building this. This product from MFH is top class. In my opinion much better than a Studio27 kit.