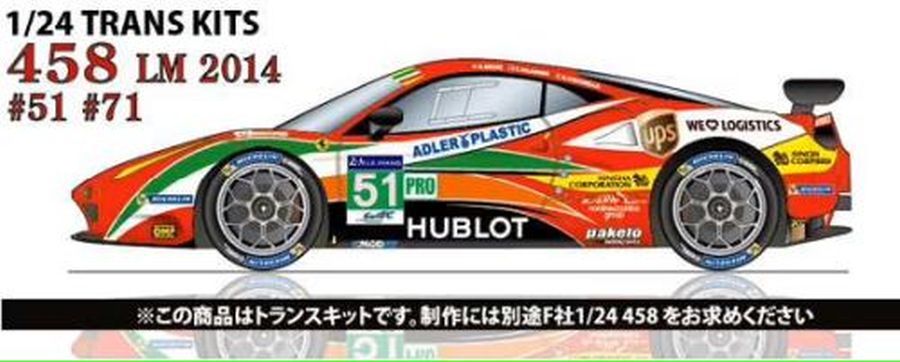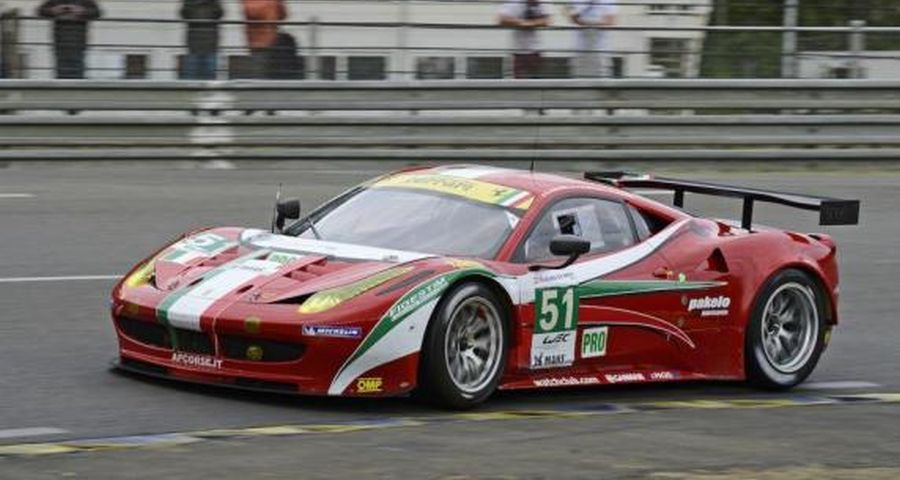 Ik heb besloten maar eens een wat jongere Ferrari te bouwen. Daarom deze 2014 Ferrari 458 LM #51 van team AF Corse. Deze werd tijdens de 24 Uur van Le Mans gereden door Giancarlo Fisichella, Gianmaria Bruni en Toni Vilander en won inde GT2 klasse. Het is een transkit van Studio27 (kit nr. ST27-TK2462) met als donor een Fujimi kit van een Ferrari 458 Italia (kit nr. RS-81 123820).
I have decided to do a somewhat recent Ferrari. That's why i'll do this 2014 Ferrari 458 LM #51 of team AF Corse. This was driven during the 24 Hours of Le Mans by Giancarlo Fisichella, Gianmaria Bruni and Toni Vilander abd won the GT2 class. It is a transkit from Studio27 (kit no. ST27-TK2462) with a Fujimi Ferrari 458 Italia (kit no. RS-81 123820) as a donor.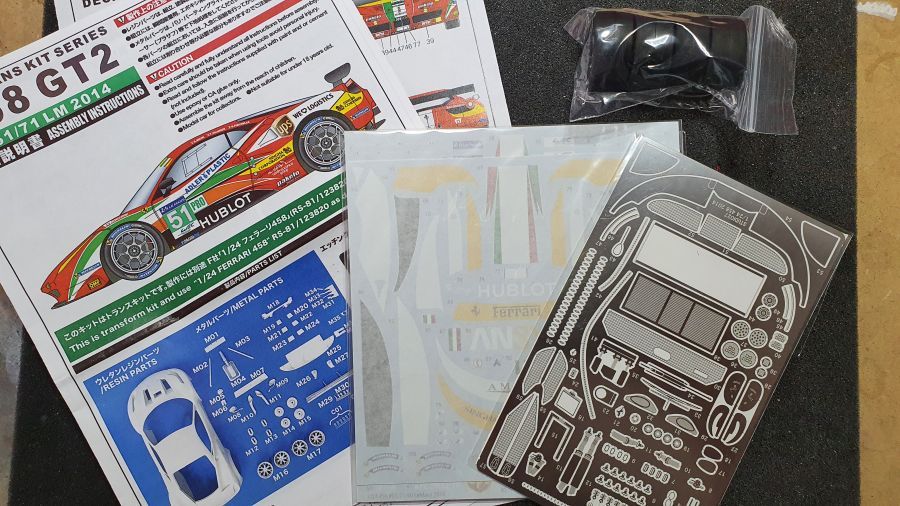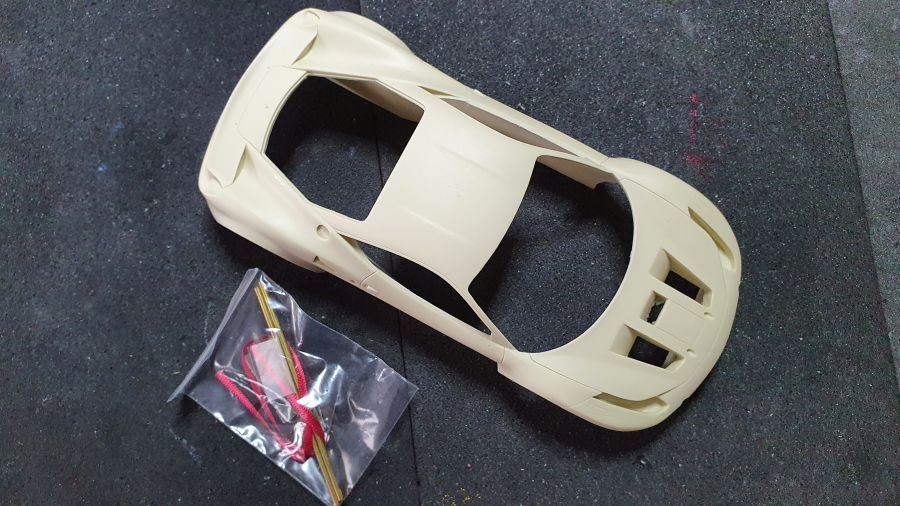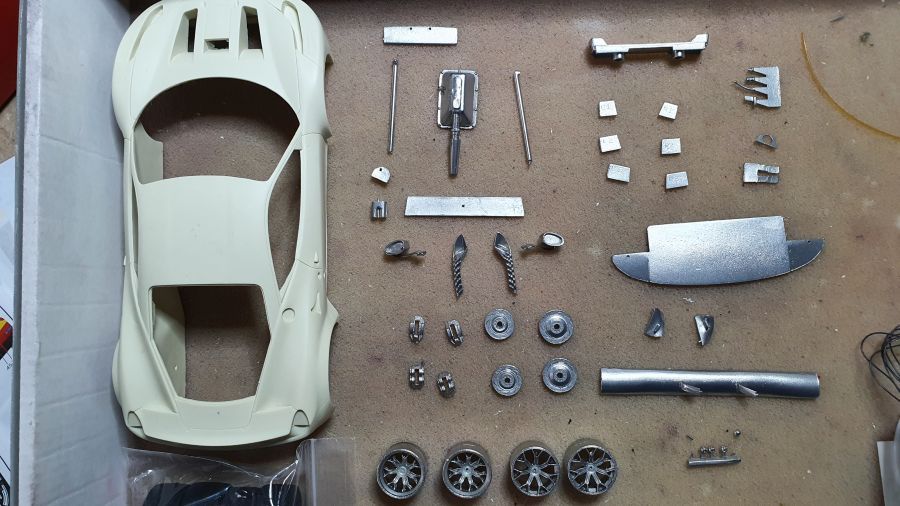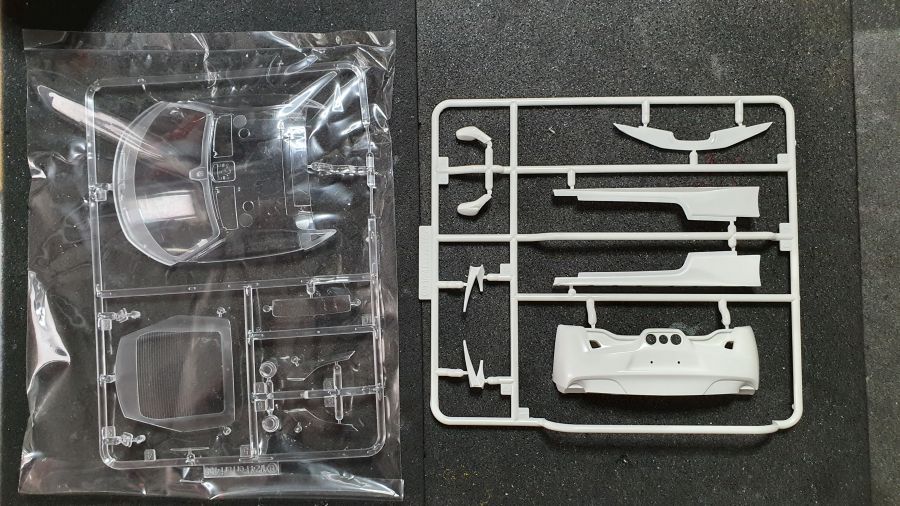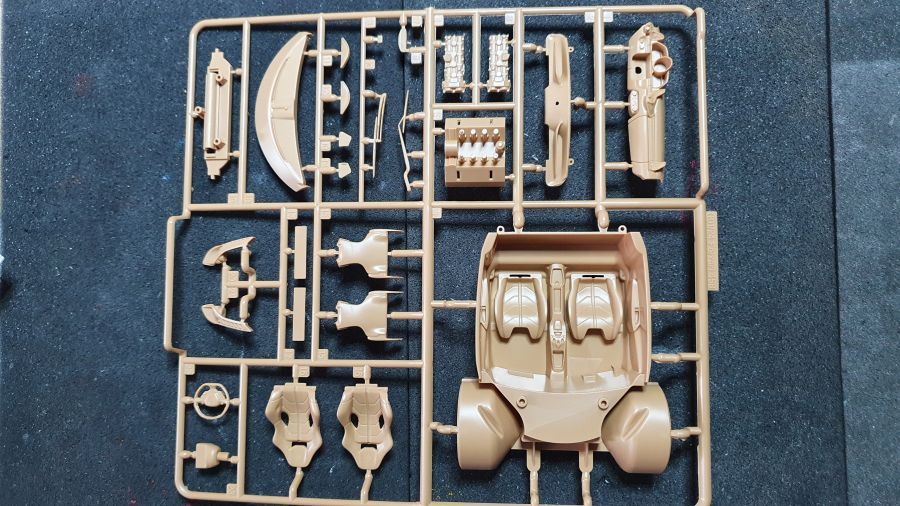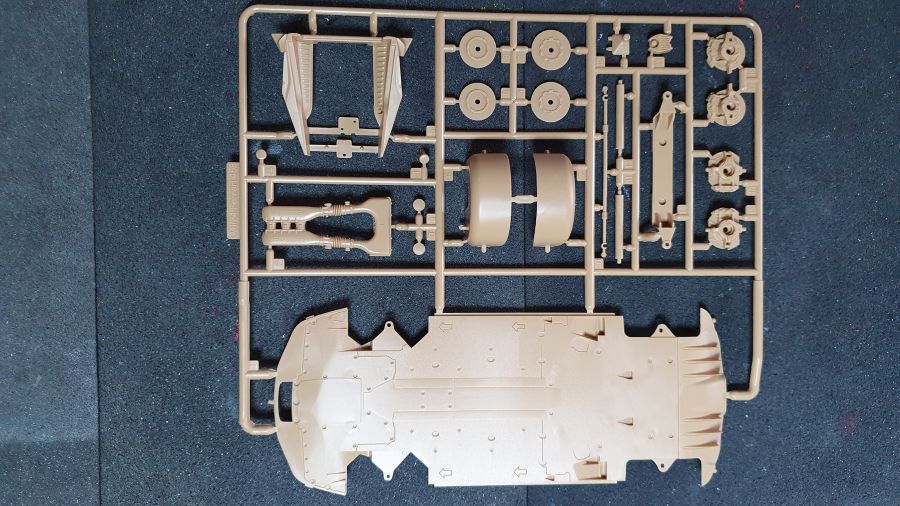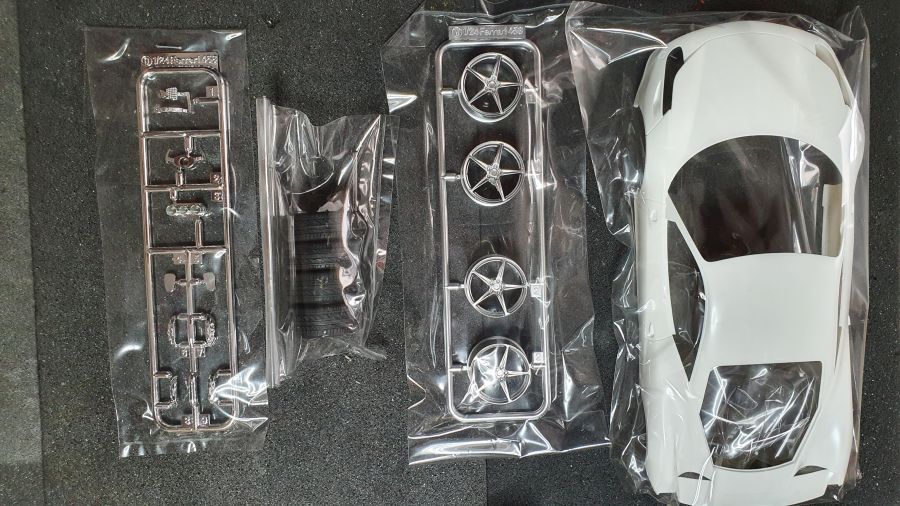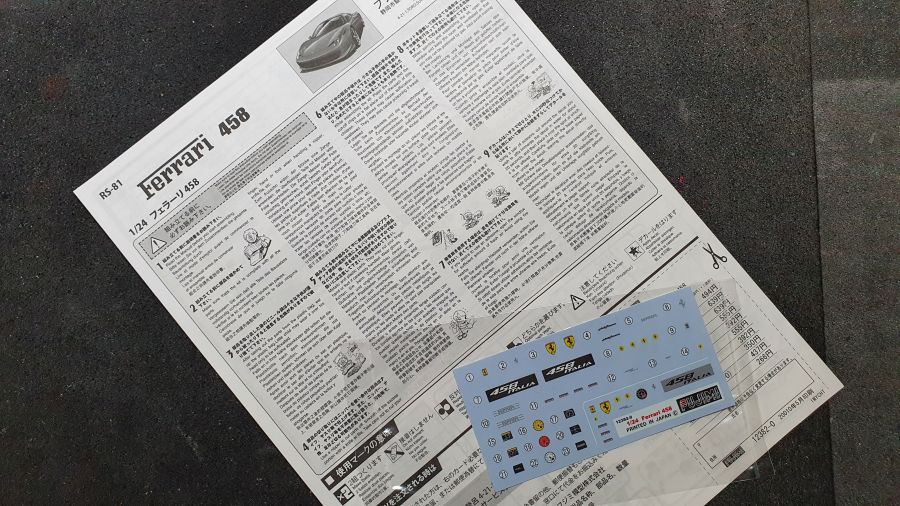 Daar gaat ie... eerst wat voorwerk.
There we go... first thing is first.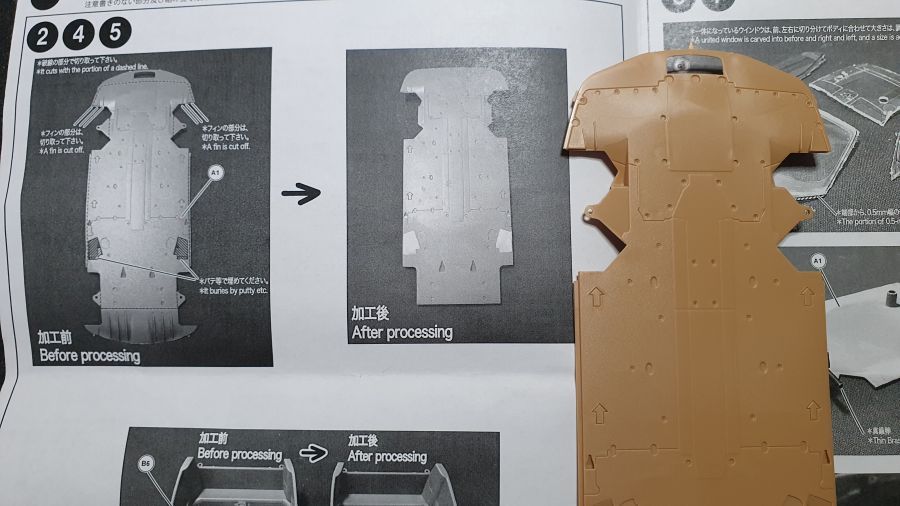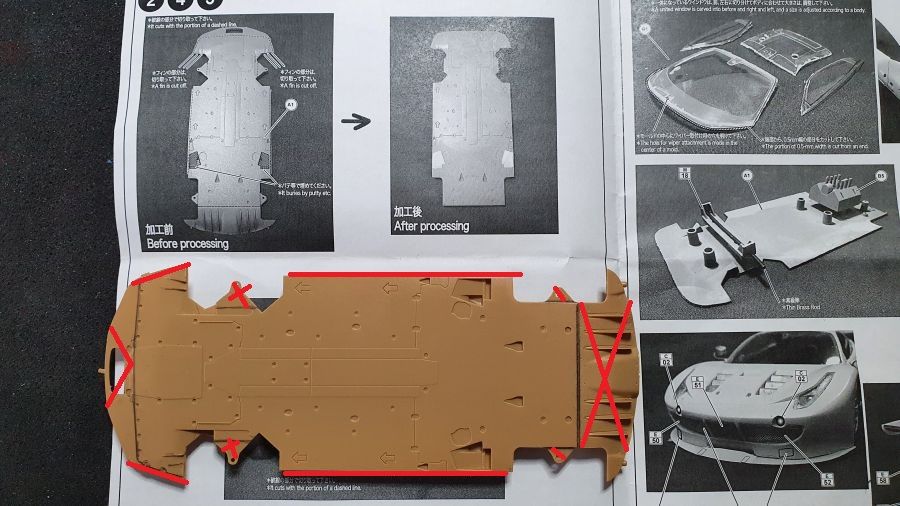 Na het verwijderen. Ook nog wat gaten vullen.
After the cutting. Also filling some gaps.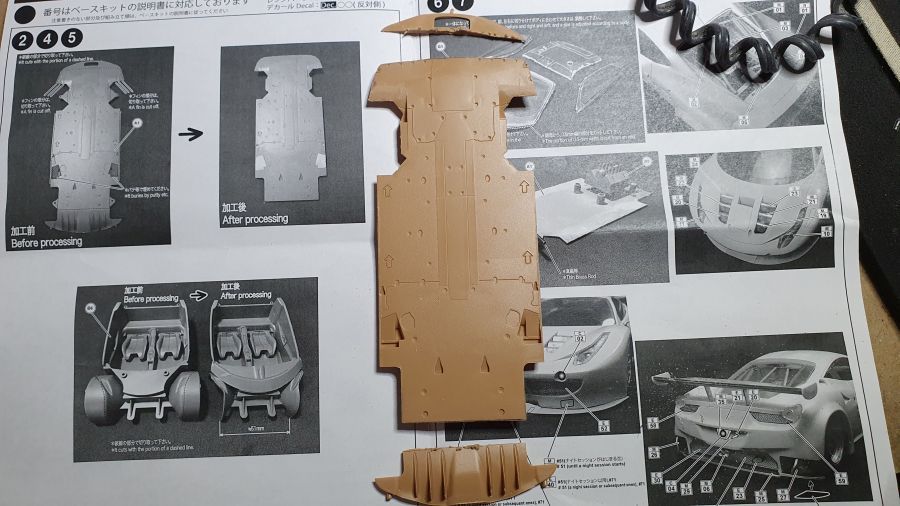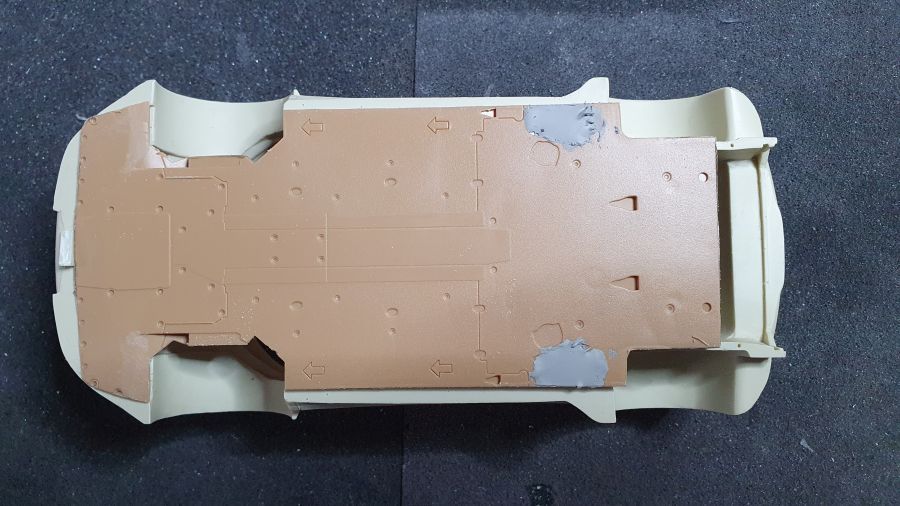 Het staat niet op de tekening, maar ook aan de binnenkant moet e.e.a. worden verwijderd.
It's not on the instructions, but also the inside needs some cutting.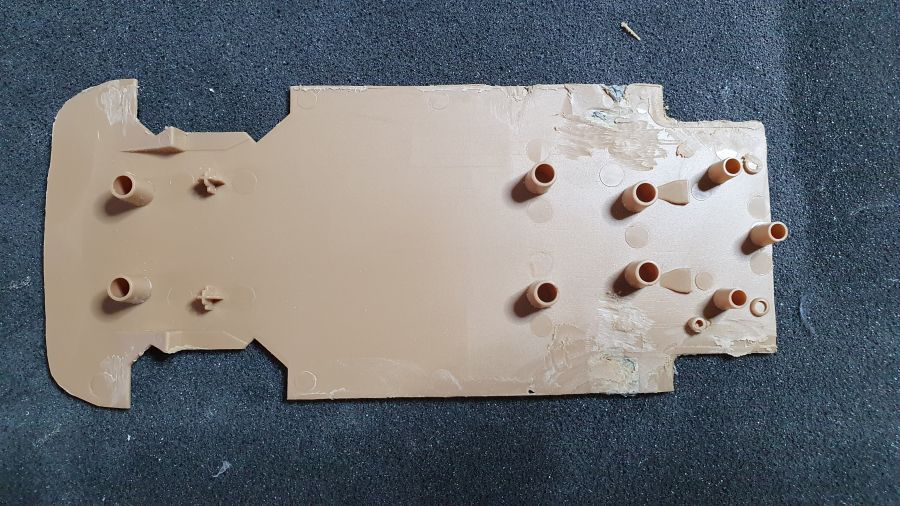 Testen. De vloer moet er vlak invallen.
Testing. The floor needs to be flat inside.
Dan het interieur passen maken. Raar dat Studio27 de passagiersstoel wel wil behouden. Ik denk ik niet.
Then fitting the interior. Weird that Studio27 wants to keep the passenger seat. Ik think i won't.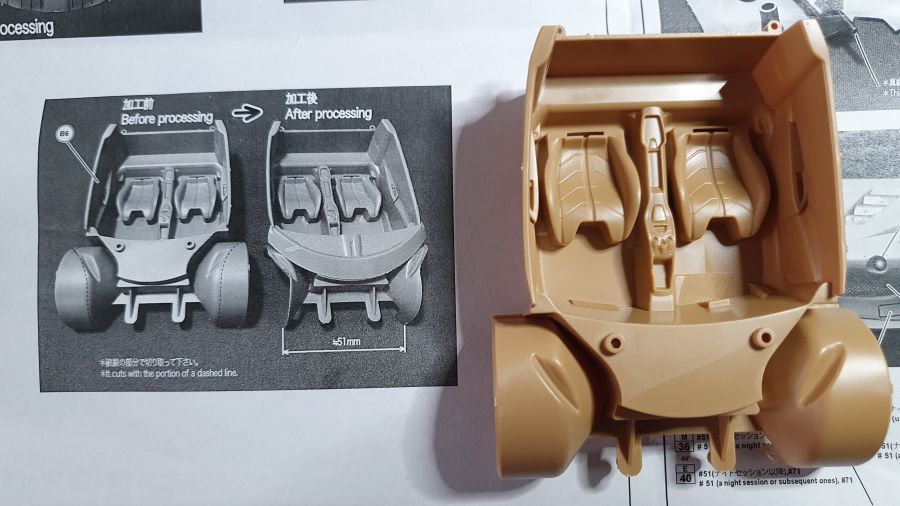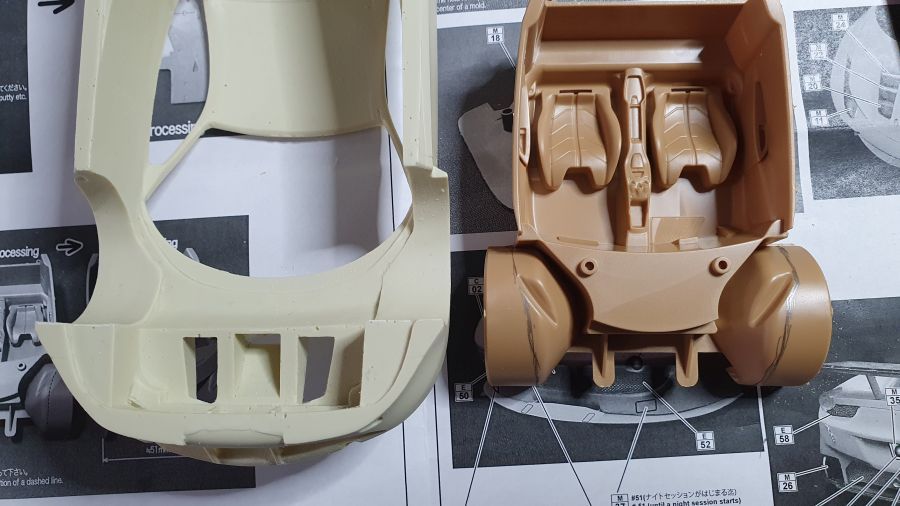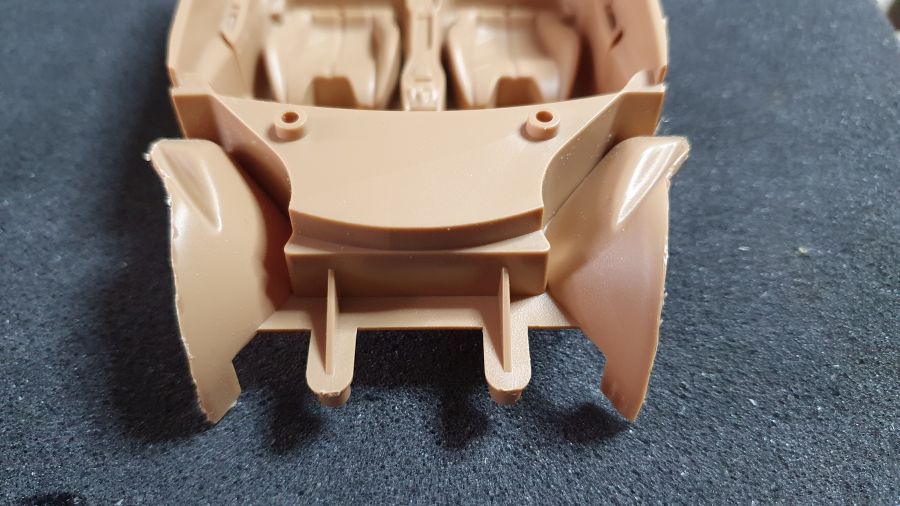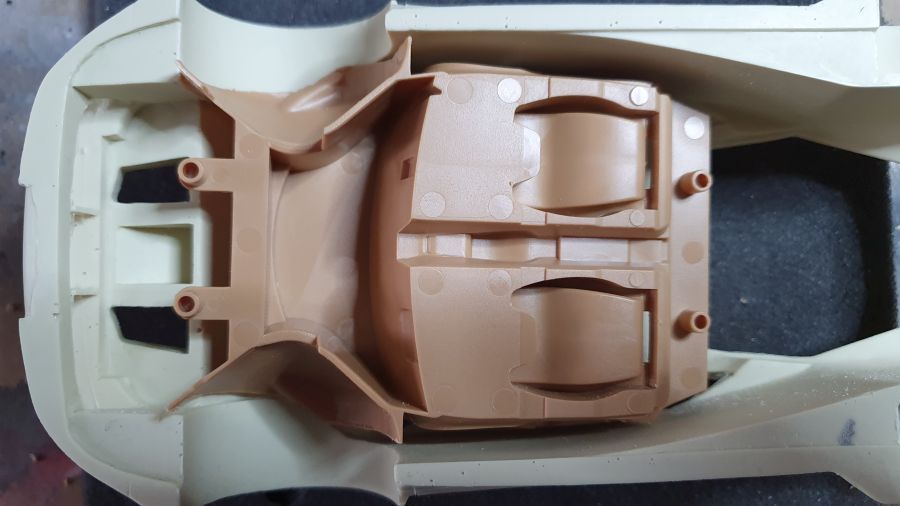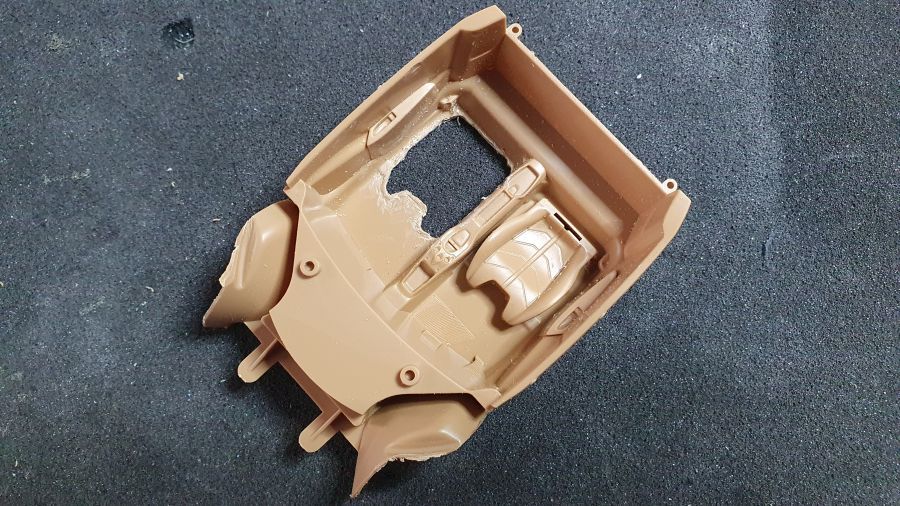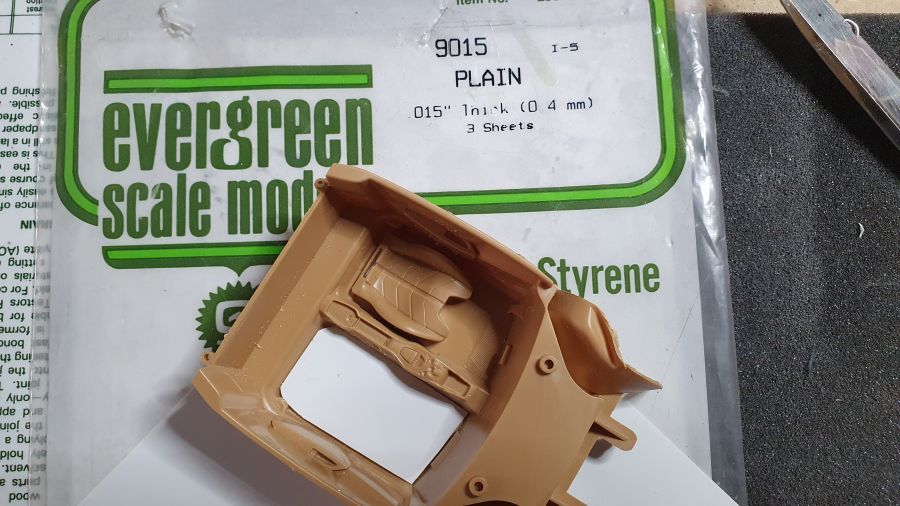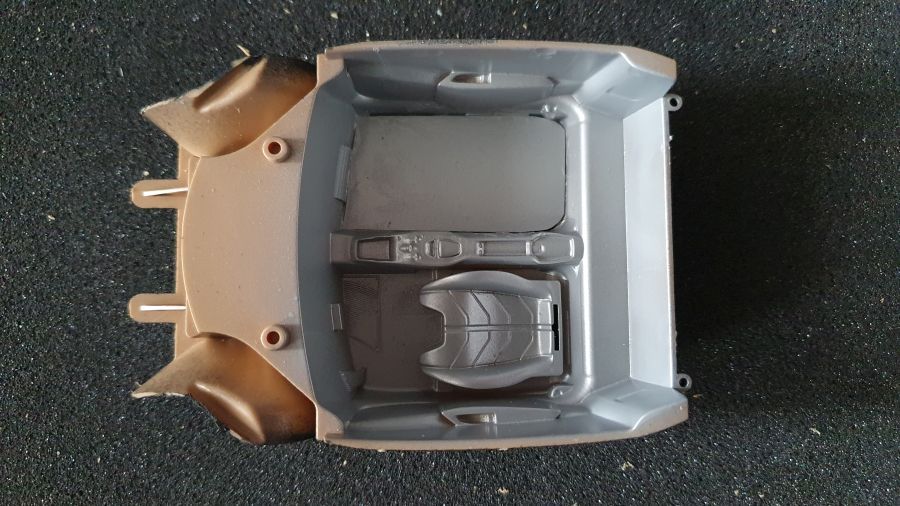 Verder met de vloer terwijl dit droogt.
On to the floor while this dries.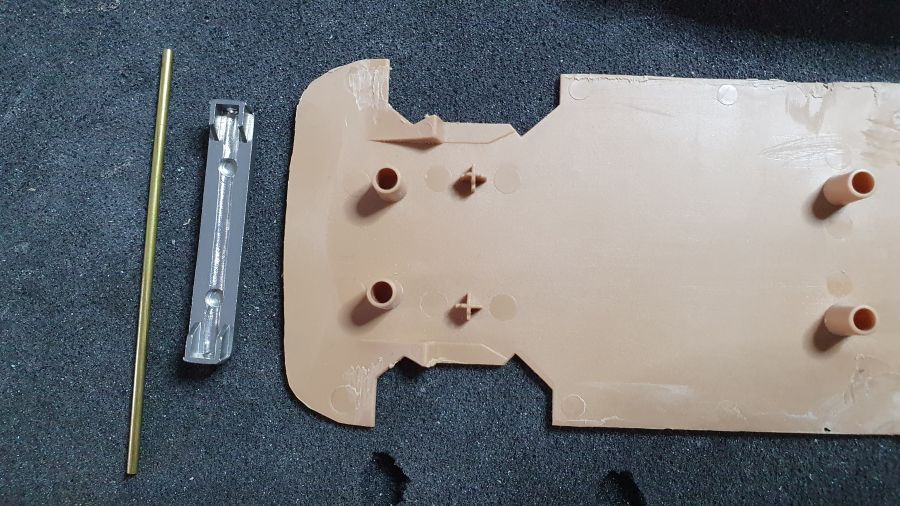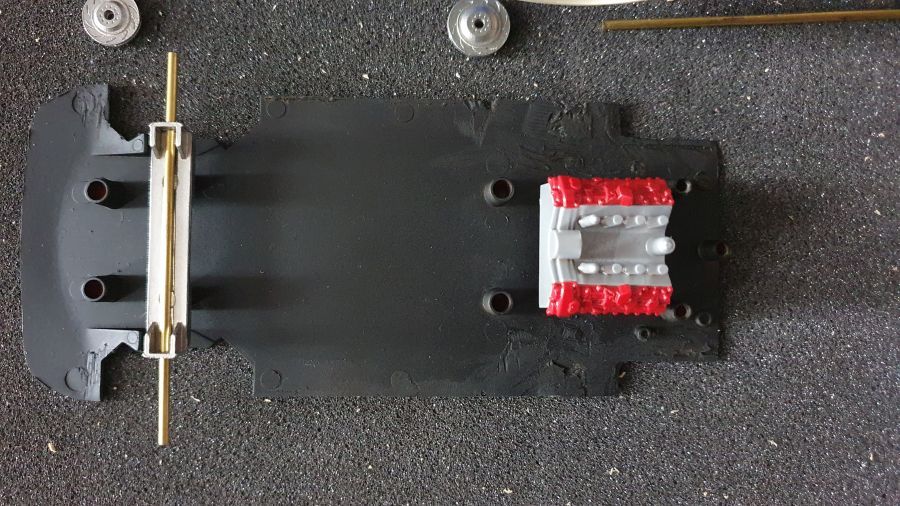 De maat van de assen bepalen.
Determining the size of the axles.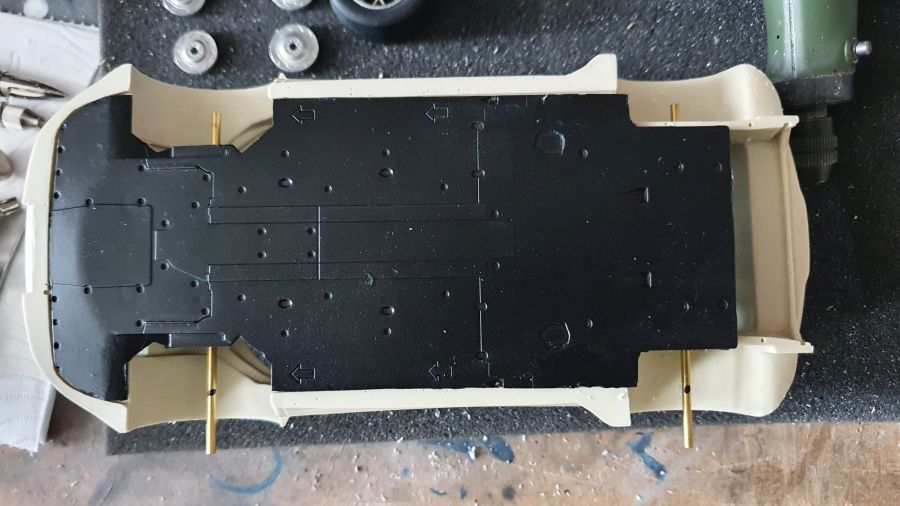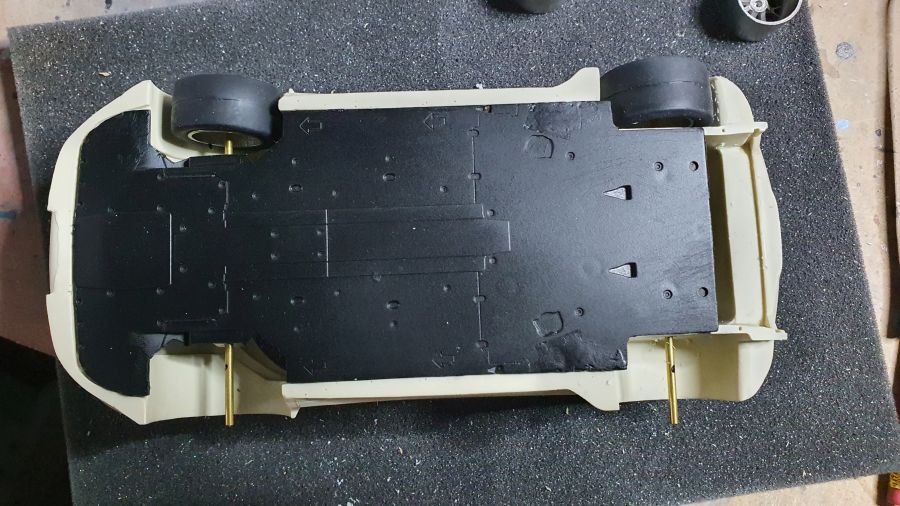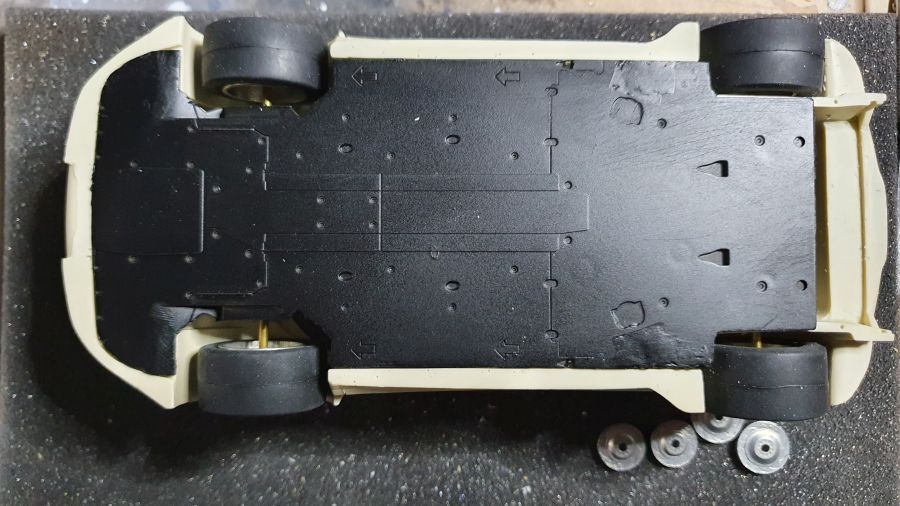 Het profiel van de stoel wordt weggewerkt. Ik vul het met putty en voeg een paar druppels airbrush cleaner toe. Zo kan ik het met een vingertop glad maken.
Removing the profile of the seat. I will it with putty and add a few drops of airbrush cleaner. This way i can smoothen it with a finger tip.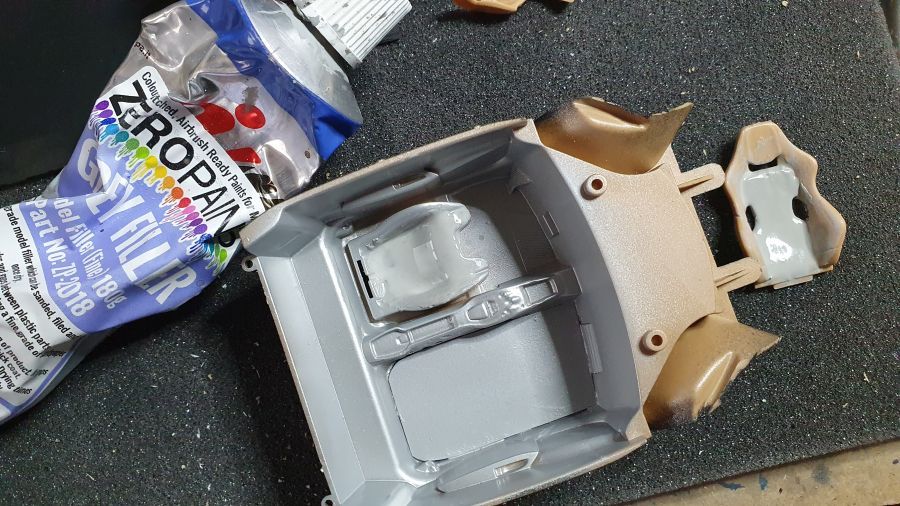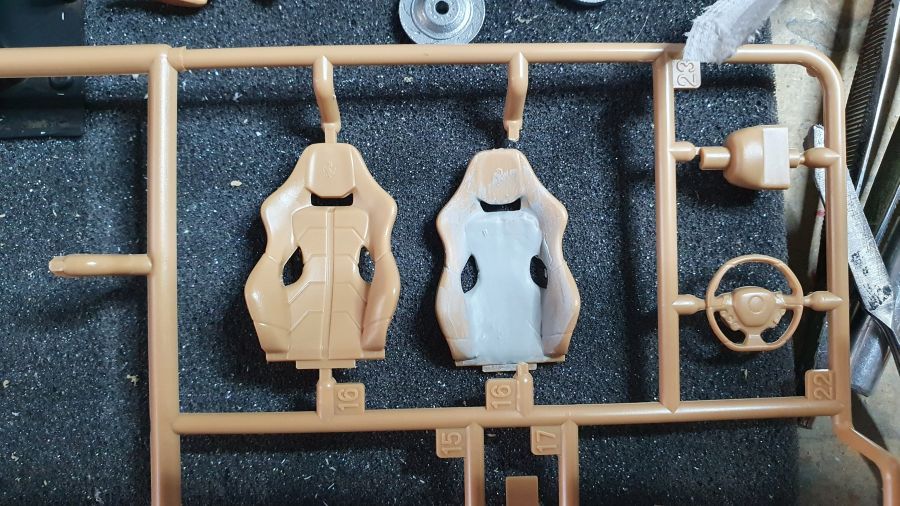 De kuip wordt afgeplakt om de stoel zitting te spuiten.
The tub is being masked to paint the seat.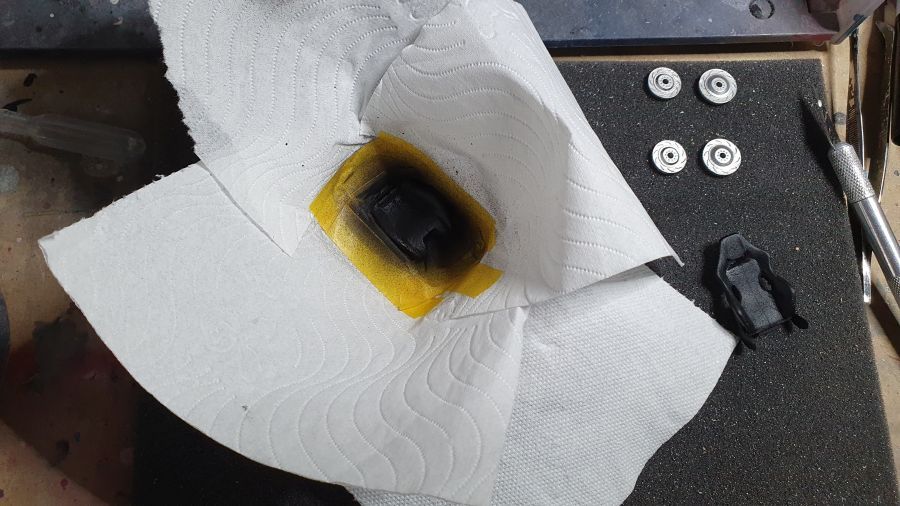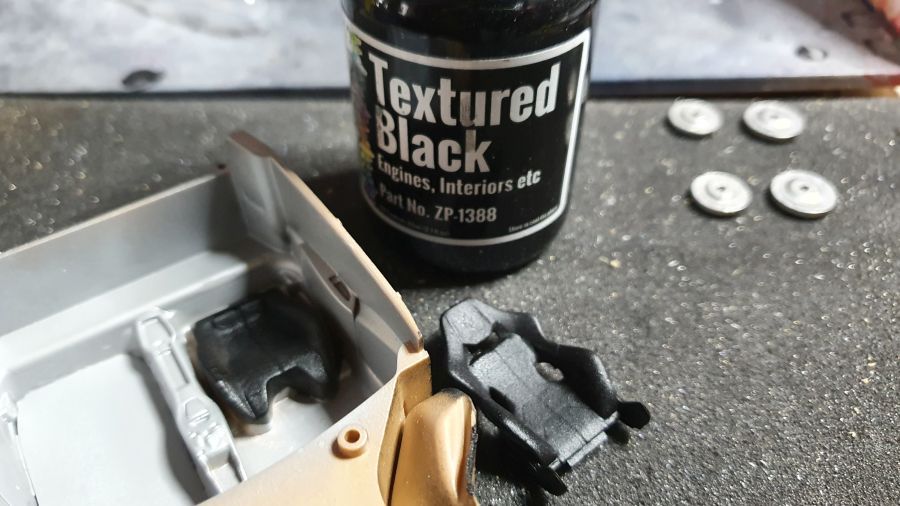 Het dashboard wordt bewerkt.
The dashboard is being worked on.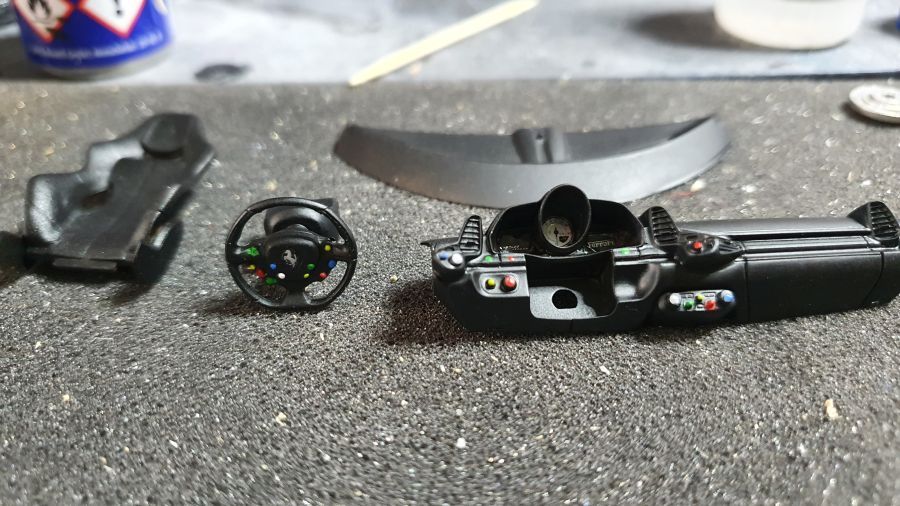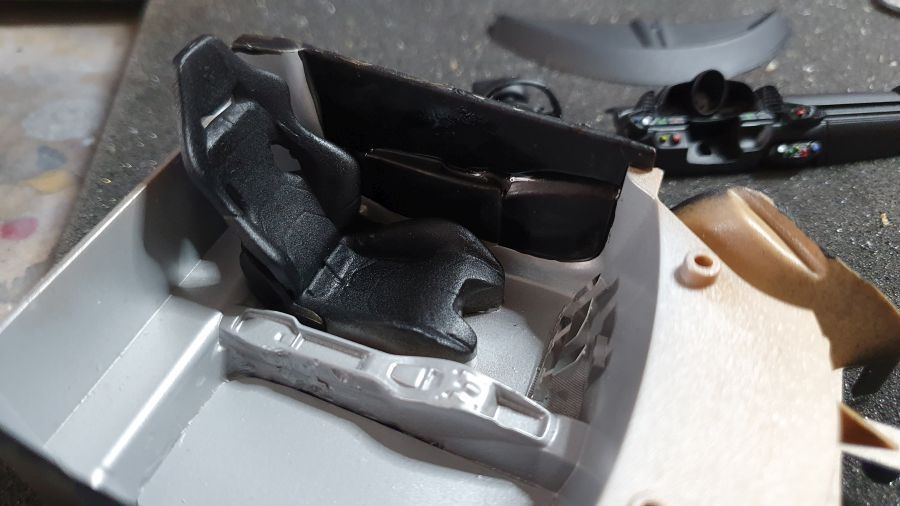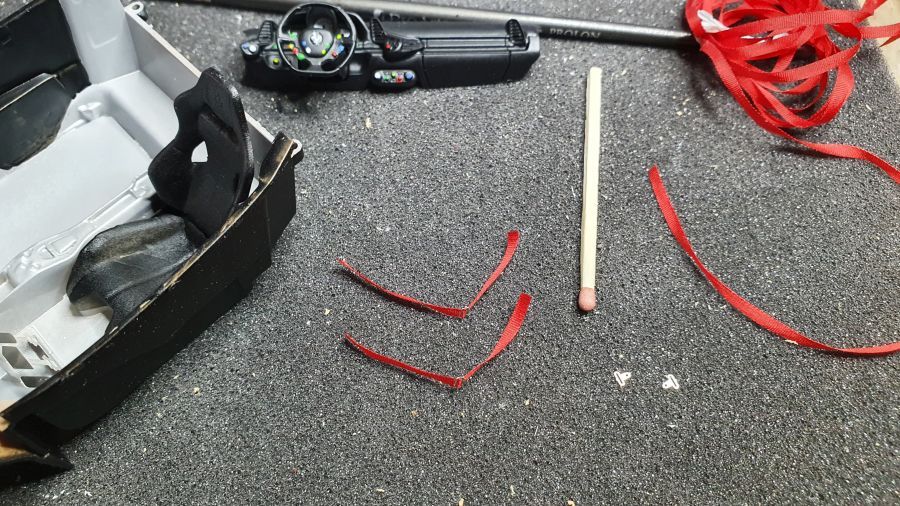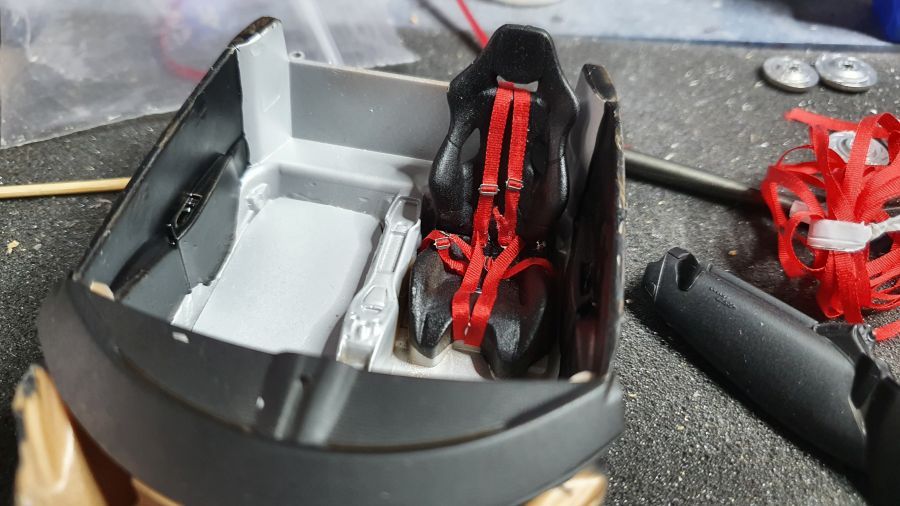 Wat electronica plaatsen. Ik gebruik hier F1 Connector set MFH P-962 voor.
Adding some electronics. I am using F1 Connector set MFH P-962 for this.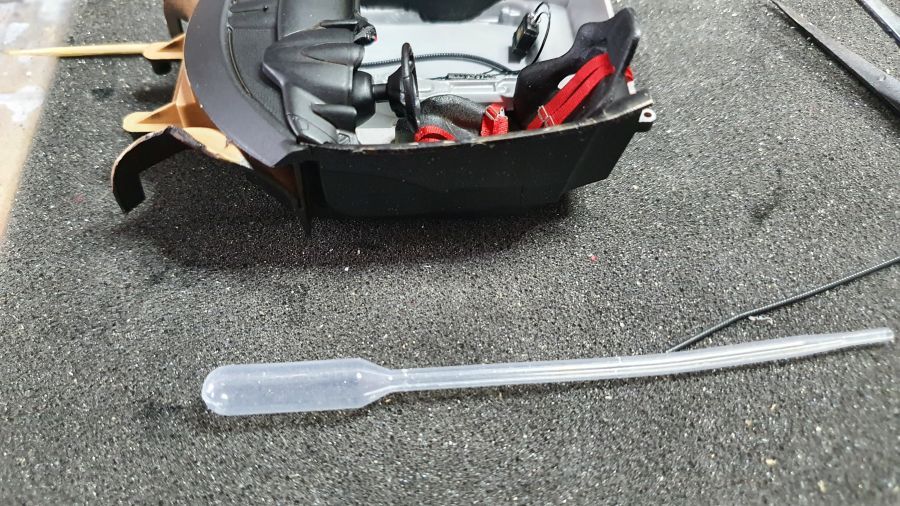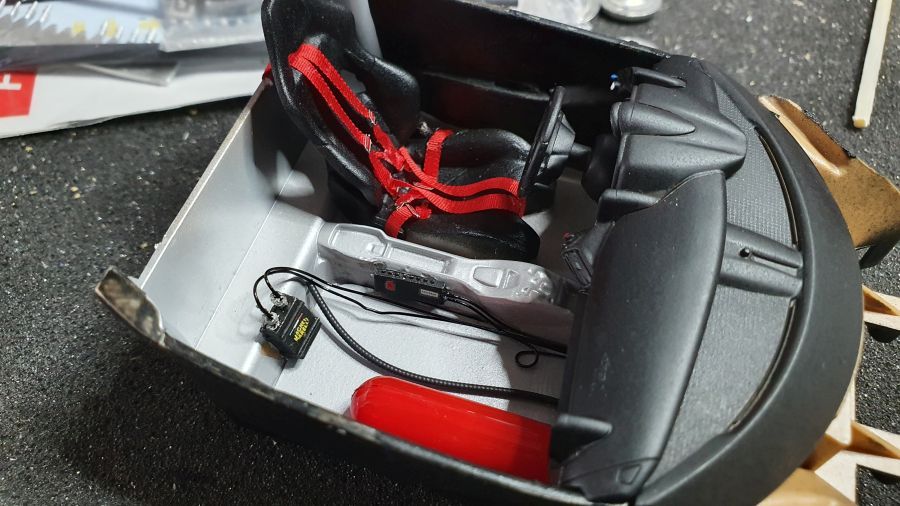 Door naar het motordeel... passen...
On to the engine part... test fit...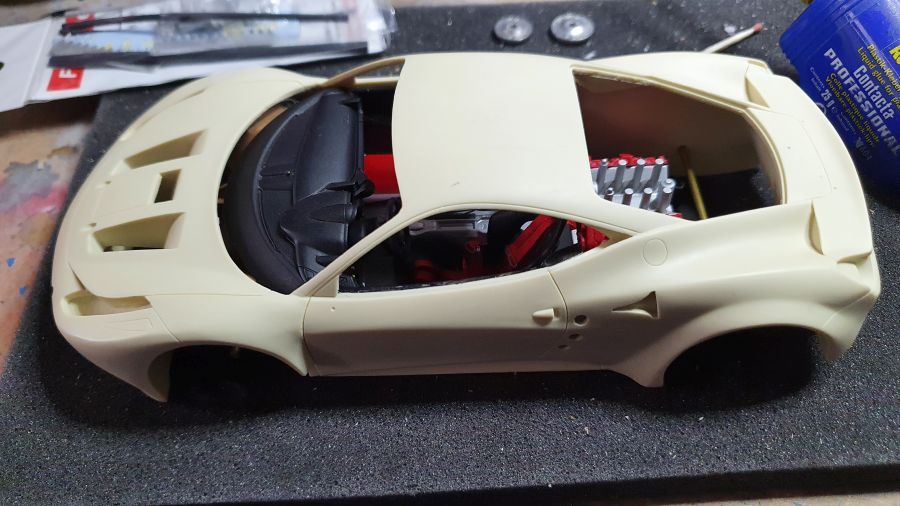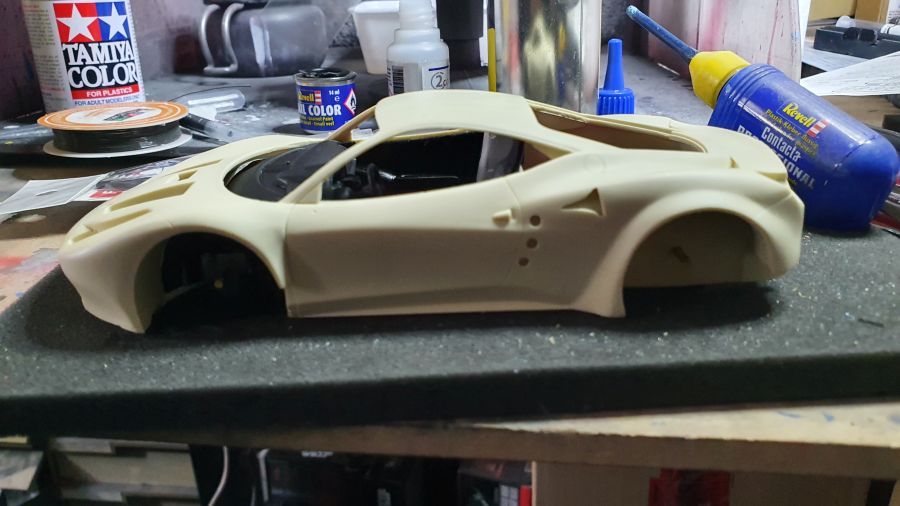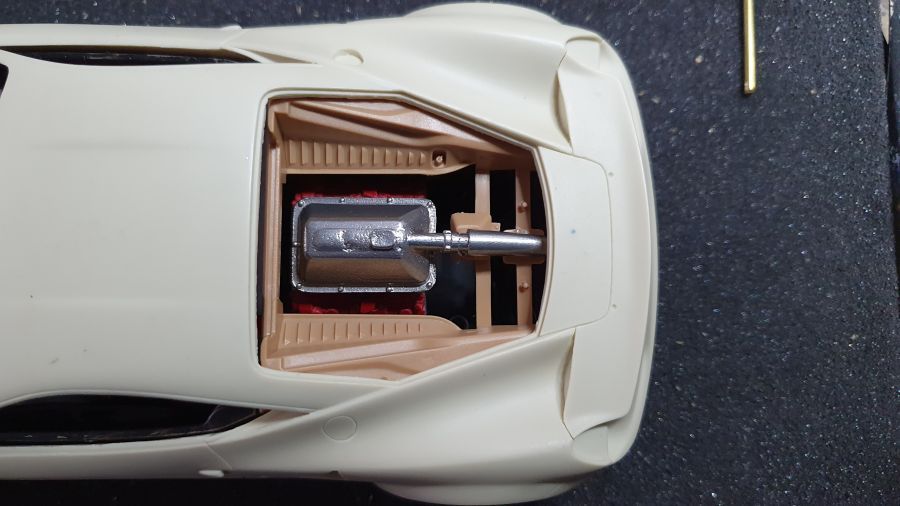 Improviseren...
Improvise...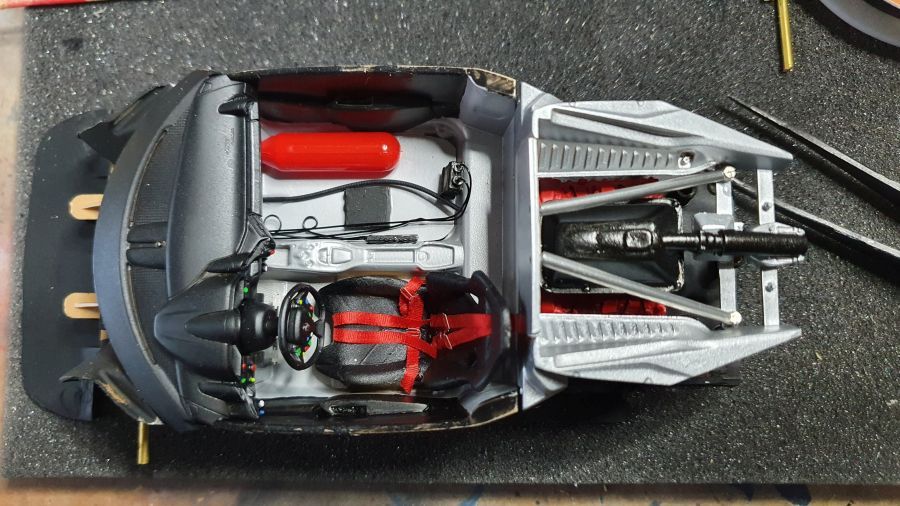 Tijd voor wat primer en kleur.
Time for some primer and color.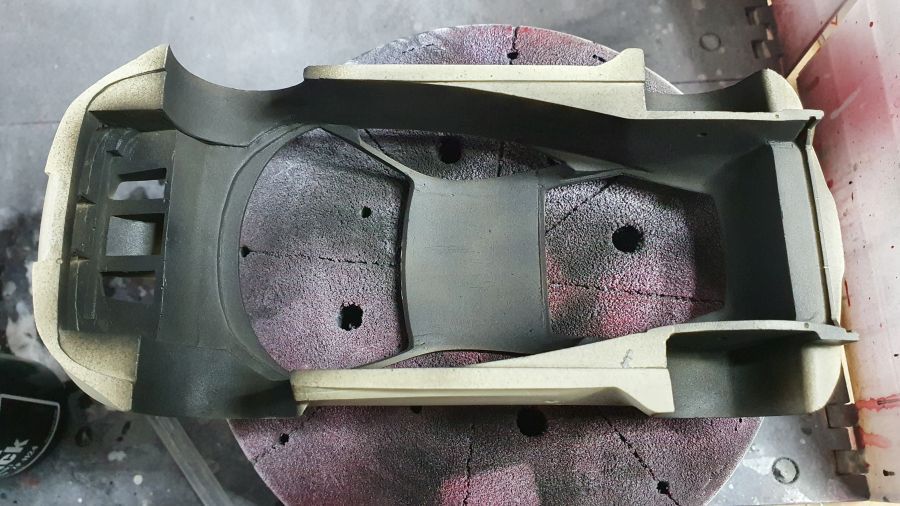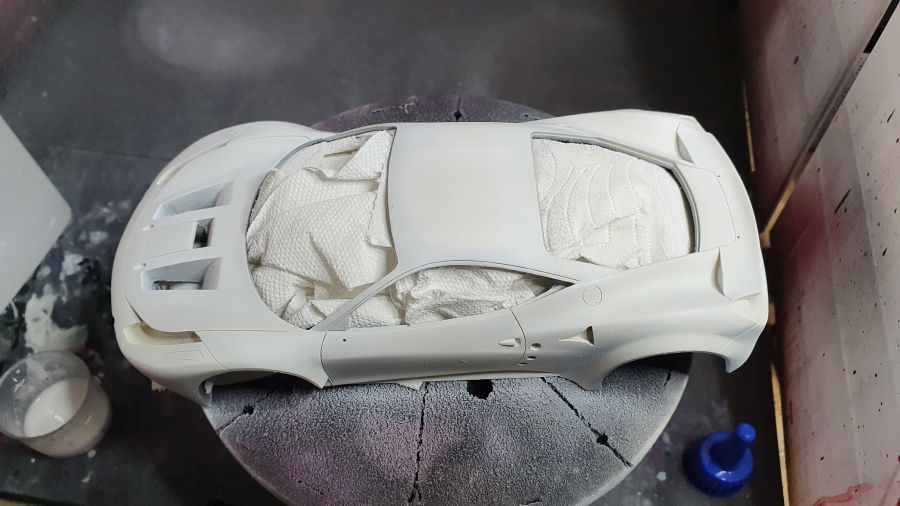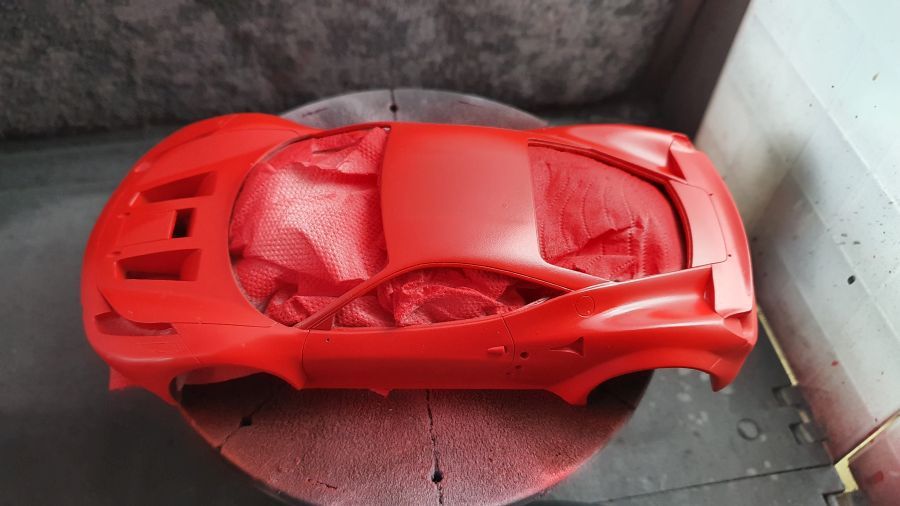 De openingen worden gevuld.
Filling the openings.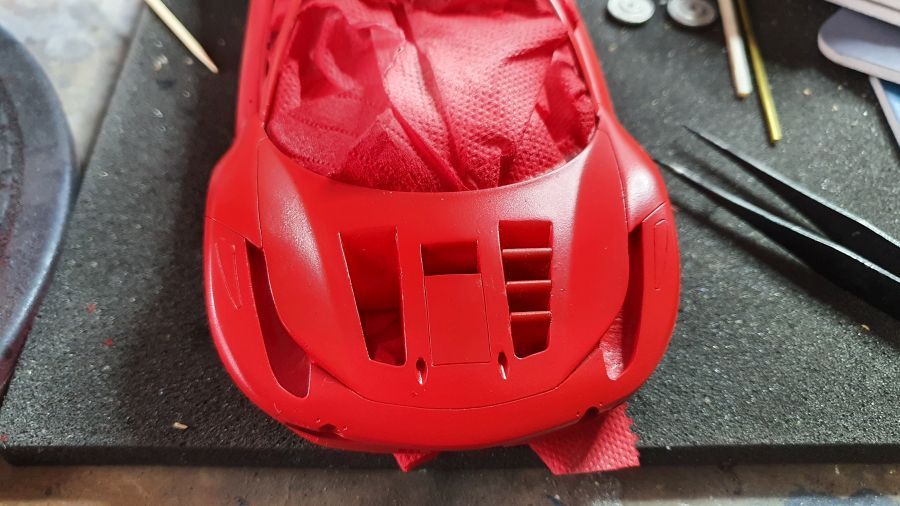 Dan de 1K heldere lak spuiten.
Next is spraying the 1k clear lacquer.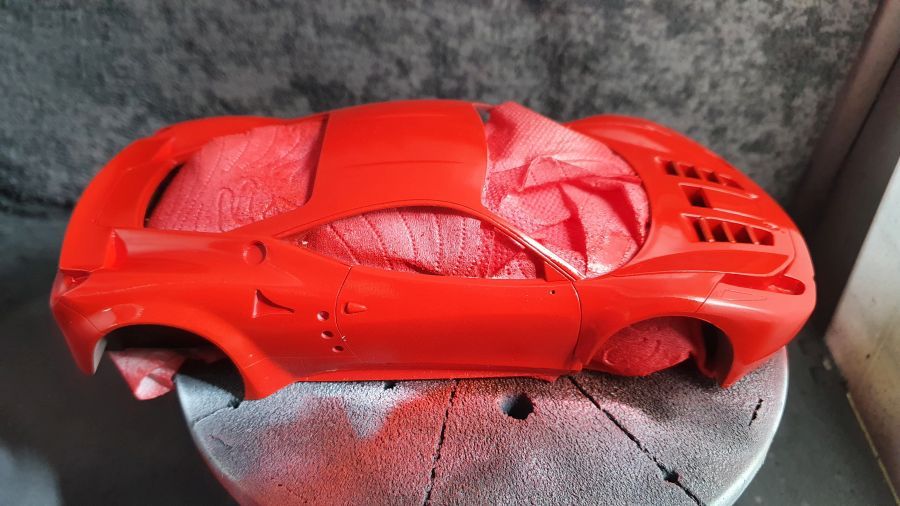 Werken aan het achterdeel van de vloer.
Working on the rear part of the floor.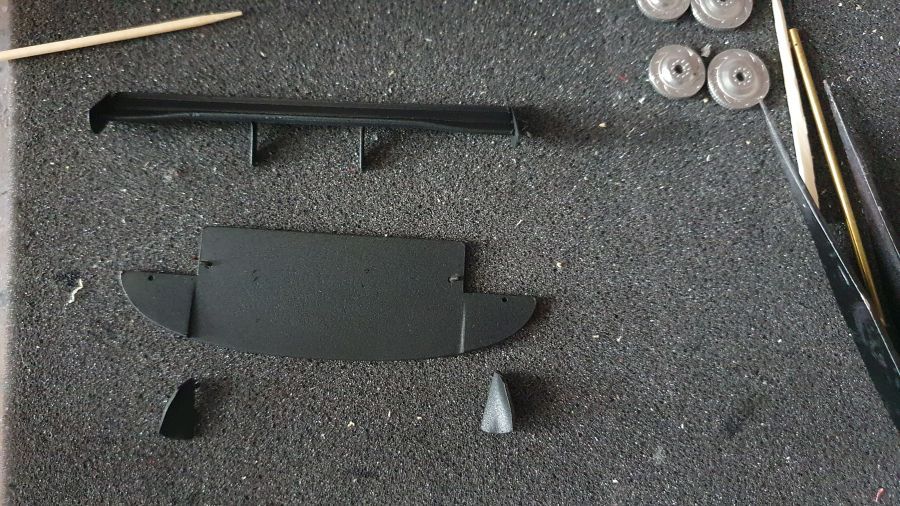 Dan werken aan de remmen. Pas op de draairichting.
Then working on the brakes. Mind the rotation direction.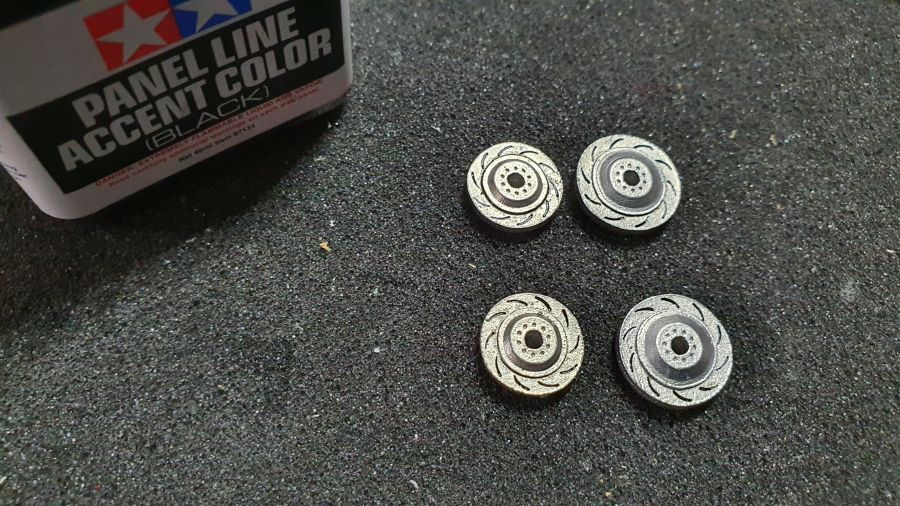 En de decals gaan erop. Ze zijn erg stijf. Ik voorspel problemen.
And the decals will be added. They are very stiff. Trouble ahead.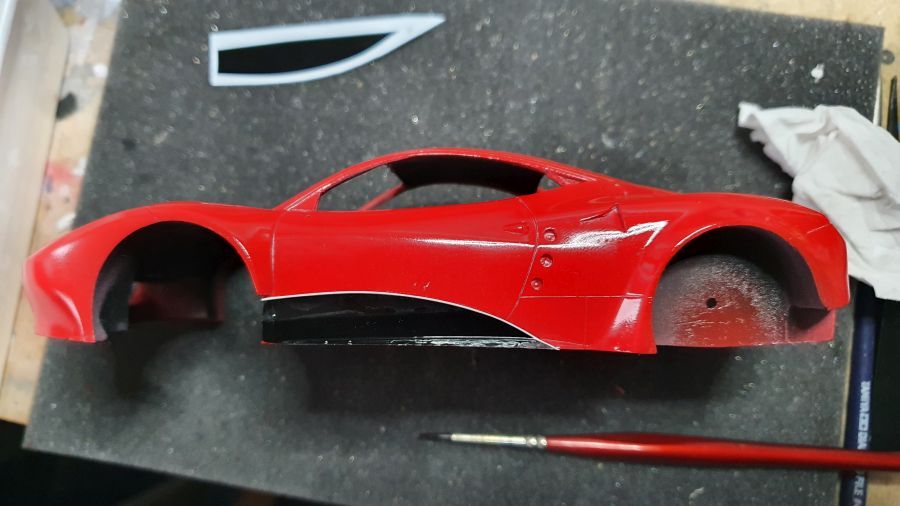 De decals scheuren al bij het nat maken.
The decals are tearing when wet.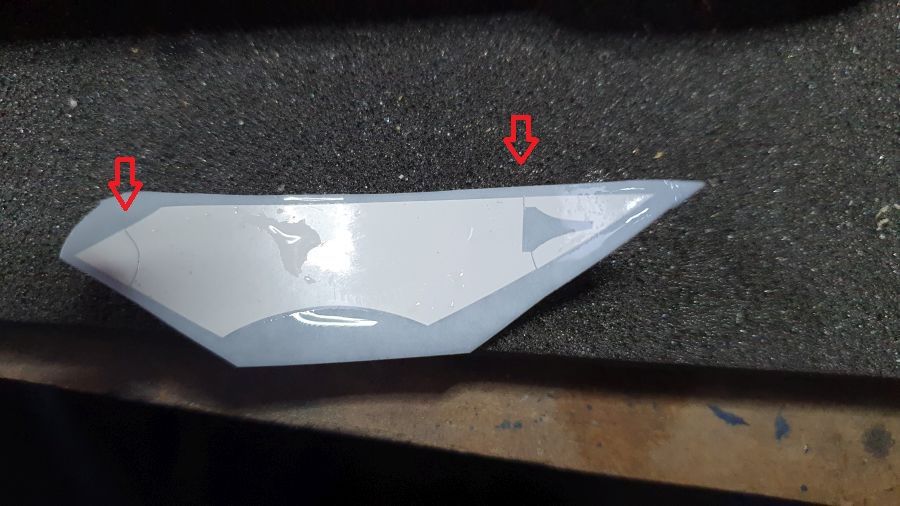 Ik probeerde een template te maken voor een stukje carbon. De verf hield niet van mijn X-acto mes en de tape. Gelukkig te repareren met de decals die het bedekken.
I tried to make a template for a piece of carbon. The paint didn't like my X-acto knife and the tape. Luckily it was repairable by covering with the decals.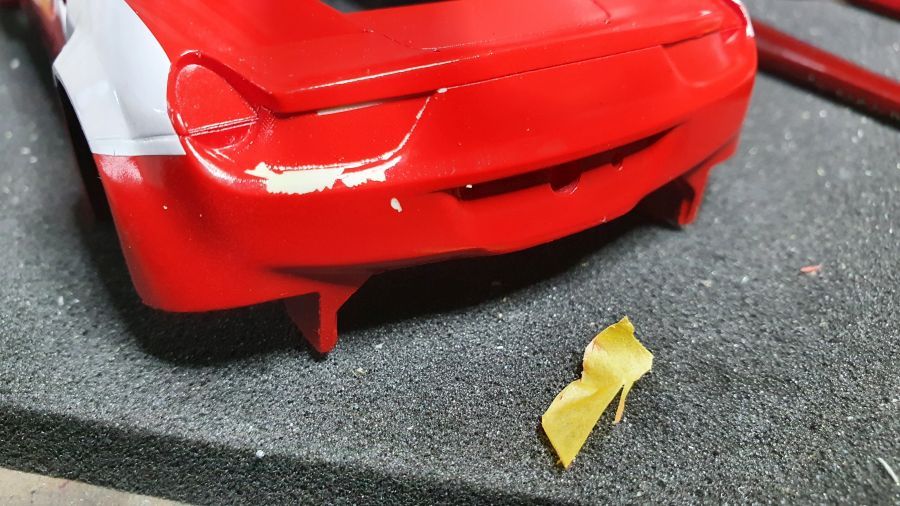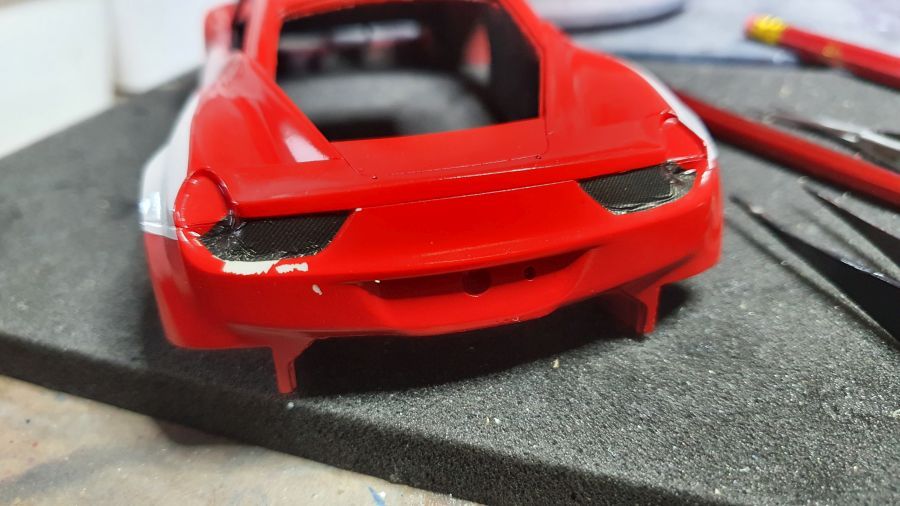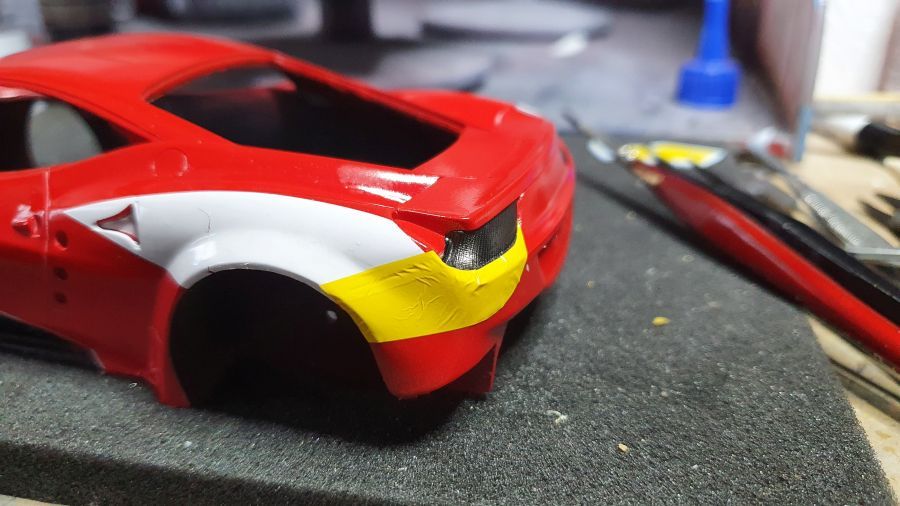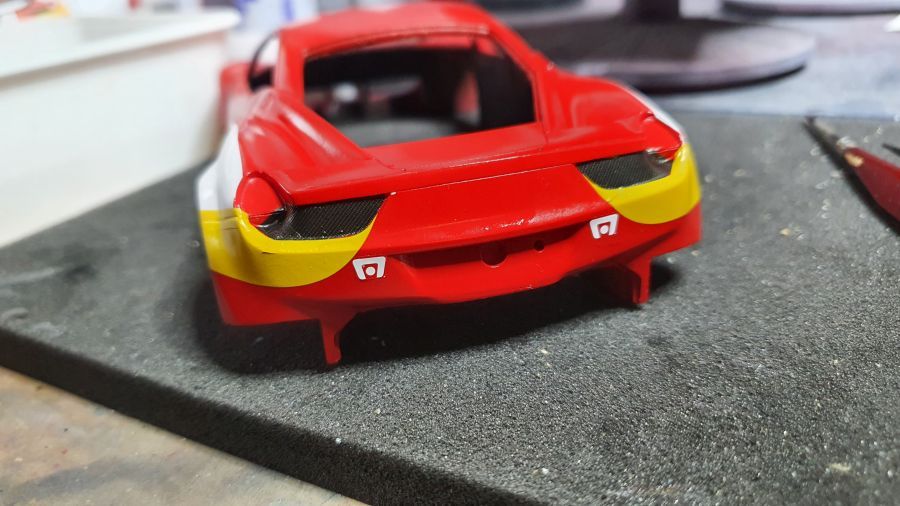 Ik doe het erg langzaam. Dat scheuren van de decals bevalt me niet. Ook reageren de decals erg langzaam op de Micro Sol. Je moet de volgorde goed plannen, anders krijg je problemen. Hieronder wat stappen.
I am doing very slow. I don't like the tearing of the decals. They also react very slow on the Micro Sol. You need to plan the sort order, otherwise you'll be in trouble. Below some steps.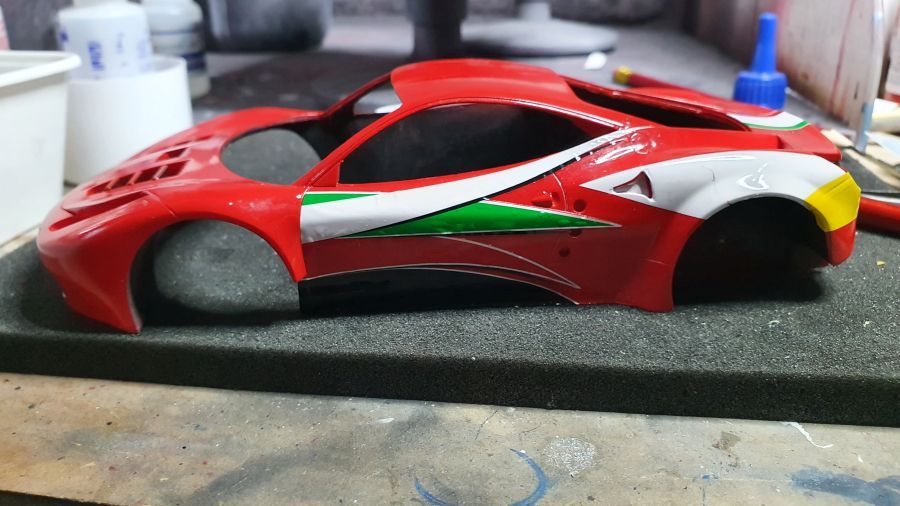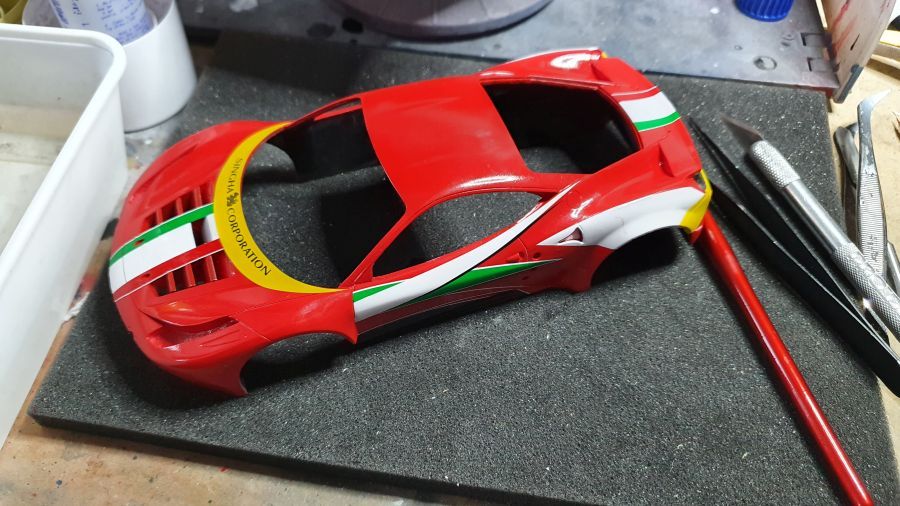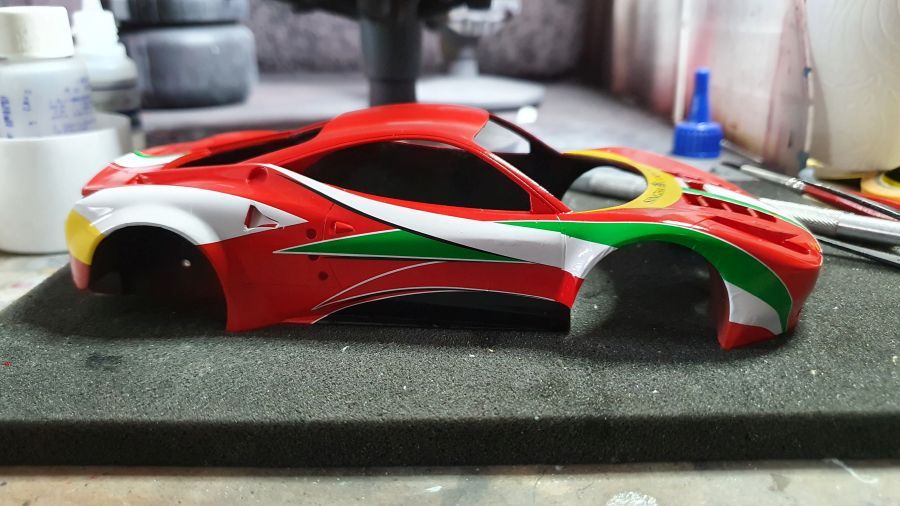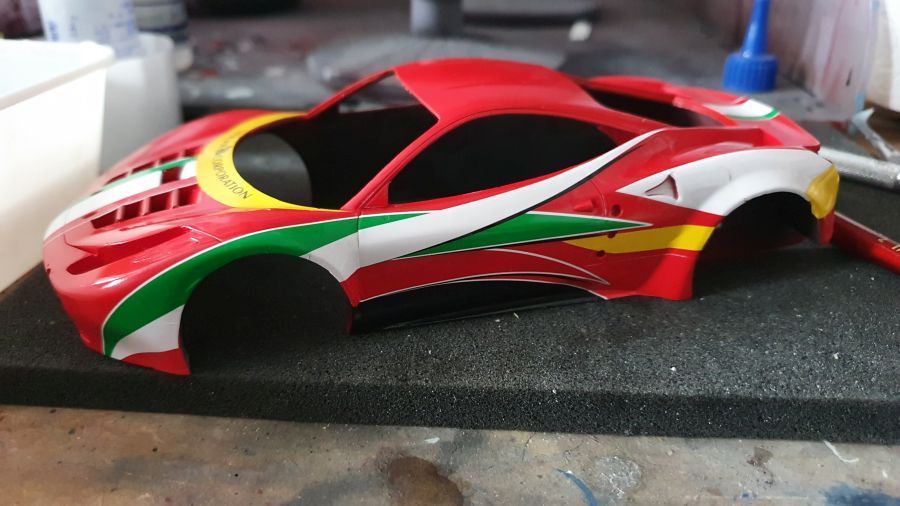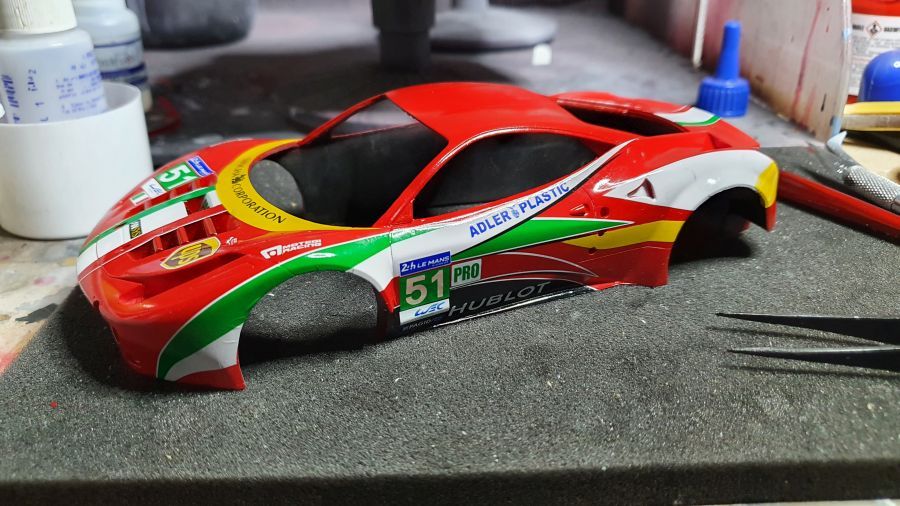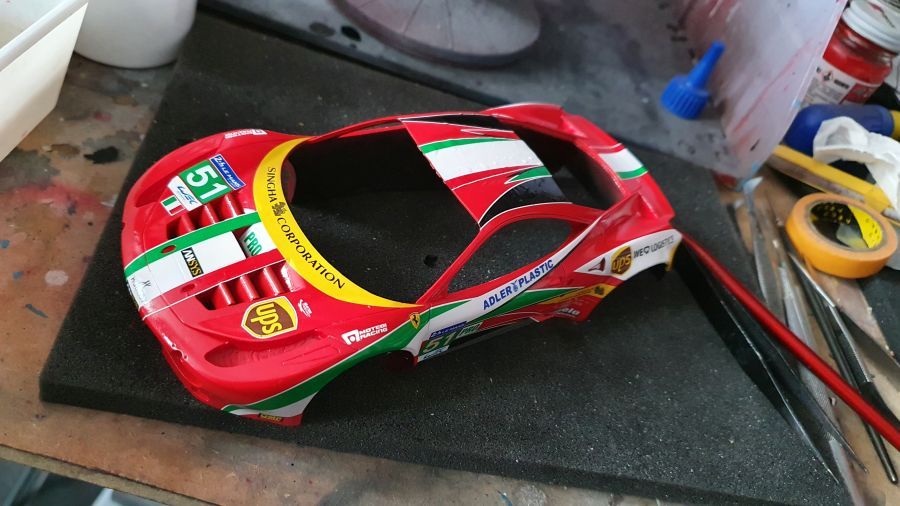 De zwarte decals aan de ondervoor- en achterkant zijn niet bijgesloten. Daar moet je zelf voor zorgen.
The black decals to the front downside and rear are not included. You need to get them yourself.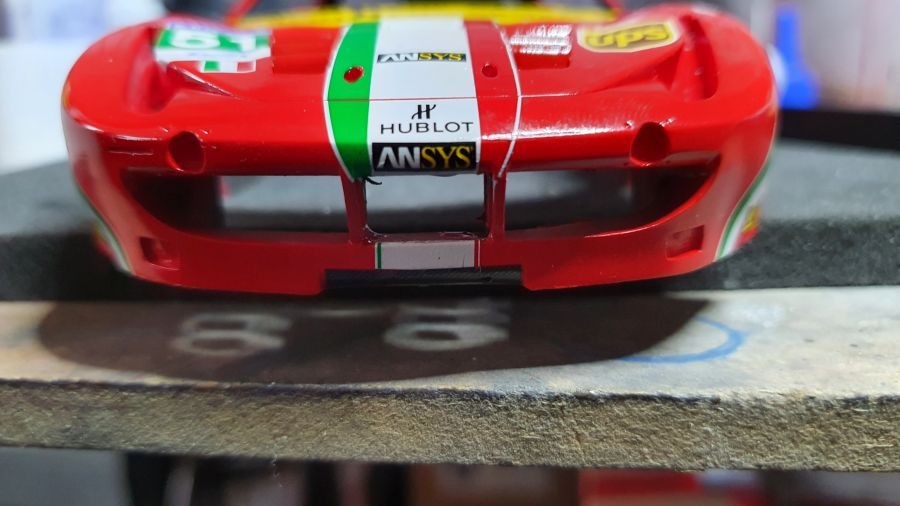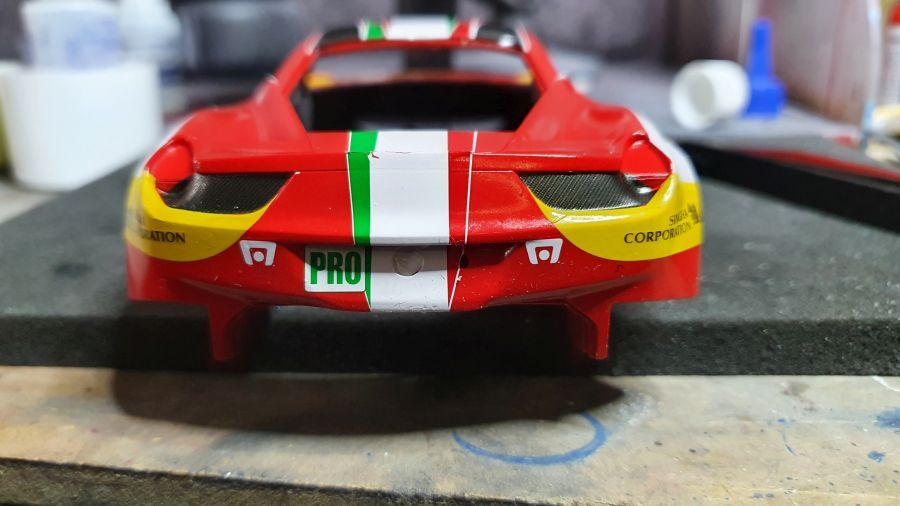 Alles zit erop voor wat betreft de body. Alleen de namen boven de deuren nog. Dan goed drogen voor de 2K lak.
All are applied regarding the body. Just the names above the doors. Then dry thorough before 2K clear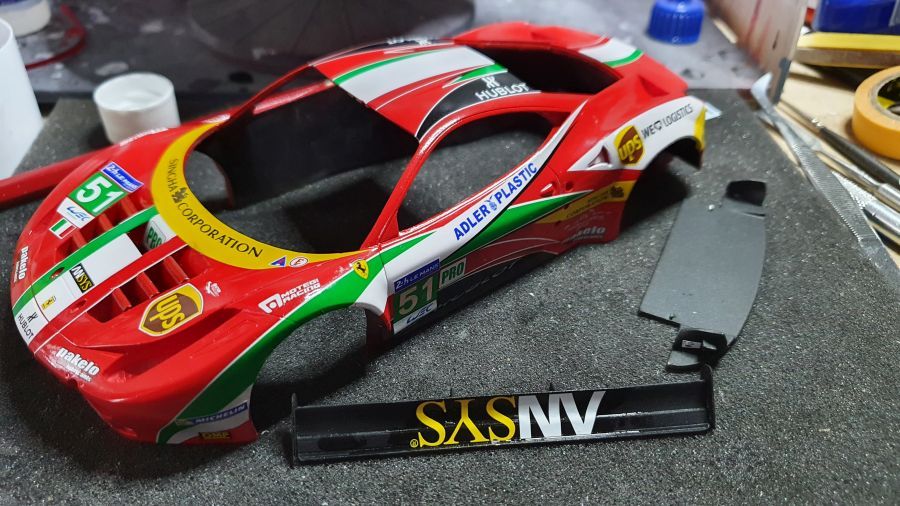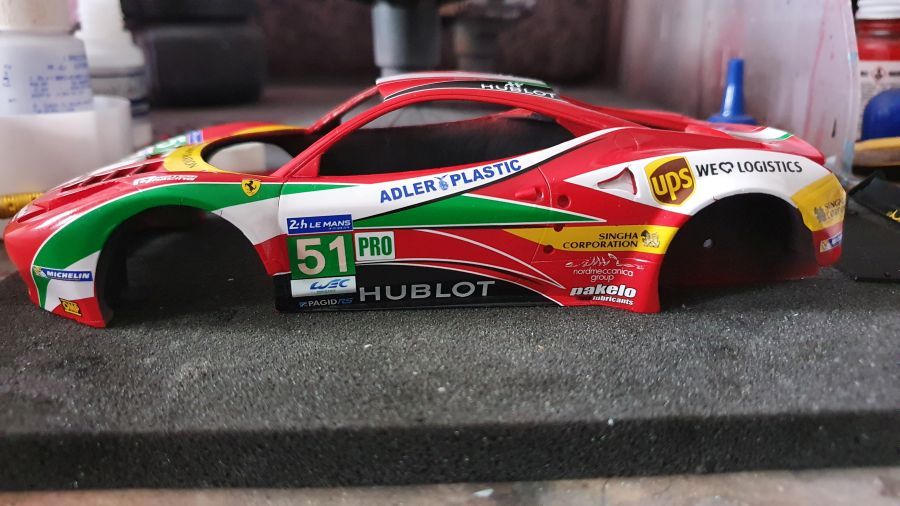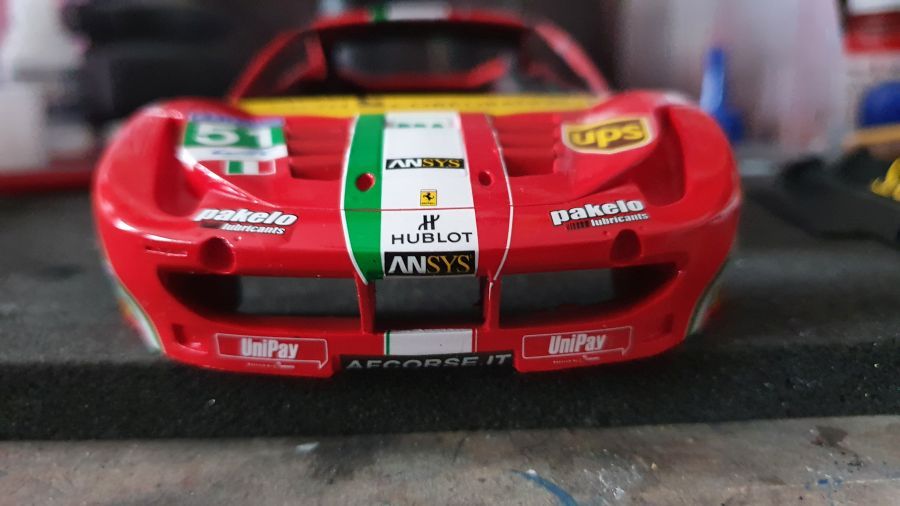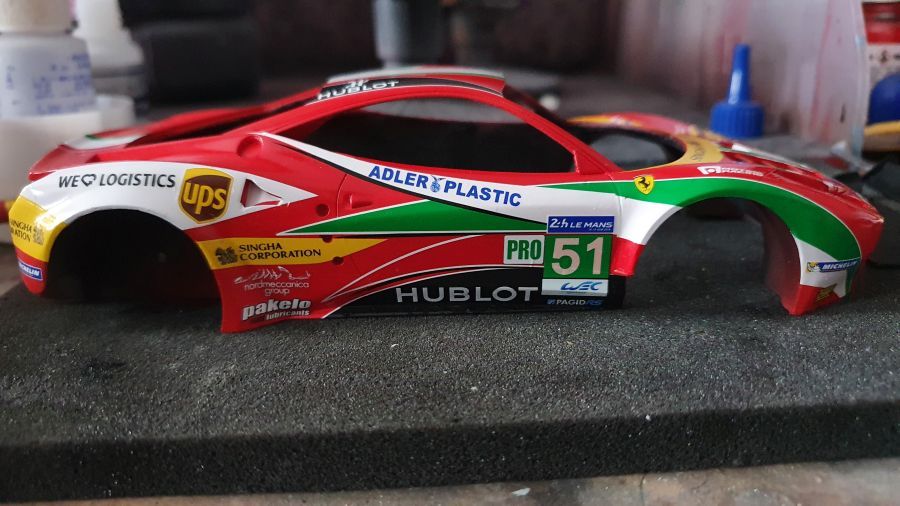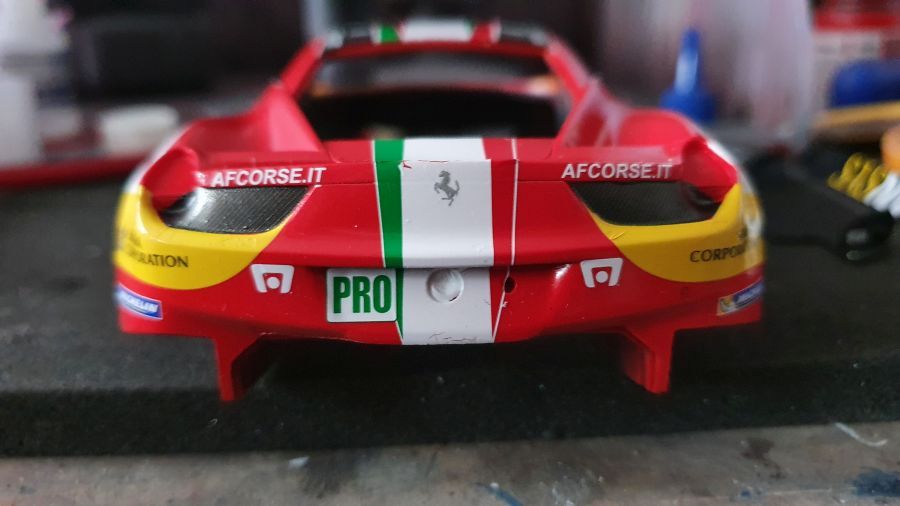 Pas op. De volgorde van de namen aan de bestuurderskant is anders dan die aan de passagierskant.
Beware. The sort order of the names on the drivers side differs from that one on the passengers side.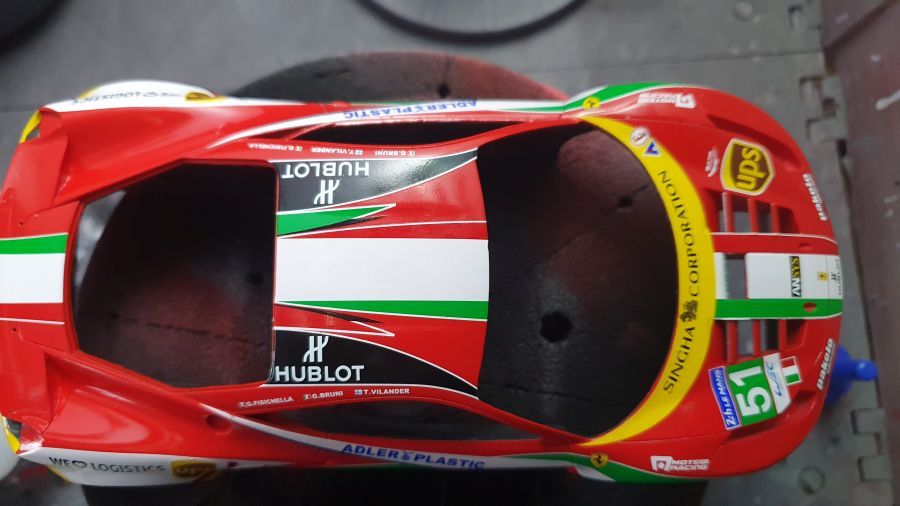 Door naar de banden. De remmen hebben de Brembo decals. De naad wordt weggeschuurd.
On to the tires. The brakes received the Brembo decals. Sanding the seem away.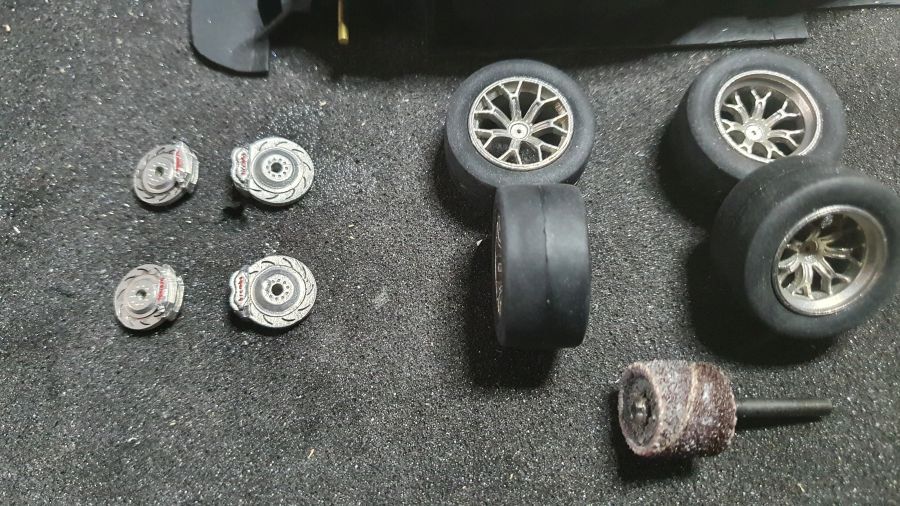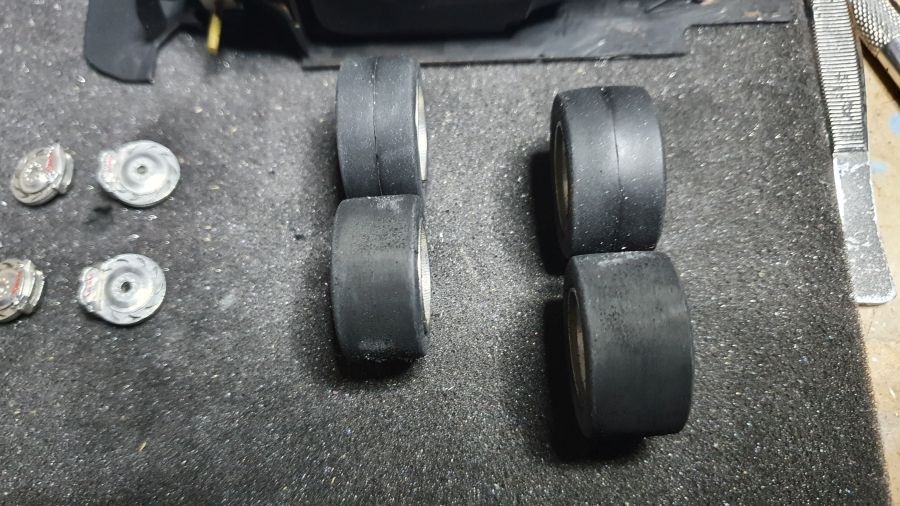 Met een gelpen breng it wat markeringen aan. Daarna de decals.
Adding some markings with a gel pen. Then the decals.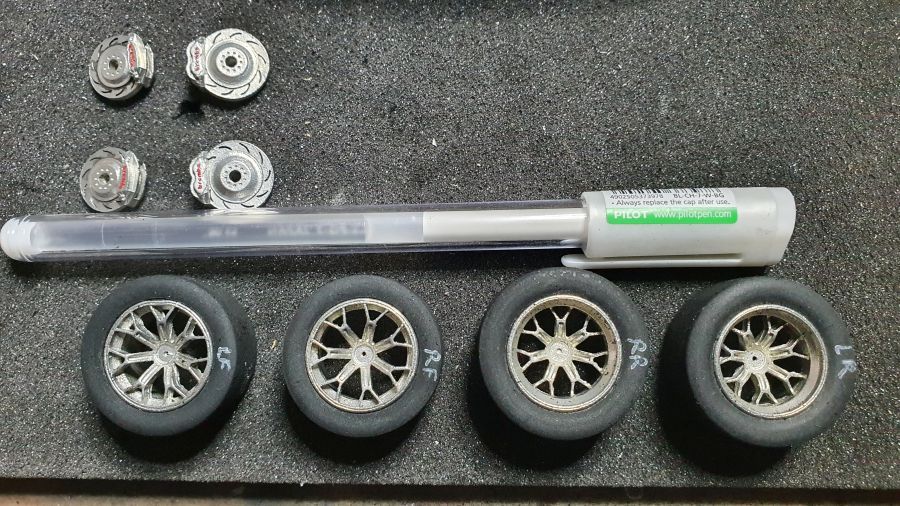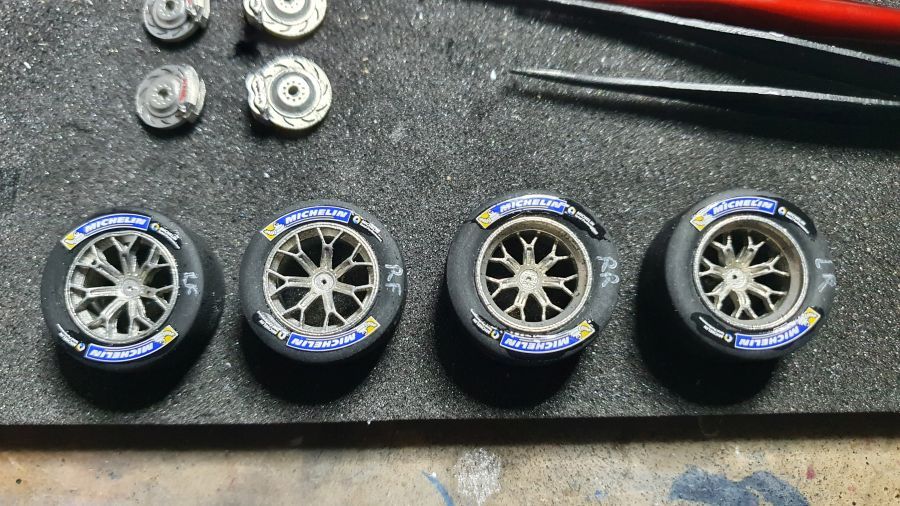 De body krijgt 2K lak.
The body receives 2K clear.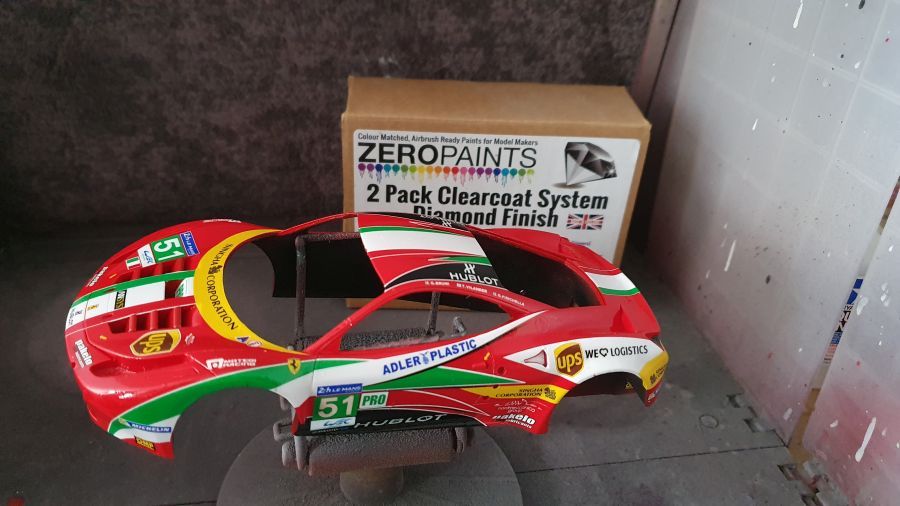 Studio27 wil dat je het raam van de donor gaat verzagen. Ik voel daar niet zo voor. Ik ga een afdruk maken met de vacuum vorm machine. Wel oppassen dat het origineel niet smelt. Dus niet te vroeg in de bak.
Studio27 wants you to cut the window part of the donor. I don't feel for this. I will make a copy by using the vacuum forming machine. Take care the original doesn't melt. So not in the form too soon.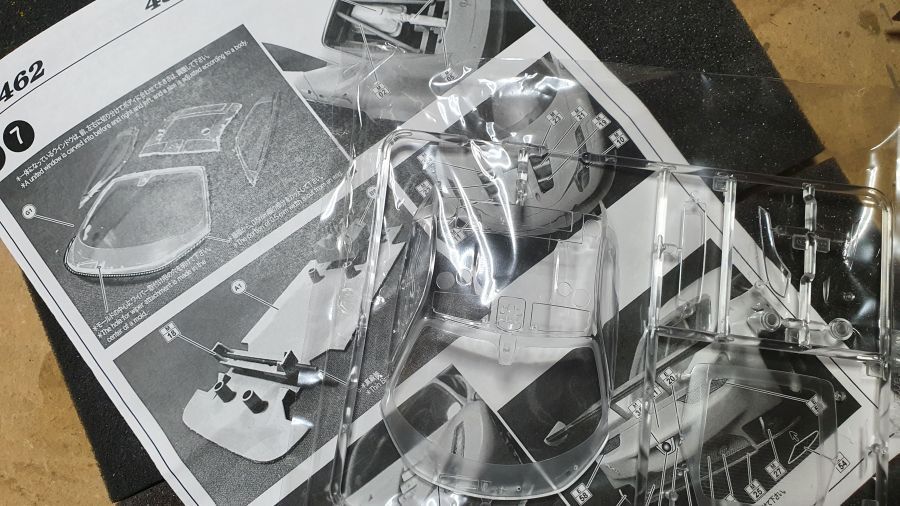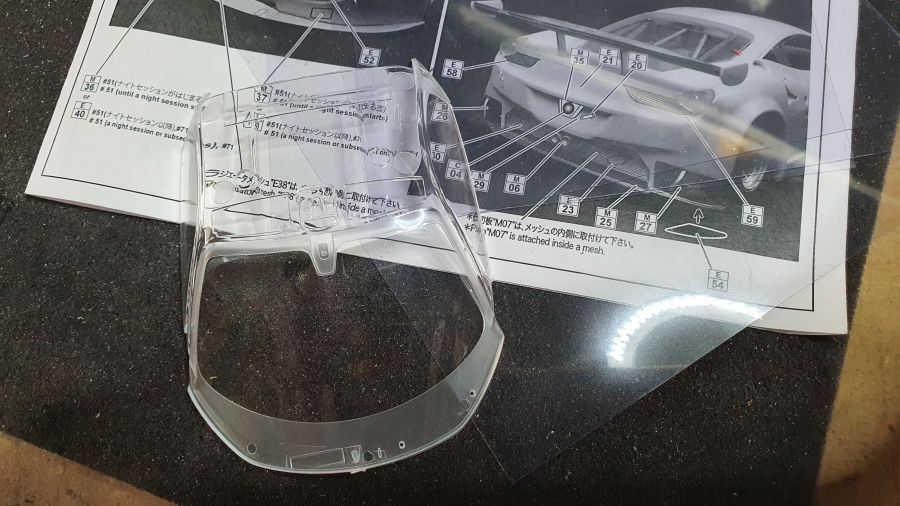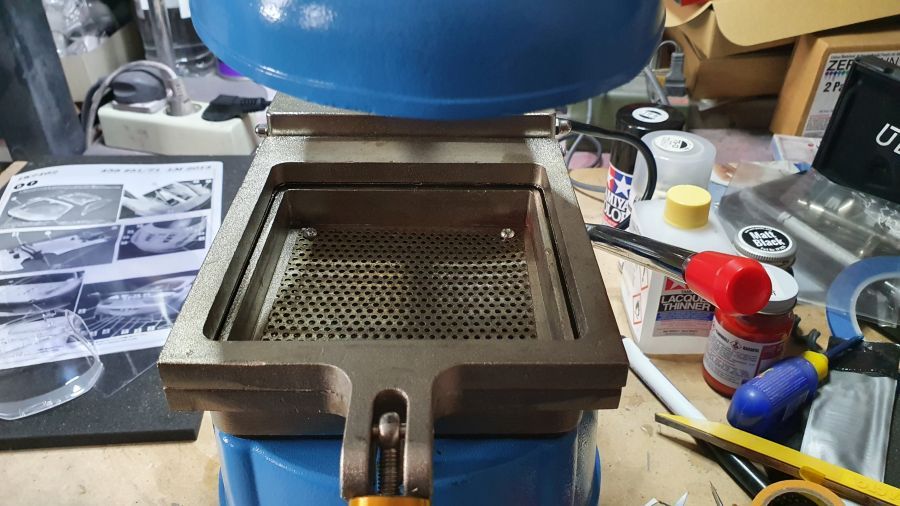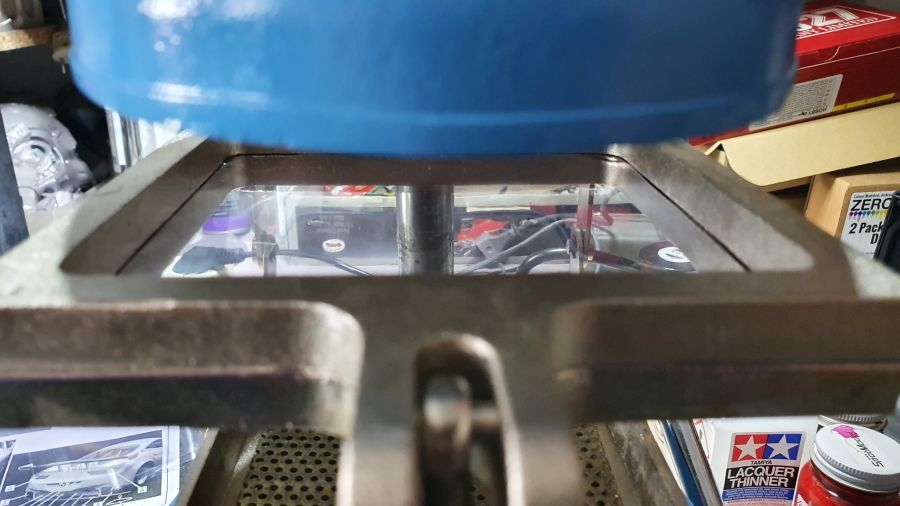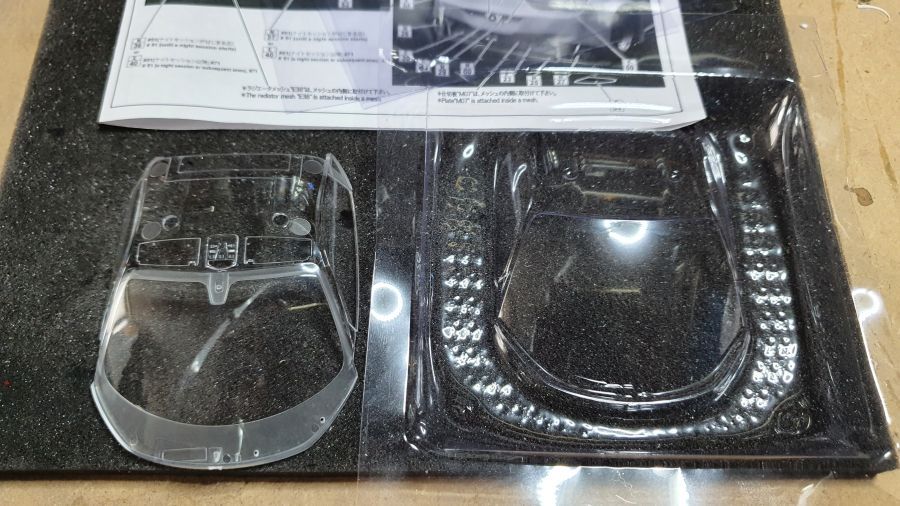 De voorwielen worden geplaatst.
The front wheels are added.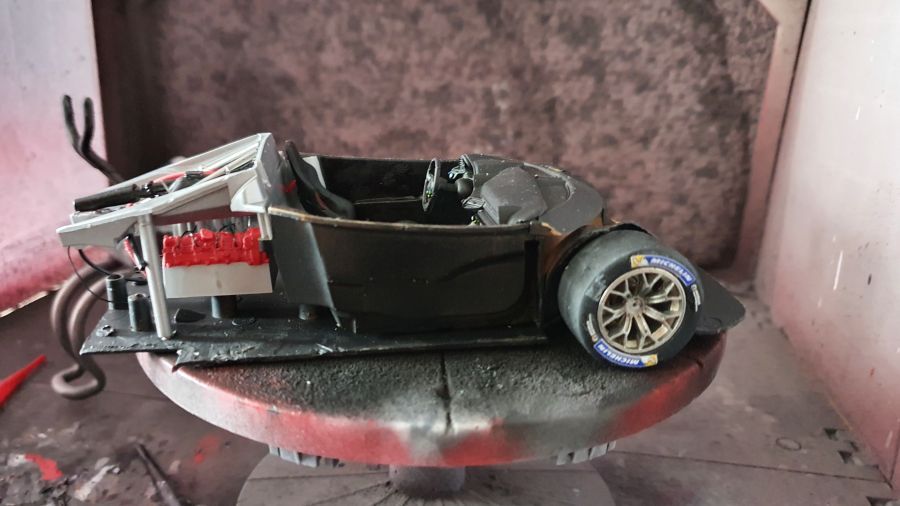 Wat onderdelen aan de voorkant.
Some parts to the front.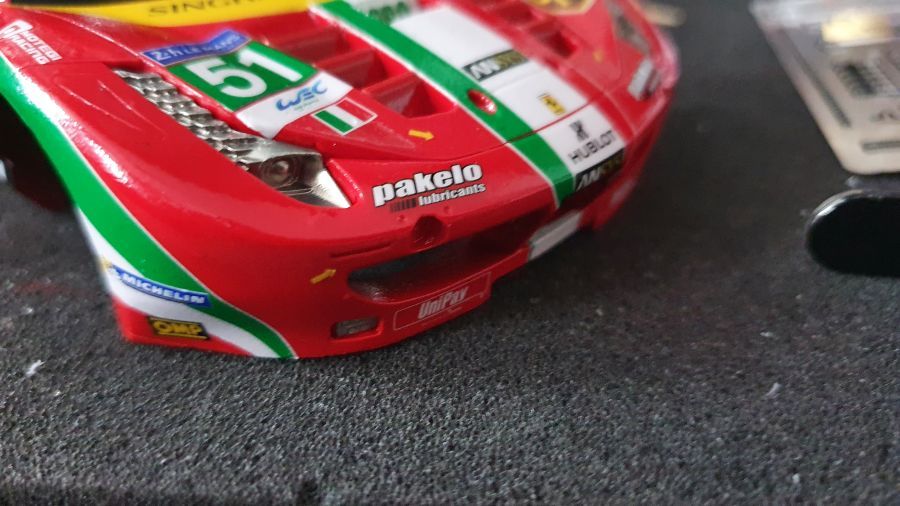 De ramen worden geknipt en van binnen gespoten.
The windows are being cut and painted on the inside.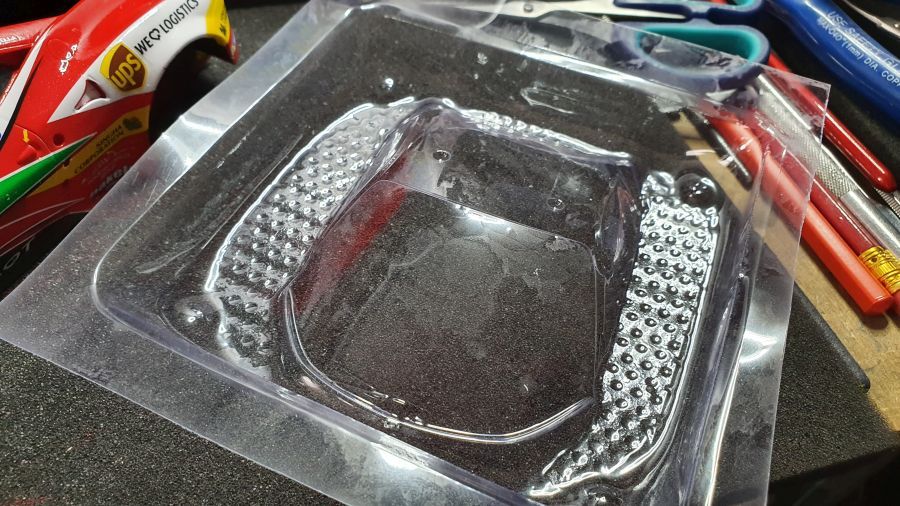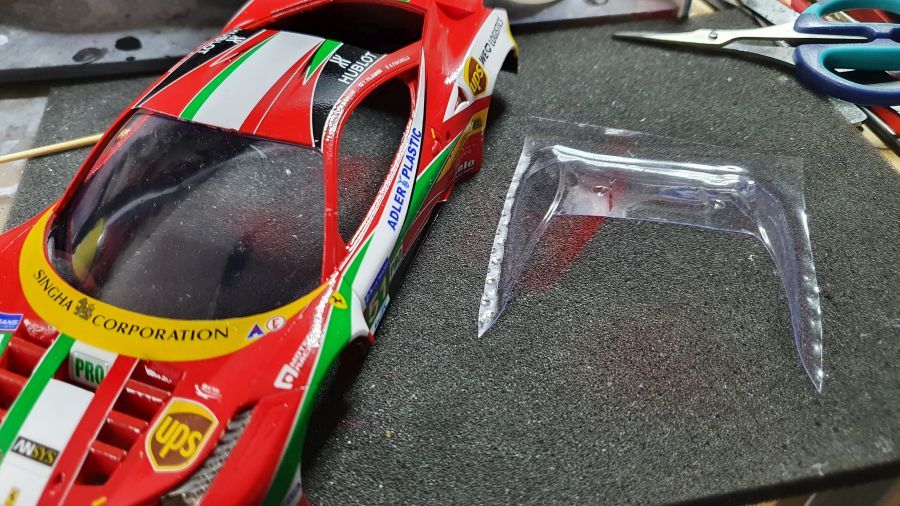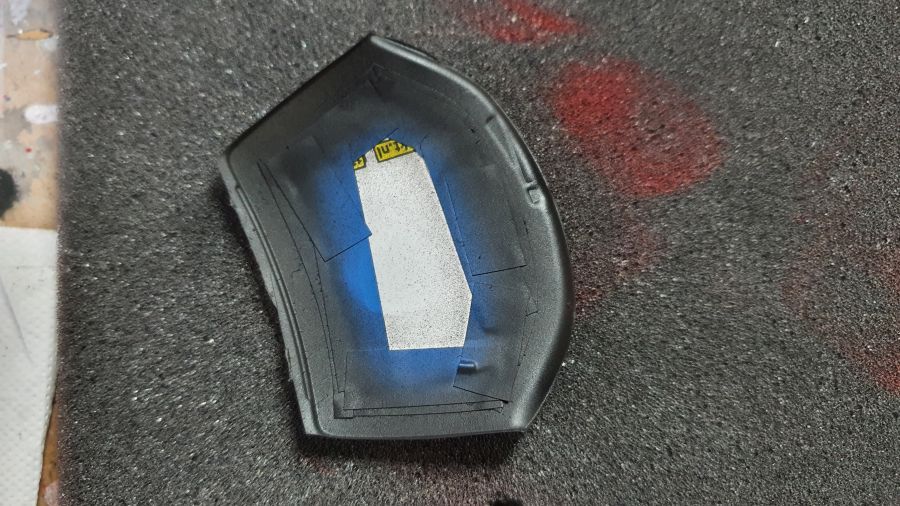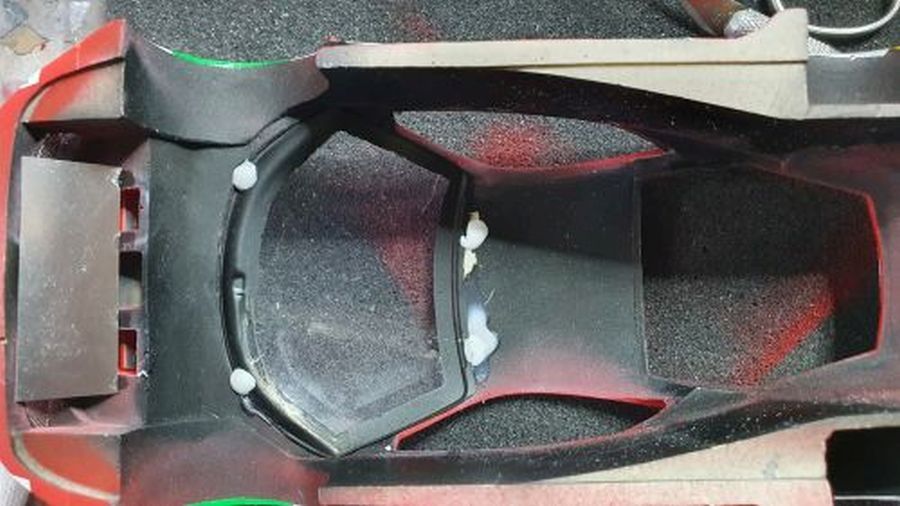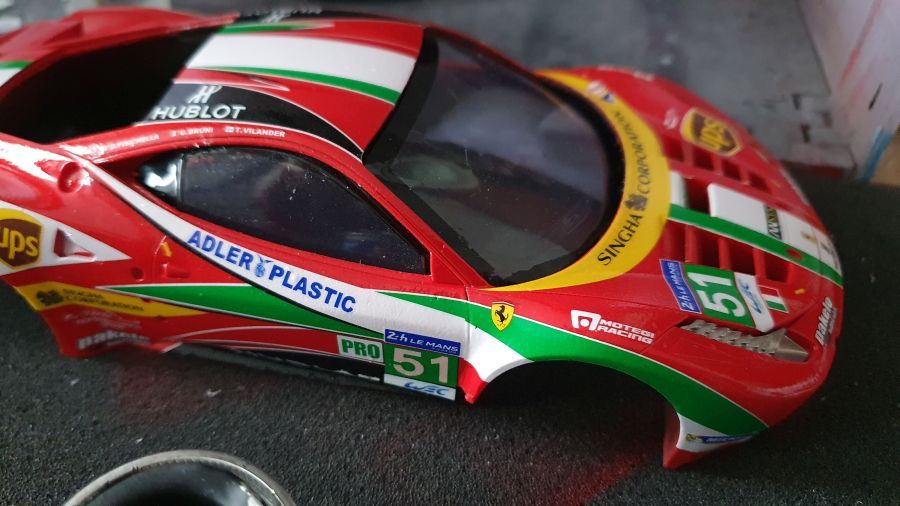 Door naar het achterraam. Hiervoor gebruik ik gewoon het raam van de kit. Het moet wat aangepast.
On to the rear window. For this i will use the kit window. It needs some adjustment.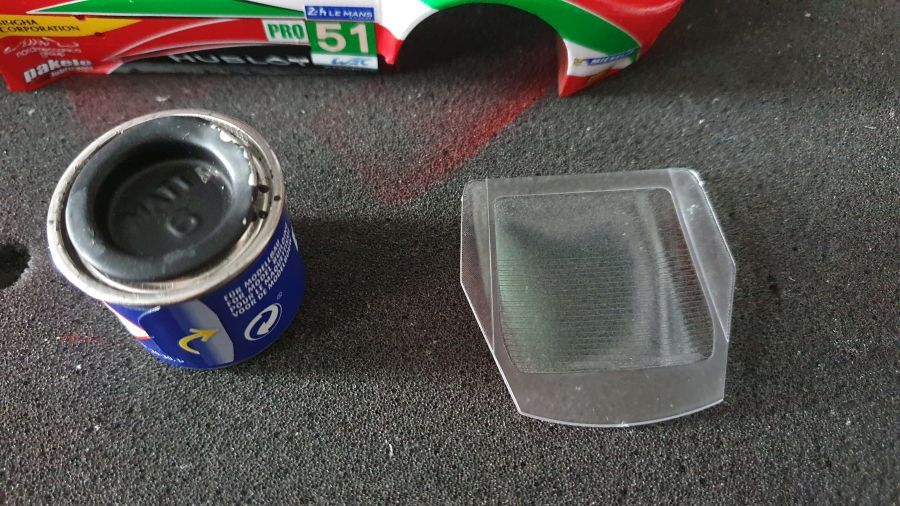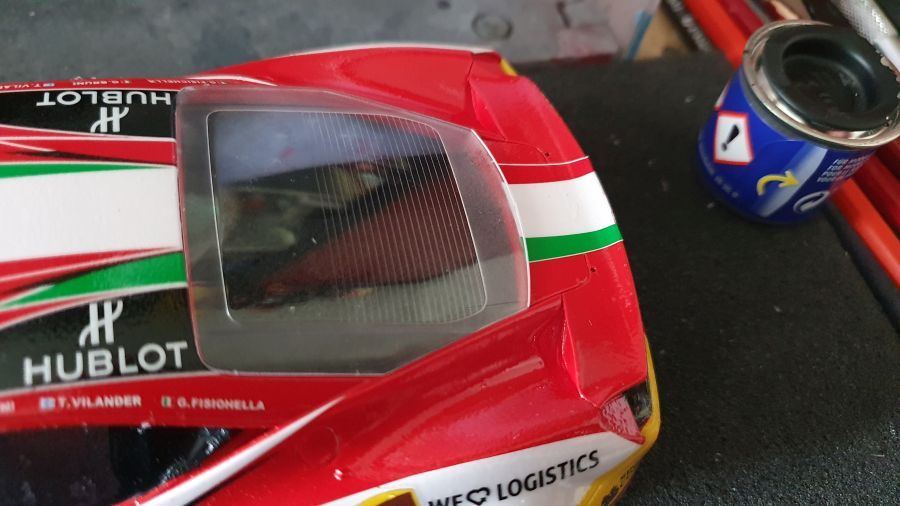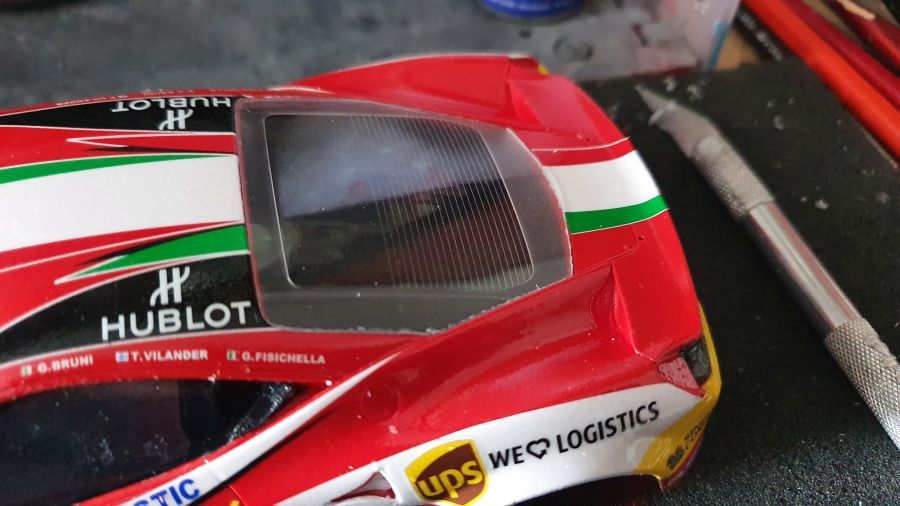 De vloer gaat eronder.
The floor is being added.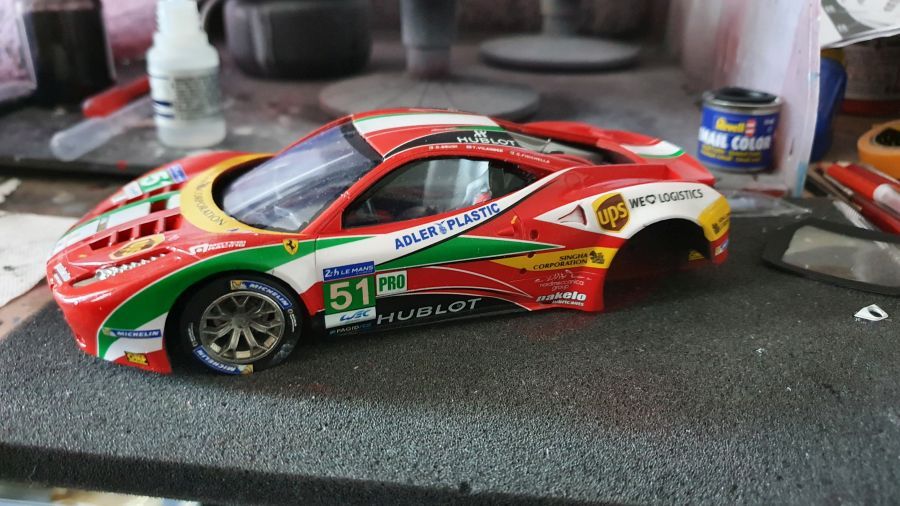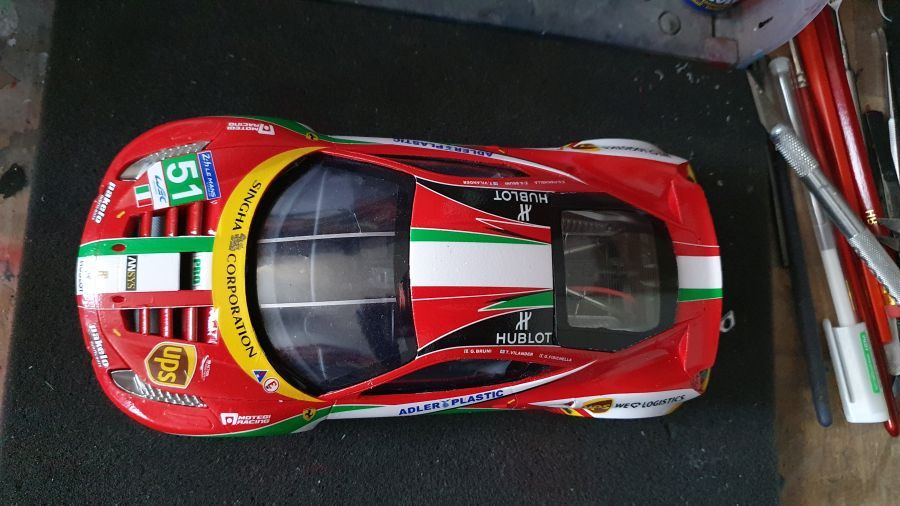 De positie lichten zijn wat te groot, ze moeten wat worden bijgeslepen.... en dan komt het tapijtmonster.
The position lights are too big, they need to be cut a bit.... and then comes the carpet monster.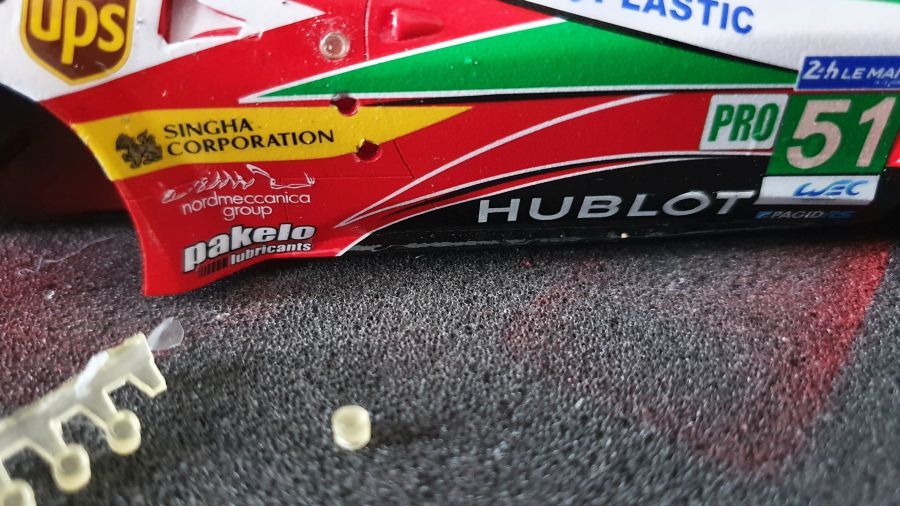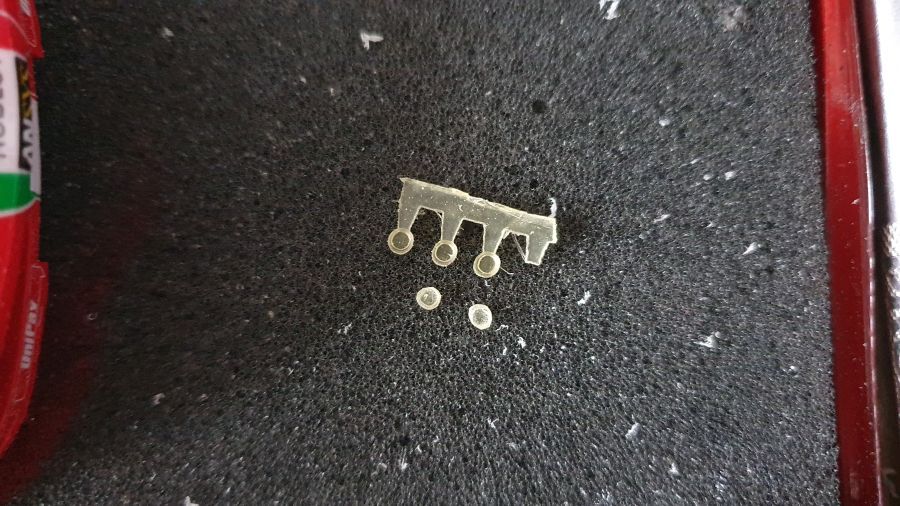 Dus improviseren... zelf nieuwe maken.
So improvising... making new ones myself.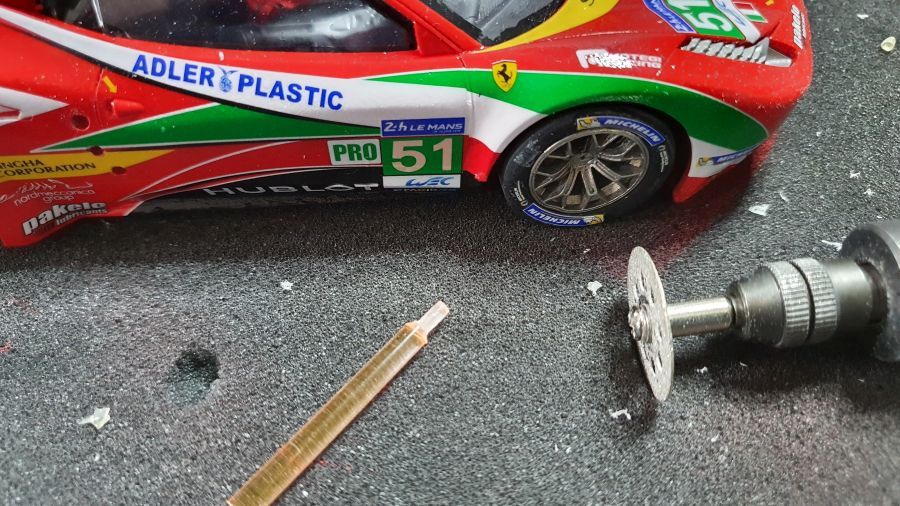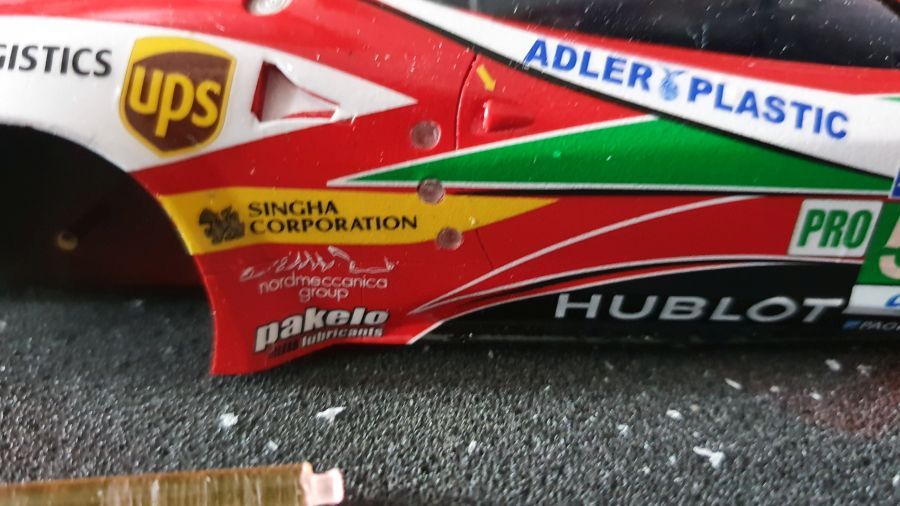 Achterwielen geplaatst.
Rear wheels are on.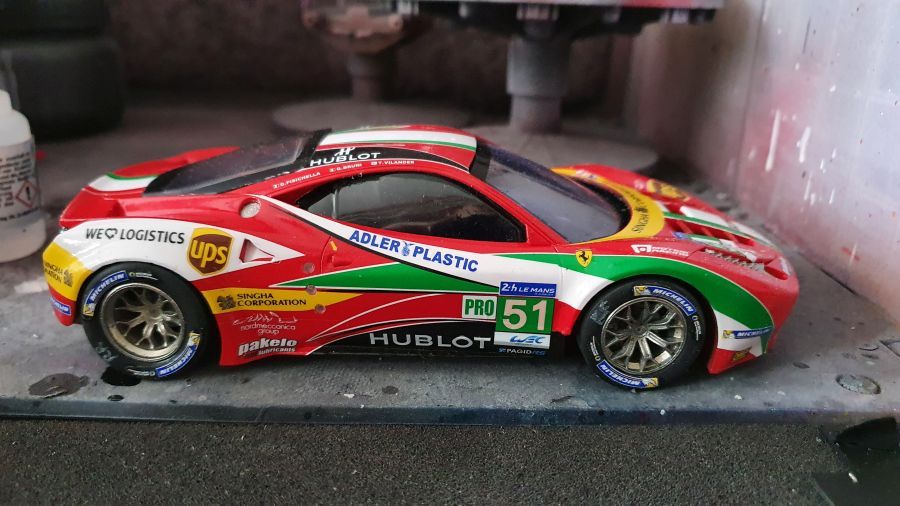 Dan een paar delen van de diffuser.
Then some diffuser parts.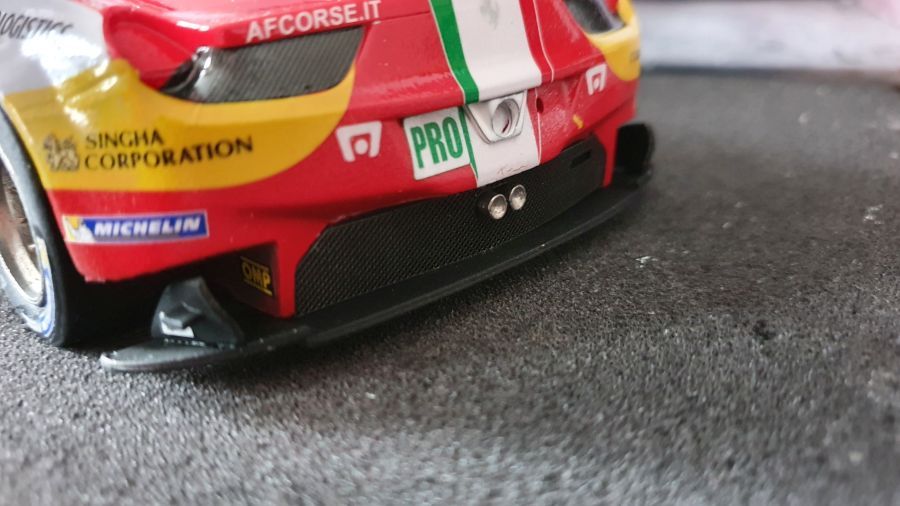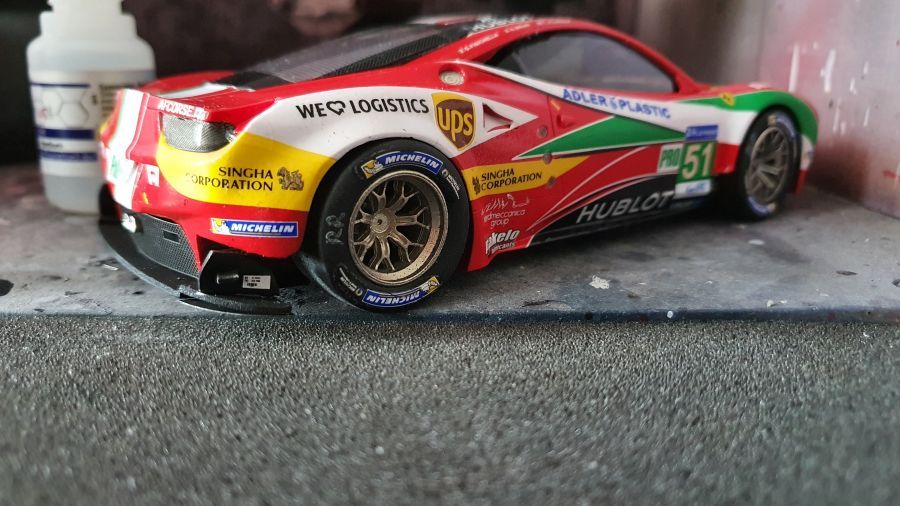 Nog wat decals op de voorruit en dan het zijraam.
Some more decals on the front shield and then the side window.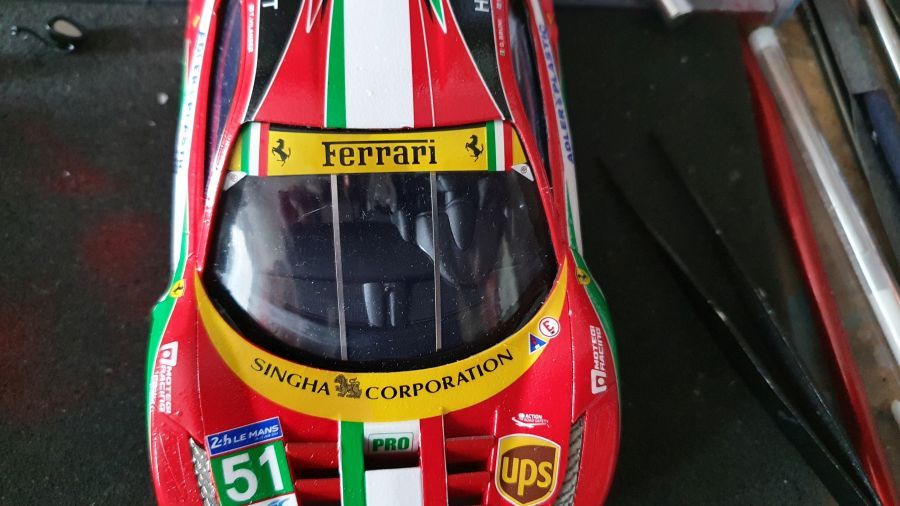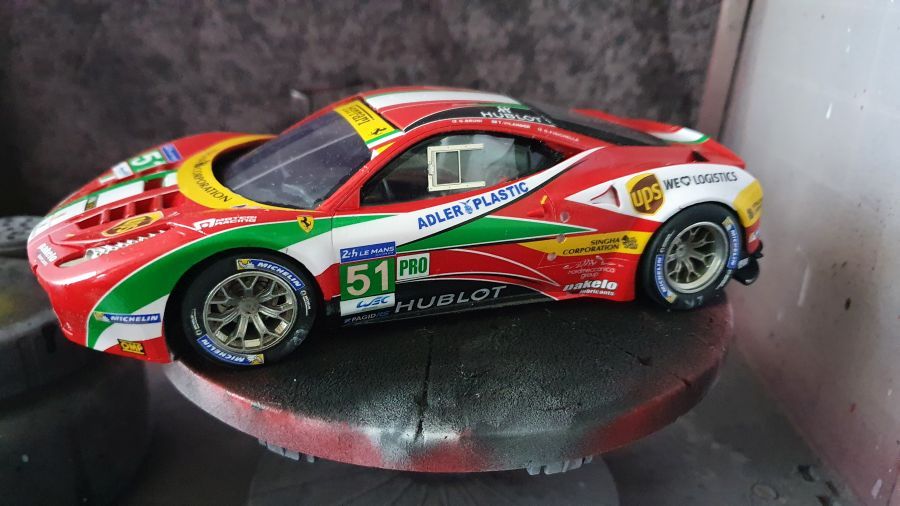 Carbon voor de voorkant.
Carbon to the front.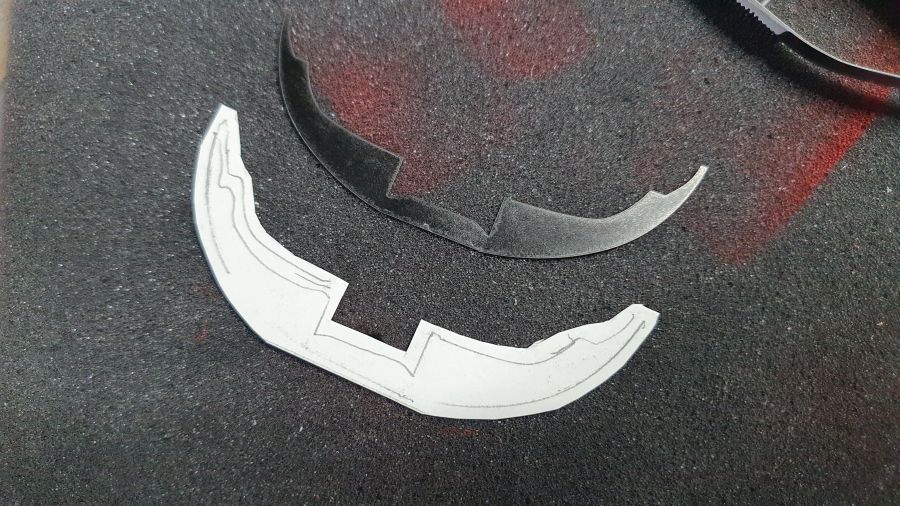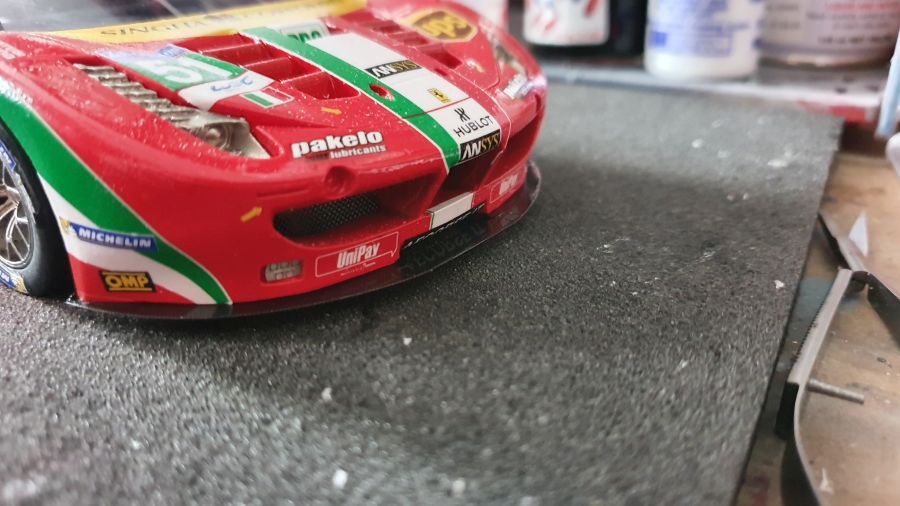 Door met de verlichting.
On to the lights.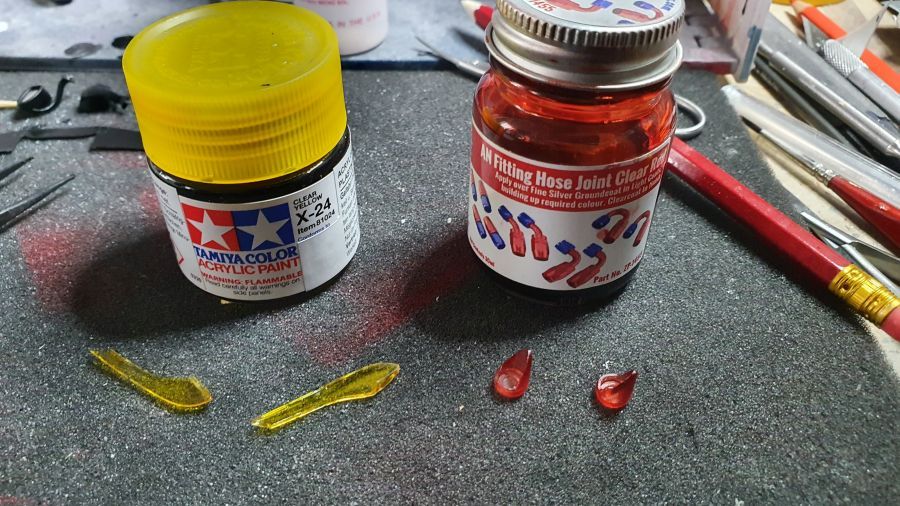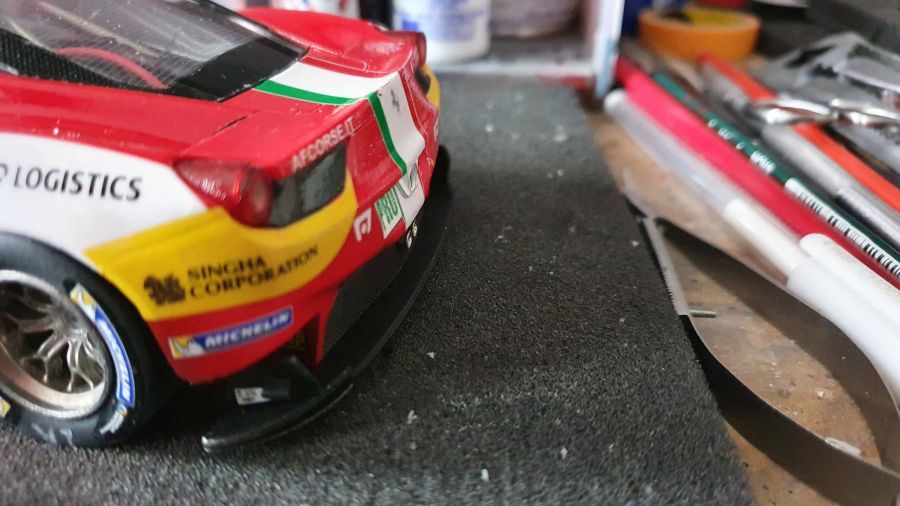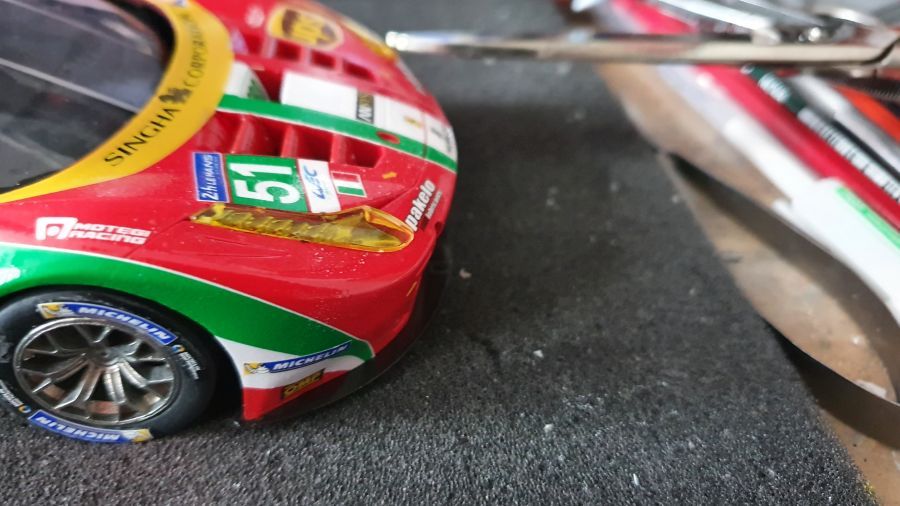 Veel kleine onderdelen...
Many small parts...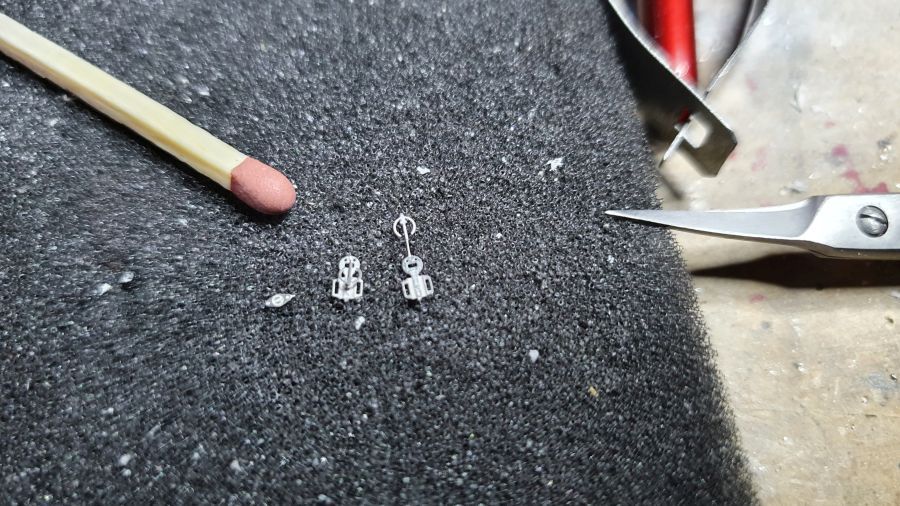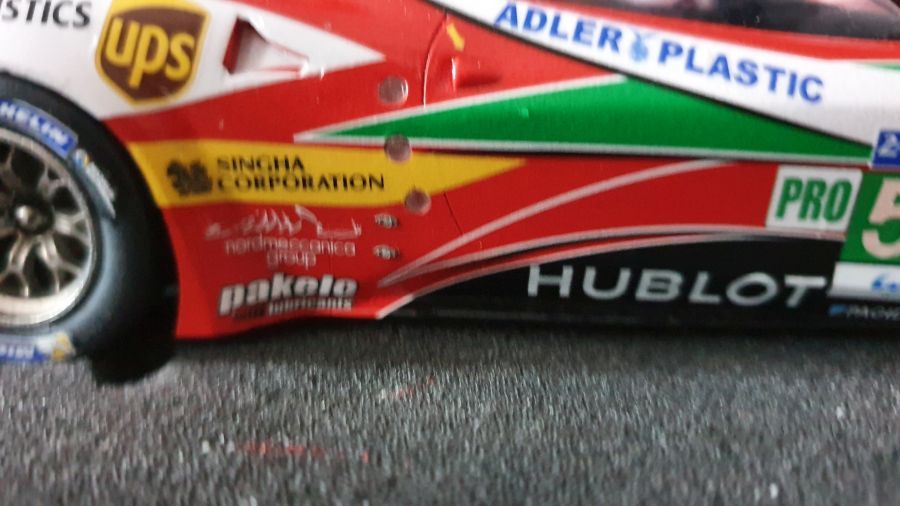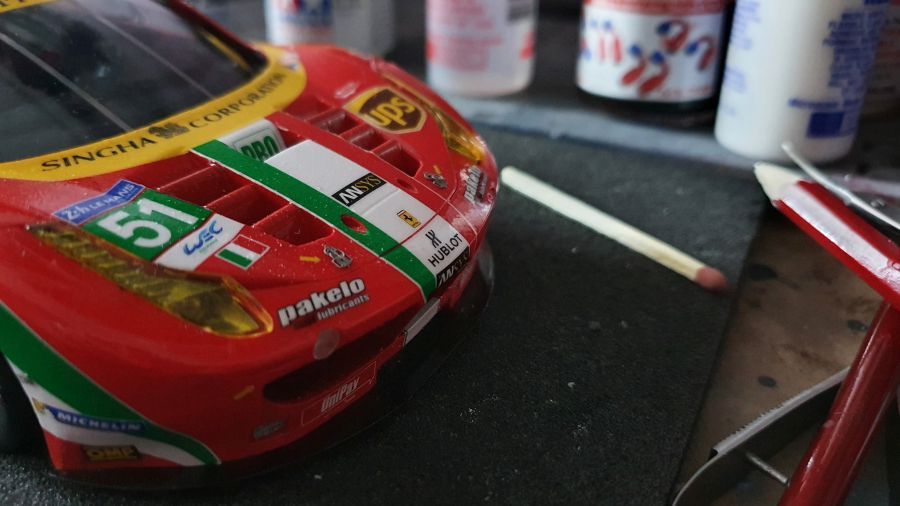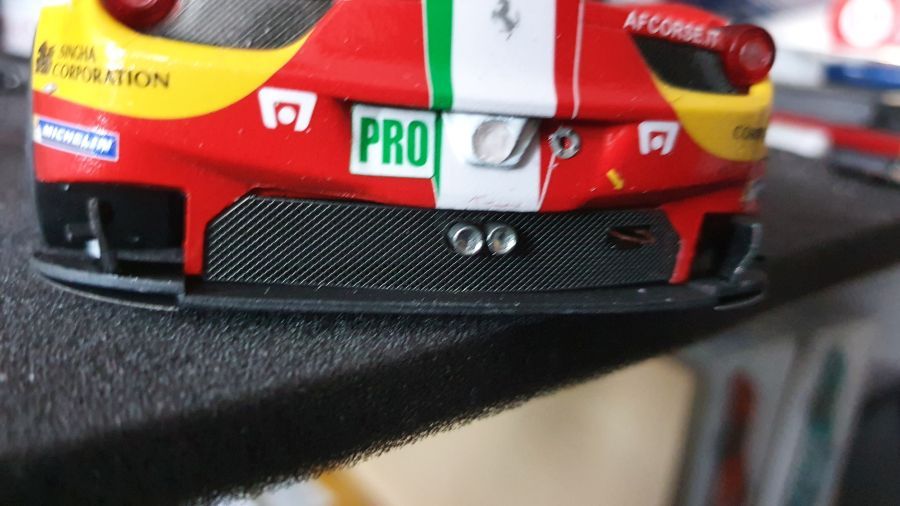 Na het plaatsen van antennes, de vleugel en de spiegels beschouw ik hem als gedaan.
After adding antennas, the wing and the mirrors i am calling this one done.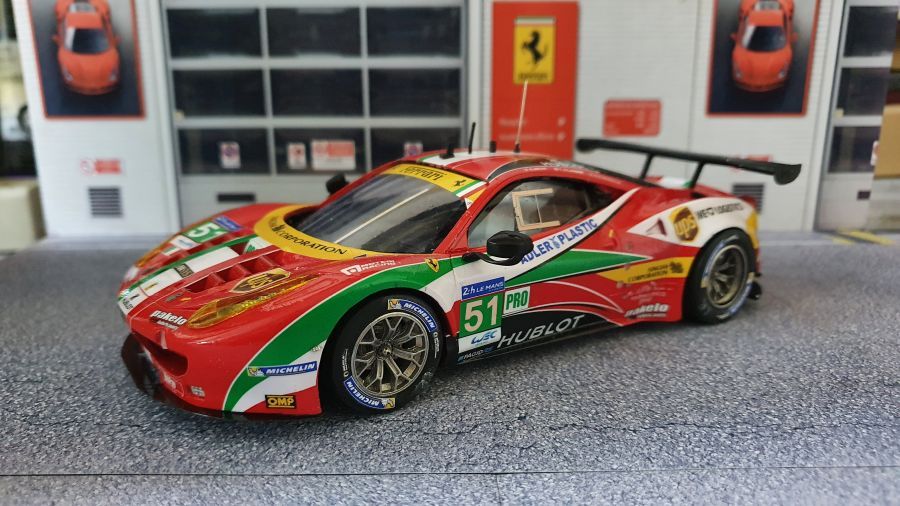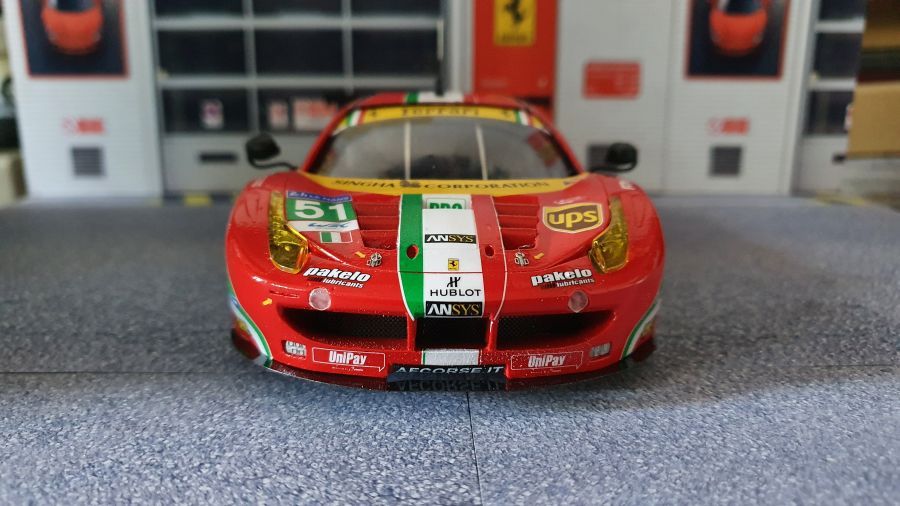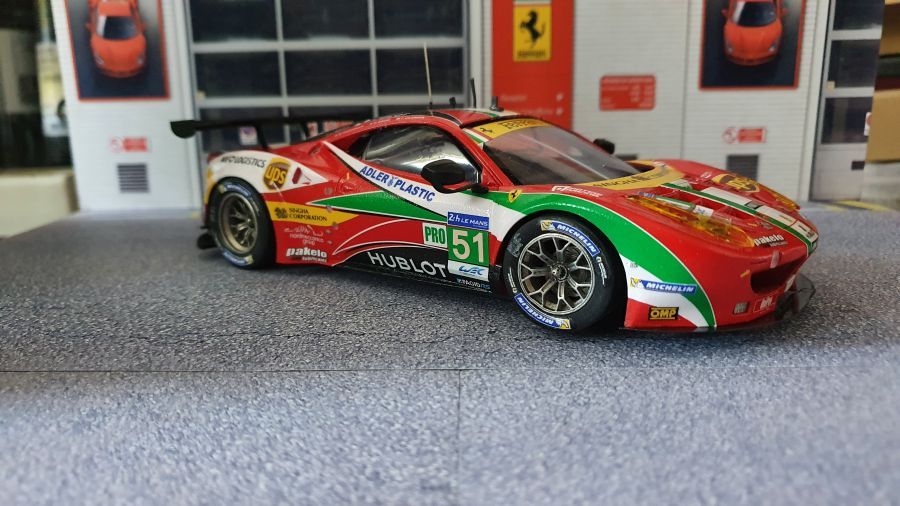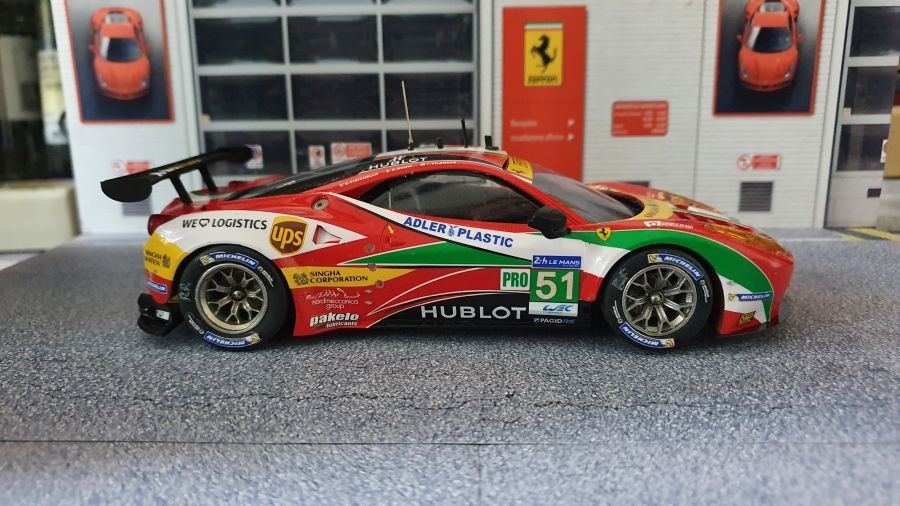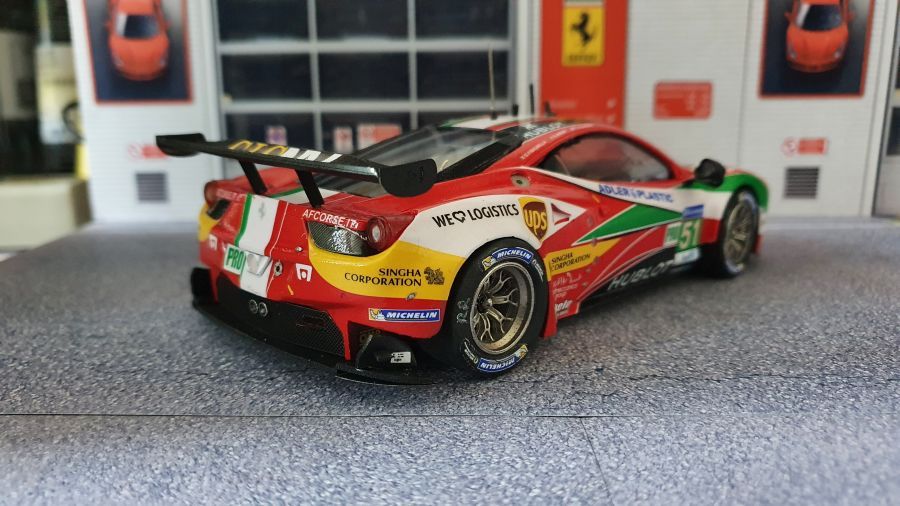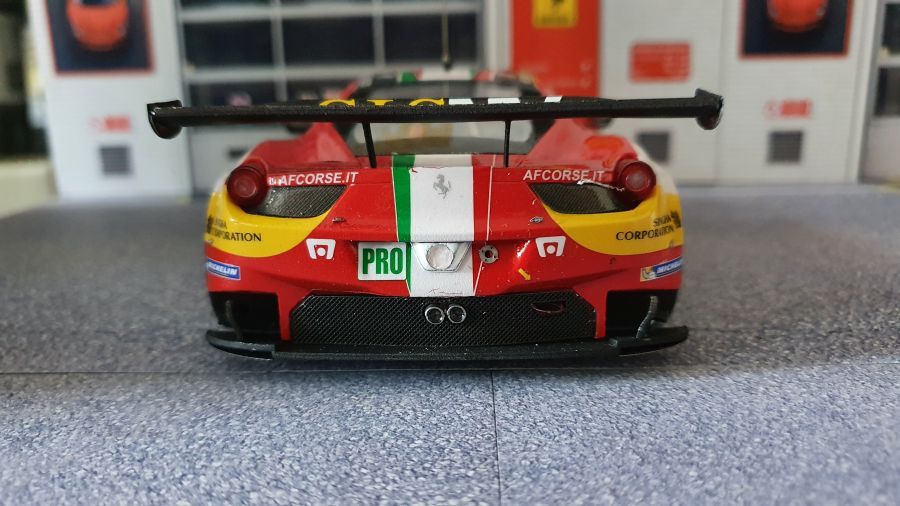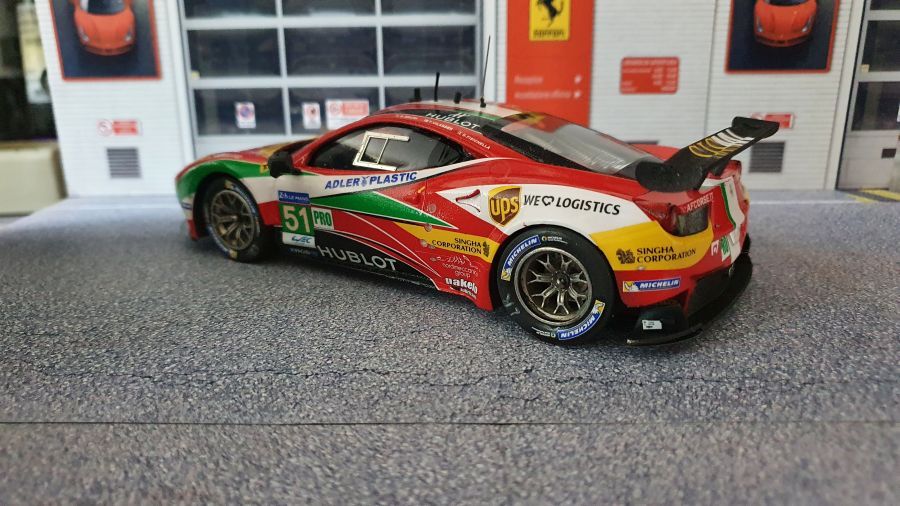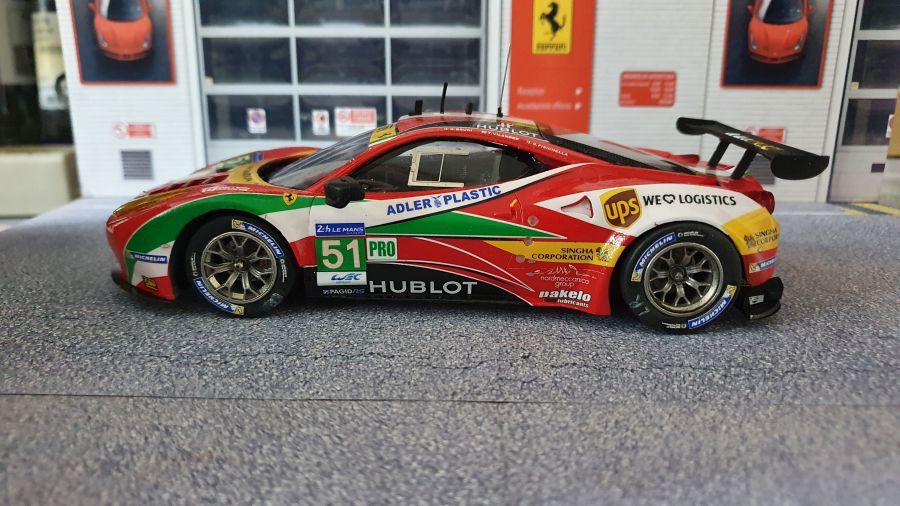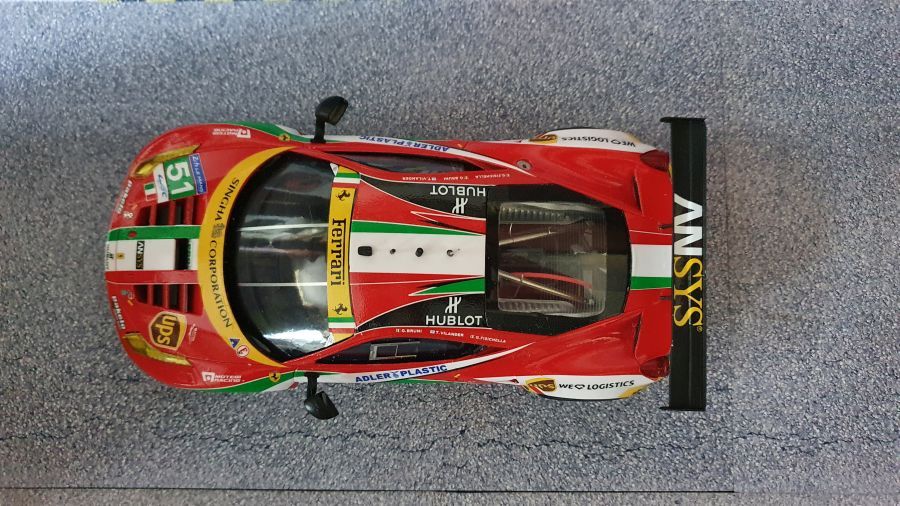 Wat mij betreft een prachtige trans kit waar ik met veel plezier aan heb gewerkt. Echt een aanrader. De decals zijn zeer stug, dus gebruik veel softener. Ook het plaatsen vereist een goede planning, anders kun je bedrogen uitkomen.
To me a beautiful trans kit on which i had a lot of pleasure. I can recommend it.  The decals are stiff, zo use a lot of softener. Also adding them requires a bit of planning, otherwise you might fall into a nasty surprise.