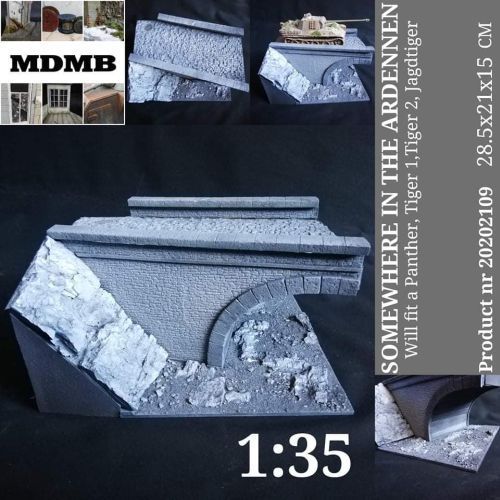 Van MDMB heb ik deze brug gekocht in schaal 1/35. Ik ga proberen om hier een diorama van te maken voor een 1/24 auto. Het zou dan een voorstelling moeten worden van bijvoorbeeld de Targa Florio. De brug moet breed genoeg zijn om een 1/24 auto te bergen en daarmee een kleine brug voor te stellen. Wel een aantal onderdelen kapot en zelfs, voor verzending, gerepareerd. Ik haat zoiets. Mogelijk zie je er niets van als het klaar is, maar toch. Ik heb nog nooit zo'n project gedaan, dus ik hoop dat het wat wordt. Het verven zal wat lastiger zijn denk ik, omdat de brug van rsin is en niet van gips.
From MDMB i bought this bridge in scale 1/35. I will try to use it for a diorama for a 1/24 car. It should represent a scene from e.g. the Targa Florio. The bridge should be wide enough to contain a scale 1/24 car and thus represent a small bridge. Some parts are broken and even repaired, before they were shipped. I always hate this. Maybe you will not notice when finished, but still. I never did a project like this before, so i hope i can manage. The painting might be more difficult, as the bridge is from resin instead of plaster.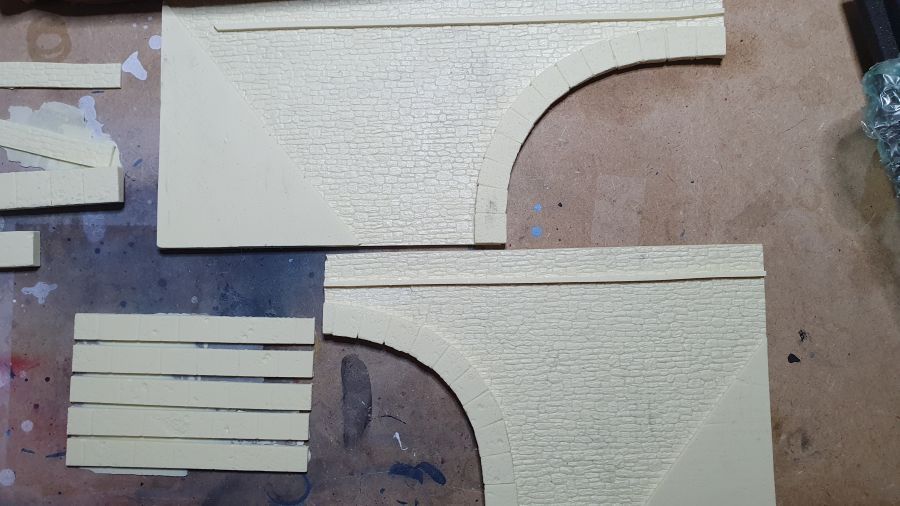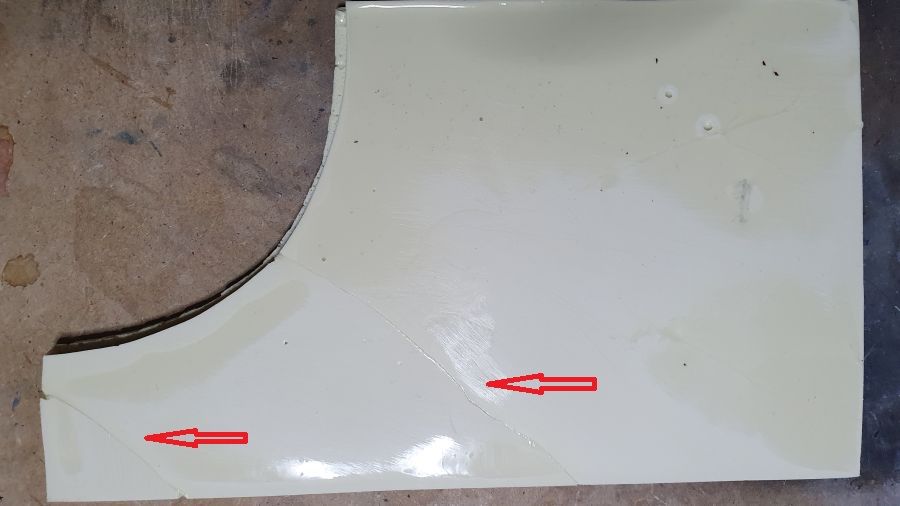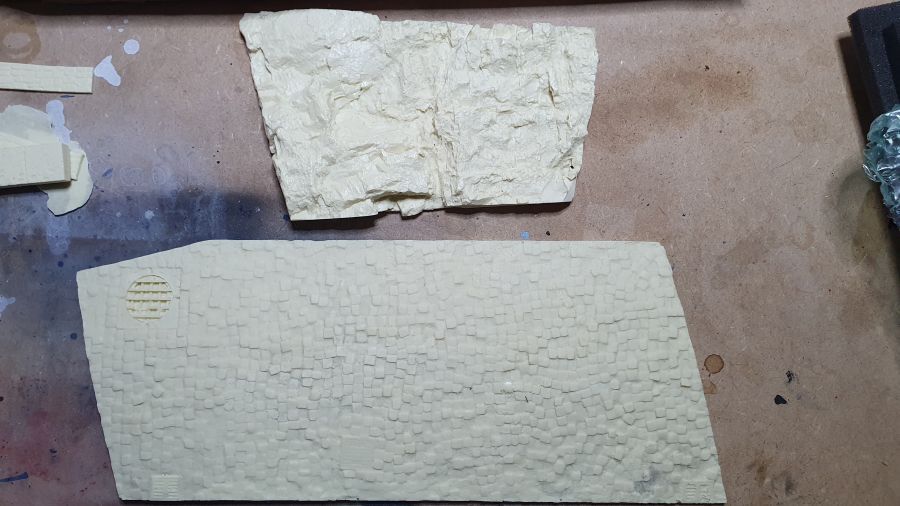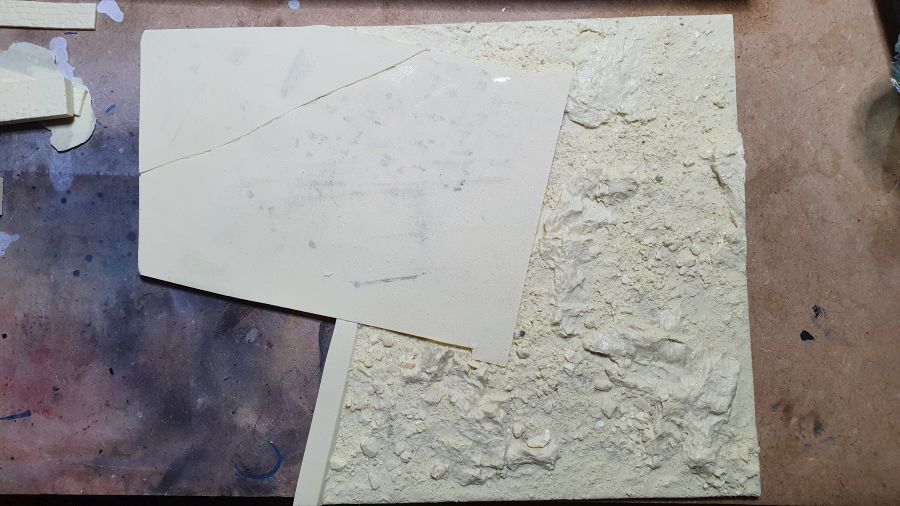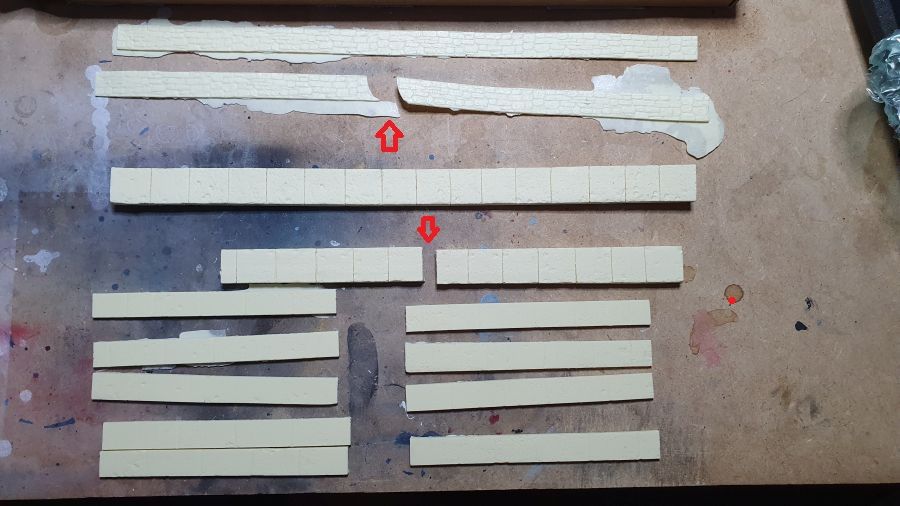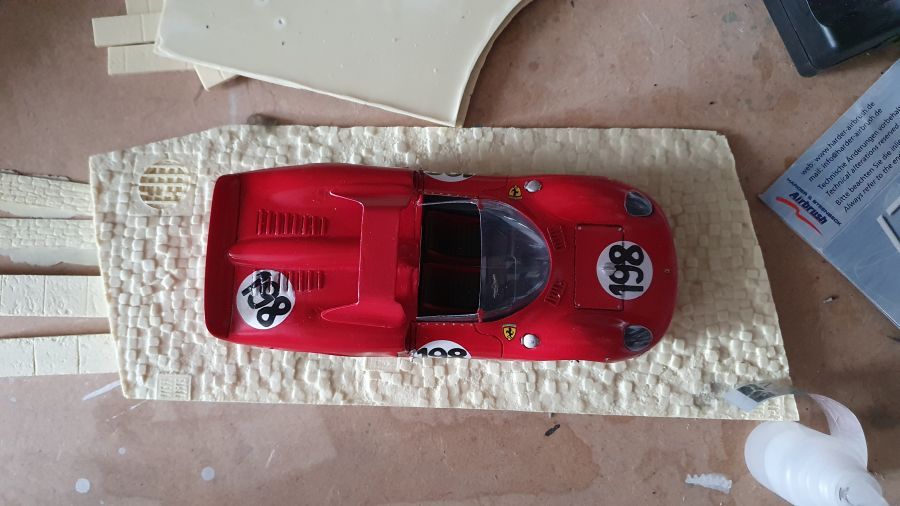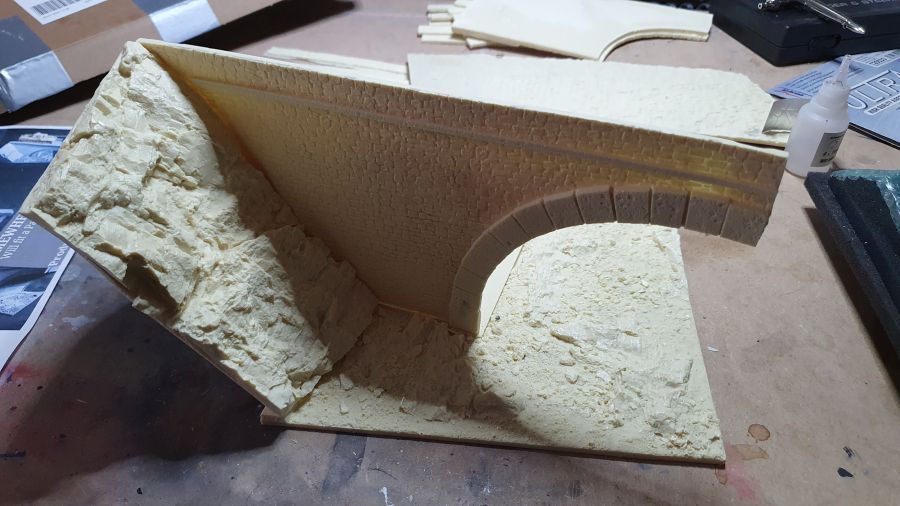 Ik twijfel nog steeds of ik het in teer of cobblestones moet doen.
I still have doubts if i should do tarmac or cobblestones.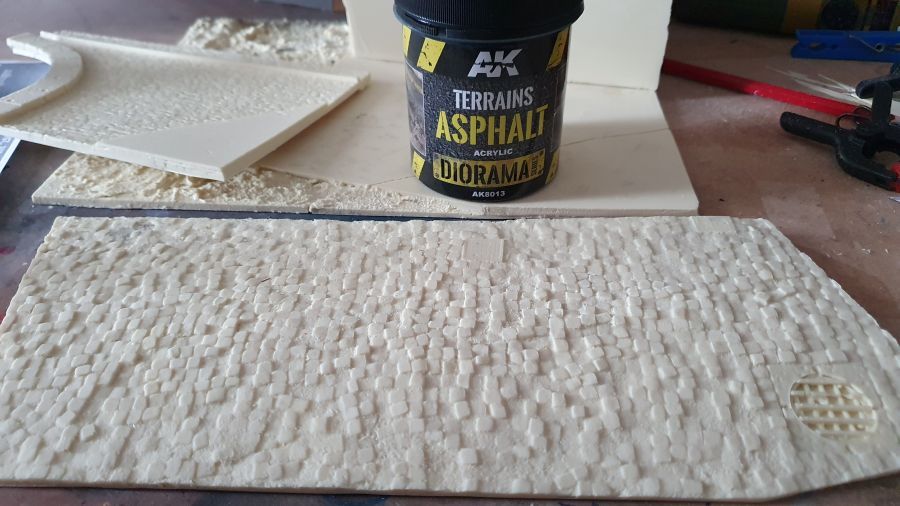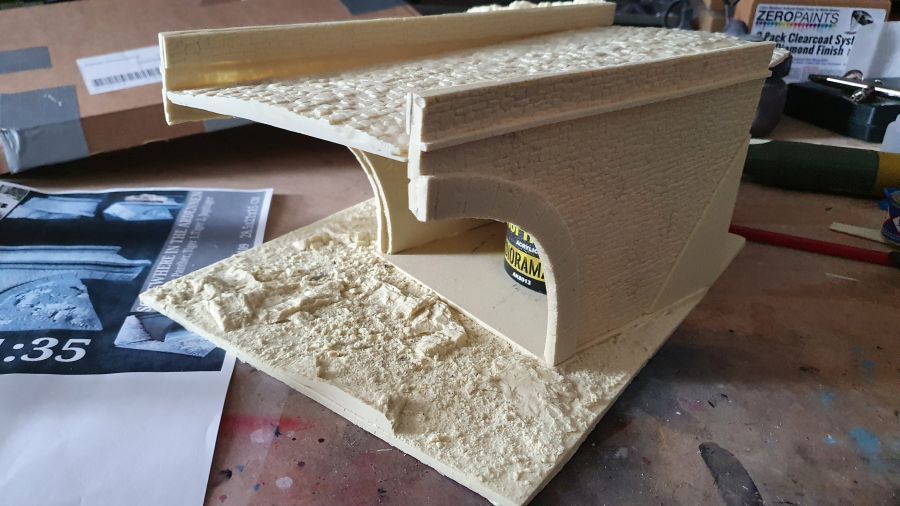 De putten afplakken.
Masking the water drains.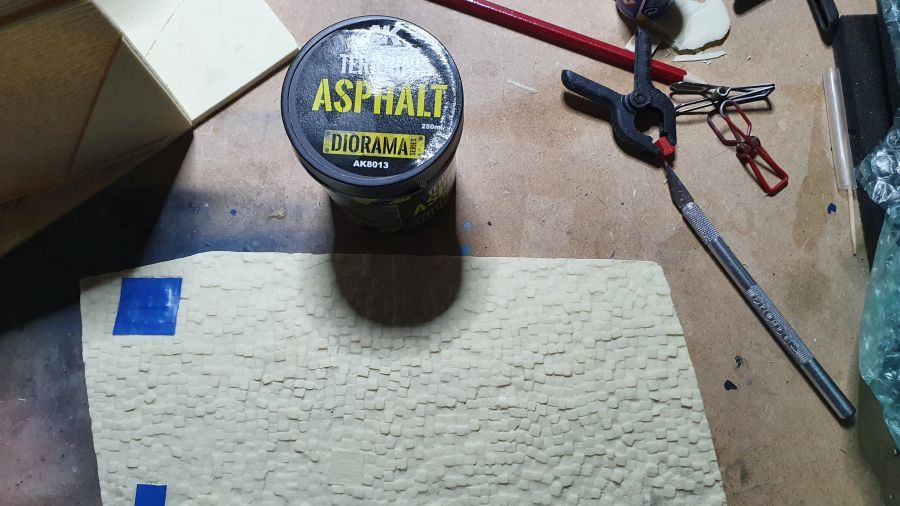 Daar gaat ie. Eerst wat verdunnen met water opdat het wat beter vloeit. Dan aanbrengen met een roller. Afwachten wat het resultaat is. Misschien later nog een extra laag nodig. Maar goed, in zuidelijke landen zijn de teerwegen niet altijd zo glad.
There we go. First of all diluted it with water so it has a beter flow. Then add it with a paint roller. Let's wait for the outcome. Maybe add another layer later. But o.k., in Southern countries the asphalt roads aren't always that smooth.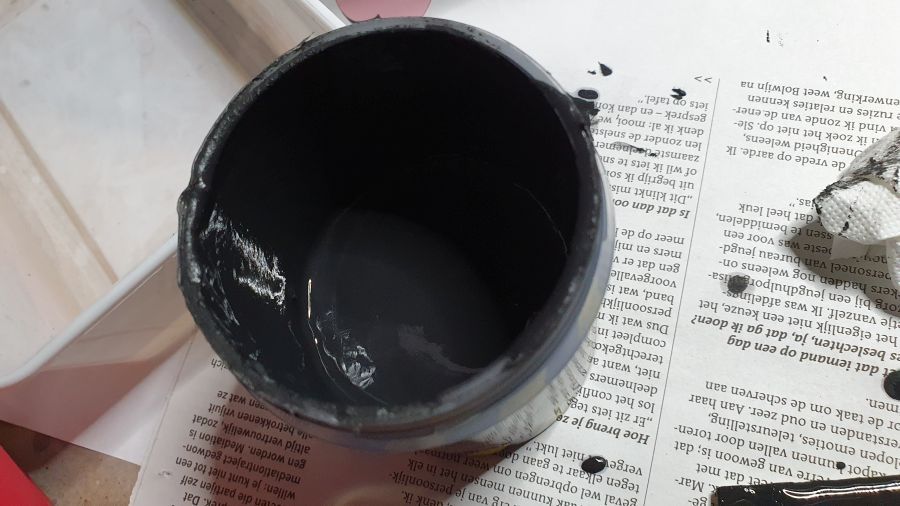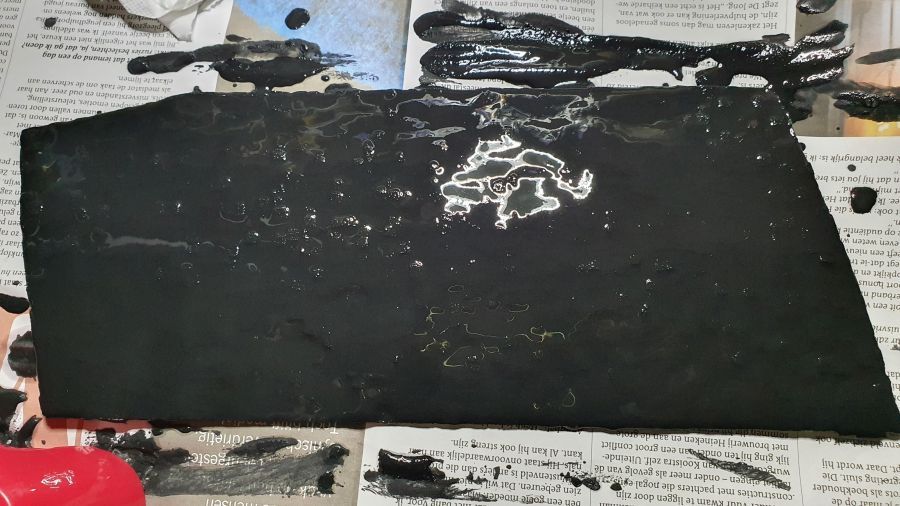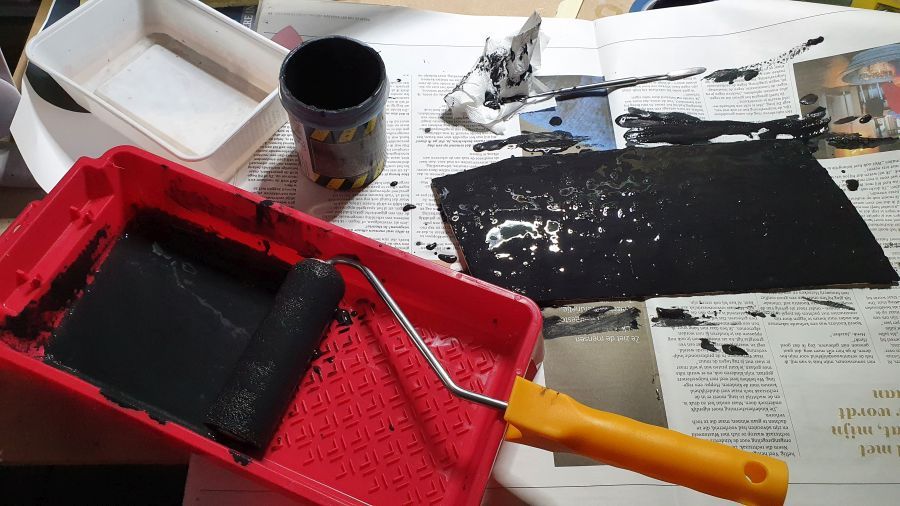 Verschillende lagen worden aangebracht. Ik probeer nog wat asfalt schade aan te brengen, maar dat loopt iedere keer weer vol.
Several layers are being applied. I am trying to create some asphalt damage, but it filling very time.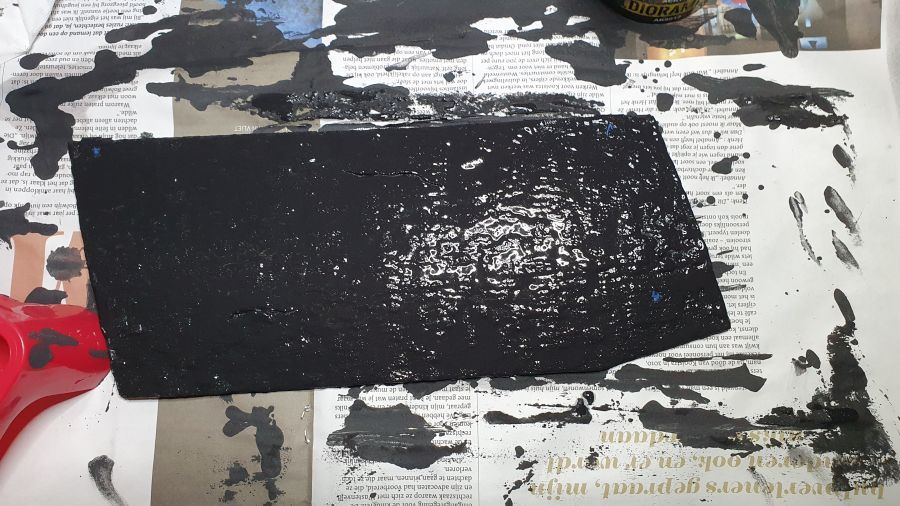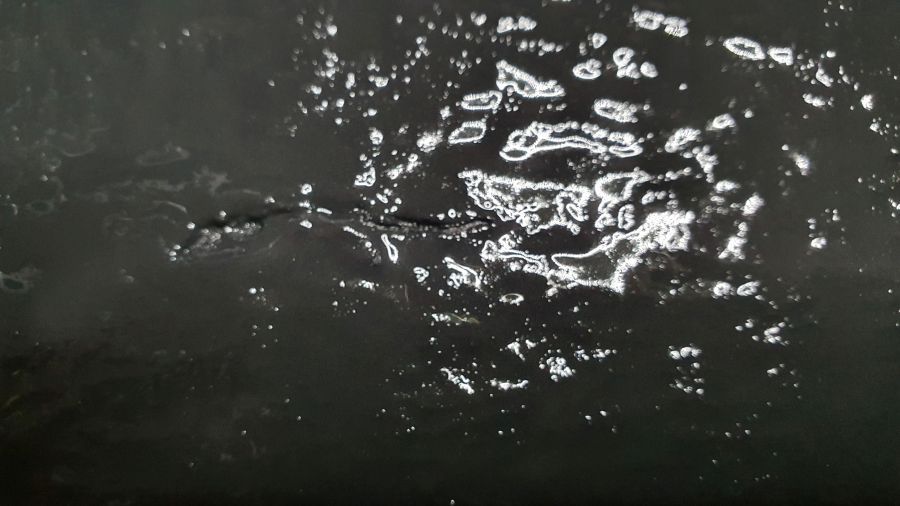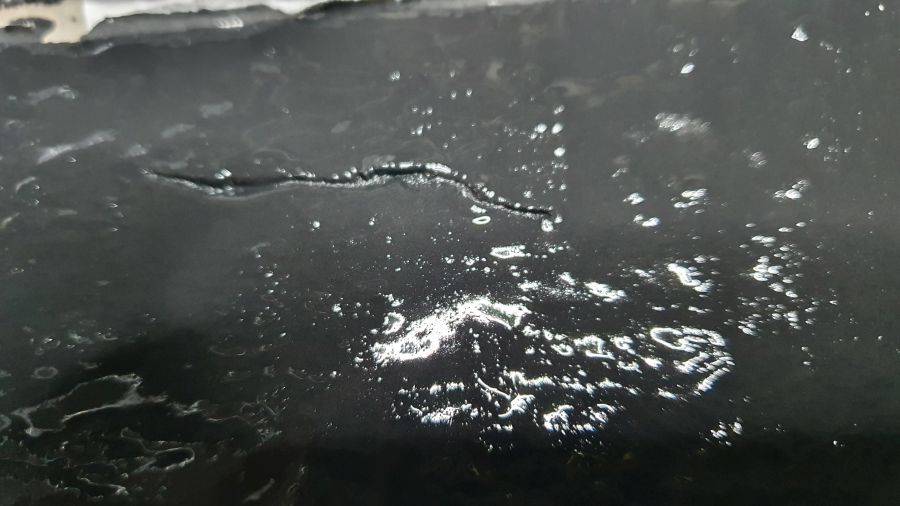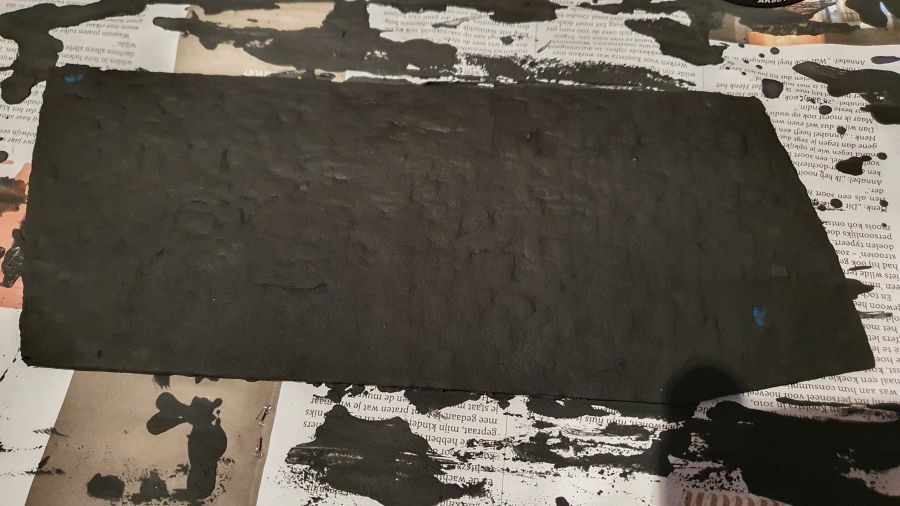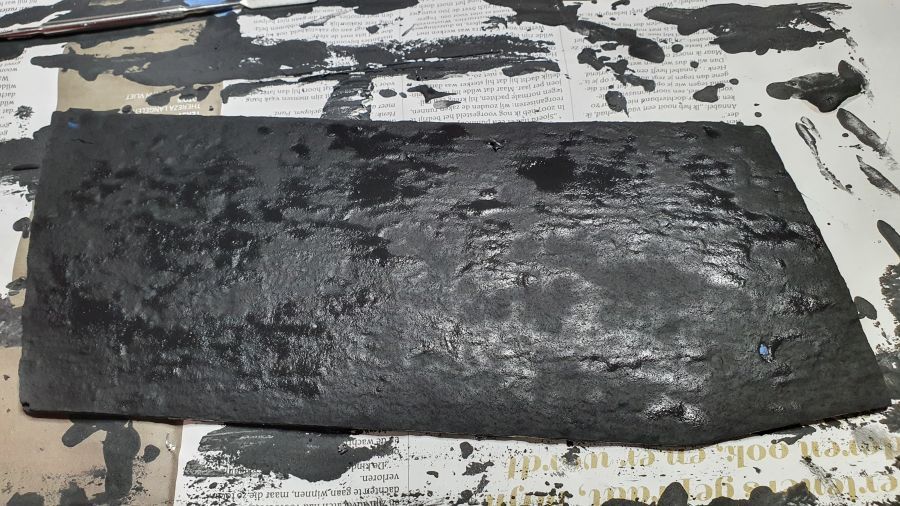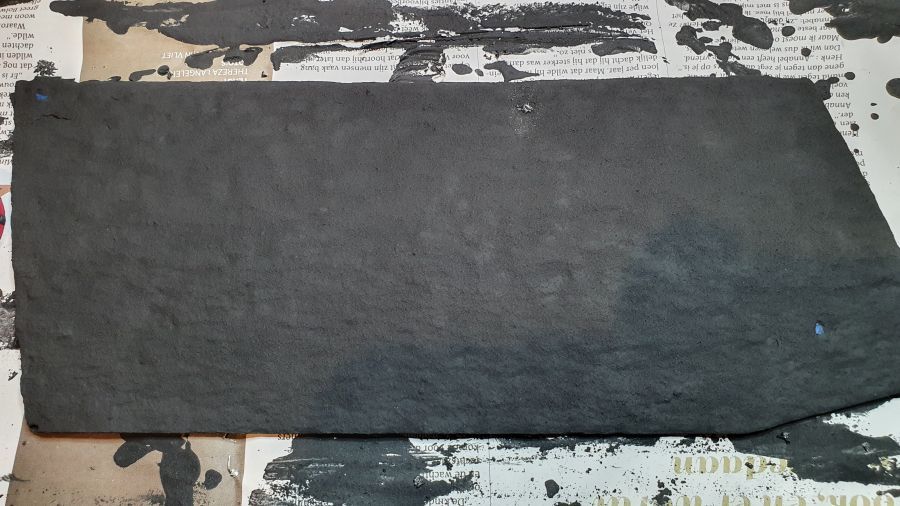 Weer verder met de brug. Dus is snij ze een beetje op maat. Opvulwerk dus.
To continue with the bridge. The stone strips are a little too short. So i am cutting others to size to fill up.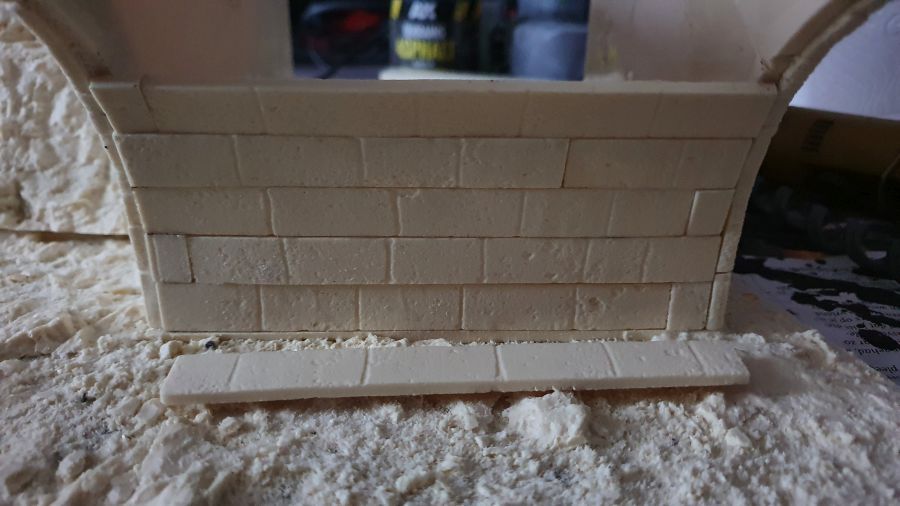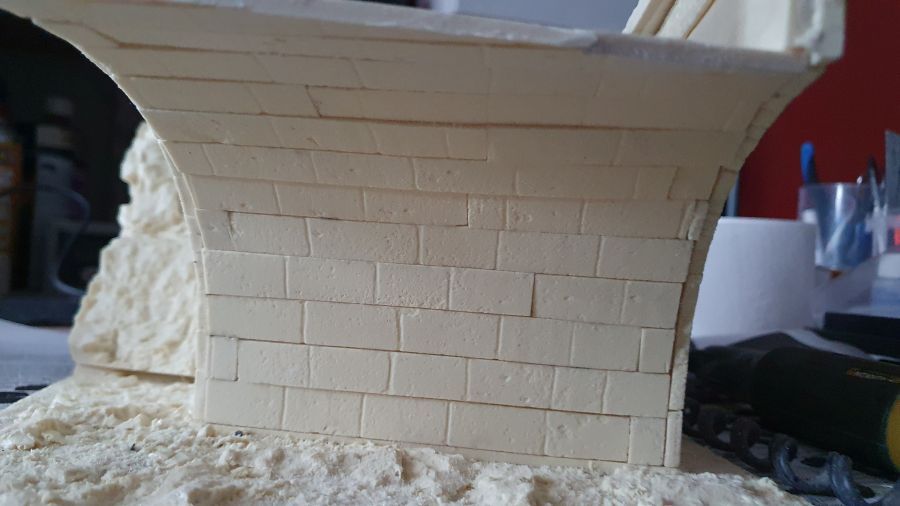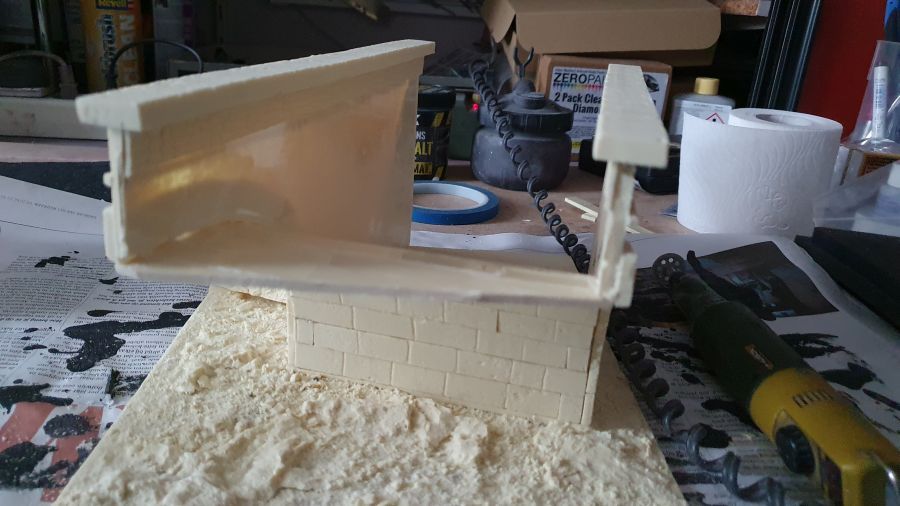 Klaar voor het verven.
Ready for painting.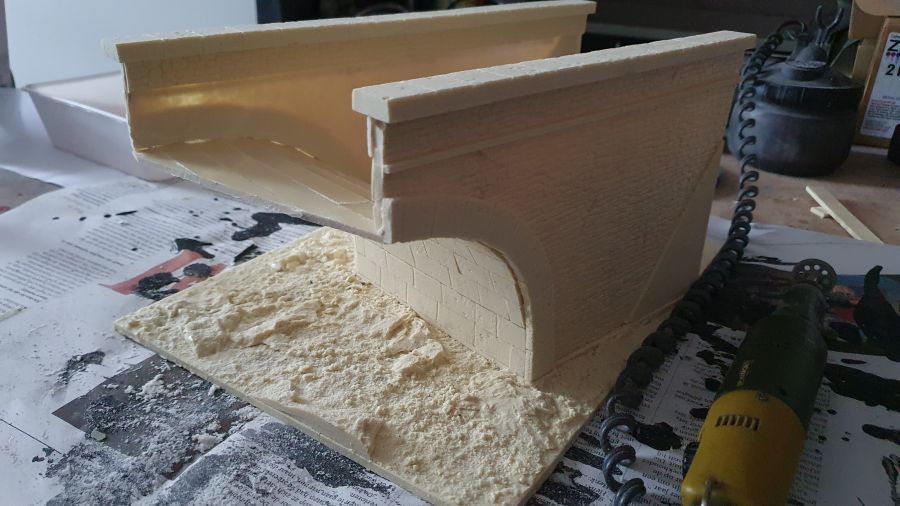 Eerst maar een beetje werken aan het teer. Ik heb dit nog nooit gedaan, dus benieuwd hoe dat uitpakt. Eerst wat scheuren maken om te proberen.
First of all some work to the tarmac. I have never done this, so i am curious how it will end up. First creating some tears to try out.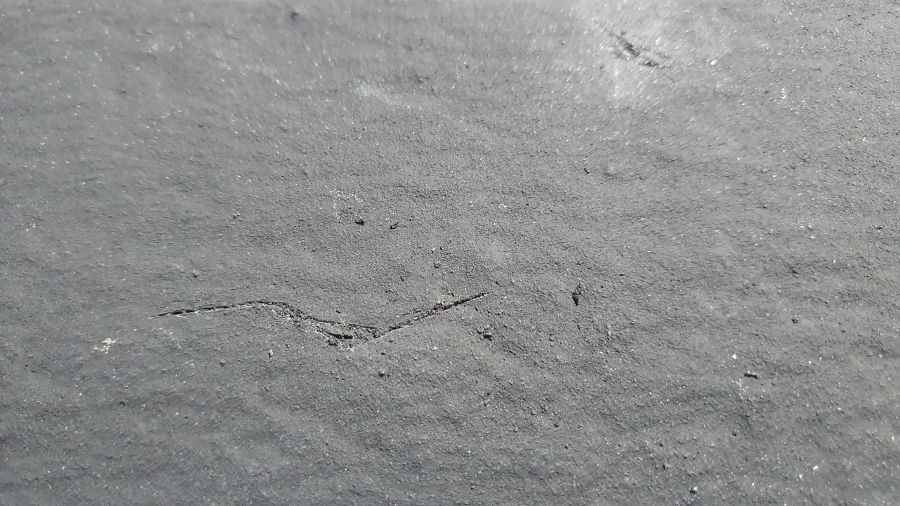 Het tape om de putdeksels af te schermen gaat eraf.
The masking for the drain covers will be removed.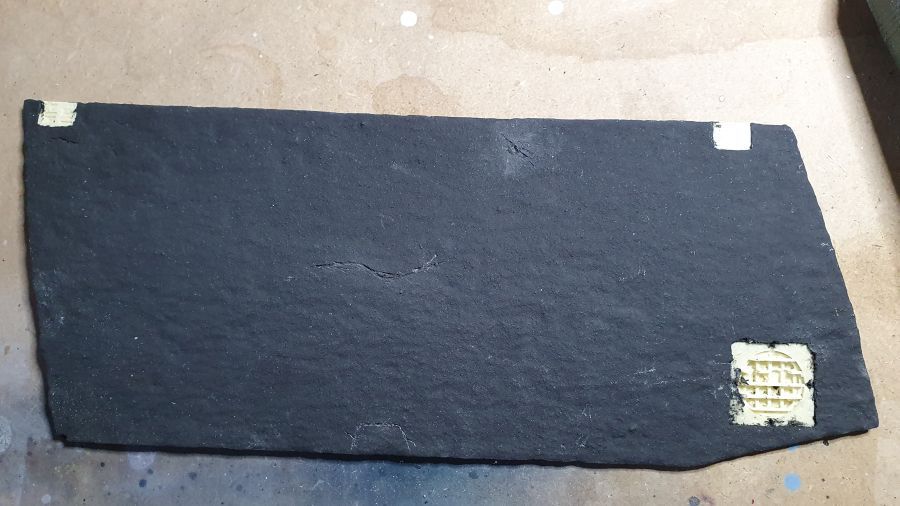 Tijd om het asfalt lichter te maken. Ik gebruik Valejo 869 Basalt Grey. Dit verdun ik behoorlijk met water en strijk het erop met een platte kwast. Daarna een 2e laag met wat extra aan de randen van de straat.
Time to lighten the asphalt. I am using Valejo 869 Basalt Grey. This is diluted with water and added with a flat brush. Then a 2nd layer with some extra at the road sides.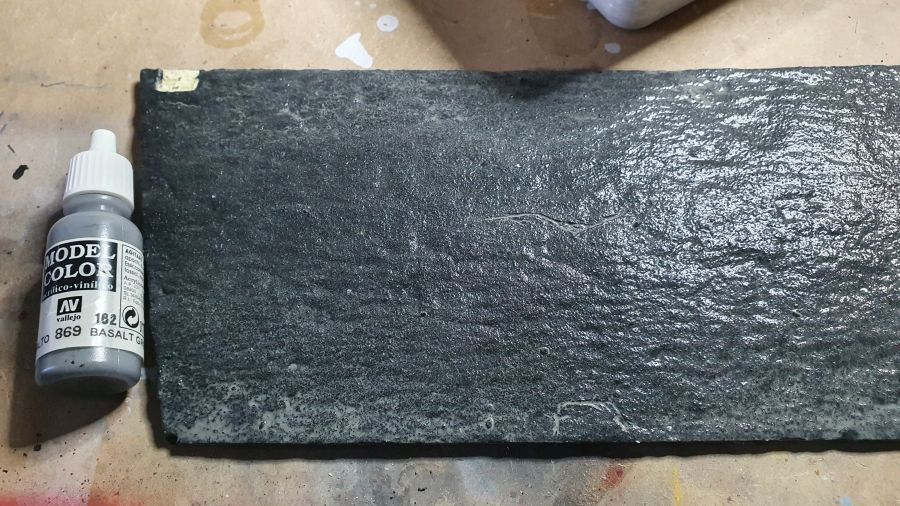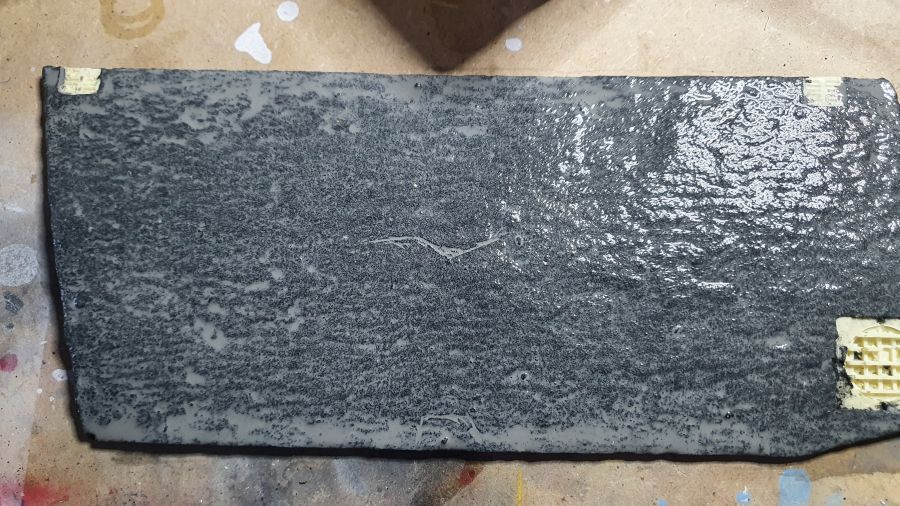 Daarna nog wat lichter met Valejo 989 Sky Grey.
Then more light with Valejo 989 Sky Grey.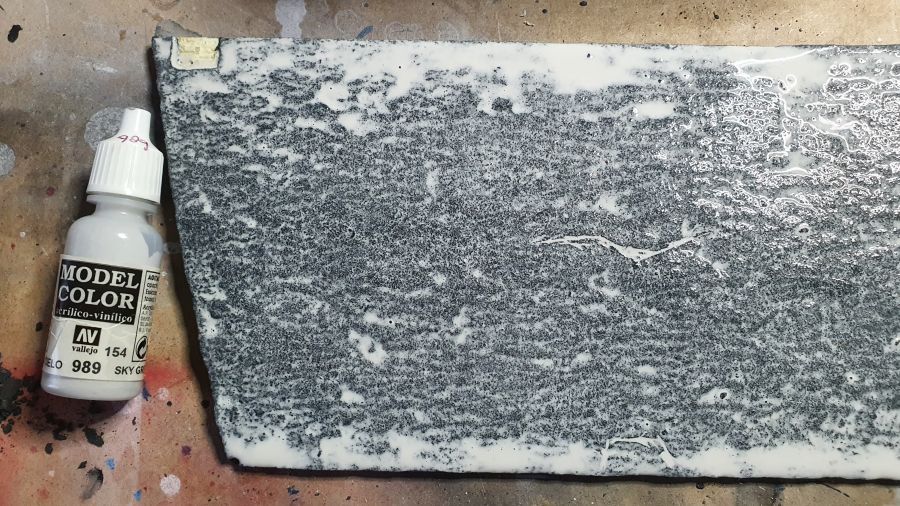 Met Valejo 950 Black maak ik een 'gerepareerd stuk'. Daarna alles laten drogen. De poeders komen later.
With Valejo 950 Black i am creating a 'repaired piece'. Then let everything dry. The pastels will come later.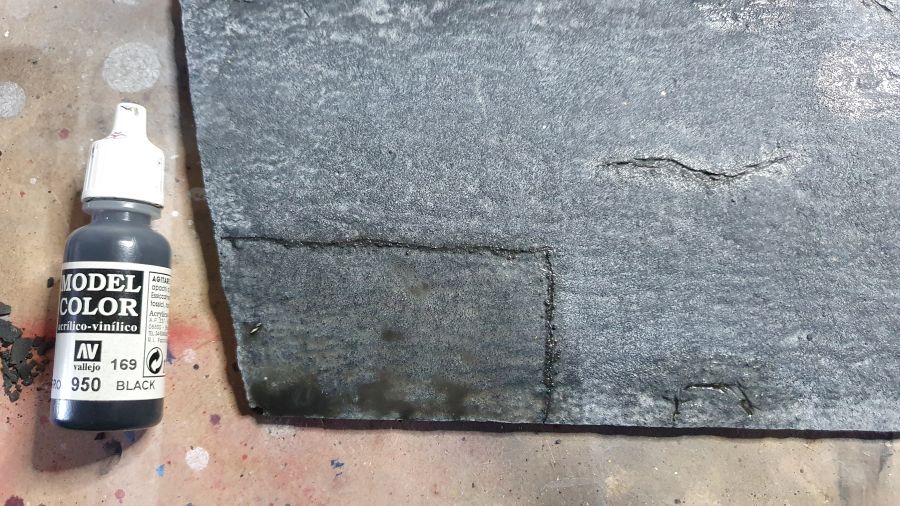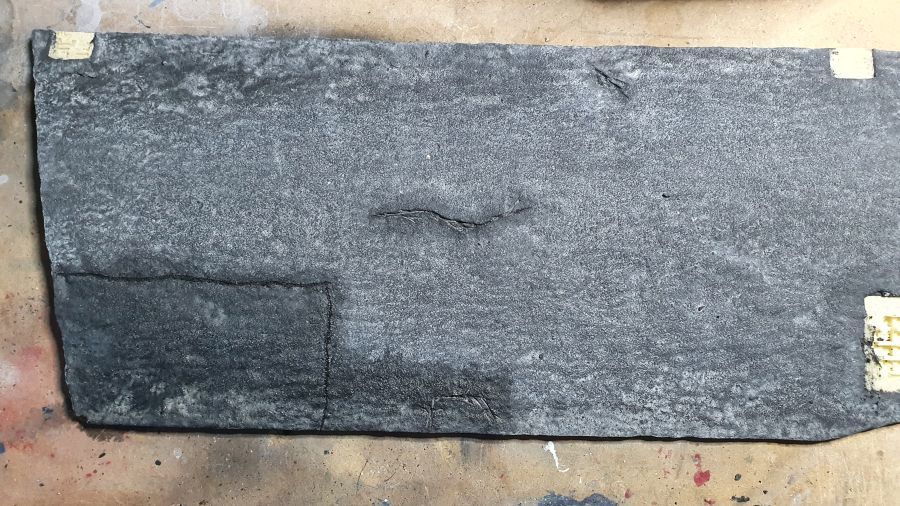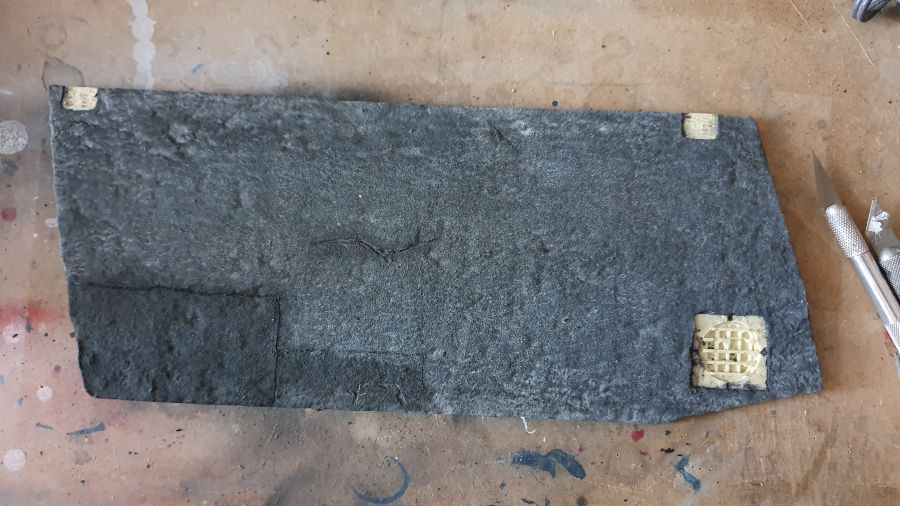 Nu eerst door met de brug. Ik maak een mix van Citadel Stormvermin Fur, Steel Legion Drab en Baneblade Brown met wat water. Hiervan neem ik een beetje apart en mix dat met nog wat meer water. Daarmee breng ik de wash aan.
Now first to the bridge. I make a mix of Citadel Stormvermin Fur, Steel Legion Drab and Baneblade Brown with some water. Of this i take some apart and mix it with more water. This is my first wash.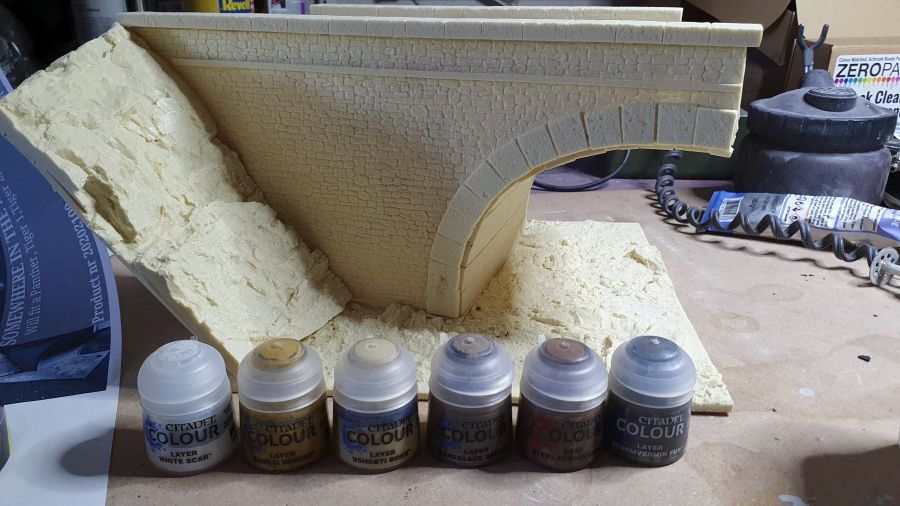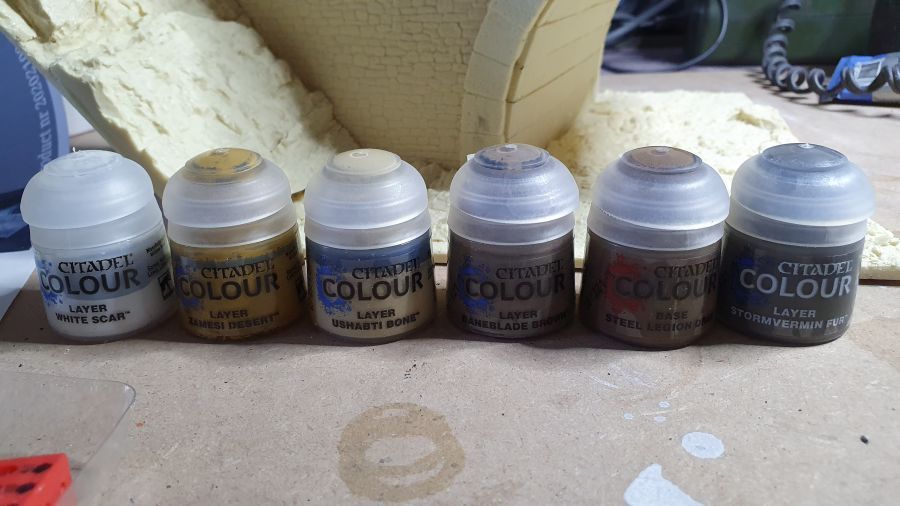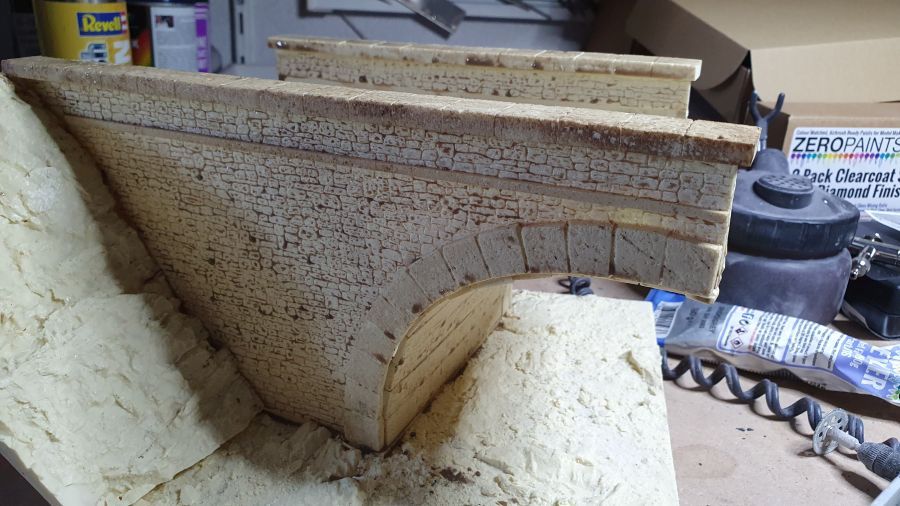 Daarna mix ik Citadel White Scar en Zamesi Desert en breng dit middels 'dry brushen' aan. Daarna wat extra wit en nogmaals de hele brug 'dry brushen'. Dan gebruik ik wat van de eerste mix en breng dit aan onderaan de brug (de voet) en heel licht over het bovenste deel. Zo nodig wat bijwerken met de White Scar / Zamesi Desert mix. De poeders doe ik later.
Then i mix Citadel White Scar and Zamesi Desert and apply this by dry brushing. Then i add some extra white to this mix and dry brush the bridge again. Then i use some of the first mix and add it to the downside of the bridge (the foot) en very light over the upper part. If needed i color it with the White Scar / Zamesi Desert mix. I will add powders later.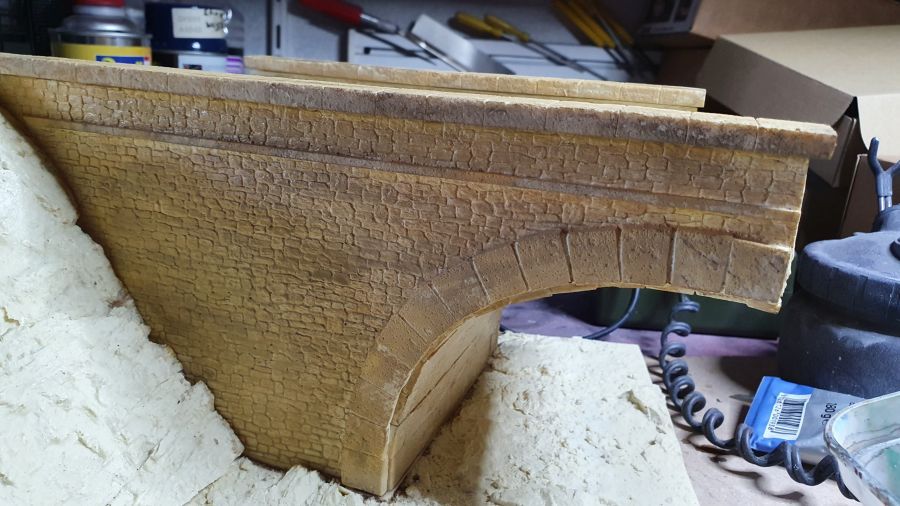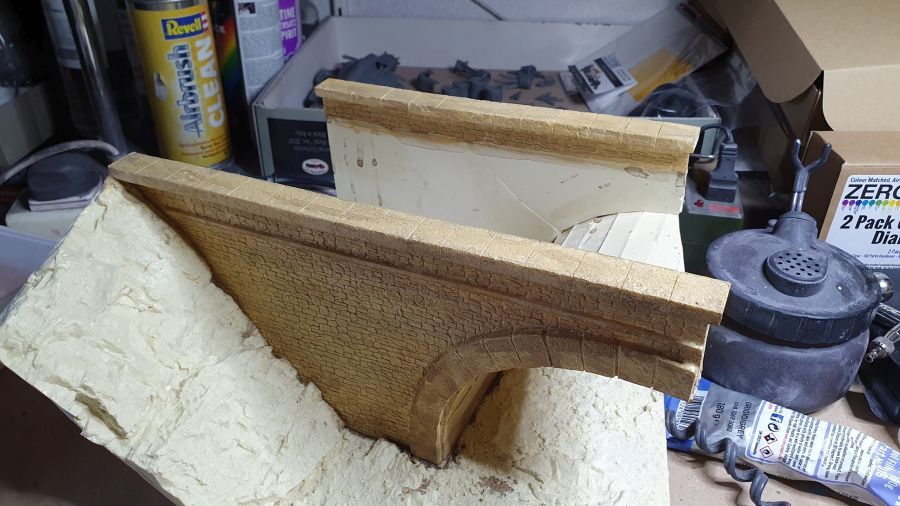 De volgende stap. Heel licht verdunde Valejo 869 Basalt Grijs.
The next step. Very light diluted Valejo 869 Basalt Grey.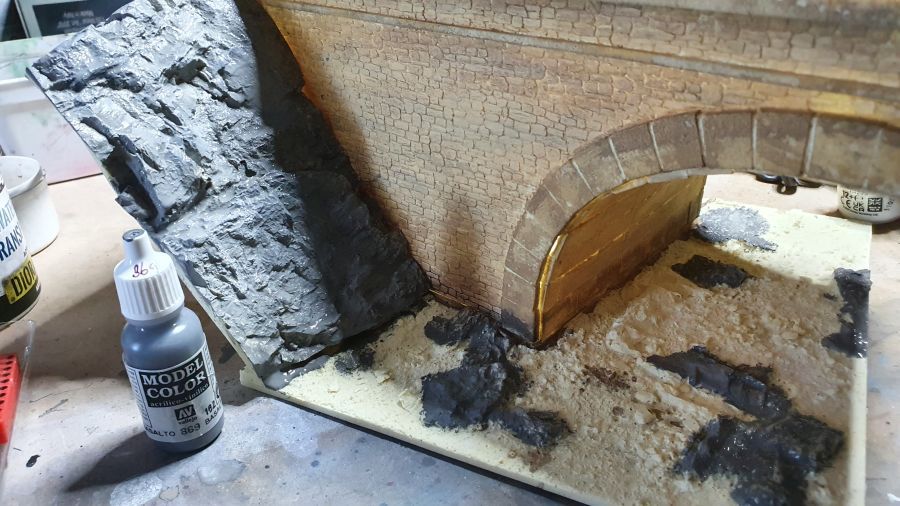 De volgende stap. Kleine stipjes Liquitex Burnt Sienna op hoger gelegen plekken en dit met een natte kwast 
Next step. Add dots of Liquitex Burnt Sienna to higher surface and brush it with a wet brush.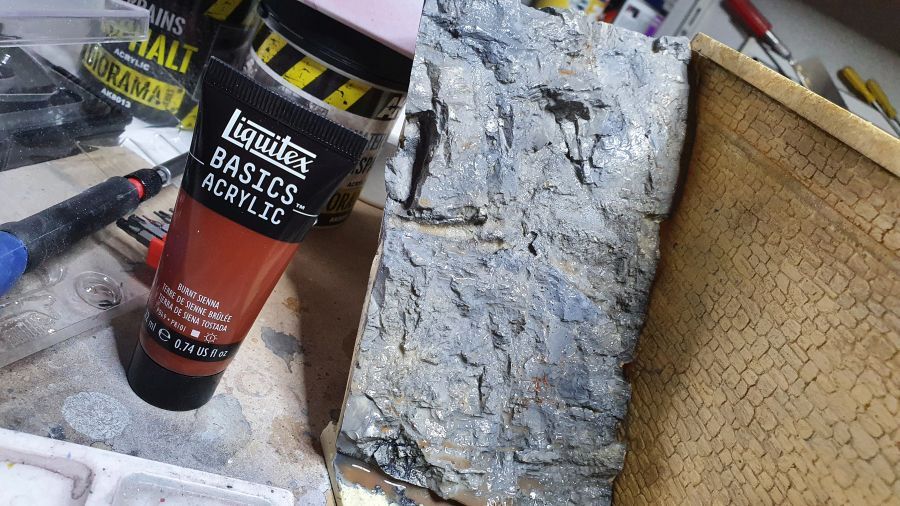 Dan Liquitex Bunt Umber in de lager gelegen delen.
Then Liquitex Burnt Umber to recessed spots.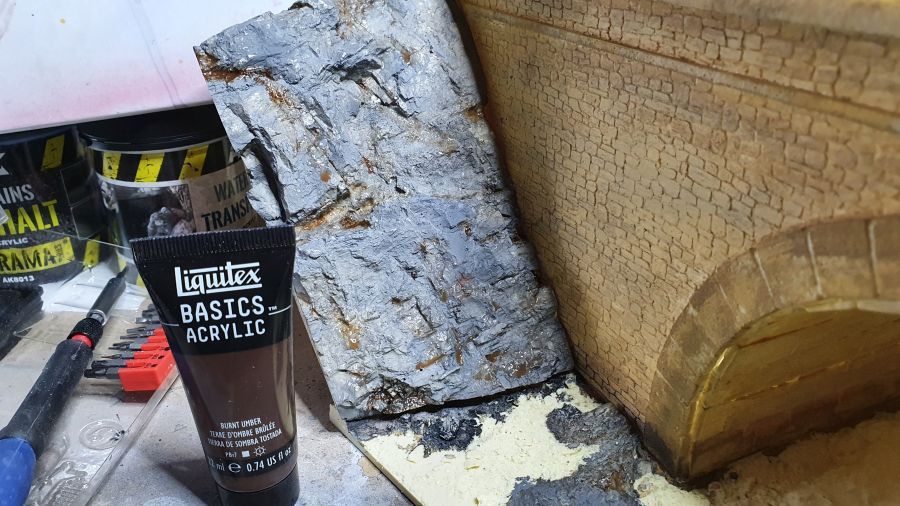 Dan aandacht voor het moss.
Then attention to the moss.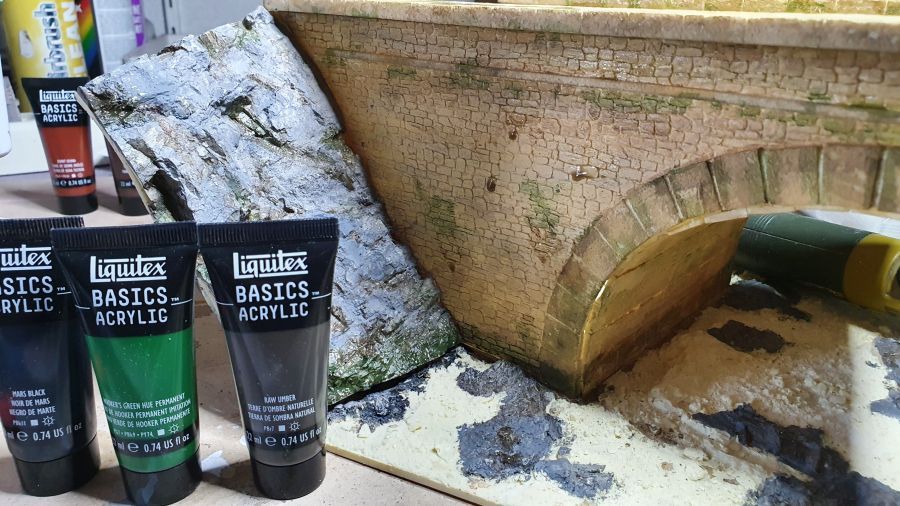 Starten met het water.
Starting with the water.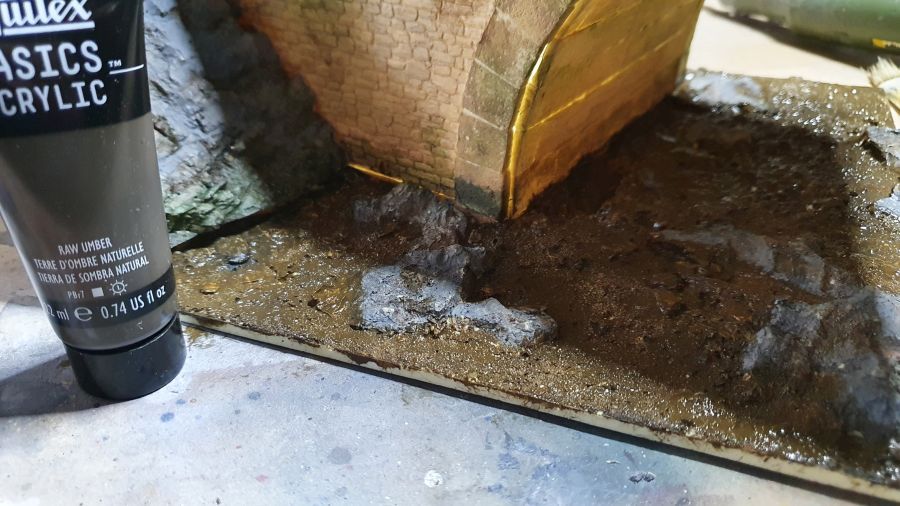 Het ondiepe water wordt gekleurd. Meer rondom de rotsen aangebracht.
The shallow water is being colored. Added around the rocks.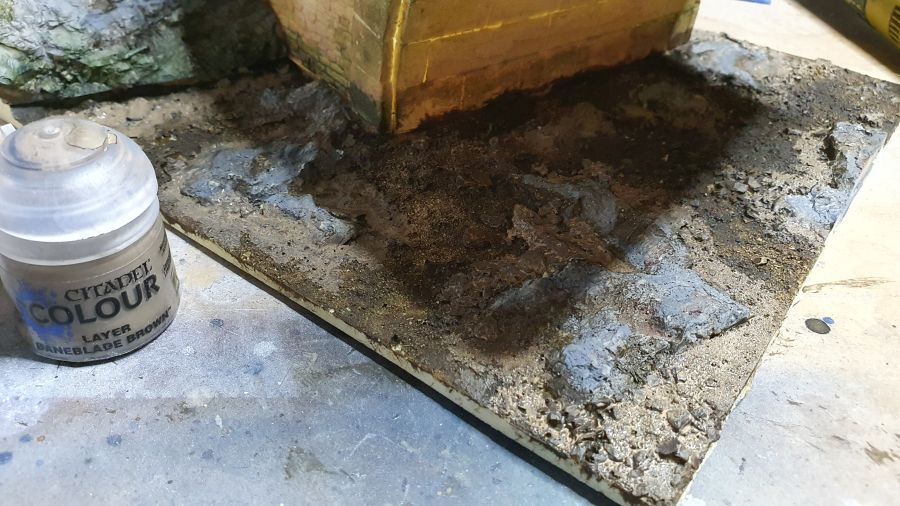 Dan nog wat mos en algen rond de rotsen in het water.
Then some moss and algae around the rock in the water.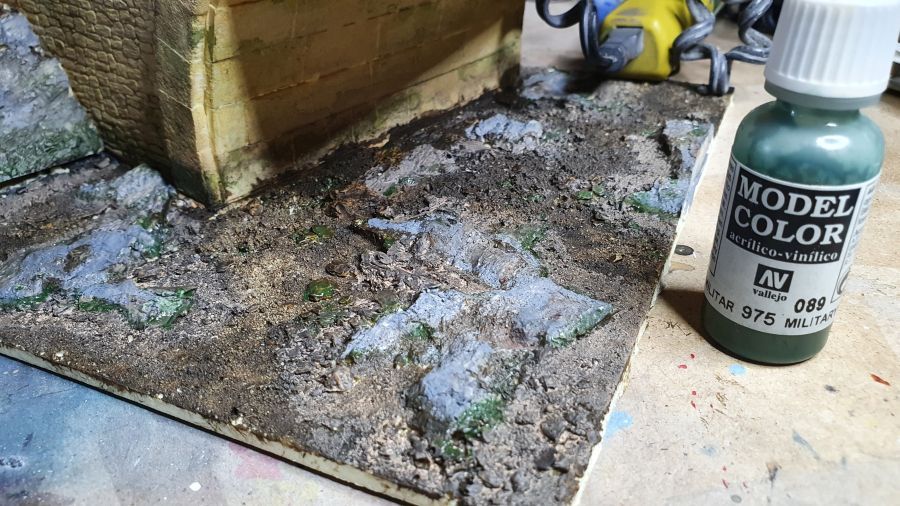 Water toegevoegd.
Water has been added.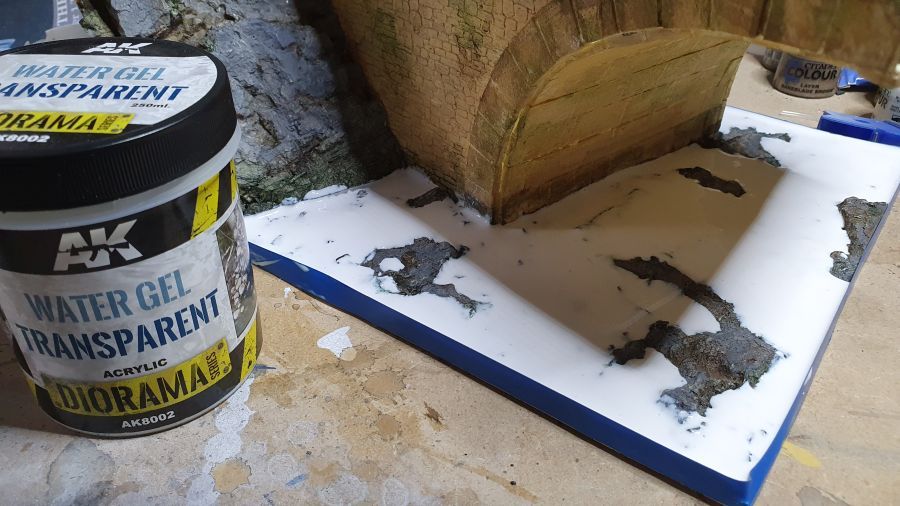 Na 22 uren drogen.
After 22 hours of drying.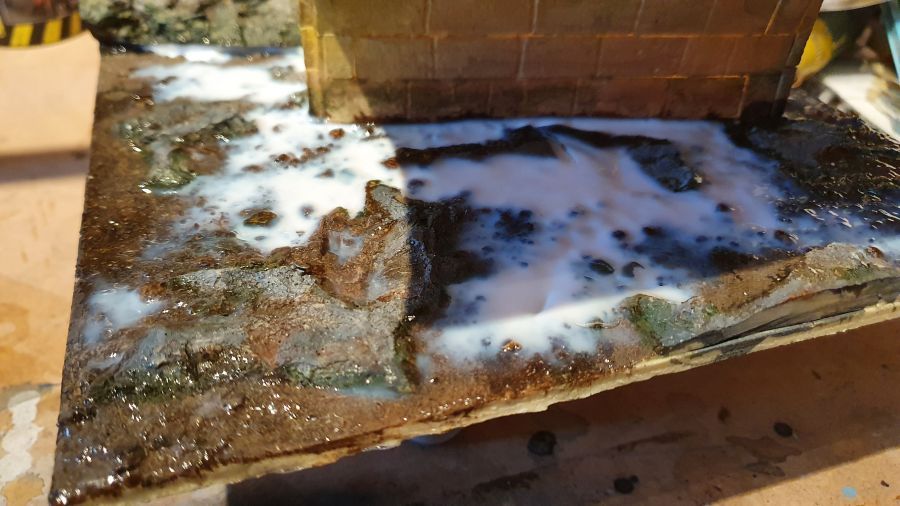 Na nog eens 12 uur prik ik met een cocktailprikker in de witte delen. Zo probeer ik stromend water te creëren.
After another 12 hours i start poking the white parts with a tooth pick. This way i hope to create running water.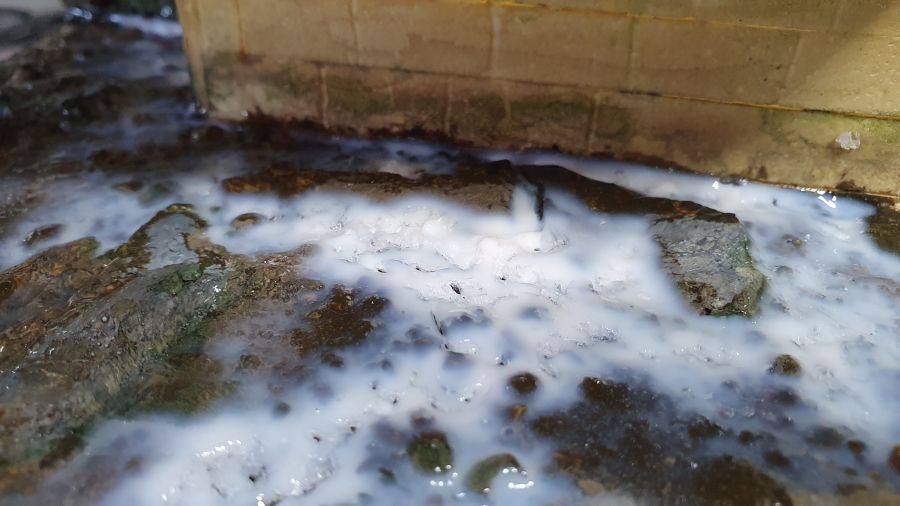 Na totaal 48 uur droogtijd ziet het er zo uit. Ik kom er wel.
After a total of 48 hours dry time it looks like this. I'll get there.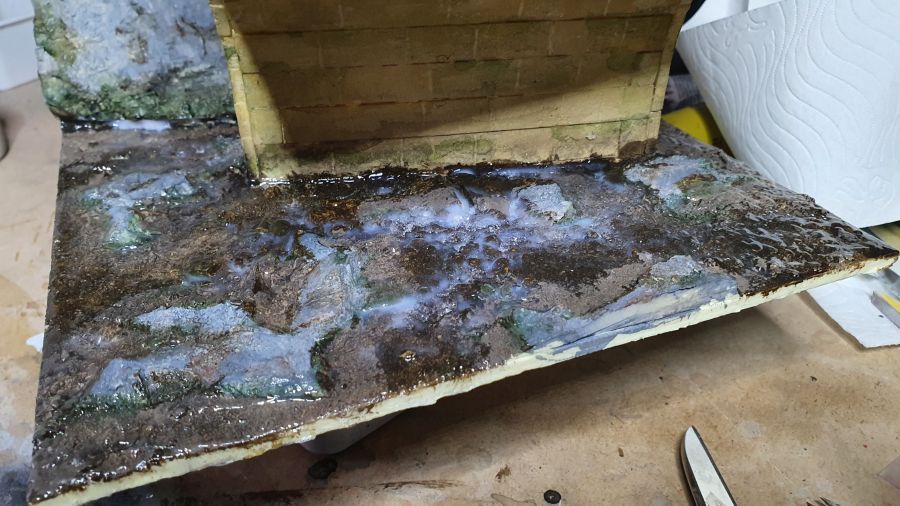 Na 72 uren drogen. Ik denk dat ik weer verder kan.
After dry time of 72 hours. I think i can continue now.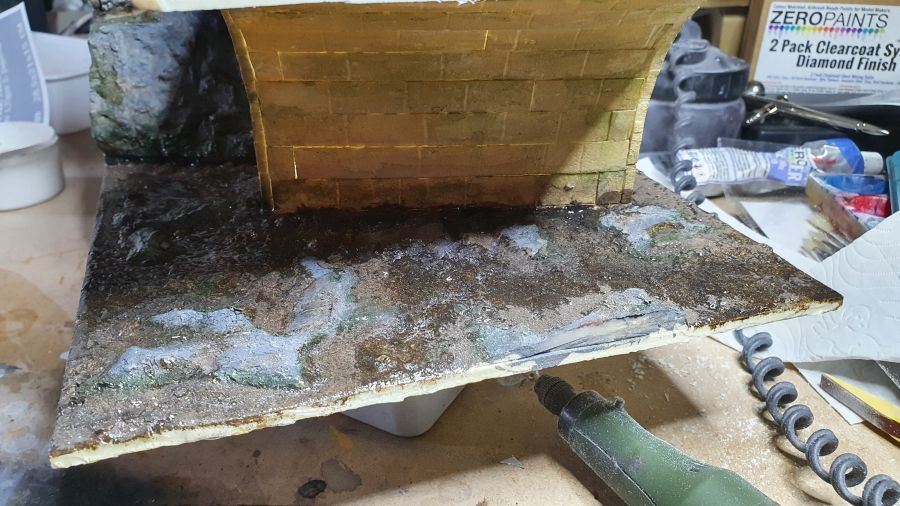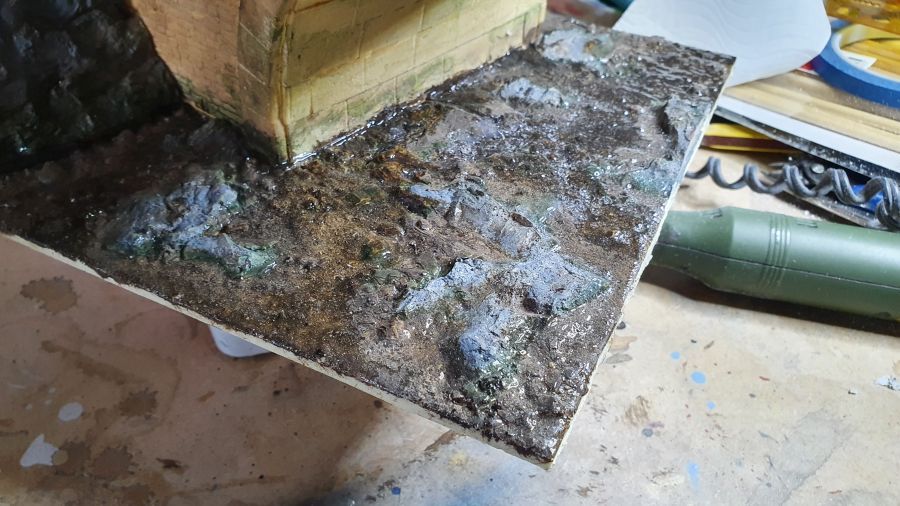 Het wegdek krijgt nog iets meer grijs.
The tarmac gets a little more grey.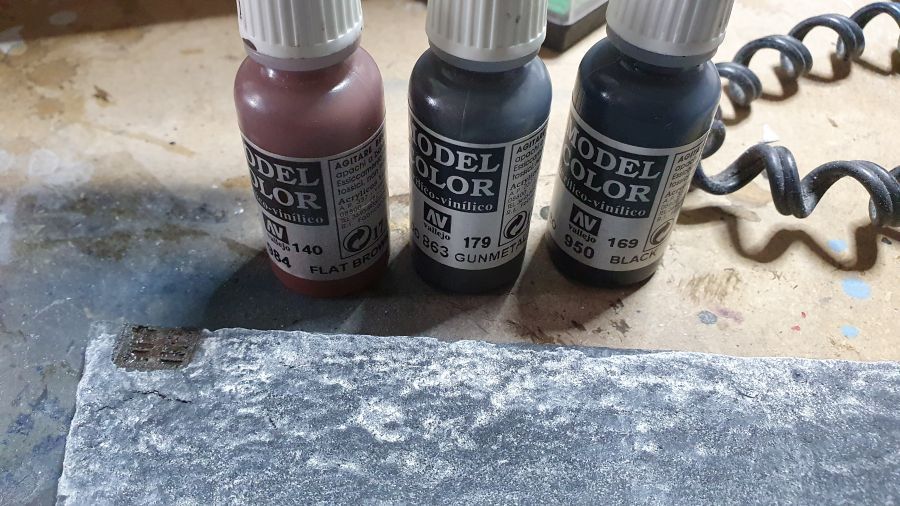 Daarna aan de brug monteren.
Then mount it to the bridge.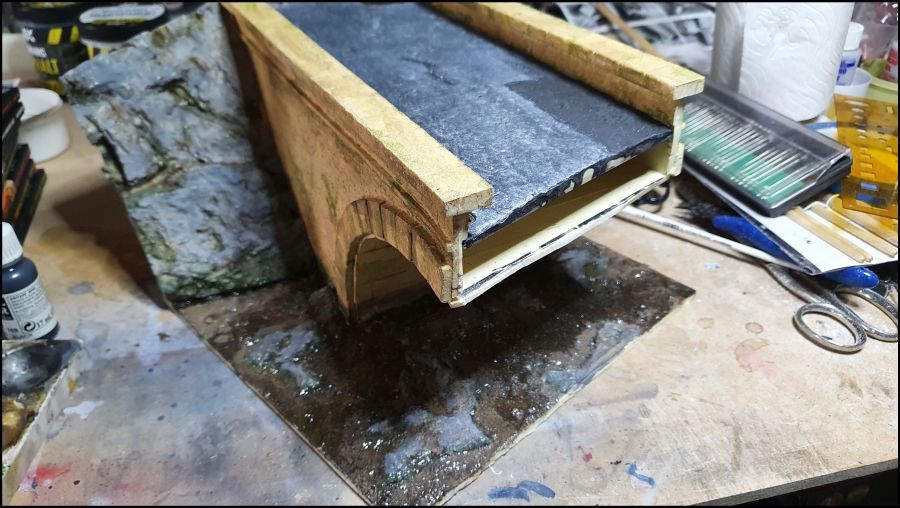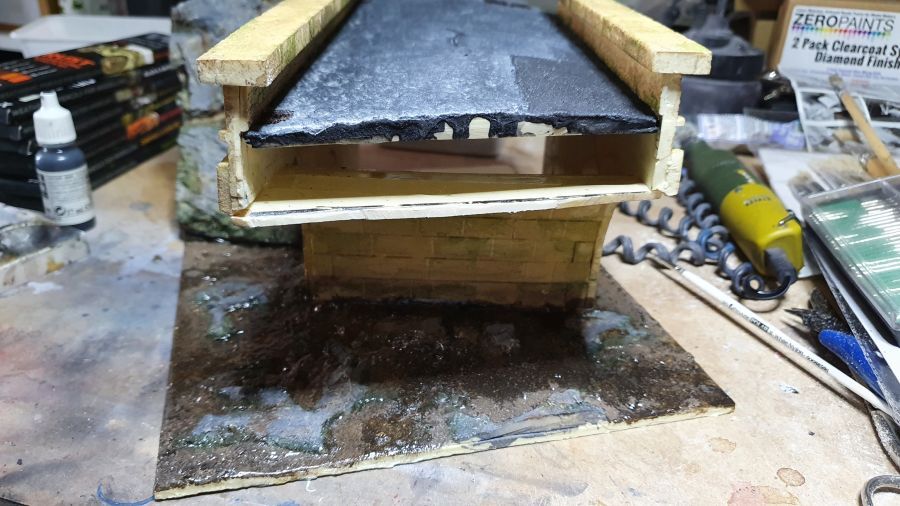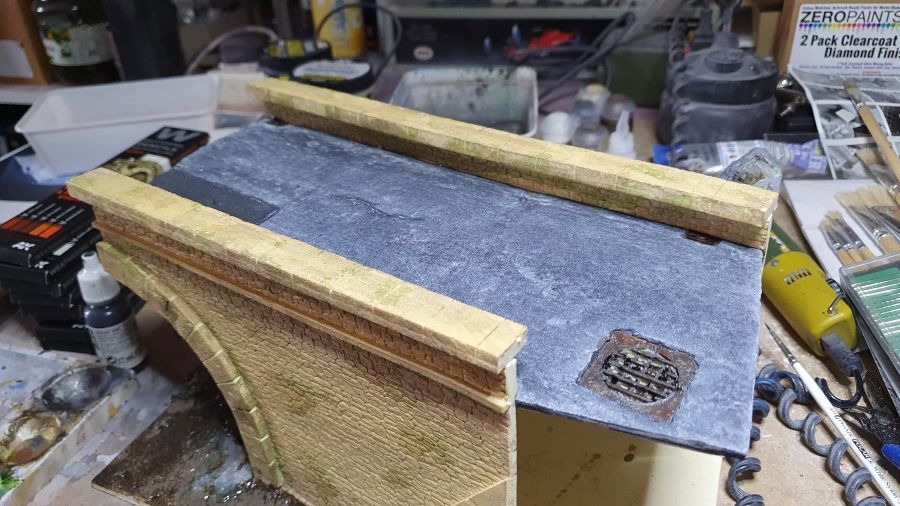 Tijd om de boel af te sluiten. Misschien had ik ander materiaal moeten gebruiken. En misschien had ik dit eerder moeten doen. Nooit te oud om te leren. Nu gebruik ik acetaat plaat.
Time to close it up. Maybe i should have used different materials. And maybe i should have done this in another stage. Always learning. Now i will be using acetate plate.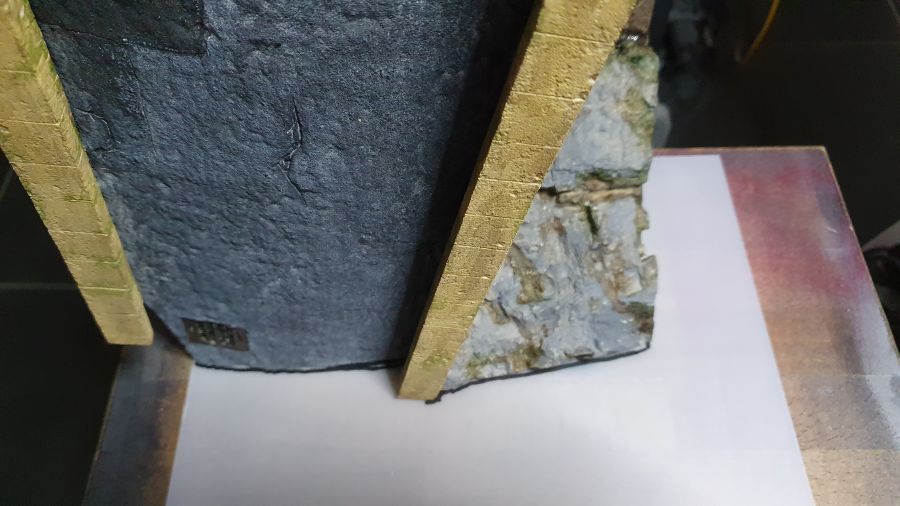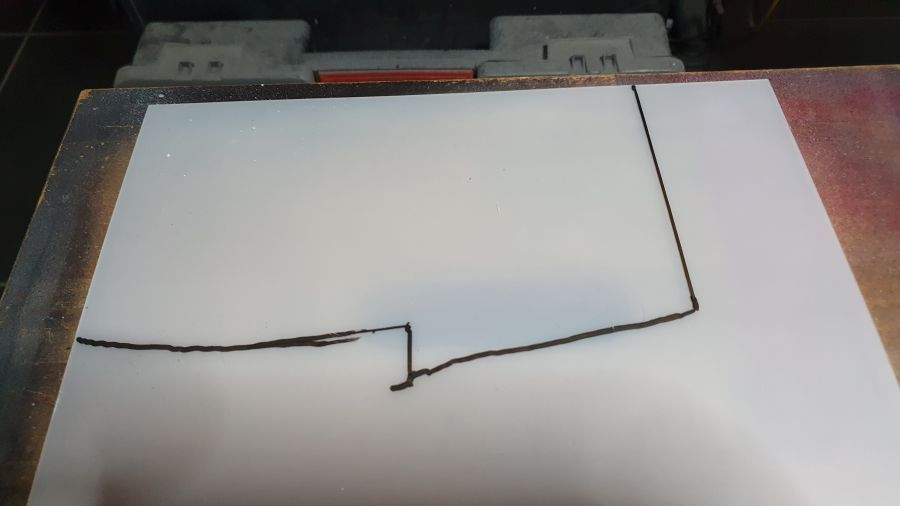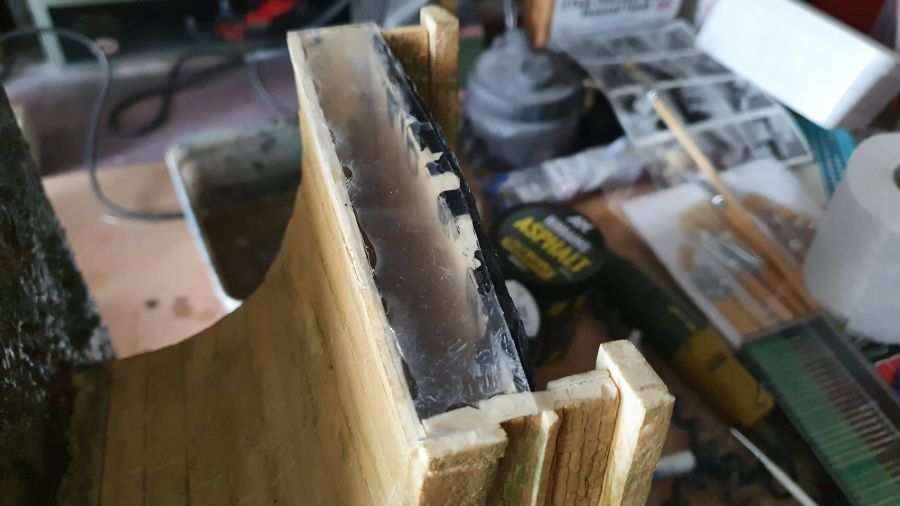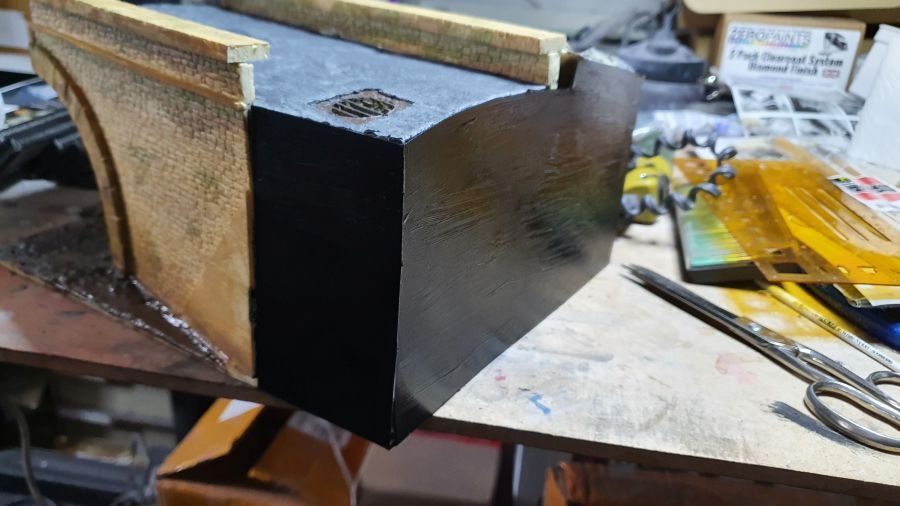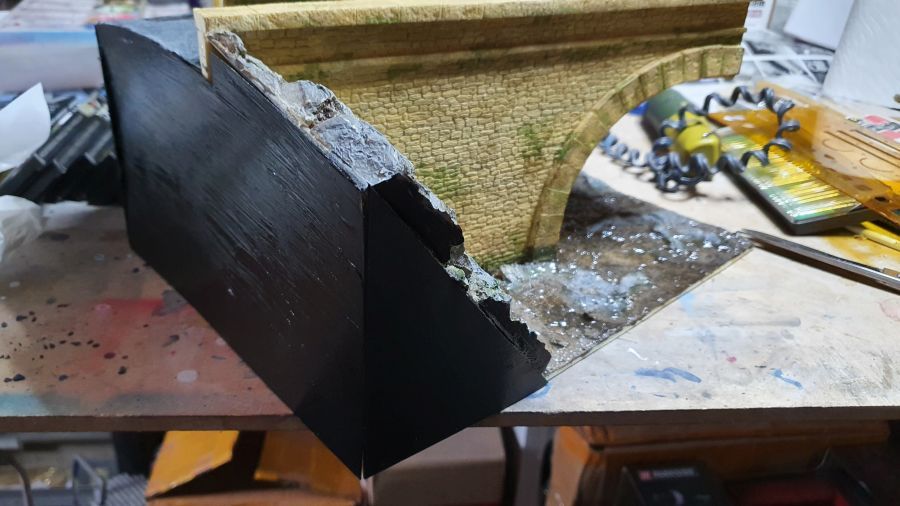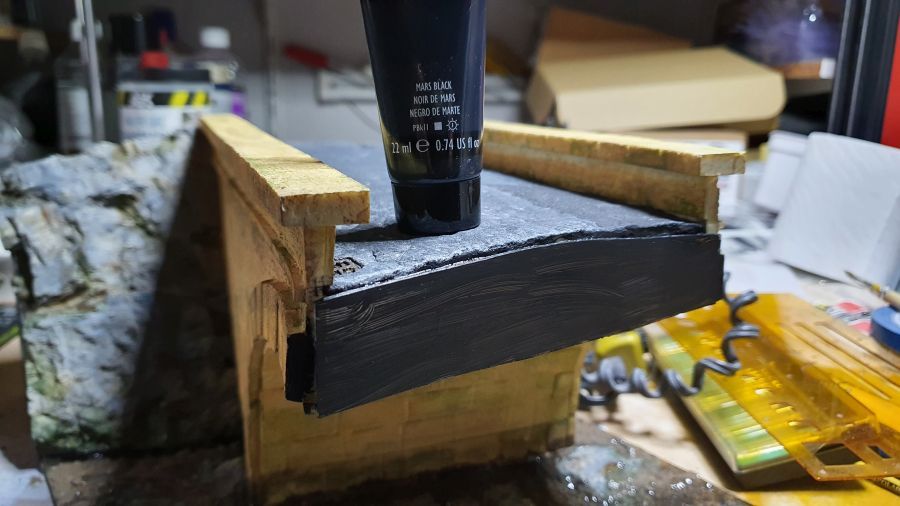 Ik twijfel of ik dit moet doen om snel stromend water te simuleren. Ik weet het niet. Ik zou dan watten gebruiken met houtlijm.
I have doubts of doing this to simulate quick streaming water. I don't know. I would use cotton and Elmer's glue.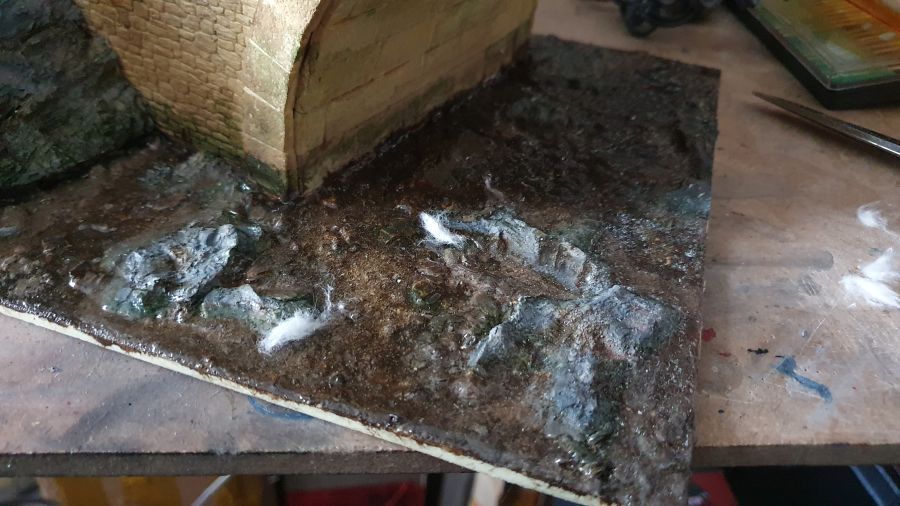 Gras toegevoegd.
Grass added.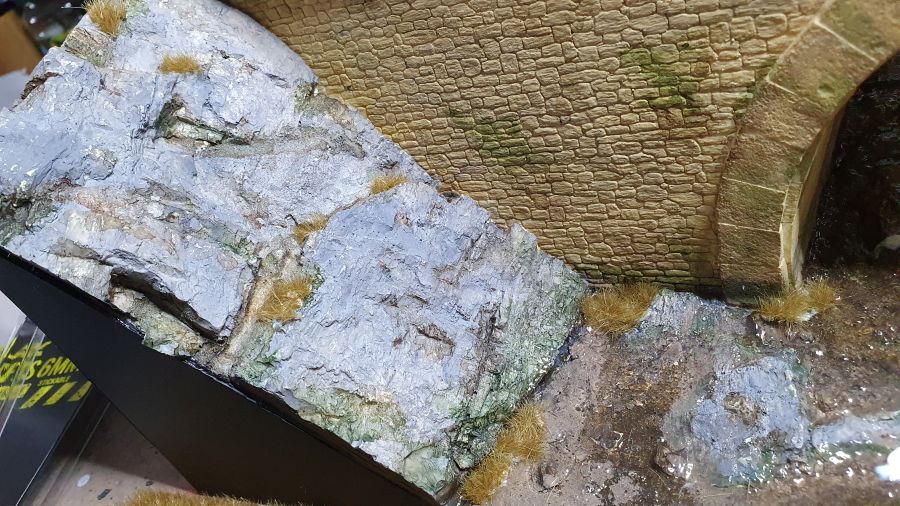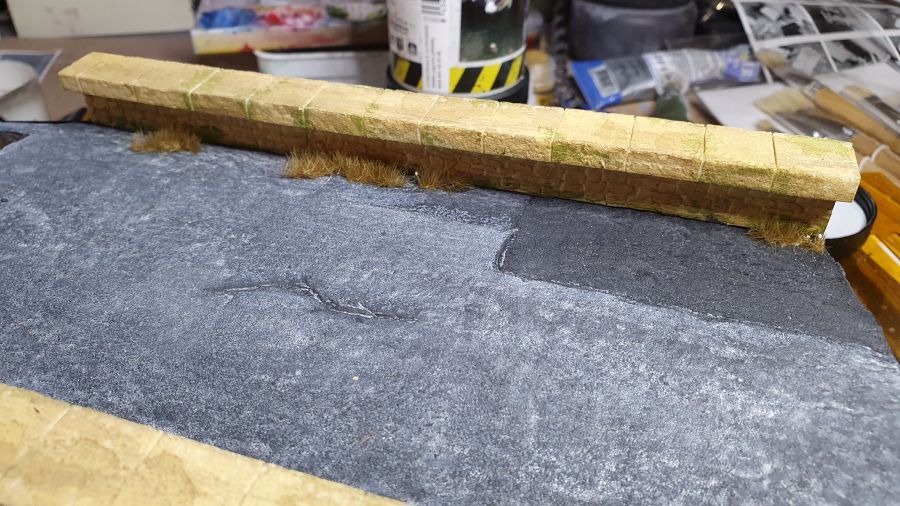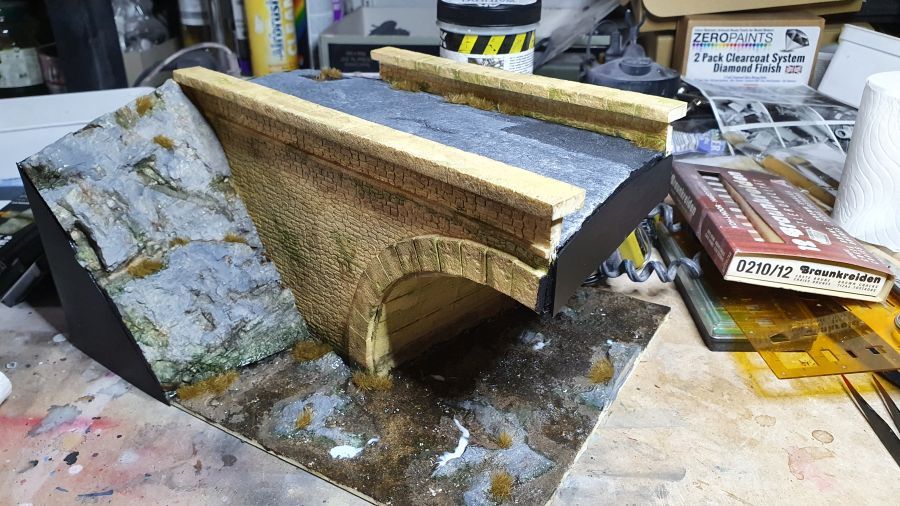 De krijtjes kras ik over schuurpapier om een poeder te krijgen. Dan is het een kwestie van voorzichtig met een kwast plaatsen waar je het wilt hebben en uitstrijken.
The chalks are being moved over sanding paper. Then you have to apply them with a brush and wipe them well.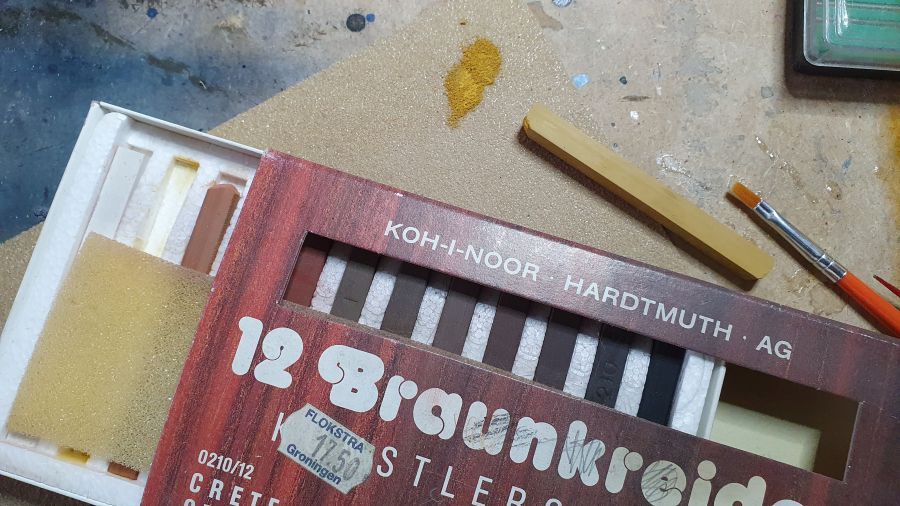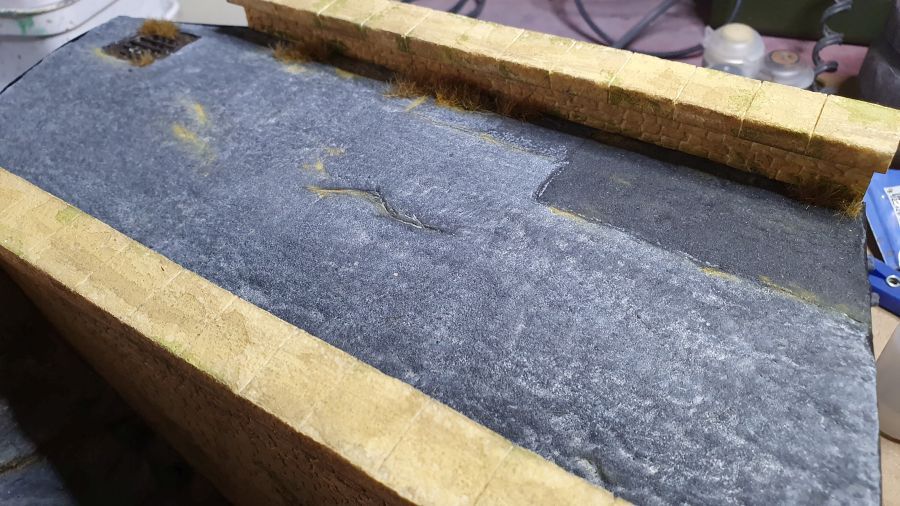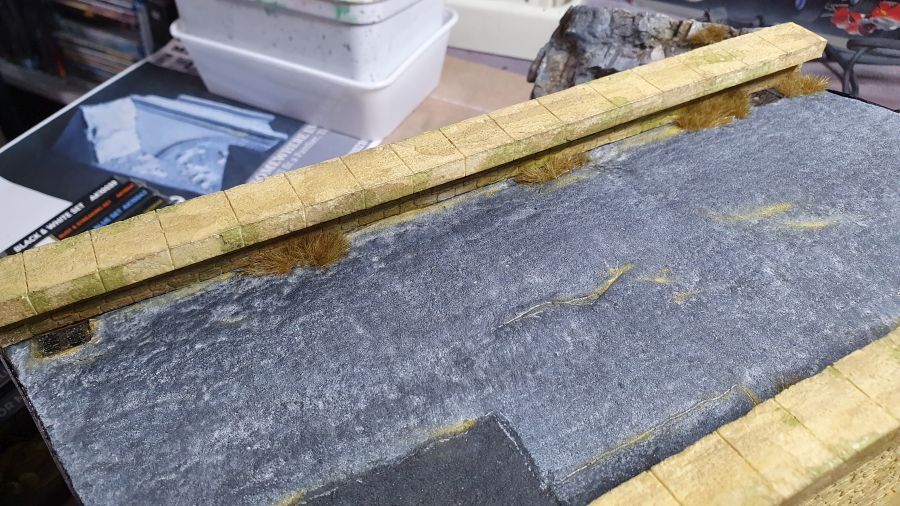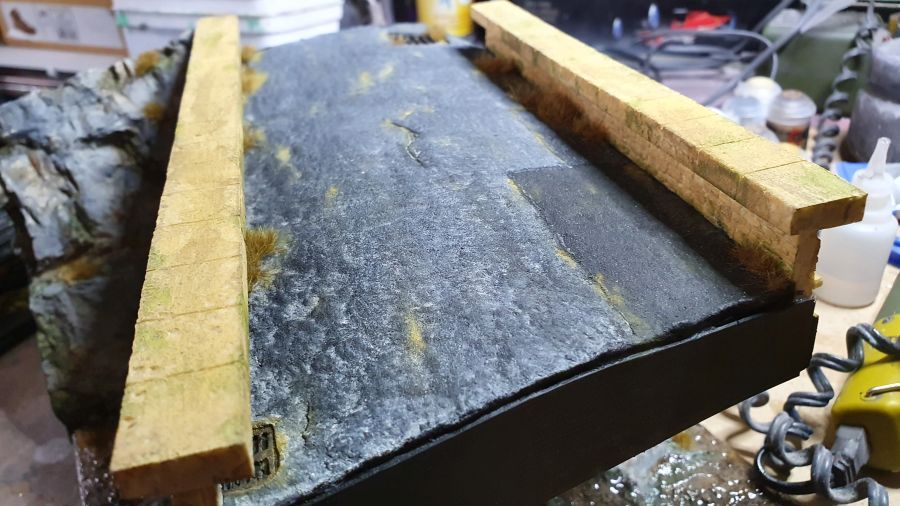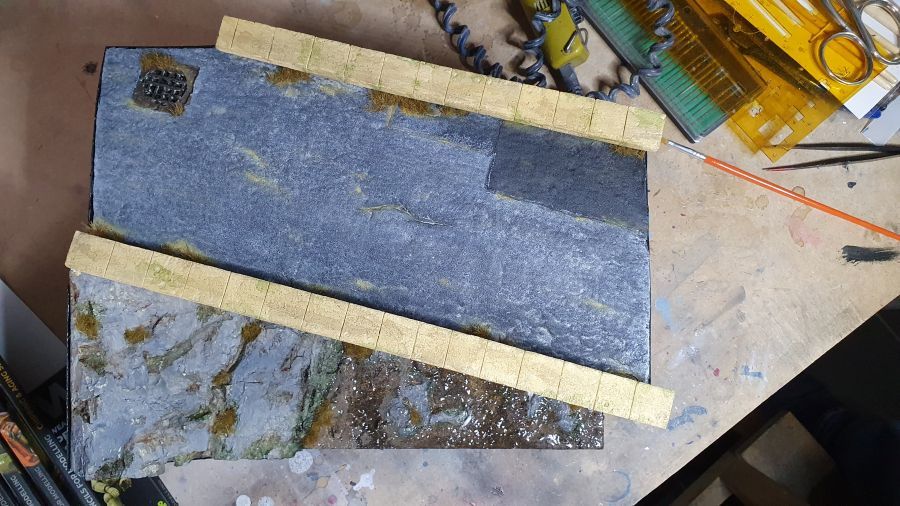 Misschien breng ik later nog wat wijzigingen aan, maar voor nu parkeer ik dit. Het is nu wachten op een 1/24 figuur van een coureur uit de jaren '60 en het kiezen van een Targa Florio auto. Voor nu eerst door naar de 2021 Red Bull RB16B Turkije versie.
Maybe i will do some more changes later, but for now i will call it done. It's now waiting for a scale 1/24 race driver from the 60's and the choice of a Targa Florio car. For now first on to the 2021 Red Bull RB16B Turkey version.