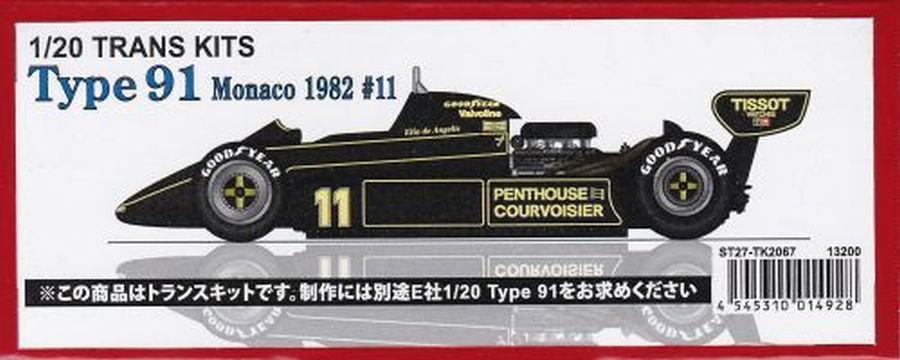 Een duik in het diepe. Al jaren wil ik graag een Ensign N180 van Jan Lammers. Iemand in een forum gaf ooit aan dat hij een kit zou maken. Inmiddels zijn we 5 jaren verder, maar de kit is er nooit gekomen. Daarom wil ik nu zelf een conversie proberen. Het is mij afgeraden, maar ik wil het toch gaan proberen. Ik ben duidelijk gek. Het maakt mij niet uit of de wielbasis 2 mm te kort of te lang is. Daarvoor is het een hobby, nietwaar? Ik ga als basis de Ebbro Lotus 91 (kit nr. EMSF1 012-5800) gebruiken. Daarbij heb ik een Studio27 conversie kit (kit nr. ST27-TK2067) gekocht voor een Monaco versie. Er moet heel wat verbouwd worden om daar een 1980 Ensign N180 Duitsland Jan Lammers versie van te maken. De decals heb ik gekocht bij Pattos. De eerstvolgende foto's laten eerst weer de inhoud van de kits zien. Het zal een langdurig project worden, waarbij ik misschien zomaar iets anders tussendoor ga doen. Eerst maar eens op zoek naar wat foto's. Dat is lastig, want heel Google staat vol met Simon Fish auto's. Daarvan weet ik niet hoe accuraat de auto is. Daarnaast zie je veel uitvoeringen, met voorvleugel, zonder voorvleugel, achtervleugel uit 1 deel, achtervleugel uit 2 delen, wel of geen remi-inlaten achter, verschillende uitvoeringen met verschillende Unipart reclames, maar nergens info over wie wat waar. En nergens een volledige foto van de versies m.b.t. de voorkant, achterkant, zijkant, bovenkant enz. Kortom, een puinhoop.
A deep dive. For many years i would like to have an Ensign N180 Jan Lammers version. Someone at a forum once said he would create this kit. Now we are at least 5 years later, but the kit never came. That's why i would like to try a conversion myself. I was told not to, but i want to try anyway. I am clearly crazy. I don't mind if the wheelbase is 2 mm short or too long. That's why it is a hobby, right? As a donor i will use the Ebbro Lotus 91 (kit no. EMSF1 012-5800). Next to it i bought a Studio27 conversion kit (kit no. ST27-TK2067) for a Monaco version. It needs a lot of work to convert it into a 1980 Ensign N180 Germany Jan Lammers version. I bought the decals from Pattos. The next first pictures show the content of the kits. It will be a long term project and i might do something else in between. First i need to find more pictures. That's tough as Google is full of Simon Fish cars. I don't know how accurate that car is. Then you see a lot of liveries, with front wing, without front wing, rear wing as 1 part, rear wing as 2 parts, yes or no brake ducts at the rear, different Unipart advertisement, but nothing about who what where. And nowhere full pictures from the rear, sides, front and top. In short, a mess.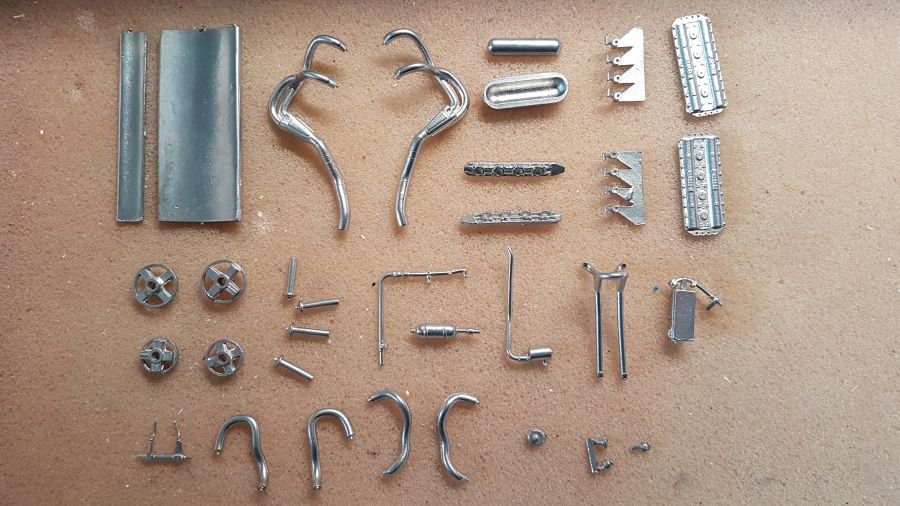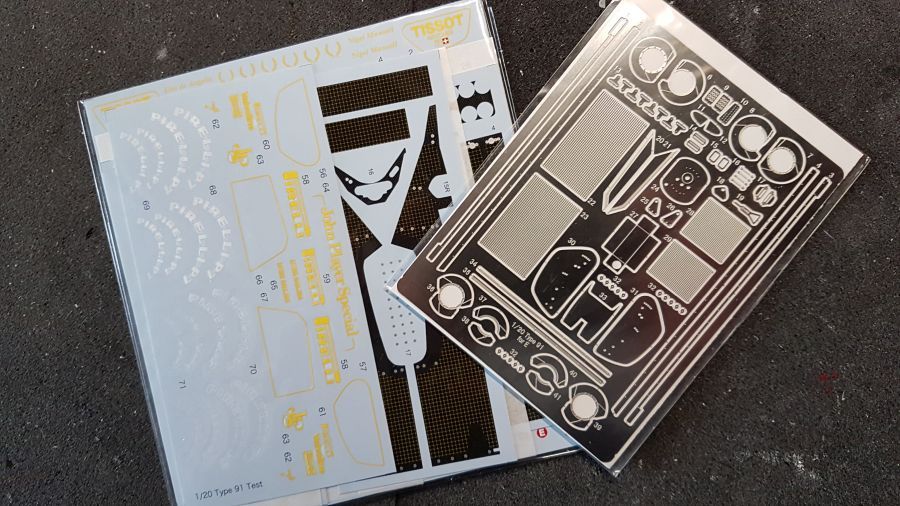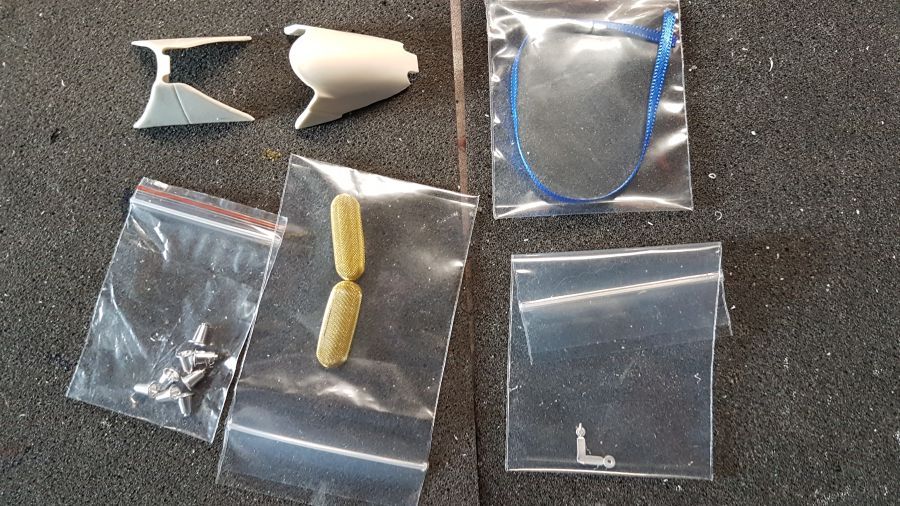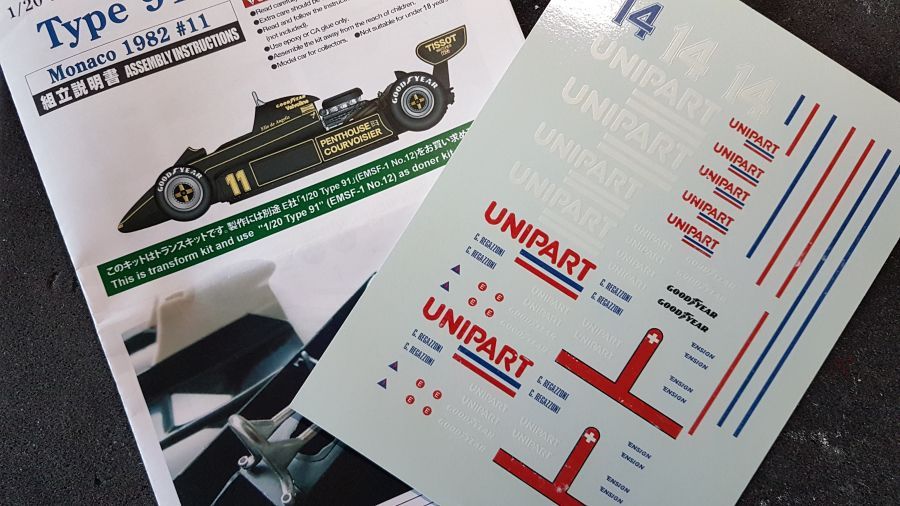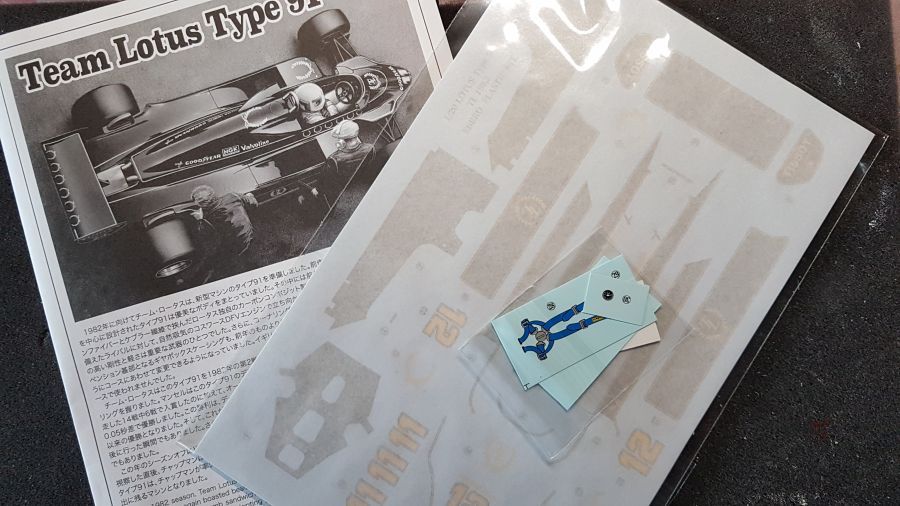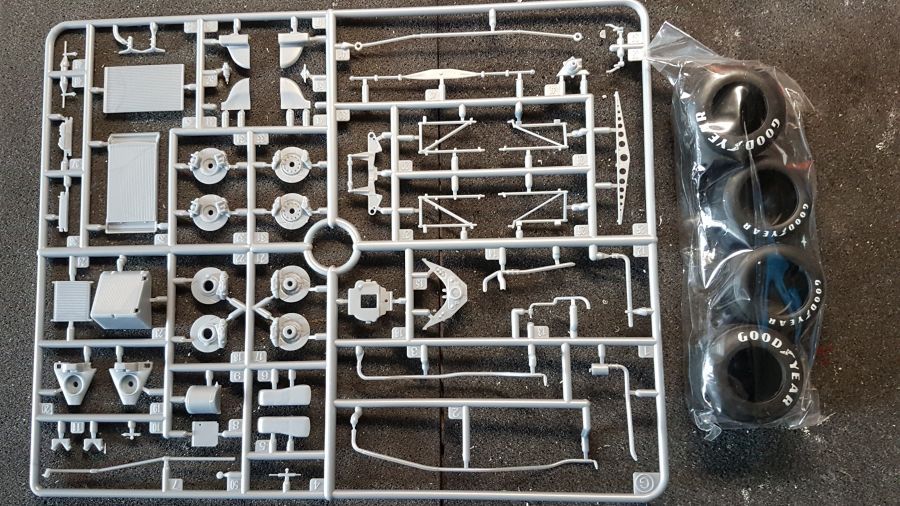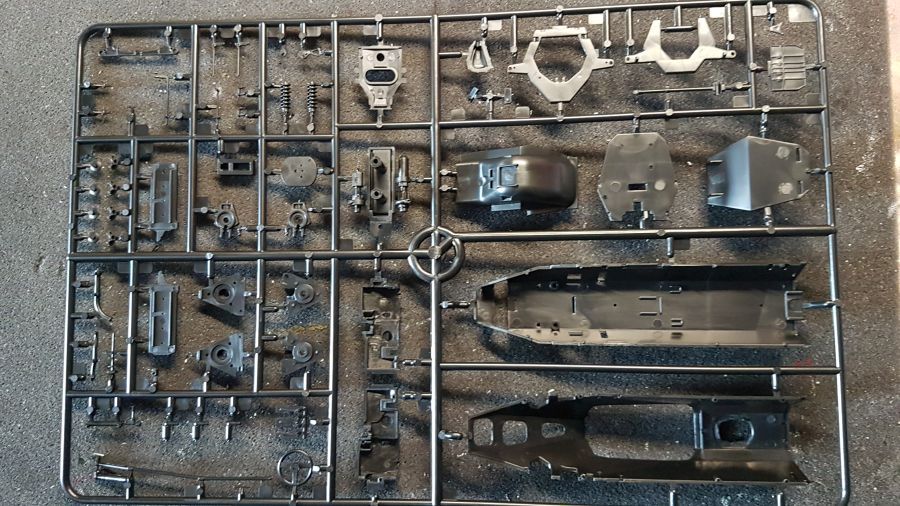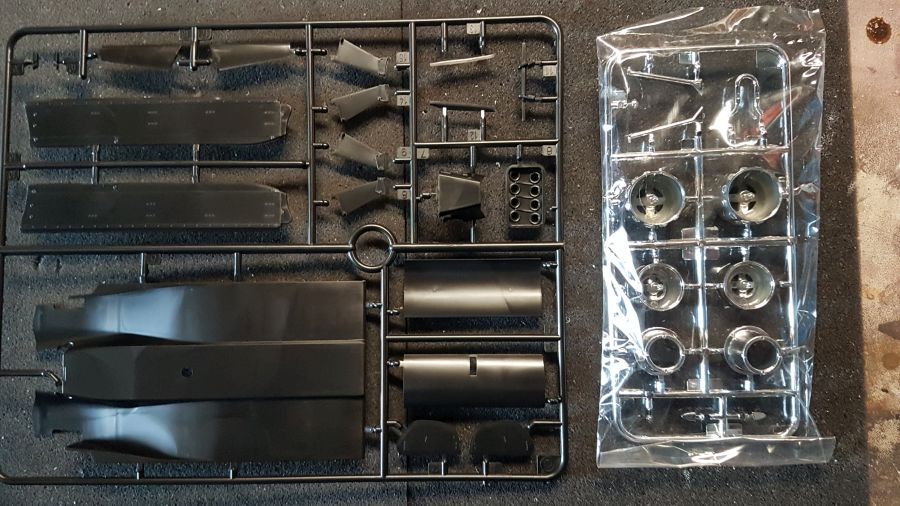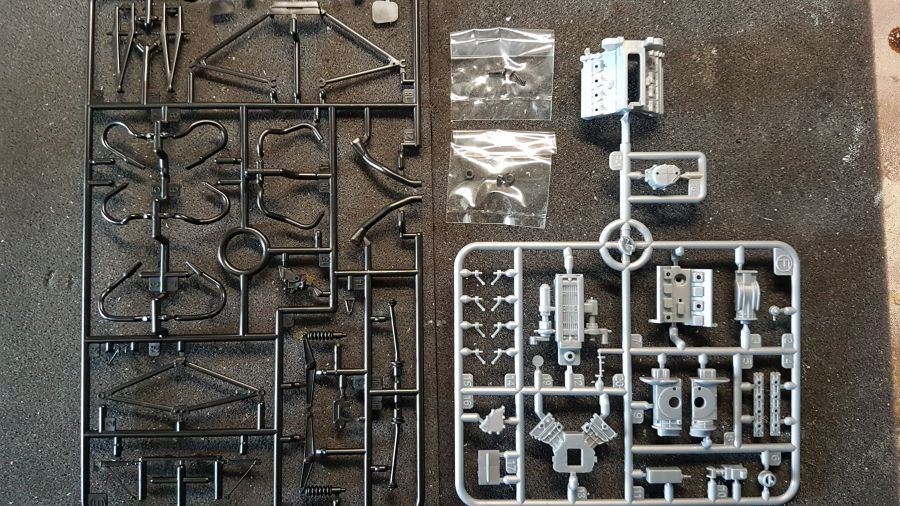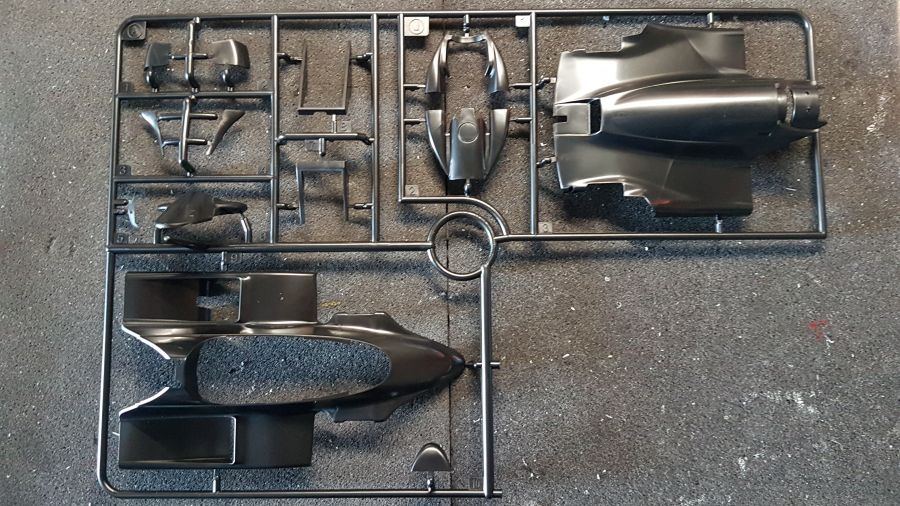 De voorlopige aandachtspunten.
The temporarily points of attention.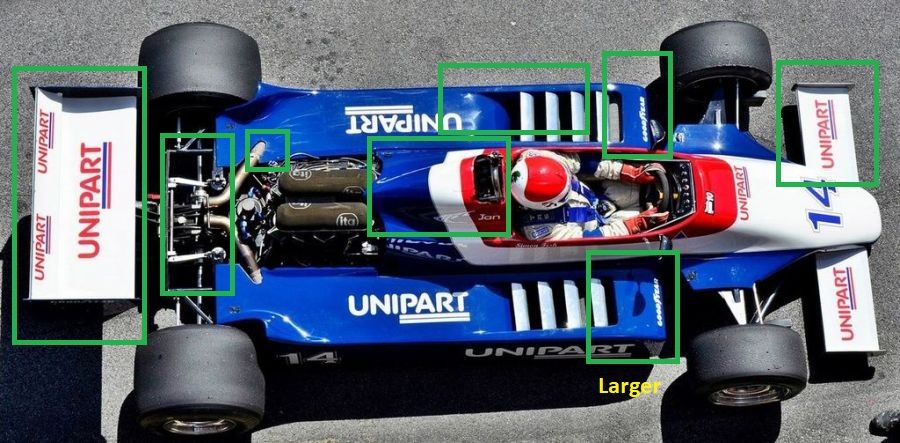 Daar gaat ie. Een hele diepe duik. Als er iets fout gaat, kan het allemaal in de prullenbak. Eerst de zaagsneden bepalen.
There we go. A very deep dive. If anything goes wrong, everything can be dumped in the bin. First decide where to cut.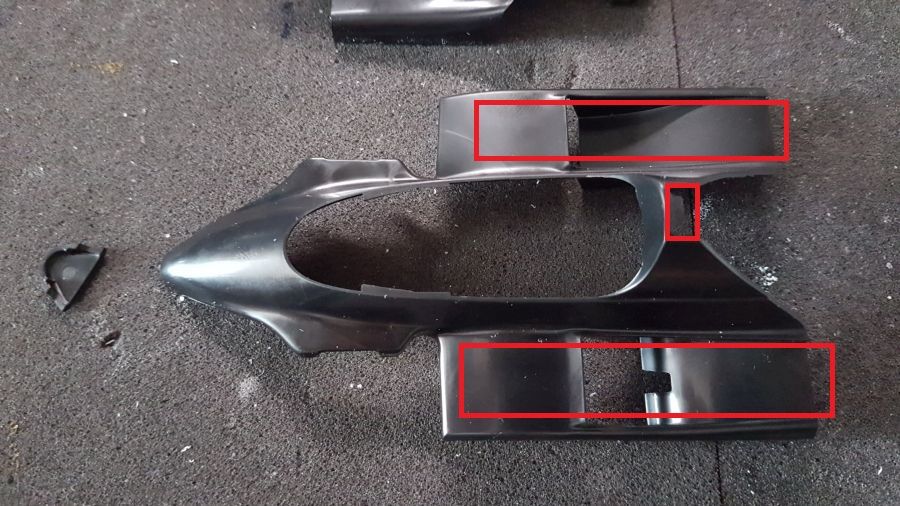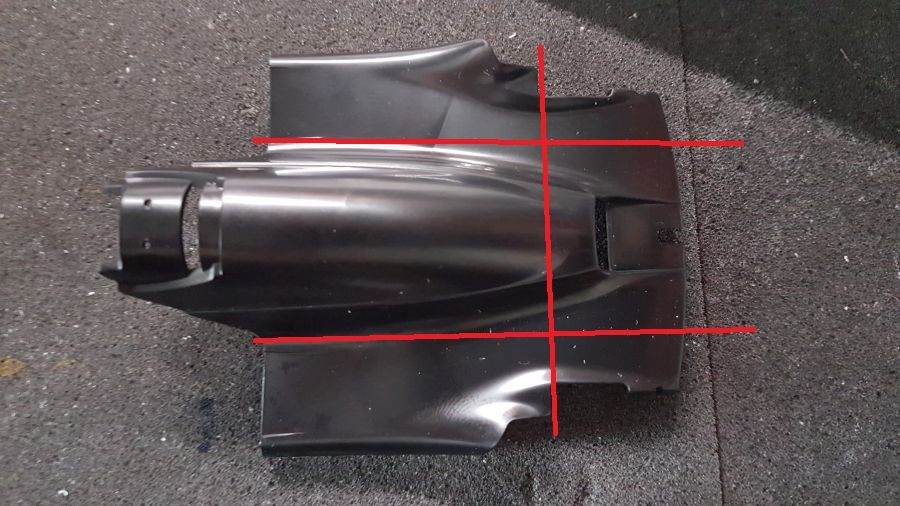 De nieuwe achtekant past niet helemaal. Dit wordt verwarmd en gebogen. Edit: Ik heb besloten deze afdekking niet te gebruiken.
The new backside doesn't fit correct. This will be heated and bent. Edit: I have decided not to use this cover.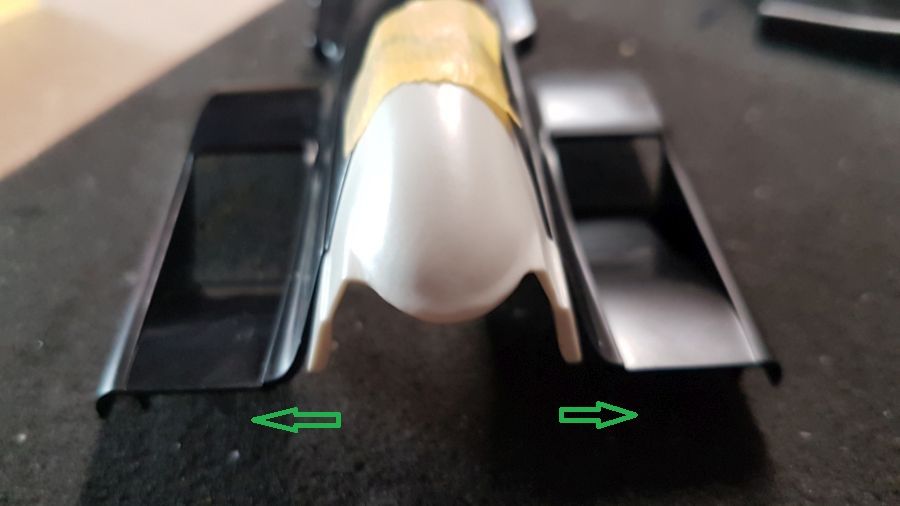 De eerste sneden...
The first cuts...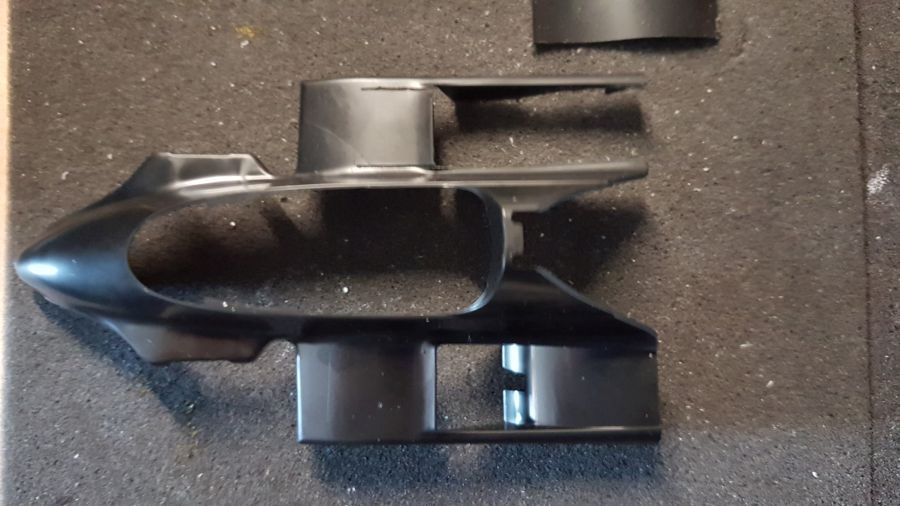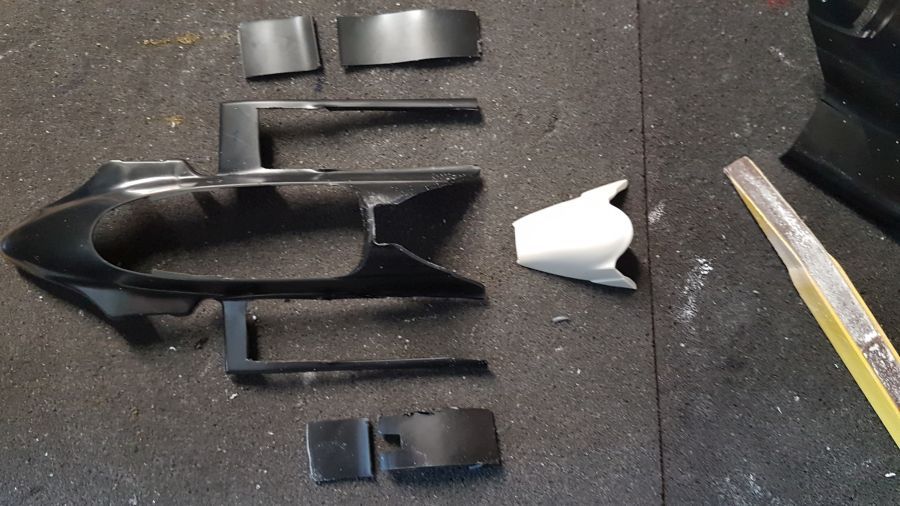 Nu bijgebogen...
Now bent...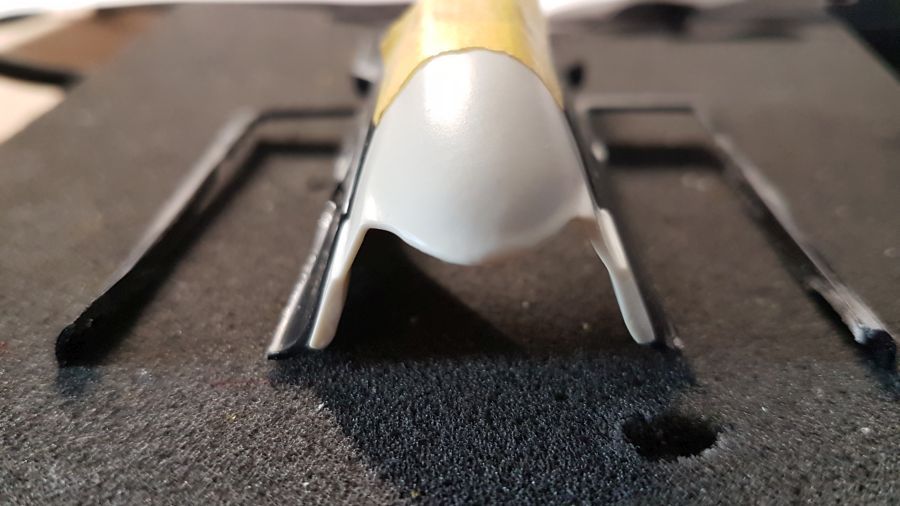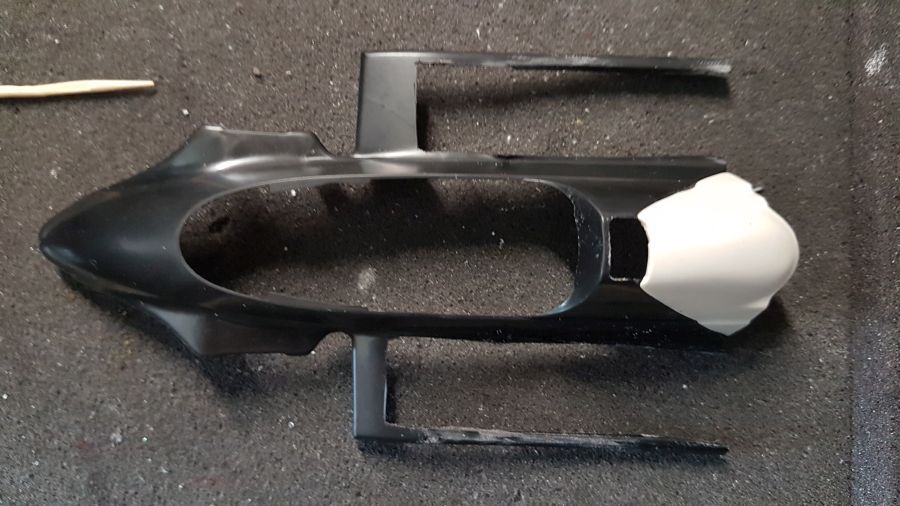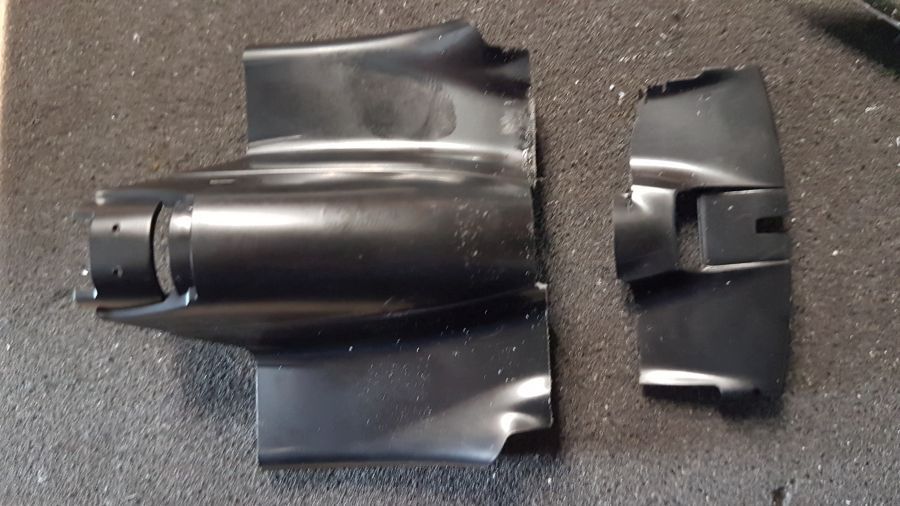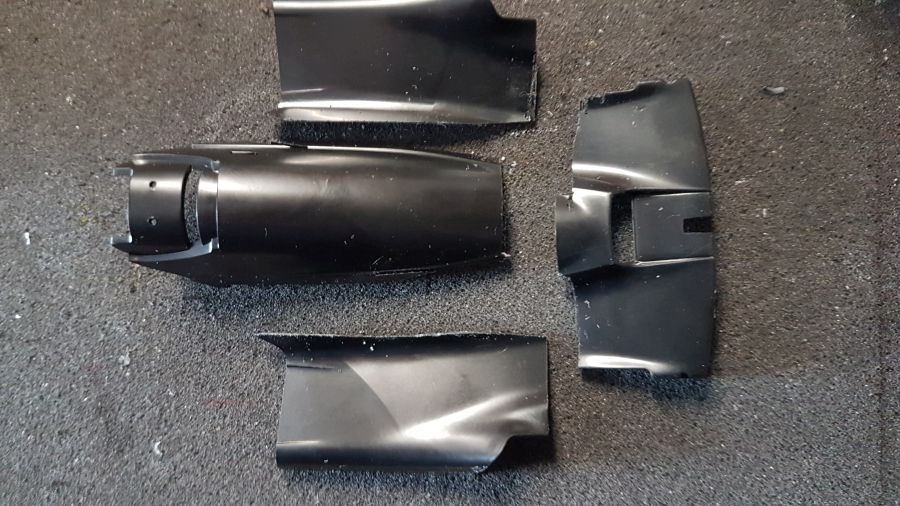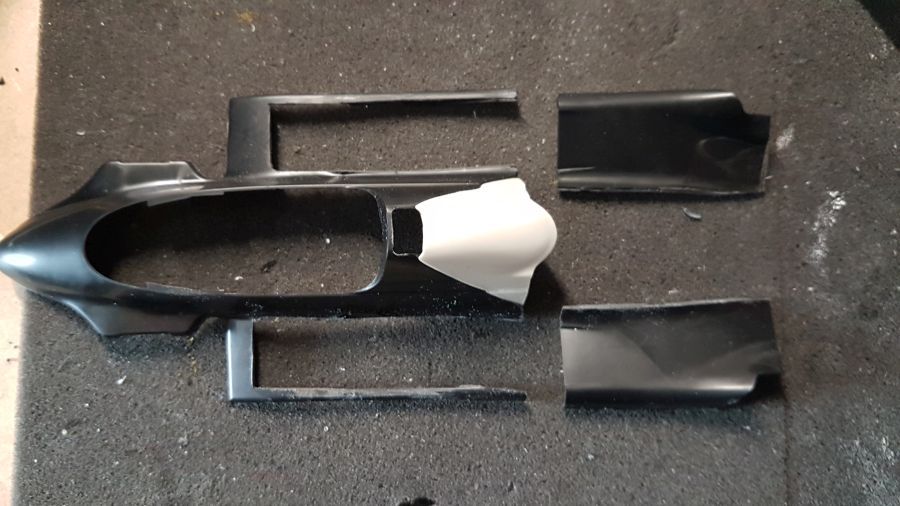 Weer wat versterking aanbrengen..
Adding more strength..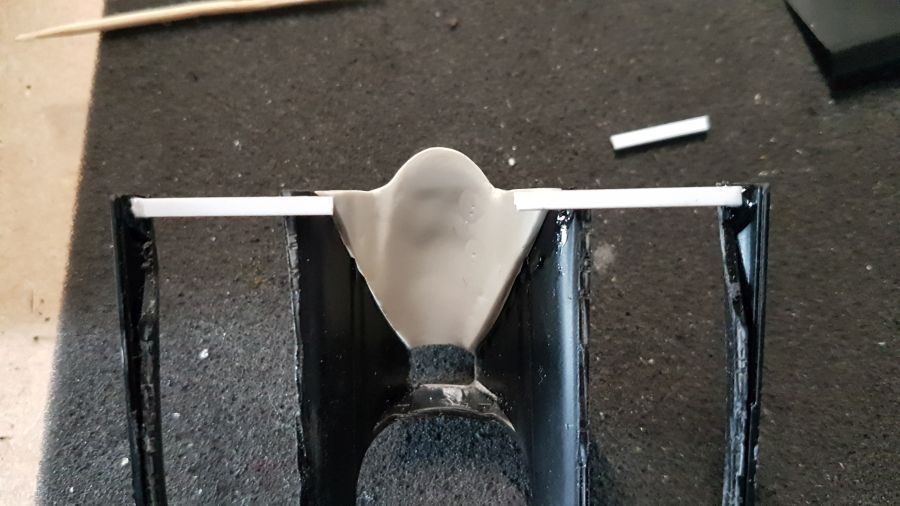 Terwijl de lijm droogt, ga ik vast wat wijzigen aan de voorkant. De spiegels moeten verwijderd.
While the glue sets, I will make some changes to the front. The mirrors need to be removed.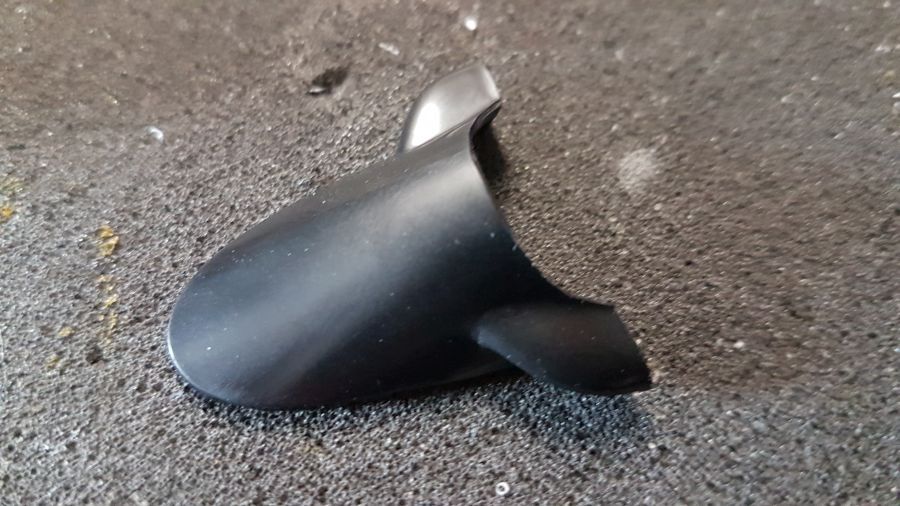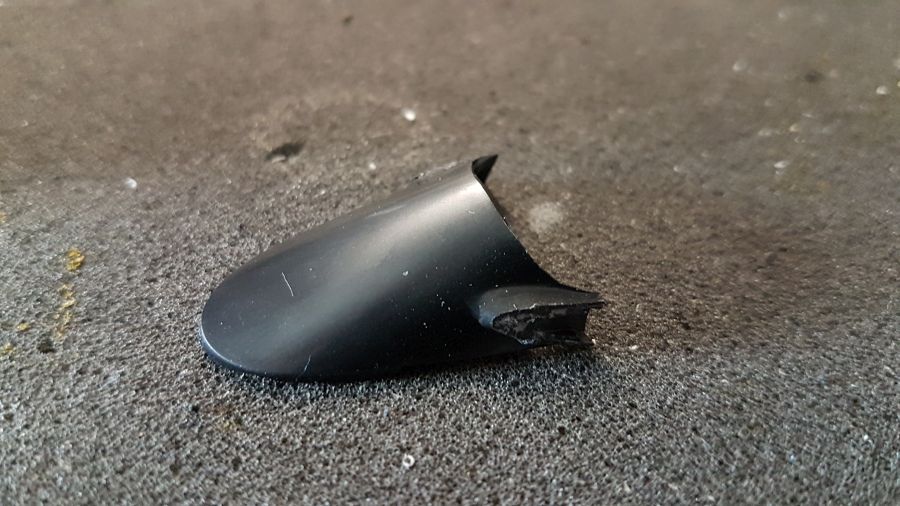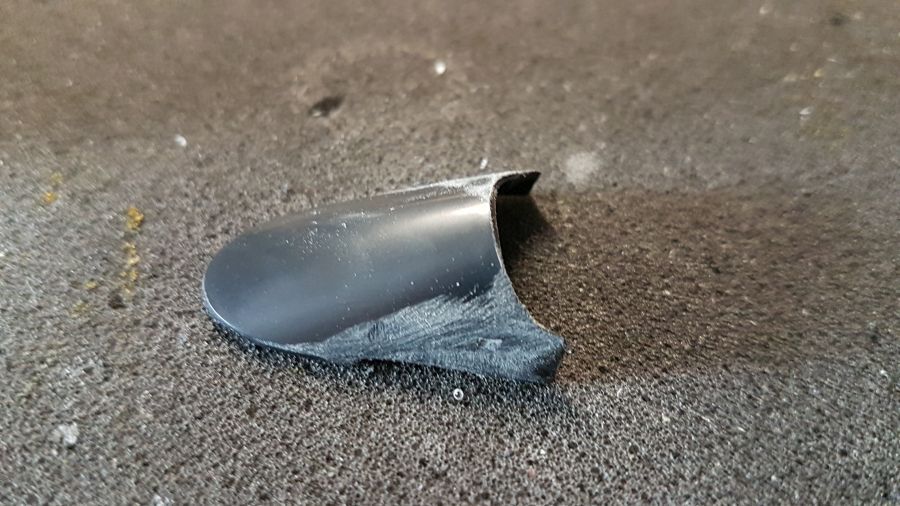 Passen...
Test fit...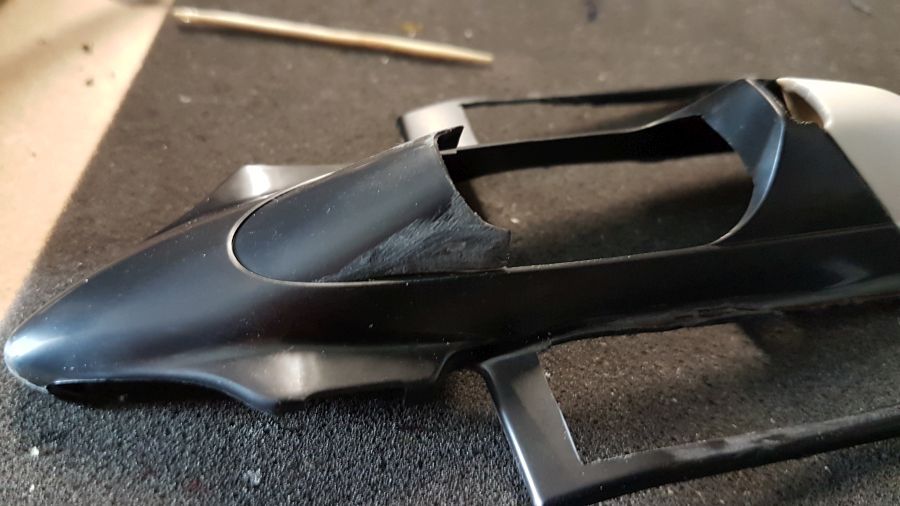 Het rode deel moet smallen worden gemaakt. Dat gaat botsen met de binnenkant (groen). In het echt zit er ook een soort 'versmalling'.
The red parts needs to be smaller. That will interfere with the inside (green). In real life there is a 'smaller section' too.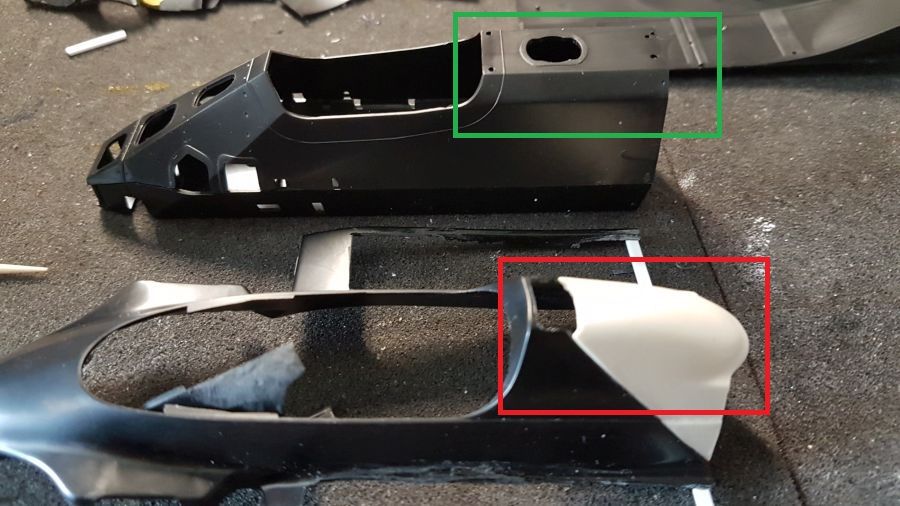 Nu wat werk om de hoogte van de rolbeugel te bepalen.
Now some work to adjust the height of the roll bar.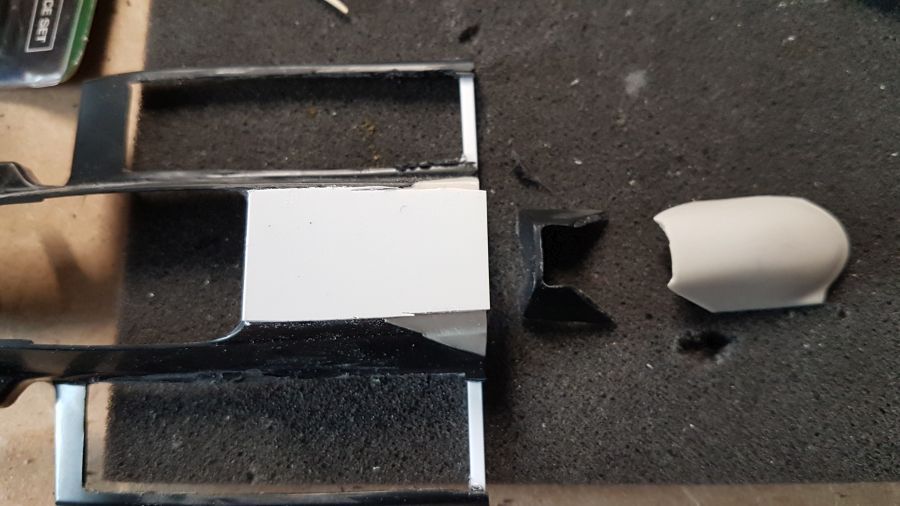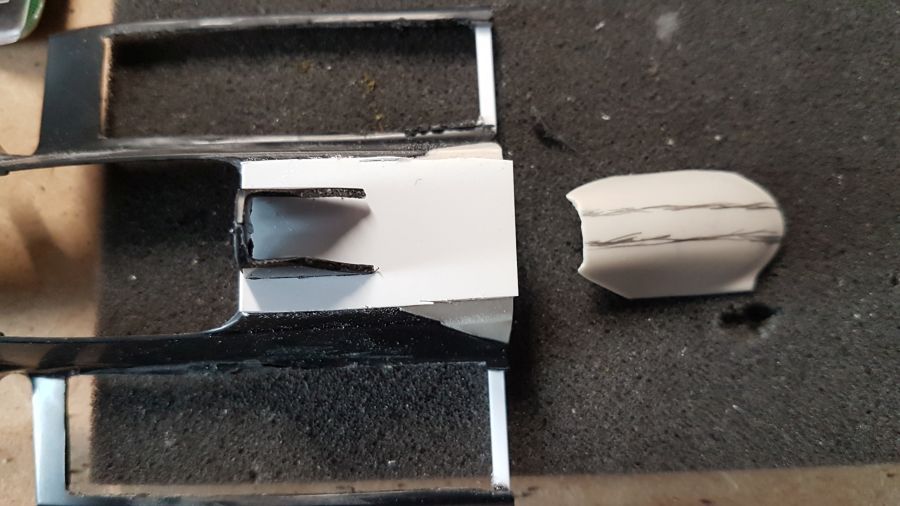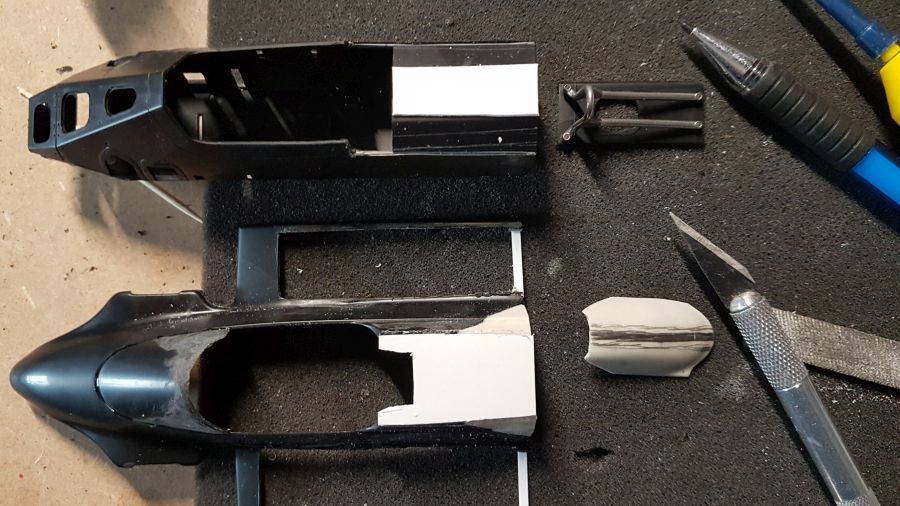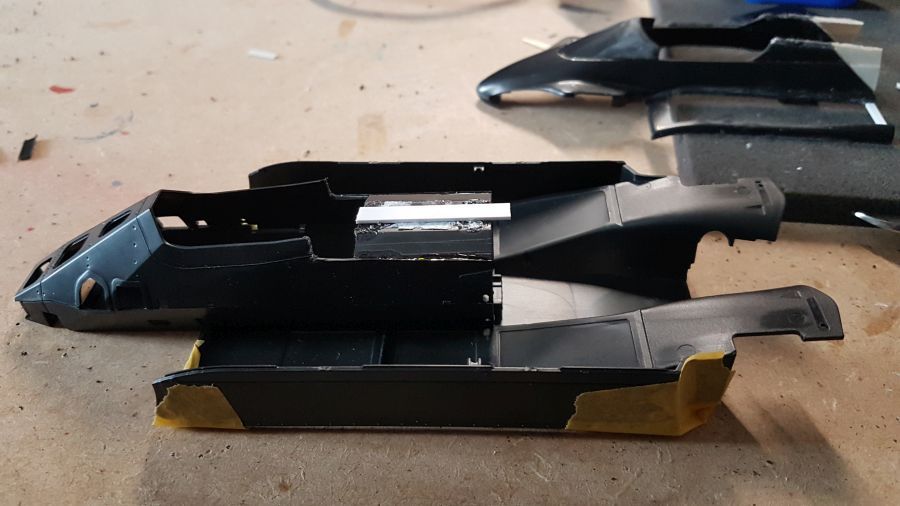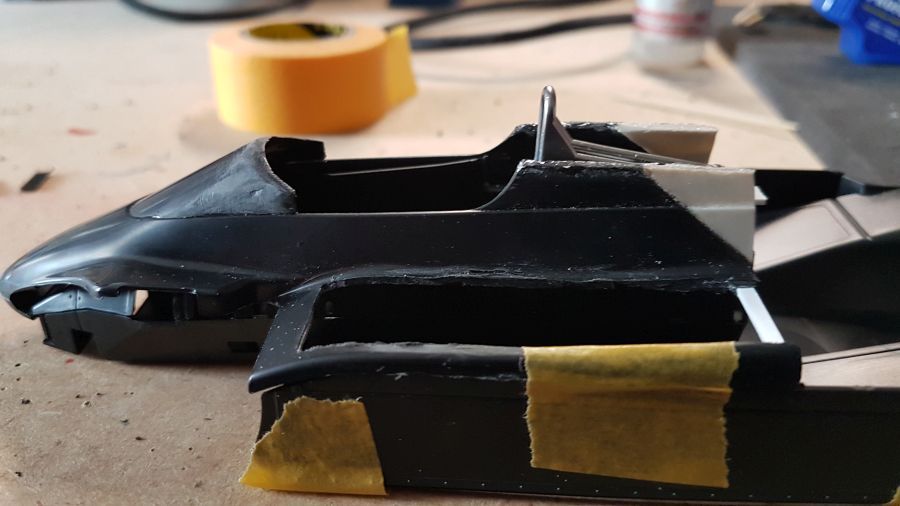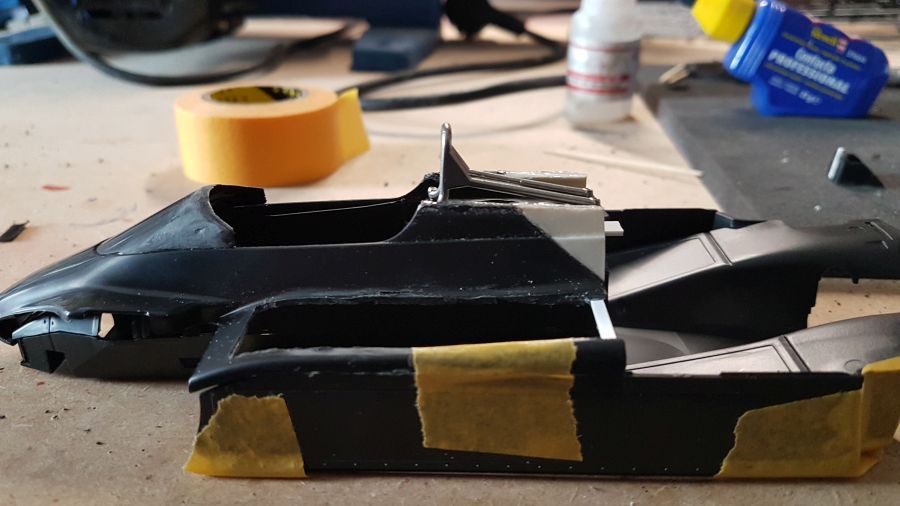 Nu iets bedenken om de afdekking achter de rolbeugel te maken. Ik heb geprobeerd een luchtinlaat van een airbox in mijn rommeldoos te vinden, maar helaas.
Now i need to think of something to create the cover behind the roll bar. I tried to find an intake of an air box in my scrap box, but to no avail.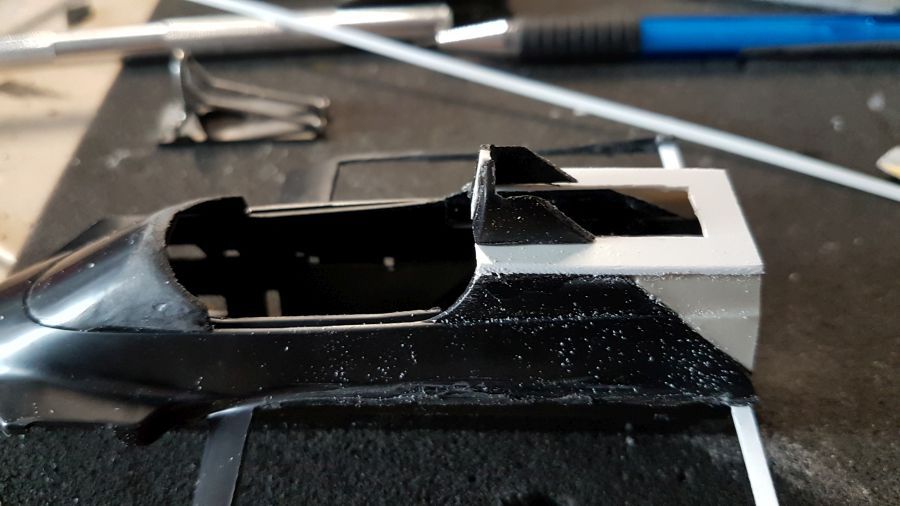 De 1e poging is iets dat ik gemaakt heb van een schuimblok dat ik op de bouw vond. Een beetje in vorm gesneden met een mes en daarna met een schuurvijl bijgewerkt.
The first attempt is something i made from some foam i found in a building yard. I cut it to shape with a knife and then used an emery board.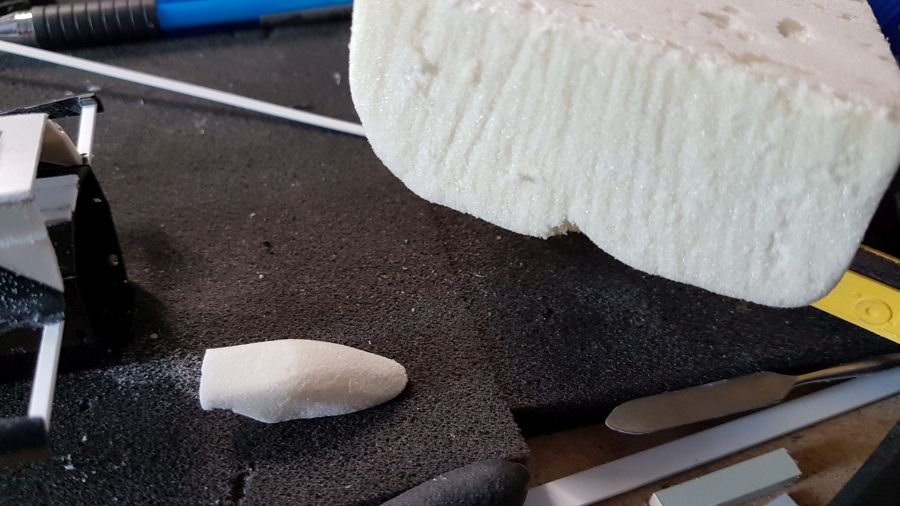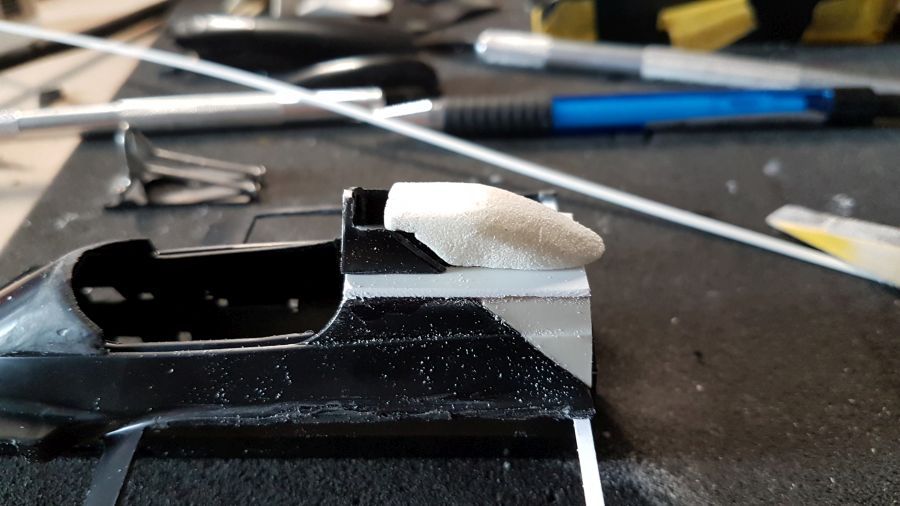 Misschien bekleden met putty? Of een nieuwe maken van Evergreen materiaal?
Maybe cover it with putty? Or create a new one from Evergreen material?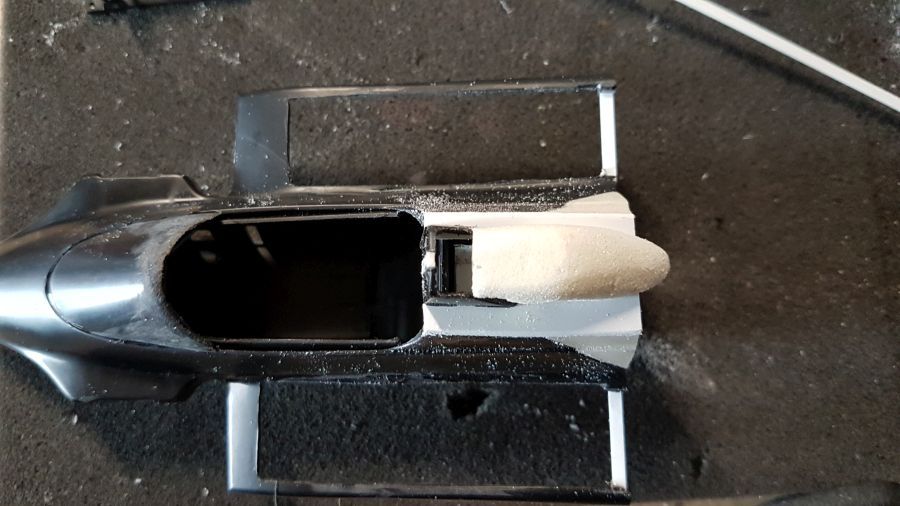 Links een nieuwe van Evergreen (nog niet klaar).
On the left a new one from Evergreen (not ready yet).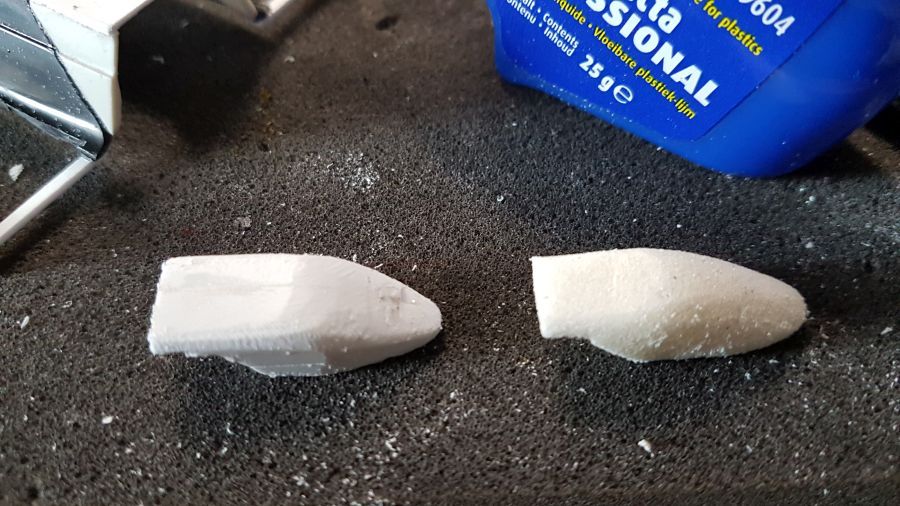 Tijd voor de eerste putty... De cockpitrand wordt nog opgehoogd.
Time for the first putty... The cockpit wall will be made higher.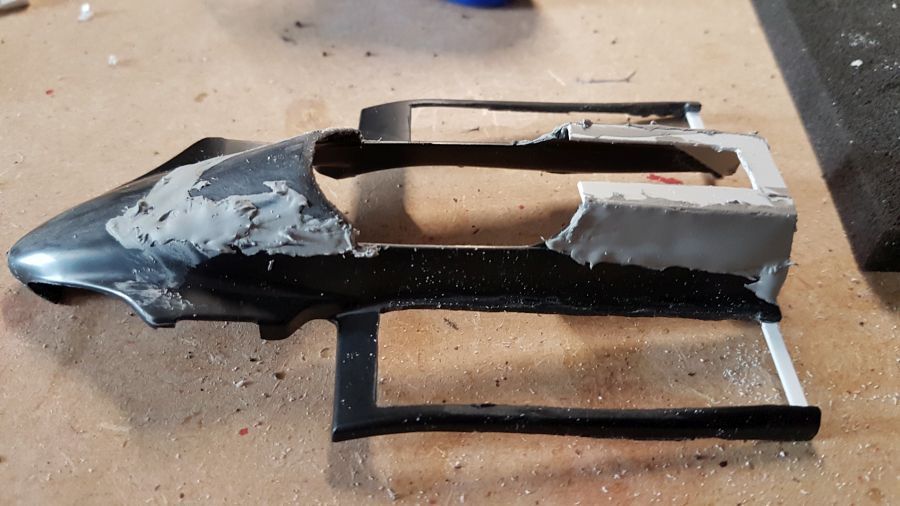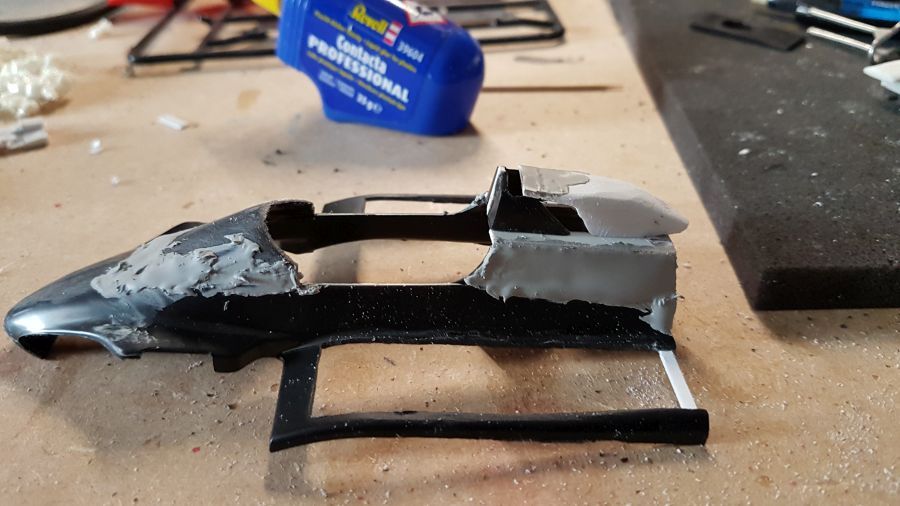 Op mijn zoektocht in de rommelbox vond ik deze. Die kunnen van pas komen.
On my search in the scrap box i found these. They might come in handy.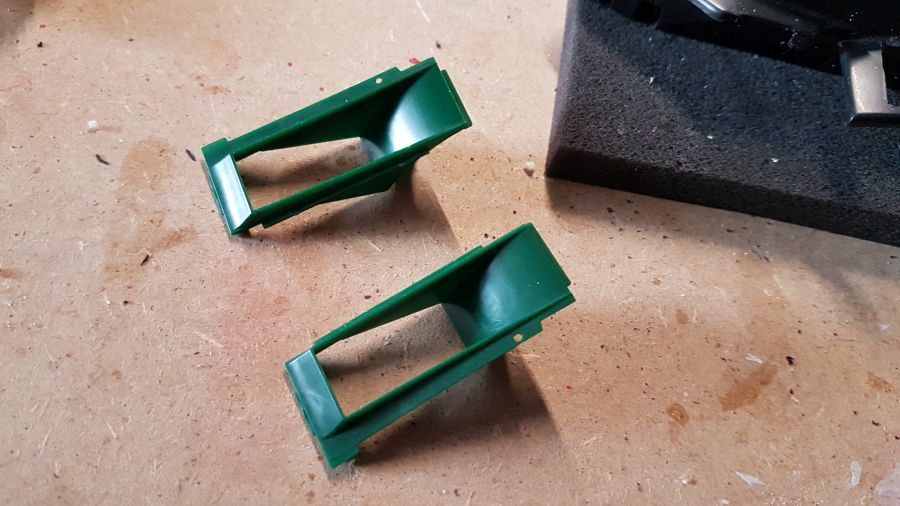 Terwijl ik de zijkanten van de cockpit wat hoger maak, zie ik dat er iets fout zit. De cockpitlijn moet doorlopen naar de achterkant. Aanpassen dus. Raar dat je daar zo blind voor kunt zijn.
While i am adding the sides of the cockpit, i notice something wrong. The walls of the cockpit should be on line with the rear. So that needs to change. Strange you don't notice this before.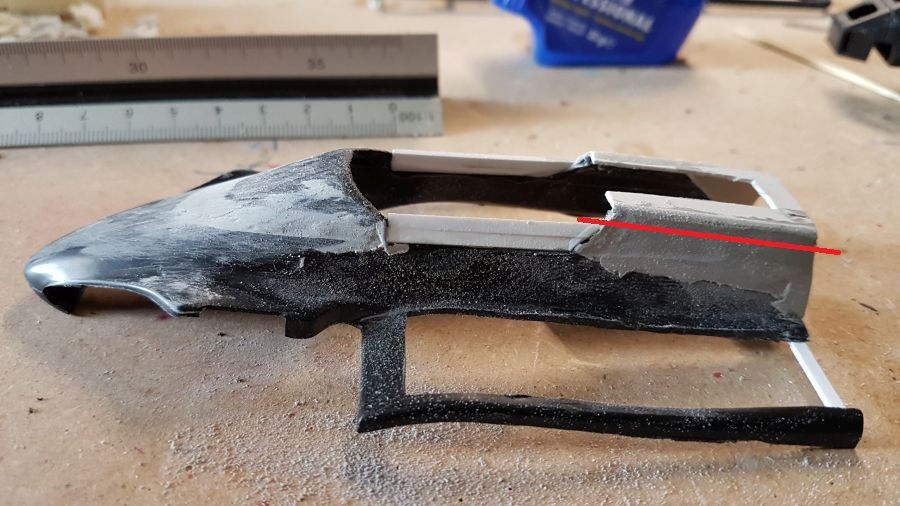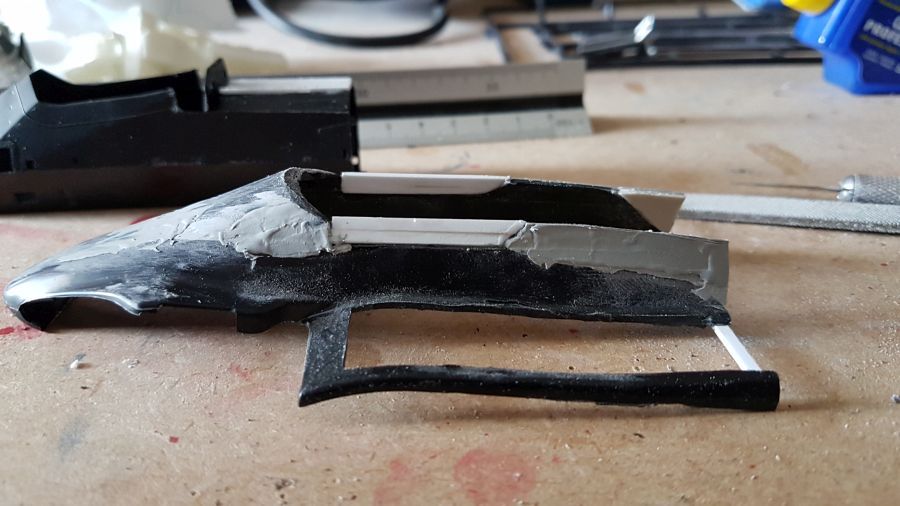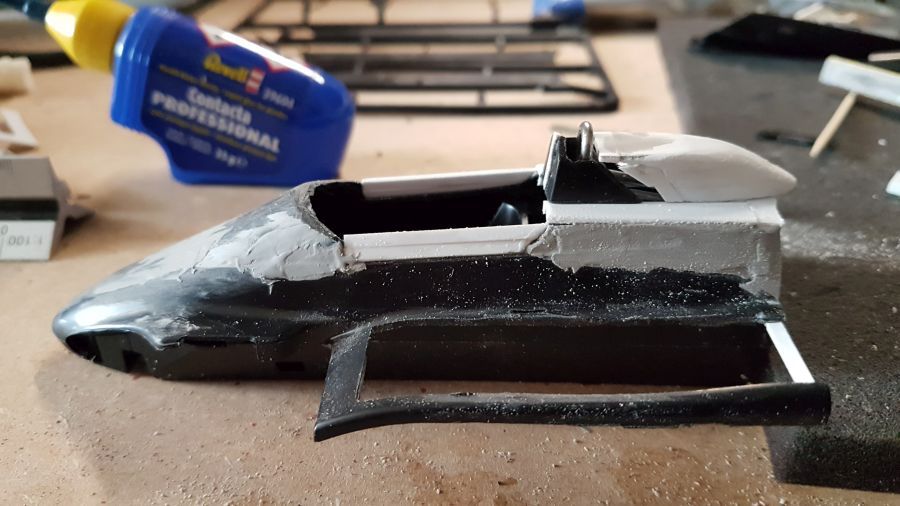 Nu moeten de achterste delen van de cover geplaatst. Deze verlijm ik met de bovenkant van de afdekking.
Now the rear parts of the cover need to be added. I will glue them to the top side of the body cover.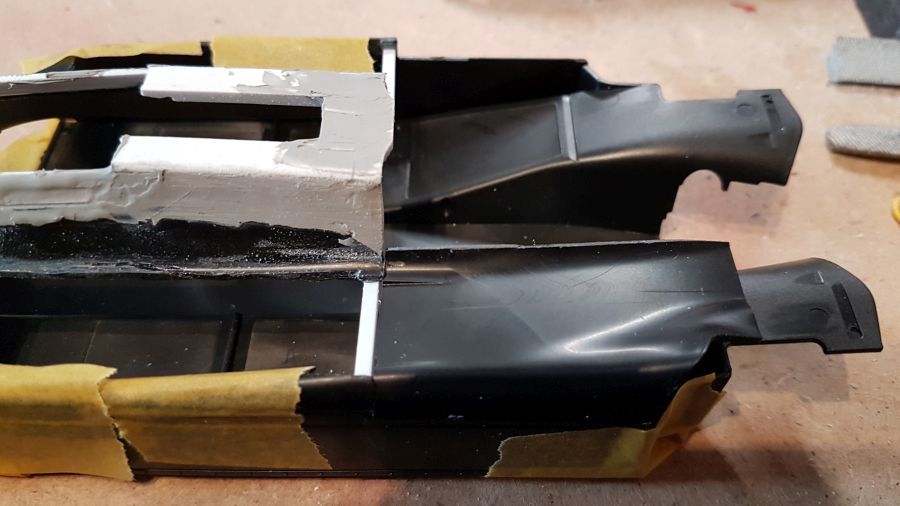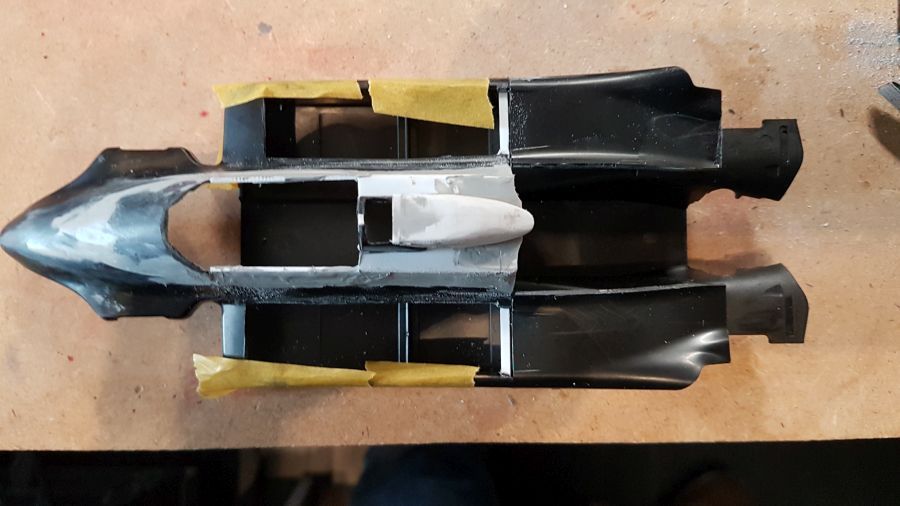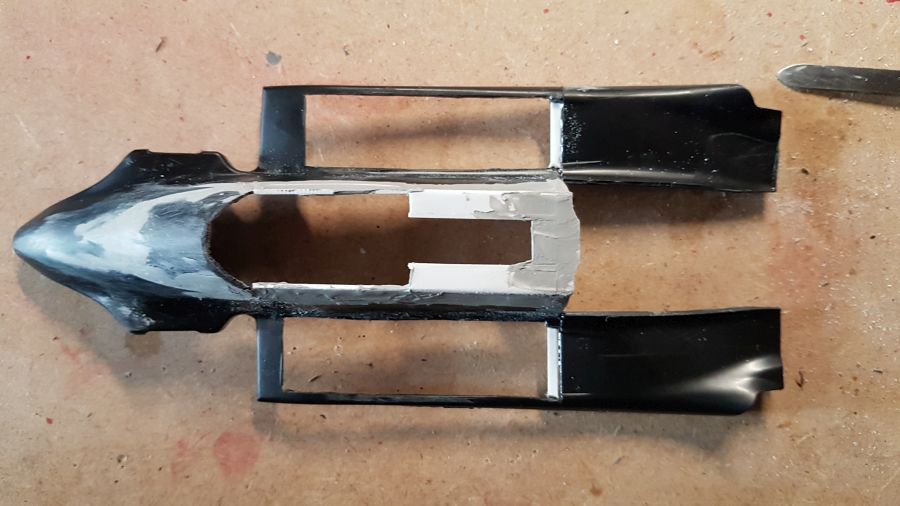 Nu nog zien hoe ik deze een beetje netjes kan plaatsen.
Now i need to see how i can mount these in a nice way.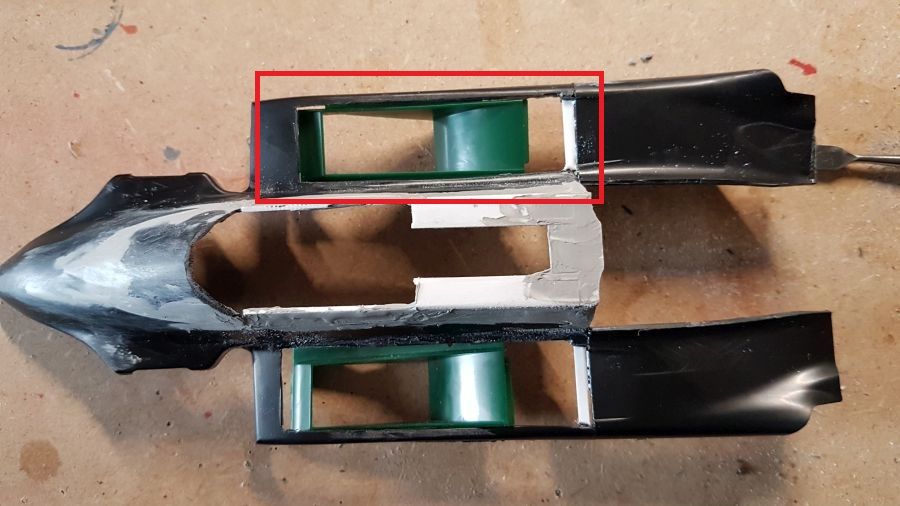 Terwijl de putty droogt doe ik eerst wat werk aan de vloer. Deze moet ingekort. De Ensign N180 heeft ook niet die hoge eindstukken. Daar moet ik nog wat op verzinnen.
While the putty dries i will do some small work to the floor. It needs to be shortened. Also the Ensign N180 doesn't have the high pieces at the back. I need to think that over.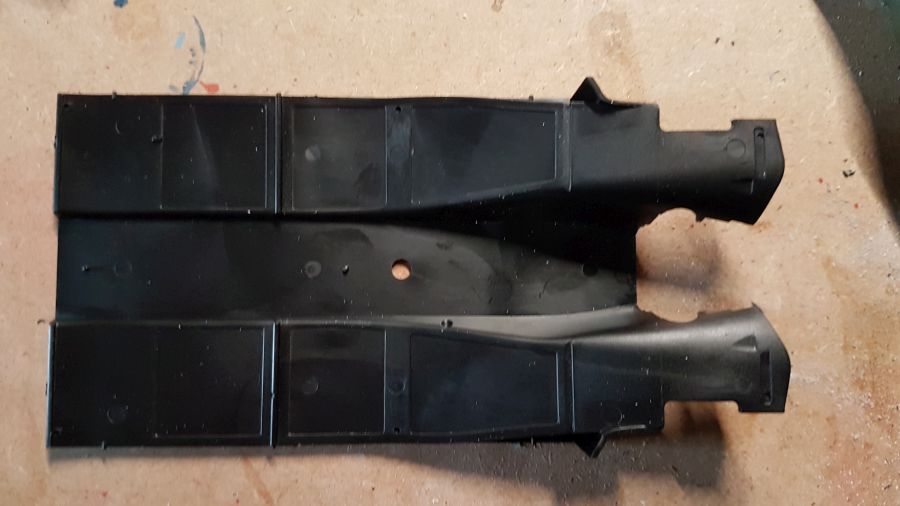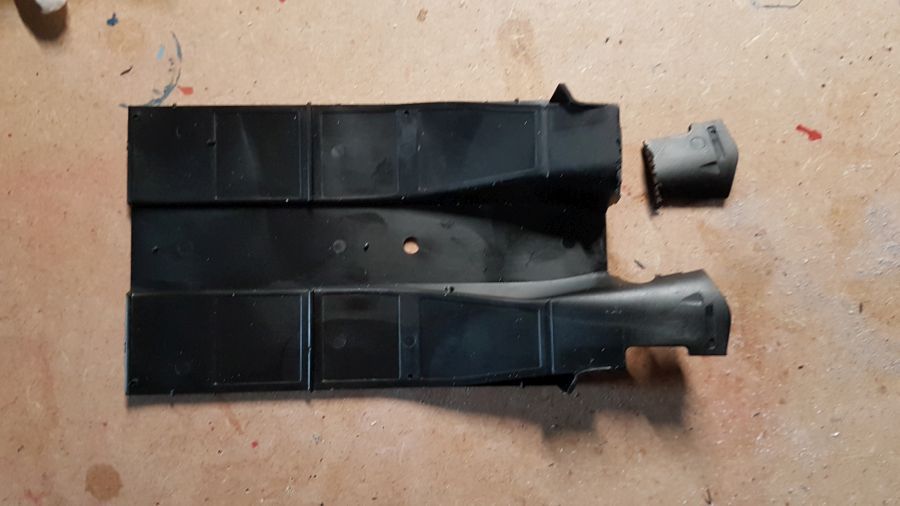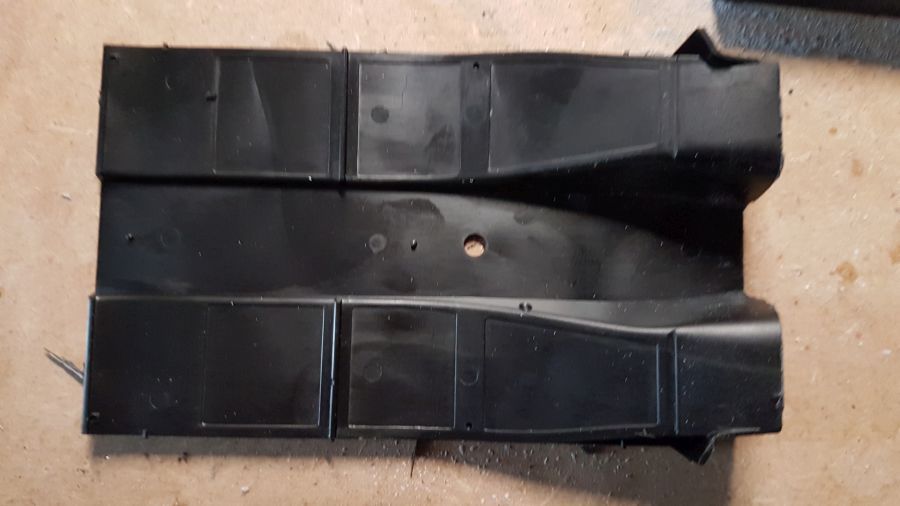 De inlaten van de rommelbox (van een Lotus 79) ga ik plaatsen.
The intakes from the scrap box (from a Lotus79) will be mounted.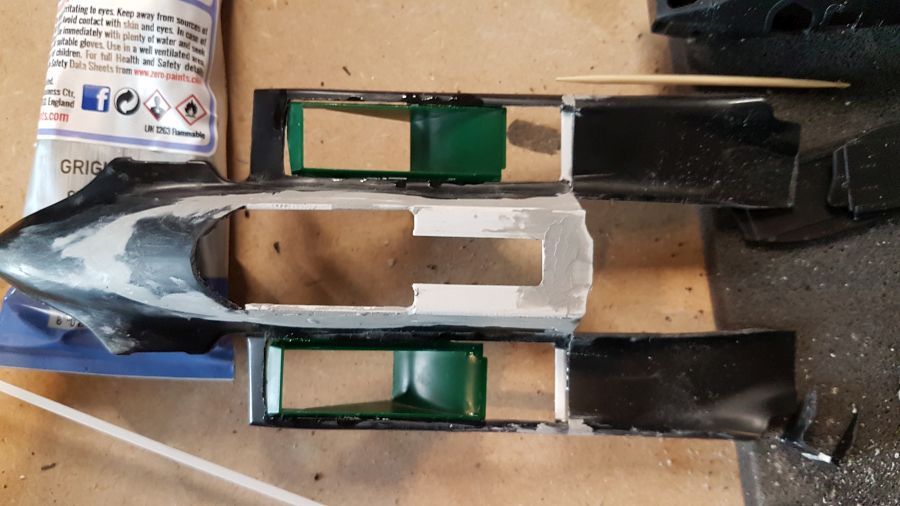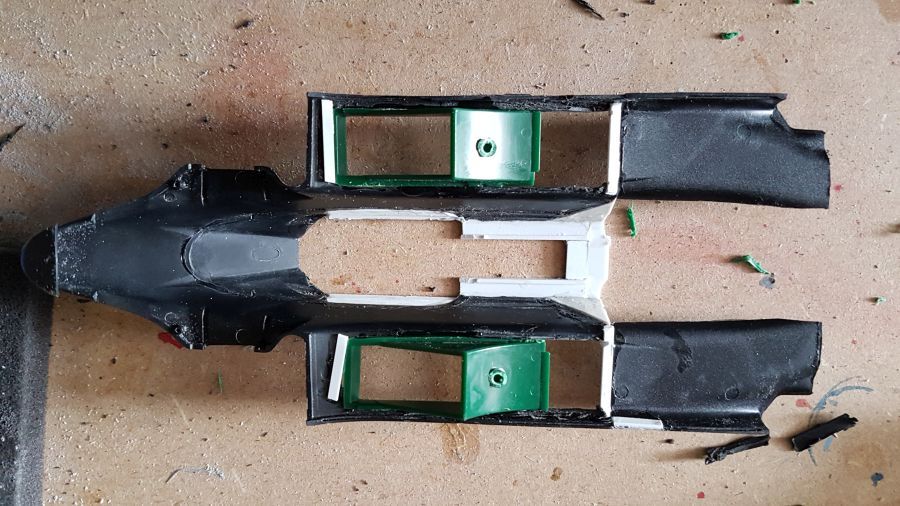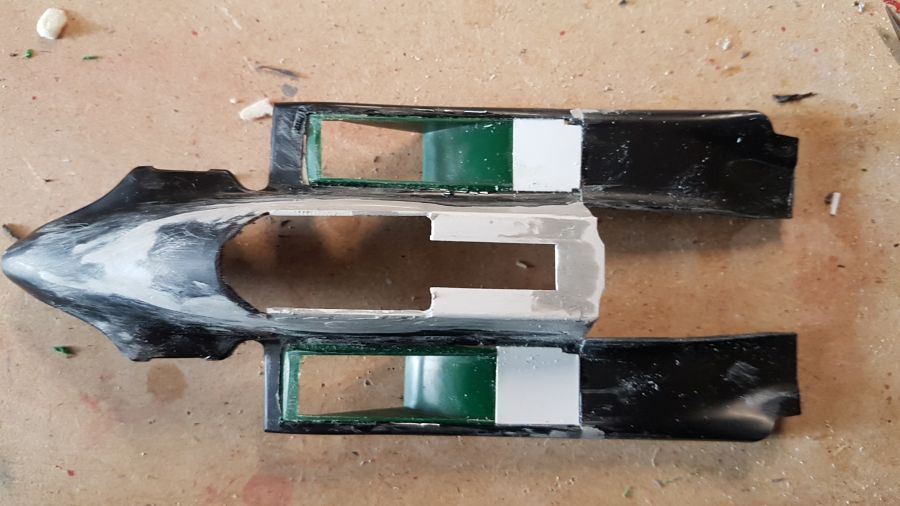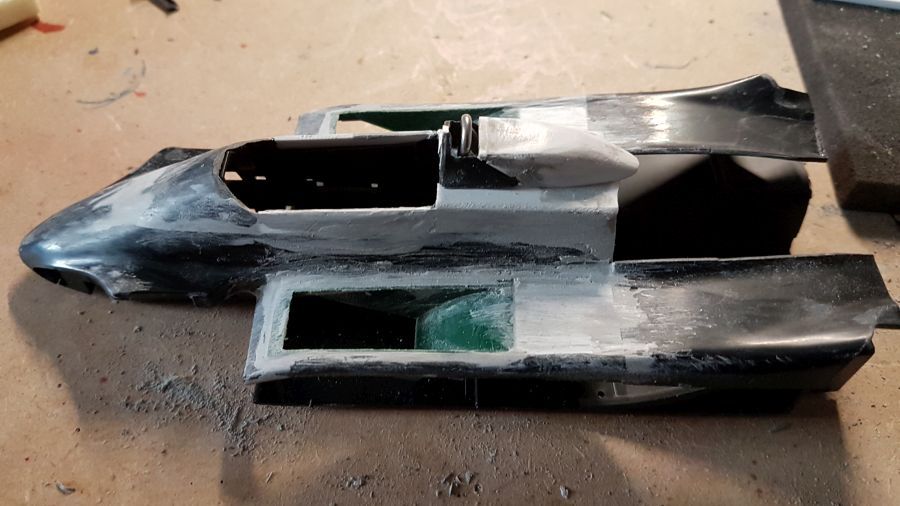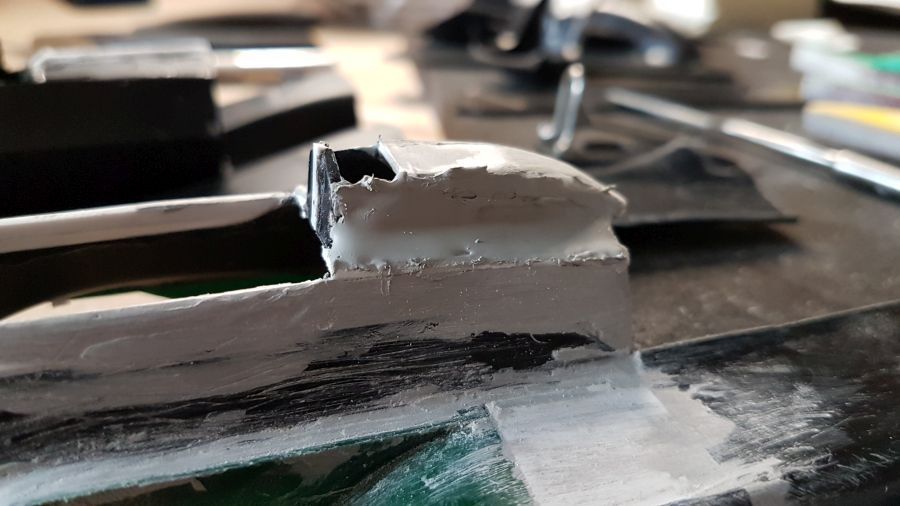 Langzamerhand begint het ergens op te lijken....  o.k. niet 100%. Dat ga ik ook niet redden.
Very slowly getting there... o.k. not 100%. I will not make it either.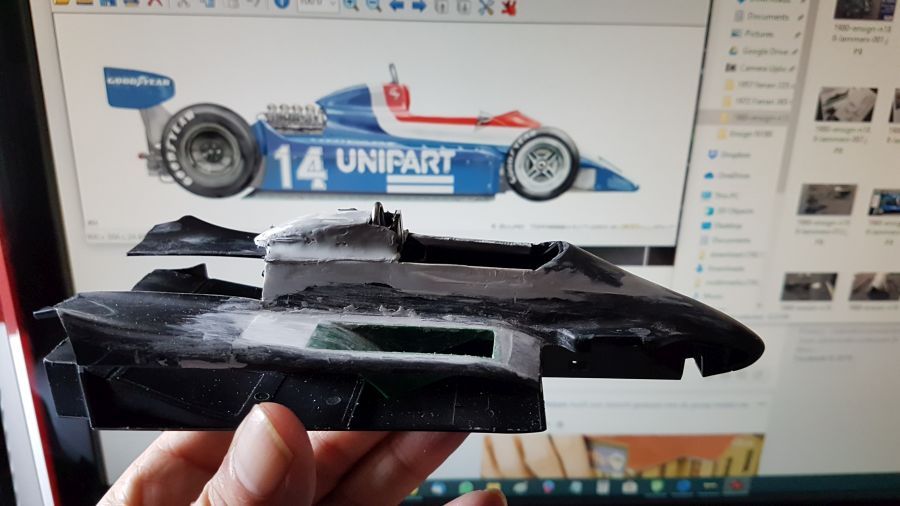 De primer is gespoten. Zo kan ik genakkelijker zien waar de problemen liggen.
The primer has been applied. This way it's easier for me to see where the flaws are.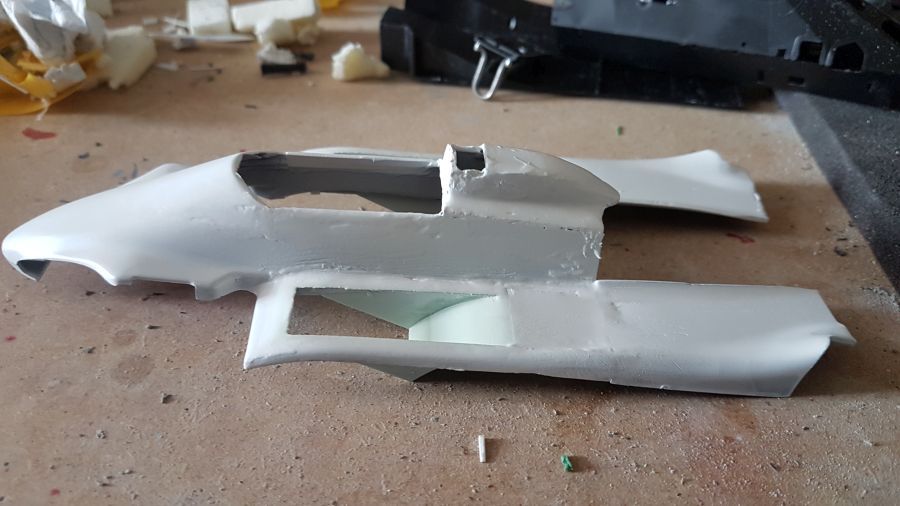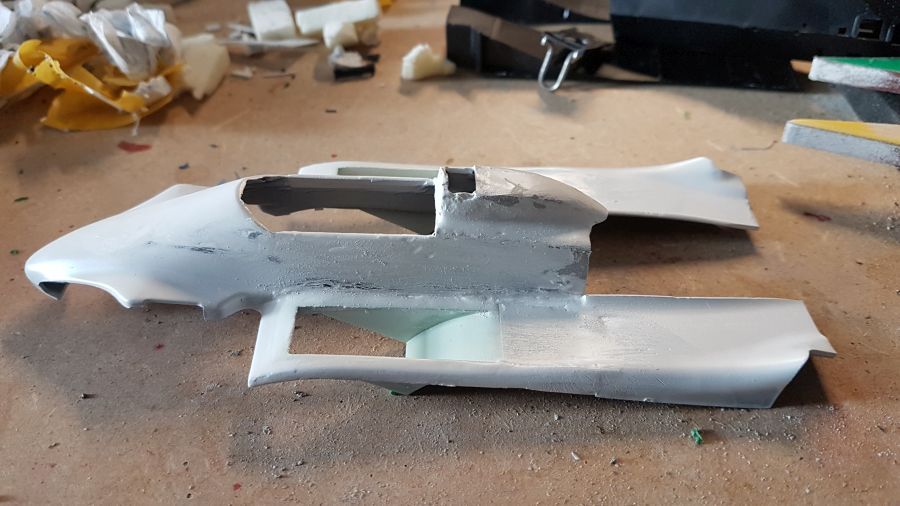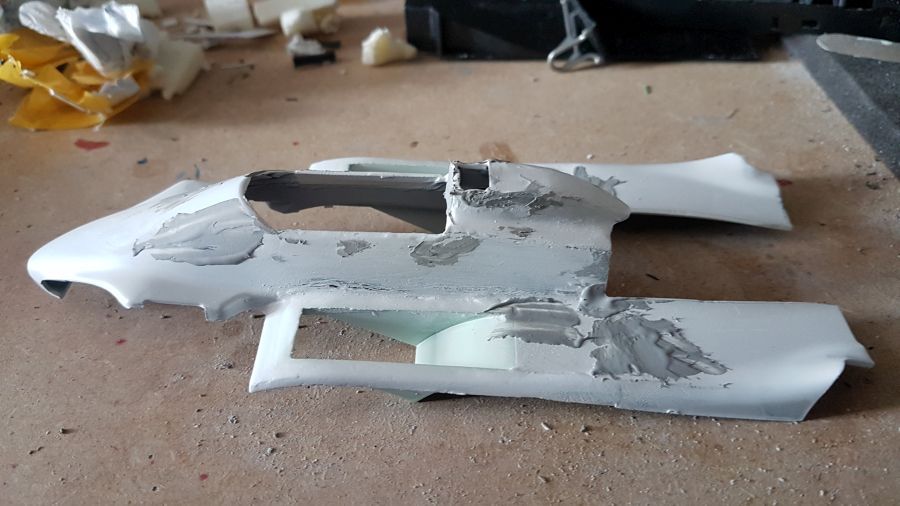 Terwijl de putty droogt, ga ik verder met de vloer. Het groene deel laat ik zitten. Dit is een steunpunt voor de motor.
While the putty dries, i am going to continue with the floor. I will leave the green part. This is a mounting point for the engine.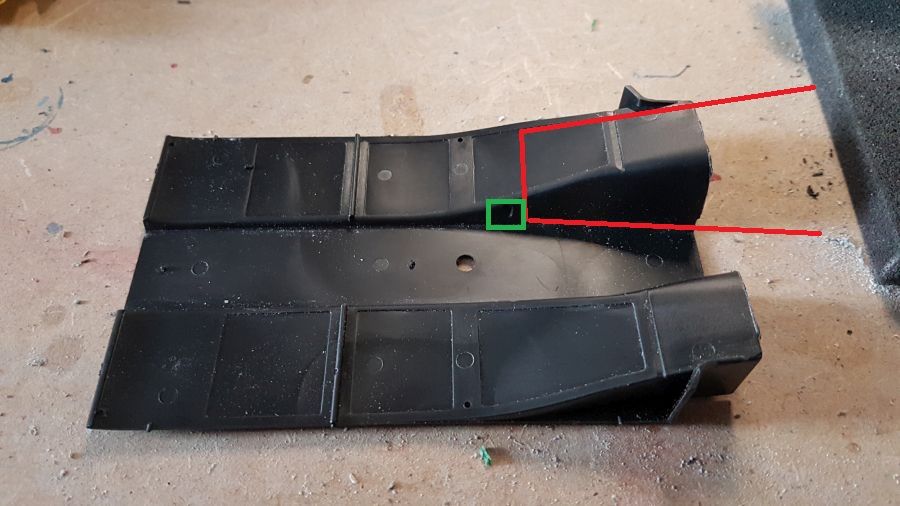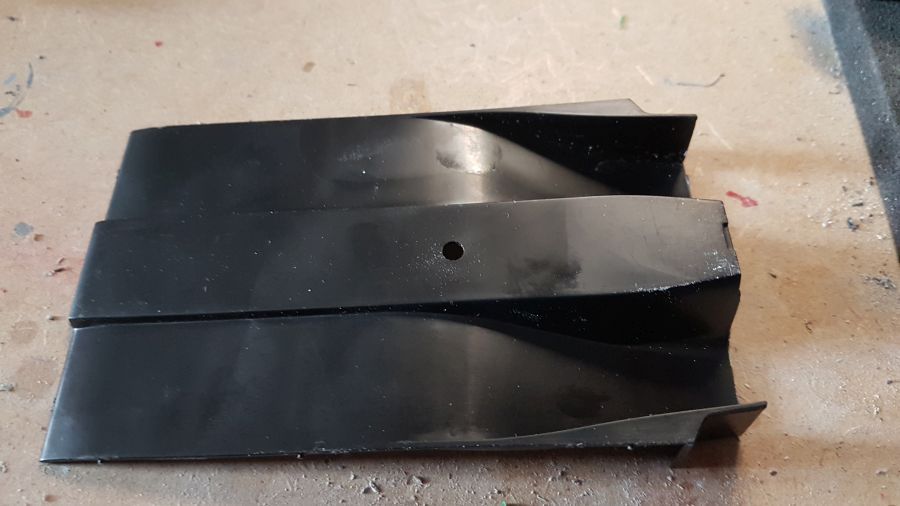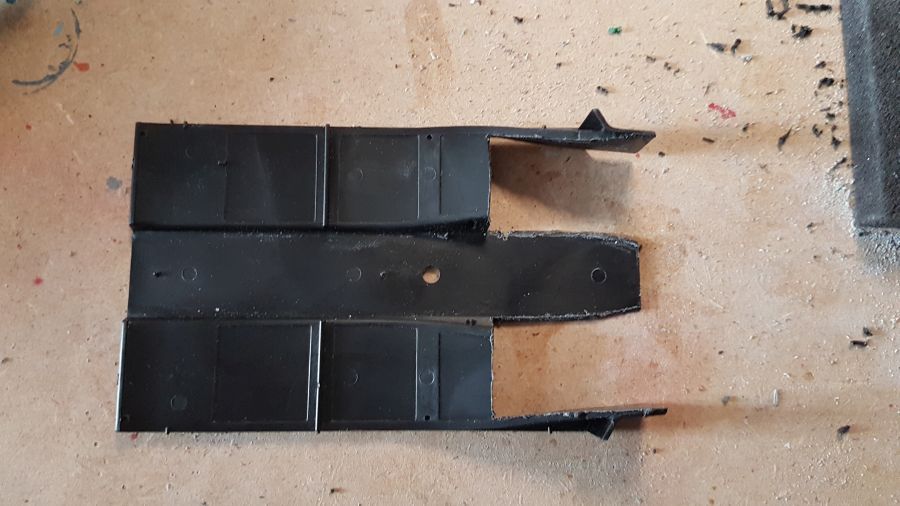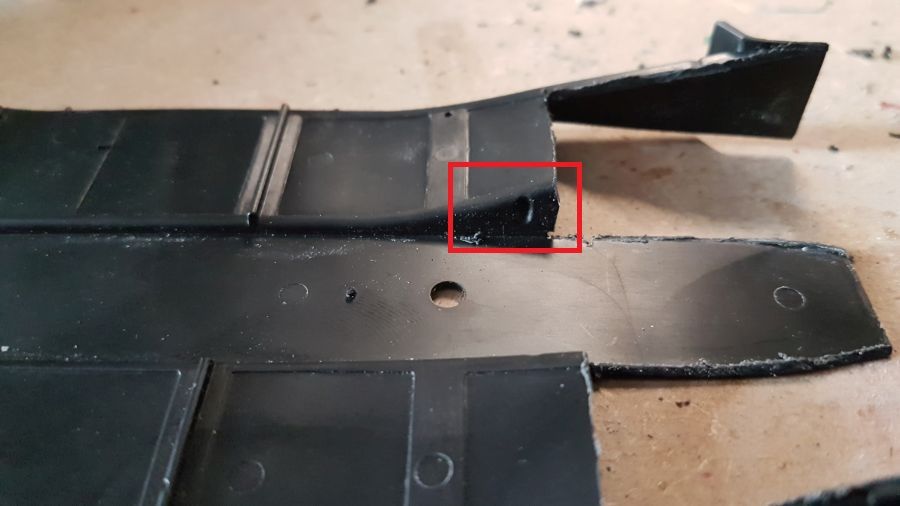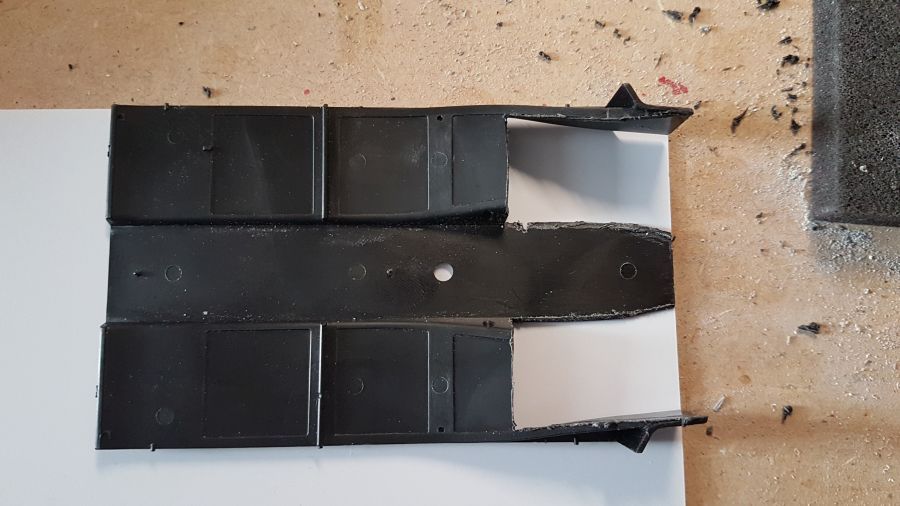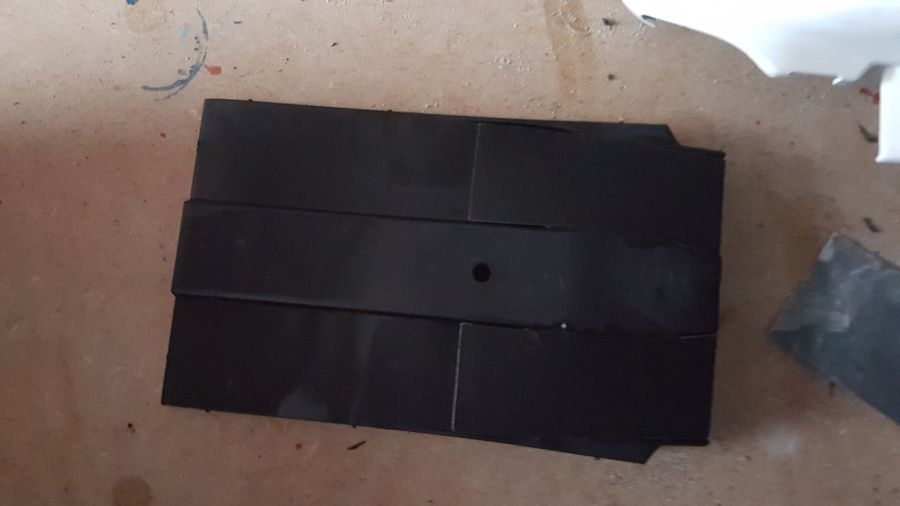 Terug naar de cover.
Back to the cover.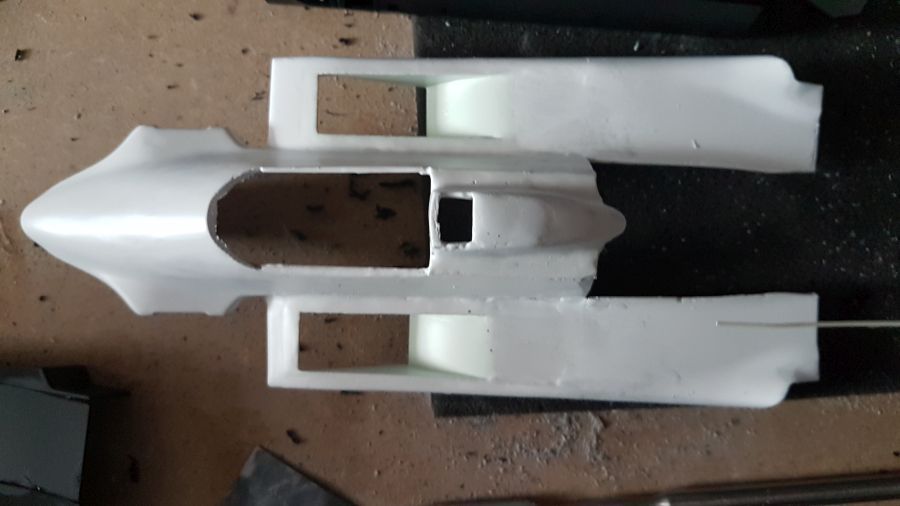 De binnenkant wordt verder bewerkt. Niets bijzonders, want het wordt een curbside model.
More work to the inside. Nothing special as it will be a curbside model.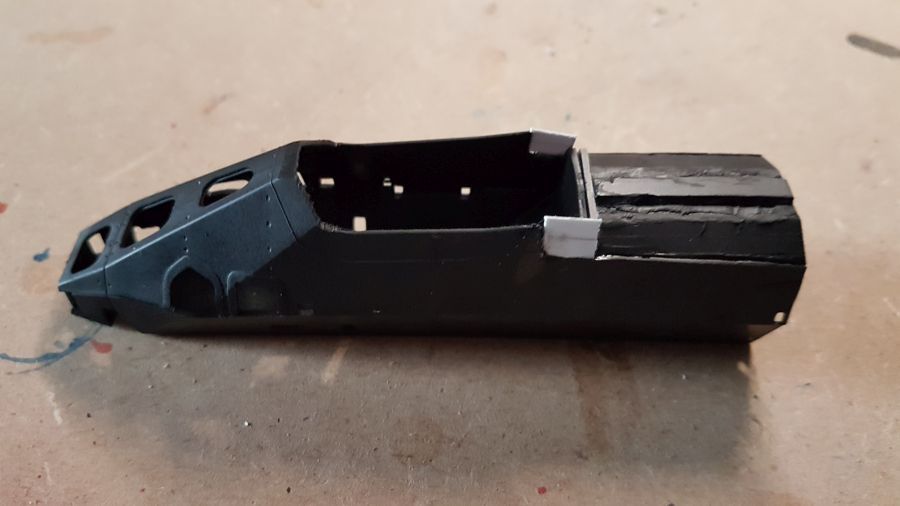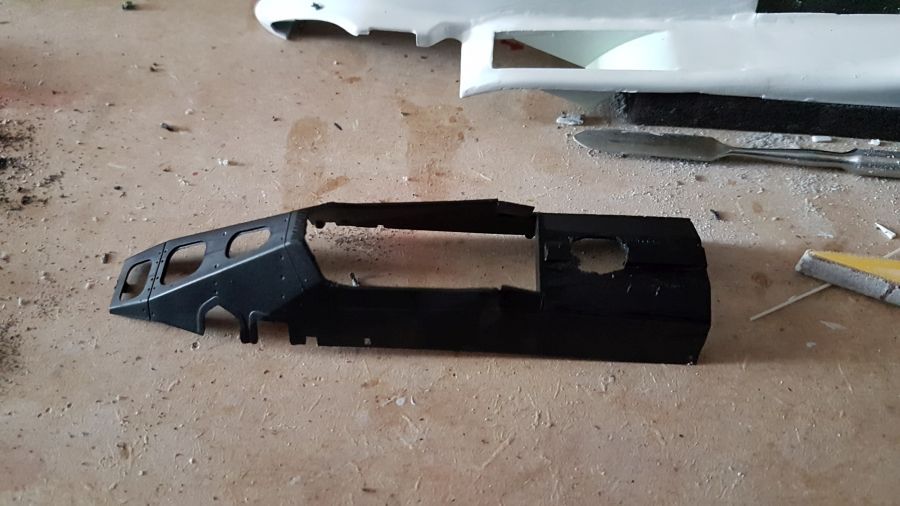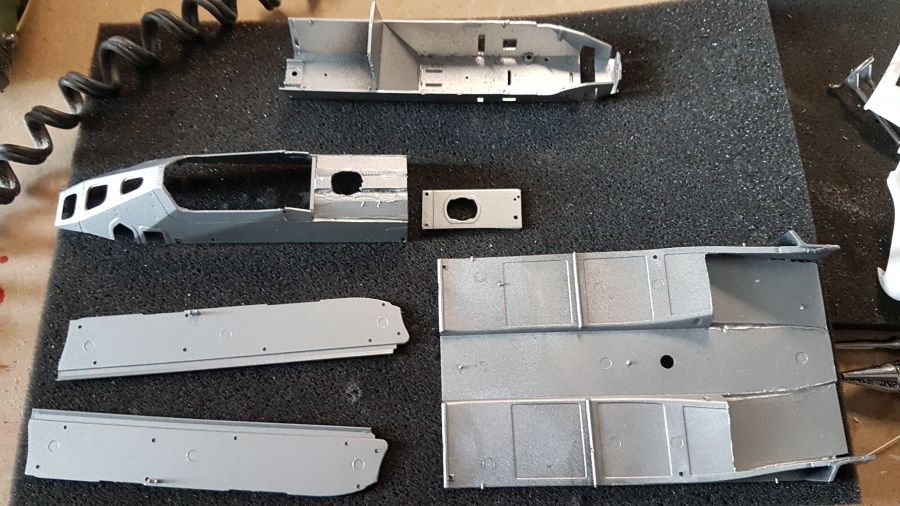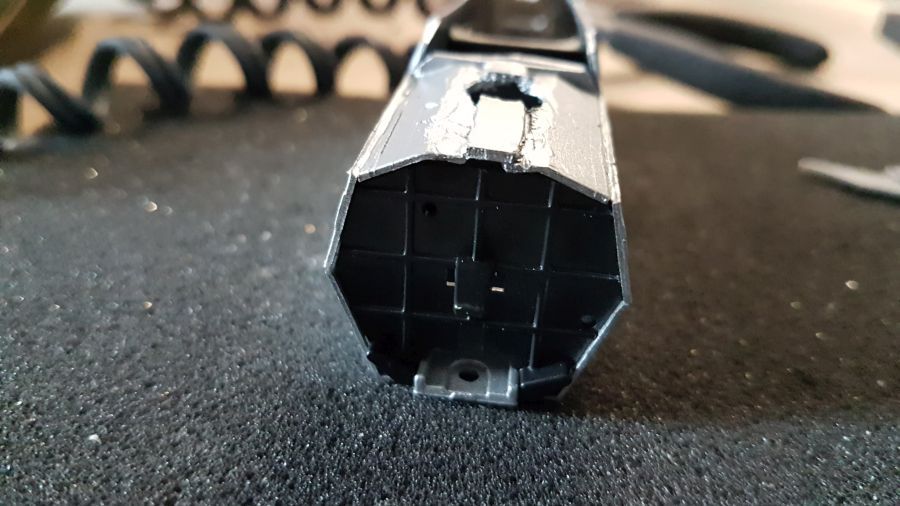 De buitenkant krijgt witte primer. De binnenkant wordt zilver gespoten.
The outside receives white primer. The inside  gets silver painted.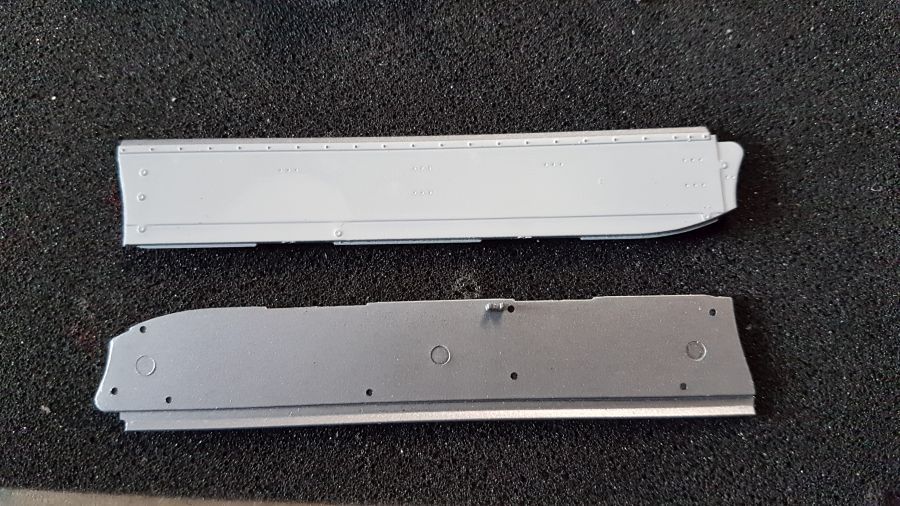 Dan naar de binnenkant.
On to the inside.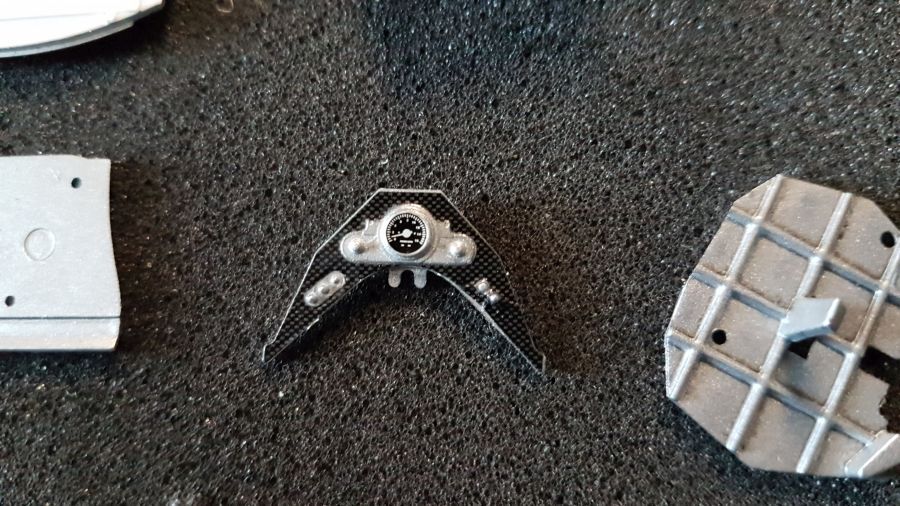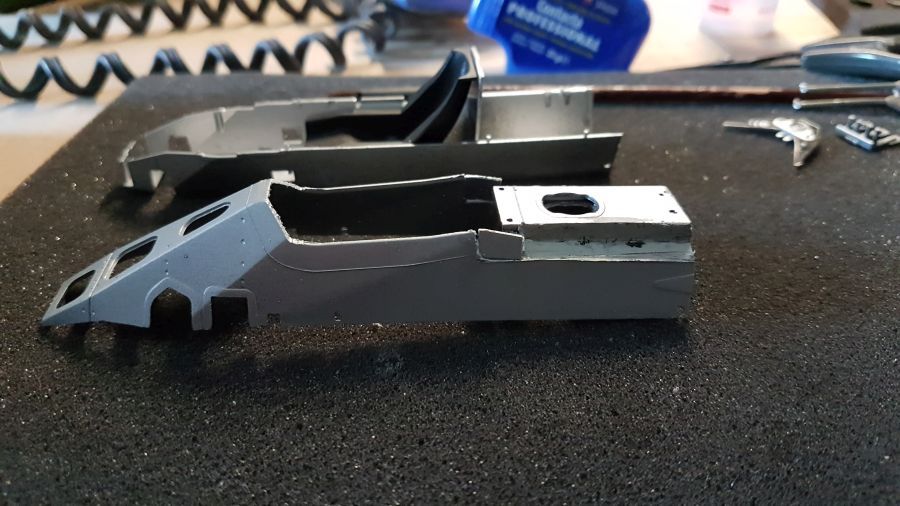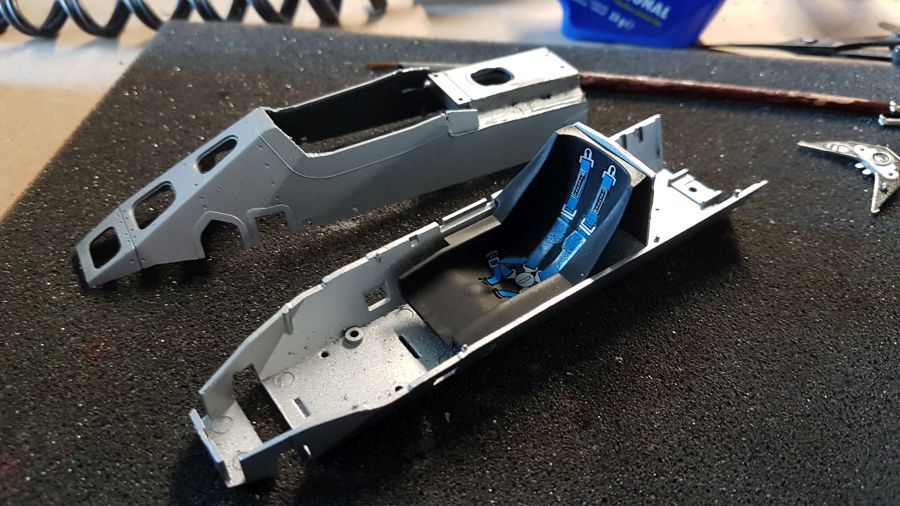 De voorwielophanging ga ik tijdelijk plaatsen met houtlijm om alles goed te kunnen uitlijnen.
The front wheel suspension is added temporarily with white glue to be able to set it up correct.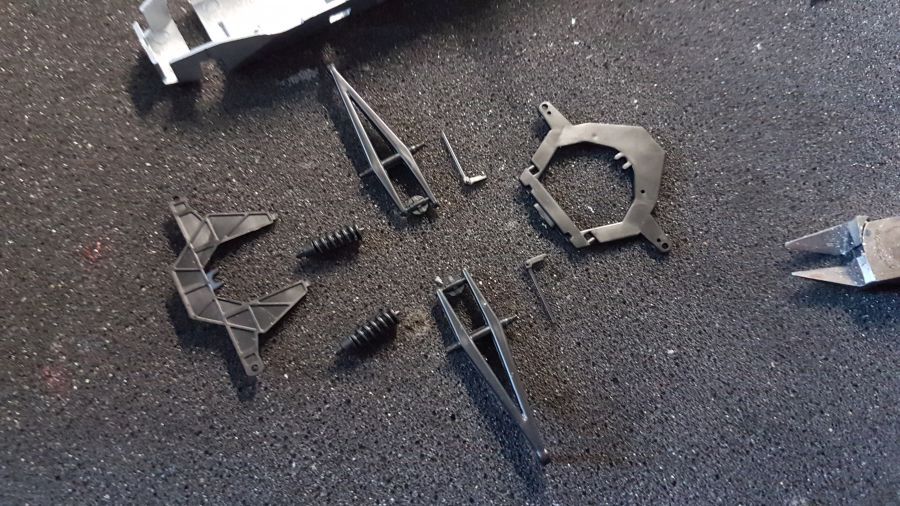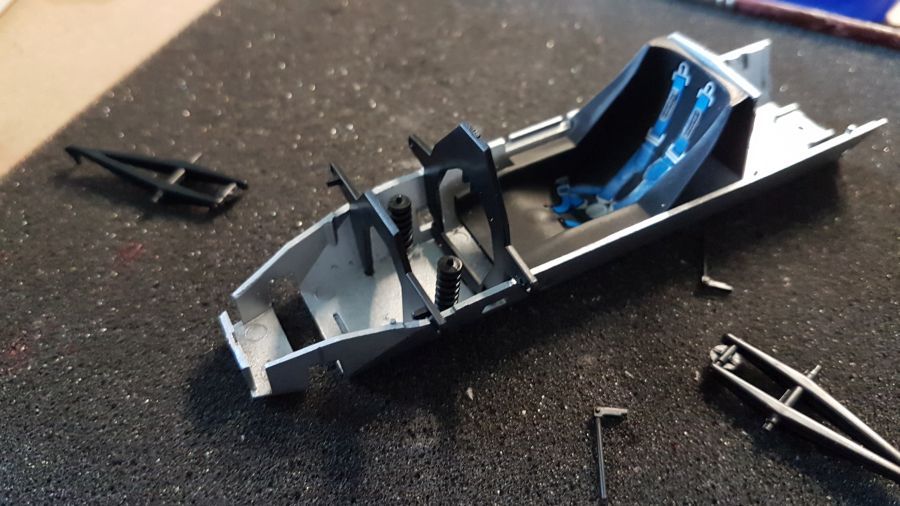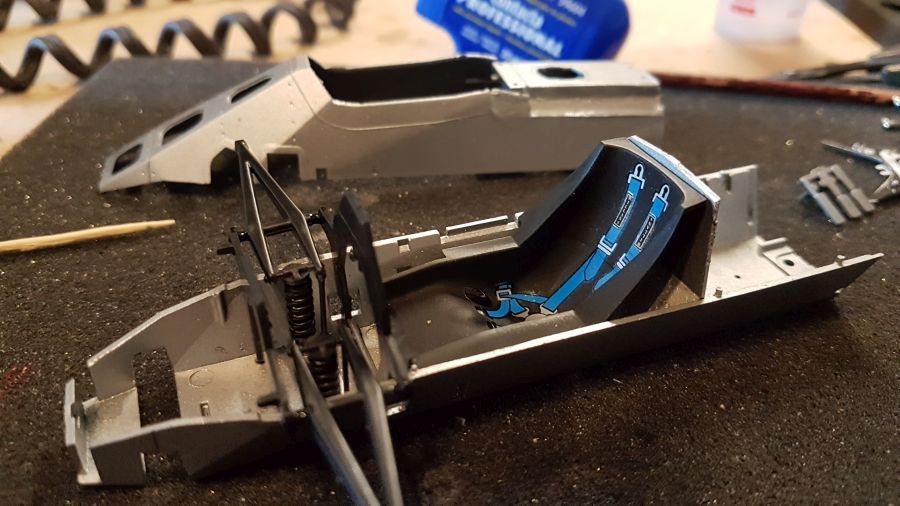 Klaar om te verven.
Ready to paint.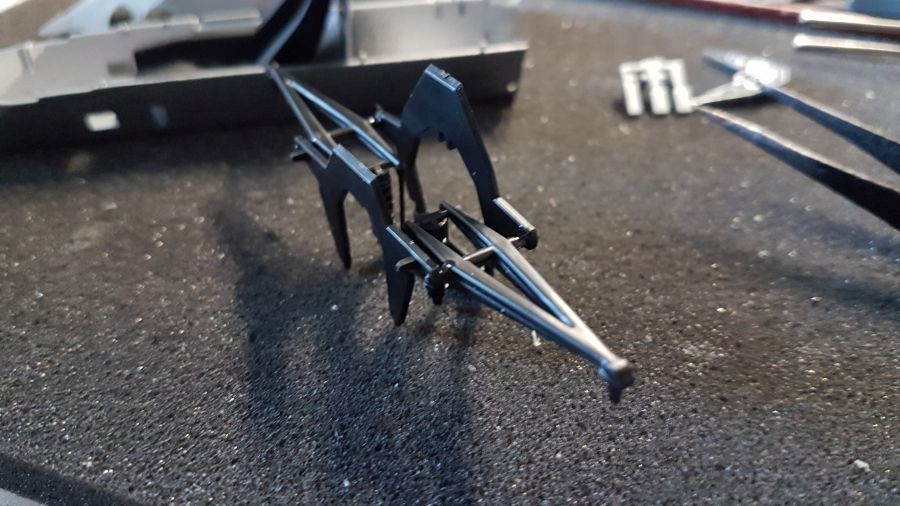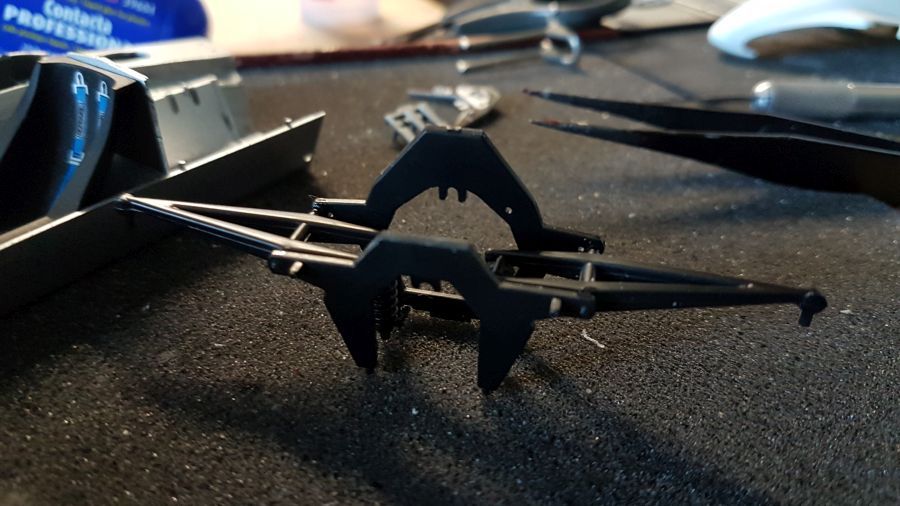 Terwijl dat droogt spuit ik alvast de body wit.
While this dries i am airbrushing the body white.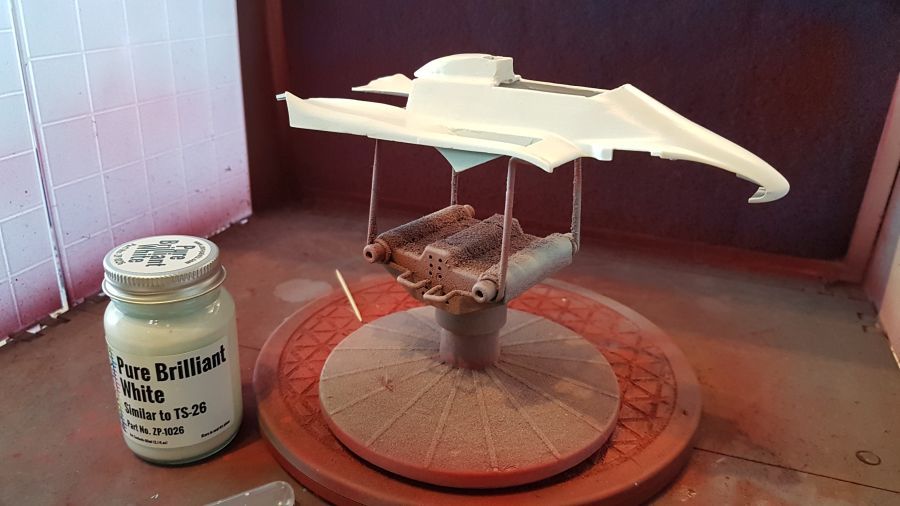 Dan het blauw kiezen, lastig. Meerdere foto's tonen verschillende kleuren...
Then choose the blue, tough. Multiple pictures show different shades.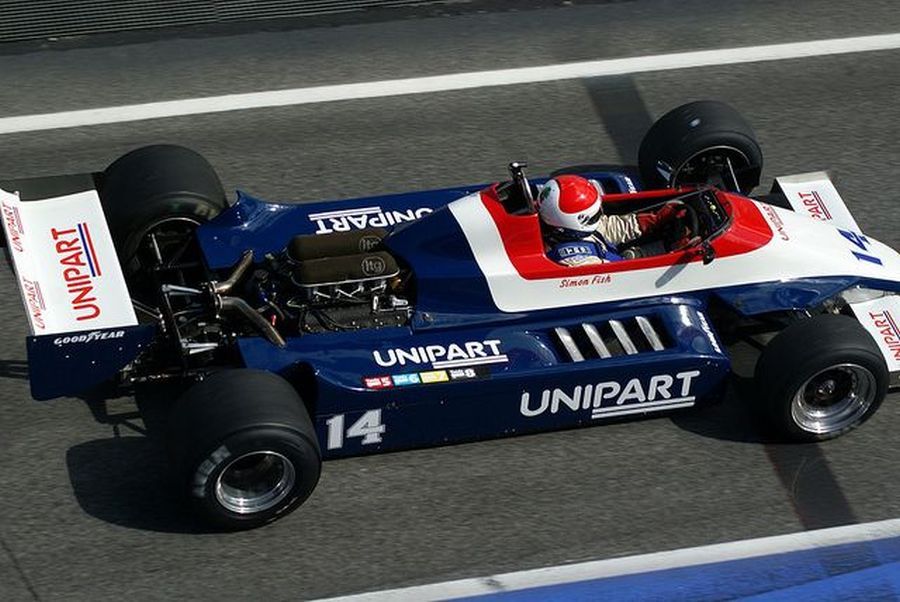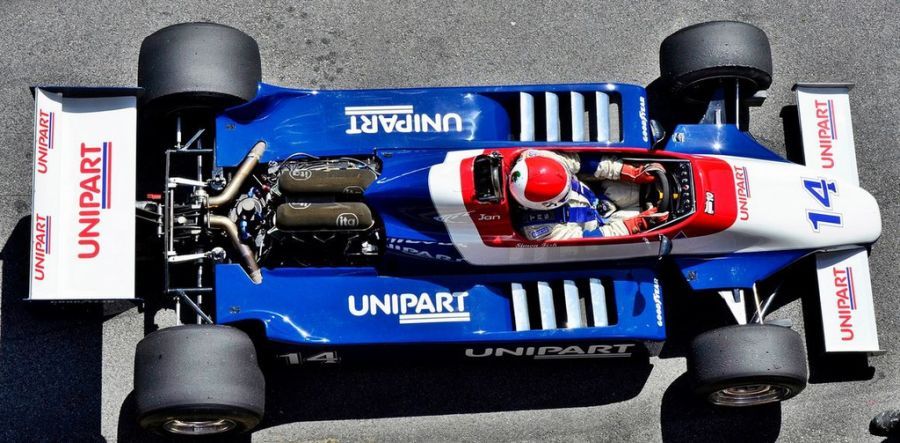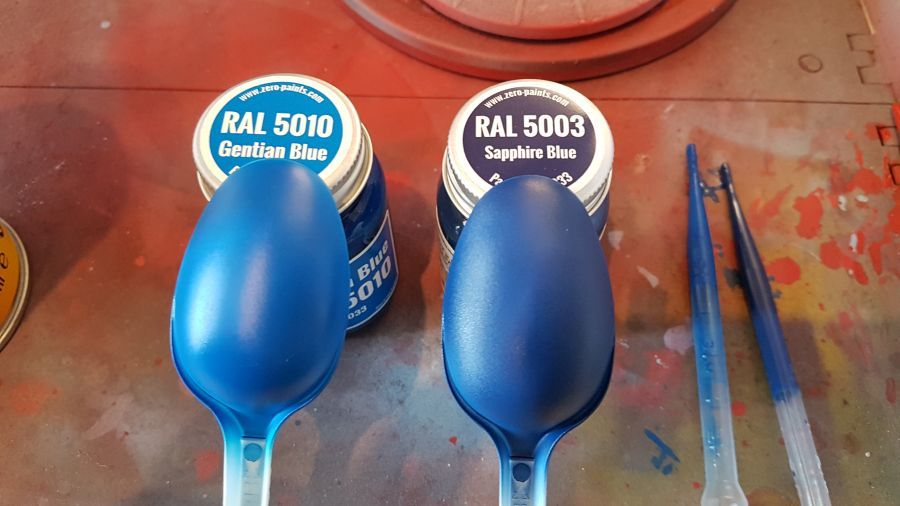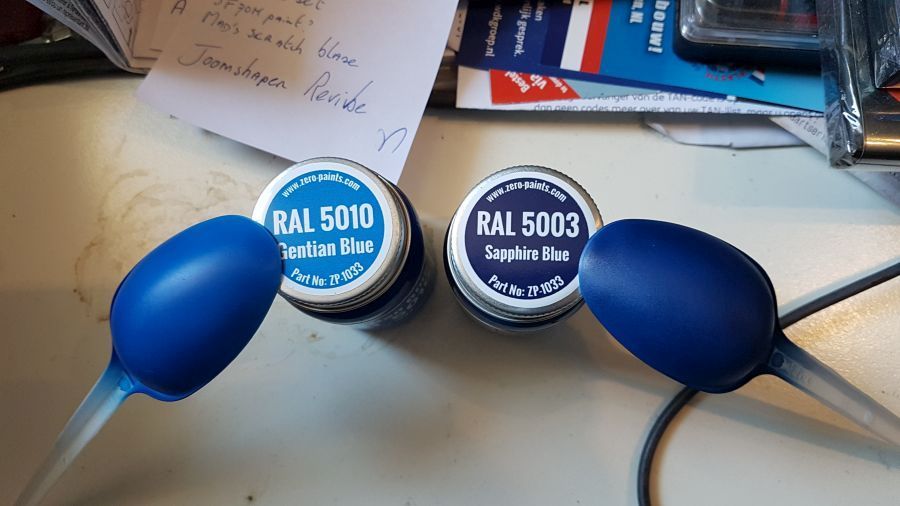 Terwijl ik hier nog even over nadenk ga ik verder met de voorremmen.
While i think this over, i continue with the front brakes.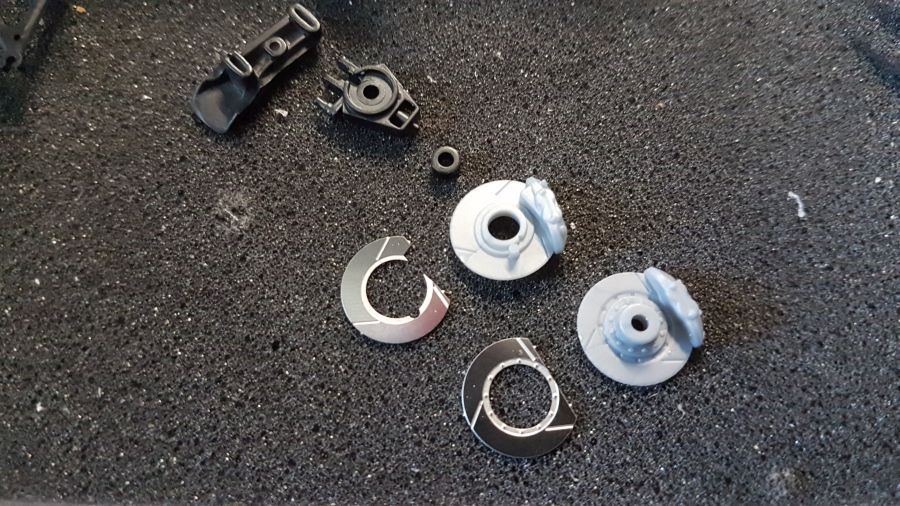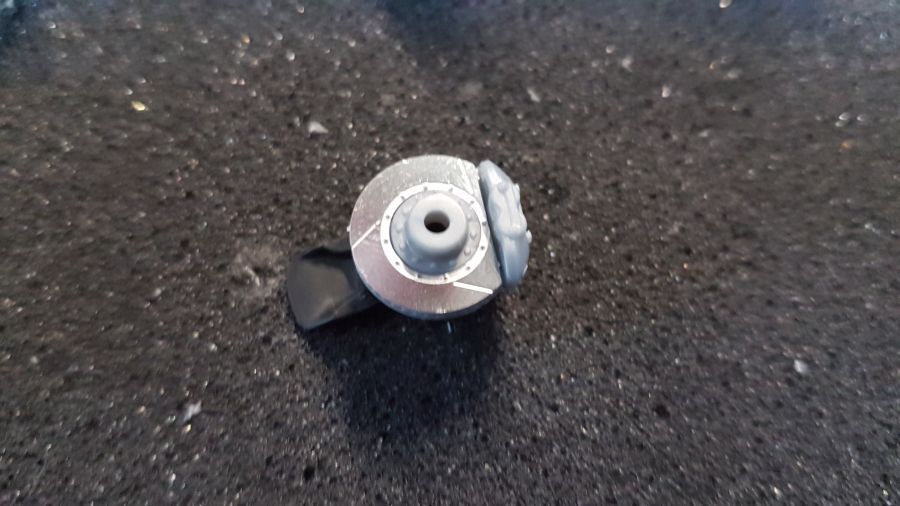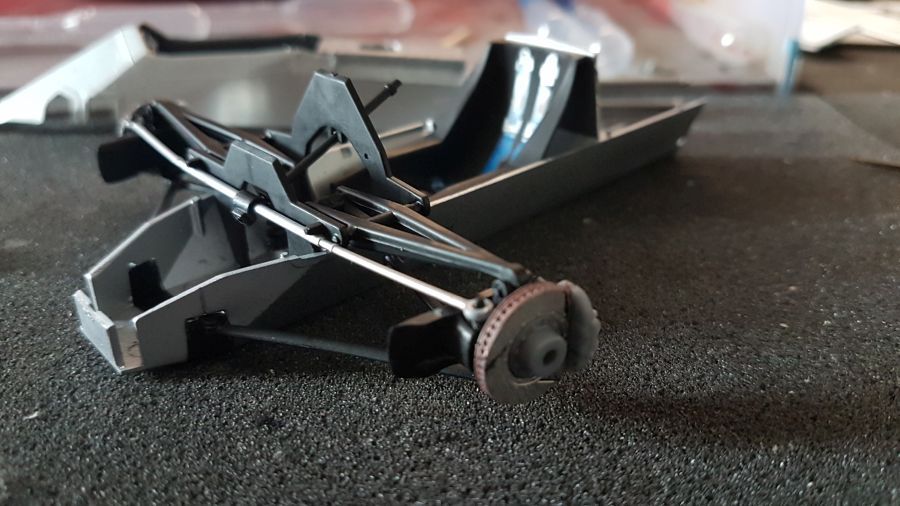 De bovenkant van de body krijgt een paar lagen heldere glanslak. Zo kan ik hem beter afplakken voor het rood en het blauw.
The top side pf the body receives a couple of coats of clear. This way i can mask it better for applying the red and blue.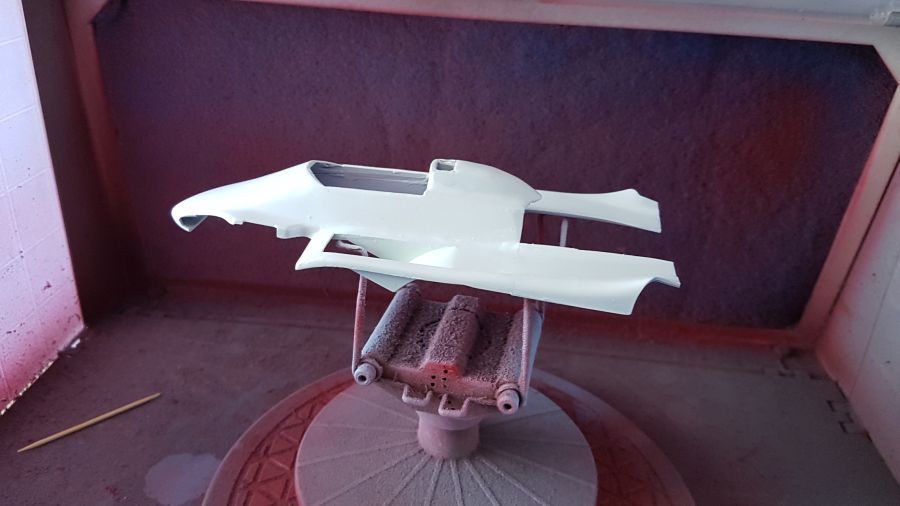 Dit is vast compleet gemaakt.
Completed this.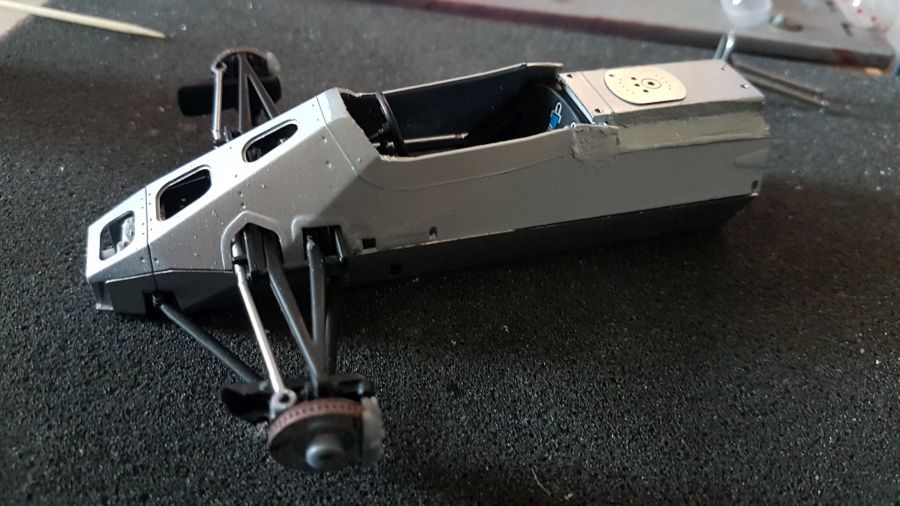 Door naar de motor...
On to the engine...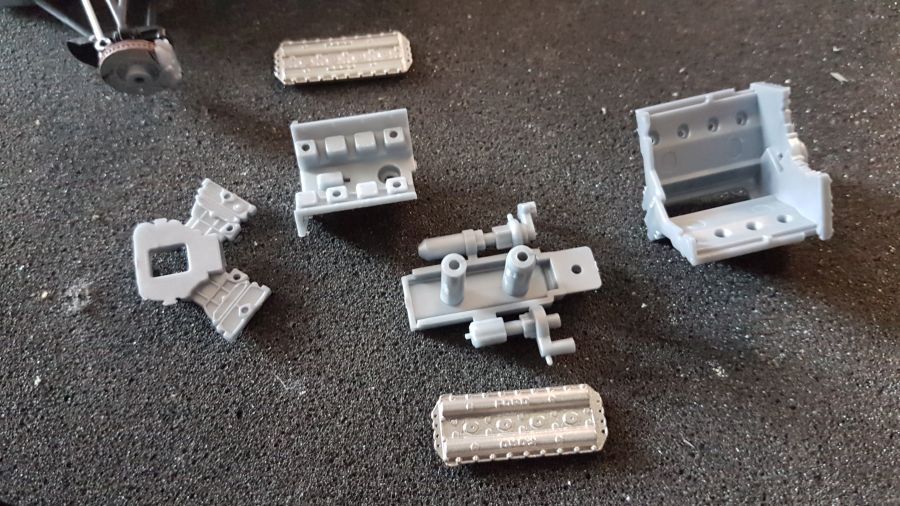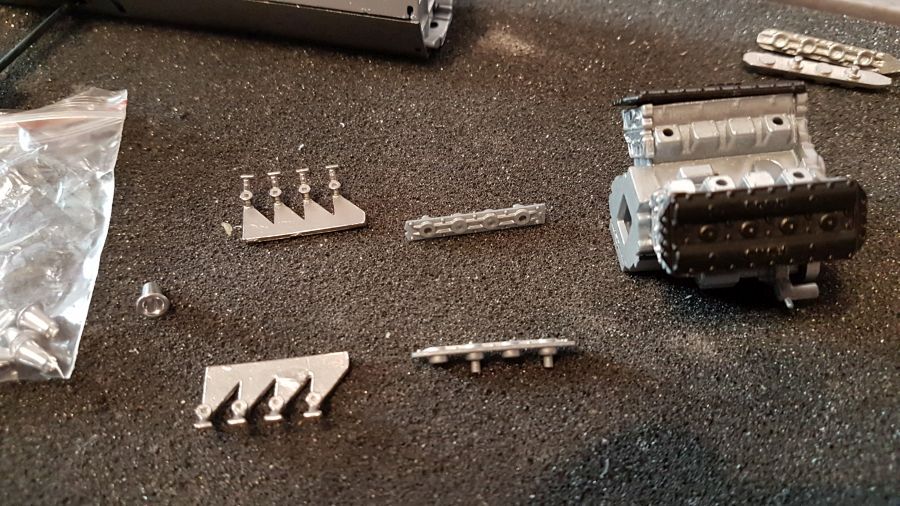 Intussen gaat het spuiten van de body verder.
In the meantime the painting of the body continues.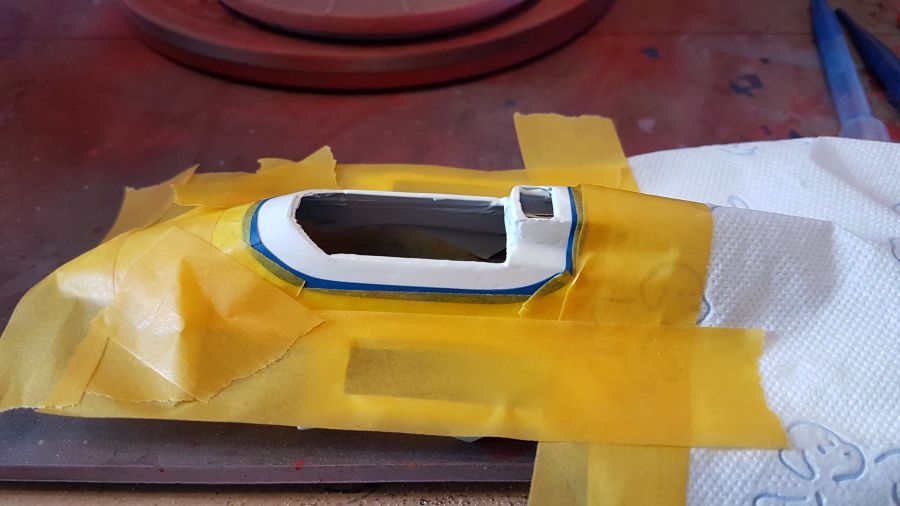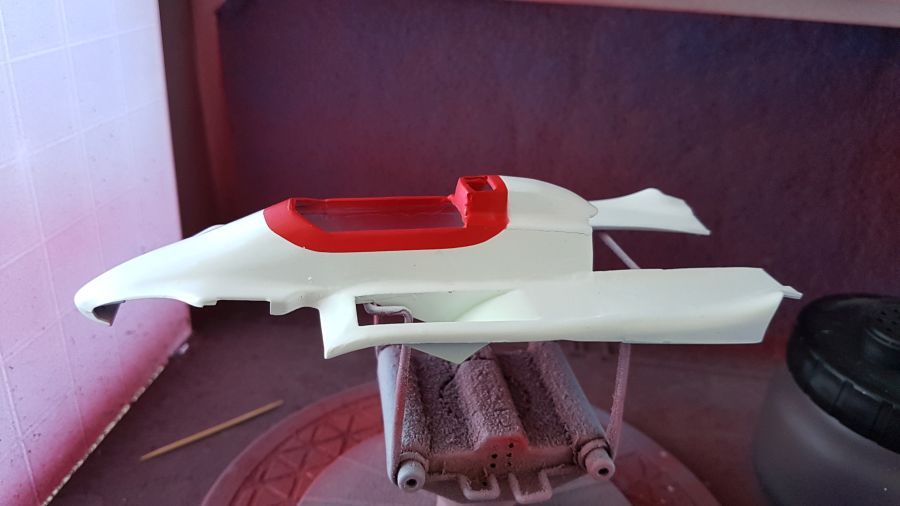 Gecorrigeerd.
Corrected.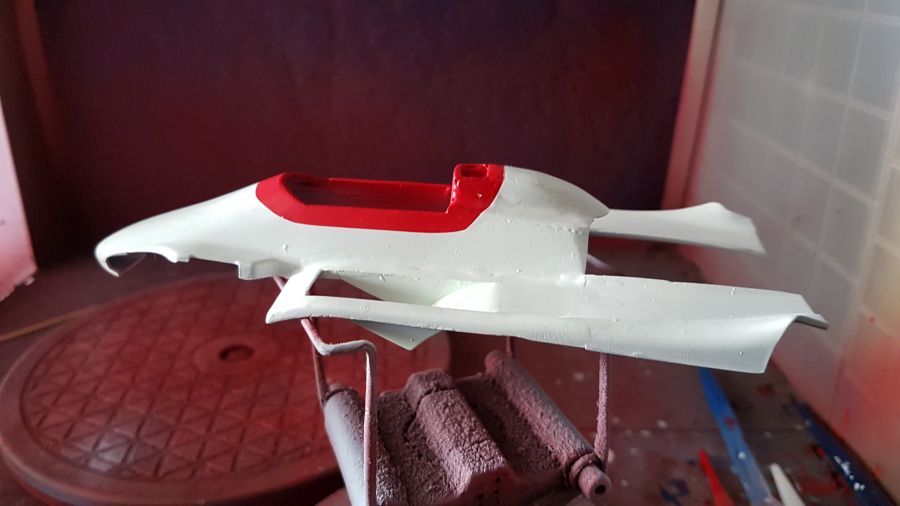 Meer correcties.
More corrections.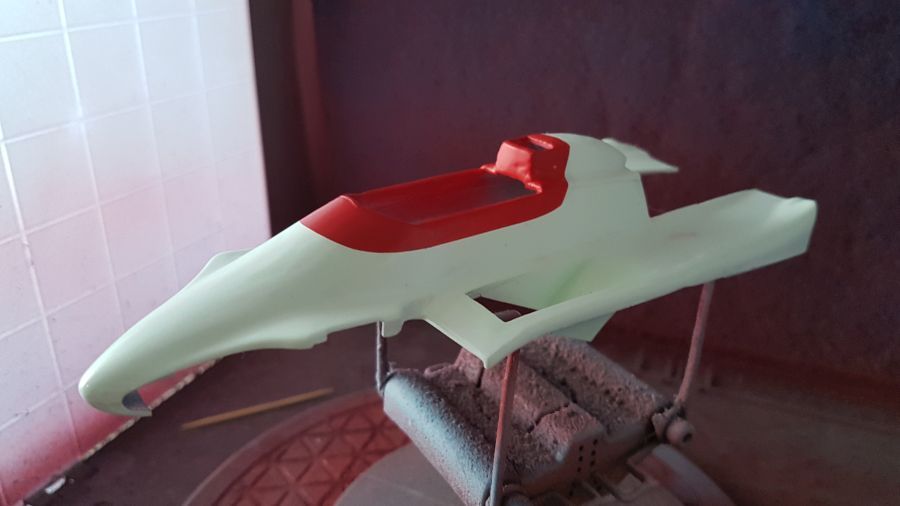 Volgende fase. Heel klein beetje overspray.
Next phase. Very little over spray.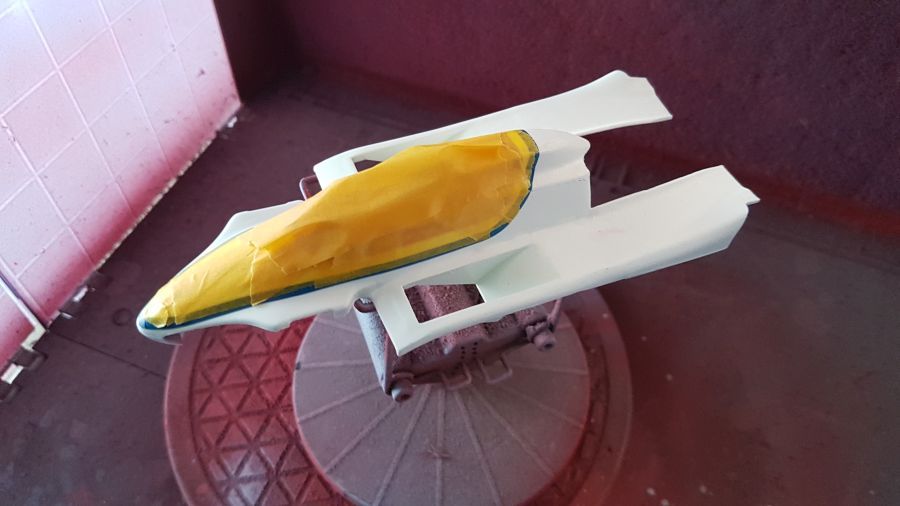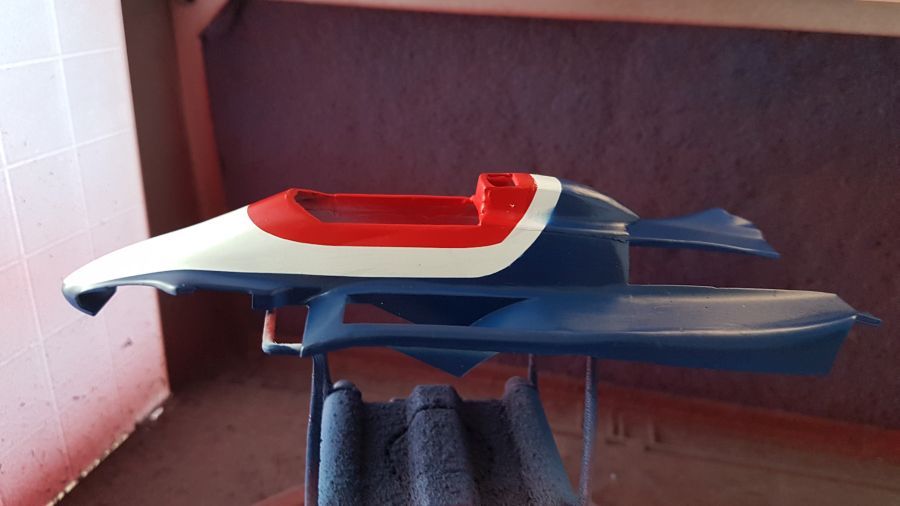 De rode en blauwe lijnen ga ik maar niet spuiten. De maat 0.5 mm wordt me toch te klein. Dus decals...  Een lastig karwei. De rode en blauwe lijnen zijn verschillende merken. Allbei werken ze niet prettig. Ze komen bijna niet van het papier af.
The red and blue lines will not be airbrushed.  The size of 0.5 mm is too smal for me. So decals it is... A tricky job. The red and blue lines are different brands. Both are not comfortable. They hardly come off the paper.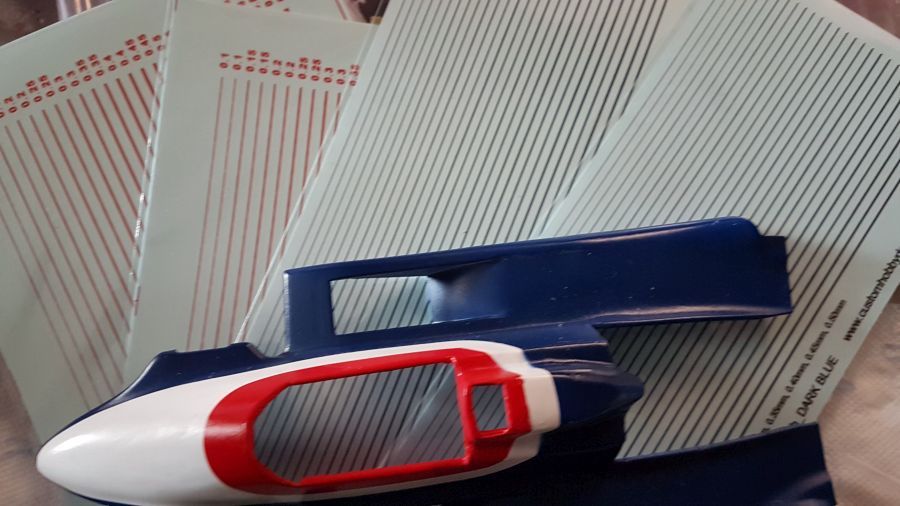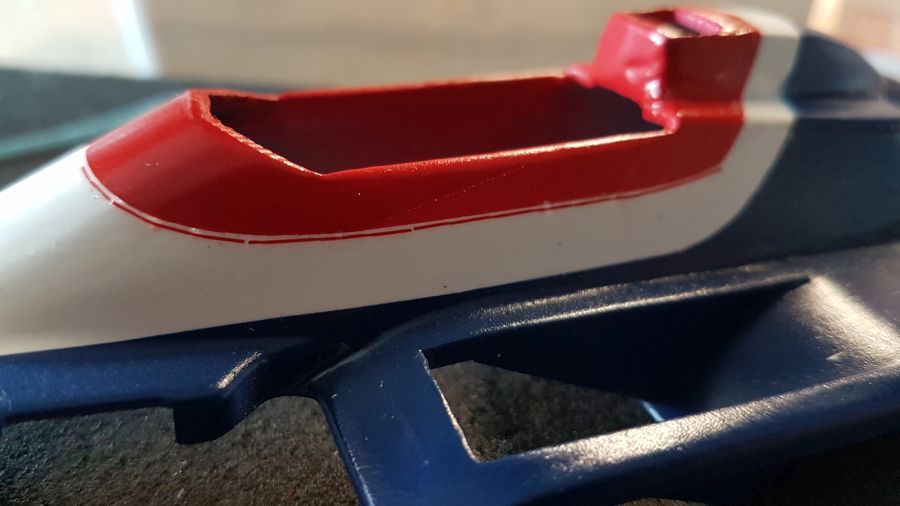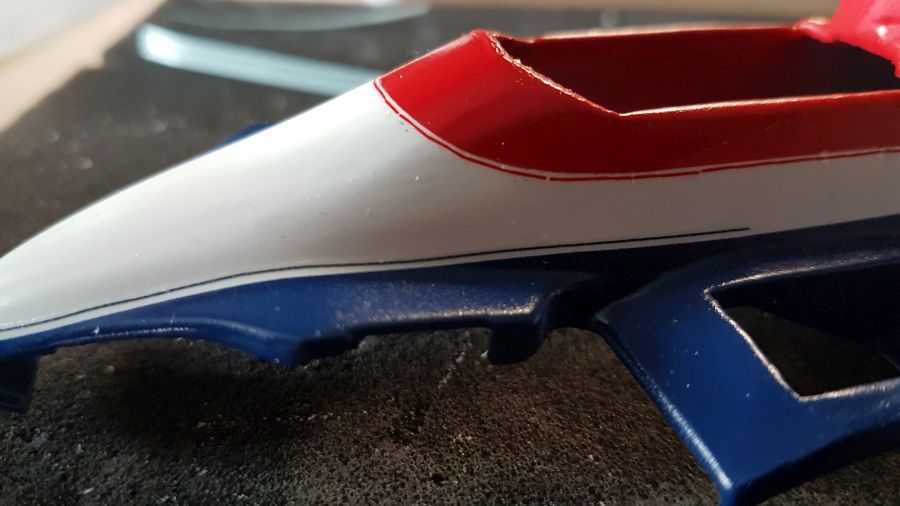 Wat meer decals.
Some more decals.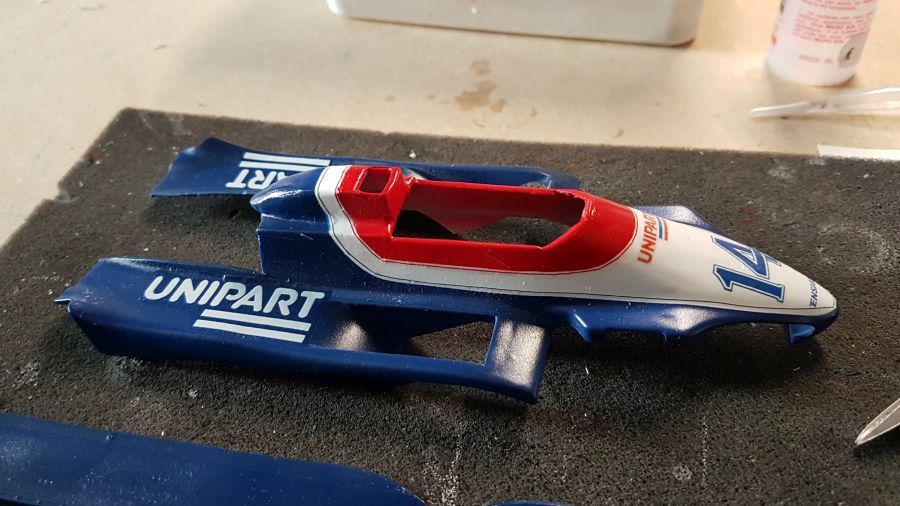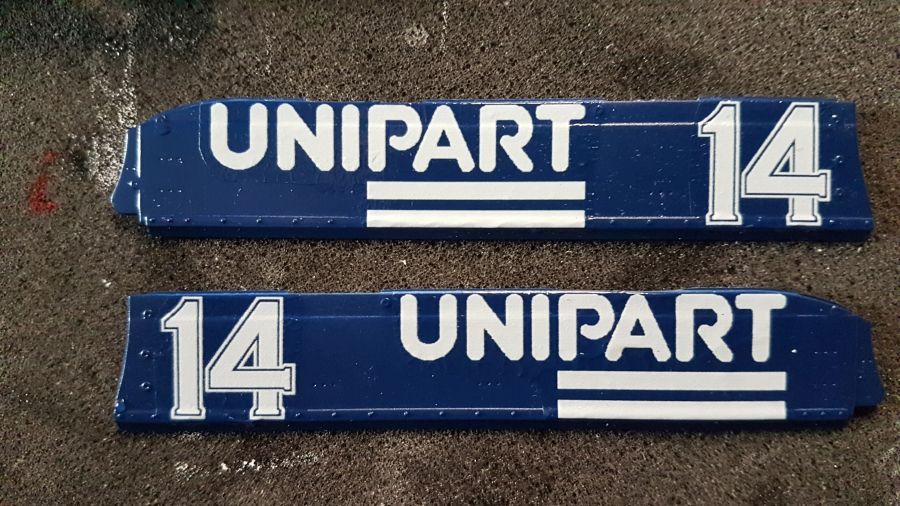 Terug naar de motor. Het benzine systeem.
Back to the engine. The fuel system.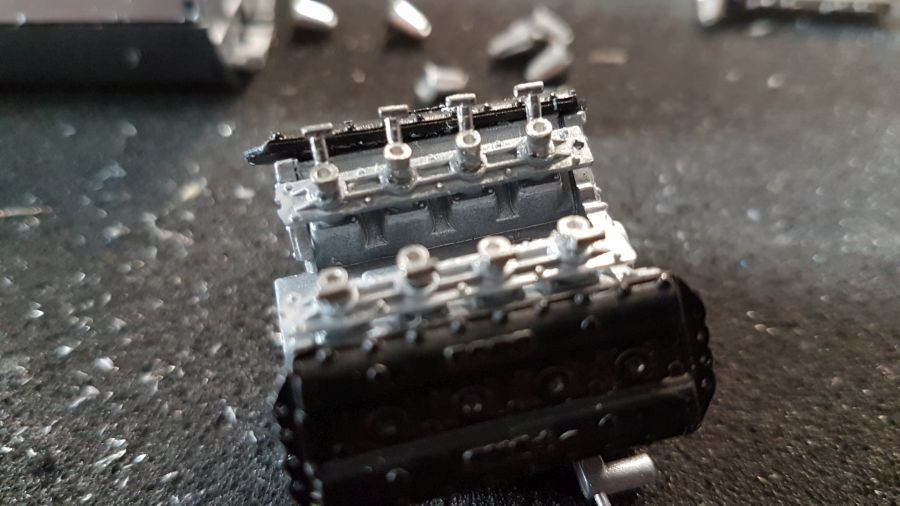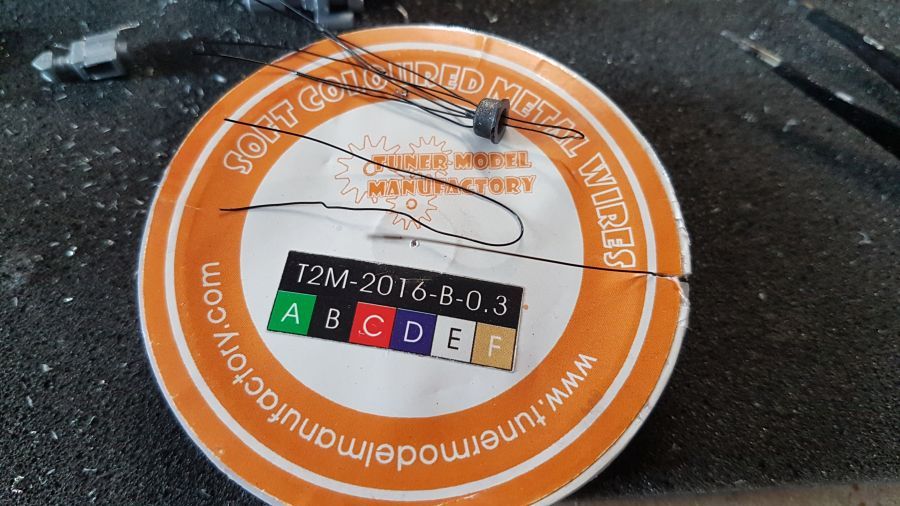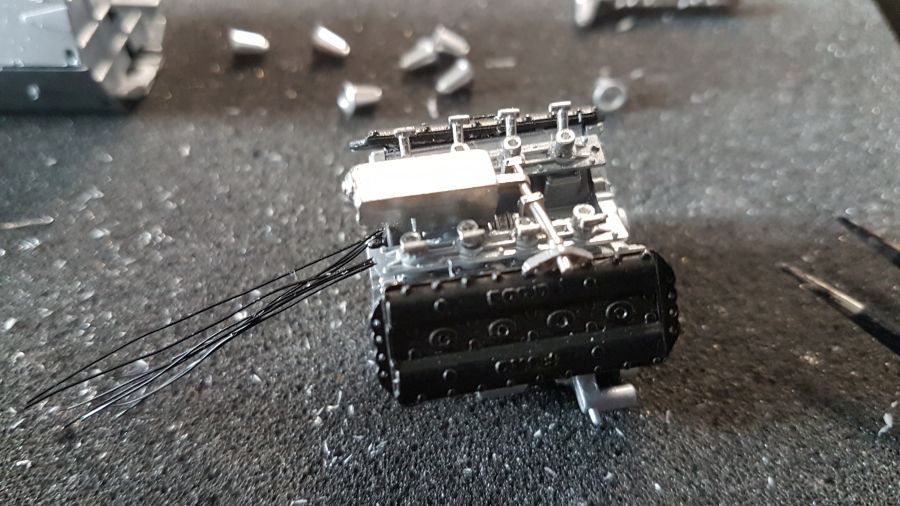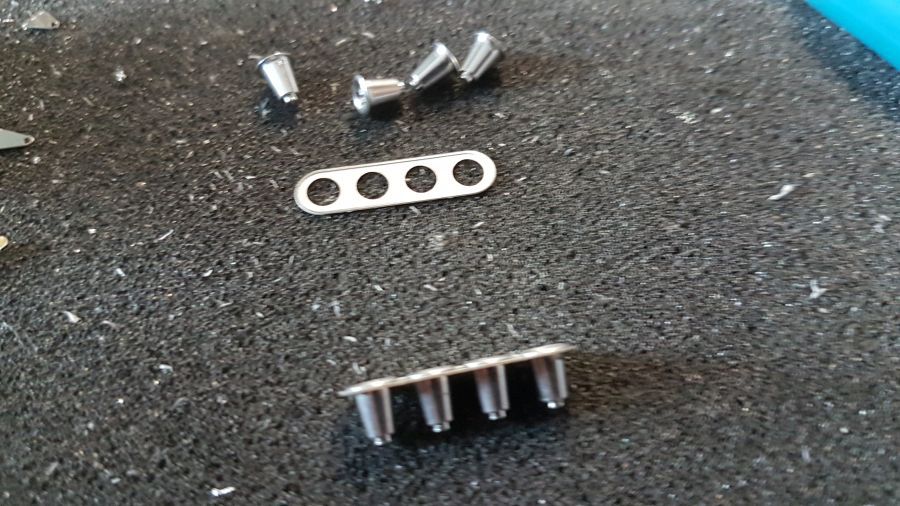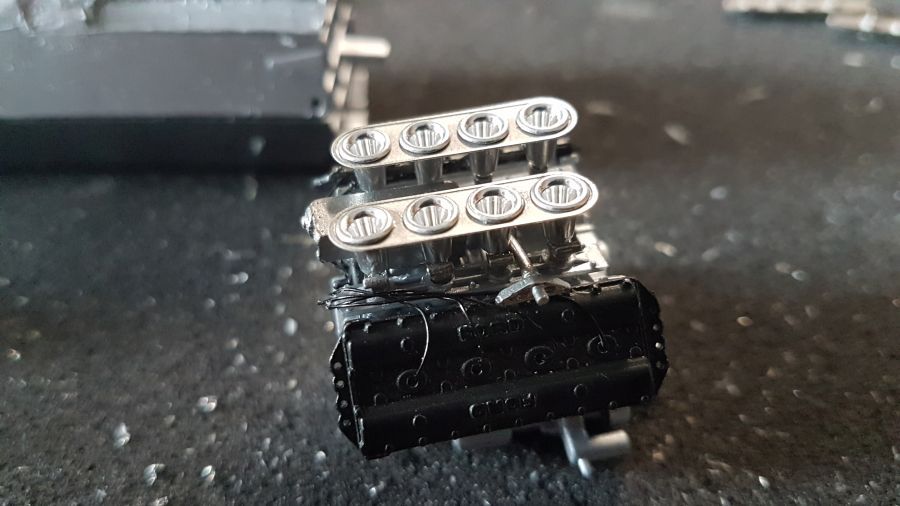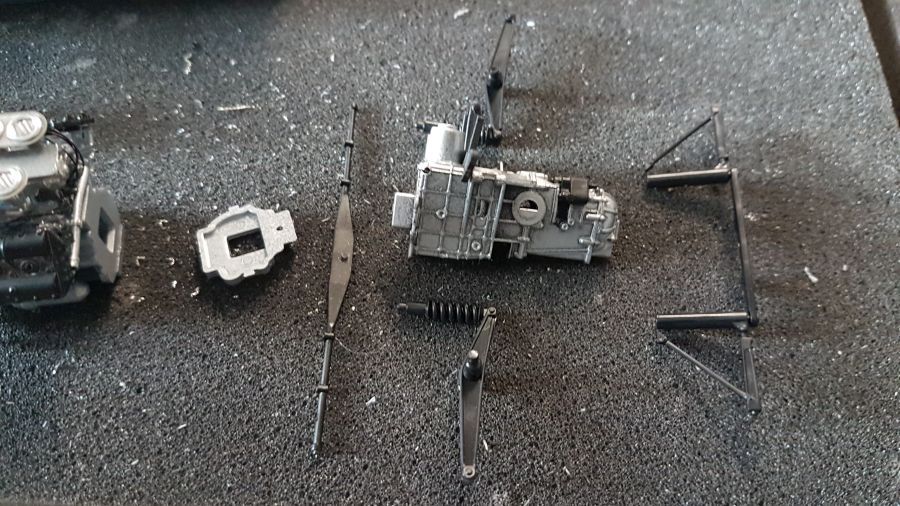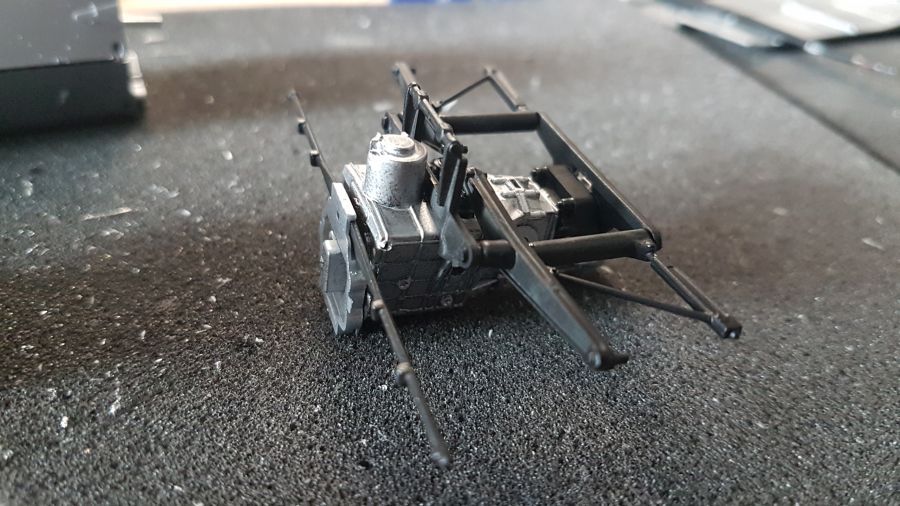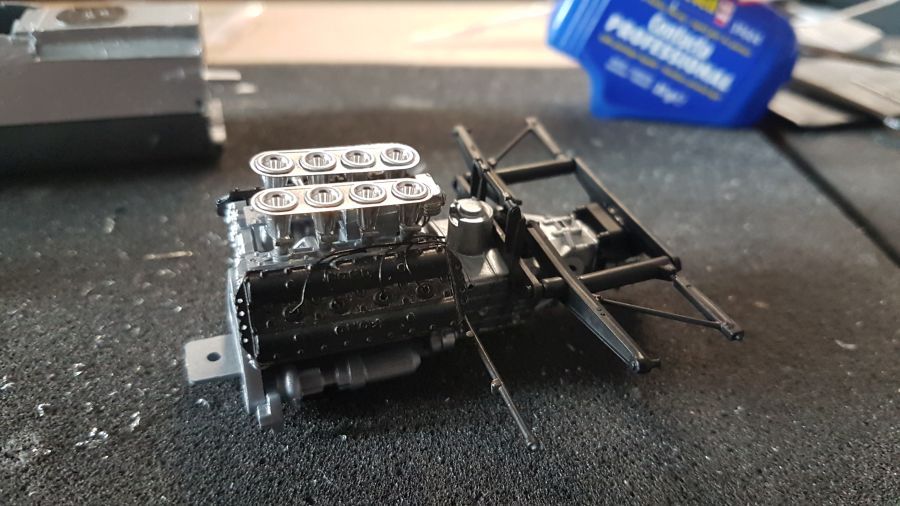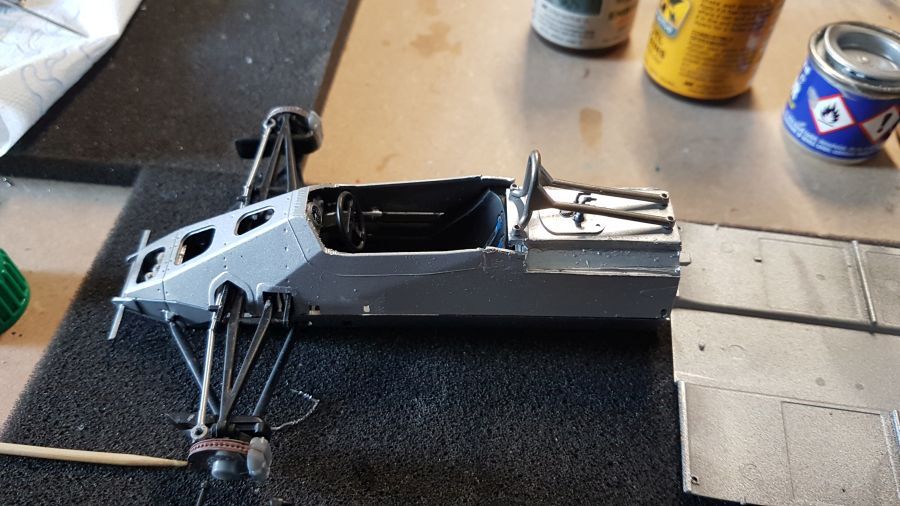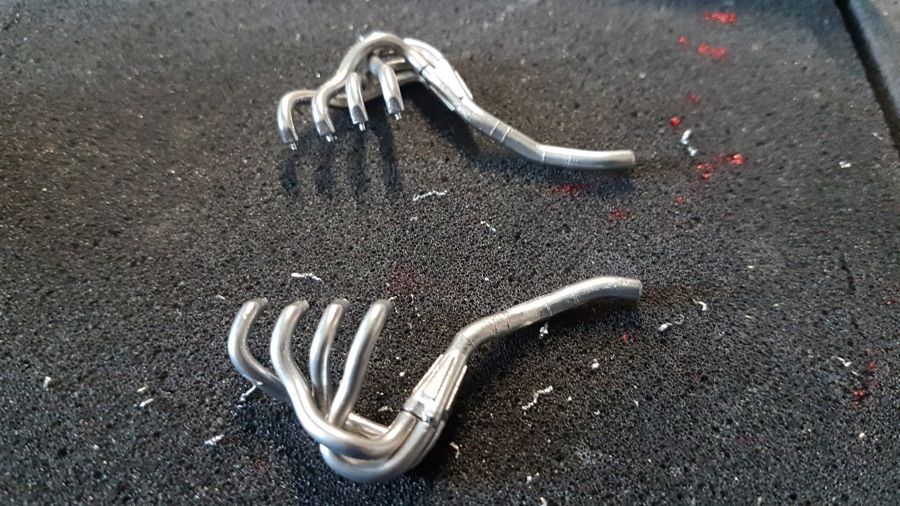 Tijd voor het verouderen.
Time for some weathering.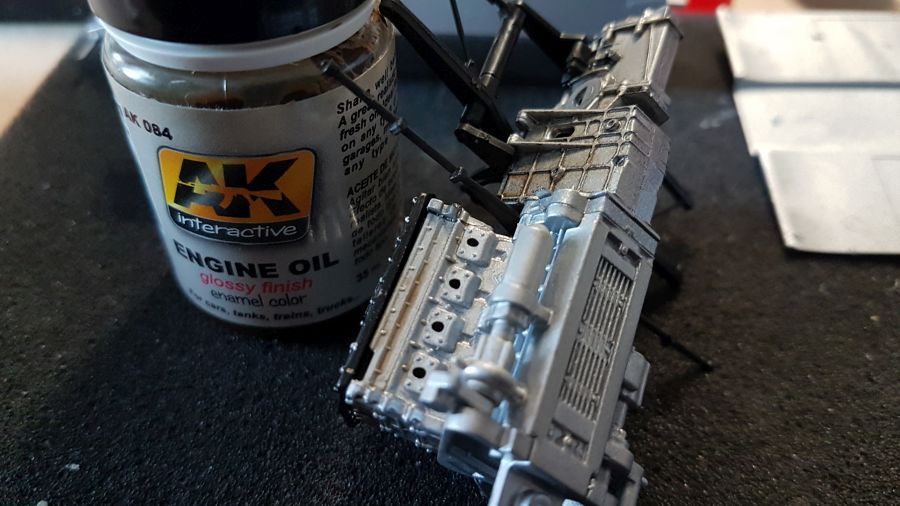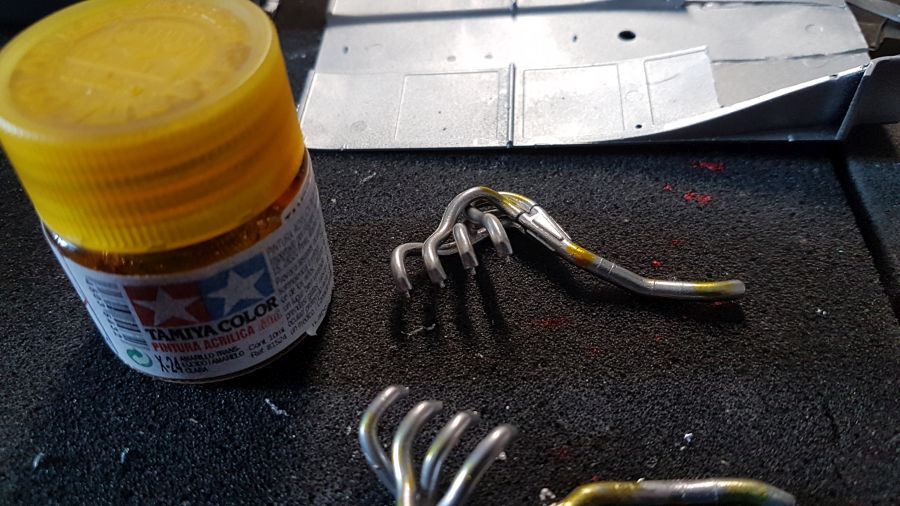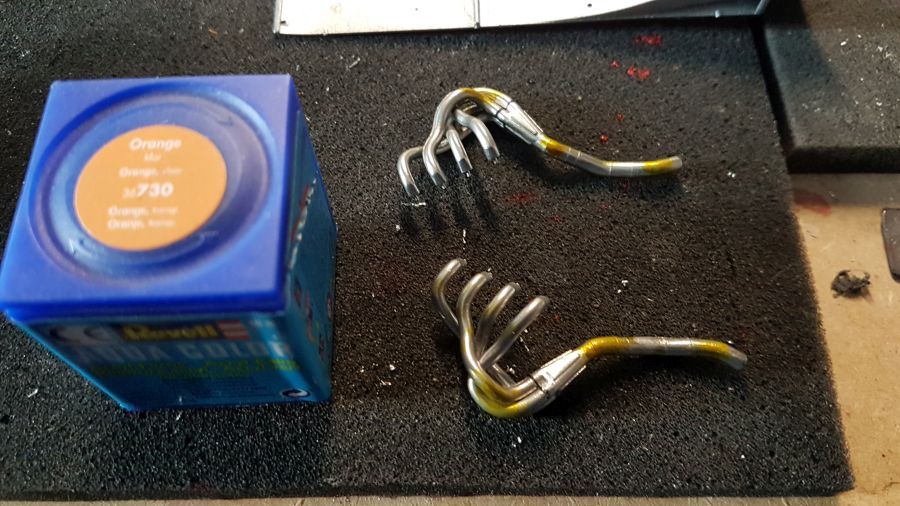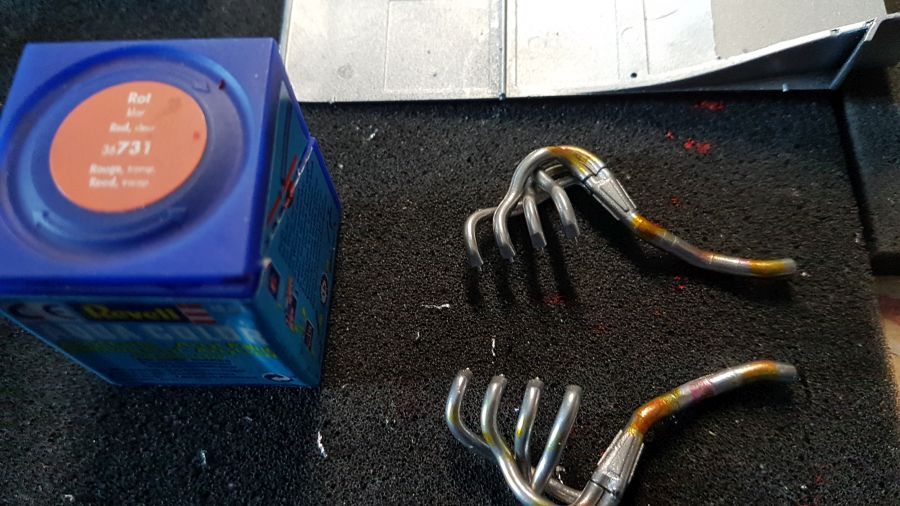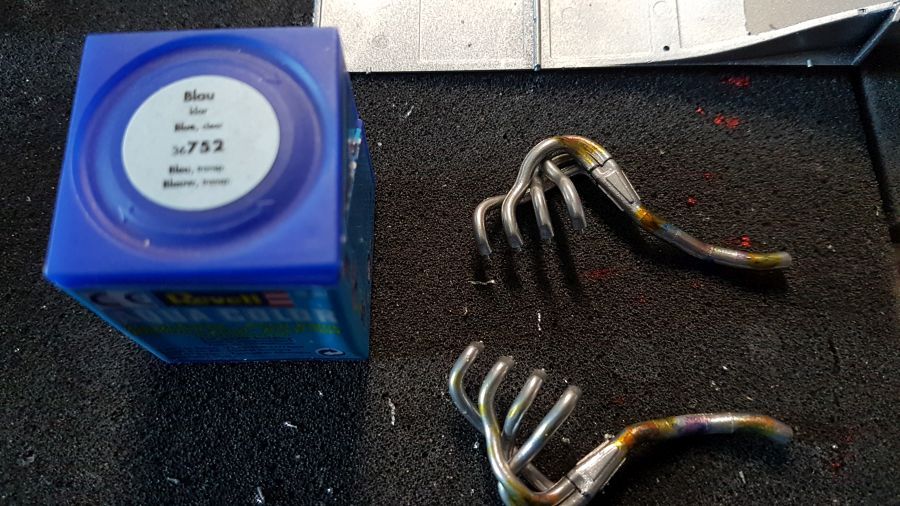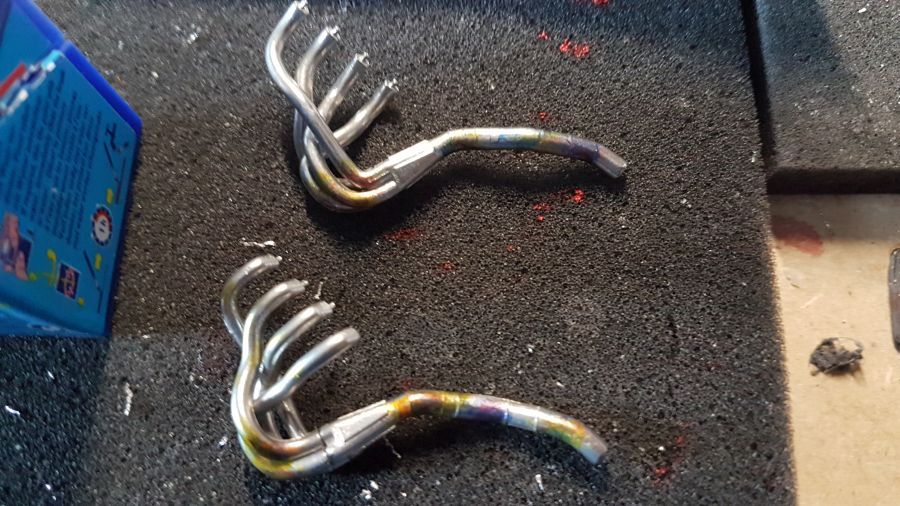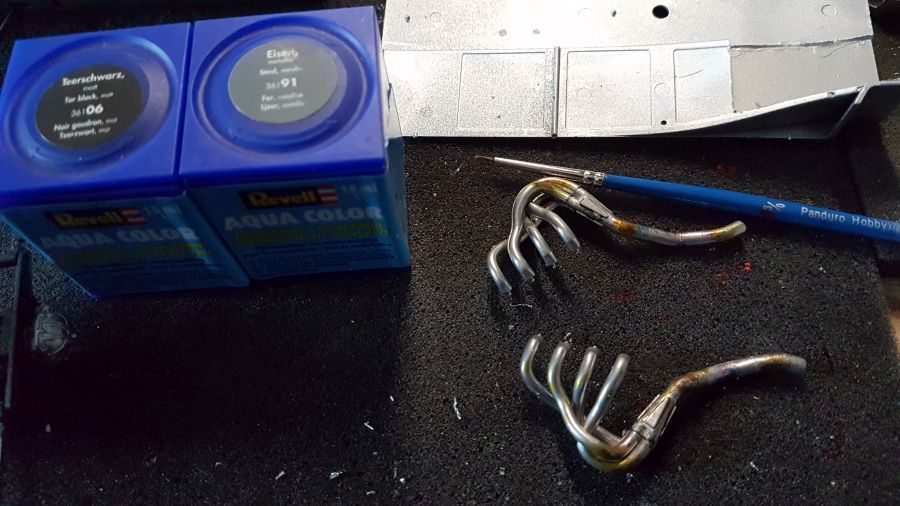 Wat koppelingen krijgen de bekende kleuren. De radiateur en oliekoeler worden klaargemaakt.
Some fittings receive the well known colors. The radiator and oil cooler are being assembled.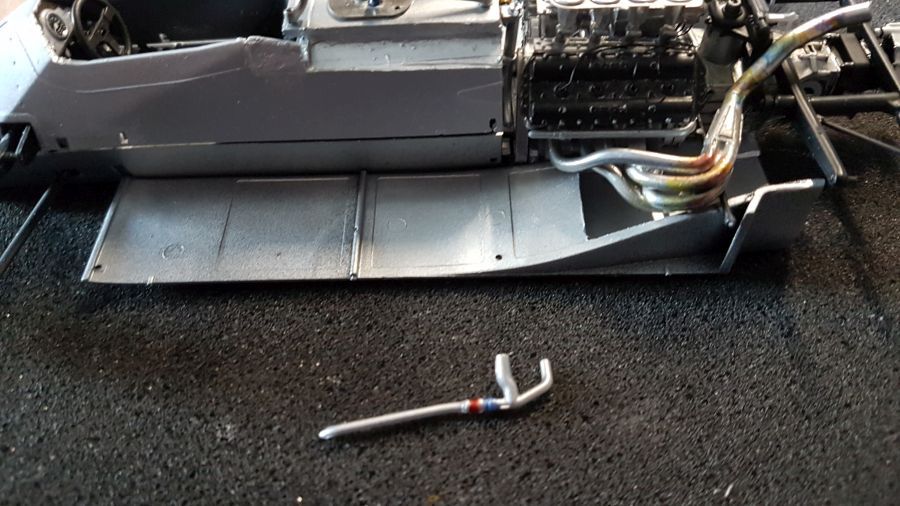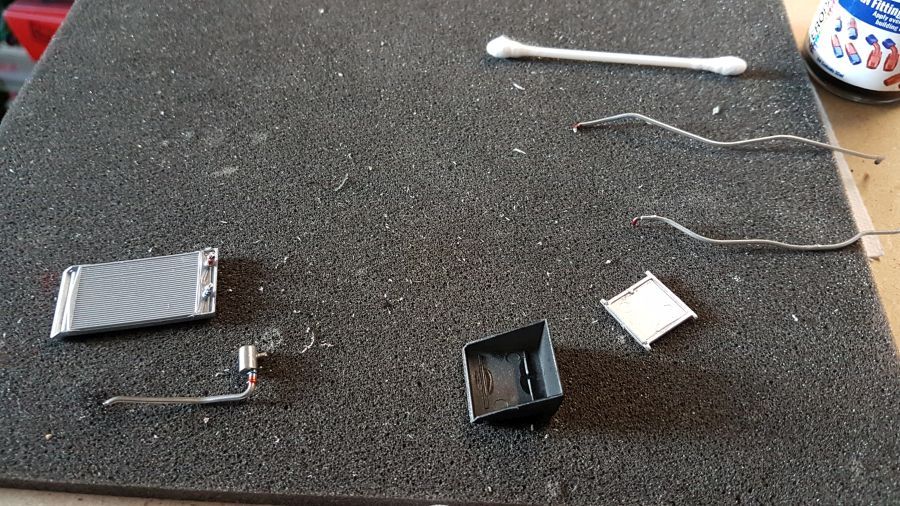 Door met de achterremmen.
To continue with the rear brakes.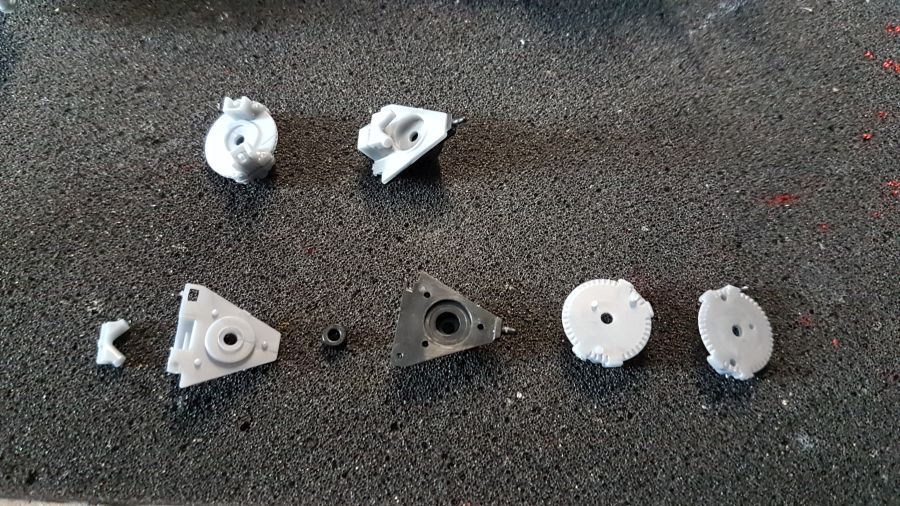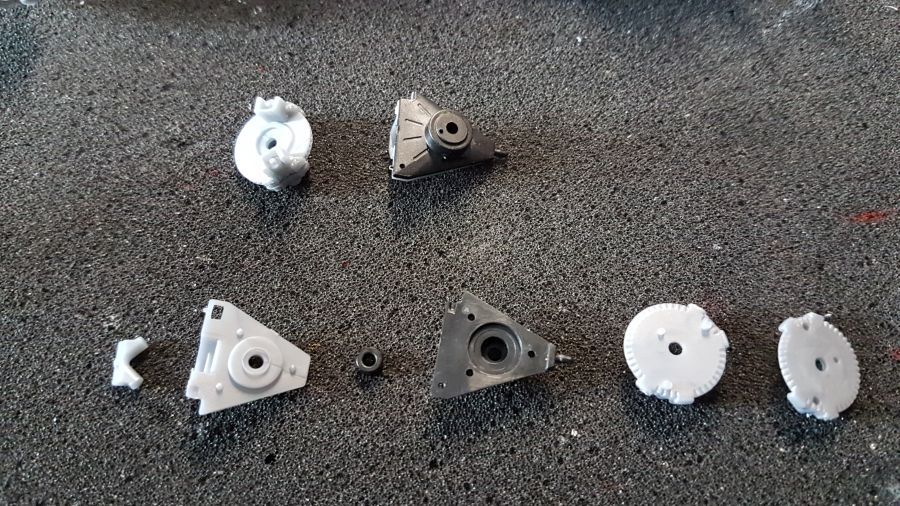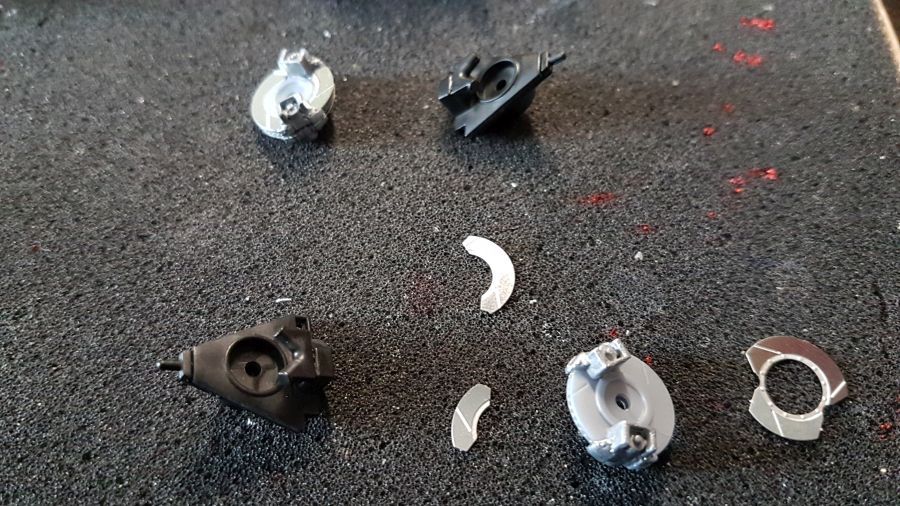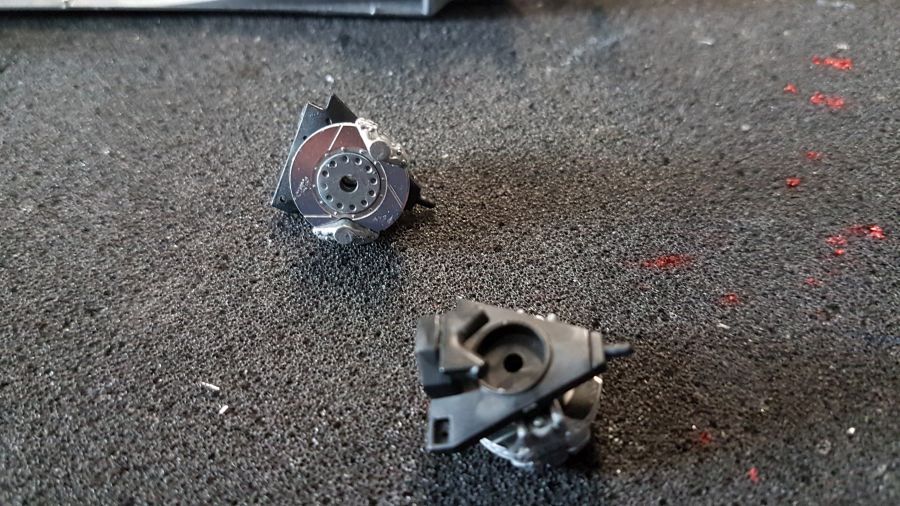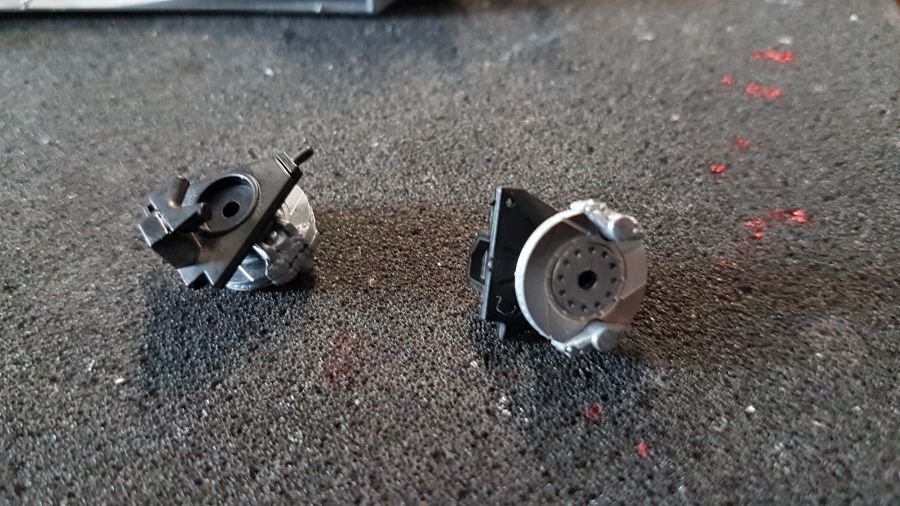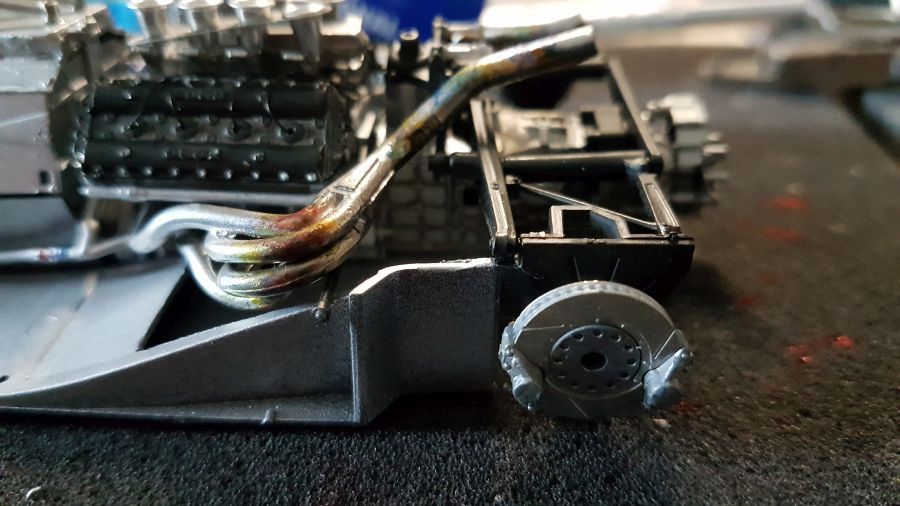 Nu de steunen voor de zijkanten...
Now the supports for the sidewalls...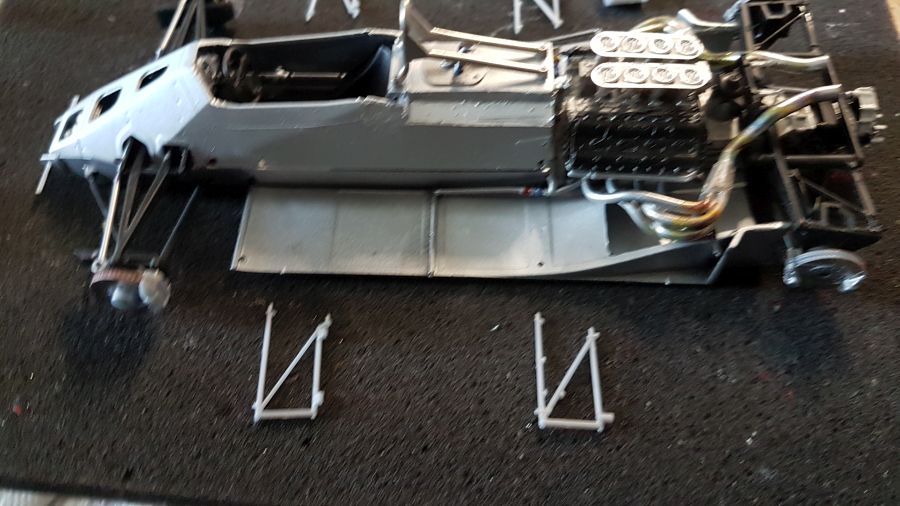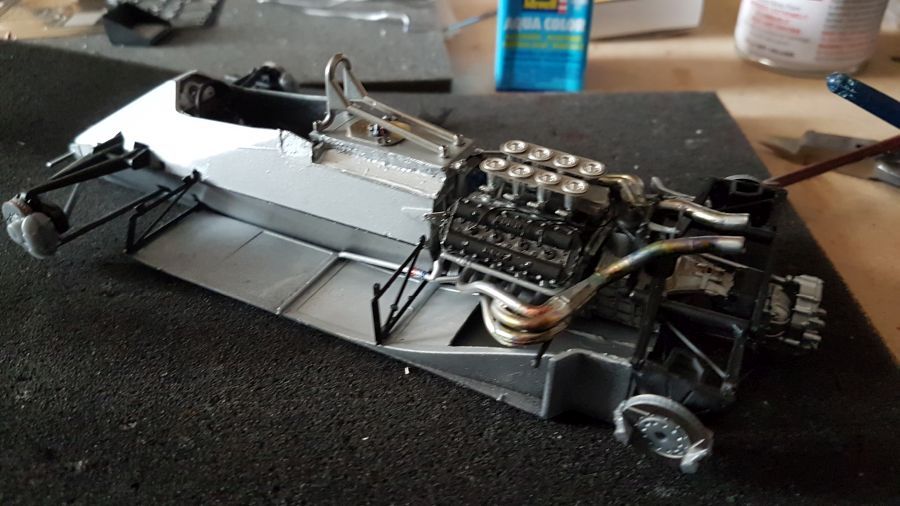 Meer werk aan de koeling.
More work to the cooling.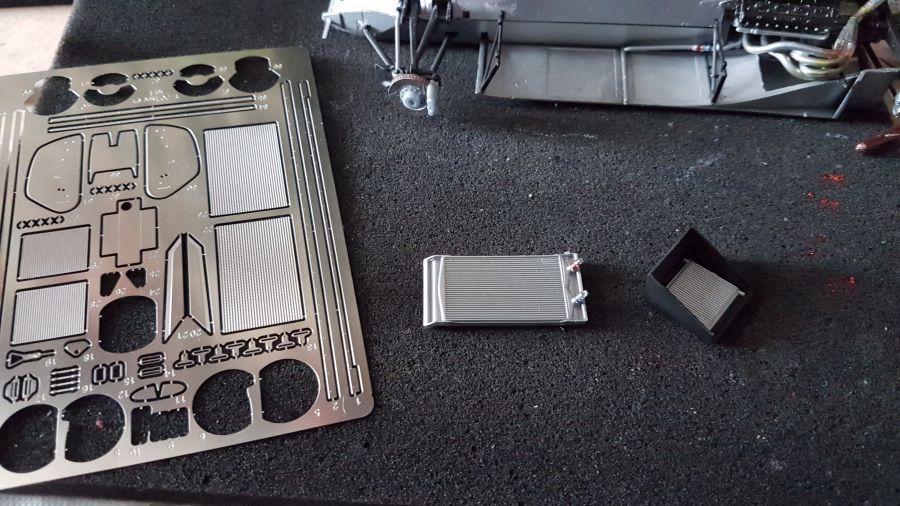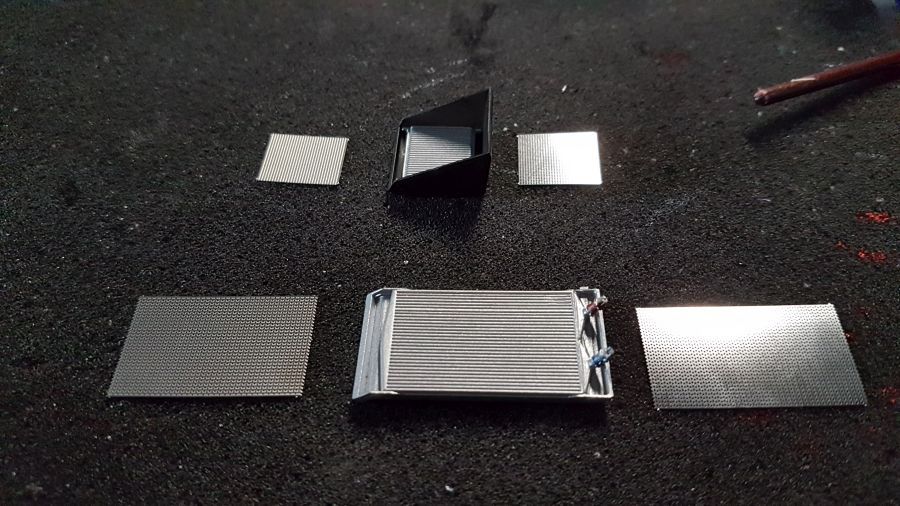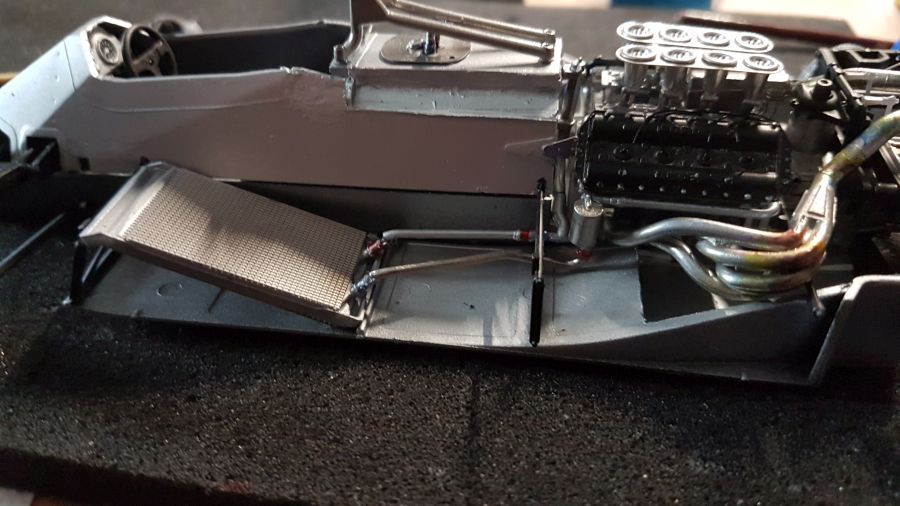 Studie van de verschillen. Lastig, niet veel foto's van Lammers en de verschillende races. Ook de wing endplates verschillen. Daarnaast soms voorvleugel, soms niet.
Studying the differences. Tough, not many pictures of Lammers and the different races. Also the wing end plates are different. Further more, sometimes front wing, sometimes not.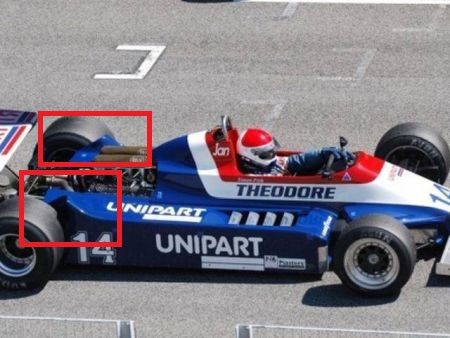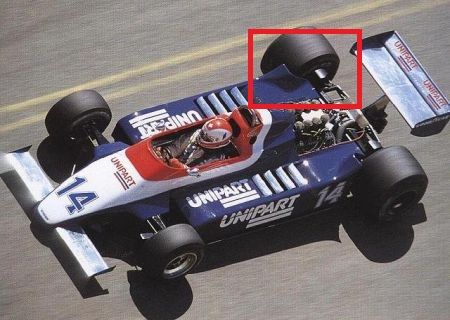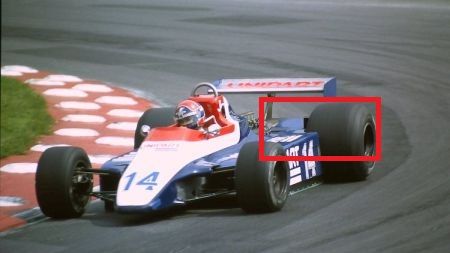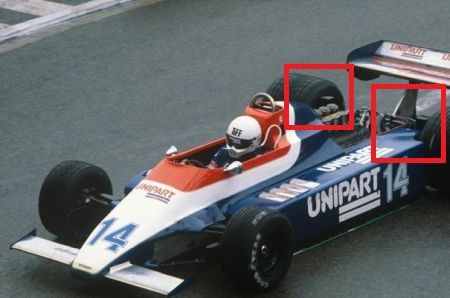 Voor het maken van de eindplaten van de achtervleugel gebruik ik de tekening. Deze ga ik 3.5 x vergroten en knip deze uit als template. Ik maak de 2-delige vleugel met de onderdelen uit het Studio27 doosje.
To create the wing end plates of the rear wing i use the drawing. I will expand this 3.5 x and use it as a template. I am making the 2-part wing with the parts from the Studio27 box.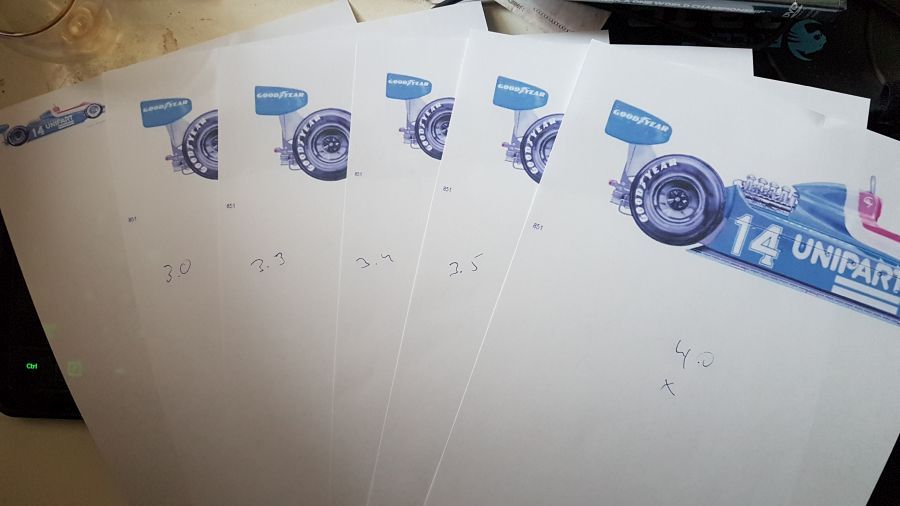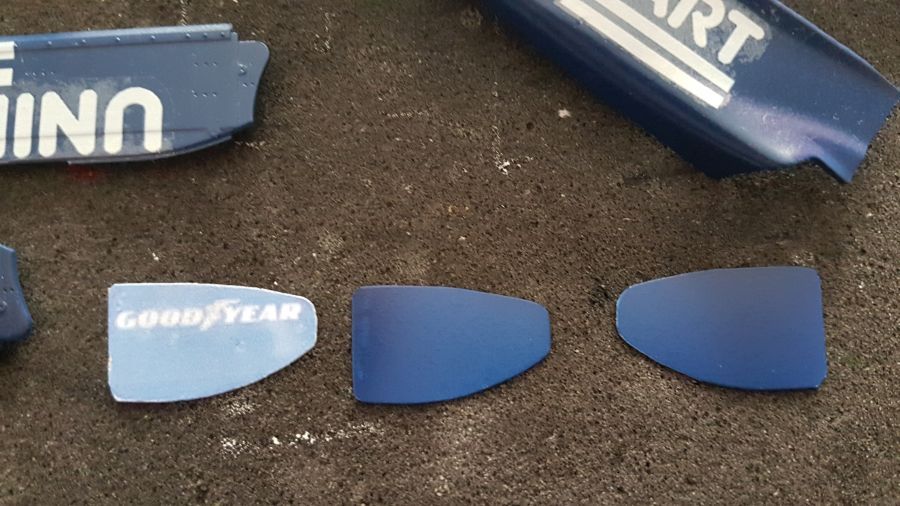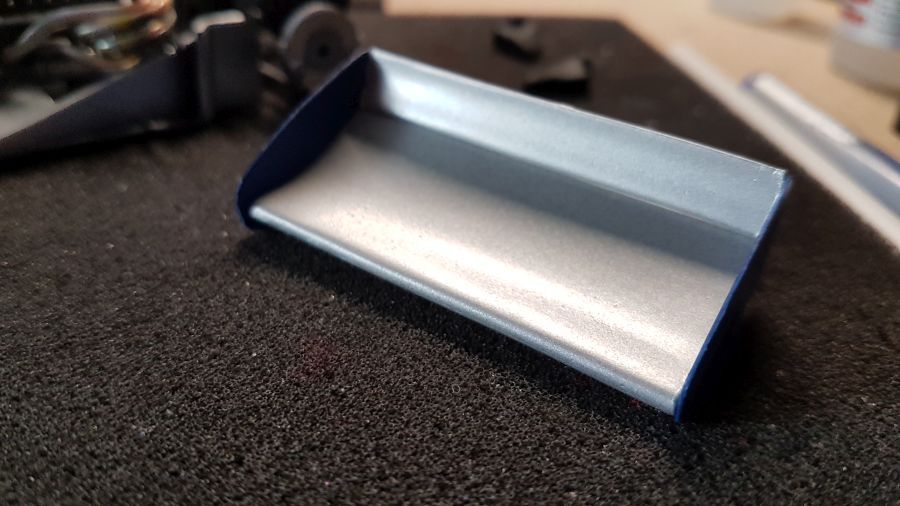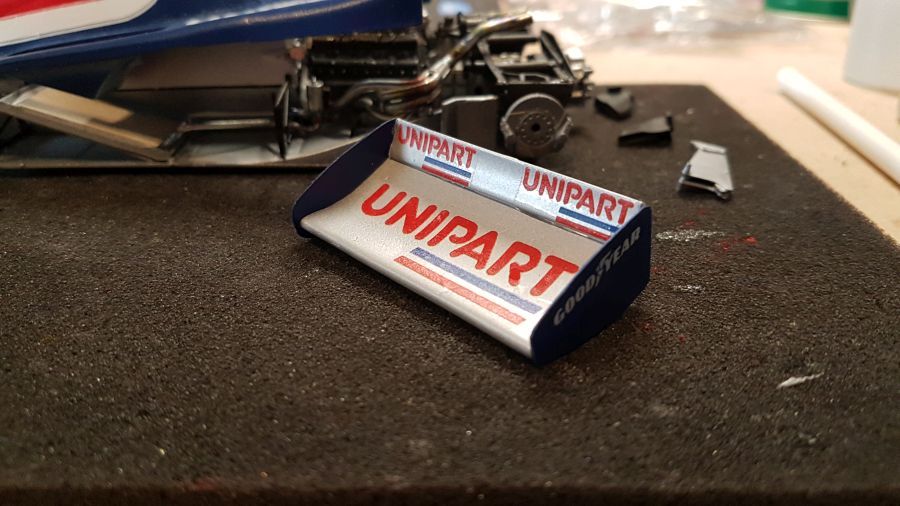 Door naar de velgen. Het chroom gaat eraf met behulp van ovencleaner. Daarna overspuiten en inelkaar zetten.
On to the rims. The chrome is being removed with oven cleaner. Then repainted and assembled.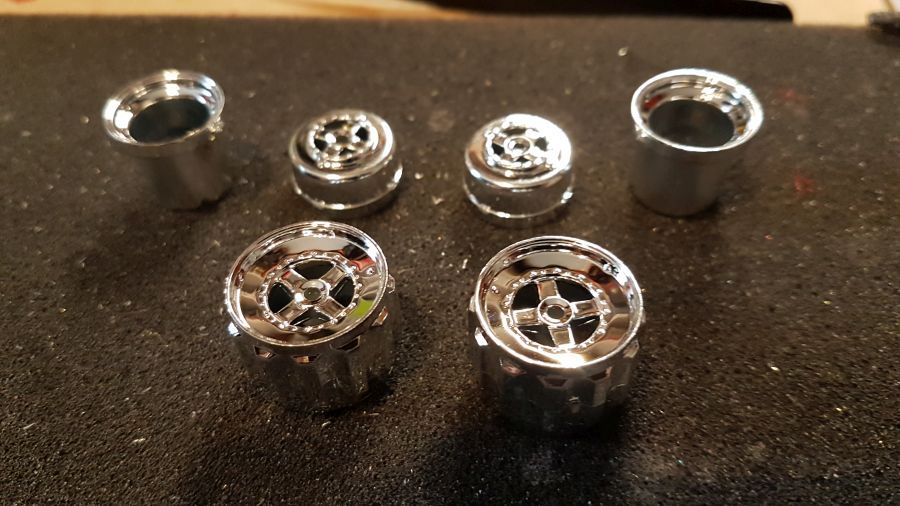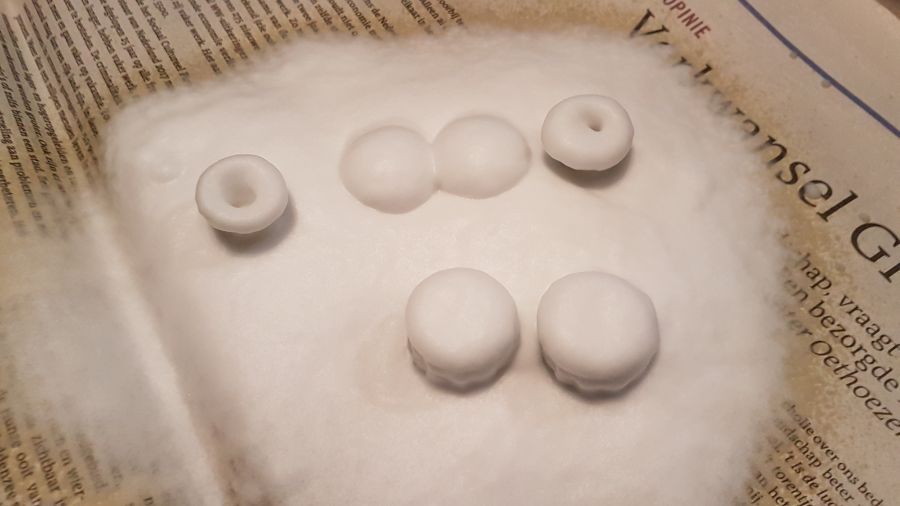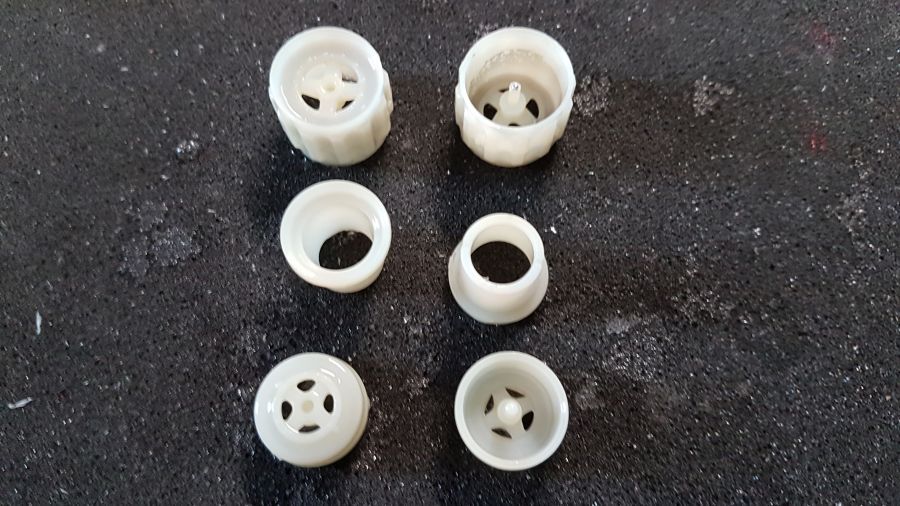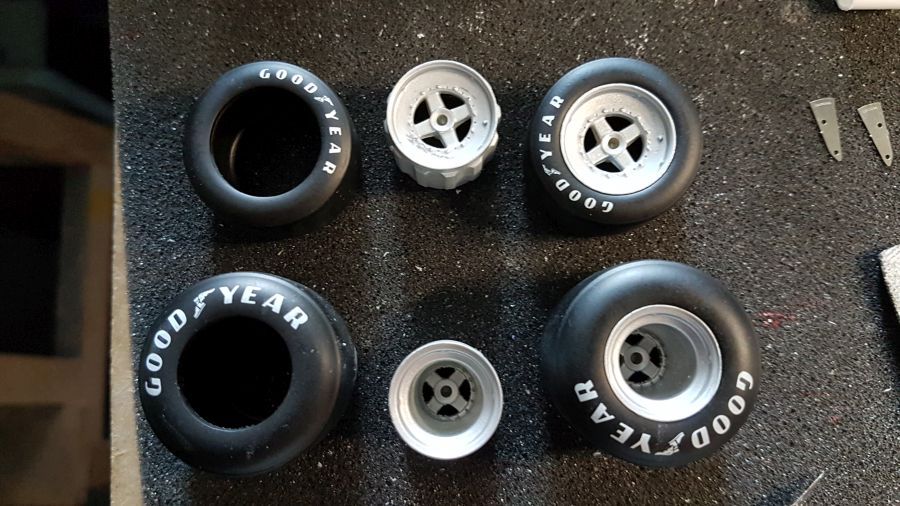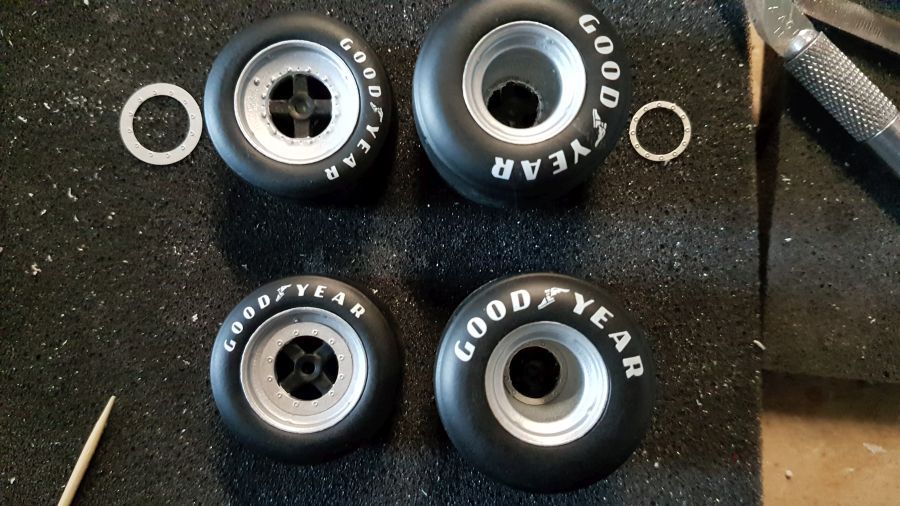 De louvres maak ik met behulp van ronde buis. Deze zaag ik doormidden en kort de stukjes dan wat in.
The louvres are being made from round tube. I cut these in half and make them a little smaller.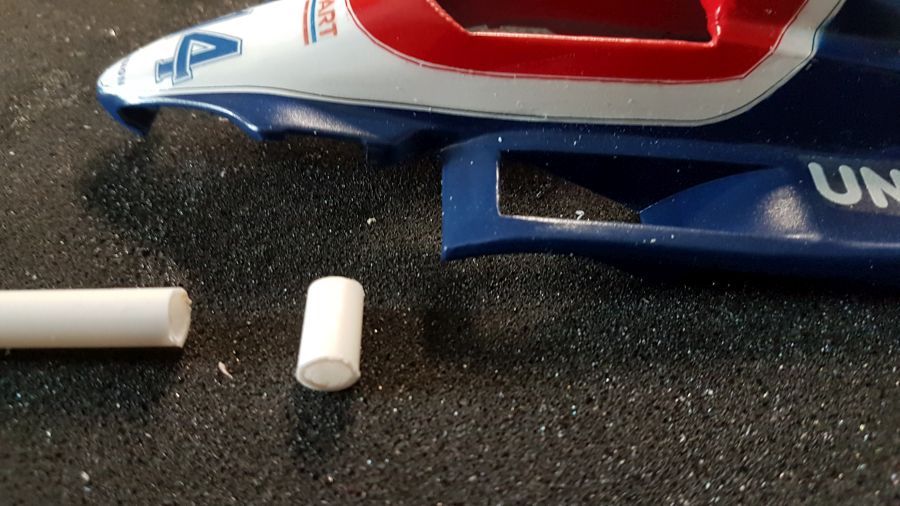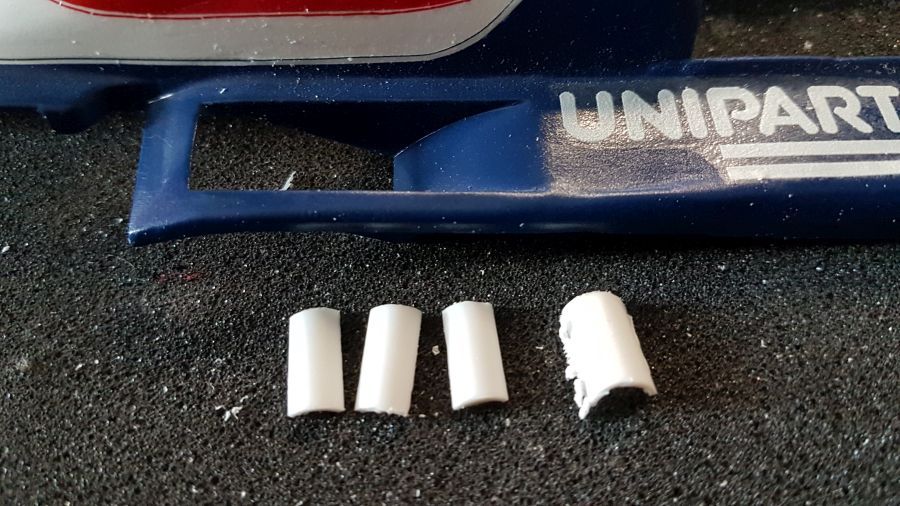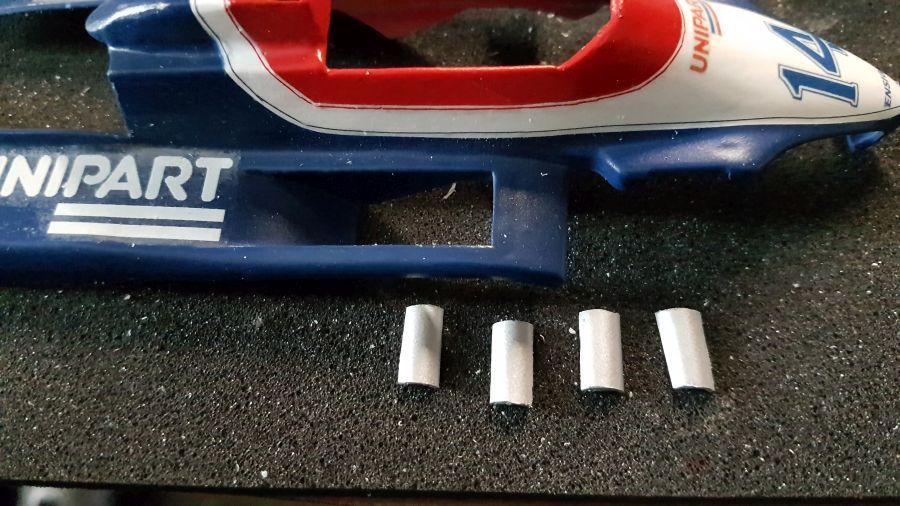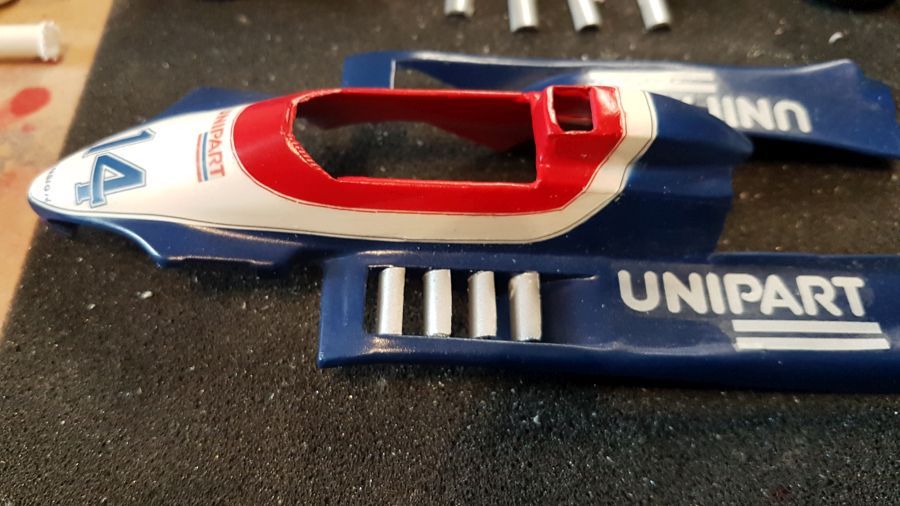 Van gebogen plaat maak ik de voorvleugels. De end plates komen uit de etched-rommelkist.
The front wings are being made out of bent plate. The end plates are etched from the scrap box.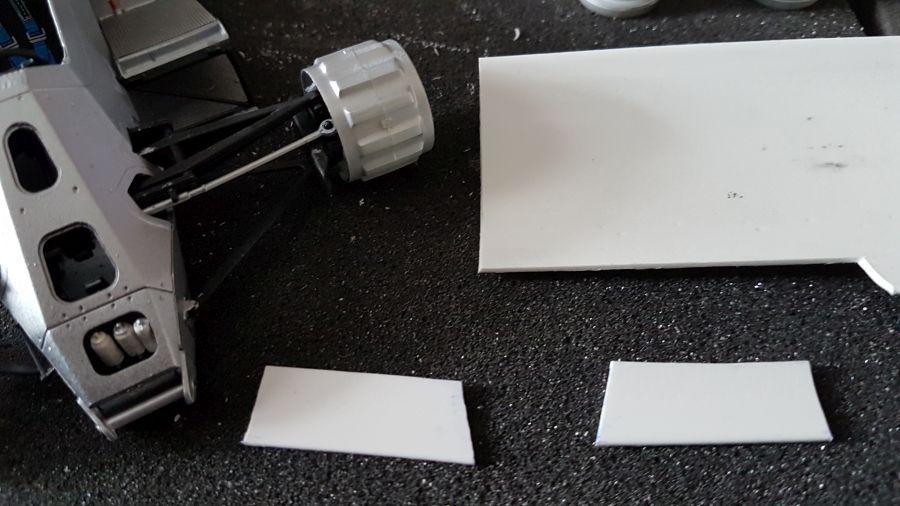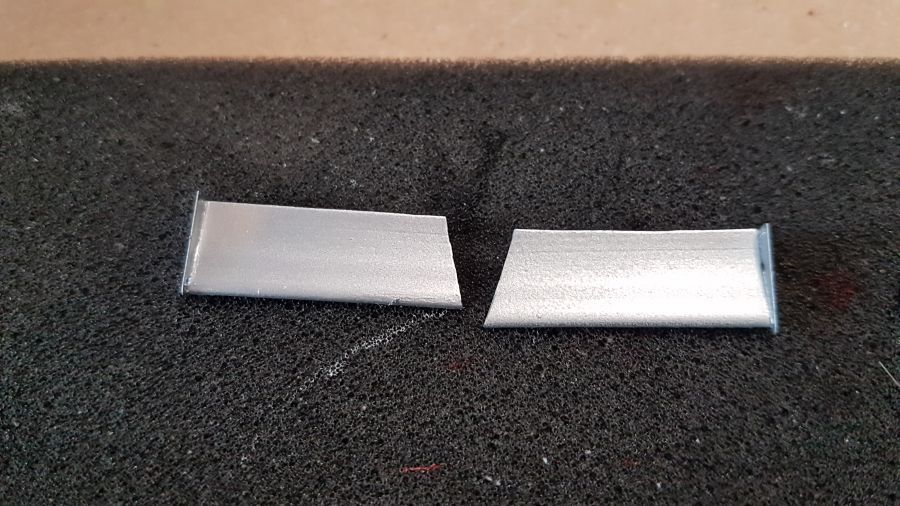 De zijkanten gaan erop.
The sidewalls are being mounted.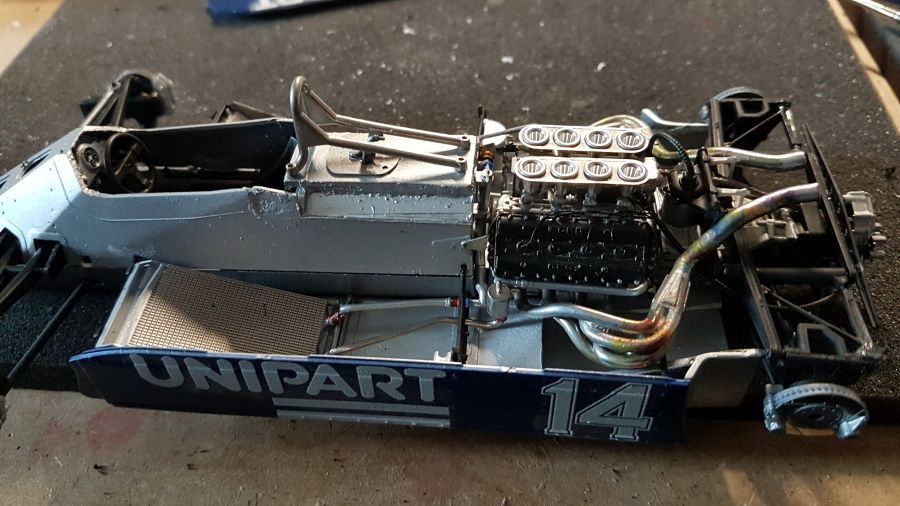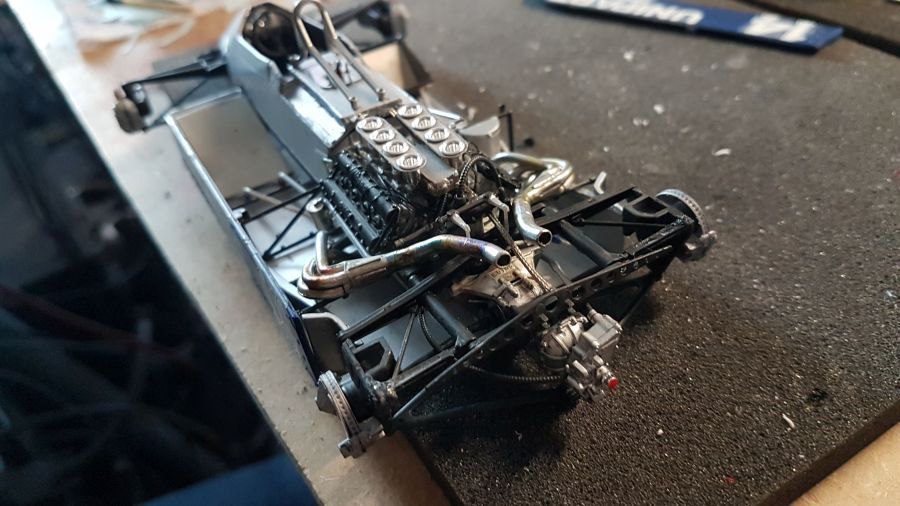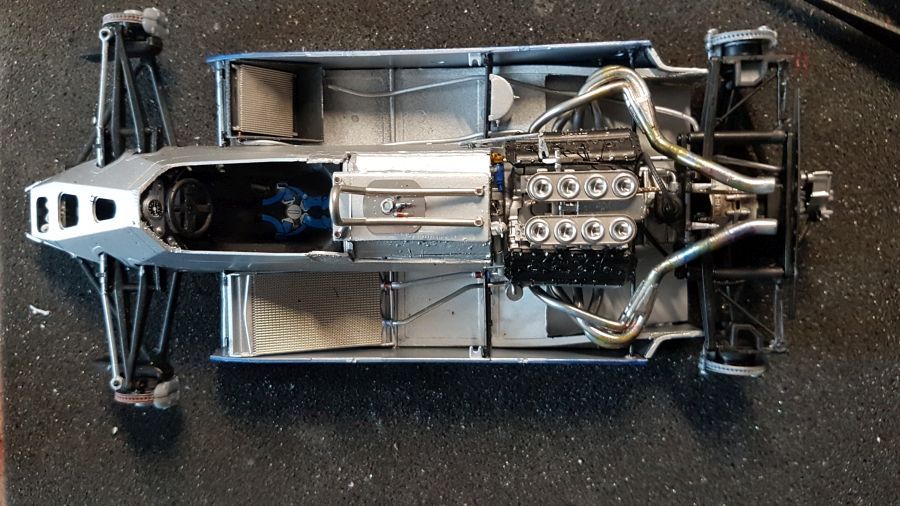 En de bovenkant. Lstig, want er staat wel wat spanning op.
And the top. Tricky, because there is some tension.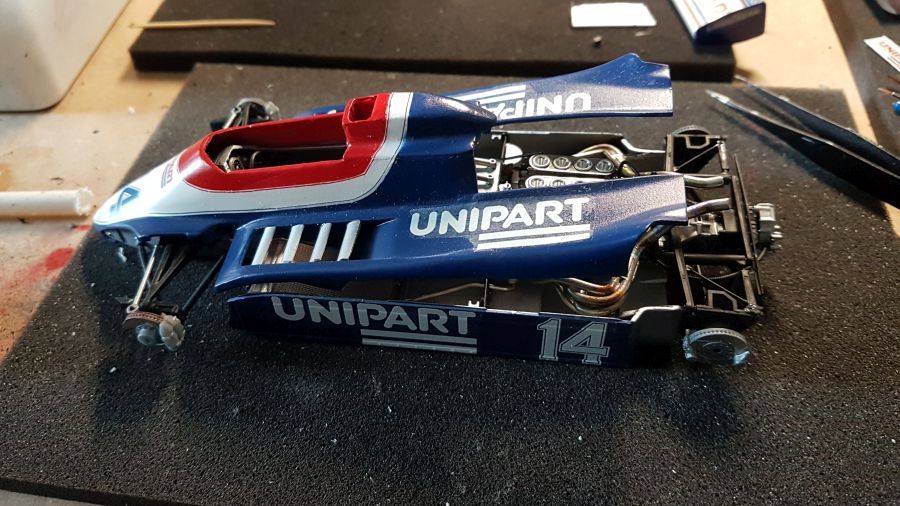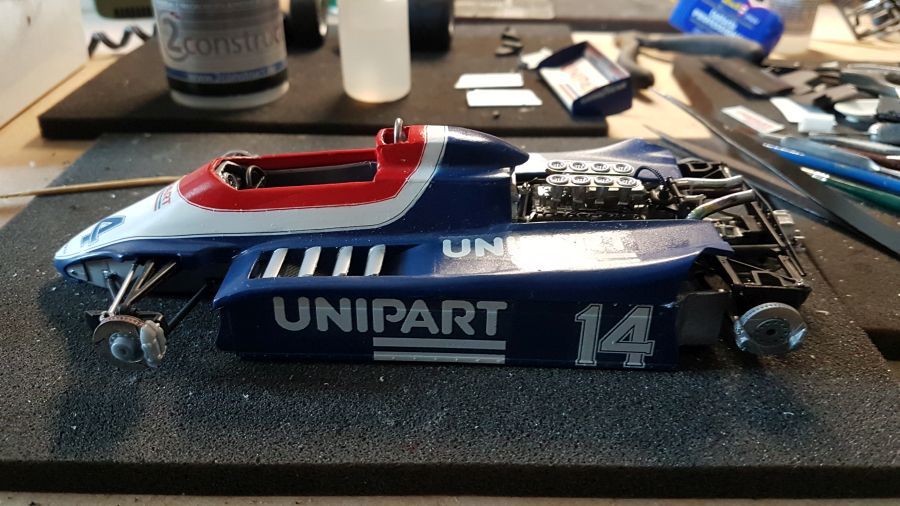 De steun voor de achtervleugel wordt uitgelijnd.
The support for the rear wing needs lining up.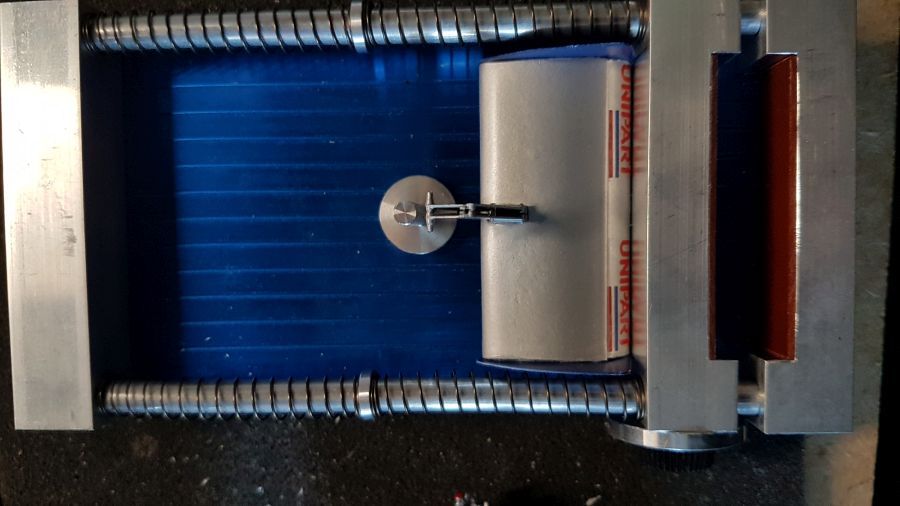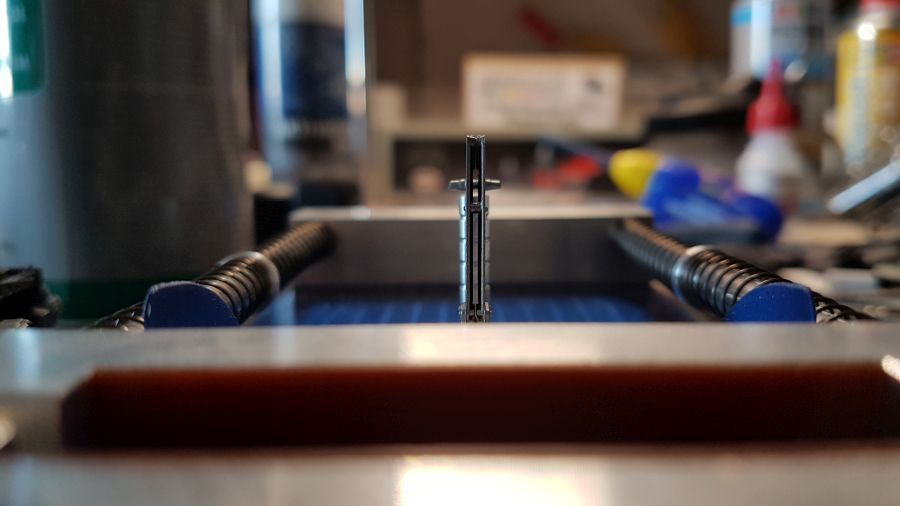 De velgen gaan erop.
The rims are added.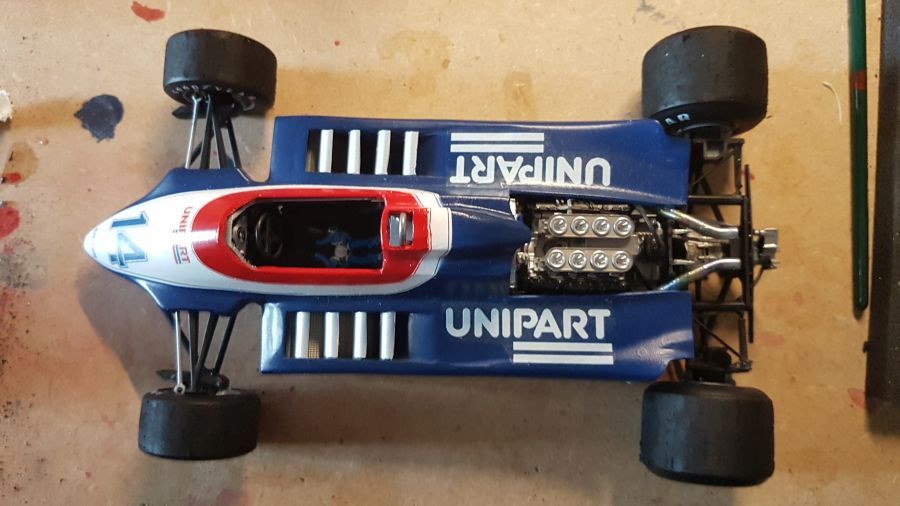 De achterwielen stonden te ver naar buiten.
The rear wheels were too far to the outside.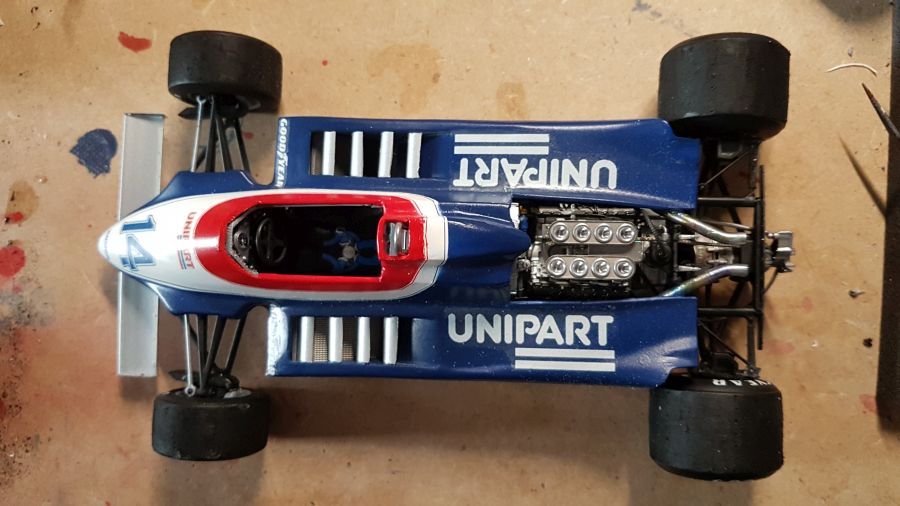 Nog wat kleine onderdelen geplaatst.
Some small parts added.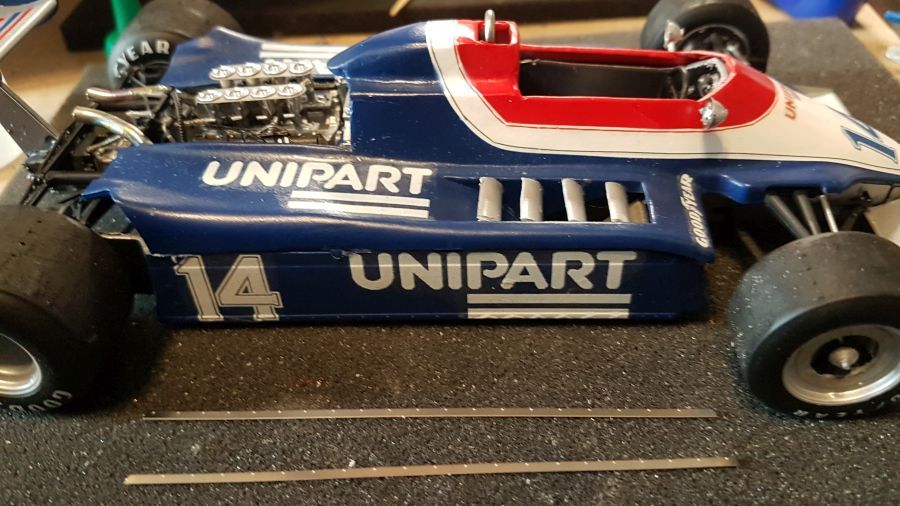 Ik denk dat ik het project als klaar ga beschouwen.
I think i will consider this project done.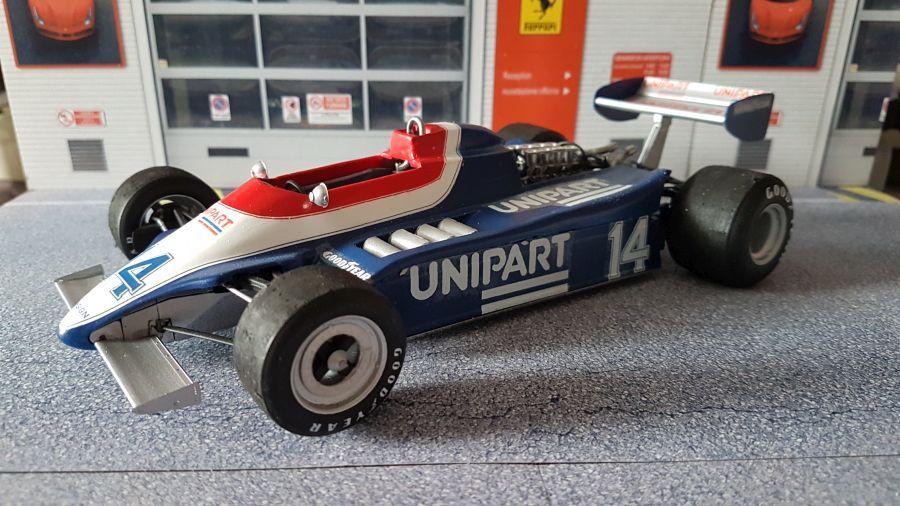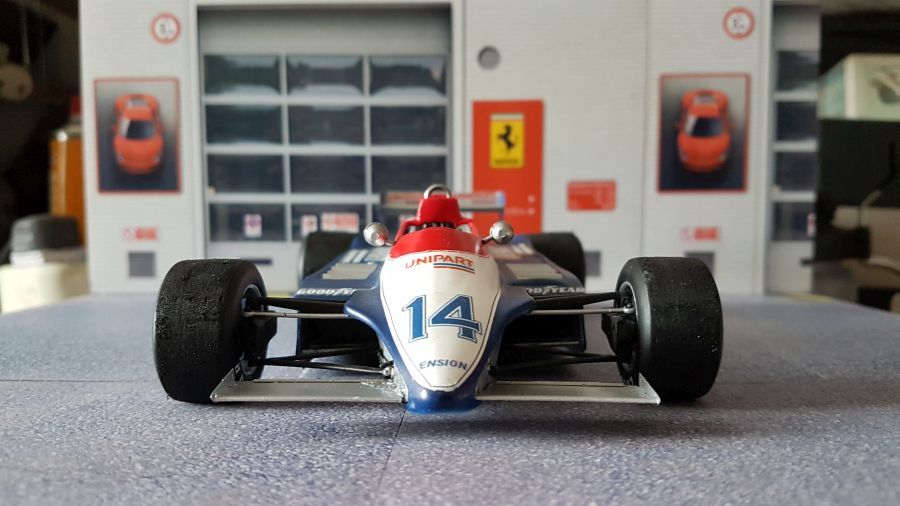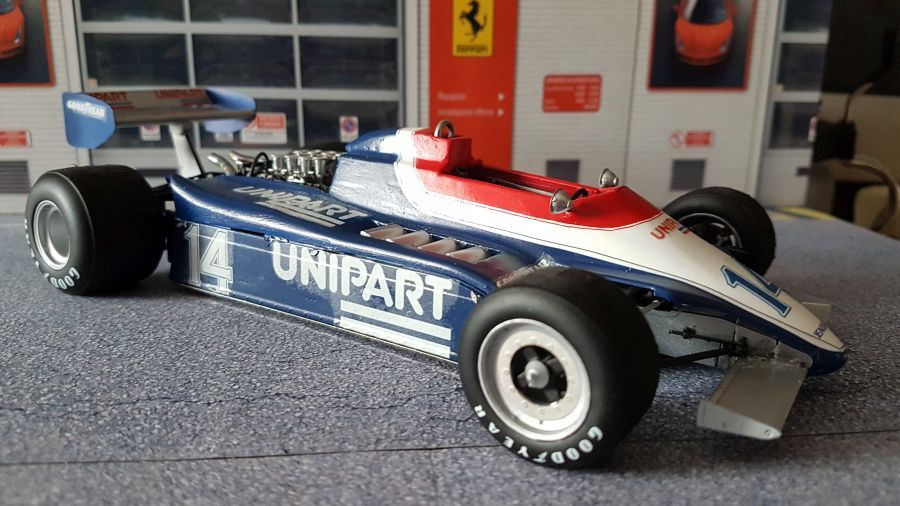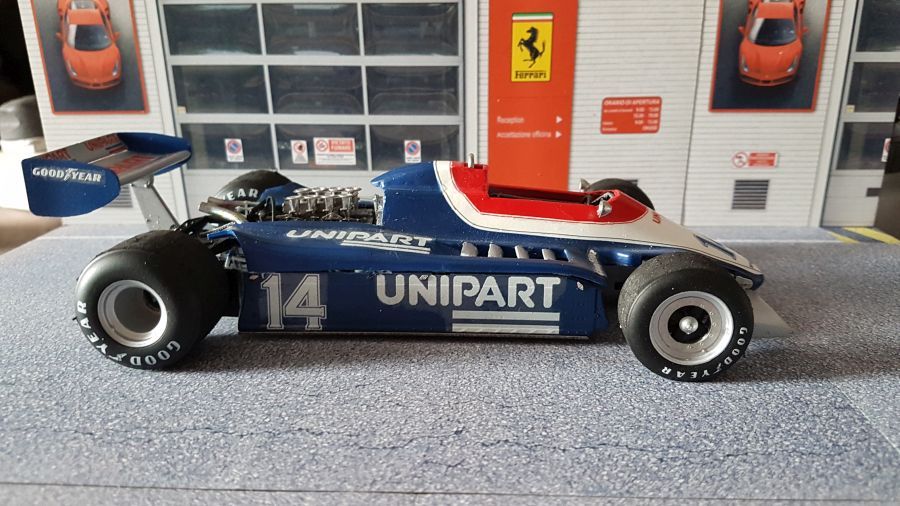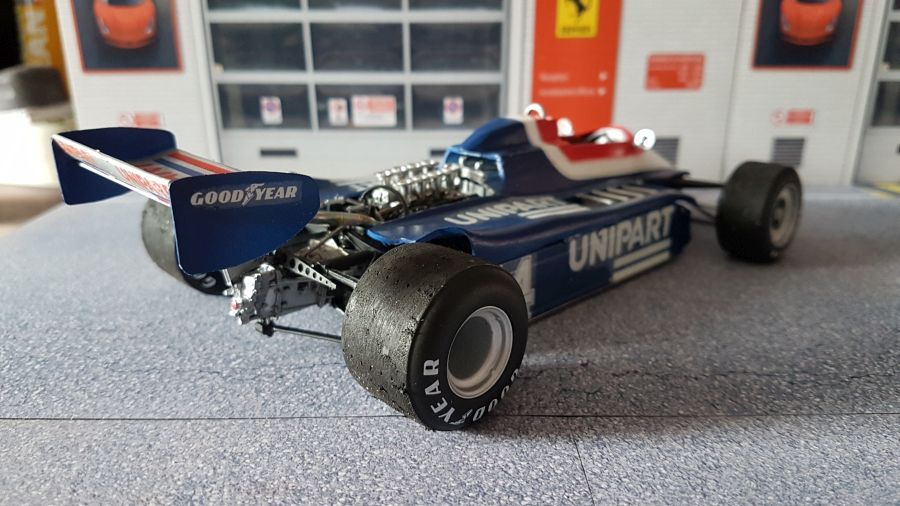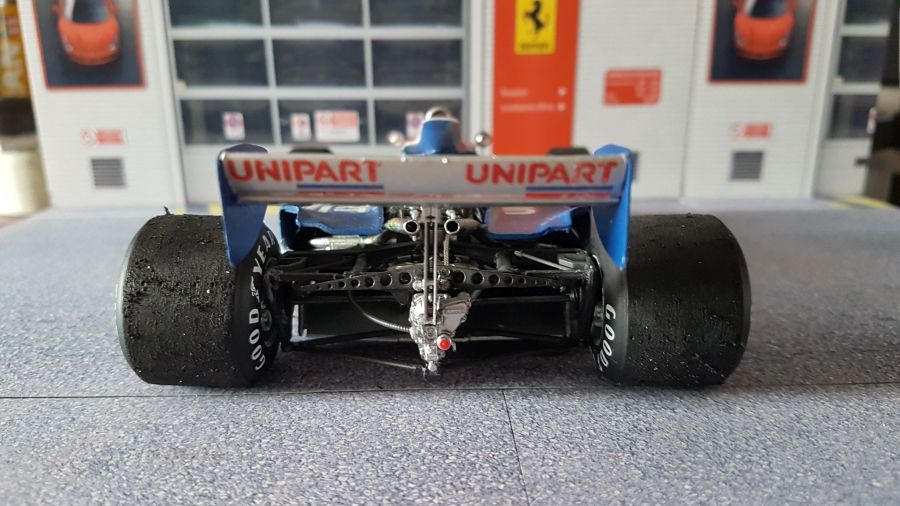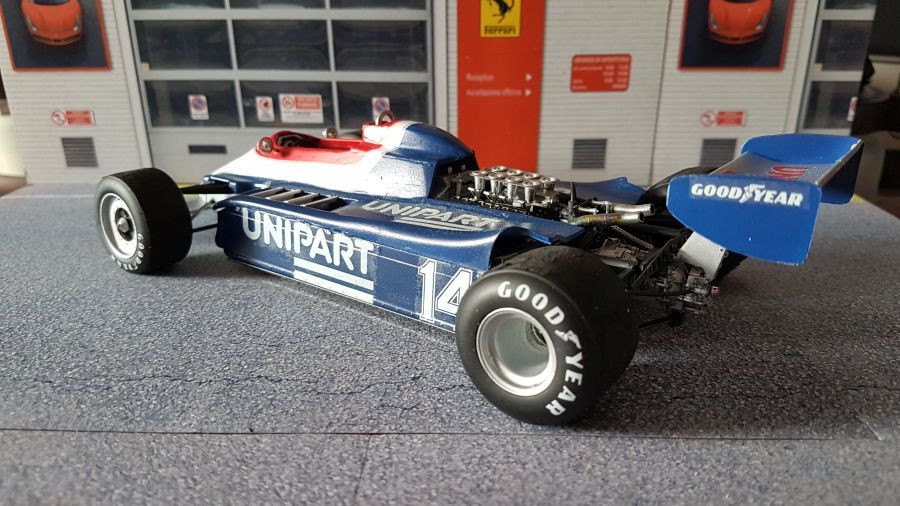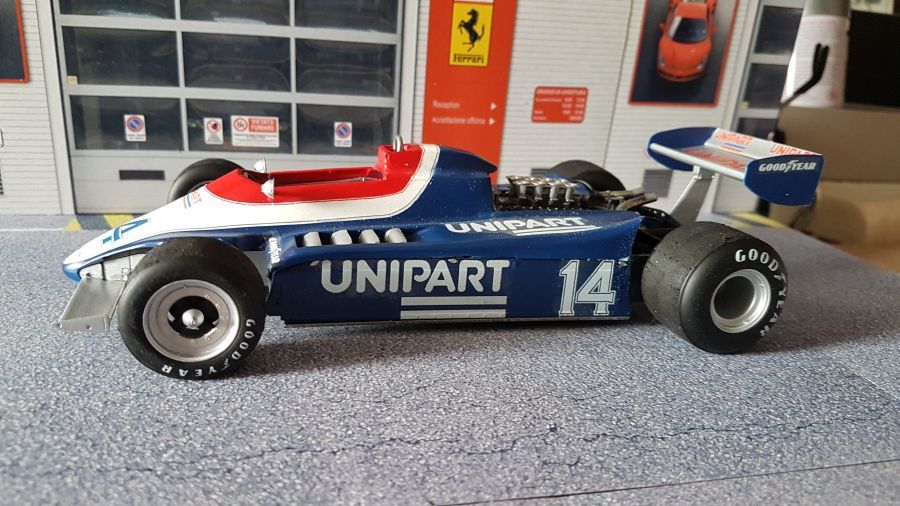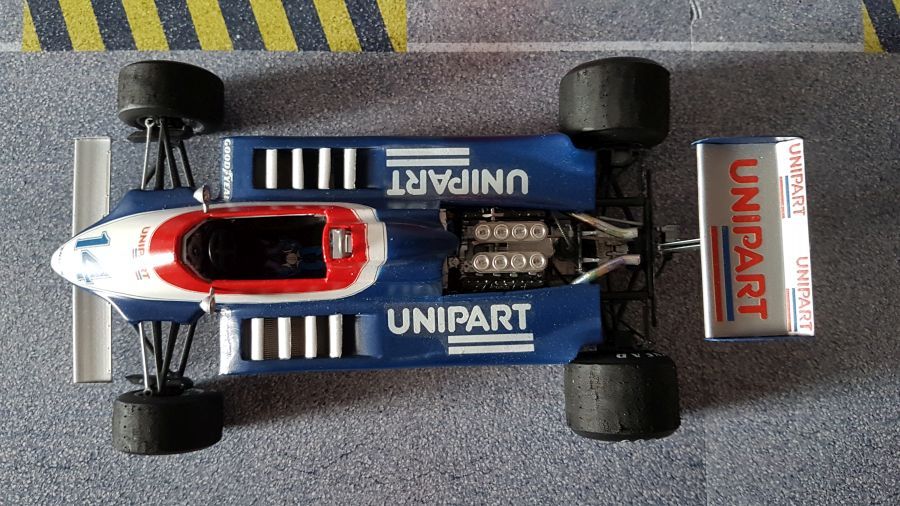 Dat was het dan. Een behoorlijk moeilijke conversie. Ik weet het, niet 100%. Ik ken mijn limieten. In het geheel ben ik er blij mee. Wanneer er een kit van komt zal ik dit model zeker vervangen.
That was it. A pretty tough conversion. I know, not 100%. I know my limits. Overall i am happy with it. If there will be a kit on the market, i will change this model for sure.