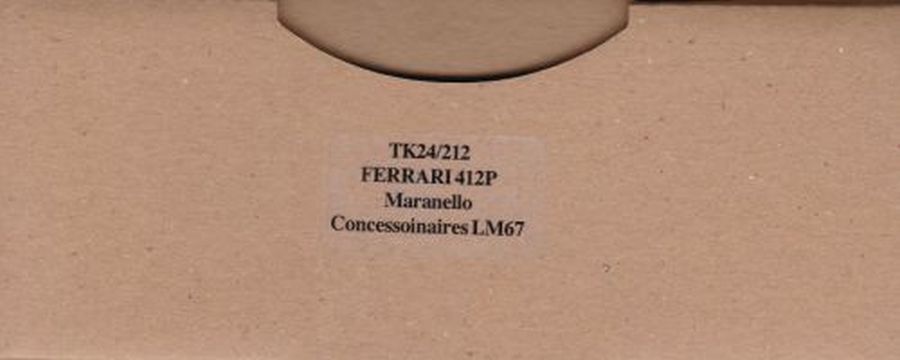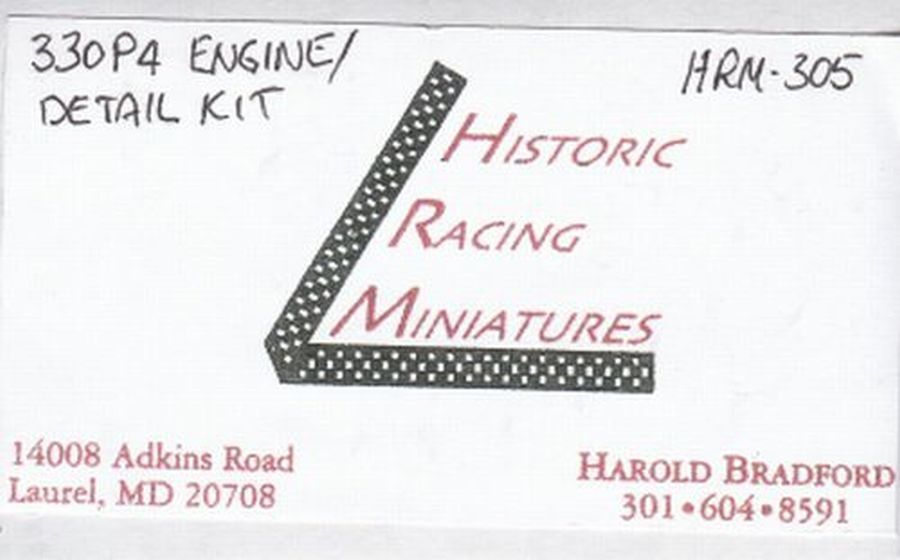 Even weer wat anders tussendoor. Goed voor de afwisseling. Hier de bouw van de 1967 Ferrari 412P van het team Maranello Concessionaires. Deze wagen is de uitvoering zoals deze tijdens de 24 Uur van Le Mans werd gereden door Richard Attwood en Pierce Courage. Dit is een project dat ik erbij doe, dus de voortgang zal wat langzamer gaan. Eerst weer de foto's. Eerst de Fujimi kit van de Ferrari 330 P4 die als donor wordt gebruikt (RS-48 125756).
Something different for a change. Here the build of the 1967 Ferrari 412P of the team Maranello Concessionaires. This car raced during the 24 Hours of Le Mans and was driven by Richard Attwood and Pierce Courage. This is a side project, so progress will be slow. First the pictures. First the Fujimi kit of the Ferrari 330 P4 (RS-48 125756) used as a donor.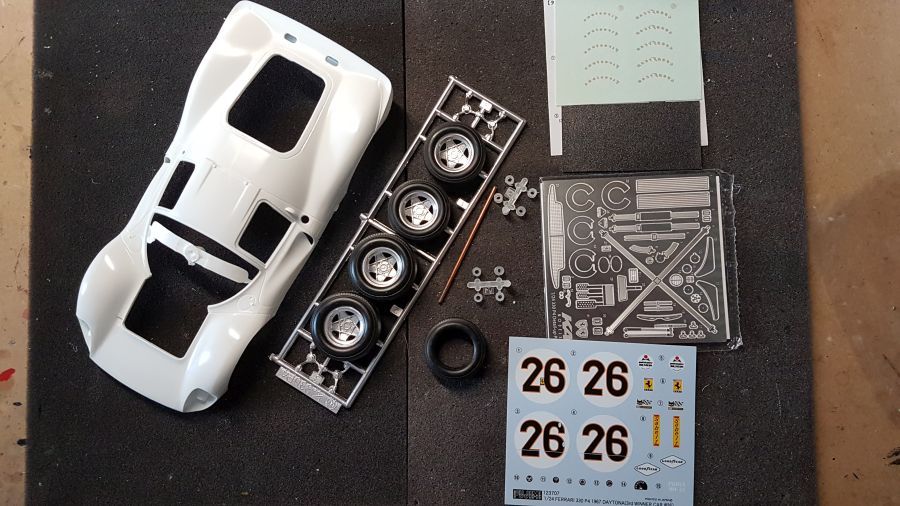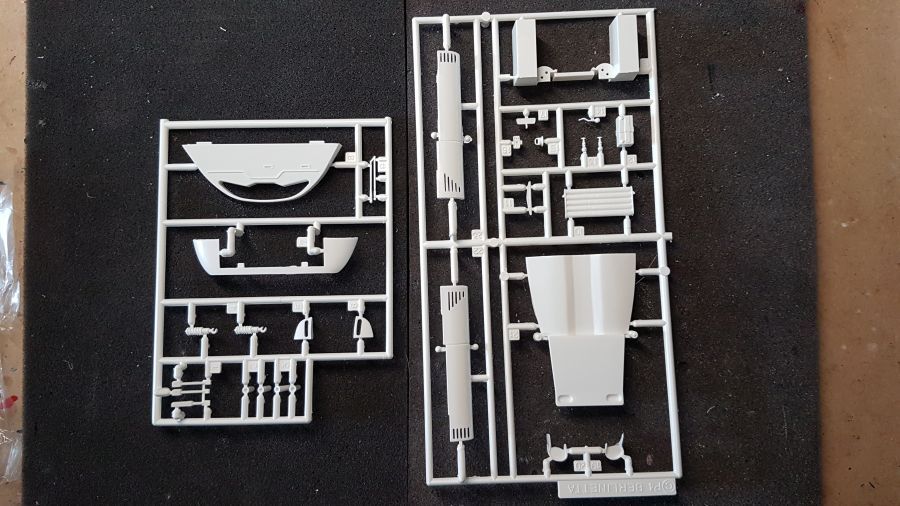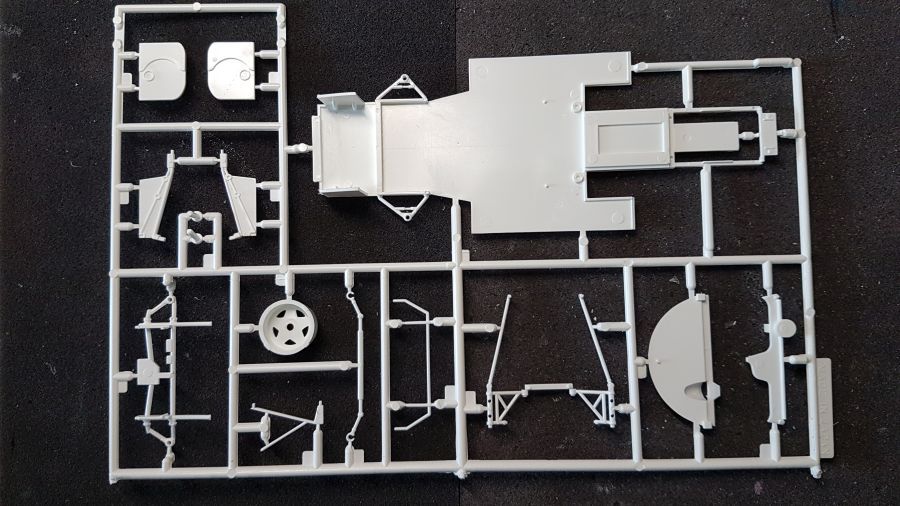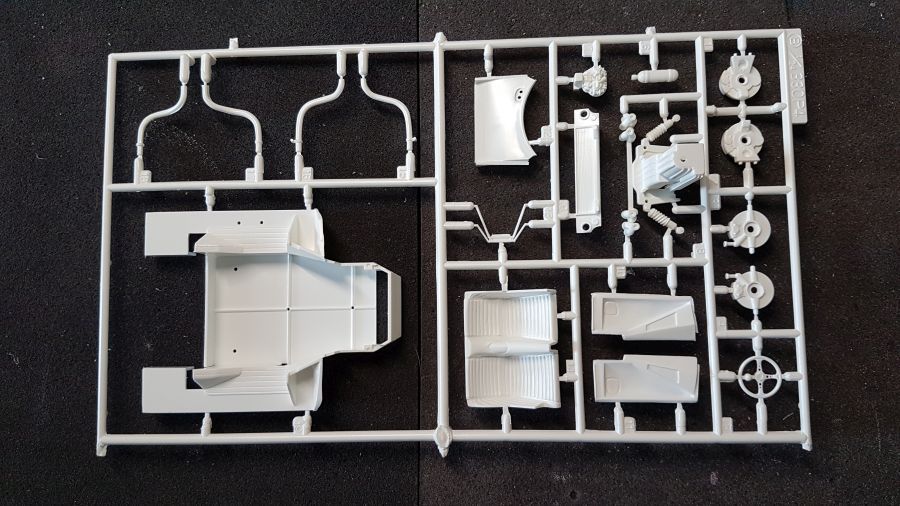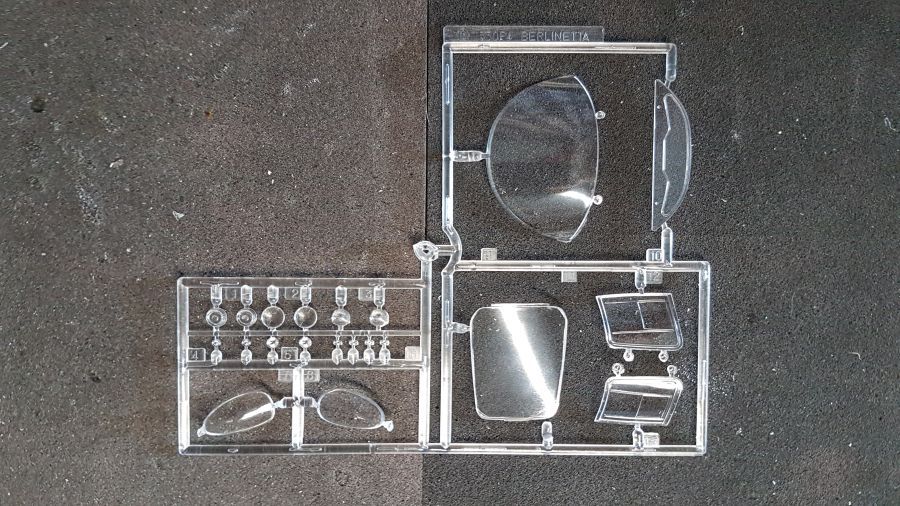 Dan de Renaissance kit van de Ferrari 412P (TK24/212) Maranello Concessionaires Le Mans 1967.
The the Renaissance kit of the Ferrari 412P (TK24/212) Maranello Concessionaires Le Mans 1967.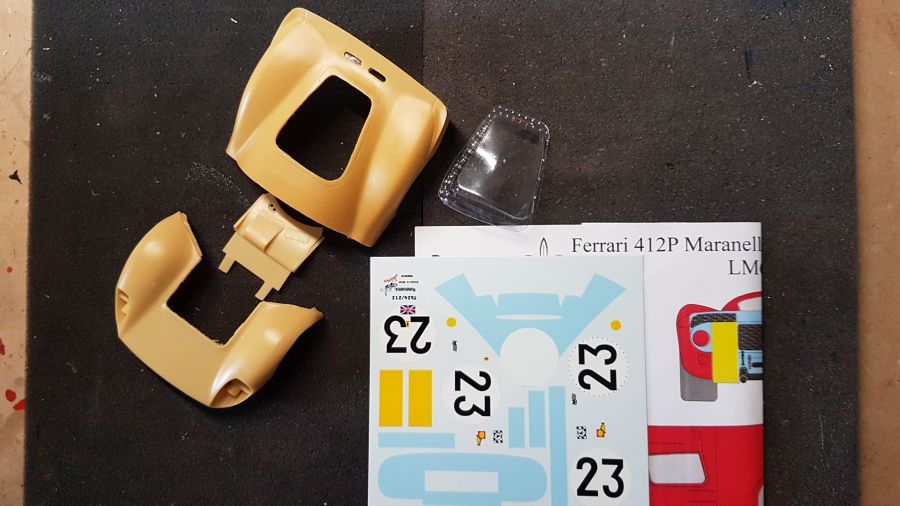 Dan de Ferrari 330 P4 motor kit (HRM-305) van Historic Racing Miniatures. Ik weet niet of deze past, maar ik ga het proberen.
Then the Ferrari 330 P4 engine kit (HRM-305) from Historic Racing Miniatures. I don't know if it fits, but we'll see.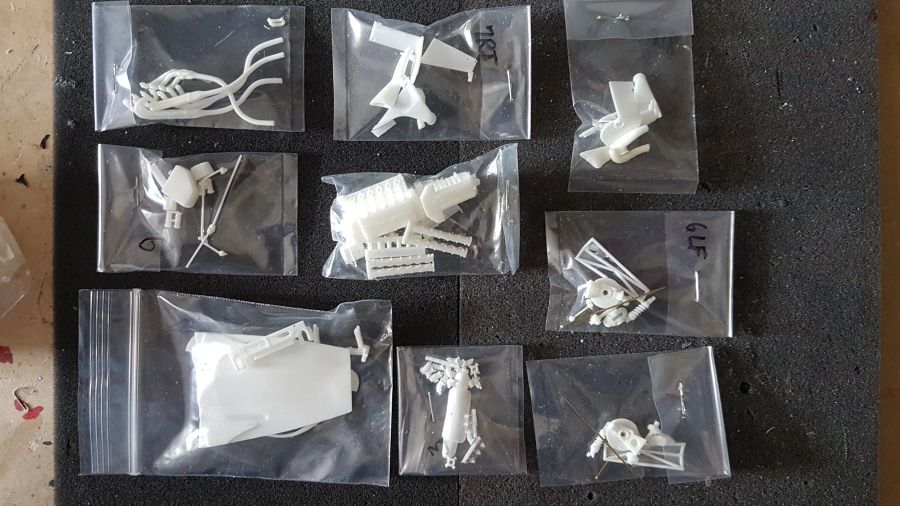 En deurscharnieren van Detail Master. Ik ga zien of ik hiermee de achterklep beweegbaar kan maken. Misschien ook nog een deur.
And door hinges from Detail Master. I will see if i can get the rear engine cover movable. Maybe a door too.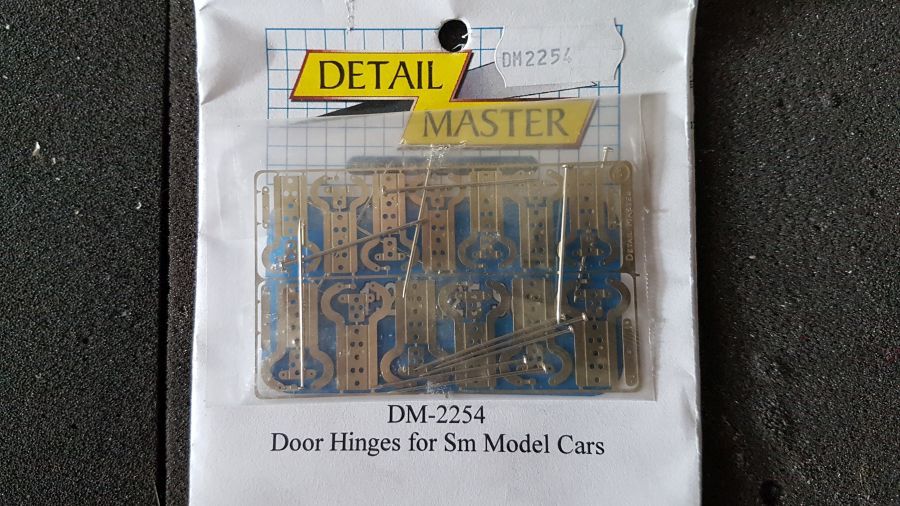 Daarnaast heb ik nog dit setje van Renaissance.
Besides all i have this set from Renaissance.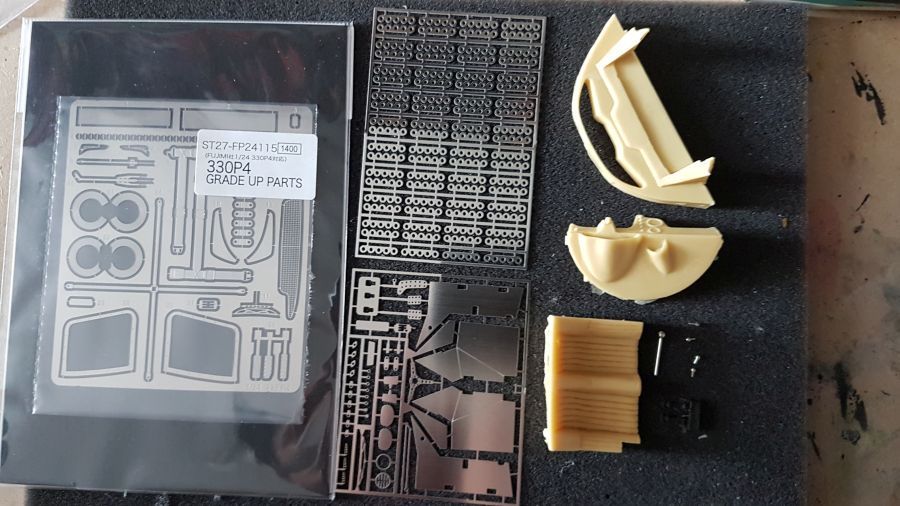 Al een tijdje heb ik een aardig gesprek met mijn vriend Pierpaolo over deze conversie. Ook hij heeft deze kit van Renaissance gebruikt en een prachtig model gemaakt. Volgens hem is de transkit eigenlijk meer bedoeld voor een Heller of Union kit dan voor een kit van Fujimi. Bij het bouwen merkte hij op dat de voor- en de achterkant iets kleiner zijn dan die van de kit van Fujimi. Hij heeft daarom het chassis moeten inkorten om alles passend te maken. Een prachtig advies natuurlijk. Ik heb zowel kits van Fujimi als Union (in verband met een latere conversie en het bouwen van een Ferrari 330 P4). Ik kan in principe dus de kit pakken die ik wil. Maar dat roept ook weer andere problemen op. De kit van Fujimi heeft een netjes van het chassis gescheiden dashboard. Die van Union niet. De kit van Union heeft een motor, die van Fujimi niet. Allemaal lastige keuzes, ook omdat ik nog een 330 P4 wil maken. Hieronder wat foto's met de verschillen.
For some time i have contact with my friend Pierpaolo about this conversion. He also used the Renaissance kit and made a beautiful kit from it. According to his info this trans kit was more mentioned for the Hller or Union kit than for the one from Fujimi. While buildiing he noticed the length of the front and rear cover are different from the Fujimi kit. Those from the trans kit are slightly smaller. Therefor he had to cut the chassis of the Fujimi kit to fit the covers. A great advice. I have several Fujimi kits and the Union kit (because of conversions to do and the build of a Ferrari 330 P4). So i can actually take the kit i want. But this will give other problems. The Fujimi kit has a nice separate dash. The union kit has the dash connected to the chassis. The Union kit has an engine, the Fujimi hasn't. All tough choises to make, as i want to make a 330 P4 too.  Here some pictures with the differences.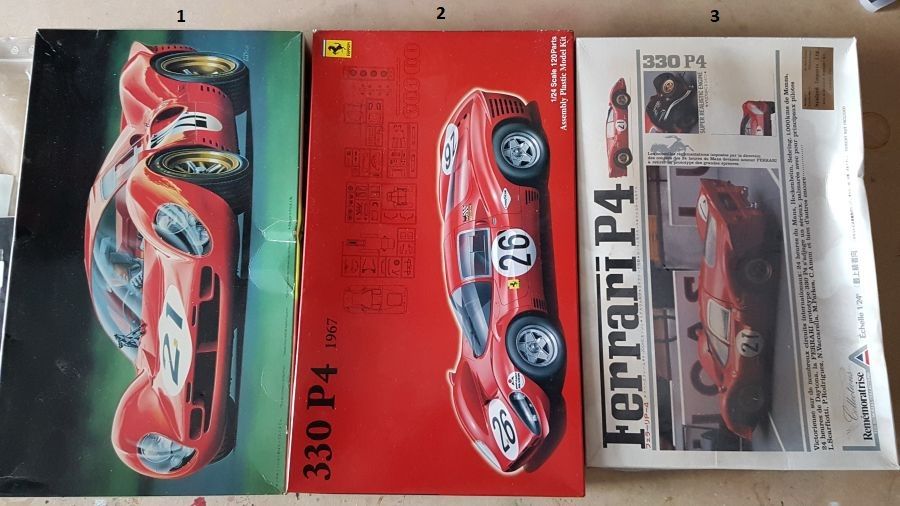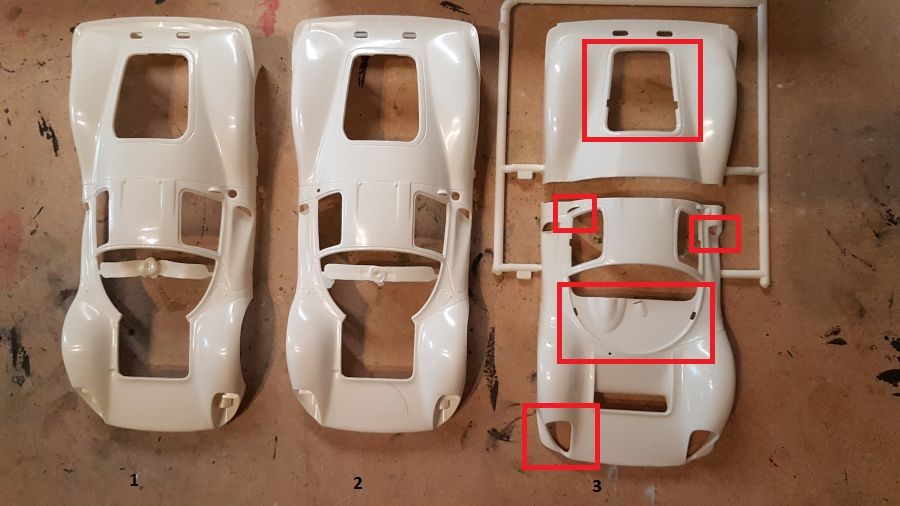 Kit 1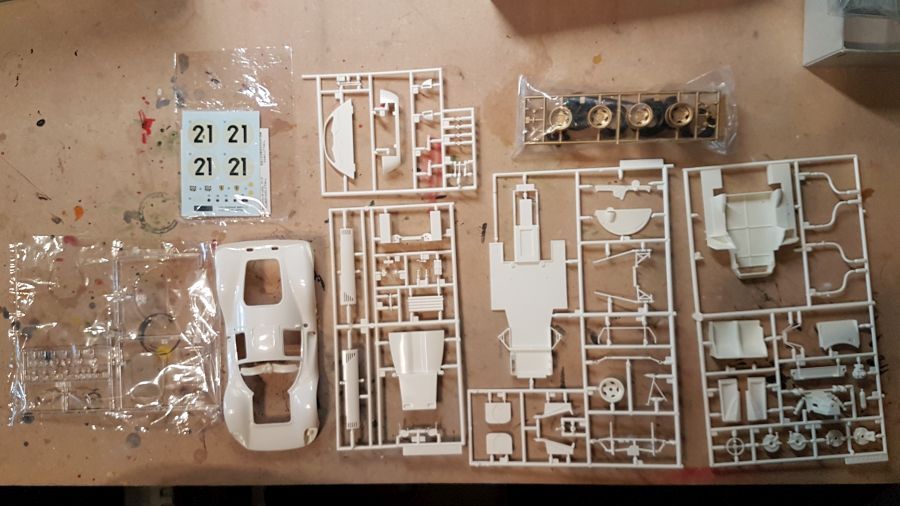 Kit 2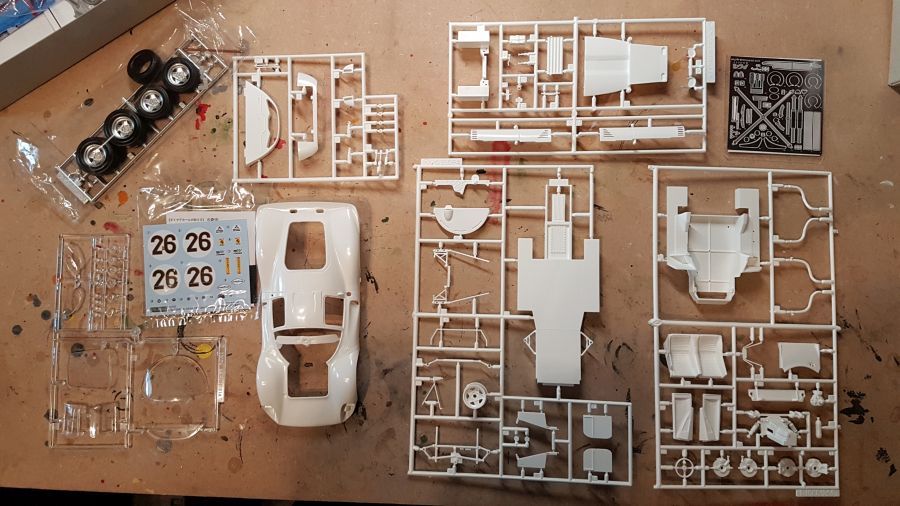 Kit 3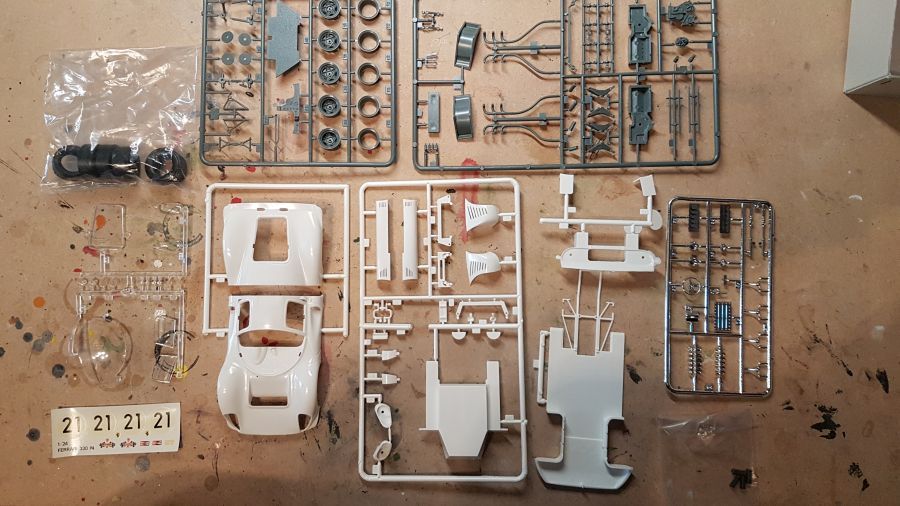 Naar mijn mening is kit 3 het minst mooi. Daarom ga ik juist deze voor de conversie naar de 412P gebruiken. Kit 2 gebruik ik voor de bouw van de Ferrari 330 P4 en kit 1 voor de conversie naar de 330 P4 Spyder. Omdat kit 3 een motor heeft ga ik de HRM motorkit nog even niet gebruiken voor deze conversie. 
In my opnion kit 3 is the lesser one. That is why i will use that one for the conversion into the 412P. Kit 2 gebruik ik voor de bouw van de Ferrari 330 P4 en kit 1 voor de conversie naar de 330 P4 Spyder. As kit 3 has an engine, i will not use the HRM engine kit for now.

Dit zou het dus moeten worden...
So this should be it...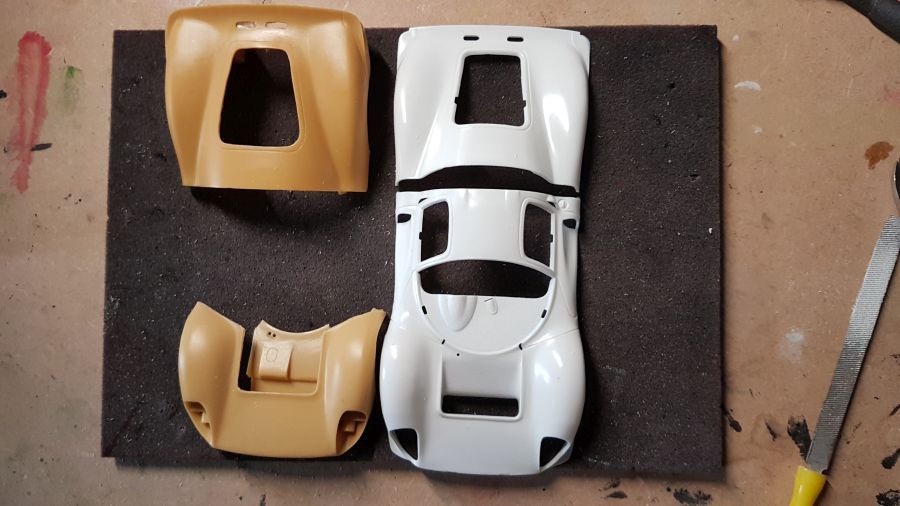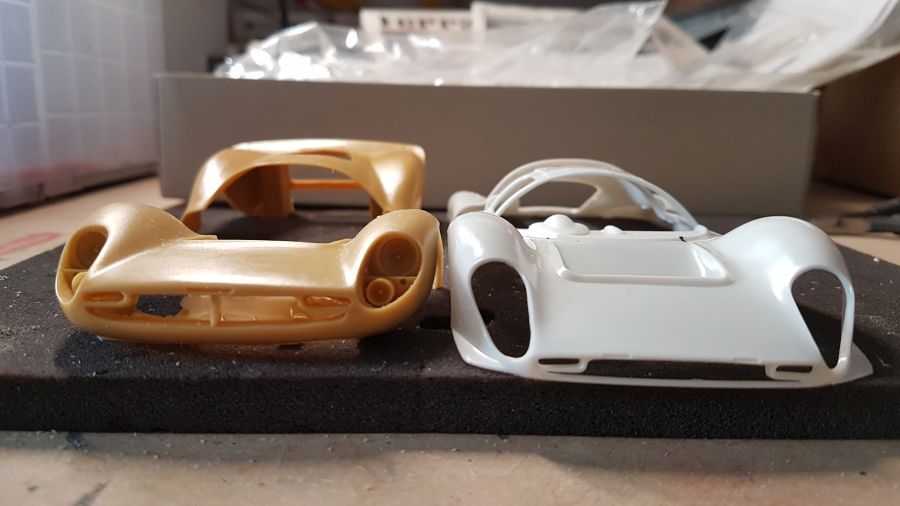 Eerst kijken waar de snijlijnen moeten komen...  Lastig.
First have a look where to cut... Not easy.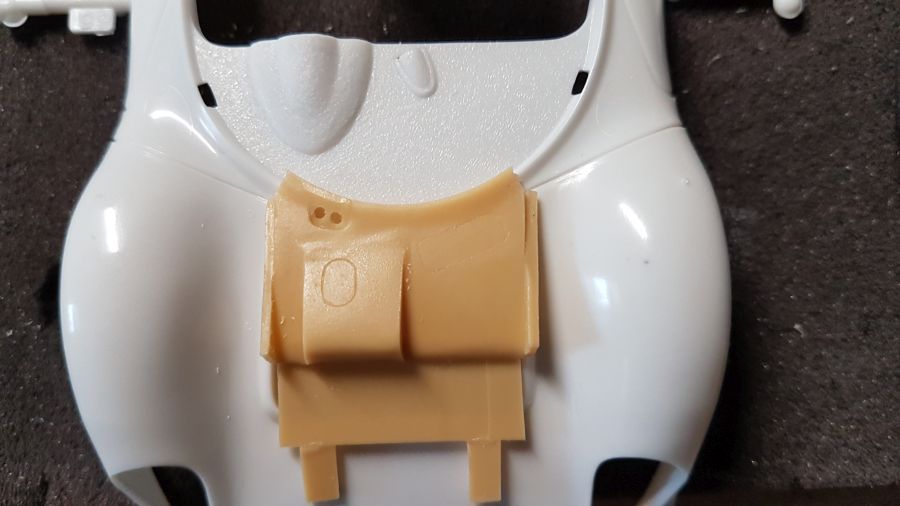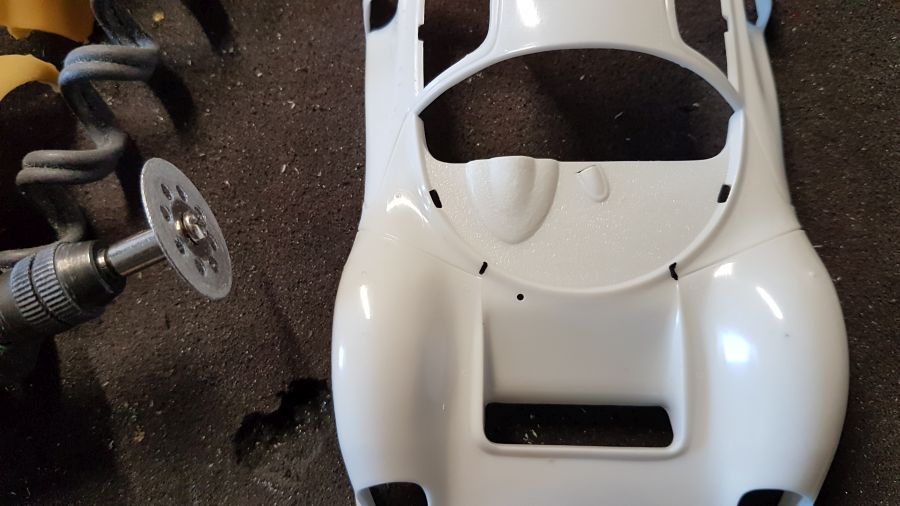 Daar gaat ie...
There we go...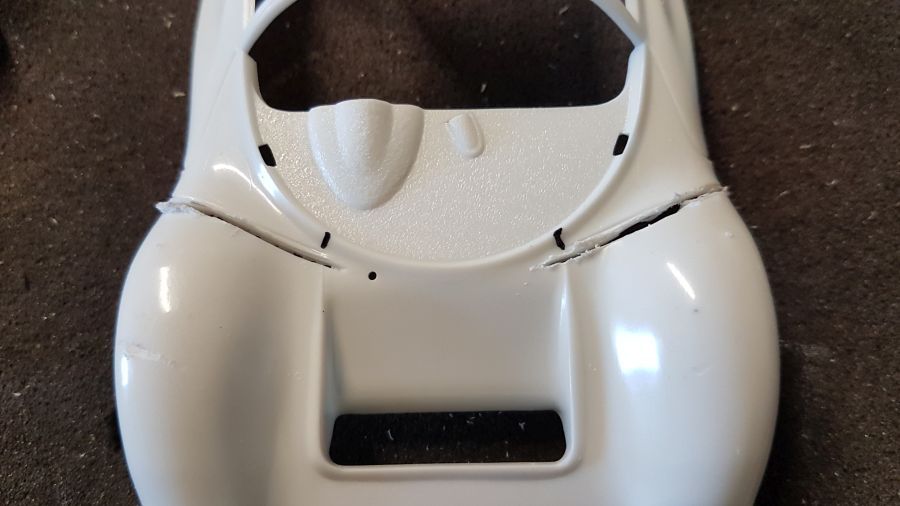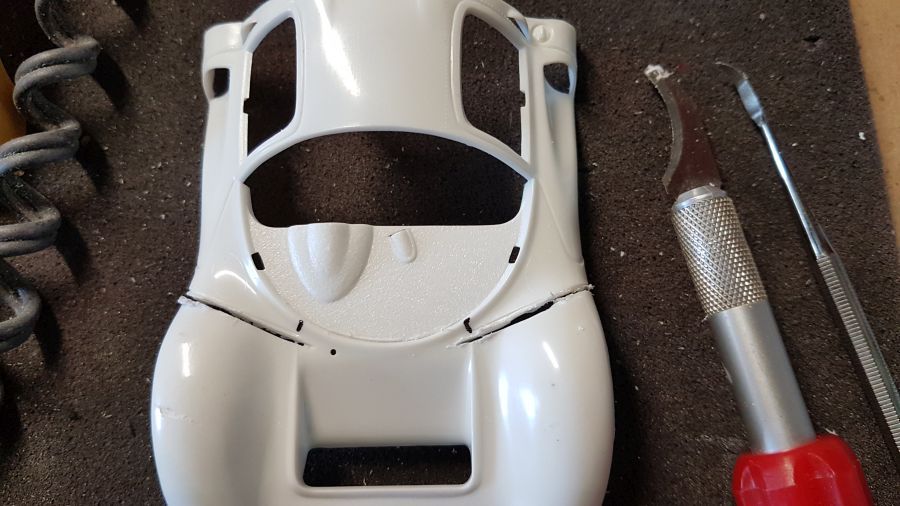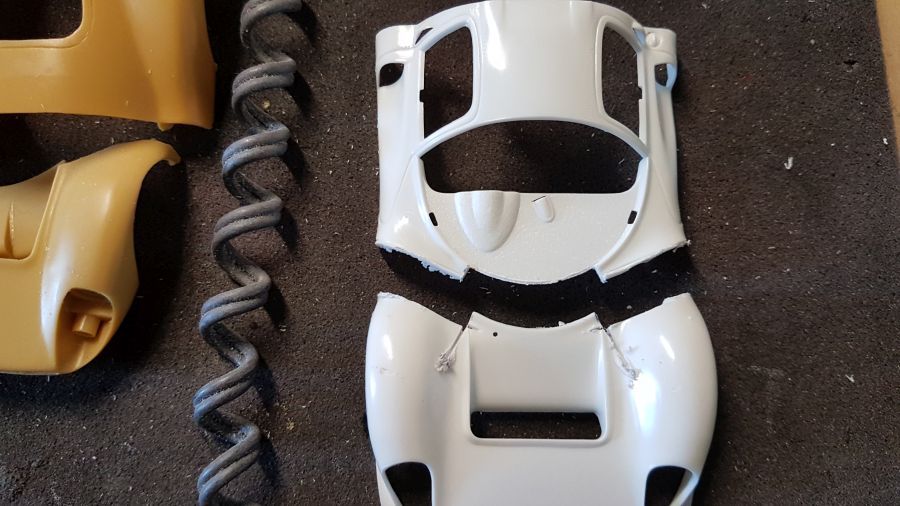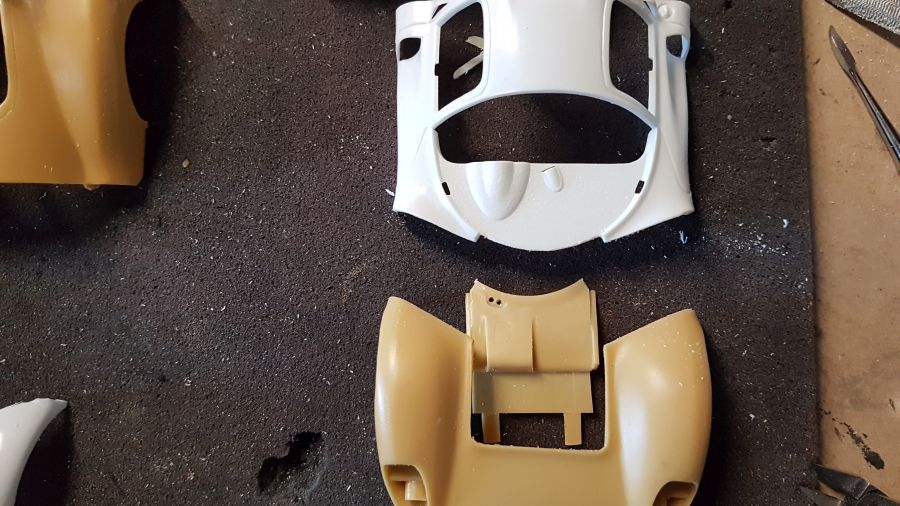 Iets teveel mijn focus op het dashboard gehad... Dit moet opgevuld...
I was focussing too much to the dashboard... This needs filling...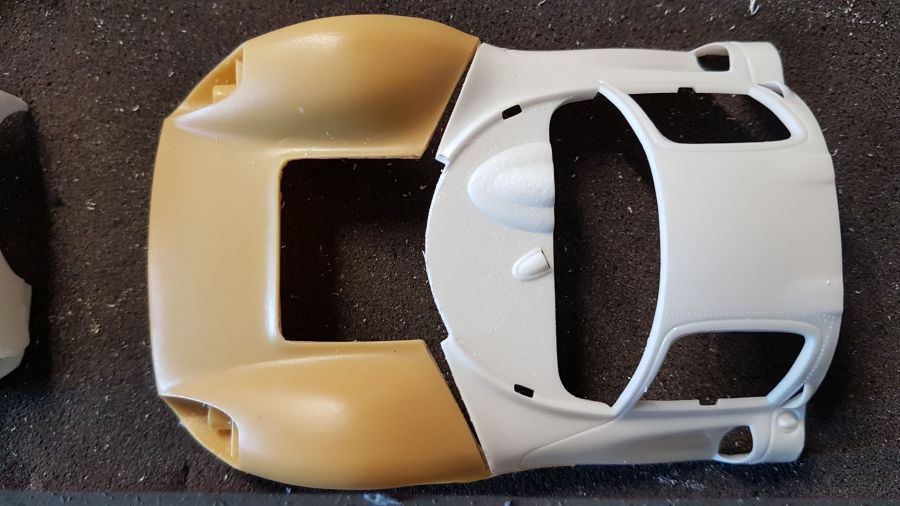 Wanneer jij de conversie doet zou ik dus zo snijden.
So if you are doing the conversion i would cut like this.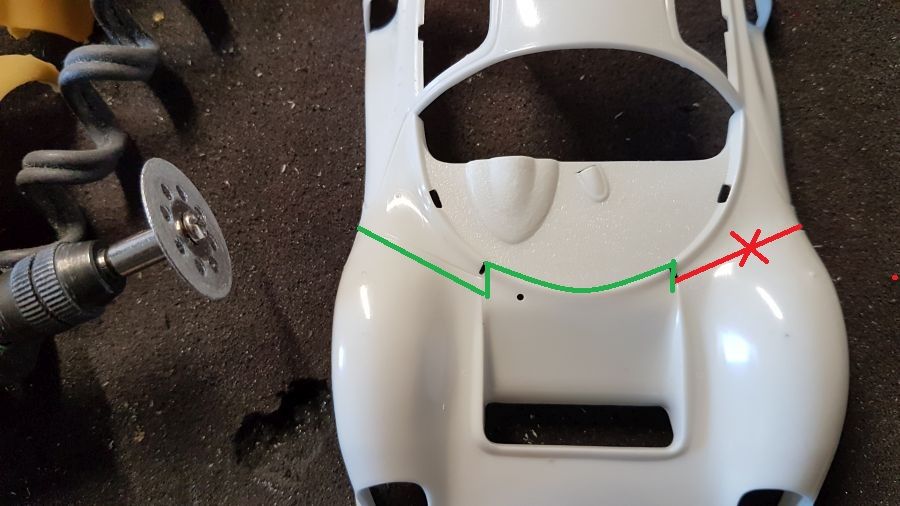 Ik vul het op met wat strip van Evergreen en later wat putty. Dan op maat maken met een vijl.
I fill it with some Evergreen strips and later some putty. Then file it to size.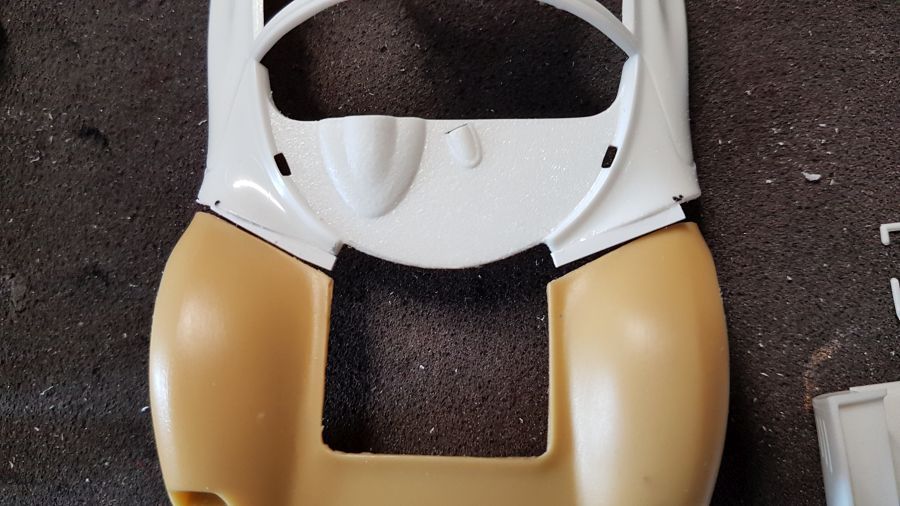 Om alles goed uit te lijnen gebruik ik de bodemplaat. 
To be able to line up everything i will use the floor.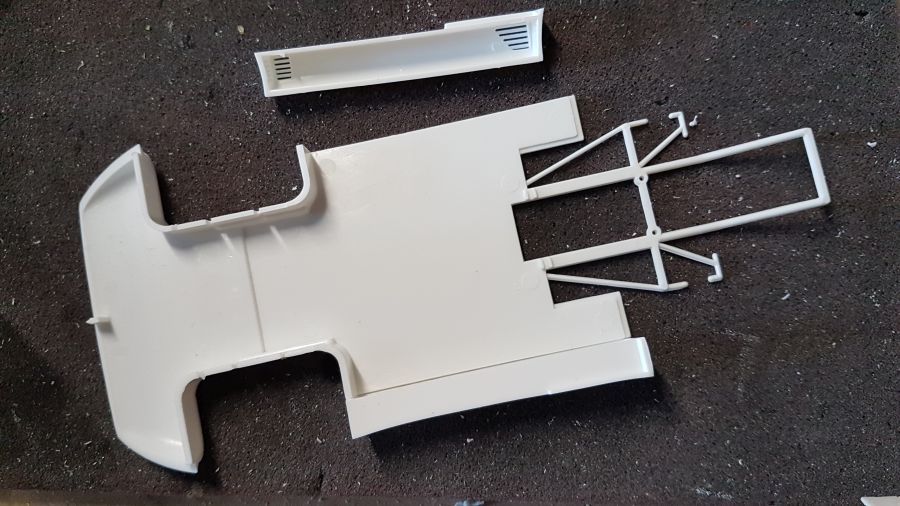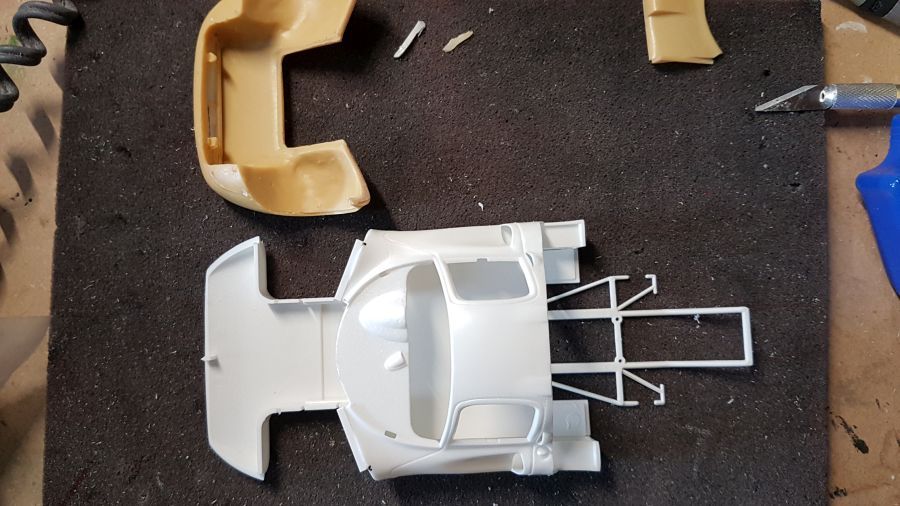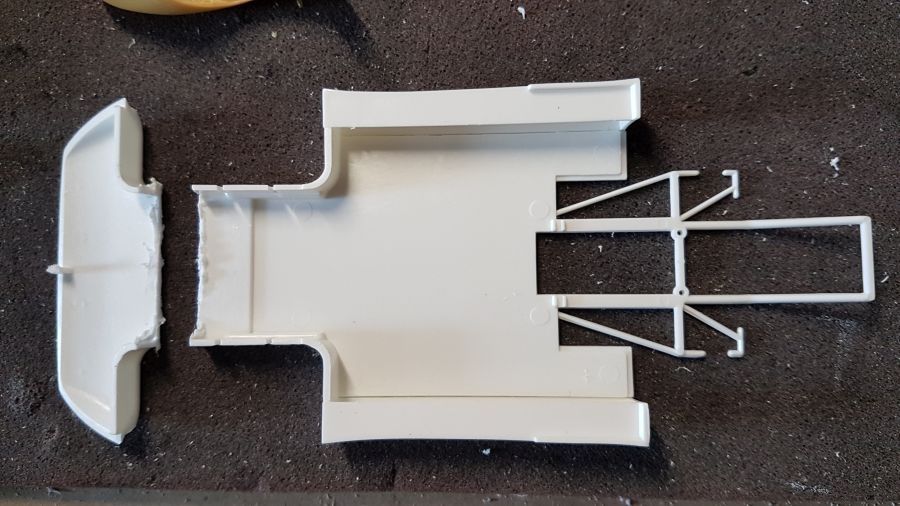 Dat lijkt erop...
That's better...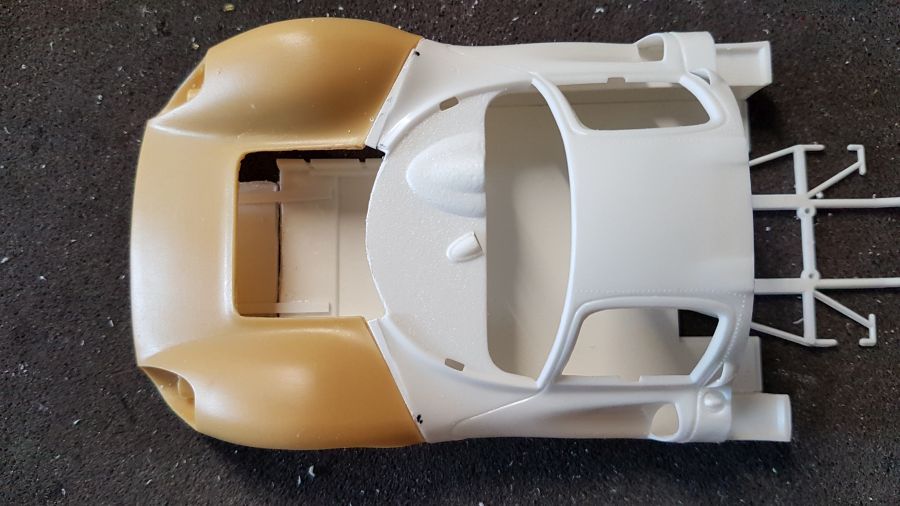 De achterklep is een ander verhaal.... 
The rear cover is a different story....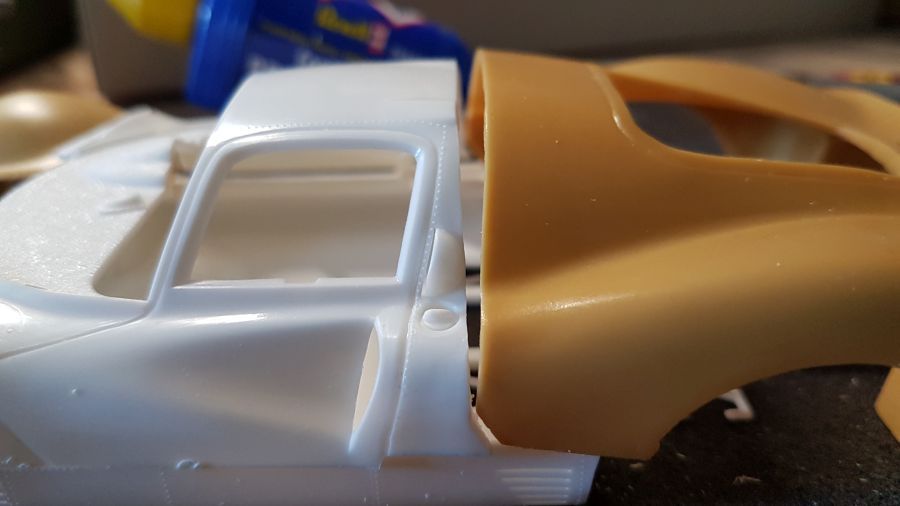 Opties bekijken hoe dit het beste passend kan worden gemaakt.
Looking at options how to make this fit.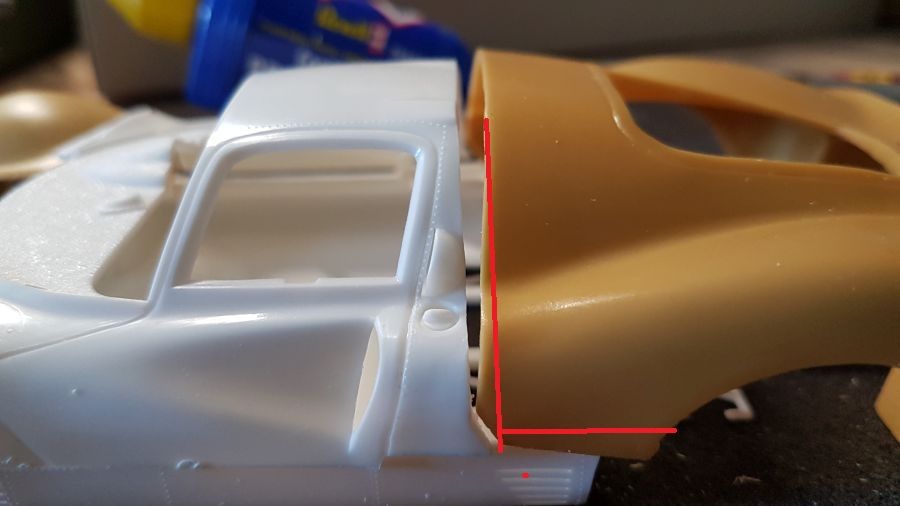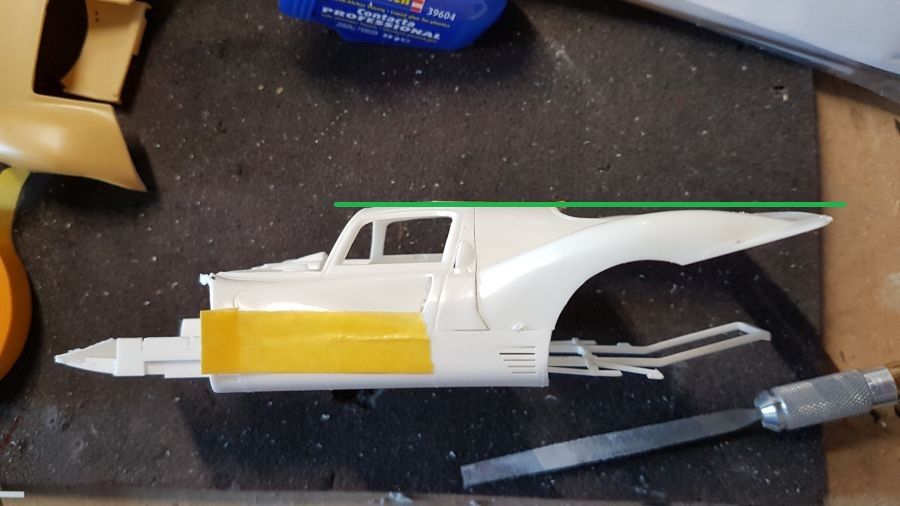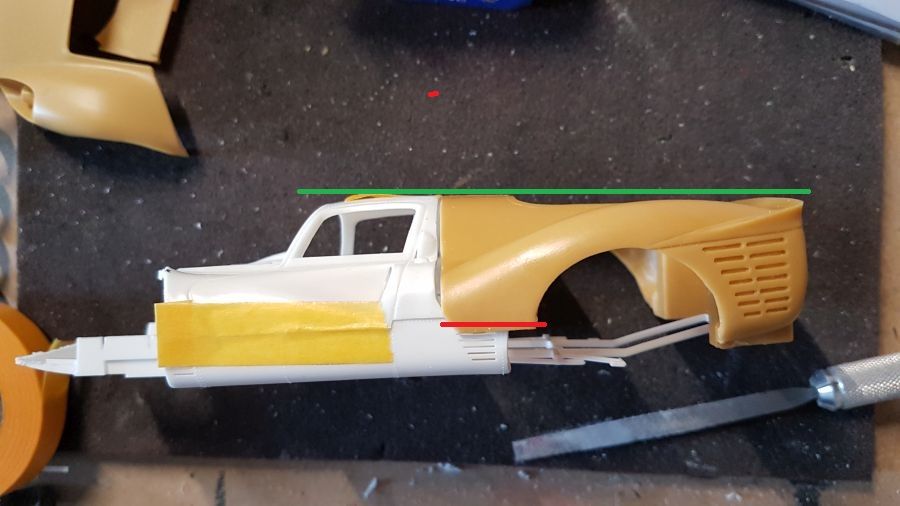 Het inkorten is gedan in de volgorde groen, rood, blauw.
The cutting has been done in order of green, red, blue.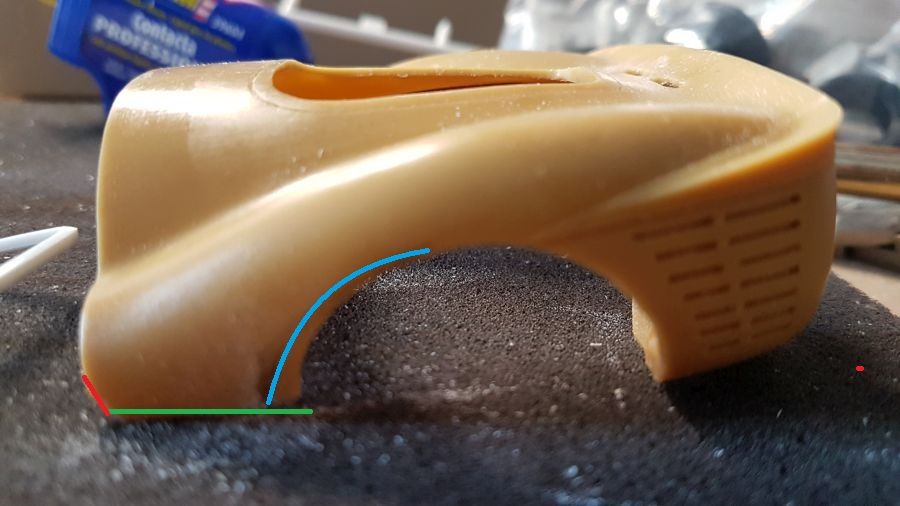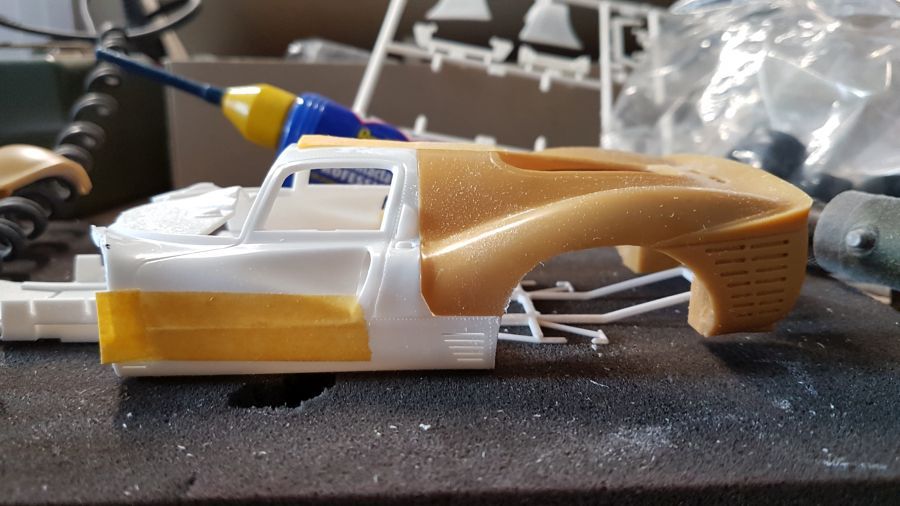 De 2 ventilatieopeningen moeten verdwijnen...
The 2 vent openings need to be removed...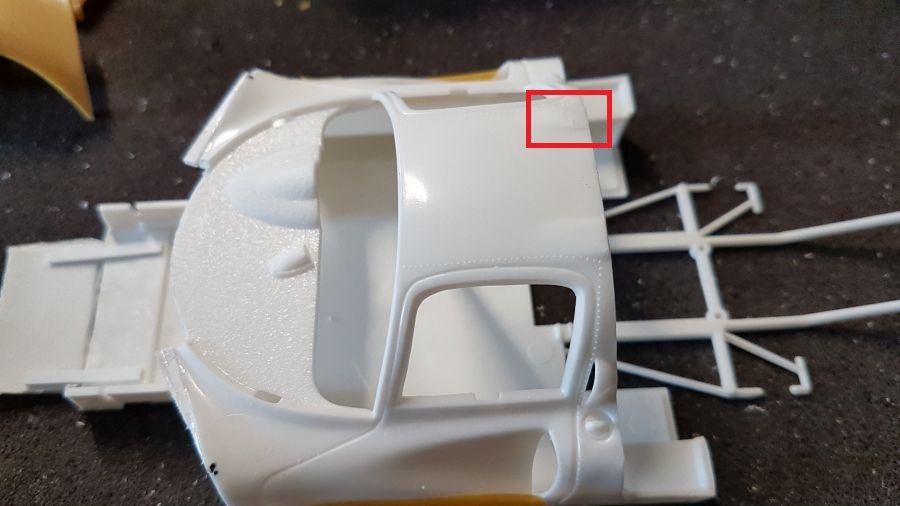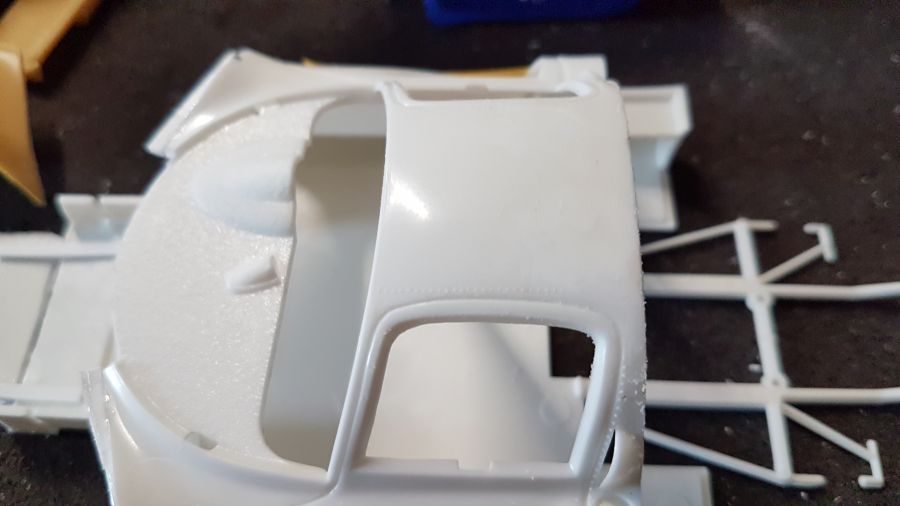 Weer wat werk aan de neus...
Working on the nose again...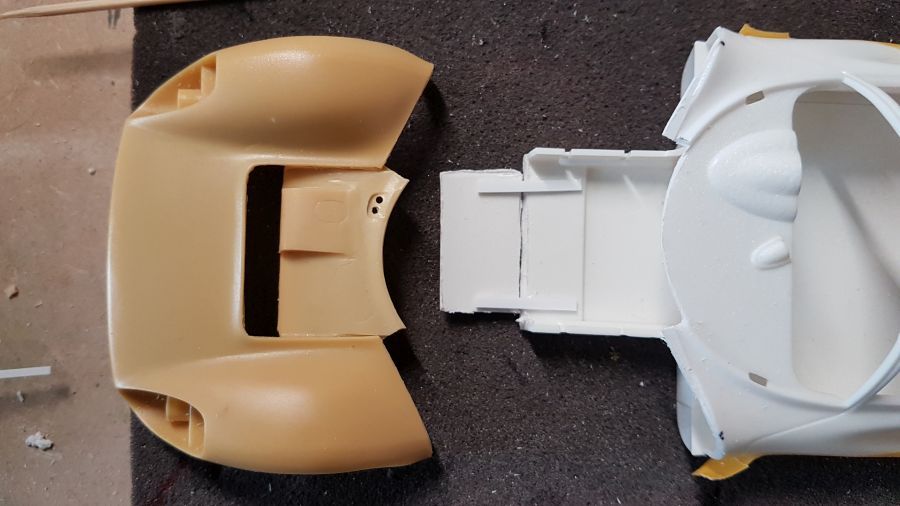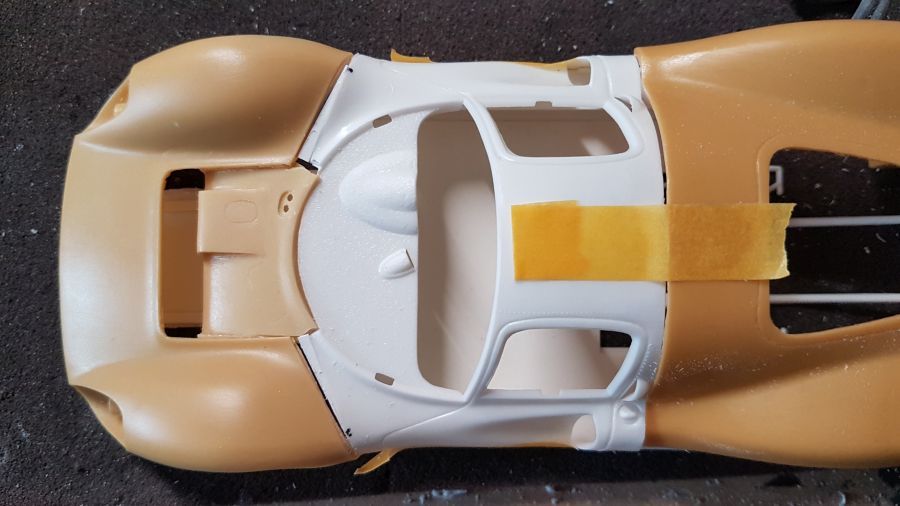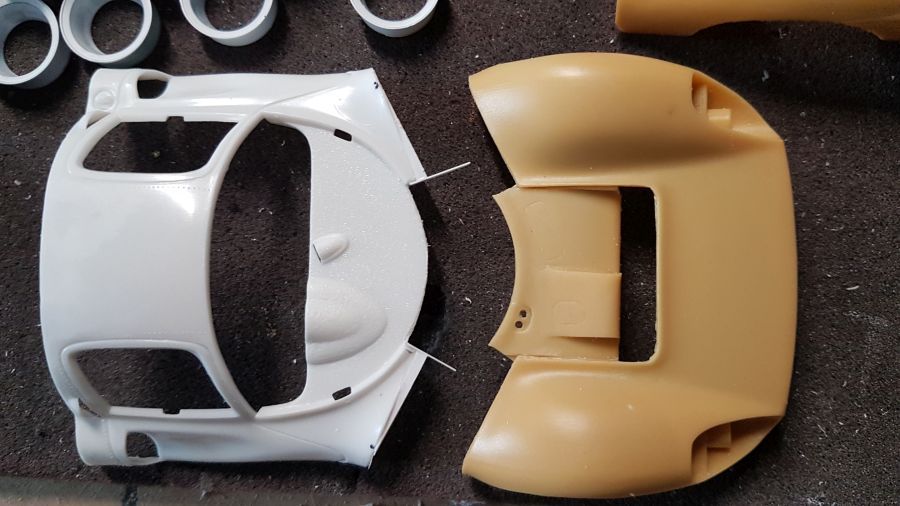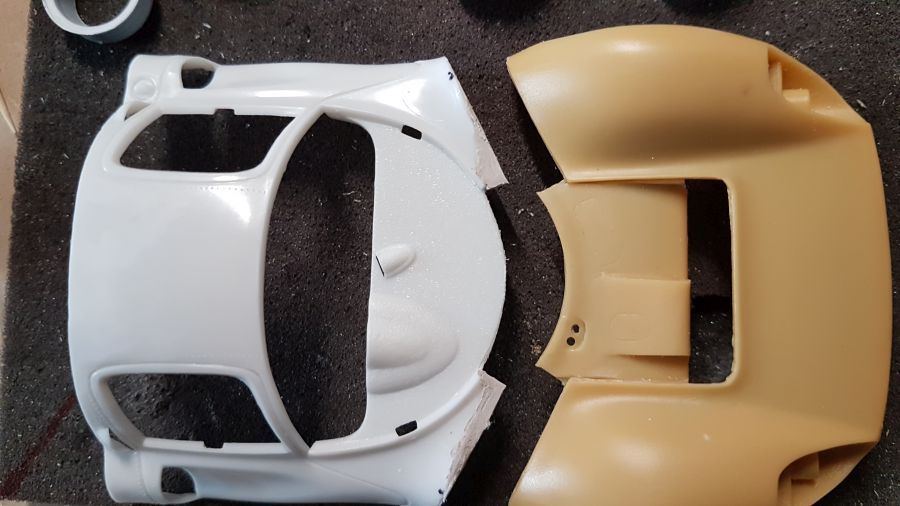 Wat putty op een deuk...
Some putty added to a dent...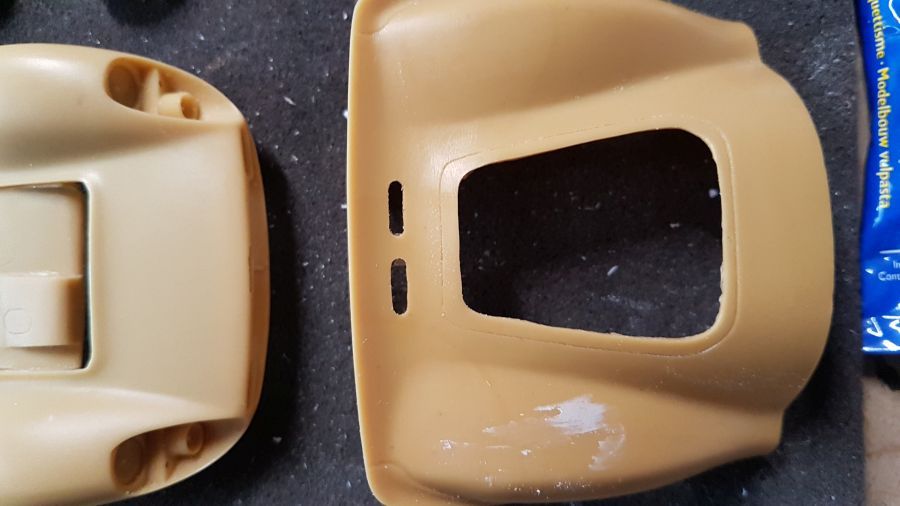 Het chassis krijgt de eerste kleur..
The chassis gets it's first colour..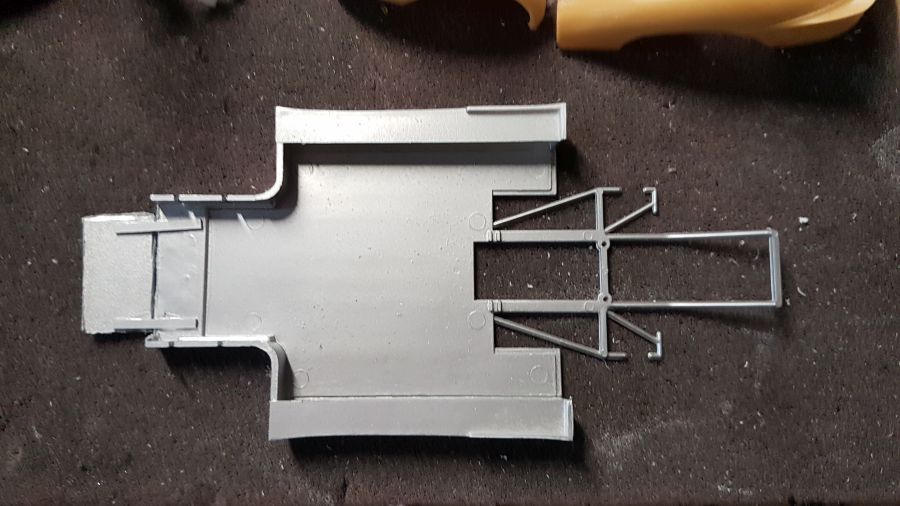 Intussen vast de velgen spuiten...
In the meantime painting the rims...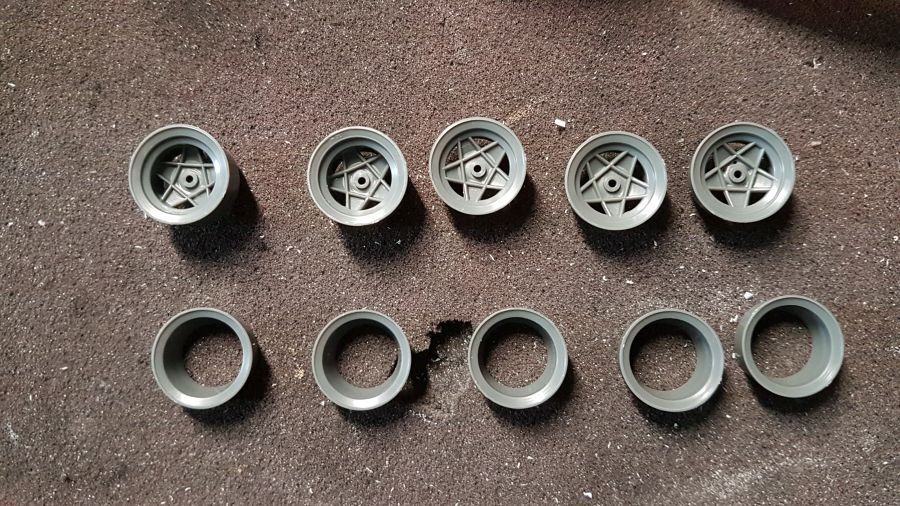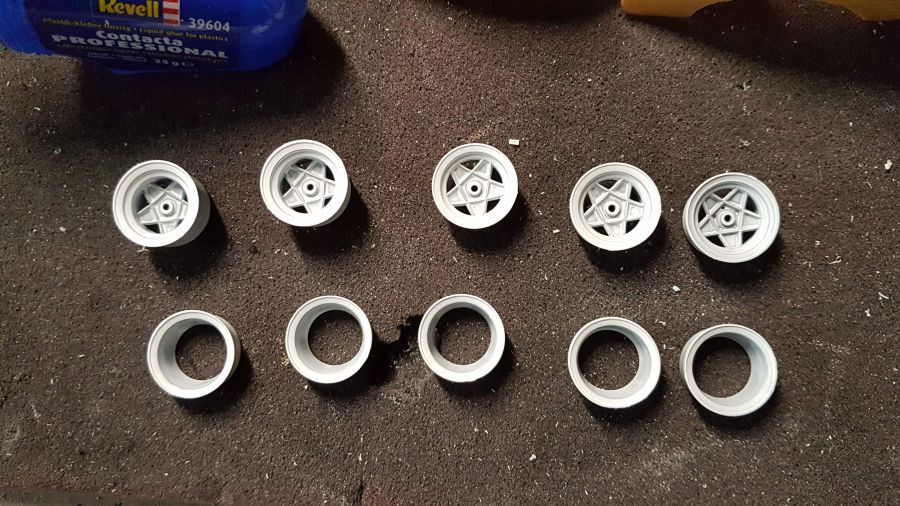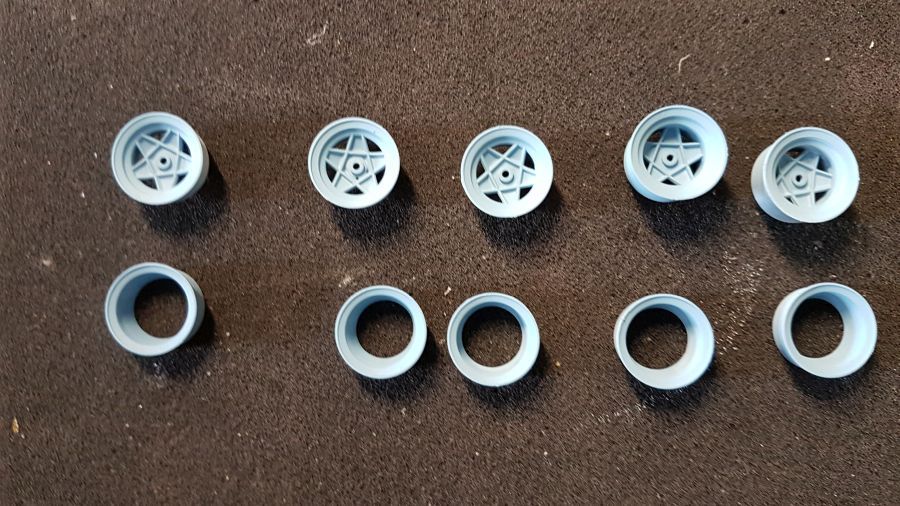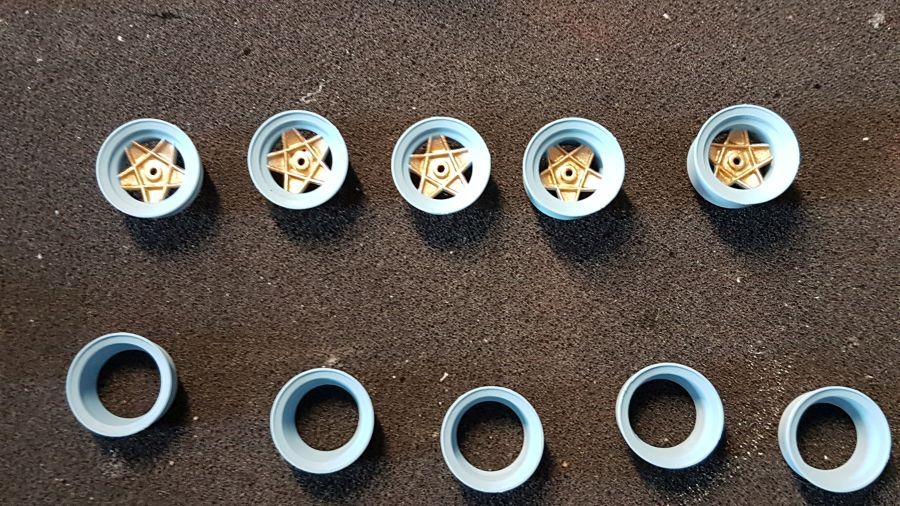 Meer werk aan de body...
More work to the body...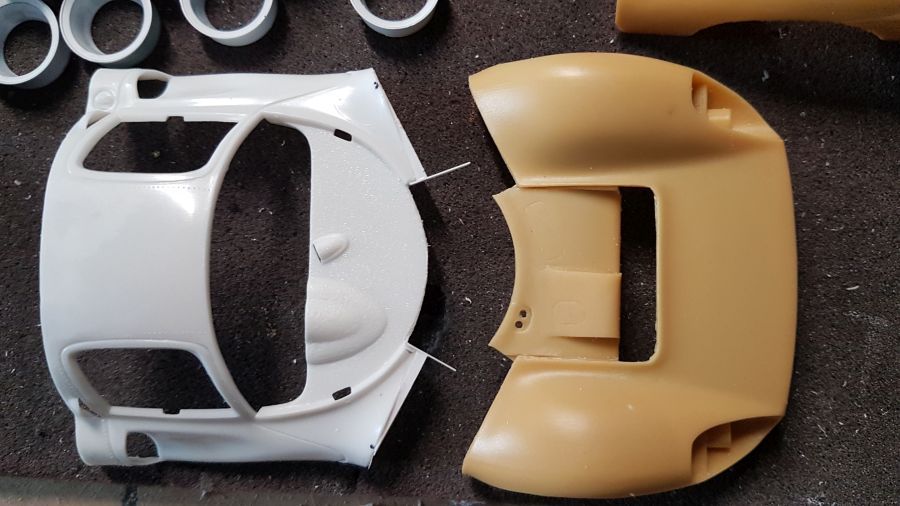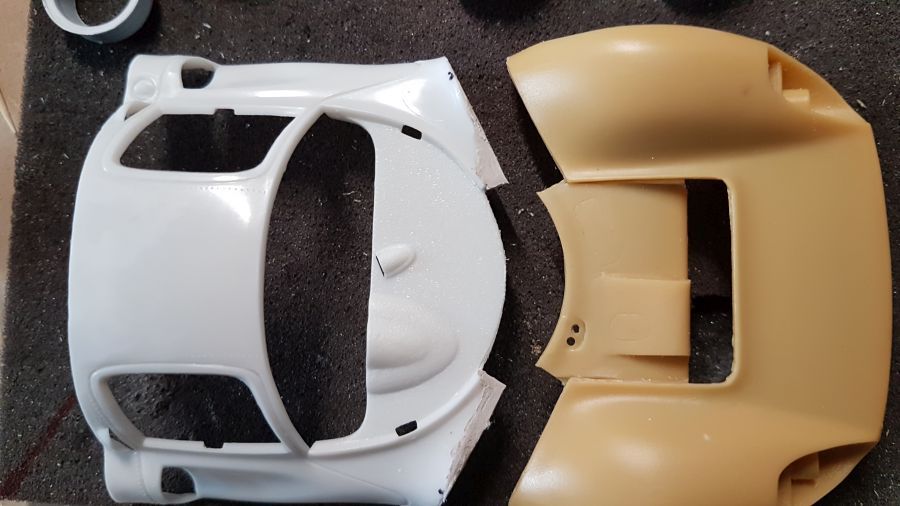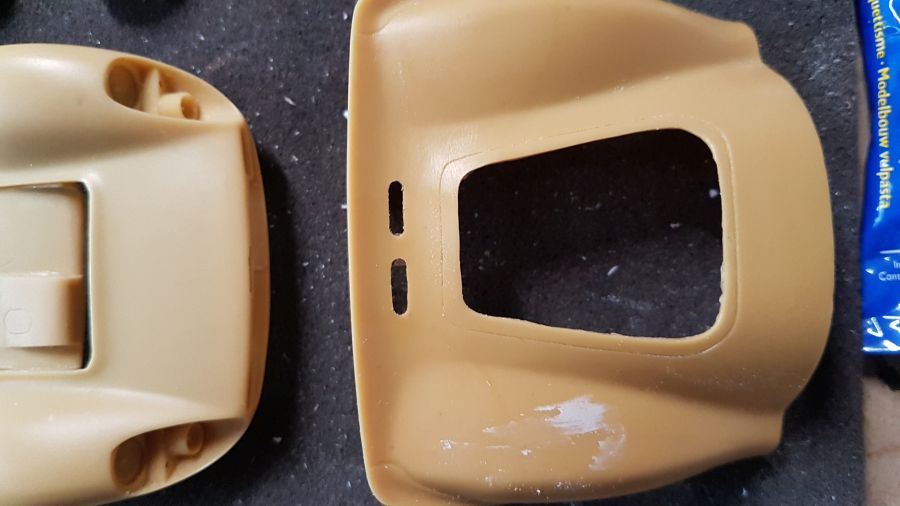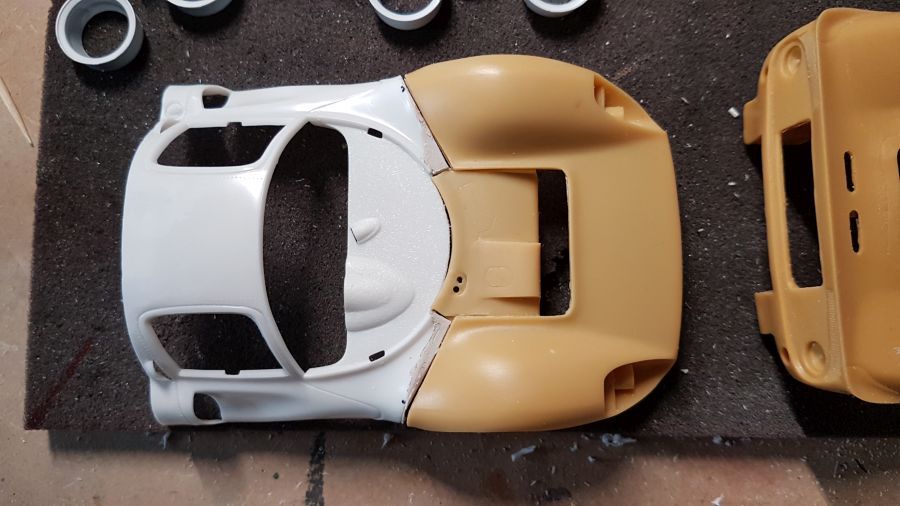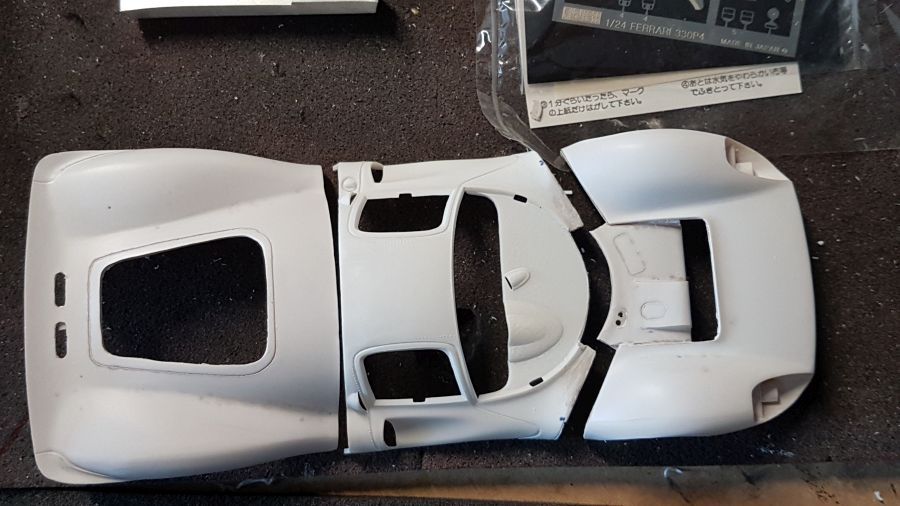 Dit deel krijgt ook wat strip om het meer passend te maken...
This part gets some strips added to make it fit better...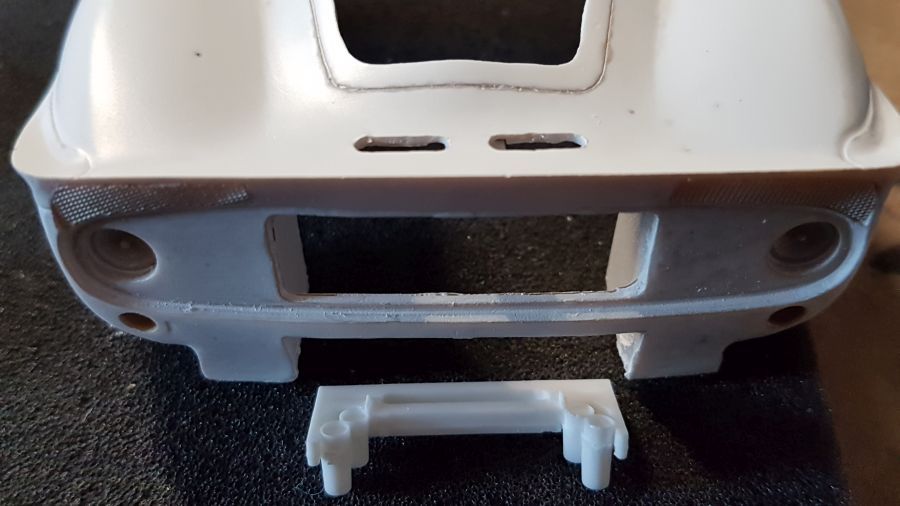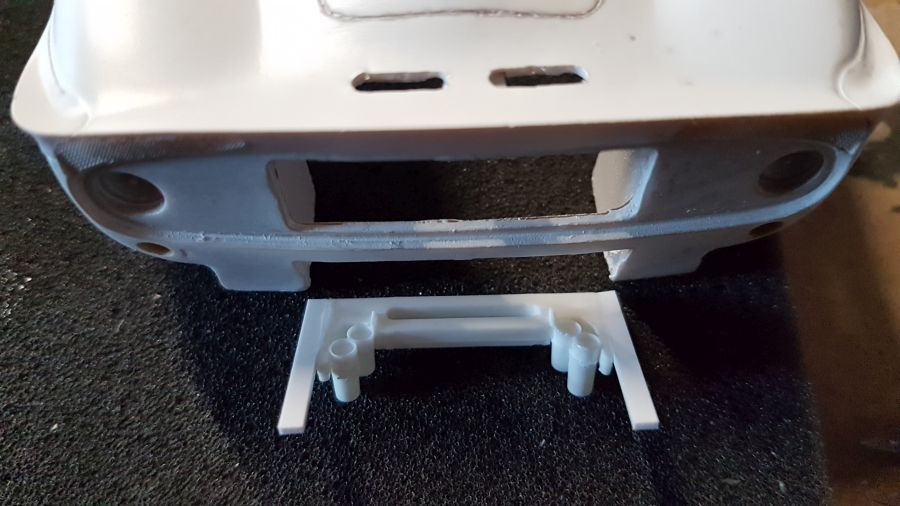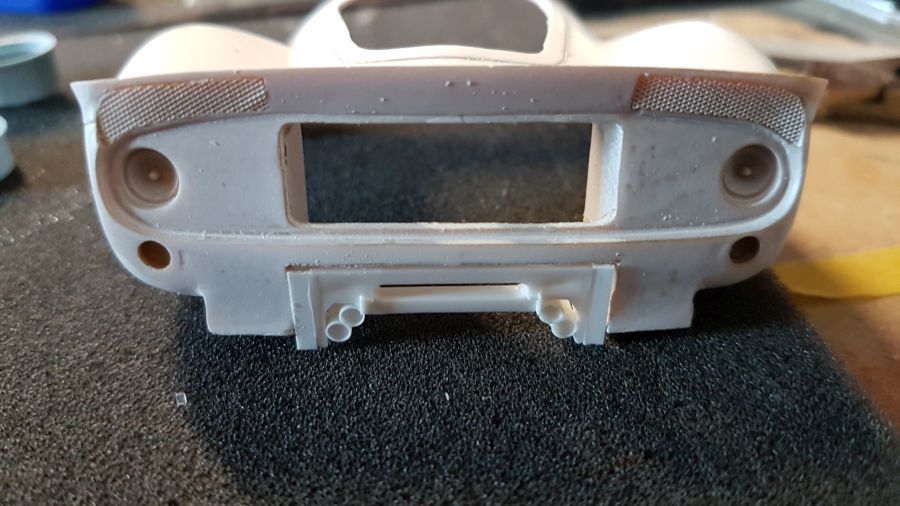 Even een duik in de rommelkist...
Taking a dive in the scrap box...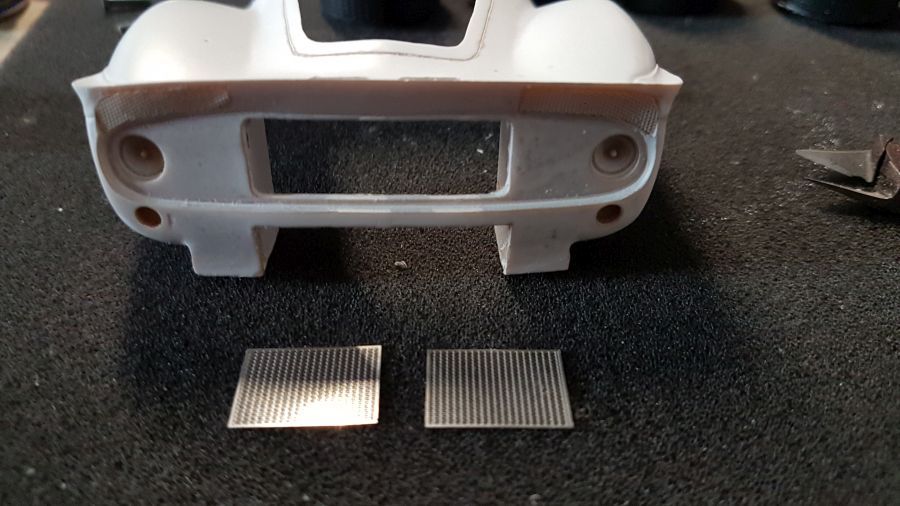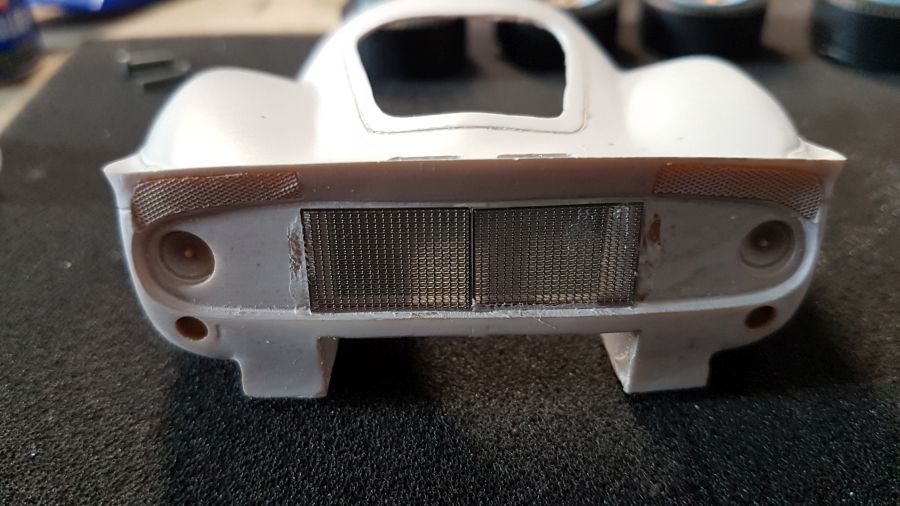 Kleine werkzaamheden aan het interieur...
Small work to the interior...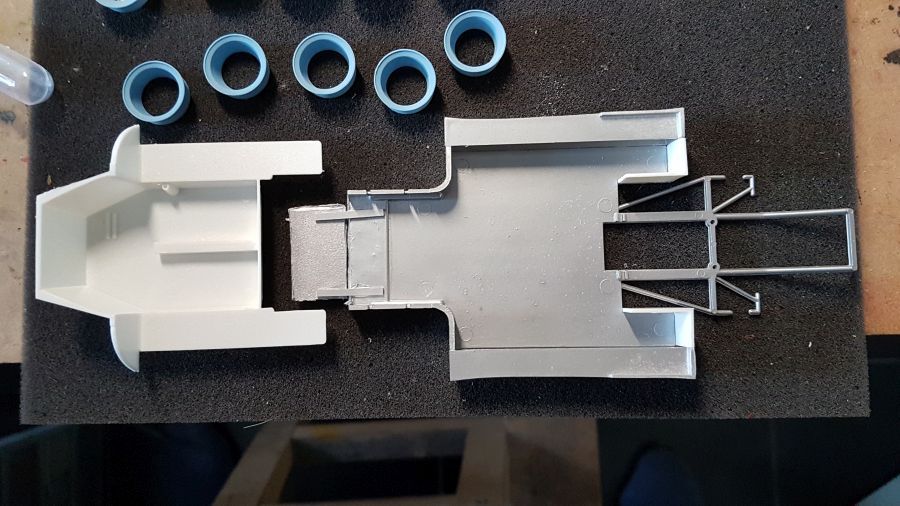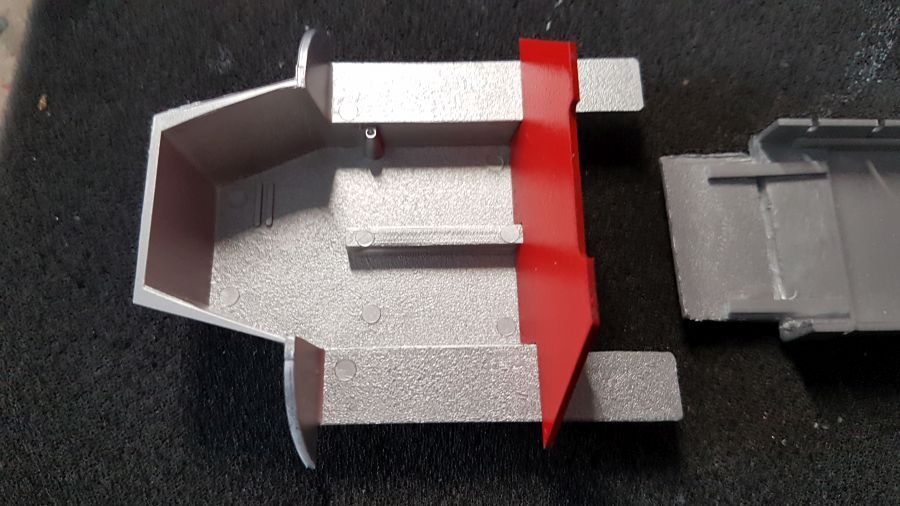 Door met de voorwielophanging...
Next is the front wheel suspension...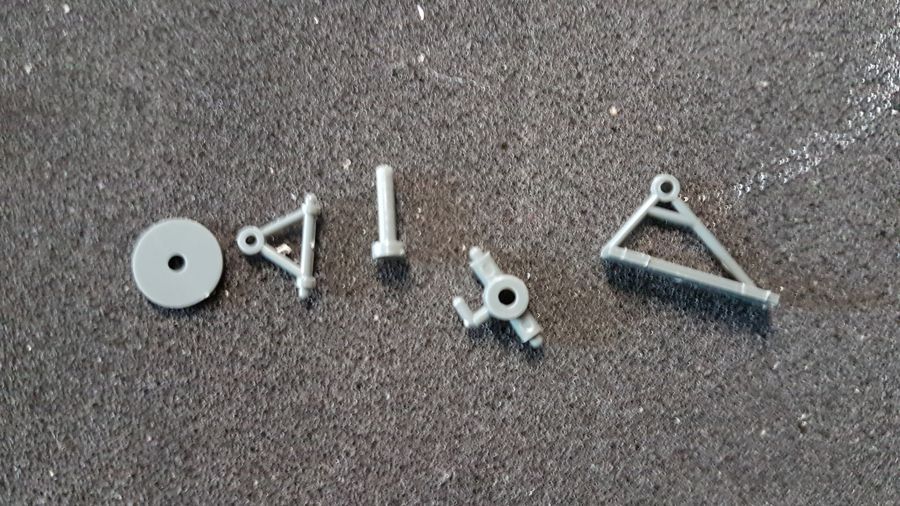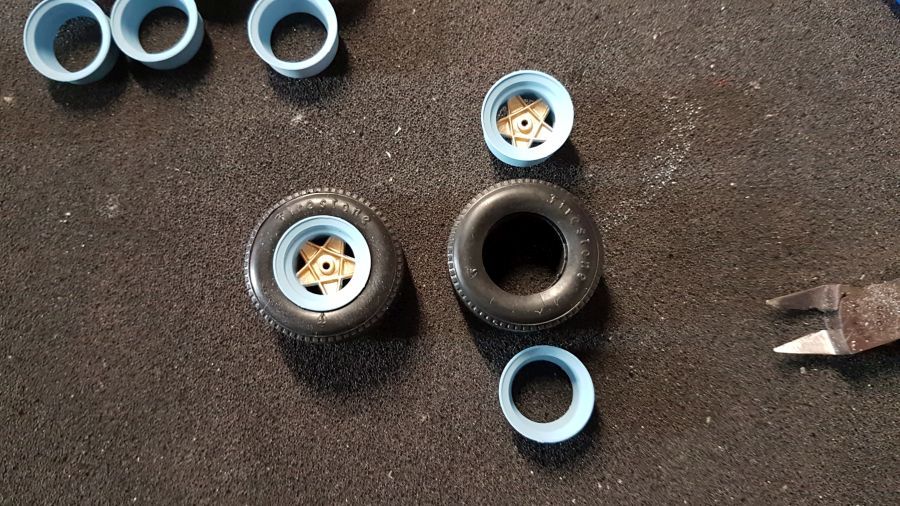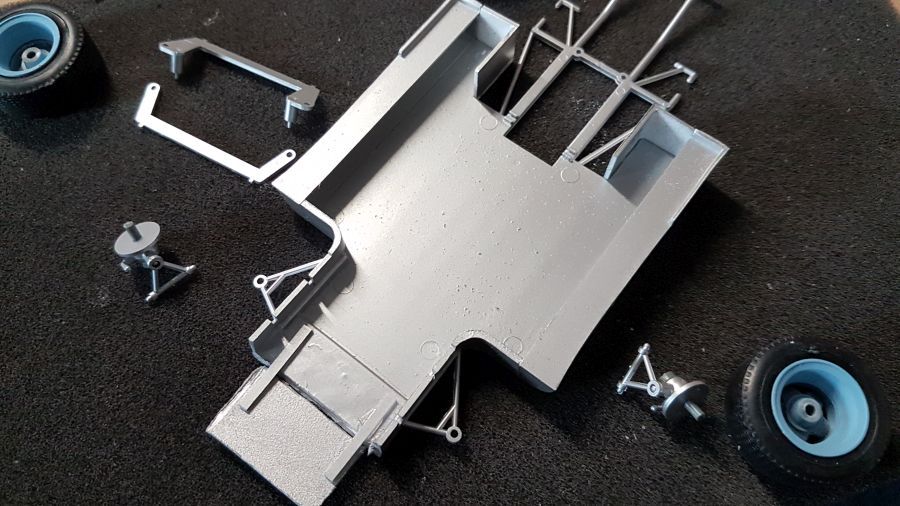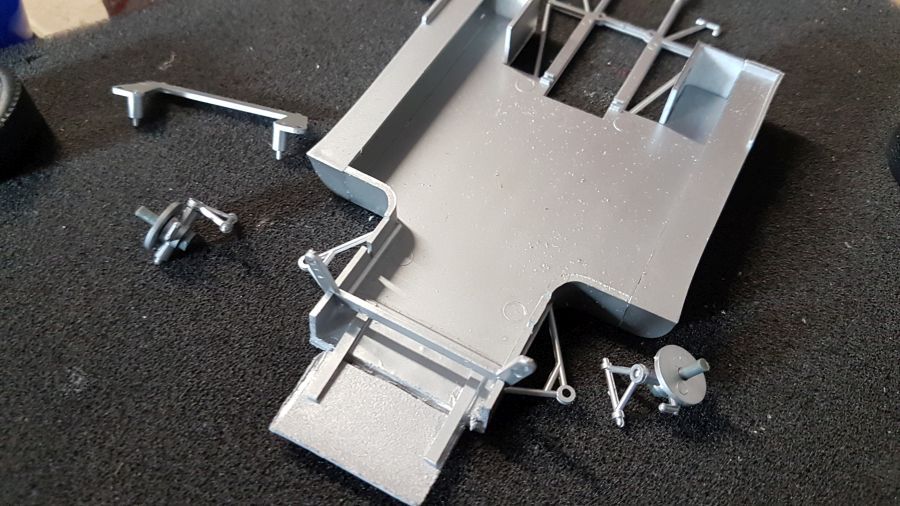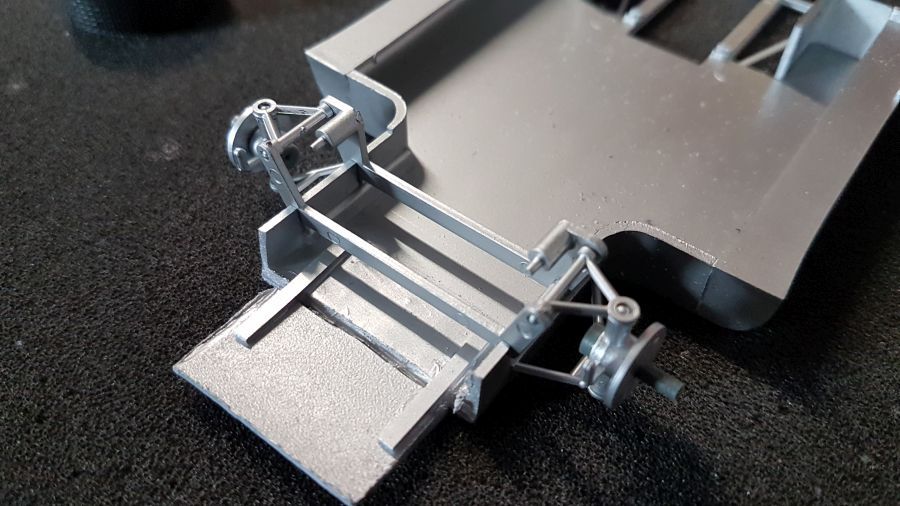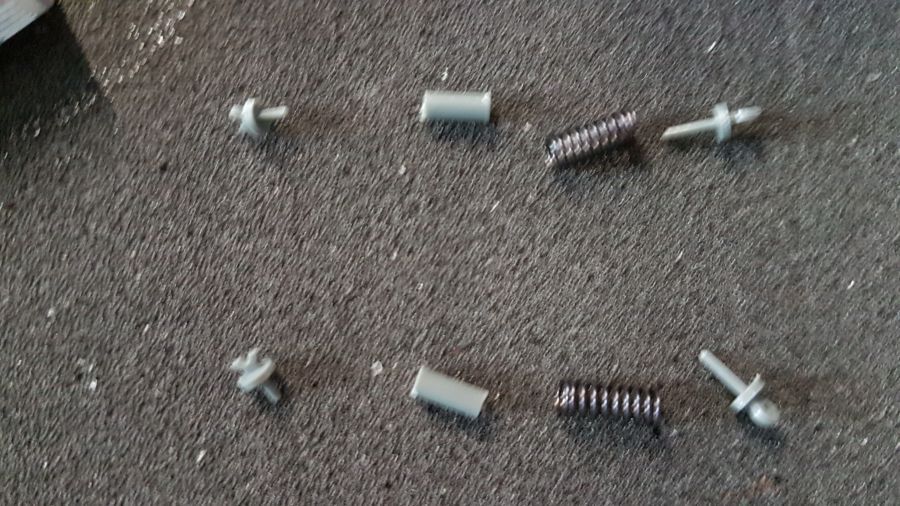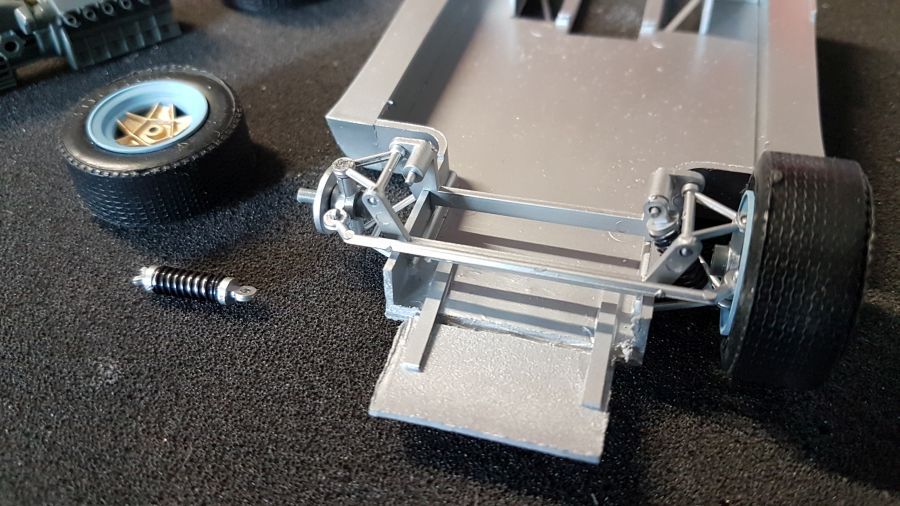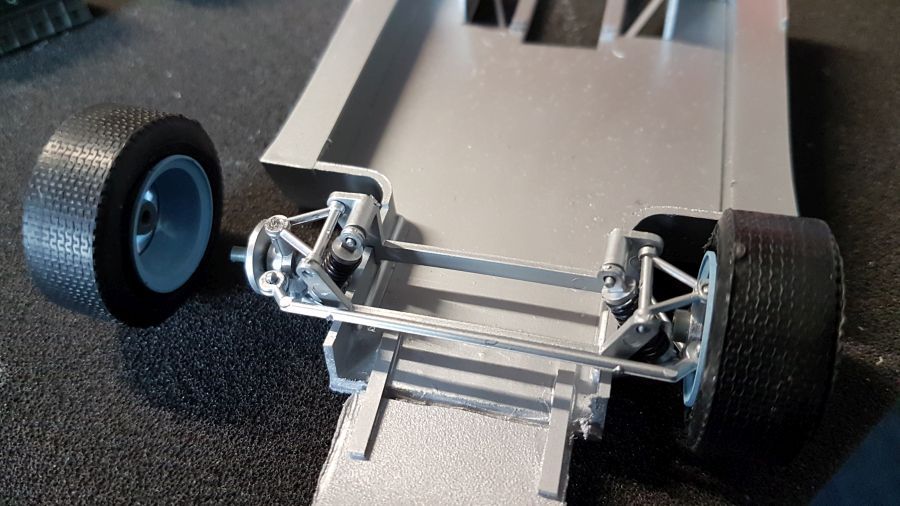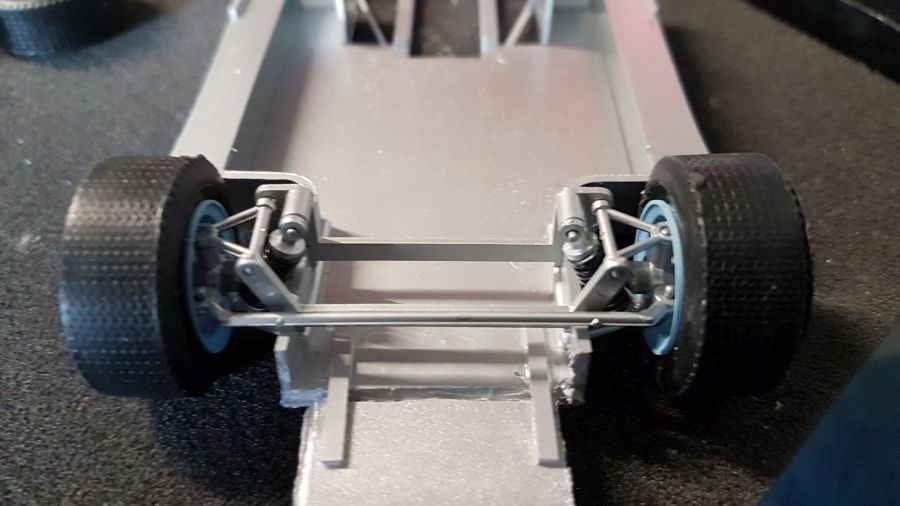 De eerste stappen aan de motor. Deze moet hier en daar wat gewijzigd worden.
The first steps to the engine. It needs some changes.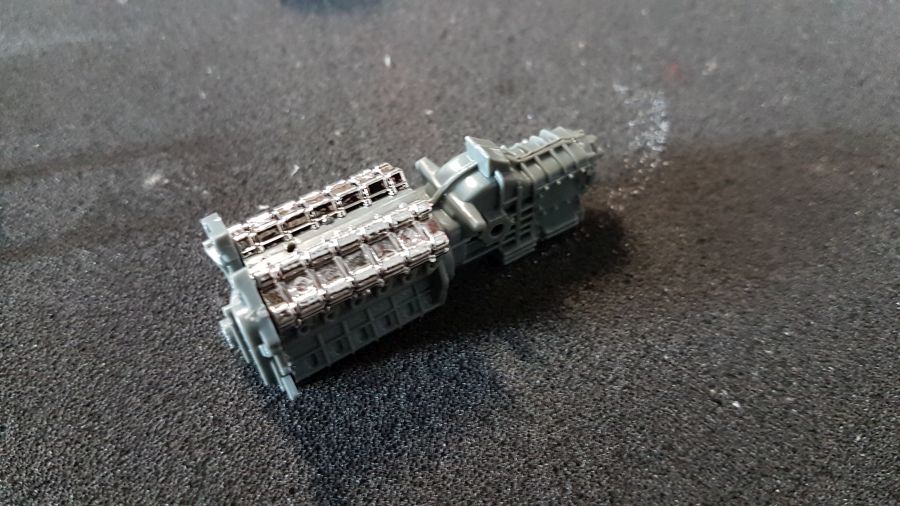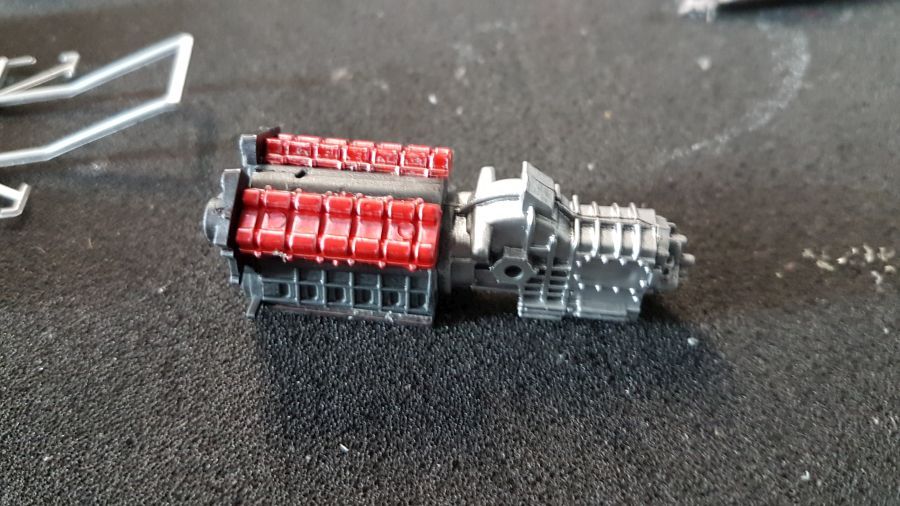 Tijd voor het blauw, Dan kan dat drogen.
Time for some blue. Let it dry.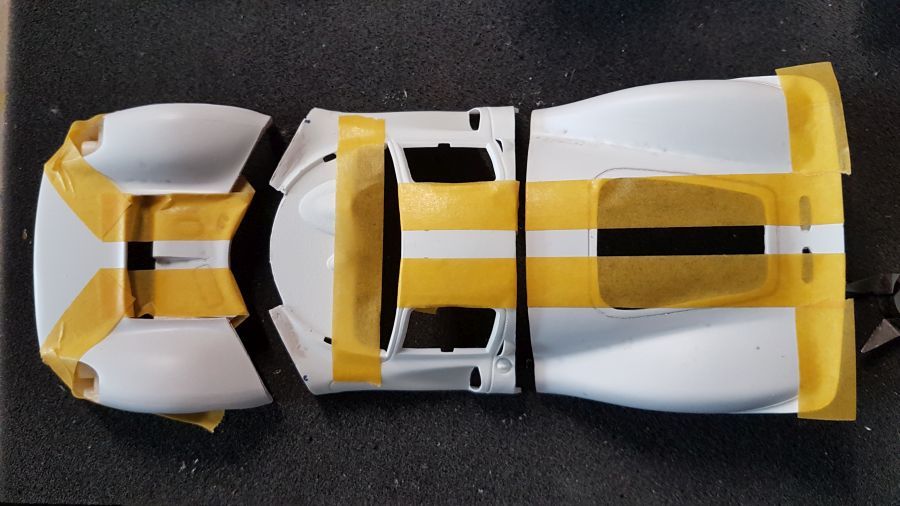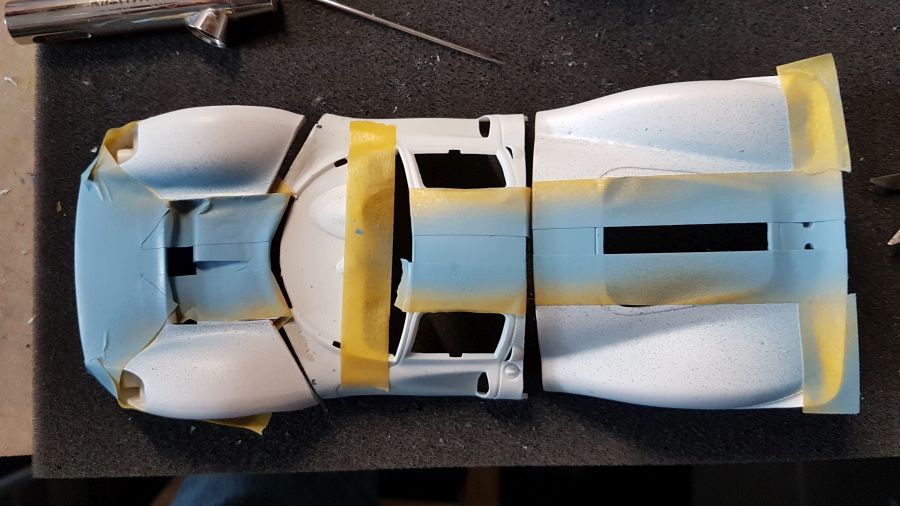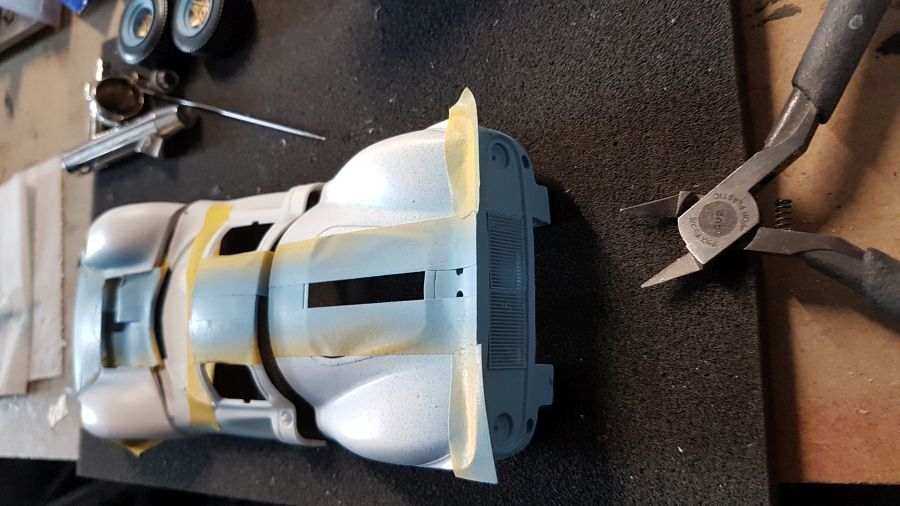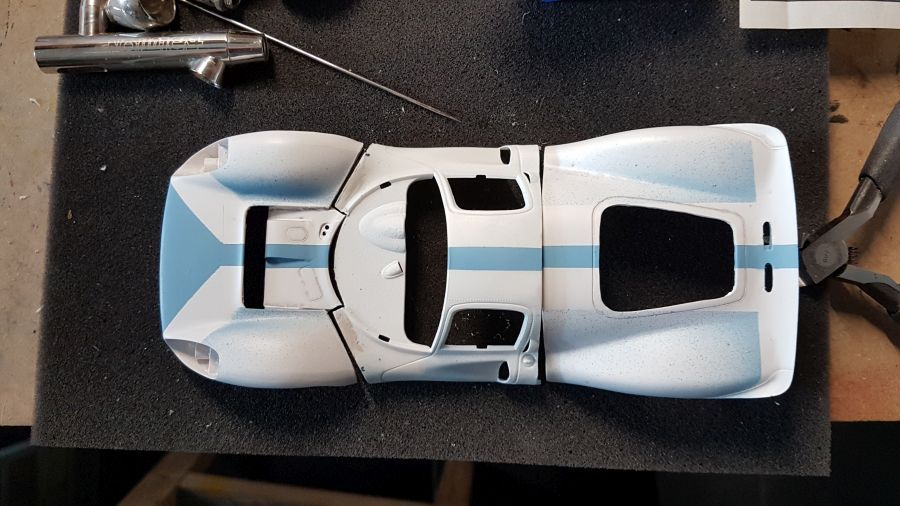 En wat rood voor de pods.
And some red to the pods.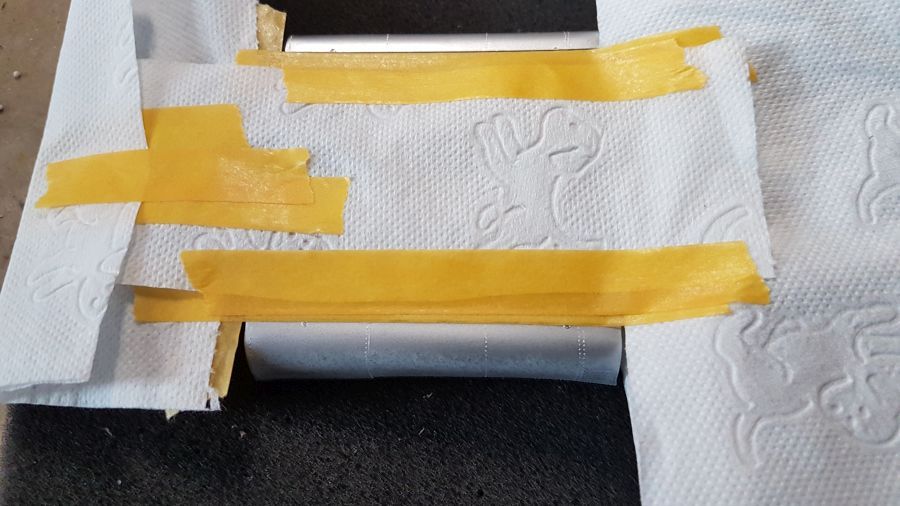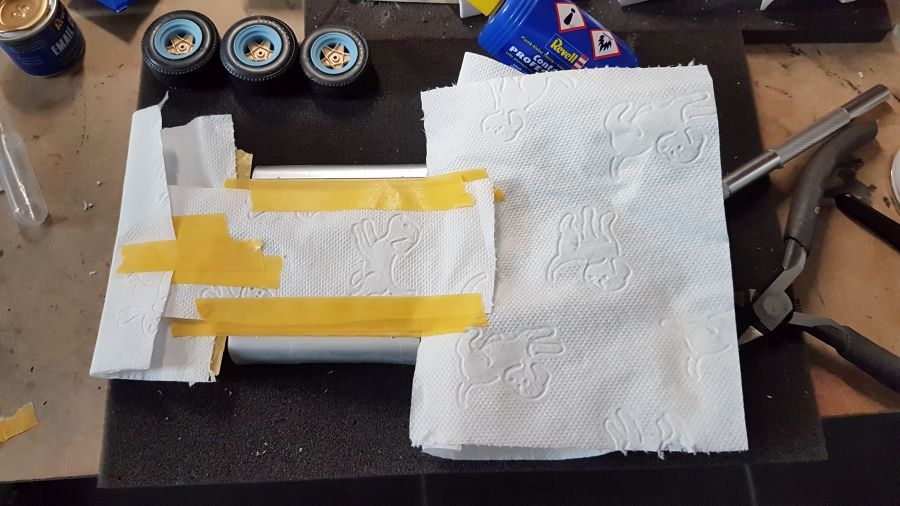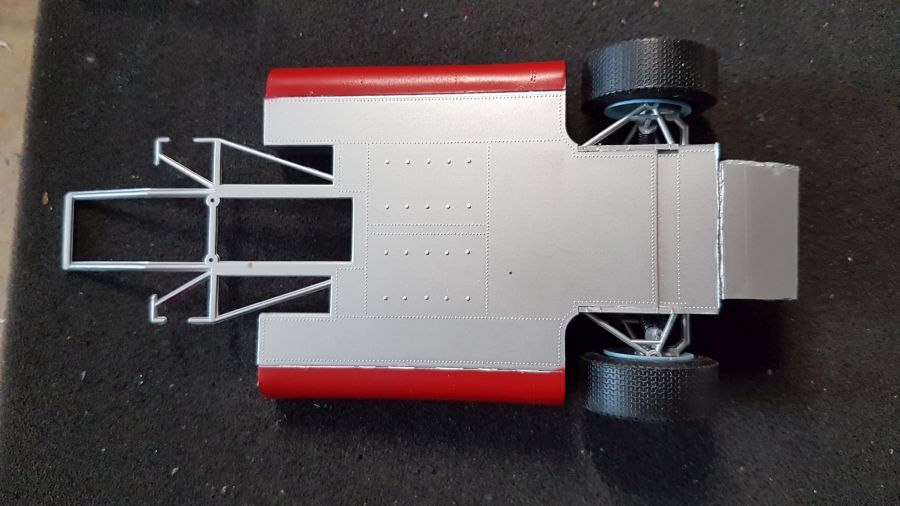 Terug naar de body...
Back to the body...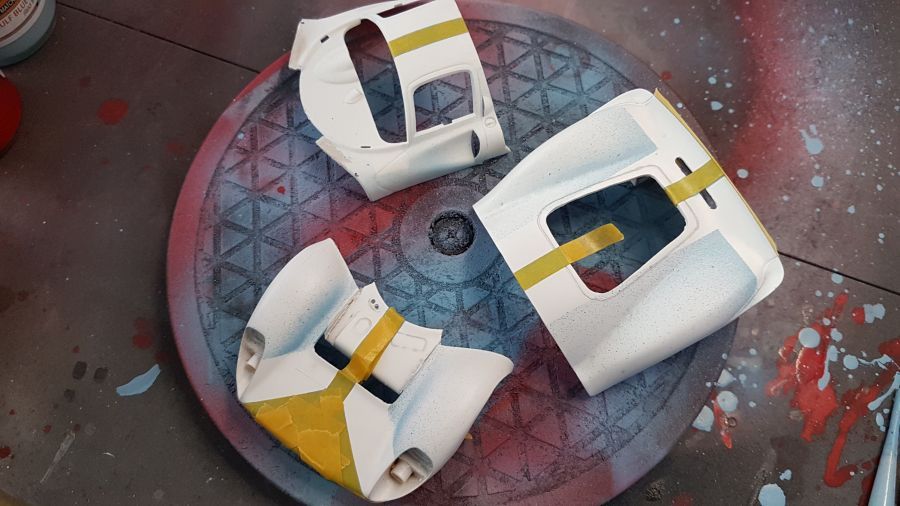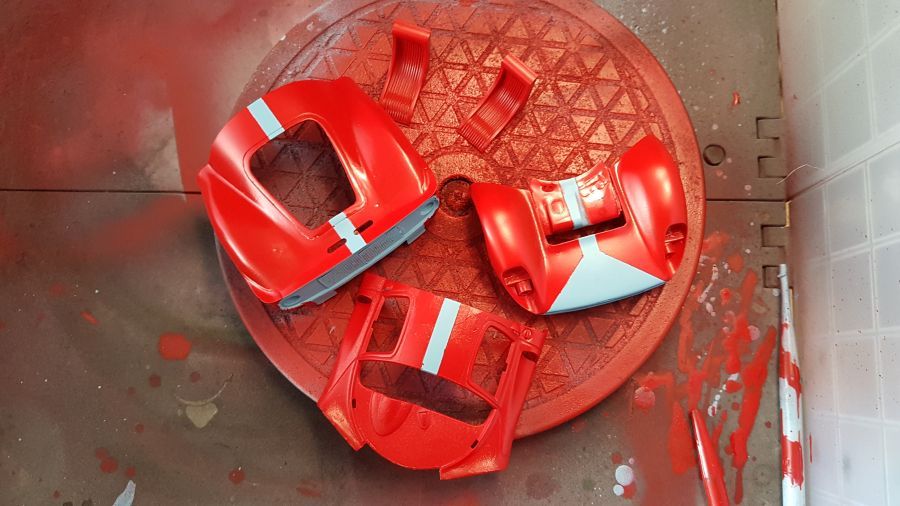 Weer verder met de motor...  Normaal gesproken worden de pijpen op het rode deel geplaatst. De Ferrari 412P had echter een andere uitvoering, aanpassen dus...
To continue with the engine... Normally the pipes would be added to the red part. The Ferrari 412P had a different version, so adjustments wanted...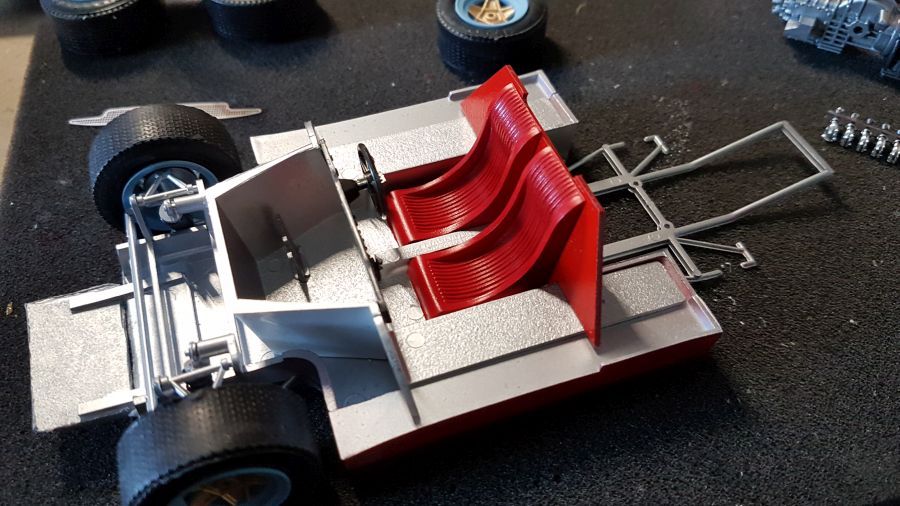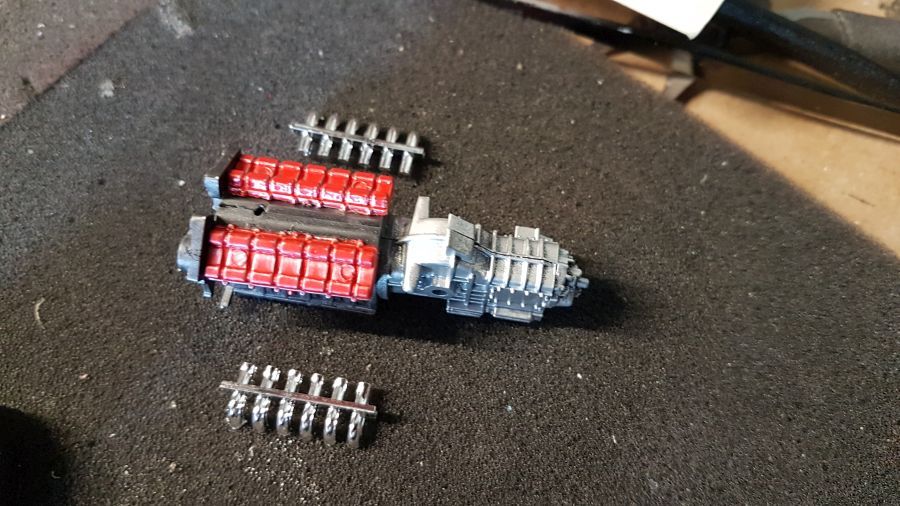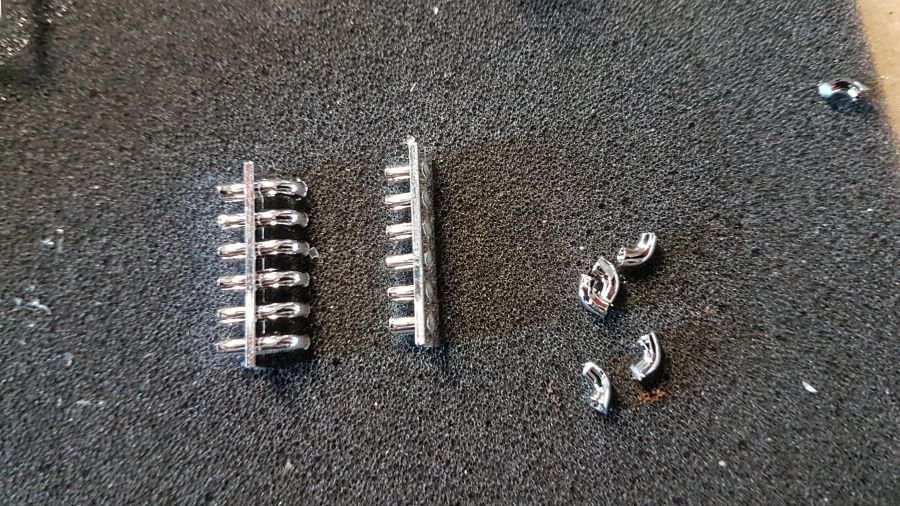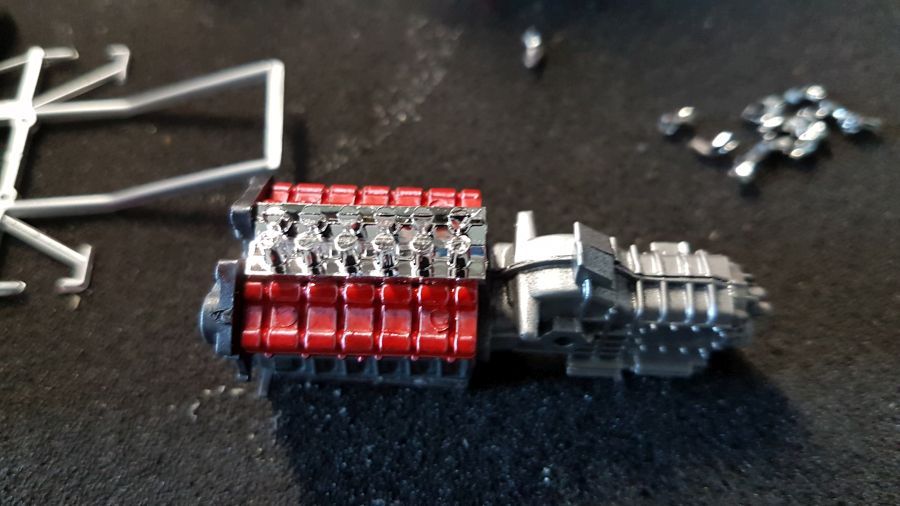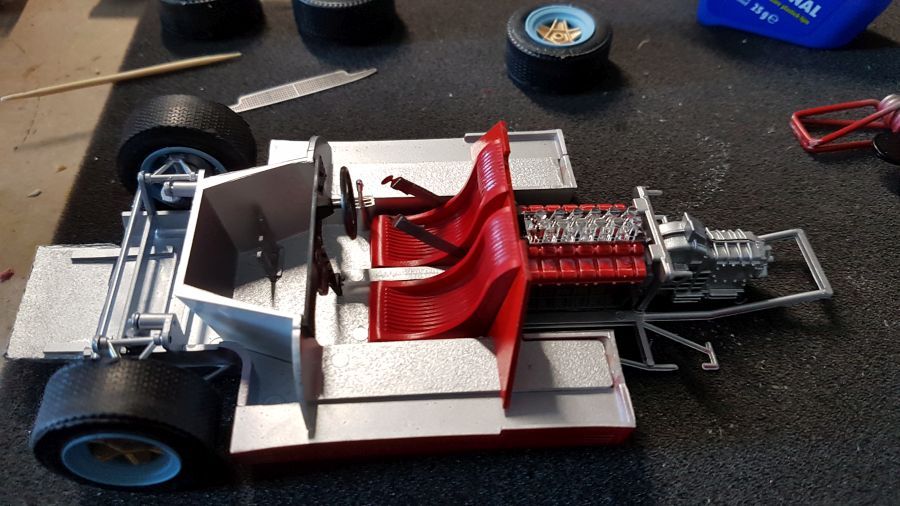 De kit heeft geen koeler. Ik gebruik de etched uitbreidingsset...
The kit has no cooler. I use the etched extension set...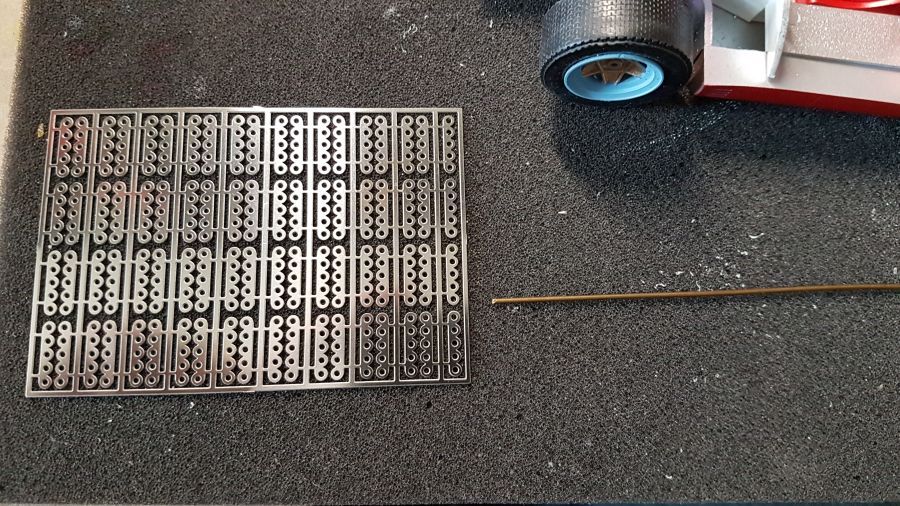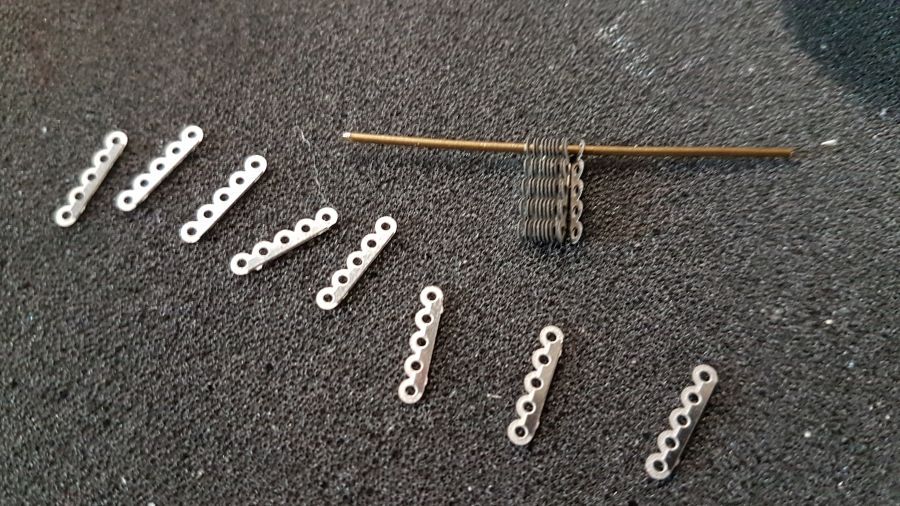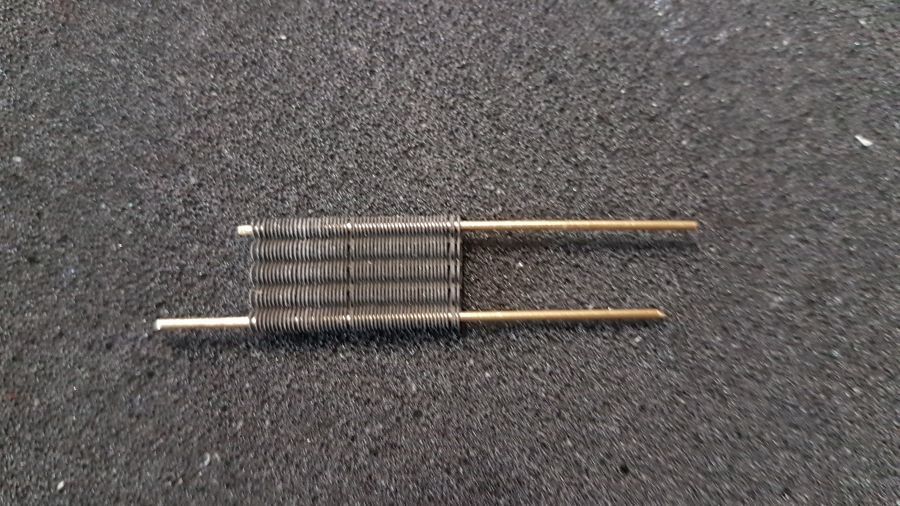 Dan de achterwielophanging.. en het plaatsen van alles aan de vloer...
Then the rear wheel suspension... and mounting everything to the floor...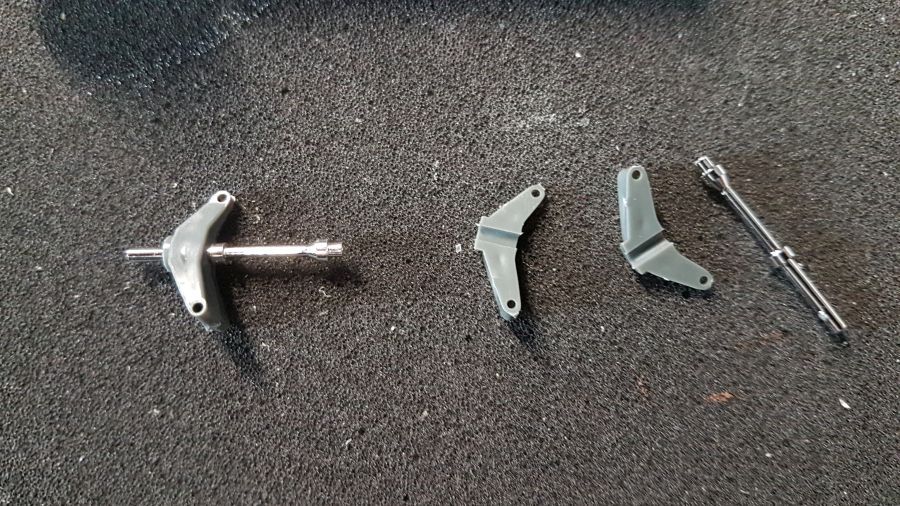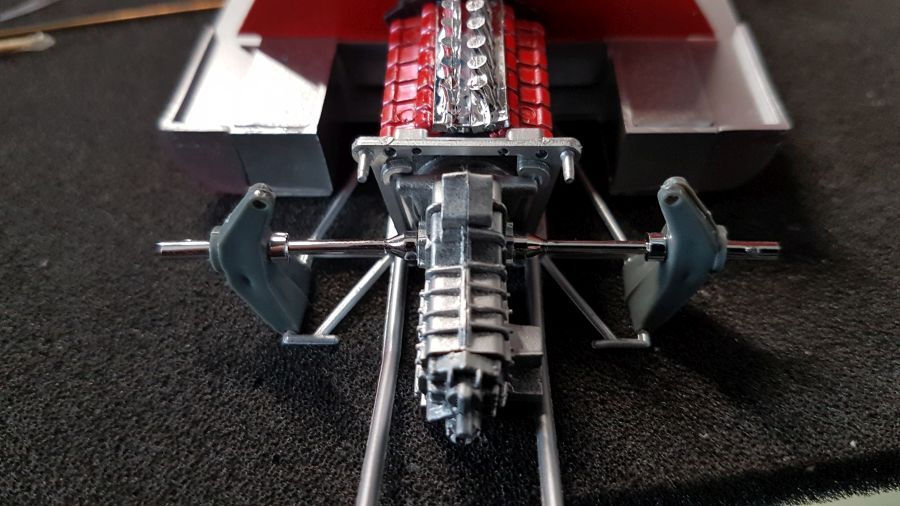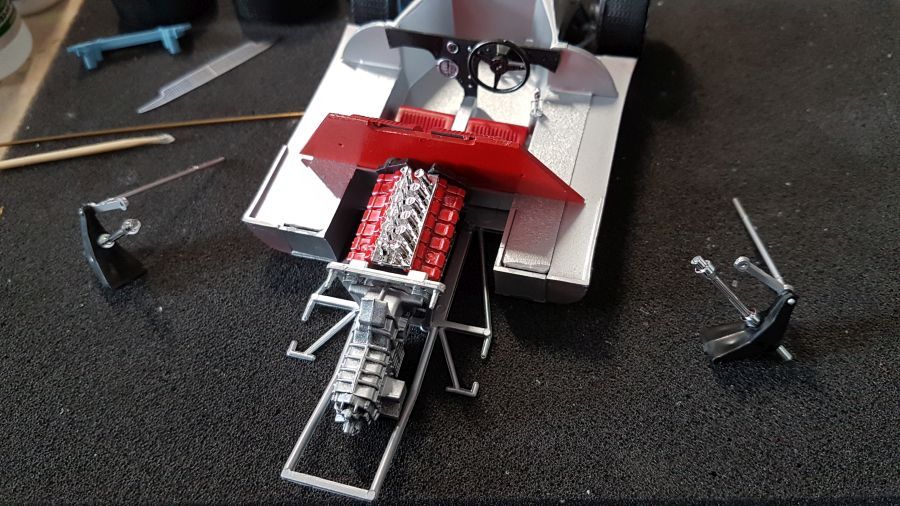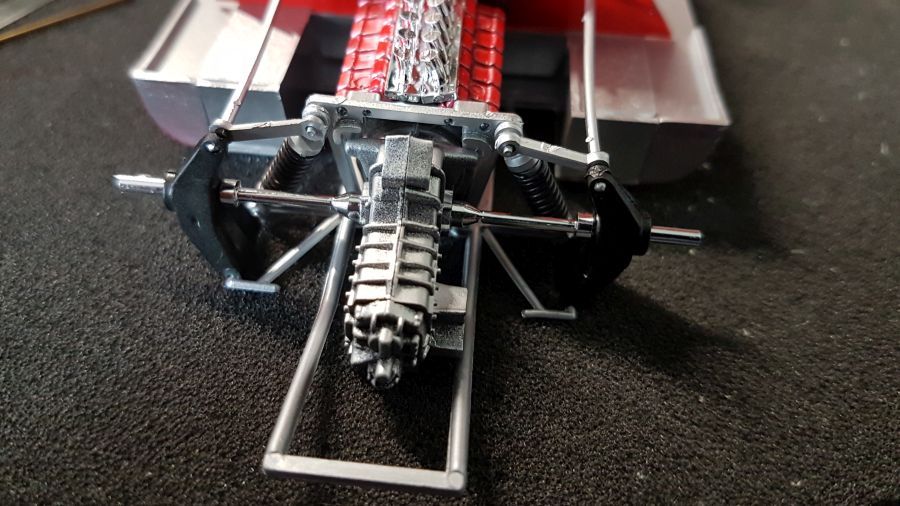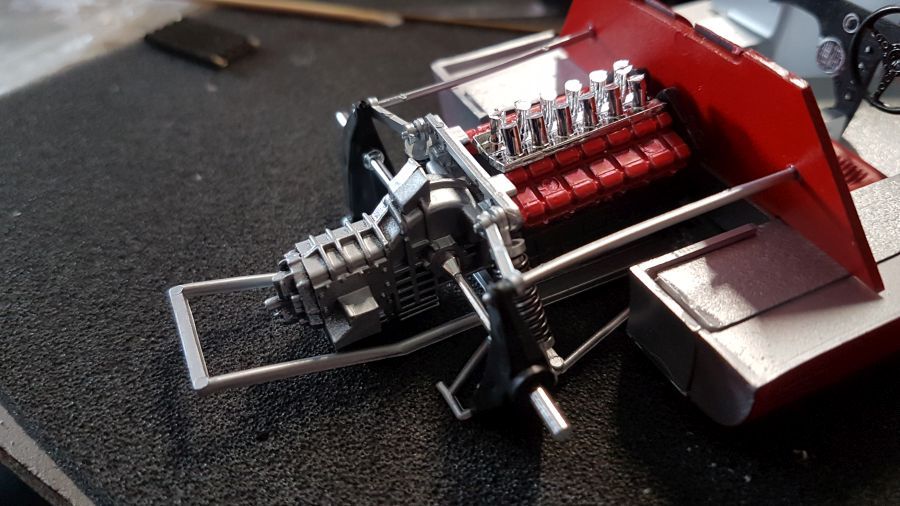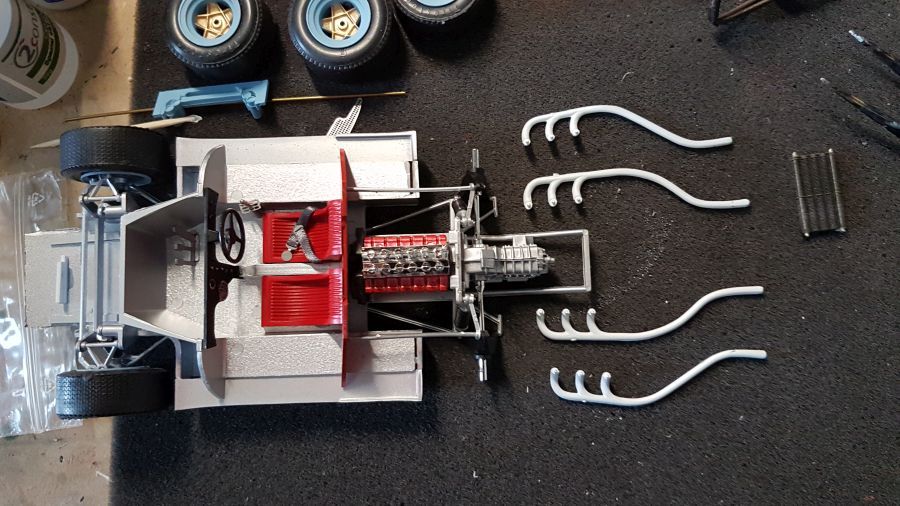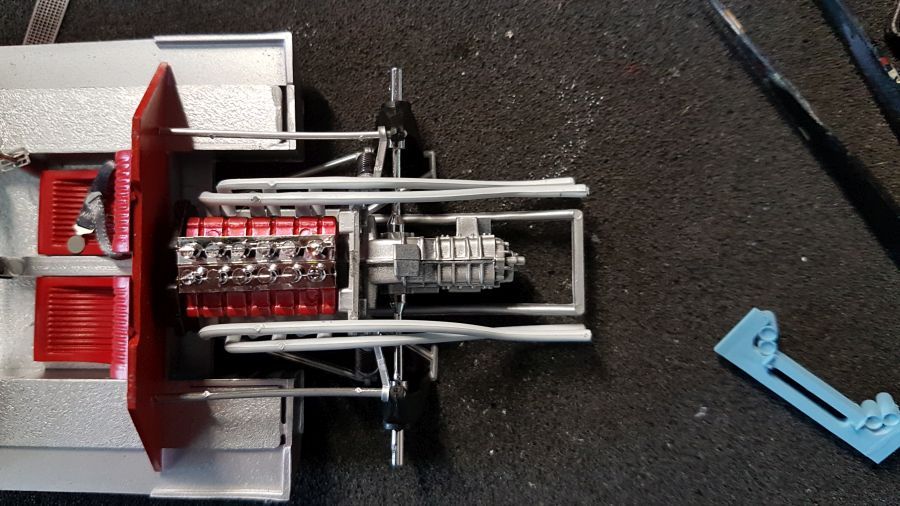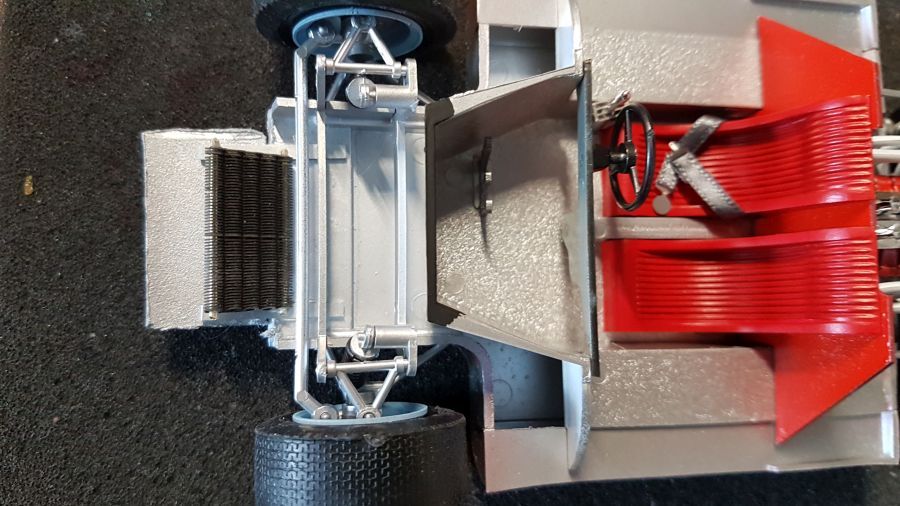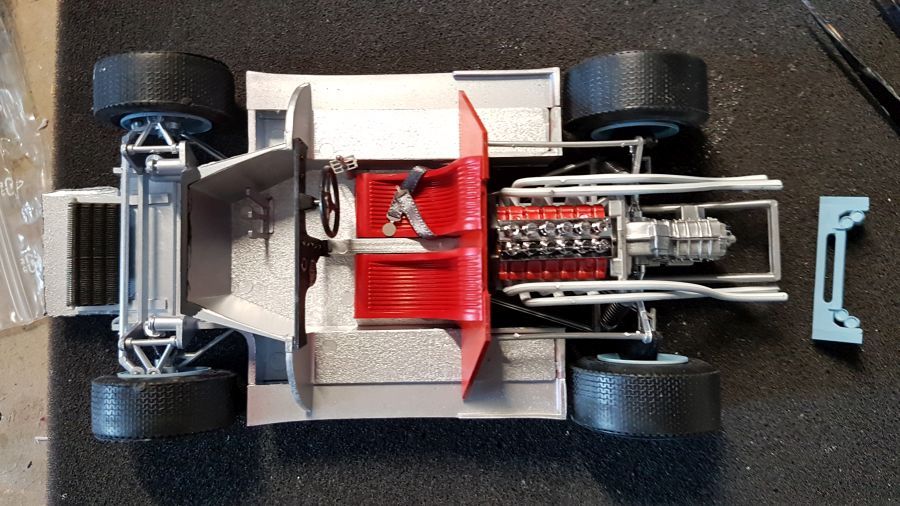 Weer even testen...
Testing again...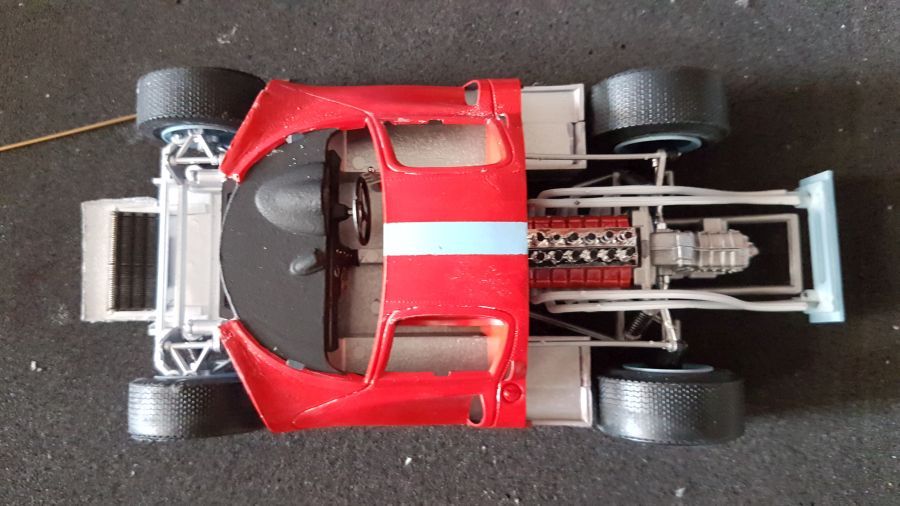 Test
Test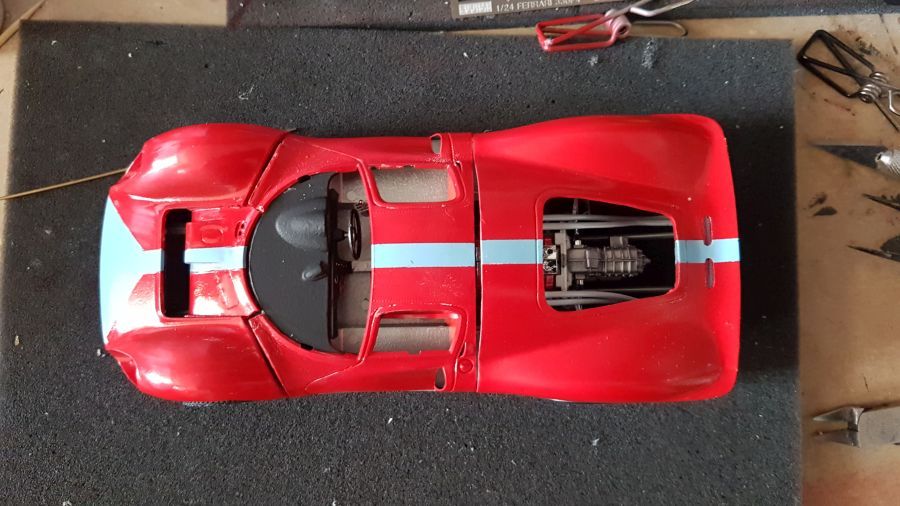 Dan wordt de boel met elkaar verbonden.
Then everything gets connected.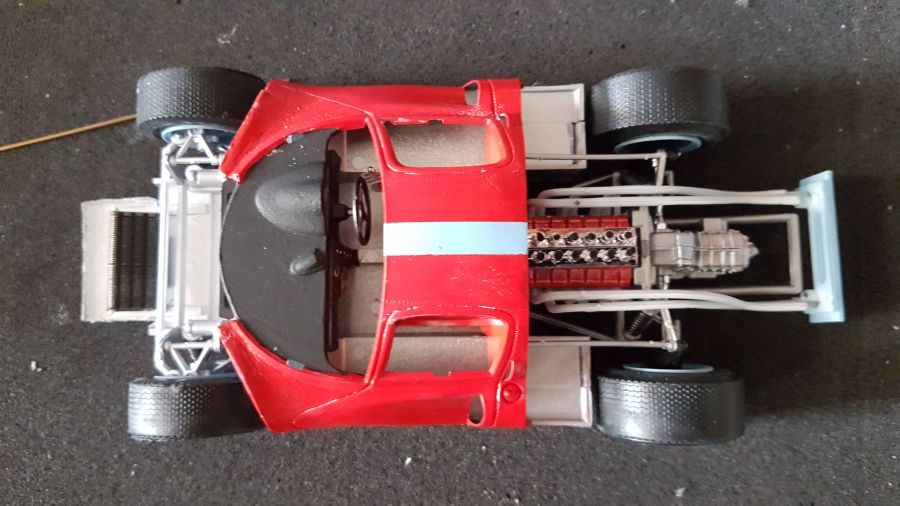 Paneellijnen testen...
Testing panel lines...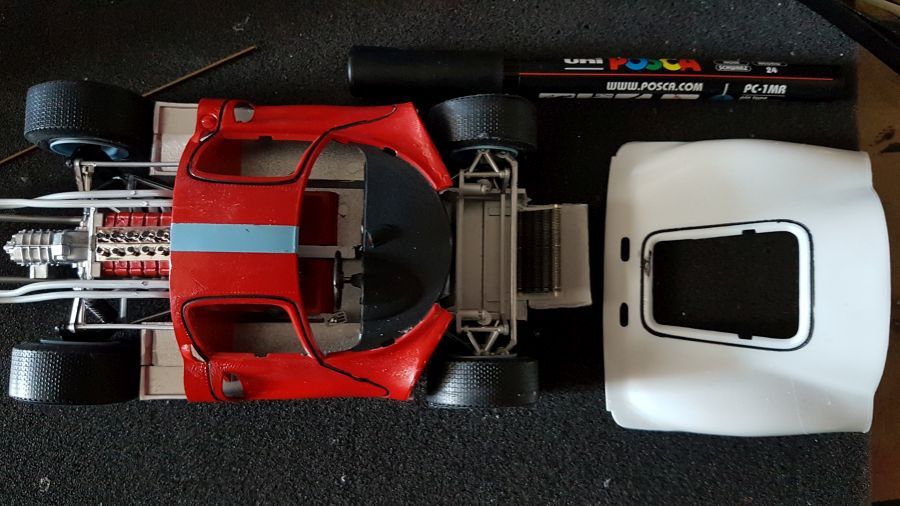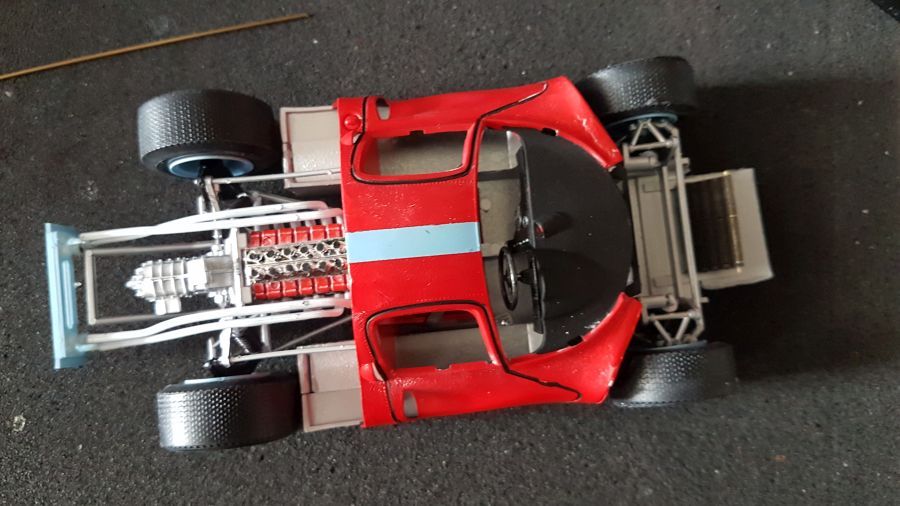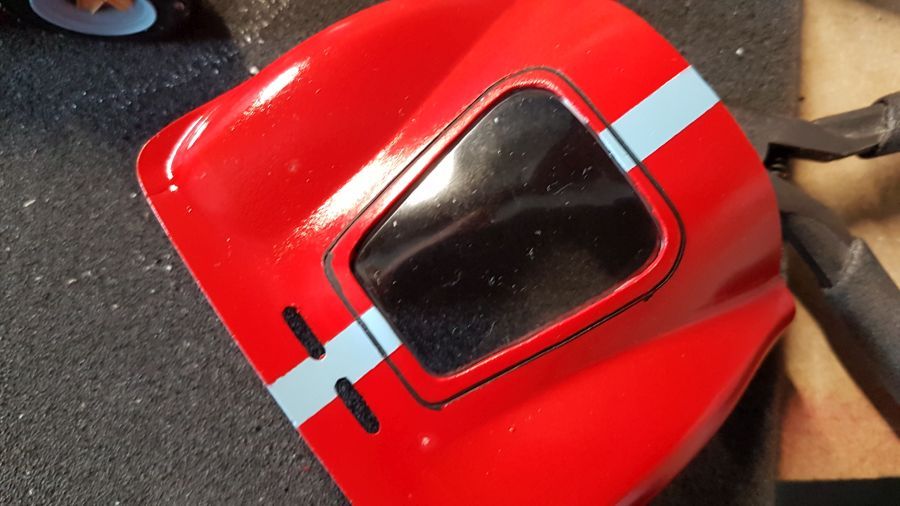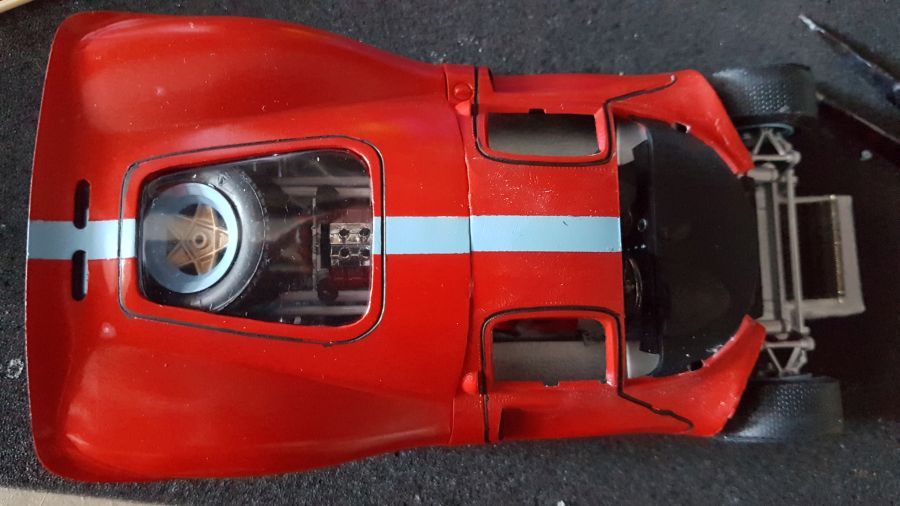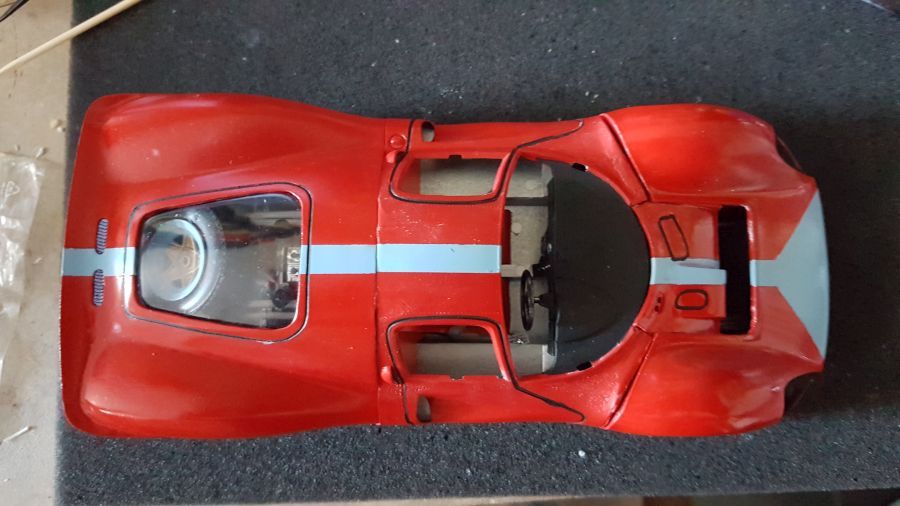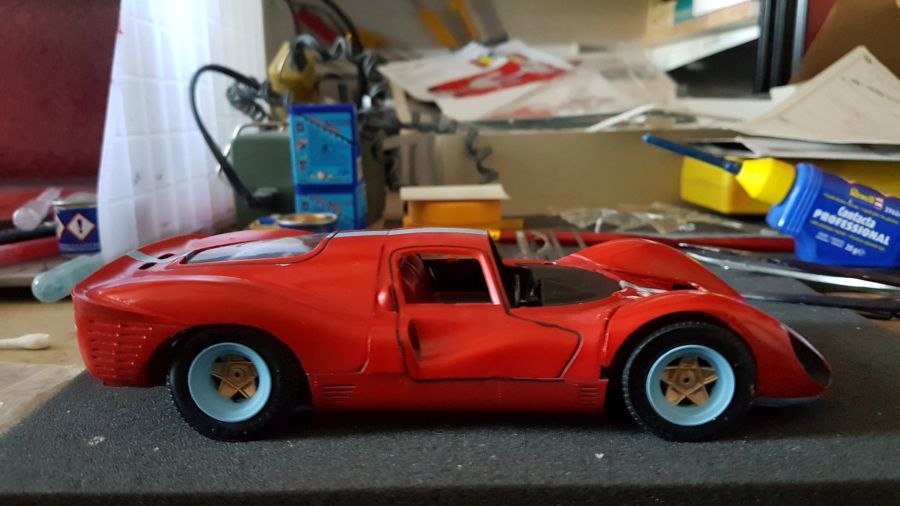 Tijd voor decals...
Decal time...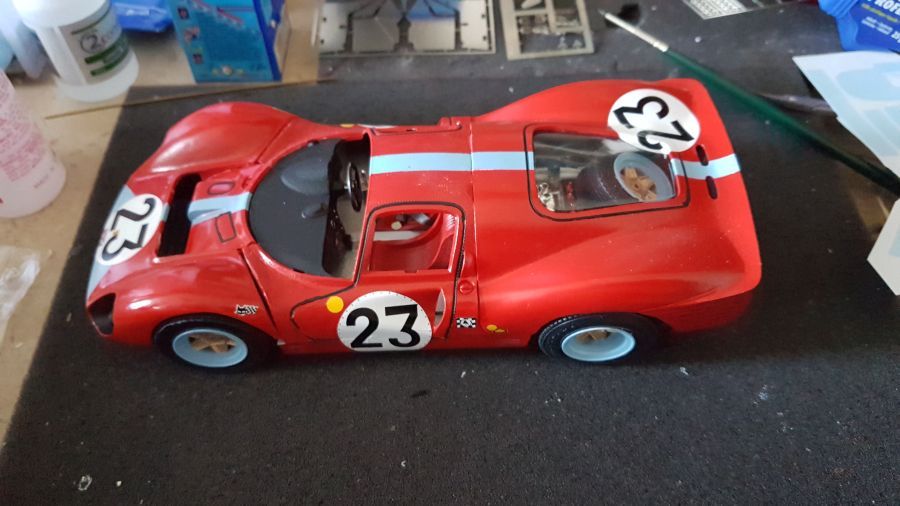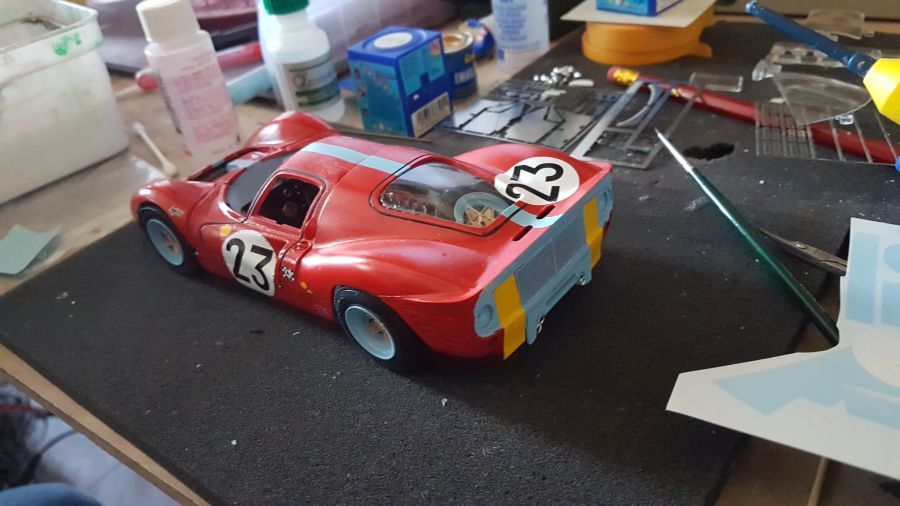 Na het plaatsen van spiegels, lichten enz. is deze klaar....
After adding mirrors, lights etc. this one is done...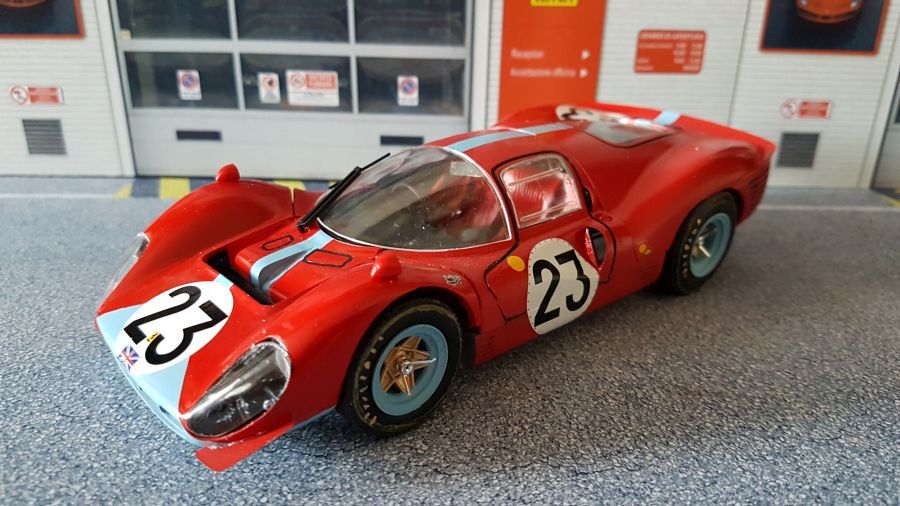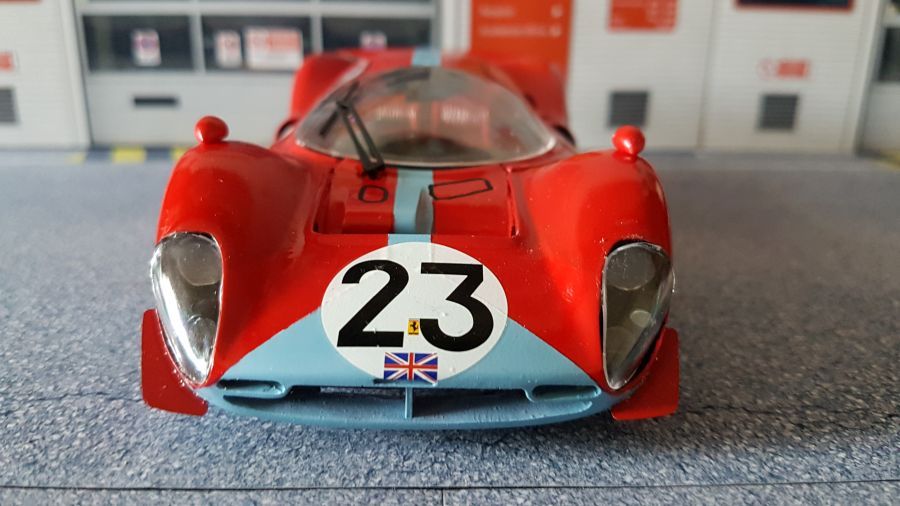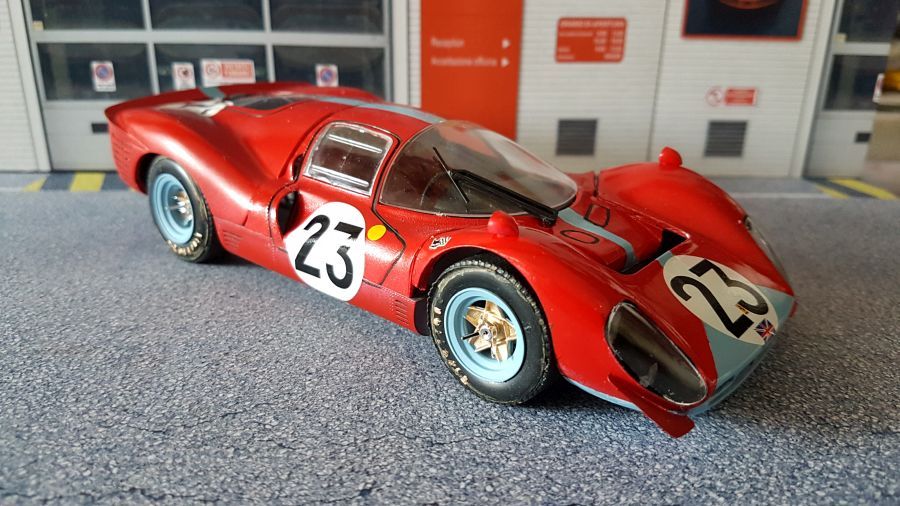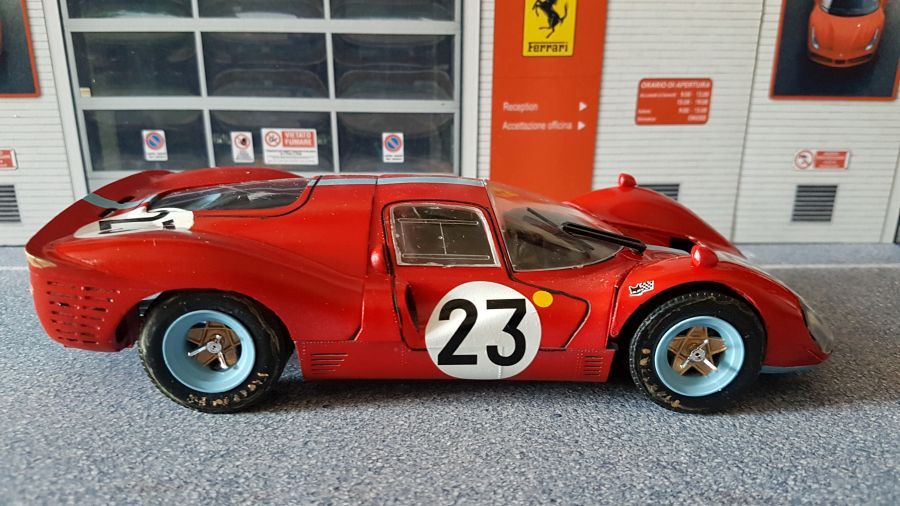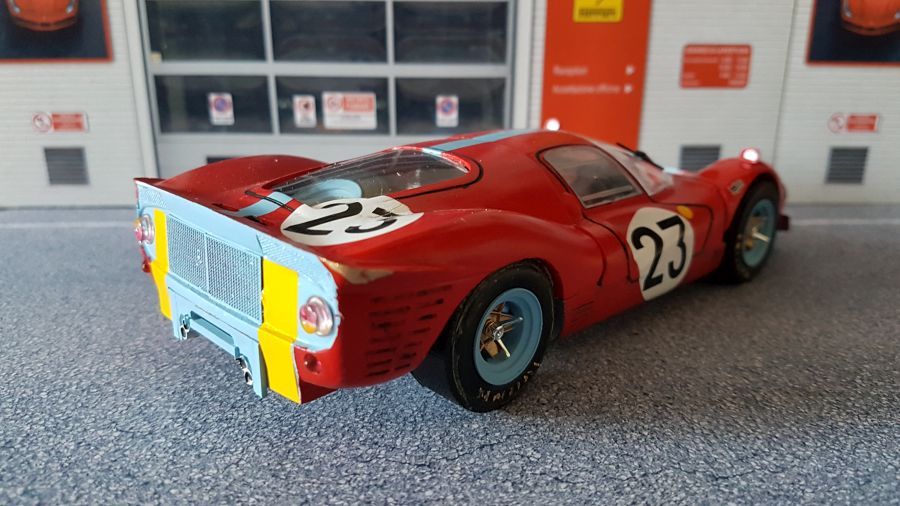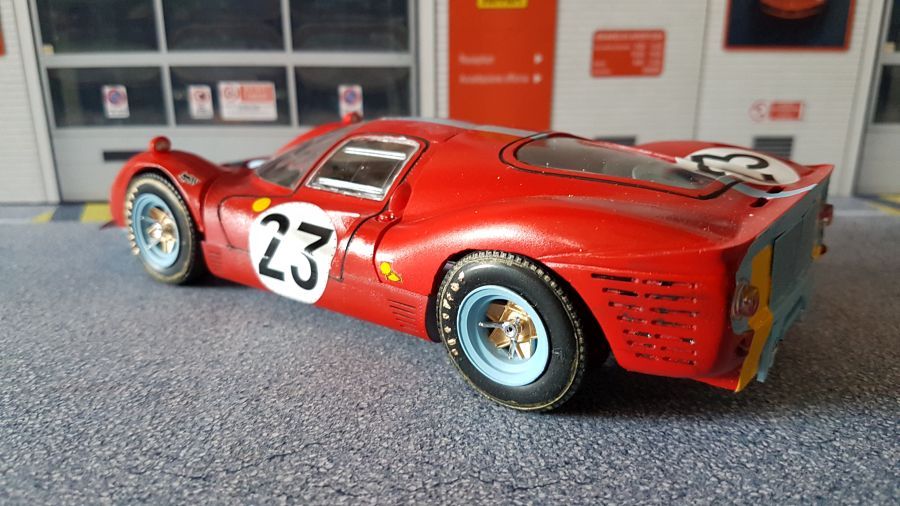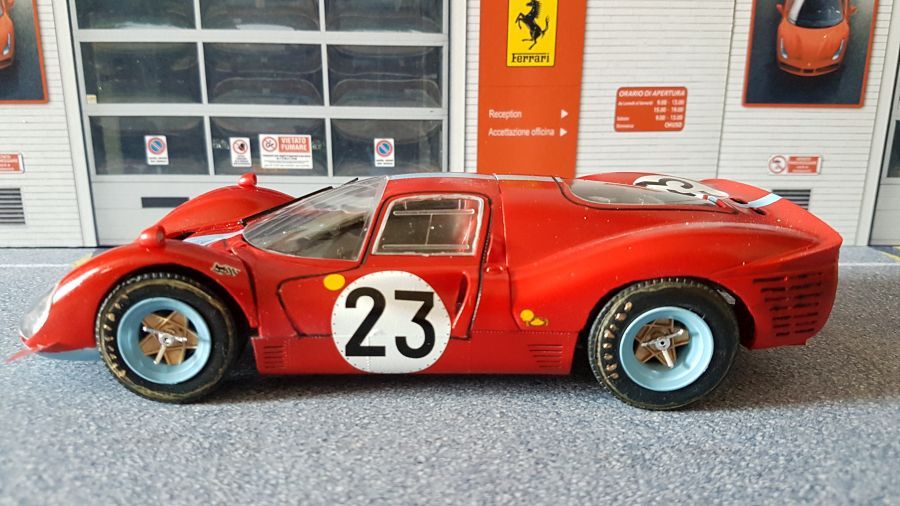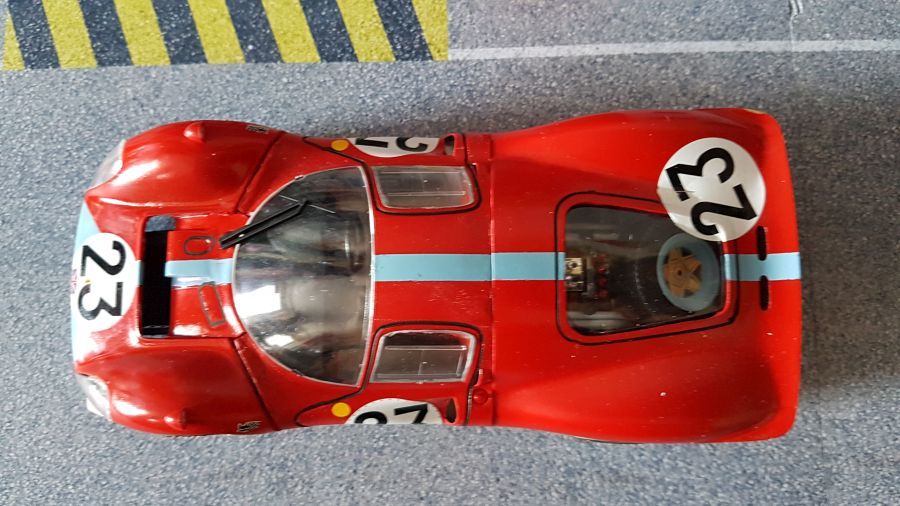 Gelukkig met deze bouw? Nee, helemaal niet. De bouw ging niet soepel. Alles past zeer slecht, ik had problemen met de decals, zelfs die ringen voor de banden en de Firestonedecals gingen helemaal fout. Ik moet het er maar mee doen... Door naar de volgende.
Happy with this build? No, not at all. The built went not smooth. Everything didn't fit, i had problems with the decals, even the rings on the tires and the Firestone decals went wrong. I will have to deal with it... On to the next.