Ik vind dat het tijd wordt dat ik een 'shark fin' op mijn planken kan zetten. Omdat ik veel tijd met de schaal 1/4 projecten kwijt ben, start ik deze versie van Studio27. Het is de 2008 Ferrari F2008 van de GP van Hongarije zoals gereden door Felipe Massa (kit nr. ST27-FR2030). In 2008 kwamen de eerste shark fin wagens op het circuit. Ze zijn daarna een tijdje weggeweest. Wie had ooit kunnen denken dat ze in 2017 weer op de baan zouden komen. Eerst maar weer de bekende foto's van de kit en de extra's. 
I think it's time to add a 'shark fin' to my shelves. Because i need a lot of time for my scale 1/4 projects, i will be starting with this version of Studio27. It is the 2008 Ferrari F2008 from the GP of Hungary as driven by Felipe Massa (kit no. ST27-FR2030). In 2008 the first shark fin cars entered the circuits. Then they disappeared for a while. Who would ever think they would return to the track at 2017. First of all again the pictures of the kit and the extra's.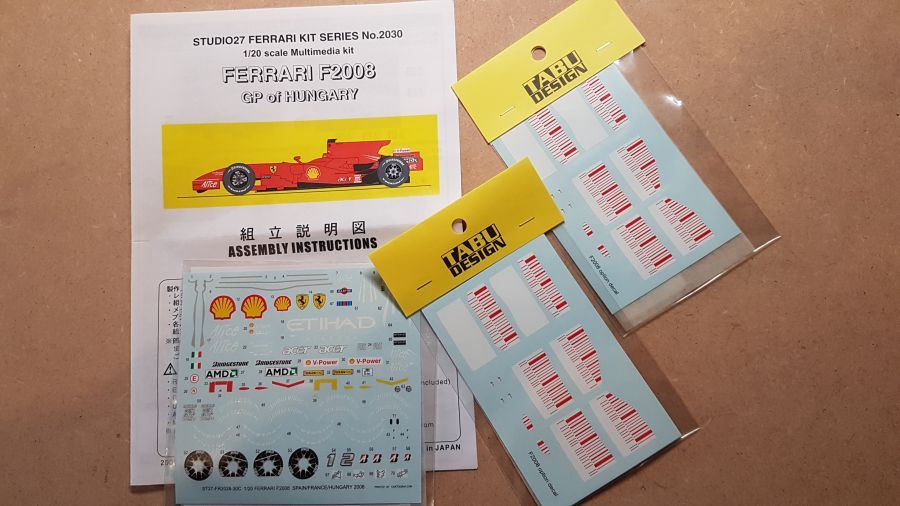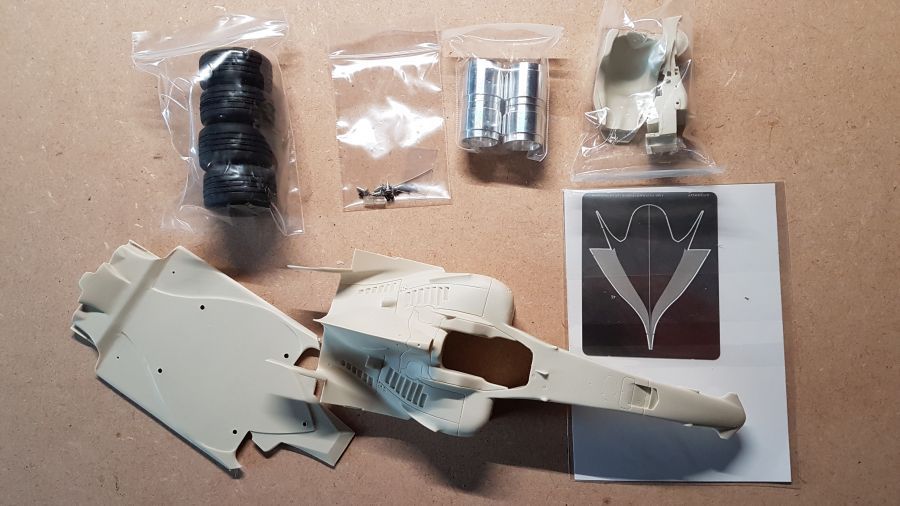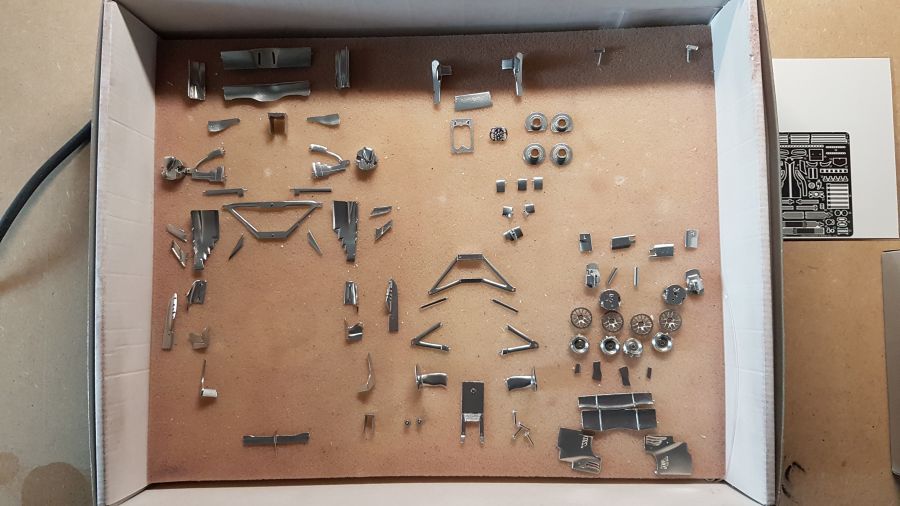 Wat sorteren...
Some sortening...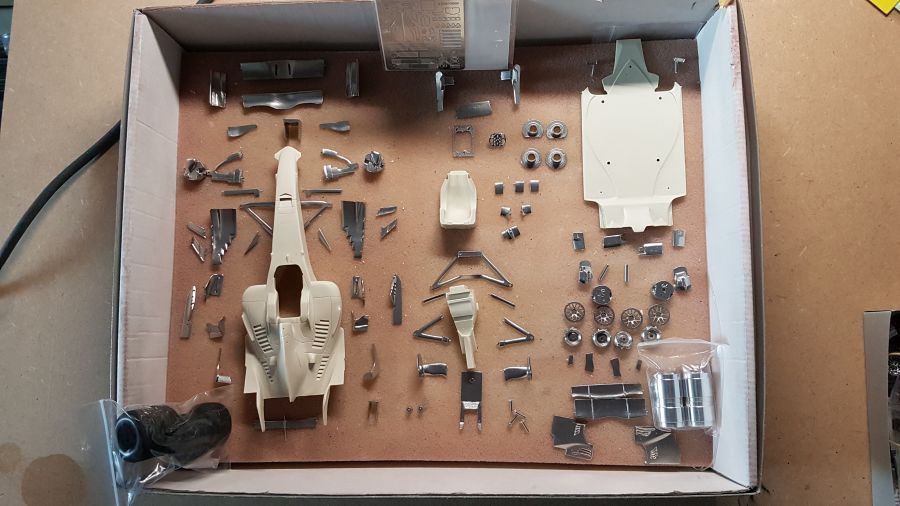 Daar gaat ie... Eerst de  versnellingsbak en achterwielophanging.
There we go... First the gear box and the rear wheel suspension.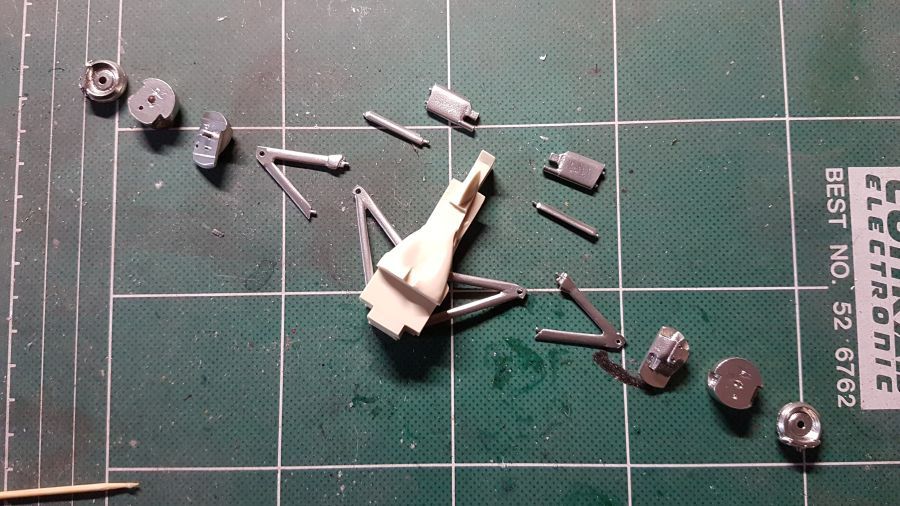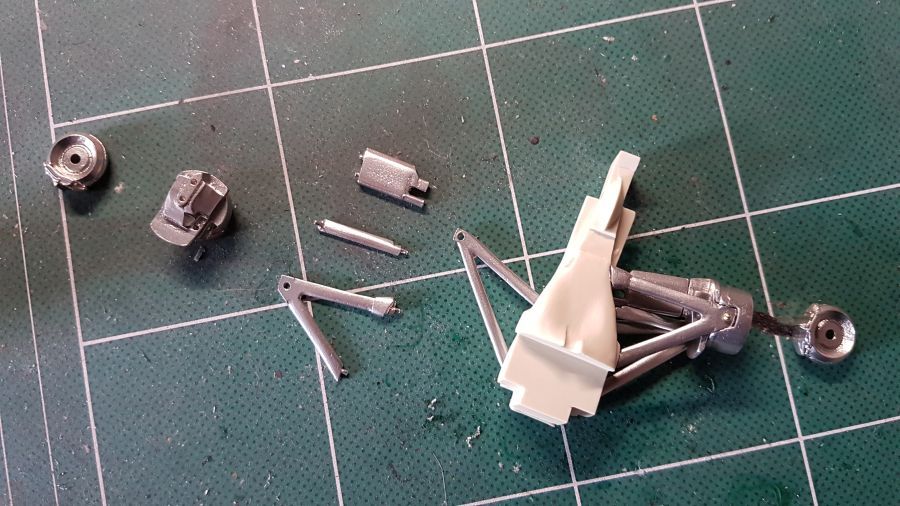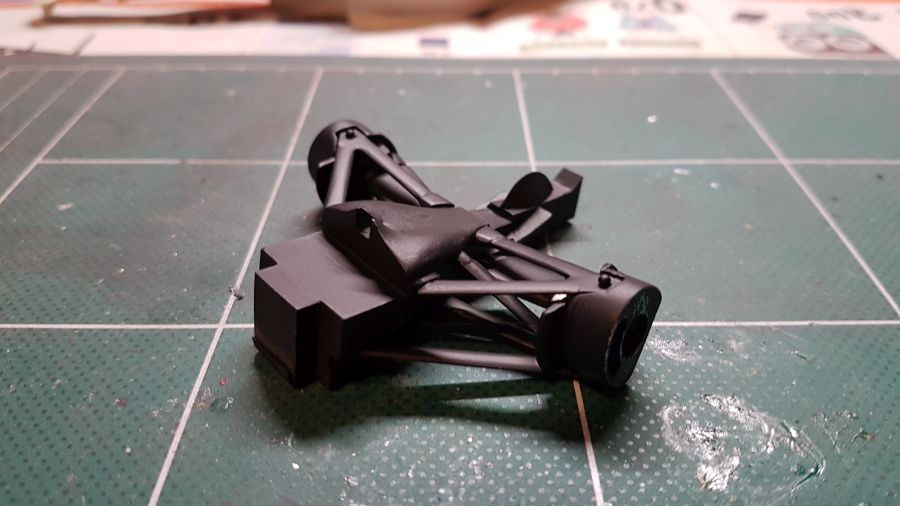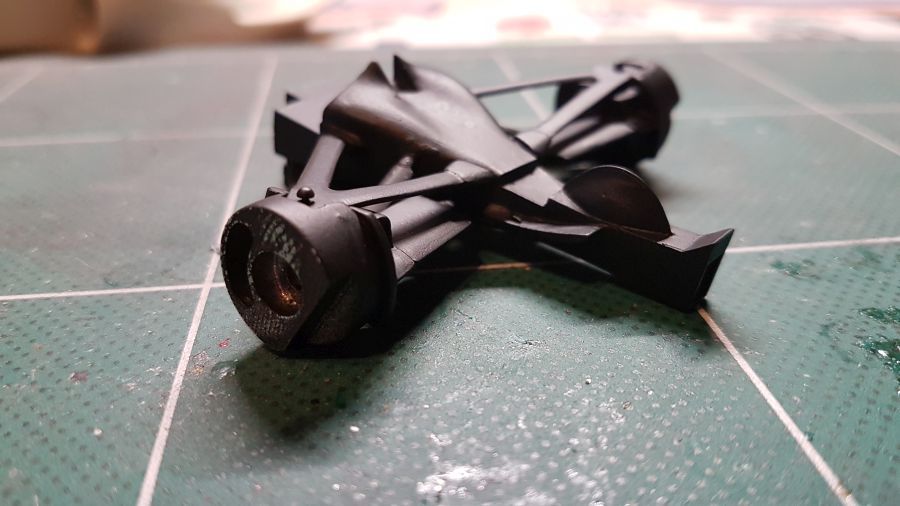 Voor de body zat ik me al een tijdje af te vragen hoe ik het beste te werk kan gaan. Ik heb nu besloten eerst zoveel mogelijk onderdelen te gaan plaatsen. Dit om eventuele kleurverschillen in het rood zoveel mogelijk te voorkomen. De body heb ik al in de primer gezet en vervolgens zilver gespoten, maar dat zal geen belemmering zijn.
For the body i have been asking myself what the best approach would be. I now decided to attach as much parts as possible. This to avoid the differences in the red colour as much as possible. I already gave the body a layer of primer and a layer of silver, but that will be no problem.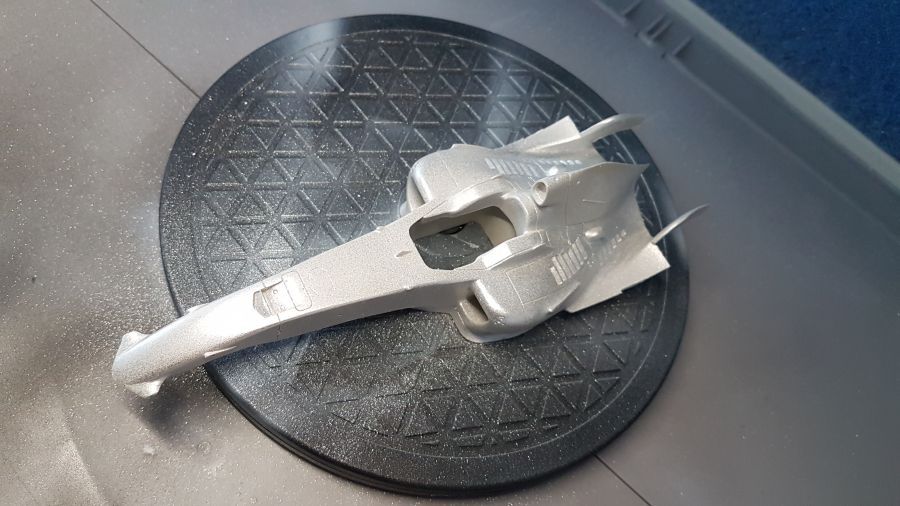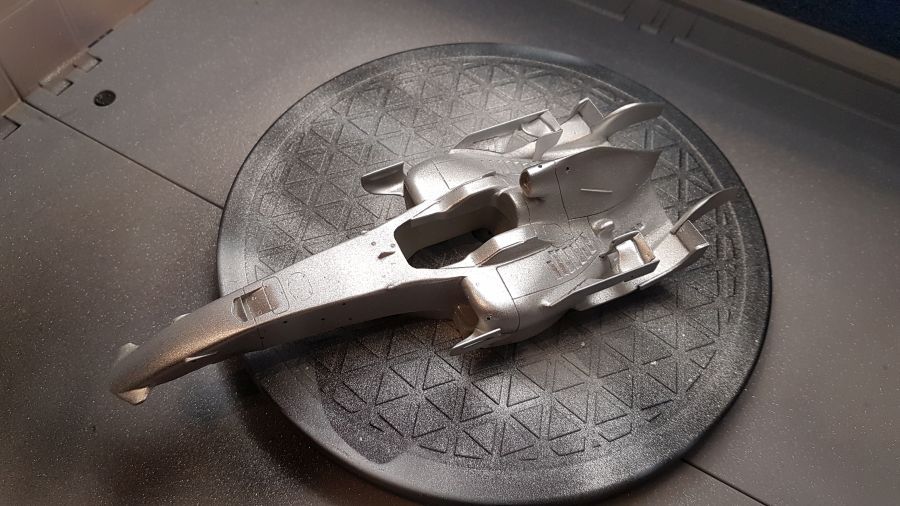 Dan ga ik vast de sharkfin in model maken. Ik ga deze nog niet monteren, want de scherpe punten zijn levensgevaarlijk. Daarmee is gelijk het probleem duidelijk. Iets wat eindigt in een scherpe punt is bijna niet te vouwen. Daarnaast is dit ontzettend lastig om goed passend te krijgen. Voor mij een verschrikkelijke oplossing. Dat hebben ze beter gedaan bij de Renault R28 kit. Het systeem is in mijn ogen zo fout, dat dit slechts een try out wordt voor de MFH kits.
Then i will try to get the shark fin in shape. I will not mount it yet, those sharp points are seriously dangerous. With this remark the problem is clear. Something that ends in a sharp point can be folded hardly. Besides all, this is very tough to make it fit. To me a horrendous solution. They did a better job on the Renault R28 kit. I think this system works that bad, that this will be a try out for the MFH kits.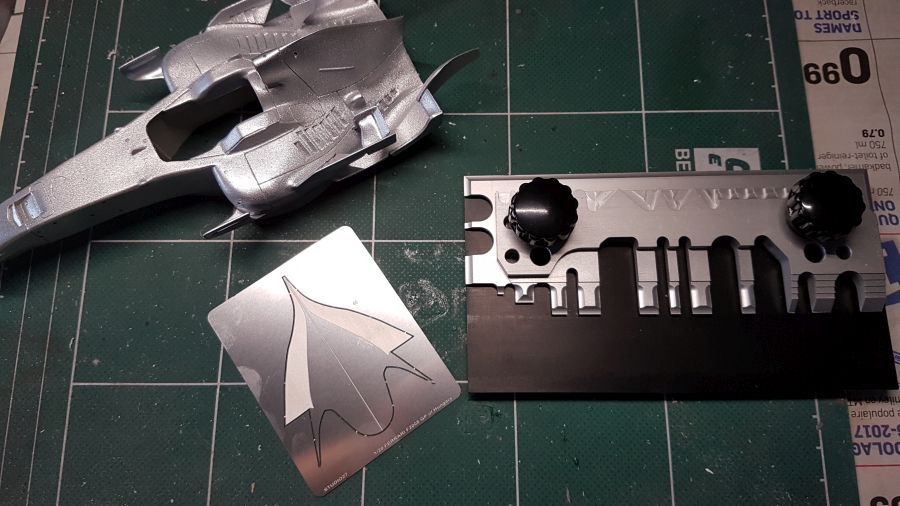 Simpelweg geen enkele grip om dit te vouwen...
Simply no grip to be able to fold this...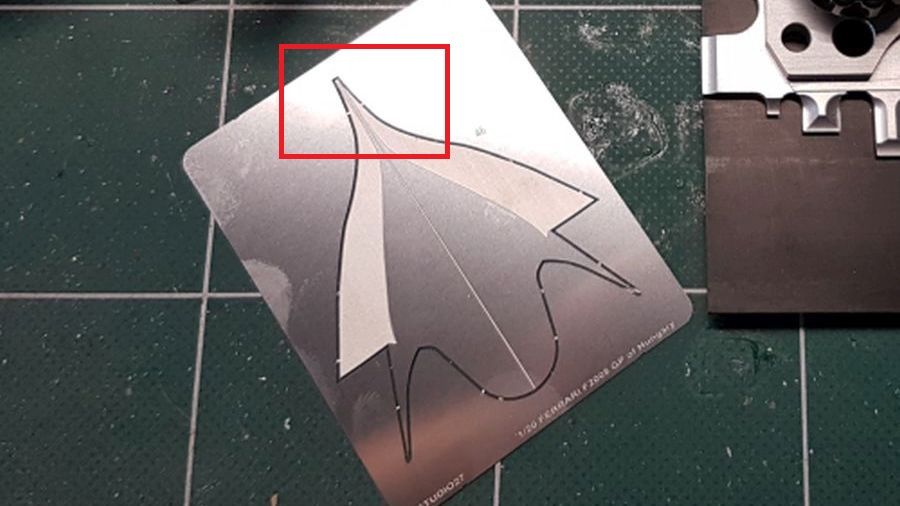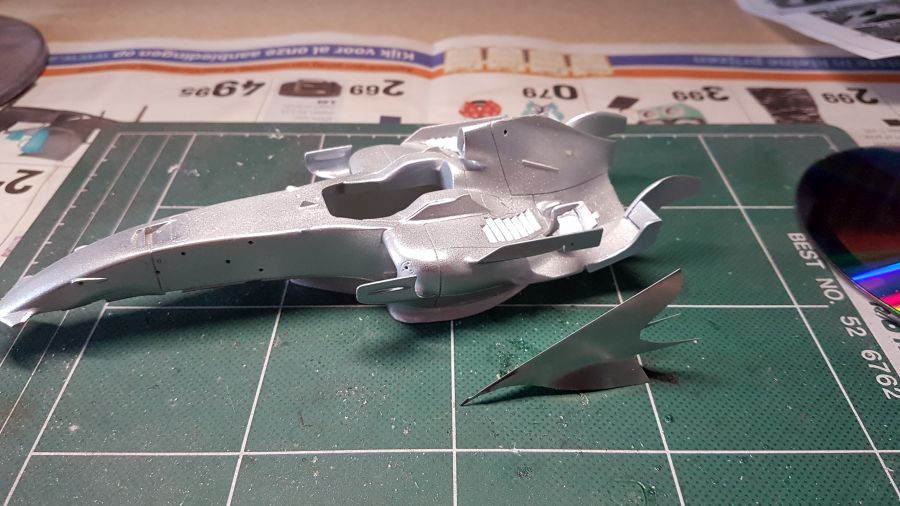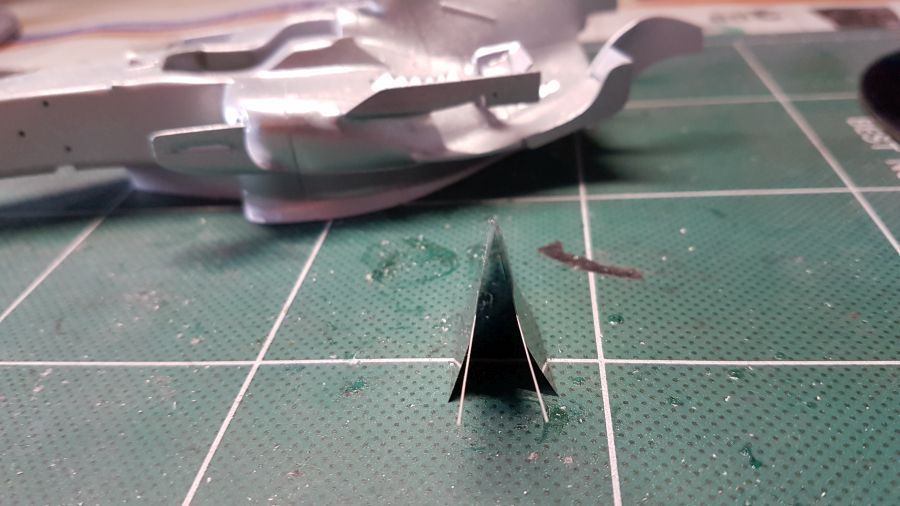 Zoals ik al voorspelde...
Like i predicted...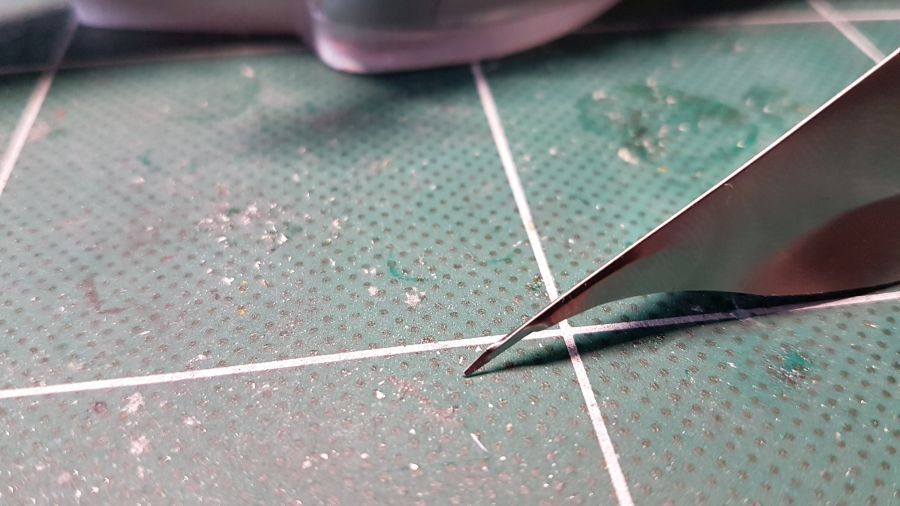 Ik heb geprobeerd het bte herstellen, binnen mijn mogelijkheden.
I tried to repair it, within my limits.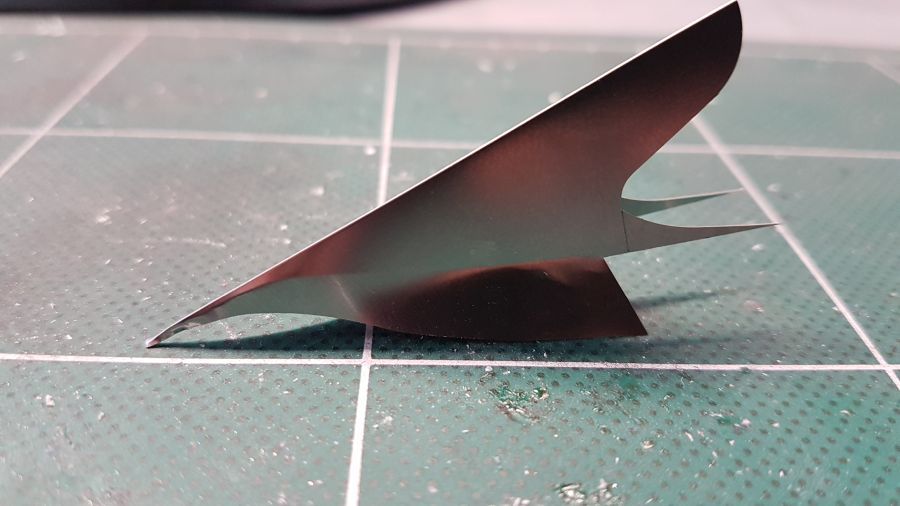 De body wordt na het zilver met rood gespoten. Het is een set kleuren van Zero Paints (ZP-1007 en ZP-1154). De kleur wordt niet goed weergegeven op de foto. Het is meer een metallic rode kleur. Ik ben niet helemaal blij met het verfwerk. Ik gebruik UMP primer onder de Zero Paints kleuren. Dit is de 2e keer dat het me wat teleurstelt. Voor een volgende auto stap ik over naar een ander merk primer.
The body gets a coat of red after the silver. It's a set of colours from Zero Paints (ZP-1007 and ZP-1154). The photo does not show the actual colour. It's more like metallic red. I am not completely happy with the paint work. I use UMP primer under the Zero Paints colours. This is the 2nd time it doesn't make me happy. For the next car i will use a different brand of primer.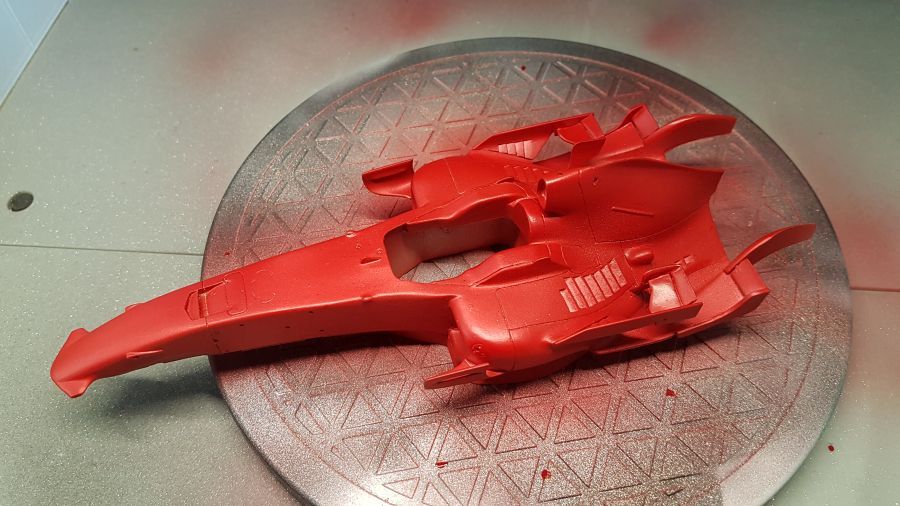 Dan worden alvast een paar onderdelen zwart gespoten.
Then a few parts get a black paint.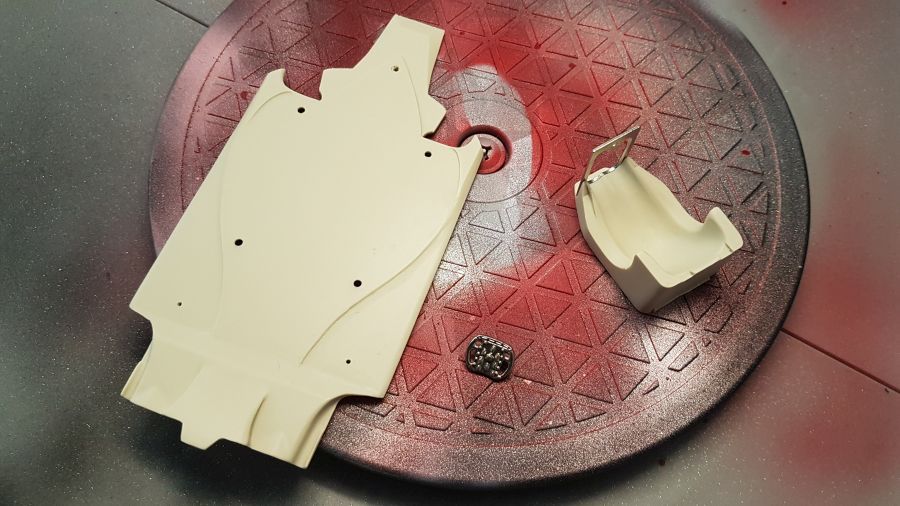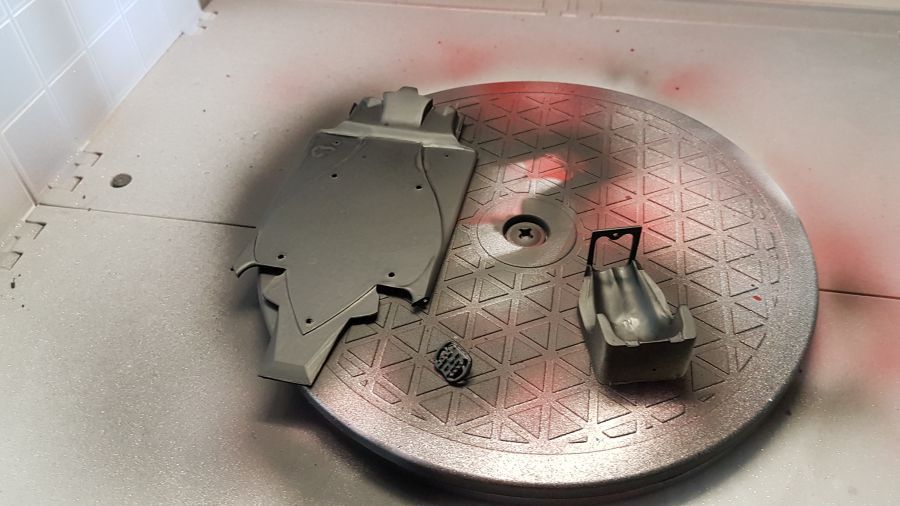 Intussen ga ik vast weer de gordels maken. Redelijk standaard inmiddels... 
In the meantime i am making the belts. Pretty standard by now...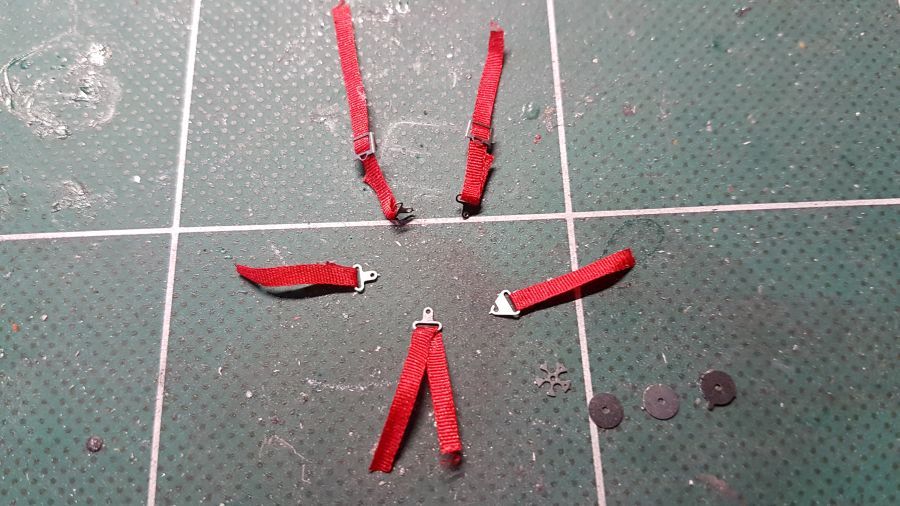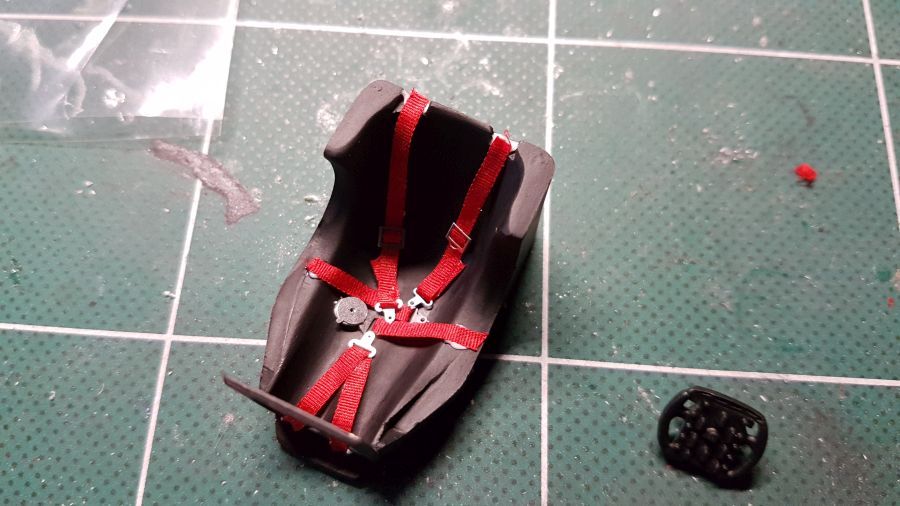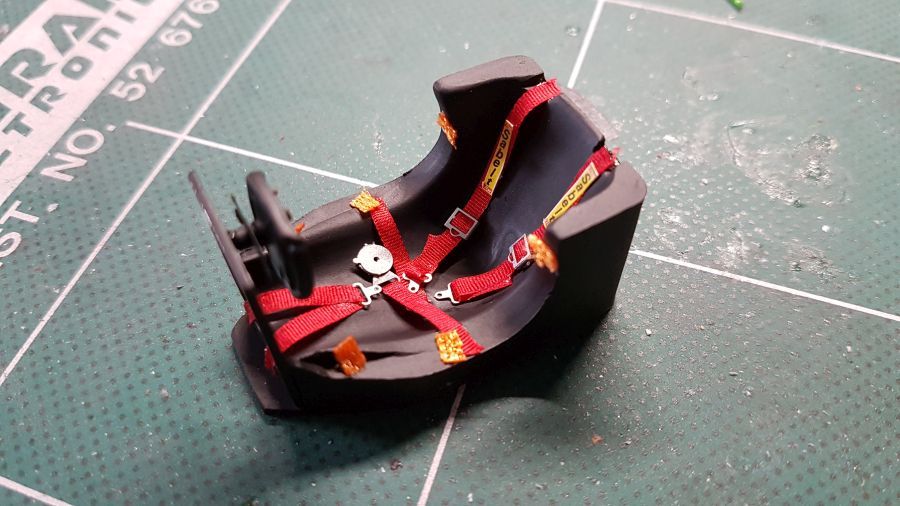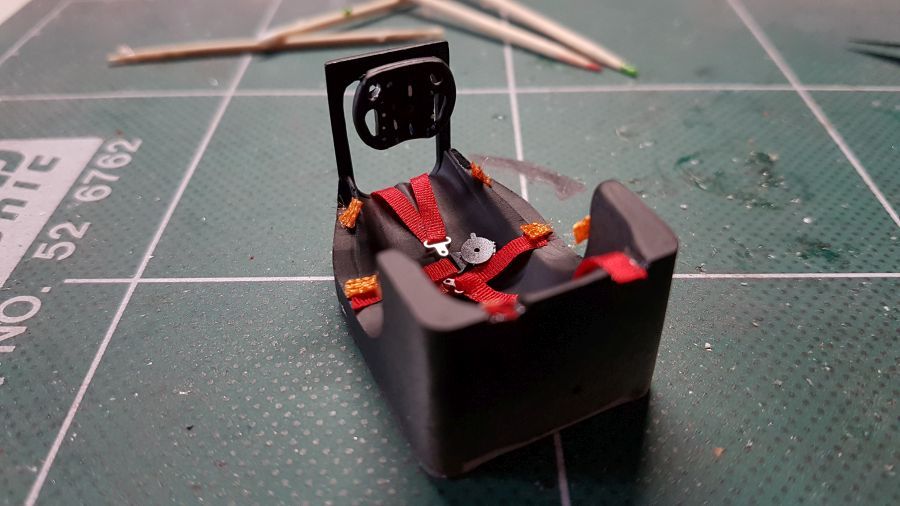 Een paar onderdelen worden zwart gespoten. 
Some parts were painted black.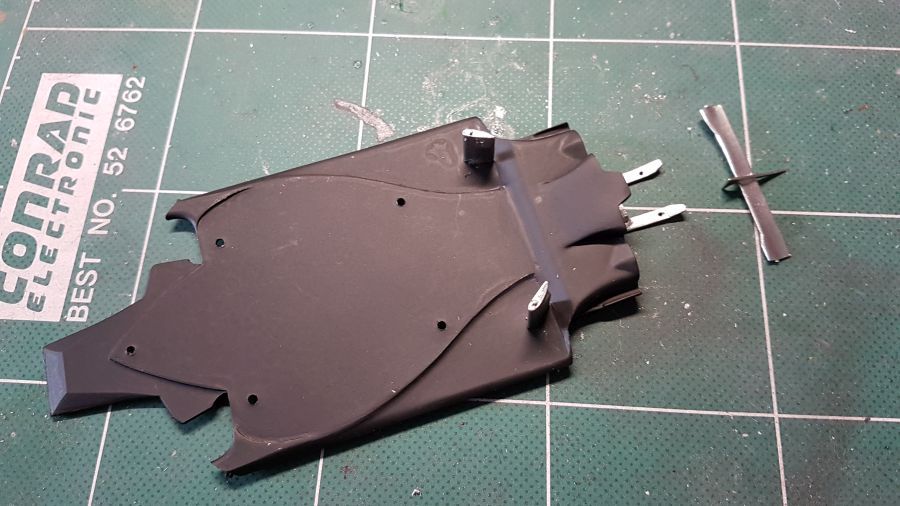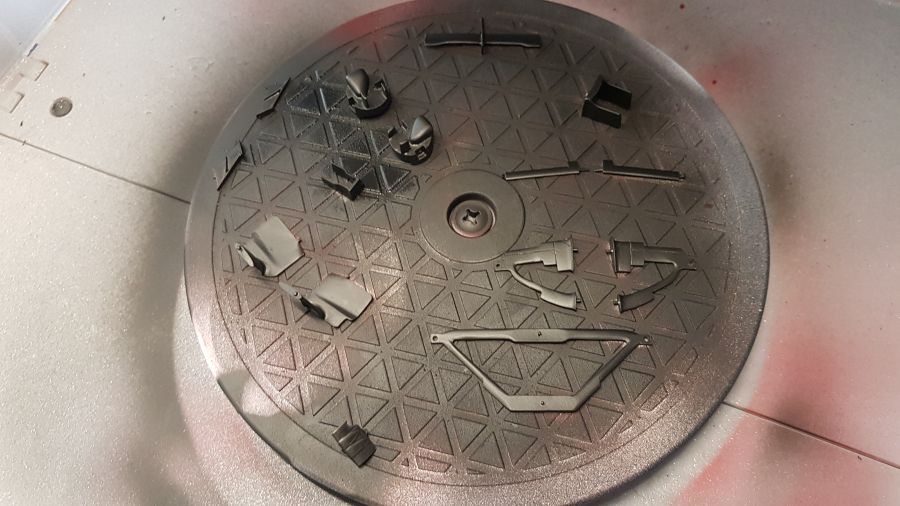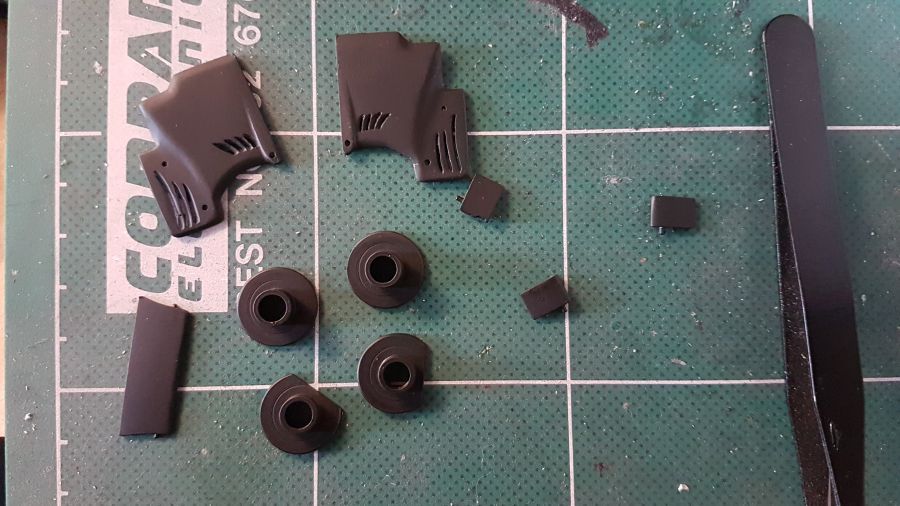 Dan moeten een paar delen in de witte primer worden gezet, sommige aan beide kanten, sommige aan 1 kant wit en de andere kant zwart. Over het wit gaat daarna weer de zilver verf van Zero Paints.
Then some parts need white primer, some parts on both sides, some parts white to 1 side and black to the other. The white primer then gets the silver paint again from Zero Paints.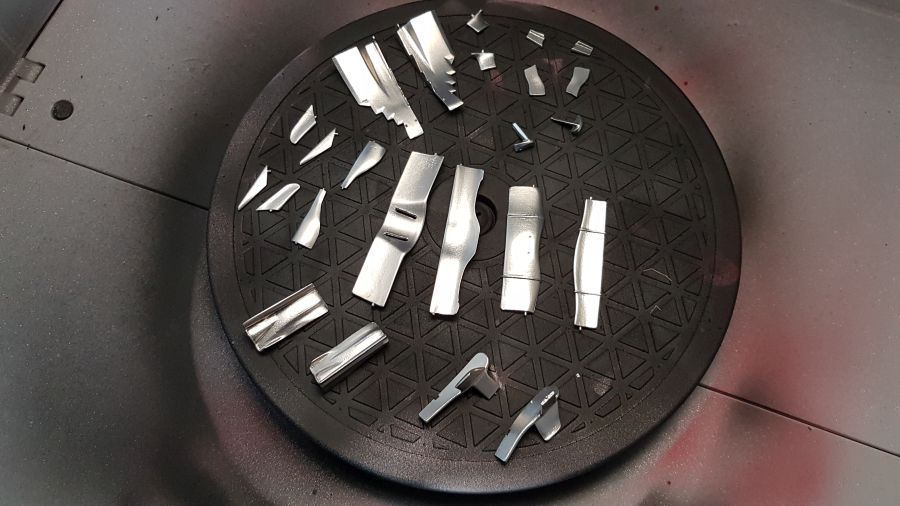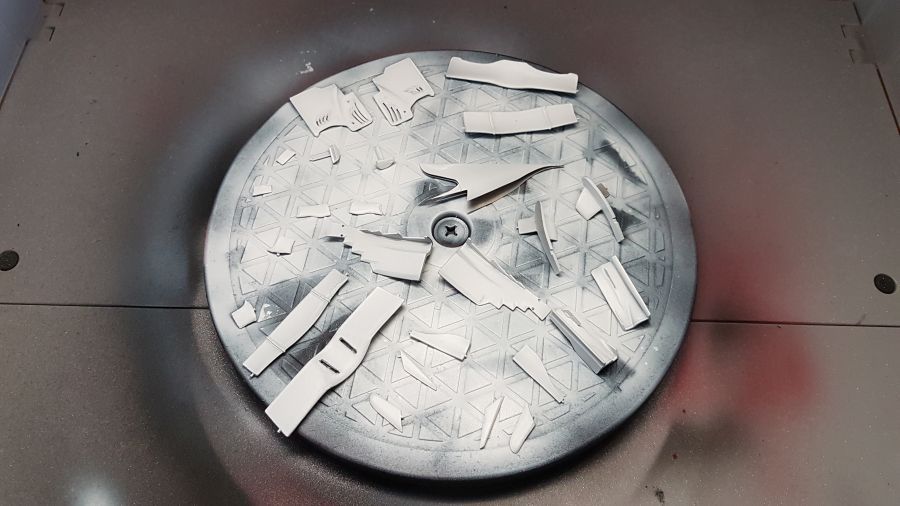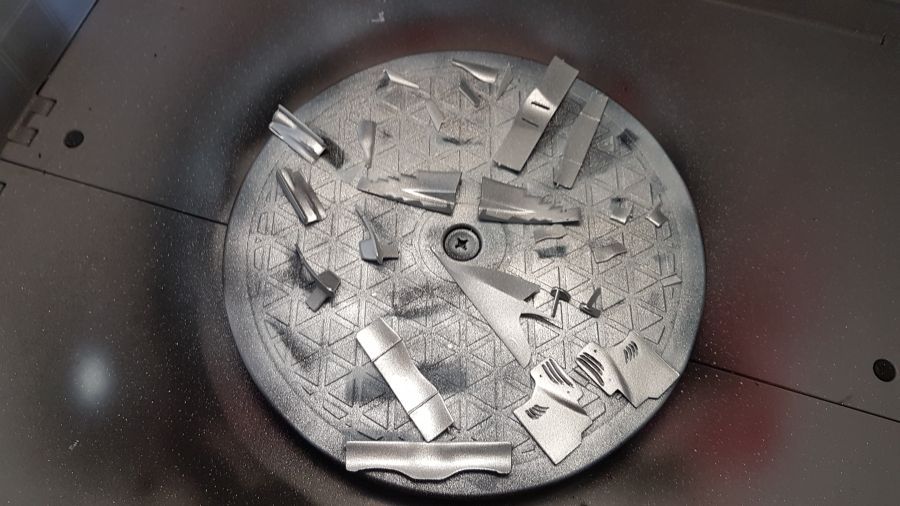 Dan krijgen sommige onderdelen de zwarte primer aan de andere kant. Daarna weer het rood over het zilver. En dan heldere glanzende lak.
Then some parts get black primer to the other side. After that the red over the silver. And then clear gloss lacquer.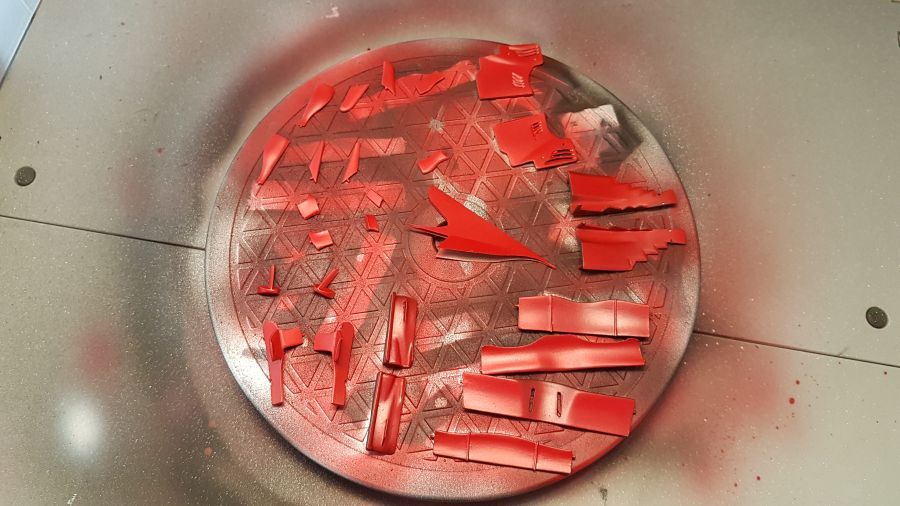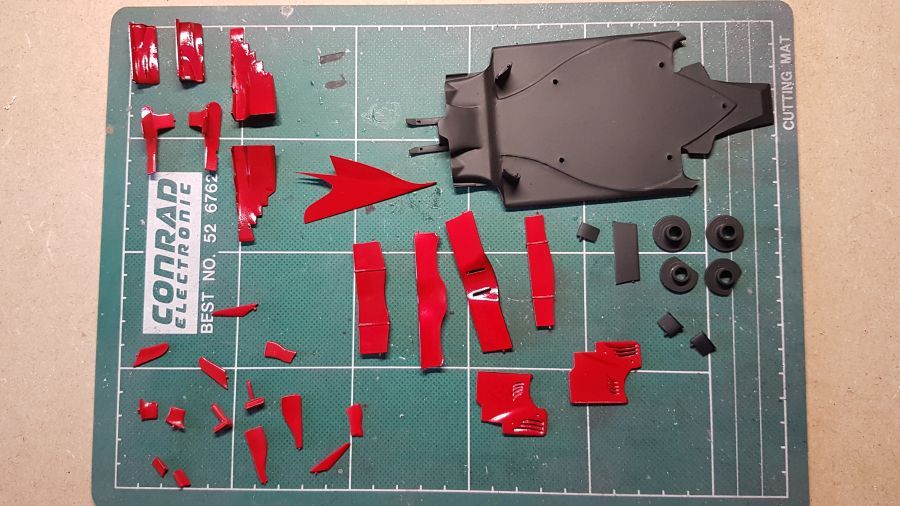 Werk aan de winkel.   Voor....
Work to do.     Before....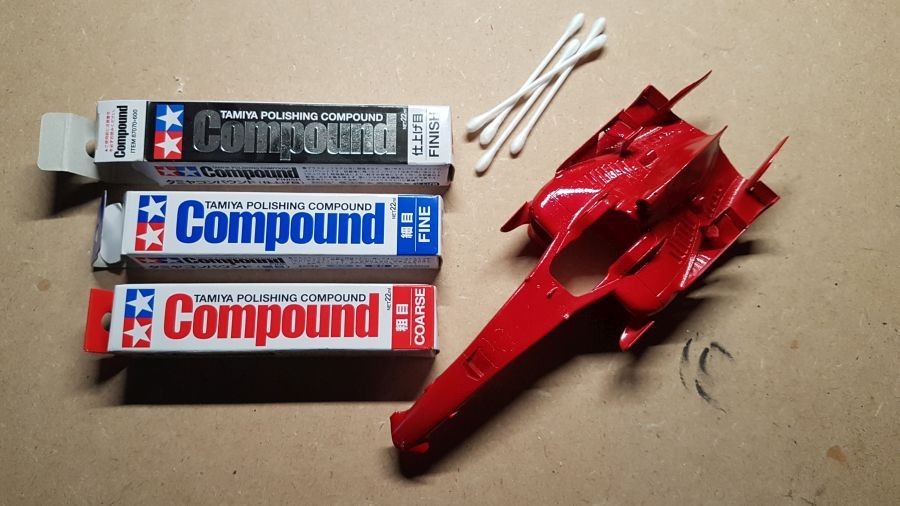 Na....  Het voelt in ieder geval meer glad.
After....   It sure feels more smooth.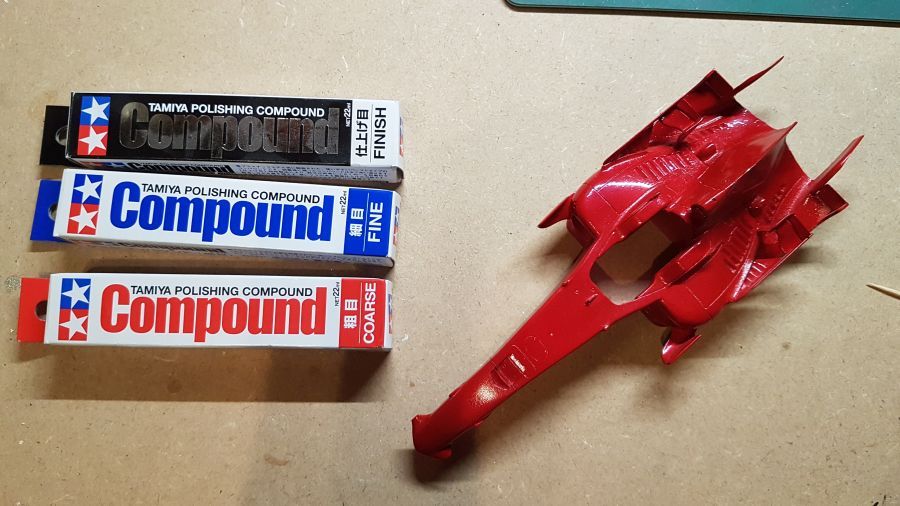 De paneelnaden worden geverfd met een tandenstoker en verdunde zwarte waterverf.
The panel lines are being painted with a toothpick and diluted black acrylic paint.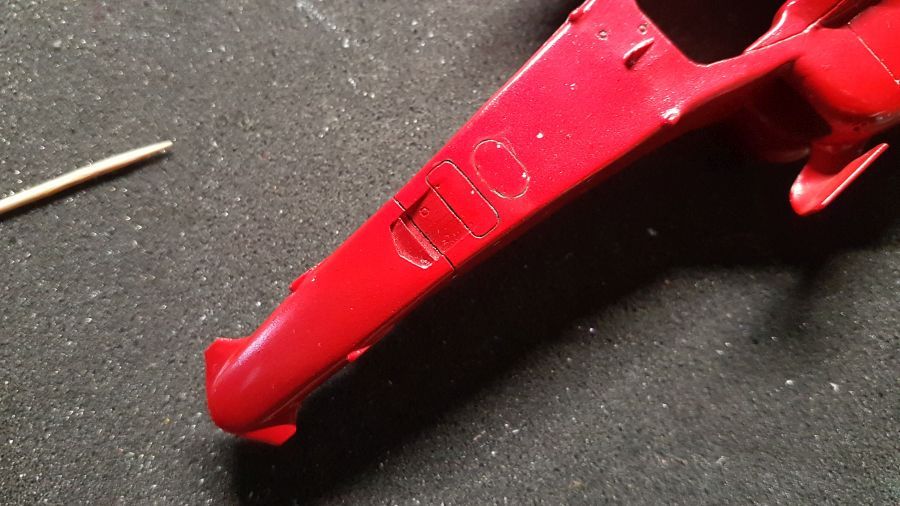 De sectie rond de uitaletn wordt zwart geverfd en een hitteschild wordt gemaakt van bare metal foil.
The section around the exhausts are being painted black and a heat shield was made out of bare metal foil.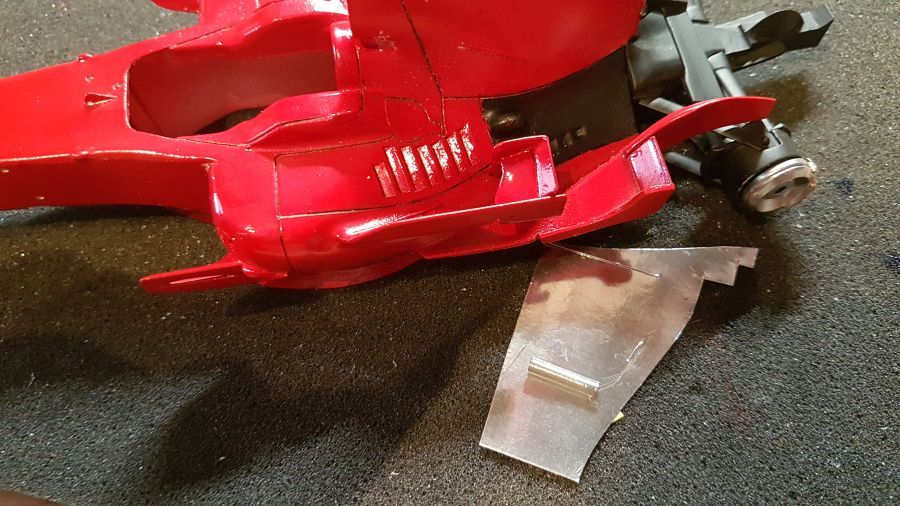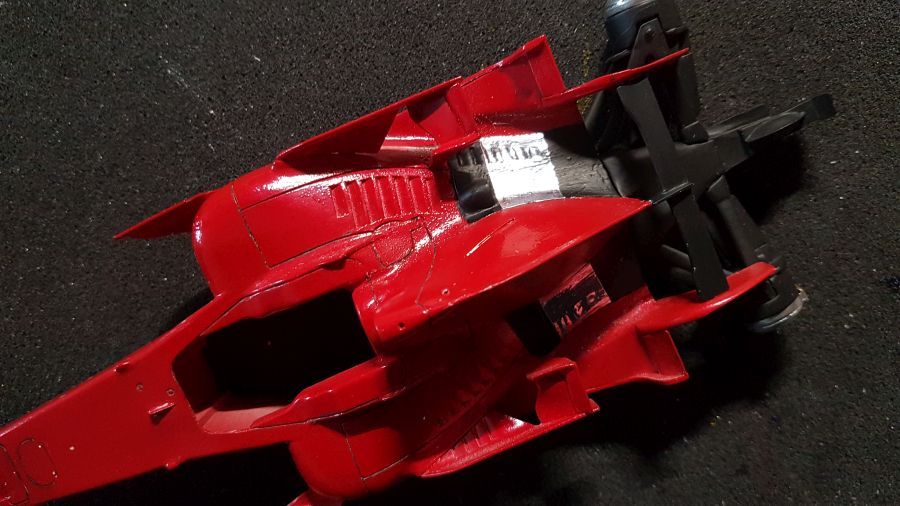 Dan plaats ik de body op de vloerplaat.
Then the body gets mounted to the floor.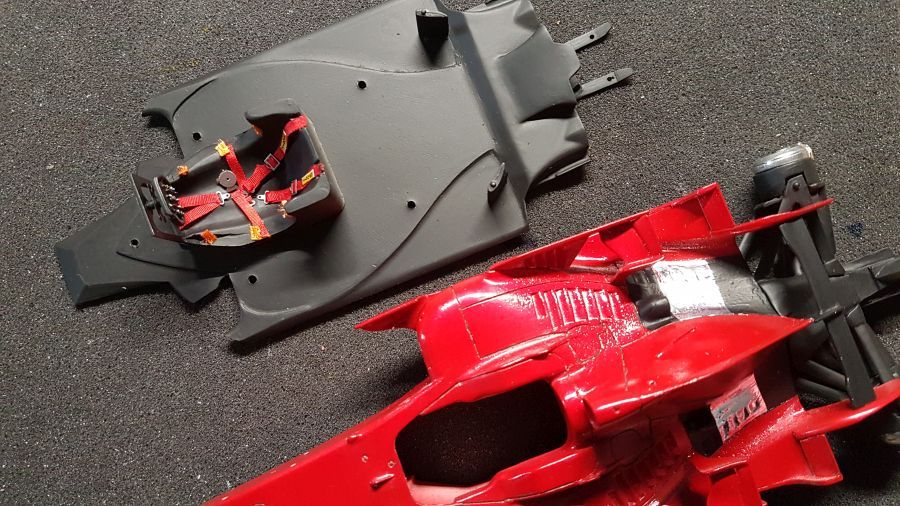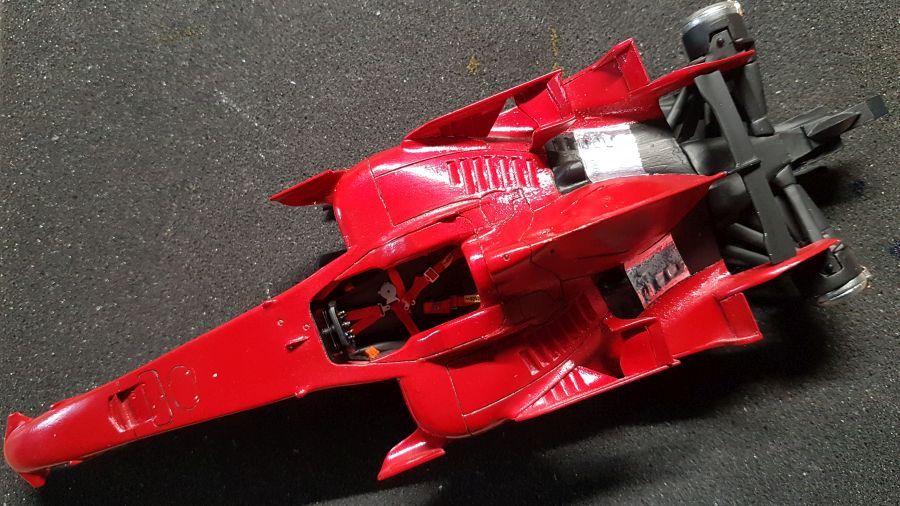 Dan verder met de voorwielophanging.
Next is the front wheel suspension.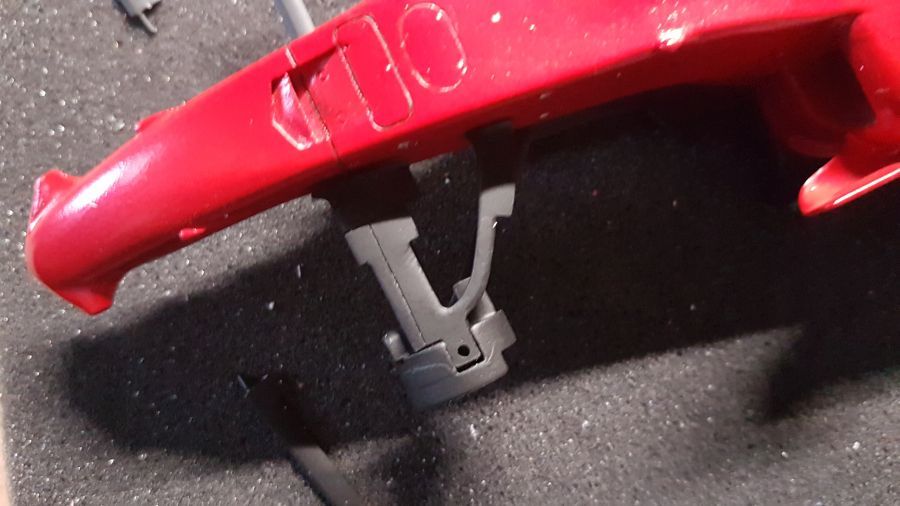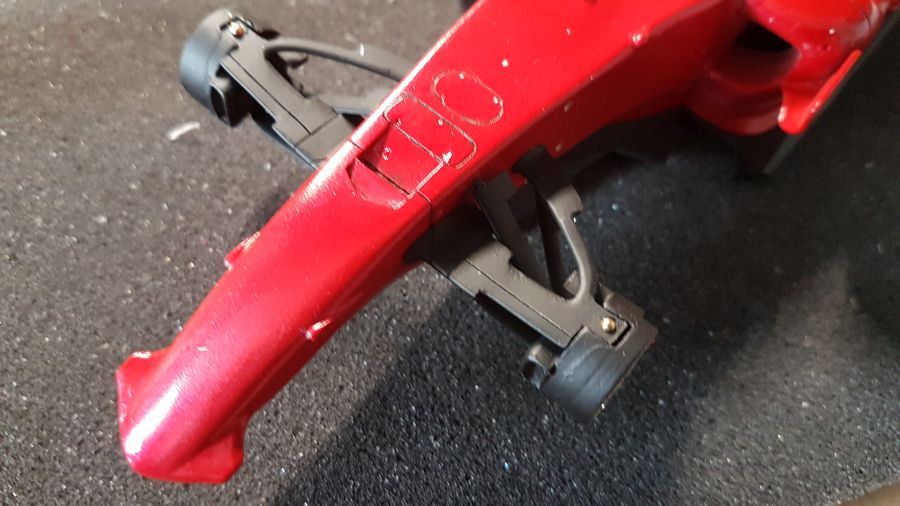 Zoals ik al had gemeld, een zeer slechte oplossing van Studio27. En ik heb er nog eens een troep van gemaakt. Deze bouw kunnen we als verloren beschouwen. Ik ga door, maar het plezier is eraf. Gelukkig heb ik nog 3 MFH kits...
Like i predicted, a very bad solution from Studio27. And i made a mess of it. This built can be seen as lost. I will continue, but there's no fun anymore. I am lucky to have 3 MFH kits...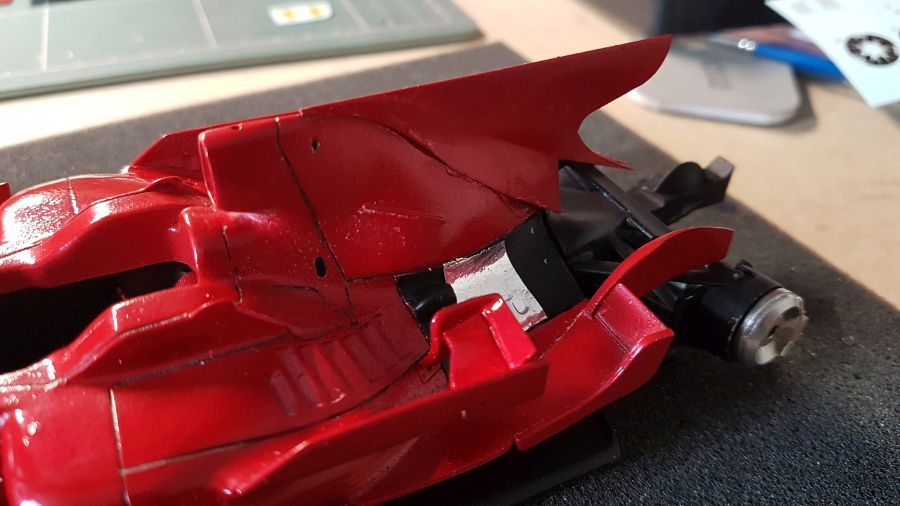 De decals verhullen de ellende een beetje.
The decals cover up the damage a bit.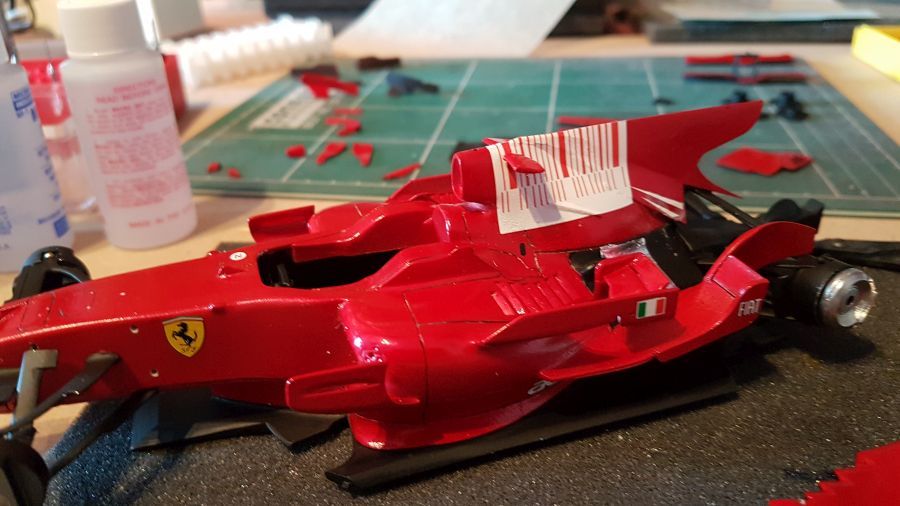 Nu door met de voorvleugel.
Now to continue with the front wing.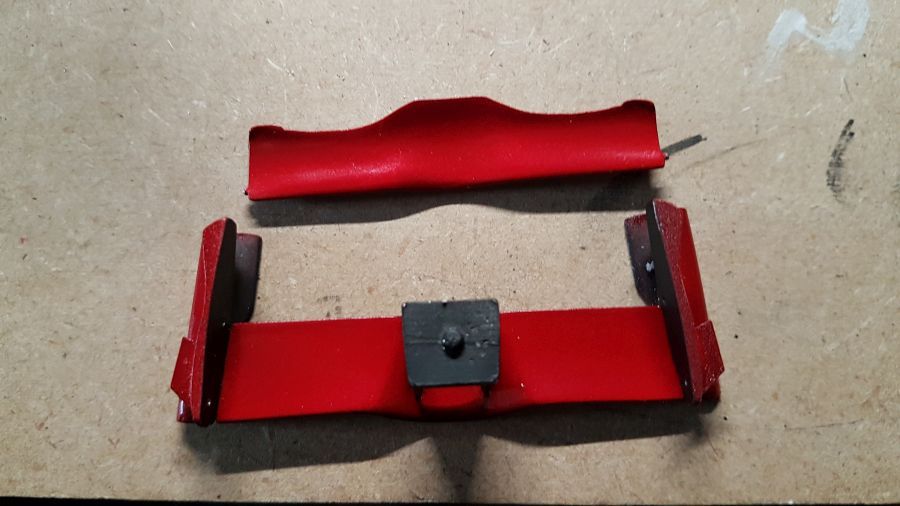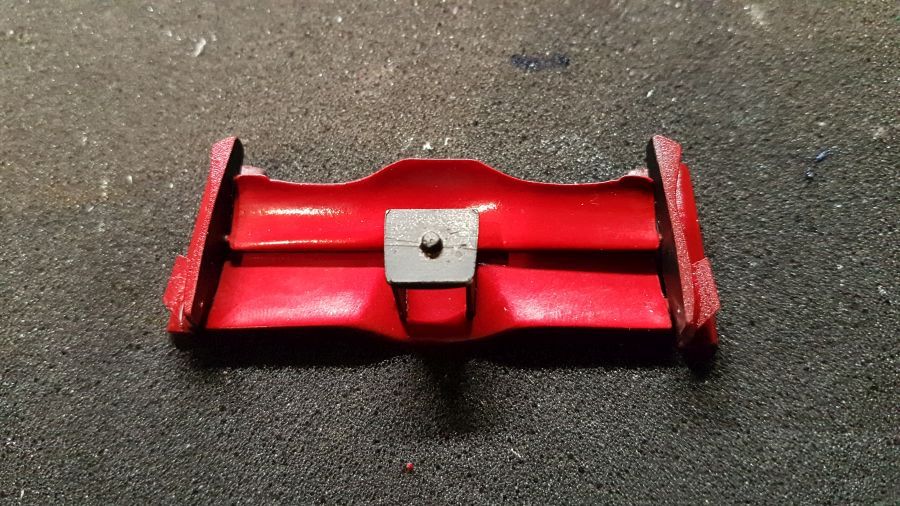 Terwijl de lijm droogt, plaats ik weer wat onderdelen aan de body.
While the glue dries, i am attaching some parts to the body.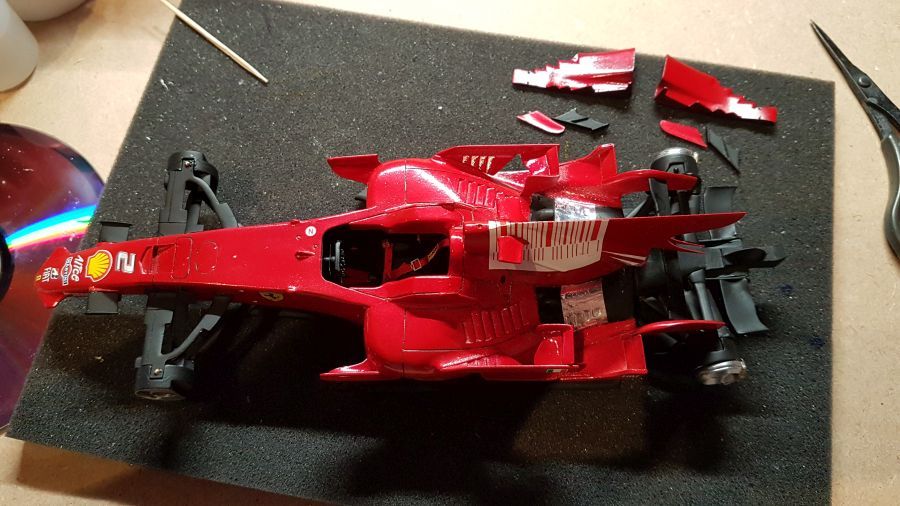 Terug naar de vleugel...
Back to the wing...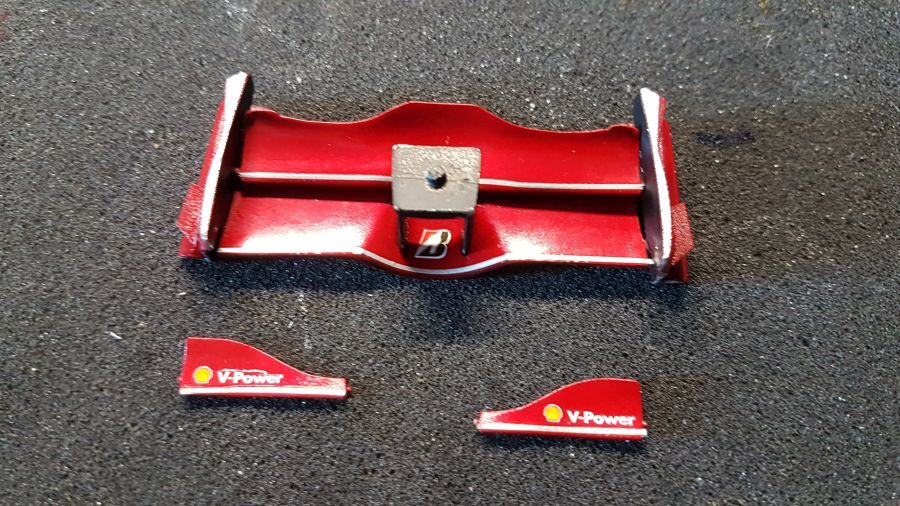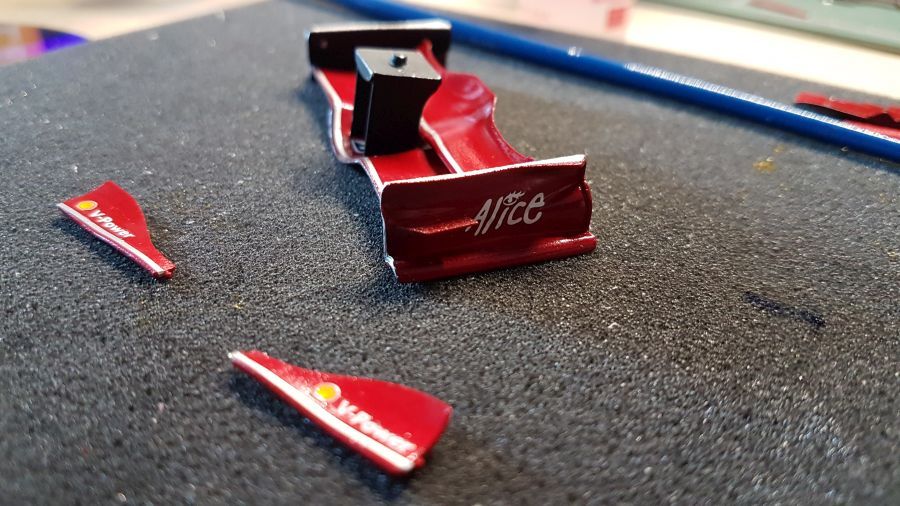 Verder met the barge boards. De montage gaat goed, maar die andere 2 zijn zeer lastig.
To continue with the barge boards. Mounting these is easy, but the other 2 are very tricky.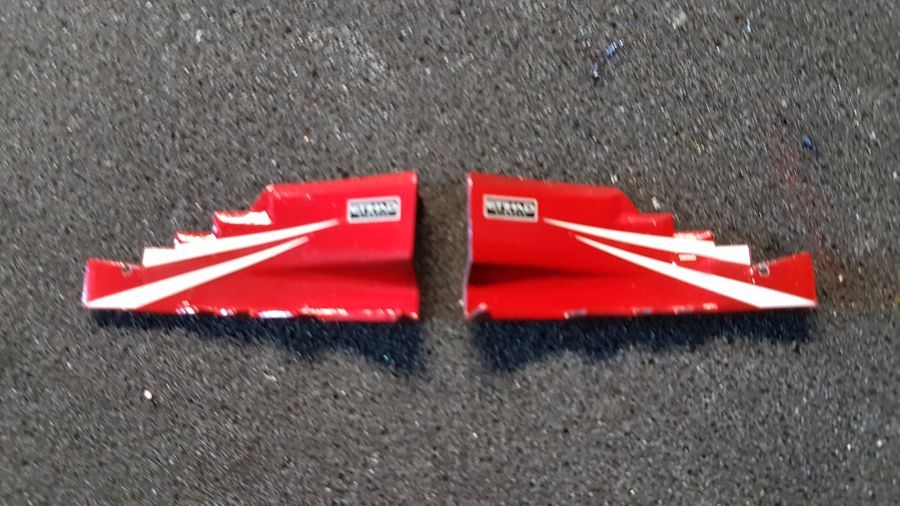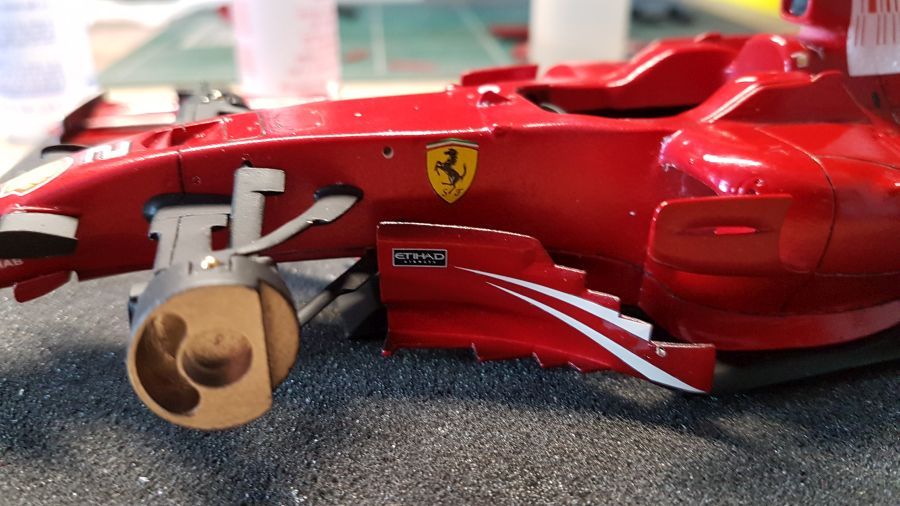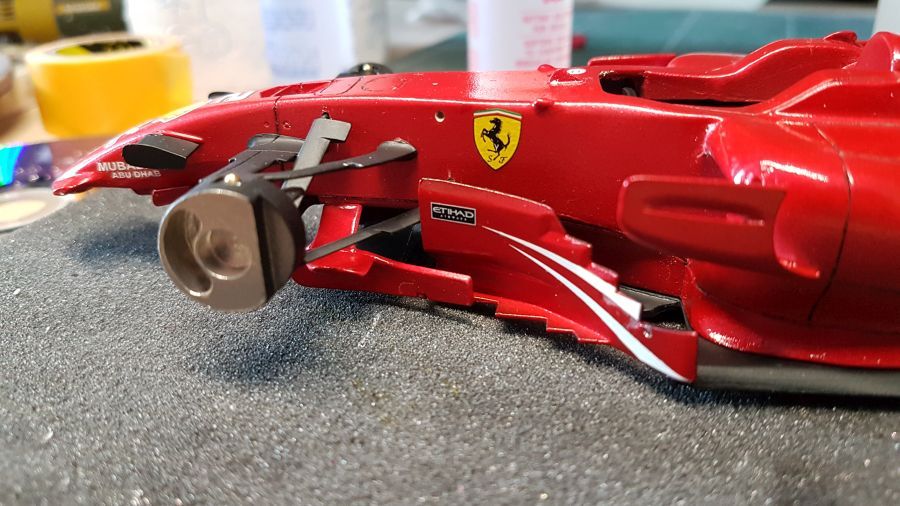 Dan zijn de velgen en de banden aan de beurt.
Next are the rims and the tires.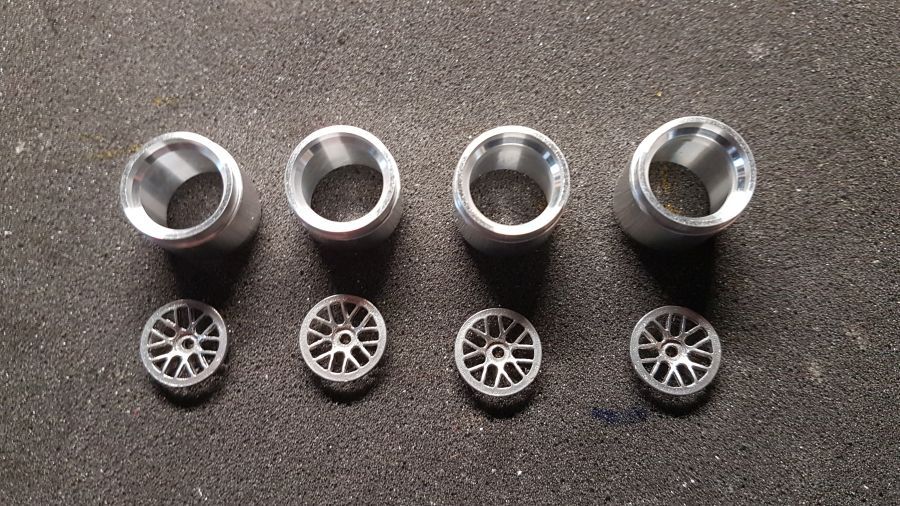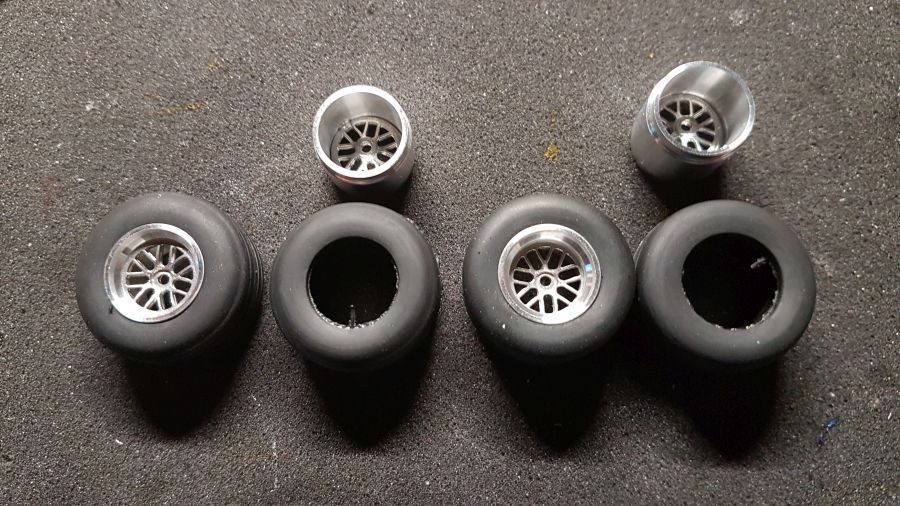 Ze worden een beetje 'gebruikt' gemaakt. 
They get a 'used' look.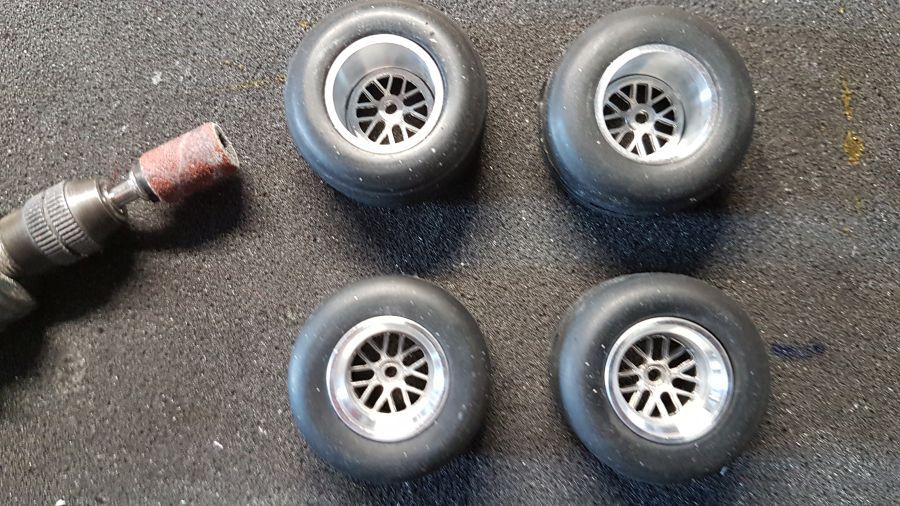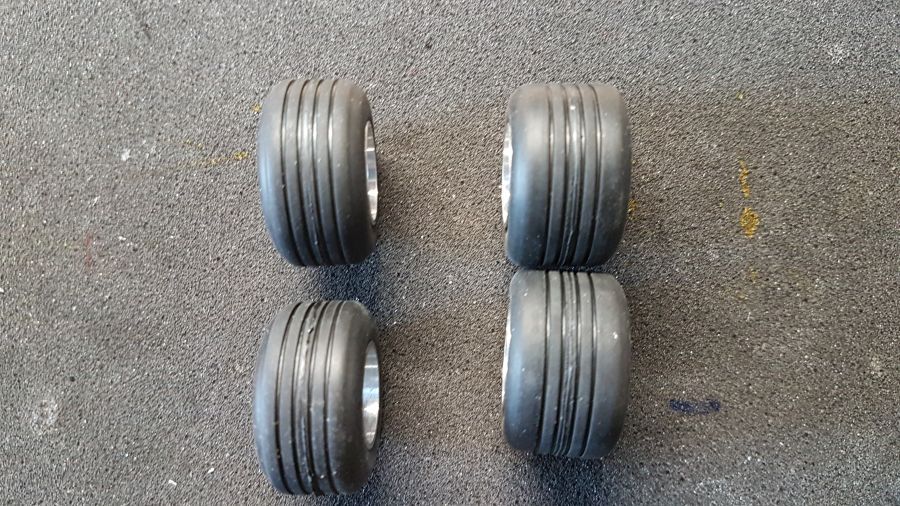 De 2 bovenste moeten nog, de 2 onderste zijn gedaan. De glans is ervan afgeslepen.
The 2 above need to be worked on, the bottom 2 are done. The shine has been smoothened off.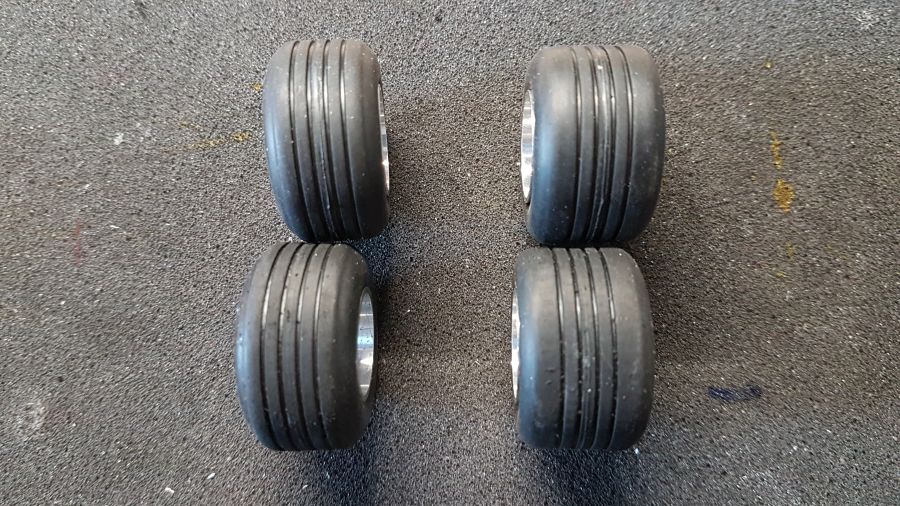 Met de decals is het even oppassen. De pijlen moeten in de draairichting van de banden wijzen.
With the decals you have to take care. The arrows should point to the point of turning.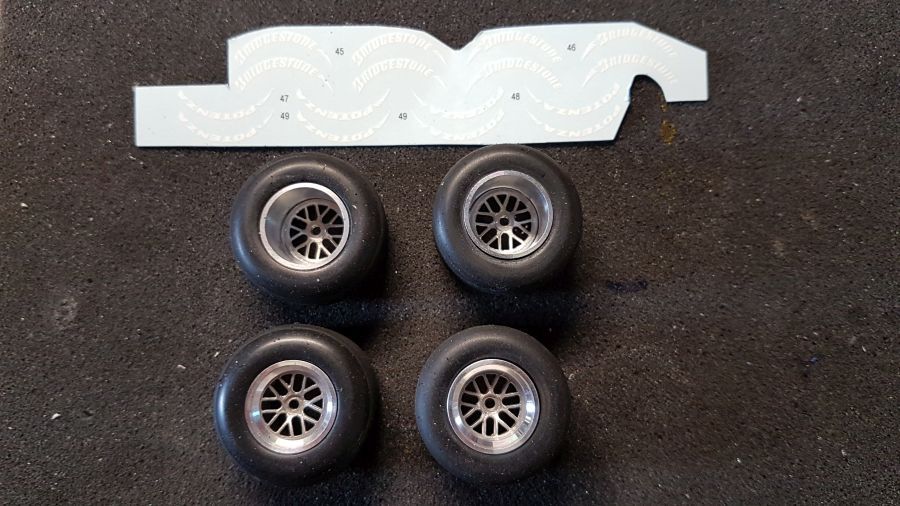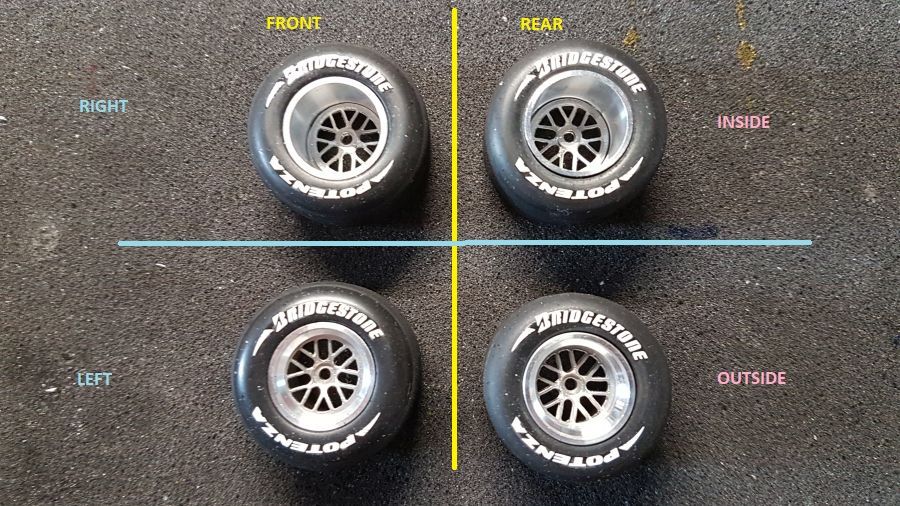 Draai ze om.
Flip them over.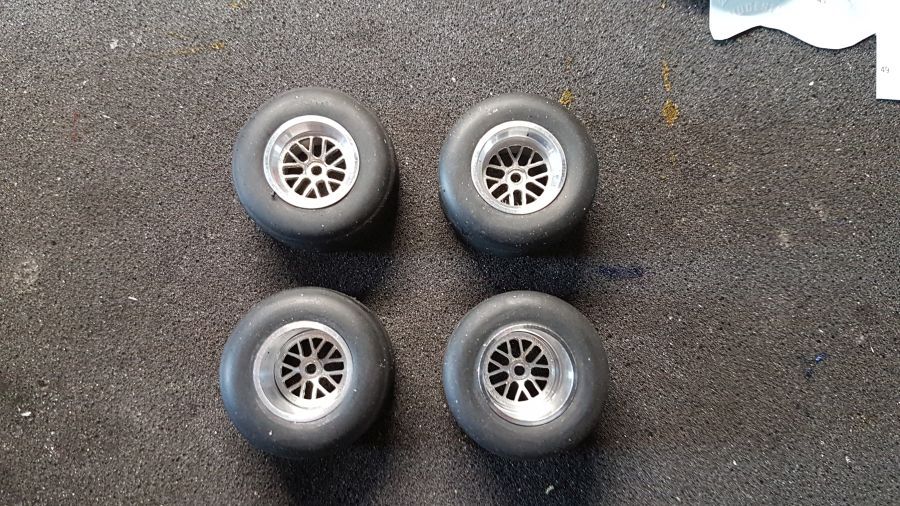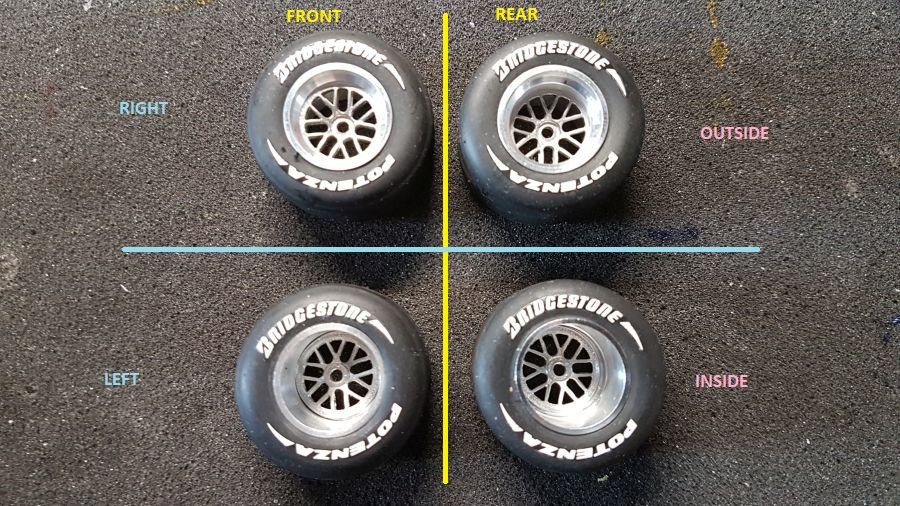 De achtervleugel wordt langzaam opgebouwd.
Slowly building the rear wing.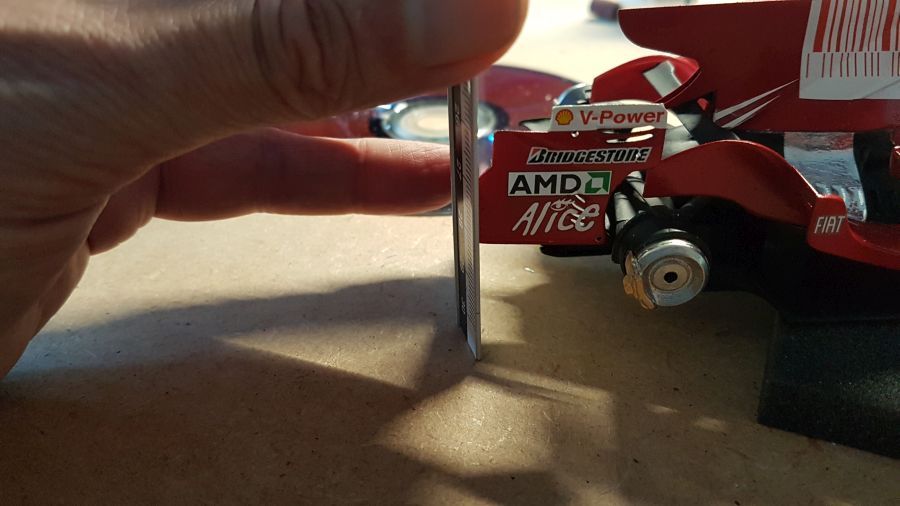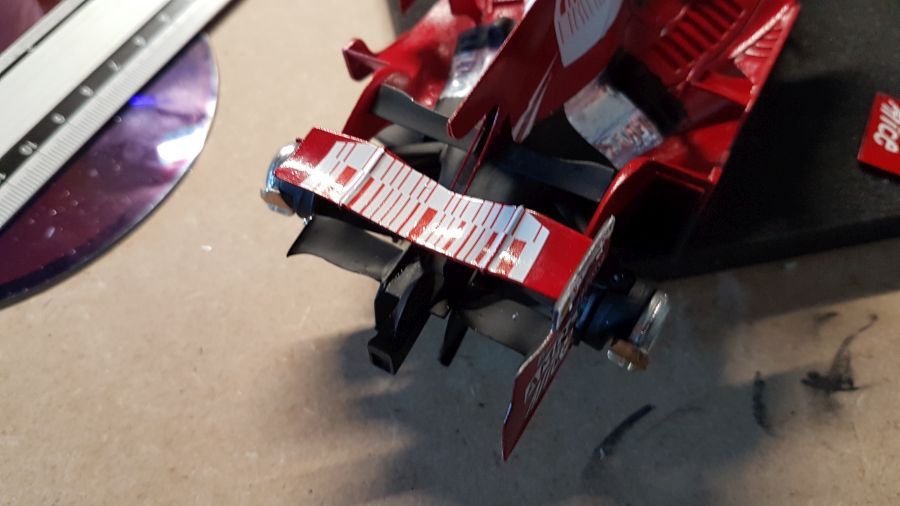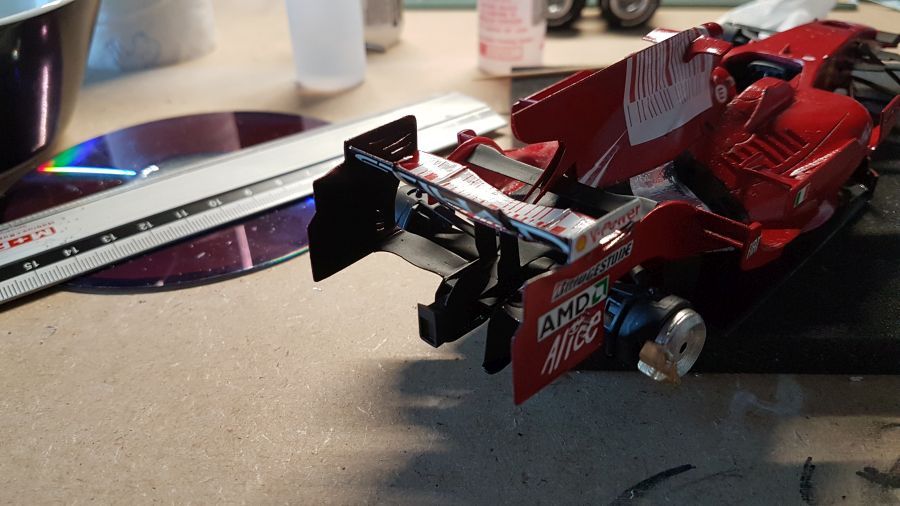 Hetzelfde met de voorkant.
The same to the front.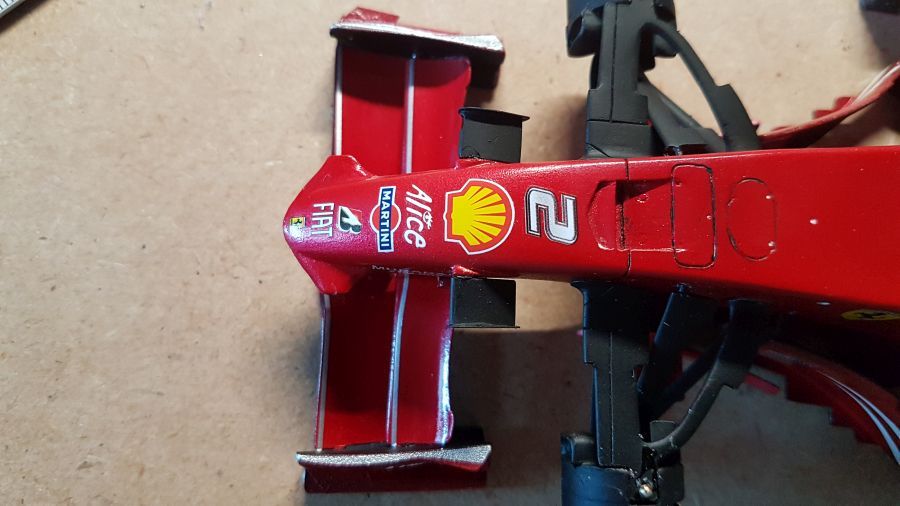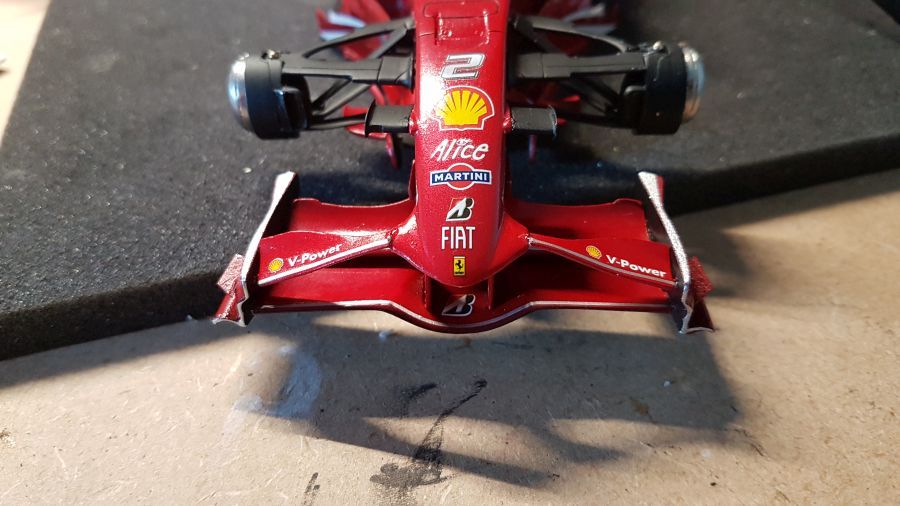 Nog een paar stappen te gaan.
Still a few steps to go.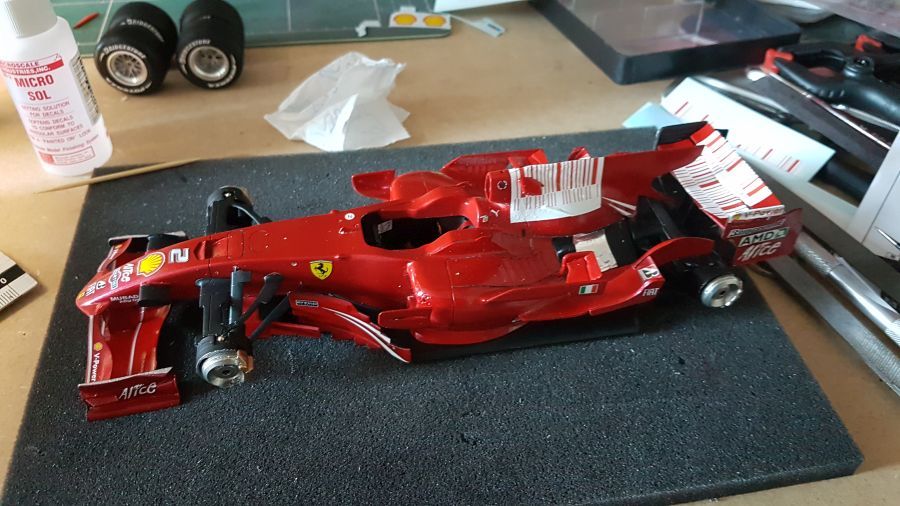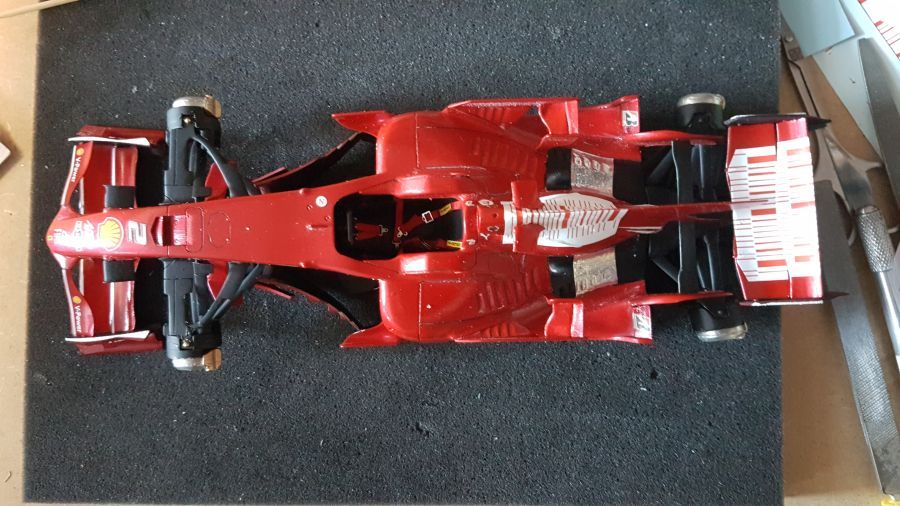 Kleine onderdelen worden geplaatst.
Small parts were added.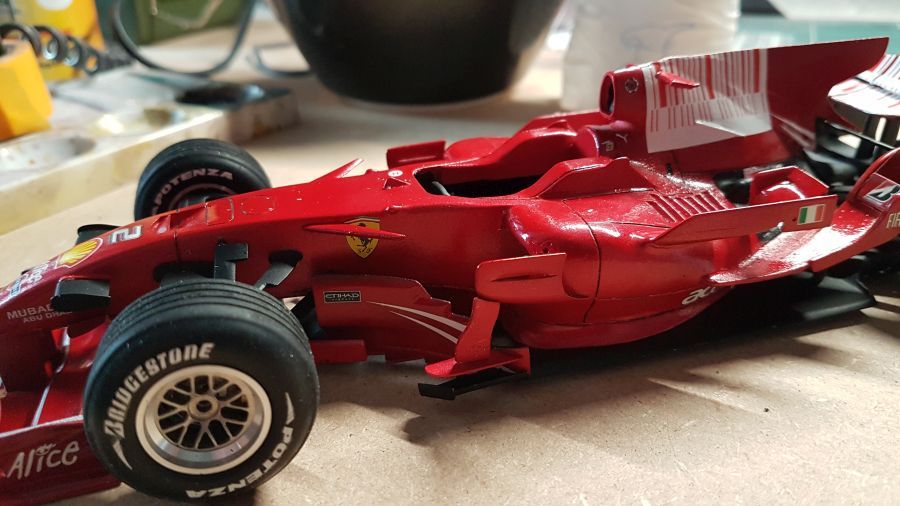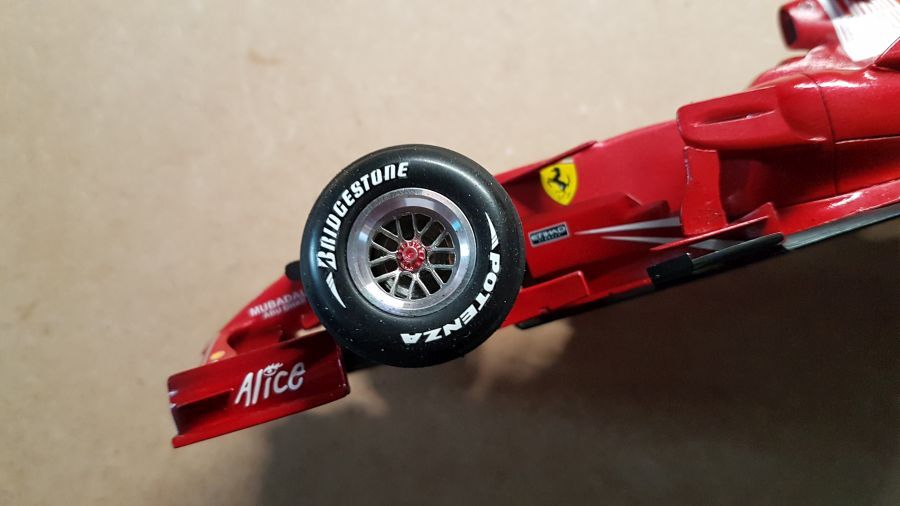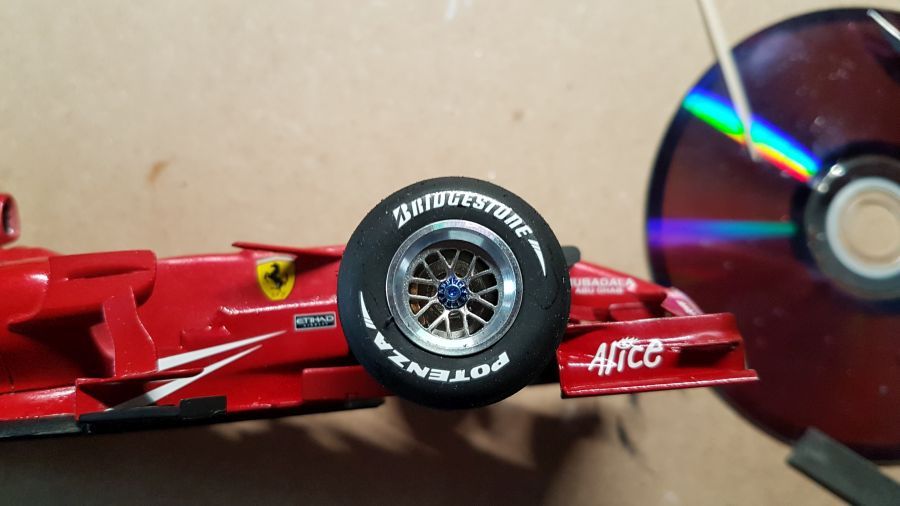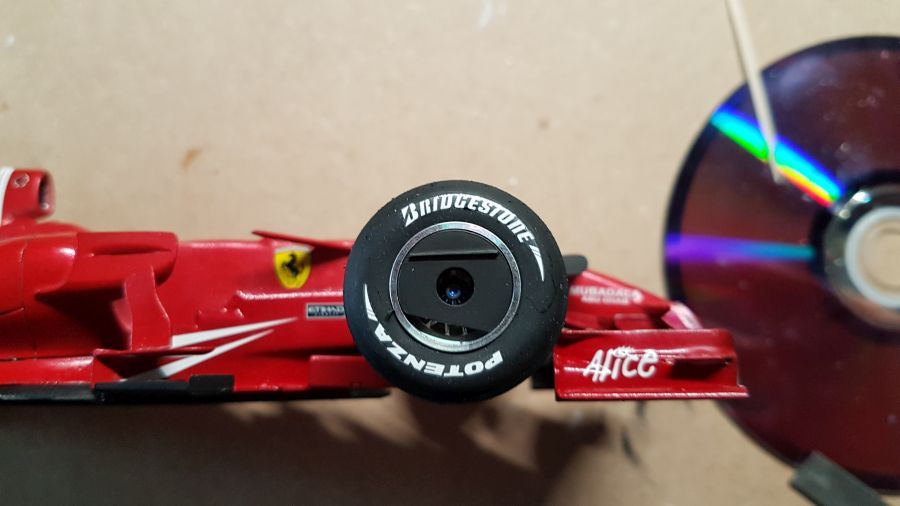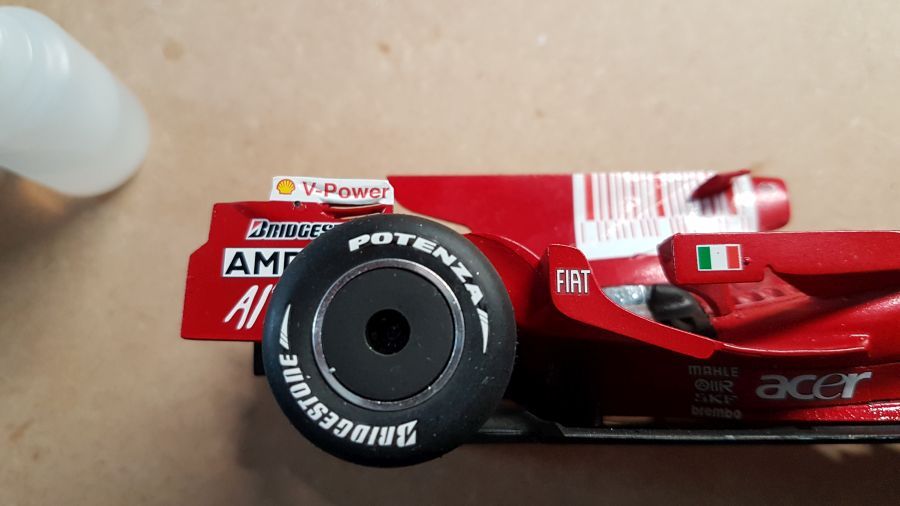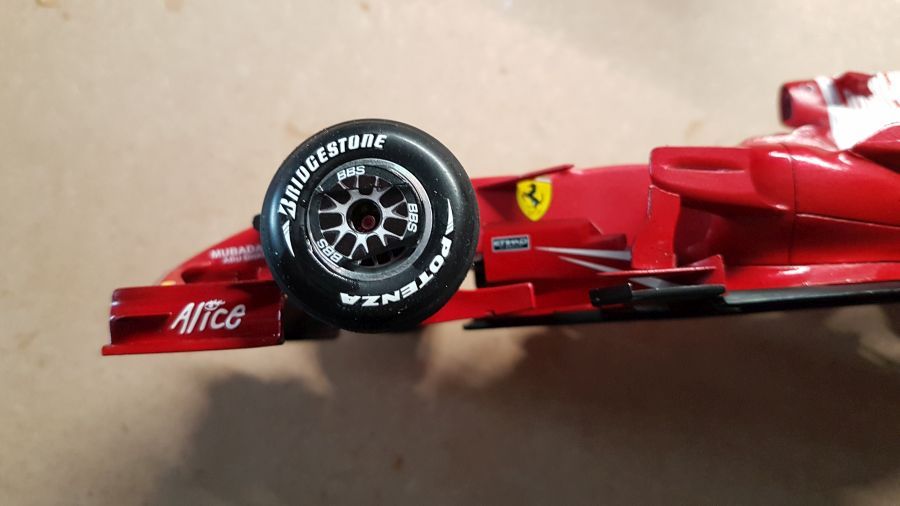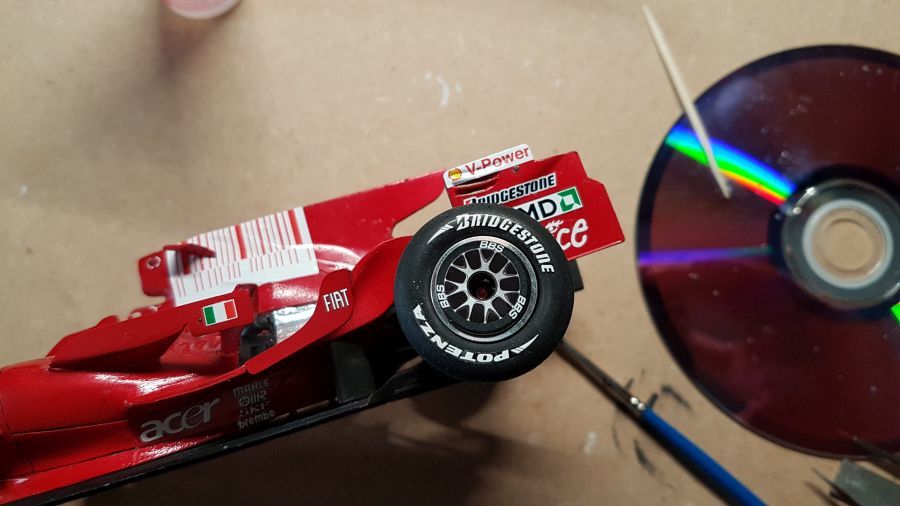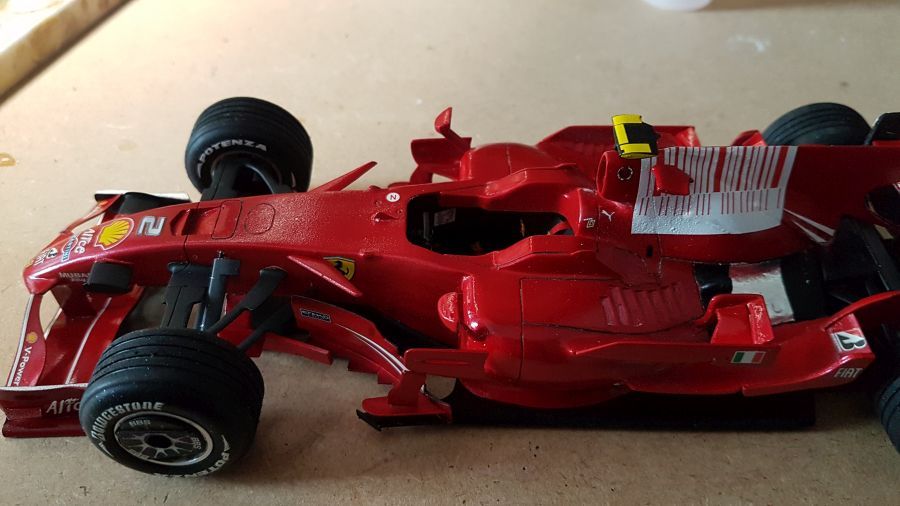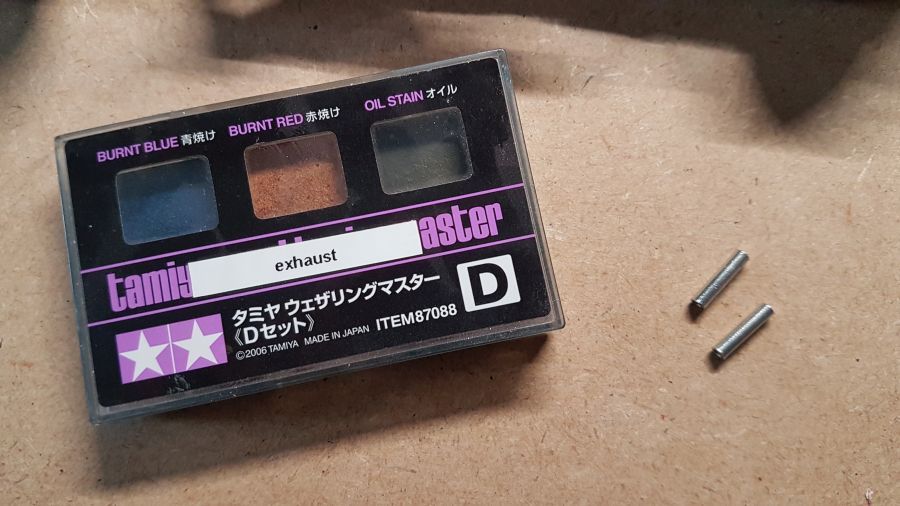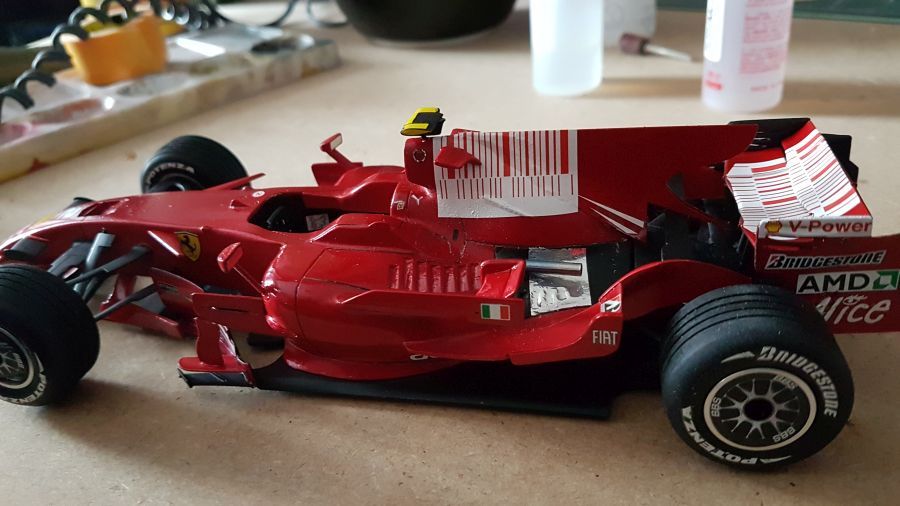 En ik beschouw deze als klaar. Ik ben er niet tevreden mee, maar het zij zo.
And i consider this one as done. I am not happy with it, but so be it.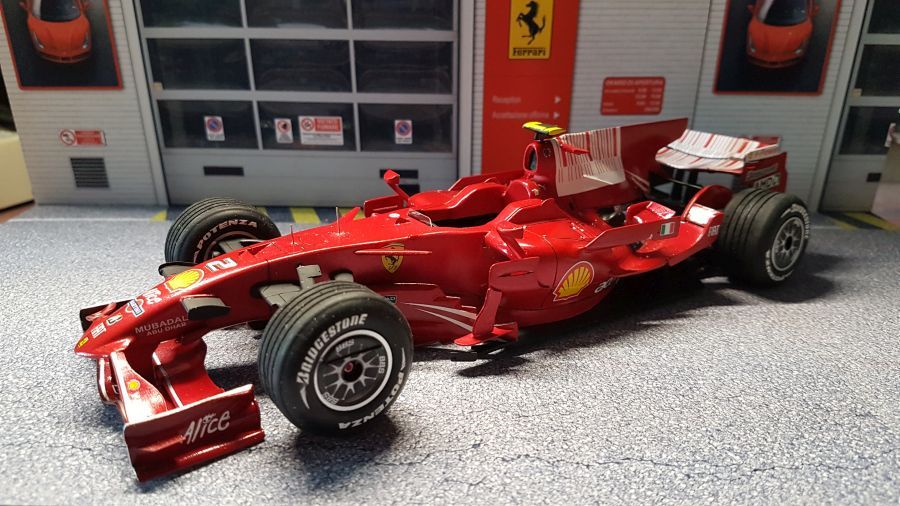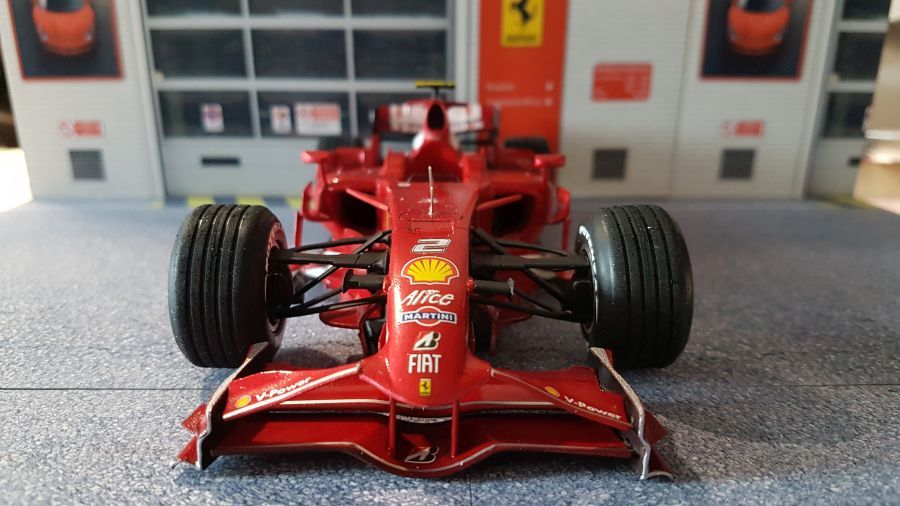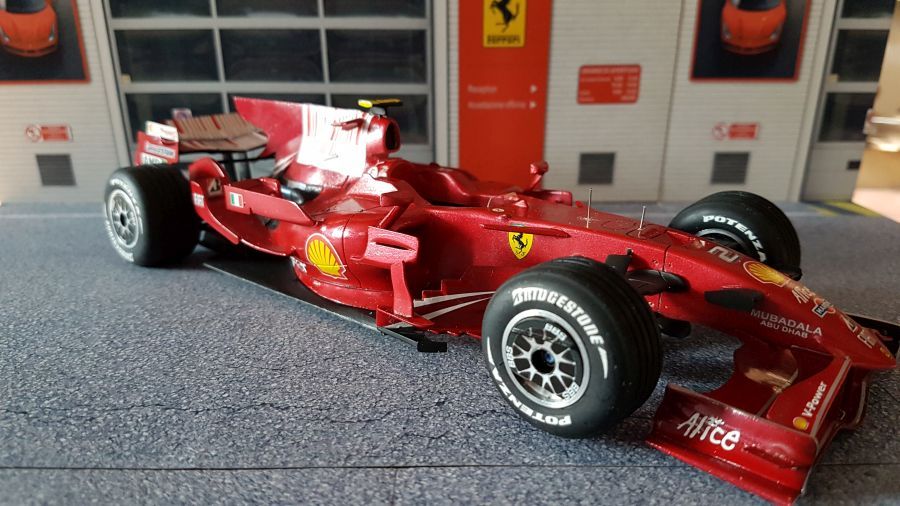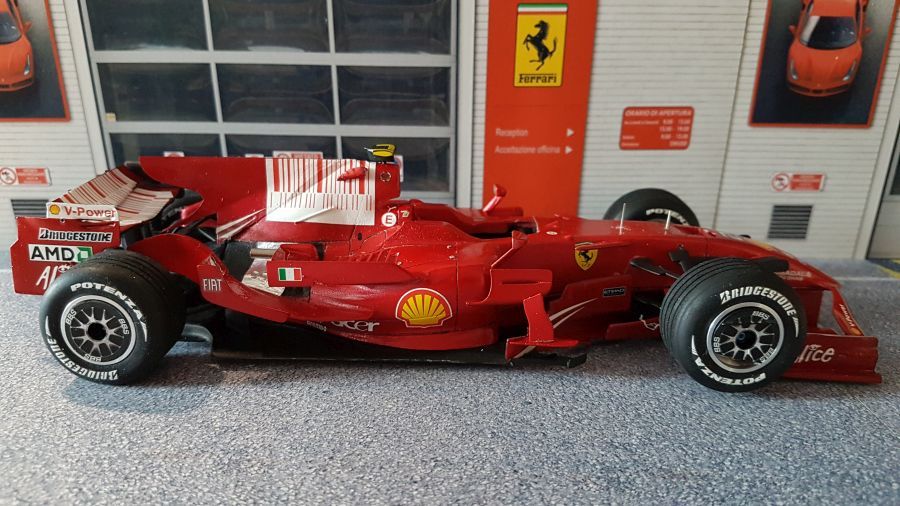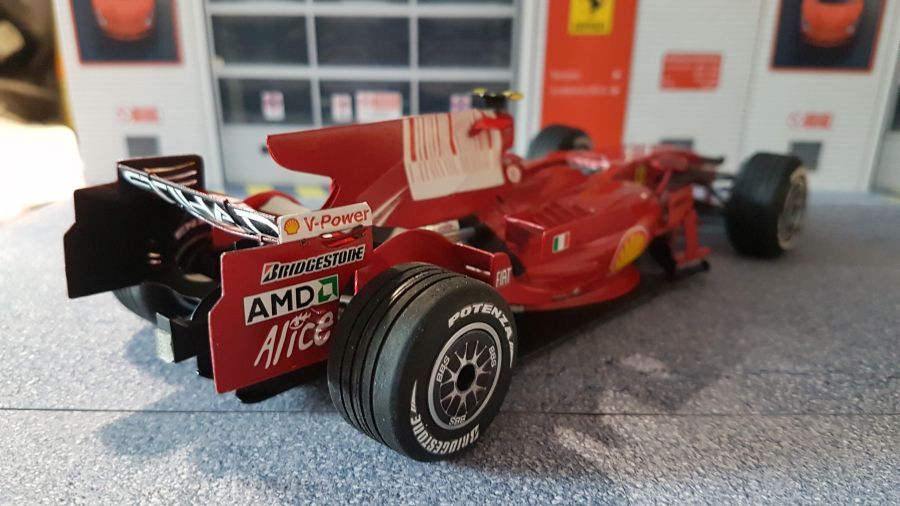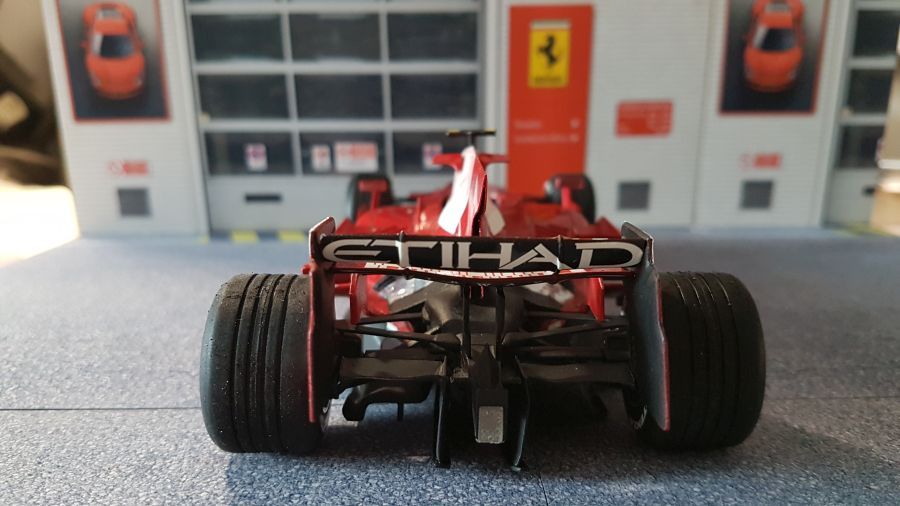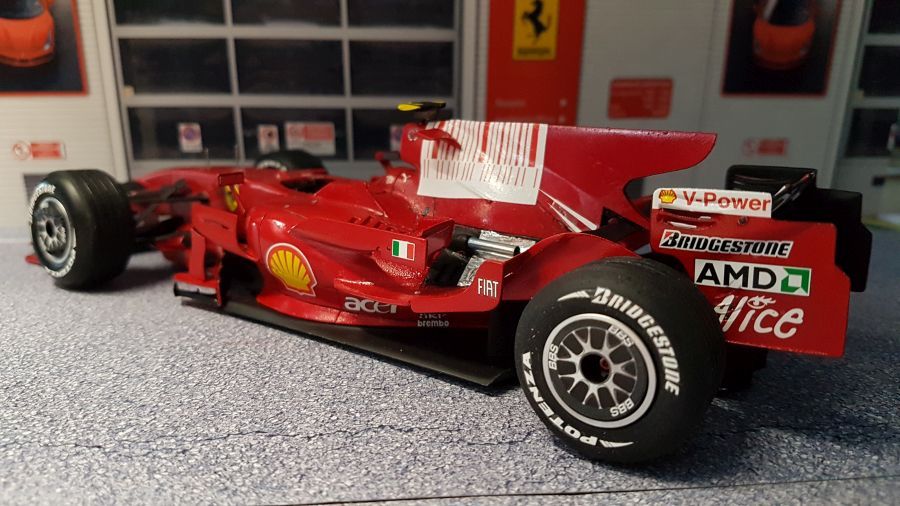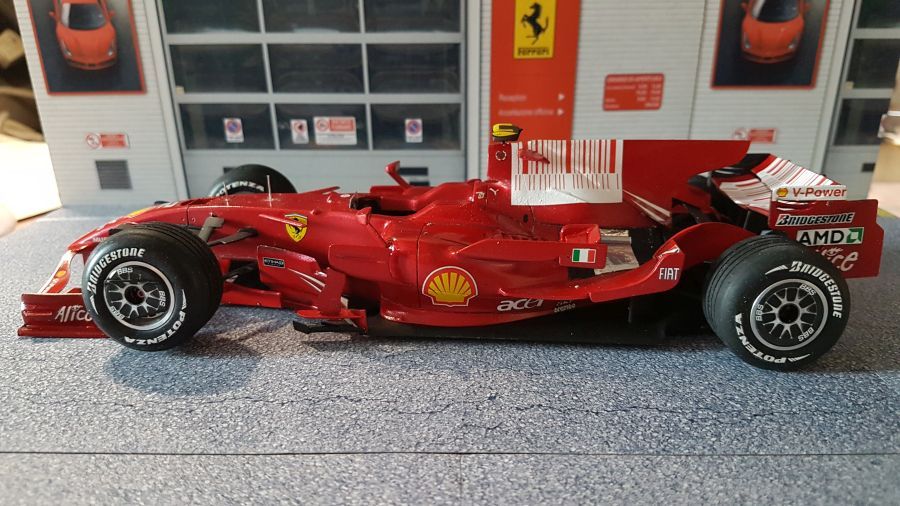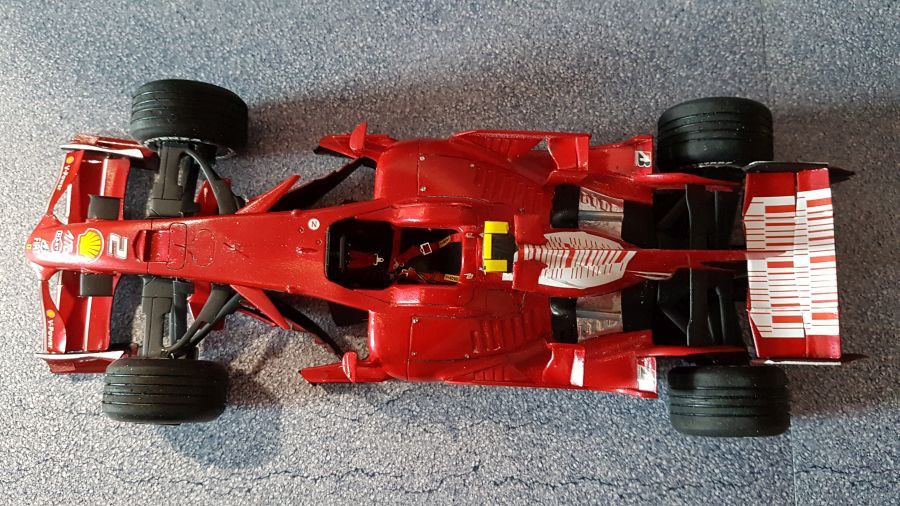 Het is dus niet helemaal goed gegaan met deze bouw. Een groot probleem was voor mij de shark fin. Dit is een etched onderdeel dat in een scherpe punt uitloopt. Daarmee is het een ramp om deze goed te vouwen. Ook de aansluiting naar de body is bij mij niet vlekkeloos verlopen. Ik heb de handdoek in de ring gegooid. Ik hoop dat het beter gaat met mijn 3 F2008 kits van MFH.  Inmiddels heb ik te horen gekregen dat de voorvleugel te laag lag; dat heb ik gecorrigeerd.
So not everything went well with this build. A problem to me was the shark fin. This is an etched part which has a sharp point. This makes it very difficult to fold it correctly. Also attaching it smooth to the body didn't go well. I gave up on it. Hope my 3 F2008 kits from MFH will do better.  In the meantime i was informed the front wing was too low; i have corrected this.